The kitchen is often the heart of the home. Families gather here to bake cookies, friends congregate to spend time with one another, and the room itself contains the ingredients we need to make these things happen. Many people spend a lot of time in their kitchen, so the room deserves a bit of attention when it comes to furnishing it. The bones of the kitchen, from cabinets to appliances, can certainly all be changed, but not as easily.
When it comes to kitchen furniture, you can definitely use it to make the best of the room. Consider function, durability, and aesthetics, among other things, when choosing the furniture you want to put in your kitchen.
Things to Consider
Whether you're designing your kitchen from scratch, remodeling, or simply replacing a few things, there are several considerations. You will be able to discern what's most important based on the goal you want to accomplish.
Maintenance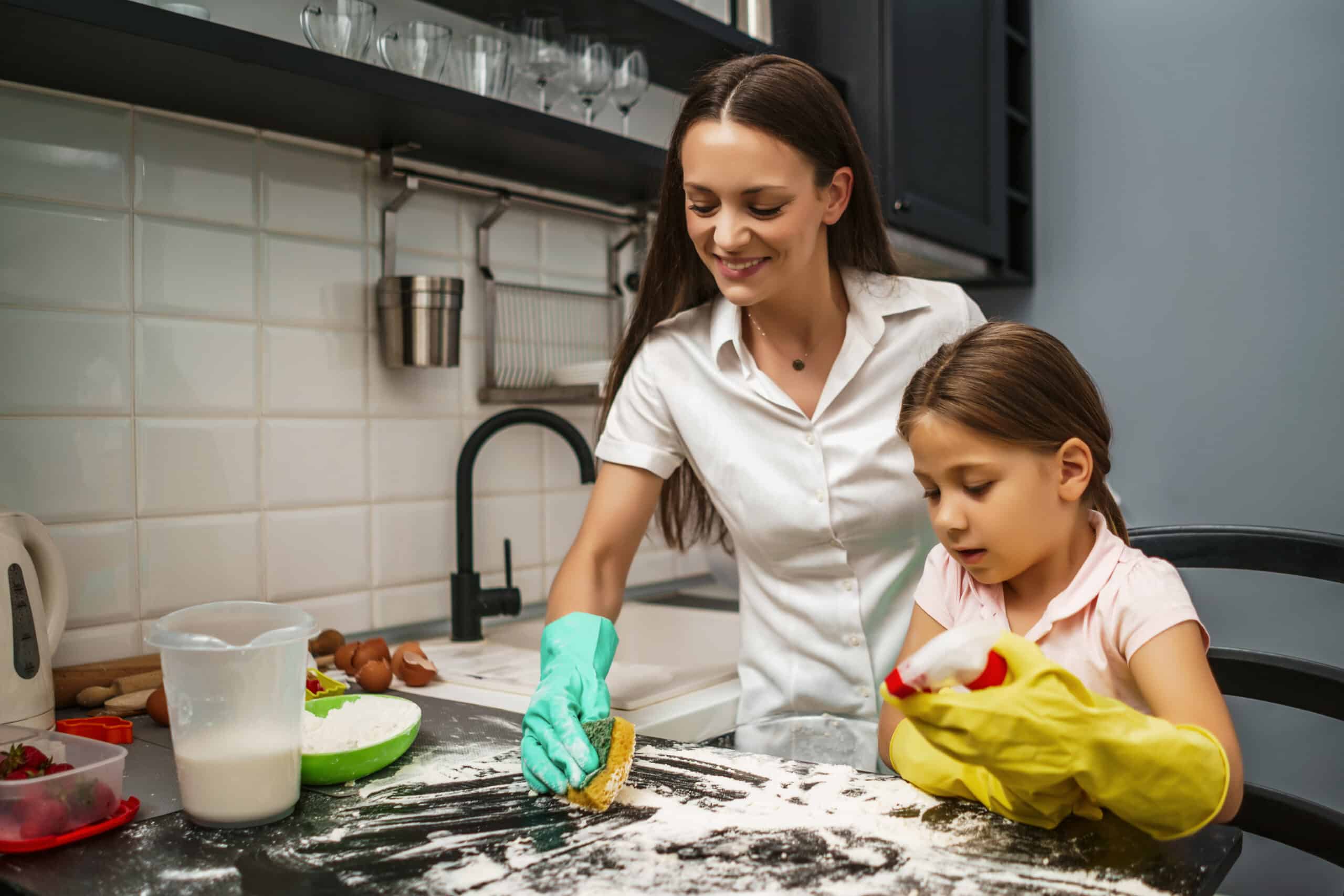 Kitchens can get pretty messy, especially if you use them a lot. Spills, stains, and all kinds of other issues happen here, so it's important to think about maintenance when choosing appliances, countertops, cabinets, or tables.
Use materials that are easy to keep clean and looking nice, and consider colors that won't show crumbs or stains.
Accessibility and design
The kitchen is perhaps the space in your home that's in the most need of thoughtful planning. You want to be sure you leave adequate space for your dishwasher to open without hitting any other cabinets.
Hitting your head or your knee on the corner cabinet is pretty painful, so think about the direction in which everything opens and how far it might stick out. Be cognizant of the work triangle so your appliances and features are all exactly where you need them to be.
Size and shape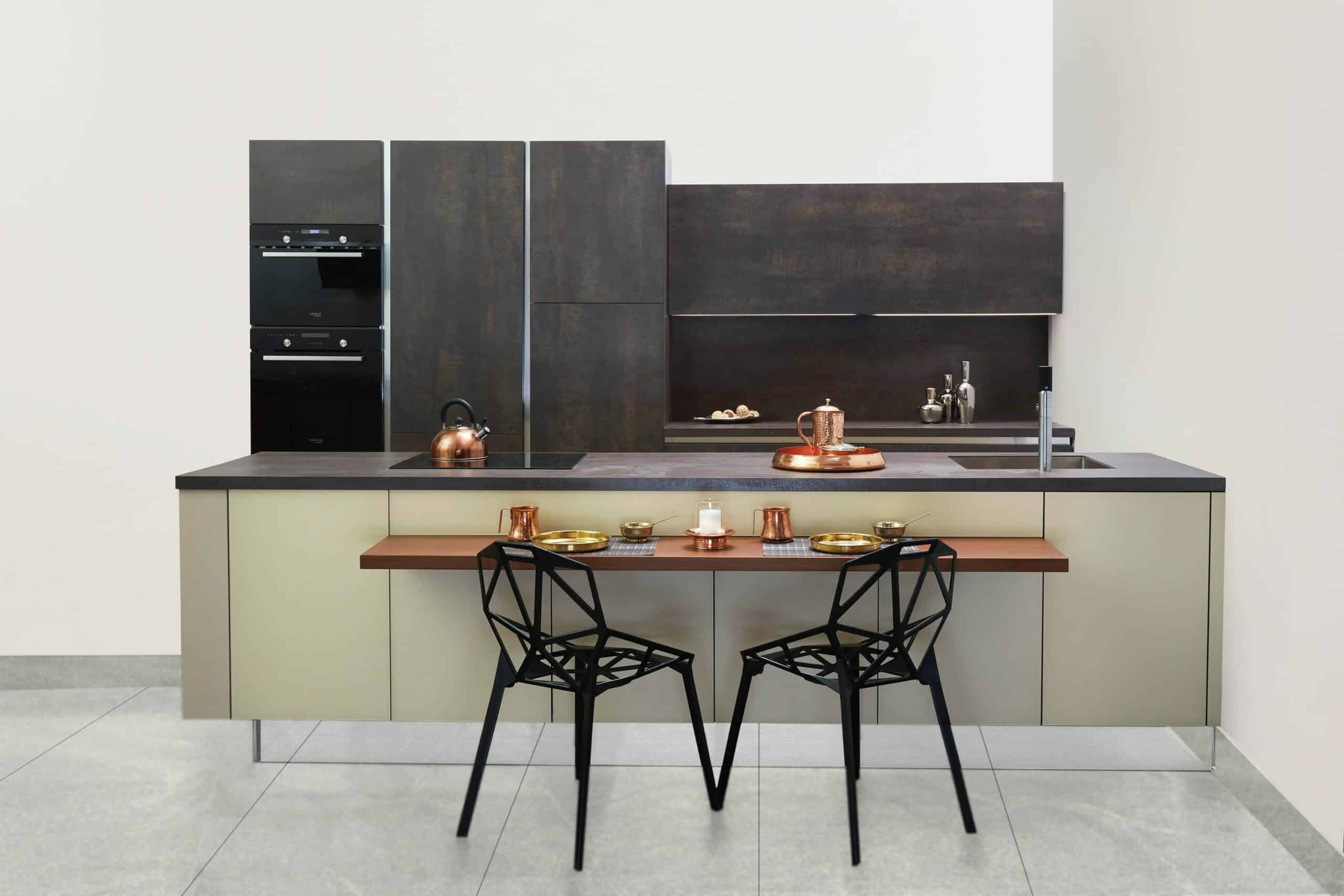 The size and shape of your kitchen will determine how you arrange things. You may have a U or an L shape, giving you more counter space and room for cabinets, but some kitchens have only one dedicated wall, which means you'll have to work smarter.
By getting creative, you can still fit everything in your kitchen that you need without wasting space. You just have to determine your essentials first and go from there.
Lifestyle
If you spend a lot of time cooking and baking, pantry space and countertops may be your most important consideration. You may also want to leave room for a double oven. If you like eating in your kitchen, you'll want to make sure you leave room for a table or make some bar-height counters.
Depending on how you like to use your kitchen, you'll want to make accommodations that work for you. Butcher block countertops are great for dicing and chopping, while quartz is elegant and incredibly easy to clean.
Style preferences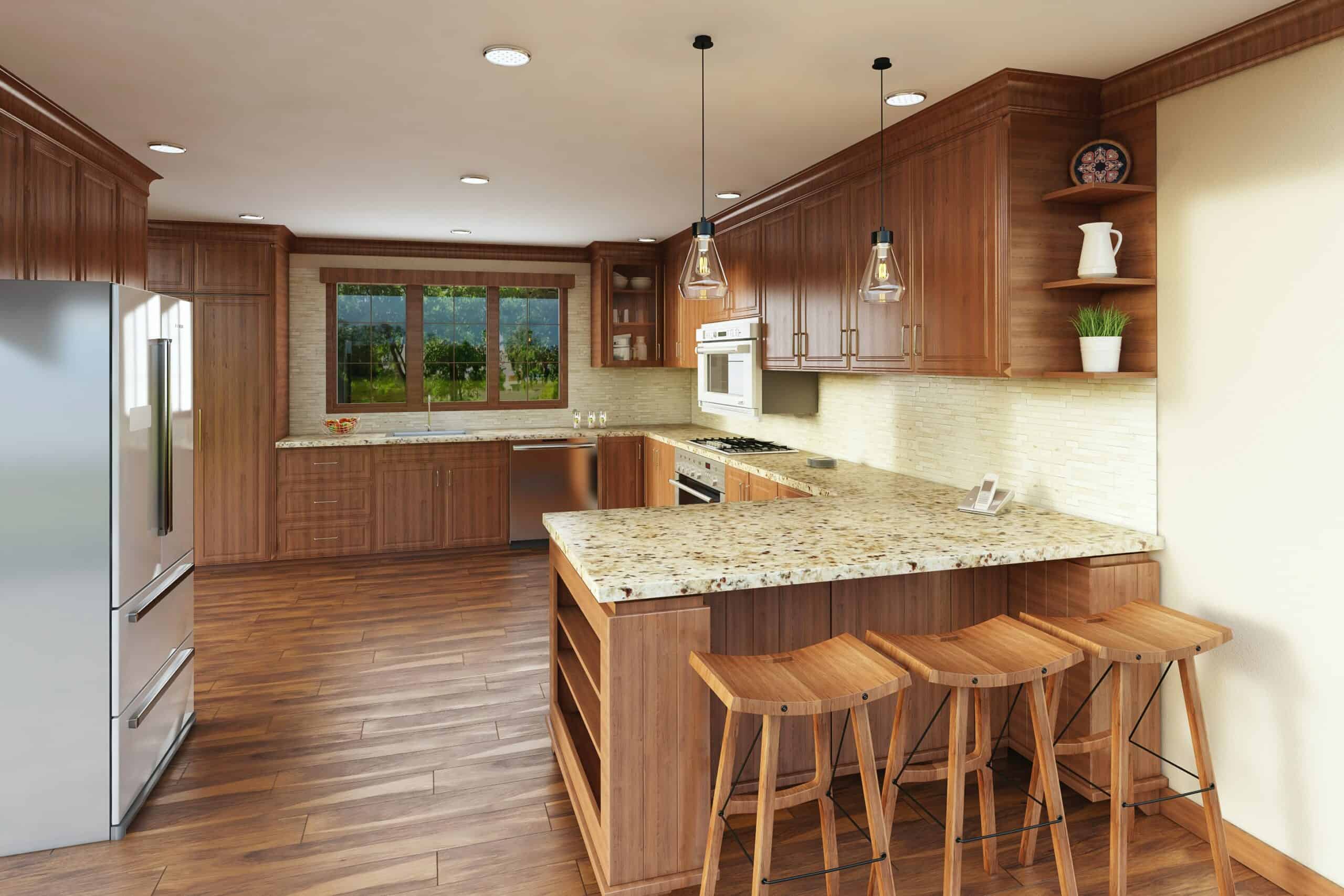 Your personal style should be reflected in your kitchen. Whether you like the streamlined modern look or more traditional wood, you'll find cabinets, countertops, and appliances that fit your needs.
Apron sinks add the perfect touch to a farmhouse kitchen while stark white cabinets with no visible hardware will set you on the path for an industrial or modern look.
Cost
Determining your budget before you begin is probably the most important step in the kitchen furnishing plan. Decide how much you want to spend and then make a list of your top priorities.
If you want to spend most of your budget on a concrete countertop with a waterfall edge, then you'll have to figure out how everything else fits in the budget afterward. Planning this out in advance will bring your budget into perspective and leave less room for surprises.
Workspaces and Flow
Before beginning, you'll need to decide how you're going to use the kitchen. It needs to flow in a way that will work for you, designing workspaces that fit your lifestyle. An effective design optimizes performance and minimizes cost.
There are five general areas in every kitchen. Knowing what these are will help you understand where to place them and how to furnish them appropriately.
Pantry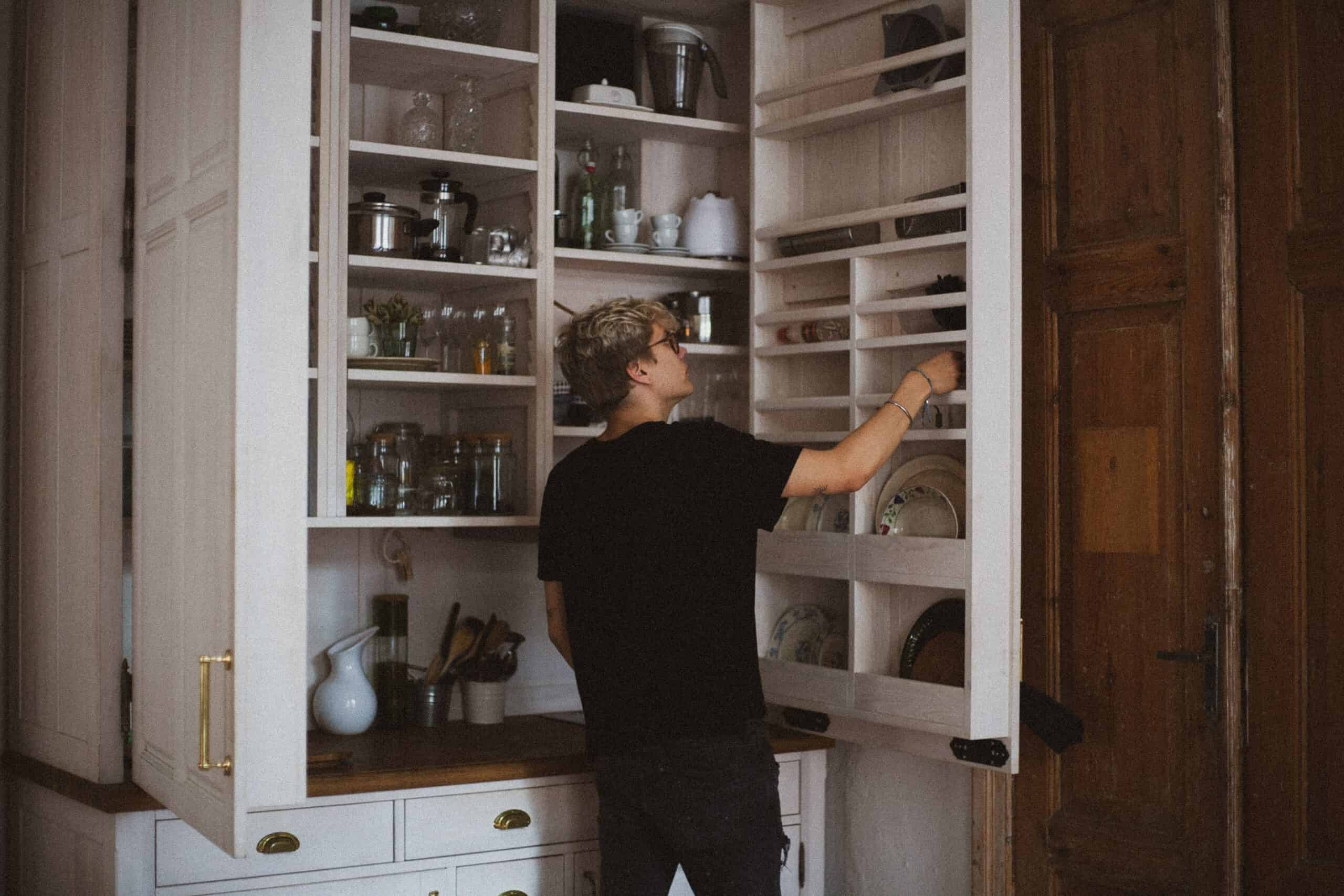 This is where you store your food. It includes your refrigerator, but might also consist of cabinets, a walk-in pantry, a closet pantry, or another solution you like. This storage doesn't all have to be grouped together, but it's more efficient if it is.
Storage
You keep your utensils, cookware, and dishes here. These are likely upper and lower cabinets as well as drawers. It will also include some appliances, so not everything will be in the same place. You'll likely have storage for pots and pans close to your range while you'll keep your plates and cups near the kitchen table. However, you can design your storage area however it works best for you.
This area is reserved for cleaning and should also be close to the dishwasher, with ample counter space for placing dirty or clean dishes.
Prep
Your preparation area should have a large counter on which you can work. This counter may or may not be shared with other areas, like the sink. In larger kitchens, you'll have multiple prep and cleaning areas, while small kitchens don't have as much of either.
Cooking
The cooking area includes your stove and oven. Once again, there may be some crossover with your prep countertop as well as some storage.
Types of Kitchens
There are three basic types of kitchens, but considering a smooth work triangle and how you will use your kitchen is just as important, no matter what type of kitchen you have.
Linear kitchen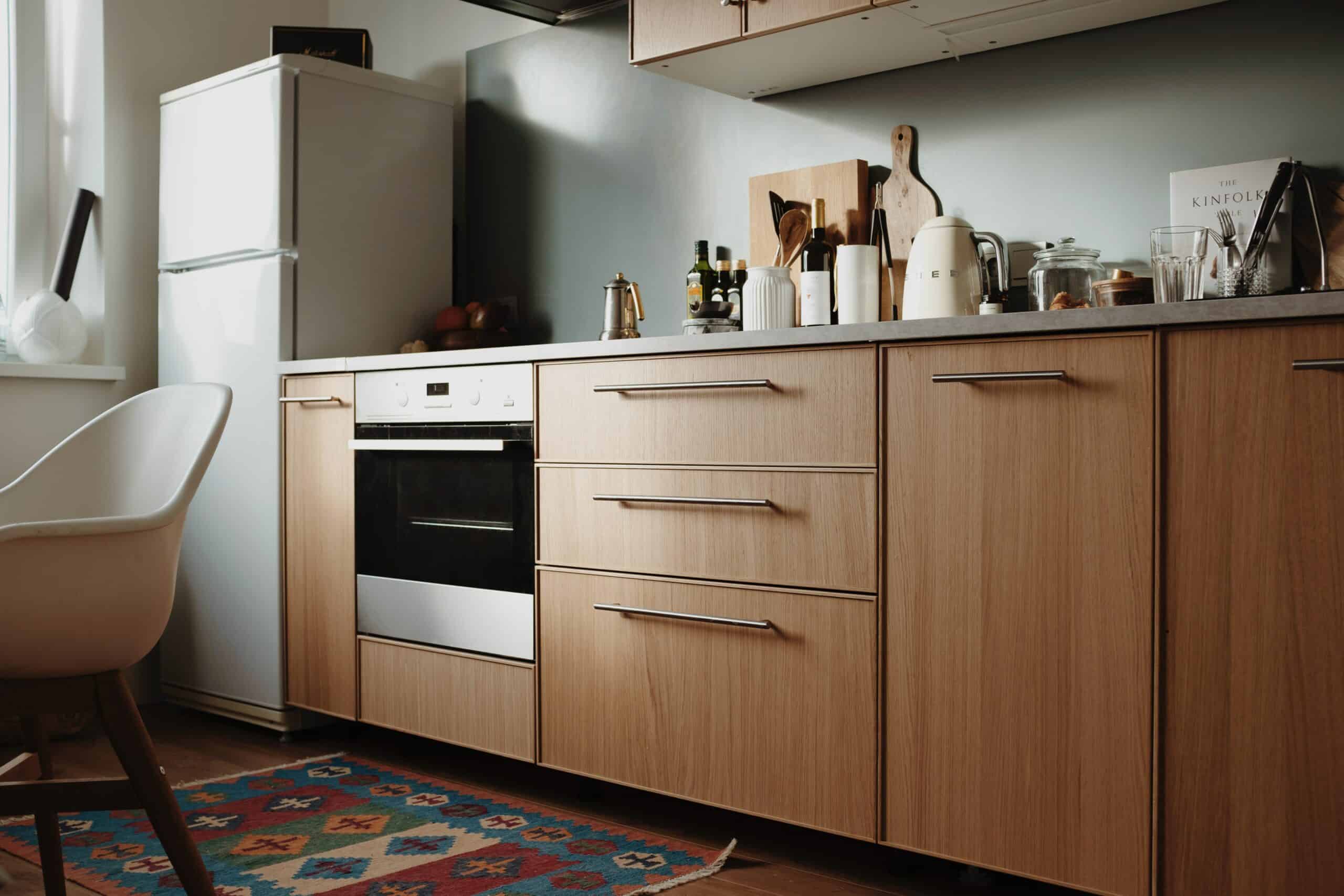 A linear kitchen has two parallel lines. It is often referred to as a galley kitchen. You can easily walk through from one end to the other, with countertops and cabinets on either side. It's usually narrow and found mostly in smaller homes.
Galley kitchens use cabinets very economically, which is why they're such a popular choice for small homes. It eliminates the need for corner cupboards, which use every inch of space without waste. It's an uncomplicated design that needs fewer special touches to make it work, which results in a cost-effective build.
Making a galley kitchen work requires all work areas on only one side to minimize traffic through the work triangle, especially if you have multiple cooks.
L-shaped kitchen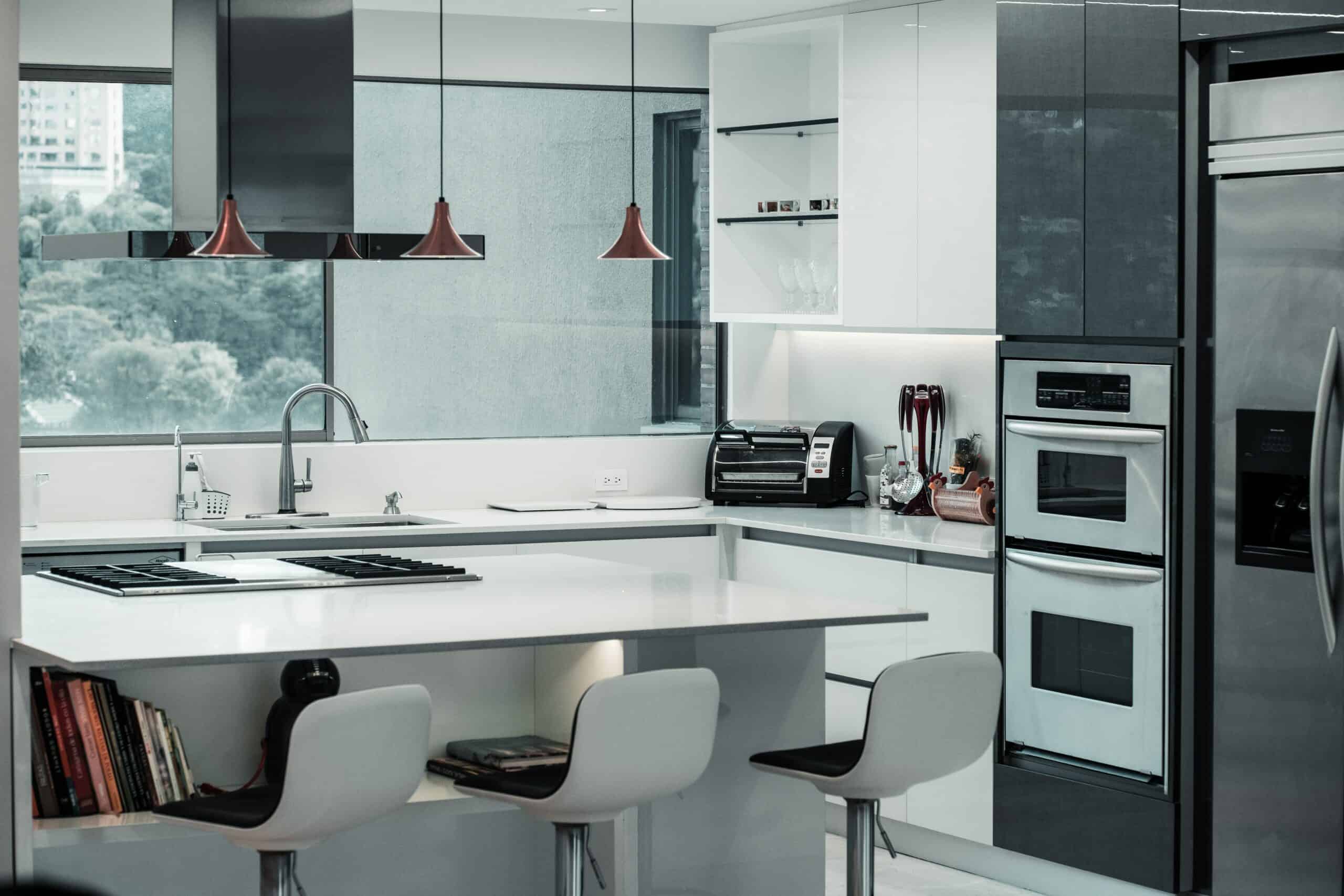 An L-shaped kitchen is exactly what it sounds like. It is located on two walls that run perpendicular to each other. It's a practical layout that works for any size kitchen. The corner will require a more thoughtful cabinet design to ensure you maximize space with minimal waste.
An L-shape offers a lot of flexibility when it comes to working zones and appliance placement. However, it's important to keep in mind that the legs of the L should be limited to about 14 feet to make it easier to navigate.
You can make the most of your corner by installing a walk-in pantry. You won't lose the space you normally lose in corners and it increases your storage and usability a lot. You can use the opposite corner as an eat-in or a breakfast nook to make it more enjoyable.
U-shaped kitchen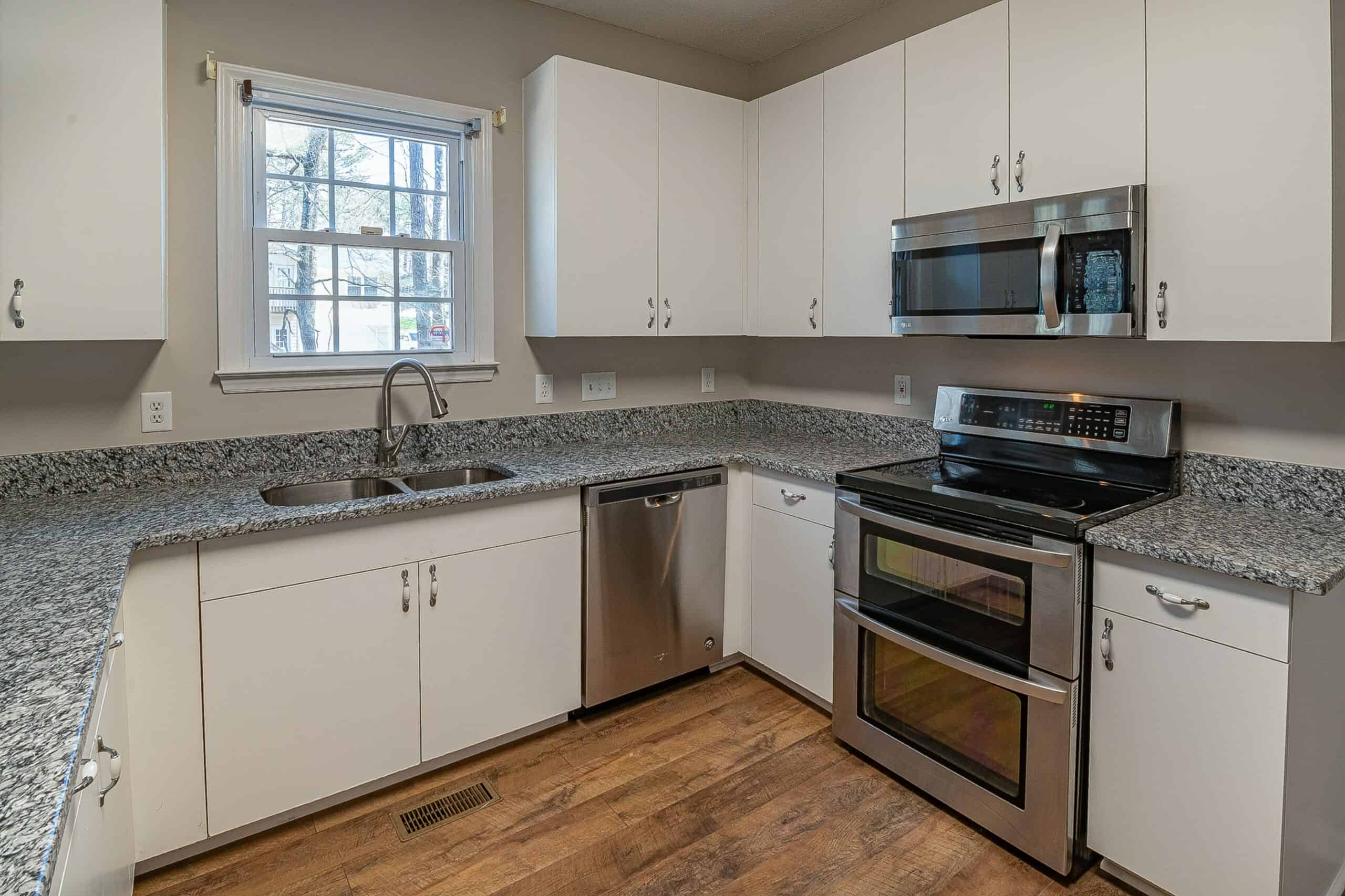 Once again, it's just like it sounds. Three walls that form a U contain countertops, cabinets, and appliances. This is the perfect layout for large kitchens and offers a lot of storage. It could also work for a smaller kitchen, but upper cabinets on three walls can make it feel tight.
In that case, it's best to keep upper cabinets on only two walls and use open shelving on the third. This gives you a more open feel and adds a conversation piece.
U-shaped kitchens offer an excellent workflow for multiple cooks at the same time. Just be sure to keep windows open and uncluttered and place your work areas opposite the entry doors to minimize traffic overlap.
One-wall kitchen
This could be considered a linear kitchen as well since it has one straight line. A one-wall kitchen only has one wall containing all of the cabinets and food storage space. It's often found in smaller homes. Only having one wall may decrease storage space but it often makes the kitchen feel more open. This is a space-efficient option, much like the galley kitchen, but it creates a much cleaner aesthetic.
Because you only have one wall to work with, maximizing your vertical space is important in this layout. You can't build a traditional work triangle, so putting your refrigerator at one end, the oven in the middle and the sink at the other end ensures a better workflow.
Make sure cabinets go all the way to the ceiling, and if they don't, use the space above them to display your favorite decor or as extra storage.
Island kitchen
The island kitchen has a large island in the middle that serves as extra storage and a work surface. Some islands contain the kitchen's range, giving you more counter space and storage on one of the walls.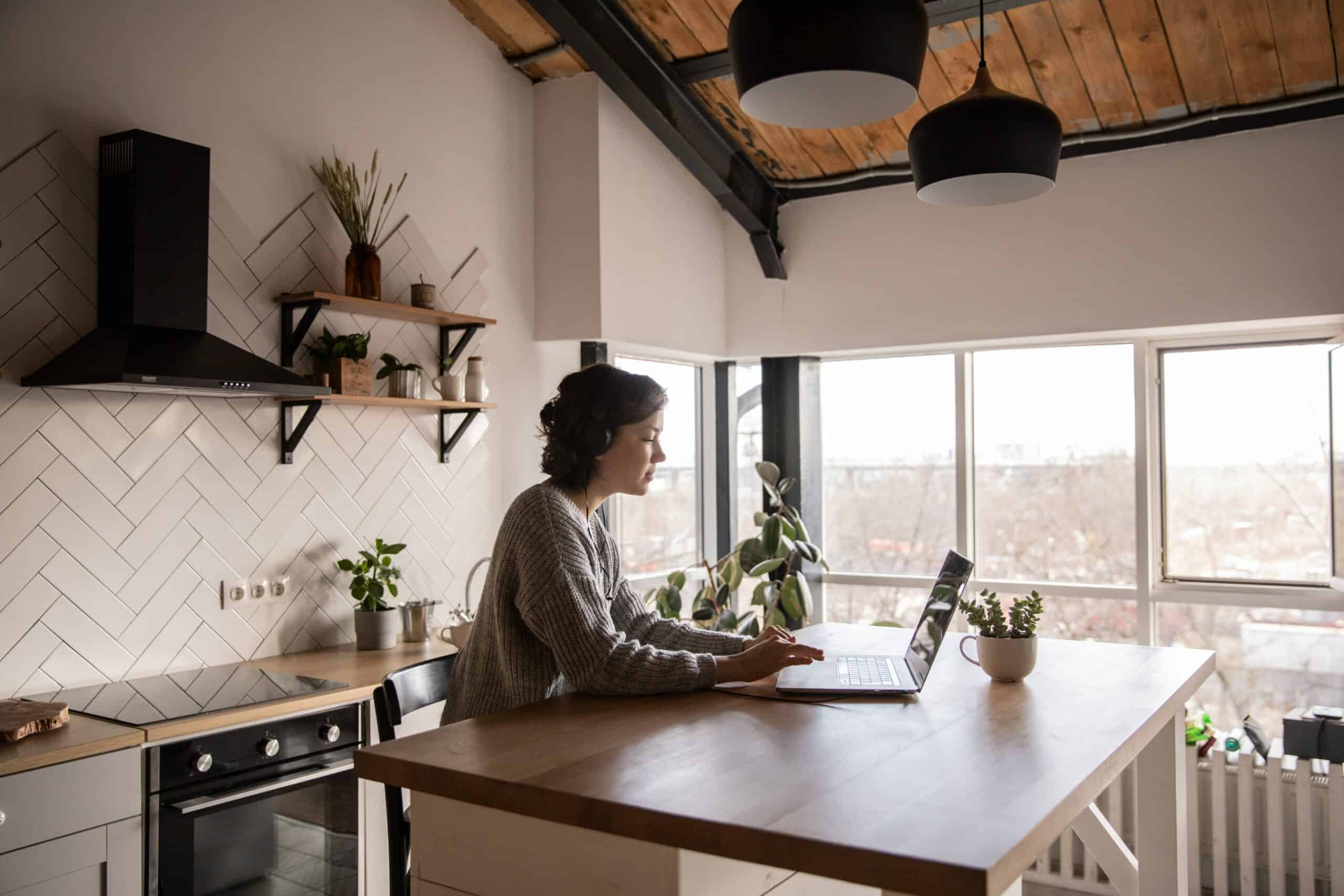 Island kitchens can come in nearly any shape, from U or L to an open one-wall kitchen with an island opposite the wall. The island kitchen is a popular design in modern and open floor plan homes.
Islands function as work areas and socialization centers where family and friends can interact and cook together. It's a prominent feature of the kitchen and looks great under decorative lighting fixtures that also serve as task lighting.
Peninsula kitchen
A peninsula kitchen has a kitchen counter that extends out into the room from the wall. It has the same benefits as an island but fits better in kitchens where there's no room to install an island.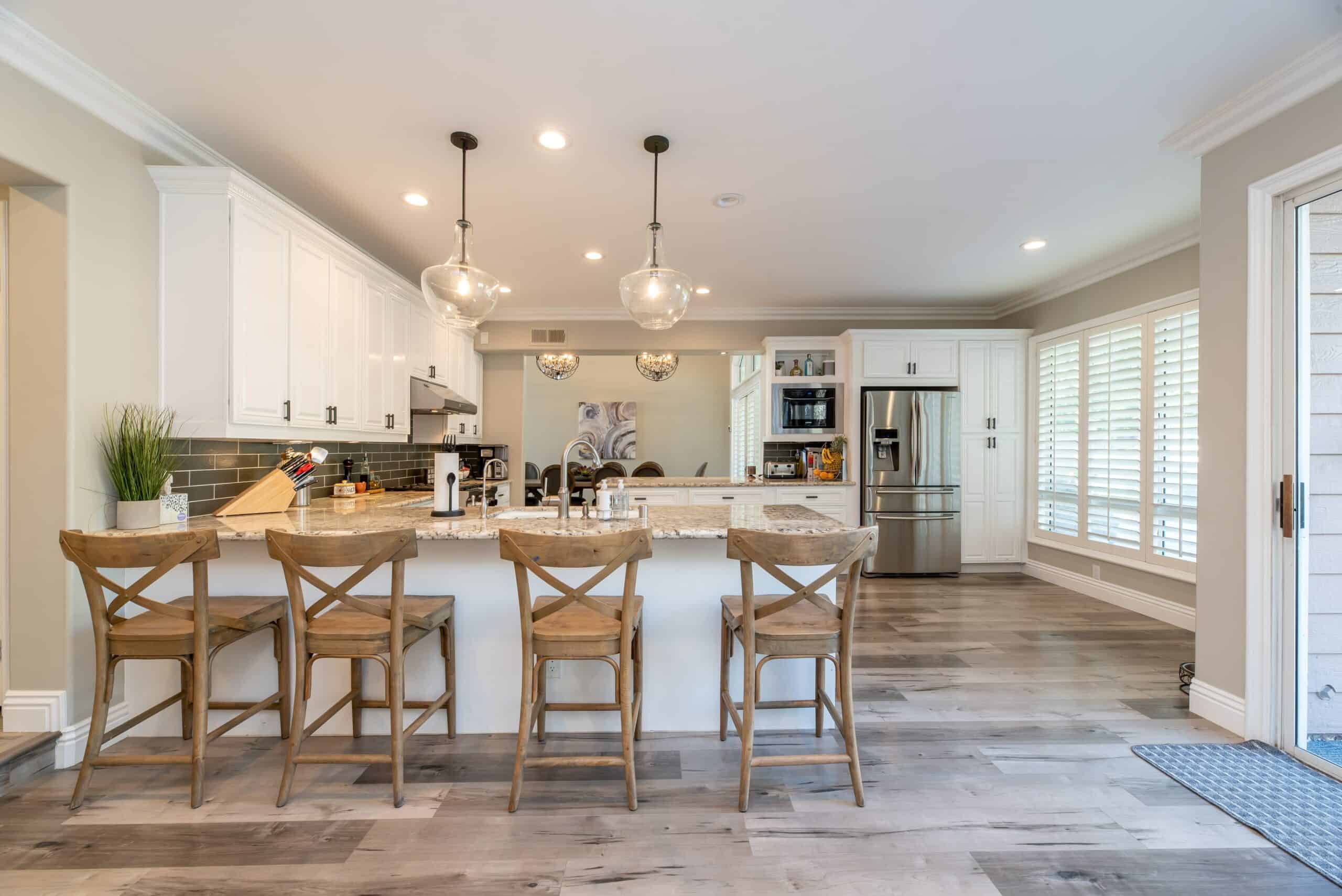 The peninsula can contain appliances or be used for food prep. It's also a great place for interaction, achieved by placing chairs or a bench on one side or raising the counter to bar height for bar stools.
If you have a small enclosed kitchen, a peninsula offers you the opportunity to remove a wall and open the area up to the adjacent room while perhaps adding some more functional storage space.
Kitchen Ergonomics
The ideal placement of the components of your kitchen will depend on the size, shape, and function, but it's the most important factor in building a practical and functional kitchen. A clever layout will maximize the usability of your kitchen.
Ergonomics are also very important for comfort. Getting the measurements right ensures that your counters are at the right height, you can reach your cabinets, and you can place appliances where they'll fit.
The floor plan of your home will determine the size and shape of your kitchen, but there are still ways to make it work better for you.
The work triangle
This term dates back to the 1920s and was one of the first ways to measure efficiency in a kitchen. The triangle includes the refrigerator, the stove, and the sink. General principles of the work triangle include:
Keeping each triangle leg between 4 and 9 feet
Keeping the combined length of all legs between 13 and 26 feet
No cabinetry or appliances intersecting any leg of the triangle
No major traffic through the triangle
Doorways and walkways
It's also important for maximum efficiency that:
Entry doors to the kitchen are at least 32 inches wide
Entry doors should not interfere with the safe operation of appliances
Appliance doors should not interfere with one another
Walkways should be at least 36 inches wide
Sink and dishwasher
A single sink should be next to or across from the refrigerator and stove
The sink should be surrounded by at least 2 feet of the landing area
The dishwasher should be within 3 feet of the sink
Counters
Your kitchen should have:
At least 158 inches of a total usable countertop, including any span or island that is at least 24 inches deep with 15 inches of clearance above
At least 15 inches of countertop next to the handle side of the refrigerator or on either side of a side-by-side
At least 12 inches of countertop to one side of a cooking surface and 15 inches on the other
Seating
Seating for each person should be at least 2 feet wide
If the island has seating, there should be 28-30 inches of space per diner with 18 inches of knee space
Allow for 3 feet of clearance behind all chairs when pushed away from the eating area
Kitchen Styles
After making considerations for measurements and layout, you can begin choosing the type of installations you want to make. Cabinets may be one of the most important decisions you'll make because they have such a big impact on the overall look and feel of your kitchen.
However, that doesn't mean that other items aren't important as well, especially if you have strong feelings about what you want. Here are some options.
Cabinets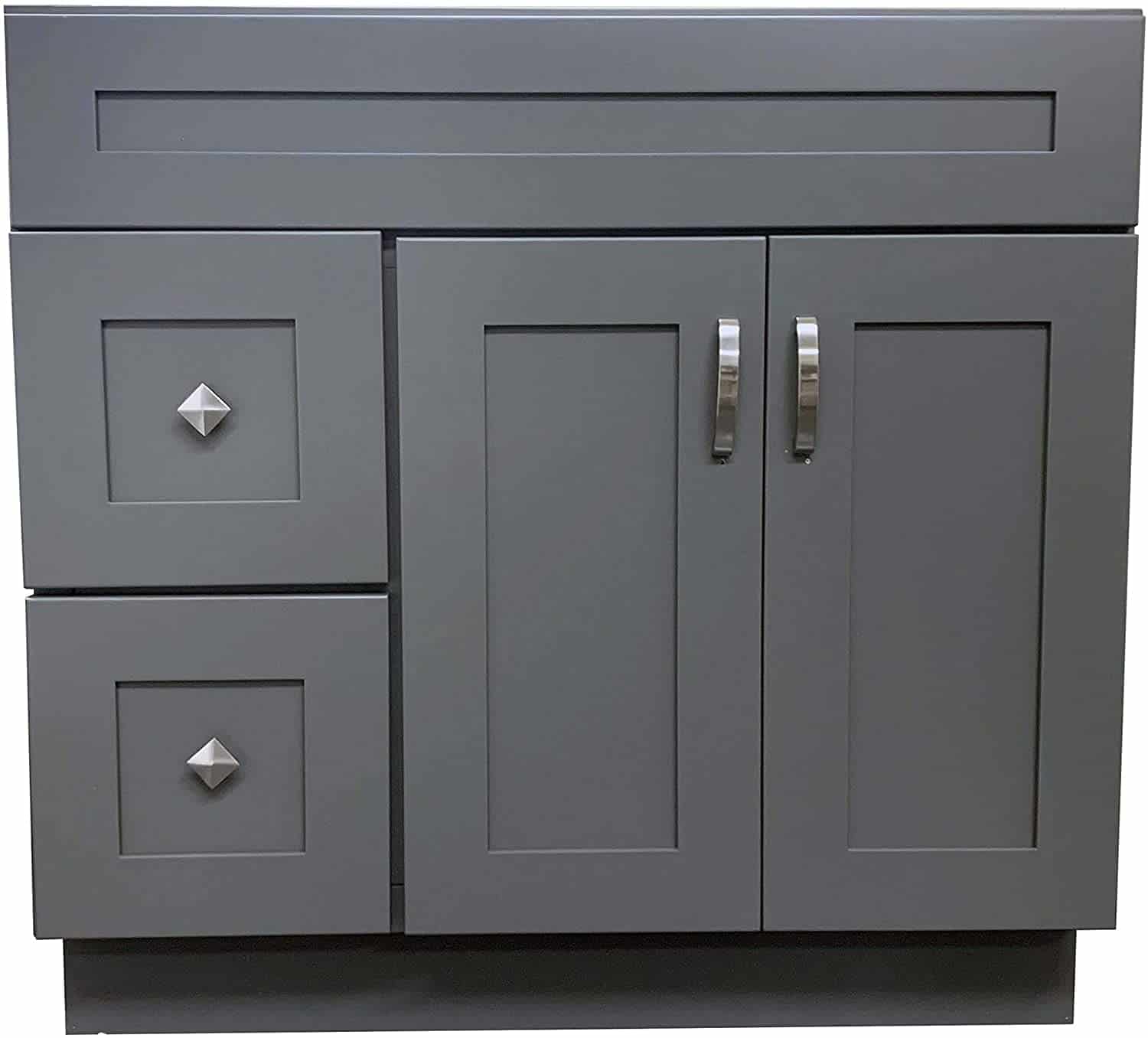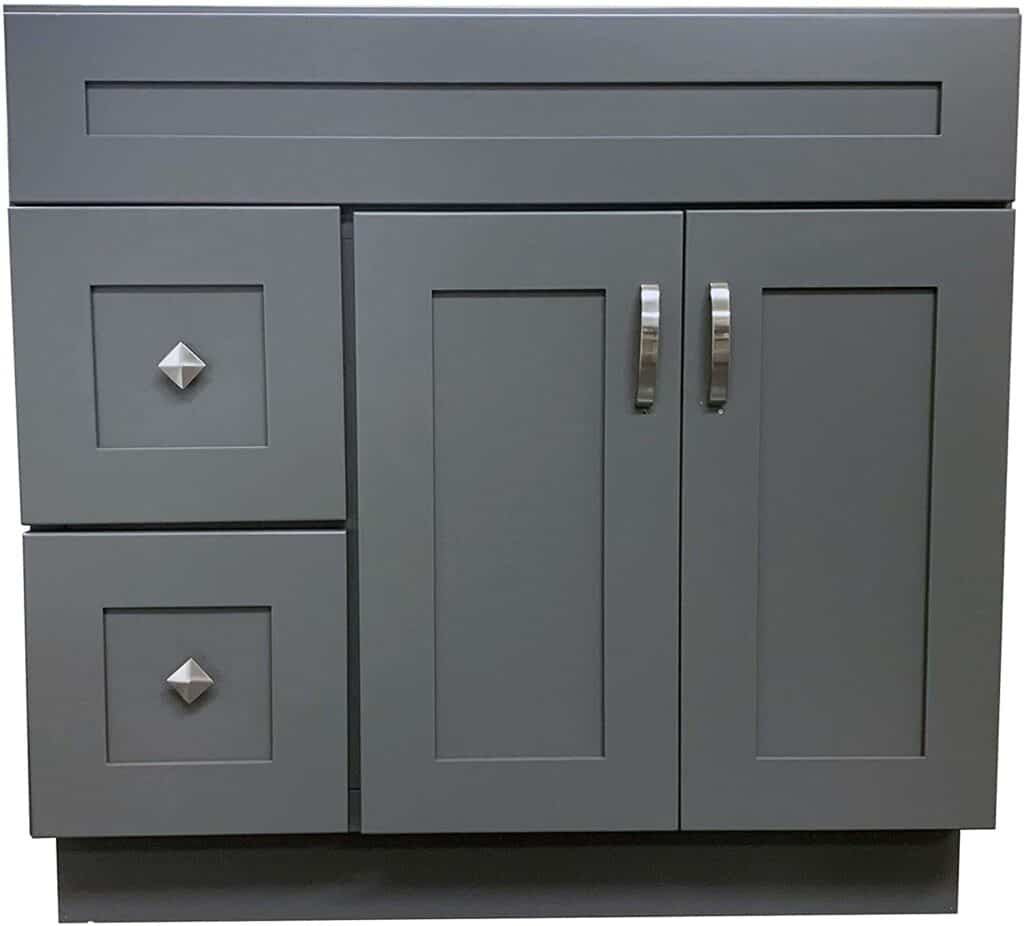 Shaker cabinets are timeless and have been popular for a long time. They're elegant and sophisticated, but very functional. They feature a flat center panel with square edges and rarely any other detailing. They are symmetrical and avoid ornamentation or carving of any kind. They look great in all types of kitchens, from modern industrial to antique farmhouse and everything in between.
Freestanding cabinets offer easier cleaning and an open style. They stand on legs, and without a kickboard, it's possible to clean all the way underneath. They still look great in almost any kitchen.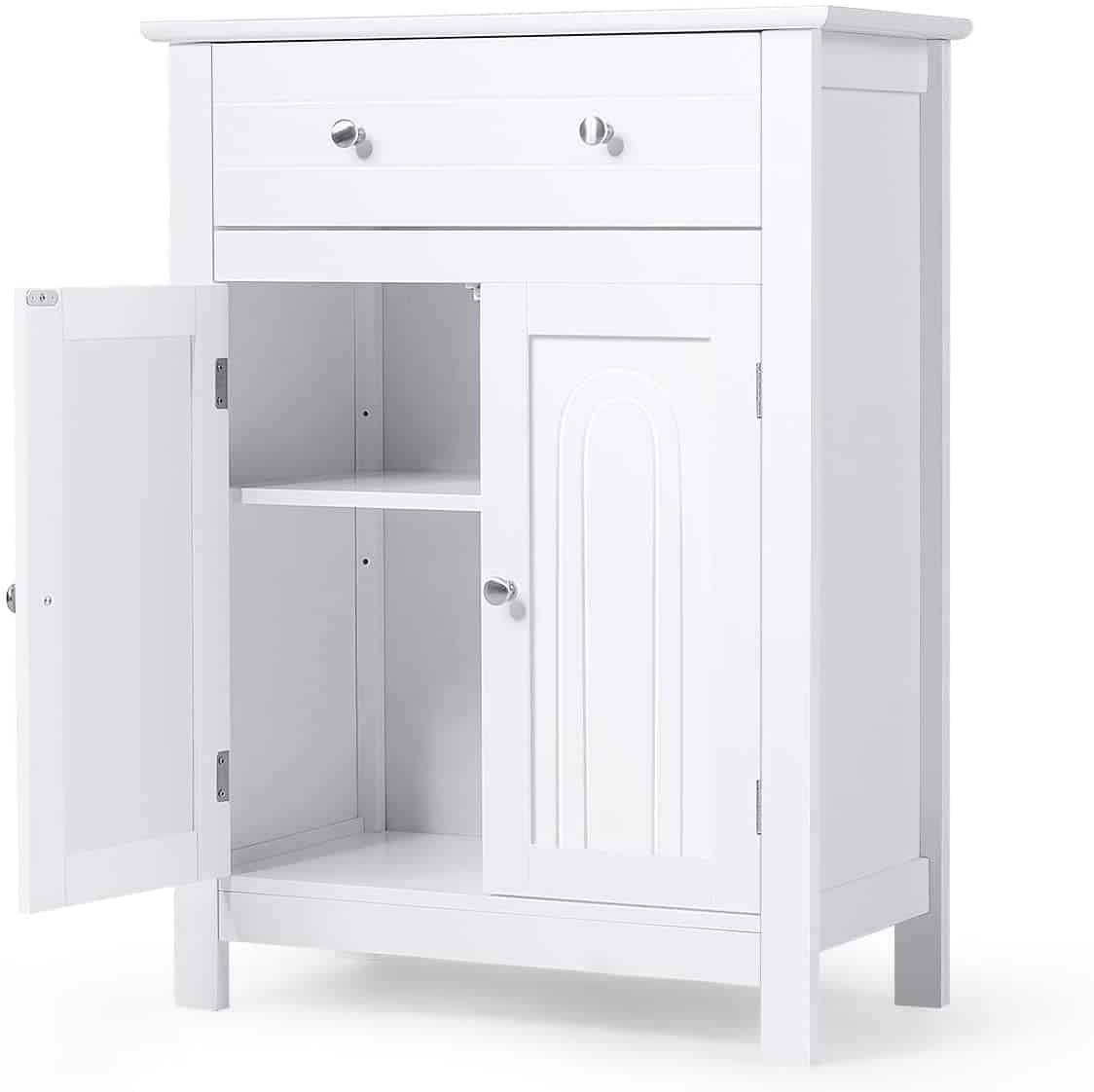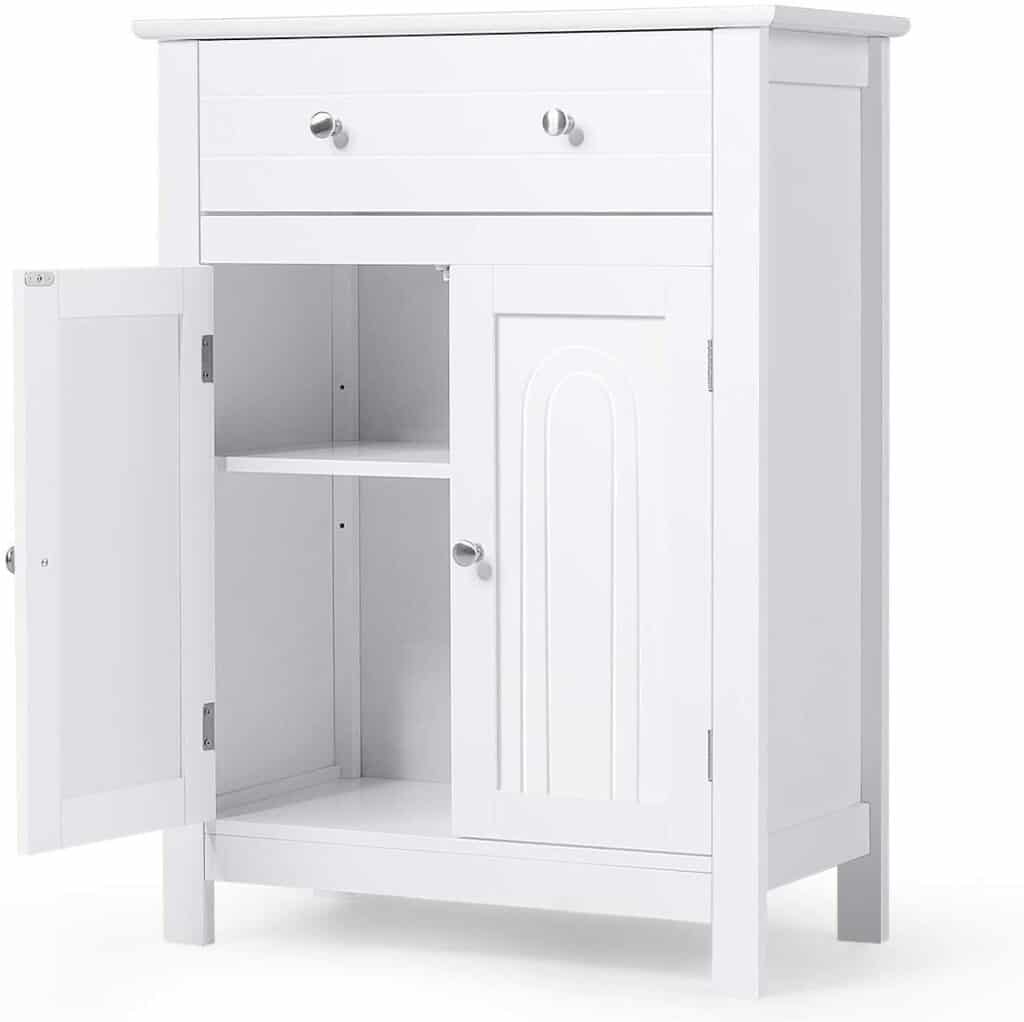 Modern cabinets are completely flat on the front, without a center panel or any styling. Sometimes they have very simple hardware but could have none at all. They offer a simple, sleek, clean look that goes well with modern decor.
There are plenty of other stylings to consider, like cabinets with arched panels, beaded cabinets, or mission cabinets. These are all subsets of previous styles, but with different finishes, carvings, or ornaments.
Seating
Once you decide on cabinets, seating may be a tad easier to come by. Not only are there plenty of options when it comes to the types of seating you can choose, but within each is an endless array of styles.
Barstools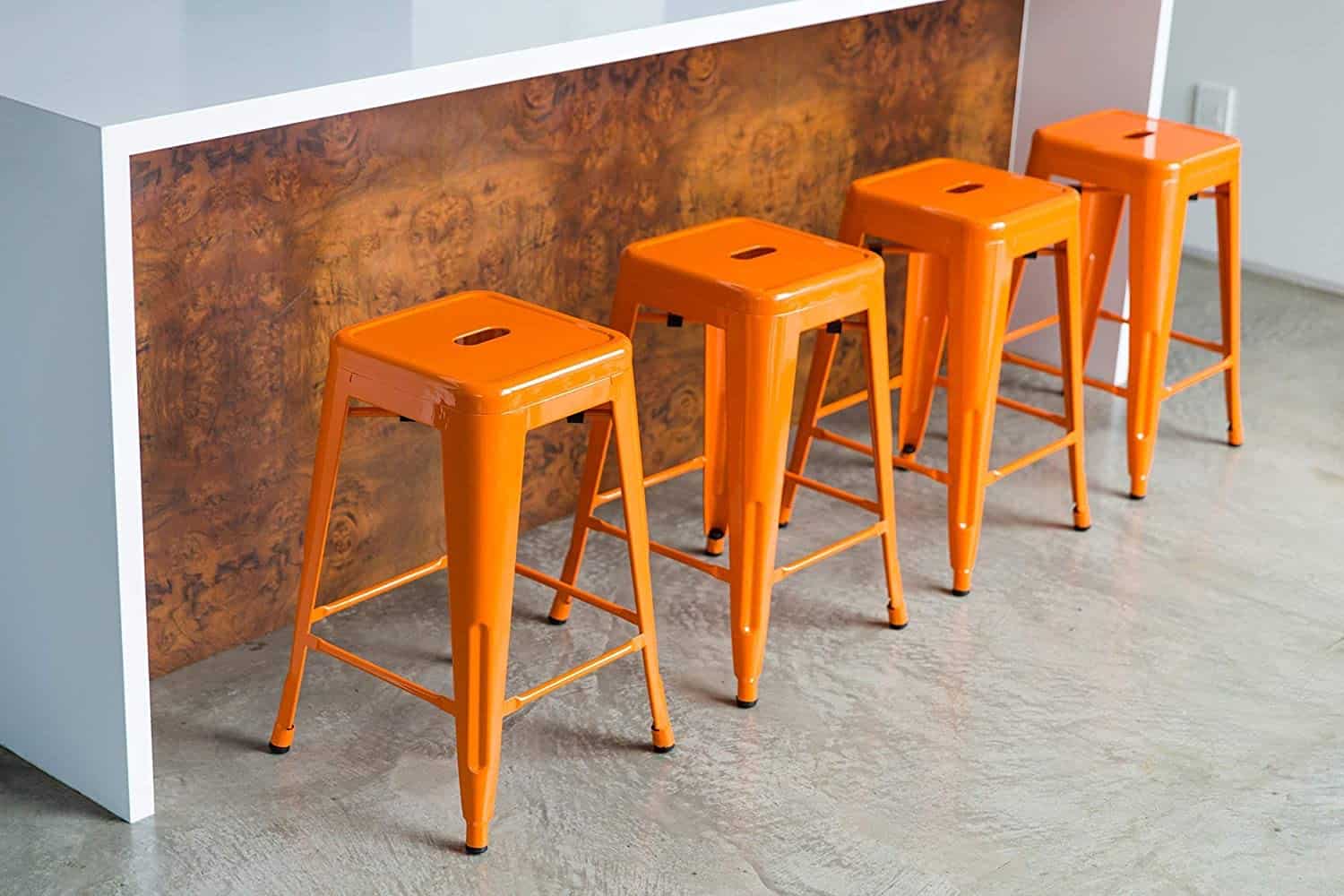 Barstools come in varying heights and styles. They're great options for bar height countertop seating, but you can choose metal, cloth, or wood. You can also pick what height you need, whether you want it to have a back or not, and whether or not it swivels.
Tables and chairs
Tables come in all different sizes, shapes, and styles. If you have an eat-in kitchen, the size of the space will determine how large you can go, but it will likely only hold 2-6 people. You should allow plenty of room for people to get in and out of their seats and still navigate the rest of the kitchen.
Chairs serve several purposes in the kitchen. They surround the kitchen table for eating, but could also be tucked back into a corner or breakfast nook for extra seating when you have guests.
Your chairs should slide easily underneath your table when not in use, even if they have arms. They also don't have to match the table or each other. It's popular to have a mismatched set and can be very whimsical in a non-formal space.
Benches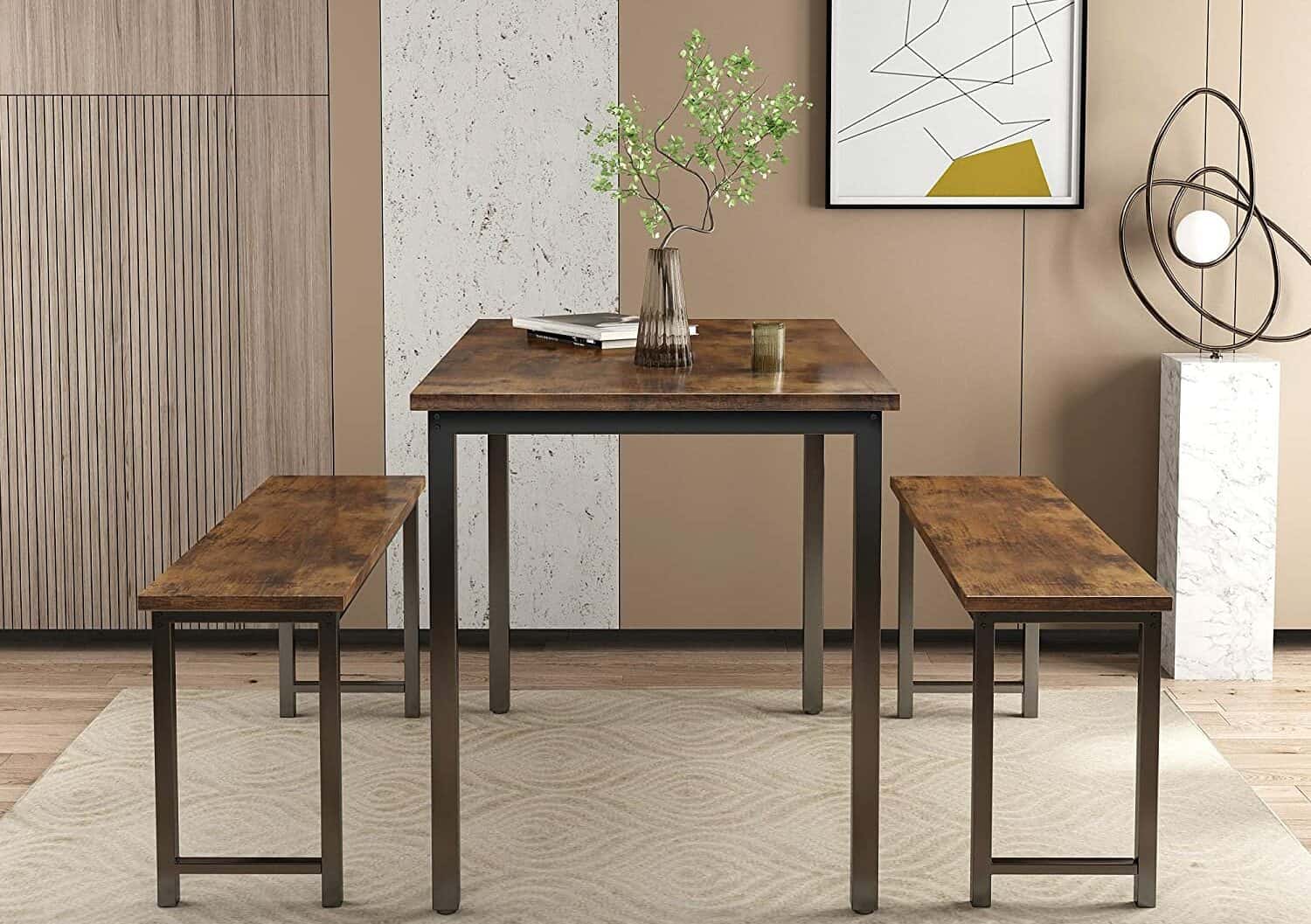 Benches are trendy seating options that mix and match well with chairs. Place bench seating along a wall or in a bay window, making it easier to slide in and out on the side of the table that's the most cramped.
Benches can also be multifunctional if they have storage underneath, giving you plenty of places to pack away the seasonal decor, tablecloths, or extra place settings.
Appliances
Appliances are typically built-in to your kitchen, saving you time and space. However, there will be appliances you can't build in, so having ample space to stow them away in a cabinet when you're not using them will free up your counter.
Toasters, toaster ovens, coffee pots, skillets, and other freestanding appliances often litter kitchens that aren't planned very well, but many people aren't too worried about them matching each other or the rest of the appliances either.
For your large appliances, like the refrigerator, range, stove, oven, dishwasher, and even the microwave or a wine fridge, choose a style you like and stick with it.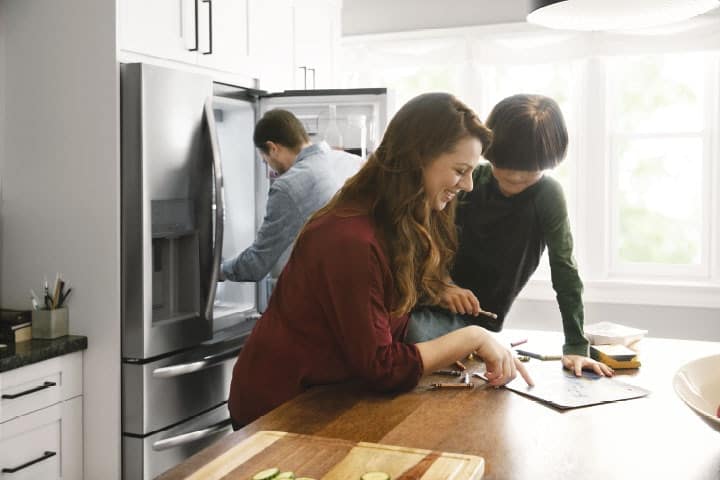 These types of appliances typically come in white, black, and stainless steel, but occasionally you may find other colors. No matter what you choose, making sure they match each other will give you a seamless look.
Stainless is modern and sleek, while white appliances will pop against darker cabinets. Black appliances can look sleek without being too showy, and look great if you have lighter cabinets as a backdrop.
Countertops
Next to your cabinets and appliances, this may also be one of your most important considerations. In fact, your countertop bears the brunt of almost everything you do in the kitchen, from meal prep to entertaining.
Your countertop should be durable and elegant, but you also shouldn't have to worry about how you treat it. For instance, while laminate or vinyl counters are cheaper, they won't last very long at all.
They can't hold up under heat, you have to use a cutting board every time you chop something, and moisture will eventually cause them to peel, wrinkle, or deteriorate.
Granite
Granite comes in many different colors and can be very elegant and pricey. It's durable, but it can chip. You can cut directly on the granite, but granite is so tough that it can actually dull your knives more quickly.
It's also recommended that you always use a trivet because prolonged exposure to hot pots and pans will cause cracking.
Quartz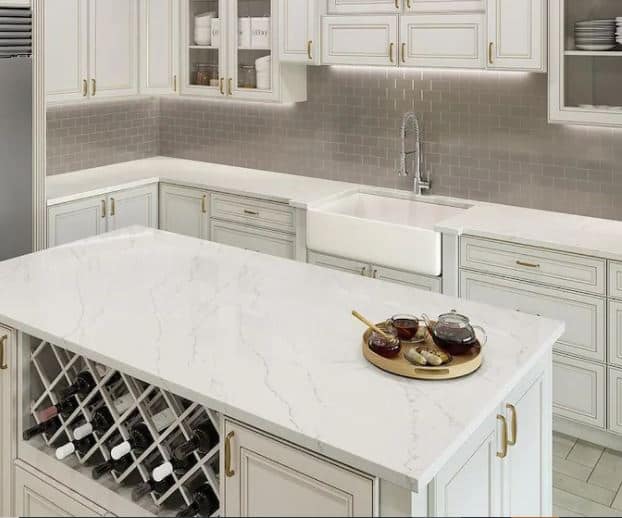 Quartz is a popular countertop choice because of its extreme durability. In fact, it's heat and scratch-resistant, but you should still avoid placing hot pans directly on the surface or cutting on it if you can.
Quartz is available in many colors and the look is often enhanced with veining or other designs. It's more expensive than granite but will last longer.
Concrete
Concrete countertops offer a raw industrial look. They can be pricey, but they're durable and they look really cool in the right setting. You can pair them with wood or painted flat panel cabinets for a modern look.
While concrete is very expensive, you can do almost anything you want to it. However, concrete is unforgiving, and you'll need to sharpen your knives more often if you don't use a cutting board. You'll also need to continue to use a trivet for hot plates.
Butcher block
Butcher block countertops offer a fantastic way to avoid needing a cutting board. You should still use care with handling hot items, and butcher block counters will stain easily if not treated frequently.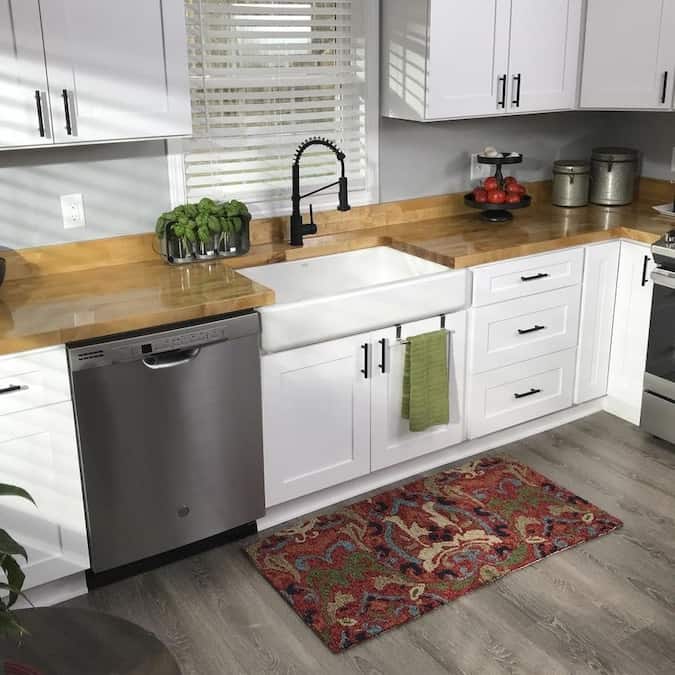 So while these types of counters may be the most convenient in terms of meal prep, they're also the type that requires the most maintenance and care. However, if this is the unfinished look you're going for, they're well worth it.
Flooring
Flooring is another important consideration for your kitchen because while it completes the look, you'll likely be walking on it endlessly and dropping a lot of things. It should be beautiful, durable, and easy to clean.
Wood
Wood floors offer a variety of looks, from very dark to very light. You can also choose from thin or wide planks and all kinds of different types of wood. While pine offers a beautiful blonde color, it's very soft and will show every dent and scratch.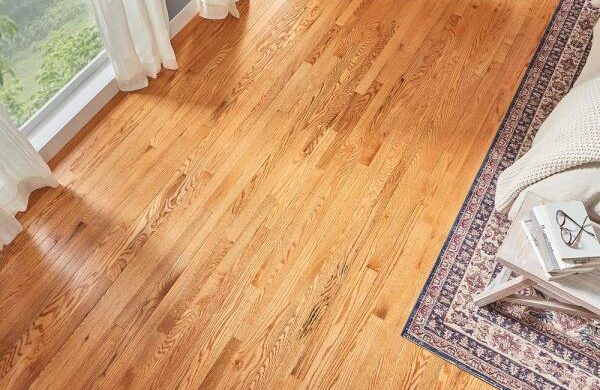 Oak is hard and durable and offers darker brown shades while cherry has a red tint to it. There's also maple, mahogany, bamboo, and many others. You can also choose a smooth grain or pick out planks that show imperfections like knots. You'll want to consider the look you're going for and then choose the type of wood that fits.
Wood can also be very easy to clean but will require more maintenance to keep it looking nice.
Faux wood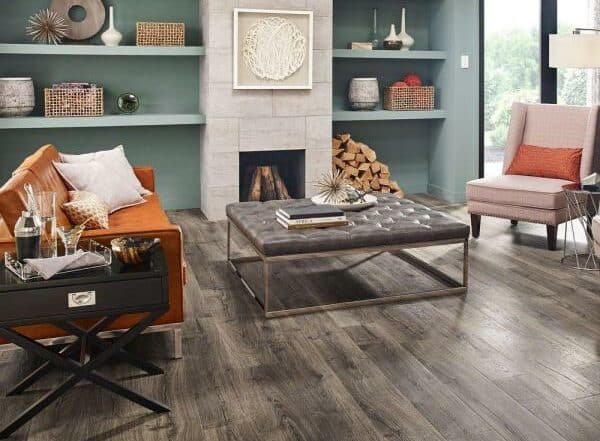 There are a lot of different faux wood options that are much easier to maintain and a lot cheaper, but they're not quite as durable. However, for the money you'll save, it's a great option for busy families and high-traffic kitchens.
It used to be that these weren't great options because they weren't manufactured with quality. But most faux wood options these days are waterproof and treated to make them much more durable and longer-lasting.
Tile
Tile can also be an elegant, easy-to-clean option for your kitchen. From plain to patterned, there are so many different looks from which you can choose. However, tiling your kitchen will require grout, which needs proper maintenance to avoid cracking.
Tile can also crack or chip, so this is an option better reserved for kitchens that don't see a lot of traffic or that don't have to withstand children or pets.
Laminate
While laminate flooring is very affordable and can imitate many different looks, it won't last for as long as the other options. Changes in temperature and moisture can cause it to wrinkle and peel.
It also stains, rips, and gets discolored very easily. If you're looking to save a lot of money, this is a good option, but be prepared to have to replace the flooring every couple of years.
Fixtures
Lighting is important in a kitchen for many reasons. It illuminates your meal prep but provides ambiance for intimate gatherings. You may choose to mix and match your features depending on the size and function of your space.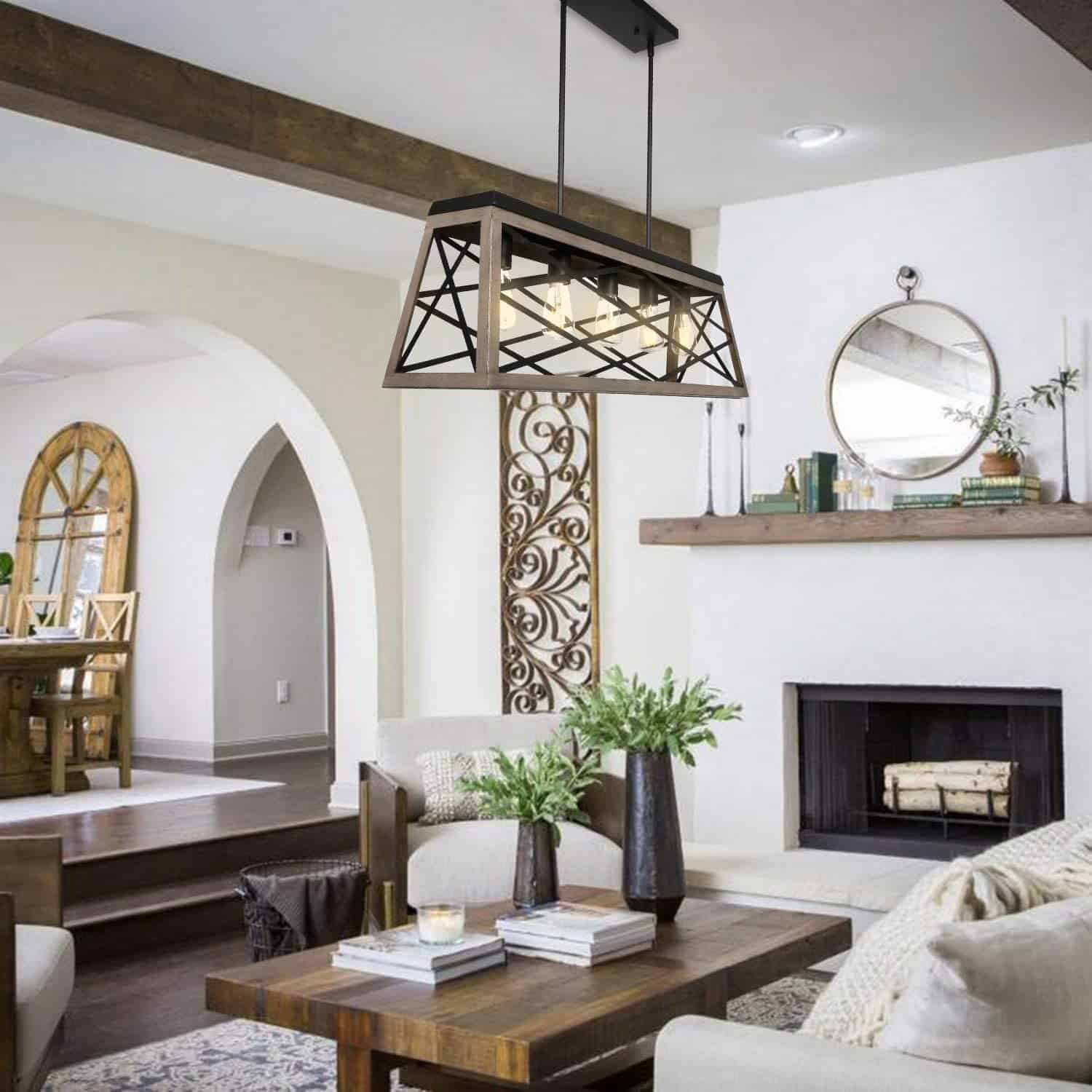 Bright fixtures look great over an island and serve as a central focal point for the entire work area. To illuminate other work areas under cabinets, consider mounting LED lights under the cabinet that click on and off easily and individually when you need them.
A simple fixture in a walk-in pantry also serves for task lighting and making it easier to find what you need quickly. If you have a large pantry, you may need more than one.
Elegant fixtures controlled by dimmer switches function well above your kitchen table, offering a well-lit place for eating breakfast and lunch and then transitioning to mood lighting for dinner or entertaining.
Sinks and faucets
Your sink may only be a small part of your kitchen, but it serves an important purpose and can make a huge statement. It's cheaper to mount a sink above the counter, but it's more seamless and elegant to mount it below.
The material of your sink and faucet doesn't need to match the rest of your appliances. You can use your sink as an accent instead.
Stainless is durable while black is sleek and modern. Both are durable and easy to clean and maintain. A large white basin with an apron complements a farmhouse-style kitchen nicely, but white can stain easily and be difficult to keep clean.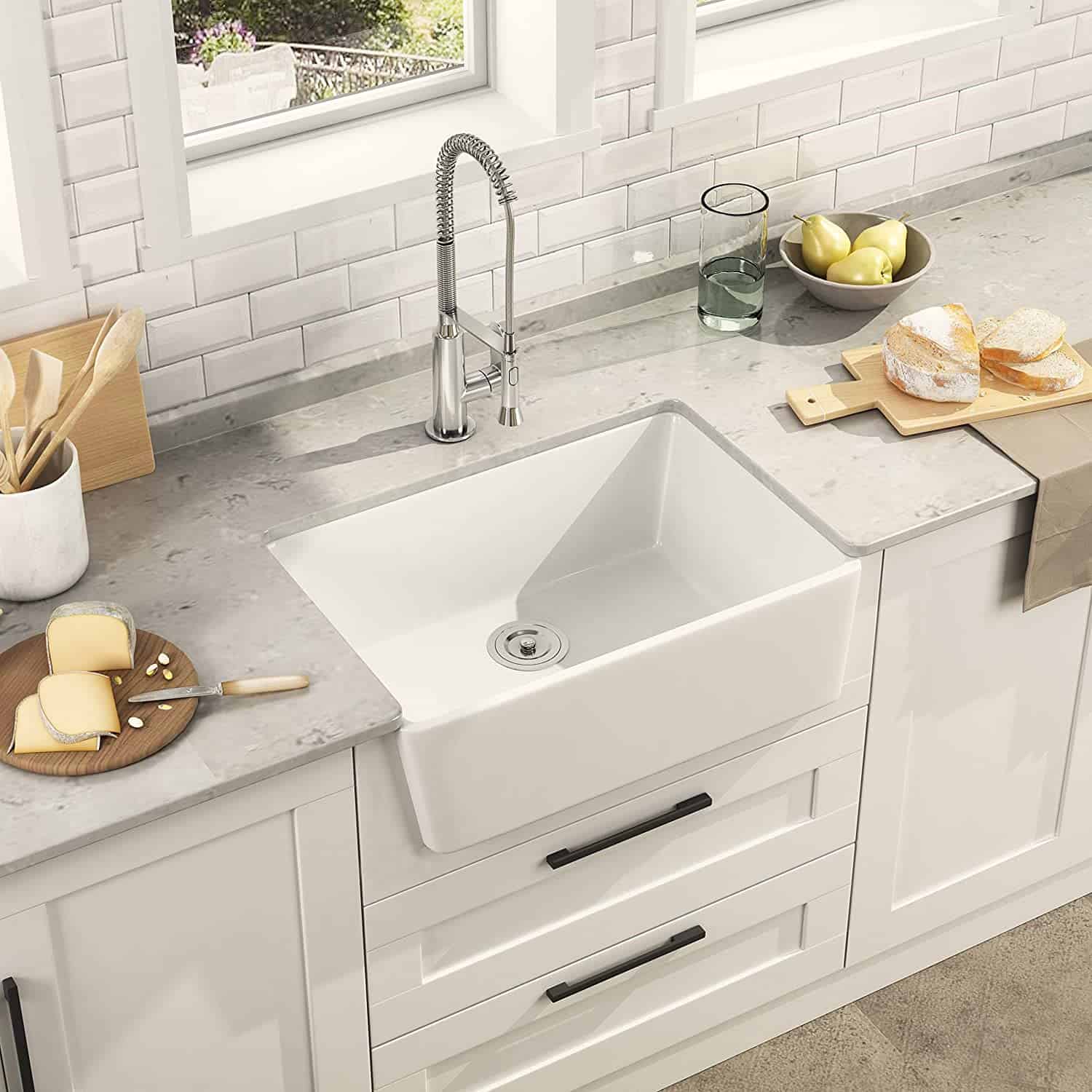 Some people choose to upgrade to something like copper, which makes a bold statement and elevates your kitchen's style even more.
You have nearly the same number of options for faucet materials as well, so you can choose to match the sink or not. However, you'll want to consider things like:
Levers, knobs, or touch to turn it on
Whether the lever or knob is attached or to the side of the central sprayer
A sprayer head or a separate sprayer to the side
Tall faucets are more convenient for shallow sinks and kitchens that see a lot of dishwashing activity. However, if you have a deep sink, you might be able to get away with a shorter faucet. It all depends on how you're going to use it.
Disposal
The disposal will be hidden if you have one, so you don't need to worry about what color it is. What you do need to worry about is how much power it has. Sinks that see a lot of traffic and garbage will benefit from higher-powered disposal. Consider at least ¾ horsepower if not 1 horsepower. These options are larger, so you'll need room under the sink to accommodate them, but they're convenient for large families or avid cooks.
If you have a small family, don't cook a lot, or don't dispose of extra food very often, you will be fine with ¼ or ½ horsepower.
FAQs
Question: How do you layout a kitchen?
Answer: There are 6 basic kitchen designs, but it's also important to remember that the design of your kitchen will depend on the size and shape of the space you have. No matter which layout you choose, you'll want to make sure that you design it in a way that reduces traffic and maintains space for walkways.
Keep in mind both vertical and horizontal space. Layout your kitchen floorplan first and then create a 3D rendering of it so you can see what it will be like before finalizing your plans.
Question: What furniture should be in a kitchen?
Answer: While we traditionally think of furniture as tables and chairs, kitchen furnishings also include appliances, cabinets, and countertops. Most people need all of those things, but how much of them they need will vary.
A typical kitchen has a refrigerator, a range, and a dishwasher, but some people may choose to add a wine fridge, a trash compactor, a built-in microwave, or some other appliance they need.
Similarly, if you have an eat-in kitchen, you might need a table and chairs. However, if you're limited on space, you may want to simply put bar stools at the island and leave it at that. Any combination of the two is great.
Typically, the countertops throughout your kitchen will be uniform, but some people like to have countertop extensions that serve different purposes. A wood extension serves as a cutting board while having your island be a different color or material than the rest can add a bit of depth and flair.
Question: What are the 3 primary workstations found in the kitchen?
Answer: The three primary workstations are the food storage area, the cooking area, and the cleaning area. The lines between these stations create the work triangle. Planning your kitchen around this work triangle will prevent overlap and crossing traffic, making your kitchen more efficient.
Final Thoughts
There's a lot to think about when designing and furnishing your kitchen, but it doesn't have to be complicated. Start with a budget and a plan, and sprinkle in the rest as you go. As long as you consider how you're going to use your kitchen as you design it and you pick the materials you like, you'll be happy with the result.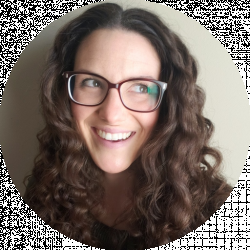 Latest posts by Sarah Caldwell
(see all)