Remote work seems to be the future since more and more companies choose to cut expenses by hiring full-time remote workers. Consequently, the home office furniture can make the working experience from home much more comfortable.
Whether you run your business from a home office or you work for a large company you're going to need a dedicated space in your home or apartment where you keep all business equipment and materials.
Some people convert an extra bedroom into a home office, while others have just enough space for a desk and a chair in their living room. The amount of space you have at your disposal affects the style and size of the furniture you can get.
So, in this home office furniture guide, we're going to walk you through the process of furnishing a home office and we'll help you find solutions that best fit your style and your budget.
Home Office Furniture Guide: The Essential Pieces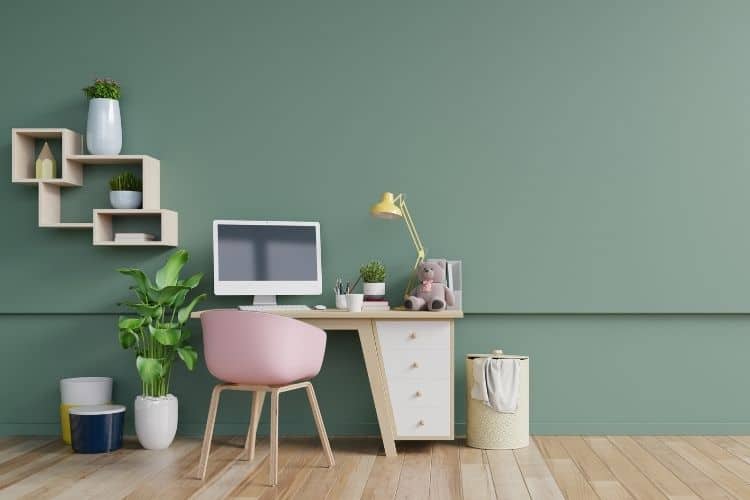 Working in a more relaxed setting, casual dress code, or not being stuck in traffic day after day are some of the privileges of having a home office. Besides the only two essential items, you're going to need to start working from home are a desk and a chair.
Naturally, the list of essential pieces of home office furniture depends on what you do, since you're not going to be shopping for the same items if you're setting up a private equipment rental company or starting a home-based accounting firm.
However, a desk and a chair are included in most home office setups, although some people prefer to stand while working while others don't really need a desk while using a laptop. Working from home also enables you to stay away from furniture that is specifically designed for the office and instead use the style of furniture that makes you feel comfortable.
Non-essential pieces of home office furniture
Storage space is arguably the greatest obstacle you'll have to face while setting up the home office, as you'll likely produce vast amounts of documents every day.
Digitalizing most of your business transactions will reduce your storage space requirements significantly, but despite this, you might still need a drawer file cabinet or a bookshelf where you can keep your documents or equipment.
You should also consider getting a lamp or similar lighting equipment, especially if you work long hours or you're the most productive during the night. The list of non-essential furniture items you're going to need for the home office depends on whether you'll be hosting business associates and clients in your office or not.
In case you're expecting to see quite a bit of traffic you should consider adding an office sofa, several armchairs and a coffee table to the office. You might need a side table where you can put additional lighting or a standing coat hanger where your clients can leave their jackets.
Home office furniture styles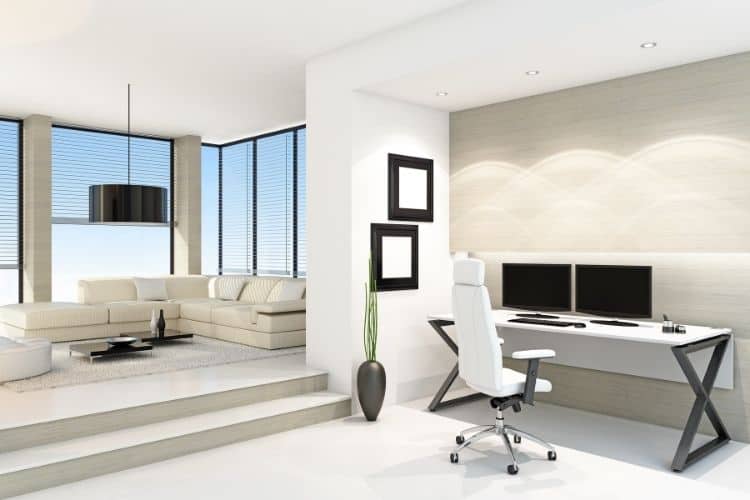 Your options are seemingly endless when it comes to the styles of furniture you can get. Although nothing is stopping you from adding conventional office furniture to your home office, you can also explore styles of furniture you don't expect to see in a business setting.
Working from home is all about feeling comfortable and the style of furniture you select should reflect that. Let's take a look at some of the most common home office furniture styles you'll encounter:
Traditional

– Heavy wooden desks, cabinets that cover the entire walls, and vintage office chairs characterize traditional home office furniture settings.

Even though these furniture pieces often look stylish they're not necessarily cozy.

Mid-century

– Getting the furniture that looks like it was produced in the 1950s and 1960s will enable you to make your office resemble this bygone era.

As long as you prioritize functionality and comfort level over aesthetics, you'll end up with a snug and stylish home office.

Contemporary

– Minimalistic designs and efficient use of space are some of the most notable characteristics of contemporary home office styles.

A simple desk design, an ergonomic chair, and a metal drawer file cabinet are all you need to replicate this style.

Industrial

– Dominated by furniture pieces made of steel, wrought iron, and reclaimed lumber, the industrial home office style has become incredibly popular in recent years.

However, its cool look and feel are somewhat in contrast with the warmth associated with most home office settings.
Types of home office desks
A desk is the centerpiece of almost all home office setups that sets the tone for the entire style of the office. Factors like the amount of available space, the size of the work area, and your taste can help you choose a desk that meets all your needs.
Here are some of the most common types of home office desks:
Writing desk

– A relatively small tabletop leaves enough space for a laptop, but not necessarily for the monitor, and the keyboard.

Some models may have storage compartments directly below the top that stand on lightweight metal legs.

Secretary desk

– A great fit for vintage home office styles, the secretary desk usually contains a large number of drawers and a desktop that can be raised to conceal storage compartments or lowered to create a work surface.

These types of desks are considered outdated and they may be uncomfortable for professionals who work 8 hours per day.

Computer desk –

As indicated by its name, this type of desk is designed to accommodate desktop computer configurations.

These desks often feature cord portals and charging stations that enable you to efficiently organize cables and recharge USB-compatible devices

Standing desk –

Sitting for 8 hours can lead to a wide range of

health disorders

, which is the reason why some people prefer to work while standing.

The height of standing desks is usually adjustable so that you can choose the position you're the most comfortable in, while some models can be converted into a conventional home office desk.
Types of home office chairs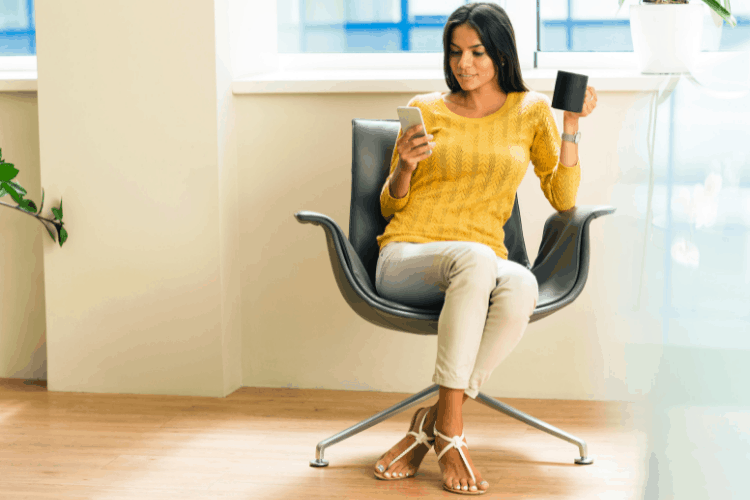 Even though there are numerous types of home office chairs, they can be divided into two categories, those that keep you comfortable regardless of how long you sit in them, and those that don't.
So, if your job involves long hours in the sitting position, you should choose one of the following chair types.
Ergonomic chairs –

Designed to provide lumbar support and keep the body in the upright position, ergonomic chairs are the most common type of home office chairs.

In addition, you can adjust their height and tilt them forward or backward to find the most comfortable sitting position

Executive chairs –

Elegant design, high level of comfort, or versatile adjustment options are some of the advantages executive chairs have to offer.

However, they are not budget-friendly, since high-end models can cost more than a thousand dollars.

Drafting chairs –

Architects and all other professionals who use

drafting tables

daily, should get a drafting chair that is designed to provide a maximum level of comfort during long work sessions.
Task chairs are an older and less comfortable version of ergonomic chairs that are best suited for people who spend just a few hours a day at their desks. Business owners can consider getting reception or folding chairs if their home office has a waiting room.
Storage and lighting options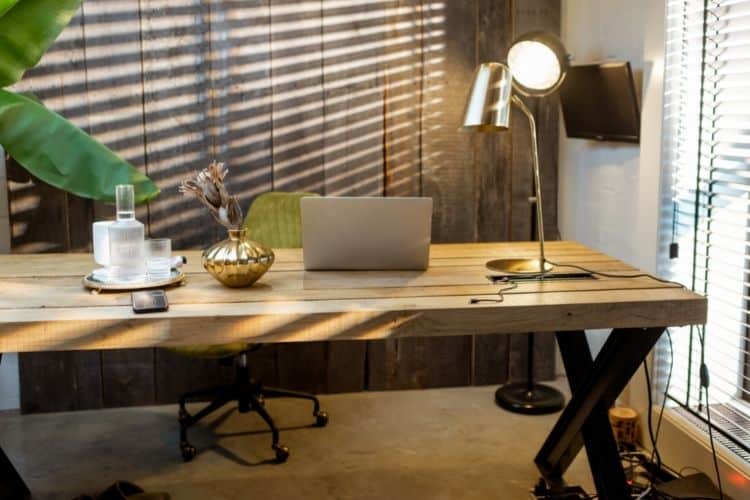 How much storage space you're going to need depends on the type of home-based business you have. Choosing a table with drawers might meet all your storage capacity needs if your job doesn't involve using equipment other than a computer or if you can keep most of your documents in digital form.
Having a file cabinet will provide you with the extra room where you can keep folders that contain contracts or other important documents.
Also, if cameras and other expensive equipment are part of your daily work routine, you should consider getting a home office storage cabinet with lockable doors that will enable you to keep your gear safe.
Aside from storage, you should add at least one artificial source of light to your home office, so that you can use it if you need to work after it gets dark. Besides making your workspace more stylish, lamps enable you to replace the hard ceiling light with softer lamplights.
The most important factors to consider while choosing home office furniture
Furnishing a home office involves much more than just getting a chair and a table. This process gives you the opportunity to decorate the walls with the art you like, arrange the furniture in a way that uses the natural light efficiently, or live the space up by adding plants to it.
Choosing the furniture for your home office also gives you a chance to find the balance between functionality and aesthetics. So, let's take a look at the factors that can assist you in choosing home office furniture.
Available space
The choices you'll be able to make largely depend on how much space you have at your disposal. For instance, you might not be able to fit a table with a large work surface if you're setting up a home office in your living room.
Besides, you should analyze the space you want to turn into the home office to determine if you can place the desk near the window or if you have enough room for a storage cabinet.
Home Office Style
You can opt for matching pieces of furniture if you want to replicate a particular office style, choose the colors of the walls or decide which flooring option best fits your home office.
Besides the traditional, contemporary office style, you can get vintage tables or chairs if you'd like your home office to look like it is from another era. Optionally, you can experiment with different styles of lamps or ceiling lights that complement your home office concept.
Hanging pictures and other decorative elements to the walls might be a great way to customize the space you're using as an office.
Storage Space
Try to estimate how much room you're going to need to store all the equipment and documents you're using on a daily level. This should help you decide if you need more storage options besides the desk drawers.
Also, you don't have to get a large bookshelf, a storage cabinet, or a file cabinet as soon as you start working from a home office. Instead, you can take some time to determine if you need to upgrade your current storage capacities.
You should also keep in mind that expanding the volume of storage in your office would occupy additional space.
Ergonomics and Comfort Level
Probably the most important aspect of furnishing a home office is to feel comfortable, and the best way to achieve that goal is to choose the furniture that creates a cozy atmosphere.
In addition to the visual side, you also need to consider if a chair you choose can keep your upper body in the upright position for 8 hours. By doing so, you'll avoid having to deal with high cholesterol levels, back pain, and numerous other medical issues that are associated with sitting.
The chair's ergonomics are particularly important for owners of home-based businesses who spend a lot of time in front of their computers.
Furniture Quality and Durability
Investing in high-quality home office furniture is a long-term investment that will enable you to use the same chair and desk for years. Solid wood desks are stylish and may remain in perfect condition for decades, but models that have glass work surfaces may also be a great addition to any home office.
Having to replace the furniture in your home office often can turn out to be more expensive than spending a bit more on durable pieces that won't decay quickly.
Also, getting lightweight home office furniture might be a good idea if you like to rearrange furniture often or if you're thinking about moving your office to a larger space down the line.
The Cost of Furnishing the Home Office
Create a detailed list of all items you're going to need to furnish your home office, and then allocate a certain portion of your total budget to each item on that list.
Doing this will give you a clear picture of the type of home office furniture you can get in the projected price range and help you to narrow down your choices.
The quality of the furniture you'll be able to get depends on your budget, but even the least expensive tables and ergonomic chairs should be durable enough to last for a few years. Getting mid-range or high-end models is a good choice if you want to avoid replacing furniture in your home office often.
The advantages of choosing your home office furniture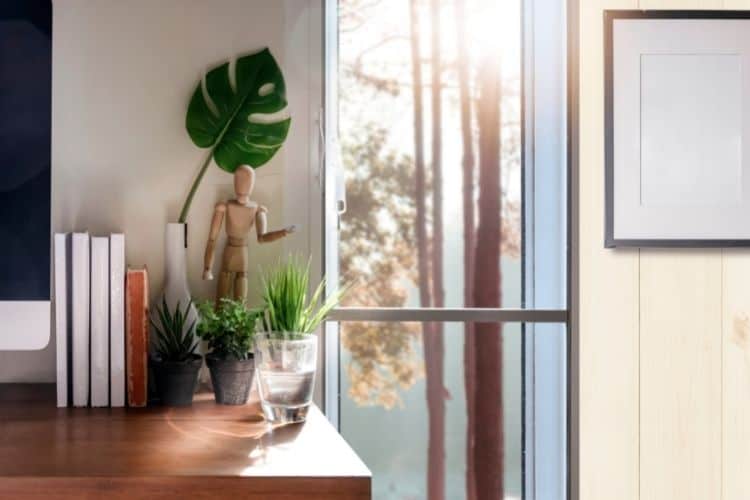 You Can Choose the Furniture You Like
Choosing the table or a chair in traditional office settings isn't always possible, so you might end up sitting in an uncomfortable chair without being able to do anything about it. Setting up a home office enables you to handpick every detail in your workspace.
Stress-free Work Environment
Adjusting your home office to your needs will enable you to create a productive and stress-free work environment. Choosing furniture in calming colors will make the space you're using as a home office pleasant and it will help you create a cozy atmosphere.
Remote Work is the Future
According to the data released by UpWork, by 2028 almost all departments within a company will have at least one remote worker. Choosing home office furniture today will set you on a path to become a long-term remote worker.
You can Rearrange or Replace Whenever Furniture You Want
Having a home office enables you to try out different furniture arrangements without having to ask anyone for permission. Also, you can get a new table or a chair whenever you want to freshen up your workspace.
Wide Selection of Home Office Furniture Pieces
Finding a desk, chair, or file cabinet that fits your needs isn't going to take a lot of time. All major home furniture stores feature items you might need to furnish a home office and offer the home delivery option.
The disadvantages of home office furniture
High Costs
Getting the furniture that will make you feel comfortable and provide you with sufficient workspace can get expensive. Low-cost table or chair models don't offer a high level of comfort and they tend to wear out quickly, so your best option is to invest in the mid-range or high-end models to avoid replacing home office furniture frequently.
Some Home Office Furniture Pieces Require Assembly
Opting for ready-to-assemble home office furniture will help you cut costs, but it will take some of your time. Although the assembly process is usually straightforward, having to deal with heavy desk tabletops or putting bookshelves together is not necessarily a job for one person.
Top 4 Home Furniture Suggestions
Although it may sound counterintuitive, getting the most expensive home office furniture is not always the best option. Numerous manufacturers produce affordable desks, chairs, lamps, and all other types of furniture you might need in an office that can't be damaged easily.
If you're on a limited budget, you don't have to furnish the entire home office at once, since all you need to start using your office are a chair and a desk. So, there's no need to overspend on non-essential items, especially if you're unsure how much storage space you're going to need or if you'll be hosting clients and business associates in the office.
We've selected a few home office furniture models with the aim of sparking your imagination, so let's take a look at what they have to offer.
Novogratz Computer Desk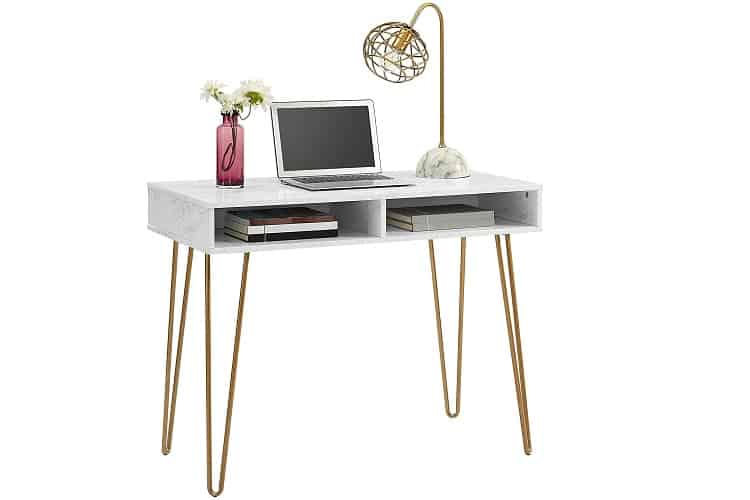 The minimalist design and compact size make the Novogratz Computer desk a great fit for tight spaces. The desk's work surface is large enough to accommodate a laptop, a penholder, and similar office accessories, but it might be difficult to find space for a monitor.
Two cubbies are located below the work surface and they offer easy access to all documents or items you might need while working. This computer desk ships preassembled, so you just have to fasten the metal legs before you can start using it.
This Novogratz model cannot hold more than 80lbs of weight and you should avoid putting heavy objects on it.
ApexDesk ​​​​Elite Series Standing Desk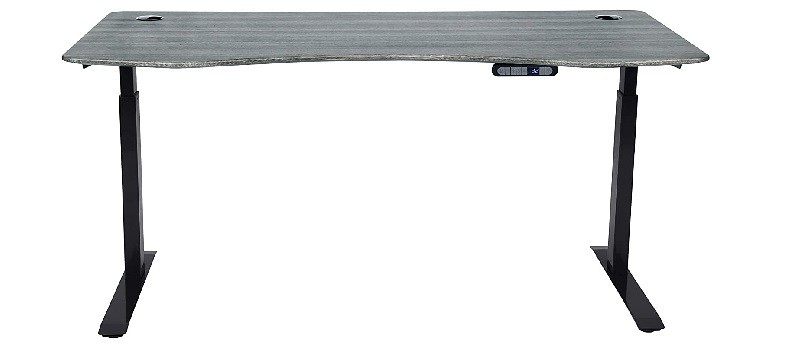 ApexDesk ​​​​Elite Series Standing Desk uses a powerful motor that enables you to move to top up or down. It extends from its minimum height of 29 inches to its maximum height of 48 inches in less than two seconds using dual motors that can lift up to 225lbs of weight.
You can choose between 71×33-inch and 60×30-inch top sizes, so you'll get a spacious desk regardless of the size option you pick. The ergo-shaped desktop is available in six different colors that match most home office styles and it is made of a medium-density fireboard.
Herman Miller Aeron Chair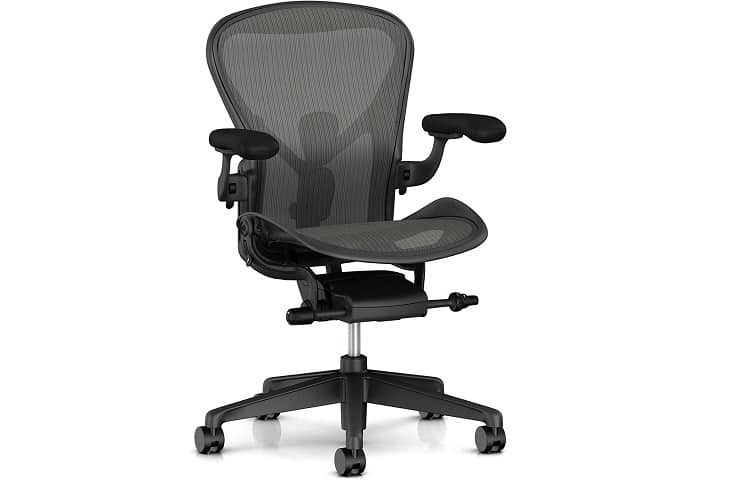 For nearly three decades, Herman Miller's Aeron Chair is one of the best home office chairs on the market, due to its ergonomic design and remarkable adjustment features. The PostureFit SL technology relieves the pressure from the lumbar region and helps keep the spine in a natural position.
The chair's back features the 8Z Pellicle design that reduces the pressure points and allows you to adjust the tension or the amount of effort you need to lean backward. In addition, you can use the tilt limiter to set the recline range, adjust the seat angle and raise or lower the chair's arms.
Birdrock Home Seagrass Rolling File Cabinet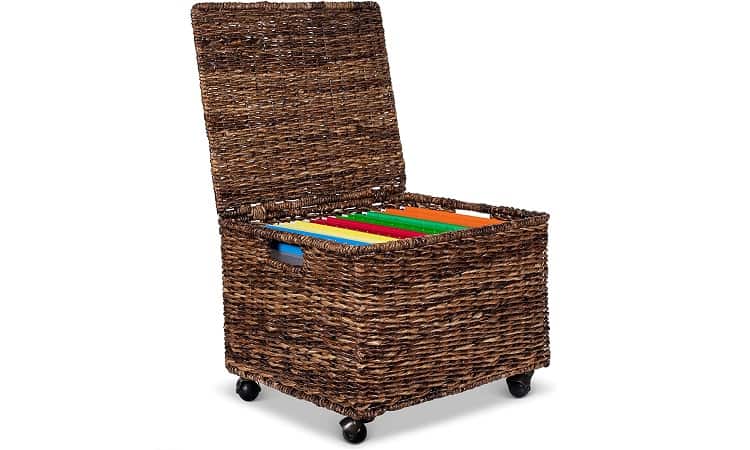 One of the advantages of having a home office is being able to avoid the unimaginative design of conventional file cabinets. The Birdrock Home Seagrass Rolling File Cabinet is handwoven from abaca and seagrass and equipped with four spherical wheels that move smoothly across different surfaces.
This cabinet is 17.5-inches wide, 14.4 inches deep, and 13-inches tall, and it is spacious enough to store multiple folders full of documents. On the other hand, it is compact enough to occupy a minimum amount of space in your home office and it is easy to relocate because it weighs just 10lbs.
FAQs
Question: What is the best material for a home office desk?
Answer: Desks made of wood are considered most stylish and durable, although models that have metal legs and MDF top can be a great fit for any home office setting.
Question: Should I choose pre-assembled or ready-to-assemble home office furniture?
Answer: Pre-assembled home office furniture is usually made from high-quality materials and is considered to be better than ready-to-assemble furniture, but it is also more expensive than pieces of furniture that aren't ready to use after delivery.
Question: What are the best home office chair brands?
Answer: Steelcase, Herman Miller, or HON are some of the industry-leading brands that produce high-end home office chairs.
Question: Do I need a home office lamp?
Lamps are not an essential part of a home office décor, and having a lamp in your office is only useful if you often work late at night.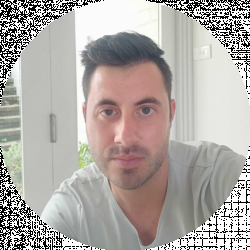 Latest posts by David Borgogni
(see all)