Bookcases can be functional and beautiful at the same time. They help you stay organized, and they're not just for books. You can display art, memories, and accent pieces. Add a basket or two and you have a place to stash your odds and ends as you're tidying up.
By choosing the right bookcase for you now, you'll have something that works for your home for years to come. Here are some bookcase ideas for picking out the right piece for your home and how to decorate it.
Style
Whether you're looking for a few extra shelves to display decor or you need a small library in your home, there are tons of different styles. Faced with these options, you may not know exactly what to do. Here are some common styles and how they function.
Standard
A standard bookcase is fairly simple but sturdy. It's made of wood or MDF and it's designed with adjustable shelves so you can line them up evenly or stagger them for a more interesting look. These shelves are relatively cheap, so you can purchase more than one of them for the same price and build an elegant library with a foundation that doesn't detract from what you want to display on it.
Etagere
An etagere bookcase is more delicate because it has an open back and the shelves are often made of glass. These types of shelves aren't designed for function. It's all about how they look, and they're best used in quiet homes where there are no pets or children.
Ladder
Ladder-style or leaning bookcases are designed to lean against the wall. They have stair-stepping shelves that decrease in size as they go up. These bookcases have a unique style that's not for everyone, but they add visual interest and are perfect in the right room.
Corner
Corner bookshelves help you maximize space in a small room. They're built at an angle to fit in tight spaces and can give you additional storage where you really need it. You can use them alone or as a transition piece between two bookcases on adjacent walls.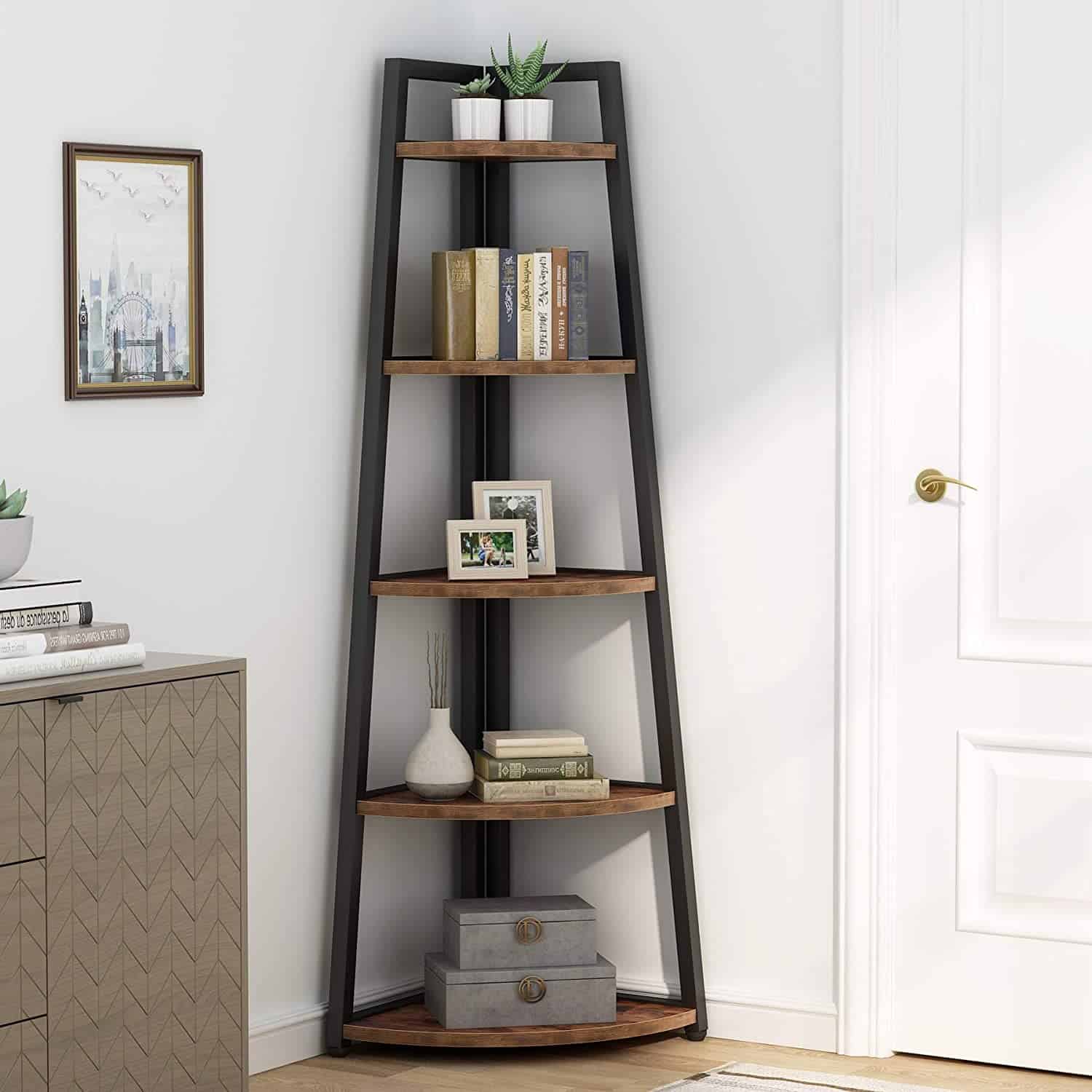 Scaffold
Scaffold bookcases are named for their design. They have shelves suspended in the middle of two supports that make it look like a piece of scaffolding. These are excellent style choices for an industrial or modern home. They often have clean lines and are made of a combination of wood and metal.
Cube
Cube bookcases are designed with cubbies instead of shelves. They're divided horizontally and vertically, and the sections it creates are perfect for highlighting decor, displaying books, or stuffing baskets.
These are great options for homes with kids because lower cubbies can be used for toys and books while upper shelves can be more decorative and reminiscent of the parent's style.
Built-in
Built-in bookcases are great for creating a floor-to-ceiling and wall-to-wall look in any room. This style requires a bit more planning and effort. You can't just go to the store and buy anything. You may have to work with a contractor for a custom piece, and it may be more expensive, but when it's done, it will be completely unique to you.
Size
Size is an important factor as well because it will determine how your bookcase looks and functions in the space. There are several things to consider when it comes to the perfect size bookcase for you.
Height
Bookcases range in height from 3-8 feet tall. That's a big range, so consider the aesthetics of the space and any practical concerns you have when choosing the right height. Tall bookcases fill out more space and will look more formal and elegant.
Short bookcases can add functionality with a usable surface area on the top. These double is end tables, media cabinets, buffets, or workspaces.
Width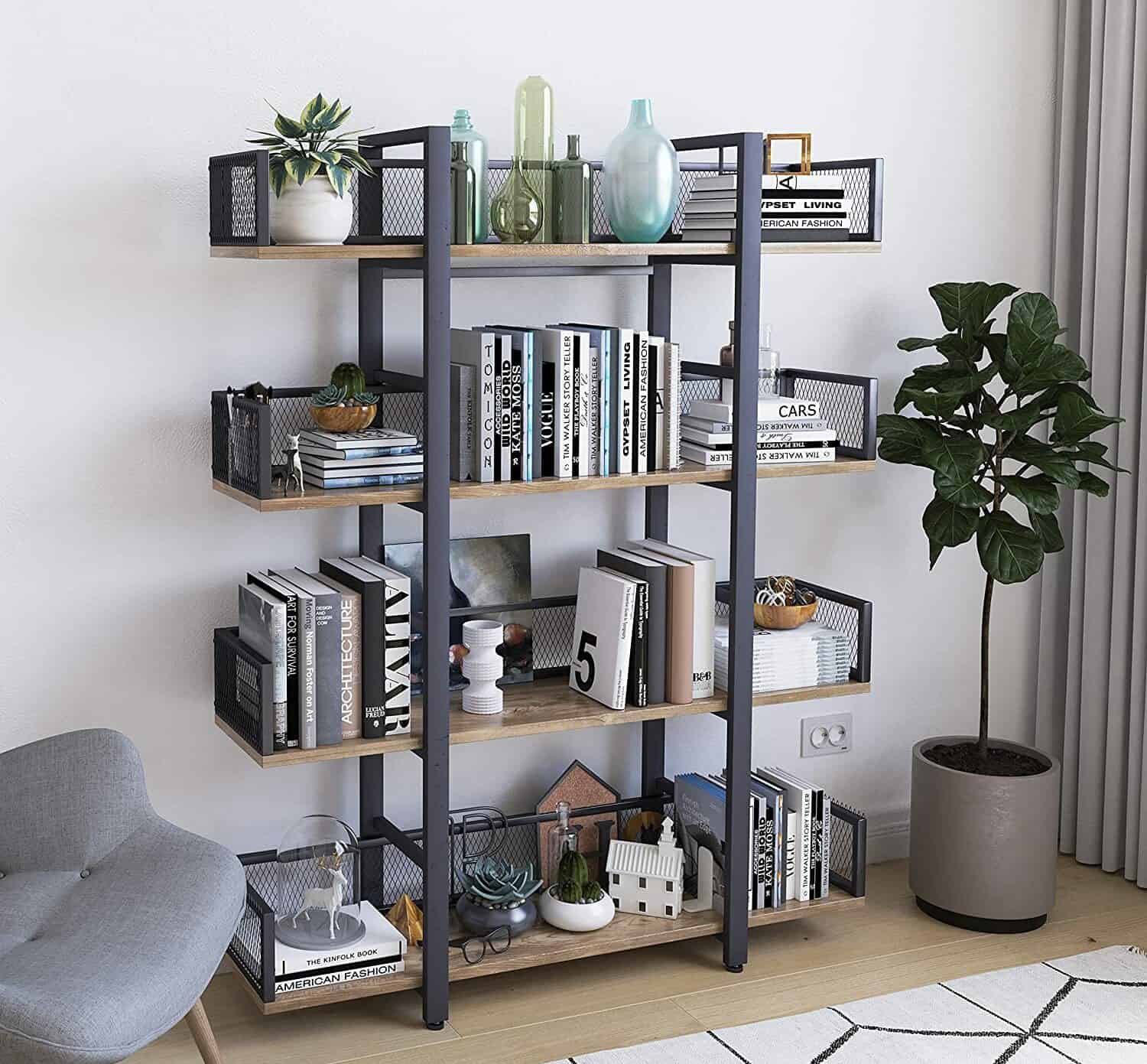 When you consider the width of your bookcase, consider its relation to height. Tall narrow bookcases give you more flexibility. You can line up multiple units and then add or subtract as needed to give you the storage you need. Shorter units should be wider so they feel more substantial.
Depth
Most bookcases are at least 12 inches deep so there's plenty of room for storage. Consider what you want to store on the shelves to ensure that you get a bookcase that will hold it. Some styles, like ladder styles, have narrow shelving so anything large that you put on them will be less stable.
Spacing
Bookcases with adjustable shelving offer more flexibility in terms of shelf spacing. You can move the shelves to accommodate tall or short items, and staggered shelving adds dimension and visual interest to your display. However, some bookcases have fixed shelving, so before you buy one, make sure the spacing is enough that your books and accent pieces will fit.
Functionality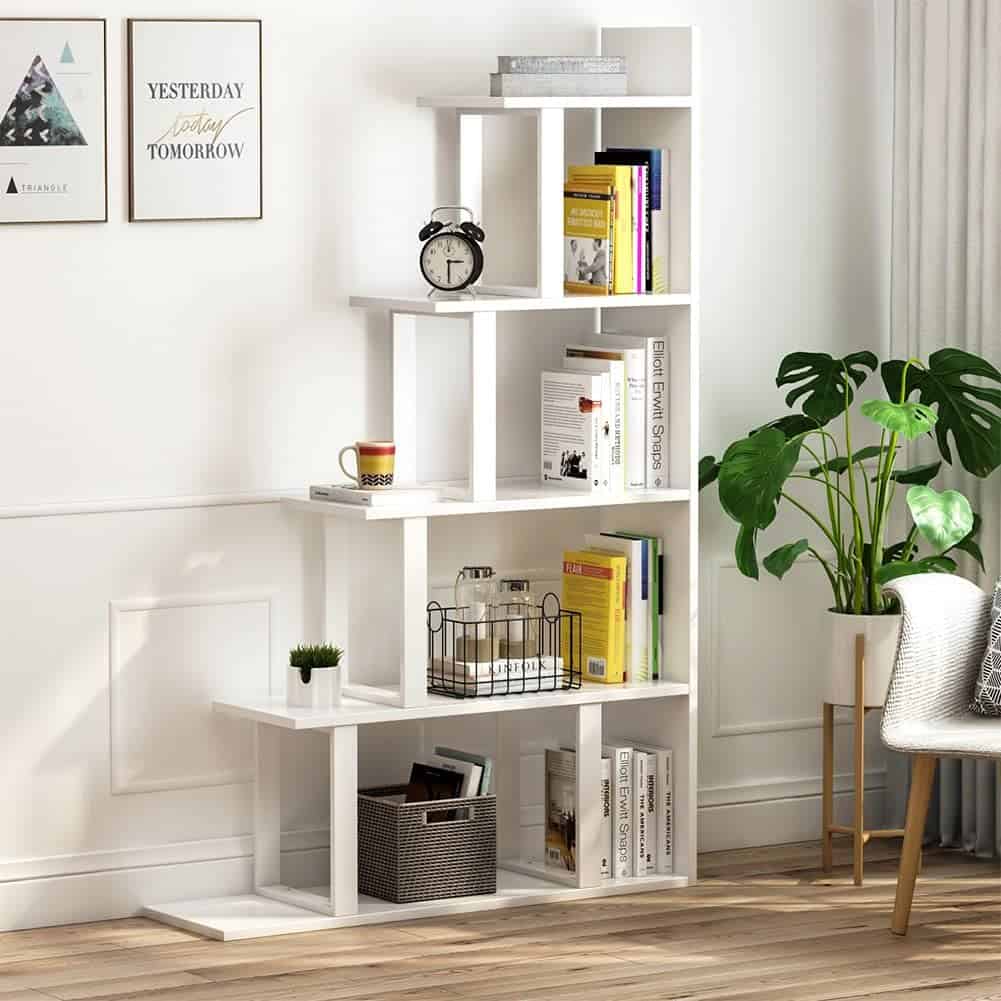 The functionality of your bookcase will depend on how you're using it. As discussed, adjustable shelves give you versatility. These shelves sit on top of pegs, which can be inserted into a series of holes on the side of the bookcase to adjust the spacing. This gives you greater functionality and the option to move things around when you need a change.
If you like to move furniture and redecorate often, a bookcase on wheels may be a good option. It allows you to move it around in the room or move it from room to room with ease. Just be aware that it won't be as stable as a bookcase without wheels.
Bookcases can also be used as room dividers in an open concept home. If you're planning on using it this way, ensure that you purchase a bookcase that's meant to stand on its own rather than against a wall.
Material
Bookshelves come in a variety of materials. There are some particularly common materials, like wood and metal, but there are also less common materials, like glass. Choosing the right material will enhance your decor and offer the functionality you need.
Wood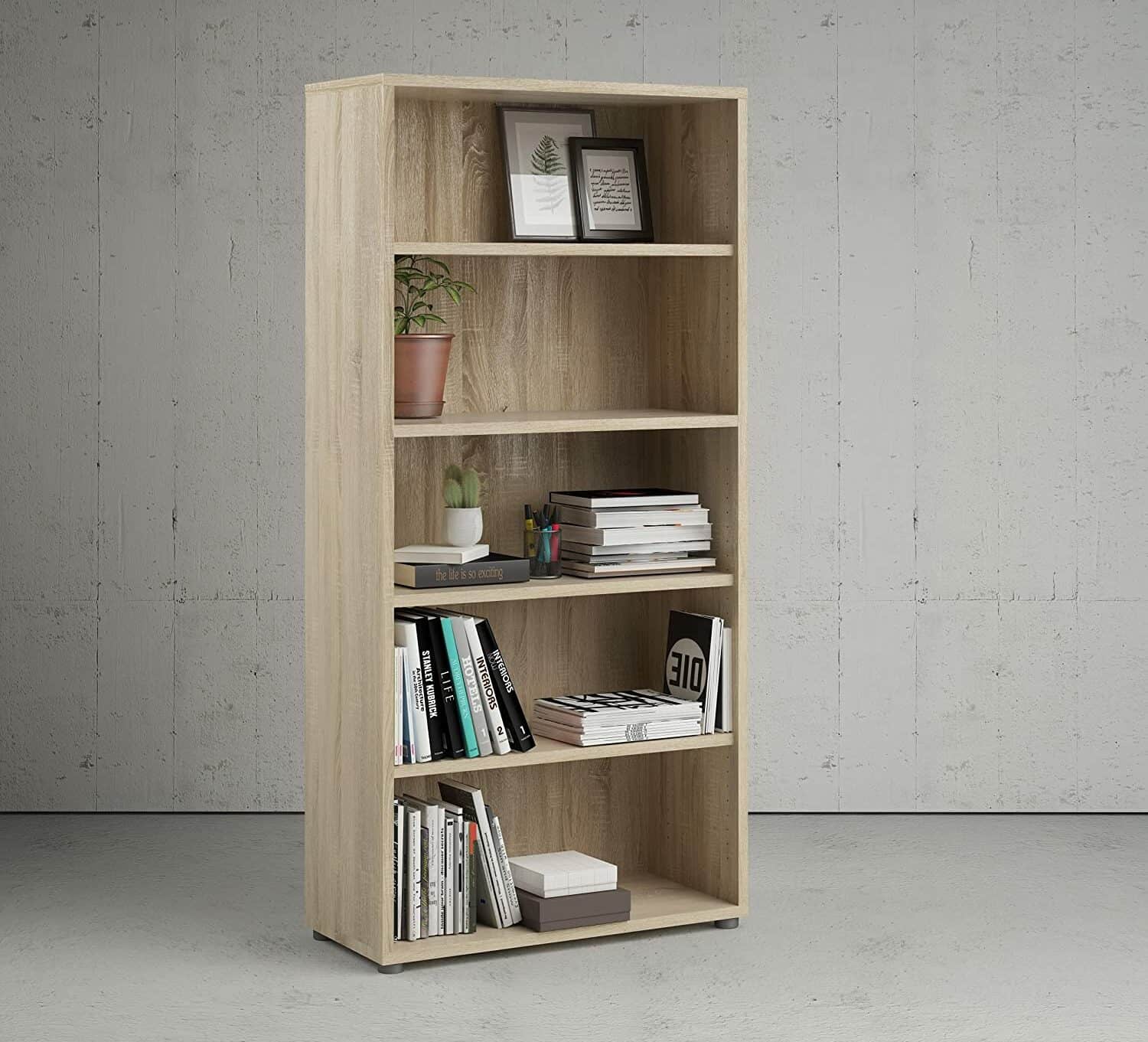 Wood offers a traditional look and they're typically very sold and long-lasting. This material is perfect for standard bookcases that need to hold a lot of weight. While some will come stained or painted already, you can also purchase raw wood bookcases and paint or stain them yourself.
Particleboard
Particleboard or MDF is an affordable solution for people on a budget. It looks like real wood but it's much less expensive. It's not as sturdy as wood, so you will have to consider the weight of the items you're displaying before you make a purchasing decision.
Metal
Metal shelves are sturdy, like wood, but they're not as bulky. They offer a streamlined, contemporary look and are perfect for modern or industrial homes. They can also be relatively affordable.
Glass
Glass shelving offers a unique look. It's stately and elegant, but very fragile. It can be sturdy, but take great care in what you display and where. It won't hold up if bumped frequently. These types of shelves can also be very expensive.
Buying Tips
There are several other factors to consider when choosing the size, style, and material of your bookcase.
Use
The best place to start is to determine how you're going to use the bookshelf. This will help you determine what your shelf should look like and how big it should be. If you know what you're going to do with it, you can more easily figure out which type of shelf you need.
If you need a bookcase to store your hardcover collection, it will need to be pretty sturdy. If you only plan to use it for decor, then it can be more decorative.
Space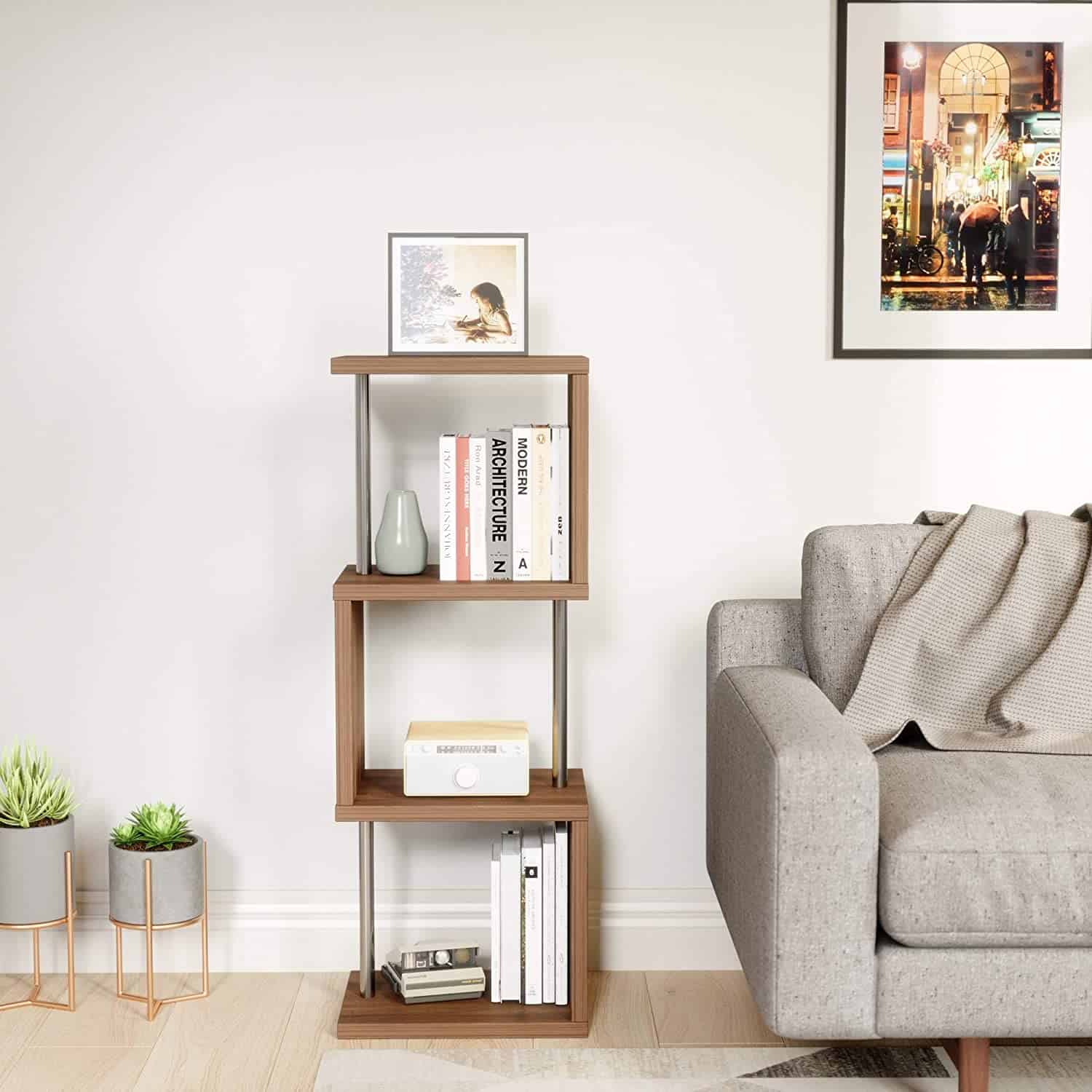 Knowing where you will put the shelf will also be a huge determining factor in size and style. You can narrow down your options by measuring the space while still keeping in mind how you want it to be used.
Also, consider the style of the room when determining the style of the bookcase to ensure it's in keeping with your aesthetics.
Budget
The price depends on size, material, manufacturer, and style. If you're designing a custom built-in, you'll pay a contractor a lot more than you'll pay at a local retailer. However, it will be exactly what you need and will likely last a lifetime.
A small shelf made of MDF will cost a lot less, especially if it comes disassembled and you're putting it together yourself.
There are ways you can save some money and still get the look you desire. Even if you can't afford a built-in, you can look for a series of matching shelves that, when displayed together, give you the same look at a much cheaper price.
Bookcase Ideas Ideas
Once you decide on the type of shelf you want, you'll need to decorate it with something. Here are some fun design ideas you can use, or you can come up with your own! The best place to start is to use items you already have. There's no need to go out and buy new decor just because you have a new bookshelf. You can repurpose old items and give your bookshelf plenty of style and flair.
Keep it simple
A picture-perfect bookshelf resists the urge to cram a ton of stuff into every space. A clean look is achieved by choosing a color scheme and then mix and match shapes. Place items off-center, make sure you vary the sizes, and then step back to assess how it looks.
Use artwork, picture frames, vases, magazines, plants, and other accessories. Place larger items on the shelf first and then sprinkle in the small items after. Stagger items, choose different textures and make sure everything feels balanced.
Use memories
One of the best ways to customize your shelving is to add your own special memories. Family pictures and other objects that have a special meaning are perfect. Gather up your collectibles and vacation souvenirs. Stack books horizontally to create pedestals for smaller items.
Accessorize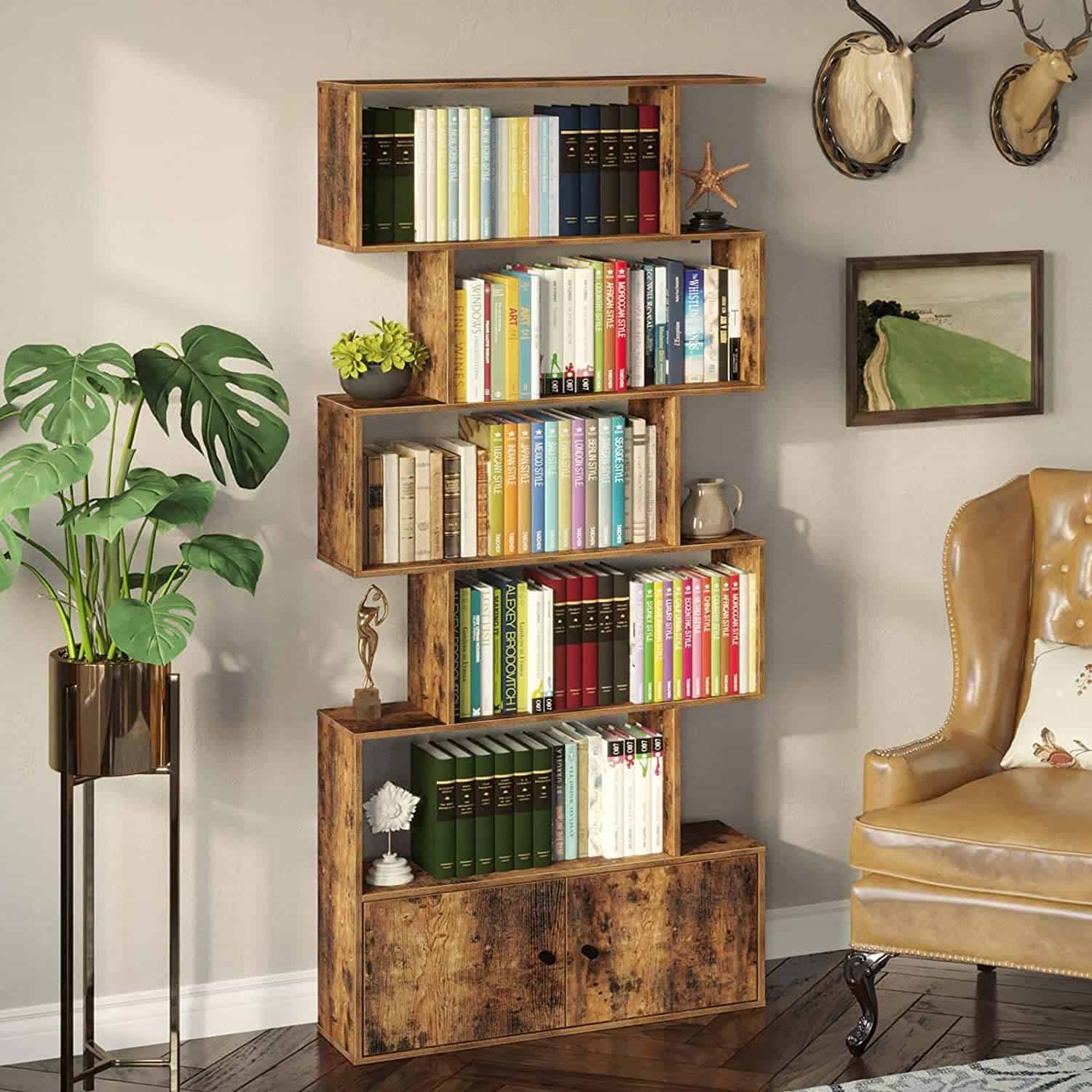 If you're using your shelf primarily for reading materials, you can still accessorize to add depth. Stack books both horizontally and vertically. Use decorative pieces, bold accents, and picture frames as bookends.
Organize books
For color-blocked bookshelf decor, arrange your books by the color of their spine. Vary heights to create more interest. Any volumes that don't fit can be turned so their spines face the wall for a neutral section.
Layer
If you have deep shelves, you have more opportunities to create layers in your decor. Lean your pictures or artwork along the back and then anchor them with heavier objects in front. Place small pieces near the front. Decorative plates and large vases can hide behind small frames and still be visible.
Be bold
If you're not pleased with the way your bookshelves look, you can paint them a contrasting color to create more focus. Black shelves will stand out against white decor. Turning books so the spines face the wall will also help you stick to a more uniform color palette without detracting from the bold color of your shelves.
Create storage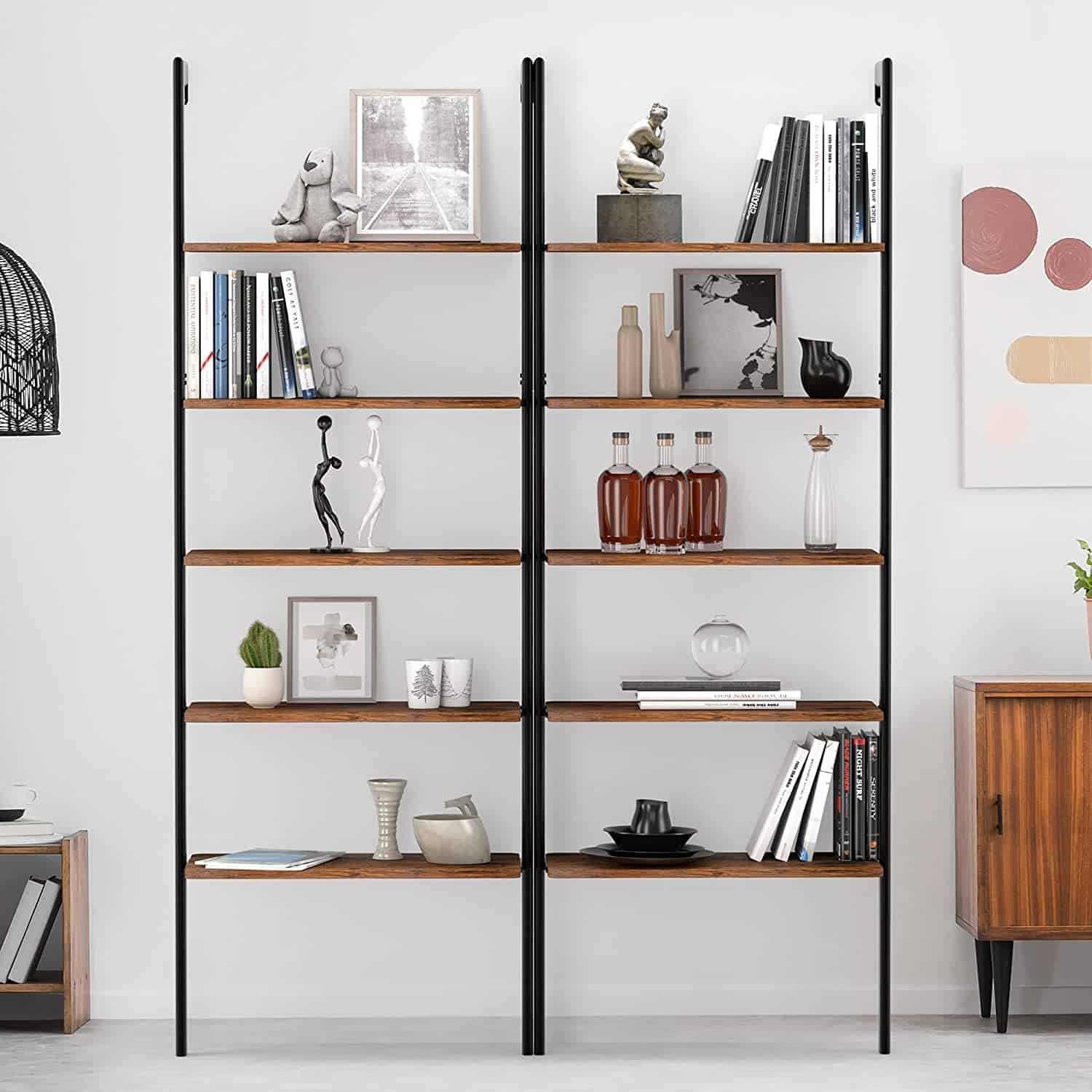 If you feel like you have wasted space in your room, use bookcases to create more storage. You can use lower shelves for items you use frequently and put decorative items on upper shelves. Stagger the height of your shelving for even more appeal.
Make it modern
Grouping sets of books together that are all about the same size will create a sparse look. Then accessorize with metallic decor and leave a lot of open space for your accessories to shine. You can even make the entire shelf pop with a wallpaper backdrop.
Use symmetry
Symmetry will make your bookshelf seem more organized, which is perfect for an office space. Gather up books and decor and create some loose symmetry by mirroring the same look on each side.
Picture frames can be mirrored by square-shaped collectibles on the opposite side. Scatter books loosely to punctuate the look.
Keep it colorful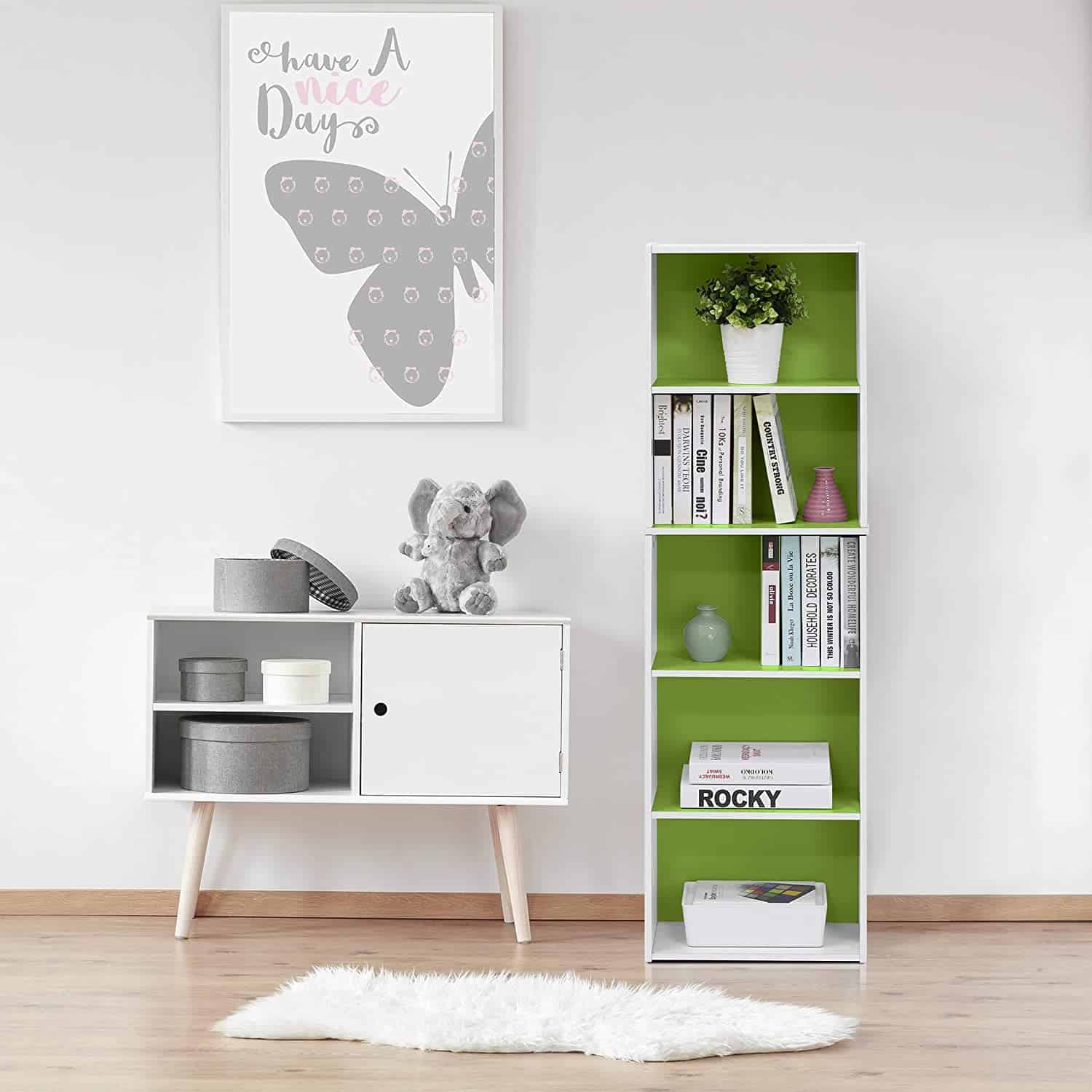 You can carry the color scheme of your room onto your bookcase and create unity in the space. Accessorize the shelf with colors that match the throw pillow or bring out the hidden colors in the area rug.
Consider bookends
Bookends hold great power when decorating a bookcase. They don't even have to be actual bookends. You can use sturdy decor pieces to keep things organized and looking neat. Bookends come in handy for keeping thin books or paperbacks in their place.
Stagger
Staggered shelving packs a punch, so if you like your shelving to look a bit less uniform, consider putting every shelf at a different height. Your most attention-grabbing items should be displayed at eye level.
Be clean and intentional
Bookcases can help keep your living space organized. Use magazine holders on open shelves to house loose papers. Cabinet doors or storage boxes hide the clutter and can even add color.
Finish out your decor by organizing books, using decorative containers, and displaying potted houseplants.
Make a headboard
This fun idea includes using a bookshelf as a fun, decorative, and useful headboard. Most people have nightstands, but you can really make a bookshelf work for you by placing behind your bed frame and storing notebooks, novels, and a reading light.
FAQs
Question: How do you arrange things on shelves?
Answer: A good rule of thumb is to use one-third books, one-third other items, and one-third empty space on every shelf. For extra storage, use the bottom shelf for baskets. You can also create balance and spontaneity by placing about 40% of your books horizontally rather than vertically.
Question: Are bookshelves out of style?
Answer: Bookshelves can certainly go out of style if you don't maintain them. You can modernize an old bookshelf by creating a simple, streamlined look. If you want to upgrade your shelving, bookcases with clean lines will fit in with any decor and give you the freedom to decorate in many different ways.
Question: Can a bookshelf go in a dining room?
Answer: You can always put a bookshelf in your dining room for extra storage. It's a great way to display your extra china or serving pieces openly, but be careful if you place it in a high-traffic area.
Bookcases are also great ways to separate the living area from the dining area in an open concept home.
Question: Can I put a bookcase in front of a window?
Answer: Bookcases look great in front of windows as long as you keep the style streamlined. The shelves should be simple and airy so the backdrop of light creates a beautiful aesthetic and still lets natural light into the room.
Final Thoughts
Bookcases are versatile and look great in any room of the house. Consider your buying options and how you intend to use the shelf before making a decision. When you're ready to decorate, choose from one of these design tips or create your own look, and it will be perfect.