Picture this: You go to your friend's place, they take you into their kitchen, and inside you see a gorgeous corner China cabinet displaying color-coordinated, porcelain dishware. You could be that friend. In today's article, we're going to walk you through the pros and cons of corner China cabinets, our 5 favorite corners China cabinets based on their overall quality, price range, and style. Plus design ideas! Are you ready? Let's get started!
What Is A China Cabinet?
A China cabinet is a cabinet, usually made from wood, with glass doors. Sometimes, China cabinets will have glass windows, too, so you can see what is being displayed inside from all angles.
Many people love having China cabinets as a way to display porcelain dishware or specifically fine China; however, you can put anything you want on display. China cabinets can also be filled with books, DVDs, and collectibles.
China Cabinet vs. Corner China Cabinet
What is the difference, you might ask? It's all about where in the room this furniture piece goes.
China Cabinet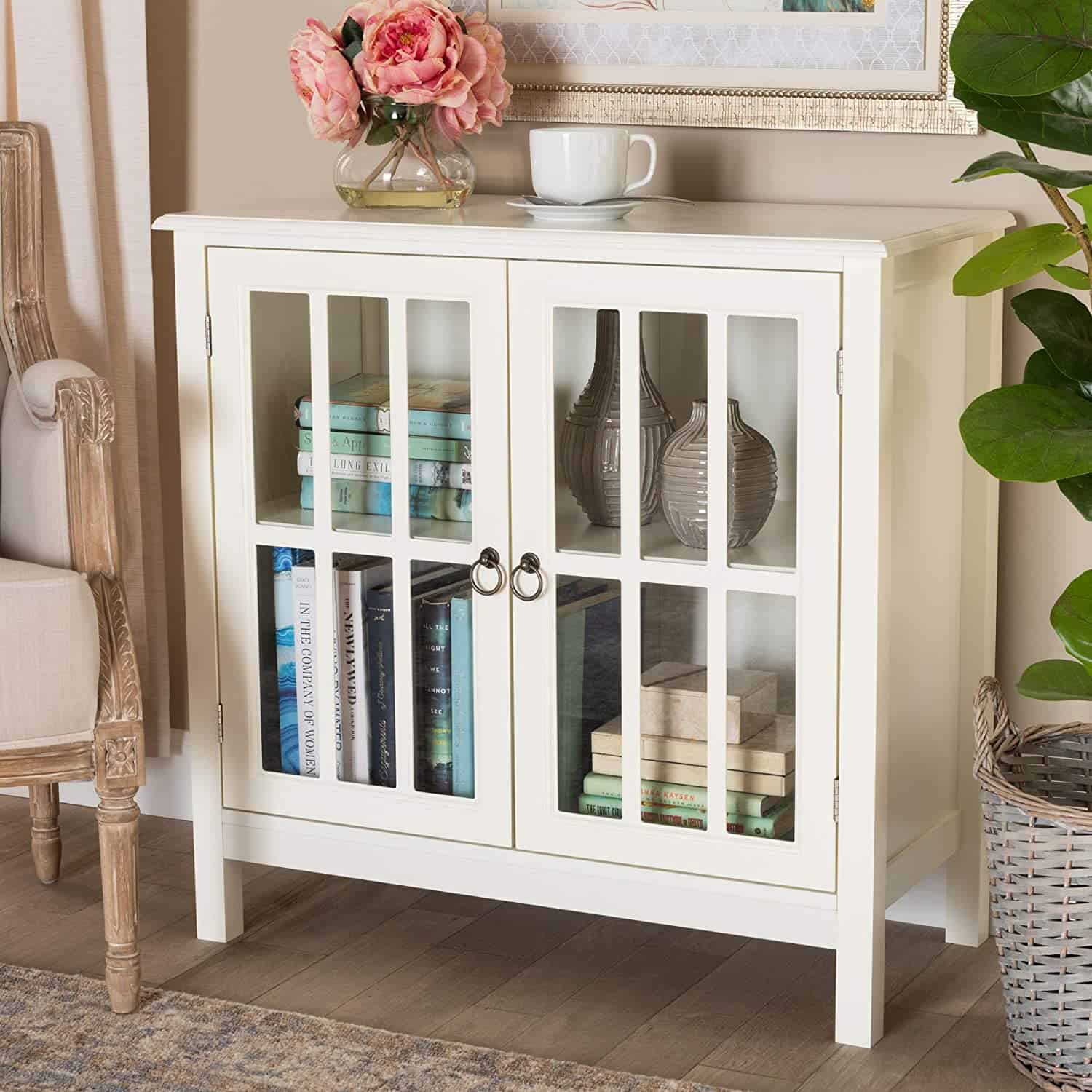 A "regular" China cabinet is built like a bookshelf. They are rectangular and are meant to be set against a wall with the glass doors facing the room. Usually, 2 large glass doors open in the front to reveal shelves for displaying items.
Corner China Cabinet
Corner China cabinets are built differently from their "regular" China cabinet counterparts because they are meant to be set in the corner. 2 sides of a corner China cabinet that aren't glass come to a point, which are the sides meant to be placed where 2 walls meet. Oftentimes, these cabinets are pentagonal, with three glass sides that fan out from the corner making up the display portion.
Pros and Cons to a Corner China Cabinet
Pros

Great for displaying dishware, collectibles, and more
Stylish way to fill corner space in a room
Doesn't have to be expensive
Glass doors add elegance to a room
Decorations can be set on top of it, too
Usually doesn't take up too much space

Cons

Must be placed in the corner
Can be pricy, depending on the brand and model
Not all models will have glass doors for display
What to Look for in a Corner China Cabinet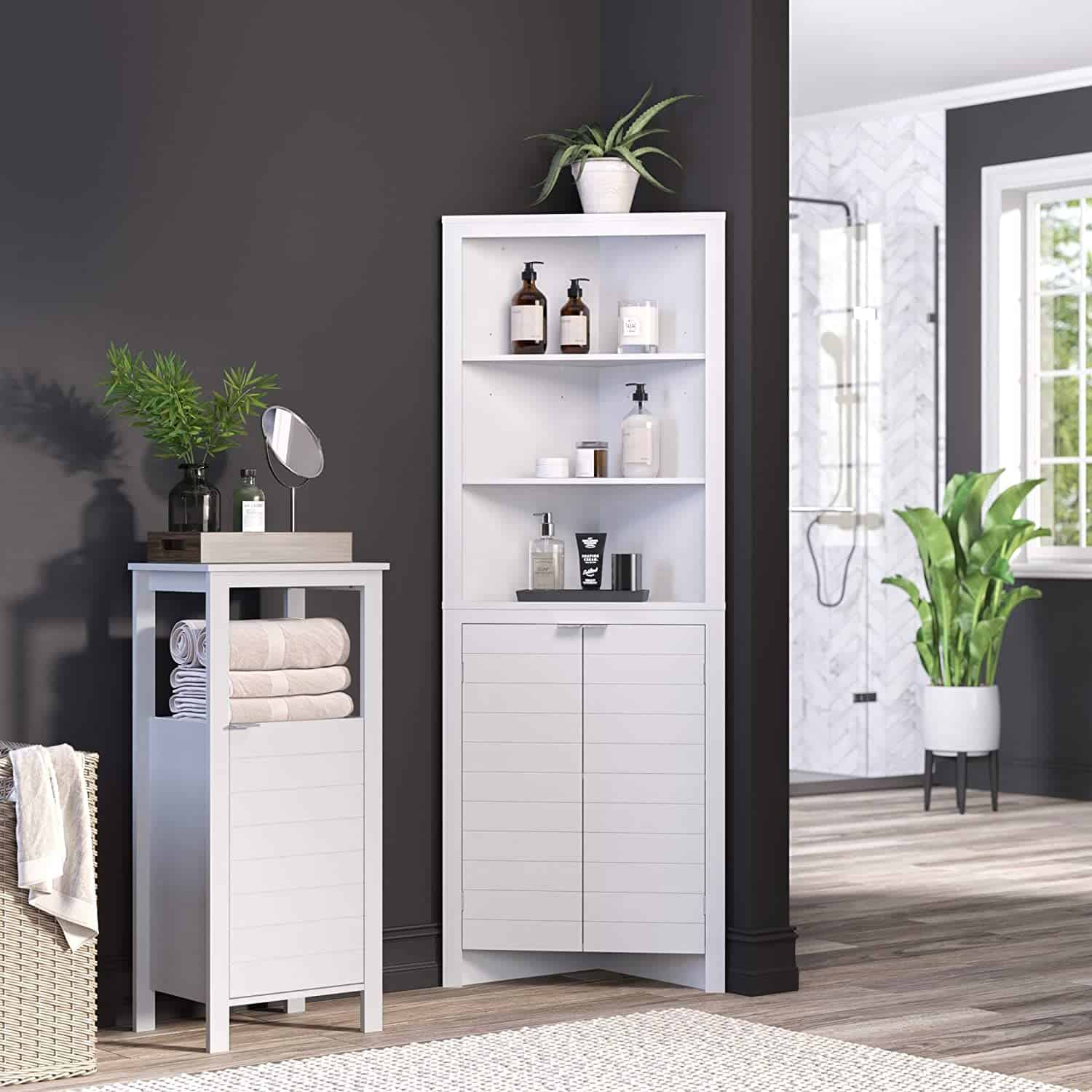 Now that you know what a corner China cabinet is, maybe you're curious about buying your own? These cabinets make for beautiful, functional furniture pieces, but they can sometimes be pricy. With our helpful tips, you'll be able to make a confident, informed choice for your own corner China cabinet.
Size
When you're thinking about what size corner China cabinet you want, consider these questions:
What room do you want to put your cabinet in?
Does that room have enough corner space for this cabinet?
After looking at the dimensions of a corner China cabinet online and measuring those dimensions in your home, do you have room for a corner China cabinet?
Do you want a large cabinet as a big display piece, or do you want to display a smaller collection of items in a smaller cabinet?
Since corner China cabinets are meant to fit snugly in the corner, they are often built tall and skinny. Consider if a tall furniture piece would look nice with the other furniture around it.
Shape
Corner China cabinets come in various shapes, such as:
Pentagonal with 2 sides facing the wall and 3 glass sides facing the room
Concave, meaning there will be 6 sides in total and the cabinet sits against the corner like an open book
Triangular with 2 sides facing the wall and 1 glass side facing the room
Design and Style
There are many, many different designs and styles when it comes to cornering China cabinets. You can have a classical China cabinet made of rustic wood that holds your fine China. You can also buy a metallic China cabinet that holds decorations, books, and more for a modern aesthetic.
Rounded edges look homey and charming, while sharp corners look sleek and sophisticated. Ornate details will feel very vintage. Clean geometric shapes appear modern and chic. Consider what style fits the room you want your China cabinet to sit in.
Color and Finish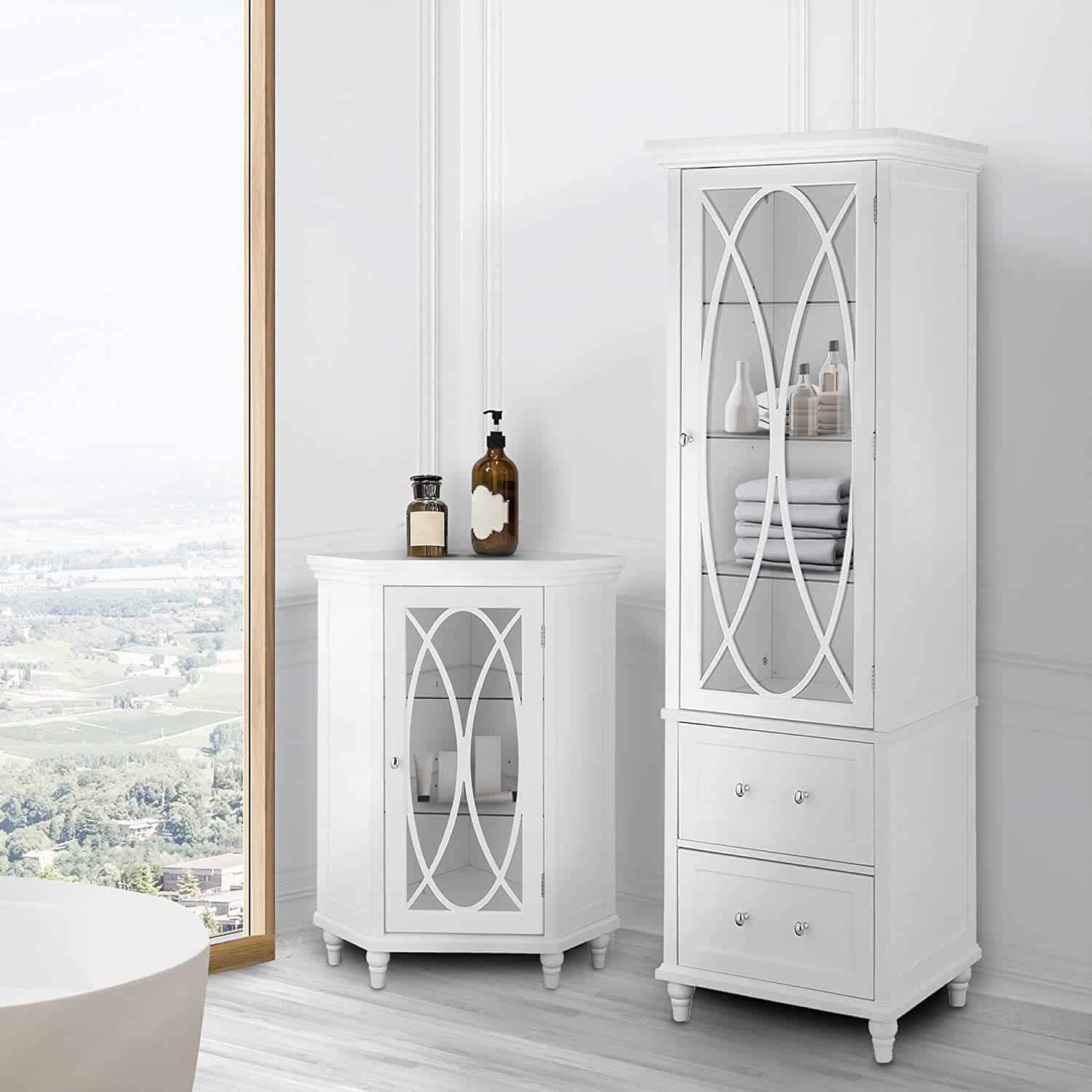 Corner China cabinets are available in all varieties of colors and finishes. It's easy to feel overwhelmed in an endless sea of beautiful cabinets, but to help you narrow down your choices, consider these questions before you buy:
Do I want my corner China cabinet to be made of wood, steel, metal, or another material?
If wood, do I want dark wood or light wood?
If wood, what kind of finish matches the finish of other wooden pieces in the room?
Do I want a neutral color, a natural wood tone, silver, or a painted color?
If I'm going to go with a painted color, what colors match the other colors in the room?
Does it Fit Everything You Need?
The best part about owning your own corner China cabinet is deciding what you're going to put in it! A good idea before you buy your own cabinet is to decide what items will go inside because this helps you determine what size China cabinet you need.
Do you have a big collection of items to display or a small collection?
Do the items in your display have a theme, or are they color-coordinated?
Does it Go with Your Current Furniture Style?
There is a corner China cabinet for every home aesthetic. Here are some pointers for picking a cabinet that will fit right in with the aesthetic you already have:
Do you want to put your corner China cabinet in the kitchen, living room, or another room?
Does the China cabinet you want to match the colors or wood types of the furniture pieces around it?
Do the items you want to display in the cabinet fit in with the other decorations in the room?
Do you have enough wall space so that a corner China cabinet wouldn't look cramped?
The Best Corner China Cabinet Ideas
Okay, so we've established what a corner China cabinet is and what to look for when you buy one. Now that you're informed, we're ready to show you our top 5 corners China cabinets you can buy right now!
ACME 02347 Martha Corner Cabinet, Cherry Finish
Best Overall
About
This is a pentagonal corner China cabinet made of glass with cherry wood edges. Since the sides are meant to sit against the wall and all the shelves are glass, you'll be able to have a perfect, unobstructed view of your collection inside. This cabinet has a minimalistic design, so it can easily be transformed to have a modern or vintage aesthetic.
Material: Cherry wood and glass
Price Range: $310-$335
Warranty: Please contact the seller directly
Best Feature: Lots of room for displaying items
Care
Spray glass cleaner onto a paper towel to clean this corner China cabinet. You can spray wood polish on another paper towel to wipe the cherry wood clean. Be sure to dust your collection inside.
Pros
Collection can be viewed from all angles
Lots of storage space
Can be made modern or vintage
Cons
Being made of glass and weighing only 1 lb., this furniture piece is very breakable
Home Source Corner Bar Unity, Gray
Best Design

About
This corner China cabinet has a display room in two different parts. The bottom half of this cabinet is pentagonal with glass doors. The top half is triangular and exposed, meaning you'll have 2 shelves not covered by glass. The top half also has 2 mirrors, so you can play with how this piece interacts with reflections and light in the room. This cabinet is metal with an oak finish.
Material: Metal
Price Range: $350-$375
Warranty: Please contact the seller directly
Best Feature: Overall aesthetic
Care
Use glass cleaner and a paper towel to clean the mirrors on top and the glass doors on the bottom. You can use gentle soap and warm water to clean the metal, making sure to use a paper towel once you're done to dry it.
Pros
Top half and bottom half are different
Lots of display room
Mirror on the top half
Cons
RiverRidge Home Madison Collection Tall White Corner Cabinet
Best Price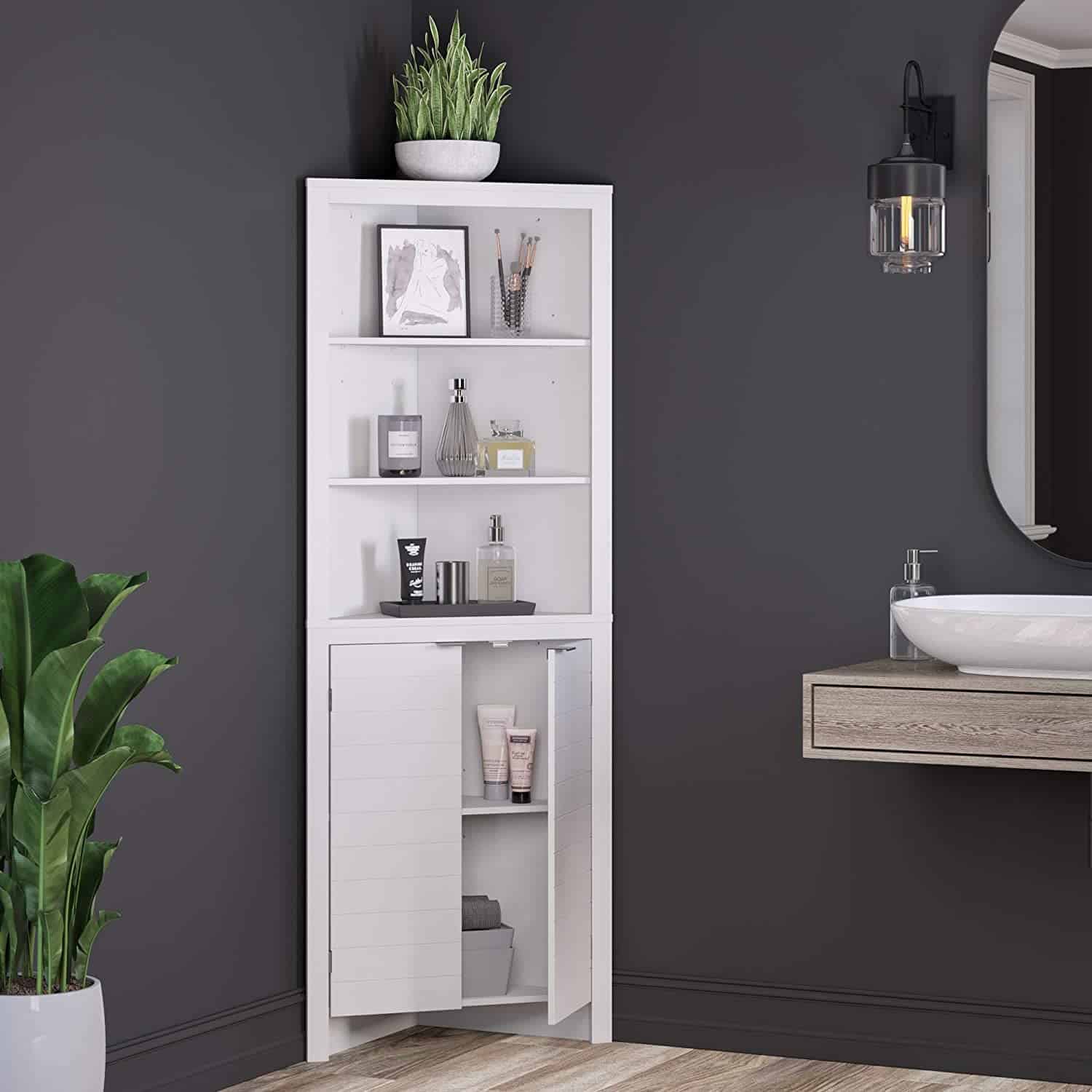 About
This corner China cabinet is made of engineered wood and is painted white. This is a triangular cabinet that does not have glass doors but does have 3 exposed shelves for display. The bottom 2 shelves are covered by cabinet doors but can be used for storage purposes.
Material: Engineered wood
Price Range: $120-$140
Warranty: Please contact the seller directly
Best Feature: Great value for the price
Care
Be careful not to scrub this furniture piece when you're going to clean it because you don't want to accidently scratch the white paint off. Use a sponge, warm water, and mild soap to clean this cabinet, and a paper towel to dry it off.
Pros
Inexpensive
3 visible shelves for display
Matches rooms with lots of white
Cons
You can't see what's on the bottom 2 shelves
Elegant Home Fashions Florence Corner Floor Cabinet with 2 Adjustable Tempered Glass Shelves
Best for Small Spaces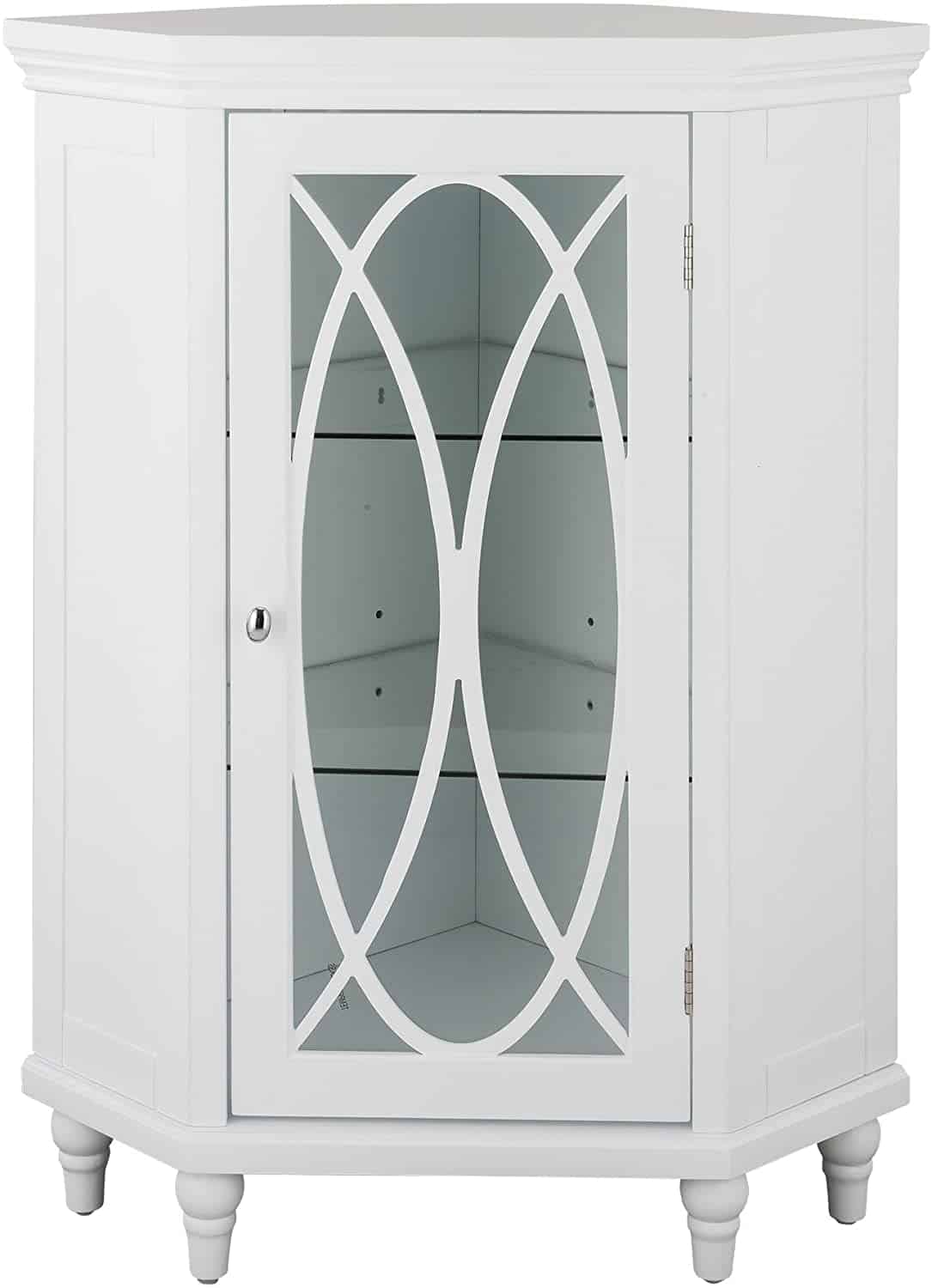 About
This is a gorgeous albeit shorter corner China cabinet. This cabinet is painted white and has 3 shelving spaces for display. There is a display room on top of the cabinet, too. A pretty, decorative design adds to the appeal of this cabinet's glass door.
Material: Engineered wood, glass, and iron
Price Range: $135-$165
Warranty: Please contact the seller directly
Best Feature: Fits in compact spaces
Care
Spray glass cleaner on a paper towel to clean the glass door. Use mild soap, warm water, and a sponge to clean the wood. Dry the wood with a paper towel.
Pros
Being short, it has a compact design
Elegant style
Neutral white fits in many rooms
Cons
Not as much display room as other China cabinets on the list
RiverRidge 06-028 Tall Corner Cabinet, Espresso
Best for rooms with dark wood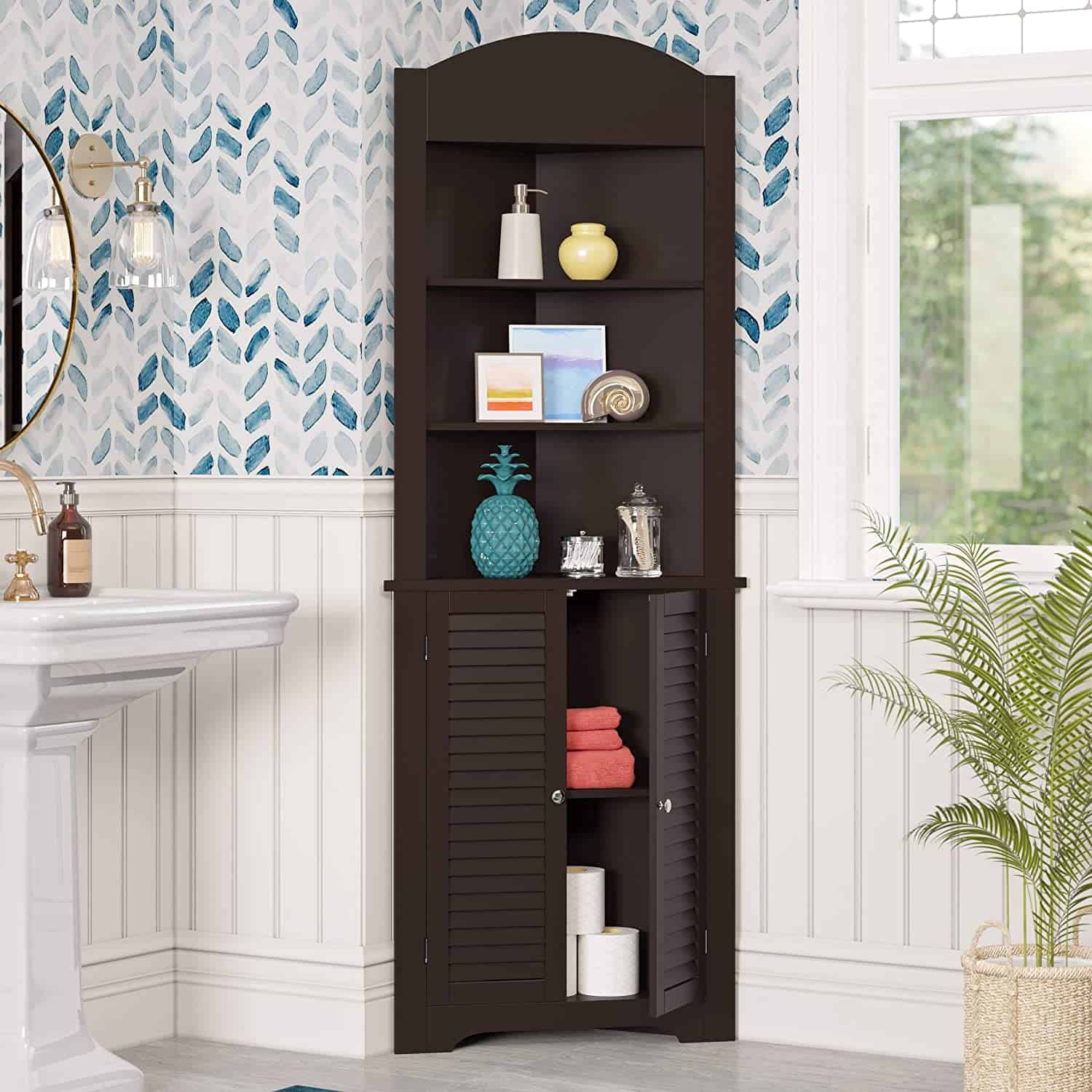 About
For rooms with a darker theme, this is the perfect corner China cabinet. This China cabinet has 3 exposed shelves at the top and 2 shelves covered by cabinet doors at the bottom. This particular model does not have glass doors.
Material: Wood and stone
Price Range: $135-$155
Warranty: Please contact the seller directly
Best Feature: Beautiful espresso color
Care
To care for this China cabinet, use warm soapy water and a sponge to clean the surfaces. Use paper towels to thoroughly dry the cabinet afterward. Don't forget to dust the items you have on display.
Pros
Fits in well with other dark woods
Relatively inexpensive
Can be made modern or classical depending on items displayed on it
Cons
Bottom 2 shelves can't be used for display
Corner China Cabinet Design Inspiration
If you aren't sure how exactly to style your corner China cabinet in your home, we've got you covered. We've come up with 3 great ideas for styling this furniture piece for 3 unique aesthetics.
1. Dark and Elegant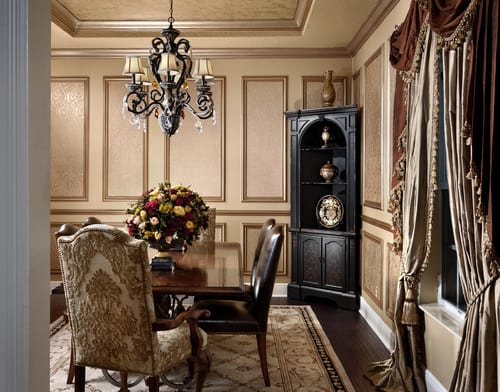 The
dark wood corner China cabinet
in this picture has been paired with a dark chandelier. Brass accents and a classical style give this room touches of elegance everywhere. Interiors by Myriam added a jewel tone pop of color with fresh flowers on the table. The corner China cabinet adds to this room by functioning as a neutral piece holding eye-catching decorations that match other brass tones in the room.
2. Homey and Colorful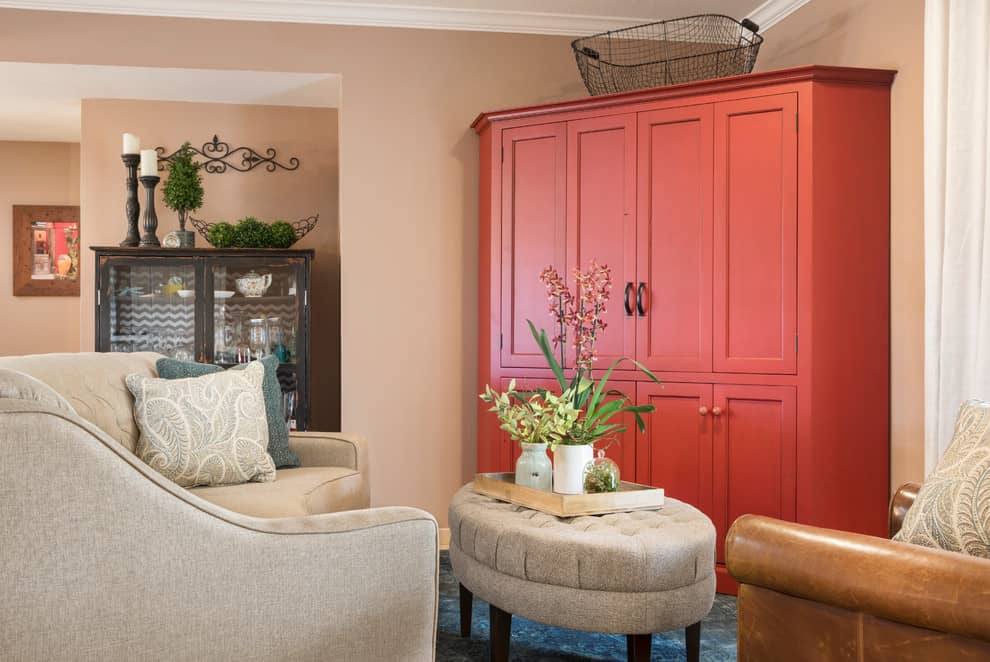 This picture showcases a large red China cabinet that is useful for providing lots of storage space. LMOH Home used this red corner China cabinet because it adds a pop of color in a mostly neutral-toned room. Red pairs well with beige and dark accents, because red brightens the space and provides an eye-catching place to look. Though this China cabinet does not have glass doors, the painted color alone is enough to make its own statement.
3. Vintage and Neutral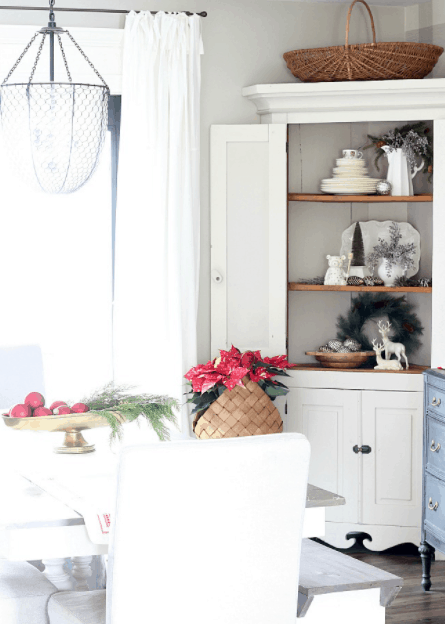 A corner China cabinet is used to bring new life into a room in this picture by adding a touch of muted green. The rest of the furniture pieces are black, white, and wood. By adding green, Doreen from Hymns and Verses can add color without choosing a bold color that looks out of place. She uses a green corner China cabinet to display white dishes and plants. The green in the plants looks lovely with the painted wood.
FAQs
Question: How Do You Display China in a Corner Hutch?
Answer: You can buy plastic plate stands to stand up your plates inside a corner China cabinet. This way, you'll be able to see the design on all your pretty porcelain plates. We recommend sticking to one fine China set per corner China cabinet instead of trying to mix and match collections unless they're color-coordinated.
Question: How Do You Measure for a Corner China Hutch?
Answer: Measuring is easy and all you'll need is measuring tape! Look online to see the dimensions of the corner China cabinet you want most. Then, use a measuring tape to measure the wall space in the corner of a room to determine if your ideal China cabinet can fit.
Question: How Big is the Average Corner China Cabinet?
Answer: The answer to this question may be unsatisfying because sizes vary. You can buy corner China cabinets that are tall, short, wide, skinny, and everything in between. If we had to give an average size, we would compare a corner China cabinet to a concave bookshelf.
The Bottom Shelf
In conclusion, you're officially a corner China cabinet expert! How does it feel? We've learned all about what to look for in a corner China cabinet, gave you our top 5 favorites, and some extra design ideas. If you ask me which one I'd pick, I'd definitely go with the RiverRidge Home Madison Collection Tall White Corner Cabinet because of its awesome price range!
Do you have a corner China cabinet you'd like to tell us about or do you have any questions? Leave a comment and let us know! For even more awesome ideas on home décor and furniture check out our guide to living room furniture!
Latest posts by Candace Osmond
(see all)