Mail, beanies, winter scarves, and boots can clutter any mudroom in a hurry if you don't take steps to keep the entrance into your home neatly organized. In this entryway and mudroom furniture guide, we'll show you how to choose the furniture that will make these spaces welcoming and free of clutter.
As high-traffic areas, mudrooms and entryways are utilized by all family members which makes having firm control over the organization of these rooms even more important.
With a little bit of creativity, you can transform a mudroom or an entryway from a storage space into a room your family uses to communicate. Selecting the right furniture for these rooms is the first step towards creating a warm space that welcomes guests into your home.
Our entryway and mudroom furniture guide will walk you through all the steps of furnishing these rooms and transforming them into hospitable spaces that reflect the style of the entire home.
Entryway and Mudroom Furniture Guide
What's the difference between an entryway and a mudroom?
The first room you enter after you open the front door is a mudroom. As its name implies, the purpose of this room is to give you sufficient space to take muddy, wet, or otherwise dirty shoes off and take off the coat before going into other areas of your home.
The flooring of mudrooms is usually made of bricks or tiles which makes it easier to clean the dirt you bring in from the outside. Hence, installing a carpet, even those designed for outdoor use is going to increase the amount of time you have to spend cleaning the mudroom space.
An entryway is a hallway that takes you from the front door to the kitchen or the living room, although some homes can have front and rear entryways. Having two entryways enables you to use the rear entryway to store shoes and jackets, and turn the front entryway into a foyer.
Unlike mudrooms, entryways usually have hardwood or laminate flooring which can make cleaning the dust, mud, or melting snow a bit more difficult.
The essential entryway and mudroom furniture pieces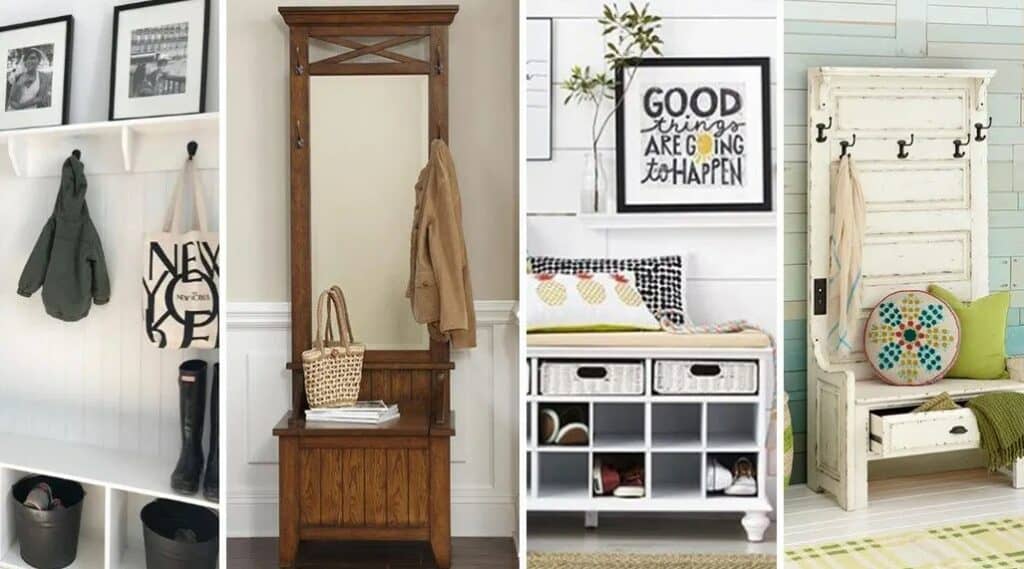 Although their layout isn't the same, entryways and mudrooms serve the same purpose, as they supply the space where you can take off shoes, jackets, and clothing accessories before entering an apartment or a house.
Hence, the furniture you can add to these rooms is identical since both spaces are utilized to store the following items:
Shoes –Boots, sneakers, and slippers are kept in these spaces
Jackets – Mudrooms and entryways are places where families keep winter and spring jackets
Gloves – As winter clothing accessories gloves are usually kept near the front door
Different types of scarves – Hanging a scarf you wear every day on a mudroom hook will grant you quick access to it
Hats – Like all other clothing accessories, hats are among the last clothing items you put on before leaving your home, which is the reason why the best place to store them is in the mudroom
Umbrellas – Most families store umbrellas in the entryway because they can pick them up on their way out or leave them to dry after returning home
Mail and bills – All correspondence that arrives through mail can be put away in the mudroom
Car and home keys – Keeping car and home keys in the entryway reduces the chances of forgetting them when you go out
Outdoor gear and toys – All equipment or toys you and your family use outdoors can be stored in mudrooms and entryways
Based on the items stored in them mudrooms and entryways commonly feature these types of furniture:
A trash bin, an umbrella bin, a mirror, or a table are also among items you can add to mudrooms and entryways.
Lighting and flooring suggestions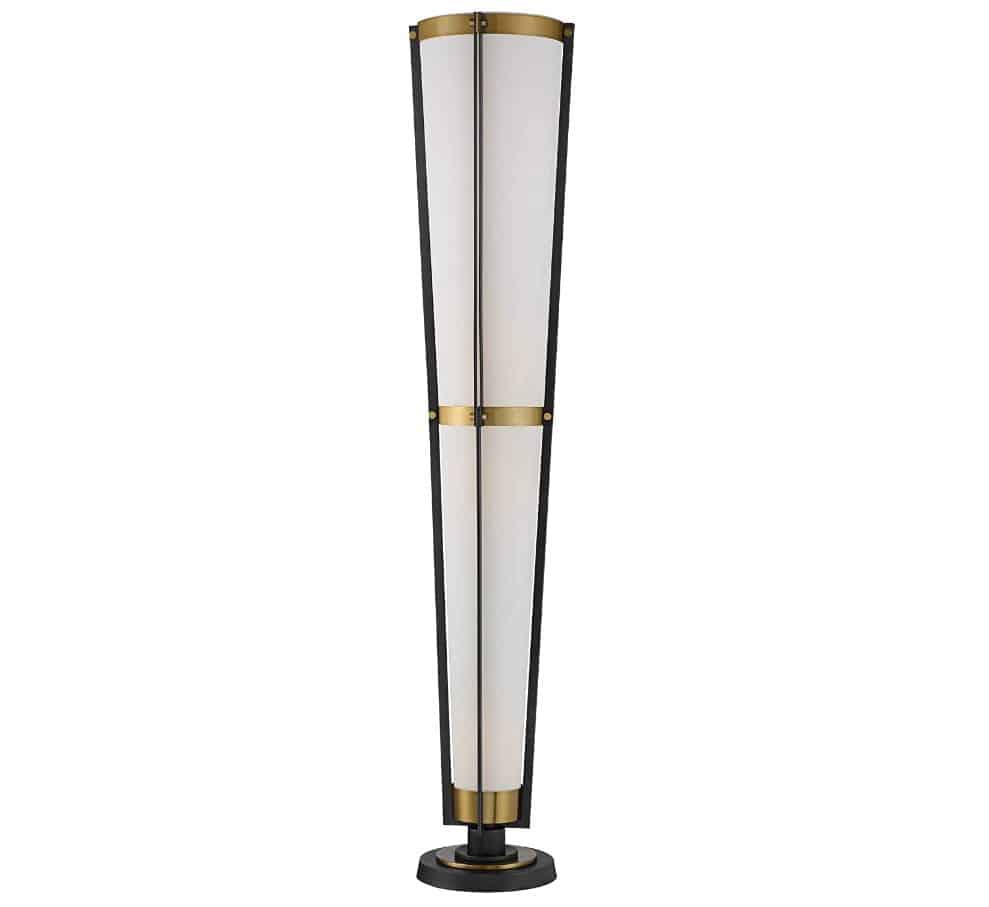 The amount of natural light in a mudroom depends on the layout of a house or an apartment, but in most cases, these rooms don't have windows. So, you need to check how bright the entryway or a mudroom is before you decide if you need an additional source of light besides the ceiling lighting.
Floor lamps can be a nice addition to these spaces that will make them more stylish but also improve their overall functionality. However, whether or not you can put a floor lamp in a mudroom depends on the amount of available space you have at your disposal.
Most mudrooms have tile or brick floors because these materials match the room's purpose. Covering the entire floor with a carpet isn't advisable because it will make it more difficult to keep the mudroom clean. However, putting a rug into an entryway or mudroom can help you deal with the cold floor since it is difficult to keep the flooring materials commonly used in these rooms warm.
Sorting out the items you keep in the mudroom or an entryway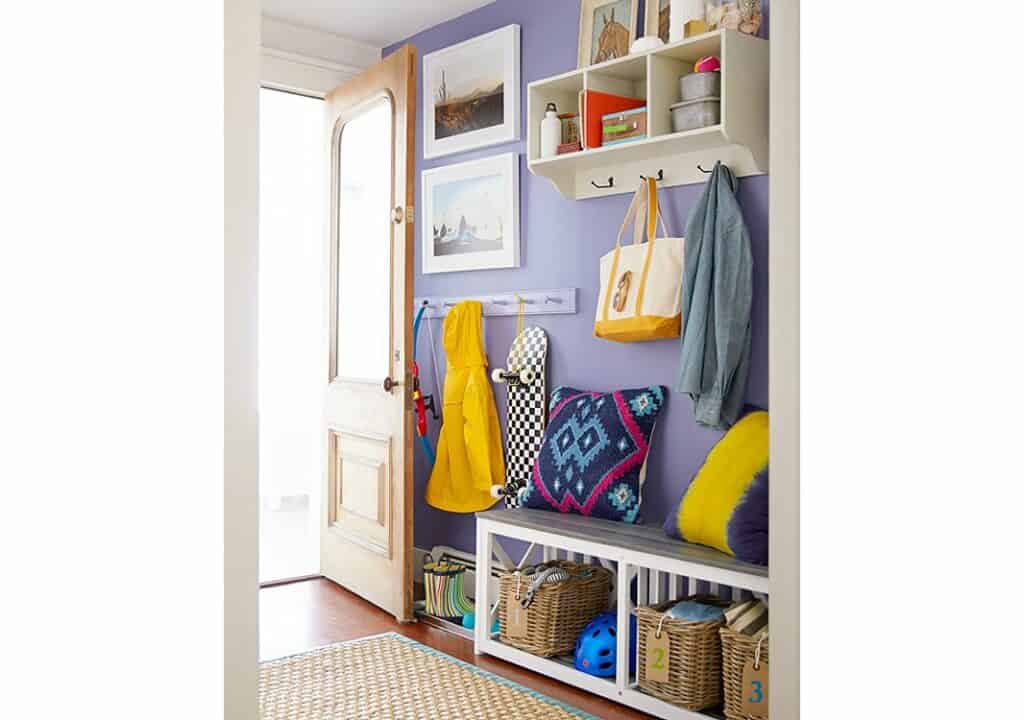 Probably the easiest way to figure out which pieces of mudroom and entryway furniture you need is to make a list of all the items you want to keep in this room. Besides, shoes, coats, and jackets, mudrooms are usually the places where you leave a wet umbrella or the mail after you enter your home.
It is also a space where you put the shoes on before leaving your home, so you should consider getting a bench that will enable you to sit down or provide you with a surface where you can leave a purse, a backpack, or the groceries you brought from the store.
It is worth pointing out that most mudroom furniture is multifunctional, so you can get a bench that has shoe storage space or an entryway closet that features mudroom hooks. In case you have enough space, you should consider installing shelves you can use to store winter boots or other items you don't use frequently.
Ways to make a mudroom or an entryway inviting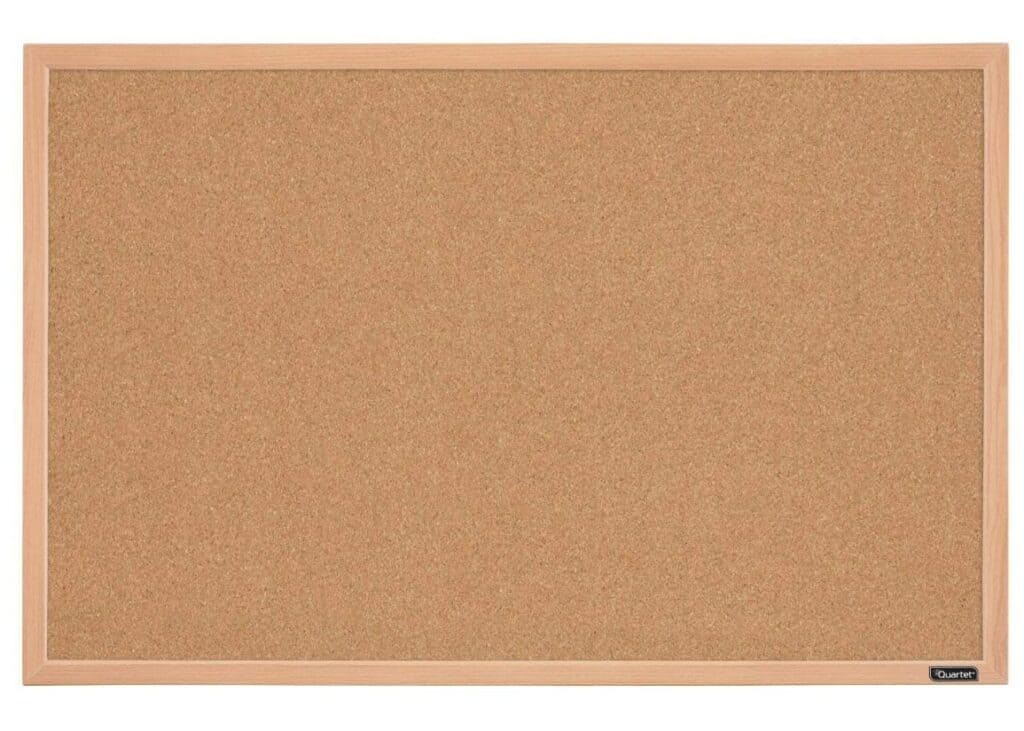 As pass-through spaces, mudrooms and entryways are not meant to be rooms where families spend a lot of time. Nonetheless, they are high-traffic areas that are in use throughout the day, but they have also shared spaces as all family members have to use them.
Installing a corkboard in a mudroom can be a fun way to exchange messages with your family or leave reminders for yourself and your loved ones. Decorating the walls of the entryway by hanging framed family photos or artworks you like will make the space more hospitable.
The style of furniture in the mudroom should reflect the style of the furniture in the entire house, so if the décor in your home is in the mid-century modern style, you should choose a mudroom bench or a hall tree that matches this style. Using air fresheners will help you deal with unpleasant odors and it'll make the atmosphere in the entryway more enjoyable.
The most important things to consider while furnishing a mudroom or an entryway
Having to dig through a mountain of shoes before you find a pair you're looking for or going through the coat closet searching for a jacket you want to wear ar a commonplace situation that can be easily avoided with the correct furniture choice.
In fact, the mess that is associated with these spaces is usually a side effect of inadequate furniture. A little bit of organization will enable you to transform a cluttered and dysfunctional space into a neatly arranged room in which every item has its place.
Furniture selection can be essential in this process as bulky and heavy closets can eat up too much space and still fail to provide all the closed storage room you need. Let's take a look at some of the factors you should consider while searching for a mudroom and entryway furniture.
Available space
Your mudroom furniture selection is largely affected by the size and layout of the room you're furnishing. So, if your entryway is too narrow for a closet, you can mount coat hooks directly onto the wall and place a small bench underneath it.
The wall in a mudroom needs to be long enough to ensure that a closet is far enough from the door and that it doesn't block the entrance to other rooms.
That's why you need to pay the same amount of attention to the room's layout, its size, and the exact measurements of the mudroom furniture you want to buy. You should also make sure to leave enough free space in the room because over furnishing a mudroom will make it less functional.
Estimate your storage capacity needs
Although it is hard to know exactly how much entryway storage space you need, creating a rough estimate will give you an idea of which storage solution is right for you. The number of family members or how often you're hosting friends can be some of the criteria you can use to assess your storage capacity demands.
Besides, you can opt to keep only the items you're using every day in the mudroom and store winter jackets, boots, and all other seasonal clothes in another room. In case your house has two entryways, you can keep the items you're using every day in the front entryway and utilize the rear entryway as storage space for seasonal clothing items.
Search for space-saving solutions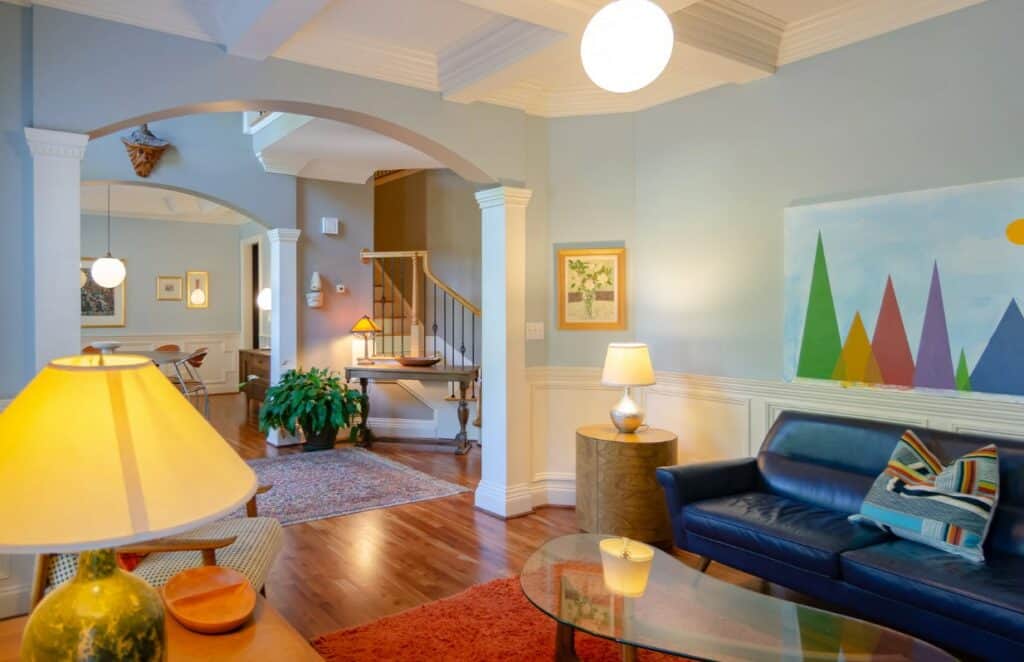 The mess won't disappear from your mudroom if you fill it with furniture. In fact, too much furniture might make organizing the mudroom more difficult as you'd constantly have to move storage boxes around or figure out where to put a standing coat rack.
Instead of buying a shoe cabinet, a wall-mounted or standing coat rack, a bench, and a small table separately, you should at least consider getting a hall tree that lets you hang multiple purses and jackets, store several pairs of shoes, and provides you with a surface you can sit or put items on.
Some solutions may even have enough space for several storage boxes, where you can keep the outdoor equipment or store mail or offer closed storage solutions.
Make the mudroom or an entryway an integral part of your home
These spaces are somewhat cut off from the rest of an apartment or a house because the residents don't spend a lot of time in them. However, their transitional nature doesn't have to be the reason why their look and feel are generic.
In addition to choosing mudroom and entryway furniture that matches the home décor style in the entire house, you should also search for items that can make these spaces more welcoming. Creating the family message center, decorating the walls, or using an innovative light design are just a few among countless ways to create a homely atmosphere in an entryway.
Find a balance between functionality and style
Every piece of furniture you add to a mudroom should be there for a reason. For example, a mirror can help you check how you look before you leave your home, while a hall tree enables you to keep all the shoes and coats in the same place.
However, the design of the mudroom furniture doesn't have to be utilitarian or similar to mass-produced pieces you can find in furniture stores around the country.
Threading the line between functionality and style isn't an easy task since elegant furniture can be both expensive and hard to find. On the other hand, the mudroom furniture doesn't have to be overly stylish because you are going to spend a limited amount of time in that room.
Stay within your budget
Each piece of mudroom furniture is available in different price-tiers, so you can spend less than a hundred dollars on a mudroom bench or several thousand dollars on a custom-made model.
Before you start searching for furniture for an entryway or a mudroom, you should first decide how much you want to spend on the project of furnishing these rooms. By doing so, you'll know which price range to target, which in turn will make it easier to find models that fit your budget.
All mudroom furniture is primarily utilitarian, so you shouldn't exceed your budget unless you found an item that fits your vision perfectly. You shouldn't opt for the least expensive options either, even if they look good, because you may have to replace them after a few months.
The advantages of entryway and mudroom furniture
Ample storage room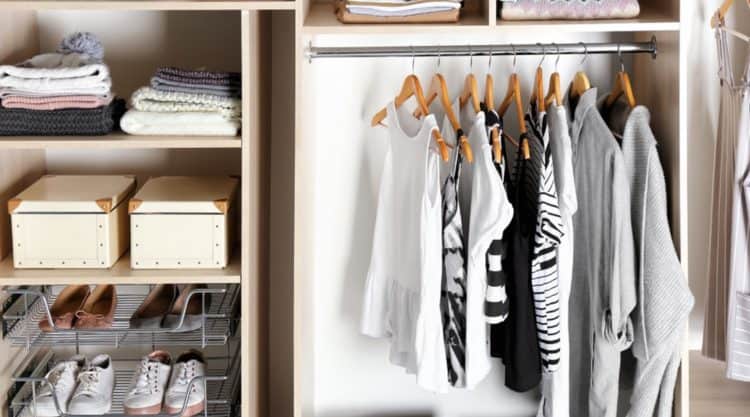 Mudroom and entryway furniture enable you to keep shoes, clothes, or mail neatly organized by providing you with enough space to store the items that are not in use and granting you quick access to the items you use every day.
Allows you to keep the rest of your home clean
Taking your boots or shoes off as soon as you enter your home and putting them in their designated place prevents you from spreading the dust or mud around the house. It also gives you space where you can dry a wet jacket or store umbrellas.
Reflects the atmosphere of the entire home
A mudroom or an entryway is the first room a person who enters your home sees. Furniture selection is one of the ways to make these spaces more welcoming and to set the atmosphere for every other room in a house or an apartment.
Low upkeep requirements
The mudroom furniture is easy to maintain since you won't have to do much else other than dusting to keep it in good condition. Moreover, even the moderately priced pieces of entryway and mudroom furniture can last for several years, and you won't have to replace them often.
Mudroom furniture is available in all price tiers
You can furnish an entire entryway or a mudroom for several hundreds of dollars, or you can spend thousands on each piece of furniture you want to add to that room. That's why furnishing a mudroom shouldn't be too difficult as you can find all items you need at the price range you find acceptable.
The disadvantages of entryway and mudroom furniture
Entryway and mudroom floors can be cold
Carpets don't fit in entryways and mudrooms because it is difficult to remove dirt from them, but bricks or tiles can get very cold, especially during the winter. Although it isn't entirely impossible finding a good flooring solution for a mudroom can be challenging.
Some pieces of entryway and mudroom furniture can be bulky
It is paramount to check the exact measurements of the furniture you want to get and check if it can fit in your mudroom. You should also estimate how much free space you're going to have after you add a particular item to a mudroom to find out if it is going to take up too much room.
4 great entryway and mudroom furniture suggestions
A broad spectrum of factors can affect which entryway and mudroom furniture you're going to get, as each room has a different layout and dimensions. Industrial, modern, or contemporary are just a few among the countless style options you have at your disposal, and you should choose the option that best matches the rest of your home décor.
However, you shouldn't put style before function because the main purpose of mudroom and entryway furniture is to provide storage space. We've selected a few pieces of furniture that might help you get a better idea of how you want to furnish a mudroom or entryway in your home.
Crosley Furniture Seaside Hall Tree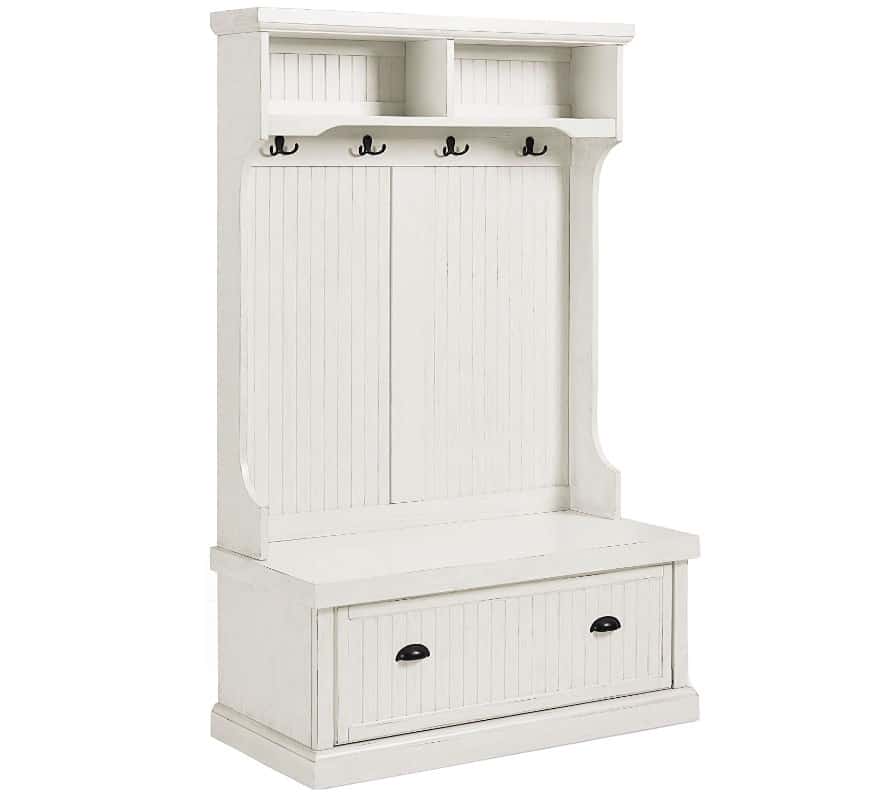 If you're struggling to find space for all furniture you need in a mudroom, you should check out the Crosley Furniture Seaside Hall Tree, because it replaces several pieces of furniture. This hall tree is made of solid hardwood and wood veneer, while its coat hooks are made of solid metal.
This model has a 35.37 x 18.5 x 17-inches bench that is spacious enough to accommodate two people at the same time. Underneath the bench, you can find two closed storage compartments that enable you to keep shoes out of sight and access them quickly whenever you need them.
The Crosley Furniture Seaside hall tree has two storage compartments at the top where you can keep the storage boxes.
ClosetMaid Storage Bench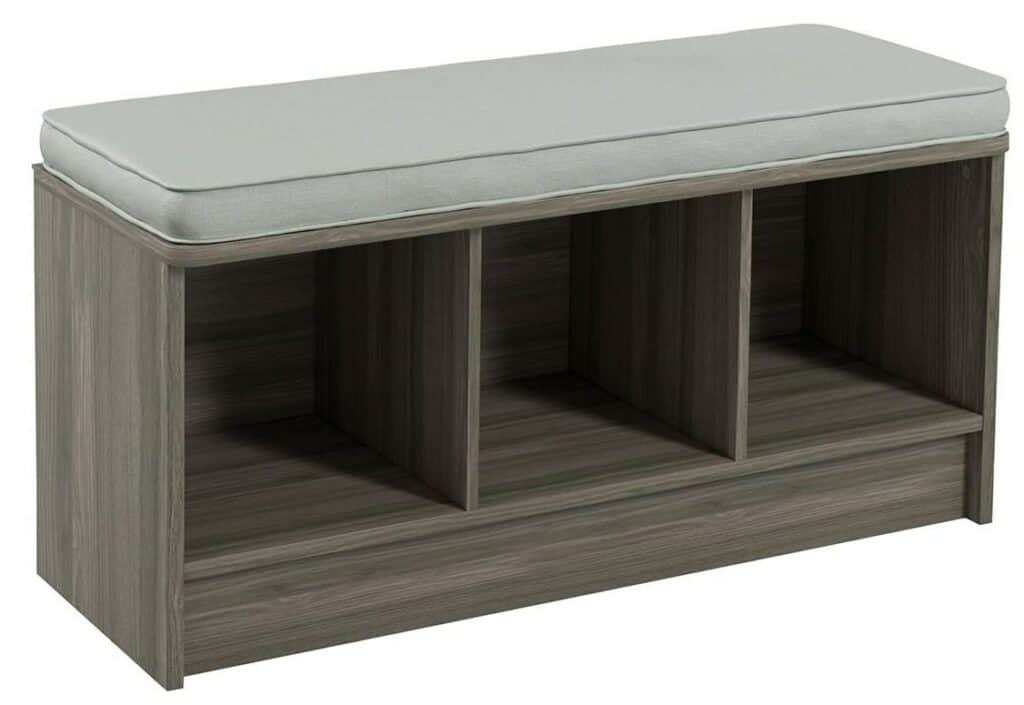 A simple but contemporary design enables you to pair the ClosetMaid Storage Bench with a wide range of entryway and mudroom furniture.
The storage bench has three shoe compartments that have the dimensions of 11.25 x 11.25 x 11.25-inches, while the entire bench measures 18.5 x 35.27 x 14.014-inches. Hence, it shouldn't be too difficult to find space for this storage bench in your mudroom.
You will have to assemble this bench once it arrives at your home address, but the assembly process is straightforward and it can be completed with Philips and flathead screwdrivers, a hammer, and some wood glue.
Besides mudrooms and entryways, the ClosetMaid storage bench can be a great fit for living rooms or bedrooms.
EDGEWOOD Asymmetrical Mirror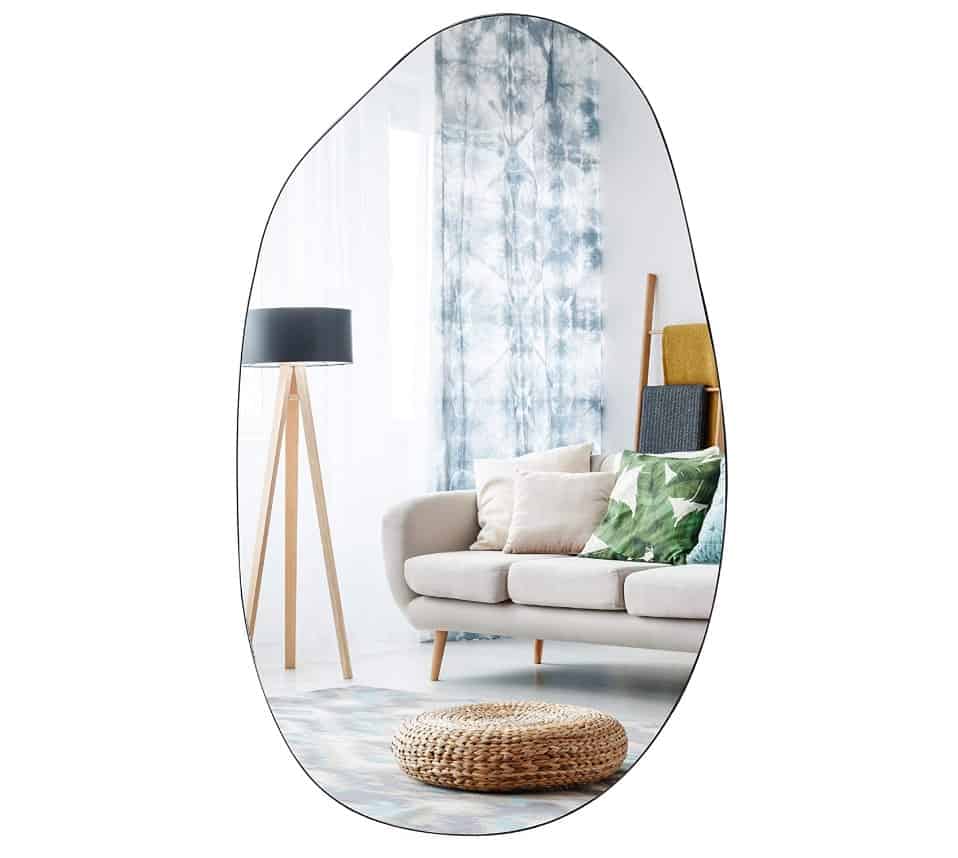 The EDGEWOOD Asymmetrical Mirror can help you give character and style to the mudroom you're furnishing. This mirror is large enough to capture the torso, while its eccentric shape matches modern home décor styles perfectly.
Installing this EDGEWOOD mirror is easy because it features built-in mounting fittings that enable you to hand the mirror horizontally or vertically. It weighs 15.2lbs and it is relatively lightweight for a wall mirror, so you won't have to worry about its safety once you mount it on a wall.
The brand doesn't utilize lead or copper during the manufacturing process that enhances its durability and reduces the ecological footprint. However, the specific manufacturing process makes the mirror a poor fit for spaces that have high levels of humidity.
Trademark Innovations Foldable Storage Basket Set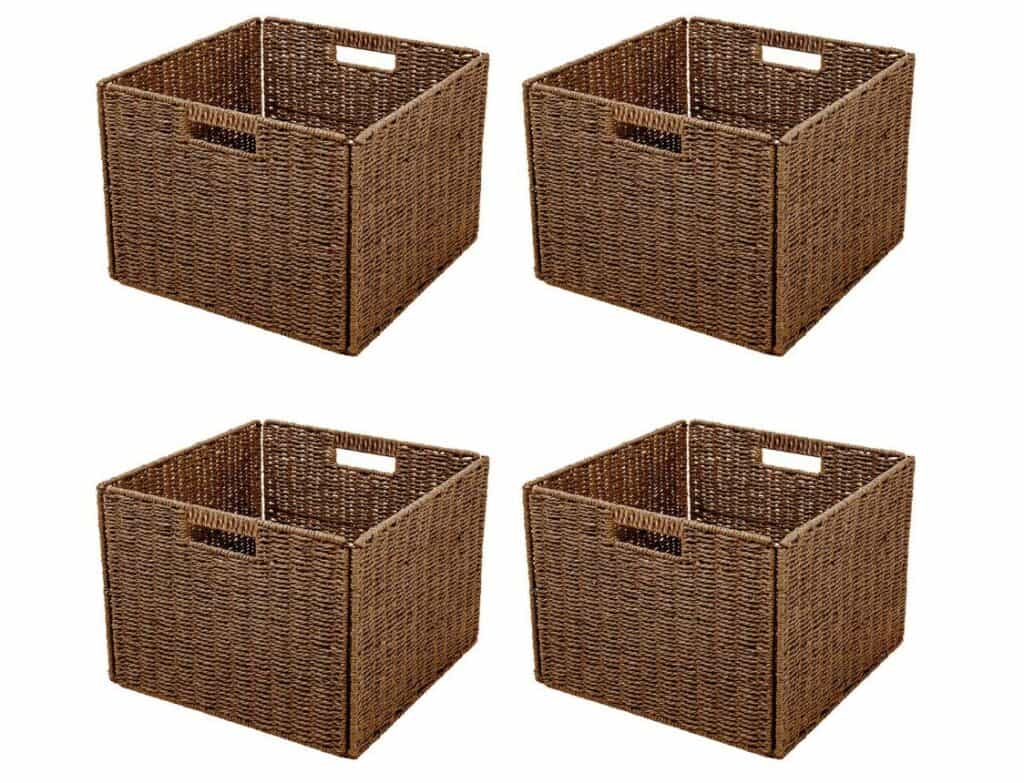 Finding space for gloves, hats, or winter scarves isn't going to be a struggle if you get the Trademark Innovations Foldable Storage Basket Set. You can opt for a single basket, or purchase a set that contains 2 or 4 baskets depending on your needs.
Each basket has the dimensions of 12 x 12 x 12-inches, which makes them compact enough to fit on a hall tree and spacious enough to store documents or winter clothing accessories. Baskets have an iron wireframe and they are made of paper rope.
You can fold these Trademark Innovations baskets whenever they're not in use and free up space in your mudroom. The only downside is that the entire basket set weighs 10lbs.
FAQs
Question: How long do the entryway and mudroom furniture last?
Answer: The durability of the entryway and mudroom furniture depends on the manufacturer, the model, and the environmental conditions, but most pieces can last for several years.
Question: Are hall trees out of fashion?
Answer: Not at all, their vintage look makes them a perfect match for traditional home décor styles, but they are a better fit for spaces with high ceilings.
Question: Do I have to assemble entryway and mudroom furniture?
Answer: Some pieces of entryway and mudroom furniture are ready to assemble, while others arrive preassembled, and it depends on the model you choose whether you will have to assemble it or not.
Question: What are the best entryway and mudroom furniture materials?
Answer: Although the entryway and mudroom furniture is made from a broad range of materials, you should choose models that are made of natural material because they are stylish and durable.
Final thoughts: How to make the entryway and mudroom welcoming?
First impressions matter, both when we meet someone for the first time and when we enter their home. Entryways and mudrooms are the first room in your home your guests are going to see, so the furniture you choose should be both welcoming and inviting.
The functionality of the entryway and mudroom furniture is often more important than its visual appearance, but by following this line of thought you'll end up with a well-organized but cold and unattractive space. Items like the Crosley Furniture Seaside Hall Tree or the EDGEWOOD Asymmetrical Mirror are highly functional, but they're also stylish, which enables you to use them to create a coherent home décor style.
You can also use family photos, corkboards, and countless other elements to make these rooms an integral part of your home. Did you find this entryway and mudroom furniture guide useful? Leave a comment and let us know.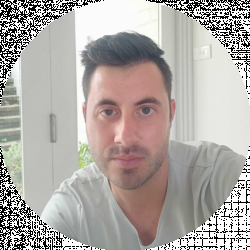 Latest posts by David Borgogni
(see all)