Looking for the best lounge chairs? You've come to the right place. From lounging furniture types to how you can style them and what qualities are most important when choosing one – this guide has it all. 
We've also featured our top picks that will transform any room into a space where your guests want to hang out more often.  You'll also learn how you can use these pieces in different rooms depending on their function or aesthetic appeal and some essential considerations before purchasing.
What Are the Different Types of Lounge Chairs
Traditional Classic Lounge Chairs
A traditional lounge chair is a classic choice for any room in your home. It's an armless, reclined seat that has been used in various cultures and countries around the world for relaxation or rest. 
These chairs are perfect choices if you've got lots of natural light available where it can be appreciated indoors without leaving the house. Classic lounge chairs also complement living rooms well since they're not intrusive but also allow conversations to occur easily amongst those sitting nearby.
Chaise Lounges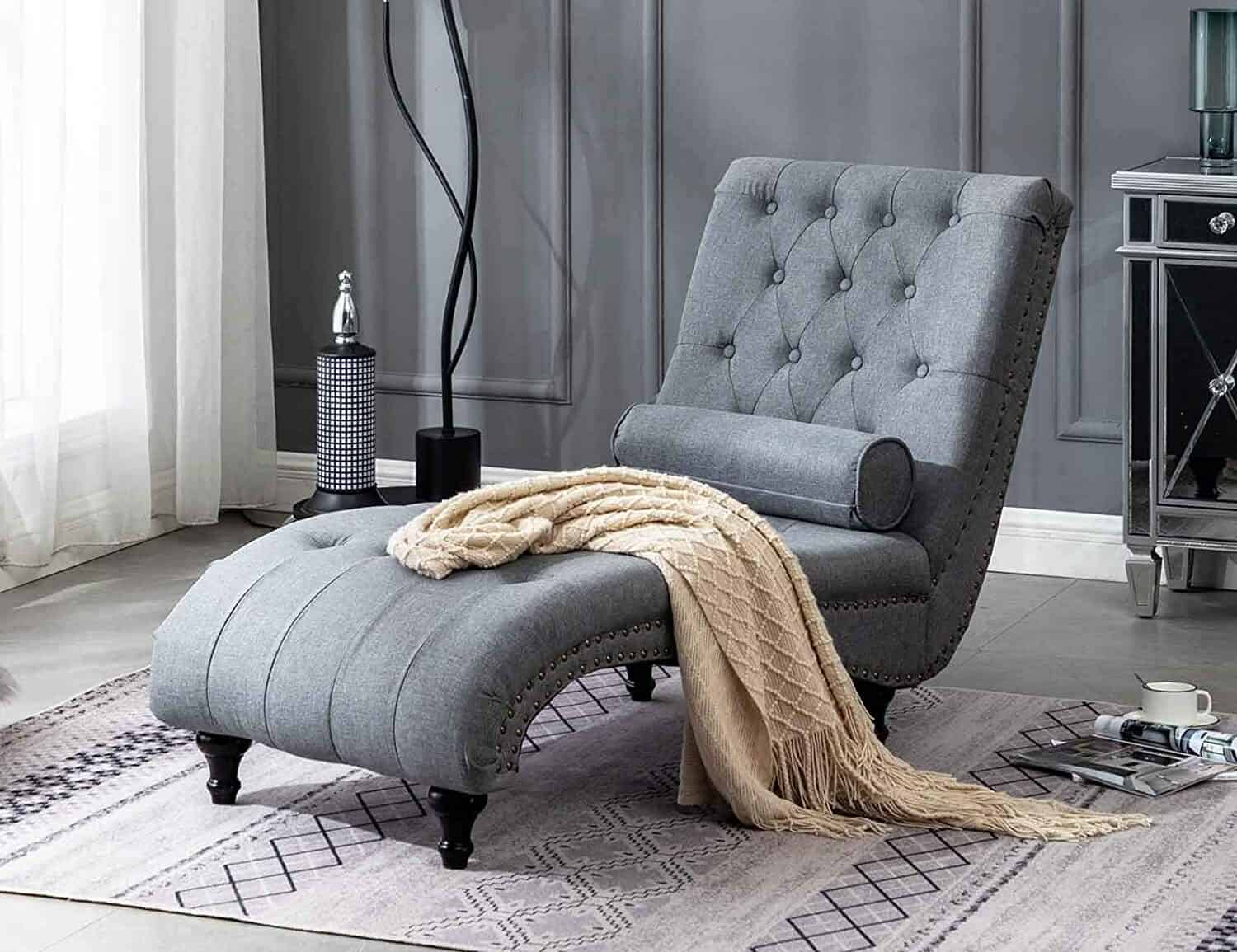 Chaise lounge chairs can come in a variety of styles, from sleek and modern to Victorian. They are long recliners that don't need an ottoman for foot resting and offer comfortable seating.
Poolside Lounge Chairs
There are two varieties of lounge chairs that seem to be the most popular. One is poolside lounges, and another one is Adirondack chairs. 
You've probably seen these lounge chairs at your local pool or on the beach, and they provide an excellent portable outdoor experience for you! Poolside lounges can be made out of wooden planks. 
However, this design is simplified by making it out of plastic which results in being less expensive.
Wingback Chairs
The wingback lounge chair is designed to keep air from the sitter's back. It has a high, stiff back that curves into "wings" on both sides of the headrest and arms, which are overstuffed with padding.
These chairs gained popularity in England around 1820-1830, where they were used by people who frequented men's smoking lounges at pubs called Gentlemen Clubs since they were more comfortable than other benches provided there.
Recliners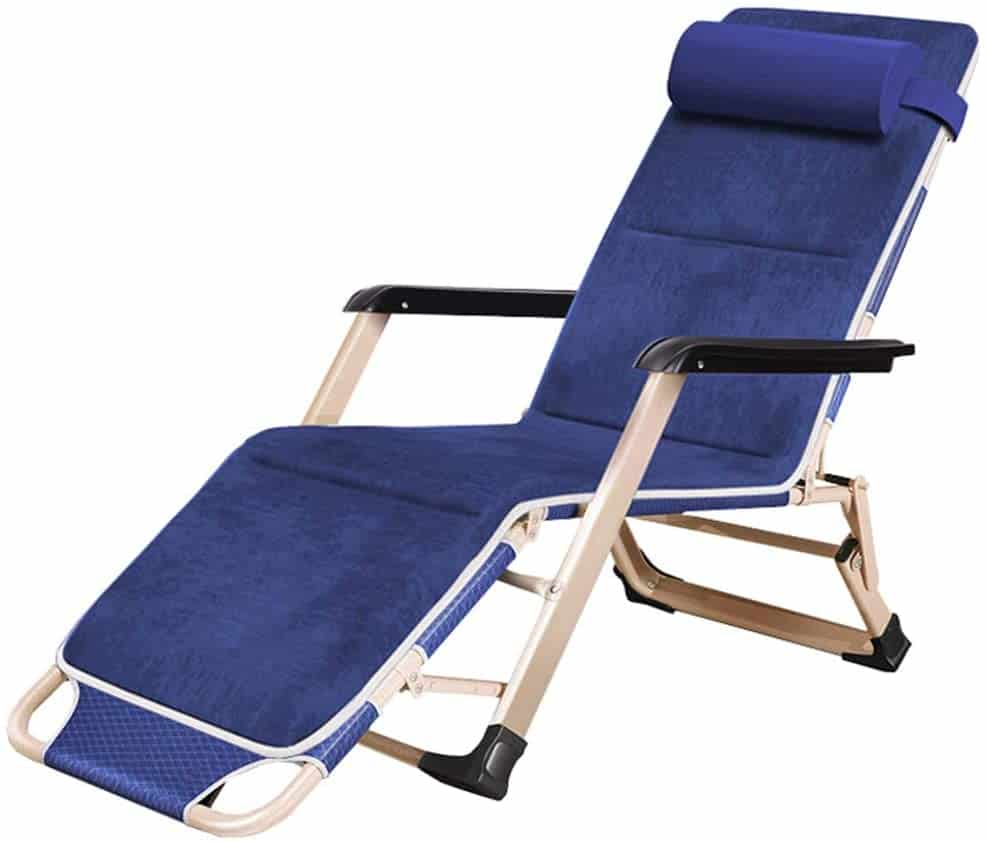 Not technically a lounge chair, but often found in the "lounging" section of department stores are recliners. These armchairs can be reclined and offer adjustable positions, unlike traditional loungers, which tend to provide only one position. 
However, this might make them less comfortable than other lounge chair varieties since things like incline aren't as adjustable with this style compared to normal ones where your back is supported by springs or padding inside the cushion itself.
Club Chairs
Lounge chairs were not invented by Charles and Ray Eames but we're inspired by club furniture. In the 19th century, club chairs gained popularity among English gentlemen in their clubs.
Their low backs and deep seats made them a great choice for relaxing or taking it easy. They were also called lounge chairs because they inspired Charles Eames' iconic design that we now know as the "Eames Lounge Chair."
The Best Lounge Chairs: Our Top Picks
Having looked at the various types of lounge chairs, we must mention;  the best in each category. Our review, therefore, features the best traditional/classic, club, recliner, wingback, chaise lounges, and poolside lounge chairs. Of course, we had to feature the G.O.A.T- the Eames Lounge Chair.
Best Classic Lounge Chair: DHP Emily Chaise Lounger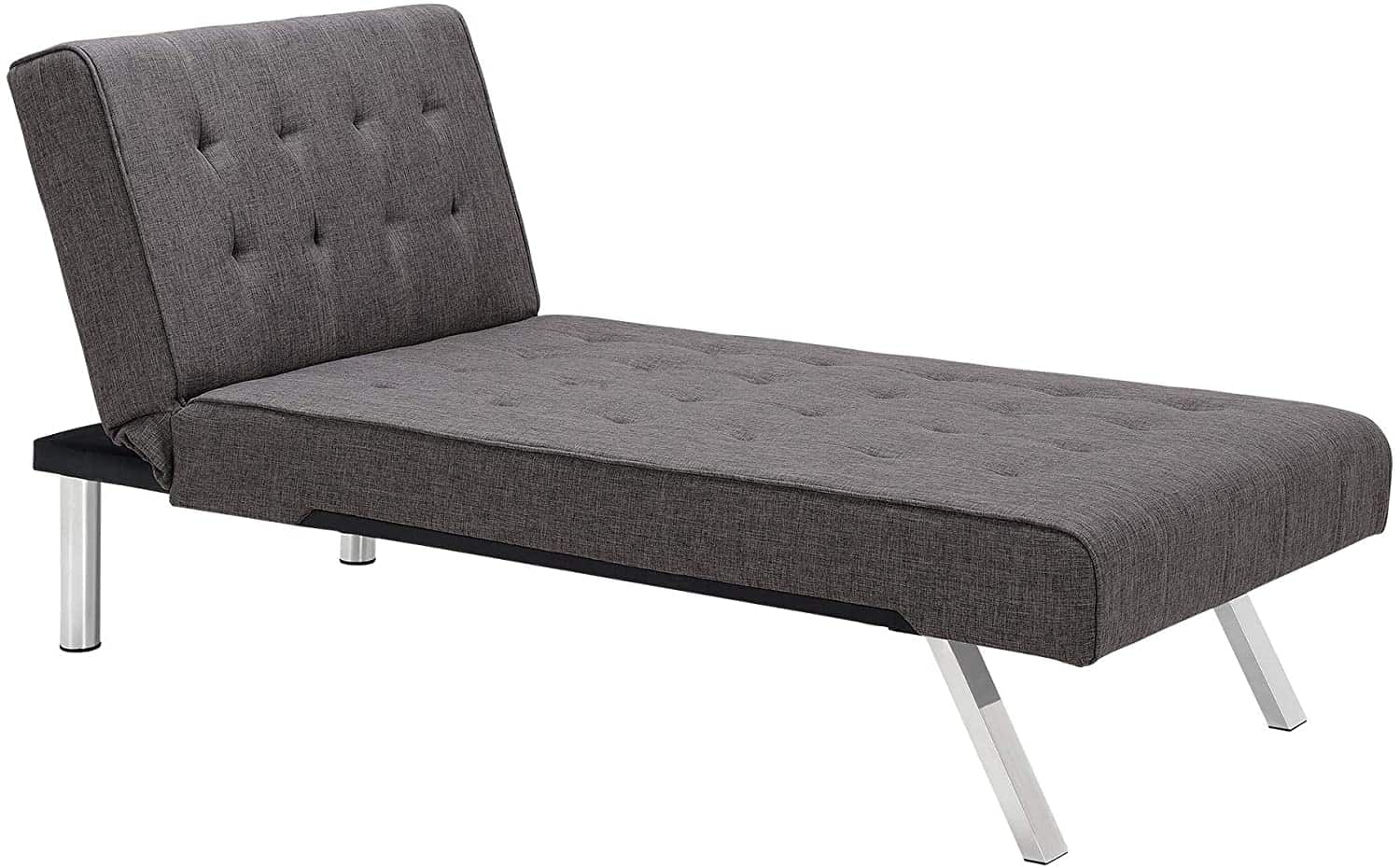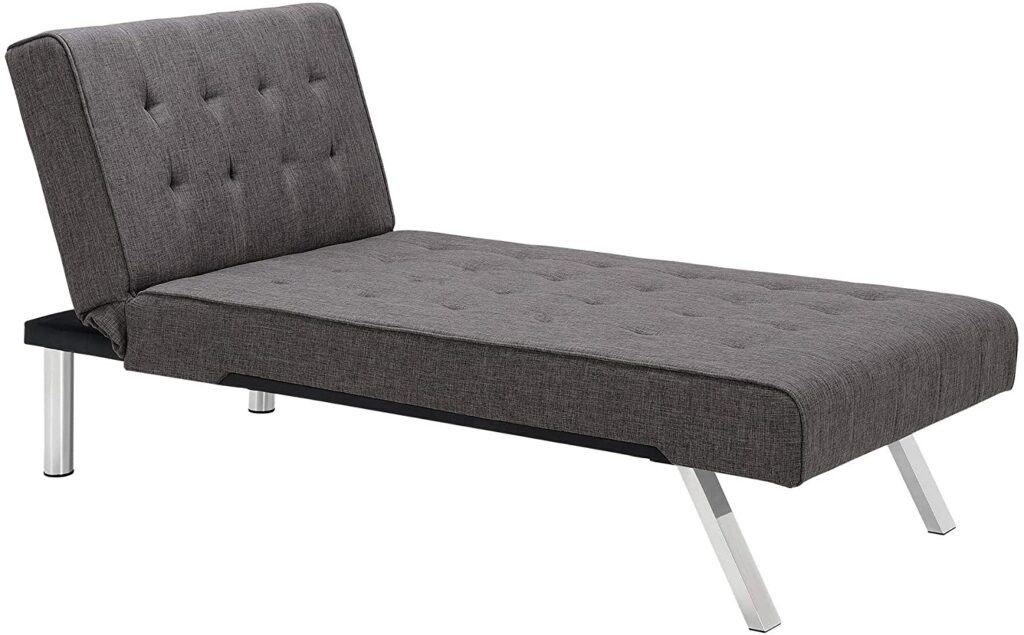 If lounging is your forte, then the DHP Emily Chaise Lounger is just the seat for you. With its plush pile of faux leather or woven linen upholstery and durable chrome legs, this assembled piece will breathe new life into any living space. 
The multi-positioned back with Click-Clack technology quickly converts it from a luxurious chaise to an elegant sleeper—perfect for entertaining guests or catching up on some much-needed Z's. Whether alone or cuddled up with your partner, this chair was made to accommodate any need while remaining sturdy and easy to clean.
Pros 
It is spacious; can comfortably accommodate two people

The lounge chair is durable; made from wood

The design allows it to convert from chair to sleeper to enhance comfort
Cons
The product comes without assembly instructions
Best Chaise Lounge: Rosevera Divino Lounge Chair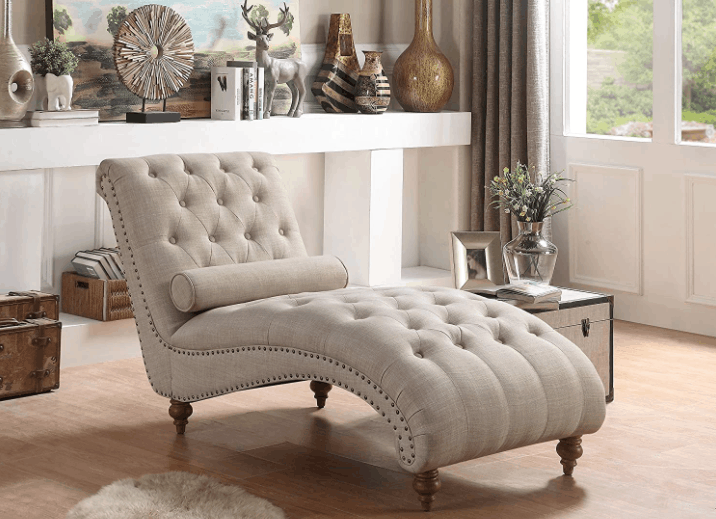 You can finally feel like royalty daily, no matter what your ruler status may be. A new piece to say you're bougie and bossy with roses and pistachios ( we know you love those), this enchanted chaise lounge is perfect for lounging or taking a power nap. 
The one-of-a-kind Rosevera Divino lounge chair looks smooth and sleek with Tufted button accents. Choose from an array of colors to make your living room or guest bedroom cozier. 
The high-density foam padding in the back and seat offers superior quality and comfort while you enjoy a lazy day lounging around and reading a novel. Even better? This chair is super easy to clean! Spot clean this chaise lounge with a damp cloth; that's if you can even get it dirty.
Pros 
It has an easy to clean fabric

There's a wide range of colors to choose from

It features high-density padding; therefore comfort is guaranteed
Cons
Customers complained that the tufted buttons come off easily
Best Poolside Lounge Chair: POLYWOOD Nautical Arms Chaise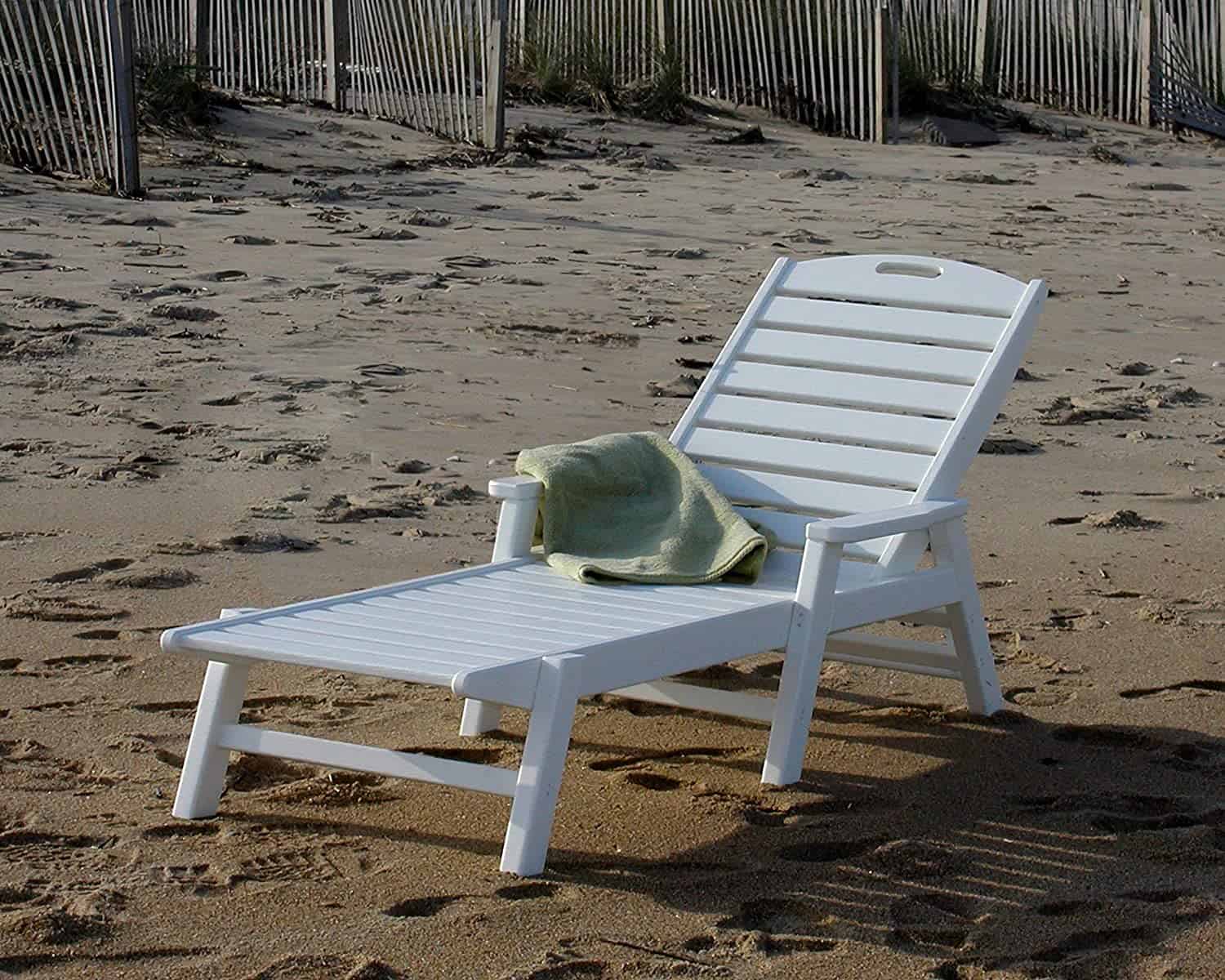 Imagine lounging effortlessly in this beautiful chaise, drifting away on the world's most comfortable outdoor lounger. With four reclining positions, you can easily relax in an upright position or lay back and simply enjoy the sun. 
The recycled lumber material is resistant to corrosive substances, including salty water, making it perfect for oceanside lounging.  This sleek chaise is also very convenient. The POLYWOOD Nautical Arms Chaise is easy to store or move around as these lightweight wooden frames collapse for easy transportation and storage. 
You'll never have to worry about the sun fading your colorless furniture again because this beautiful chaise can withstand all of nature's elements with its no-fuss low maintenance setup that won't require painting, staining, or waterproofing. 
Sit back on this recliner chair surrounded by your dazzling view of wherever you are because this durable outdoor furniture is built to withstand the snowy winters and hot sun. It will not crack, chip, peel, or rot when left outdoors.
Pros 
It's a low maintenance piece of furniture- doesn't require painting or waterproofing.,

It's flexible and therefore easy to transport and store

Offers four reclining positions
Cons
Customers claimed that the material makes you slide in, and they had to buy cushions.
Best Wingback Lounge Chair: Mellcom Mid Century Wingback Arm Chair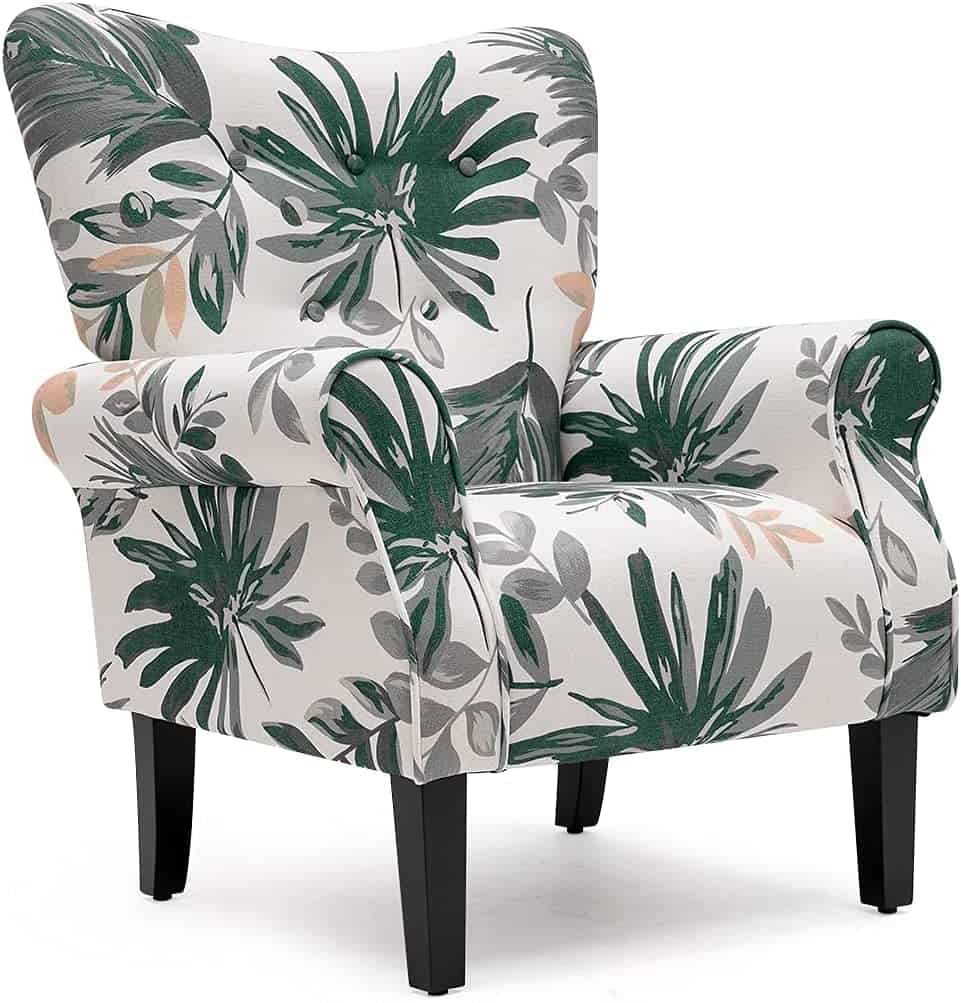 You thought you were all decked out. You've got your dad's vintage armchair, an Audrey Hepburn poster on your wall, and a Marilyn-style coffee table in your room. But the only thing missing is a modern Mellcom mid-century chaise lounge to go with it. 
Hold up. This isn't some lazy boy we're talking about here. This is a stylish and comfy armchair that supports your spine for optimum comfort! Plus, the wood legs add to its sleek dressiness – perfect for any modern-day woman looking to beautify her room with its unique flair.
The Mellcom Wingback Arm Chair is rare compared to its contemporaries. It's got soft, comfortable material that looks just as good in the office as it does in your home. Wooden legs give this chair an elegant appearance that will complement any setting you choose for it. Worried about your wooden floor? No worries, this piece comes with anti-skids to protect your floor.
And because of its wide back design, the armrests fittingly ergonomic style, and posh texture, you'll never want to take a break from sitting through an aggressively long meeting again.
Pros 
Elegant design and appearance- sure to brighten any room

It can be used in various settings from the office to home and bedroom

It's comfortable; offers support to your back
Cons
Some customers complained about misaligned screw holes, which made assembly difficult.
Best Recliner Lounge Chair: YOLENY Massage Chaise Lounge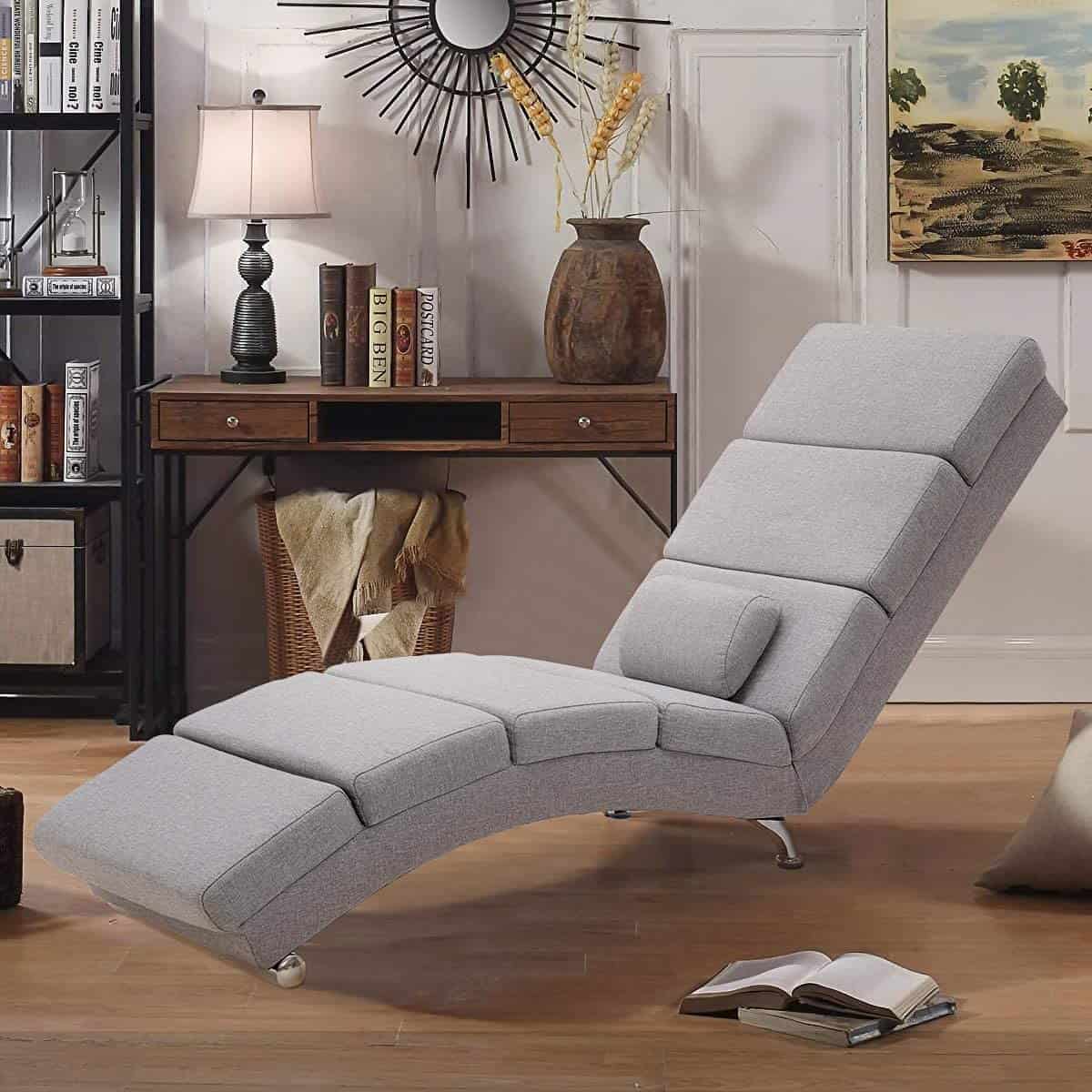 Imagine the soothing feeling of a massage, but without an expensive gift card. Just 10 minutes on this chaise lounge,  and you will be ready for your hectic day. You deserve that much-needed relaxation after a day at work or even just lounging around the house, and this product is just what you need.
The YOLENY Massage Chaise Lounge gives relaxing pulse, press wave, and auto massages to comfort all parts of your body and vibrating nodes to please those sore muscles too. 
Comfortable linen fabric adorns this high-quality chair, as well as comfortable high-density foam perfect for hours upon hours of stress relief bliss. The ergonomic design ensures maximum comfort with each use, and so does a sturdy wood frame with steel legs for stability.
Pros 
Multi-functional; serves as a chaise and massage chair at the same time

Durable and sturdy construction

It has a 300lbs weight capacity
Cons
Customers complained that the misaligned screw holes gave them a hard time assembling the chaise.
Best Club Chair: Christopher Knight Home Club Chair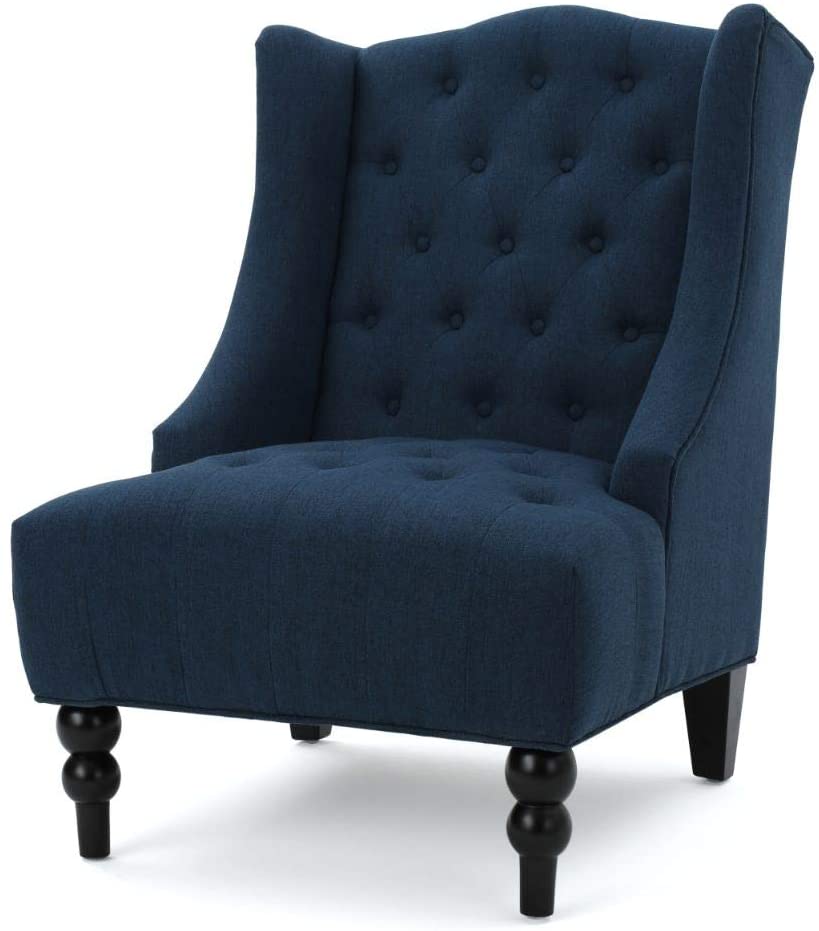 On the hunt for a chic and comfortable spot to perch? Look no further than the Christopher Knight Home Club Chair. One look at this beauty, and it's clear that it possesses a high-end style with a maximized function.
You'll love relaxing in this high-back club chair, which is great for having visitors over, too. This luscious accent chair features a tastefully tufted design and comes with a cushioned seat cushion that will last thanks to its durable fabric.
This lounge is an exquisitely designed eye-catcher. Whether you're throwing a party or just trying to relax in style, this iconic fashion chair will have no problem making your room look great. Plus it's available in five different colors so you can mix and match to your heart's content.
Relax on the comfortable, durable upholstery and enjoy a good book by candlelight.
Pros 
Elegant design

Durable fabric

Available in different colors; you're sure to find a match for your room
Cons
Some customers complained that the chair was smaller than they'd hoped for.
Best Lounge Chair Ever: Eames Lounge Chair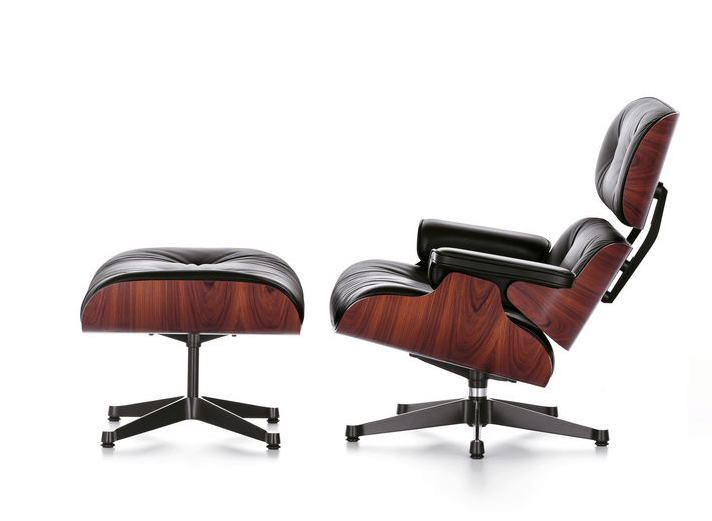 You know that one person who has everything. That awesome, awesome guy or girl with the killer pad and all of your favorite things? There's no need to be jealous of other's awesome stuff anymore when you can own this luxury super comfy armchair while simultaneously disrupting the status quo, amirite?
The Eames lounge chair has one goal, and that is to make you feel comfortable.  Don't be fooled by the sleek design or clean lines – this armchair can withstand all of your gaming preggo needs.
The design of the lounge chair has been around since 1956, but it's still to this day one of the most sought-out furniture pieces. And it's not hard to see why! With its classic, sleek retro style and impeccably elegant ergonomic design made specifically for comfort, this is one piece you definitely won't want to miss out on owning yourself.
This perfect addition to your living space is not only more comfortable than the regular chair, but it's also lighter and looks sleeker than ever. Choose between two different sizes of this classic design—classic dimensions or new, larger ones. This iconic piece of furniture comes in various leather upholstery covers with matching wood shells for any style you can imagine. Or take advantage of that neutral option by choosing an all-white version or an American black-painted foam effect with black details to match.
The Eames lounge chair represents minimalism, style, and comfort, and what better way for your home to reflect your personal tastes than with this? The original model was famed for its innovative use of molded plywood. Thanks to the new leather covers, you can enjoy that glamour without the stiff feeling.
3 Important Tips on How to Choose Lounge Chairs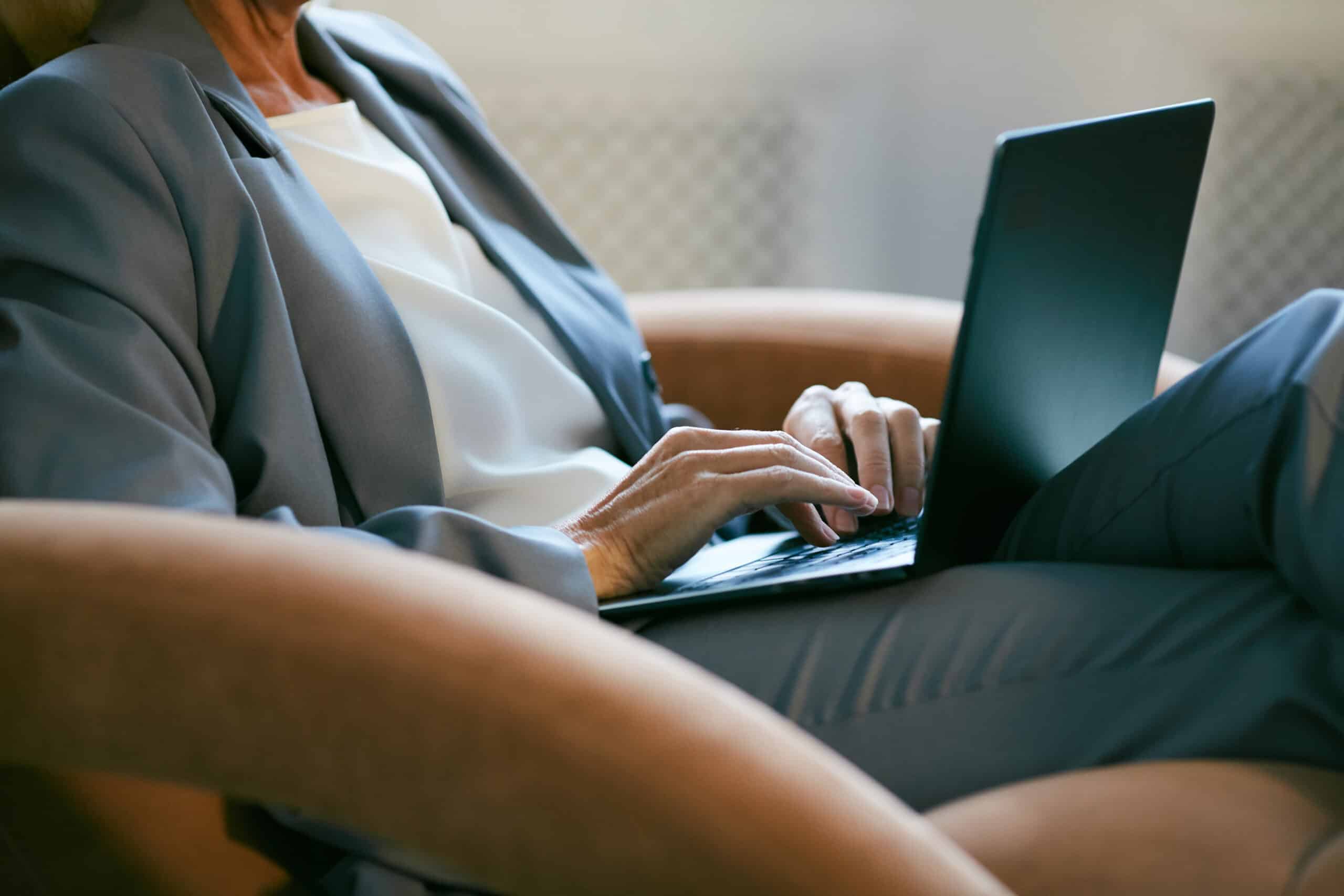 Choose a Comfortable Seat
Lounge chairs are meant to be extremely comfortable. There are a few details that one must consider when finding lounge chairs, such as the angle of the seat and the material used for cushions. 
Make sure there is an angle perfect enough so you can relax in comfort while lounging around with friends or family. Also, keep an eye on materials such as velvet cushions that feel soft against the skin, with plush fabric adding more comfort than hard leather seats.
A High Backrest is More Comfortable and Suitable for Lounging
When you're lounging, it's important to be comfortable. How high the backrest on your lounge chair is for this purpose can play a huge role in making or breaking how good of an experience you have while relaxing. 
A higher cushion will allow more space between your neck and shoulders, reducing the pressure that could build up when sitting upright all day at work or school.
The high backrest on lounge chairs is what makes them the most comfortable and suitable for lounging.
With or Without Armrests
When choosing a lounge chair, consider whether you want the armrests to be present or not. If it'll mainly be for guests and occasional use, then having them will probably get in the way. But if you are planning on using the lounge chair regularly, armrests can make it more comfortable.
How to Style Lounge Chairs
Get the Ideal Placement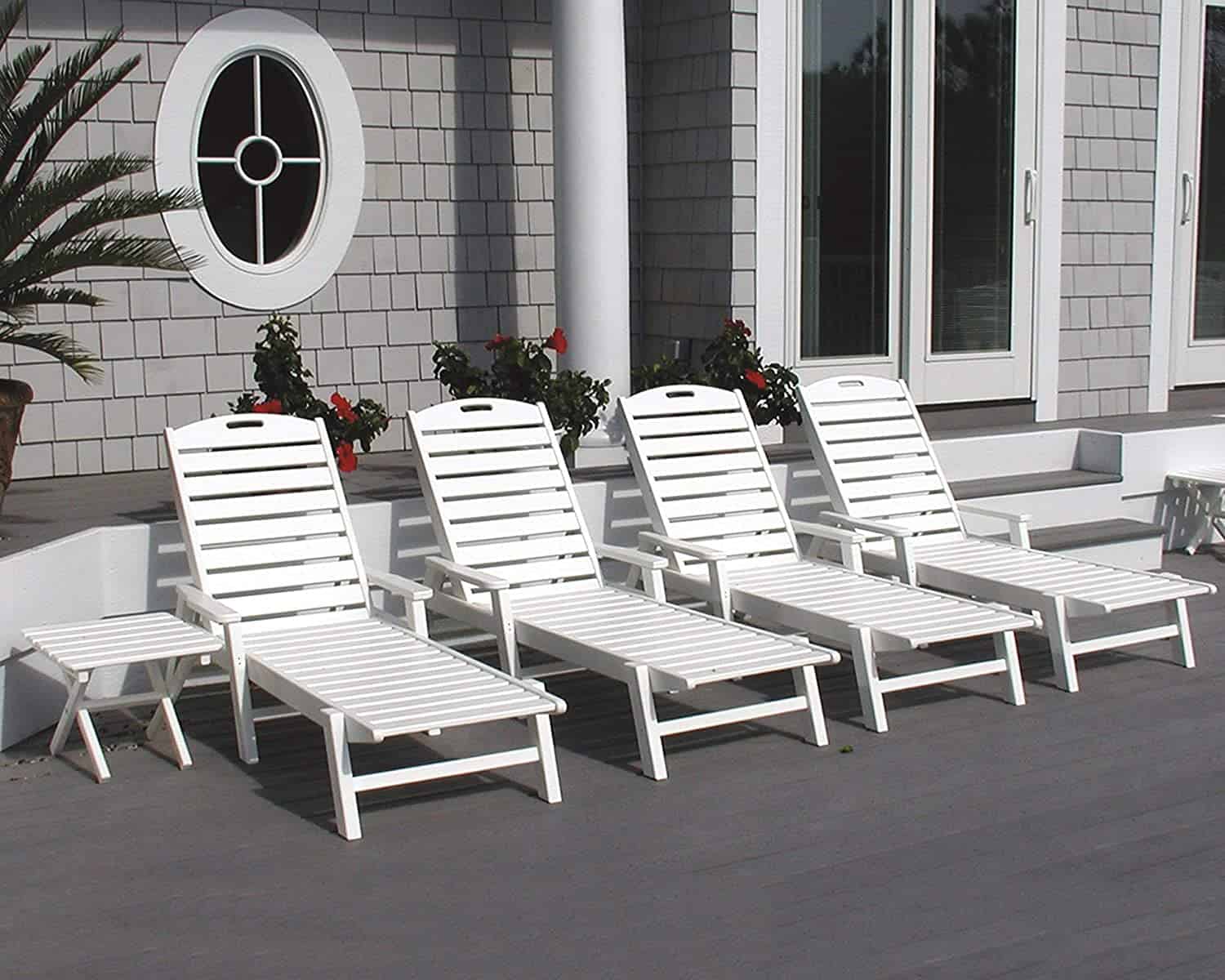 Placing a lounge chair in the main seating area of your room can make it a focal point. If you want to make your lounge chair stand out, put it with all of your best seating. They are an incredible accent for rooms that have some space to spare.
Placing a lounge chair in an empty corner can draw attention to it and make the entire space feel complete. You could do this by adding another piece of furniture that contrasts against your color scheme but also brings focus onto your lounger, such as placing side tables and surrounding it with floor lamps or books around it.
Another strategy is to add rugs into the mix because they tend to pull one's eye towards them and therefore bring additional emphasis onto whatever item sits within their vicinity. Relax in style with a lounge chair near your favorite window. Gaze out at the beautiful vista while you enjoy an afternoon read.
Accessorize
Throw pillows add instant color and texture to an otherwise plain chair or sofa arrangement. It doesn't matter if they're your own personal style or match existing decor because these pieces will become something entirely new when paired together.
Whether you want matching patterns for cohesiveness sake or bright pops of contrasting ones, they'll make all the difference. To add a stylish touch to your lounge chair, try adding a cushion that matches the color of the curtains or wallpaper.
Essential Lounge Chair Considerations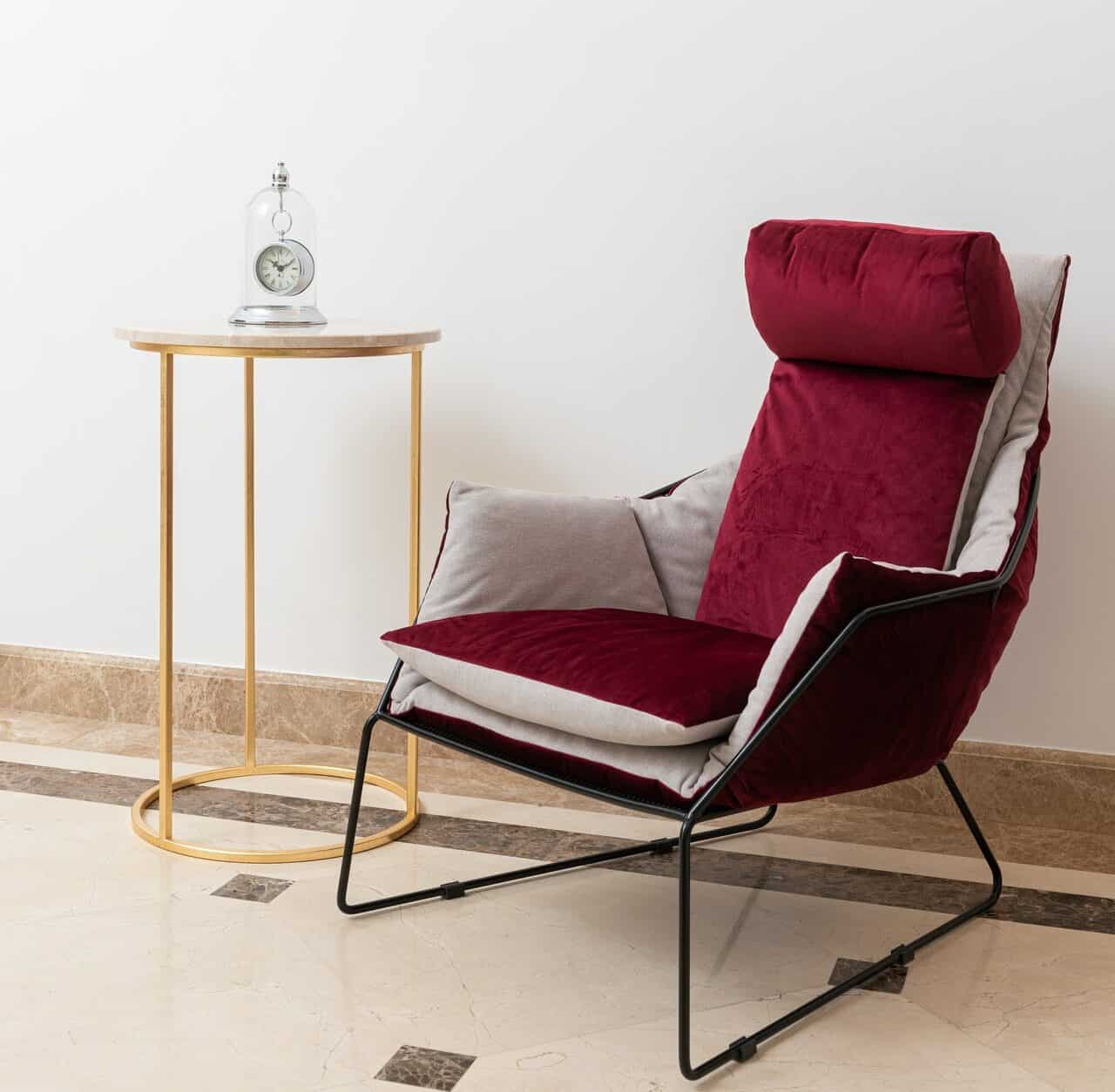 Design
When it comes to lounge chairs, you have a lot of options! If traditional is your style, look for upholstery made from silk or velvet and detailed brocade patterns. For more modern tastes, go with linen, chintz, or suede.
Material
Leather:

Leather furniture is both classy and sophisticated, making it a great choice for any decorating scheme. This type of furniture looks good in modern or traditional spaces with an upscale look that matches most lifestyles.

Polyester:

Polyester is an excellent material for furniture because it holds its shape over time. This prevents the chair from getting a saggy look, which can sometimes happen with other materials.

MicroFiber:

Microfiber lounge chairs are popular because they're soft, comfortable, and easy to maintain. The material is also stain-resistant, making them preferable for people with young children or pets at home.

Metal:

When buying lounge chairs, consider the material that will be used to support them. Aluminum and stainless steel are common materials for such furniture pieces due to their sleek futuristic feel. These metals add to the clean lines that define furniture with contemporary designs while also providing strong support.

Wood:

Carved wood makes for a sophisticated, elegant lounge chair that will draw attention in any room.
Space
Consider your available space when purchasing a lounge chair. Chaise lounges measure between five and six feet long, so make sure you have enough room for it to fit comfortably in the area where it will be used, as well as any accompanying side tables or rugs.
Use
When you're thinking about your lounge chair purchase, consider how it will fit into different rooms in your home. For example:
Will guests use this at a party? You'll want something larger and more stylish than an armchair., 
Is the purpose of this to be comfortable while watching TV or reading with someone else nearby? This calls for wide seating that can accommodate two lounging adults without being uncomfortable on either side!
 If kids are going to sit here often (and maybe occasionally fight over who gets what spot), then thick padding might not cut it as easily compared to thin upholstery where stains aren't immediately noticeable.
Existing Decor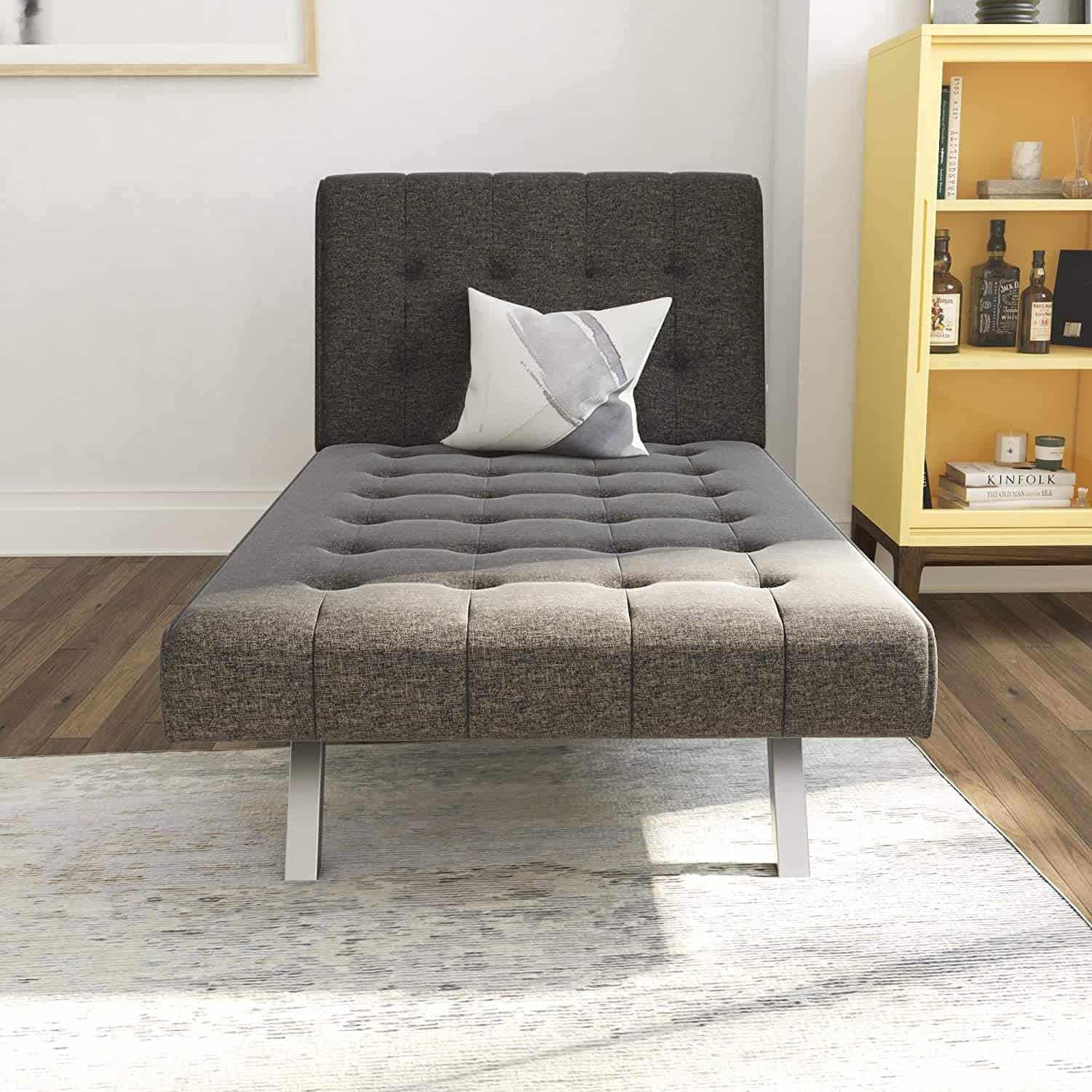 When buying a lounge chair, you should consider your existing decor and style of living. If the room already contains lots of dark colors or heavy furniture pieces, it is best to choose lighter chairs with minimal embellishments such as fringe or tassels.
For those who like bright, vibrant spaces filled with pops of color and ornate patterns on their walls, choosing an accent piece that contrasts this look will complete the space nicely. However, if there are neutral tones throughout most rooms in your home, darker muted colored leathers would be more suitable for completion purposes.
Budget
When buying a lounge chair, consider your budget. Different features come with different price points, and depending on how much you're willing to spend above the minimum for average materials and design will determine what product is right for you.
FAQs
Question: Who Makes the Best Lounge Chair?
Answer: The Eames lounge chair is a classic piece of design by Charles and Ray. They didn't aim to make it the best but rather wanted to improve existing designs for comfort's sake.  It remains one of the finest pieces in furniture history today.,
Question: What Is the Purpose of a Lounge Chair?
Answer: The purpose of a lounge chair is to provide comfort and relaxation. These chairs are not intended for work or productivity, but rather leisurely activities such as reading books or catching up on your favorite show on TV. In today's society, these kinds of chairs can also be found in homes that have the luxury to afford them.
Question: Why Are Lounge Chairs So Expensive?
Answer: There are many reasons why lounge chairs can be so expensive. Some factors include the materials used, the design of the chair itself and how it is built, where you purchase your furniture from, etc. These all play a role in determining if something may cost more or less than what someone would expect to pay for that specific item, affecting its average price tag.
Question: What Makes the Eames Lounge Chair Iconic?
Answer: A unique design, comfortable material choices, and popular inspiration make the Eames Lounge Chair iconic. This iconic chair is different from other lounge chairs. It has an unforgettable style and design that consumers recognize immediately when they see it. This particular piece of furniture has inspired other designers to create similar designs, while many people even make replicas of their own.
Best Lounge Chair Ideas Guide: Conclusion
One of the most important aspects of choosing a lounge chair is comfort. You should also consider factors such as style, material, and how it will work with your current furniture before you make a purchase. To recap, we've discussed the different types of lounge chairs, how to style them, and choose the best chair for your space.
We hope this guide has helped make those decisions easier for you! What type of lounge chair did we find best? Our top pick was the Eames Lounge Chair – because it's both comfortable and stylish. 
It also offers a timeless design that doesn't look too out-of-date or uncomfortable like many other models that are available on today's market. This lounge chair is an excellent addition to any living room or bedroom today.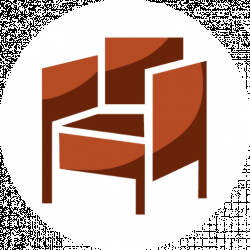 Latest posts by Finally Furnished Team
(see all)