Gone are the days of entertaining primarily indoors. These days, homes flow from indoor to outdoor spaces seamlessly, and most people find that when they're hosting, people tend to migrate in and out and back again.
In addition to mowing and maintaining your landscaping, having the right outdoor furniture ensures that you can live both inside and outside with comfort and ease. Outdoor living spaces increase your curb appeal and the value of your property.
In this outdoor furniture guide, I'll review the things you should think about when picking your outdoor furniture, talk about different types of patio furniture, and make some product suggestions that I love.
Considerations
It's more important than ever to find the right patio furniture, but it can be difficult if you don't know what to look for or think about. While designing your exterior is similar to your interior, there are a few extra things you need to keep in mind.
Function And Use
If you just want to hang out with friends in the backyard, you can set out some comfortable couches, lounge chairs, and a coffee table. This enables you to interact intimately with people you're close to while playing games, eating snacks, or talking.
If you're planning to host upscale soirees and seat a large number of guests, you may need an expandable dining table set. You'll need an entirely different set of furniture if you often sit outside and catch some rays. That requires a chaise lounge and a side table for your cocktail.
No matter what you're using your outdoor space for, you need to evaluate your furniture needs based on how you plan to use it and how many people will be joining you.
Location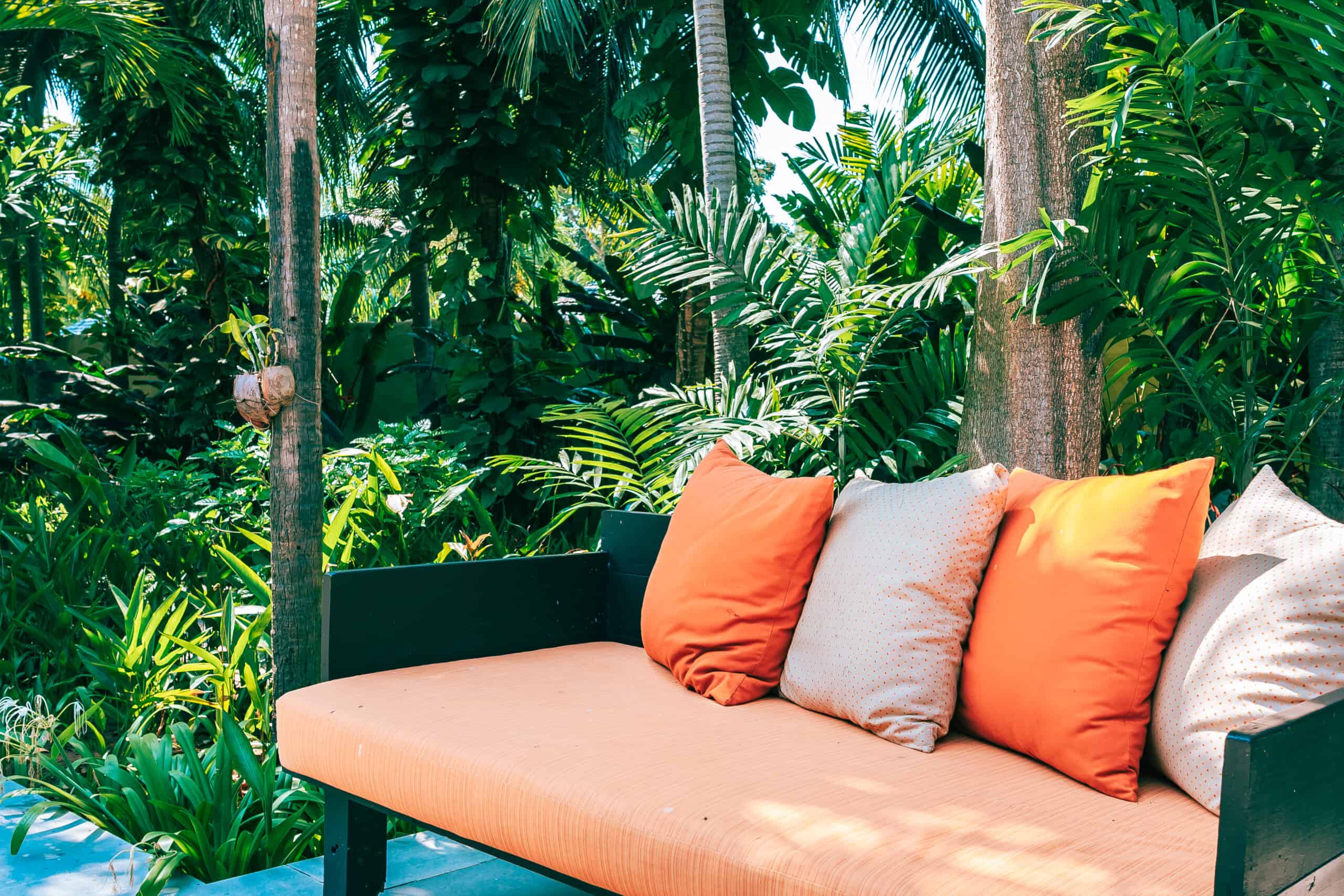 Consider the space you need to furnish because that will help you determine what kind of furniture you should have. Every outdoor space is unique, so when you're trying to figure out what furniture to use, you can think about things like uneven ground, proximity to water, and more.
Residential patios are perfect for grilling, lounging, or dining while decks are also fabulous places to hang out and eat, but you should be careful with open flames or fire. Pools require furniture that can get wet repeatedly. Your porch is the ideal place to lay back and watch the sunset while your garden craves decorative benches among the lilies.
Commercial outdoor patio settings are great spots for alfresco dining while sidewalk cafes and bistros can expand seating with small tables and chairs. Public and commercial pools often offer lounge chairs, side tables, and lots of umbrellas for shade. You may also want to consider placing barstools at an outdoor bar.
Atriums accommodate benches or bistro tables for morning coffee and lunch while terraces are upscale spaces meant for relaxing on outdoor sofas and enjoying the view.
Surroundings
Consider things like the glare of the sun at certain times of the day as well as the direction and strength of the wind on a regular basis. Noting these types of conditions will help you determine where to place furniture as well as how to secure it if needed.
If you're under an overhang or covered by trees, you may want to take advantage of the shade, but if your deck is completely exposed, you'll want to consider getting an umbrella. You can also create several different gathering areas for people who want to be in the sun and people who don't. You may also want to be exposed to the sun if you're hopping in the pool.
Flow And Dimensions
Measure your space before you purchase anything to make sure that the furniture you choose will fit. In addition to the exact dimensions, you'll need to think of the flow of traffic and the shape of the space to ensure your furniture makes sense.
Smaller furniture like a bistro table with some barstools works well in odd-shaped areas. You can still accommodate the same number of people as a large dining set, but it won't look as bulky or take up as much room.
Think about the third dimension, too. Evaluate where the eye travels upon first sitting down in a particular spot. Think about how much room people need to get up and move around or whether you can function in the space without bumping into things.
Weather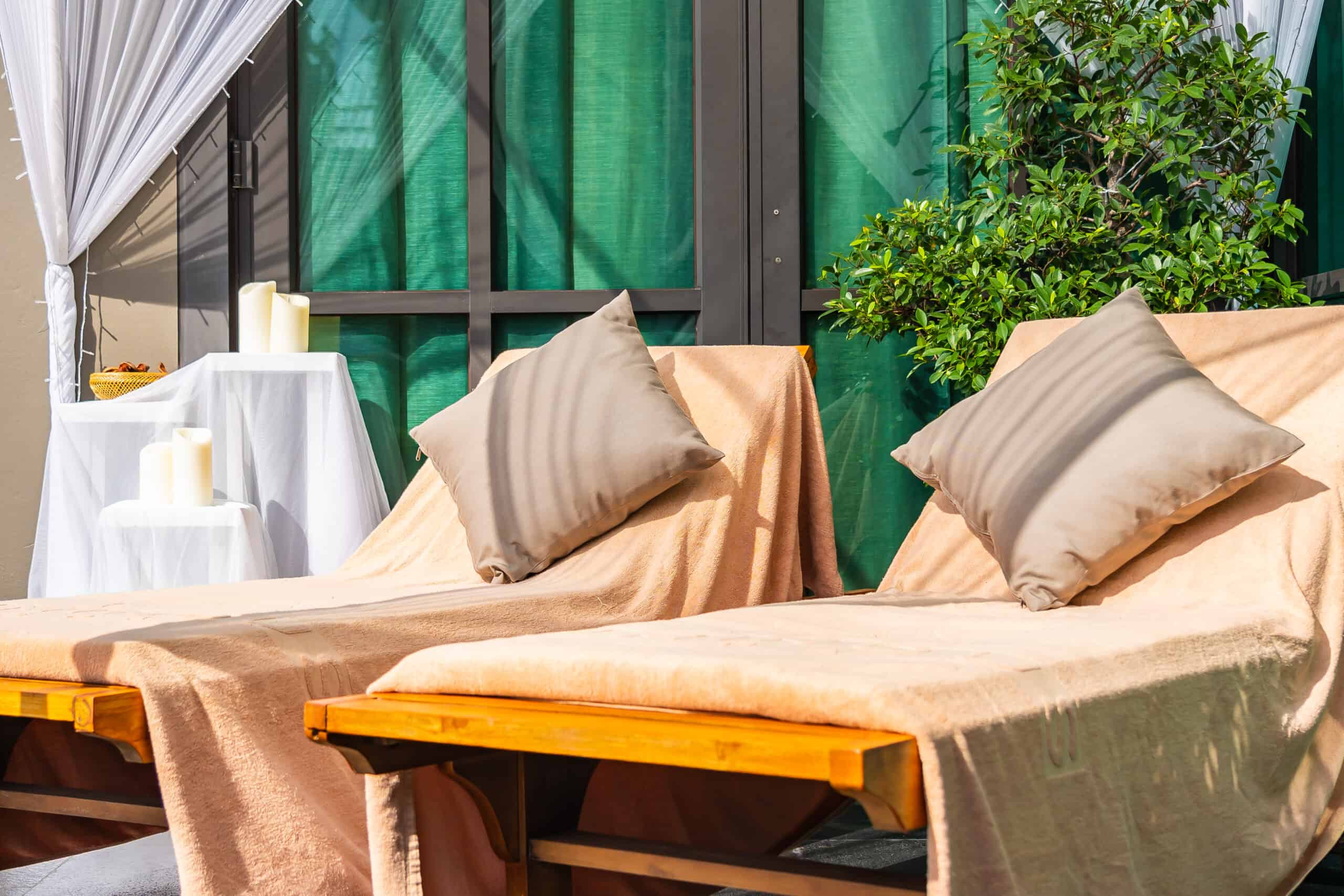 Many people forget to think about the weather until it's too late. You may spend a gorgeous spring day decorating your outdoor space but think about what it will be like in the heat of summer as well as during the off-season. Extreme heat, bitter cold, strong winds, direct sunlight, and excessive rain all have an impact on what type of furniture you choose because it needs to be able to withstand these elements.
Material
After considering the weather in your area, you can evaluate what materials will work best. Heat causes untreated wood to splinter and direct sunlight fades paint quickly. However, cold weather causes the plastic to crack. Rain or salty air will cause the metal to rust, but wicker performs horribly in high humidity.
Lightweight furniture will blow away in the wind but heavy materials are harder to rearrange when the mood strikes. Each material has its own benefits, so think about these factors before deciding.
Maintenance
Maintenance will differ based on the type of material you choose. Often, outdoor furniture needs more frequent cleaning because even if you're not using it regularly, it's subject to the elements. Cloth material requires soap and a scrub brush while plastic may only require a quick wipe-down. However, cushions can usually be removed and thrown in the washing machine, making it beautiful and easy to care for.
Think about how scratch-resistant your tabletops are because if you experience inclement weather, you'll have to do a lot of filling and buffing to fix the appearance. Wood needs regular oiling if you don't want it to lose color.
Comfort
There's no limit to the type of outdoor furniture available today. Rather than thick plastic straps that that squeaked and tugged at your arm hair, there are tightly woven synthetic materials that are not only more attractive but much more comfortable.
Instead of hardwood or metal with cushions tied to the frame, you can choose thick, plush cushions and pillows nestled into a sturdier piece. There's no need for thickly upholstered seating with a texture like sandpaper.
Quality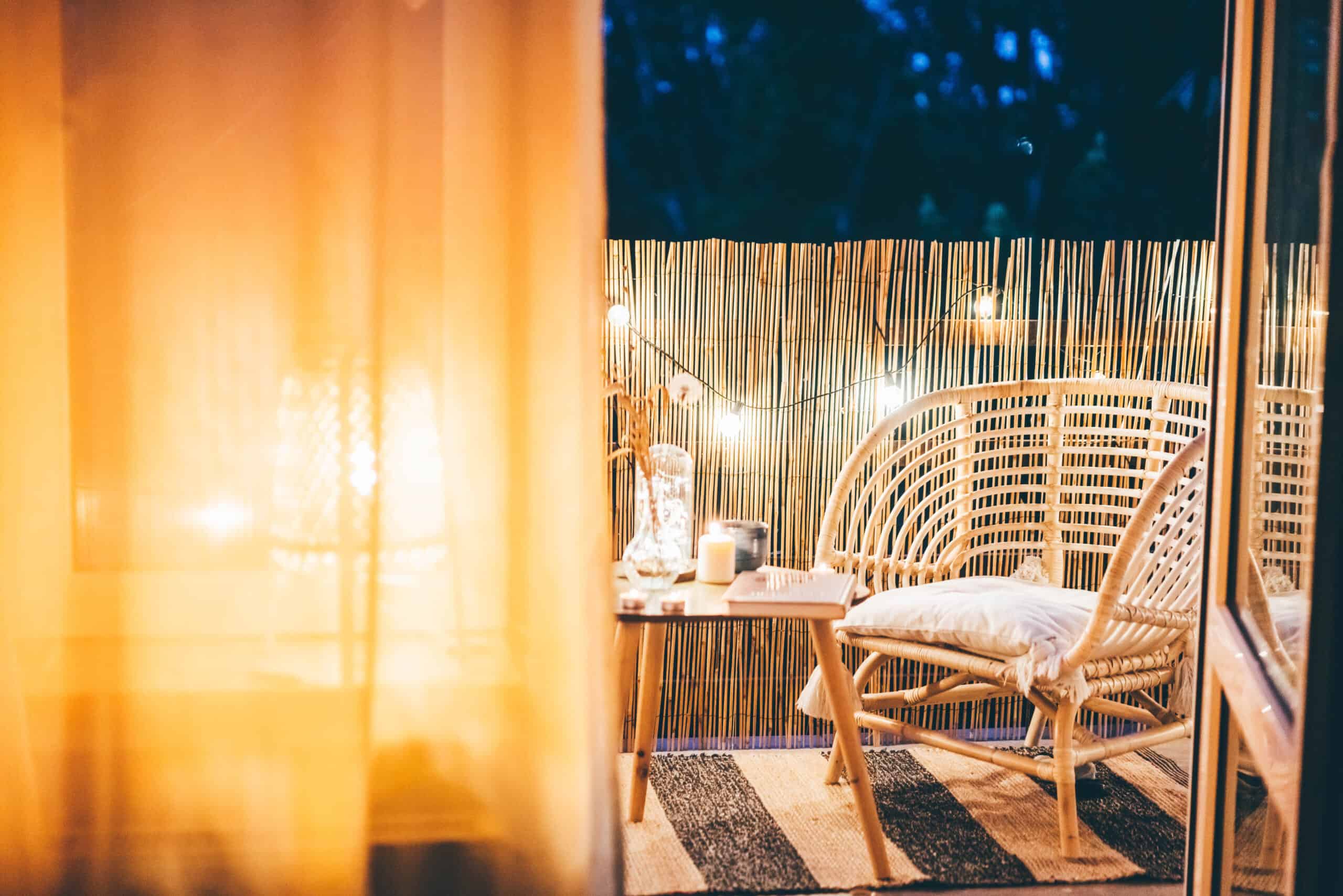 You have a few options when determining the kind of quality you want to invest in. Long-lasting and high-end outdoor furniture can sometimes be very pricy, but you'll have a set that will be with you for a long time. You may also choose to go with a low-cost option that might last a few seasons, but that you can replace easily when it wears out. This allows you to change your mind more often and switch things up a bit every now and then.
You get what you pay for, and expensive patio furniture is a lot like what you might use indoors. The materials are stronger, they repel water better, they're more fade-resistant, and they'll last a lot longer. Better quality sets can also provide more comfort and tolerate rougher use. You can generally get a better warranty on these products, too.
However, with lower-cost options, you get instant gratification from a fun set of lounge chairs or end tables that you can take home from the store today and use now.
They may fade, crack, or break after a few summers, but you can buy several of these types of sets for the price of another more expensive option. Plus, it allows you to redecorate your outdoor space more often as styles change.
Style
Enjoying your outdoor space also means you should like the way it looks. Your outdoor furniture should reflect your style, whatever that may be. For Hispanic flair, try wrought iron dining furniture with a bold ceramic tabletop on your hacienda-style patio. For a modern, minimalistic look, select sculpted chaise lounges and a stainless steel cocktail table.
Try to marry the architectural style of your home with the furniture outside. It will increase your curb appeal and reflect whatever it was you loved about your house in the first place. This maintains continuity throughout the home and makes the transition from indoors to outdoors an easy one.
Flexibility
If you have limited outdoor space, try to choose furniture that can be rearranged for different purposes. Multi-functional pieces include ottomans with storage or coffee tables that can be elevated to create a desk space. Chairs that collapse or stack allows you to move them out of the way to make room for other items.
A modular sectional sofa is a useful piece to increase seating and adapt the flow of the furniture to the event or the surroundings. Combine it with a wheeled table or cart that makes dining and serving more flexible, but that can be moved out of the way when it's time to relax and chat.
Accessories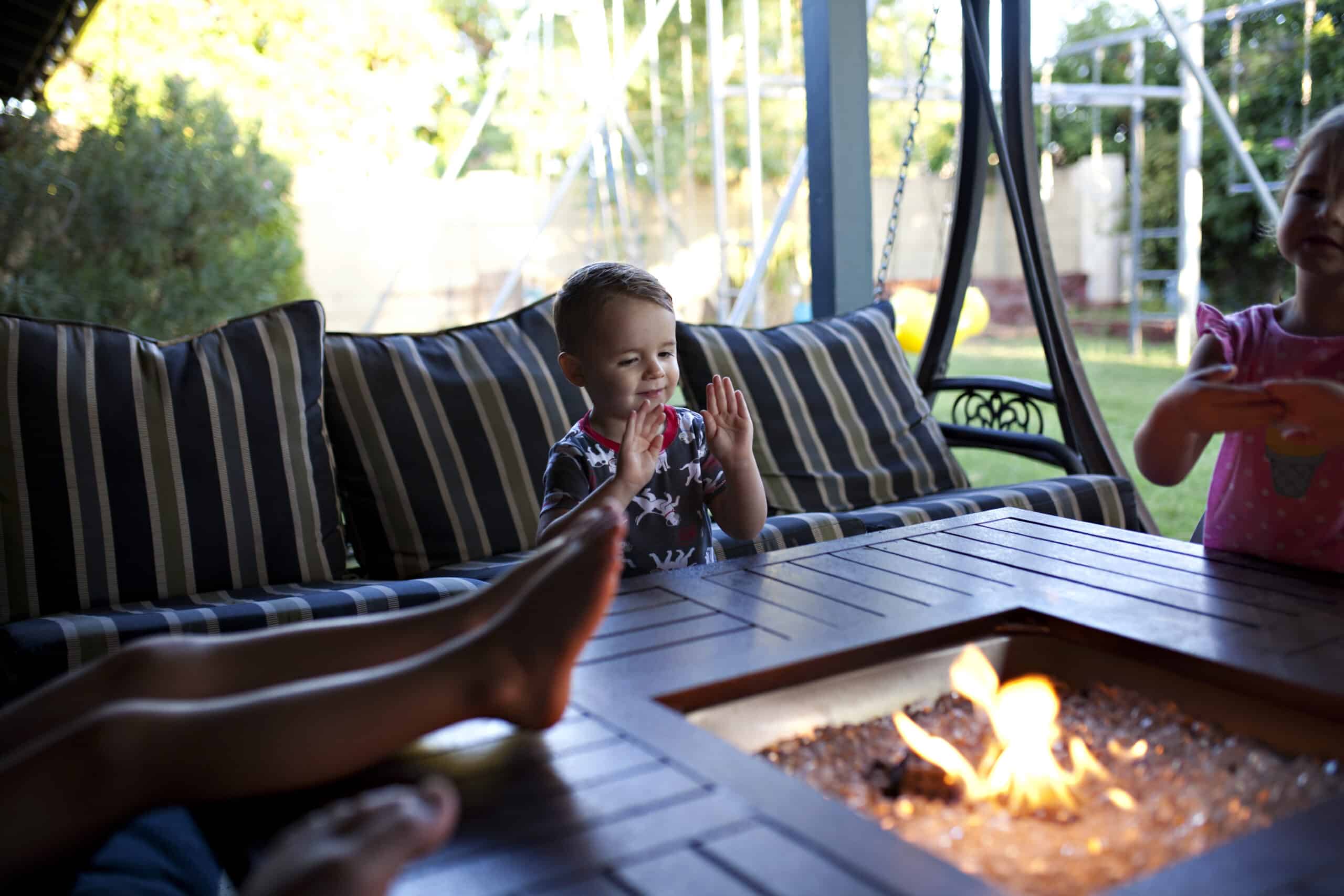 Finishing touches are important to complete the look, and you have plenty of options. Outdoor umbrellas and shades increase your space's usability during the day or direct sunlight while fire pits allow you to use the space, even when it's cold outside.
In fact, fire pits are one of the most attractive accessories you can put outside because they not only give off heat and light, but the ambiance will create a conversation starter and a more intimate atmosphere.
Lighting is important for using the outdoor space at night, but it can also provide a needed safety feature if you have a walkway or stepping stones. You can use tiki torches, outdoor sconces, or solar lighting in the ground. Mason jars and hanging lights are great DIY projects for the whole family.
For more dynamic texture, add rugs and pillows to your space. Outdoor rugs prevent your furniture from sliding, but they can also add a splash of color, enhance the decor, and offer more padding under your feet. Pillows give you a more plush, comfortable, and versatile seating area.
Furniture Ideas
Here are some specific ideas to help jump-start your imagination as you're thinking about what kind of furniture you want to use in your outdoor space. There are plenty of options, but consider the above tips before buying something that won't work for you.
Furniture sets
Buying a furniture set is a great way to make sure that your furniture works together. You can get bistro and dining sets for eating or you can get a conversation set that includes more comfortable living room type furniture.
Bistro sets are great small sets for intimate spaces like balconies, where you don't have room for a couch. They make a great breakfast nook for coffee or a romantic place to enjoy a candlelit dinner. You can get standard or balcony-height bistro sets and you can add seat cushions for a pop of color.
Dining sets allow you to enjoy a full meal outside and you can get them in a variety of sizes. You may even want to choose an expandable set to give you more flexibility.
Conversation sets come in many different configurations. You can get a pair of chairs and an accent table, or you can look for a couch and coffee table set that will better accommodate a large family or more friends.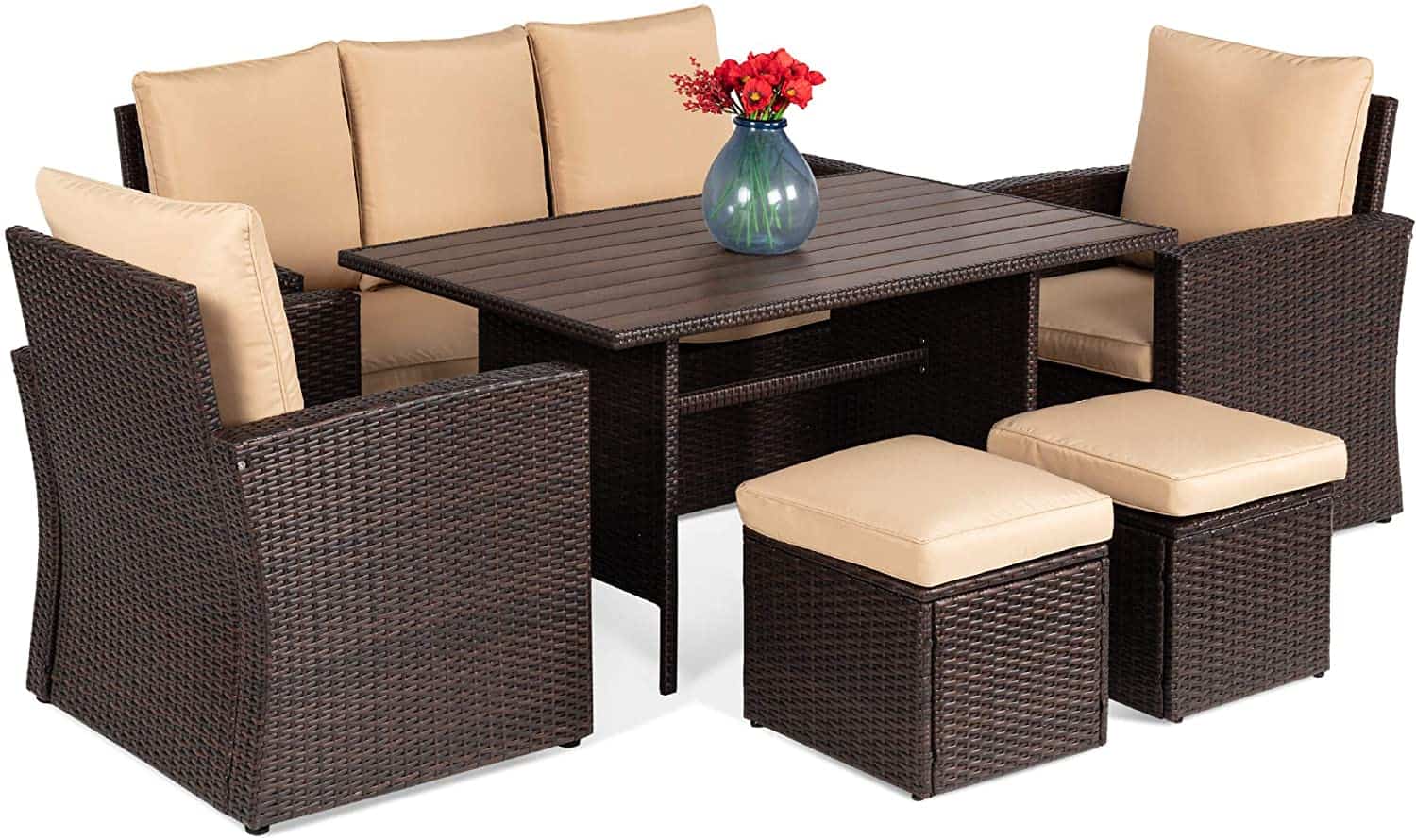 This set comes with a pair of chairs, a sofa, two matching stools, and a large dining table. It can seat up to 7, so if you have a large family, you can still enjoy outdoor dining and conversation. It's also a great set for a small group of friends.
With such a variety of pieces, you can enjoy a number of different configurations to match your experience. You can dine, entertain, and converse with your guests. The lightweight pieces can be moved easily to create a more versatile outdoor space.
It also comes with a protective cover so you can protect it from sun and weather or store it for the off-season. The quality construction combined with proper maintenance will keep this set looking new for a lot longer.
Chairs And Other Seating
Patio chairs can double as dining chairs, so they're a versatile addition to almost any outdoor setup. Cushioned patio chairs are one of the most popular options, but you can also get swivel rockers, hammock chairs, recliners, or egg chairs.
Woven materials are comfortable, even without cushions, and they look great in even numbers surrounding an accent table. You can get low, medium, or high backs, but the higher the back, the more supportive and comfortable you may find it. You can also purchase decorative cushions separately to change out the look more often.
You can also move beyond the chair to other seating options like gliders, swings, stools, daybeds, and benches. You can mix and match or find a set that includes chairs with matching ottomans, sectionals with coffee tables, or sofa and loveseat combinations.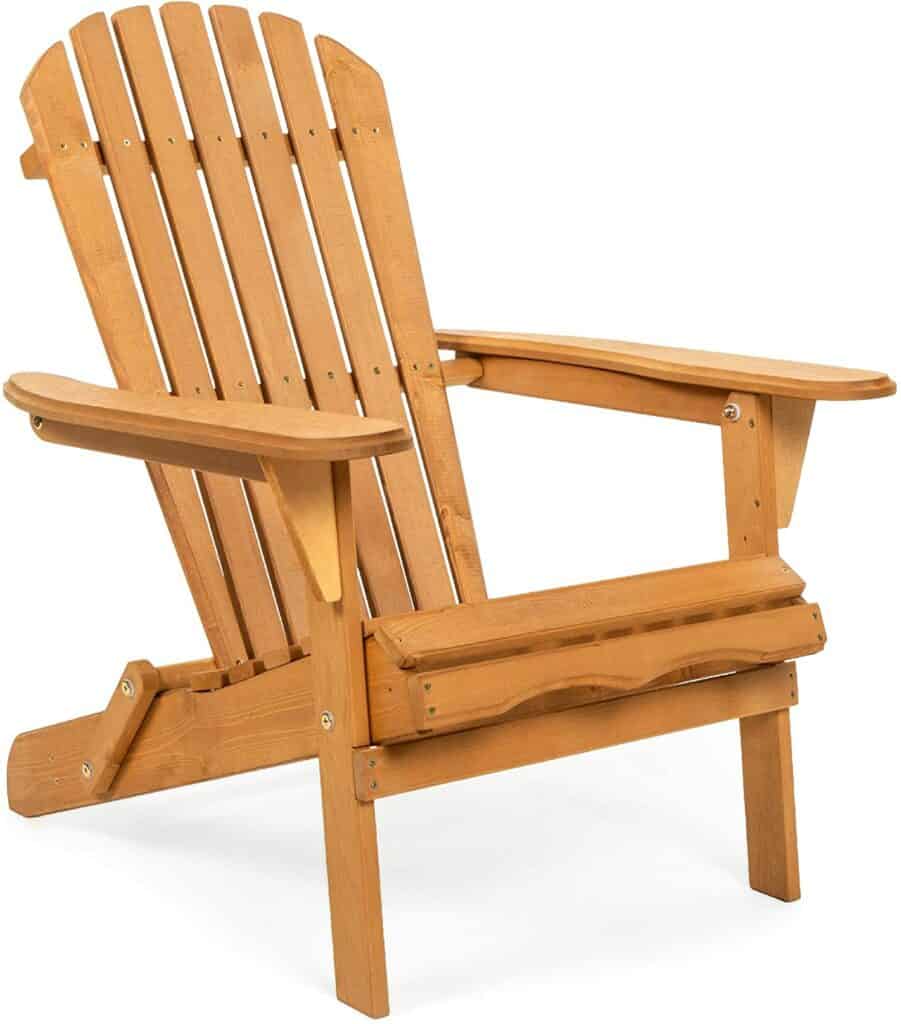 This natural wood chair will blend in with any outdoor decor. The high back offers plenty of support and the slightly inclined position makes it easier to relax in comfort. It's a classic design that people have loved for generations.
Wide armrests allow you to stretch out or place a drink beside you. Pair this chair with a footstool and you can rest for hours. Better yet, you can fold it up when you're done and store it out of the way to create more space for outdoor entertainment.
The natural wood finish makes this chair easy to personalize with your favorite stain or paint, but if you like it just the way it is, the beautiful color will look great on your front porch or in your backyard.
Benches
Benches are commonly used as an informal method of seating in a garden. They offer a warm, inviting place to sit among the roses, but they come in all types of materials. You can get a simple concrete or metal bench for occasional sitting or you can choose something more comfortable.
If you're adding a bench to your seating area instead, look for woven materials that you can combine with cushions for extra comfort and support.
Benches go with almost any other type of seating and provide a great accent. Some of them also have storage, so when you're limited on space, a bench is a great, versatile option.


This simple, yet gorgeous bench offers plenty of versatility. The sandblasted colonial wood seat can be exposed for a natural look or covered with a cushion to increase comfort. Rustic iron legs give it a vintage vibe while offering a more sturdy piece of furniture.
Place this bench among your flowers for a quiet and relaxing place to sit. Expand seating at your outdoor dining table by placing it along one side. Move it as your needs change for a versatile piece that will last for years.
Sofas
Sofas are a great choice if you have a large patio or deck. They offer superior comfort and seating for a lot of people. They're attractive and classy. A sectional sofa is the largest option, and many of them have sections you can rearrange as needed. Placing a coffee table in the middle gives you the versatility of dining, conversation, and a place to set drinks.
If you'd rather not have a sectional, you can find outdoor sofas in all sizes. Pairing them with a loveseat will increase the amount of seating and allow you to reconfigure the space as needed. Coffee tables and end tables are great ways to increase the usability of these types of sofas.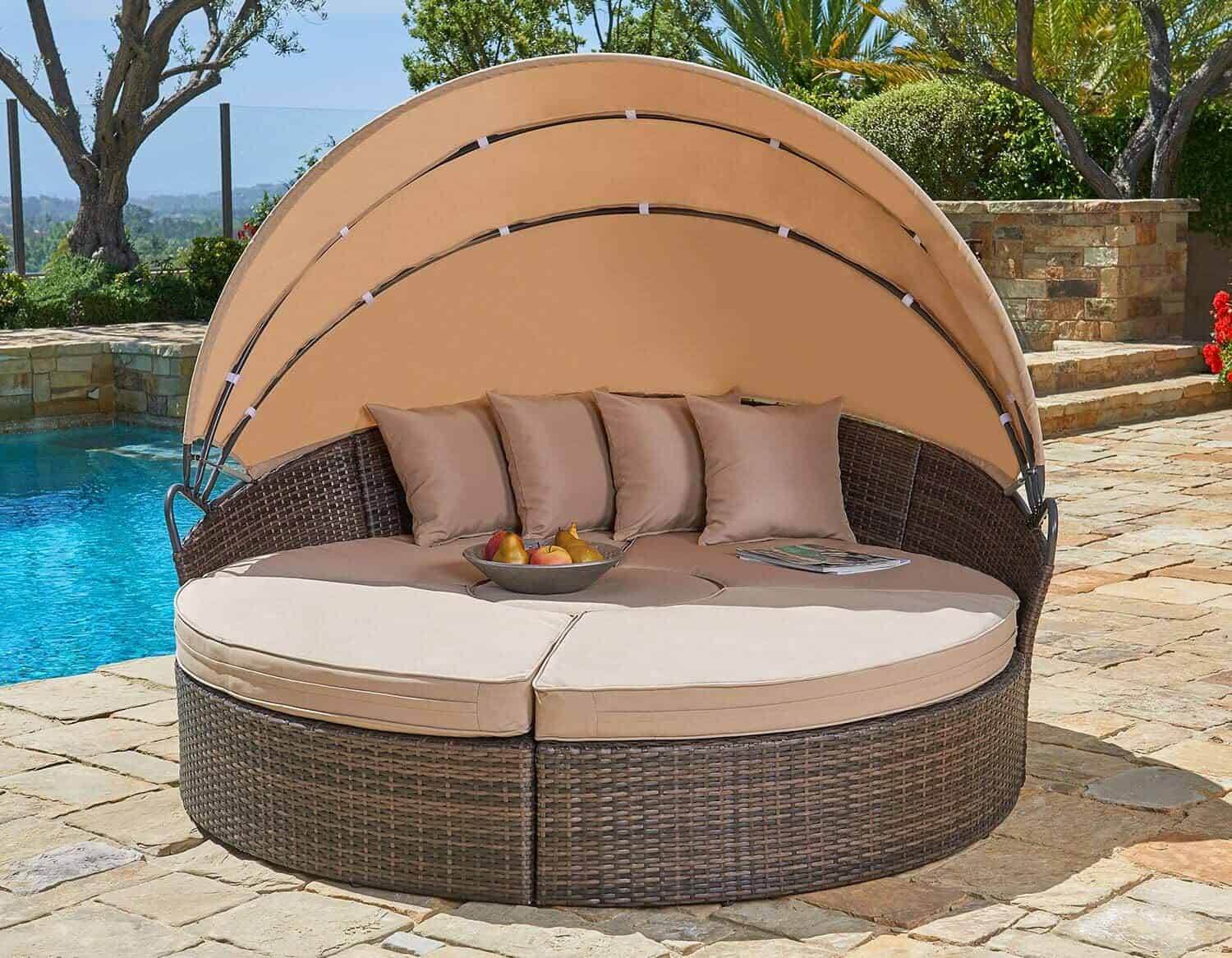 This innovative piece offers a sofa, daybed, and conversation set all in one. It's perfect for a luxurious and relaxing outdoor space. Push all of the pieces together for a great place to nap in the sun or pull them apart to seat more people.
Use it in the clamshell configuration and pull the canopy closed to block the sun, or separate it out into four chairs and a table for your friends. The thick cushions and retractable canopy increase your comfort, no matter how you use it.
The all-weather wicker is designed for outdoor use, so it can withstand wind and rain all year round. Cushions are water-resistant, but shouldn't be overly exposed to rain.
Patio tables
Rather than purchase a set, you can create a custom conversation or dining area by purchasing an individual table that fits your needs. You can find metal, wood, tile, or glass tabletops, so choose a surface that will meet the needs of the people who will use it.
You may also want to consider end tables, coffee tables, and bar-height tables for extra versatility. There are also tables with umbrella holes so you can add shade or fire tables to make for a cozy and interesting experience.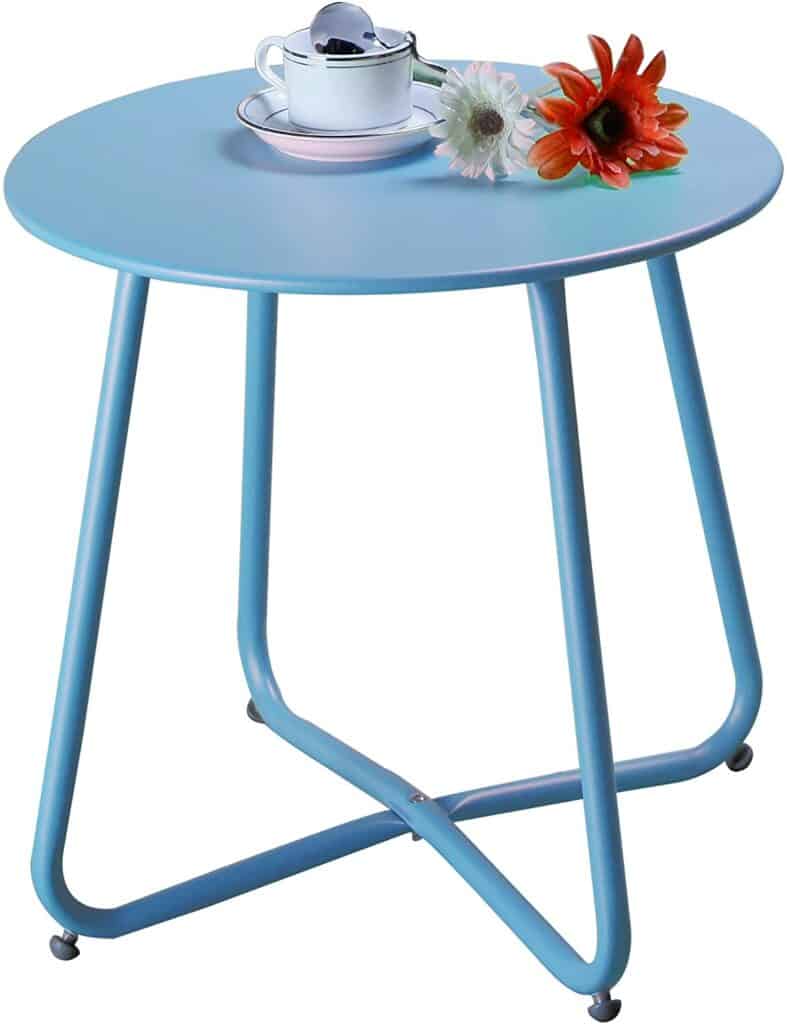 This table is lightweight and built for indoor or outdoor use. It's the perfect size to place next to your chairs, loungers, or sofa. It's bright and attractive and comes in 9 fun colors, so it will match any outdoor decor. The powder-coated steel frame is UV-protected and weather resistant. It won't rot, rust, or peel. The heavy-duty design is sturdy and will hold up to 50 pounds. Four plastic feet on the bottom keep it from scratching.
The surface is stain-resistant and nearly maintenance-free. It's easy to clean with just a wet cloth, which is a necessity when you're keeping your furniture outside in the elements.
Cushions And Pillows
Cushions and pillows are versatile and can serve many purposes. They add interest and comfort to your pieces, but they also allow you to change the look of your outdoor space without replacing the entire set.
Add, replace, or rearrange cushions and throw pillows based on the season or the event. For a swanky cocktail night, use contrasting colors like black and white. Replace your bright summer colors with earthy tones in the fall. And increase the number of throw pillows during colder seasons to make the space look warmer and more inviting.
While your options are nearly unlimited, make sure you look for cushions and pillows that are easily washable, fade-resistant, and waterproof. You also need to match the cushion style and size to the furniture.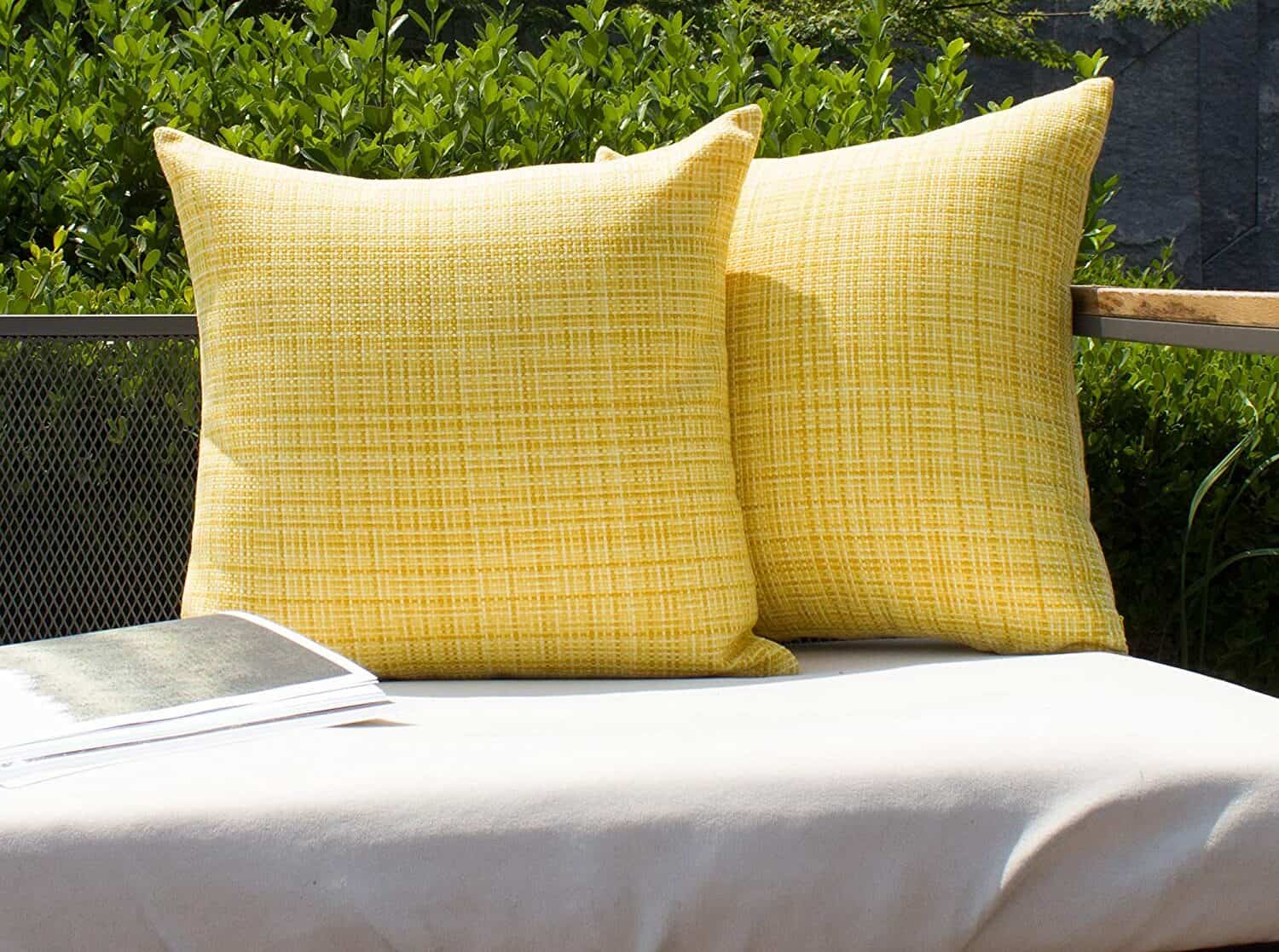 These decorative throw pillows are made of an outdoor polyester waterproof material and have a PU coating that makes them light and breathable. They're also dustproof and won't blot when splashed, so they're great for use by the pool.
They come in 6 different sizes and 15 colors, so you can mix and match or change them out seasonally. These pillows make it easy to change the look of your outdoor space without buying all new furniture. When they get dirty, simply throw them in the washing machine on the gentle cycle and set them back out to dry.
Shade
You can extend your outdoor space upward by adding gazebos, pergolas, canopies, or umbrellas. They provide shade in the summer and shelter from the rain. While they can be functional and beautiful, the one you choose will reflect your own personal preference.
Umbrellas can be collapsed and even moved when you don't want to use them, while the other options are likely more permanent. You can get free-standing gazebos that you place outdoors or, if you're handy, you can build your own pergola.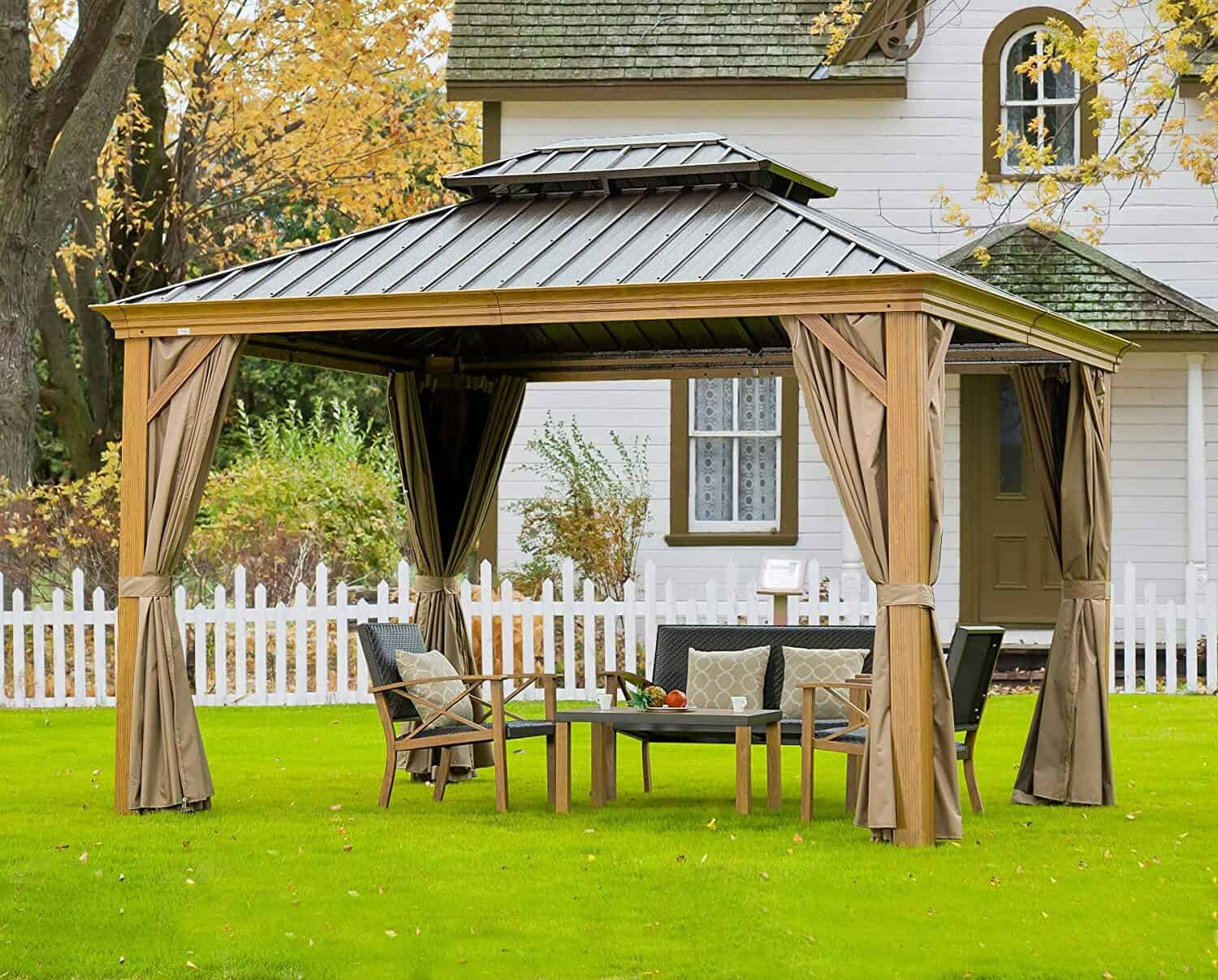 This awesome outdoor gazebo comes in 5 sizes and offers a covered outdoor space for all sorts of uses. The aluminum frame is designed to be sturdy and look like natural wood. A hardtop makes it more durable and resistant to inclement weather.
The double canopy allows sunlight to pass through and it's vented for extra airflow. Open the curtains for a welcoming appearance or zip them up for more privacy. The polyester fabric is PU coated for extra durability. The water gutter allows for efficient runoff.
Fire Pits
A fire pit is a welcome addition to nearly every outdoor space. Many of them have covers that convert them into tabletops when they're not in use, so if you don't have the space for a dedicated fire pit, you can purchase a more versatile piece.
You can choose a gas or electric fuel type, but these require an electrical outlet or a propane tank. If you prefer to use real wood, you won't need fuel at all, but it will take longer to get it started. Fire pits offer ambiance and they'll also give you heat when it's cold and light when it's dark. They're functional and beautiful pieces that almost everyone enjoys.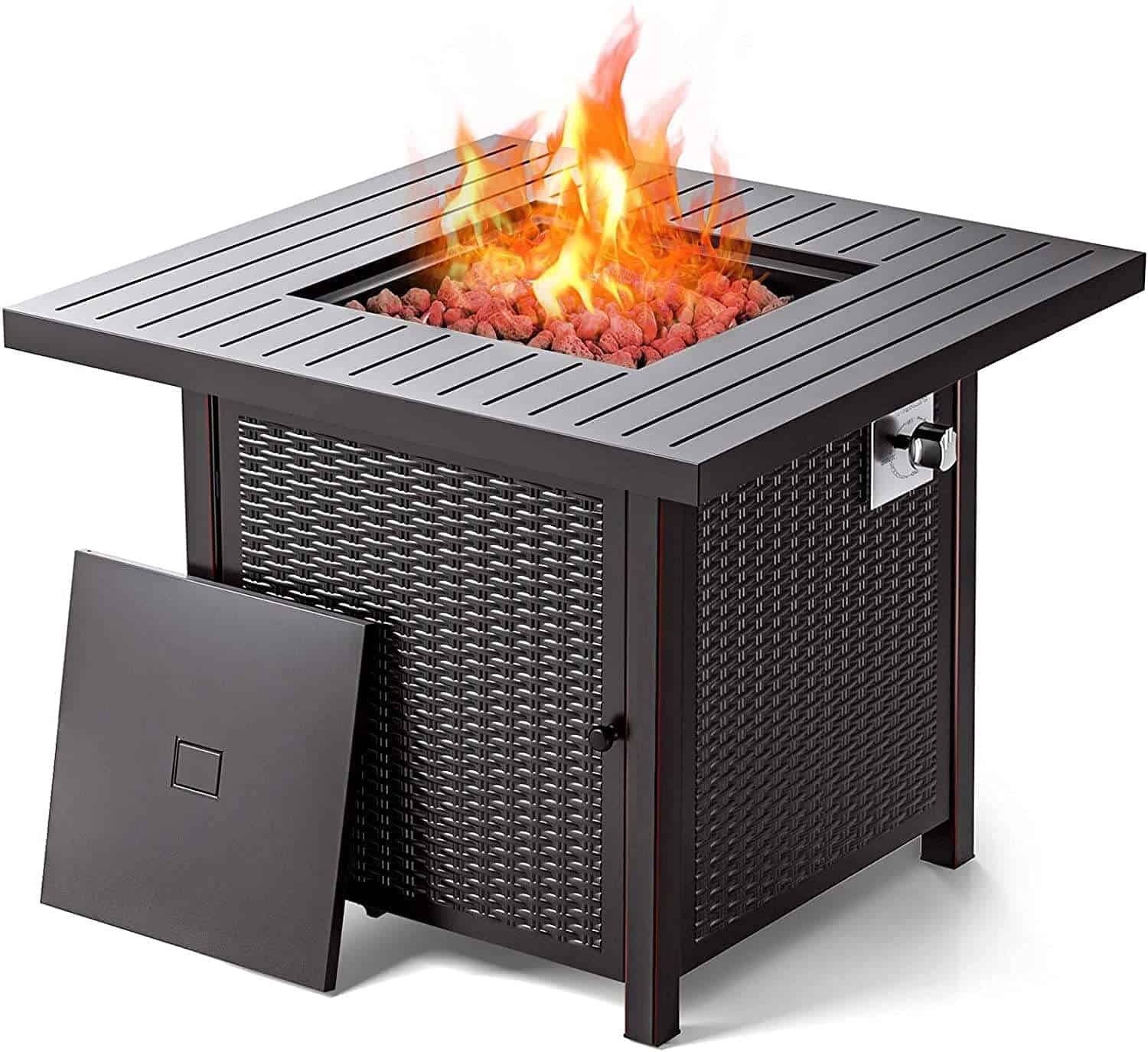 This versatile fire pit gives you plenty of room around the edge to place drinks and snacks, even when the fire is roaring. However, the beautiful design makes a great side table when it's not in use as a fire pit. The steel frame is coated in rust-proof black paint to prevent corrosion and uses propane so you don't have to worry about smoke or ash. It's easy to light and the propane tank is concealed underneath.
The fire table comes with a 20-inch gas hose and lava stone for a stylish look.
Rugs
Rugs are an accessory that you don't necessarily need, but they do serve a purpose. Outdoor rugs can keep your furniture from sliding around on a smooth surface, which makes your space safer. They can also enhance your decor by adding a pop of color or a beautiful design.
They unite the pieces in your space and make the arrangement look put together. On hard surfaces, a rug can make your space softer to walk on and provide additional comfort and support.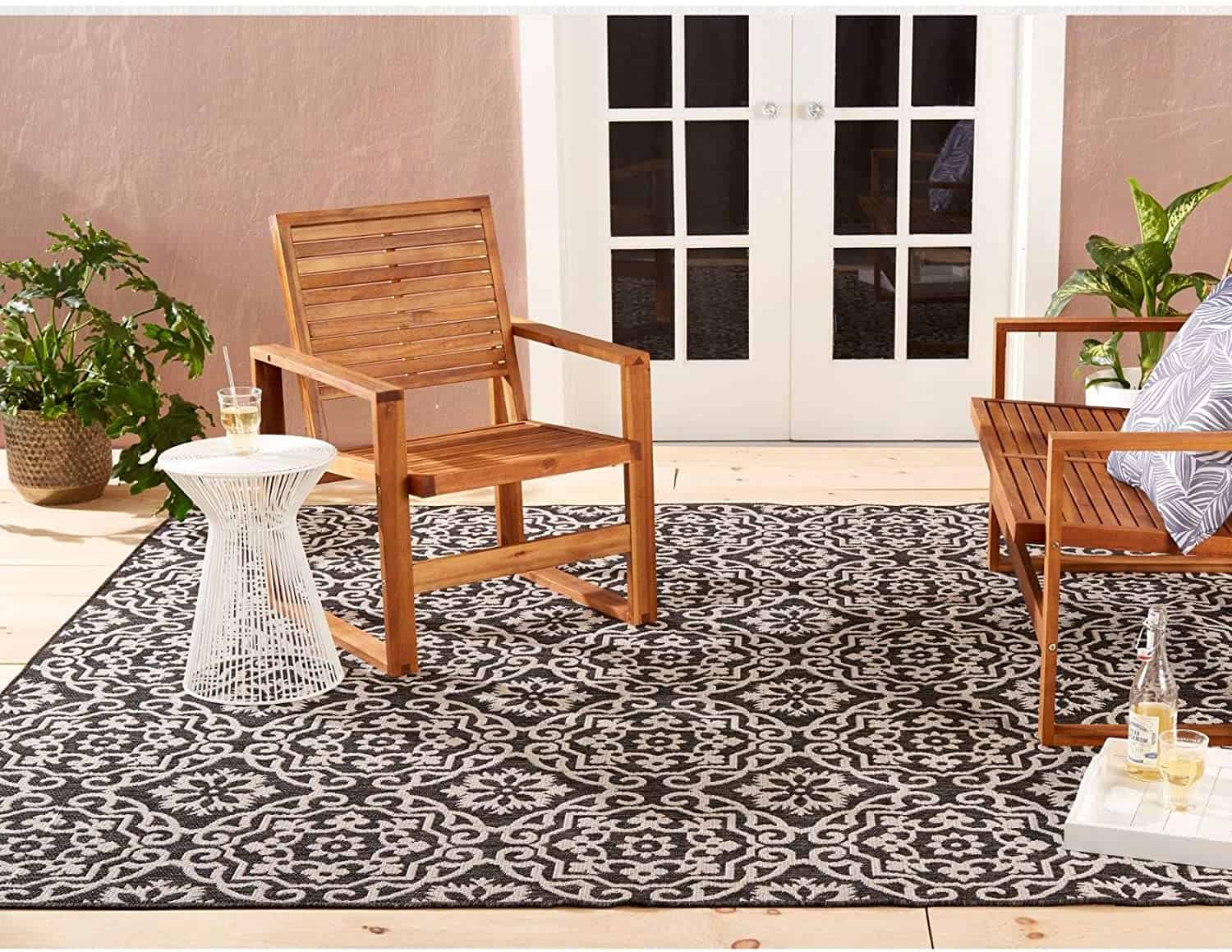 This outdoor rug comes in 5 sizes and 4 eye-catching patterns. They're all beautiful and bold with floral motifs, Victorian patterns, and soft shades. It's woven from polypropylene yarns for extra texture and durability. They're lightweight, durable, and easy to clean. These low-maintenance rugs won't scratch your deck surface. Just shake them out, spot clean, or vacuum as needed to keep it looking fresh.
Privacy screens
For those who feel a bit too close to their neighbors, a privacy screen is a fantastic accessory. In fact, even in a large backyard that's well distanced from the neighbor, if the space is open and lacks trees, a privacy screen can make it feel more intimate.
Tightly-spaced geometric patterns offer more privacy than wide spacing. You can find fun geometric patterns, ornate designs, or simple slats in a variety of finishes. Coordinate your privacy screen material and finish with the rest of your outdoor furniture for a cohesive look.
Make sure the privacy screen you choose is well-built so it can withstand all types of weather. A large privacy screen will catch a lot of wind, so it needs to be sturdy to keep you and your other furniture safe.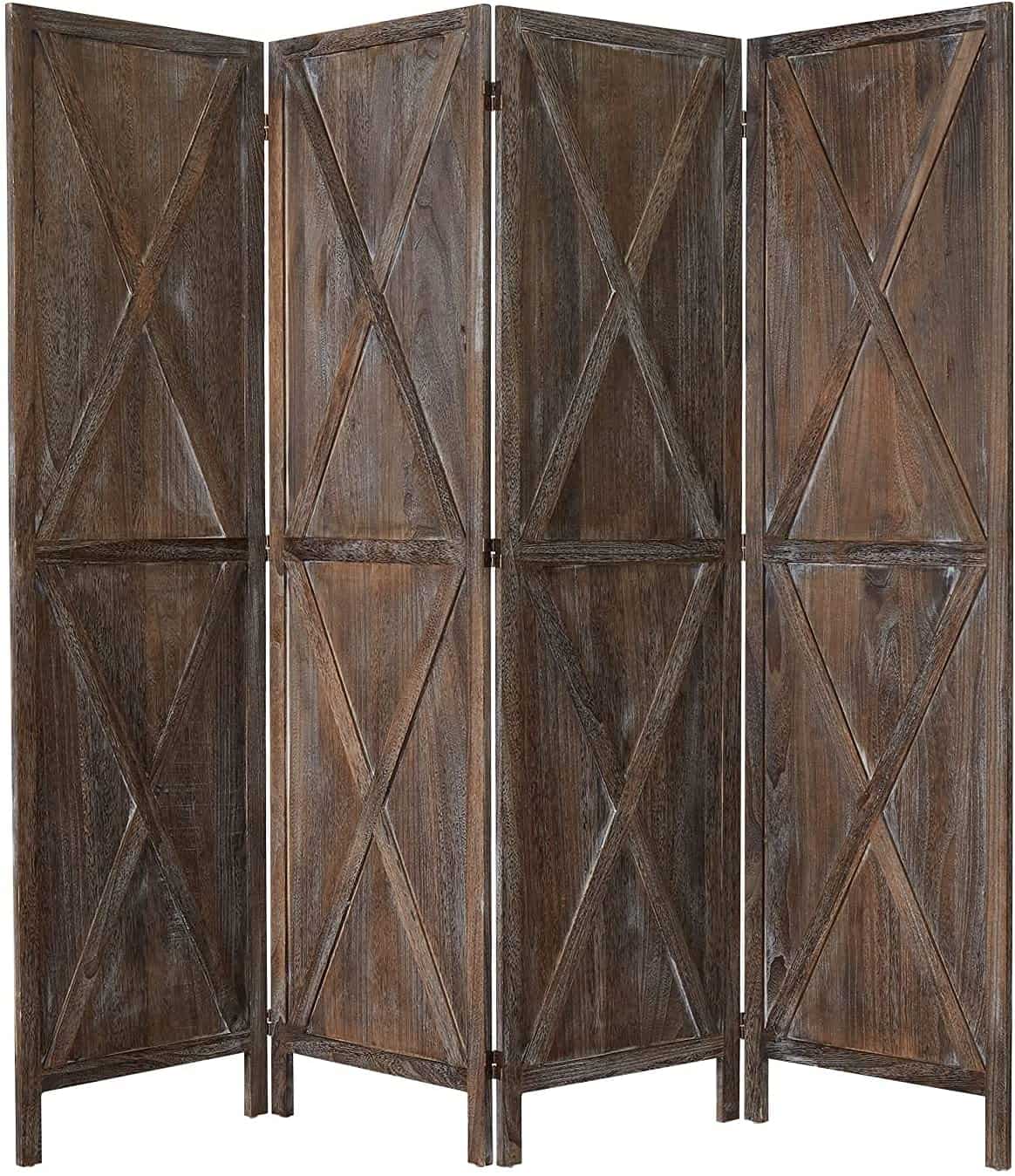 This room divider and outdoor privacy screen are made from environmentally friendly natural paulownia wood. It has excellent moisture absorption and air permeability, so it will give you privacy while still allowing airflow.
It's durable, wear-resistant, and not easy to deform so you can enjoy it for a long time. The flexible, collapsible panels make it easy to resize or move as needed. You can use it indoors or out and it will match nearly all the furniture.
FAQs
Question: What is the best month to buy patio furniture?
Answer: The best time to shop for your outdoor furniture is late summer and through the fall. That's because most people aren't using this time to prep their outdoor spaces for use. Many retailers will discount outdoor furniture this time of year to get rid of inventory and make room for seasonal decor.
However, there are other times when you can look for deals. Most extended holiday weekends are great opportunities to shop around for discounts and blowouts. You can also look for deals on Black Friday.
Question: What is the best weatherproof outdoor furniture?
Answer: Wood is one of the best options for outdoor furniture because it's strong and durable. Look for things made from teak, cedar, or eucalyptus, because they can withstand the elements better than oak, pine, or wicker.
Metal is another durable material for outdoor use, but make sure it's treated or coated with something that will prevent it from rusting.
Question: How long do patio chairs last?
Answer: A good set of patio chairs can last up to 15 years. Some will last longer or shorter periods of time, depending on their durability. There's no firm timeline for how long your items will last. It depends on the climate, the material, how they're built, and how well you care for them.
Question: Should you cover patio furniture when it rains?
Answer: While your outdoor furniture was built for the elements, it is a good idea to cover them up if the weather gets bad. The more rain, wind, sun, and snow you subject your outdoor furniture too, the faster it will wear.
Many outdoor fabrics are water repellent, but not waterproof. If you have pillows and cushions, it's easy enough to simply bring them inside when you're not using them. However, permanent furniture can be covered if you want to protect it.
Question: Can I leave patio furniture outside in winter?
Answer: Your outdoor furniture is made to be outside, so you can leave it out all year round. However, you should take the necessary precautions to protect it from inclement weather. Clean it and apply protective sealants at the end of the summer or in early fall to prepare it for winter.
Question: Can I use a tarp to cover patio furniture?
Answer: It's a good idea to cover your outdoor furniture when you're done using it for the season, and you can use a tarp if you don't have custom covers. Just gather your furniture close together, drape the tarp over everything, and secure it by passing a cord through the grommets. You can also hook bungees to opposing grommets to keep them in place.
Final Thoughts
How you decorate your outdoor space is totally up to you. Think about how you'll use it and then plan your furniture accordingly. Take into consideration measurements first, and then think about comfort, versatility, and style.
Spending time outside should be stress-free and enjoyable, so surround yourself with things that add rather than detract from the experience. If you select pieces you love, no matter what they are, you'll be pleased with how your space comes together and you'll be able to use it for many seasons.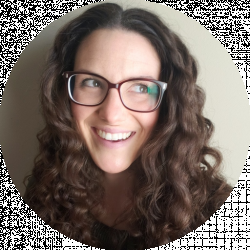 Latest posts by Sarah Caldwell
(see all)