If you wish to have a productive day, you need good quality sleep, and the quality of your sleep is largely dependent on the type of bed you use. Therefore, choosing a good comfortable bed is one of the most important decisions you'll ever make.
Considering that there are so many types of beds to choose from, we have prepared these bed ideas and inspiration guide to help you make this all-important decision.
There are many factors that you need to consider when choosing a bed. You need to know the right bed size, the correct bed frame, and the perfect design. If you have kids, you also need to choose their beds with care since what works for you might not work for your kids.
To aid you in choosing beds for you and your family, we have reviewed five of the best bed designs from Amazon based on quality, materials, price, and durability. Additionally, our guide provides tips on how to choose a bed.
Different Bed Styles
Do you have a particular style that needs to be reflected in your bedroom? Is the layout of your home traditional or more modern and creative with Scandinavian touches? We've covered different bed styles for every preference.
Traditional Bed Style
One of the most popular styles for a bed is traditional. A bedroom with this type of design typically includes dark wood, an ornately carved headboard, and a footboard. Canopy and poster beds are some of the types that embrace the traditional style.
Modern Bed Style
The modern bed is all about a sleek and simple design, but they can be as elaborate or eclectic in shape depending on your personal preferences. It can be found in almost any style, from a traditional corner to an open floor plan with clean lines running throughout the piece.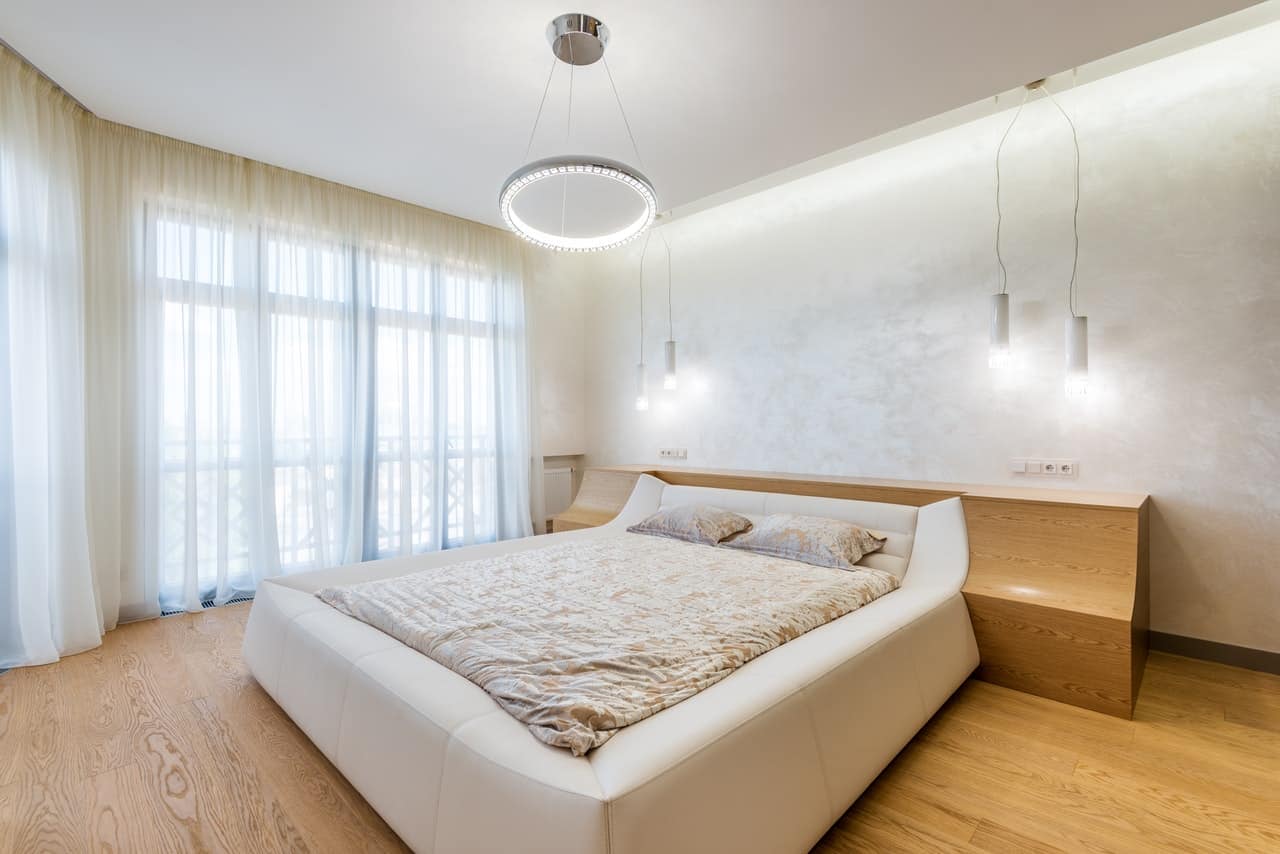 Rustic Style Bed
Aged and natural-looking, these beds lend themselves well in older homes or cabins where rough textures are desired for their architectural design aesthetic appeal that captures something untouched by time.
Rusticism has become one such trend within interior decorating which adds a new twist on an old classic – creating spaces with charm through its authenticity rather than going overboard into modernity at every turn as is often seen today.
Retro Style Bed
A retro-style bed is a great way to add some old-fashioned flair, especially if you have mid-century modern decor. The antique designs can be made to look like they belong in any era and will work well anywhere there's space on the wall for art or just more seating!
Industrial Style Bed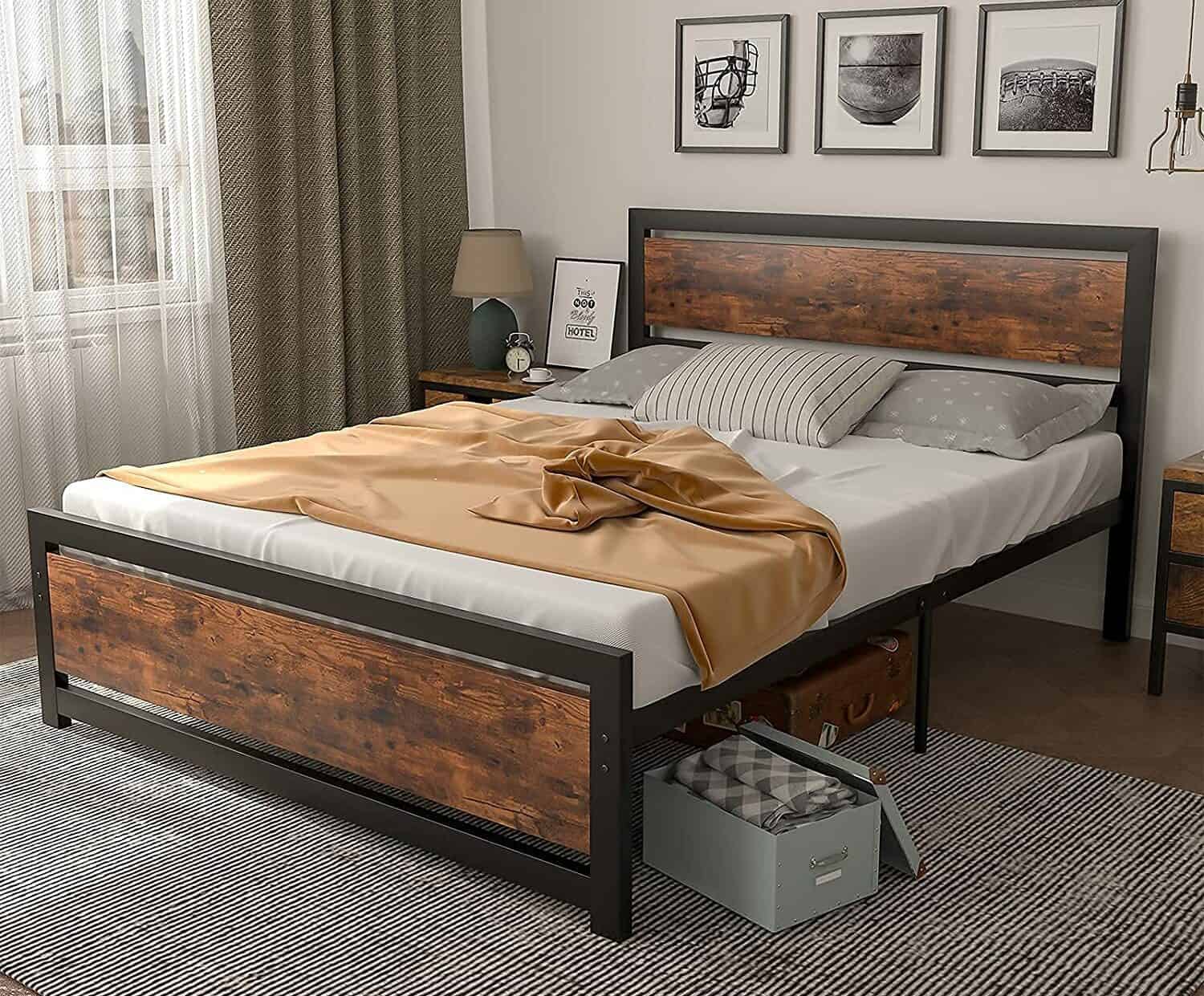 Industrial-style beds are the perfect way to add a little bit of rustic and industrial elegance to your bedroom. They have an old-fashioned feel with their metal framework, but they also work well as contemporary statement pieces because this type of bed will never go out of date!
If you're looking for something more low key try choosing wood instead – this can bring out natural colors in any space too.
Mid Century Style Bed
Sometimes you need to hit the reset button and go with something new. A mid-century style bed is a great way to give your bedroom an updated look without going too far while still keeping it within vintage style boundaries for those who love that aesthetic.
Scandinavian Style Bed
The Scandinavian Style Bed is a modern take on the traditional and perfect for any home. Clean lines make this style of headboard stand out from others in its category.
French Style Bed
French-style beds are perfect for those looking to add some flare and magic to their bedroom. They can be used in any room, from the master suite down through guest bedrooms, because they're not just elegant; there's something about a bed with these extravagant headboards that says "this space was meant (and designed) only for you."
Mission Style Bed
A stroke of elegance in a room, mission-style beds are made from simple and natural wood to produce an elegant look that is not over the top but perfect for any home's décor.
The horizontal lines give it more character than your average king-size bed while also being easier on space with its leaner profile.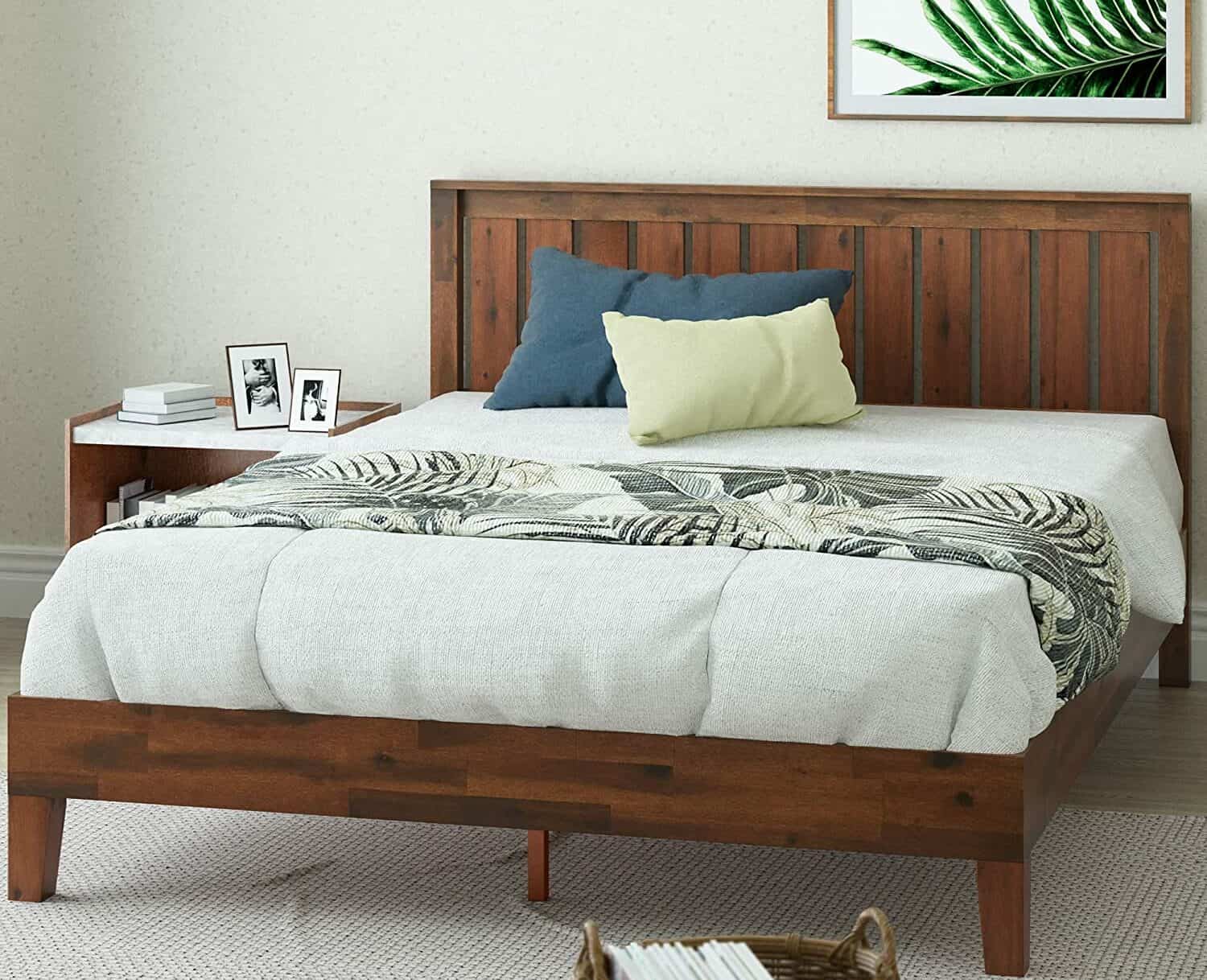 Cottage Style Bed
Cottage beds are a classic, vintage way to add some old-world charm to your home. Whether you're looking for an Eastern European feel with the Arts & Crafts style or want something more modern and minimalist (like Dutch Country design elements) that will make it hard not to fall asleep right away, the cottage bed iron headboards can be customized according to each individual's taste, so there is truly something perfect no matter what they prefer.
The Best Beds by Style: Our Top 10 Picks
Having looked at the different styles, it is important to understand the best in each category. Therefore, our review focuses on the best bet according to style: traditional, mission style, modern style, mid-century style, retro style, industrial style, and rustic style. 
We have factored in the beds' durability, prices, and ratings from past customers to ensure we give you the best pick.
1. Best Traditional Style Bed: Plank+Beam Traditional Bed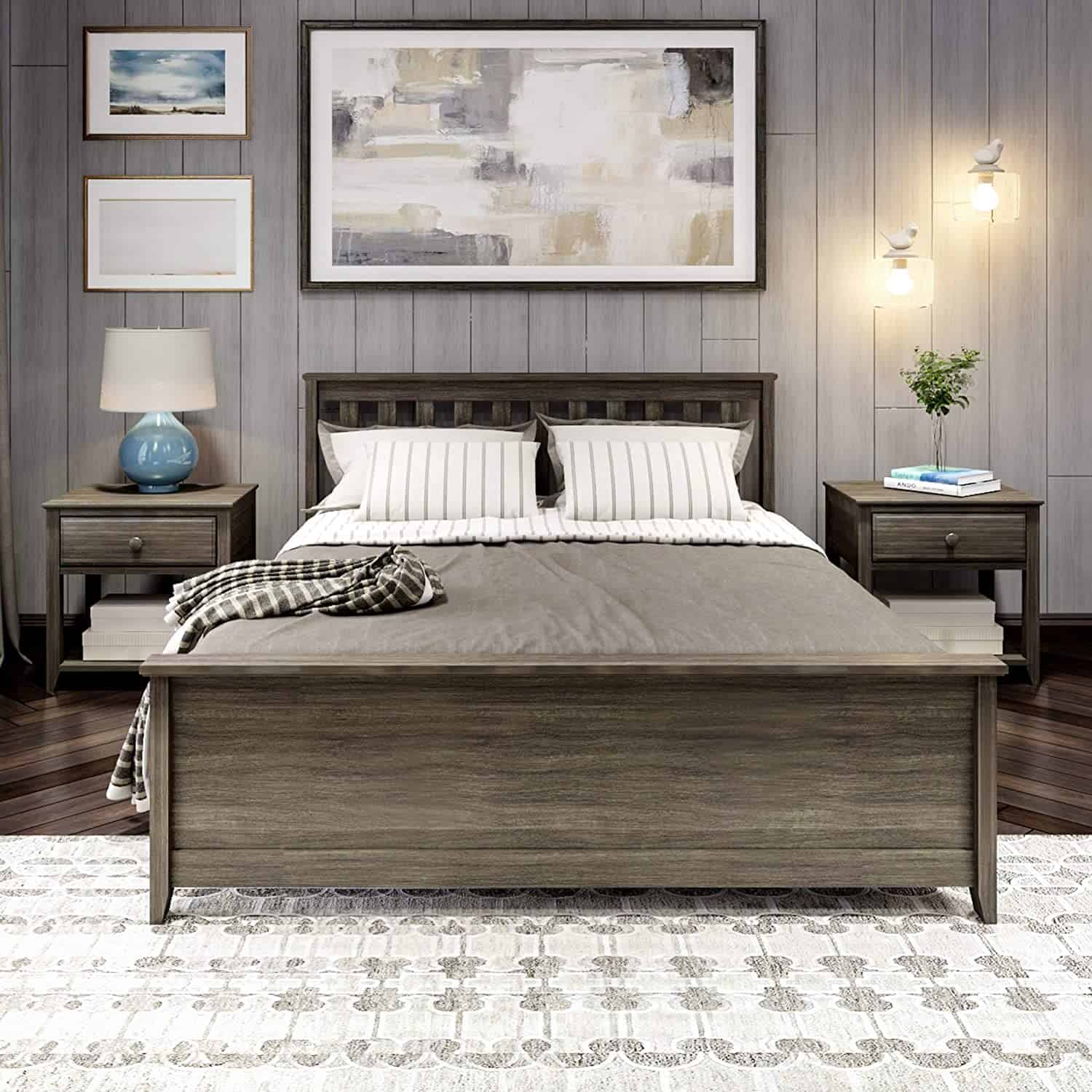 When you need that old-school, rustic look but don't want to sacrifice modern features, this Plank+Beam Traditional Bed is the perfect balance of style and comfort. The slatted headboard adds a crisp feel to your room with its clean design, while the panel footboard element is closed off so you can admire your bedroom without wondering what's happening under your bed. 
And let's not forget about the superior quality bed frame with durable New Zealand Pine wood beams for high weight capacity (500lb) and non-toxic, low VOC finish for an all-natural product that will last with proper care. Not to mention its mattress support system eliminates having to use box springs.
2. Best Modern Style Bed: SHA CERLIN Modern Bed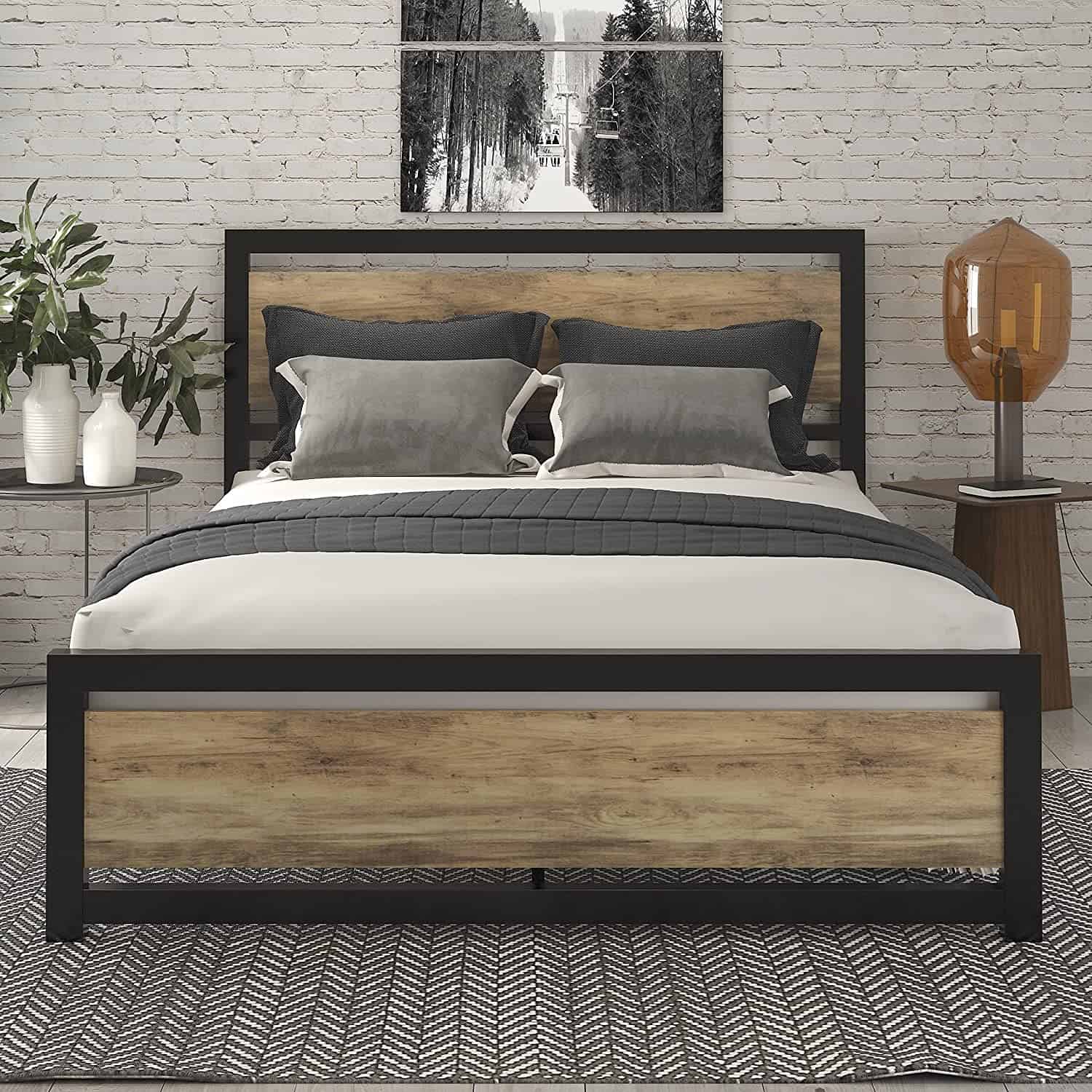 Love to switch up your style? Stripes are so predictable. Get the latest design now with the SHA CERLIN Modern Bed. If you are looking for an exotic bed frame that can be combined with stylish furniture, this is your perfect fit. The metal frame doesn't just hold its shape well (900 lbs capacity) but has a modern combination of squares and circles that gives it an edgy look. 
 If hassle seems like the last thing on your mind, look no further than this modern bed made out of high-quality materials that are durable and easy to assemble.
But if selling points were not enough to convince you of how awesome this bed is, then break down all its benefits, starting with how it lacks any weird noises with rubber strips providing cushions between slats, helping eliminate noise.
Plus, with plastic feet plugs, you don't have to worry about scratch marks on your wooden floor.
3. Best Rustic Style Bed: Zinus Adrian Wood Rustic Style Platform Bed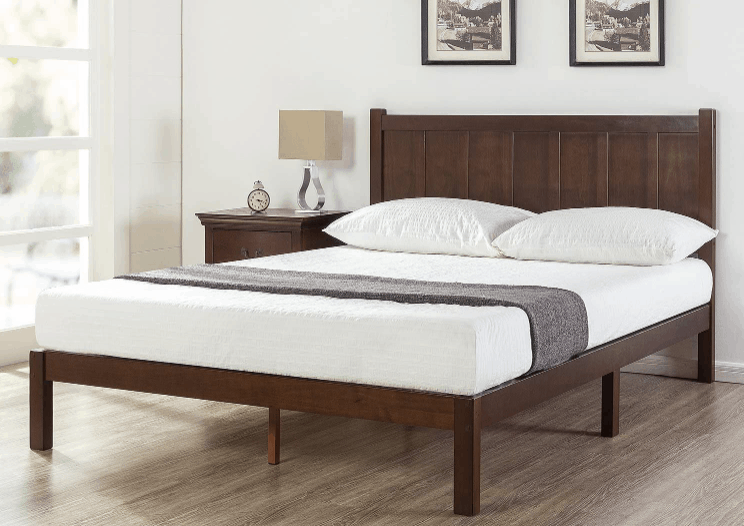 This Zinus Adrian Wood Rustic Style Platform Bed is perfect for the modern sleeper who wants to snuggle low and sleep like an armadillo. Made with strong wood slats to support your mattress without needing a box spring, this alluring platform frame will provide years of cozy sleep. 
The lovingly crafted Zinus platform bed is sturdy, rustic-style, and comfortable. Tailored to your every need, it's right on trend with this style's simplicity and clean lines.
4. Best Retro Style Bed: Safavieh Home Paloma Retro Antique Bed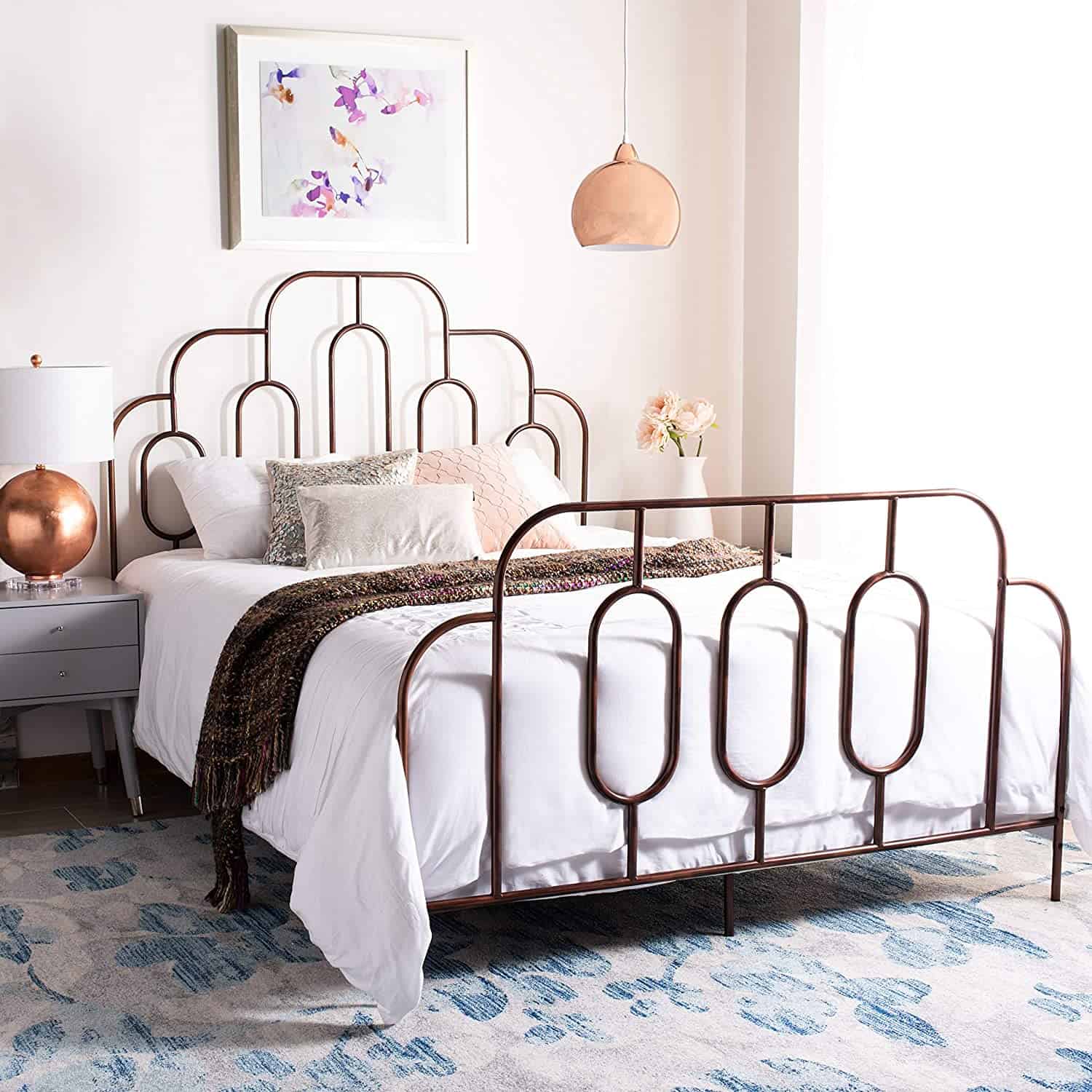 When you step into your bedroom or guest room, it's time to show off. Splashing in style with this vintage-inspired bed, the Safavieh Home Paloma Retro Antique Bed has everything you need for a chic living space without any of the heavy liftings. 
It features bright brown finishes on its headboard and footboard that look like they were pulled right out of another century. Footsteps will sound like hoofs when crossing this Victorian iron masterpiece, but don't let its antique bronze finish fool you. Every link is crafted from sturdy steel so it can stand up to anything modernity throws at it. 
This retro design's deep visage known as an overscaled silhouette proves there's no shortage of subtle sophistication here. Curves at both ends, from top to bottom, provide a welcoming base for any mattress.
5. Best Industrial Style Bed: LIKIMIO Industrial Bed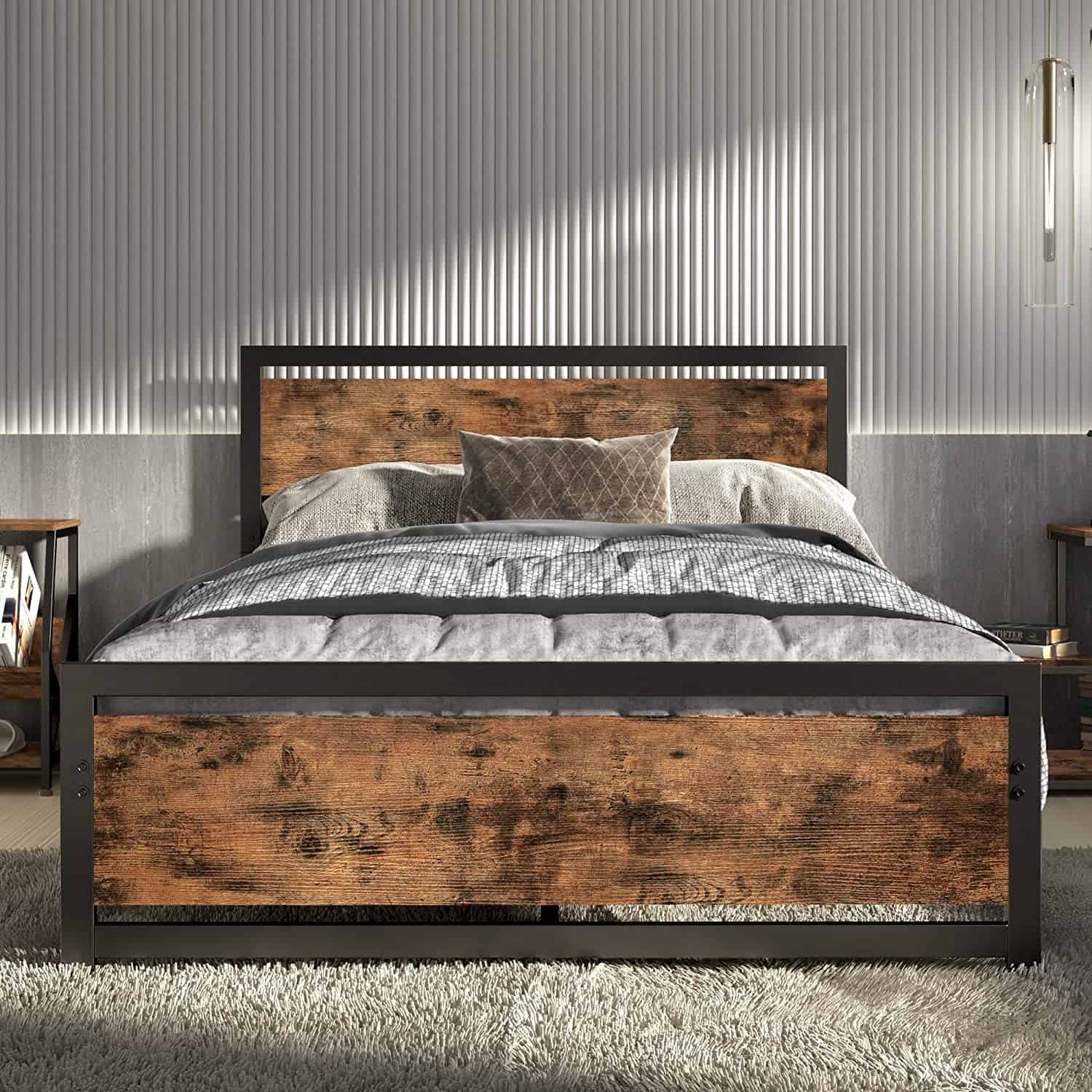 The LIKIMIO Industrial Bed connects the go-big-or-go-home aesthetic of an "Industrial" design theme with a nod to all things practical and simple. Sure, we could slap on some trendy paint or use materials that reflect modernity, but this bed — every line and curve- is honest and authentic. 
This bed embraces detail, turning even the most unexpected corners into sleek accents with gently rounded edges for a calm finish. And when everything blends so beautifully, why add anything more? Upholstery or logos from big brands—their only job is to show off how good they are. But when you have all these strong lines in one place, it doesn't need anyone else's help.
6. Best Mid-Century Style Bed: Walker Edison Mid Century Platform Bed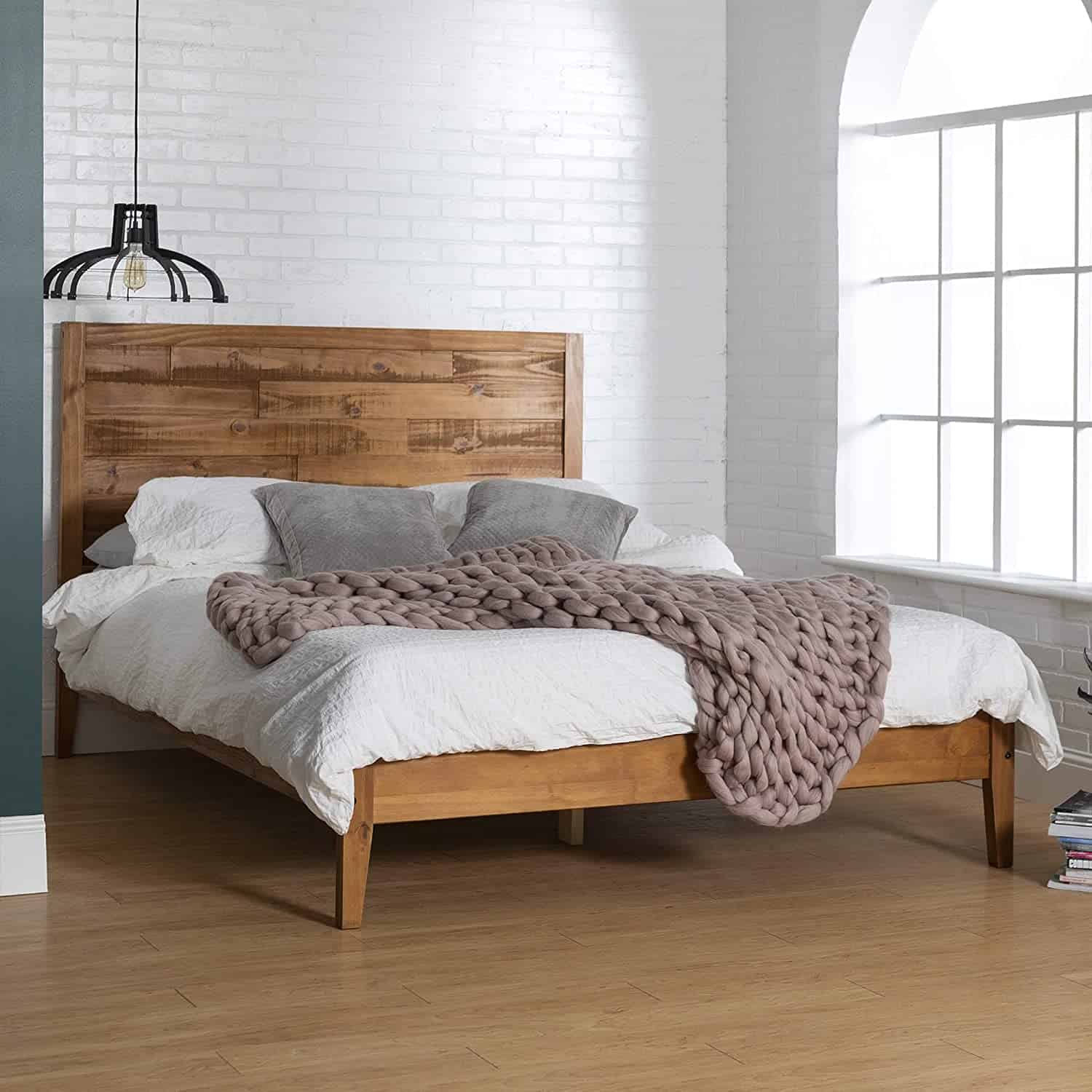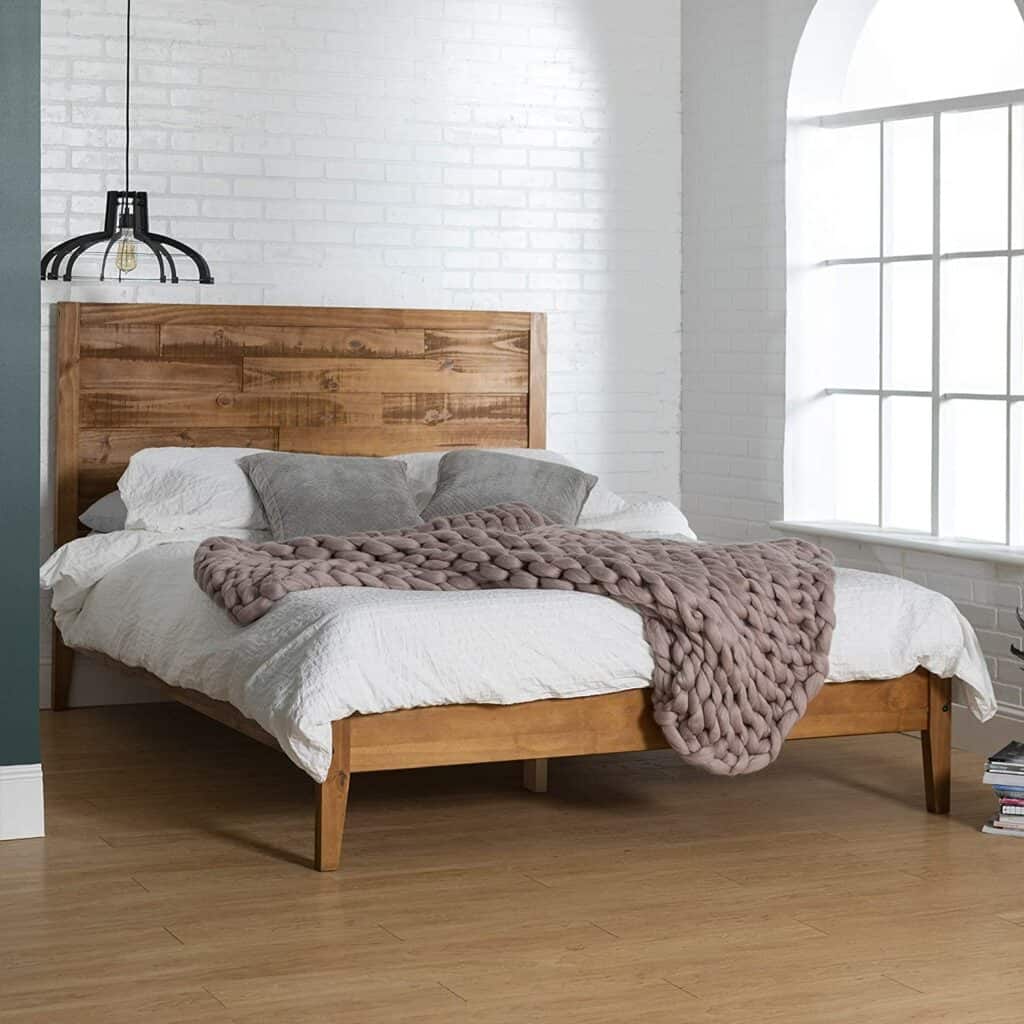 If you're looking for a way to put some charm into your decor without compromising your power to produce environmentally friendly products, this Walker Edison mid-century piece has you covered.
This bedroom furniture is perfect for that rustic feel, but with the amenities of modern convenience. It's crafted from solid pine wood, which has been stained to achieve a beautiful caramel color. 
The minimalist style feels at home in any environment and will never go out of fashion. So forget about stuffy headboards or bulky footboards; this versatile bed frame does it all.  Get your sleepy-time essentials ready because you'll be sleeping like an infant on these plushly padded quilts after one good night's sleep.
7. Best Scandinavian Style Bed: Baxton Studio Jonesy Scandinavian Style Bed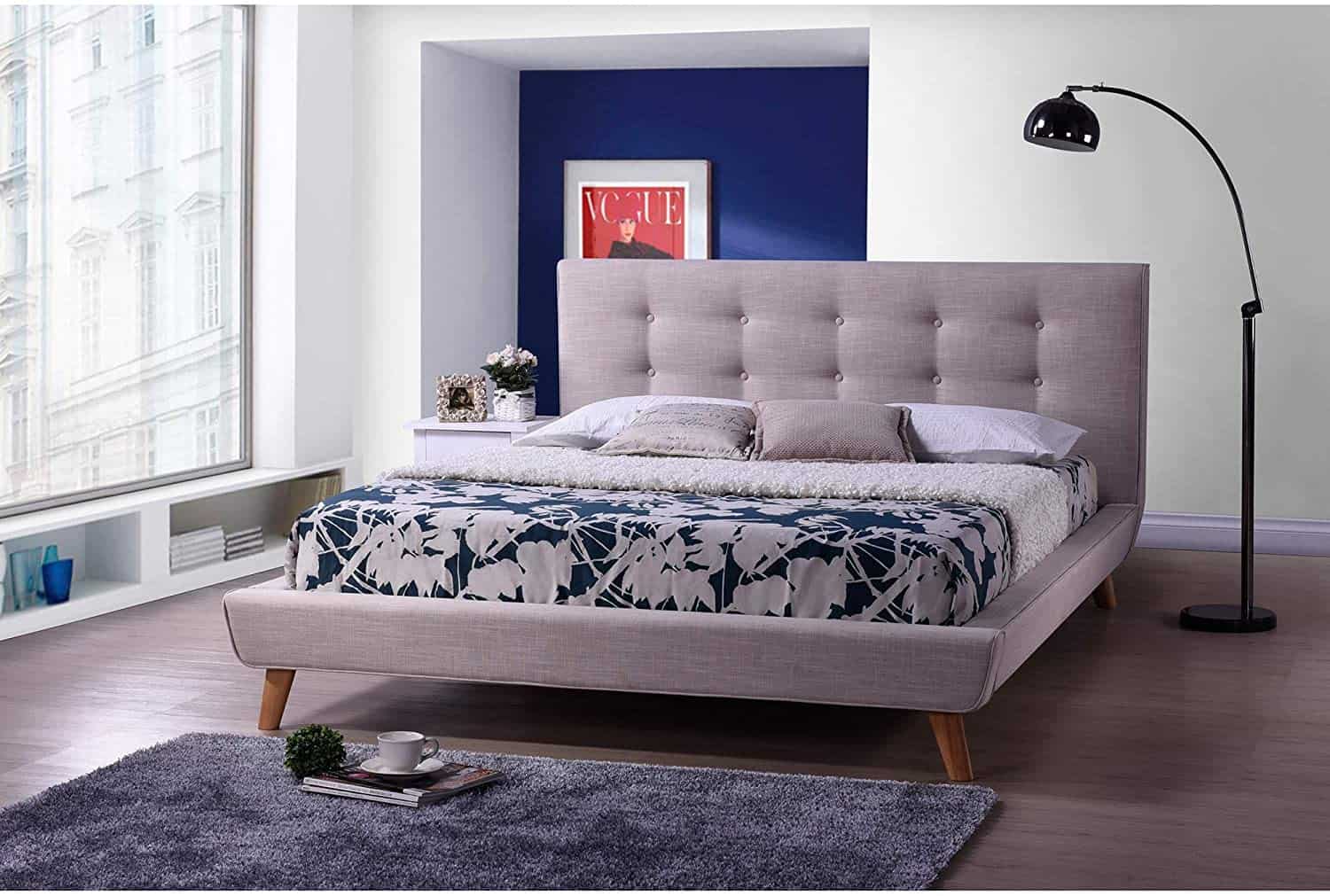 Not all beds are created equal. So, don't sleep on your next bed frame purchase! Baxton Studio has exactly what you need in the Jonesy Scandinavian Style Bed. Spacious and chic with a button-tufting design at its headboard, it's a style that's as practical as it is beautiful. With a sturdy yet stylish flared base, designer clean-lined frames, and a tasteful linen cover to perfectly match any interior decor, this bed will have you saying goodbye to restlessness for good.
Graceful but strong slats support up to 1″ foam mattress creating an intimate space befitting royalty without sacrificing quality craftsmanship, traditionally found only in fancier destinations worldwide. Your body will thank you for your affordable investment.
Do you love simplicity?  So do we. With a neutral color scheme and a sleek, low-profile design that will never date, the Jonesy bed from Baxton Studio is the perfect addition to your home, whether for yourself or as a purchase for loved ones. 
8. Best French Style Bed: Modway Violette Tufted Platform Bed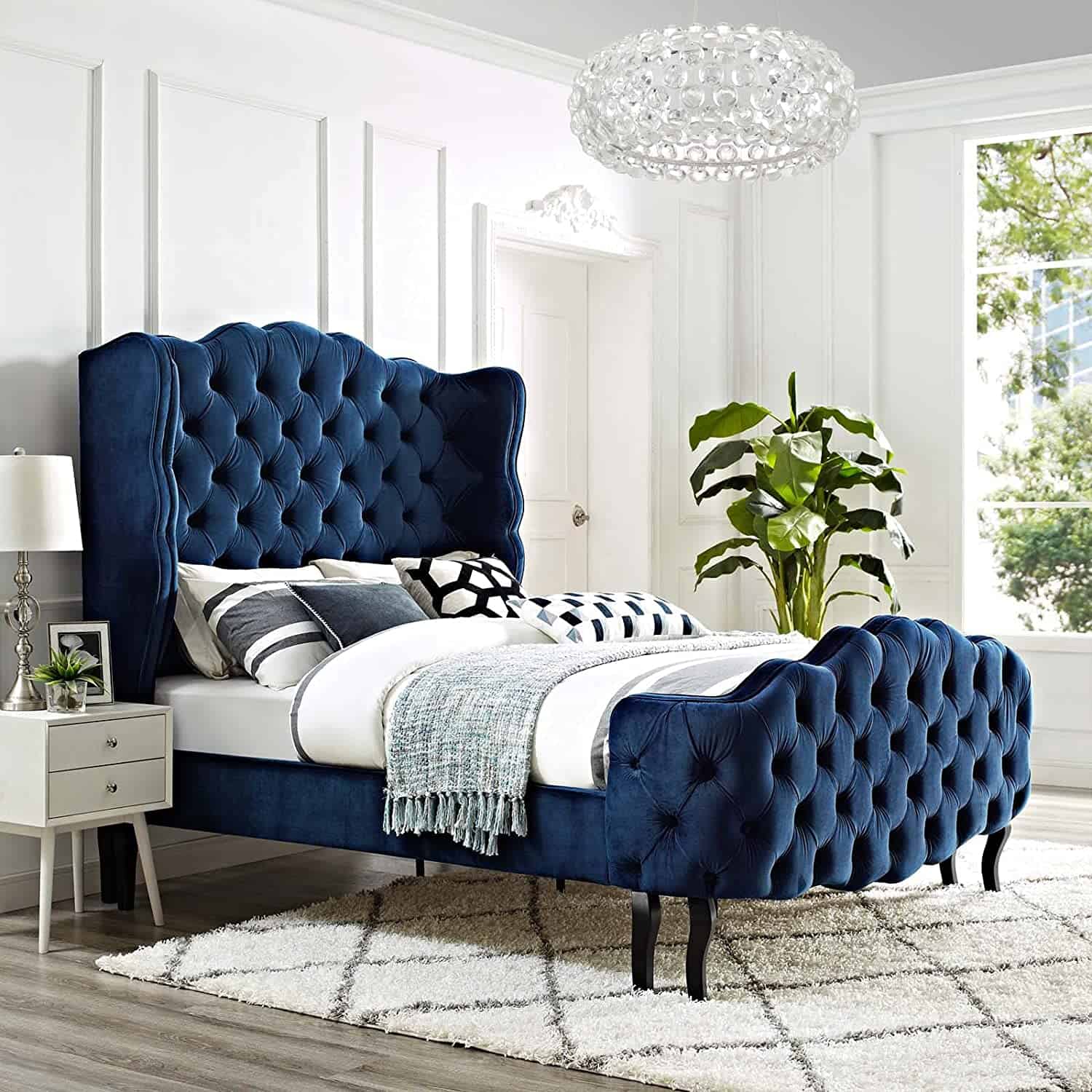 At last, a bed design that's truly worthy of royalty. This majestic platform bed features a palpable depth to your sleep space, premium upholstery for which you've been craving, and the ultimate in lumber security with a sturdy construction built to support heavy bodies up to 1322 lbs.
It's designed without the need for pesky springs or box springs thanks to its wood slat system complete with reinforced center beam – what more could one possibly need for their bedroom?
This tufted french style bed has a lavish look and feel that makes it perfect for your home. Not only does the spacious headboard add to the extravagant look, but so do all of its cozy details like wingback detail and deep button tufting. You also won't want to let go of how chic the furniture is from across the room with its luxurious texture and elegant design. 
9. Best Mission Style Bed: ZINUS Becky Wood Platform Bed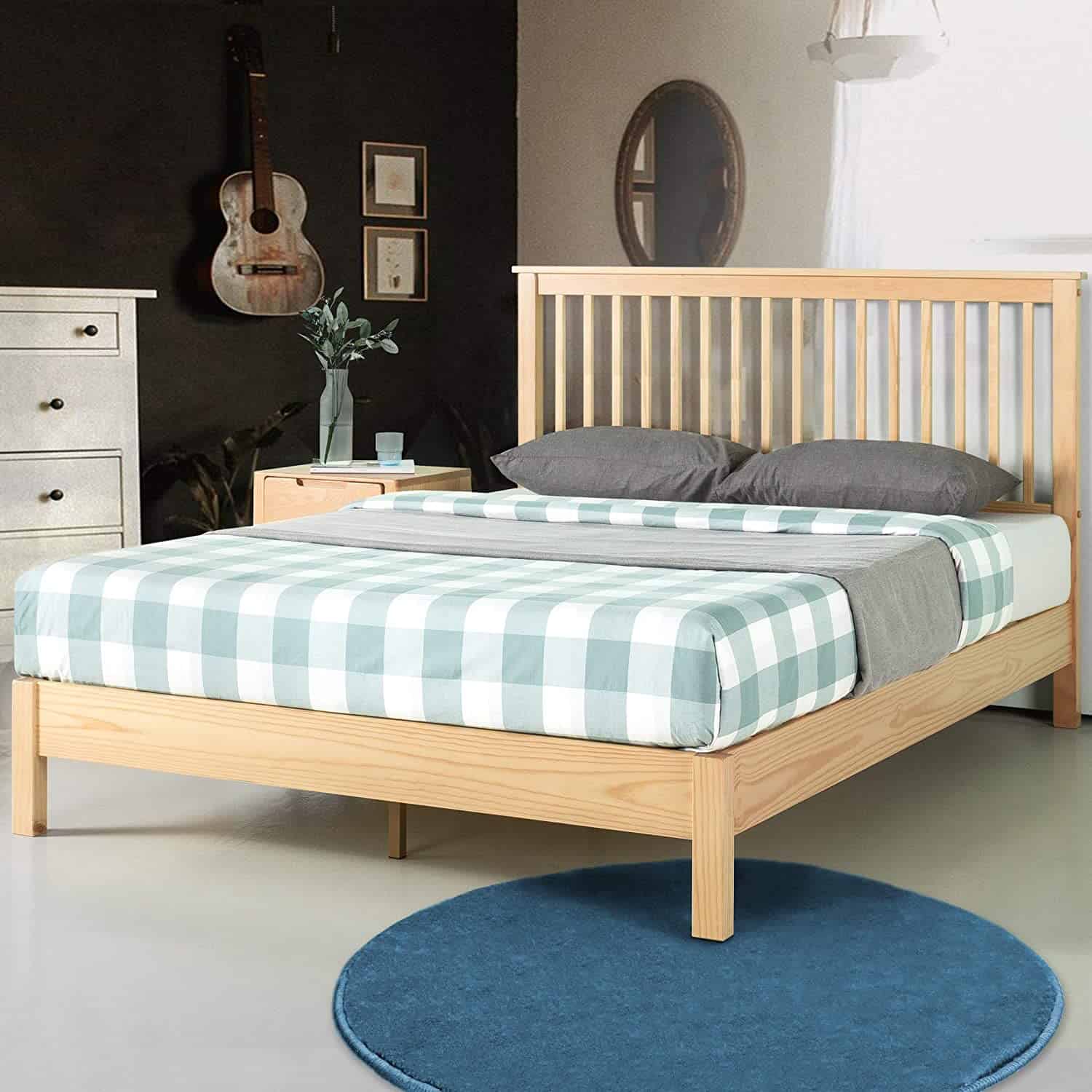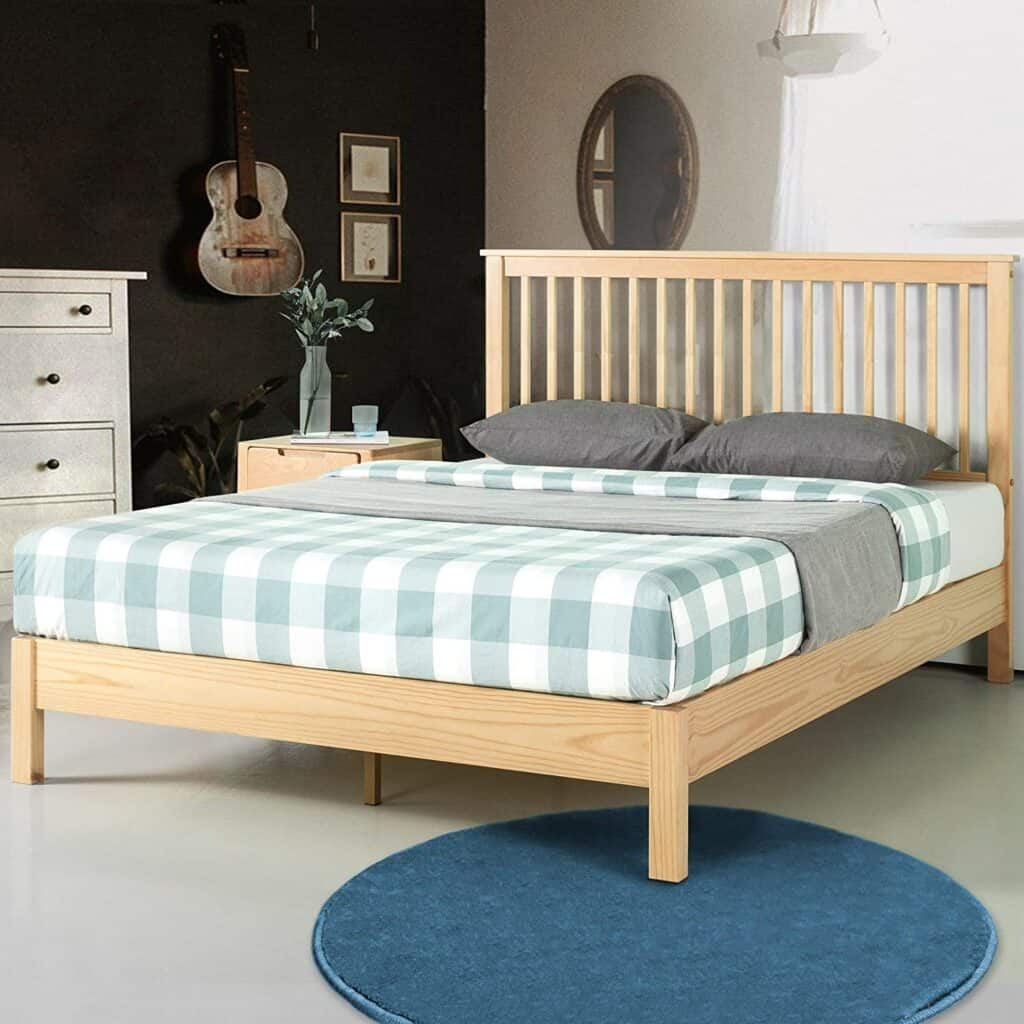 The ZINUS Becky Wood Platform Mission Style Bed is a bedroom staple for those who appreciate good design and the classics. It has the look of heirloom craftsmanship with its carefully designed details and natural wood grain, but it's engineered to last through many years of use. 
Extending the life of your mattress with solid slats that are spaced just 2.5-3 inches apart is no problem for the thick, sturdy steel frame.  Give your new bed lots of love by putting on some quality sheets made from the softest fabric you can find—and let loose because this baby is rated at up to 700 lbs!
Rest easy knowing that this product will endure years of use thanks to its solid construction year after year of sleeping hearty.
10. Best Cottage Style Bed: Zinus Santiago Wood Cottage Style Platform Bed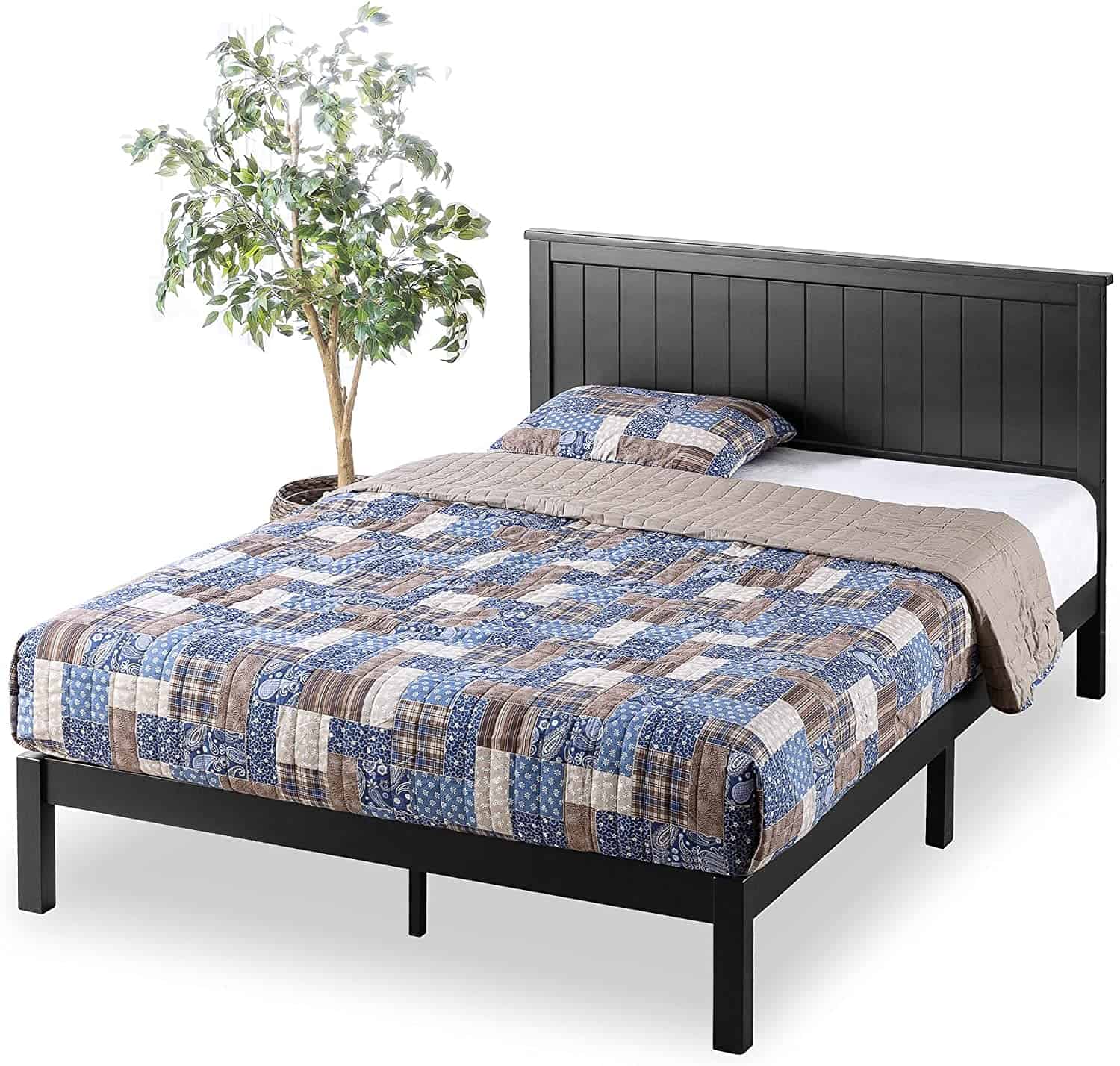 Saving your back and time – the days of lugging heavy mattresses up steps is finally over. This Wood Cottage Style Platform Bed lets you ditch the box spring and get a good night of sleep. Eliminate squeaky bedsprings and mattress movement with this Zinus platform bed equipped with foam pads, steel slats, and self-adhesive no squeak strips to keep things hushed.
Every detail, from the cedar-clad slats to the classic color, has been given careful consideration, so you have what you need for a good night's sleep without feeling hemmed in.  Live in a small home or share your bedroom with another person that needs their own space?  This bed offers up to 9 inches clearance- room enough under the bed for items that require floor space.
Save yourself from tossing and turning all night long by getting some shuteye now guaranteed by this platform bed.
Different Bed Designs
When shopping for a bed, the designs you can choose from are so diverse that you might have a real tough time deciding what to go for. Whether you are buying beds for yourself and your partner or for the kids, you'll be amazed by the bountiful supply of beds available in equally stunning designs. So, which are some of the most popular designs?
Bed Designs for Adults
Convertible Beds
If you have little space to spare, a convertible bed would be ideal. Convertible beds can be used just about anywhere in the house – you could use them in the bedroom, living room, or even in a guest room. As the name suggests, these beds can be converted into sofas during the day and are great for space-saving.
Murphy Beds
Murphy beds are also popular with space-challenged people because they come with hinges that enable you to fold them up and attach them to a wall. That means that the space occupied by the bed when you are sleeping can be turned into other uses when the bed is not in use. Should you need to store bedding and clothes, look out for Murphy beds with storage on the sides.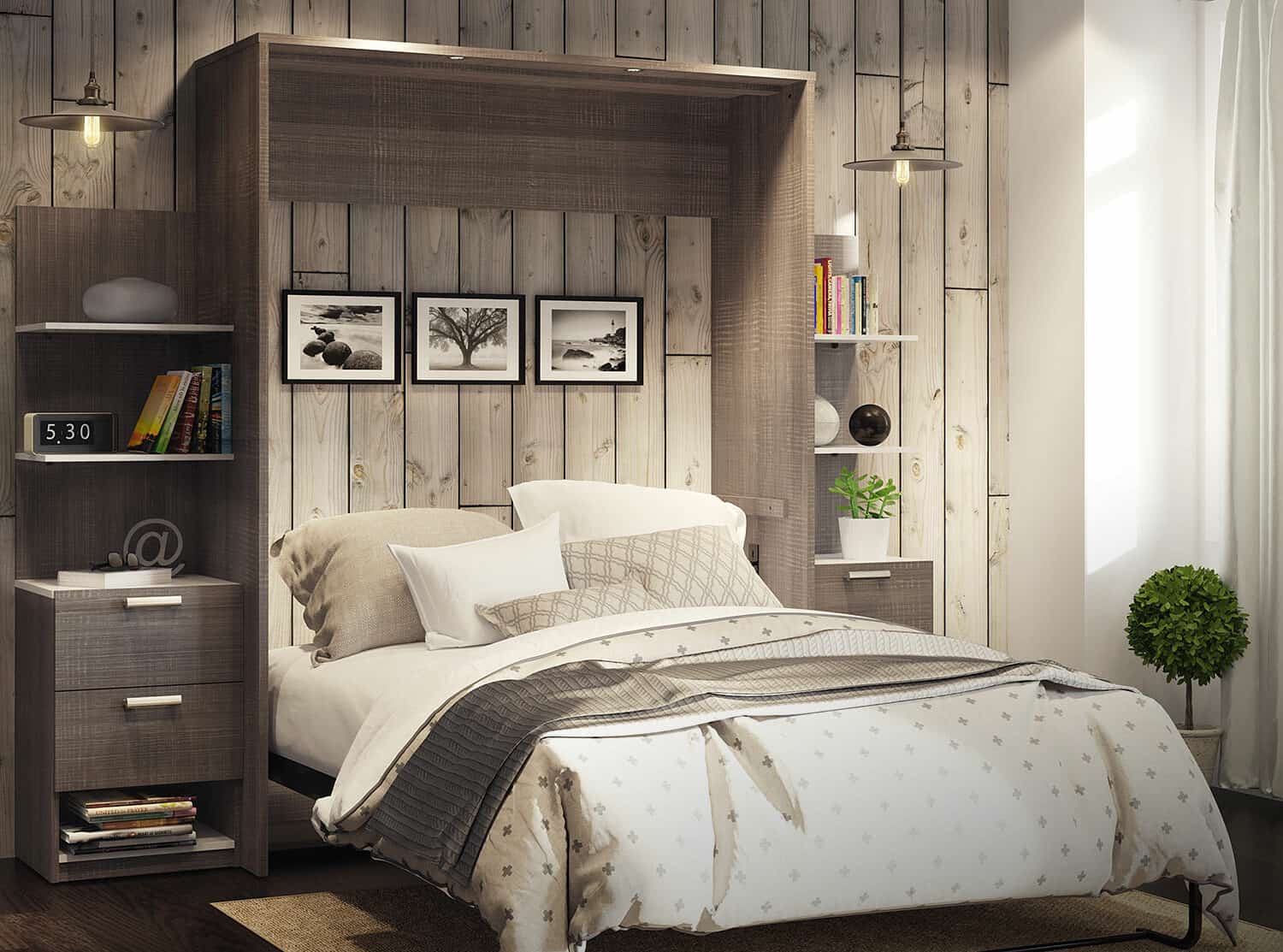 Ottoman Beds
Ottoman beds would be perfect for those who crave luxury in small bedrooms that might not have enough space for a wardrobe. These comfortable beds have substantial storage below the mattress and, to store or remove stuff, you lift the mattress using the gas hydraulics that comes fitted with the bed.
Hammock Beds
If you thought that hammocks are only used outdoors, you might be pleasantly surprised to learn that there are hammock beds that you can use indoors.
Built-in the exact shape of a hammock, these beds can be used anywhere in the house as long as you have something tall to tie the rope used to suspend the bed. The beds are multi-functional, and you can also use them outdoors.
Waterbeds
People with aching backs and sore muscles will find great wisdom in choosing water beds. These beds have mattresses filled with water and, by heating the water to the desired temperature, you can use your sleeping session for therapy. 
Hanging Beds
The joy you derive from using a swing outdoors can be replicated in your bedroom when you invest in a hanging bed. As the name suggests, these beds are hung from the ceiling and, if you've trouble falling asleep, the rocking motions of these beds might be the solution you've been looking for.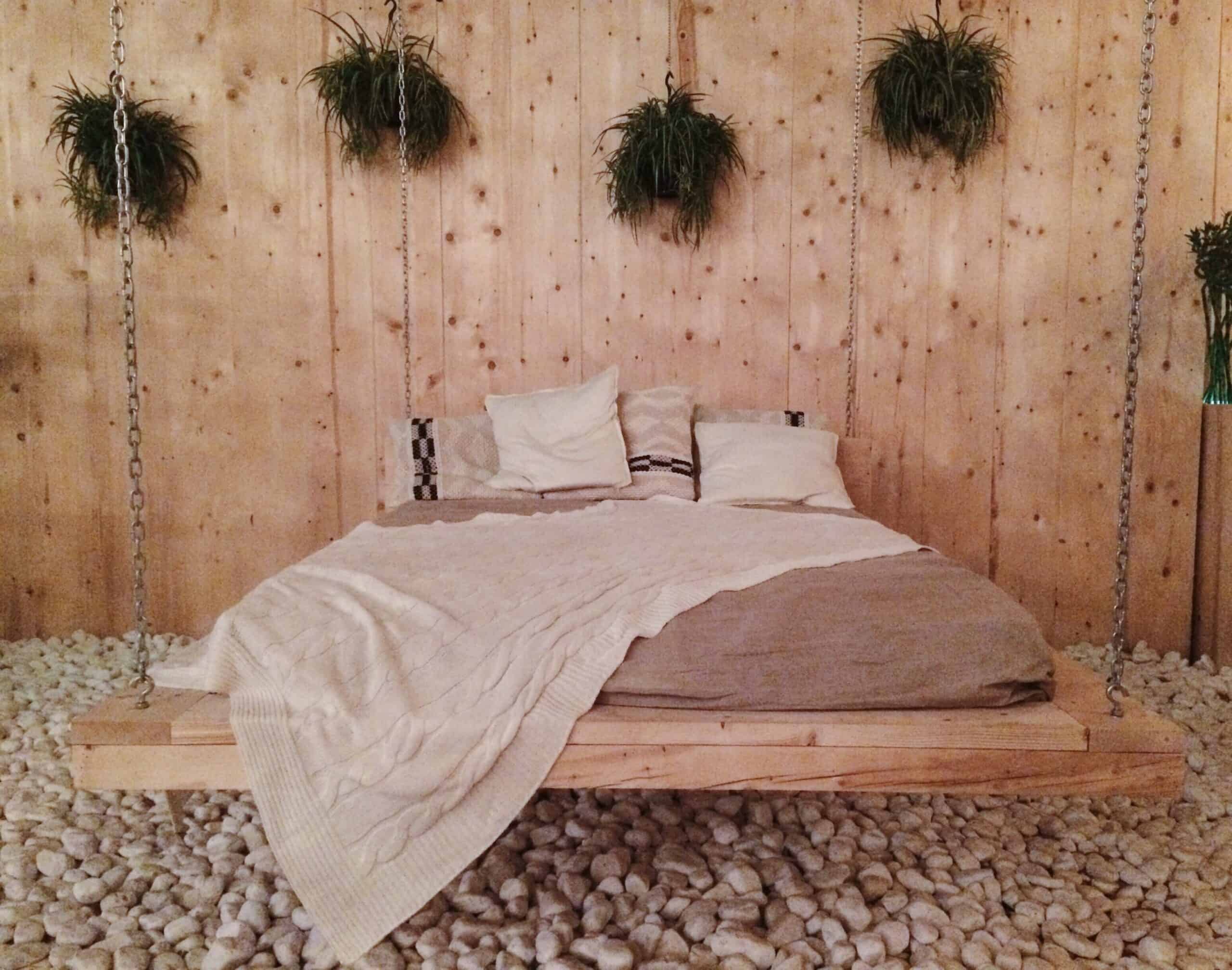 Futons
When you desire a bed that can also be used as a couch, a futon could be your ideal choice. Popular with people who have limited spaces, futons are foldable beds that can be stored away when not in use. If you have friends or relatives visiting and you're wondering where they'll sleep, a futon could be the answer as you can use them in your basement, living room, or any other room in the house.
Four-Poster Beds
When you have a big bedroom and wish to give it a taste of royalty, a four-poster bed is well worth considering. These beds have four tall posts (hence the name) at each of the four corners. The beds are highly customizable, and you can choose how you desire to have the posts designed.
Half-Poster Beds
Related to the four-poster beds are half-poster beds. Unlike the former, the latter has two tall posts at the head of the bed, while the two posts at the bed's foot are very short.
Canopy Beds
Canopy beds resemble four-poster beds with one important distinction – the four tall posts at the corners of a canopy bed are connected. In many bedrooms, you'll find different kinds of fabrics hung on the frame that is created by connecting the posts. Like the posts in the poster bed, the posts in a canopy bed can be designed in various ways and can be made from various materials, including metal and wood.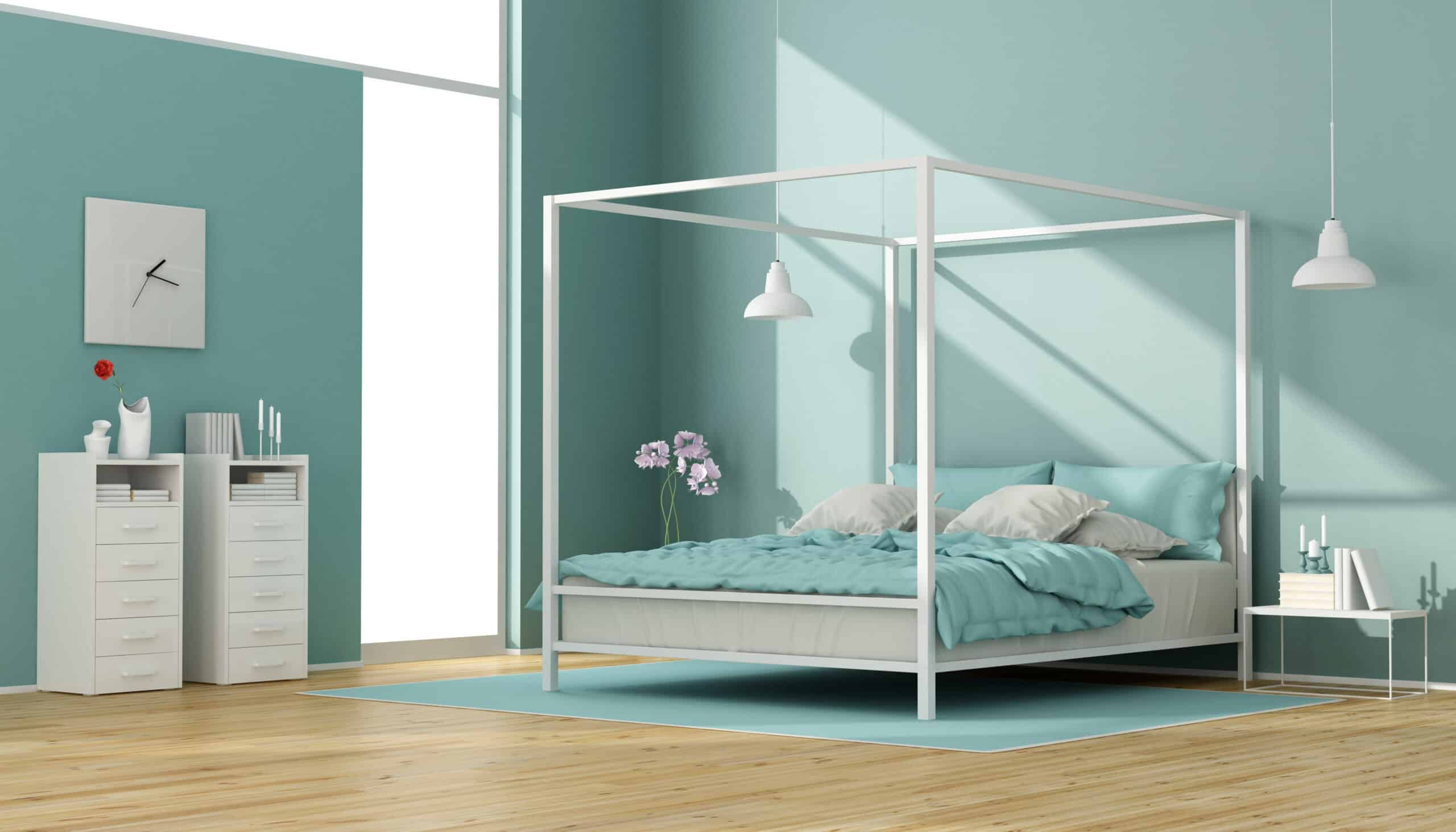 Bed Designs for Children
When you are shopping for a bed for your kid, did you know that you have a wide variety of designs to choose from?
Before you choose the design of your kid's bed, you need to remember that while safety is paramount, the design will, to a considerable extent, determine whether going to sleep and getting out of bed are fun things for the child. Below are some of the strangest and most popular designs.
Car Beds
Your child could love toy cars and might even be harboring the thought that they might be the next Lewis Hamilton. Should that be the case, how about buying your young one a car bed? Car beds are available in a wide variety of designs and are also highly customizable. Continuing with the Hamilton example, you should have no problem getting your child a bed designed like a race car.
Slide Beds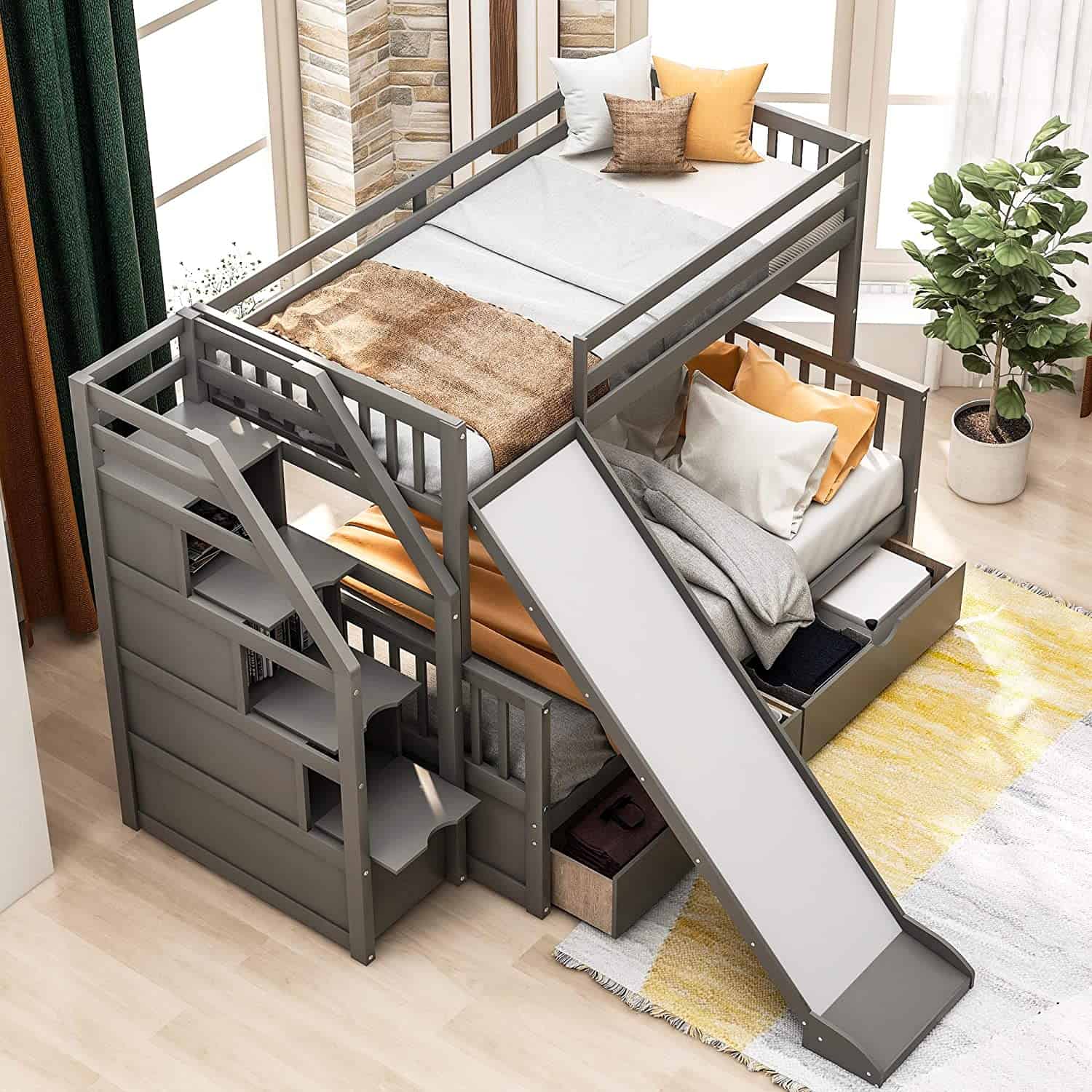 If you have trouble getting your kid out of bed in the morning, you could make the arduous task enjoyable by getting the kid a slide bed. A sliding bed has a ladder for the child to climb up, and, on the opposite end, a slide is fitted. Therefore, you'll no longer need to lift the child out of bed or have them hop down dangerously as the kid will simply slide out of bed. Waking up time could never be more fun for your kid.
Novelty Beds
Kids' novelty beds can be customized to any design you desire. Depending on what you think will make your child enjoy going to bed, you can have a bed designed like a boat, a soccer shoe, or even a spaceship. With novelty beds, you are only limited by your imagination.
Bunk Beds
When you ask most parents about the kinds of beds they want for their children, you'll notice that most of them have a preference for bunk beds. Bunk beds are popular for many reasons but primarily because they save much-needed space.
If you have several children who share a room, you can maximize space usage by having one, two, or even three bunk beds stacked on each other. Bunk beds are fitted with ladders to help the children climb to bed and are fitted with side railings to ensure that your young one does not roll out of bed.
While you can buy bunk beds in the stores, if you're in the construction phase of your home, it'd be a nice idea to consider getting a built-in bunk bed.
Trundle Beds
Another great bed design that will help you maximize space usage is a trundle bed. While bunk beds are stuck upon one another, trundle beds look like shelves that you can pull out to create a bed and then push in when the bed is no longer in use.
Loft Beds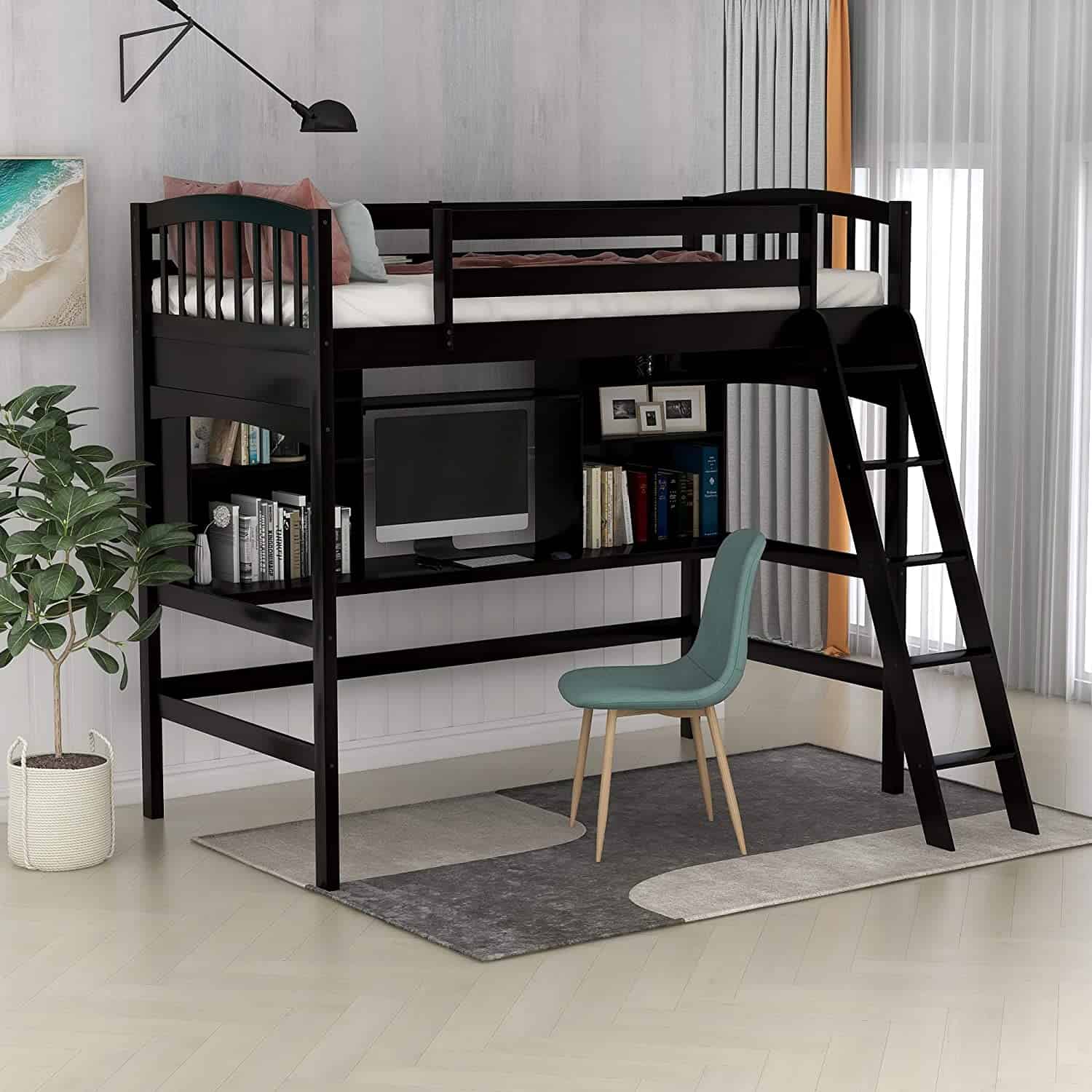 When you want to increase the space available in your child's bedroom without compromising comfort, a loft bed could be the answer. Built-in the shape of a bunk bed, a loft bed is usually raised high above the floor, leaving the space underneath it free. This space could be used for play or could even be fitted with a study desk.
How to Choose the Perfect Bed 
Beds are more than just a place to sleep. Some can even be the focal point for your bedroom decor and add potential storage space in an already-populated room, such as with headboard cabinets or hidden drawers under the bed.
The following tips will help you choose the perfect frame that looks great now and years from now with minimal maintenance needed.
Decide on Your Preferred Bed Size 
Do you need a new bed? If so, what is your preferred size? The most common bed dimensions are King size, Queen size, Twin, Twin XL, and Cal King size.
Get Your Room Measurements 
The size of your bedroom is important when it comes to choosing the right furniture for you. A bed or any large piece, in general, can take up too much room and make a small space feel cramped with no personality at all, so measure first before buying anything.
Platform vs. Box Spring 
You must decide whether you'll need a box spring or a platform bed instead.
Box springs are unnecessary, and many of them can cost up to 50% more than just the mattress. So, why buy a box spring when you can just as easily get by with one? Platform beds are the perfect solution for those who don't want or need one. Box springs often add unnecessary cost and weight. If you only need your mattress, then a platform bed is the way to go.
Consider Height Requirements and Overall Weight of the Bed
The height and bulkiness of the frame is one factor in determining what will work best for both comfort plus style needs. If space isn't too big an issue but rather how dramatic or simple-looking you prefer going with, then aim up on whatever tape measure when measuring. 
A tall bed requires a higher ceiling, so make sure you consider that. If you have a low ceiling, then it's wise to go with a shorter frame.
Consider Existing Decor and Overall Style of Your Room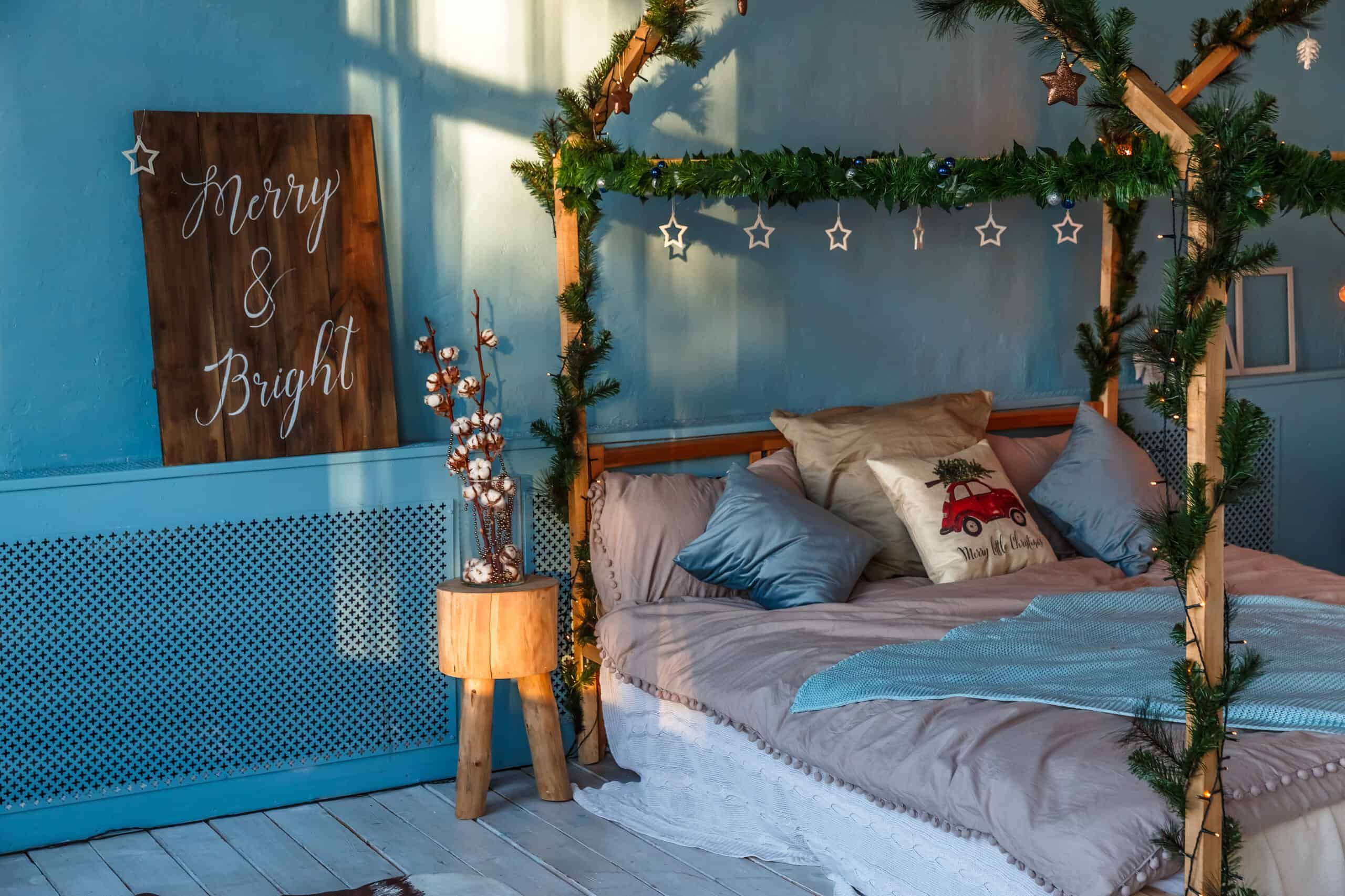 Find the right bed for you! Sounds easy, but there are tons of different styles. If creating a warm and inviting feel is important, opt for something with natural materials like wood or stone. But if sleek modern lines speak more loudly than anything else on their own terms – go ahead and check out some metal frames.
Once determined what style(es) will best suit both your personal choices and aesthetically pleasing preferences, look at each model individually before deciding which one to pick based on features such as storage, weight capacity, etc.
FAQs
Question: How Do I Choose a Bed Design?
Answer: The size, shape, color–all matter because they contribute greatly towards making us feel comfortable or not. A good bed fits your body, like clothes. Though different people may have different needs regarding size and comfort, you can always do some research before buying anything new, so shopping isn't overwhelming or stressful.
Question: Metal vs Wooden Bed Frame: Which is Better?
Answer: The wooden bed frame is the clear winner when it comes to durability. It can take more punishment for its thinness and material quality while still feeling sturdy beneath your weight without warping or breaking apart like steel frames might do at higher weights.
Question: Are Metal Beds Noisy?
Answer: Metal beds may make a lot of noise when you move around, but they're not as bad if your bed is built well. The friction caused by metal rubbing against another usually causes the squeaking noise, and it's not just an issue with this material. A lesser-quality frame on any type of material will have more chances to creak.
Conclusion
Now that you know how to choose a perfect bed from the numerous bed designs and styles get ready for the ultimate sleep experience.
With your amazing new setup and all of this knowledge about what makes people feel comfortable in their beds, it will be hard not to drift off. But don't forget: The most important part is feeling safe and secure when we go to sleep at night. If your preferred choice can provide peace of mind while sleeping with these tips, then I think we did our job here today.
If you are still hoping we recommend one for a quick buy, then go for the SHA CERLIN Modern Bed. It offers a modern, sleek design that's sure to match any room's decor and has a high weight capacity of up to 900 pounds.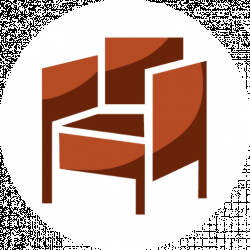 Latest posts by Finally Furnished Team
(see all)