Oh, there are few things as satisfying at the end of a long day as sinking into a plush recliner and sliding into padded kick-your-feet-forward bliss. Having a great recliner ready to receive your weary body after a long workday is a great luxury I simply can't go without. 
When my favorite recliner that I had still bought at a flea market during my student days (and reupholstered many times since) finally gave up the ghost, it was time to start looking for a replacement recliner. But what and where?
I happily turned to my favorite online store, Wayfair, looking for answers. However, with so many different recliners available, I soon realized I would have to shop with a plan. 
Ready? Let's recline and shop online!
What Is a Recliner?
A recliner is traditionally a chair with a feature allowing the chair's back to tilt backward. In turn, the lower leg backing of the chair pushes forward, elevating the sitter's legs while easing pressure off their hips as they lean back. 
Recliners are so popular that business and first-class sections of airplanes use recliners as seats. The benefit of having a recliner is that you can both sit in it or sleep in it. A recliner's comfortable tilt position also makes watching TV much more enjoyable. 
With the improvements of modern construction methods, recliners have become sleeker in appearance, and there are even sofa recliners. These sofas have a built-in recliner feature for all or some of their seats, making for a great way to chill while watching your favorite movie. 
But back to my sad-looking but much-loved recliner. I had paid a few bucks for a rather tattered-looking recliner, and while it was heavy, it had served me well. However, when it finally tilted its last, I realized I had a lot to think about in terms of what makes a great recliner.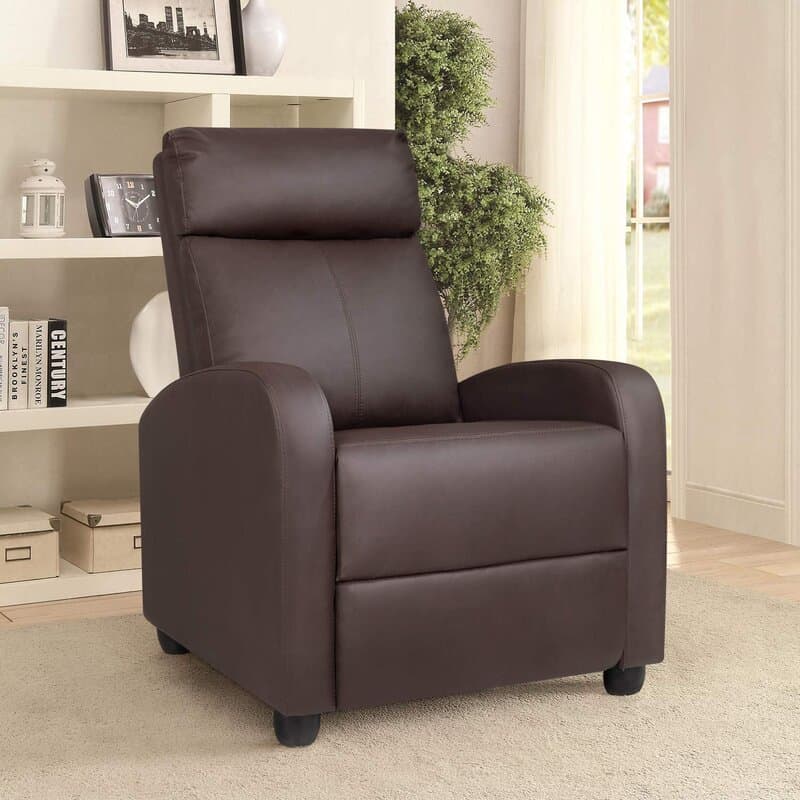 Characteristics of a Great Recliner
An outstanding recliner is comfortable, no matter the position you sit or lie. There are, however, a few other aspects that a recliner should conform to make the title of the best recliner: 
Secure Tilt Action
When you risk your life and limb by tilting backward in a chair, you want to be assured the chair won't collapse. Unfortunately, some recliners have an inherent weakness in the tilting mechanism. 
When the tilt mechanism becomes locked or refuses to lock, you risk the chair becoming dangerous and embarrassing. I certainly sat with my toes wiggling in the air when I tried out a friend's recliner that had a locking recliner mechanism that didn't lock. Getting out of that dilemma was disturbing. 
Padding and Seat Depth
Your ideal recliner will have sufficient padding to ensure a luxurious seat while still retaining enough firmness to cushion your body. Having a more oversized seat is a blessing compared to a too-narrow recliner.
Upholstery and Trim
Choosing suitable fabrics for long hours of sitting is a sure winner when it comes to recliners. But, of course, the most popular choice is to opt for leather; however, PLU synthetic leathers are also popular.  The best way to choose a suitable fabric is to order a sample from your online store or go to a showroom where you can physically sit in the recliner, getting a feel for it. 
The correct trim for a recliner is functional. Heavy tassels and buttons will only lead to uncomfortable bits and bobs that will poke you while you recline. Instead, I like opting for a plain piped or corded trim to finish the edges and give the chair more structure. 
Recliner Weight
Chair weight is a challenging consideration to meet fully. While you may not want a heavy recliner, you also need some weight to keep the recliner in place. Also, when moving a recliner from one room to another or cleaning under it, the weight can be a real killer. 
A heavy recliner will drag on the floor, potentially causing abrasions. However, a too light recliner can easily tilt past the recovery angle of the chair, tilting too far back and even up-ending the chair and its sitter.  Knowing what is ideal requires careful consideration of where you will be placing the recliner. You need enough weight in the chair base to keep it anchored while having a stable enough design to be moved with minimal effort.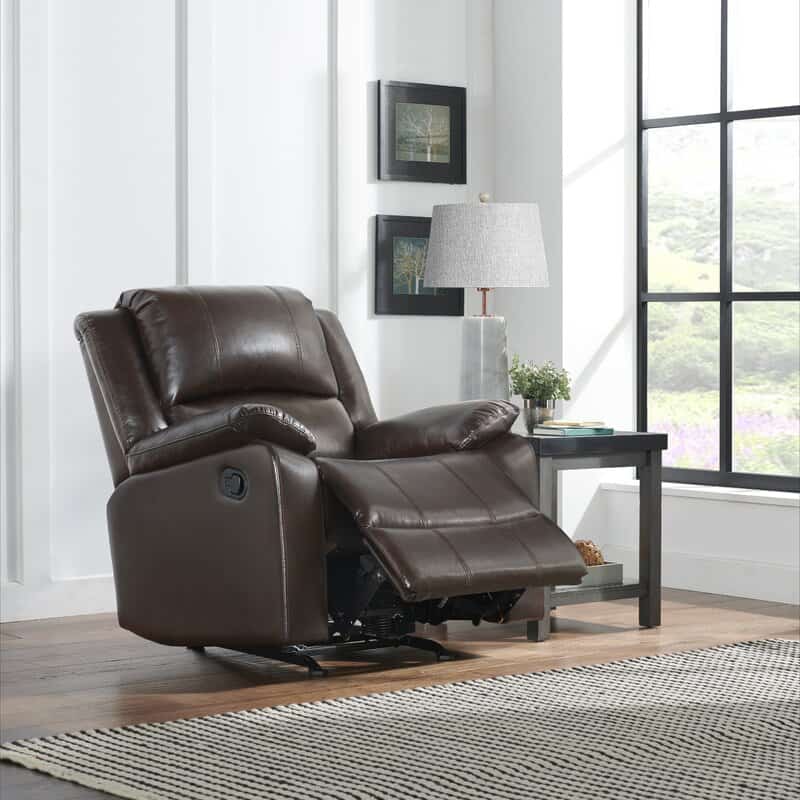 How to Keep Your Recliner in the Best State Possible
A recliner, like any other piece of upholstered furniture, is only as good as the care of its maintenance. After the manufacturer moves the recliner out of their storehouses, the care becomes your responsibility. 
Wood and Leather Care
Make sure to have only the best cleaning and care products when dealing with natural materials like wood and leather. Both will require oiling and polishing. If this sounds like too much work, you should consider a more modern recliner made from less care-intensive fabrics. 
Also, ensure your recliner doesn't stand in direct sunlight in your home. By avoiding direct sunlight, you will add years to your recliner's life. In addition, sunlight will bleach fabrics like leather, leading to the wood inner of your chair warping. 
Daily Cleaning
Since a recliner is so incredibly comfortable, chances are you will be snacking in your comfy position. Unfortunately, eating in a recliner leads to spills and crumbs, which can cause problems down the line. 
Having food crumbs on your recliner may sound like no big deal, but when these start clogging up the tilting mechanism, it is a HUGE deal. To prevent this, be sure to vacuum your recliner every day. I keep a cordless hand-vac on charge in the kitchen, and when I prepare to head out, I vacuum my recliner—it only takes a minute. 
Spot Treatment
Furniture upholstery doesn't really like water, but the internal padding doesn't like being wet at all. So avoid soaking your sofa inners by spot treating any spills or messes as soon as these occur. Quick action will save you from needing to wash your whole recliner. 
I like to keep a little spray bottle with a few drops of dishwashing liquid, hot water, and baking soda ready for unplanned accidents. Then, no matter what's going on at the time of the spill, I treat the spots and spills immediately. Being a responsible homeowner ensures that my recliner's upholstery remains neat and tidy.
Sensible Treatment
A recliner is not a rocking chair. Make this very clear to your family to prevent unnecessary wear and tear of the recliner mechanism. A recliner is not designed to open and close endlessly. Also, ensure that children or pets don't jump or bounce on the recliner.
Likewise, if you notice there's a catch that's crept into how your recliner opens and closes, be sure to have it serviced immediately. Early servicing can help you prevent the recliner mechanism from breaking completely.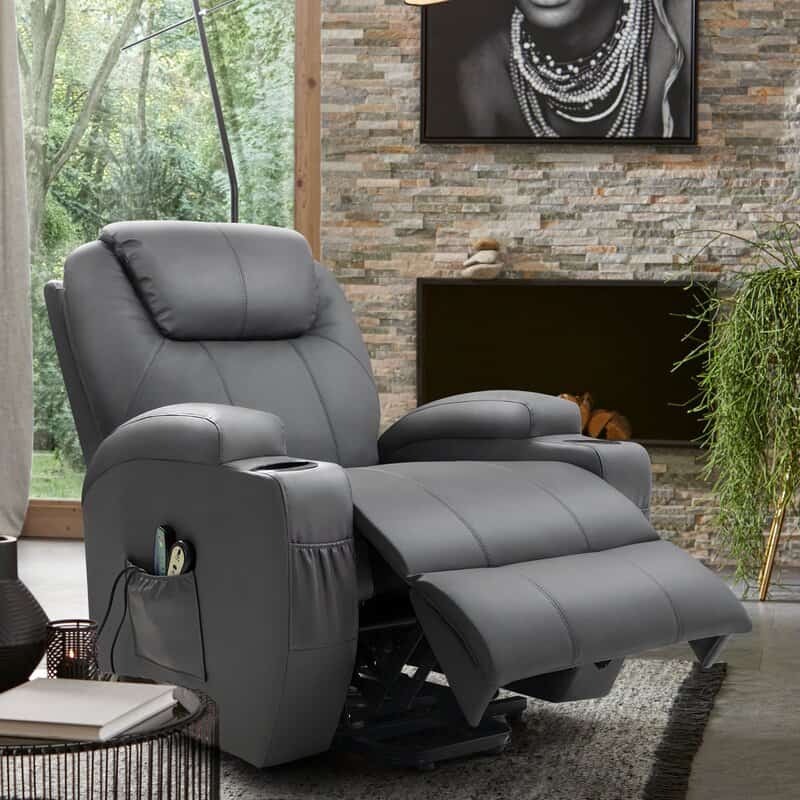 Best Recliners Buyer's Guide
When I began shopping at Wayfair for recliners, I noticed that there are many different types and models available. I became pretty overwhelmed and realized that I would have to shop with a plan. Here's my buyer's guide, and I'm sure you will find it as helpful as I did. 
Recliner Purpose
I wanted a recliner that would fit into my reading nook at home, which I often meditate in. So, I wanted a single recliner that was soft enough to be really comfortable, and if it could offer me a charging point for my Kindle, then that was a bonus. Yes, that's right! Some recliners come with a built-in USB port or two. 
My recliner also needed to have a side pocket that I could leave my current read in, and I could also store my Kindle there, nicely out of sight, so my kids don't play with it. Since I like to curl up when I read, I also didn't want a petite recliner. I wanted something with a deeper and slightly wider seat, but I didn't want a love seat recliner, as there wasn't enough space in my reading area for one. 
What would your recliner need to do? Perhaps you want a family unit that allows the whole family to kick back for Sunday afternoon movie day or even a stylish single recliner to fit with your ultra-modern decor scheme? Whatever your needs, there's a recliner for you. 
Fabric
I'm picky about the way things feel. If a material is not soft and plush, then I'm not interested in it. But, of course, there are other fabric requirements to consider too. 
If you were using your recliner to snack or eat in, you would have to get a wipeable surface that doesn't stain easily. Synthetic leather or even vinyl fabric might be best in this case. Some people even have their recliner upholstered in special PVC, but I must be honest—that's not my preference. 
Design
A recliner can offer you a world of features, be really comfortable, and come at a gloriously low price, but if it's ugly to look at, it will always be an ugly chair! So make sure the recliner you choose is aesthetically pleasing. 
Consider the shape, fabric, and edgings that the recliner has, deciding if the recliner is to your liking. Recliners are usually more expensive than a standard upholstered chair, so you want to choose a recliner that can be a focal point in the room. 
Your Decor Scheme
The appearance of your new recliner needs to fit in with the rest of your room. For example, if your lounge is decorated in farmhouse style, you wouldn't want a recliner designed to fit an ultra-modern theme. 
Budget
We all have a bottom line with our available funds. Nobody wants to pay off on a recliner for the next 10 years, so choose something that's within your budget. However, be prepared that recliners do cost more than the average chair unit does. 
6 Best Recliners on Wayfair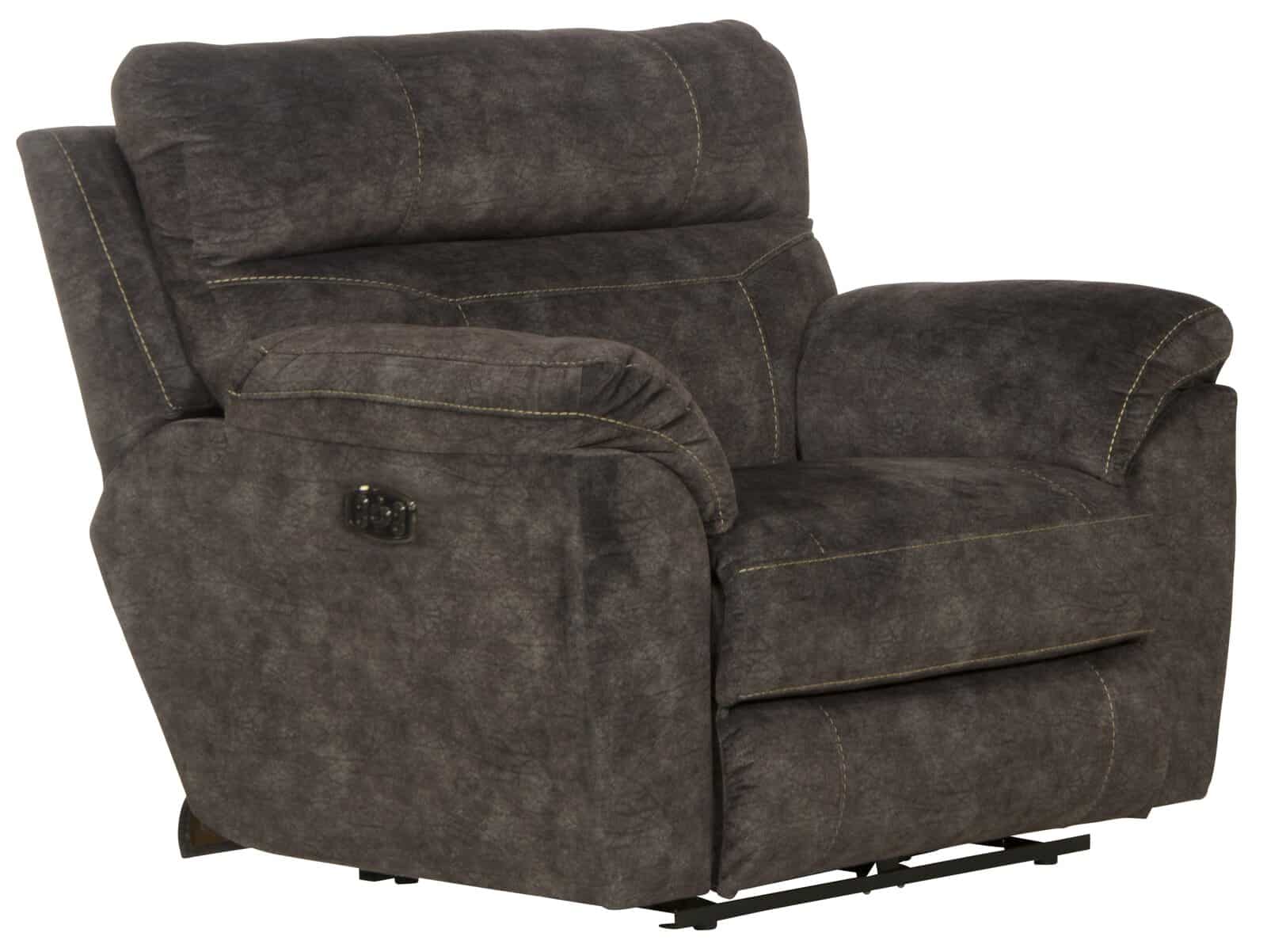 I was excited by the Sedona 52″ Wide Power Standard Recliner for the extra width that would be perfect for me to curl up in with a good book. As a bonus, it comes with a USB port, making charging my Kindle a dream. 
Pros
Available in two colors: Smoked and Moka faux leather. 

Built-in lumbar support.

Seat size: 21.5 x 26.5 inches.

Weight capacity up to 300 pounds.

The seat has individual pocketed springs with foam for extra support and comfort.

Power recline.

Steel box construction with memory foam gel topper for strength and comfort.

Position lock.
Cons
Foot and backrest don't operate independently. 

Controls are located on the outer side of the armrest, making contact difficult when reclining. 
This recliner is genuinely unique. I found the controls on the outside of the armrest bothersome, but my fingers soon figured out where to press to get me out of recline mode. However, I am slightly worried about what happens when the controls freeze and I get stuck in recline mode—how do I get out of the chair then?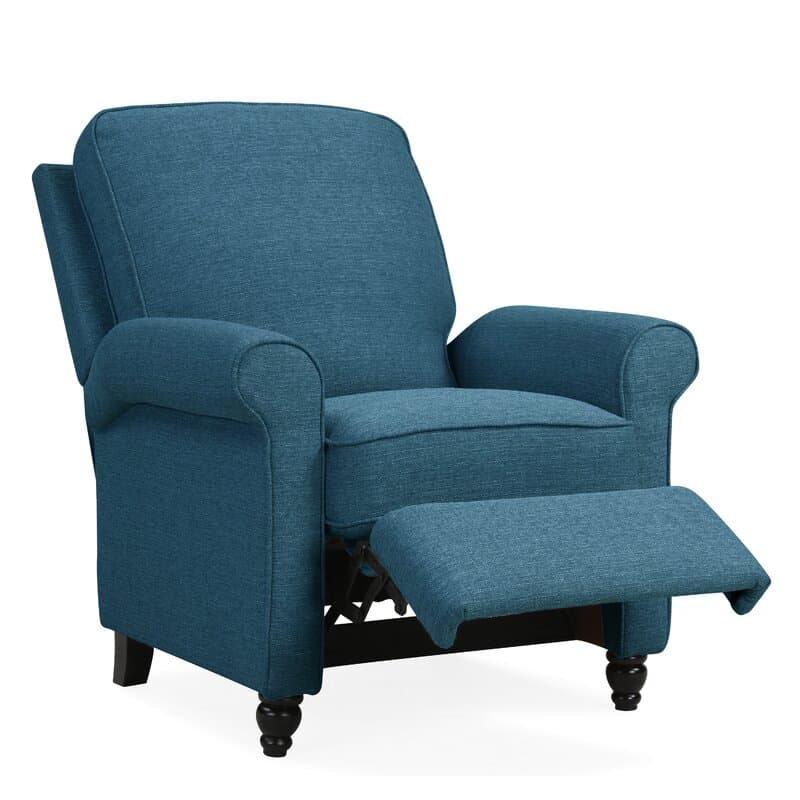 The Leni 33.5" Wide Manual Standard Recliner is a hugely popular recliner chair and a Wayfair bestseller with over 16,000 reviews. This recliner is a basic design, fitting into most rooms with a massive range of colors. 
Pros
Available in a massive 37 colors ranging from taupe and gray for standard colors and different patterns and designs for the combination fabrics. 

Weight capacity of 201-300 pounds.

Manual reclining mechanism.

Three reclining positions are available. 

Padding is sinuous springs combined with polyester fiber and foam. 

Wood frame and chair legs.
Cons
No stop mechanism for the recliner, meaning the sitter can tilt too far back.

Fabric is not stain or spot resistant. 

Some consumers complained that chair cushions were not fully padded, creating creases in the backrest cushion. 
I like the versatility and design of this recliner. It will fit into any décor scheme, and it offers a simple but effective reclining mechanism. However, with no stop mechanism, the recliner did push back on its own, often causing bumps on the wall behind the recliner.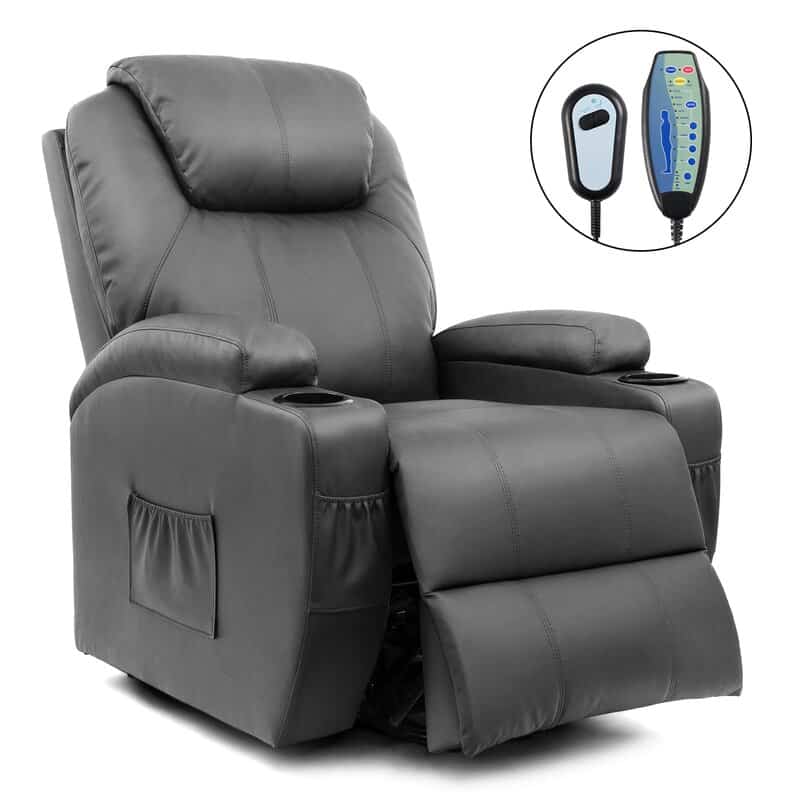 Following surgery, our bodies are often so sore that we struggle with something as simple as sitting. For this reason, some recliners feature a built-in assisted lift The Faux Leather Power Reclining Heated Massage Chair is an absolute winner. 
Pros
Available in three colors: Gray, black, and brown.

Remote control. 

Heating.

The power lift feature helps the sitter stand.

Ideal for elderly or infirm sitters. 

Four massage areas and five massage modes to ease back pain.

Weight capacity of 330 pounds.

Faux leather upholstery that wipes for cleaning.

Moderate size footprint in the room.
Cons
Not ideal for sitters with short legs.

An electric reclining motor means the chair needs to be close to a power outlet.

Some reviewers noted the chair recline feature is faulty at times.

Heavier sitters may damage the heating pads in the chair.
As with anything that's technologically advanced, errors do creep in, and I recommend getting the extended warranty for peace of mind. I had no issues in the month that I tried the recliner out, but I also didn't overdo the use or lift features. 
For repeated use, the recliner may become damaged or worn. Therefore, use the recliner carefully, being sensible enough not to flop into the chair or kick the reclining mode open.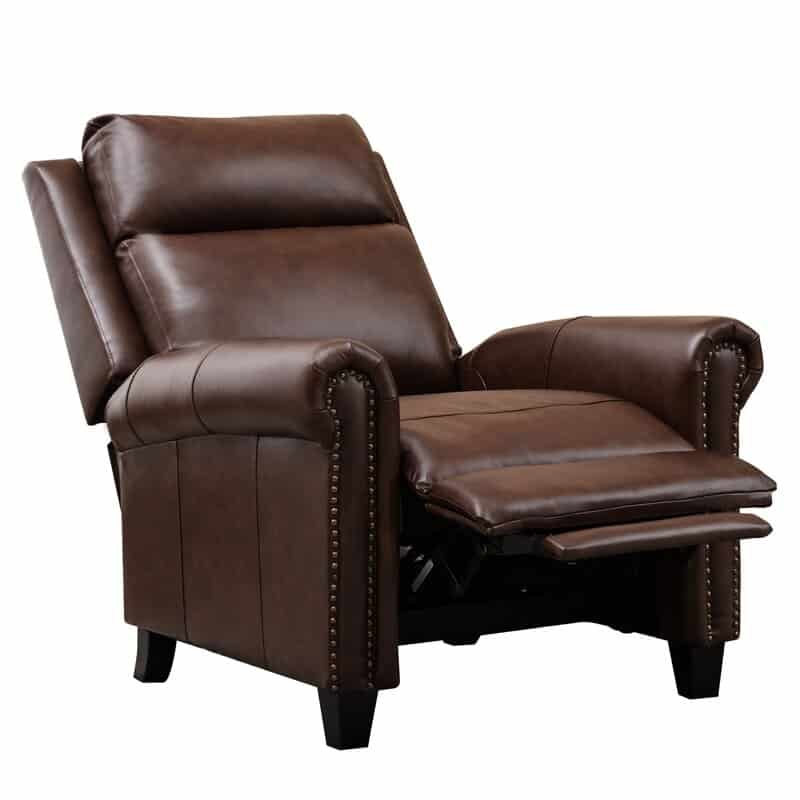 In furniture circles, genuine leather upholstery is simply a notch above the rest. The Kerstetter 33.5" Wide Genuine Leather Manual Club Recliner is a simple but elegant example of a quality leather recliner. The Kerstetter is an excellent investment with a classic finish and nailhead trim, as the look will never become dated. 
Pros
Available in four colors: Brown, dark brown, gray, and navy. 

Average size seat at 20.1 x 20.9 inches.

Weight capacity of 300 pounds.

Upholstered in top-grain genuine leather.

Push back manual recliner.

Wooden base.

Three recline positions with recline stop. 
Cons
Not suitable for tall people.

Some assembly is required. 
I really enjoyed the feel of the quality leather upholstery, though the assembly was somewhat off-putting. The recliner looked great in my reading nook, and I found it soft and comfortable to sit in. As for the reclining function, I didn't quite like the three recline settings, but this is also since there is no adjustment between different recline positions. Still, at the price point and with genuine leather upholstery, it's not a bad buy at all.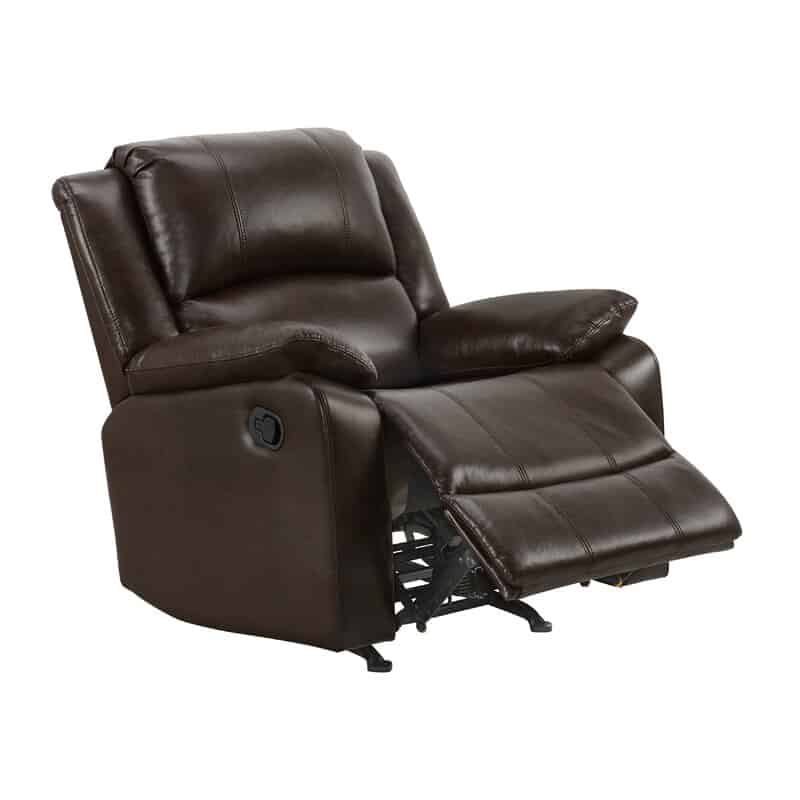 Okay, so I used to love rocking my gran's old rocking chair. And while I wanted a recliner, I also found the idea of a recliner that is also a rocking chair amazing. The Georgie-Mae 35.4″ Wide Manual Rocker Standard Recliner offers precisely this combination for extra comfort. 
Pros
Available with removable cushions. 

Weight capacity of 300 pounds. 

Seat size: 22 x 19 inches.

Padded pillow top arms.

Manual latch for locking the reclining action.

The base is a rocker type.
Cons
It only features two positions: recline and full seat.

Only available in one color.

Some assembly is required.
Though the rocking feature was interesting, and I could curl my legs up comfortably over the pillow-top arms, I still didn't feel quite as supported as I would have liked.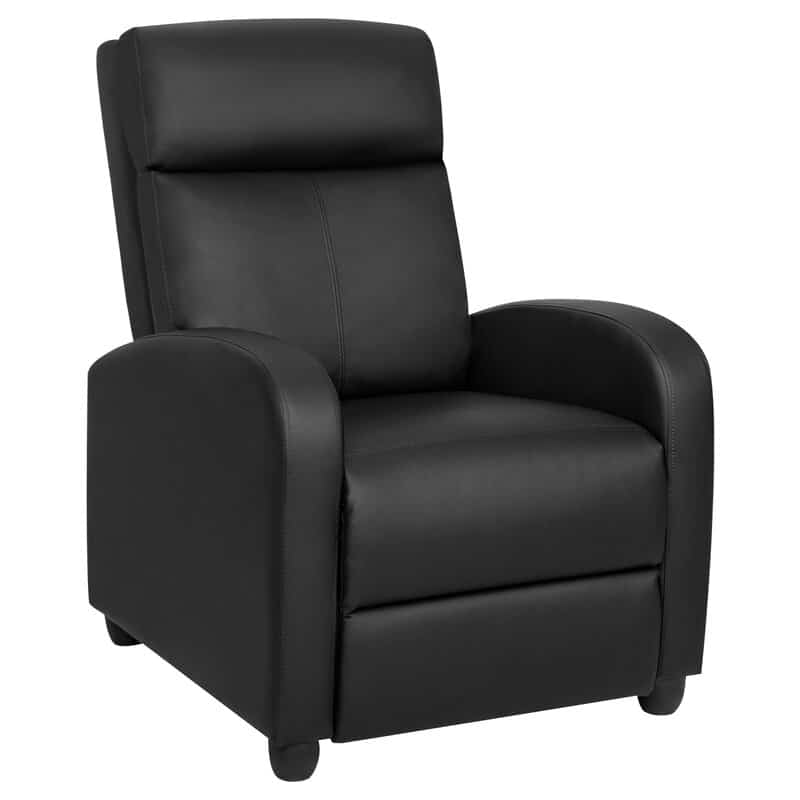 Recalling my student days when I was cash strapped, I decided to look for the best budget recliner, finding a real gem at Wayfair. The Beaudin 27″ Wide Faux Leather Manual Home Theater Recliner presents a stunning and elegant recliner with sleek modern lines and effortless appeal. 
Pros
Available in two faux leather colors: brown and black.

Seat size: 29 x 19.9 inches. 

A small space footprint makes it suitable for smaller rooms.

Curved padded armrests for additional comfort. 

Manual recline feature.

Three recline positions.

Lock for recline positions. 

Easy assembly.
Cons
Some assembly is required, which may dissuade some buyers. 

Lightweight, so the chair may tip if someone sits on it and heavily reclines backward.
I loved the look of this neat recliner. It offers all the basics, and with some careful management, this recliner should last quite a few years. However, I didn't find it as comfortable for curling up in as the broader seat of some other recliners. It would be ideal for a home movie theater. . 
FAQs
Question: What is the price of a recliner chair?
Answer: The average price for a recliner chair ranges from as low as a hundred dollars to several thousand dollars. Features, upholstery, padding, and brand determine the price. Market changes and shipping fees also influence the price. Some recliners also require professional assembly, which can increase the price. 
Question: Is it bad to sit in a recliner?
Answer: No, a recliner chair can be perfect for your back. A recliner with built-in lumbar support can help ease tension in the pelvis and lumbar area. However, a recliner with a softback, which offers no support, can be bad for your posture and lumbar alignment. 
Question: Why do recliners cost so much?
Answer: Recliners can come with a gulp-worthy price tag. The cost is because recliners require some serious design and engineering skills. The mechanism of the recliner is also a unique and costly part of the chair. Choosing a recliner with specially built-in lifts can also chase up the price tag even more. 
A good quality recliner is a lifetime investment, but only if the mechanism, design, and construction are up to the task. Some recliners come with a lifetime guarantee on the mechanism to never fail, which justifies the cost. 
Question: What is a wall recliner?
Answer: A wall recliner is a unique recliner ideal for small rooms since the recliner doesn't tilt backward. Instead, the mechanism pushes the seat section forward, allowing the whole reclining section to extend forward and not backward. A wall recliner is also sometimes called a wall-hugger. 
Question: Can sitting in a recliner cause blood clots?
Answer: While reclining chairs are associated with the seats on airplanes and the increased risk of blood clots, a recliner itself is not the cause of blood clots. Instead, the long hours that people spend sitting in the same position can cause blood clotting. 
To avoid blood clots, be sure to move around at least once an hour, whether sitting in a recliner or a regular chair. 
Question: How do I know what size recliner to buy?
Answer: Knowing what size recliner will fit into your room is not as simple as measuring for a chair. For starters, a recliner expands when you are reclining in it. So to measure correctly, gather these measurements:
Measure the width from the outer edge of one armrest to the outer edge of the other armrest. 
Open the recliner to full extension, then measure from the top of the headrest to the bottom of the footrest. 
Question: What is the standard size of a recliner?
Answer: The standard size of a medium recliner is 32-35 inches width, by 34-38 inches depth, by 38-42 inches height when not reclining. 
Conclusion – The Last Recline
I finally found my dream recliner in the Sedona 52″ Wide Power Standard Recliner. Its extra-wide seat and power assist recline action tick all my boxes, making it a great buy. However, I couldn't wait to recline with my Kindle and enjoy some excellent recline action. By adding a nice throw and some accent pillows, I made my dream reading nook happen.
Which recliner would you choose, and how will you decide? Easy; use this buyer's guide and find your dream seat at Wayfair today
Latest posts by Talitha vanNiekerk
(see all)