Although they are mostly decorative pieces of furniture, console tables still have a utilitarian side, especially in tight spaces. Our guide to the best console table ideas will help you discover creative ways to use this table in different settings.
Their compact size and stylish design make it easy to match these tables with the rest of the room's furniture. So, a console table can be equally effective in a hallway and a living room as it will make the space more elegant while occupying a minimum amount of space.
Let's take a closer look at the best console table ideas and examine different approaches to incorporating these tables in your living space. Go through the guide to finding the best living room couches and sofas if you're looking for furniture, you can pair it with a console table.
What's a Console Table?
Unlike conventional tables supported by four legs, a pair of decorative brackets or corbels carry the tabletop of a console table. Traditionally, these tables should be fastened to a wall to increase their stability and carrying capacity.
Nonetheless, modern interpretations of console tables don't necessarily have to be attached to a wall since they can be utilized as a complementary piece to a living room sofa or even a minibar. This gives you a lot of flexibility in terms of where and how you can use these tables.
Their narrow and elongated tabletop makes them a great space-saving solution for high-traffic spaces that are prone to cluttering. On the other hand, their stylish design enables you to use them as vanities or buffet tables. Read our entryway and mudroom furniture guide for more ideas on furnishing these parts of your home.
Console Table Types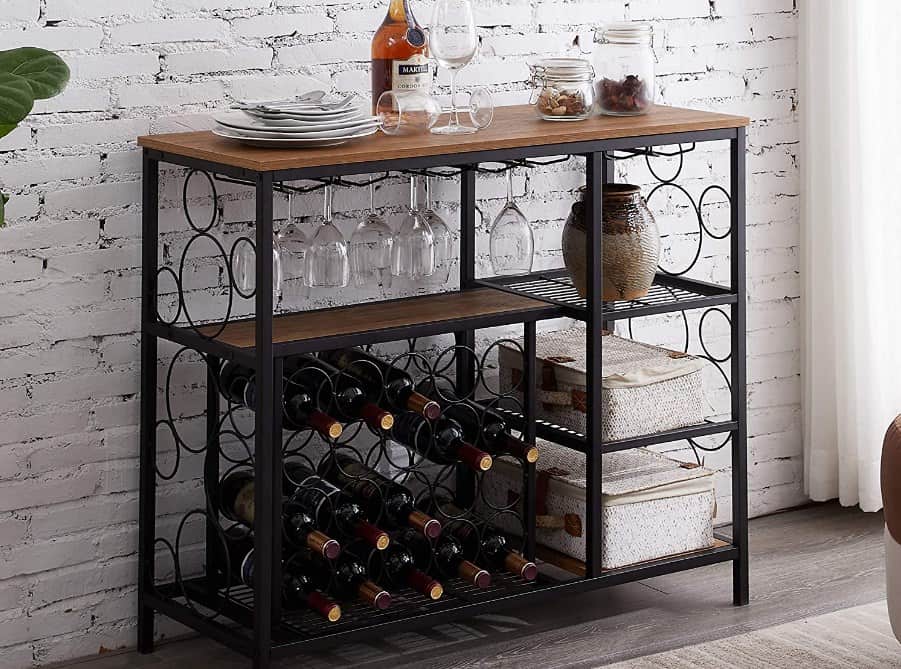 Even though they all serve the same purpose, different types of console tables come with features that make them suitable for different applications. You can choose from several types of console tables depending on the purpose you want to use them.
Conventional console tables
The staggering versatility of available models enables you to find an option that fits the style of the room in which it is going to place. You can add a conventional console table in a hallway and use it as a place where you keep keys or decorative elements that make the room warmer. However, they don't offer a lot of storage space as the tabletop's surface is relatively small.
Wine console tables
As suggested by their name, these tables are designed for homeowners who want easy access to their collection of wine or other alcoholic drinks. A wine console table features one or more shelves that can hold multiple bottles. The best place to install this type of console table is the living room or any other space in your home where you host guests.
Storage console tables
Great option for homeowners in need of a table they can use to store dishes, winter accessories, or any other item that creates unnecessary clutter. Storage console tables can just have shelves under the tabletop, or they may be equipped with a pair of doors that enable you to keep things out of sight.
Convertible models
A console table that serves a dual purpose is also called a convertible console table. Their multi-functionality enables you to save space by using them as sofa tables and turn them into dining tables when you invite friends over for dinner.
Browse through our guide to dining room furniture to find some inspiration to decorate this part of your home.
Console table styles
The characteristic shape makes these tables easily recognizable, as they're characterized by decorative support brackets and square or rectangular tabletops. Despite this, a console table can be designed in various styles that draw inspiration from different epochs.
Here are some of the most common console table styles:
Demi-lune (half-moon)
Semi-circular console tables are as stylish and versatile as their rectangular counterparts, even though the surface of their tabletop is smaller. Demi-lune consoles are better suited for spaces frequented by toddlers, as they don't have sharp edges that might hurt a child.
Traditional console table
It can be difficult to fit a traditional console table into a contemporary home as they stand in stark contrast with functionalism accentuated by modern furniture pieces. The highly decorative style of these tables best matches classical home decors that draw inspiration from 17th and 18th-century French salons.
Modern
Characterized by simple geometric forms, modern console tables sit at the border between functionality and aesthetics. The lack of ornamentation on supporting brackets is arguably one of the most recognizable console tables designed in this style.
A mixture of styles
Some models draw inspiration from different sources to create a highly individualistic and contemporary interpretation of console tables. Consequently, they fit a wide spectrum of home décor styles which enables you to use them in traditional and modern settings equally effectively.
Check out our guide to the best floor couches that might match your console table perfectly.
Selecting The Tabletop Material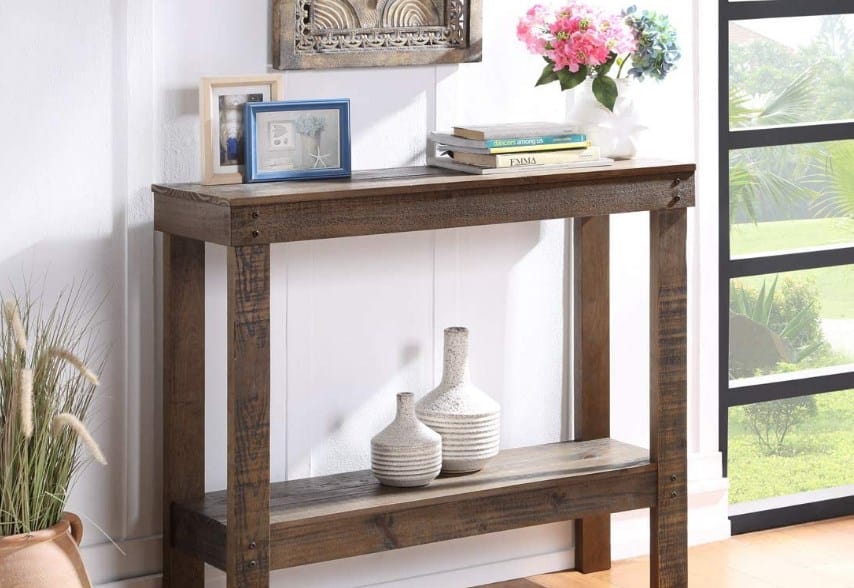 Functionality is probably the most important trait of a tabletop, as the surface must be able to resist scratches, water exposure, or support relatively high amounts of weight. Tabletops of console tables are usually made of the following materials.
Wood
Besides the tabletop, some models feature wall-mounting brackets made of wood. Hardwoods and softwoods aren't necessarily resistant to scratches, so you need to be careful while choosing items you want to place on them. Even so, they can carry a lot of weight, which enables you to use them to store books or other heavy objects.
Glass
Models equipped with glass tabletops usually have metal support brackets. The combination of these two materials makes them suitable for industrial and contemporary home décor styles. You should opt for a model with a tabletop made of tempered glass because it is more durable than the glass that hasn't been treated.
Marble or granite
Although heavy, tabletops made of marble or granite are remarkably durable as they resist water naturally, and it is nearly impossible to scratch them. However, if you opt for a model with a tabletop made of either of these materials, you should make sure that its base is strong enough to carry the weight of the tabletop.
Go through our home office furniture guide to find out more about essential furniture pieces you need to set up a home office.
Checking the table's dimensions
Even though they're famous for their compactness, console tables come in a variety of sizes. Most models are between 20 and 50 inches long, while their height is usually around 30 inches. You can use these dimensions as a broad guideline that will help you determine if this type of table is a suitable solution for your hallway, mudroom, or living room.
You should find the exact dimensions of the model you want to determine if it can help you save space and store items you keep in a particular room. Checking the size of the tabletop surface will enable you to know which items you can keep on the table.
Wall-mounted models free up space beneath them, and you can keep a cocktail ottoman or various other items. Read our guide to ladder desks ideas if you're searching for a functional piece of home office furniture.
The Most Important Things to Consider While Choosing a Console Table
The abundance of console table styles, types, and sizes can be overwhelming, as there as so many options to choose from. Despite this, finding the model you like shouldn't be too difficult, especially if you set your search criteria in advance.
Besides the technical and stylistic characteristics of the table, you should also consider the layout of the space to which you want to add this table. We've selected some of the most important factors you need to consider while searching for a console table so let's take a closer look at them.
How the table is going to be used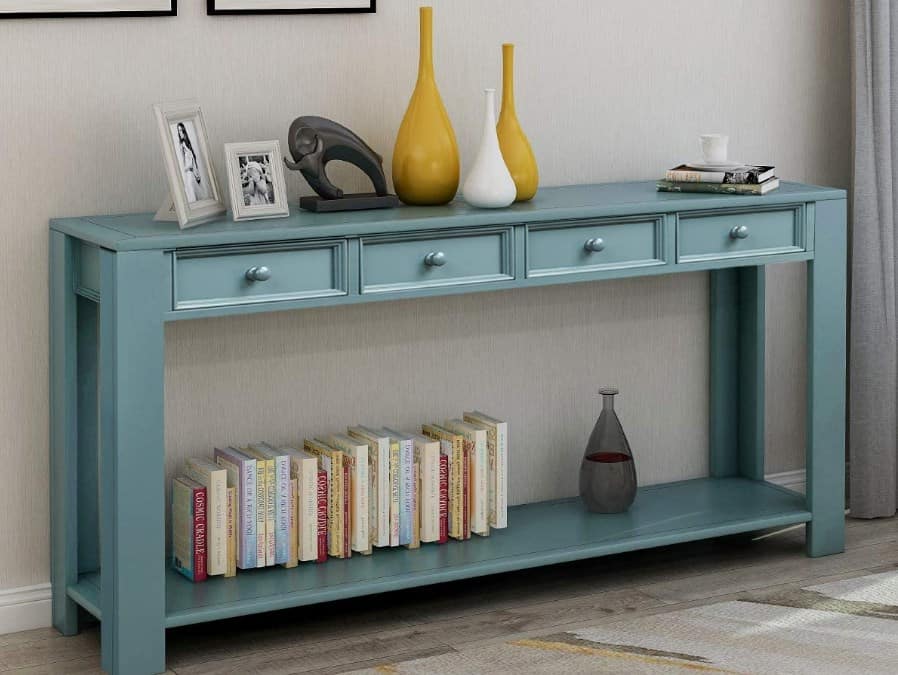 Do you need a multi-functional table that can double as a dining table or just a decorative piece of furniture where you can leave your keys when you return home? Answering this question will help you determine if a console table is the right choice for you.
These tables can be utilized for purposes they're not designed for, so with a little bit of creativity, you can turn them into a centerpiece of a reading corner or an almost entirely decorative element in your living room. You can even cover them with fabric to protect the tabletop surface from scratches.
Matching the room's décor
Getting a console table that complements other pieces of furniture in a particular room seems like an obvious choice. Doing so will help you achieve stylistic unity throughout the room while freeing up valuable space to make the room more functional.
On the other hand, choosing a model that contrasts with the rest of the furniture in the hallway or living room can create a versatile and eclectic home décor style. You shouldn't be guided solely by the table's aesthetics but rather try to strike a perfect balance between functionality and style.
Find the perfect location
Decide where you want to place a console table before you start exploring different options. Measure the dimensions of the location at which the table should be placed and then compare them to the dimensions of the models you'd like to get.
In case you want to place a console table in a living room, you should search for a model that has a relatively large tabletop surface that can't be damaged easily. A more compact model is better suited for tight rooms where every inch of free space matters.
Available storage space
Depending on their type, console tables can offer varying amounts of storage space. Traditionally designed models have relatively small tabletops that can't hold much more than a few essential items you carry with you when you leave your home.
Modern versions of these tables contain two or more shelves that grant you a significant amount of storage space you can use to move clothing items you don't currently need out of the way or display your wine collection.
Stick to your budget
The price of these tables varies from less than $100 to more than $1.000, depending on the material and the brand. You should choose a model that fits your budget since, in terms of functionality and durability, there isn't much difference between a $200 and a $900 model.
The cost difference is usually the result of the table's design, as inexpensive models lack the bold design or high attention to detail. Even so, you can still find reasonably priced and elegant console tables that match different home décor styles.
The Advantages of Console Tables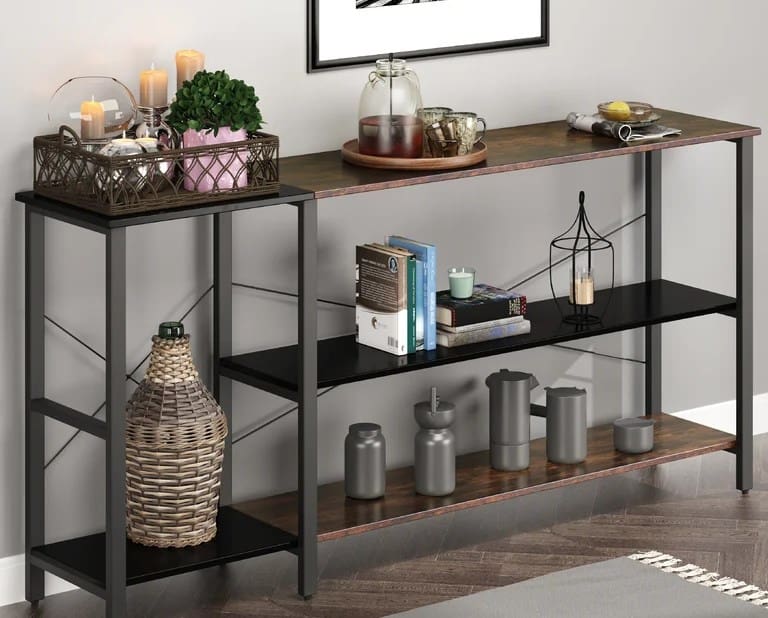 Space-saving solution for hallways and entryways
The entrance to a house sets the tone for all other rooms. So, a cluttered and poorly organized hallway might suggest to your guests that the rest of your home suffers from the same problem. A console table can make an entryway or a hallway look more elegant while helping you to keep the space well organized.
Variety of styles
A traditional console table doesn't necessarily match with all types of home décor designs. Luckily, there's an abundance of different styles to choose from, so finding a model that fits the room in which you want to place it shouldn't be too difficult.
Tabletops are made of natural materials
Setting the tone of a room starts with the materials you choose to put in it. A console table with a wooden tabletop will give a room a warm and natural look, while a model with a tabletop made of glass will set a more industrial tone.
Highly durable
All components of these tables are made of durable materials that aren't affected by frequent usage. The brackets made of either metal or wood can carry heavyweight, while tabletops are usually built from water and scratch-resistant materials.
Suitable for a variety of contexts
Using a console table as a place to keep keys, or seasonal clothing items is just one among countless ways to use these tables. Depending on the amount of free space and the design, a console table can serve as a minibar, a storage shelf, or a vanity.
The Disadvantages of Console Tables
The size of the tabletop is relatively small
Most models have 30 to 40-inch tabletops, while some console tables can have tabletops that are shorter than 20 inches. So, unless you choose a model that offers plenty of storage space, you may have trouble finding room for all items you want to keep on these tables.
Some console tables can be expensive
You have to spend hundreds of dollars on a console table that matches a specific home décor style. Moreover, inexpensive models lack the artisanship and authenticity offered by the console tables manufactured by industry-leading brands.
Our criteria
Below, we've created a list of five console tables for you to consider. We completed hundreds of hours of research to ensure that we're only recommending the highest-quality tables for you to invest in. We chose the console tables based on this specific criteria:
Pricing: We went through and chose console tables for a variety of different budgets. So, if you're looking to invest in a console table or if you're looking to find a console table that's more affordable, we've got options for you.
Customer reviews: During our own research and testing, we also went through customer reviews. We wanted all of the tables we recommended to have positive customer reviews for the majority of people who purchased the console tables.
Sturdy: We tested all of the console tables listed in this guide to ensure they're all sturdy. That way, you know you're investing in a table that's going to last you for many years to come.
5 Of The Best Console Table Ideas
Every piece of furniture you add to your home should be there for a reason, as putting too much furniture into a room will clutter it. A console table fits a wide range of contexts, but even so, it isn't an ideal solution for all homes.
So, before you start researching different console table ideas, you must first figure out how you're going to implement that idea in your home. Doing so will provide you with a clear picture of how you can use this type of table to make the room more stylish and functional at the same time.
We've shortlisted some of the best console table ideas that may spark your imagination and help you find a model that fits the context in which you want to use it.
Lulu and Georgia – Tasha Console Table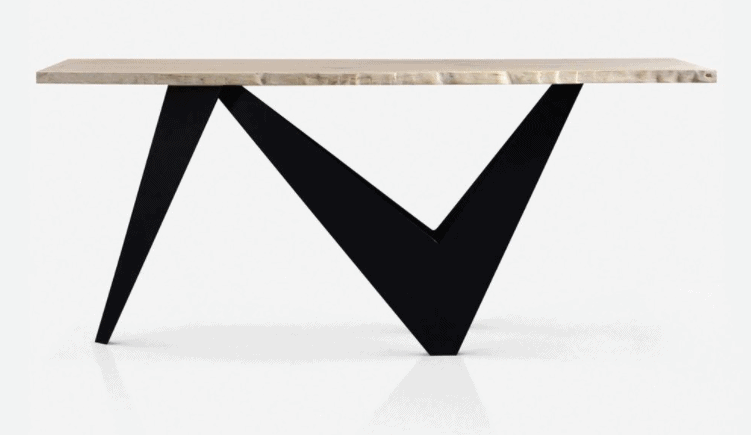 The daring design of the Tasha Console Table will captivate your attention from the moment you lay your eyes on it. The tabletop is made of oak, while the angular base contains components made of iron and brass.
The table is 30-inches high, and it has a depth of 18 inches, so it shouldn't be too hard to find space for it in a hallway or a foyer. The tabletop length is limited to just 68-inches which suggests that you won't have too much space at your disposal.
Even so, the table is spacious enough to hold a lamp, a key basket, and similar items you might need in a hallway. The Tasha console table isn't the most budget-friendly option, and you should consider other models if this table is too expensive for you.
Pros:
Unique design
Eye-catching
Made with durable materials
Cons:
Expensive
Smaller tabletop
Extended shipping times
Heavy
Crate & Barrel – Dada Console Table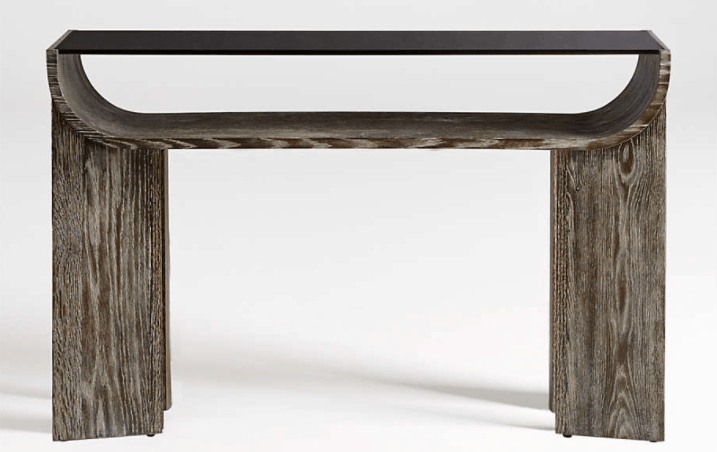 Despite its robust, almost brutalist look, the Dada Console Table is an elegant piece of furniture that seamlessly matches most contemporary home décor styles. The base is made of a combination of oak veneers, hardwoods, and bentwood that have a medium wire-brushed finish.
The tabletop is built of tempered frosted amber glass, while directly beneath it, you can find a storage area that is spacious enough to hold a multitude of items. The table's depth is 14 inches, and you can place it in narrow spaces without the risk of making them look too cramped.
Despite its remarkable looks, the Crate & Barrel's table is only a suitable option for homeowners who don't mind its steep price.
Pros:
Unique design
Plenty of storage space
Won't make your room look cramped
Cons:
Expensive investment
Requires special care to ensure longevity
Not heat safe
Anthropologie Waterfall Inlay Console Table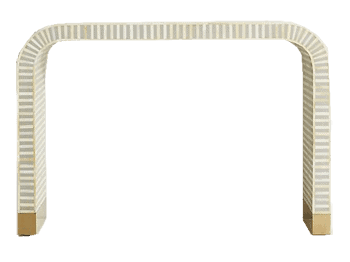 The unorthodox arched design makes the Anthropologie Waterfall Inlay Console Table a great addition to all stylishly designed living rooms. When paired with a mirror or a painting, the table sets the tone for the rest of the room.
The table is made of tropical and engineered hardwood, so spilling water or dropping an object on the 3-inch thick tabletop won't cause any damage. The table is 16 inches deep, and it provides you with plenty of space to arrange items on it, while you can also use the space below the table to store stools, books, or all other items that make your living space messy.
Pros:
Luxurious appeal
Sturdy and well-made
Large enough for storage space underneath
Cons:
Long shipping time
Expensive
Arhaus – Carrinna Console Table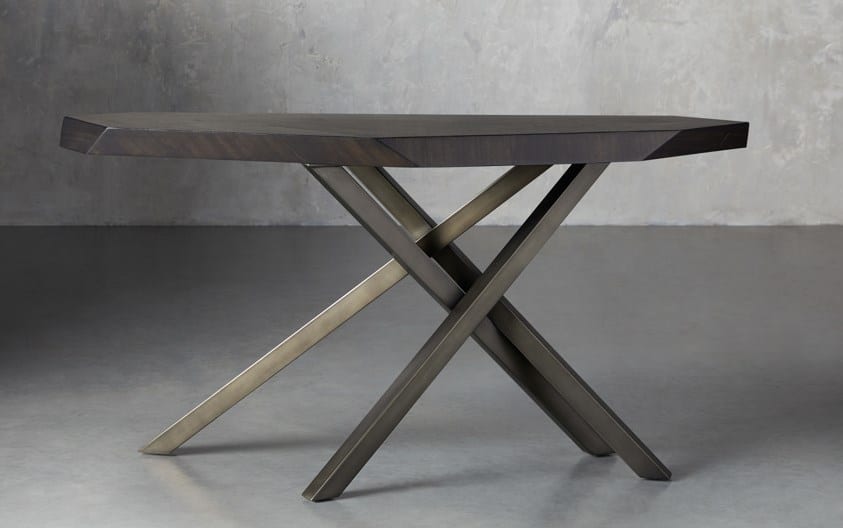 Homeowners searching for a contemporarily designed console table made of high-quality materials should consider getting the Carrinna Console Table. The unusual base contains irregularly positioned legs rather than brackets, and each leg is made of steel with a satin gunmetal patina.
The Palografico wood was used to build the patchwork of veneers featured in the tabletop. The color of the tabletop that gives the model a unique look is the result of the material's natural properties. Nonetheless, these materials can't withstand daily wear and tear without proper care, so you may have to spend a lot of time on the upkeep of the console table if you decide to purchase it.
Pros:
Sleek design
Made from uncommon materials
Natural weather and design
Cons:
Specific care required
Requires a lot of time and effort for upkeep
SAFAVIEX FOX6012A Ambler Console Table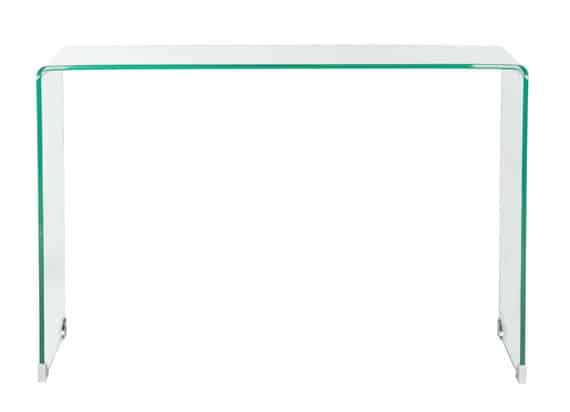 The minimalistic design of the SAFAVIEX FOX6012A Ambler Console Table and its glass construction make it a great fit for industrial home décor styles. The table is less than 30-inches high, and its depth is around 14-inches, so you shouldn't have too much trouble fitting it in tight spaces.
The FOX6012A is just 43-inches long, and you won't be able to keep too many things on the table. Besides, this model doesn't have a shelf under the tabletop, which limits its storage capacities.
The table's price is arguably its greatest advantage over other console table models you can find on the market.
Pros:
Fits comfortably into tight spaces
Affordable
Cons:
Small surface
Limited storage space
FAQs
Question: Do console tables have high upkeep requirements?
Answer: Besides regular dusting, mode console tables don't have any other upkeep requirements.
Question: Can water damage a console table?
Answer: Spilling a glass of water on a console table isn't going to ruin it, but frequent exposure to moisture and humidity may cause the table to deteriorate faster.
Question: How much weight can a console table handle?
Answer: The amount of weight you can put on a console table depends on the model, but most models can handle the weight of a TV without difficulty.
Question: Can I use a console table as a home office desk?
Answer: Although you can easily fit a laptop on a console desk, most models aren't spacious enough to double as a home office desk.
Final thoughts: Matching Console Tables With Different Home Décor Styles
The mess in your living room or the hallway is much easier to deal with if you have the furniture that enables you to put the things you don't need out of sight. A console table can provide you with that additional space where you can put away the things that get in the way.
What's more, these tables can make any room more stylish, but only if they match with the rest of the furniture in a room. Console tables like the Dada Console Table or the Carrinna Console Table are functional and elegant, which is why we'd recommend both of these tables. However, and very expensive, so they're a great choice for anyone who doesn't mind their price tag.
The SAFAVIEX FOX6012A Ambler Console Table is much more affordable. We recommend this table to someone who is looking to stay within budget. But, it lacks the elegance of more expensive models. Which of the best console table ideas are you going to opt for?
Let us know in the comments or continue reading our guide to best bookcase ideas if you're looking for a way to organize your library.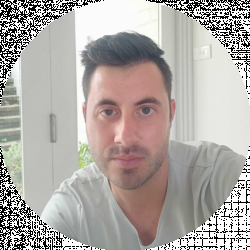 Latest posts by David Borgogni
(see all)