Our bedroom furniture guide will hopefully help you transform your bedroom into a private haven that is both peaceful and calming.
We understand the effort it takes to try and get it right from the word go. But with so many options in terms of style, quality, and budget, it can turn out to be a daunting task, which is why we have taken our time to detail all you need to know.
We'll start this bedroom furniture guide with what to consider before buying, what is usually included, as well as the best places to buy bedroom furniture. We'll then wrap things up with an FAQ section and some final thoughts. Let's start with the factors to consider before buying bedroom furniture;
What to Consider Before Choosing Bedroom Furniture
Who is The Bedroom Meant For?
Who is the furniture meant for? A baby, teen, or adult. And what is the occupant's personality like? What might work for a teen may not work for grown-ups. Significant attention must therefore be given to the occupant's personality. It should reflect their preferred color scheme, theme, texture, and even furniture choices. Here is a breakdown of what each room may need;
Couple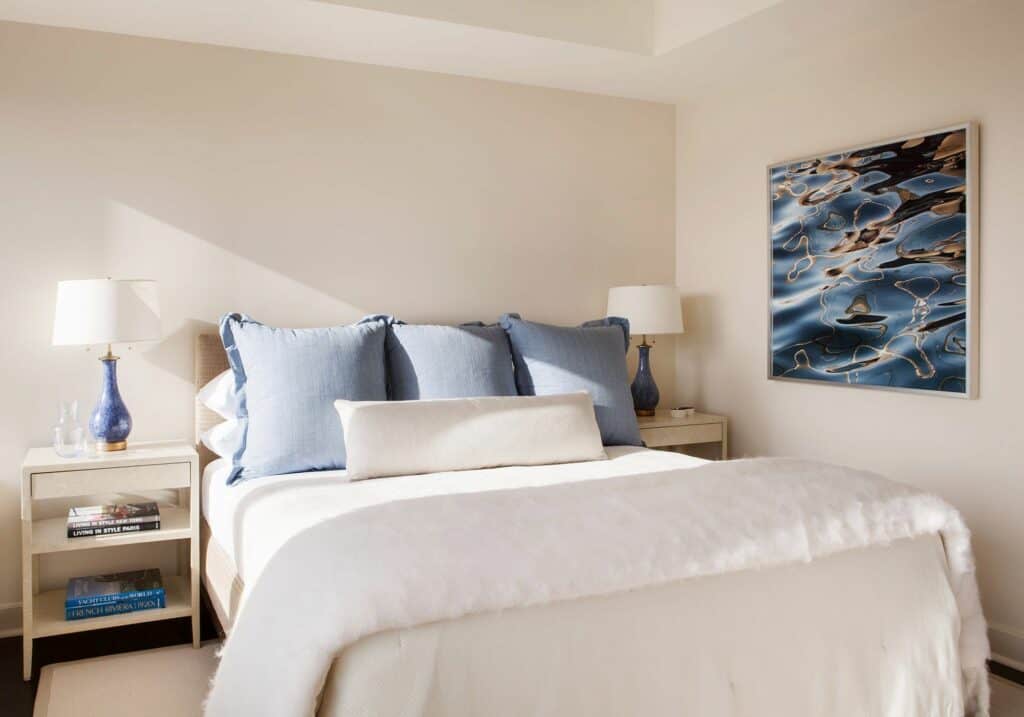 There are twice as many clothes, shoes, accessories, among other essentials, as one person with a couple. This may mean that they need twice as much furniture as one person, except the bed, of course. The stakes become even higher if the bedroom is smaller and the budget lean. Plus, a few feuds are bound to brew here and there over the decorating style, priority, and arrangement.
But once they agree to coexist within their private space, it becomes easier, and they can easily strike compromises. As there are no fixed needs, the couple will have to agree on their needs depending on the lifestyle. But they will need drawers, chests, a reading table, lampstands, among other things they may consider essential.
Adult Bedroom
Other than the essentials such as a bed, storage drawers, and bedside cabinets, significant attention must be given to the room's intended use. For instance, if the adult works from such a room, they may need a working desk, chair, or bookcase (skip to home office furniture guide).
Should they be the kind that read from their beds, then ensures to include a padded headboard to help them sit up comfortably as they devour pages of whatever they are reading?
Child Bedrooms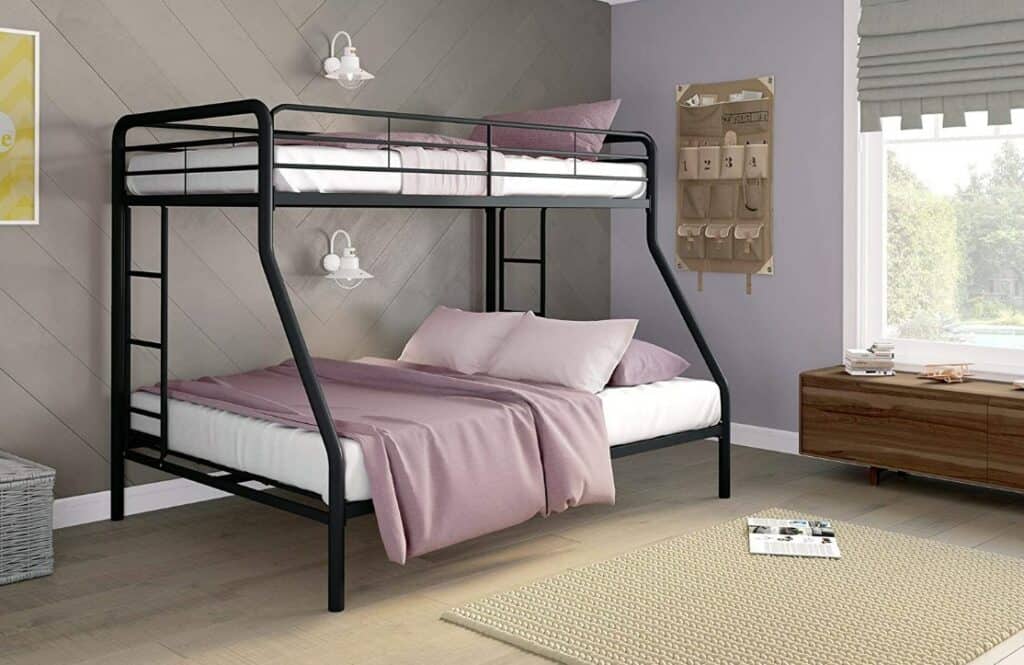 For most families, children's bedrooms are smaller and often have limited space. So ensure that you go for furniture that makes maximum use of available space. This includes high sleepers, bunk beds, and storage options that conveniently fit under beds.
Safety
Another significant factor to consider is safety. While buying furniture for children, ensure that the furniture meets all set safety standards. This includes approved furniture with non-toxic and durable paints, has no loose screws, is easy to assemble, and is sturdy enough for their playful habits.
With children, safety is paramount. Look for pieces that are strong and sturdy, ideally made from long-lasting hardwood. Make sure the paint or finish is tough, durable, and non-toxic. Ensure your children's bedroom furniture is properly assembled, and there are no loose screws or wonky castors that could compromise safety (make your child's nursery safer with our nursery furniture guide).
Transition
Also, ensure that you think long-term. Go for furniture that will easily transition from that which fits a child to a teenager. This may include bunk beds that can convert from double to single.
Teen's Room
Depending on the occupant, this may turn out to be the most thrilling or exhausting room to stock. Most teens are self-aware and may say what they need, the size, and décor. The key is to reason with them and make the room as practical as possible. Among the additional furniture, they may include a homework desk and chair, a dresser, hanger for clothes, among others.
Guest Room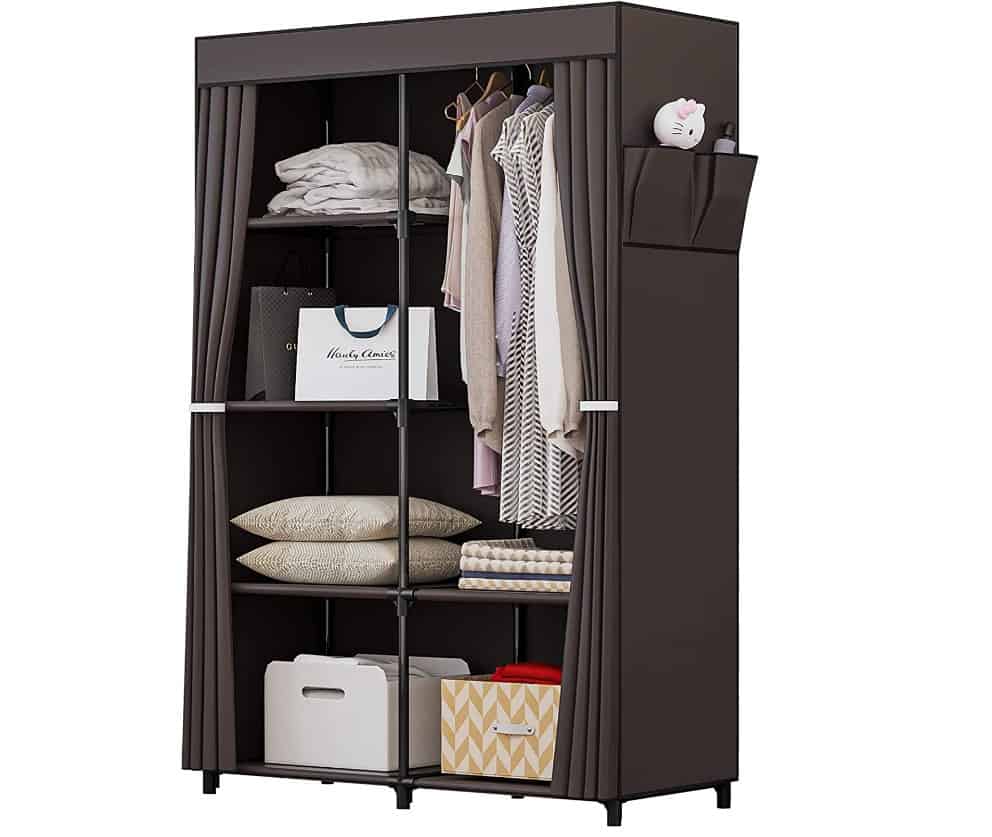 Unless you have friends who frequently sleepover, this room can double up as a workstation, storage room, or TV room. Depending on your needs, just stock it with the basics, including a bed, seats (double chaise lounge seats can be a great choice here, or even these top catnappers recliners), hanging shelves, and storage space.
Which Decorating Style Do You prefer?
Unlike personalities, decorating styles can be broadly divided into two; traditional and contemporary.
Contemporary
Contemporary decorating, also known as modern, is an ever-changing trend that constantly morphs to reflect changing times and styles. The style is characterized by a balance between simplicity and subtle sophistication that renders it comfortable and welcoming.
The constant thing about this ever-changing style is its simplistic outlook, being clutter-free, sleek, and modular. Furniture pieces for such a style should therefore be simple, without decoration, curves, or any floral shapes or patterns.
Traditional
Traditional decor is characterized by a variety of cultures that never goes out of fashion. It is known to be timeless and spans from magnificent antiques from the French provincials to timeless neoclassical pieces in Spain. If you are the kind that fancies the traditional style, consider going for solid wood furniture paired with touches of metal and any other style you deem fit.
The traditional style isn't about outdated or boring furniture; rather, it is an elegant statement that oozes class, confidence, and rooting in a given culture.
Transitional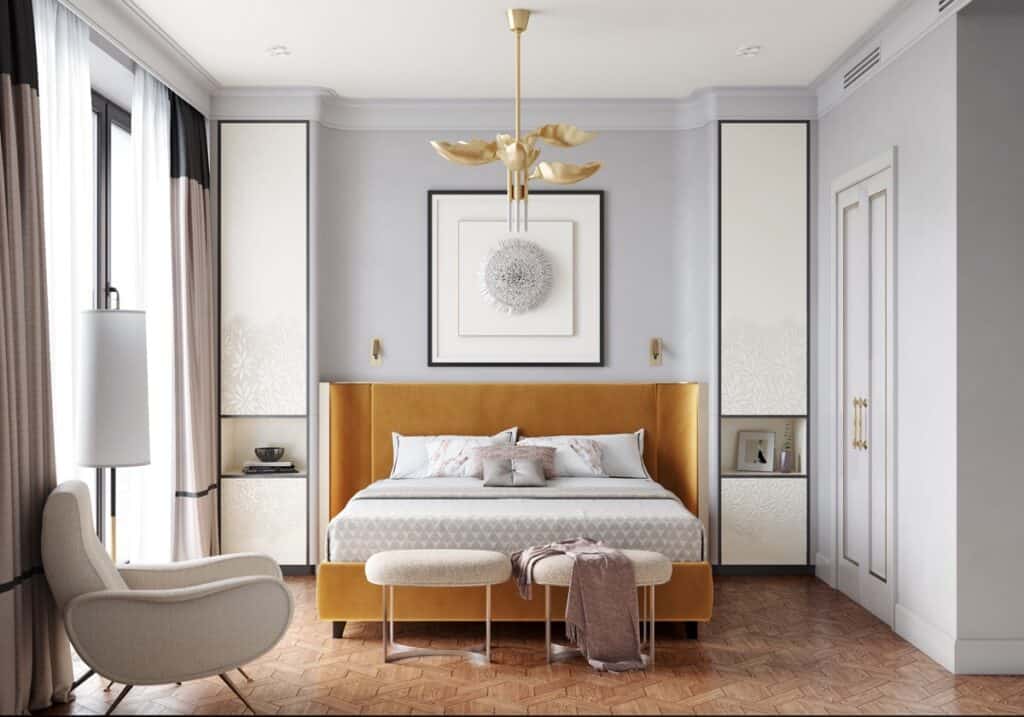 This decorating style works for those who want to blend both the traditional and the contemporary. It often works for people who don't want to restrict themselves to either extreme.
What is your Budget?
Before checking out or going out on a shopping spree, it is always good to compare prices from one showroom to another or e-commerce site to another. More often than not, our dreams are way bigger than our bank accounts.
But this doesn't necessarily mean that we shelf our dreams; rather, it only calls for us to be creative and more deliberate. Here is how:
Think Economically
The biggest question most people grapple with is, how much should they spend on bedroom furniture? Now bedroom furniture can quickly rise and turn out to be a huge expense. However, the beauty of budgeting is that both a large budget and a small budget have an advantage.
Bigger budgets give room for flexibility, while constrained budgets call for creativity. So whatever your budget is, here are a few ways to cut down on expenses:
Buy Piecemeal
Buying piecemeal allows you to gradually feel the bedroom without the pressure of having to break your bank. It also gives you ample time to shop around and save for the furniture before finally purchasing from a store or online.
Buy Used/ Second Hand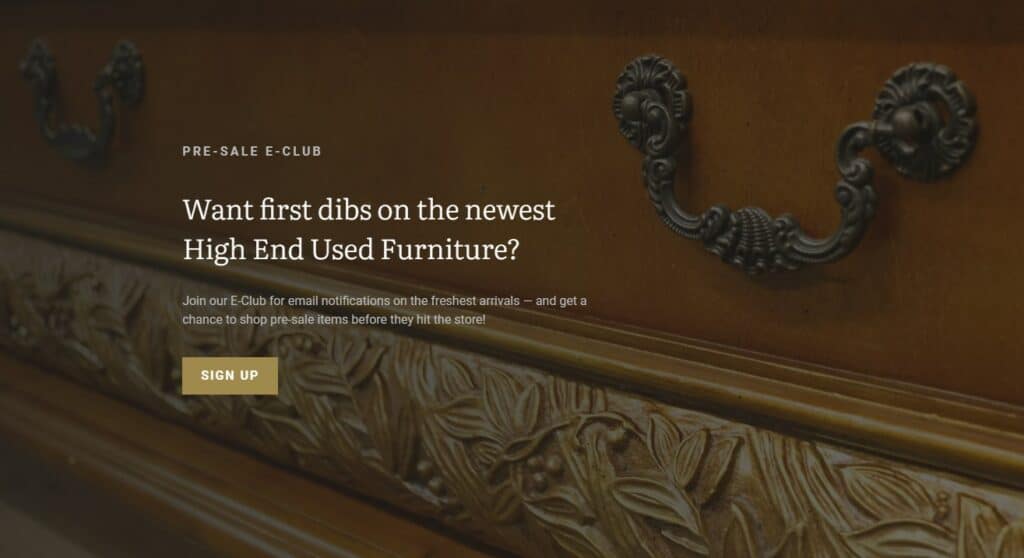 Going the "used item route" is both a way to save money and acquire antiques. One way to get value for money is by browsing through numerous online sites and traditional brick-and-mortar stores. This will play a significant role in helping you get the best deals before clicking the buy button or swiping your card in a store. Some of the stores you might want to start from include:
Size of the Room
Let the furniture be proportional to the room size. Before making that purchase decision, check the clearance dimensions, think of any tight corners and doorway spaces. You wouldn't want to order a piece that will never get into your bedroom. Here is a quick rundown of each room size.
Large rooms
As much as the idea of going all in and getting everything you've seen on TV shows may sound thrilling, you may want to exercise restraint. Instead, try to transform the room into a subtly balanced, relaxed, and soothing haven. You can achieve this by buying smaller pieces that are minimalistic, simple, and easily bring out the deliberate effort of an ambient and coordinated atmosphere.
Medium Rooms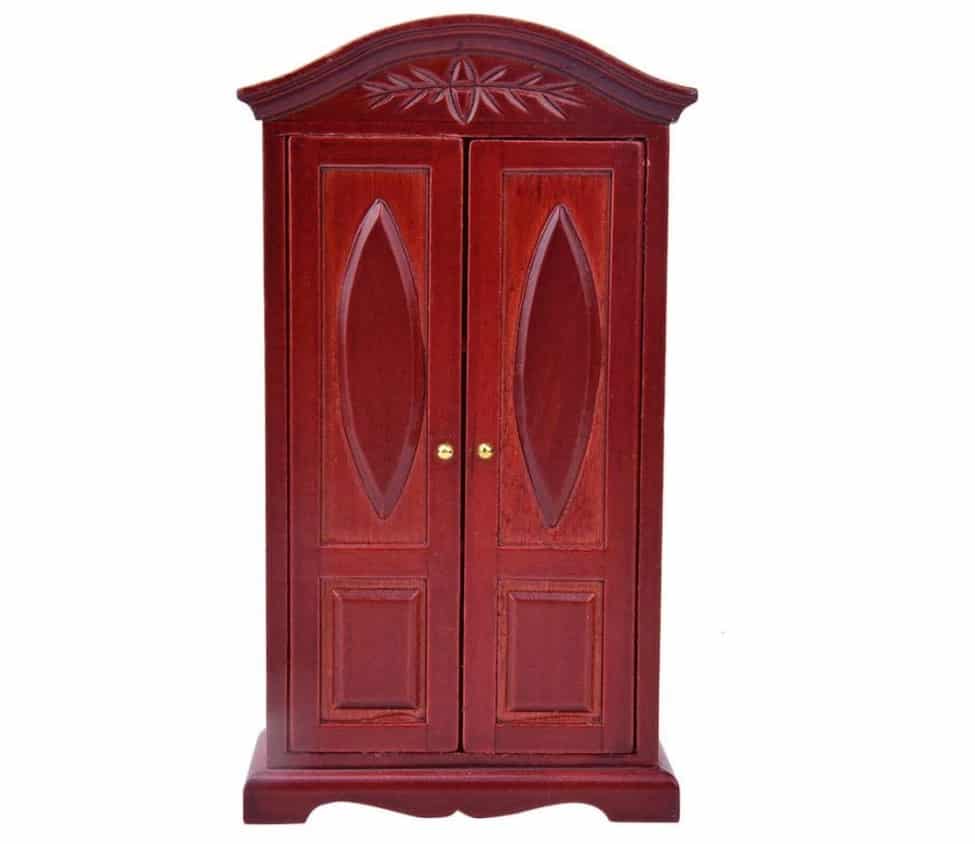 To get the best out of the spaces, opt for sleek pieces that maximize available space. This includes double door wardrobes and durable divan beds with drawers. In addition, these multipurpose pieces allow you more room to be creative with other statement pieces, including chest drawers, dressing tables, and even a medium office desk.
Smaller Room
The beauty of smaller rooms is that they call for creativity, deliberate layouts, attention to detail, and prioritizing what you really need.
To optimally use such spaces, go convertible chairs, sofa sleepers with storage, or even be bold enough to try murphy bunk beds. These, paired with the right lighting (here is a guide on lamps and lighting for your home), helps create the illusion of more space in smaller rooms,
These pieces are multipurpose and transition between bed, chair, or even easy pack and store furniture pieces.
What about Quality?
Bedroom furniture can be made from a variety of materials. These include particleboard, medium-density fiberboard (MDF), solid wood, metal, and faux marble. Furniture quality depends on the material used, the skills that go into crafting the furniture, and the manufacturer's experience in their chosen craft.
Solid wood furniture easily ranks as the best quality material to produce durable furniture. Unfortunately, high quality usually also comes with a higher price tag. But the pricing itself is also dependent on the type of wood used.
The most common high-quality wood includes cedar, Pine, Cypress, among others. Besides durability, solid wood can be painted and furnished to match your taste, color, and theme.
Frequency of Movement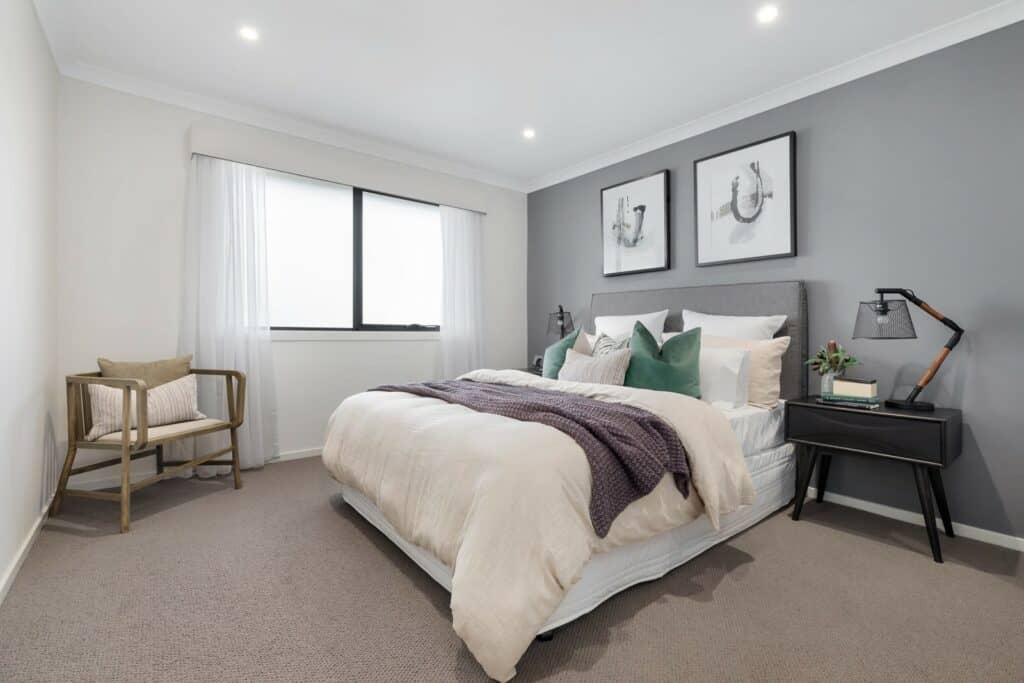 Most furniture is not designed to be frequently moved around. However, should you be the kind that moves around a lot, opt for custom-made furniture that is easy to assemble and disassemble? The furniture should also allow for such a lifestyle and shouldn't have screws, and that easily loosen after multiple tightening and untightening.
Maintenance costs
Though often overlooked, bedroom furniture requires maintenance every now and then. The maintenance schedule is dependent on the material, usage, and frequency of movement. Therefore, before making the purchase decision, ensure that you precisely explain to your vendor your maintenance budget to get the best pieces that won't be a strain when it comes to maintenance.
Bedroom Furniture Essentials
When designing your bedroom ( transform your dining room into a cozy haven with our dining room furniture guide), these are the must-have pieces of furniture that you'll want to start with. They define the function of the space and are responsible for making it what it is- a place to sleep and unwind in readiness for the next day.
Bed Frame + Mattress
In addition to the size of the room, the bed size will boil down to your personal preference. The common bed sizes available include;
California King.
King
Olympic Queen
Queen
Full XL
Full
Twin XL
Twin
Small Single
Crib
The names may vary from one online website to another, but the dimensions and sizes will be pretty much the same. Their usage is briefly outlined below. If you're alone, then you might go for a full king or queen bed. Couples can also go for a king or queen.
Also, if your kids or pets tend to join you in bed- then consider getting something bigger. Once you've identified the bed size, the next step is to pick a bed frame. Again, your style preference determines this.
There are diverse kinds of beds- from a minimalist platform bed or a utilitarian metal bed frame to an upholstered bed with a headboard and much more. Take into account if you're looking for a trendy, stylish bed or going for something ageless that will stand the test of time.
You should also consider your lifestyle. For instance, do you fancy a bed that's low maintenance, or do you have pets that sport lots of furs? You could also go for a solid wood headboard as opposed to an upholstered bed. If you are into reading while in bed at night, then a high upholstered headboard might be fit for you. And if you require extra storage, go for a storage bed or a bed that is high off the floor, enabling you to place bins under.
Finally, figure out where the bed will fit in your space. If your room has low ceilings, then a king canopy bed might not be ideal. If you want the bed to be under a window, then go for a bed that has a low headboard.
Nightstands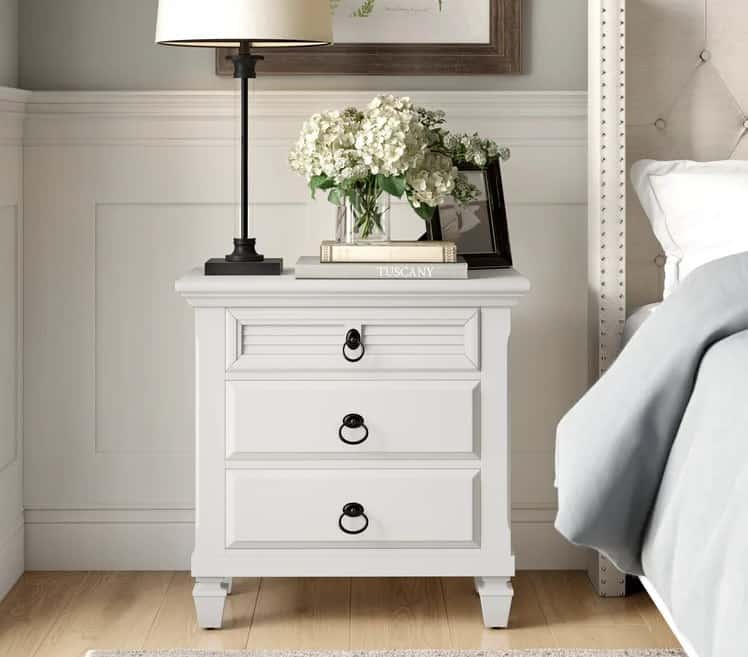 Another must-have is a nightstand. These go right next to your bed, and you can either have one or have one on every side, depending on your needs and the size of your bedroom. The are nightstands are categorized based on:
Style
Shape
Types
Versatility
Nightstands present you with a much-needed and practical surface and storage space right next to your bed. You can leverage this space to place your books, phone, a glass of water, or lamp. There are various kinds of nightstands, and you can choose to have them either mismatched or identical. Just ensure that it meets your needs.
If you are looking to have drawer storage space or a bigger surface area, then factor that in. Having put all this into consideration, simply look for a nightstand style that you fancy, then ensure that it's the right height in relation to your bed so that it is conducive to use when you're seated on your bed.
Clothing Storage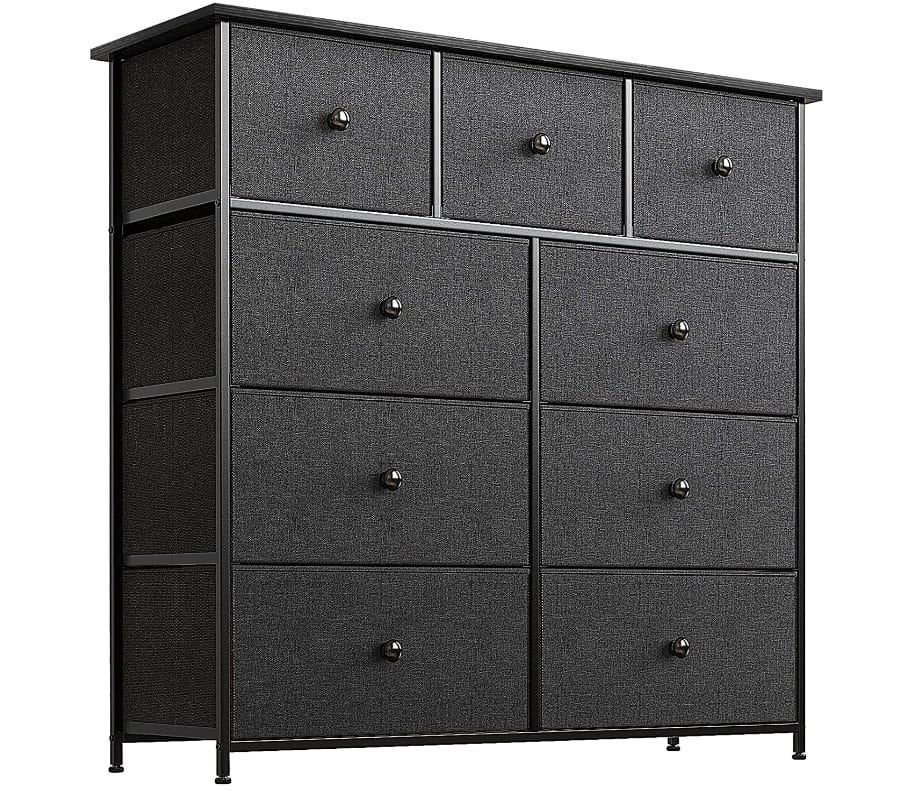 Despite having a closet, you'll still want to have another source of storage for clothing in your bedroom. And this can either be d dressers or chests. Chests are narrow and tall, while dressers are short and wide.
Armoires or dressers are best suited for clothes that need to be folded. Also, dressers present you with surface space that you can leverage to either display décor or place practical items such as jewelry boxes, trays, or even a TV. The three main types of dressers available include;
Horizontal dressers
Double Dresser
Combo Dresser
There are different styles of dresses to choose from, from a tallboy dresser that is narrow and tall to a long and narrow dresser that has six drawers. Do you need additional storage space for hanging dresses or tall clothing that can't fit in your closet? An armoire can also act as clothing storage too.
Regardless of the style of bedroom storage furniture you pick, it should blend in with the general vibe of your space. This is especially crucial considering that an armoire or dresser will be the second-largest item in your space after your bed.
However, before picking a size and style, ensure that you measure the space to make sure that the dresser will be able to go through the doorways and fit comfortably in your bedroom.
If you are into the concept of matching furniture sets, you can pick dressers that match your nightstands or other pieces in your space. Often, furniture designers will come up with dresser sets, with one tallboy and another lower, or a longer dresser if you have space for two pieces.
If you fancy antiques, dressers will present you with an awesome way to bring an antique element into your bedroom. Many antique dressers sport simple designs and are fashioned from solid wood so they can last for long.
As such, dressers can be investment pieces, with their material influencing their price. The more solid or quality the build and material are, the more expensive. Dressers can be fashioned from solid wood, plastic, medium-density fiberboard, or metal.
You can also opt for chests, in which case you can choose to go with;
Vertical chest
Lingerie chest
Gentleman's Chest.
Bachelor's chest
Media chest.
Seating
You can add a functional and stylistic touch to your bedroom by having a place you can sit. It could be a stool, an upholstered dining chair, or a full-on seating area complete with a loveseat or lounge chair (skip to our best double chaise lounge chair).
What you pick will depend on whether you still have available space in your bedroom and how you'd want to leverage this space. If you want to just lounge and read, then get a large chair or a loveseat. If you want a place you can sit and fold your laundry, then an upholstered bench will work perfectly.
You just have to be aware that the seating you pick should be in line with the scale and style of your space. For example, you don't want to fill your bedroom by forcing a bench that doesn't fit.
The Best Places to Buy Bedroom Furniture
Are you looking for bedroom furniture with an agreeable price tag? There are plenty of retailers with wide selections of bedroom furniture. To make things a lot easier for you, here is a list of the ideal places to buy bedroom furniture.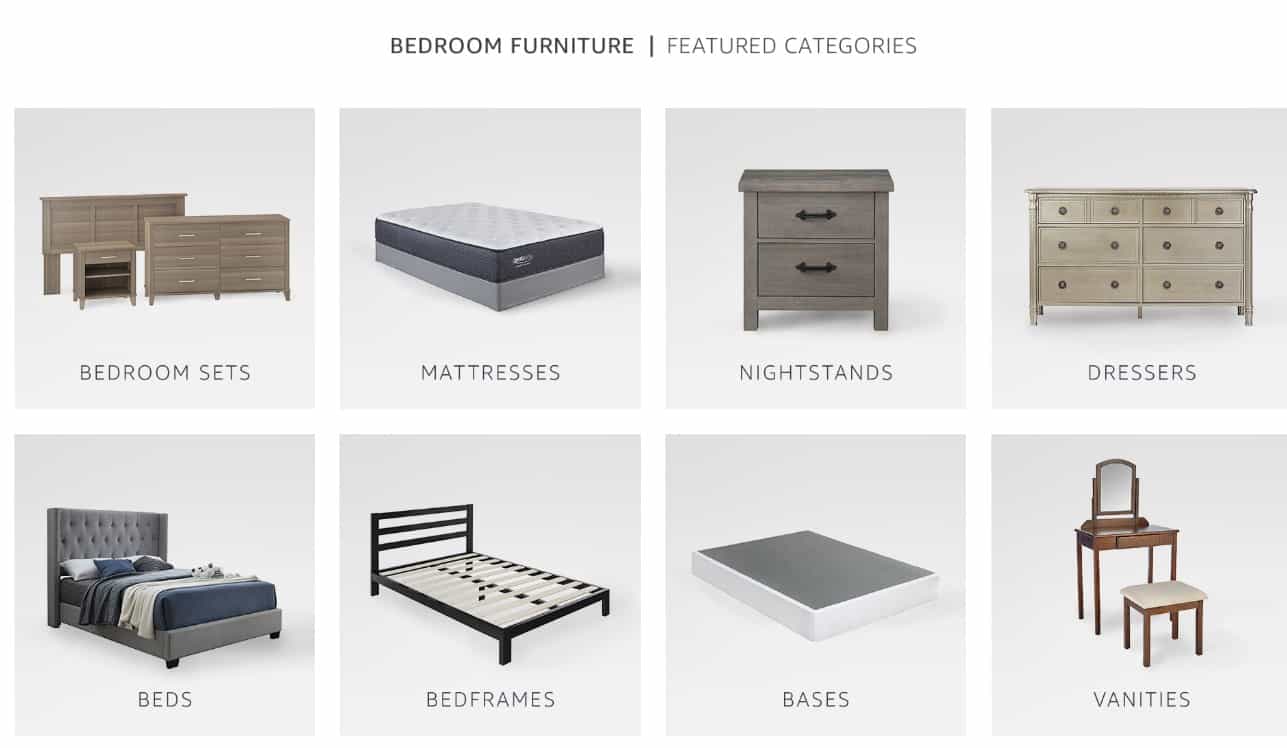 Amazon has pretty much everything, so it doesn't come as a surprise that this e-commerce giant has thousands of pieces of bedroom furniture. Its appeal is in its reviews made by verified buyers. Most of the pieces may require assembly, but you can have a pro handle it through Amazon Home Services if you cannot assemble on your own.
Shipping at times can be free or at least lower than the usual cost of shipping furniture. Plus, if you have Prime membership, you can have the furniture delivered to you faster.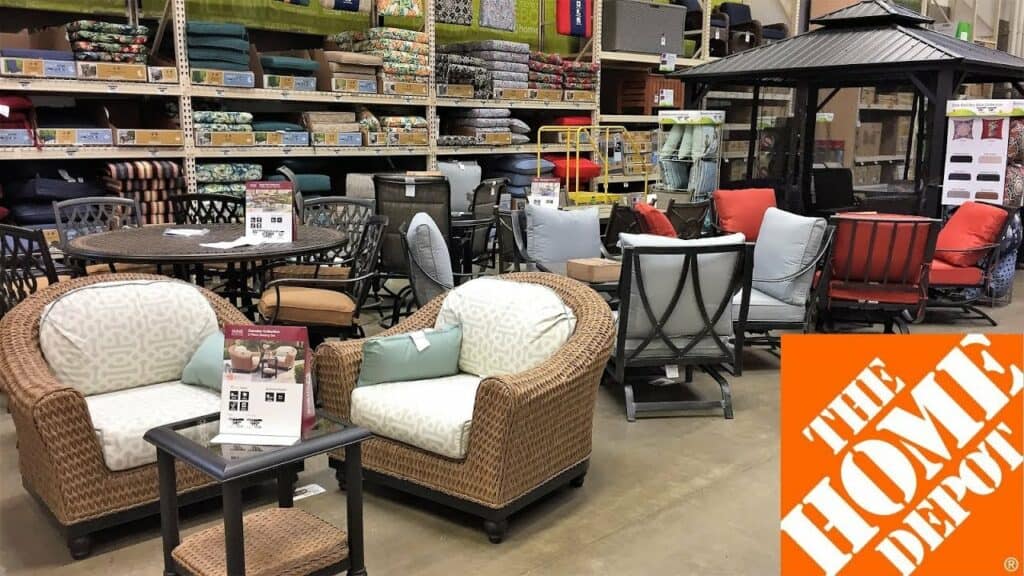 The Home Depot is the go-to place for building appliances and materials, but they also have an impressive array of furniture. This selection boasts thousands of bedroom furniture pieces from popular brands like Atlantic Furniture, Brookside, and StyleWell.
Bedroom furniture from The Home Depot ranges from affordable to somewhat pricey.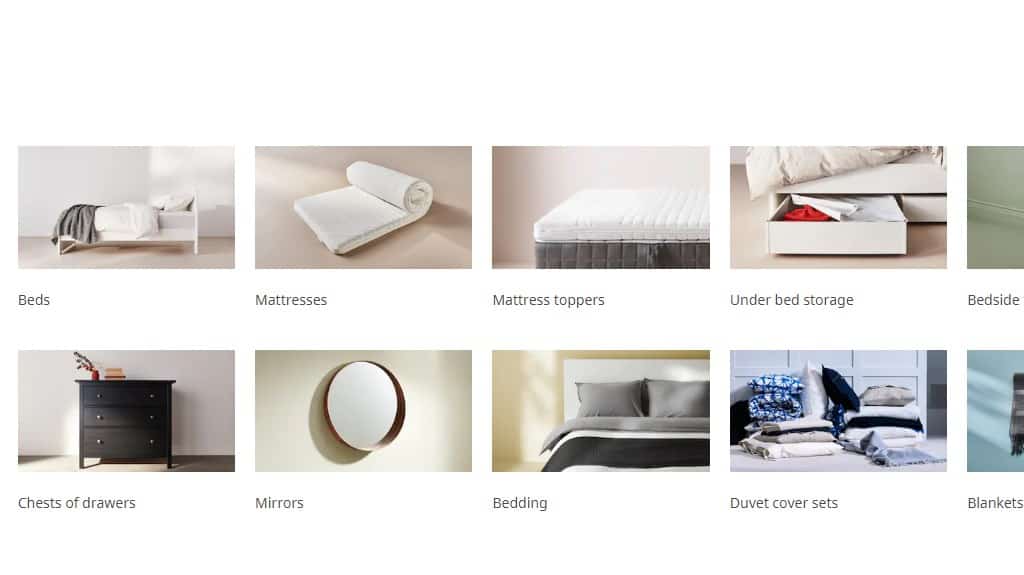 If you are looking for affordable bedroom furniture and don't mind setting it up yourself, then IKEA presents you with several great options. Most of this furniture aligns with the store's signature Swedish aesthetic. Some of the furniture (skip to best IKEA recliners) can be bought online and shipped, while others are delivered to the store nearest you or picked up in person.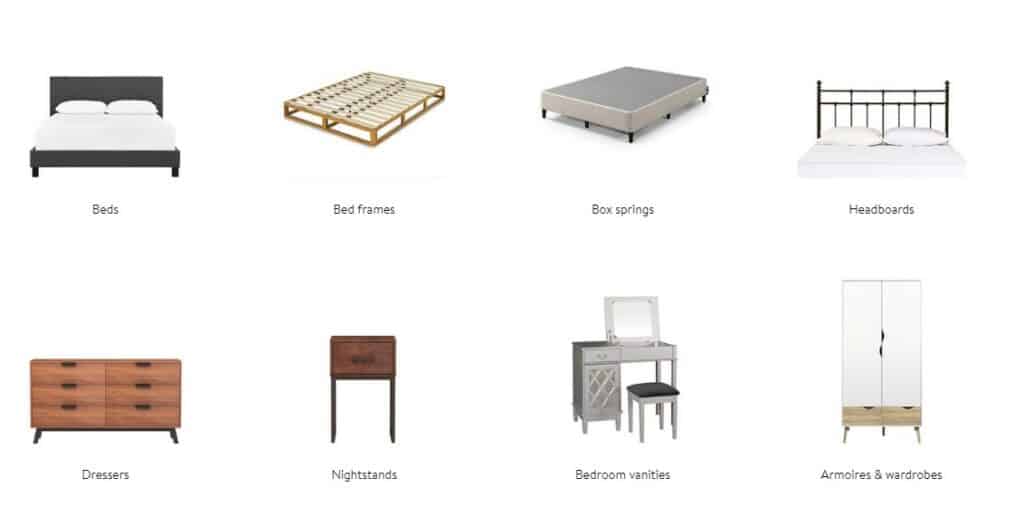 Walmart might not pop up in your mind when buying bedroom furniture, but the brick-and-mortar store boasts of a good furniture selection. Most of their options are often affordable. For instance, most of their beds are below $200, some lie in the $300 range, and a few are close to $500.They also have a wide variety of styles.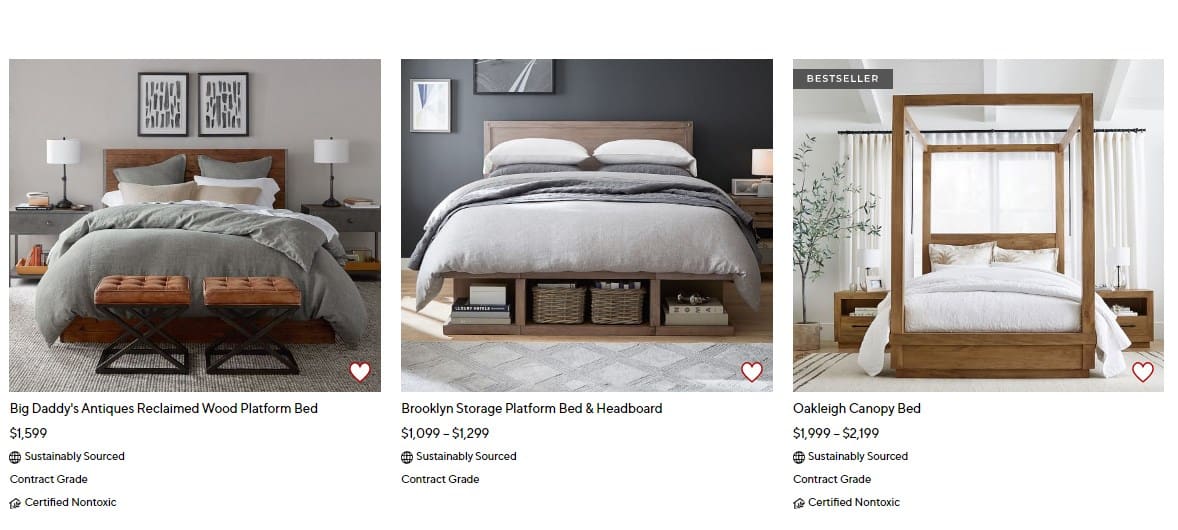 Pottery Barn is recognized for its well-made furniture that sports reliable joinery as well as top-tier materials. If you buy bedroom furniture from this upscale retailer, you can expect more than just a dependable design.
On the downside, furniture from Pottery Barn is in most cases made to order. This means that they won't start shipping out for ten or so weeks. However, it is still worth the wait.
FAQs
Question: What bedroom furniture should I buy first when designing the perfect bedroom?
Answer: Start off with the bed as it is usually the largest piece of furniture in the room. That is, it occupies the most space. Furthermore, your headboard, divan set, or bed frame can go a long way in setting the furniture style in the whole room.
Also, once you pick your bed, you'll be able to determine how much room is remaining for other furniture pieces.
Question: Is it a must that all the bedroom furniture matches?
Answer: There really is no rule that all the bedroom furniture is to be of the same range. You may fancy a more eclectic look, or maybe you own pieces that you want to include in your modern bedroom design scheme.
All in all, furniture that matches says that color or scale can make a smaller room seem larger in terms of finish, color, or scale. Also, it is more economical to buy a matching set of bedroom furniture.
Question: What is the best way to furnish our bedroom on a budget?
Answer: Create a bedroom you love by making your money go a long way and by taking your time. For instance, start with the bed and pick a mattress based on comfort instead of price.
This is because you'll probably hold on to it for close to a decade so consider it a long-term investment. If you have a bedroom furniture style that you like, then look for complete bedroom furniture sets as these are more affordable than buying piecemeal.
Question: How do I pick bedroom furniture with clothes storage space and will leave my room clutter-free?
Answer: Supposing you require both drawer space and hanging space, we recommend picking a piece of furniture that can do both. For instance, some sliding door wardrobes also have built-in drawer units.
Opt to rotate your clothes seasonally. Store the clothes that you rarely wear for some time in the storage compartment, an ottoman bed.
Final thoughts on bedroom furniture
Bedrooms are one of the private havens where the most intimate moments are made and shared. Much thought should therefore go into picking furniture that will enhance this space.
Although frequently the bedroom comes last in terms of furnishing or even decorating, it calls for deliberate decisions to pick furniture that will amplify the room's elegance, heightens its relaxed ambiance as well as enhance that soothing appeal any bedroom should have.
Hopefully, our bedroom furniture guide has brought you closer to transforming that dream bedroom into a reality. One where you can retract to every other time you need a place to rest your weary body and soul.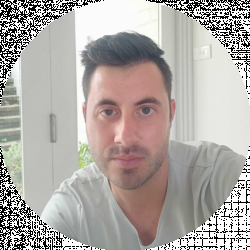 Latest posts by David Borgogni
(see all)