Believe it or not, your dining room will be one of the easiest rooms in your home to decorate. The design is straightforward, and you don't need very many pieces of furniture to pull it together for an elegant look. The purpose of the dining room is obvious, so it's pretty hard to mess it up if you focus on the table and chairs.
However, if you want it to be a comfortable and functional space, you can always add a few extras, especially if you have the room. Here we will talk about dining room furniture essentials, extras, and the styling tips you need to follow to really make your dining room pop!
Before Getting Started
There are a few things you can think about early on to help narrow down your search and make decorating your dining room a bit easier. You won't waste your time hunting for furniture you don't need if you're already prepared.
Size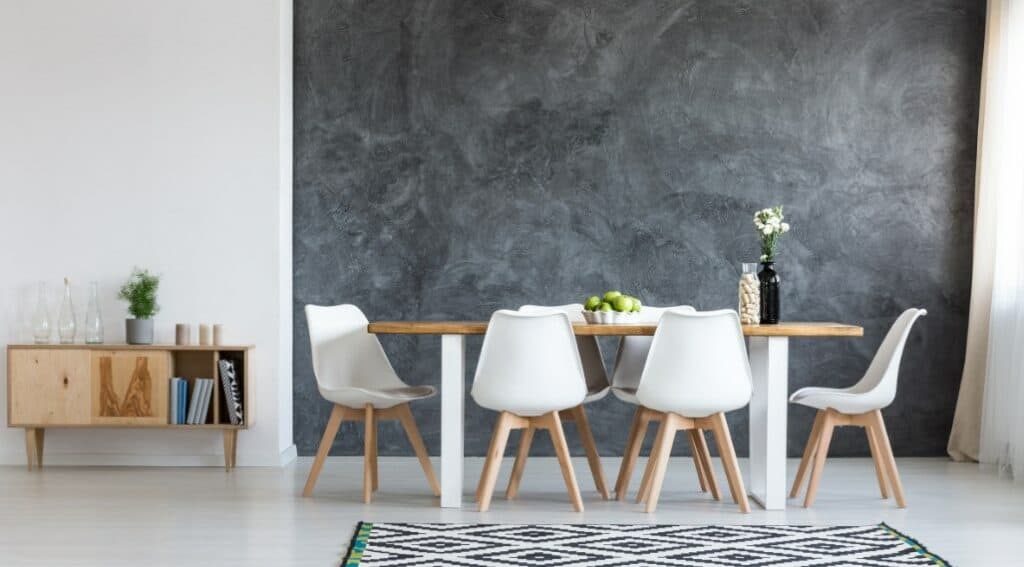 The size of your dining area will influence the size of the pieces you buy and it will help you figure out how many pieces you should commit to buying. In fact, all you really need is a table and chairs, so if your dining room is tight, consider stopping after a small table. Of course, if you have a larger space, you can seat more people and still have room for a hutch and some other accessories. It all depends on how large the space is and what you feel like you need.
Lifestyle
Your lifestyle will dictate how you decorate. If you love having large dinner parties and entertaining is one of your favorite hobbies, you'll likely want to splurge on an accent piece as well as a large table that seats as many as 12 or more guests. If you're raising a young family, carpet in the dining room and a large fancy table probably aren't the best choices.
Your furniture will be put to the test by rolling Hot Wheels and plenty of climbing. Instead, make more functional choices for now, and look forward to stepping up your design later. If you rarely use the space for dining, maybe your choices will be completely different. Turn it into a multi-functional space with a smaller dining table in one area and a home office or relaxing den in another.
Design preferences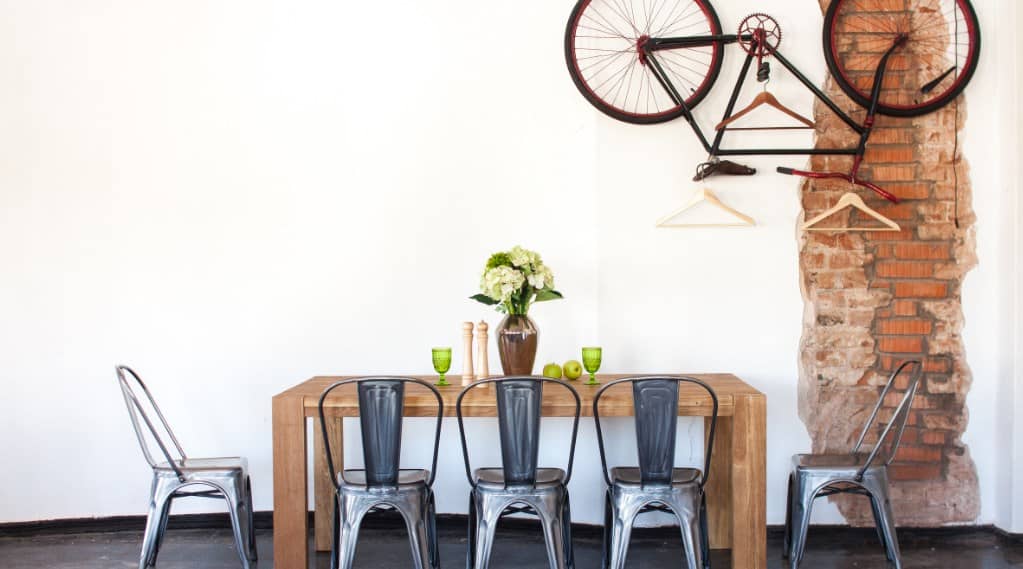 Your own unique style will play a big part in what kind of furniture you choose. More traditional spaces will include hutches for displaying fine China and large oak tables white contemporary dining rooms may include a more simplistic or industrial look. Alternatively, if you love the shabby chic look, you'll be keeping an eye out for soft pastels and painted furniture.
Cost
Determine your budget ahead of time and remember that much of that budget should be reserved for the most important piece. Your table is the center of your dining room, so deciding how much to spend and what it will look like will help bring your budget into perspective.
You'll be able to decide early if you can afford to do anything more than a table and chairs, and what those items may be. It'll be much easier to reign in your shopping with a budget and complete the project without going overboard.
Design Tips
As you begin, keep some of these principles of functional design in mind so you don't clutter the room or make it completely unusable.
The 2-foot rule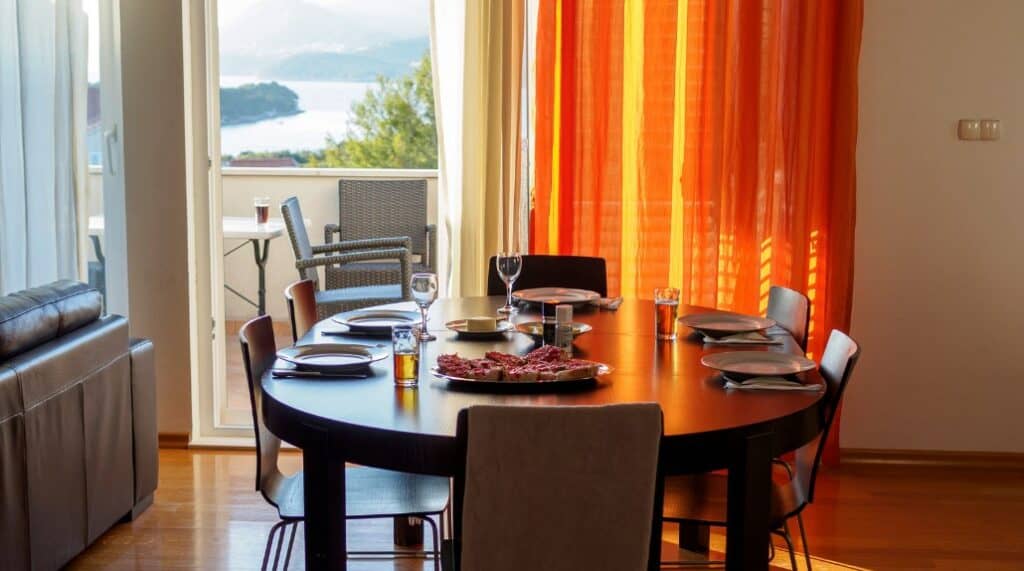 When your chairs are pushed away from the table, leave at least 2 feet of space between them and each wall. This ensures that guests can seat themselves while not blocking off a path to the door or the other end of the table. There's nothing worse than having to hold a hot plate while waiting for someone else to scoot themselves in.
Keeping this in mind will help you decide how large of a table your room can really accommodate comfortably. Likewise, you should allow for 2 feet of table space for each guest, allowing everyone to reach comfortably without crowding the person next to them.
It also allows for right-handed and left-handed people to eat next to one another without bumping elbows. This consideration helps you determine how many guests can sit at your table. You may not be able to squeeze extra guests in, especially if your room doesn't allow for a larger table, but at least everyone will have an enjoyable meal.
Storage
If your chairs have arms, they should slide easily under the table when not in use. Your guests will not only be able to rest comfortably, but your dining set will slide together nicely after everything is all cleaned up.Buying chairs with arms that don't fit under the table make your dining room look like it wasn't designed well and your table and chairs will look like they don't match.
Rugs
If you choose to use a rug in your dining room, it must be large enough to rest the table and its chairs when all of the chairs are pulled out. For one, trying to scoot chair legs over a rug while sitting down is frustrating. For another, your guests should be able to sit in their chair with all four feet on the rug at one time.
This prevents the chair from feeling unbalanced, which makes it hard to enjoy a meal. You should allow at least 3 feet between the edge of your dining room table and the edge of your rug, keeping in mind the size of the room so that your rug doesn't bump up against any walls.
Choose something thin and easy to clean. After all, people will be eating in this room and spills happen. Thick rugs hide things that fall from the table, which sounds good in theory, but makes for a dirty, unsanitary mess later.
Proportions
Dining chairs should be proportionate to the table just as the table should be proportionate to the room. Rugs shouldn't be too big or too small, and your chandelier should be between one-third and one-half the width of your table.
Keeping in mind the rules we talked about earlier, this shouldn't be a hard task to accomplish, but something to keep in mind so that you don't end up with something that looks a bit off.
Decorations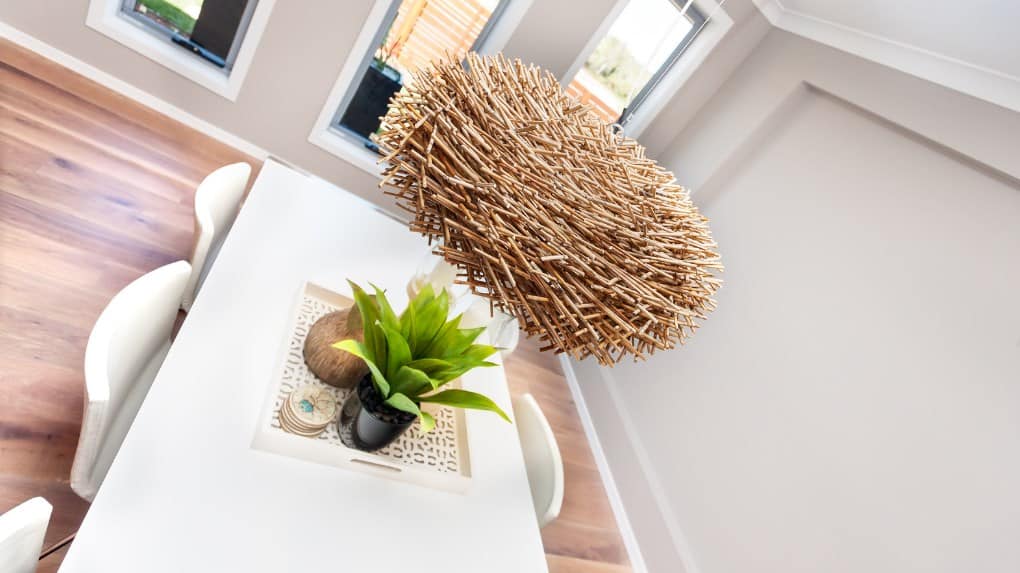 Any art you choose to hang in the dining room should be smaller than the dining room table. The main focus of the room should be the table and the art should complement it rather than drawing attention away. China should be displayed in a hutch rather than sitting out and your extra utensils belong in drawers or a buffet cabinet.
Many people don't choose to store extra dishes and utensils in their dining room, and that's fine, too. Centerpieces, table runners, and table cloths always look great, as long as they reflect your personal style and match the decor in the room. Seasonal flowers are always a great choice and twin table lamps can adorn the top of your buffet if you have one.
Your personality
Everything you choose should be an expression of your style, which ideally, is consistent throughout your home. However, it's always fun to play around with unique pieces in each room, so don't be afraid to add a twist.
Dining Room Essentials
There are very few essentials for a dining room. It's very simple and easy to pick out the basics, and then you can add the extras later. Here's what you absolutely have to have.
Table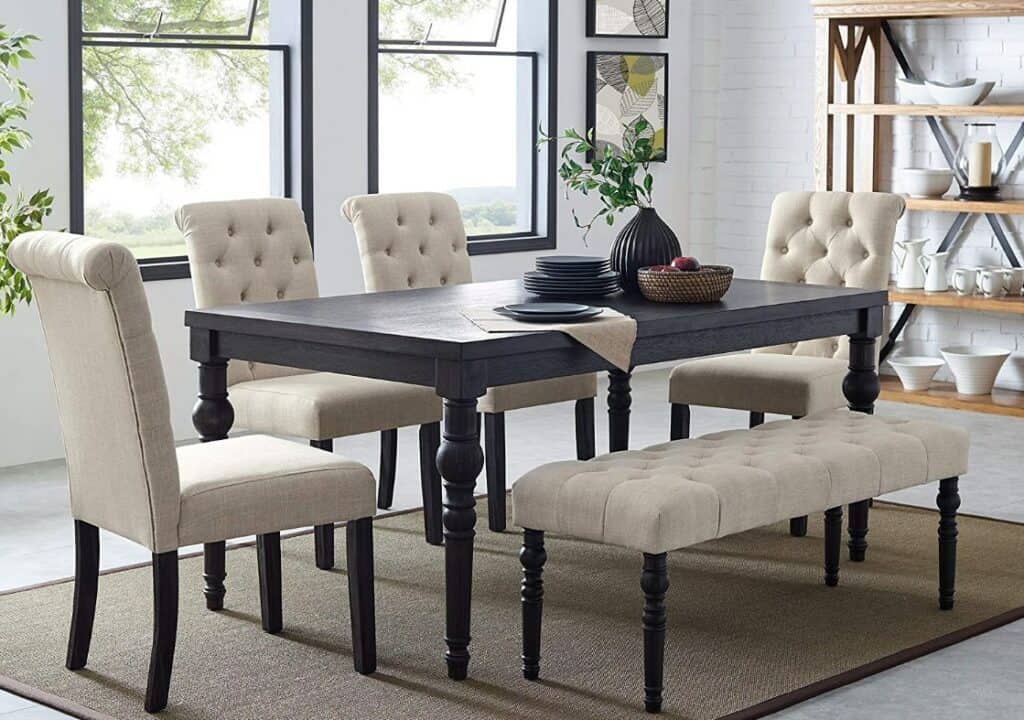 I'm not sure how you'd dine in a dining room without a table, although I suppose it's possible. The table is the single most important piece in this room, but there are so many styles, shapes, and sizes to choose from that it may not be the easiest decision after all.
When choosing the right dining table for your needs, consider how much space you have first so that you can select the right size. If you're always the host, you'll want something larger, and keeping this in mind, you likely bought a house with a sizable dining room already.
This makes hosting meals during the holidays and having your weekly family meal much easier. It's also convenient if you have a large family and you're constantly needing to eat at a bigger table. If you do a moderate amount of hosting and feel like you need a bigger table, but you don't like how much room it takes up when you're not using it, consider getting a table with leaves that you can pop in when you need them.
Smaller dining rooms and people who don't host a lot can get a table with a smaller footprint. You'll also want to consider the shape of the table. Circles, squares, ovals, and rectangles are all pretty common, so it depends on the look you want. And, of course, you'll want to consider the style, because this will really give you what you're going for, whether it's traditional or modern, vintage or shabby chic, bright or subdued.
Chairs
If your table came with chairs, you're all set. However, some tables don't come with chairs while other people find that they simply don't like the chairs it did come with. If you're in either of these situations, you may need to find some chairs to pair with your table.
You need to choose chairs that coordinate with your table, but that doesn't mean you have to be matchy-matchy. If you're creating a look a la Monica Gellar's apartment, mismatched chairs could be really cute. The same goes for a wood table with painted chairs. They don't have to match exactly to look good together. You can also incorporate benches or stools for spaces that are smaller, but that still need to seat a few more people.
Look for things like comfort and durability, but seriously consider the material and whether it will be easy to clean or not. This is especially true if kids will be eating in them. You can also look into chairs that come in sets of 2, 4, 6, or more. Buying sets of chairs can save you money over buying chairs individually.
Extras
Your space will still be usable if you don't have these pieces, but these extras can increase the function of the room, as long as you have space. Your budget will increase, too, so consider these items after you've already selected your table.
Credenzas and buffets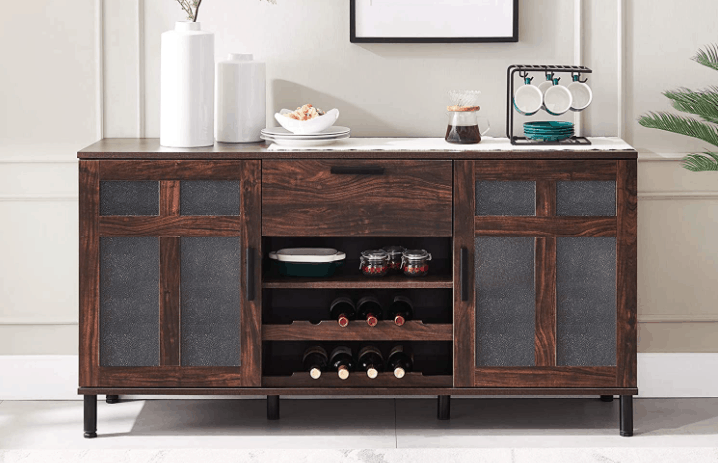 These multipurpose pieces are fantastic functional storage units for extra dishes, utensils, napkins, seasonal decor, and anything else you don't use often, but want within reach for the next dinner party. You can place decor on the top and layer lighting in the room with a lamp, but you can also create a drink station so people don't have to leave the room. These pieces are an investment, but they add a finishing touch that's really nice to have in a larger room.
Bar storage
Rather than investing in a credenza or buffet, you can opt for some bar storage. It'll give you the drink station you need with plenty of room to store your bar supplies. It can offer a clean look and concealed storage for normal everyday use while opening it up will make it more elegant and really enhance the ambiance of the party.
All of your essentials will be there, and if you don't need credenza storage for extra dishes or decor, this is a better choice. Plus, they typically move easily if you don't like the placement or it's in the way. A bar cart adds a bit of polish and sophistication to your space and if you mix it with practical and decorative items, it will really pop.
Area rugs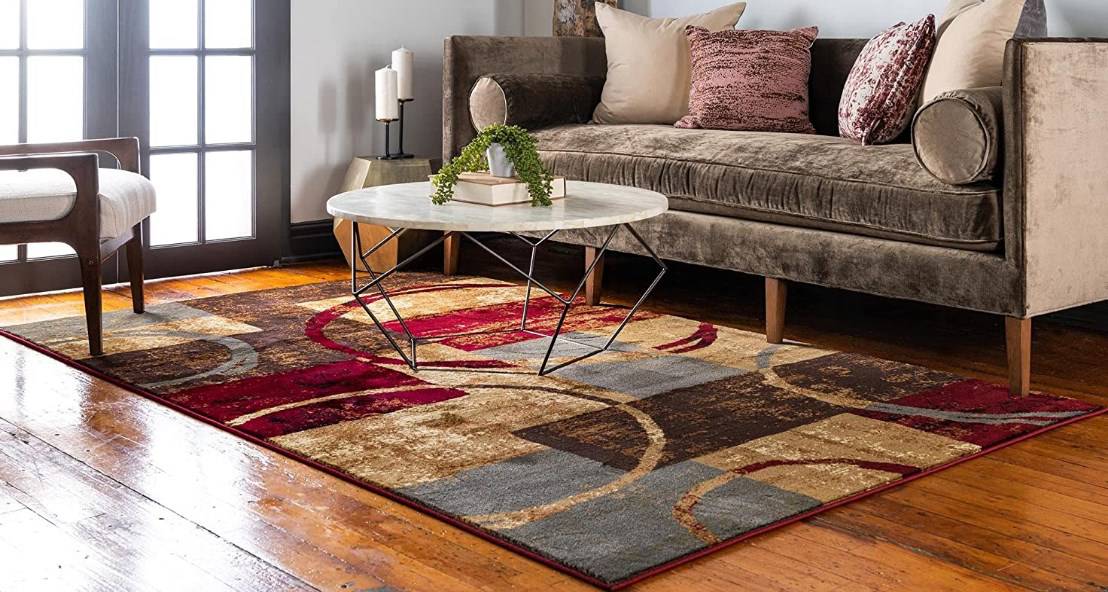 You can pull the entire room together with an area rug because it anchors the table and softens the space while adding some more texture and color. Area rugs are best reserved for large dining rooms or open spaces, but you can make it work in a smaller space as long as you choose carefully. There are a lot of styles to choose from, but make sure it's easy to clean just in case someone spills.
Window coverings
Blinds or curtains in your dining room don't serve to offer privacy like they do in rooms like bedrooms. However, they are nice to have. Luckily, you don't have to worry about function as much in a dining room as you do how great they look. It adds an aesthetic that nothing else can accomplish, but there are a lot of options.
You can choose blinds, curtains, or Roman shades according to the look you want to accomplish, but no matter what you choose, it will add personality and depth. Curtains hold the most potential to add personality, with a multitude of patterns and materials from which you can choose.
Linen makes space free and airy while velvet will add drama. Patterns are fun while solid colors make it feel more formal. Blinds are more versatile in terms of how much light you want to let in or block out.
Centerpieces
Your centerpiece can be anything you want it to be. Literally. Seasonal flowers keep it updated year-round, but you can mix it up with seasonal fruits and it will feel earthy and connected to the outdoors either way. It can be a set of tapered candles or a favorite relic from your grandmother.
They can be small or large, simple or elaborate. You can even opt for an entire tablescape instead of a single centerpiece. It doesn't matter as long as you love it. It adds depth to the room, gives it a finishing touch, and makes everything look well thought out.
Wall art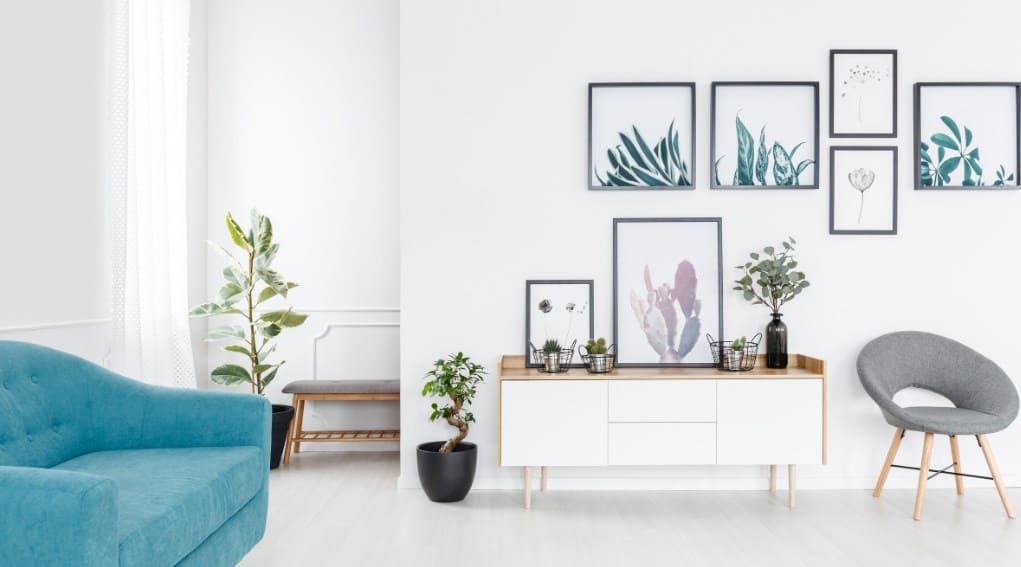 The most effective way to add a personal touch to your room is through wall art. You can choose your favorite painting or display a family photo gallery, but it's the perfect way to define the style of your space. Pull colors you used elsewhere in the room together with art to make the entire space feel more cohesive.
Dining Room Floorplans
There are three basic layouts when it comes to dining rooms. Most homes will fit into one of these three categories, so here are some of the best ideas you can implement to make the most of the space.
Formal dining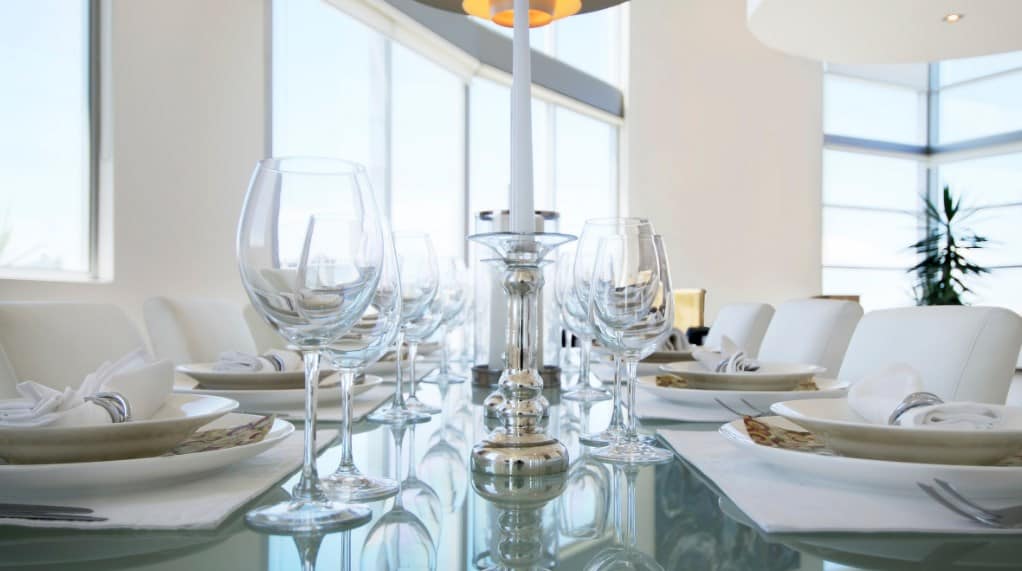 Formal dining rooms are large spaces that can seat up to 12 guests. They are typically decorated in a formal way with traditional styling, but there's no reason you can't choose some knockout pieces to change it up a bit. In a formal dining room, you should use the largest table you can fit, especially for entertaining.
When you're not using it for a fancy occasion, take the leaves out to make it smaller, and the space becomes usable on a daily basis for your family. To maintain a more formal look, choose different chair styles for the heads and sides of the table. This could mean choosing chairs with arms for the heads and armless chairs of the same style for the sides.
However, it could also mean using chairs for the heads and benches for the sides. Mix and match however you choose to differentiate. A large formal dining room can typically handle a few extra pieces. If you'd like the space to be multifunctional, you can add bookshelves so the space can be used for work or study.
It's also a great spot to drink your morning coffee while spreading out the paper. If you'd like to dedicate it to dining, hutches, car carts, and buffets make great additions to the room so that it looks more complete and functional for entertaining.
Pass through the dining room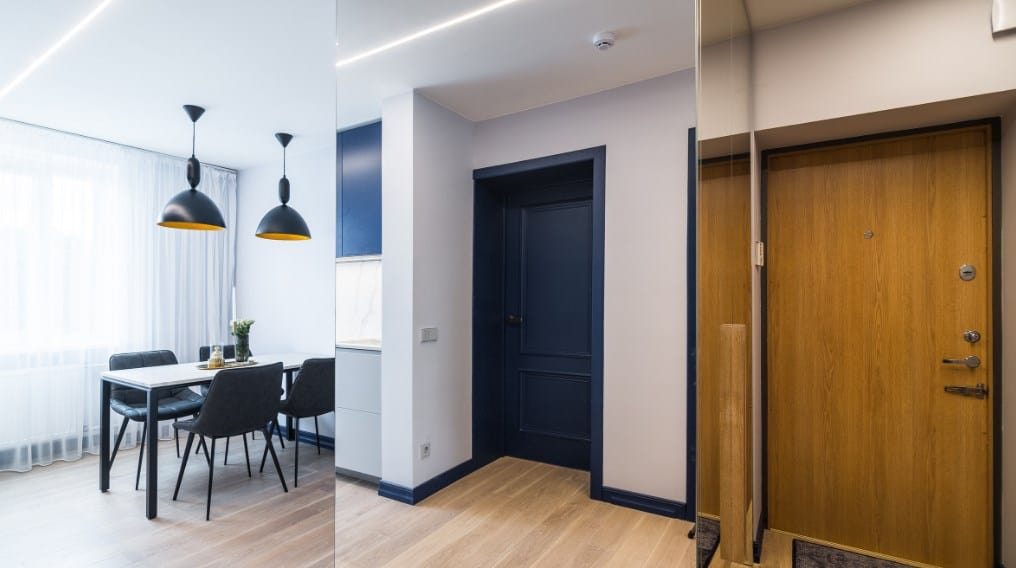 A pass-through dining room has more than one entrance, typically on opposite walls. One probably comes straight from the kitchen while another may come from the living room or the hall. These rooms can be trickier to design because there's not as much wall space, and you have to clear paths into the room from more than one side. They could seat up to 8 people, which is much less than a formal dining room.
This type of room is common in prewar homes and they feel like less of a destination than they do a means to an end. You can define the space better by creating a few distinct areas within the room. Center your table in the larger area to the side of the pass-through and center it between the pass-through area and the window. Round tables work really well in these spaces because they make it flow better.
On either side of the table, if you have room, place a buffet opposite a large mirror or piece of art. This creates a cohesive dining area. In the small space on the other side of the pass-through, you can place a settee, chaise, or bench.
It should function as a place to perch rather than a place to sink into the sofa and relax. If you can find a place for a small drink table, you can place it to the side of the bench, but if not, add standing lamps on either side and you're done. If you do add a rug, make sure it ends before the doorways that create the pass-through. This prevents tripping and ensures separation between the bench and the dining area.
Dual-purpose dining room
If you're looking to create a dual-purpose dining room thanks to a large dining area, but arising from a need no other room can fulfill, it's certainly doable while still maintaining a cohesive and functional space. You won't be able to seat as many as you will in a formal dining room, but you can do at least 6, and maybe 10 if you offer other seating options.
The intention of a multipurpose dining room is usually to maximize your living area in a smaller home. Many people who have smaller kitchens and living rooms will use the dining room to create an extension of those spaces. Create an open eating area with an everyday table and portable chairs. This makes the space functional for eating and versatile enough for other everyday activities.
You can easily move the chairs into another living space for extra seating when needed. Create a living area that has plenty of function and comfort. End tables next to the sofa with a coffee table in the middle makes a place for books, drinks, and other items. Club chairs, a TV console, and a chair with an ottoman make for plenty of seating and relaxation. You'll have a great place to read or nap with the flexibility you need when entertaining.
FAQs
Question: What pieces of furniture should be in a dining room?
Answer: The main pieces of furniture in your dining room should be the table and chairs. These are absolutely essential, but if you have room, you can also add a few other things. A buffet is perfect for extra storage while a hutch is ideal if you want to display fine China.
You can also add a bar cart, a bench or settee, standing lamps, wall art, centerpieces, chandeliers, or anything else that makes the room functional.
Question: What are the different styles of dining room tables?
Answer: Yes, the most important piece of furniture in your dining room is the table. Yes, I already said that decorating your dining room would be easy. But there are a lot of different styles to choose from that might make it harder.
You can choose from farmhouse, pedestal, trestle, modern, traditional, industrial, and so much more.
Question: How do you decorate a dining table when not in use?
Answer: One of the easiest ways to pack your dining table away when it's not in use is to take the leaves out. However, this begs the question of where to store the leaves when you're not using them.
Instead, you may want to keep it up and simply decorate it. Switch out your centerpiece seasonally, or even more often. Flower arrangements from your own garden work well, but if you don't have a garden, you can get flowers elsewhere.
Curate your tabletop display based on recent travels. You can set up pictures from the beach, artifacts you found, and other trinkets you want people to see. It also gives you a conversation piece when people come over.
Use your tabletop as a place to display pottery, modern art, or your favorite knick-knacks. This is a great way to add a personal touch. You can even try to think of items you love to see displayed when you visit other homes and use that as inspiration.
Always remember to protect the integrity of your table, whether that means a waterproof tablecloth or something to prevent scratches.
Question: What is the most durable tabletop?
Answer: Oak is not only one of the most durable tabletops, but it's also the most common. It has a wide, open grain that helps up very well to scratches on the surface and water damage. It can also be sanded and refinished easily, making it a smart, long-term choice.
Question: What is trending in dining room tables?
Answer: Rather than sticking to one particular style, mixing styles and textures is very trendy. Matching is out, which works out pretty well for those of us who can never decide what we want. You can do a little bit of everything that makes you happy, and it will still look great.
Benches are also in style, which works out really well for families. Kids love to sit on benches, so incorporate a bench on at least one side of your table and you'll be pretty hip.
Retro-inspired designs are in, as are round tables and upholstered chairs, but these don't always work well when it comes to cleaning up messes.
Bon Appetit!
When it comes to furnishing and decorating your dining room, there's really only one thing you need, but that doesn't mean you can't do more if you want. The most important thing is to have fun, but these tips should get you pretty far in picking out what will look good and be functional.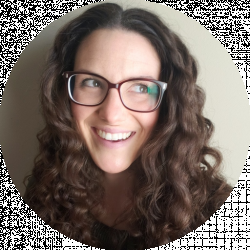 Latest posts by Sarah Caldwell
(see all)