The dining room is arguably one of the most crucial rooms in your house. It can serve many purposes, including offering space for a family gathering in minutes, can be transformed into an office space, and where you will sit down for meals. Due to the amount of time spent in the dining room, you will need chairs that fully support your back, ones that look stylish, and ones that can cushion your tush.
When you realize that your dining room is looking a little drab and needs some sprucing up, it's essential to get the right furniture for space.
And if you are looking for the best dining chair sets and ideas, this post will help inspire you with different ideas and pieces from all price ranges. We've reviewed the best dining chair sets by design, material, style, budget, and of course, the overall best.
Top Overall Dining Chair Set: Christopher Knight Home Hayden Fabric Dining Chairs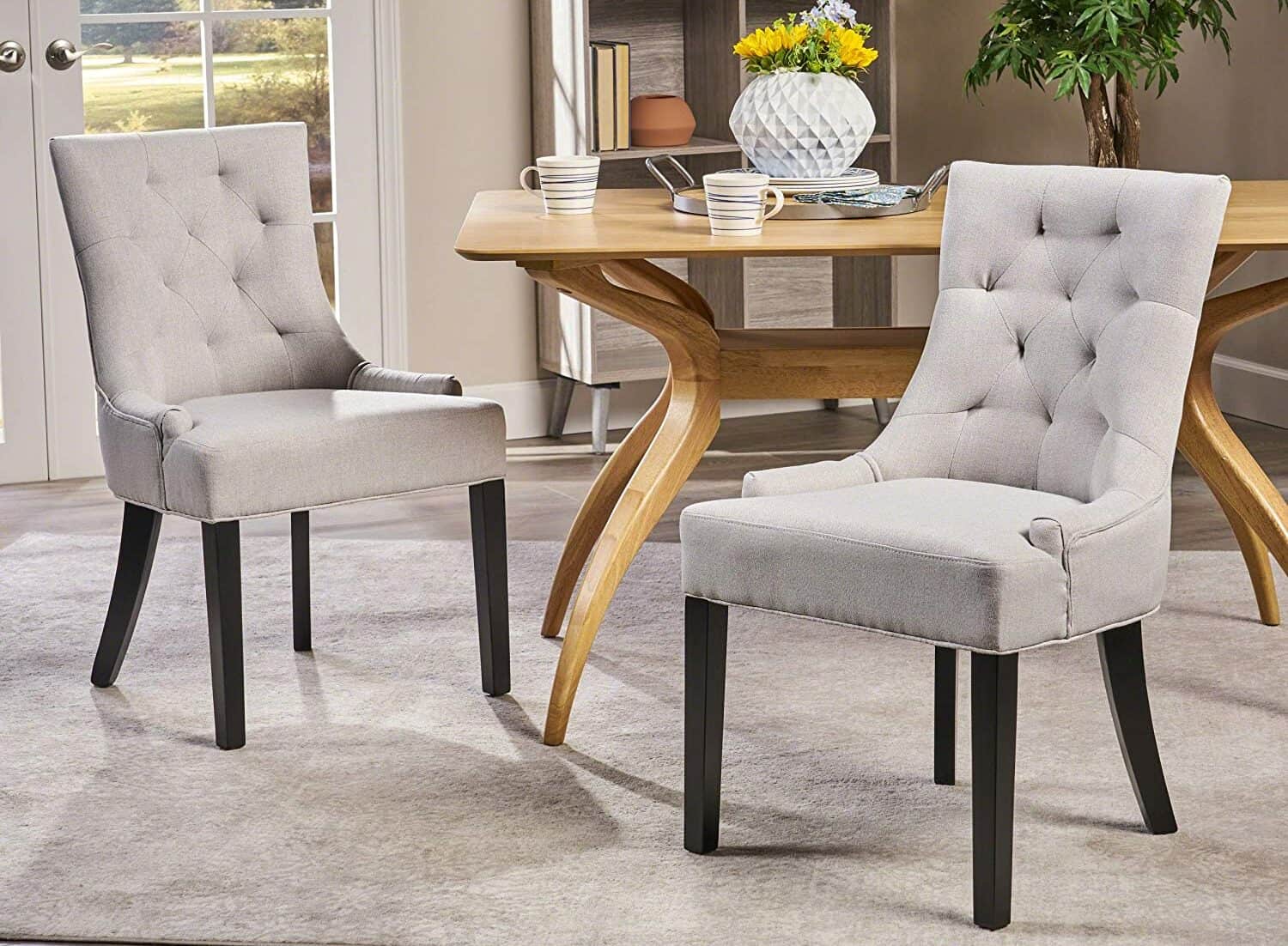 Nothing beats Christopher Hayden when it comes to top ratings and the best sleek set for your dining set. These chair sets come in various colors, with the light grey being the most loved of them all.
21.50 inches in length and 24.75 in breadth, the Hayden Christopher set comes with a lot of comforts given the fact that the chairs come with a diamond tufted backrest giving you the perfect rest spot when you are indulging in a good meal with family.
Fabricated with 100% polyester, the stress of wear and tear is the least of the concerns. These chairs make sure when you are having a good meal, the upholstered form factor and textual material make you feel the comfort of a king.
Pros
Easy to set up 

Beautiful to match many dining tables

Are comfortable
Cons
Complaints that the chairs tip over easily
Best Tufted Dining Chair Sets: Roundhill Furniture Habit Dining Chairs Set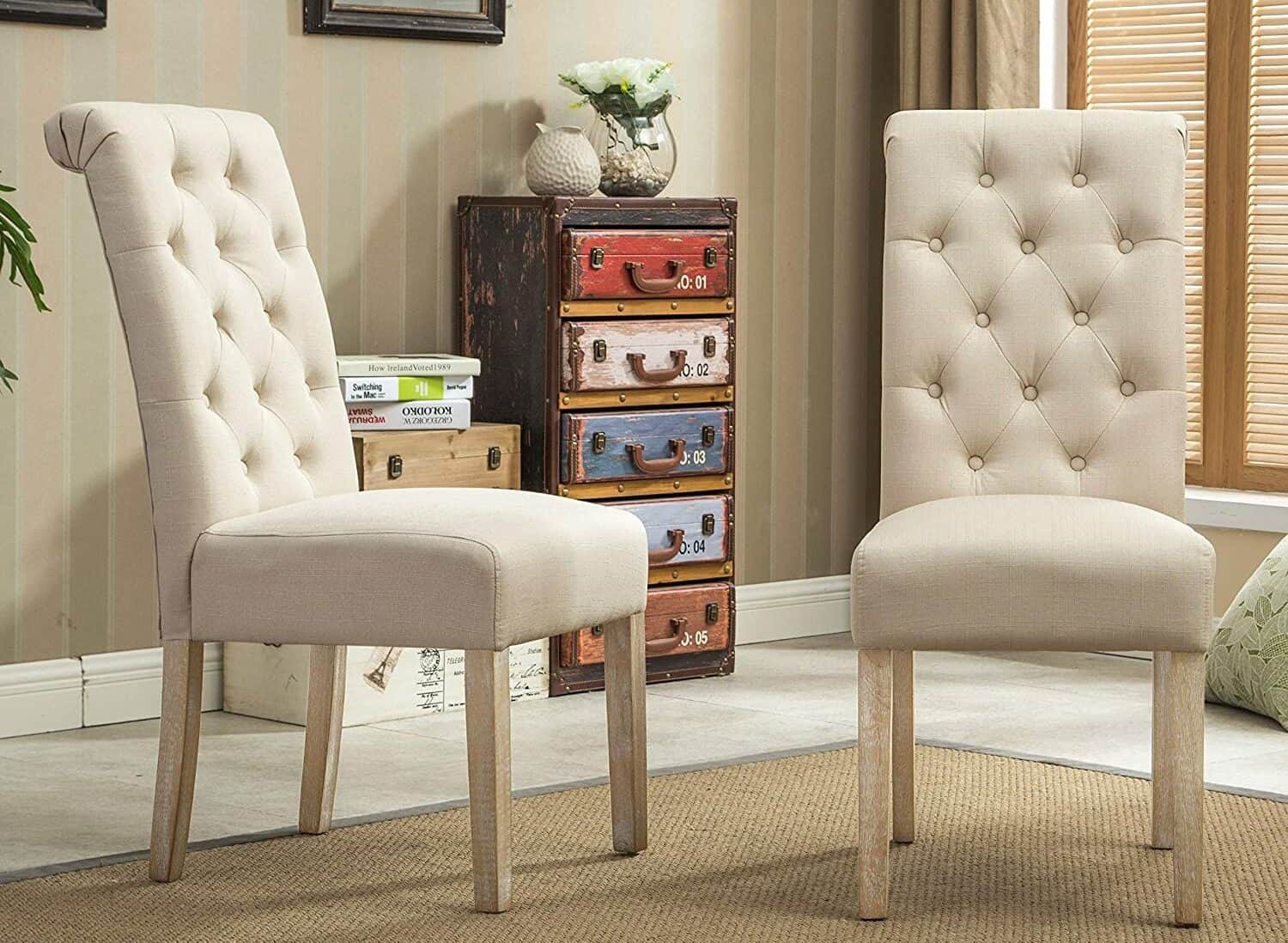 These chairs are available in the market in several different fabrics and are perfect for any table in the dining room. They are both durable and stylish thanks to their wood legs and 100% upholstered material. They can be acquired in a set of two which will provide your dining room with a decorative accent that will make a luxurious statement.
The Tufted Parsons is perfect for taller people because they deliver a 19-inch height.  From a wide range of colors to choose from, the Parsons gives you the comfort of royalty considering the tufting of the buttons, which with ease provide you with the comfort and style of a lord.
These top-rated high-back chairs come with curved expertise at affordable prices to fit the tone of your living room depending on the color and choice you see fit. Going for upholstered sets in the stores? The Round Hill furniture is the assured brand.
Pros
This sleek piece of art is easy to clean with a dry cloth.

Designed to look beautiful

 This chair features a fully cushioned seat with an extraordinary design that makes it comfortable.
Cons
The size of a bolt can vary, but occasionally they don't fit.
Best Budget Dining Chair Set: Ashley Owingsville Dining Room Chairs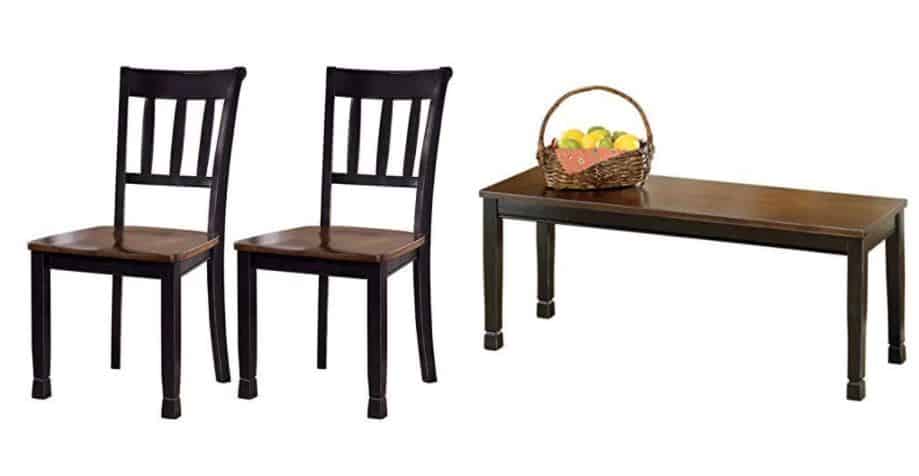 Are you feeling a little uptight on money issues? Ashley industries got your back. The signature look given to the Owingsville Dining Room Chair sets is astonishing. You can get your color choice since there are black and brown ones available. The back of the Owingsville sets is designed in the form of ladders to give your backspace and a great base to rest on.
With measurements of eighteen inches in breadth and a diameter of 23, the OwingsVille seats have a height of 18 inches. The blending of the wood and the black color mixed with brown stains give your seats the elegant look of a lifetime. The wood also is stainless and easy to clean since it's crafted from veneers and artificial wood.
Pros 
The chairs are sturdy and comfortable

Quick and easy to clean

Versatile as they can be used in other rooms
Best Wooden Dining Chair Sets: Ashley Furniture Signature Design- Leahlyn Upholstered Side Chair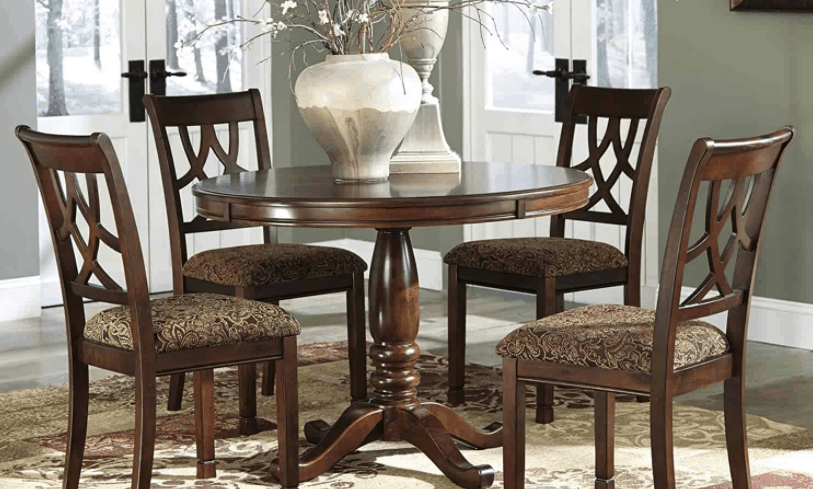 Out there shopping and would want to match the taste of your living room with something exquisite? Look no further; this upholstered set is the right pick for you.
Assembled from the finest wood, veneers to be precise, nothing tends to beat the Ashley  Furniture. Their seats are cushioned to give you the comfort you need, and the frames are stronger compared to other brands because of the curvy nature given to them.
With a 20 seat height capability, the diameter base to sit on is good for body rest as they come at inches of up to 23 in base. Their sleek nature and color are also something to consider. The pierced splat back gives the room a sparkle you can always be proud to show off.
They are easy to assemble as you only fit the cushioned part to the other whole. 
Pros
Can easily complement other decors in your dining room

Easy to put together

It has a perfect ergonomic design
Cons
The chairs are short, making them uncomfortable for some people.
Best Upholstered Dining Chair Sets: Furniwell Dining Chairs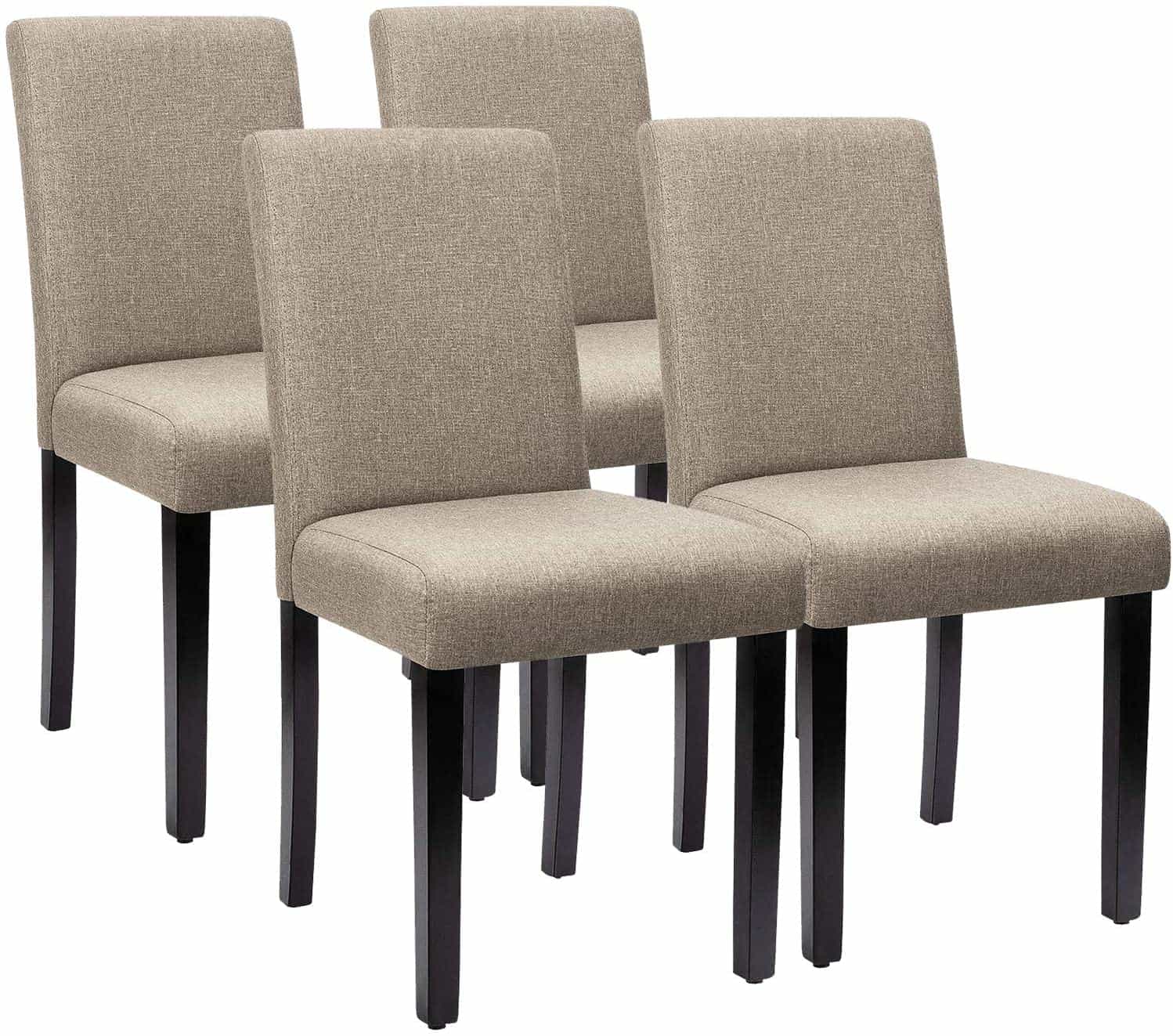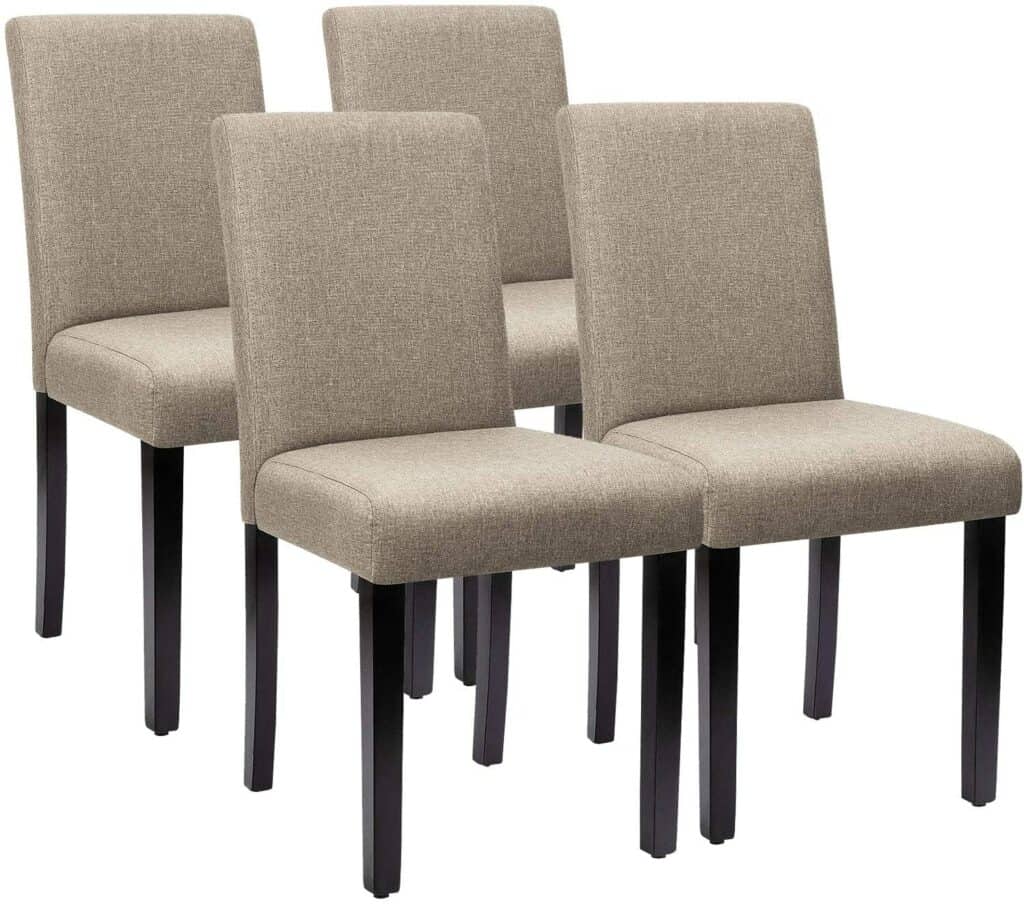 Looking for something beautiful and comfortable? The Furniwell dining chairs are here for you. They have a sleek design that's perfect in modernized homes. They are comfortable with soft, cushiony fabric upholstery and feature a sturdy frame to support your weight.
The lightweight frames make Furniwell Dining Chairs easy to assemble, and they also come with the instructions and tools needed. Plus, the scratch-proof surface will allow continuous use without the worry of accidents or clawing into its outer layer."
One small chair can complete any space—even one on a budget. Made with quality fabric materials, this is furniture worth investing in your money. 
Pros
The chairs are versatile and can be used for different places such as restaurants, bistros, cafes, and dining tables at home.

Offer excellent support, fit to your spine, and can help you sit for a long time without fatigue.

They have sturdy legs that offer you steady support, suitable for a large family.   

Covered with skin-friendly fabric; It's anti-skid, wear-resistant, and easy to clean.
Cons
Can't handle too much weight
Best Modern Dining Chair Sets: Best Choice 5- Piece Dining Set for Dining Room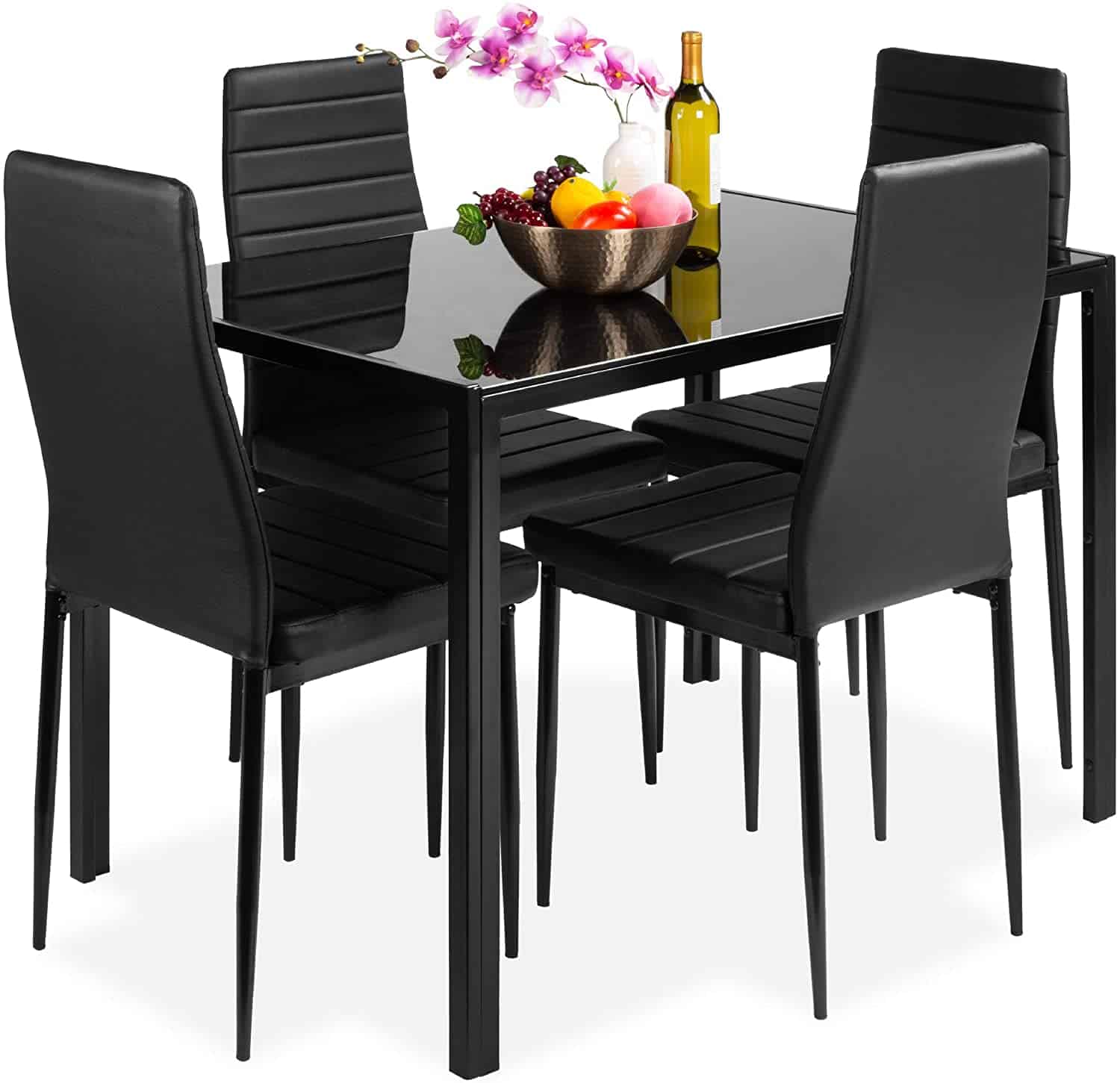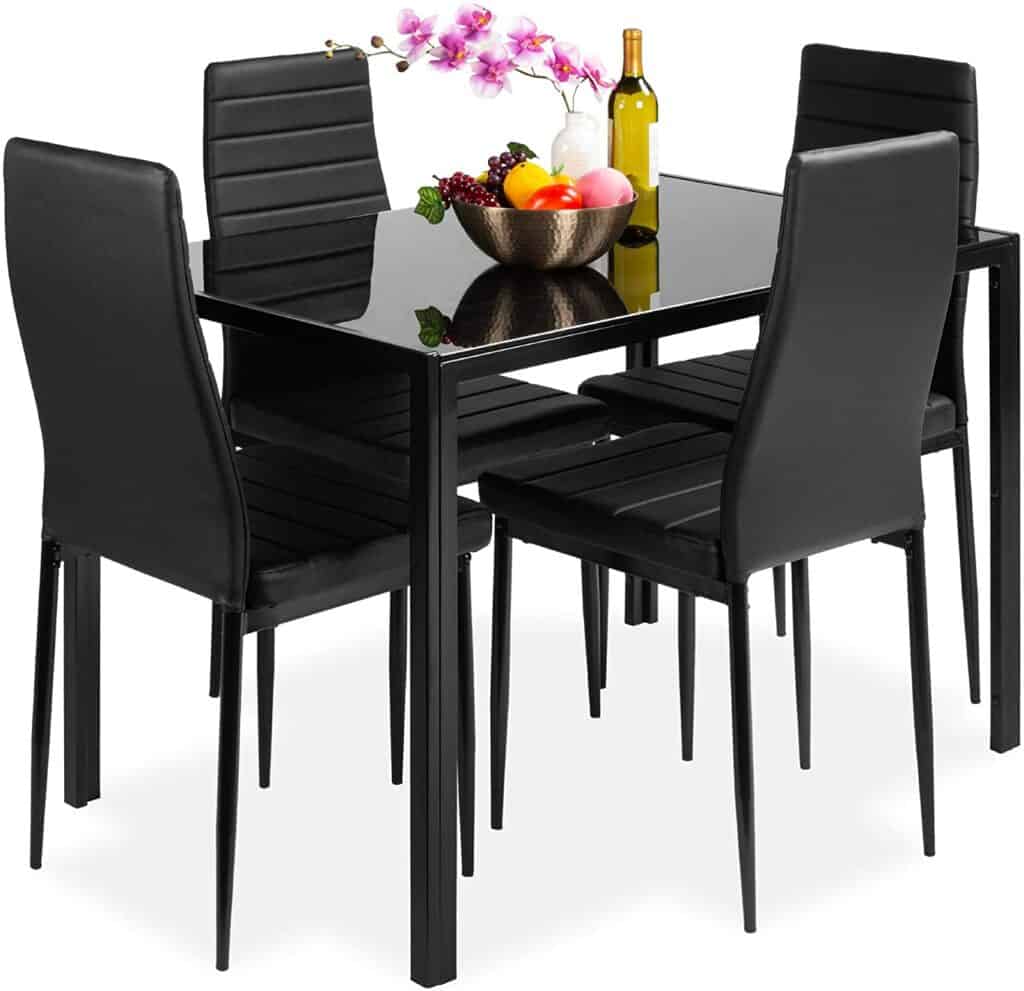 The modern tone of these chairs is something that will leave a sparkle in your house, considering they come with a table-top made of glass that gives a sleek, shiny, elegant look.  They are durable, featuring steel frames. Laxity comes in handy as the leather-sewn seats give you the perfect backrest.
As utility seats, you can be guaranteed you and your family sit together as they are crafted to give you space to be comfortable when enjoying a meal. The cohesive nature of the glass and steel incorporated in them makes them easy to clean if they catch dirt.
Modernity is critical with a touch of these sleek leathers in your house, and you can rest assured that this set of chairs is the ideal choice. You can bring a date over, or have dinner with friends. Want the best modern chair sets? Then Best Choice is the correct answer for you.
Pros
It easily matches your decor

Very simple to clean

They are sturdy and beautiful
Cons
They do not offer armrests.
Best Mid-Century Dining Chair Sets: HomePop Classic Upholstered Dining Chair Set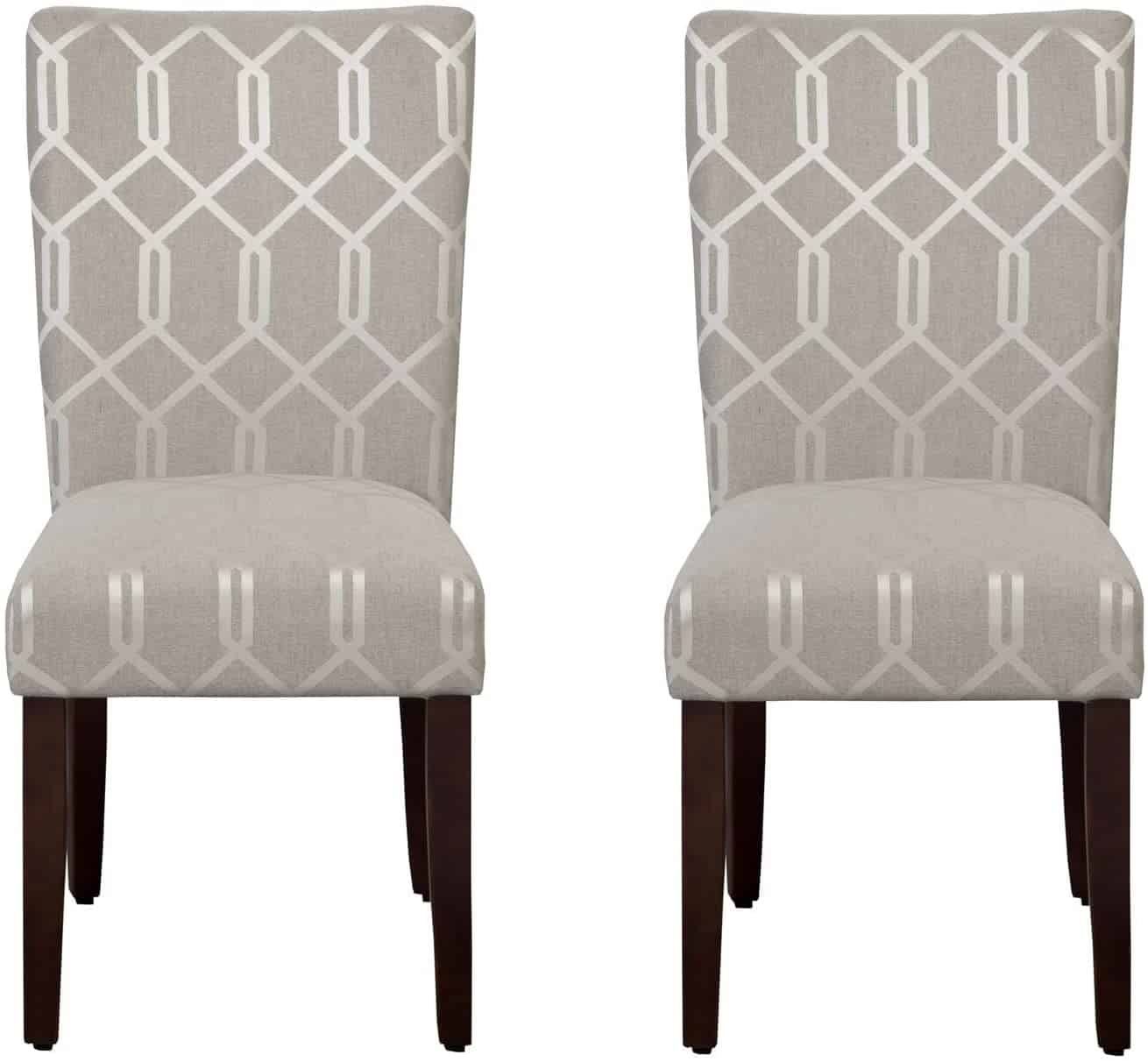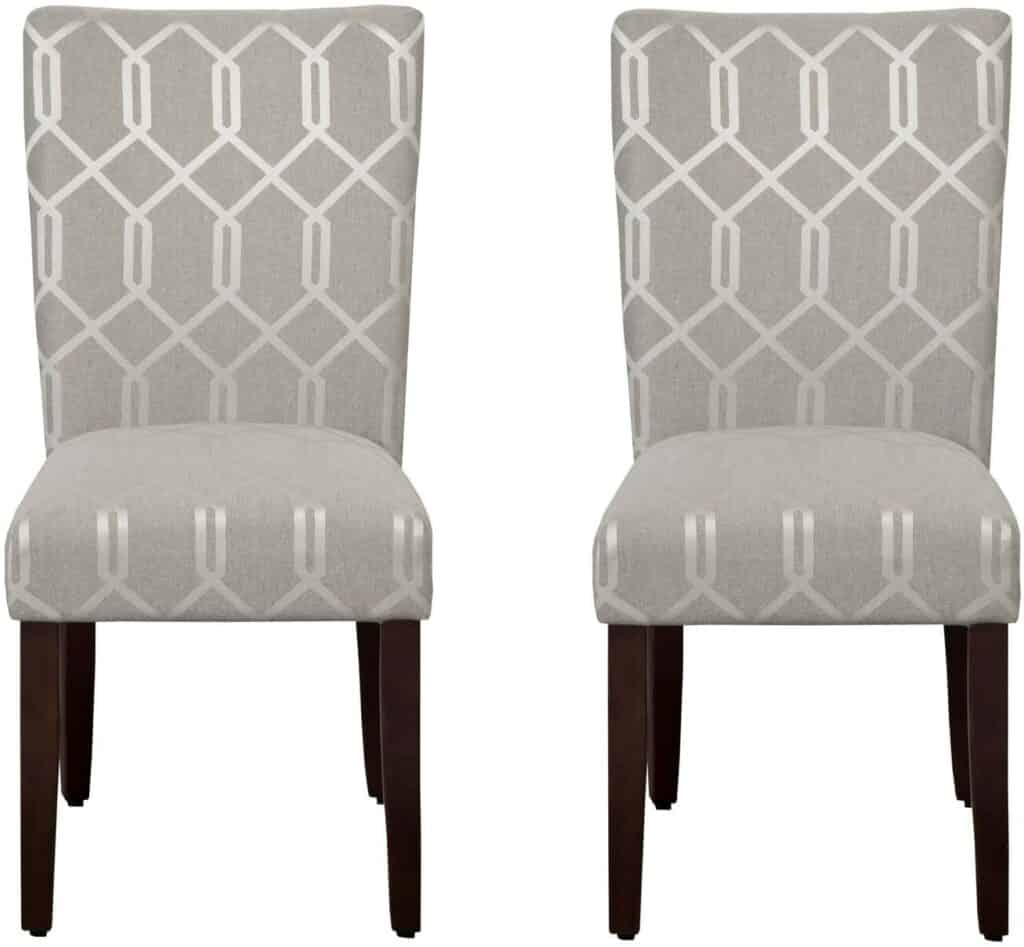 Add a signature style to your home with these two HomePop Parsons Classic Upholstered Accent Dining Chairs. The design of this classic dining chair features a cream lattice design on pewter gray fabric, perfect for adding that touch of elegant charm to any area in your home.
Designed for easy assembly, this set includes two chairs at an affordable price without sacrificing comfort thanks to their premium fabric woven in 100% cotton. The chair offers extra seating while adding a decorative statement to any room. Overall dimensions 21 x 19 x 38 inches, seat height 16 ½ inches. It has a maximum weight capacity of 250 lbs or 120 kgs per piece.
Pros
They are durable because they are made from rigid materials.

They come in a set of two and can easily be assembled for your dining room, entryway, or an extra room in the house.

Beautiful and comfortable due to their padded back and seat.

The seats are sturdy
Cons
May require frequent cleaning
Top Dining Room Ideas
Are you looking for some new dining room ideas?  We've got your back! Check out these excellent and creative ways to decorate your dining room. From a cozy breakfast nook to an elegant formal dining table, we have something for everyone.
Add Modern Art
To create a purposeful and finished look at your dining room, you can add a beautiful piece of modern art somewhere where there is space. They are usually made of sleek angles and stark lines that make a room feel cold and stark. 
Adding color together with an oversized art piece, you can create a cozier and warmer look. You will also be maintaining the contemporary tone of your dining room.
Use Graphics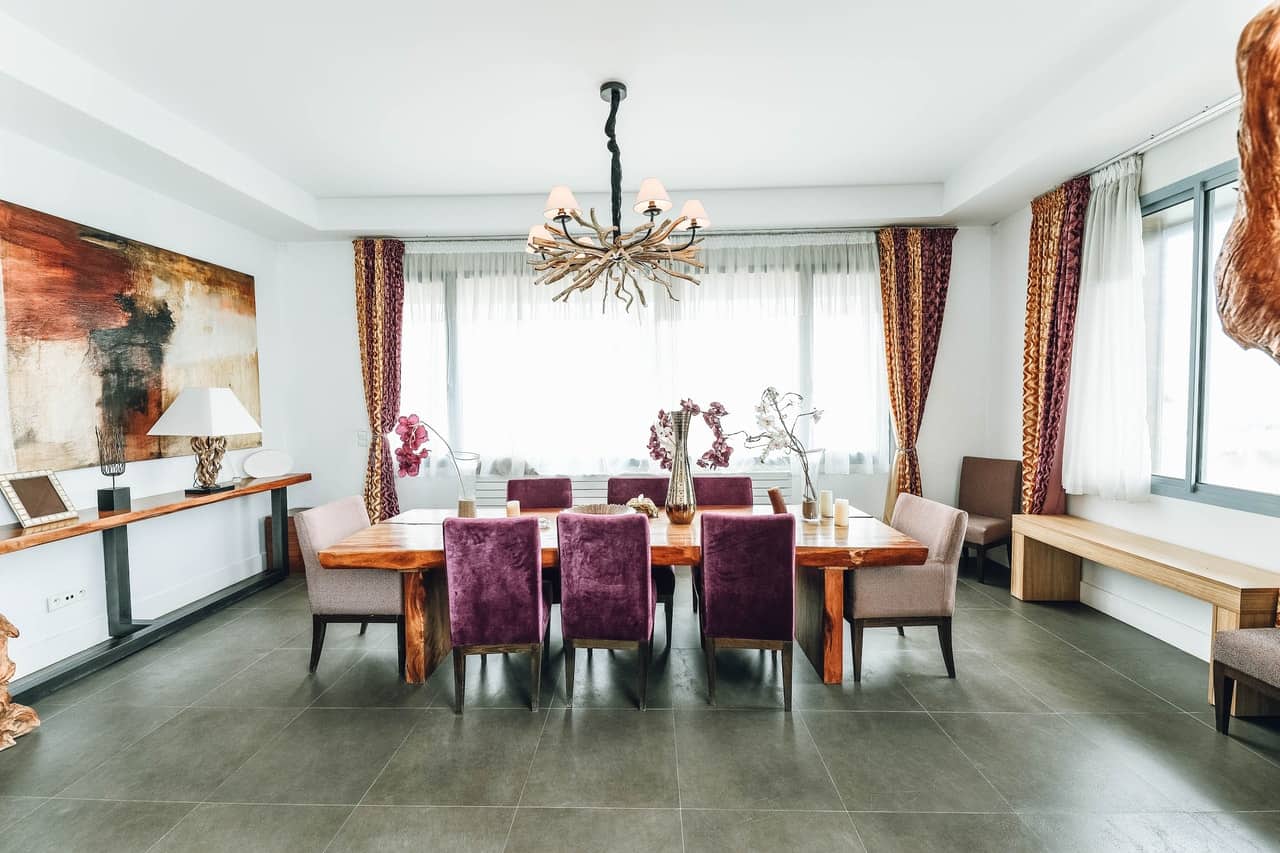 The dining room is a space in your home where you can experiment with different design techniques. For example, don't be afraid to use loud graphics on the walls if they won't clash with any of your furniture!
 Modern art and bright colors are perfect for this area because they will give plenty of freedom when designing other parts of the house without clashing or being too bold.
Try Adding a Glass Table
Apart from glass tables being modern and elegant, they are also suitable for a concept home and easy to clean. Most of these glass tables are designed to give more light and open up spaces. It's a sign of class, making it a great idea that you can opt for.
Try Mismatching Chairs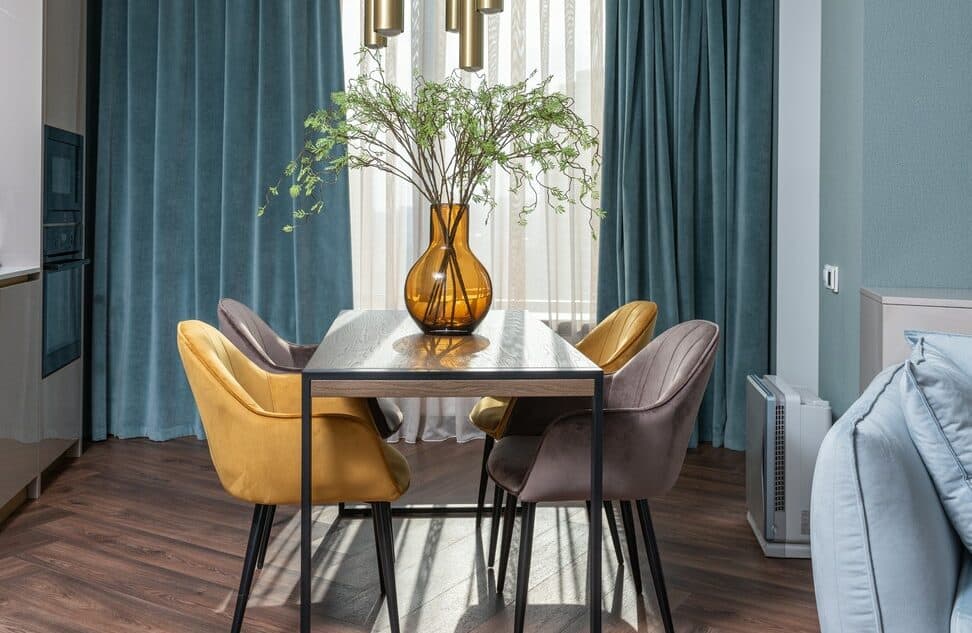 Many people think that matching chairs in your dining room is suitable for shabby chic homes and farmhouses. Well, it also works best in dining rooms as the outcome can be very beautiful. You can consider arrays of different styles that blend each other well. 
It also offers you the chance to match and mix the rest of the room to your specifications, with the guarantee that your dining room remains playful and modern.
Keep it Minimal
For the best results, pair your dining room with only the required essentials. Your minimalist space will look open and airy. However, things like rugs and frame prints can also be added for a more creative appearance.
Best Dining Chair Types
Do you find yourself wondering if your dining chair is in the right shape? Do you have a hard time choosing between a high back and open back dining chair sets? Well, we are here to help!
Here is a look at different types that you can consider for your dining chairs.
Dining Armchairs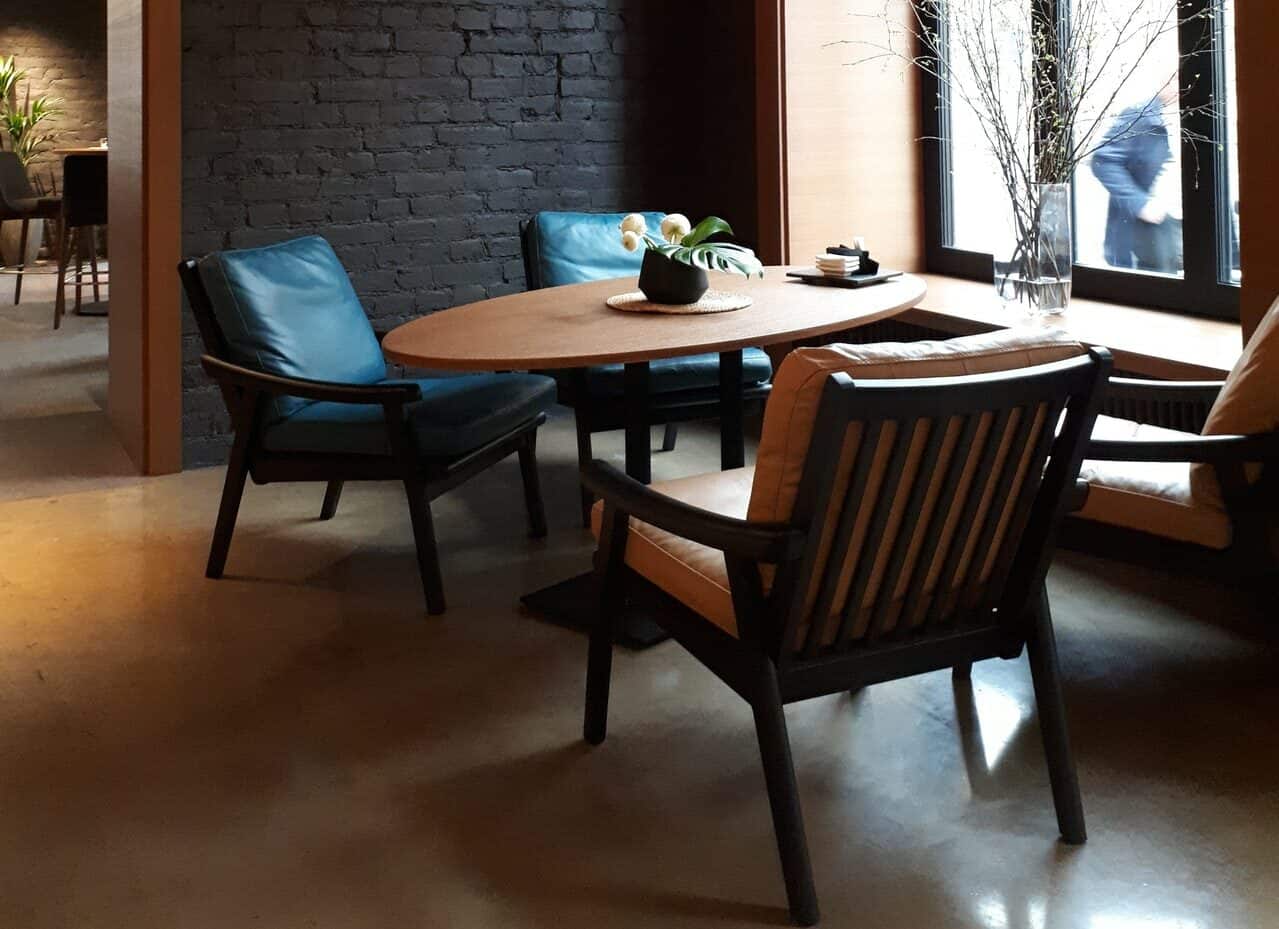 These types of chairs create a comfortable and premium feel around your dining table. They are also easy to style, no matter the space size that you have.  Because of the armrests, ensure that you have enough space where the chair will fit without much trouble.
Dining Chairs That Are High Backed
These chairs will give your dining room an elegant and visually impactful look together with maximum support when sitting. They feature gentle curves and high backs that add comfort and style to any dining room set.
Added Comfort Chairs
Many manufacturers are nowadays adding maximum comfort to their set of chairs. They are more often than not ergonomically molded making them very accommodative. If you want even more convenience, you can look for dining room chairs with upholstered seats, leather seats, and ones with sumptuous padding since they entail all the features that will improve your dining experience.
Open Back Dining Chairs
If you are that individual who doesn't like having visual impact items in your home, you should seek the open-back dining chairs. They cause a less visual impact in your dining room, creating a better opportunity to open up the look of your room and have some fun with finishes and colors.
It's also advantageous because they have a clean and straightforward shape that can match several dining tables.
Factors to Consider When Choosing the Best Dining Chairs for Your Dining Room
Having the best set of chairs in your dining room is essential because it's at the heart of the home. Here's what you need to consider when buying the best dining chair sets
Measure Your Dining Area and Table
Start by assessing the shape and size of your room and table to know the number of chairs you will require and what else you might require to fill space. In most cases, rectangular and oval tables tend to accommodate more chairs than square tables, which often accommodate four chairs. On the other hand, round tables also offer enough space for more people because they lack corners.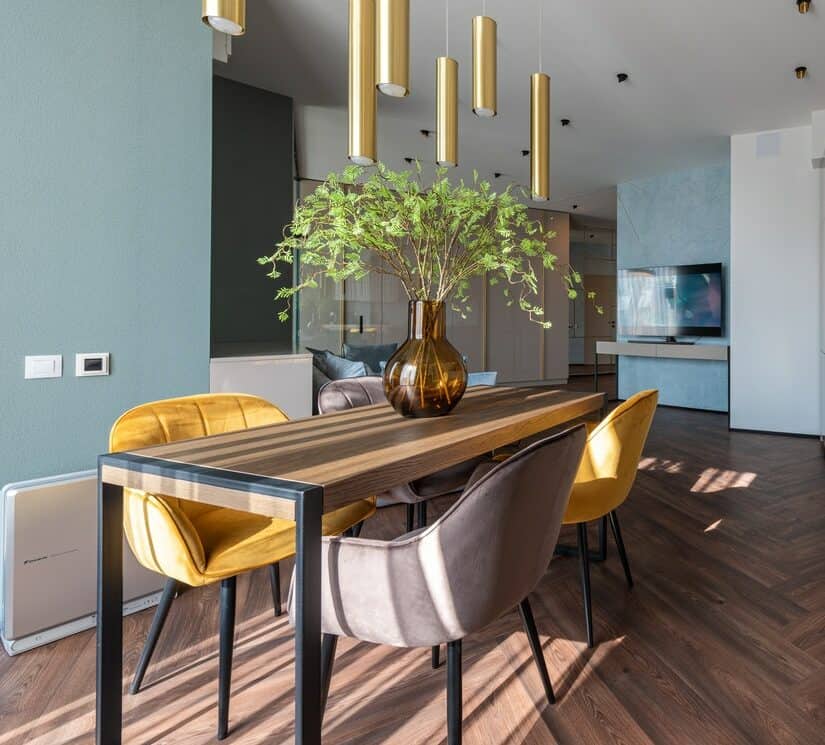 The most crucial parts to measure include the thickness of the top part of your table, the height of your table, any apron or skirting that the table features. Don't rely on the recorded measurements, and instead, take a tape measure and do it yourself.
Size Up Space Between Table and Chairs
After you know the measurements, you can decide on the number of chairs that you require. For instance, if you get stuck between purchasing a set of 6, 4, or 8 chairs, consider the actual number you need, and prioritize it over the more significant numbers you might be having in mind.
Choose the Correct Dining Chair Material and Style
Choosing the suitable material and style for chairs in your bedroom is a complicated task. Here are some essential questions that can be of help:
Do you prefer something more elaborate or simple?

What is the overall feel and look that you are going for?

What size is your room?
Some of the most common materials that you can consider include chrome or metal, leather, and fabric. Fabric chairs will offer you a cozy feeling, and you can play with print or texture. On the other hand, the leather chairs are durable, classy, and easy to maintain and clean, whereas the metal chairs are more modern and light.
Prioritize Interesting Dining Chair Features
Just like many other pieces of furniture, having some specific features on your dining set of chairs can make them look more elegant. You can consider trying flourishes that include curved or sculptural legs and exciting details. In addition, you can also go for chairs with different finishes, such as grey leather paired with sleek legs.
If your set of dining chairs are upholstered chairs, buttons and tufting details add unique classic appeal. Patterns tend to add style to your dining room in a scenario that you have a solid classic table that you might want to modernize.
If it's something purely different, consider opting for elements such as wicker or rattan and organic materials which aid in creating a tropical, summery, or even coastal vibe in your dining room. It will generally depend on how the other parts of your room are styled.
Go for Quality and Comfort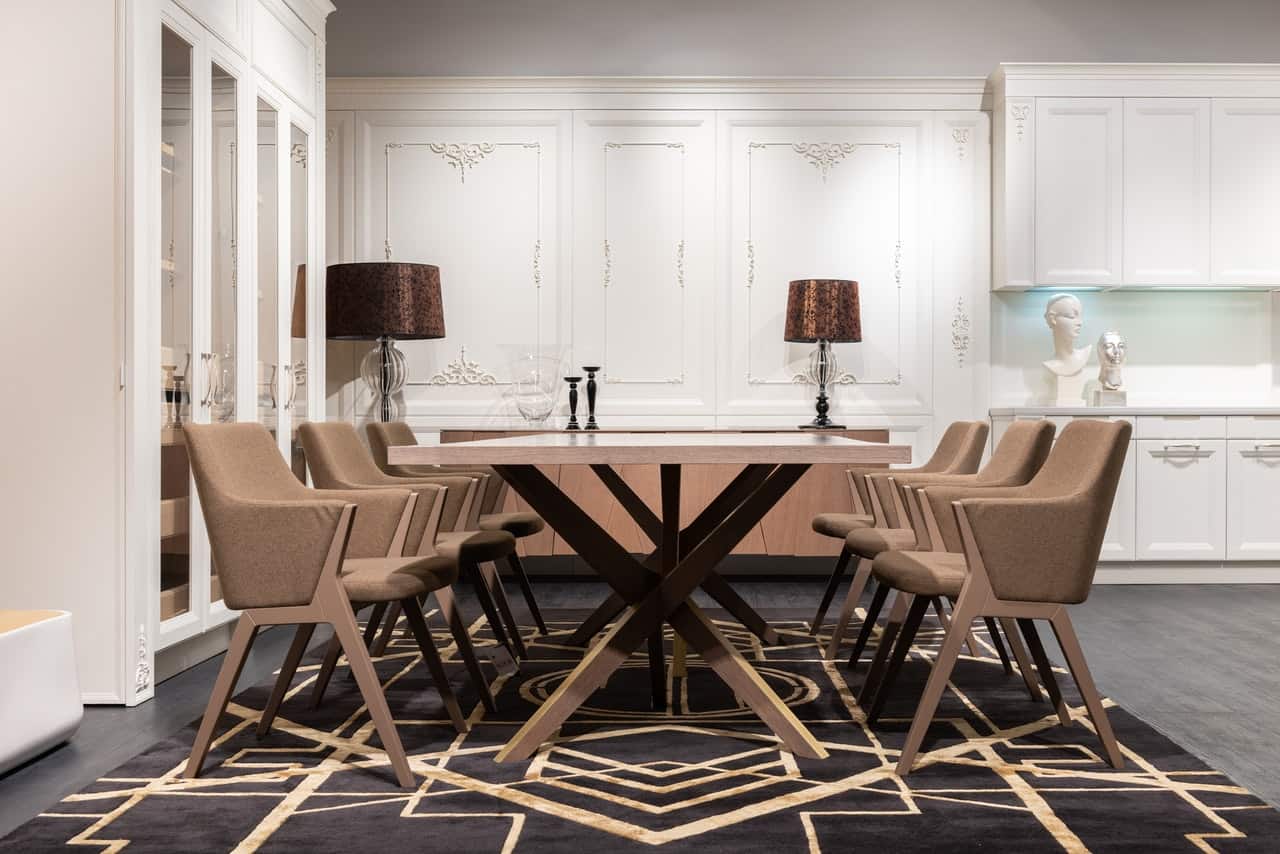 The dining room is a place for family and friends to gather during the holidays, birthdays, or any other event. You deserve furniture that will withstand your frequent gatherings while also providing comfort to you as well as those sitting with you at these celebrations. That's why it is so important when purchasing new chairs to work on appearance and the quality of construction.
Make sure to check the quality of a chair before making any purchase. It's important that it is comfortable, or else you may end up with back and leg pain due to improper support. Do not be afraid to take your time when testing out chairs. Sitting on them for some time will help give insight into the structure, and if they're good enough for long-term use.
If you are shopping for your set from online stores, you will not assess the chairs physically. In this case, you should read through customer reviews and pay close attention to the reviews that describe some possible issues or pitfalls with the chair. This will give you a good idea and a more general picture of the original product and how it works.
FAQs
Question: What Is the Most Durable Fabric for Dining Chairs?
Answer: The dining chair is the focal point of your dinner table and needs to be luxurious, beautiful, and comfortable. You want it to match with all other furniture in style as well as coloring – but these qualities alone are not enough! 
The fabric should also be stain-resistant (a spilled glass can ruin a good outfit), durable for years under heavy use without ripping or fraying, easy to clean so you don't have any stains from food that won't come out easily on its own like pasta sauce or wine spillages on dark fabrics. 
There are even more considerations when choosing the perfect upholstery material: natural fibers such as cotton will feel great against your skin while artificial materials such as soft vinyl textured just right instead may last longer.
Question: Do You Have to Use Upholstery Fabric for Chairs?
Answer: Upholstery fabric is better than regular material in most furniture. It will last longer and you can get creative with other patterns on the back of your chairs as well.
Question: What Is the Most Comfortable Material for a Chair?
Answer: A chair can be made of any material, but those who want to find the most comfortable will do well with a wooden back and plastic seats.
Conclusion
The dining room is the heart of any homestead. You should consider making your dining room look appealing because it's where you and your family will spend much of the time, especially when eating. Choose from plenty of chair sets for a more enjoyable experience while sitting down to eat with loved ones in a cozy environment.
The two most important factors that you must consider before purchasing chairs are aesthetics and material quality. Both can have an impact on how comfortable guests feel during their visit or meal at home. You also need to consider details such as style preference (upholstered/metal), size options (small-medium), armrests(yes/no).
It's not enough to have delicious food, good music, and a great atmosphere – you need comfortable seating too. The Hayden Dining Chairs from Christopher Knight Home are perfect for any party because they combine all of the good features you want in a dining chair.
Designed with comfort in mind, easily assembled, and durable for everyday use! For anyone who's still not sure what to go for, this set has everything you need. Feel free to share with us some of the best dining chair sets and ideas you might have come across.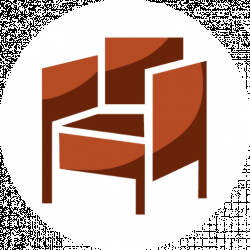 Latest posts by Finally Furnished Team
(see all)