TV designs and sizes keep evolving, and so does your decor style (maybe), meaning you can't use the same TV stand from three years ago. Furthermore, each TV is unique and deserves an appealing pride of place, achievable with an appropriate TV stand. 
To make it easy for you, we've rounded up and reviewed 21 TV stands on Amazon to give you ideas and inspiration before you make that purchase. The review emphasizes their design, style, and functionality.
How Do I Choose a TV Stand?
Weight, size, and design are some of the key factors to determine the best TV stand for you. Other factors contributing to this decision include storage needs, cable management, and decor style. To know more about this, here are some details.  
1 . Know Your Dimensions
Besides the obvious TV length, height, and depth (front to back, including the base), know your space's length, width, and height too. Do also note the distance between your seating area and the designated position for your TV stand.  
Your TV should always maintain an appropriate distance from the seating for an enjoyable viewing experience. Any TV that's more than 46 inches should be 8 – 10 feet from any seat. Furthermore, to enhance your viewing comfort, the lower half of the TV screen should be at level with your sightlines. 
 

TV Stand Size 

Recommended Minimum TV Size (Diagonal)
Recommended Maximum TV Size (Diagonal)

30"

34"

38"

35"

39"

43"

40"

44"

48"

45"

49"

53"

50″

54″

58″

55″ 

59″ 

63″ 

65″ 

70″ 

73″ 

>70″ 

70″ 

>70″ 
2. Choose a Design
TV stands come in different designs: a closed shelf, open shelf, cabinet, hutch, swivel, floating, and corner. Each design serves a unique purpose; hence your needs will determine what design to choose. 
3. Select Your Preferred Style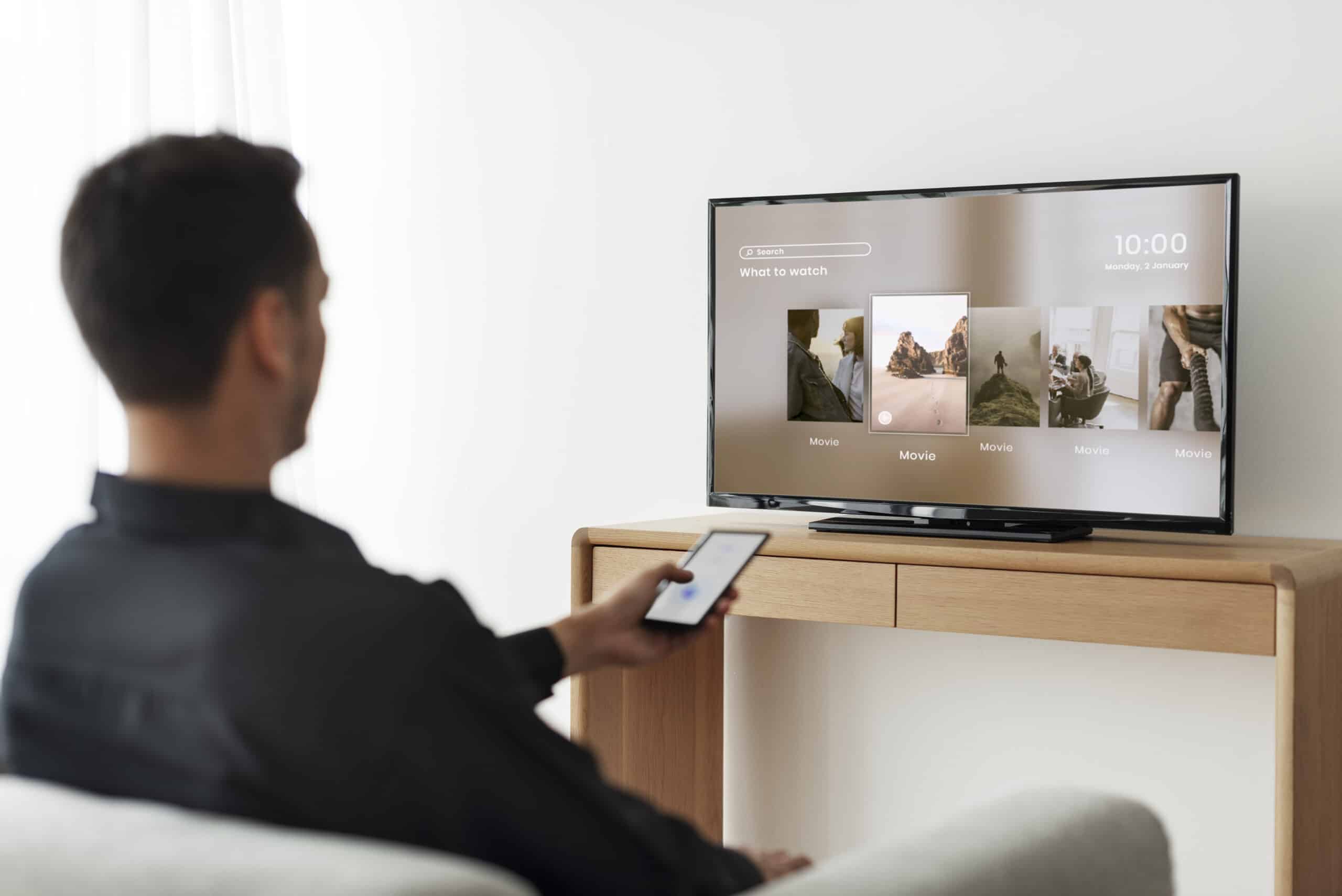 Spaces are not the same; thus, TV stands come in various traditional, modern, rustic, and industrial styles. Your TV stand should blend with your decor style by aligning with your furniture, curtain, and walls. 
Most TV stands are made from natural wood, processed wood, glass, metal, and marble. A few designs are spotting recycled plastics, but it's not clear how durable they are.  
4. Consider the Material 
Consider the textures, colors, and non-conducive to electric currents. If you've got kids, it's essential to select a TV stand with maximum safety capabilities. Wood is also ideal for enhancing the look and feel of a space. If you can't afford natural wood, processed wood (hardboard, particleboard) offers a viable alternative as it's affordable though not as durable. 
Metal is an excellent alternative to wood. Examples of what's used on TV stands are wrought iron, stainless steel, and others with surface coating and painting options.  Tempered glass gives you effortless elegance with a clean linear look that's best for accentuating your space. Though fragile, it's sturdy and can serve you for a while with proper care. 
Finally, check the sturdiness of the frame,  joint strength, and finish quality. The materials should be high quality and of high-grade construction with a long-lasting finish, without a foul or intense and engulfing smell.
21 Hot TV Stand Ideas: TV Stands to Enhance Your Decor (And Viewing Experience)
Our review focuses on design as the key determining factor of your purchase decision. We'll give you three TV stand options for each design plus other crucial details such as style and functionality. 
We'll begin the review with a look at TV stands with closed shelves. You'll know it's a closed shelf TV stand because it resembles a console stand –a type of long side table always placed against a wall. The closed shelf's storage stays concealed by doors and drawers. This design is helpful if you need to store items away from the general view.   
1. Sliding Metal Barn Door Wood Stand: Best as an Accent Piece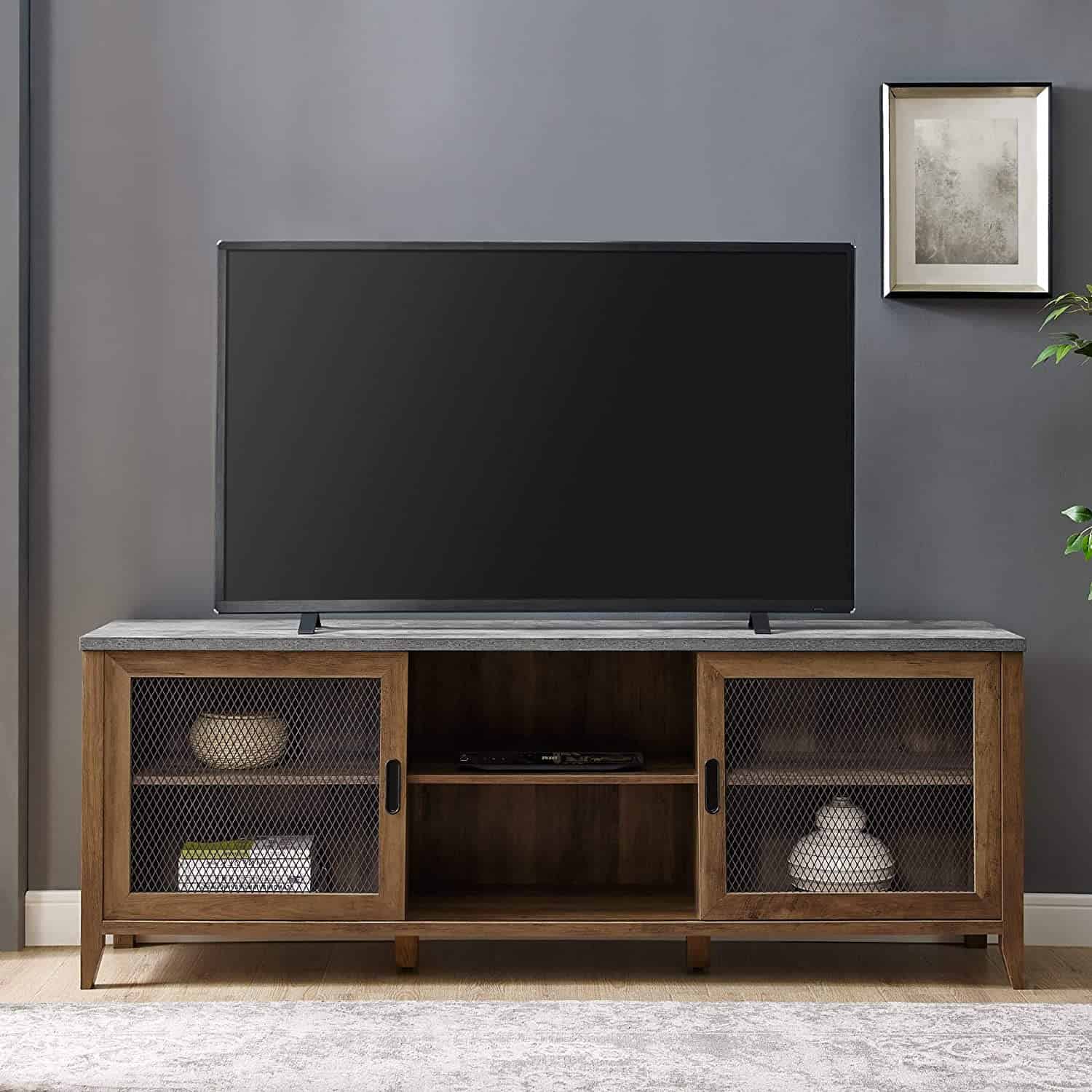 The edgy design on this industrial-style TV stand will pique your interest. It features two incredible sliding mesh metal doors which open to adjustable wooden shelves in a faux dark concrete shade. The dark concrete shade also applies to the TV stand's facade, giving it a premium farmhouse, industrial look. It's also pretty easy to assemble with clear instructions at each step.  
Pros 
Unique, appealing design

 

Sturdy due to quality build

Easy to assemble with precise instructions'

Value for money
 Cons
It doesn't have cable ports
2. Gosford TV Stand: Best for a Living Room or Office 

This  TV stand is outstanding for its contemporary style and spacious storage. The Gosford TV stand's facade consists of a lapped particle board with an attractive dark brown wood grain-effect paper veneer with scratch-resistant MB coating on the top panel. 
The design includes adjustable closed shelves concealed by two center drawers with open-shelf silver-tone metal drawer pulls and two side cabinets. The tempered glass cabinet doors slide inwards and have easy-to-adjust wheels, either up or down, to be flush with the sides of the TV stand.  
Pros
Sufficient storage

Sturdy

Easy to assemble 

Value for money
 Cons
 

Scanty assembling instructions 
3. Big Sur Highboy TV Stand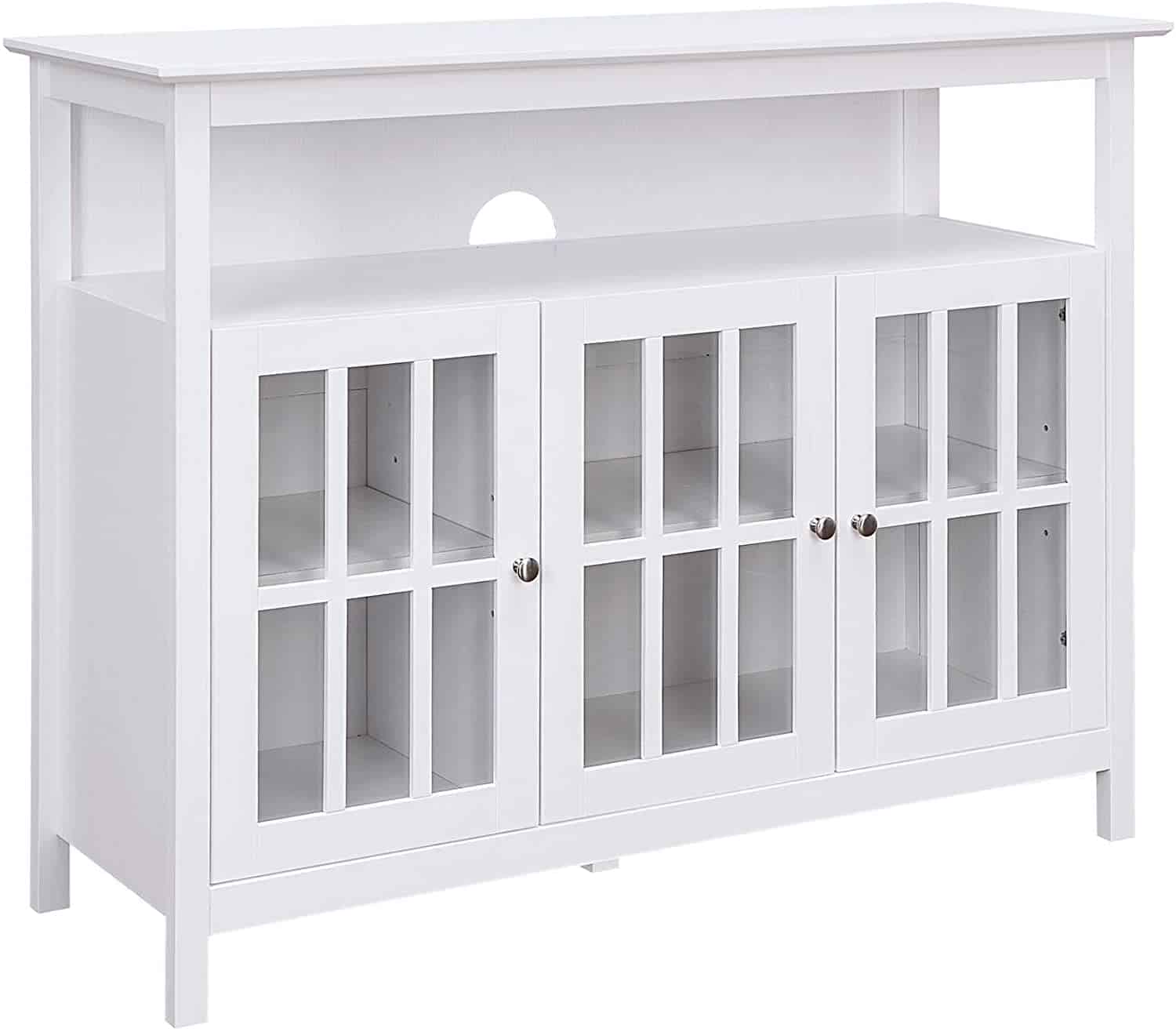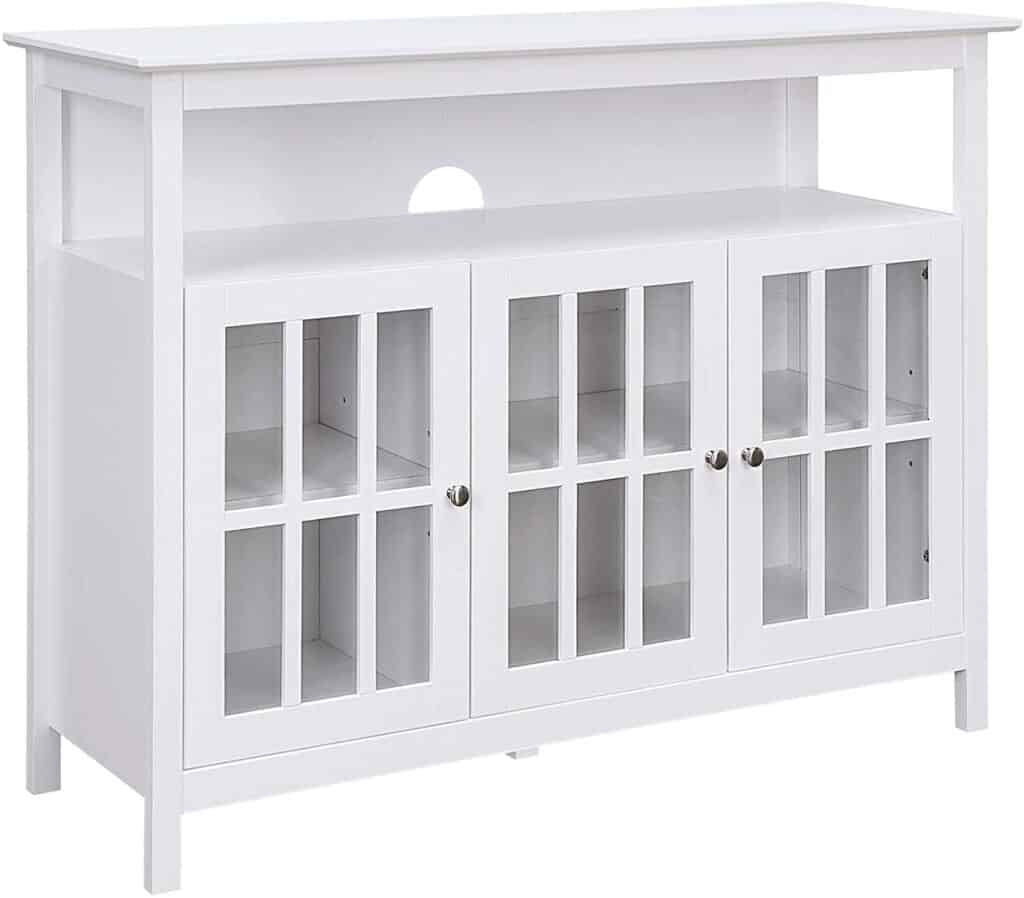 Still, on ideas and inspirations for closed-shelf TV stands, check out this awesome TV stand with a modern traditional style fit for any interior. It has a solid pine wood facade finished with a rich birch veneer and tempered clear glass. 
You'll be delighted to know that the spacious middle shelf is perfect for your entertainment and gaming accessories. It also has two roomy cabinets, with elegant, easy to open smooth round knobs and cable ports at the back.  Our recommendation is to use the spacious cabinets to display your cutlery, books, or liquor collection.  
Pros
Precise instructions at each step

Durable due to quality of materials like solid pine wood

Easy to assemble 
Cons
Despite precise instructions, not all are accurate. May need professional support to assemble.
If a closed shelf doesn't appeal to you, how about an open shelf TV stand? You'll recognize it because it's a cross between a bookshelf and a console stand. Heights vary, some have open backs and others have a concealed back. This type of design works if you want easy access to the stored or displayed items. It's the best choice for gamers and kids' entertainment rooms.
4. Simple Open Shelf TV Stand: Best for Minimalists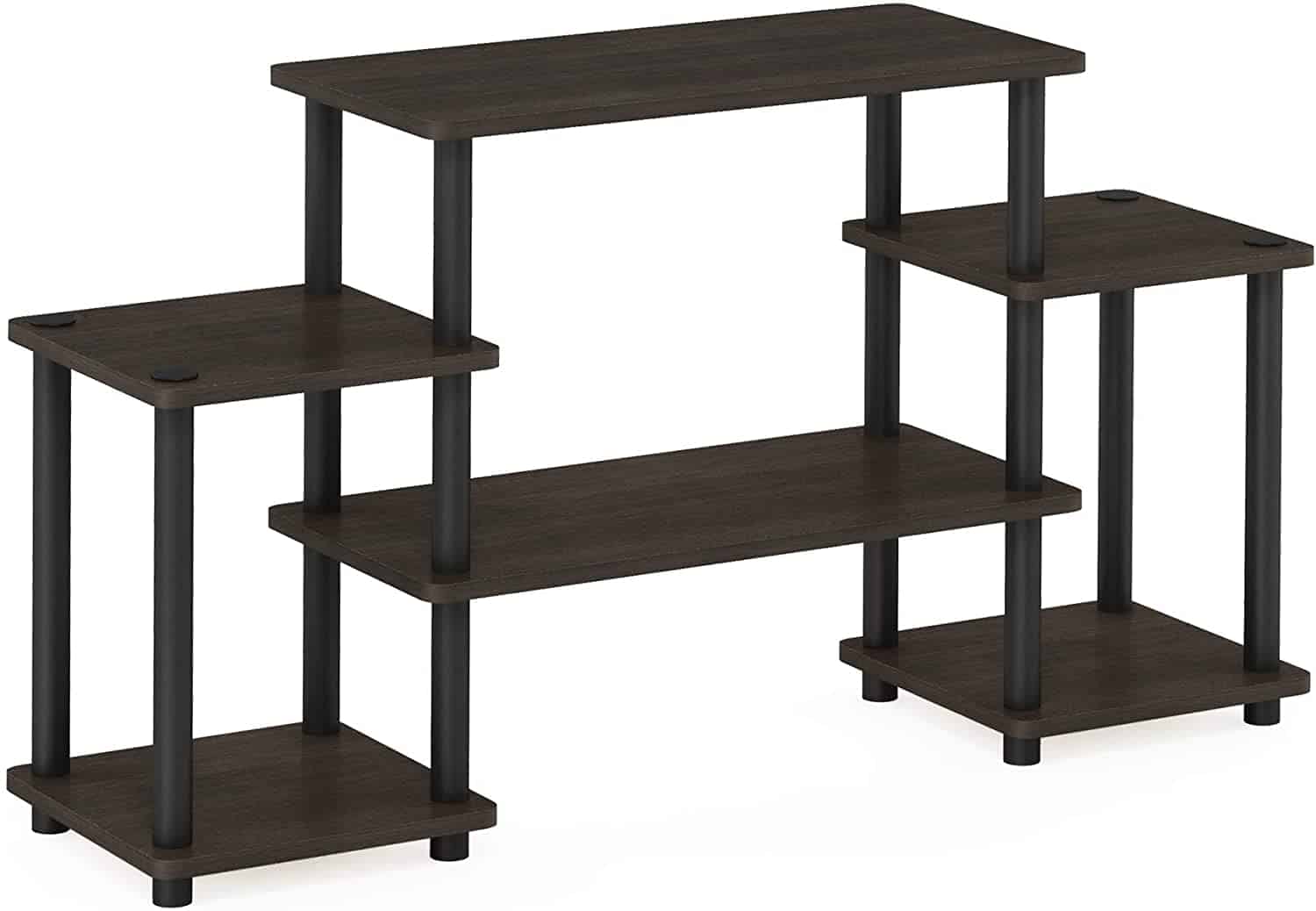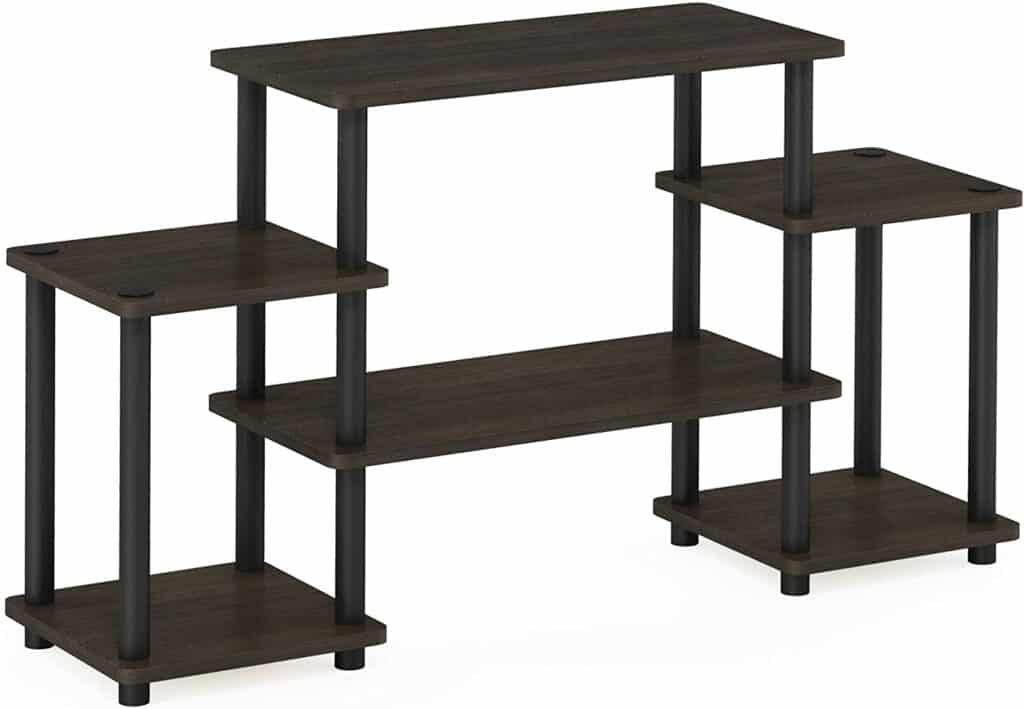 If you like no-frills, no-fuss type of furniture, this open-shelf TV stand is right up your alley. It comes in a simple design featuring open display shelves made of particleboard in a dark brown/black shade. The shelves' stable support to withstand heavy weight capacity comes from durable recycled PVC pipes. 
As far as minimalism and environment friendly goes, this TV stand is CARB compliant and has no foul smell. It can hold a TV with a capacity of up to 40" and is the perfect DIY assembly project for kids and kids at heart. You can also style it with entertainment accessories, books, indoor plants, and sentimental decor pieces.
Pros
Easy to assemble, no tools needed

Fair price for value given

Pretty sturdy

Family and environment-friendly materials
Cons
Somehow fragile, not sturdy for bulky items
5. Rustic Open Shelf TV Stand: Best for Aesthetic Appeal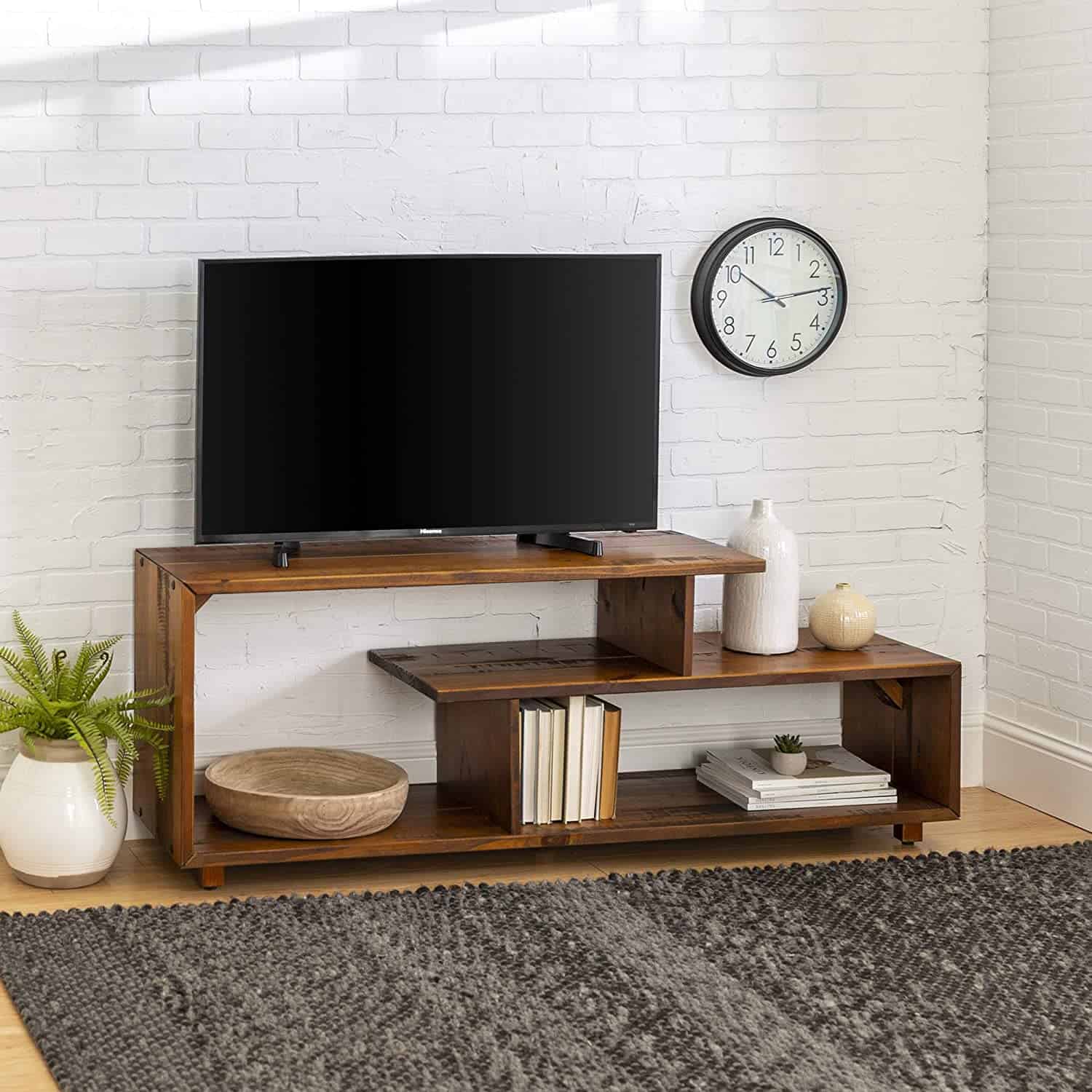 Made by Walker Edison, this two-tier TV stand had sustainable solid pine wood. Its design consists of natural pine wood that's sturdy with a nice finish to give you a rustic and modern look. The open shelving is on two levels of varying lengths. 
The top surface can support weights of up to 100 lbs and widths of up to 50". If you have a larger TV, you have the option of mounting it on the wall and using this TV stand as a display focal point to accentuate your TV. 
Pros
Unique design

Value for money

Sturdy

Easy to assemble

 
Cons
It has many pieces to assemble, hence time-consuming
6. Modern Gaming Open Shelf TV Stand: Best for Gamers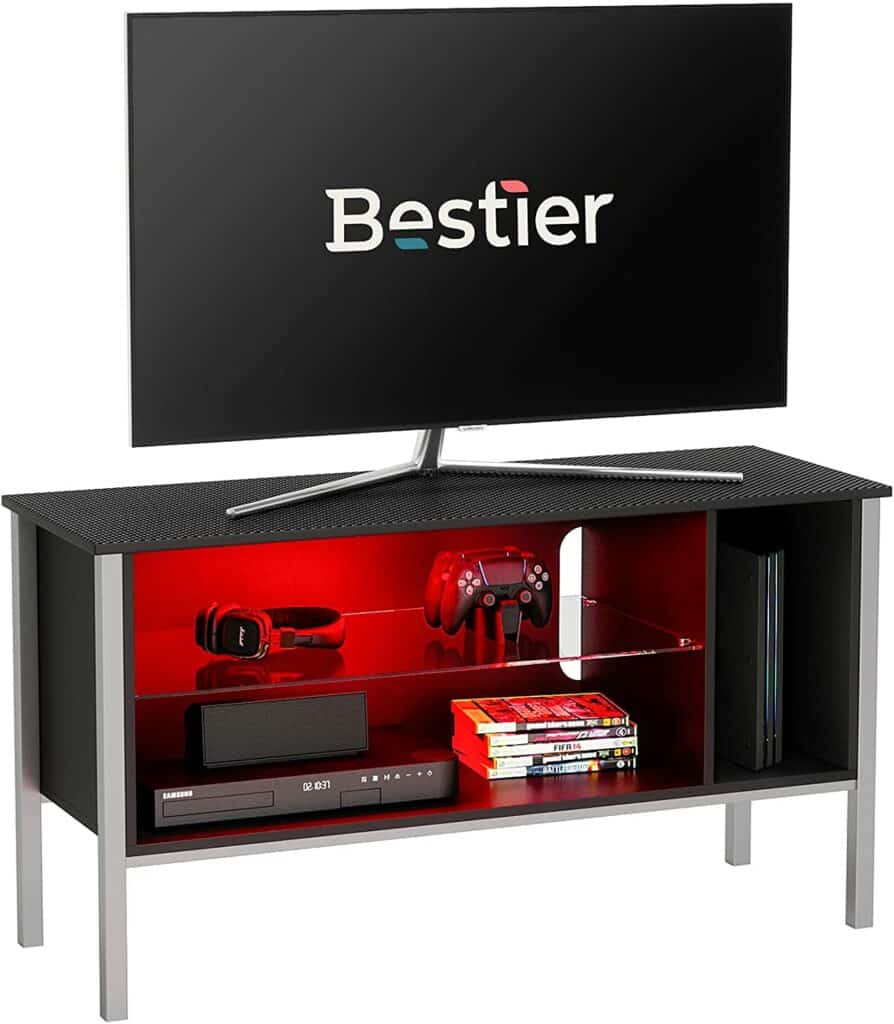 If you're not into minimalist or rustic styles in the open shelf design, here's something to consider: A modern TV stand with open shelving and a closed back. The design features a sturdy high-grade p2 particleboard with a rich finish supported by four powder-coated metal legs. 
This TV stand has two-tier open shelving made of tempered glass and an open cabinet storage space too. You can freely display your entertainment accessories or display souvenirs and decorative trinkets. It has cable ports in the back to manage cables, and on those days you want to jazz things up a little with some mood lighting, there's an LED light strip that produces a backlit light through the glass.         
Pros
Sturdy due to high-quality construction and materials

 

Easy to assemble with the aid of a precise step by step guide

 

Reasonable pricing for value given

 
Cons
The LED light component is pretty limited, no variety 
The cabinet TV stand design is common and comes in two designs with variations on the cabinet doors fittings; One type will have storage on the lower half, enclosed by cabinet doors, and an open unit on the upper half where the TV goes. 
The other has cabinets or drawers on the lower half and a large cabinet on the upper half, which closes to keep the TV hidden. This design is suitable if you have items to keep away from general view and others you'd like openly viewed. 
7. Jules TV Stand: Best for Spacious Living Room and Storage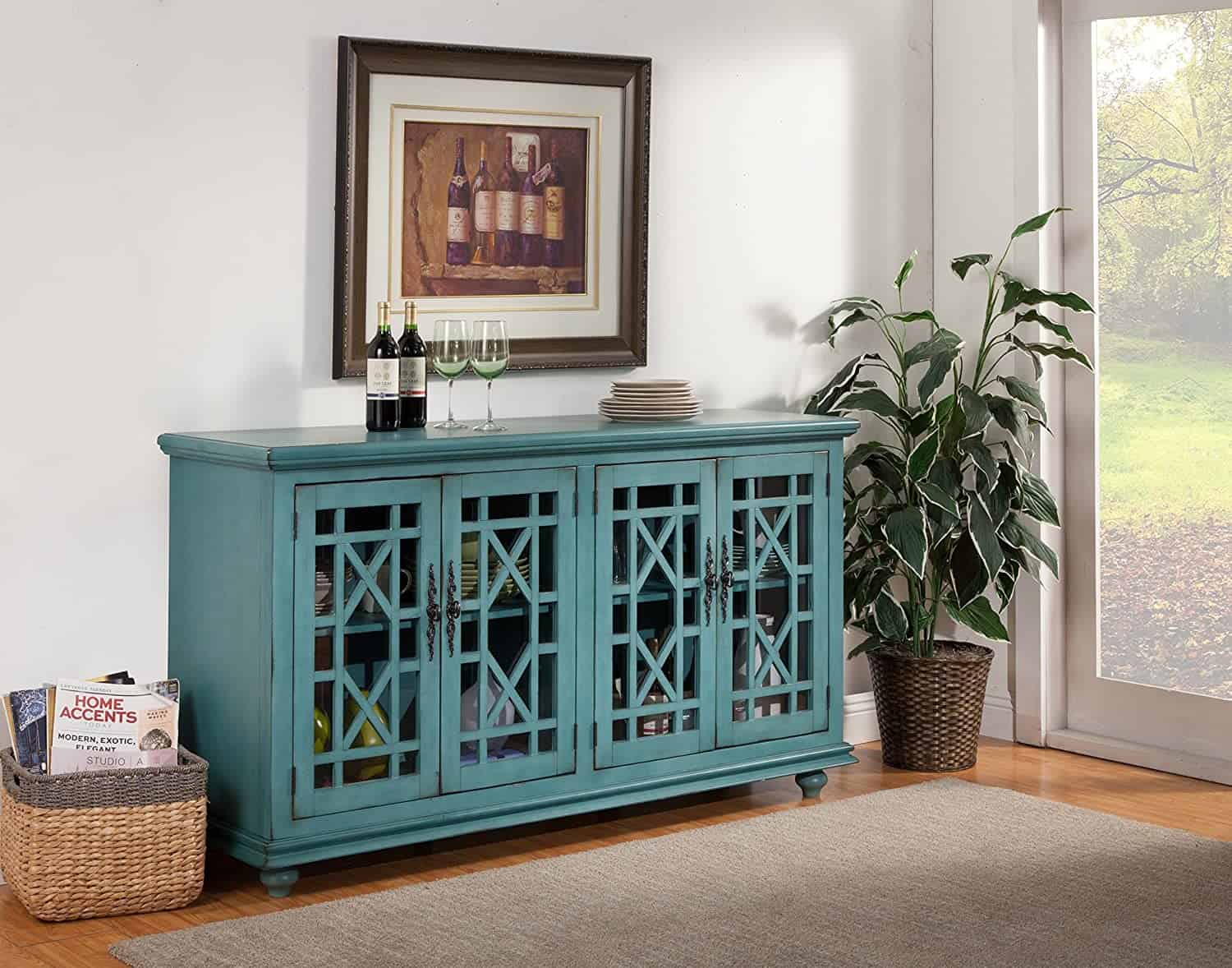 We can't help but draw our attention to this wonderful cabinet TV Stand with design inspiration from  Parisian antiques. It features two large cabinet doors with tempered glass in an elegant Trellis design that reveals two adjustable shelves. 
Other captivating elements in the design include intricate cast door pulls, turned bun feet, architectural moldings, and a teal finish to deliver an exquisite farmhouse style. The design and style make it so versatile that besides serving as an accent TV stand, you can use it as a sideboard or console table. On the whole, it's large, stable, and of high quality. 
Pros
Ample storage capacity with adjustable shelves

Reasonable pricing

Built to last 

 

Vertical cable ports

Anti-tip hardware enhances safety

 
Cons
8. Black TV Stand: Best for Small Spaces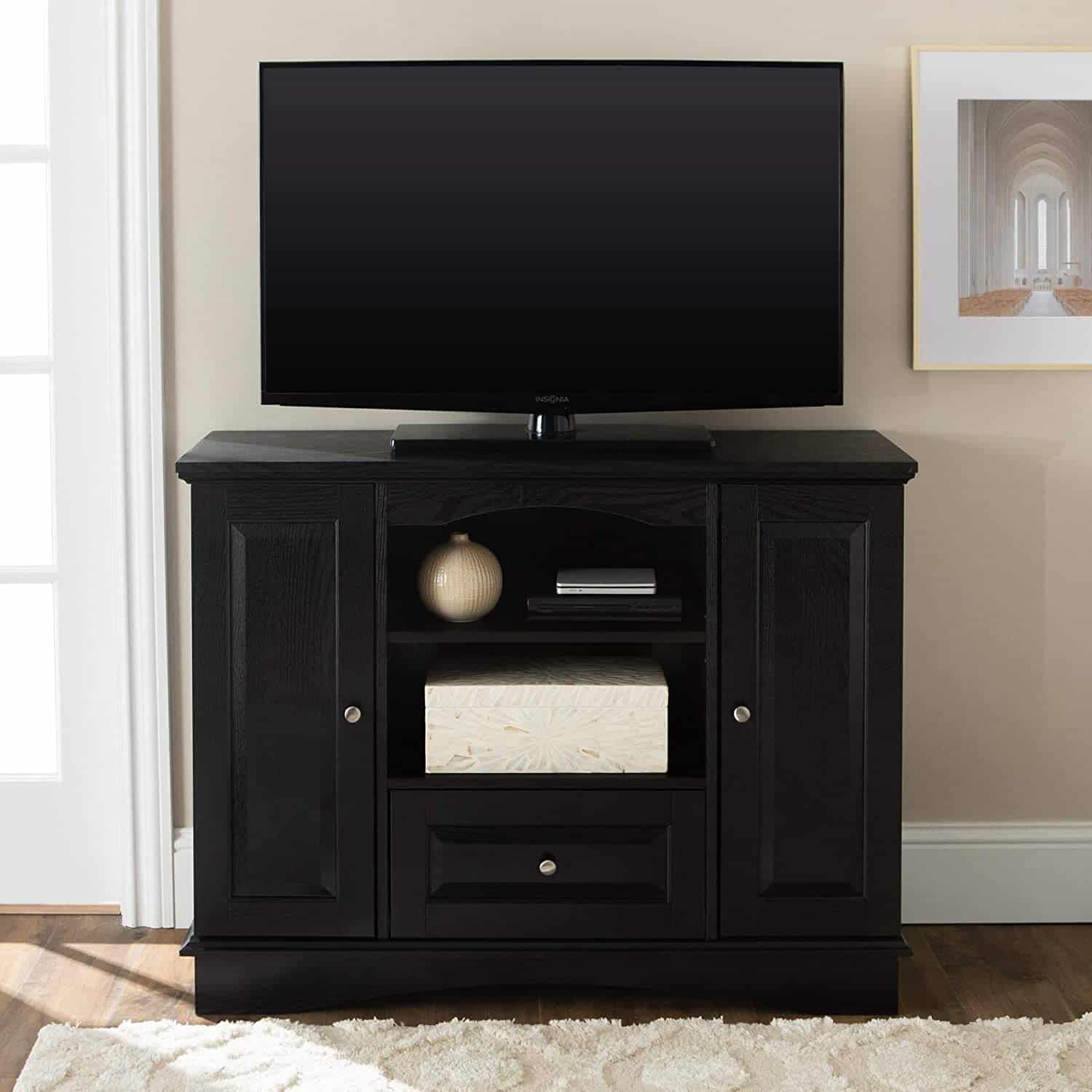 The color, storage, and size are your definite attractions to this highboy cabinet TV stand. The design features a full high-grade, sturdy MDF construction with two side storage cabinets, a storage drawer at the bottom, and adjustable open spacious shelving. It comes in a traditional style, with visible wood grain in a dark walnut shade. 
It's pretty easy to assemble, with each piece carrying a label with precise instructions. The storage gives you varying choices, like the top can accommodate a 42" TV and soundbar, and you can choose to put cutlery or liquor stock in the two cabinets. The drawers can be for everyday stuff you need to keep away from sight, while the open shelves can hold decor trinkets and books.
Pros
Great packaging

 

Varying choice in storage space 

 

Reasonable pricing

 

Instructions are precise for an easy assembly process

Built to last

 
Cons
There are many pieces, making its assembly tedious
9. Cabinet TV Stand with Fireplace: Best for Creating a Cozy Feel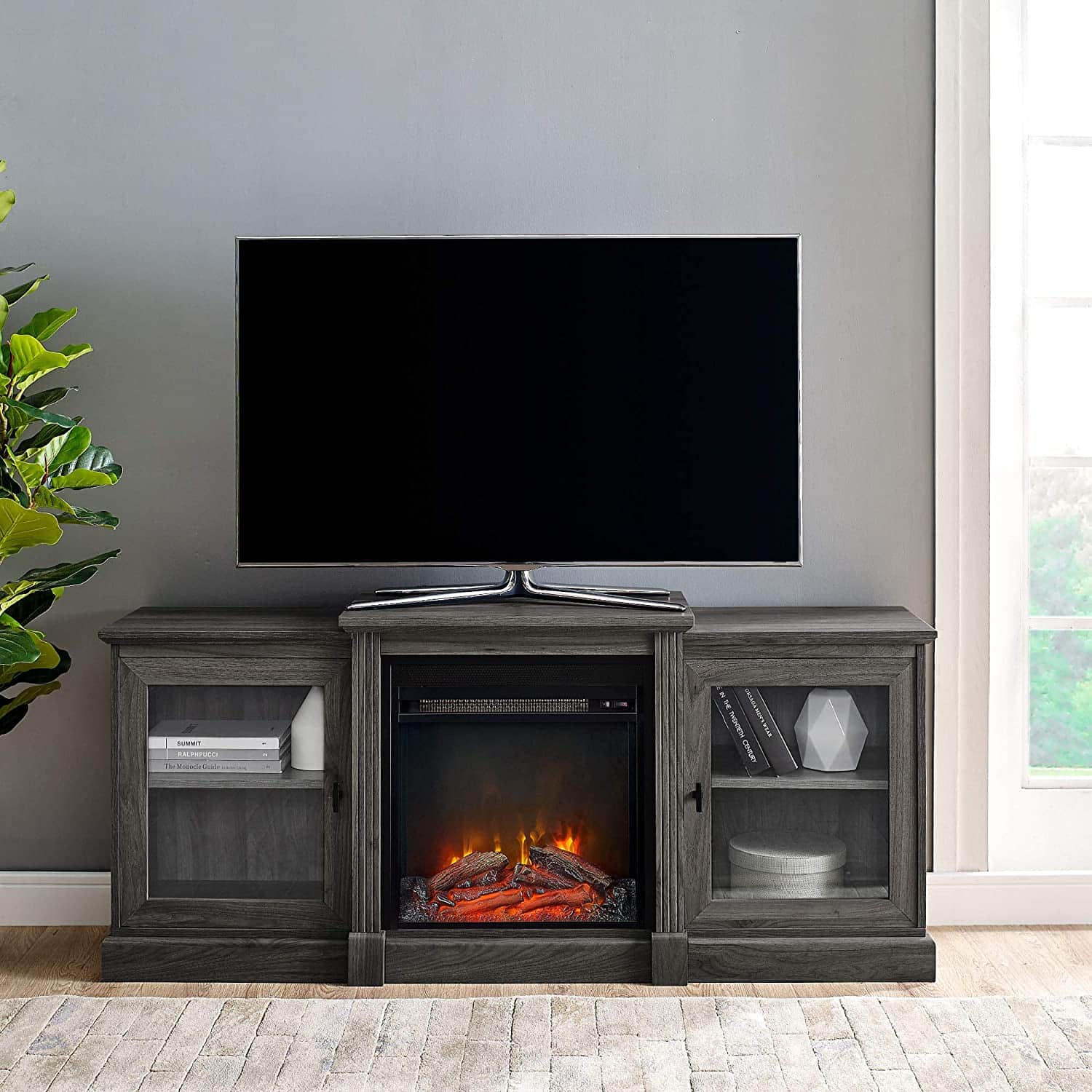 If you're looking for a good conversation starter, this cabinet TV Stand with a fireplace won't disappoint. It has a faux wood facade in slate grey, two adjustable shelves on either side covered by two cabinet doors encased in tempered glass. The elevated center holds an 18" electric fireplace that plugs into any standard socket. 
You'll control the flickering, glowing ambiance effect, and heating functions with two switches. It's suitable for any TV below 66," and you can use the adjustable shelves for cutlery, liquor, books, or decor trinkets. This TV stand doesn't have a definite style meaning it can fit into any interior, allowing you to style according to your taste and preferences.
Pros
Detailed instructions manual

Value for money

 

Superb quality

  

Built to last
Cons
No remote or knobs to adjust the  brightness of the display or set a thermostat

Heat is minimal, don't rely on it as the primary heating source

 
Now, if you want a singular solution for your TV, decor display, and storage, a hutch TV stand is worth consideration. It features shelves, cabinets, or drawers on the lower half, a central space for a TV surrounded by additional shelves on the sides and overhead. The only way this will work is if you have a large wall to dedicate.
10. Distressed Entertainment Centre: Best for Multiple Uses in Large Spaces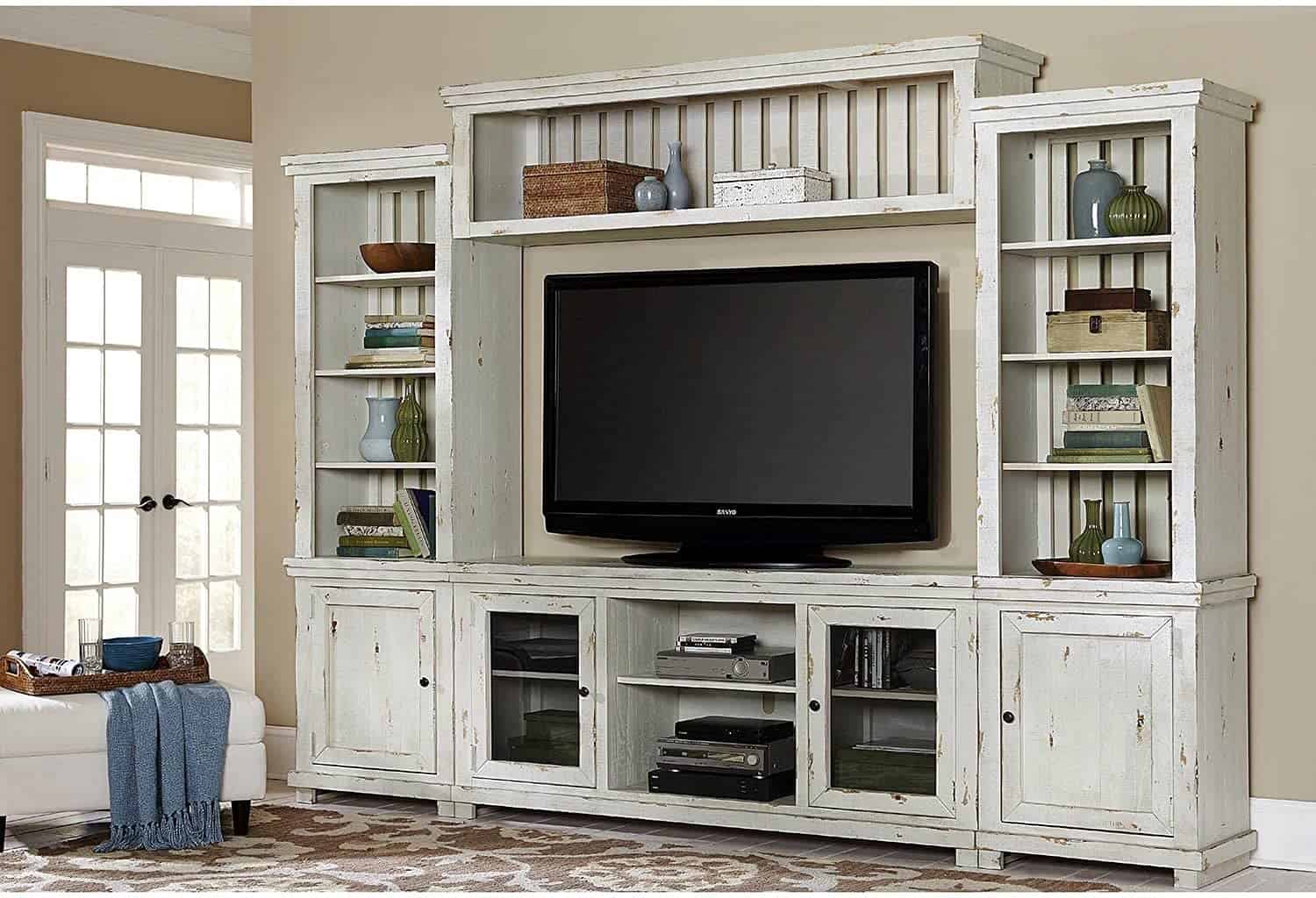 This TV stand is massive with an excellent farmhouse design featuring a 68-inch console, two pier units, and an overhead bridge providing ample storage options. Its tongue and groove construction with solid pine wood delivers significantly durable cases. 
It also features gunmetal finished knobs, glass doors with wood framing, open storage, adjustable shelving, and grommets for wire management. Tops and ends are solid planked panels, oversized thick tops, and parting rails. Pier units feature open storage, adjustable shelving, and door storage. 
Pros
Appealing farmhouse style

Thick, sturdy wood

Value for money

Easy to assemble (mostly comes assembled with minimal work for you)

Built to last 
Cons
11. 7 Shelves TV Stand: Best for a Living or Entertainment Room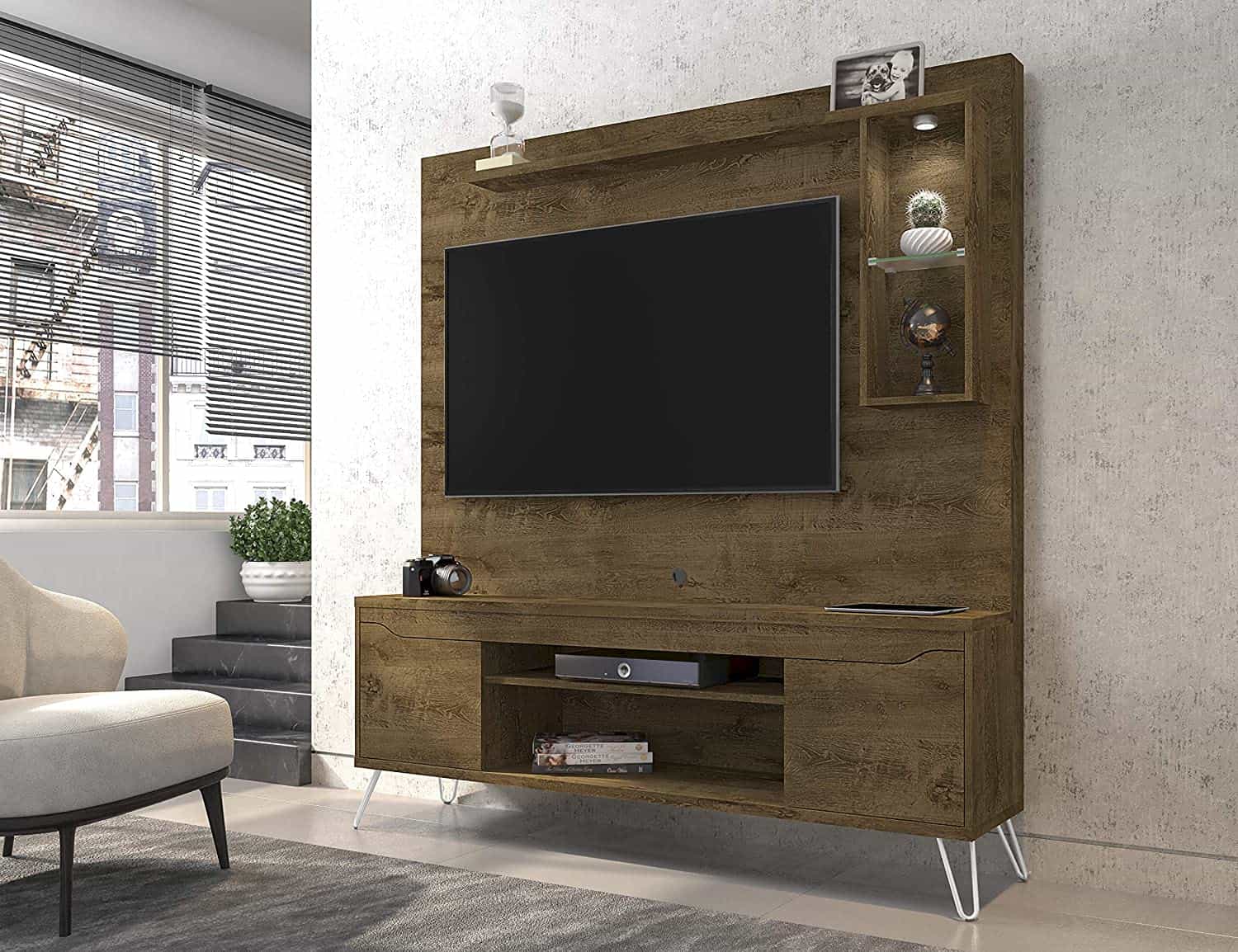 What's striking about this TV stand is its endearing minimalist mid-century style, hairpin legs, and appealing rustic brown color. The design-build features durable MDF, medium particleboard, and steel. 
Other features in the design include an overhead shelf, a glass shelf with a round LED, and cabinet storage with soft close hinges. It also comes with cable ports to conceal wiring and brackets for easy mounting. Ideal for TV with up to 55inches width. 
Pros
Sturdy

Value for money

Easy to assemble 
Cons
Scanty assembly instructions.'
12. Off White Entertainment Center: Best as an Accent Piece for a Large Living Room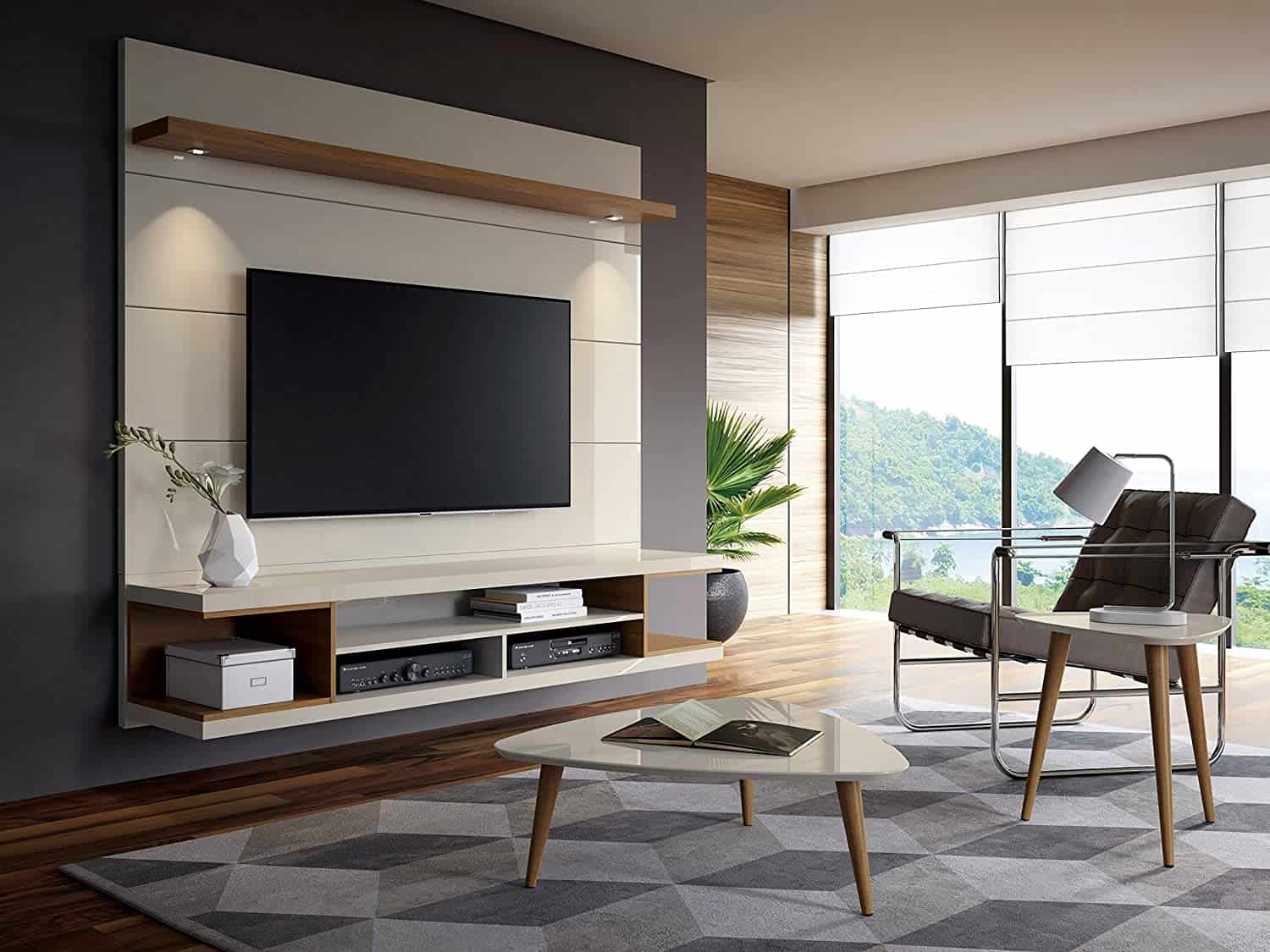 Relatively modern with an eye-catching sleek mid-century style, this TV stand has a wall-mounted entertainment center that combines storage with display space. It has one overhead shelf, two open-side display shelves, and three media shelves with two grommets for cable management. 
To heighten your viewing experience, it has LED lights, open storage areas to pack your books or media accessories, and décor trinkets. It's also the perfect TV stand for a 60 inch TV and comes with brackets for the wall mount. 
Pros
Superb design with smooth glossy finish

Sturdy

Value for money

Easy to assemble comes with precise instructions 
Cons
If you fancy something more dramatic, we reckon a floating TV stand may just be the thing for you. A floating TV stand doesn't have legs but is screwed mid-level on the wall with a space below to make it look afloat. This design of TV stands suits compact spaces and is the best choice for decorating solutions.
13. Rustic Floating TV Stand: Best for Living Room or Bedroom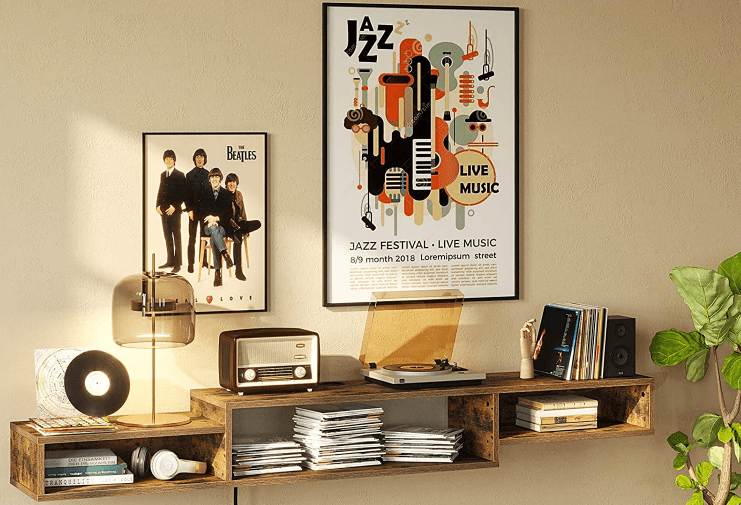 This TV stand has an asymmetrical design in a rustic retro industrial style. The fact that it floats and has this fantastic design is proof that you need to get acquainted. It's perfect for any room and comes with open storage spaces and power outlets designed to meet your electronic equipment needs. 
The construction features EPA standard particle board with melamine coating, making it sturdy, waterproof, and easy to clean. It is durable, stable, and the materials used to meet all safety regulations to guarantee your safety and well-being. With detailed instructions and the provided tools, you can have it assembled in about 30 minutes.  It's suitable for TVs with a width of up to 60 inches. 
Pros
Easy to assemble 

Value for money

Installs easily 

 

Pretty sturdy 
Cons
 

Mounting accessories are not sturdy 
 14. Altus Plus White Floating TV Stand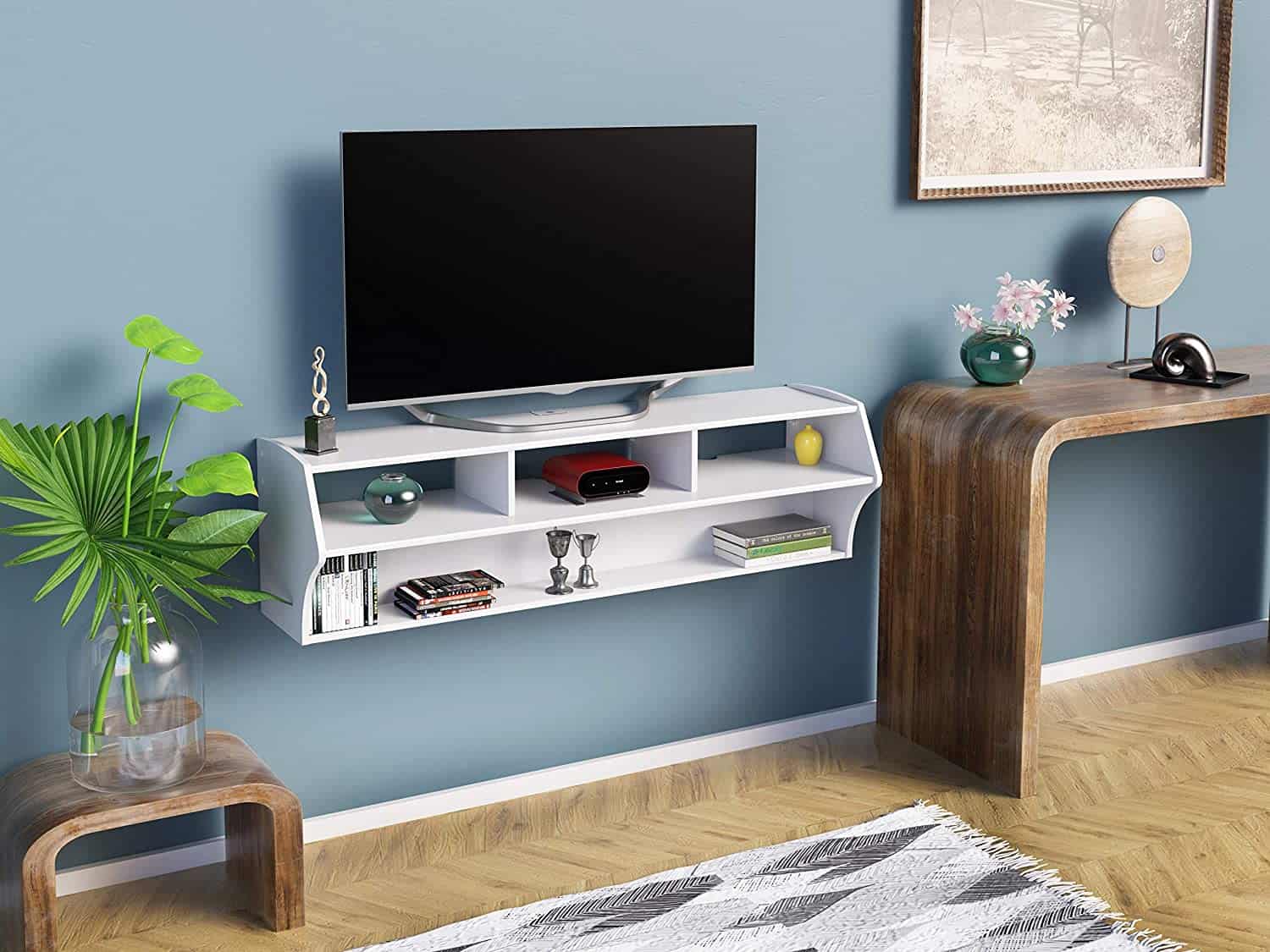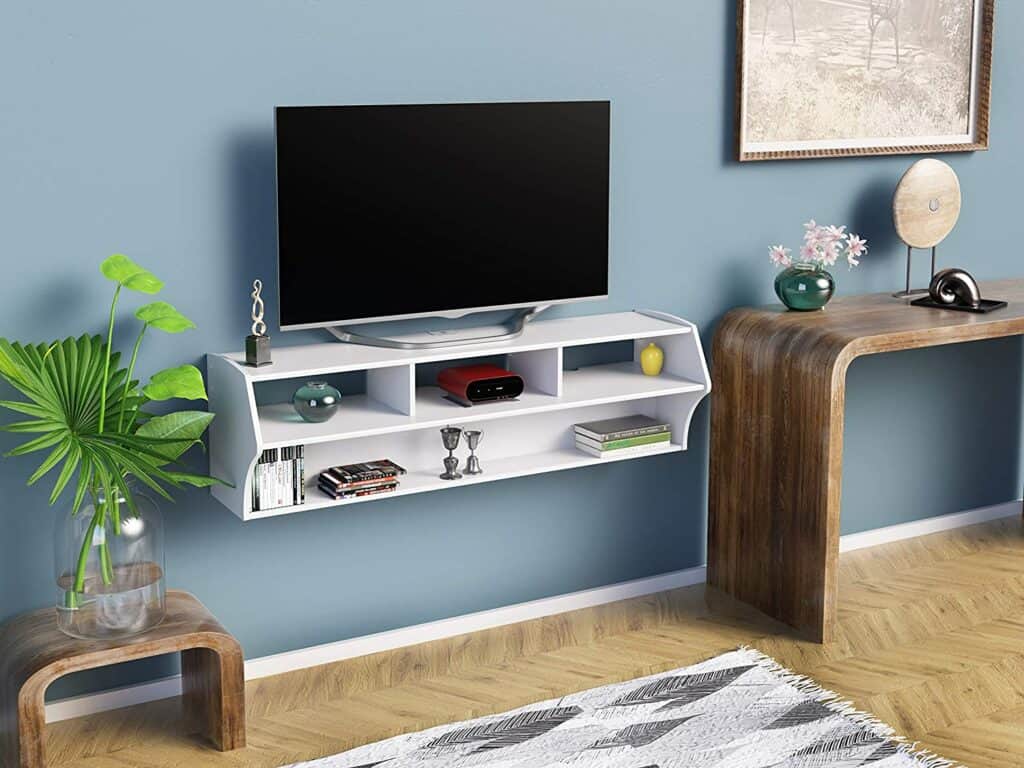 This ethereal, minimalist modern style TV stand suits flat panel plasma/LCD TVs with a weight capacity of up to 75 lbs and width of up to 60 inches. It has three upper compartments for your entertainment accessories with cable ports to neatly conceal your wiring and power bars. 
It also has an innovative hanging rail system to ensure you can mount it hassle-free to any height on your wall. At 58 inches wide, it includes three compartments for A/V components and a bottom shelf for media with room for 137 Blu-Ray Discs or 93 DVDs. When correctly installed, it has a 165 lbs weight capacity which accommodates most flat-screen TVs and A/V components. 
Pros
Sturdy

Easy to assemble

 

Value for money 
Cons
 

Wall mounts are not of good quality

   

 
15. Colonel Wall mount TV Console: Best for a Spacious Home Office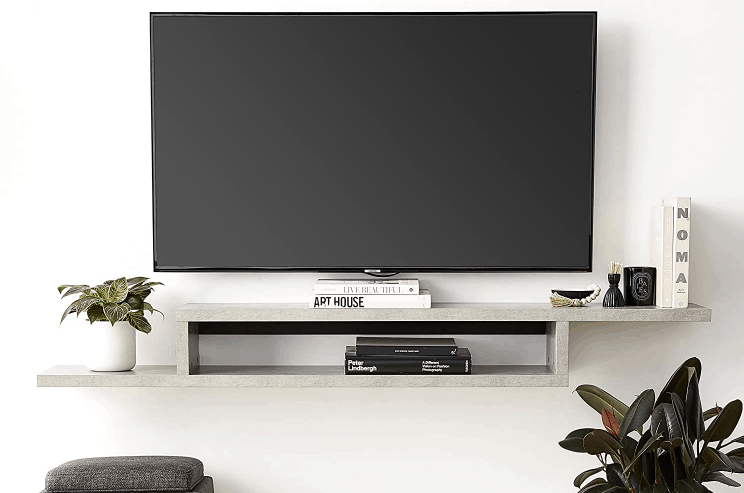 The modern, visually striking style and floating concept on this TV stand make it worth the purchase. The design consists of wood with a stone gray wood-tone laminate finish, loaded with two audio and video components side by side and a soundbar on the top shelf. 
It comes well-stocked with mounting hardware for standard wood stud wall installations. It's also pretty easy to assemble with clear instructions and holds weights of up to 70lbs. What's more, it has cable ports to conceal your wiring and ensure a clean, tidy look. 
Pros
Easy to install

Value for money

 

Easy to assemble with precise instructions

 

Sturdy 
Cons
Bulky and may require professional assistance to assemble.
Another design we're sure will interest you is the Swivel design. It has a rotating base that allows the central portion of the stand to swivel from side to side. This makes it easy for you to adjust the TV from sun or light glare or to any suitable viewing angle depending on where you're seated.  This TV stand is ideal if you don't want to rearrange your furniture or room layout. It's also the best for bedrooms, schools, hotels, and offices. 
16. Swivel Universal TV Stand: Best for Big Spaces like Offices, Schools, and Hotels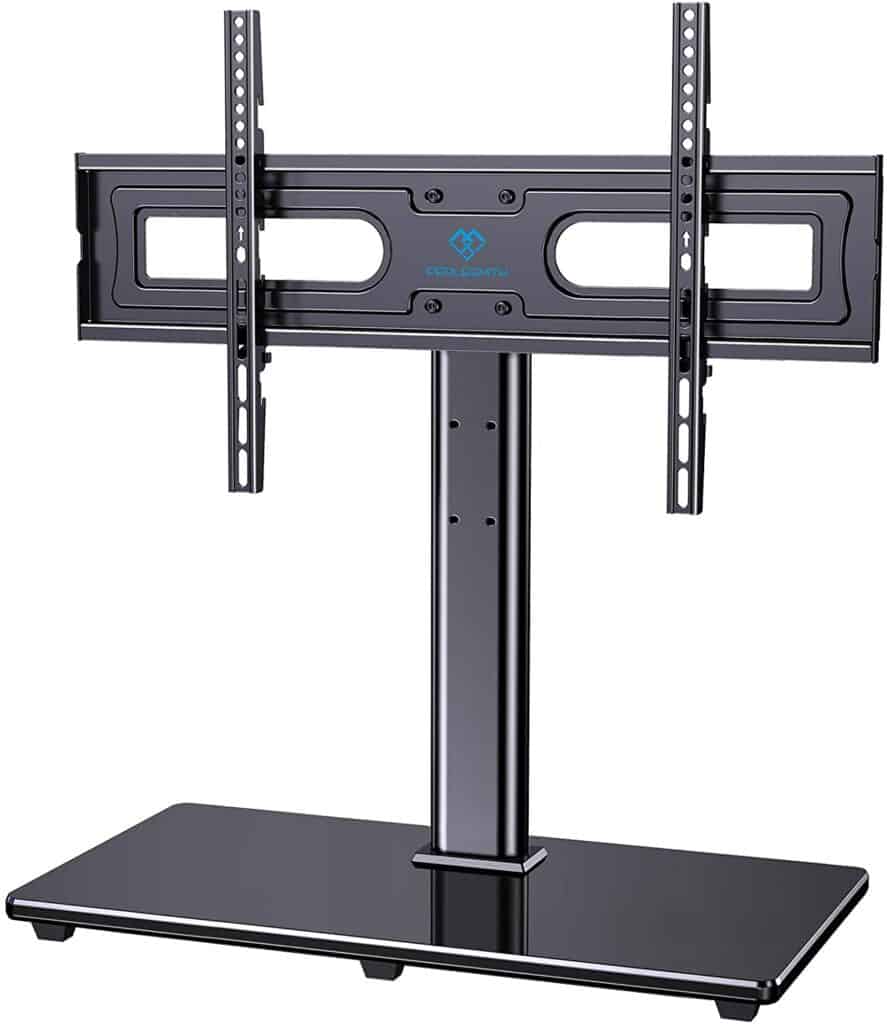 The safety components on this TV stand have detail and thought. The design features a large, sturdy tempered glass base, safety locks, and non-slip rubber wheels. It can also fit 37-70 inch LCD/LED/OLED/Flat Screen and TVs with up to 99 lbs. You can adjust it to nine different heights for easy viewing, and there's also plenty of space for your entertainment and gaming accessories. 
For the swivel feature, you can rotate it to 35 degrees left or right. Don't stress about the assembly process because it's hassle-free and with clear instructions, to be done within no time. It fits into any space and works well with modern, rustic, retro, or industrial styles.
Pros
Superb mounting system

Easy to assemble and install

Value for money

High-quality construction 
Cons
17. Rolling TV Stand with Wheels: Best for Gamers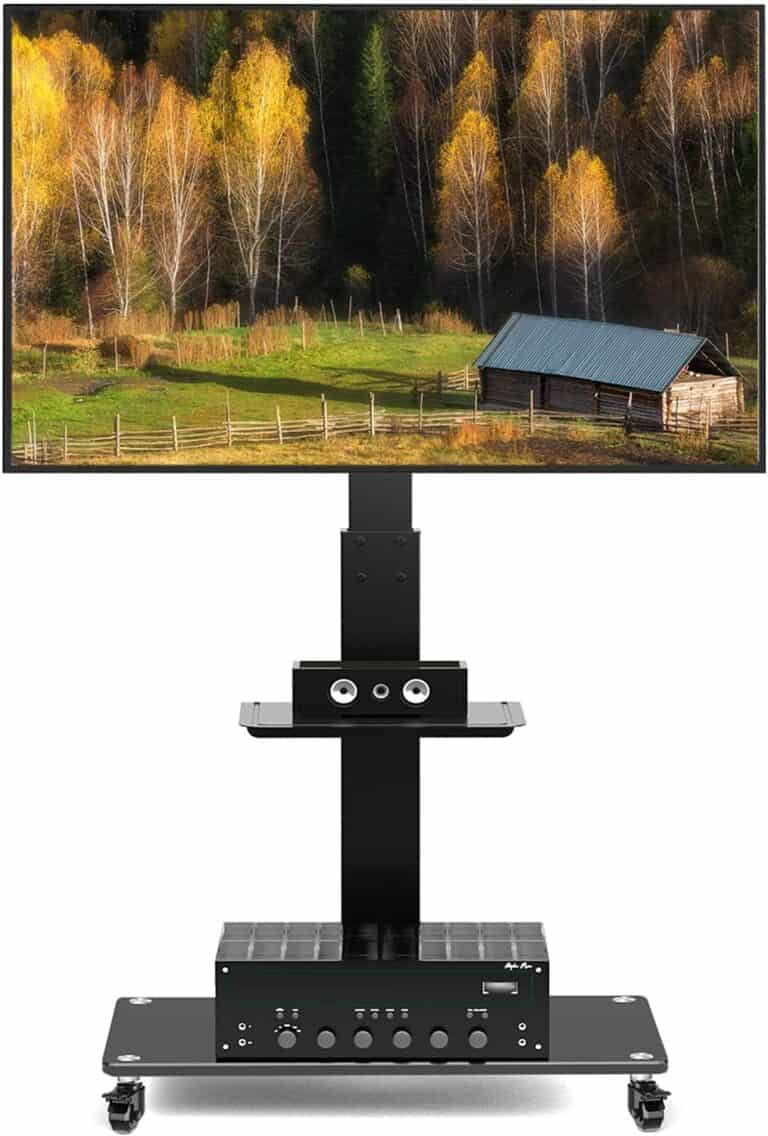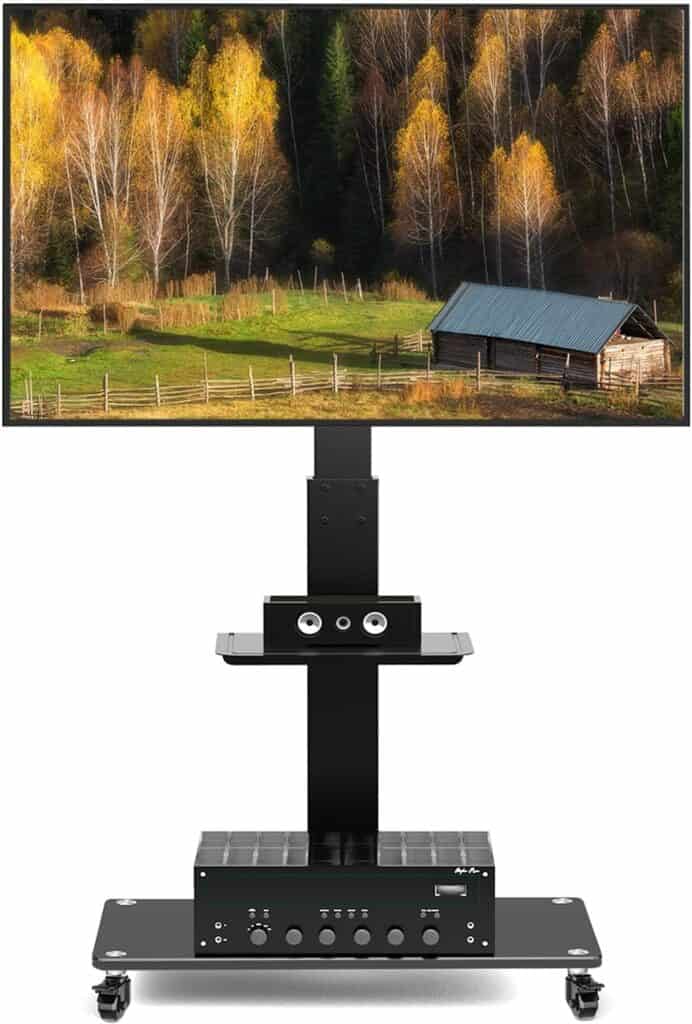 If you're looking for an enormous loading capacity, consider this TV stand that's suitable for TVs with a weight of up to 110 lbs and 37 – 70 inches width. You can count on its safe and strong structure with a thick metal shelf built to support the TV stand base and, eventually, your TV.  Its safety 'Bracket Lock' design further protects your TV from slipping sideways or falling. 
The lockable heavy-duty caster wheel prevents any slip and fall accidents. There are also cable ports and a spacious adjustable shelf (from 4 – 33 inches) for your entertainment and gaming accessories. Moreover, it has a swivel adjust of 30 degrees left and right to give you a wide viewing range and three adjustable height options for different TV sizes and seating positions.   
Pros
Sturdy

Easy to assemble

Value for money

Quality construction and materials
Cons
Instructions are not clear and detailed 
18. Adjustable Swivel TV Stand: Best for a Small Office 
 
This TV stand is ideal for 32 – 55 inch TVs and can support a weight capacity of up to 88 lbs. Its design-construct consists of high-quality steel that's stable enough and difficult to topple over. The brackets can swivel right to left at 30 degrees, and you can also adjust your TV to six viewing heights based on preferences. 
At the back, you'll find cable ports to help you maintain tidy cabling conveniently if you want to avoid any cumbersome assembly process. In that case, you'll be happy to know that it comes with an easy-to-use instruction manual and all necessary accessories for installation. 
Pros
Sturdy

Value for money

Easy to assemble 
Cons
Instructions are not precise; you'll need to do further assembling research.
The corner TV stand is our final design review. It's a space saver hence the best solution for compact, asymmetrical spaces. 
19. Golden Oak TV Stand: Ideal for a Compact Living Room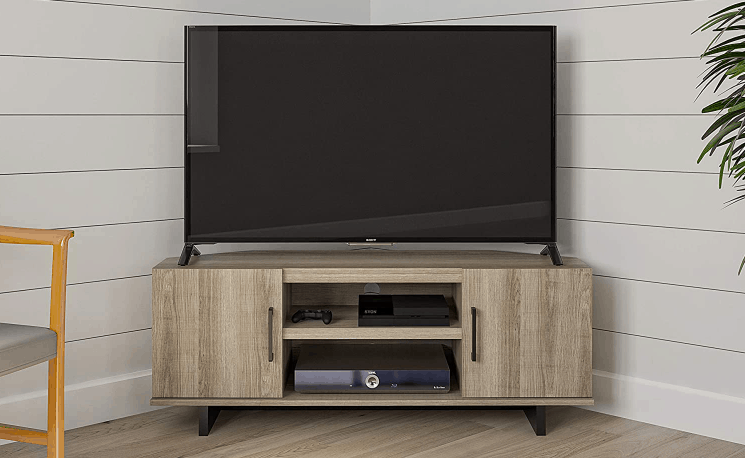 You're going to love this exquisite quaint corner TV stand by Ameriwood. The design features laminated particleboard in a light golden brown rustic-ish finish, contrasting Black H panel feet and hardware that suit any interior style.
It comes with six shelves, three of which are adjustable and perfect for storing your audio and video equipment. The top surface holds any weight up to 60 lbs, while the shelves hold up to 20lbs each.  In terms of width, it can accommodate TVs with up to 50 inches.
This TV stand is like the proverbial gift that won't stop giving because the center shelf is adjustable to accommodate equipment of various sizes despite its diminutive size. Moreover, behind the two side doors are four additional shelves, two behind each door, for your DVD and game Collection. One shelf behind each door is adjustable to fit items of various sizes, or simply remove the shelf to store away your speakers. 
Pros
Value for money

Sturdy

Beautiful design
Cons
Pretty bulky requires two people to set up
20. Corner TV Stand with Fireplace: Best for a Small Cozy Bedroom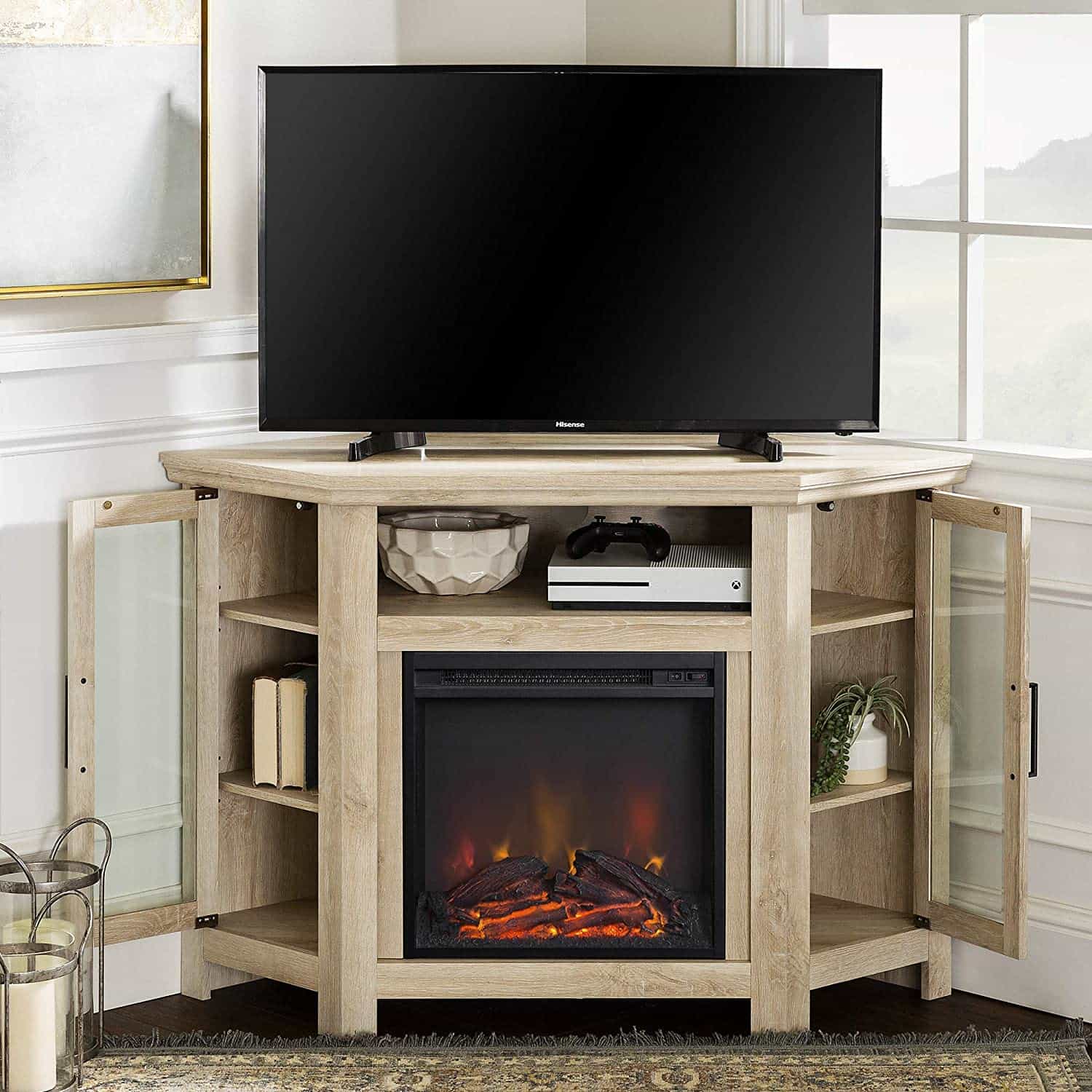 You can't pass up this extraordinarily superb corner TV stand with a fireplace. The design consists of high-grade MDF with a durable laminate finish with shelving behind two tempered glass doors. There's also an open shelf below the top surface to fit your media components and accessories. 
The top surface supports up to 100 Ibs and has four adjustable shelves behind the tempered safety glass cabinet doors, each supporting up to 20 Ibs. In terms of width, it accommodates TVs of up to 55 inches wide and includes cord support to keep your cabling tidy.
The fireplace can heat up to 400 sq ft and, together with the display, are operable individually. You don't need a vent or electrician to install; simply plug into a standard household outlet to enjoy your new buy.
Pros
Detailed, precise instructions to assemble

Sturdy

Value for money
Cons
Look out for design flaws when assembling
21. Swivel Corner TV Stand: Best for a Gaming Room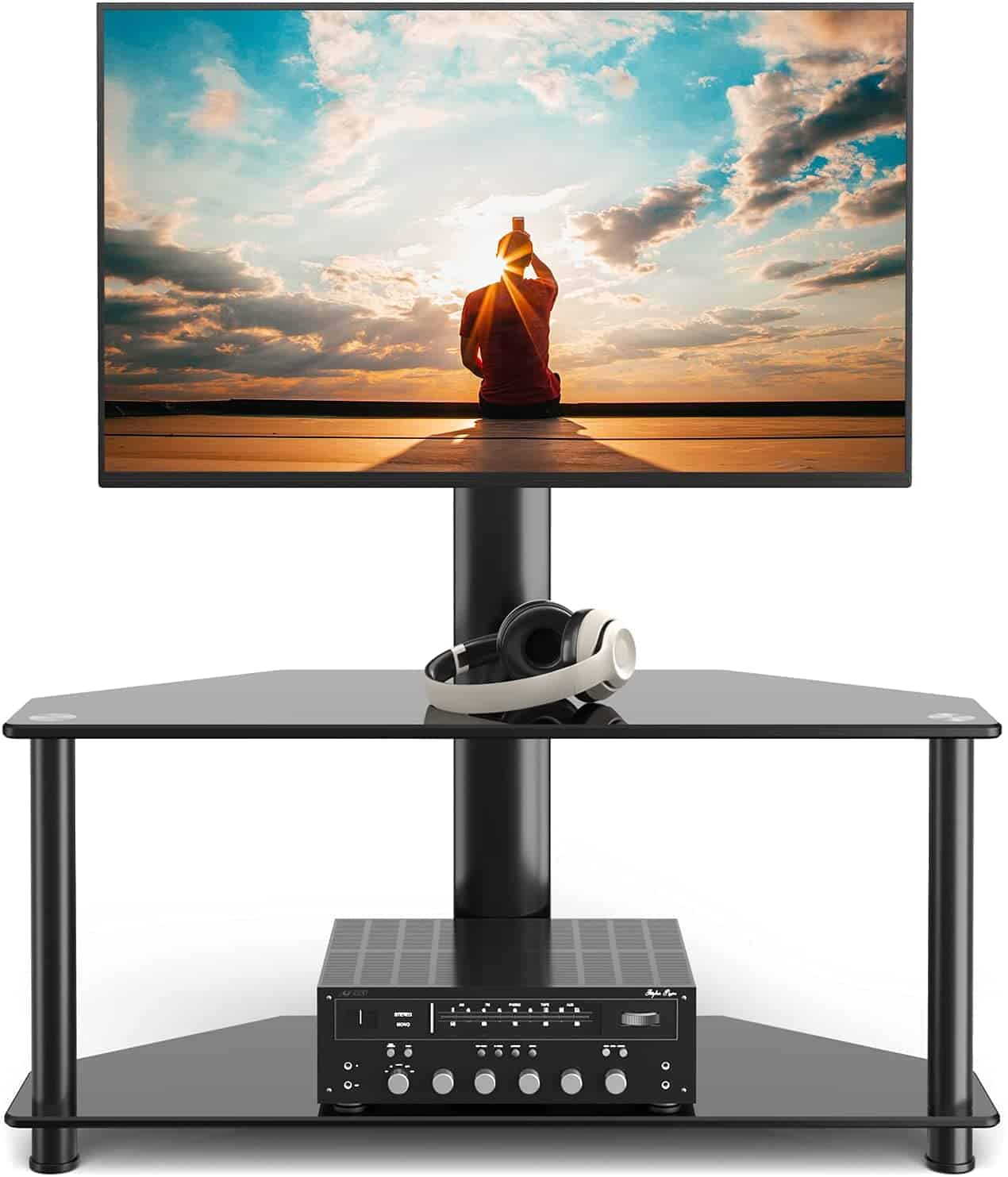 This solid swivel corner TV stand is delightful for many reasons. It fits 32-55 inch TVs and is compatible with multiple VESA patterns (the four mounting holes at the back of the TV). The design features a metal frame with tempered glass shelves sufficient for your entertainment equipment, safety wire, safety screws, and legs with non-slip pads to protect your TV and prevent tipping. 
The heavy-duty tempered glass base and poles are fancy, glossy, and super sturdy to secure your TV. In addition, the center of the pillar is hollow and allows you to run all your cords through for a presentable, smart look. The swivel function performs flawlessly, angling at 30 degrees for your comfort, and also gives you two adjustable heights. Not too bad for a corner stand.
Pros
Value for money

Offers maximum versatility for small spaces 

Sturdy 

Easy to assemble
Cons
Scanty instructions make assembling tedious
Conclusion 
By now you've already made up your mind about which TV stand to buy. If you still don't know what to get, use our comprehensive guide to keep up the search for your preferred TV stand. Always remember that your decision depends on your TV and space dimensions, the materials used to make it, plus your preferred design and style.
In the end, the best TV stand is the one that meets or exceeds all your needs, accentuates your space, and gives you a memorable viewing experience. If you are not sure which one to go for, we recommend the Sliding Metal Barn Door Wood Stand. It's easy to assemble, has an edgy design, and is durable.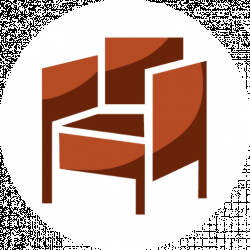 Latest posts by Finally Furnished Team
(see all)