The word ottoman inspires endless images in our minds, some are round, some square, some small, some could fit three people! Fur, felt, velvet, leather, brocade, linen, and needlepoint patterns come to mind. For many, storage is a huge enticement. These days, it is very common to style an ottoman as an extension of a chair, couch, or glider.
You may be asking what is an ottoman? Think first and foremost – footstool. That is the most common use and most widely known purpose. The ottoman actually came about in Turkey in the 1700s (which was ruled by the Ottoman Empire) and was closely associated with the already existing "suffah" (an Arabic word that was the origin for the word "sofa").
They both were very low places to sit, almost like benches or a long thin pillow that was placed against all walls and covered with cushions so that everyone would have a place to sit. Words that go hand in hand with "ottoman" are shown below, and basically mean the same thing, or something extremely similar.
Common Words for Ottoman
Footstool
Tuffet
Pouf
Hassock
Footrest
The word "pouf" came from a type of tall, puffy hairstyle that Queen Marie Antoinette made famous in the mid to late 1700s. It usually refers to an ottoman that is circular, tiny, and has some plumpness to it.
Ottomans are a versatile and flexible piece of furniture, or decor, (however you choose to look at it) that are essential for a home, regardless of what room they go in. There are so many uses and functions for it that it truly is exceptionally convenient to have on hand when little ones come over and need a place to sit, or a leg needs to be elevated and have ice on it after a particularly interesting game of soccer (I have so many stories…), or someone just wants to pull something lightweight over to the window or fireplace.
This is not even to mention the amazing ottomans with storage in them.  Some even have beds! You can not go wrong buying one – everyone will find something they like about it!
Velvet Pleated Round Pouf Ottoman by Drew Barrymore Flower Home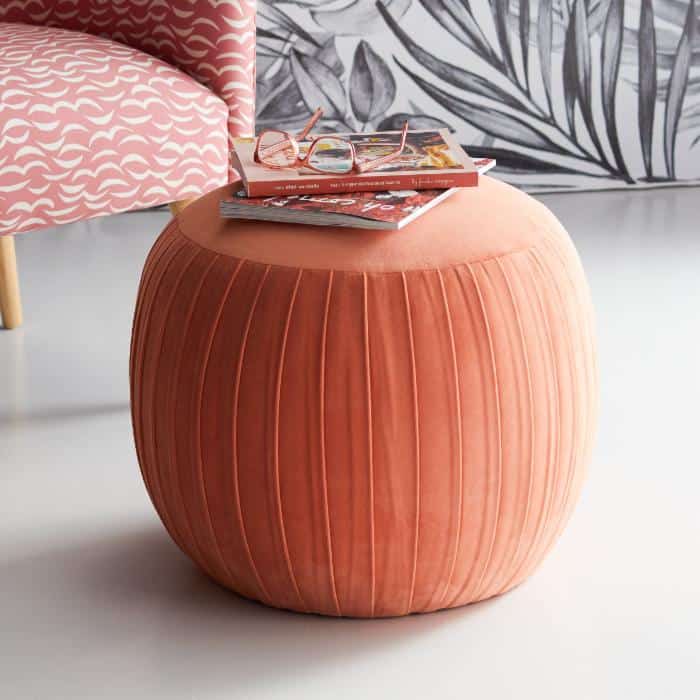 Bright and free-spirited pouf ottoman made with smooth velvet fabric and wide, bold pleating. It is 21″ across and 19″ high and has a solid wood frame covered in cushioning.
I like this for its dainty size and elegant details, actually making me think of a sweet cream puff!
The small size makes it a great fit for smaller spaces and allows you the opportunity to get several of them to space around your room.  Another option would be to get several, and buy a beautiful large tray to rest on top of them for a luxurious impromptu table spread!
Color hues available are fun and dramatic, but I think any color would be dramatic with this!
The drawback here is that the size prohibits it from really accommodating a larger adult for seating, or for providing more than one person footsie room.
Find it here at Hayneedle!
Antibes 32" Wide Round Floral Pouf Ottoman with Storage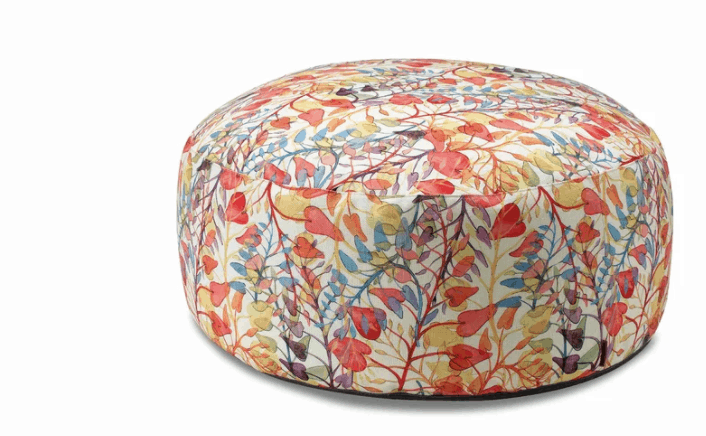 An updated motif to the classic "pouf" style ottoman, this is a bit larger at 32 inches wide.  It maintains a short stature at just 14 inches off the ground. It comes with storage, which is well hidden.
What I really like is that it only weighs in at 3 pounds, yet has a weight capacity of 300 pounds!
The fabric is canvas, which is really durable – and the cushion cover is removable for easy washing!
Another pro for this Missoni pouf is that the children can jump on it, perform acrobatics, lay on it, or stand on it.
It's a little more than one foot off the ground, so falling off it is not a family crisis!  Find this in different patterns at Perigold!
Hexagonal Leather Tilda Ottoman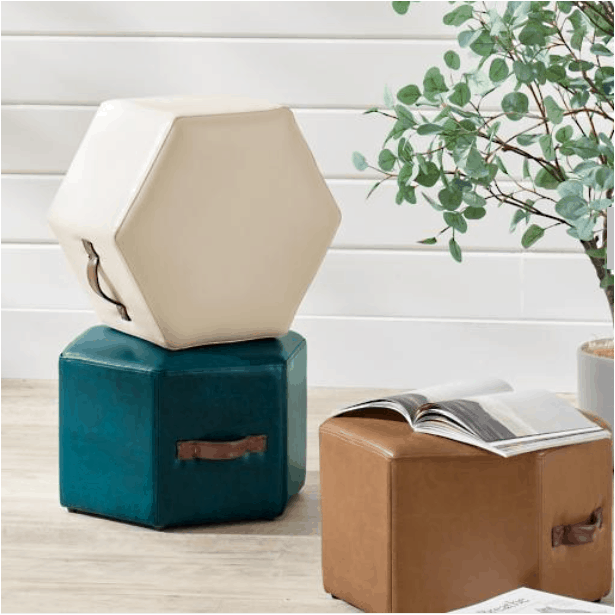 Sure to please even the most discerning of buyers, this six-sided pouf ottoman with a flat top is made with a wooden frame and "gliders" on the bottom so the floor doesn't get scratched.
Two handles are attached by rivets for easy mobility, and at 9 pounds it can be picked up with little effort.
At 18 inches wide and 11 inches high, this petite workhorse has the ability to be stowed under a table, or on its non-rolling side for quick clean-up.
It has an exceptionally LOW price point which makes getting a few of them realistic.
The clean lines and leather give sleek glam to any space, and better still, they can be put side to side seamlessly for a larger footprint!
Get a few today at Grandinroad!
The Metrics of It All
There are so many remarkable and noteworthy ottomans that it is difficult to choose just one, never mind what kind. Literally having no barriers to blending with every decor theme, you can find one that fits perfectly in your home and fits you.  As with any piece of furniture, you have to start someplace!  The important starting questions include:
How big is your space
Who do you see using it
How do you see it being used
Do you want it to match an existing chair or couch
Do you prefer a particular shape
Would you like storage inside
Do you like legs that lift it off the floor or would you prefer that it sits on the floor
Will it get banged up, stained, shredded, chewed, or otherwise wounded, and does this matter (honestly, sometimes it doesn't to me)
Not only the shape and size of the room will matter, but any special ingredients in it, such as built-in cupboards, bookshelves, fireplaces, closets, doorways, bay windows, and stairways. Decide what you need access to on a regular basis. How much open area do you need around a fireplace? Which direction does the door swing?
These questions may seem like a lot, but it will save many headaches down the road if you plan for these things before buying your ottoman. Take some masking tape and map out areas around built-ins, fireplaces, doors, windows, and stairs.
Then account for furniture that you know absolutely will be in the room. Map that out. Graph paper is also great for keeping the scale of things. Make one square equal to one foot or six inches (if it is a smaller room), then take the measurements and draw them in.
General Rule of Thumb: 36 inches of space between the furniture is a standard measure to ensure there are no strategic plans needed to leave the room. You can get away with 18-24 inches if all your visitors will be over the age of 10 and have two legs! This space decreases the likelihood of tipping over ottoman items, or tripping over other people's feet (or the dog), and landing in the hors d'oeuvres!
Once you answer just a few of these questions, it will narrow your playing field quite nicely to things that will fit your requirements. When you have answers to a few of those questions, you can start thinking about the kind of ottoman you want.
Cronan 42" Wide Velvet Tufted Round Cocktail Ottoman
What a luscious part of any room! This is so alluring that it almost reaches out to you to be purchased.  Ample dimensions are 16 inches high and 42 inches across. This is one of my all-time favorite ottomans!
High Density, strong, eco-friendly, Eucalyptus wood frame
Textured velvet and button tufting adds depth and contrast
Liberal weight limit of 300 pounds!
Round shape gives contrast and depth
Eclectic and fun magnetism
Style versatility – casual or chic, depending upon the way you dress it!
The only drawbacks would be its large size and its round form.
The same elements that give it charisma are the same reasons that it would take more strategy on your part to add it to a small space.
This ottoman also cannot be stowed out of the way or remain subtle
I know, however, that those are things I could overcome in order to own this engaging ottoman! This is a must-see at Wayfair!
Abston 38" Wide Tufted Square Cocktail Ottoman with Storage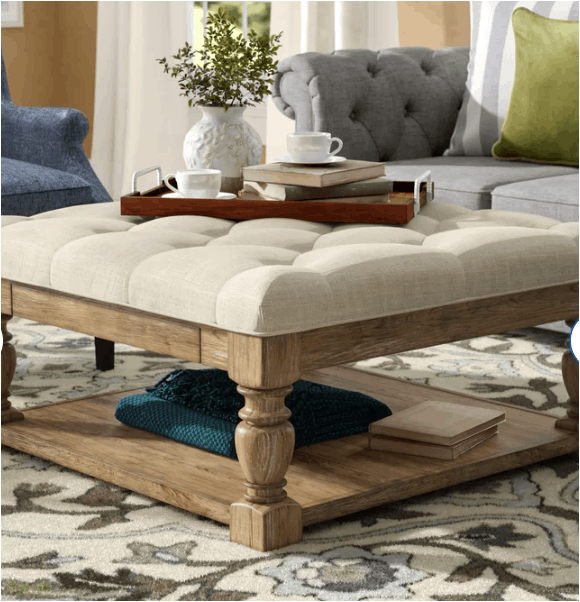 An absolute gem of an ottoman! I love this ottoman because it is higher than most – 19 inches, and it's more than 3 feet across, which gives it the size needed for many different uses!
Another benefit is the lower shelf that can hold magazines, stacked throws, piled books, trays for when you need one on top, small baskets to hold remotes, and anything else you can think of.
It has foam cushioning and linen upholstery
Crafted of rubber and pine woods, with large, turned legs
The square shape gives it the ability to be against the wall, by the side of the sofa, or lend a balance by being in the center of the seating
The weight limit is 250 pounds and the ottoman itself weighs in at 80 pounds, which is quite heavy for an ottoman – sturdy and stable!
It comes in different colors and you can find this at Wayfair!
Quick tip: Don't be afraid of ottomans that you think are too big. Unless you are comparing your measurements of the room and there really is no place for something that large, it pays to buy something a bit larger than you may have in mind.
The reason for this is its versatility, comfiness, and usefulness for years to come. Once you get it into your home, you will find that everyone wants a piece of it! They want to lay on it, curl up on it, suddenly need it to put up their feet (and you want it large enough to have several pairs of feet on it without causing a space war!).
Another reason you may want your ottoman a tad bigger is its versatility. You will suddenly find at small gatherings that it works exceptionally well as a drink and hors d'oeuvre table so that you can stay seated and talk without getting up to refresh! This works especially well if you have a tray on the ottoman! (Especially if it is tufted or otherwise bumpy!)
Different Types of Ottomans
Here are just a few styles:
Pouf – a rounded, plump high cushion that doesn't have any internal structure. The outside is solidly formed to be in the shape of a circle or oval.
Cube – Having a modular, easily moving, fairly small shape, this style has become increasingly popular due to the many configurations and purposes it can serve. It looks a bit minimalist and modern, and plain sometimes, so it is not one of my favorites. You can however find one in interesting patterns and make it extremely useful in your home. (My son's school has many of these in bright colors and lengths in their common spaces).
Coffee Table – the name says it all. I especially like this style due to its larger size, sturdy frame, and usefulness! It tends to be more decorative as well, which I like. Setting a tray atop of it will also add charm and balance it out if it is a tufted top.
Traditional – this type of ottoman will usually be associated with a set that includes a couch or chair, and it will be in matching fabric and patterns and colors. It serves as the "other half of the seat" when against the edge of the chair or couch. A sectional sofa will almost always offer a large ottoman that most times will fit into the center of a U shape just like a puzzle piece! I love sectionals and these are my favorite type for the comfort level, their welcoming, inviting appeal, and the gift of having family and friends all seated so close and joining in the conversation!
Storage – these ottomans are larger than most and either have removable or hinged lids that open to a storage area for blankets, books, games, clothing, or anything you need to be put away (dog toys, throws, children's toys)! Some have a surprise when they are opened with multiple storage units in the larger ottoman! Open the lid and take out four smaller square ottomans that leave four unique storage spaces.  (It's like the cartoon of the jello that splits itself into four pieces).
Eclectic – this category comprises many variations of the above ottomans, and some are called "tables" just as much as they are ottomans! Often times they are round or take on uncommon shapes. Designers have gotten much more liberal and creative with how they view the ottoman, and it shows in the myriad styles available today.
50" Wide Tufted Rectangle Standard Ottoman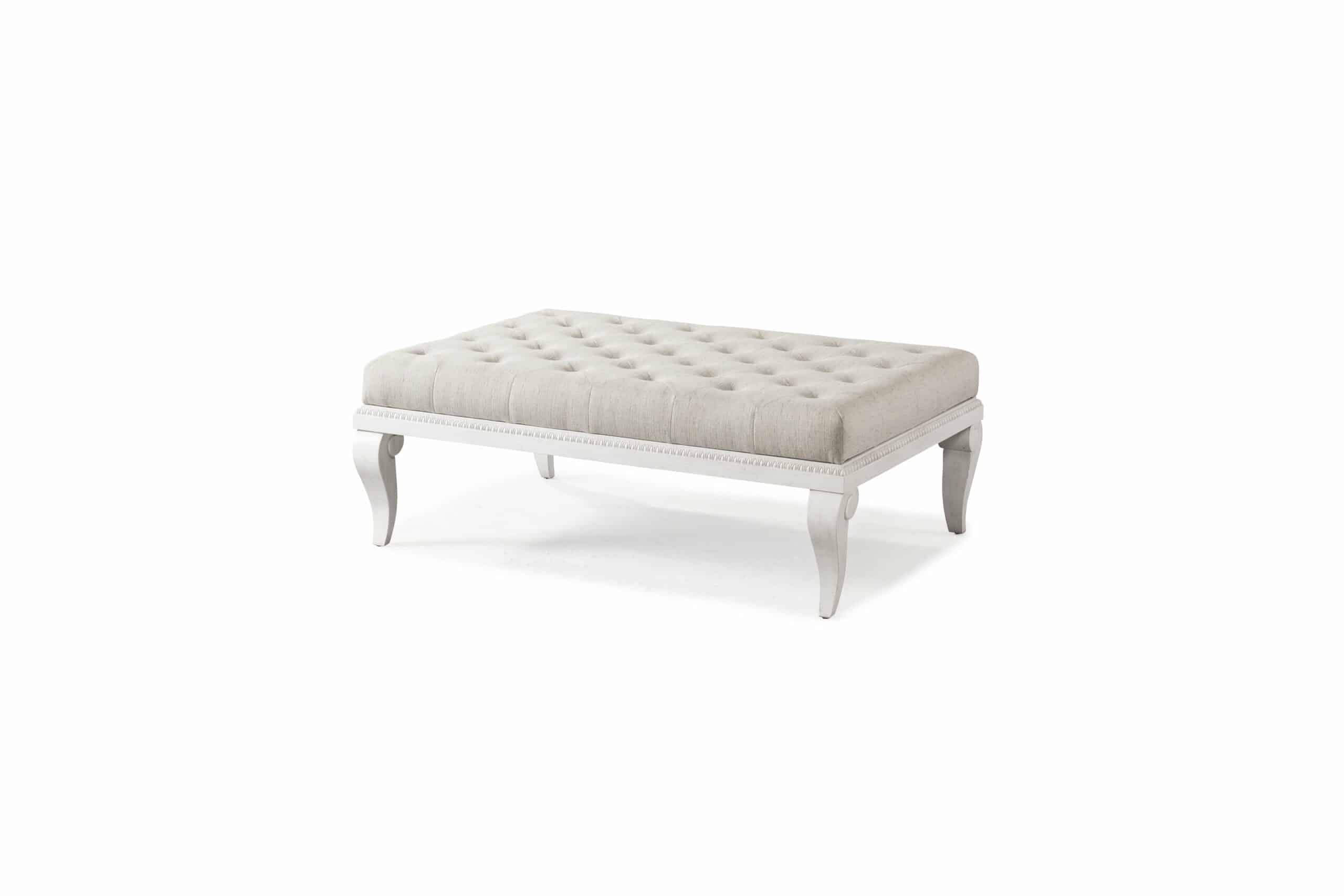 This is a stately piece with elegant molding and scrolled legs and a button-tufted top that is large enough to hold your dinner and dessert!
I love its hefty appearance, coming in at 50 inches wide and 35 inches deep, this is a workhorse that can withstand 250 pounds.
It's so helpful for styling as it adds dimension and texture to the room with its tufting, and detailed legs and has the warmth of wood as well.
Another great thing about this is you can tape the upholstery edges and paint the wooden sides and legs if you want to switch colors in the future!  Find this at Wayfair.
Contemporary Velvet Upholstered Ottoman/Stool with Sturdy Gold Finished Metal Legs

This petite, modern ottoman will slip into any nook at 17 inches square and 18 inches high.  It comes in many beautiful colors and is encased in velvet.
The sleek style will add glam and a touch of gold to your room, and thanks to the high space under the ottoman, it gives a spacious and clean look to any room.
Weighing in at 11 pounds, it is light enough for the kiddos to move, and with its low price point, it makes it easy to fall for more than one!
Check it out here at Amazon.
Reasons You Need More Than One Ottoman!
When someone needs to put their feet (or foot) up.

  Instead of stacking pillows underneath feet (which I did for years!), have a few ottomans in slightly different heights to accommodate medical issues (everything from imagined sprained ankles to joint replacements), the elderly, and people who are on their feet all day. You'll be so prepared for any type of situation, and you will get

mucho kudos

!

Think unsightly storage. If you have a pull-out sofa bed or someone frequently crashing on the sectional, chances are you have thought about giving them some sheets and blankets, and maybe a pillow or two.  What to do when your downstairs and hall closets are full of your linens, and there just isn't anywhere that looks good to stash some extra bedding? Look no further than your storage ottoman – looks great and can be stuffed with bedding! (Ottomans are also good for overnight guests' backpacks or unmentionables).
Think general storage.  Along the same lines as above – if your family likes to play games, or if you have a get-together and bring out the games, what better place to have them than in the ottoman?  It sounds funny, but it is so convenient! Napkins, paper plates, and cups are also great things to have at your fingertips when the pizza is delivered, also!
Have a few smaller ottomans on hand for impromptu gatherings or your friend's children. Ottomans are so convenient these days in so many sizes and shapes, that having a few of them flanking the living room couch or in a hallway or a media room. They won't take up too much space, are usually lightweight enough for children to move, and provide more, or alternative seating for larger gatherings.
Smaller abodes need versatile pieces to fill more than one function. Ottomans more than justify the space they take up in a tiny area as they can serve as a coffee table, extra seating, and storage!
Price points for ottomans are all over the spectrum. This means you can easily choose how much to spend and it won't break the bank.  In fact, they are so budget-friendly that it really is smart to get more than one because they wear so many hats!
Modern Tablet Tan Leather Ottoman
I really like this ottoman as the lines are clean and smooth, and the leather gives the thin metal legs warmth.
Leather works as a softening agent for your space, with the rich texture, grain, wrinkles, and color mark variations adding instant charm and character.
Another benefit is the size of it (47 inches square and 15 inches high)!  Nearly 4 feet across!  Who couldn't use this in a plethora of ways?
I'm not crazy about the legs, they do give a very modern and minimalist look to it but I always think of the word "fragile" whenever I see something held up by such streamlined sticks!  I would pick it anyway, as this truly can be multi-purposed in many rooms. This ottoman can be found at Article

.
What's the difference between a footstool and an ottoman?
My research has found that the difference between a footstool and an ottoman is entirely dependent upon the source. Ranging the whole spectrum from almost nothing alike to identical, it is hard to categorize just what is different about them. What I found to be in common, however, was the following.
A footstool:
Does not take the shape, style, or identity of any other piece of furniture in the room
Does not need to be (it can be) upholstered, or covered in any fabric, for that matter (just the bare bones)
Is usually much smaller than an ottoman
Dates back to biblical times, when the Egyptians carved their family's stories on them and handed them down for generations
Is best for smaller spaces (find one that is more decorative)
Evolved primarily for the sole purpose of putting your feet on it, or sitting on it to build a fire (since then it has come a long way!)
Check out this classic footstool.
Bungalow Rose Wooden Footrest with White Flowers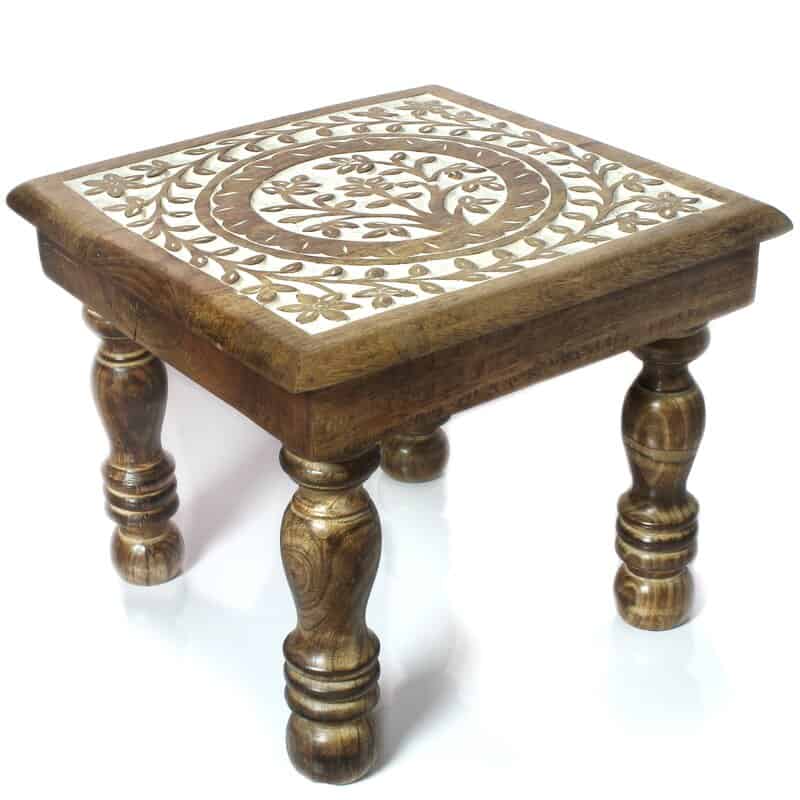 One of my favorites for footstool/ottomans, this is more aligned to the original structure of the "footstool".  Wooden (solid Mango wood), with no upholstering.
Reasons I would buy this in a heartbeat:
Work of art "one of a kind" piece
Detailed, elegant scroll carvings with a true meaning
Rich, lustrous Mango Wood hues and turned legs
Small size but deceptively strong
So versatile that there isn't a use it can't fulfill!
Low price point
This one is a bit more decorative and is extremely sturdy, being built out of solid mango. The striations and color variations are all unique, so this is a "one of a kind" item.
The hand carving is the "Tree of Life" which is a symbol that means "connection to all things". It transcends boundaries of religion, region, and other differences to remind us that we are created by everything around us, seen and unseen, past and present. I have several jewelry pieces of the Tree of Life and so this message is meaningful to me!
Truly a tiny work of art, it is strong and can hold a grown adult standing on it for long periods of time.
A diminutive 12 inches square and 10 inches high, this is truly a perfect children's stool, book stand, plant table, a place to put candles, or a small lamp – even use it for a nightstand for futon floor beds!
Show it off by using it in the center of a table as a cake stand, or to elevate a flower arrangement! The legs come off as well! Use it without the legs on your table as a dessert platter or fruit tray. I think I may purchase a few of these…find them at Wayfair for a great price!
What is a Hassock and a Tuffet?
Hassock
Answer: You may be wondering what a hassock is.  It is just like a footstool but with fabric covering it, or it is upholstered. It also has nowhere for storage. It comes from Old English and originally meant a "clump of grass", and in the 1500s the connotation became more like a "soft cushion". Today it is synonymous with an ottoman to rest your feet on (no storage), or a more elaborate, cushioned footstool.
Riley Round Hassock Footstool in Olive Green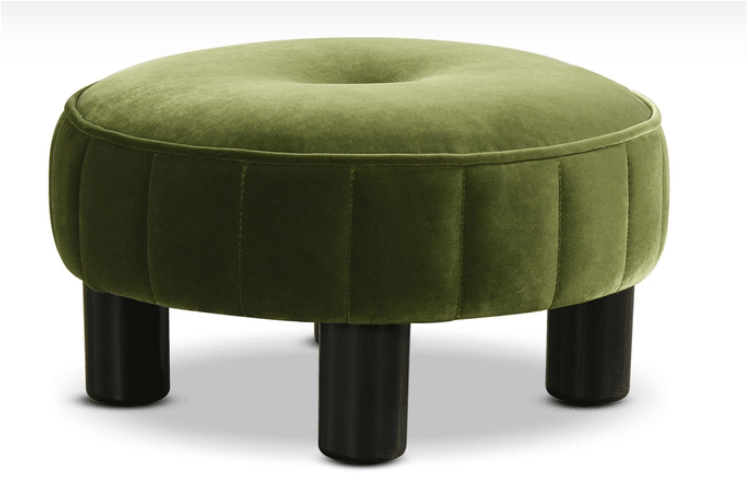 This hassock has a one-button tufted top and vertical tufted sides and has a high-density foam and down cushion.  It is 16 inches across and just 9 inches high!
I prefer to not assemble pieces myself, and this one has unattached black plastic legs.  Though it says plastic legs (which was somewhat concerning) it does have a 200-pound weight capacity and weighs 12 pounds.  

Suffice to say, if you are looking for something very functional, not high maintenance, that gets the job done, this is it.  It comes in different colors and has a modern stylish theme as well. 

And, it does look more than adequately comfortable! Find this here at Jennifer Taylor Home

.
Tuffet
We all know the sing-song children's rhyme that tells the story of "Little Miss Muffet Sitting on her Tuffet". Muffet is from Moffatt, of Scottish origin, and there was a professor, Dr. Muffett at Oxford who studied spiders. No exaggeration. He did, indeed, write a rhyme about his daughter in 1805. Enough about that, except that the word "tuffet" comes from the French word "touffel" which means "little tuft", quite similar to the meaning of hassock.
A tuffet and a hassock are almost identical in meaning and form.
Sophisticated Florentine Tuffet with Handpainted Feet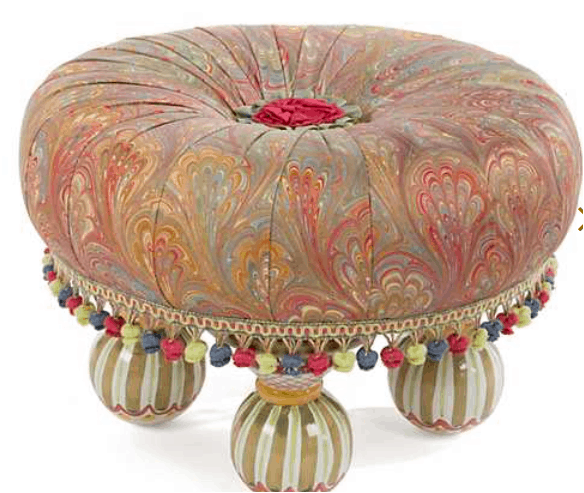 These gorgeous swirls of colors and patterns create an incredibly luxurious, fringed focal point with a charming velvet rose "button" in the middle of the tufted top.
This is definitely something you would want as either the centerpiece of a neutral-themed room, or as an addition to a formal pastel room, or, as in my case, a major contribution to an eclectic but harmonized design scheme.
I love the whimsical style of this, and the tasseled fringe completes it.  This is something out of Alice and Wonderland and exudes creativity and imaginative energies.
Having a Birch plywood frame, and handpainted ceramic feet, it is crafted in Aurora on Lake Cayuga by artisans, each one is handmade.
The dimensions are an ample 20 inches across and 14 inches high, and you can find this and things like it at MacKenzie-Childs.
How Do You Decorate And Style an Ottoman?
There are endless ways to incorporate ottomans into any room you desire. They provide a pop of color in an otherwise neutral-themed room, they can pick up a subtle color in drapery or artwork or in a rug that you like and want more of, or they can add richness and comfort and texture by choosing one with tufting, brocade patterns, or with fabrics like leather or velvet.
It's all what you are comfortable with, your preference in style, and what parameters you have in mind. Make sure you really like the color or pattern of your ottoman – don't add it just to get some color in a room. If you love something that you own, you will always find a place for it wherever you live.
Styling your ottoman
If you have a favorite color in a room – say a chair or wall art or a painted table – carry that over by getting an ottoman in that same color, or in a pattern of that color.  It's a great way to harmonize the room and increase the impact of one of your favorite colors.
Bring texture into the decor. With neutral colors dominating a room or a minimalist approach, often times the room lacks warmth and dimension.  Immediately change that with an ottoman in a tweedy fabric, needlepoint top, velvet, suede or leather.  This creates a space that has depth, contrast and balance.
Avoca 40.16" Wide Tufted Square Cocktail Ottoman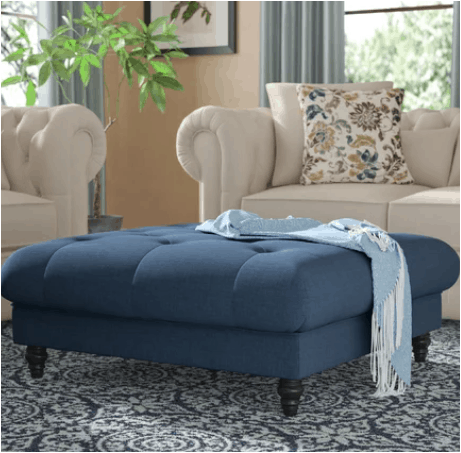 At 40 inches square and 16 inches high, with a button-tufted top and dark brown turned feet, this table ottoman is one of my favorites.
I love the extra detail and sophistication that button-tufting adds
The larger the top, the better it is and the more I can use it in different ways
It offers character with its low profile and rich, dark, detailed feet coming up to meet the square lines of the base which then holds the plump, oversized, stuffed cushion top – heaven!
Its weight capacity is something I always pay attention to – I don't want to have to tell someone they can't perch on the edge – and this has a 250-pound capacity
On the heavier side at 35 pounds, I think it gives it a more solid feel if it's not moving all over the place every time someone breezes by
This can be found at Wayfair.
Shelley Square Storage Ottoman with Pillows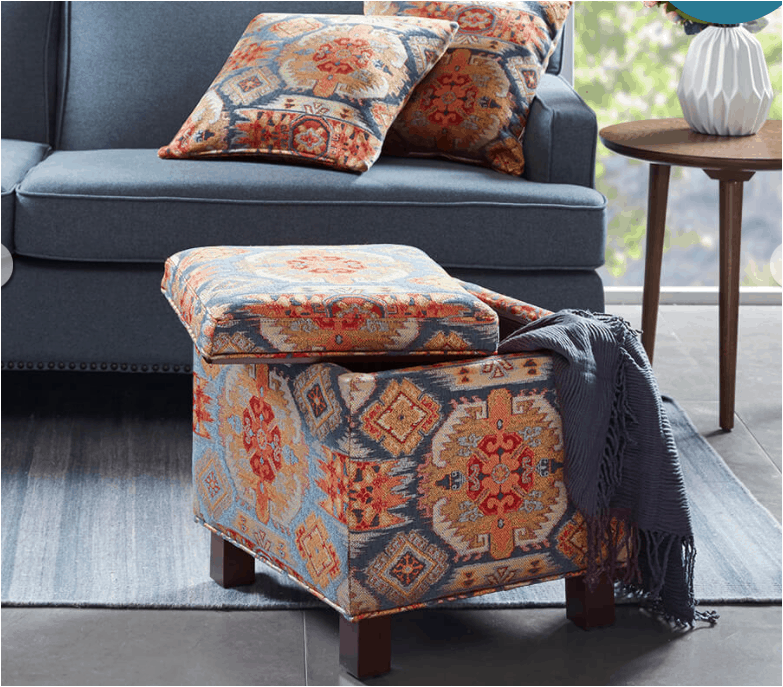 This cute button of an ottoman packs a big punch with it's vibrant pattern, dark wooden legs, and 2 pillows that are included.
This would be perfect for multiple ottomans as the small size can accommodate all spaces.  The top comes off for storage inside, and at 18 inches square and 18 inches high, makes it the perfect stowaway place.
I love the price point here, it really makes multiple ottoman purchases affordable.
It comes in two other very different patterns and creates balance and harmony with its square shape, while still giving an airy feeling with the space between the legs and the floor. Find it here at Couches.com.
To Conclude but Not to End…
In essence, regardless of the amount of space you have, or the amount of furniture you do or don't have, or your style, the ottoman is one piece that you will never regret buying.  Remember to LOVE everything about it, that's the key, and you will use it in different places and in different ways for years and years to come.  I have a coveted, huge leather ottoman that my sister bought for her family 20 years ago.  Six homes later, they finally updated their version and without a second to spare, I went over and took it out of their garage!  I had loved that thing ever since they got it at an obscure craft store that went out of business.  Needless to say, being able to store things, have extra seating, put feet up, or use it as a table –  buying an ottoman is money well spent.
If your ottoman is square or rectangular, you can push it up against a wall or window, add some cushions and a throw, and make it a loveseat!  Buy a tray that is about half the size of your ottoman to put drinks or a vase on, and use the other side of the ottoman for books or a throw- or a laptop!  Happy Styling!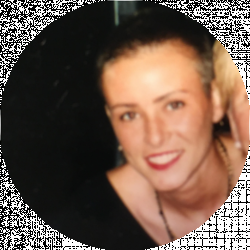 Latest posts by Richelle Tieman
(see all)