Do you live in a small apartment? Do you have trouble fitting your living room furniture together and often end up with a pile of cluttered furniture puzzle pieces? If so, then these best double-decker couch ideas might just be for you.
Well, it really isn't on Earth that you would find it, but instead, pour yourself into the "Lego Movie Part I" to the land of Duplo, through a submarine wall, and land on top of the double-decker couch. Plucked straight out of the fictional home of Emmet from the Lego Movie, this funky piece of furniture is no longer fictional.
The double-decker couch is basically a bunk bed with couches instead of beds that has storage to house people. Oh, and the people in/on the double-decker couch can survive the explosions as well. This double-decker couch was made by Emmet in the submarine so that more people could watch tv at the same time. The double-decker couch was actually made and delivered to a Lego fan on the series Super Fan Builds.
You can pretty much use a double-decker couch to create seating or storage space in your living room, bedroom, home office, or any of the other rooms in your house! In fact, a double-decker couch can be the perfect solution to add some extra seating in a relatively small space. This blog post will discuss what a double-decker sofa is, why it's great, and some product recommendations.
What is a Double-Decker Couch?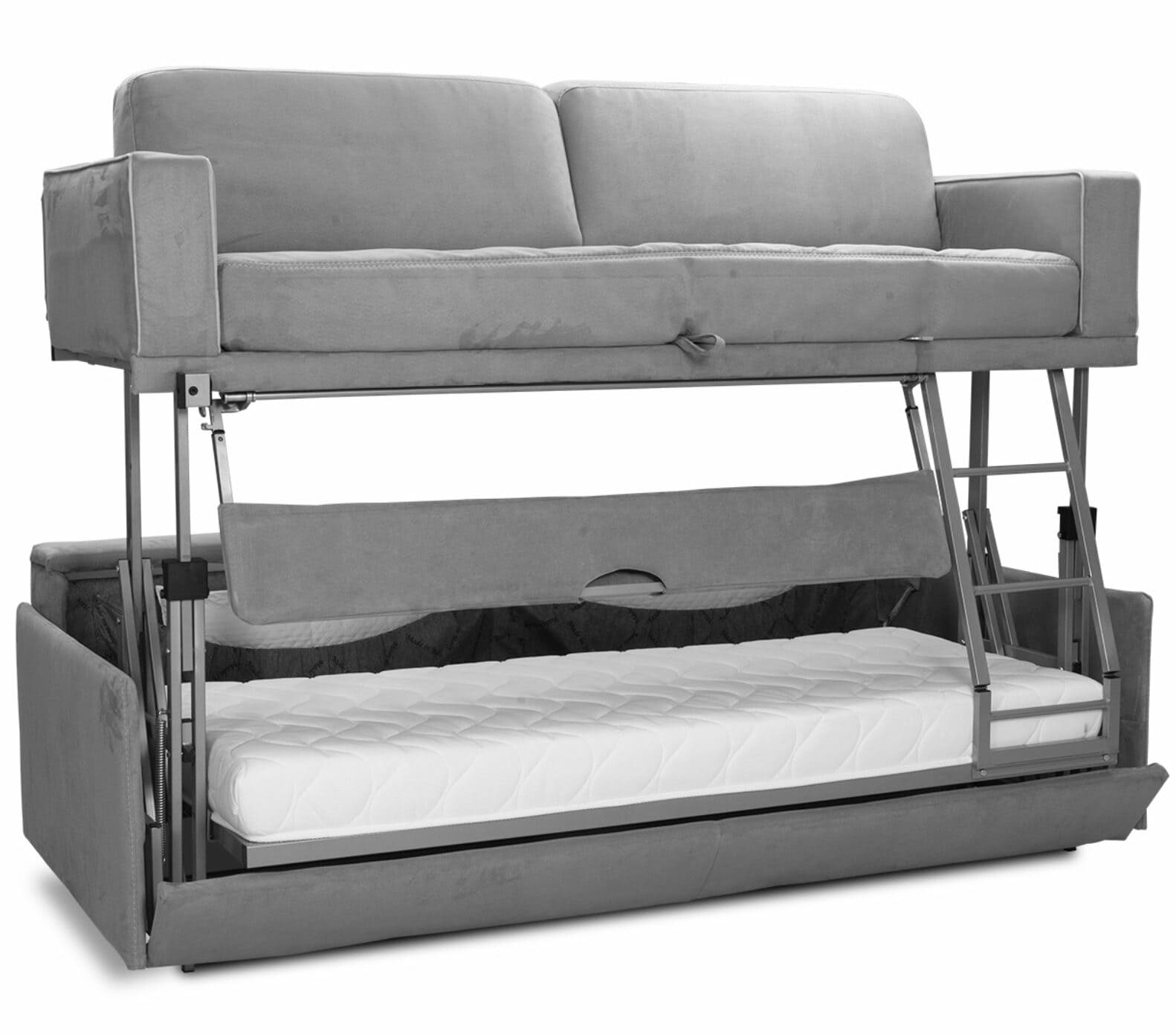 But, if you're wondering what exactly it is, then let me tell you: a double-decker couch is a couch that has two levels. It consists of two separate couches stacked on top of each other, either as a set design or one that pops out from underneath the other.
It can either double up as multiple seating areas or double up as a sofa and a bed in one. The top-level usually either folds out or is fixed in place, a bit like a bunk bed. And the lower level may be used as a couch or even a lower bunk if you need the extra sleeping space.
These couches can often help save space, and they also provide more seating than just a single sofa would give you.
This is ideal for small living spaces such as apartments where having a sofa and a bed in one room just won't work, or if you often have people over who would like to sit and chat, or play games in comfort, then this can be another good solution.
How do Double Deck Couches Work?
A double-decker couch is very different from a standard sofa bed – although many are effectively the same thing. It's kind of like a combination of a bunk bed and a sofa bed. There are two different types of double-decker couch: a stationary option (like a bunk bed), or a fold-out option.
The stationary option will have a normal-looking couch on the bottom half. It will then have stairs or a ladder to the top where you'll find a second couch, or a single bed, depending on which model you purchase. So essentially, if you have a double-decker couch that is stationary, then it will just look like two separate couches stacked next to each other.
The fold-out option is the more common. This is where you can pull the second couch out from inside the first. This means that, until you need it, the couch looks like a regular (if a little chunky) sofa, and it does not take up any extra space.
When you pull the second couch out, it rises above the first into the double-decker position and can normally be used as a couch or a single bed.
The Real-Life Version of the Double-Decker Couch
So, you want a double-decker sofa?  It is a fun idea to entertain, and you certainly can find one in reality, though the choices may be few and far between and the search long! I have done the work for you, and now it is just up to you to decide! Sad to say, but I haven't found any double-decker couches that can house people yet!
In this day and age of multi-purpose furniture demand, everything has to turn into something else!  Like your child's Transformers, items that can be pulled apart, twisted, re-arranged, and put back as something entirely different is what keeps the incredible appeal alive!
Since more of us have been at home during this pandemic, and with a turbulent economy, we have had two incredibly persuasive reasons to be more critical of our purchases.  We want our items to do more.  To have different functions.  And, we want them at a budget-friendly price.  Thank goodness most manufacturers are right there with us and have amply provided.
To Double-Decker a Couch or Not?
If you have a small living space or don't have a lot of room for multiple pieces of furniture in your home, then the double-deck couch is probably one to consider.
While researching the double-decker couch, this theme of multi-functionalism was pervasive.  There are very few double-decker sofas that are for the purpose of seating only!  Days of research and talking to store owners have revealed that it just doesn't pay to only offer a two-story sofa that doesn't transform into bunk beds!
Those of us who use every space in our home as wisely as we can were struck by the absolutely marvelous possibilities that the double-decker couch/sofa offered us.  We not only had something to save floor space, but now we could think about saving space by building up!  It sounds like a house.  A Lego house! But wait, once we have this double-decker couch in our family room – is it really what we want?
Plus, it's great because it can be transformed from a single couch into two or into a bed as well, and it takes up significantly less floor space than a traditional sofa, and a standard mattress would do. They're also very easy to set up – they often come with instructions on how to transform them from being two different seats into just one larger bed within minutes! Or, of course, if you purchase the fixed one, you don't even have to worry about this! This makes them perfect if you need something quick and convenient, like when guests are coming over who might not want to stay in an impersonal hotel (or perhaps there aren't even any hotels nearby!) but at the same time; you don't want them to feel like they're imposing on you and your small space.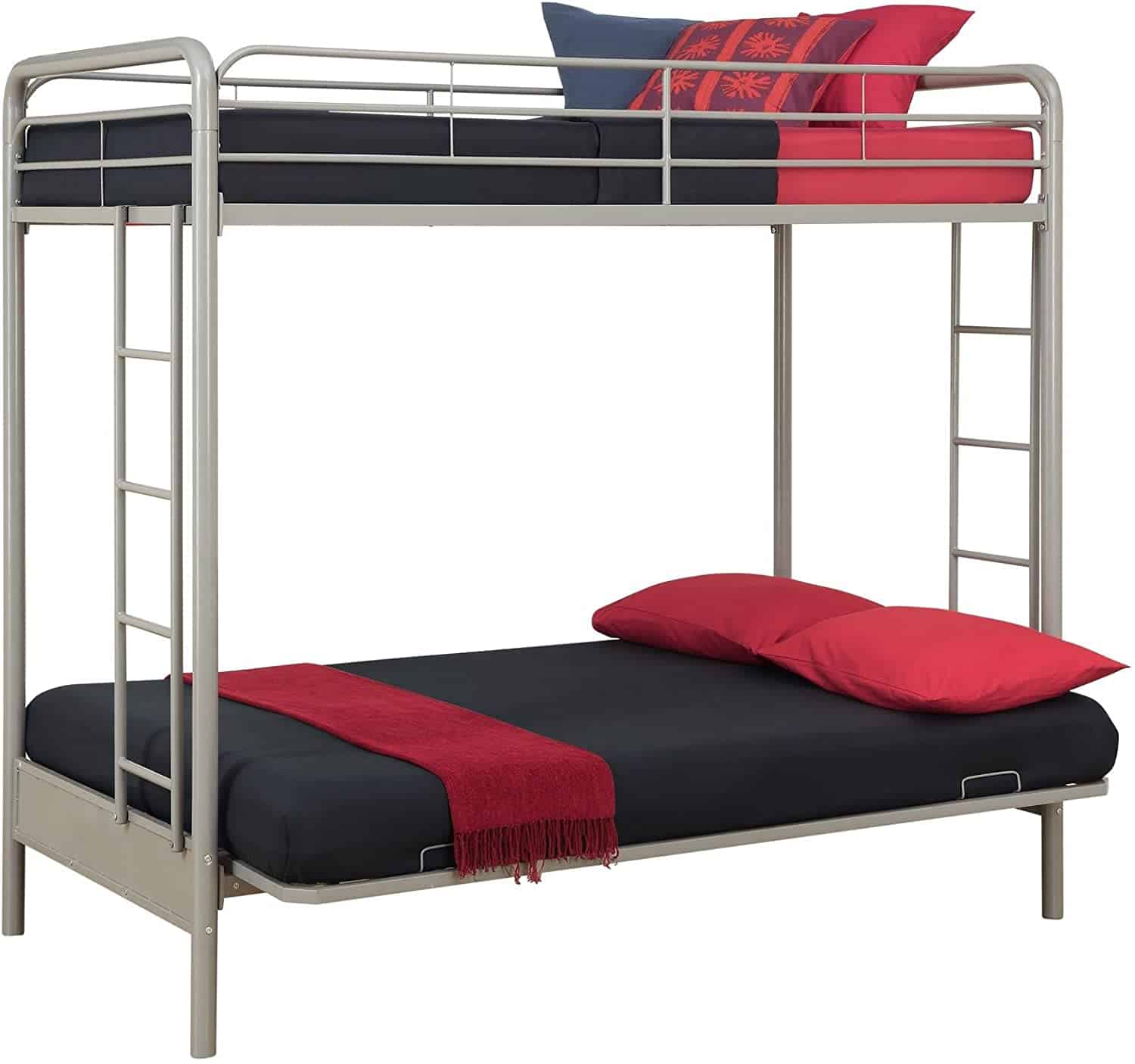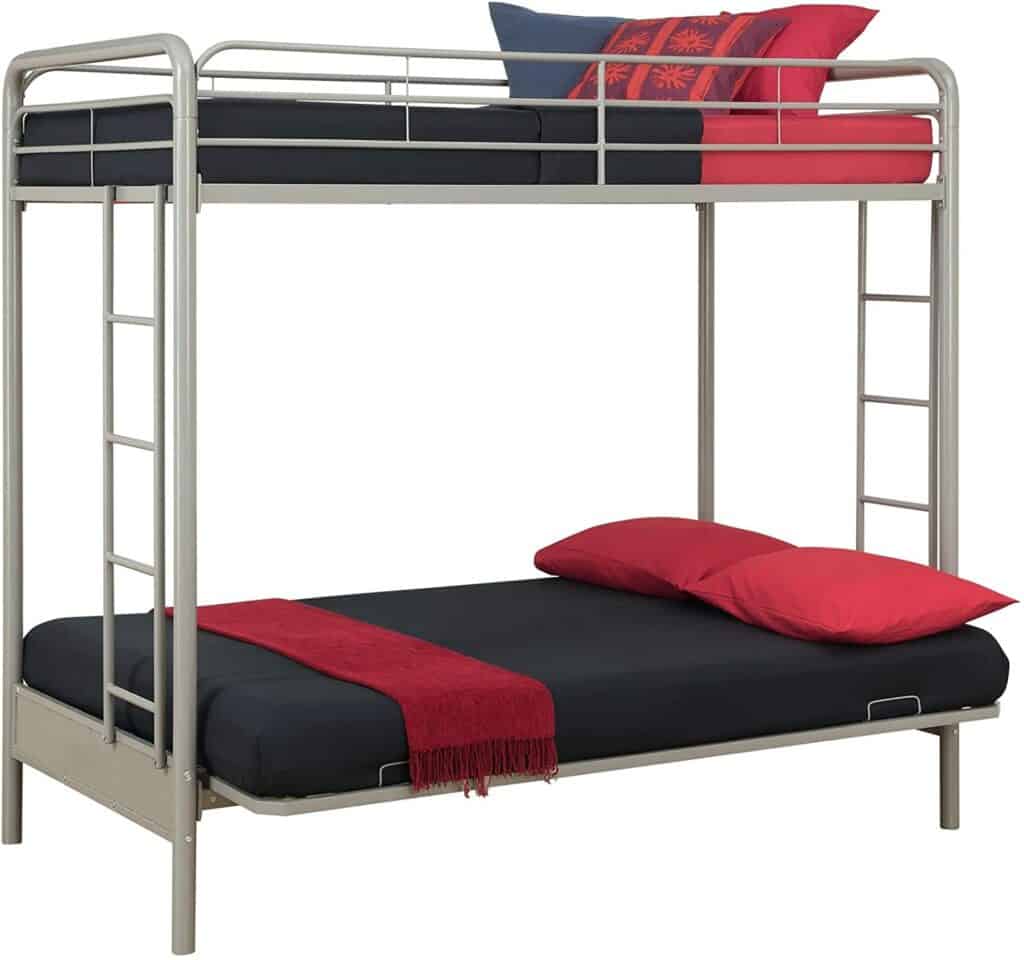 Unfortunately, the whimsical design of the double-decker couch/sofa, as enticing as it looks, did not initiate an explosive entreaty to manufacturers.  It just wasn't functional enough, and for many, the fantastical style did not enhance their decor.
Exhaustive searches did unearth a few beautiful double-decker couches from reputable companies. Still, with all the pictures and shopping ads on the internet, one would think that more double-decker couches were being made than there really are.  Broken links, discontinued items, unavailability, and "no link found" plagues the online atmosphere when trying to find a double-decker couch!
There is one overseas retailer's link that has a few good-looking double-decker couches.  It literally was everywhere that I looked.  I did some research into the company and found many business reviewers had given it the thumbs down for quality, reliability, and safety.  Several articles even said to beware of it, that it was a "ghost" company. So that was a no-go.
The double-decker couch/sofas that I have recommended are available from viable businesses that are reputable.  Because the choice is so limited, in addition to those, I also gave you some great double-decker couch bunks!  They are almost like bunk beds, but their construction allows them more flexibility in being used as two couches.
And, to be honest, the concept of a double-decker sofa solely for the purpose of seating seems to be useful only in situations where novelty needs to be added.  Don't get me wrong, I like whimsical novelty, but a double-decker couch would be great for a photoshoot, family pictures, or dorm room destination (just don't fall off the top), not as a permanent piece in your living room.
It really isn't designed for children as it is too easy for foolery to lead to falling, and it would need to be dangerously high so that legs dangling over the top edge didn't hinder the view from down under.
However, the addition of an edge railing in front of the top "couch" is a welcome necessity.  Adding several rugs (I know it sounds strange) underneath it with at least a three-foot radius outside the double-decker structure would be advised to soften any falls.  Also, the flooring should be wood or wall-to-wall carpet – not concrete. But these are things that are helpful in general for bunkbeds, anyway.
The best thing about that is the variety of functions are increased by adding a front safety guard to the top couch so that it can be safely used!  And, voila, you also can use it as a bunk bed!  Too good to be true.
What Should You Look For in a Double-Decker Couch?
So, if you've got your heart set on this type of sofa, then you're going to need a few things in mind before making your purchase.
First of all, think about what type of model you want – do you prefer the stationary option (like bunk beds) or the fold-out one? If it's fold-out, then consider whether you'll be needing this very often. Do not get one if you only need to pull the second couch out once or twice a year.
This is because they are often quite expensive, and it doesn't make sense to purchase an item like this when you won't use all of its features very often – even with discounts!
Next, consider what type of material you want your double-decker couch to be made of. Although they are often more expensive than traditional sofas, you can get them in all different types of fabrics and materials which affect the price greatly!
Lastly, consider the size and height of your room and whether or not this style of sofa will fit in it! It can be very important to measure before purchasing just to make sure that you get the right one for the job. Otherwise, you might end up with something far too large or small, which will be inconvenient.
If you're still unsure about whether a double-decker couch is right for you, here are some of the most important aspects to consider:
Measurements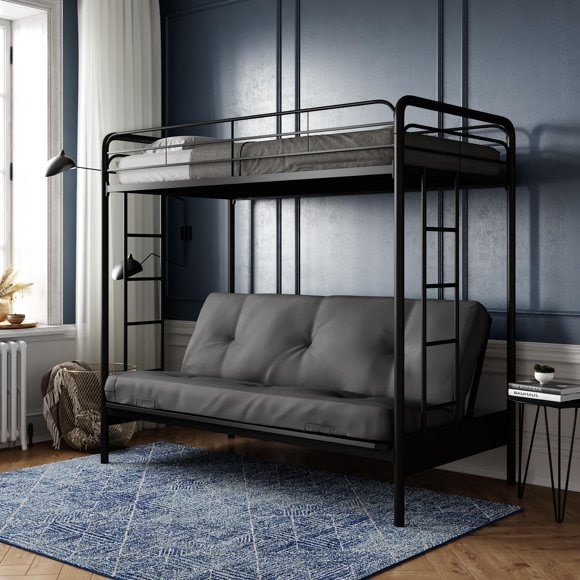 Although you save space on the floor end with a double-decker couch, you do lose wall space, and your ceilings must be very high to accommodate long legs and tall torsos!  This in and of itself almost makes an effective double-decker couch too high for both the first-floor viewers and the top viewers to easily see the whole picture on the tv at a good angle.
You will want to have at least 4 feet between the top seating and the ceiling.  The more, the better.  That means if your typical double-decker couch/sofa bunk bed is 6 feet tall, your ceiling will need to be at least 10 feet high.
For stability and safety purposes, the best frames are solid steel and have a heavyweight capacity for the top couch.  I prefer to have the double-decker couch feature a larger frame at the bottom to minimize wobble. A great tip is not only to put the back of the double-decker couch against a wall but also one of the sides, like a corner double-decker.
Another must is a ladder or stairs on one side rather than straight up the middle.  If the gateway to the top is up the front of your double-deck couch, this will mean someone's view is impeded, or that empty space will be left somewhere on the bottom couch (which defeats the purpose of having more people in a smaller space).
Size
The size of this type of couch is important because you don't want it to look too big or small in your living room.
This can be very difficult as, even when you're measuring the space, there are so many different variables that could affect this – such as existing furniture and other decors! However, it's important to get the length and width of the couch just right before you buy.
Height
The height is another vital thing to consider. This is because, regardless of whether you have a fold-away couch or a stationary one, its added height is what makes it so unique! Without this, you'd just have a regular sofa.
However, in some cases; if your couch is too tall or too low for the room then it can look out of place and messy – taking away from its novelty features which are meant to be accentuating! It can also put you at risk of injury when trying to climb into bed.
Material
The type of material is also important because it affects the durability and how easy your couch will be to clean! For instance, fabric sofas can show up stains more than leather ones might do – which makes them a lot less practical if you have children or pets running around the house!
Fold-Out or Stationary?
Another important choice – do you want your double-decker couch to be static or do you want to have a regular couch until you want to change it? This choice will greatly affect the design of your living room, as well as the price!
If you choose a stationary couch, it's important to consider whether this will actually be practical for your lifestyle.
If it's likely that you'll need extra seating space on a regular basis then this could be great; but if not then maybe think about getting something else instead? This is because they can sometimes cost more than fold-out ones, but they aren't as versatile.
How Many Seats
In general, what seater sofa do you need? Would you rather have a three-seater sofa or a two-seater? This will affect the number of seats on your double-decker couch, as well as how much room you have in your living room.
If you live with other people then it could be good to get one which has more seating space. Whereas, if you're only living on your own then maybe consider getting something smaller that doesn't take up too much unnecessary room?
This way, if you ever have guests over they can sit there instead of at the dining table where it's more formal! It also means that you can have a more flexible lifestyle and not feel trapped in one place.
Ease of Cleaning
Another important factor is to consider the ease at which you can clean it. Considering that this type of couch has a lot more crevices and small spaces than your average sofa; how much effort will the cleaning take? If you don't like getting stuck in between cracks or if something spills on it, then maybe go for leather sofas instead. These are a lot easier to clean and will look just as great!
Another thing that you might want to consider is how easy it will be to clean the top half, particularly if it's stationary. Climbing to the top of a bed to clean it and strip the sheets could be rather problematic, so it's important to consider this.
Ladder and Steps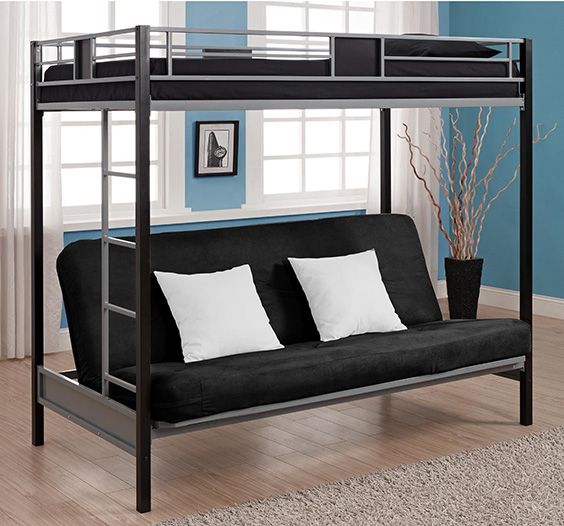 Next, think about how you will get up to the top couch. Is it via a ladder or do you have a step that goes up into it? This could be really important to consider if you're going for something that is quite high off the ground because this will affect your ability to get up there!
It's also worth mentioning what type of ladder or steps are used. If they don't look particularly safe then maybe try and find one that does. It's important to think about the safety of everyone in your household when getting a double-decker couch, as it could pose quite a risk if stairs are used!
Safety Features
This brings us nicely to the safety features of the couch. Study handrails are very important, as are things like safety straps. Think about what sort of things would be useful to you as a family and make sure that your couch has this!
Another thing is whether the bed can hold more than one person at a time. If it's only going to be used by adults then maybe don't bother with these, but if children are also likely to use it then make sure that the bed is sturdy enough for this.
Design and Style
Similar to the overall material of the couch, it's also important to think about the design and the style of the piece of furniture. This will affect the color and design of your living room.
Of course, think about where the couch will fit in with your existing furniture and the style of your home. It's a good idea to get a matching design and color scheme in order to create coherence within the room, which will look really stylish!
Comfort
Next, don't forget to think about comfort. It's important to feel comfortable when you're in your own home, so make sure that this is taken into consideration. You'll want to choose a couch that is nice and soft but also has enough support for your back.
Think about how comfortable the bed will be as well. Double-decker sofas tend to have quite small mattresses compared to normal ones, so it's important that you're not going to feel like you're sleeping on a rock! It should be just as comfy as sleeping on a normal bed, if not better.
Price
Last but not least, remember to think about the price! This will be a big factor in whether you go for this type of couch over another one. Do your research and find out what's available on the market at different prices and then choose accordingly.
Once you've considered all of these factors then double-decker couches are an amazing addition to your home. They offer so much more seating space and make it easy for guests to feel comfortable when they're there too! It's also great because the top layer acts like another bedroom!
What Criteria Did We Use to Come up With these Recommendations?
We used a combination of research, customer reviews & ratings, and product specifications in this list. Only the best double-decker couch brands that have a high number of positive ratings are included here. To work out what these options are, first we read through a lot of customer reviews and ratings from across the web to determine what customers liked most about their double-decker couch.
Then, we went on product pages for each option and checked out detailed specifications such as color options, height measurements, weight limits, etc. We looked at the materials used in each product to determine if they were durable enough for regular, everyday use.
We also considered style. While function is always the number one priority, we wanted to make sure that any double-decker couch options included here looked great too. We only chose the best of the best for this list – brands with high customer ratings and reviews across multiple sites like Amazon & Wayfair. We also made sure these products were stylish as well as functional.
And finally, after all of this research and analysis, we determined our top double-decker couch picks by looking at price. Of course, this isn't exactly a cheap piece of furniture, so we had to make sure that the price wasn't too outrageous, whilst also reflecting the quality of the sofa build.
Double Decker Couch Recommendations
If you are really set on having this fun entertainment center seating in your home, I have the best double-deck couch recommendations for you here.  I would advise on keeping the upper deck front rail guard, but most of them are easy to remove without compromising the structural components.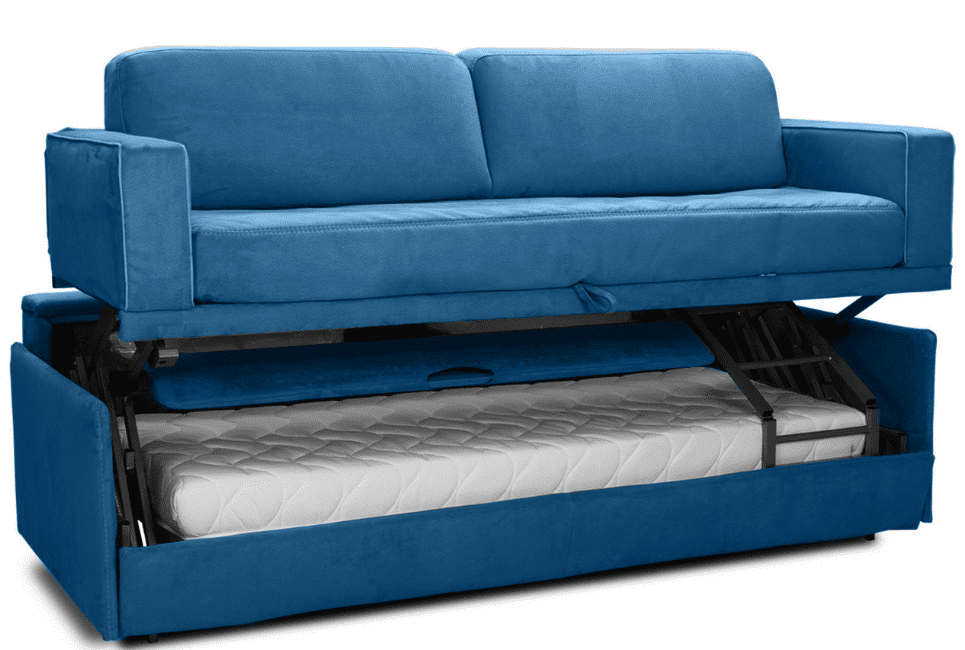 This double-decker sofa/couch/bed is very true to the original Lego design – color included!  The picture does not show it fully upright, and the small black and white photo shows it upright with the measurements.
I love this couch because it has a video showing how to pull it up with the built-in handle, and a reviewer supports the claim that it only takes one minute to convert the sofa!
There are 6 colors to choose from, and each one is custom-made in Italy and will take approximately 16 weeks to come to your door.
It has a locking mechanism with a key for added safety and peace of mind, and the seat/cushion/mattress covers unzip to be washed!
This comes with 2 twin-size mattresses that are 6-inches thick!  I think these Italian manufacturers have thought of everything! Rated as a top brand with an excellent reputation by furniture experts, I would definitely buy this despite the higher price point.
When it comes to raising the couch into a bunk bed, it's incredibly simple to do. You just lift up the seat base and the entire system rises in literally a minute. Plus, it has a locking mechanism for securing the raised bed in place, which gives you extra peace of mind that it's safe and secure.
Furthermore, the couch is super comfortable. The couch comes with plush cushions and two 6-inch thick twin-size mattresses. For easy cleaning, the cushion covers unzip and are machine washable to make your life even easier.
Despite its high price, this is easily one of the greatest double-decker sofas available.
Pros
Comes with two made to fit standard twin mattresses
Has a locking mechanism for safety and peace of mind
Can be used as bunk beds or a couch
Cons
Takes 16 weeks to be shipped after the order is placed
Expensive
Find this at Expand Furniture!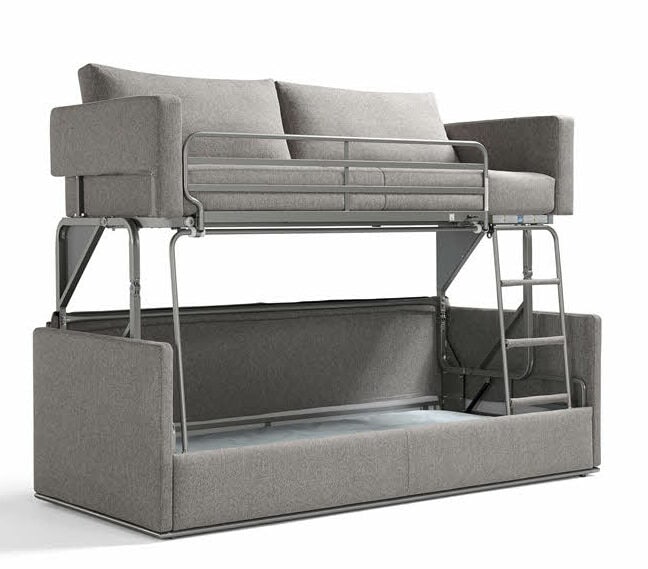 This modern sofa transforms into a double-decker couch and can be used as bunk beds with no extra configuration!  It is plush, and there are over 50 fabric colors to choose from!
It has safety locking mechanisms and an iron guard rail and ladder.  This ladder is positioned at the end of the bottom couch, making it a bit easier to work around.
It does take 18-22 weeks before you receive it, as each one is custom-made with your choice of color and fabric.
When it is open for the double-deck, it has a height of 61 inches and a length of 87 inches, so it may be tight for tall people to sit and view the television from the first deck.
You will probably want to get some large pillows and cushions to set against the bottom back to be more comfortable.
When it comes to design, Gemini has also exceeded itself. The sofa is plush, comfortable, and stylish with a sleek gray fabric that looks really modern. It's also available in 50 different fabrics, so you really will be spoiled for choice when it comes to picking a design.
There are only a few small downsides. First, the 61-inch height of the top deck might make it uncomfortable for taller people to sit on. And it's an exclusive brand and high-end product, so it's extremely limited. The only showrooms are in California, Mexico City, and Toronto.
Pros
Modern and stylish design
Locking mechanism for added safety
Easily converts to a bunk bed
Cons
Expensive,
The exclusive brand has limited showrooms
This is a very exclusive brand, and the showrooms are located in California, Mexico City, and Canada. Find this at Resource Furniture!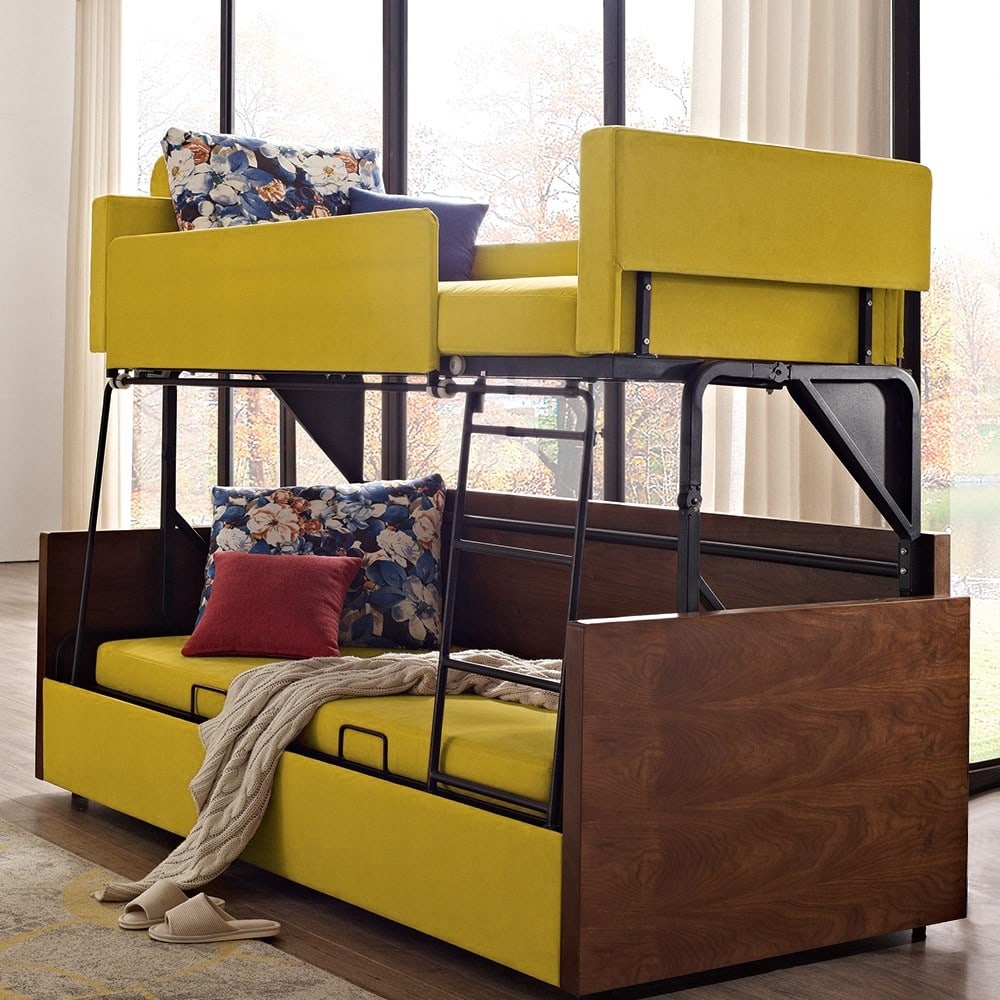 This bold statement features padded cushions with high-density foam, clean and simple lines that blend with any style, and is crafted with a steel frame.
I am so confident with this double-decker couch because the top deck weight limit is over 750 pounds! This is the heaviest weight limit I have found!
The toss pillows are included, and the dimensions are 87 inches by 61 inches high.
The company gives 30-day returns, late delivery compensation and damage compensation, and free shipping.
It also comes with a 3-year limited warranty.
The cushions are removable, but it only comes in one color.
Find this at Homary.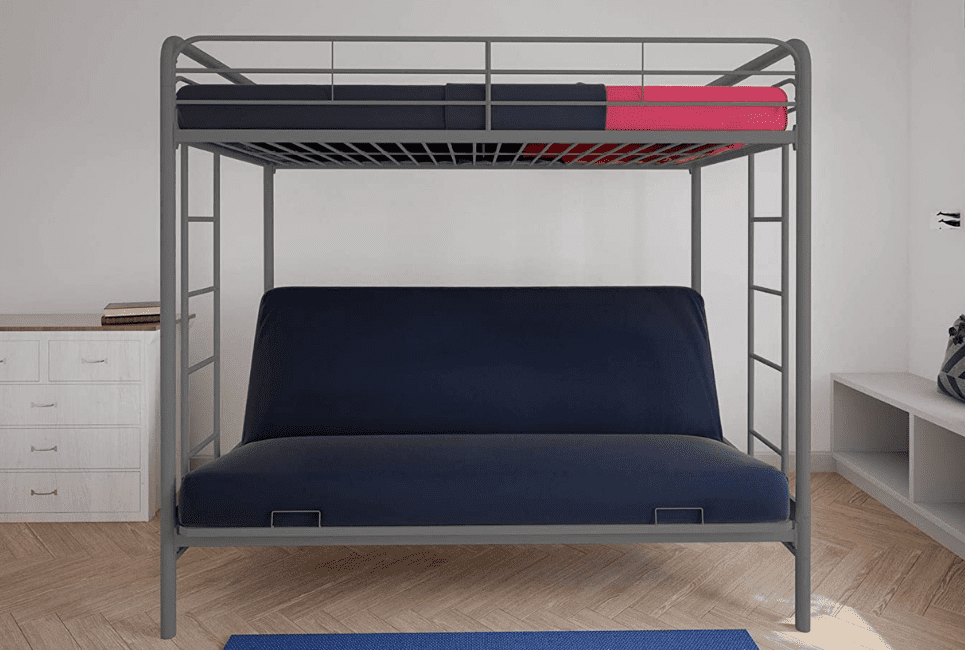 This simple but attractive great double-decker couch from DHP is a great choice if you want a simple but elegant and attractive design, with a neutral color to go in any room. It is designed to be compact, but it's also robust, with a double-sided ladder that extends all the way across the top for added safety.
Unfortunately, it does have its downsides. Firstly, it can only take a maximum weight of 200 pounds on the top, and secondly, the mattress isn't included in the price, so you will have to purchase this separately.
Nonetheless, it's very practical, spacious, and the grey color of the frame makes it very easy to style with your existing room and furniture.
Pros
Comes with a double-sided ladder for safety.
Easy to style up your room and furniture due to its neutral color design
Cons
The mattress is not included, so you will have to purchase this separately No back support
Maximum weight of 200 pounds only applies to the topmost mattress
What I like about this double-decker couch is its simplicity and color blending.  It's not trying to be anything other than what it is.  And what it is is a great opportunity to have a sturdy, double-sided ladder with a built-in railing all the way across the top for safety.
Add several large brightly colored cushions to pick up the colors of your decor, and you have yourself a double-decker couch!  Nothing to impair the view of the people sitting on the bottom couch!
It's very open and airy and to add texture, just throw a few furry blankets on it and instant warmth!
The downsides to this one are that the mattresses are not included, and the top only has a 200-pound weight limit.
Find this on Amazon.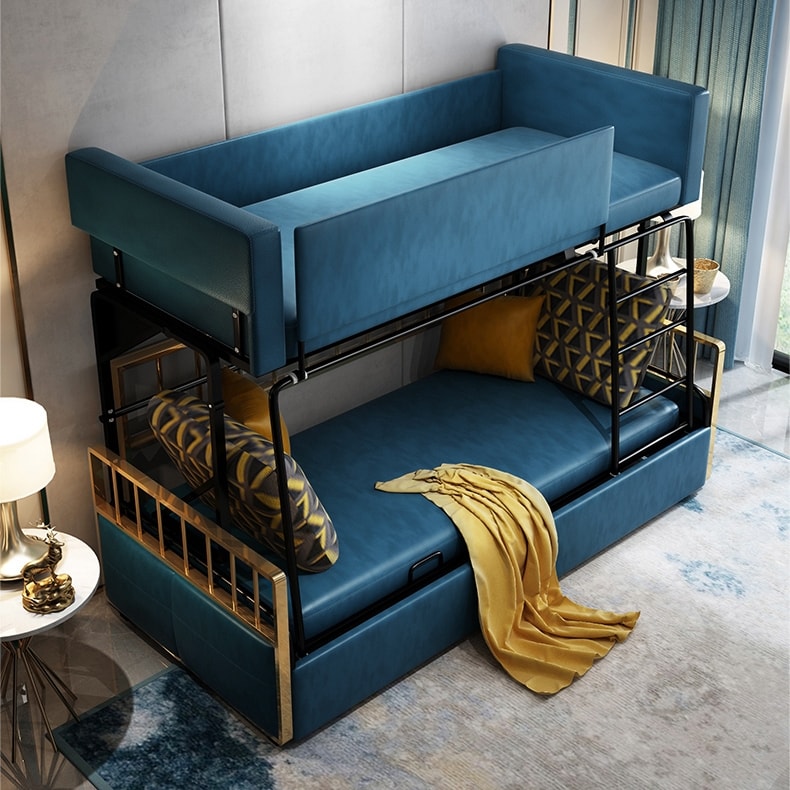 This winsome and bewitching double-decker couch is my absolute favorite for the stunning and sleek design it retains even after being converted to a two-story-high sofa! I am all about safety and durability, so the fact that this has a frame of steel and wood and has a 3-year warranty by the manufacturer gives it all gold stars in my book!!
This tailored, neat, chic style with its luxurious blue fabric has glamourous contrasting gold arms that remind me of the glory days of Hollywood!  Just by itself, it is a gorgeous conversation starter! With four black steel legs and elastic foam cushioning, an integrated steel ladder, and a guardrail that you can remove for use as a couch only, this is an asset for any room, never mind one that is space-conscious! Plus, the sleek wood finish makes it an ideal addition to any living room and the top bed is perfect for relaxing in.
This has an overall width of 87-inches and a total depth of 39-inches with a seat depth of 33-inches.  That's a great amount of space for seat depth- it's extra deep!  Long legs love it! Find this at Homary!
With its 3-year warranty by the manufacturer and sturdy steel and wood construction, this furniture offers a very high standard in terms of safety and durability. That, paired with the sleek fabric, makes it a great choice for anyone looking to add some modern style to their home.
It's also super comfortable. This foldable chair has a steel ladder, an integrated foam cushioning seat, and a guardrail that you can remove when you just want to use it as a sofa. It's incredibly compact too – even when it's extended – which is perfect for small rooms.
Pros
Very comfortable
Looks modern and stylish
Compact when not in use
Cons
Only available in one color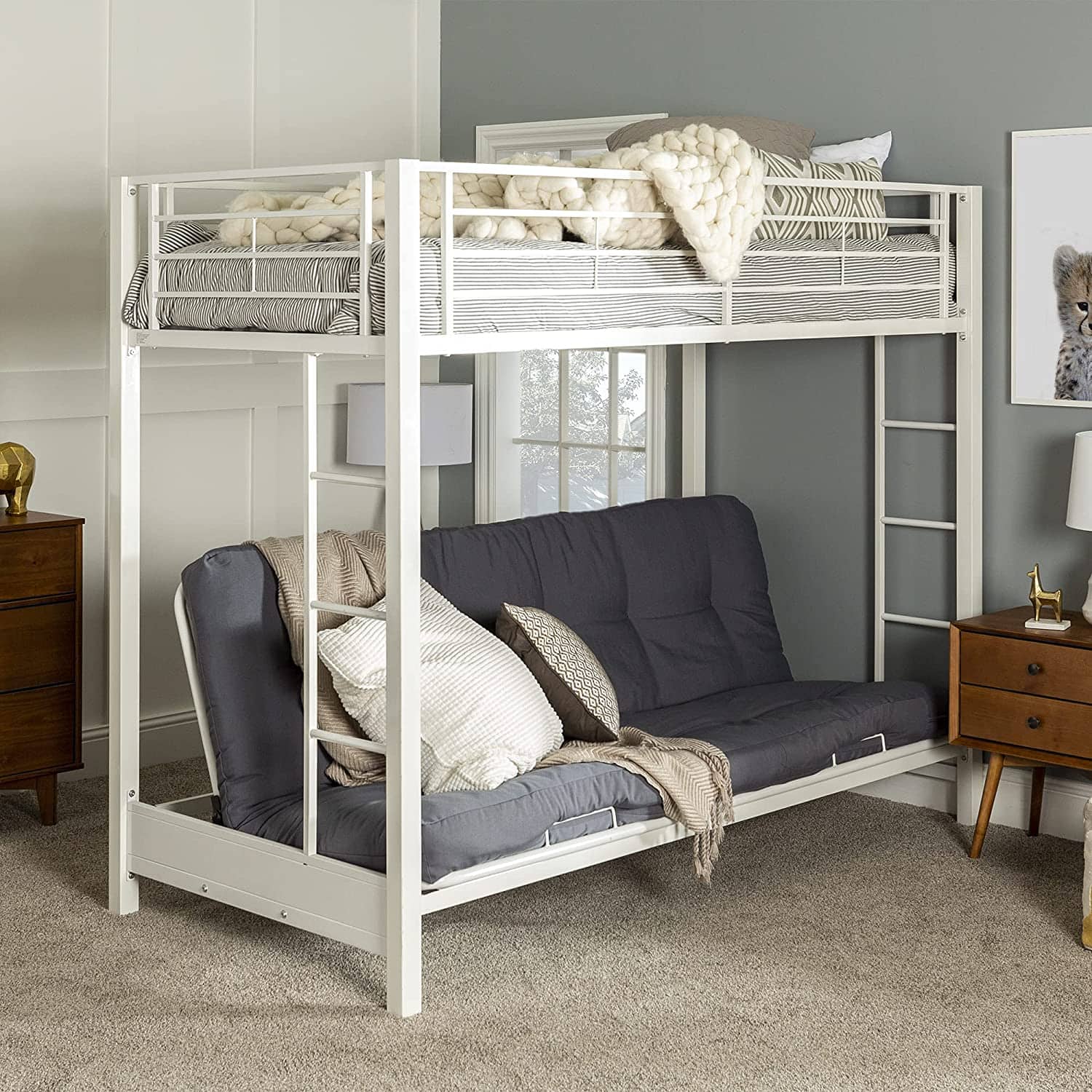 This double-decker made the cut due to its enchanting cottage feel and angular lines giving it a timeless charm that would complement any decor style.
The built-in all-around railing is a great safety feature while still retaining the crisp appeal of the structure.
It has double-sided ladders, and over 9,000 buyers gave this a 4.5/5-stars!
That says "great buy" right there!
This is so pretty and so functional that I would buy it for a family room, bedroom, cellar, and even an informal living room.  With potted plants by its side and round velvet pillows, or a fun quilt hanging from the back, it could really be at home anywhere!
The dimensions are 79-inches long and 68-inches high, but the top can only support 200 pounds – the only downside!
Find this at Amazon!
Pros and Cons of Buying a Double Decker Couch
Pros
You can save floor space
It's a fun experience to all be together on one structure watching a movie (preferably a Legoland movie with Emmet!)
Can be used for friends to "couch crash"
Give your friends and family a "Wow!" experience
Cons
Exceptionally difficult to find
Ceilings of 9 feet plus are needed
Potentially unstable
Impractical because of the single function
Difficult to plan the logistics of dangling feet
Very expensive
​Alternative Recommendation to Double Decker Couch
Arlia Twin Over Twin 4 Drawer Bunk Bed by Harriet Bee
This is a gorgeous piece to add to your family room if you want double-decker seating and sturdy sleeping. I highly recommend this for its craftsmanship, durability, and elegant aesthetic appeal. The built-in staircase solves the problem of a front ladder, and it is luxurious to look at with its wooden grain tones adding sophistication to function.
My only concern would be that it only has a 250-pound weight limit for both top and bottom, which isn't going to fit the bill for a lot of people on it. The storage drawers are included, but the mattresses are not. It is made in the United States, and the company is very reputable.
This can be found at Wayfair.
FAQs
Question: What is the Double-Decker Couch?
Answer: A double-decker couch is a special type of sofa that has two levels. It can be converted into one bed or kept as two separate beds for added sleeping space.
Question: Why should I get a double-decker couch?
Answer: A double-decker sofa is good if you need extra living space for your family or guests. It's also great if you don't like having to make the bed every day, as it can be used instead as a couch to relax on.
Question: Is the Double-Decker Couch Real?
Answer: Yes, far from purely being a Lego fantasy, the double-decker couch is a real product that you can purchase online.
Question: Is There a Double-Decker Couch Bed?
Answer: Yes, many double-decker couches can also be used as a bed, making them an even better choice for when you have guests staying.
Question: Is a Double-Decker Couch Practical?
Answer: Yes, double-decker couches are very practical for when you need extra space. They're also good if you often have guests over and could use the extra sleeping space.
Question: How Much Does a Double-Decker Couch Cost?
Answer: Double-decker couches, while practical, can be notoriously expensive. You can expect to pay well over $1000 for a double-decker couch.
Question: What is the Life Expectancy of a Double-Decker Couch?
Answer: However, despite their tall price, they are also very durable. This means that they can last for many years.
Best Double Deck Couch Ideas: In Conclusion
As fun as it is to imagine ourselves having an item made for a movie, whether it be a car, Batcave, or Emmet's double-decker couch, it will be impractical if not impossible for most of us.  For die-hard fans who have the space and the means, I would highly suggest contacting a reputable carpenter who has created solid bunk beds or some other such piece used to support people and hire him on a project basis.
The double-decker couch is a product that can be very practical and beneficial to your home. For instance, it's great for having guests over and needing extra sleeping space, or if you have a small apartment and want a couch and a bed in one. It's also good if you want to keep your floor clear of clutter when you relax on the couch, which can be used as a bed instead. Plus, for Lego fans, it'll certainly be a talking piece!
On the other hand, if you are looking for an affordable, customizable, and safe scenario, buy a sturdy, nice-looking bunk bed with side ladders.  Buy some fun, big cushions to put on the bottom and top bunk to make the back of your "couch."  You can add throws, cup holders, and many other convenient things to it while still being able to sleep on it.
Some bunk beds look better in a living room than others.  The good news is that there are so many styles and colors to choose from, you should have no problem finding one that fits in with your already decorated space.
The lesser good news is that you will probably be paying a lot more for an item of furniture that can blend with a family room theme without looking solely like a bed.
I think this is to pass on the double-decker effect and get a wonderful, cozy, cushy, large sectional to fit many people.  It might not save you from an explosion, but it will offer you the feature of togetherness that was the whole idea of it anyway. Whilst we love all the options on this list, our favorite is the Modern Wood Bunk Bed Sleeper Convertible Sofa Bed because it combines great looks with practicality. If you're looking for a functional double-decker couch, then this is the one to go for. We hope that our list of top picks has helped you in your choice making process! And whether you decide to go with a wooden double-decker couch or a different option, we hope you'll love your new piece of furniture.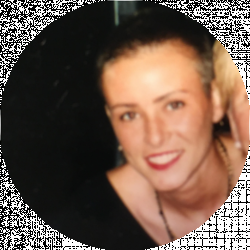 Latest posts by Richelle Tieman
(see all)