Coffee tables are so functional, but so often overlooked. It seems like choosing the right coffee table would be easy. You just pick the one you like. But there are so many things to think about and decisions to make before you can find the perfect coffee table for your living room.
Your coffee table is the center of your living room and the true workhorse of the space. It holds drinks, remotes, magazines, and sometimes even feet. It needs to be precisely functional and fit just right with your other furniture. It's not likely that your coffee table was the first thing you picked out, but that doesn't mean it should be an afterthought. The material needs to work with your lifestyle and it should meet the needs of your entire family.
Coffee Table Guide: Considerations
Here are some of the things you need to think about when evaluating which coffee table to choose for your living room. Carefully consider each element to ensure you're making the right decision for you.
Height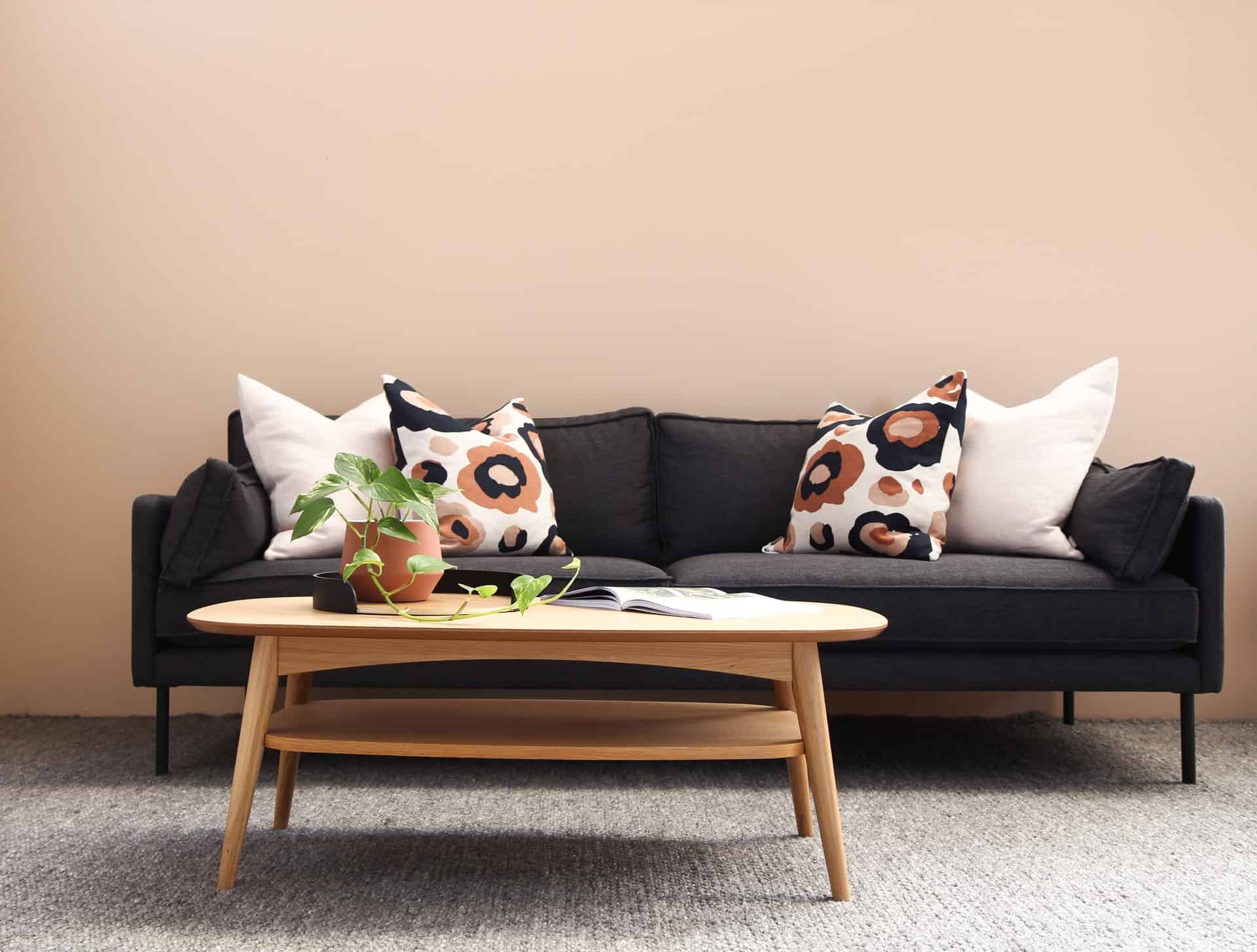 An inch too high or too low can make a coffee table very awkward. Achieve maximum comfort by choosing a coffee table that is the same height or slightly lower than the cushions on your couch. This is important if you want to put your feet up, but it's also critical for keeping your eye line unobstructed when relaxing. It allows you to enjoy TV or company without the coffee table feeling like it's too big or in the way.
Look at the coffee table's height before anything else. If you love everything else about the table, but the height just isn't quite right, it's not going to look good once you get it in the room.
Width
Your coffee table should also be the right width in relation to your sofa. It should be about two-thirds the width of your sofa. A 96-inch sofa needs a 64-inch coffee table. If you have a sectional or some other sort of lounger, the coffee table should be two-thirds the width of the sofa section only.
This keeps everything in proportion. While an important piece, your coffee table still should stick out like a sore thumb. Plus, you'll need extra room on either side of the coffee table to navigate the room and sit down.
Depth
The size of your living room will determine the depth of your coffee table. Narrower rooms need shallow coffee tables while larger rooms can handle large square, circular, or oddly shaped coffee tables. The exception to this rule is if you have a sectional. Your coffee table shouldn't stick out into the room farther than the chaise section of your sofa. This keeps the lines clean and the walking path unobstructed.
You also should be aware of how deep your coffee table is in relation to the fireplace, TV, or any other focal point in the room. Give people room to walk through without obstacles and ensure that you leave at least 42 inches between your coffee table and a TV stand or hearth.
Positioning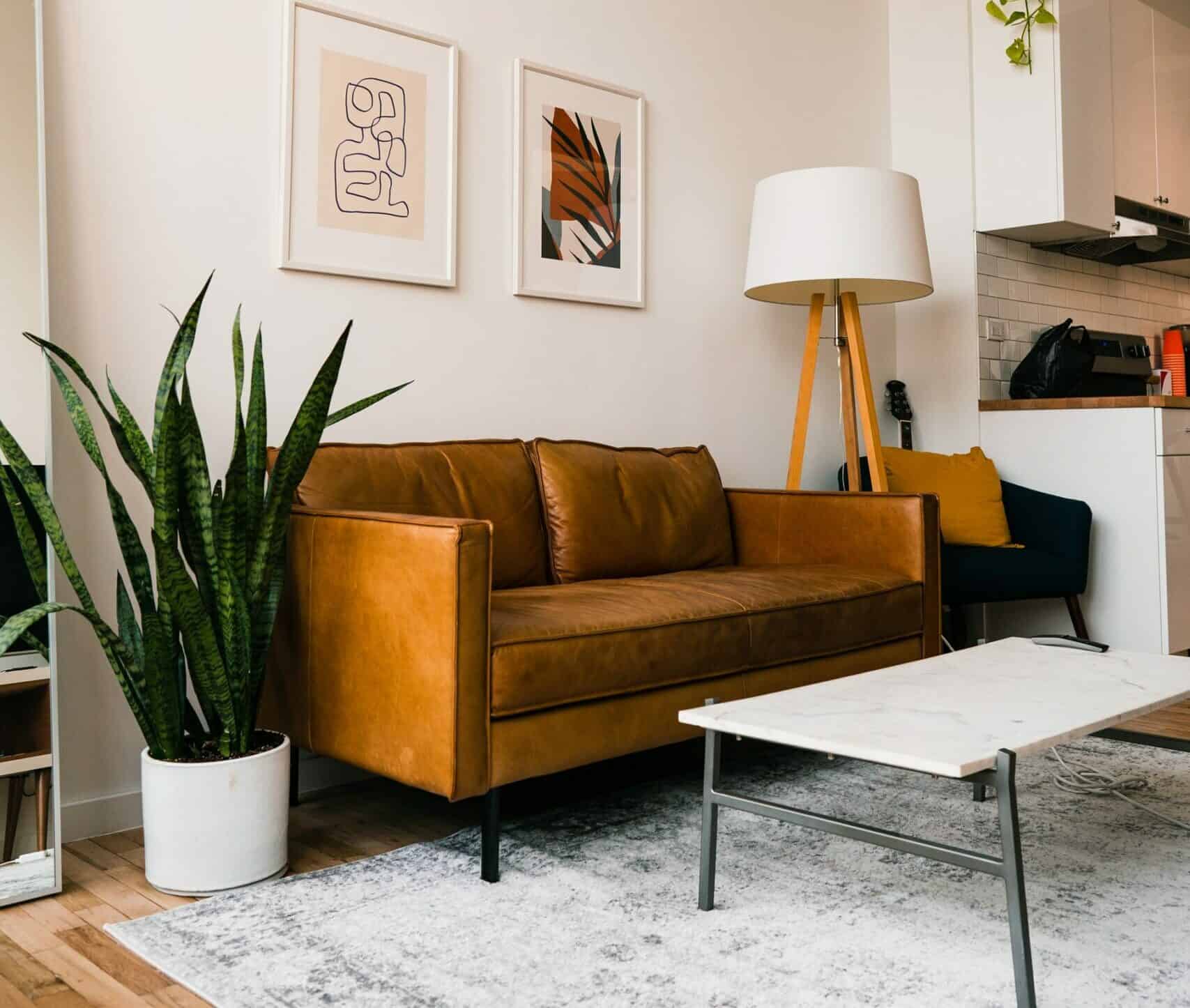 Now that you have the perfect coffee table, placing it at just the right spot in the room is key. You should leave 12-18 inches between the sofa and the coffee table. This gives people room to walk around and sit down without bumping their knees, but it's also close enough to reach when setting down a drink or picking up the remote.
Position the coffee table in the middle of the sofa so there's the same amount of space on each side. This way, you'll still have room to walk around the side and your room won't look lopsided. There should also be about 30 inches of space between your coffee table and any other pieces of furniture to allow for foot traffic and comfort.
Balance
Another, albeit abstract element you should think about is weight. That doesn't mean how heavy your coffee table is physical. It simply means how much weight does it add to the room. It should anchor the seating elements without feeling too big or bulky.
It should also complement your other furniture and make your living room look balanced and proportional. If your sofa has tall skinny legs, look for a table that's solid or has chunky legs. If you can't see your sofa's legs, your coffee table can have taller legs.
Needs
You also need to consider your family's needs. If you need a lot of storage in the living room, look for a piece that has storage compartments in it. If you like to play board games, make sure the coffee table is easy to gather around.
If you enjoy putting your feet up or setting drinks down, make sure your table is durable enough to handle the weight and that it's easy to clean in case of spills. Kid-friendly pieces have soft edges and aren't made of glass, but if you don't have kids around, you may open up your options and consider many different shapes and materials.
Materials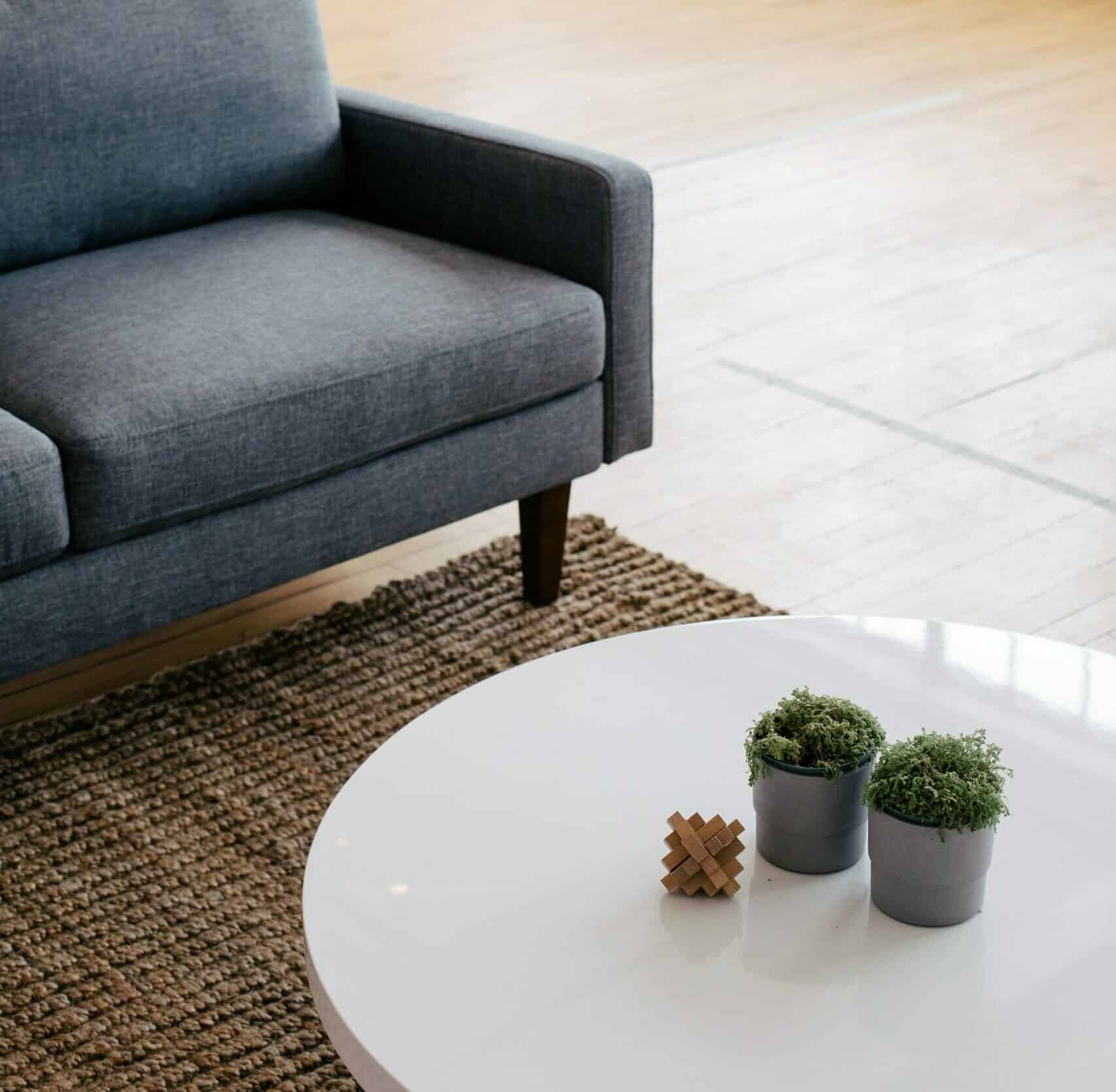 There are so many different materials to choose from when it comes to coffee tables. You need to pick the one that works for your space and your lifestyle. Many people default to wood, but there's so much more out there. While glass may be out of the question for families, it's an excellent option for showcasing an antique. Glass pieces can be vintage or modern, but they're definitely light, airy, and beautiful.
Lucite is a great option for large spaces because it's very visually weighty and will anchor larger pieces in a sizable room. If you like the look of lucite, but you have a small space, choose an alternative like travertine or marble. Wood can work well in small or large spaces, as long as the design of the table complements the room and the other furniture. Choose your wood carefully because darker woods tend to look heavier than lighter pieces.
Metal is another great modern or industrial choice. It can look light or bulky, so choose the style carefully to suit your room.
Shape
Coffee tables come in all shapes, and I do mean all shapes. You may simply be thinking about rectangle, square, round, or oval, but you'll also find abstract pieces made from raw wood or funny shapes that are meant to add character.
When choosing an odd shape, determine first which proportions work best in your room and then choose one that closely resembles those proportions. If the rectangle is a good shape for your room, your coffee table should be longer than it is wide, even if it doesn't have clean edges.
Rectangle coffee tables look best against standard sofas and in narrow spaces. They give you plenty of room to walk around. If you have a small space but you need room for all of your remotes, choose something with a shadow box top or with sleek drawers.
If you frequently eat in the living room as a family or while you're watching TV, you may even want to choose a coffee table that has a lift-top so you don't have to bend over your plate.
Square tables look great nestled inside large sectionals or in a symmetrical room with an even number of chairs gathered around it as a conversational area. A square coffee table lends itself well to more modern spaces as well, because of its symmetry.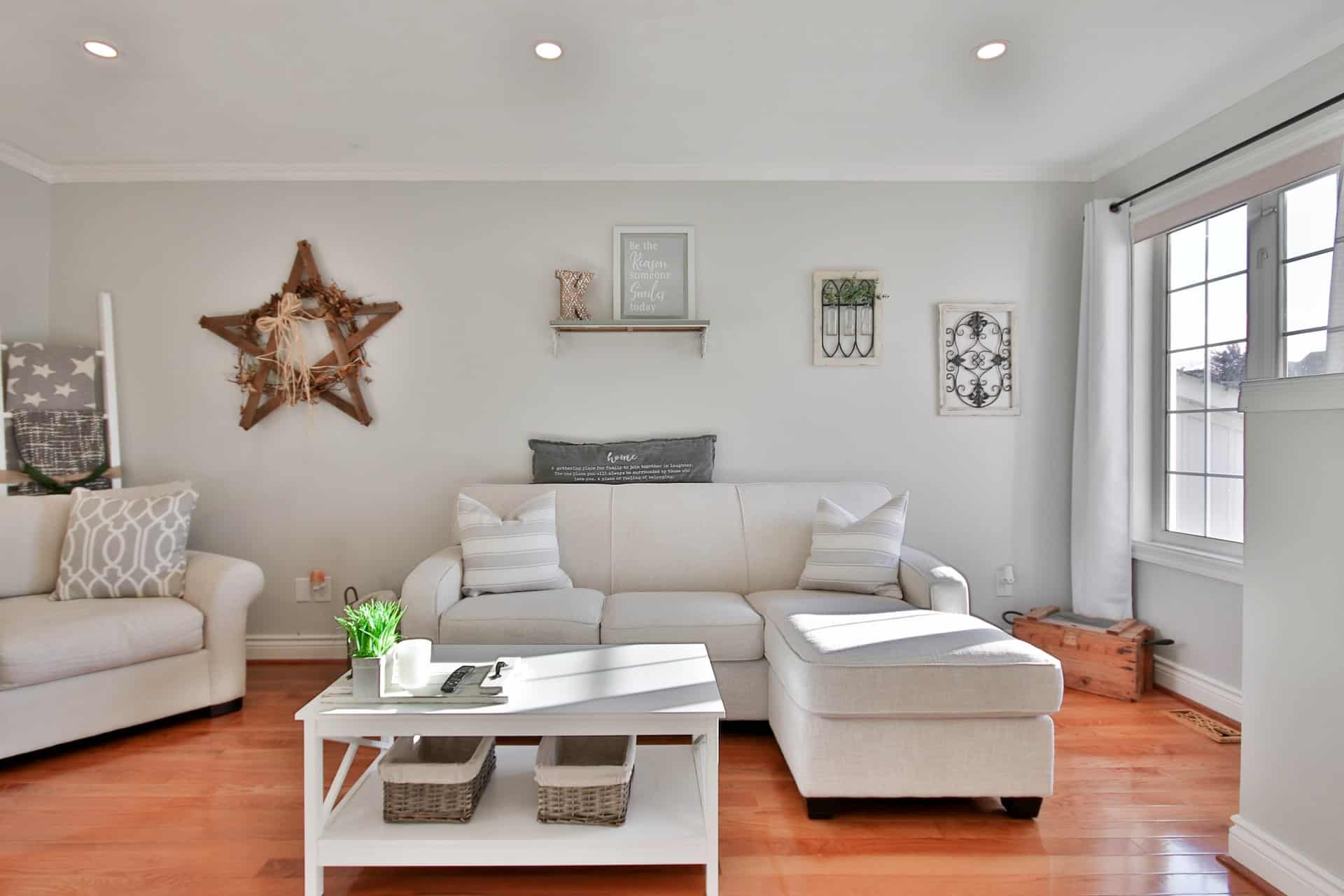 Round tables are also perfect options for small spaces because they eliminate hard corners that obstruct walkways. The smooth edges make your room flow more easily. Round tables fit into nooks more easily than any other shape, so when space is at a premium in a busy room, this is the go-to option.
It's also fairly easy to find round tables with ample storage space, which is another great reason why they work so well in small rooms. While round is great for families with kids, oval is the perfect way to keep the rough edges away from little ones and maximize the flow of a busy area while still offering a more traditional design.
Oval tables can soften modern or angular sofas well while offering a classic design element in nearly any material.
Buying Options
These coffee tables are some of my favorites, and there's something here for everyone. If you're looking for the perfect coffee table for your living room, check out some of these options to see if they'll work for you.
Walker Edison marble and metal frame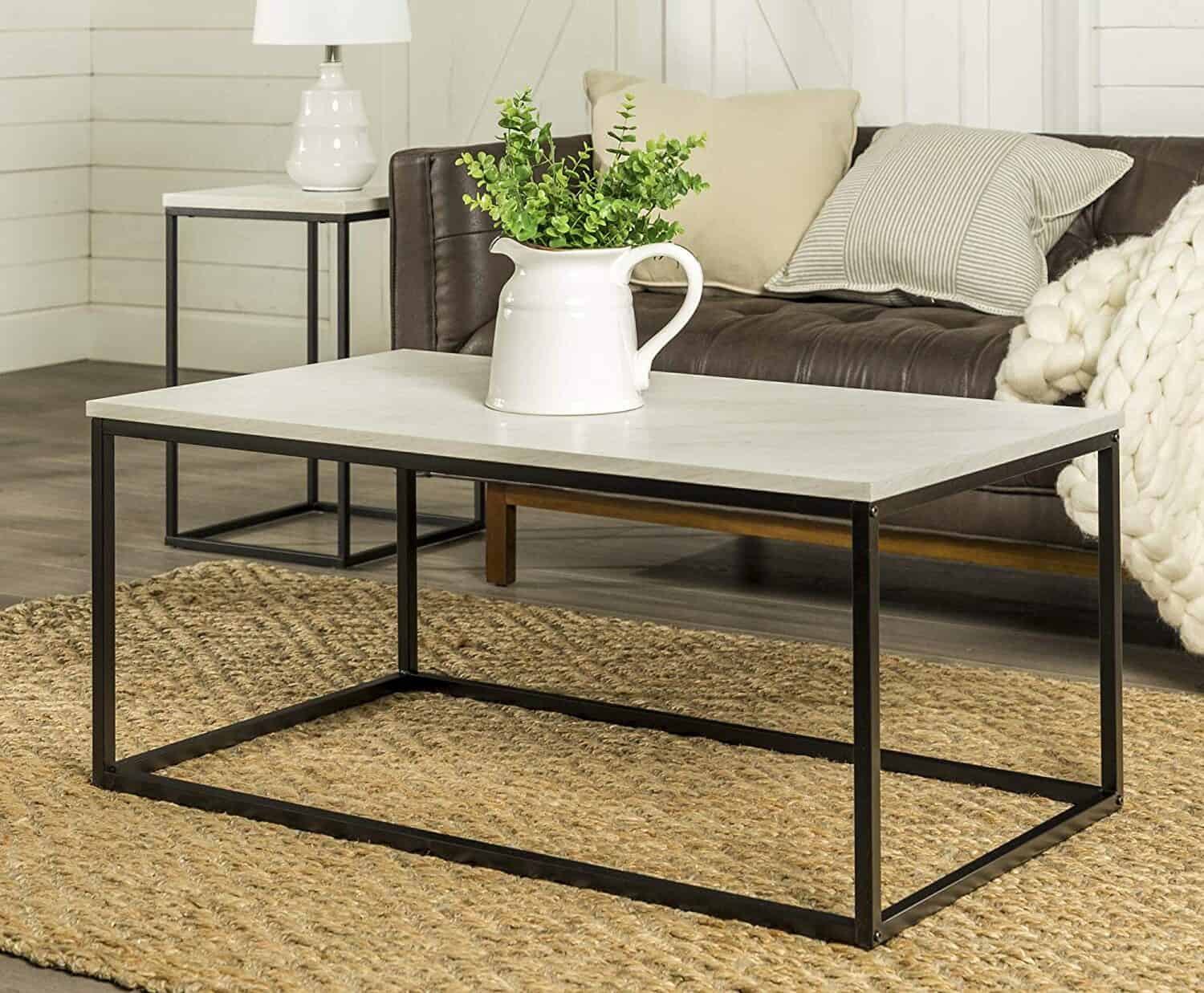 This rectangular coffee table from Walker Edison has a metal frame with a faux marble tabletop. Thanks to a lightweight design, it's ideal for small, modern spaces. The sharp edges don't work well for families with young kids, but it's a great table for a small apartment or house.
It's a durable table at an affordable price, so it will elevate your living space without emptying your pocketbook. Plus, it's easy to assemble on your own once it arrives.
O&K Furniture round coffee table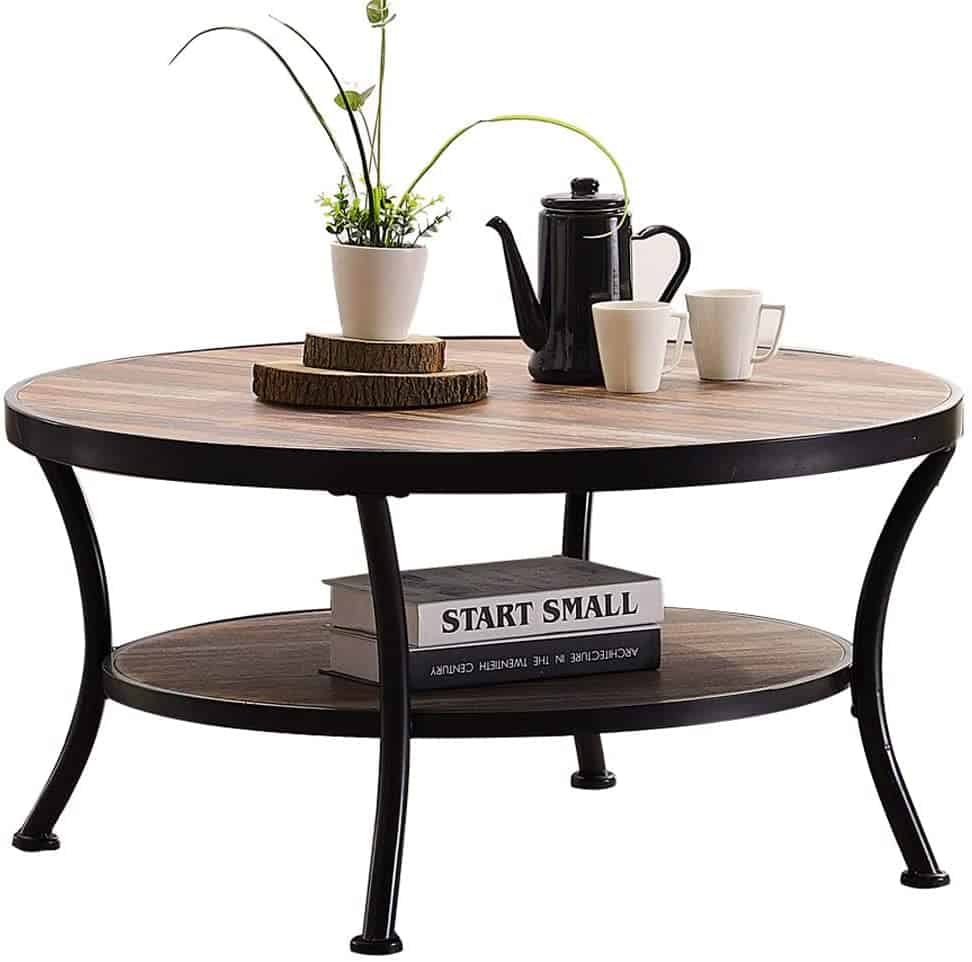 O&K Furniture offers another great choice for small spaces. This round coffee table offers a more traditional metal look, but it's the perfect size and shape to nestle into your sectional or in the middle of your conversation area. When you're short on space, the extra shelf between the legs is a great place to store books, magazines, remotes, or anything else you need up off the floor and within reach.
Signature Design by Ashley, Camiburg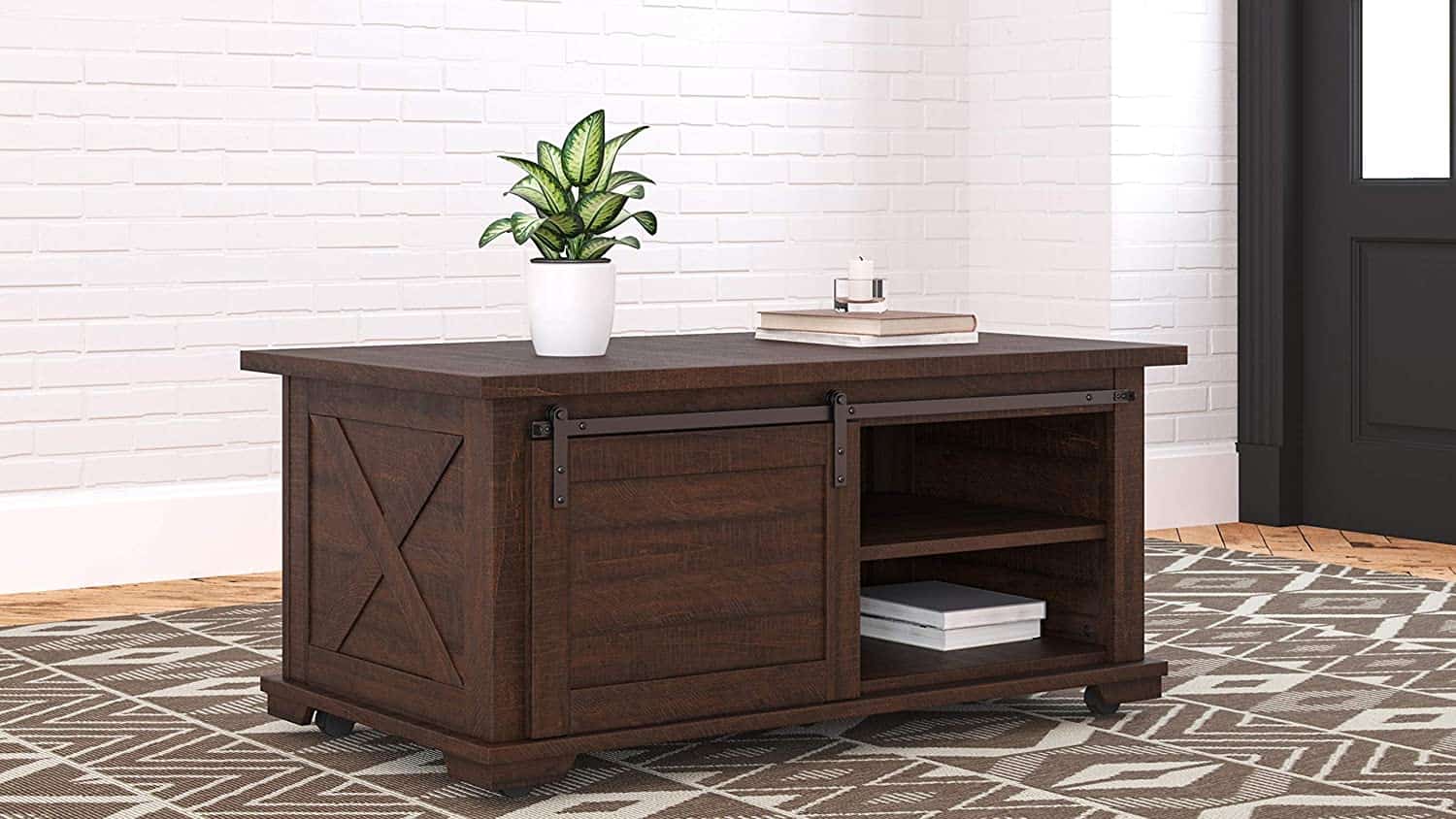 This elegant rectangular table offers a bit more heft for larger spaces but is also an excellent place to store extra blankets or kids' toys when you're picking them up for company at the last minute.
The sliding barn door offers a rustic design and durable construction means it will hold up under heavy use in a high traffic area or in a family that has a lot of little hands and feet.
FurnitureR round glass coffee table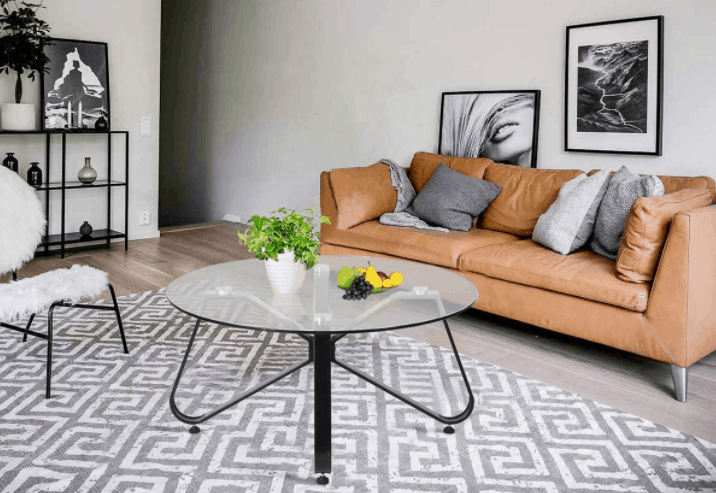 If you're looking to elevate your style with a glass coffee table, this option from FurnitureR is an extravagant choice. It features clean lines and a round shape, making it perfect for small, intimate areas. Singles, couples, and those who enjoy cocktail party entertaining will find a lot of form and function in a table like this one.
24FK upholstered tufted ottoman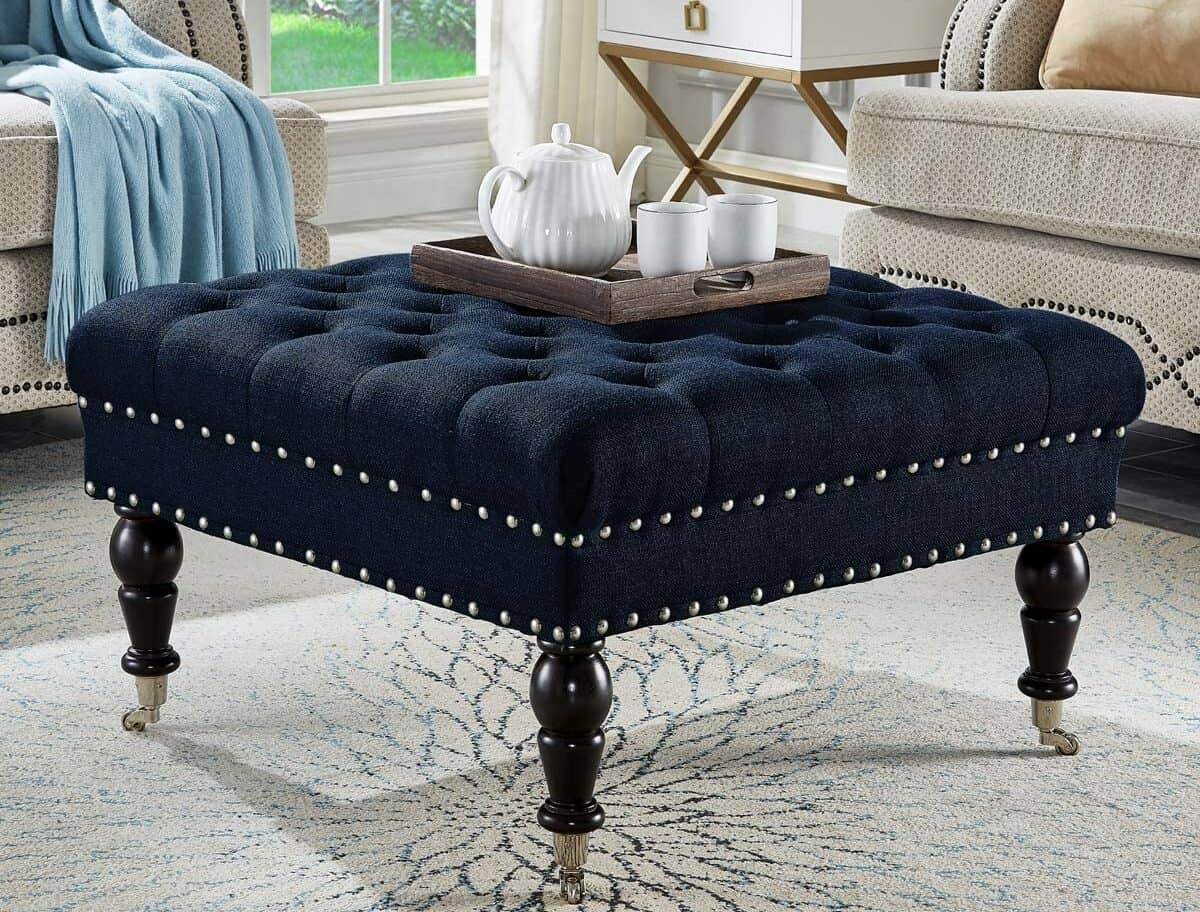 I just couldn't resist including this gorgeous linen ottoman from 24FK. While square designs are normally great in small spaces, this one is very versatile. It's a bit bulkier, so it would look fantastic in a large living room or library. The curved legs make this Victorian-like piece the perfect antique accent. By placing a serving tray on top, it becomes not only a comfortable place to rest your feet but the perfect coffee table for remotes and drinks.
FAQs
Question: What is a good size coffee table?
Answer: As a general rule, your coffee table should be two-thirds the length of your couch. However, if you have an unusual space or you're tight on room, you may need to choose something smaller.
Question: Does a coffee table need to be centered?
Answer: Your coffee table should be centered in the middle of your sofa, with an equal amount of space on either side. It should be the center point of your living room that anchors the other furniture.
Question: Can my coffee table be higher than my couch?
Answer: Your coffee table should never be more than 4 inches tall or shorter than the cushions on your couch. Four inches may even be too much for some people, depending on what they're using the coffee table for or how it looks in the room. Anything more than 4 inches in either direction leaves you with a very awkward space that doesn't flow and will be obtrusive to the conversation or watching TV.
Question: How do I keep my coffee table organized?
Answer: If you struggle to keep the top of your coffee table clean and tidy, consider getting a tray to contain everything you keep on your coffee table. By moving loose items into this tray, you give the illusion that you're more organized, and it frees up the rest of your coffee table.
If you're stacking items, place the largest items on the bottom and small items on the top to make it look more organized.
Final Thoughts
A coffee table is a highly functional piece, but it should also be beautiful. Consider your room and the style of your other furniture as well as how you'll use the coffee table before making a final decision. This decision can be the last thing you do but don't brush it off because it's very important.
While there are some general rules you should follow when choosing the right coffee table, at the end of the day, as long as you love whatever you picked, you made the right choice.