We all want to pull our bedroom together with as much harmony in our haven as we can muster. All of us try to avoid the "Goldilocks" and "Alice in Wonderland" dilemmas of "not the right fit" – either too tall or too short when seeing our nightstand next to our bed.
In the bedroom, the bed is the "piece de resistance", or highlight of the room. The nightstand comes in a close second. It is just as deserving of attention as the bed is, probably because it pairs itself with the bed – as an extension of the bed – to stylishly and practically hold key items you will need access to during the night.
Nightstands are an integral part of our bedroom experience and are on display – they need to be functional and beautiful workhorses due to the many purposes they serve. They spotlight the bed, contributing to the message that is sent by the room.
Choosing a nightstand can be great fun with all the different styles and types of bedside tables at your fingertips.  From mirrored doors and crystal drawer pulls to simple, rustic antiqued three-legged tables, the options are almost endless. This guide will help you get to your perfect fit with just a few considerations for your shopping journey!
The Relationship Between The Bed and The Nightstand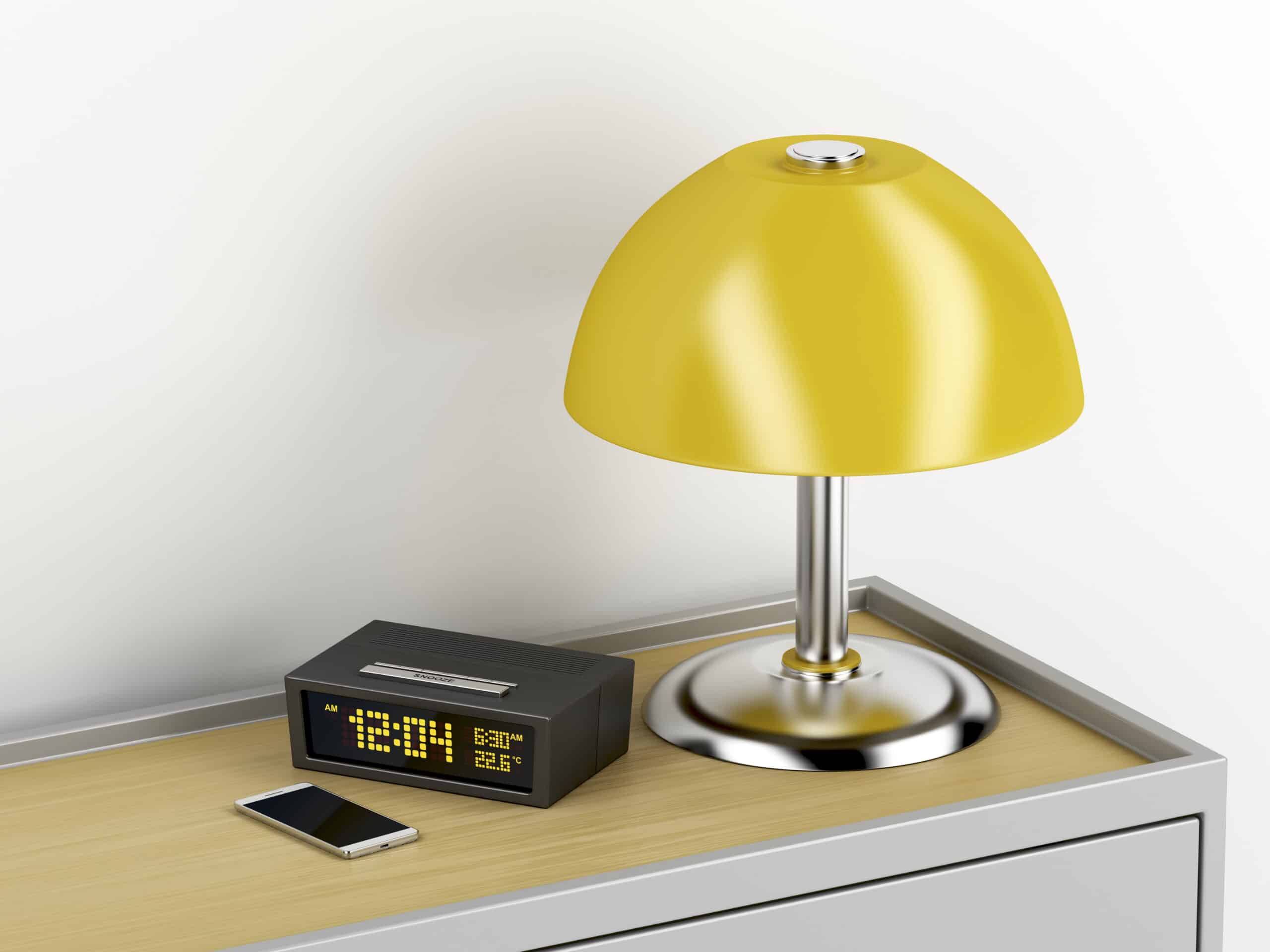 One thing to help you get started and narrow the playing field will be the essential need for proportion in your nightstand. Proportion in relation to the bed, specifically the mattress height. Have you ever seen a huge King-size bed with tiny spindle leg tables on each side, peering out from behind the bedding?
Or perhaps a dainty Victorian scrolled iron bed that has two massive dark wood nightstands with three drawers each, making the bed look like it belongs in a child's room? To easily avoid these common mistakes, there are a few things that can guide you away from an "oops".
A rule of thumb for the height of a nightstand is that it should be about the same height as your mattress. If you are just setting up your bed, make sure to add your box-spring and the mattress so you can get an accurate measurement.
An inch, either way, isn't going to hurt, but if it's too low you may be swinging your hand around in the dark trying to find out just where it begins. Just as inconvenient is if it is too high and your hand is knocking everything over (now you really have to turn the light on!).
Measurement Considerations
Height
The ultimate most important variable when trying to appropriately scale your nightstand to the bed is height.  This means the height of the top of the mattress. The average height of a bed and the top of the mattress is 25 inches. A little more than two feet off the floor. However, on the "bed height spectrum" there is an 18″ bed for platform frames, and on the other end, there are 36″ heights for mattresses on canopy bed frames.
Make sure before you measure this height that you have the bed frame, box spring (if you are using one), and the mattress. These days nightstands tend to come in two size ranges:
Smaller-scale for shorter mattress heights are between 24 and 26 inches high.
Taller nightstands that will accommodate thicker mattresses will be between 28 and 30 inches high.
The mattress trend for plusher, thicker, pillow-top, and other comfort features has been on a steady incline over the past four decades. Today's mattresses are much thicker and have less motion transfer from one sleeper to another due to the evolving technology. For this reason, the nightstand you have had for decades, or the passed down antique you cherish quite probably will be too short for your bed.
The research from 6 different sources on nightstand heights all has one concept in common. Higher is better. A decorating tip from one article says that a height of 25-27 inches is ideal, however, another article states to "keep the nightstand at mattress height or no higher than 4 inches above it". Another says that the perfect nightstand height is 29 1/2 inches.
They all agree, though, that a nightstand will work best if it is the same height as the top of your mattress. Maybe an inch or two higher, but not lower!  I think that narrows it down! My bed is awfully high, at almost 36 inches off the floor, and my nightstand is 33 inches high. I cannot tell you the number of times that I have knocked over the plant, spilled the water, or gotten a sleeve of dust as I sweep the top of it! A few extra inches higher makes a huge difference!
If you will be decorating in traditional Japanese style, with a futon-type bed directly on the floor, a very short bedside table (between 8″ and 15″ depending upon the mattress height) can be used. I have some favorite nightstand picks for this below.
The Scale of It All – Nightstands
Proportion
Optimizing the flow of energy in your bedroom with balance and aligning proportions can improve the quality of time you spend in your bedroom. And, considering that it is quite an ample amount of time, roughly 30% of our life, it is certainly worth a bit of effort when choosing your nightstand!
Proportion is like measuring the size of a part of a whole. Take a pie, for example. If you have a pie cut into 5 pieces, then the "whole" is the whole pie and the "part" is a piece of the pie. It makes a whole lot of difference to the pie if you take 1 piece or 4 pieces! The pie will have almost all of itself gone if you take 4 pieces and leave one piece to be the "whole" pie.  That "piece" you took is gigantically large, and way out of proportion to the original pie itself.
General Guidelines for Nightstand Proportions
There are some suggestive dimensions for nightstands in comparison to what size bed you have, but it is important to consider two aspects – the surface area (the top) and the depth (how far it comes out from the wall).
The surface area should have enough room on it for a lamp, alarm clock, a glass of water, and a book. (The lamp base should be no more than 1/3 of the surface space. The lampshade should not exceed the depth of the nightstand).
Rules of thumb to keep in mind:
For Twin beds – The nightstand should be 18″ to 22″ wide and 18″ deep
For Queen-size beds – the nightstand should be 22″ to 24″ wide and 21″ deep
For King-size beds – the nightstand should be 23″ to 26″ wide and 21″ to 24″ deep
Anything over 24″ deep for a nightstand next to your bed and you may find your legs hitting the edge every time you get out of bed! Of course, the farther away the nightstand is from the bed will decrease your chances of this, but it will also increase your efforts to reach things on your nightstand when you are lying down!
Positioning Your Nightstand Appropriately
How far away from the bed should you place your nightstand? This is a constant quandary. Generally speaking, you should leave at least two inches between your bed and your nightstand. This is important so that the swing of blankets and comforters doesn't knock things over in the night. Believe me, this is a big problem in my house! Crashing and bumping in the night doesn't encourage rejuvenating sleep.
Your reach will also affect how close you want your nightstand to be. I have long arms, which makes it easier to reach across an extra-wide nightstand. Another factor to think about is if you will be making your bed every morning, or changing sheets every week.
It is extremely difficult to move around the top of the bed with a heavy nightstand in your way, its sharp corners jumping out to bruise your elbows and arms, its feet stubbing your toes!
My passion for heavy large pieces eventually forced me to move my nightstands out about 4 or 5 inches from the bed. One benefit to adding more space between your nightstand and your bed is the open and airy feeling that is immediately created.
Top Nightstand Picks and Ideas
Four Hands Round Faux-Shagreen Iron Nightstand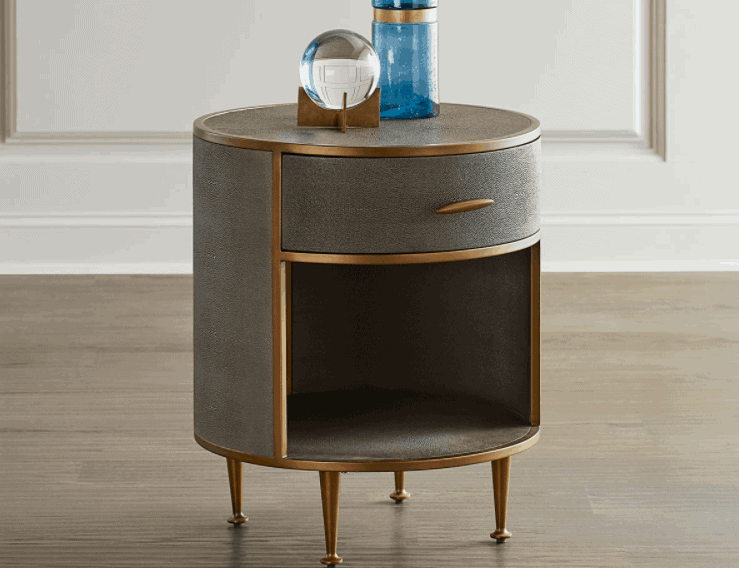 This fantastic mid-century beauty is perfectly round and finished with stainless steel accents. It has a textured surface for added dimension, and tapered legs with a top drawer to "round" it out! This is on the compact side, at 22 inches across and 26 inches tall. Made of resin and iron, it weighs about 70 pounds.
Serving many purposes, this is a no-miss buy for nightstands as you can swap it out as an end table, small coffee table, or hall table!
Putting a gold-framed mirror above this in a hallway or corner of the foyer would immediately add a sophisticated aura. Then, add a splash of color with a vase of bright pink, purple, red, blue, and green flowers, or bright colors in a small print propped on the table.  Instant elegance!
Find this at Horchow!
Short Oak Madra Bedside Table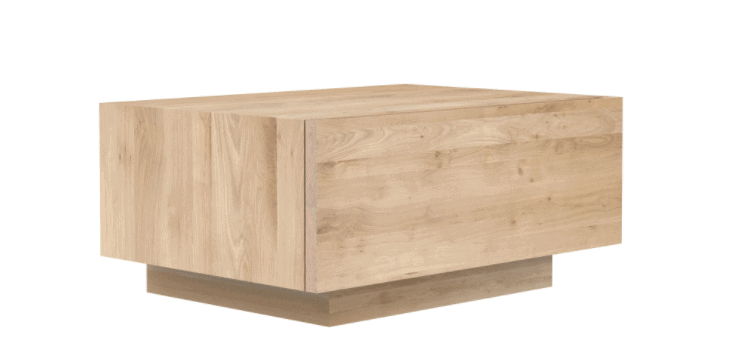 At just 11 inches high, this solid oak bedside table has clean lines and a natural, rough wooden finish that brings the outside into your bedroom. It has one hidden drawer that runs the length and height of the top larger block.
At 24x17x11 inches, it has more than enough room on top and in the drawer to cover all your needs. This is one of my favorites for its sturdiness and simple, fresh look. There's no knocking this nightstand over easily! Take a look at this and the matching pedestal bed frame at Burke Decor!
Elin Minimalist 2 Drawer Navy Nightstand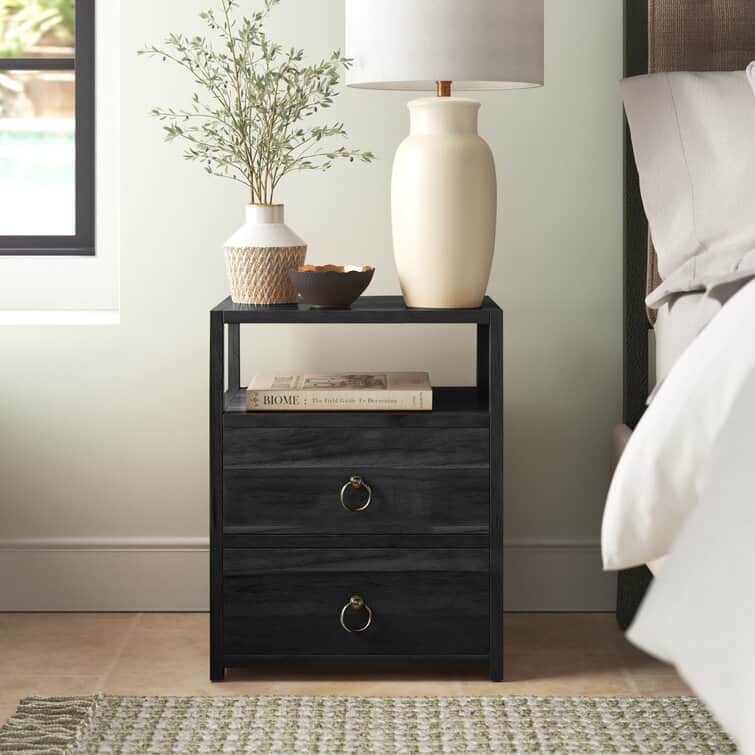 This is one of my favorite nightstands because of its functionalism and combination of several nightstand features in one! It has texture for depth, it has understated glam, and is incredibly well made.
This nightstand has ample room on top as its dimensions are 21×17 inches wide, and it sits at just 26 inches high – which is a bit on the lower side – so make sure you take this into account when considering the height of your mattress.
There is an open shelf in the middle for easy access to things you won't be able to knock over in the night (because they will be somewhat protected, and it's a lower nightstand). Then, there are two drawers (for items not meant to be on display) with dark bronzed ring pulls for a touch of shine.
The intentional distressing, wood scoring and the natural wood grain color variation ensure that this is a one-of-a-kind item – no two are alike. The great thing about this nightstand is that it can double as a side table in any room! Its size allows it to fit into smaller spaces all over your house! On the other hand, if you have a fairly substantial Queen or King size bed, this petite bedside bureau can look too small. It comes in different colors and can be found at Joss&Main.
Antique Teal Athol 3 Drawer Nightstand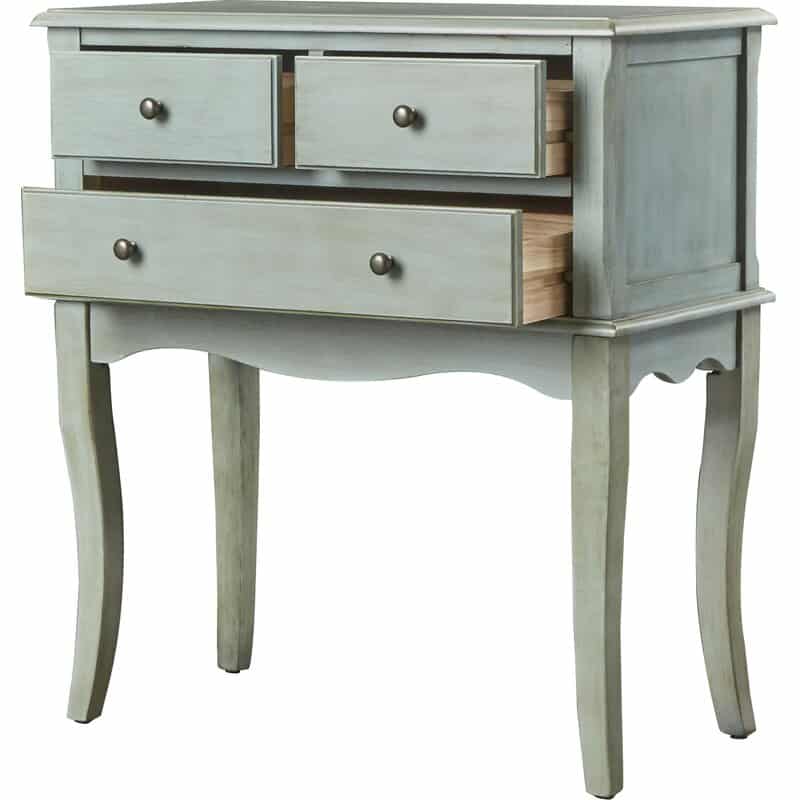 This french country nightstand ties in farmhouse and cottage styles with it and adds instant grace wherever it is placed. The legs have a slight cabriole look to them ( the upper curve being outward and the lower curve being inward) and are skirted with a beautifully scalloped apron. 
This style was popular in the 18th century. This is one of my favorite pieces because 1) it is so delicate and graceful with its subtle curves, and 2) because it is functional! It has fantastic dimensions, but keep note that it will only tolerate 10 pounds on it!
15 inches deep (easy to get in and out of bed)

32 inches tall – perfect for keeping it above the mattress a few inches (also for higher bed frames)
An expansive 29 inches across
That's a lot of surface area for the top, and will nicely accommodate everything you need accessible! There are also 3 drawers! This is a must-see at Birch Lane!
Frontgate Marble-Topped Etienne Nightstand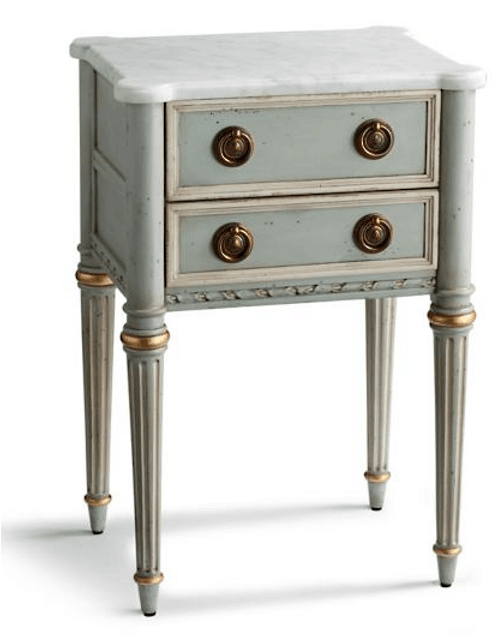 This marble-topped nightstand is modeled after an antique French end table, and can be used as an end table as well! It has bold brass ring pulls and cast ornamental plates beneath them (escutcheon). It has fluted legs with gold gilt and tapered feet.
The eighteenth-century style was the inspiration for this detailed piece. Carrara marble adorns the mahogany top, and every piece is unique due to the veins running through the marble and the distressed finish process for the wood.
This nightstand measures 18 inches across, 13 inches in depth, and is 26 inches high. Perfectly suited for a higher bed, but not necessarily a larger bed due to its smaller measurements. You won't have any trouble at all getting out of bed with this nightstand as the depth is 13 inches! It has two drawers for out of sight items and the smaller surface area makes it ideal for phones, a book, water, and tissues.
To save space with this tiny dynamite, use a wall sconce above your bed, or opt for a floor lamp. This will give you more room on top for your essentials. This is a piece that can fit anywhere in your home and you can find it at Frontgate!
Belk Madison Park Signature Beckett Nightstand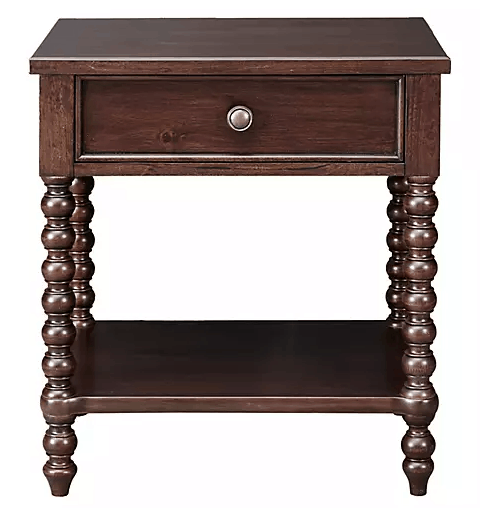 This Madison Square Beckett nightstand features elegant simplicity with its turned legs and richly finished surface. Made of Acacia and Rubber woods, it contains one top drawer large enough to hold many of your accessories. 
It also has a lower price point which is a big benefit to most of us – me included!
At 24 inches long, 18 inches deep, and 26 inches high, it is ready to hold its own with a larger bed or can be paired with a smaller bed due to the open, airy feel from having much space between the shelf and the drawer, and the floor and the shelf. This gives the appearance of less space being taken up. 
With two feet across and a foot and a half back, the surface space is generous for your items that need immediate access. 

The drawer provides privacy and a "holding tank" for smaller items. 

The shelf is wonderful for books, magazines, oil diffusers, or white noisemakers. 
This traditionally understated piece can be found at Belk!
Pottery Barn Astoria 18″ Open Nightstand in Rosedale Brown
A smaller-scale nightstand taking inspiration from a moving cart style has an overall weight capacity of 200 pounds! That is one huge benefit of a quality-made item, and one of my favorite things about any piece of furniture!
If your partner leans on it, the kids decide to prop it sideways and use it as practice for future mountain climbing, or you have a towering mound of textbooks that reach the ceiling – you're covered!
Crafted of solid Mango wood with hand-turned feet, the natural finish brings out the unique qualities of this sturdy wood. Made in a Fair Trade Certified facility, there are no two alike due to the grain and hues of each piece of wood.
This is 18″x15″x22″ high, and with its exposed shelves and simple lines, it gives a space the allure of a larger area.  It also looks airy and light, which belies its strength, but makes it perfect for a smaller, lower bed.
I love the three shelves – plenty of room for everything! Keep a painted bowl or small basket on one of the shelves to corral smaller items like a watch, eyeglasses, money, or pill bottles. (You could even go for a lidded basket for extra privacy). Find these and matching pieces at Pottery Barn.
Lorna 3 Drawer Contemporary Dresser Nightstand in Rustic Oak
This 3 drawer dresser-nightstand combines the ease of ample surface space for quick-grab items and the convenience of added storage in your bedroom. This is great for smaller bedrooms, saves space, and is chic and elegant with its gold-finish accents and a timeless rustic oak finish.
At 30x28x19 inches deep, it is no slouch when it comes to storage. It has a depth that allows you to get out of bed unbruised, a height that won't have you knocking things over in the night, and a width that allows you much room for t-shirts, shorts, bathing suits (and to have a drawer divider in the top drawer to separate your clothing) from your essential nightstand objects that appreciate a bit of privacy.
One of the things I like about this is that it is versatile and can be used for decades in almost any room of the house. Find it at HOMETHREADS.
Anthropologie Washed Hardwood Dresser Nightstand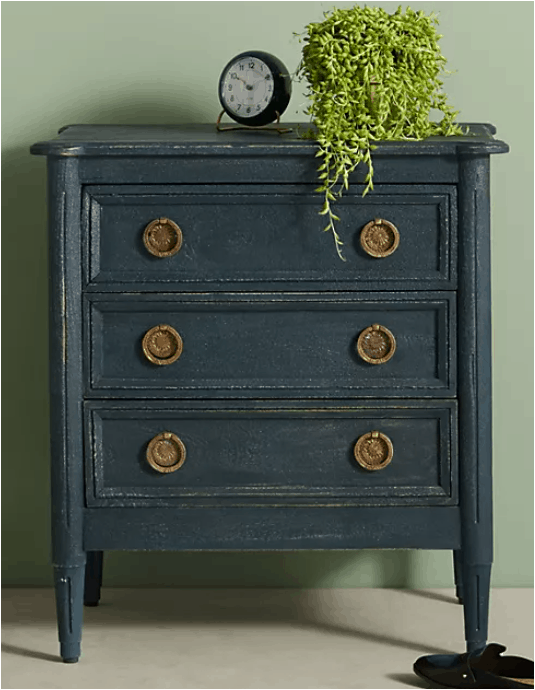 This enchanting nightstand has an all-over "scored" texture and a weathered Indigo finish that marries rustic with refined styling. Each piece is unique with natural variations, and there is brass hardware, tropical hardwoods that are utilized, and the nightstand is sealed with a clear lacquer to assist in its maintenance.
For added safety and security, anti-tip hardware is included, though there are only 7 inches of space between the floor and the bottom of the nightstand. The dimensions are 28″ high, 26″ wide, and 18″ inches deep.
Again, perfect for small spaces that warrant a bit of extra storage, yet still gives more than enough surface space – more than two feet wide and across! This is a lovely heirloom piece and can be found at Anthropologie!
Types of Nightstands Explained
If you are decorating your bedroom, the nightstand is probably high on your list, as it should be. It is a workhorse and can serve many different purposes. Think of it as the coffee table in your bedroom. Your nightstand type will depend upon how you plan to use it, what types you prefer, and what your needs are.
We all think of nightstands differently. For some, they are a workspace that holds tablets, laptops, files, pens, cords, and chargers. And a light! For others, it is a resting place for books and magazines, a lamp, and a beverage. For others, it can be a dressing station, with jewelry, watches, phones, scarves, and even shoes resting under it!  Whatever your style or needs, there is a type of nightstand that can do it all!
1. Bedside Cabinet
Just as it sounds, this combines drawers and doors that hide shelving inside. The shelving can either house tall items, such as shampoos and other toiletries, or the shelves can be spaced quite close together.
This is a great style for people who don't want to line everything up neatly and organize a nightstand every day (like me!). It also offers extra space for anything you need help storing – clothing, hair, and makeup accessories, medications, water bottles, and even shoes! (Well, slippers at least).
This Type Offers:
Extra storage
Hidden essentials
Small space Friendly
Good for larger items
Handmade Bone Inlay Wooden Bedside Cabinet Nightstand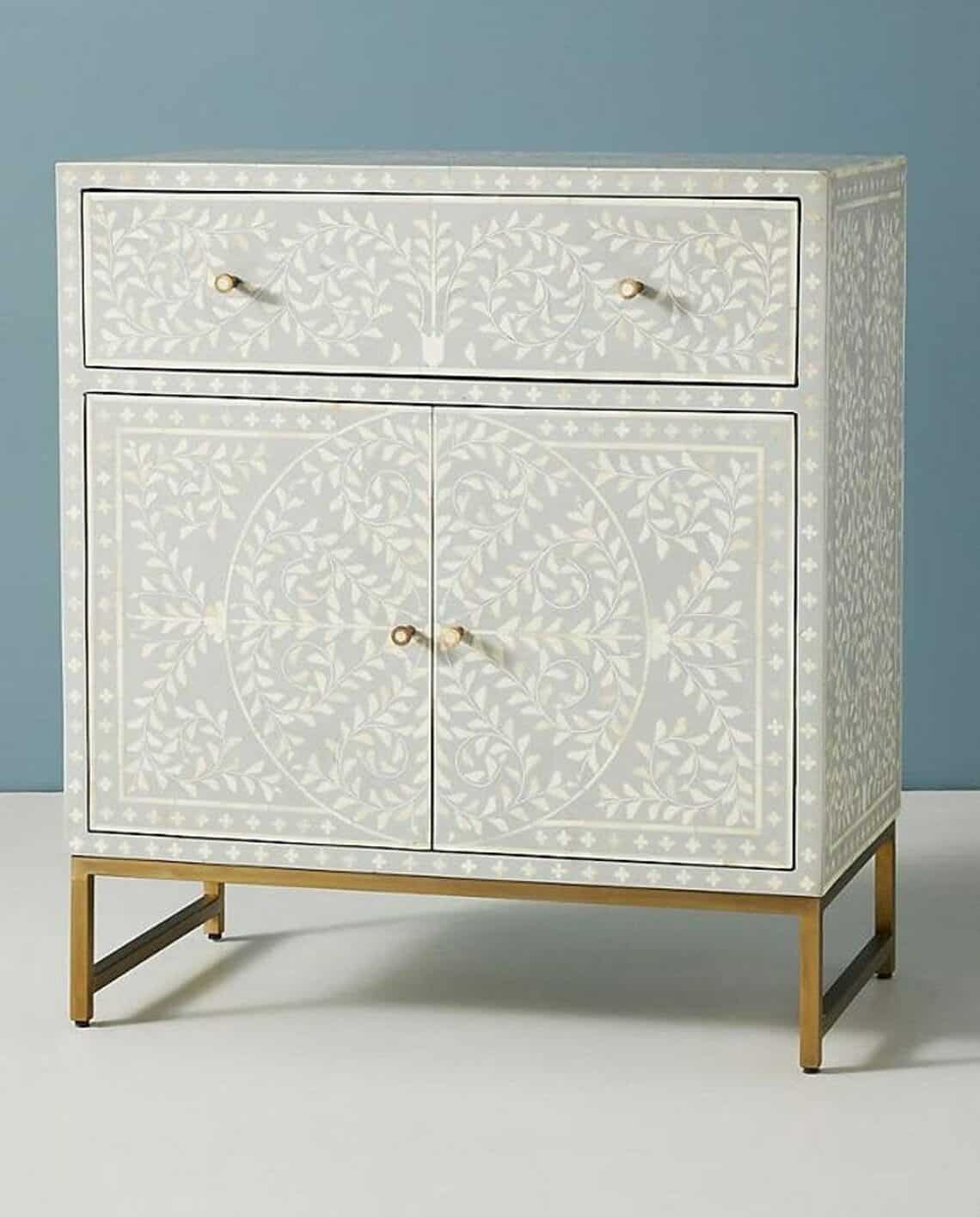 This handmade, one-of-a-kind, bone inlay bedside cabinet is modern in fashion and has one drawer and two doors that conceal two shelves. Each piece of bone is hand placed in a brick style to create the stunning patterns of this nightstand. This piece of art nightstand commands attention and will definitely be a conversation starter!
The three sizes that it comes in have two that are shallow, and one that is massively deep (36 inches!) and low.  The dimensions for all three pieces are:
24x16x12 inches high
28x18x16 inches high
30x36x16 inches high
The short height of all three makes this excellent for use in a children's room, or in a handicapped-accessible space due to its easily reached top and storage areas. Or, if you don't mind reaching down during the night (how far depends on how high your mattress is), this is an elegant and unique focal point from the top of it down to the simple but dainty legs.
With the first two sizes, you won't have to worry about sliding out of bed in the morning as the depth is shallow.  With the third size option, however, it can be challenging to actually get out of the bed (more so than usual) without some repositioning of your body. Alternatively, you could move it away from the bed about 6 inches and that would give you some legroom. You can find this at Etsy!
2.  Bedside Chest/Dresser Nightstand
Now, this may sound the same as the Bedside Cabinet Nightstand, but it is not exactly similar. It doesn't have the capacity for larger, taller items that the cupboard shelving offers, but it gives you more drawer space (with usually three drawers) and no shelving.
This is basically a dresser that also serves as your nightstand table, and furniture makers have scaled down the size to make it proportionate to smaller spaces, and almost every bed height.
The Bedside Chest/Dresser Nightstand is literally a small chest of drawers. This works well in both large and small rooms, as they come in many different sizes and shapes. If you find yourself loving a larger Bedside Chest but you have a small room, opt for just one to save space, and use a small stool of the same color, or a wooden crate for the other side of the bed (if there needs to be something on the other side!).
In a larger bedroom, put two larger Dresser Nightstands on each side of the bed, being careful to have enough space between the bed and the nightstand. This may eliminate the need for two or more huge dressers in the room, or it could ease the burden of clothing that the closet is bearing.
This Type Offers:
Incredible versatility for small or large rooms
Extra clothing storage to relieve a stuffed closet
Eliminates the need for another large dresser in the room
Extravagant Minimalist Style Guo 3 Drawer Dresser Nightstand
This Everly Quinn Guo 3 drawer accent chest appeals to the eye with its hexagonal drawer surfaces and inverted triangular gold handles that match its gleaming gold legs. It is featured here in a dark green but comes in four colors.
It is made of manufactured wood and weighs 85 pounds. The dimensions are 32x16x32 inches high, making this best suitable for much higher beds, such as a four-poster or canopy style. The three drawers will store quite a bit, considering the 32-inch length and its high top. Modern, and minimalist with clean lines and an open bottom, it suggests space despite its proportions.
Find this chic dresser nightstand at Wayfair!
3. Bedside Table Nightstands
These well may be the most versatile and long-lasting styles of any nightstand. Cocktail tables, end tables, and small coffee tables can always be repurposed to meet the needs of any room. A fresh coat of paint or a hardware swap-out and voila – an easy "new" piece!
The amount of nighttime necessary items will dictate what kind of table you get for your nightstand, with the most minimalist being the alluring, round cocktail table. Because these tables/nightstands are meant for different rooms, there are a plethora of choices in both style and dimension.
From delicate, dainty, and tiny, to large, heavy, stately, with drawer or shelf! The only downside is that they do tend to be somewhat small, and their surface area is designed to hold less (think coaster, glass, a vase, and perhaps a small dessert plate) than one would think a typical nightstand might.
This Type Offers:
Incredible purpose versatility – from living room end table to kitchen "quick bite" table, to hallway "mail table"
Good for small or large rooms
Lightweight and easy to move around
Space savers
Can be eclectic and artsy, or classic and tailored
Enticing Provincial Eudora French Country Accent Table Nightstand
This Christopher Knight home collection bed table features a distressed white finish with a natural tray top. I really like the fact that it's a tray top, with sides that curve up to catch rolling trinkets or stray beads of water.  Keeps everything nice and neat.
The gorgeous cabriole legs lead down to a low platform that shelters the ball feet. The scalloping and curvature of this piece, combined with the distressed white and natural top will compliment many styles and can be dressed up or down, dependent upon the decor surrounding it.
This is one of my favorite pieces because it just looks so pretty and unique. It also comes in all-natural (the color of the tray top) which is just as beautiful. It is on the small side at 19 inches wide and 19 inches deep, but it is 25 inches high so it will sit right with many mattresses. This is very lightweight, at 15 pounds, and is made with a wood-base material.
The only thing I don't care for is that there is assembly required.  You can find this on Amazon.
Modern Metal Glass Topped, Mirrored Shelf Curved Terrace Nightstand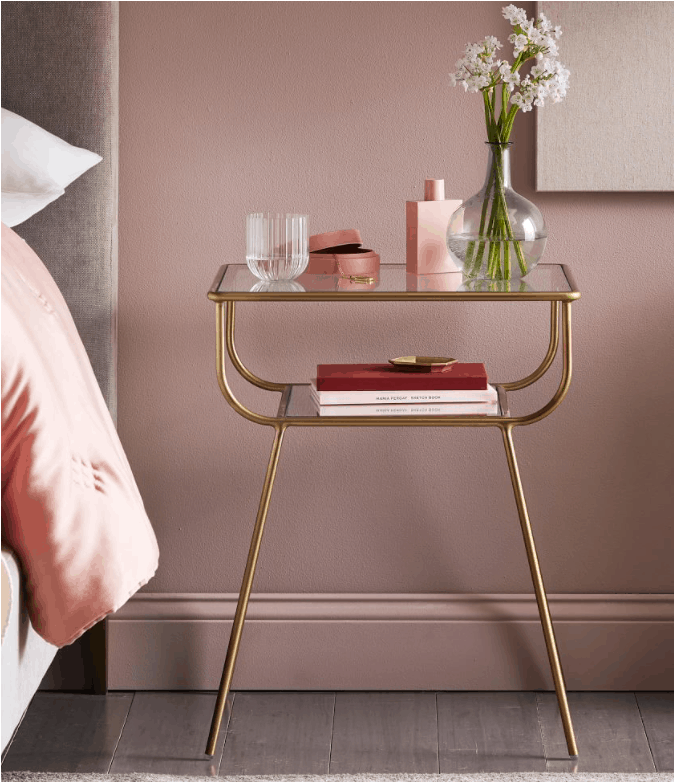 Sleek glass sparkles against the gleaming antique Brass finish of the metal frame. Air and light are amplified with the mirrored shelf, transparent glass, and glint of the thin metal arms and legs holding everything together. 
This has a small footprint, yet can hold its own in a larger space. Use metallic artwork or decor to play up the modern aspect, or use traditional rectangular mirrors and streamlined classics to bring out this nightstand's more conservative side. I love, love the mirrored shelf that reflects up into the glass top!  How cool is that?
Like I said before, the only real drawback to table nightstands is the small stature and scarce room for bedtime necessities. If you can make a conscious effort to scale back on what you "need" on your nightstand, a table can provide an unexpected allure.  Find this at West Elm.
Keeping a creamy, warm white as the anchor and foundation of this room sets the stage for harmony between the furniture, mirror, lamp, and decorations.
The soft neutral pattern on the walls creates texture and detail for the room and the splash of pink freshens up the space. The antique pewter goblet is of interest, and because the space is not overwhelmed with different textures, colors, metallics, and styles, the goblet becomes a focal point for a tranquil atmosphere.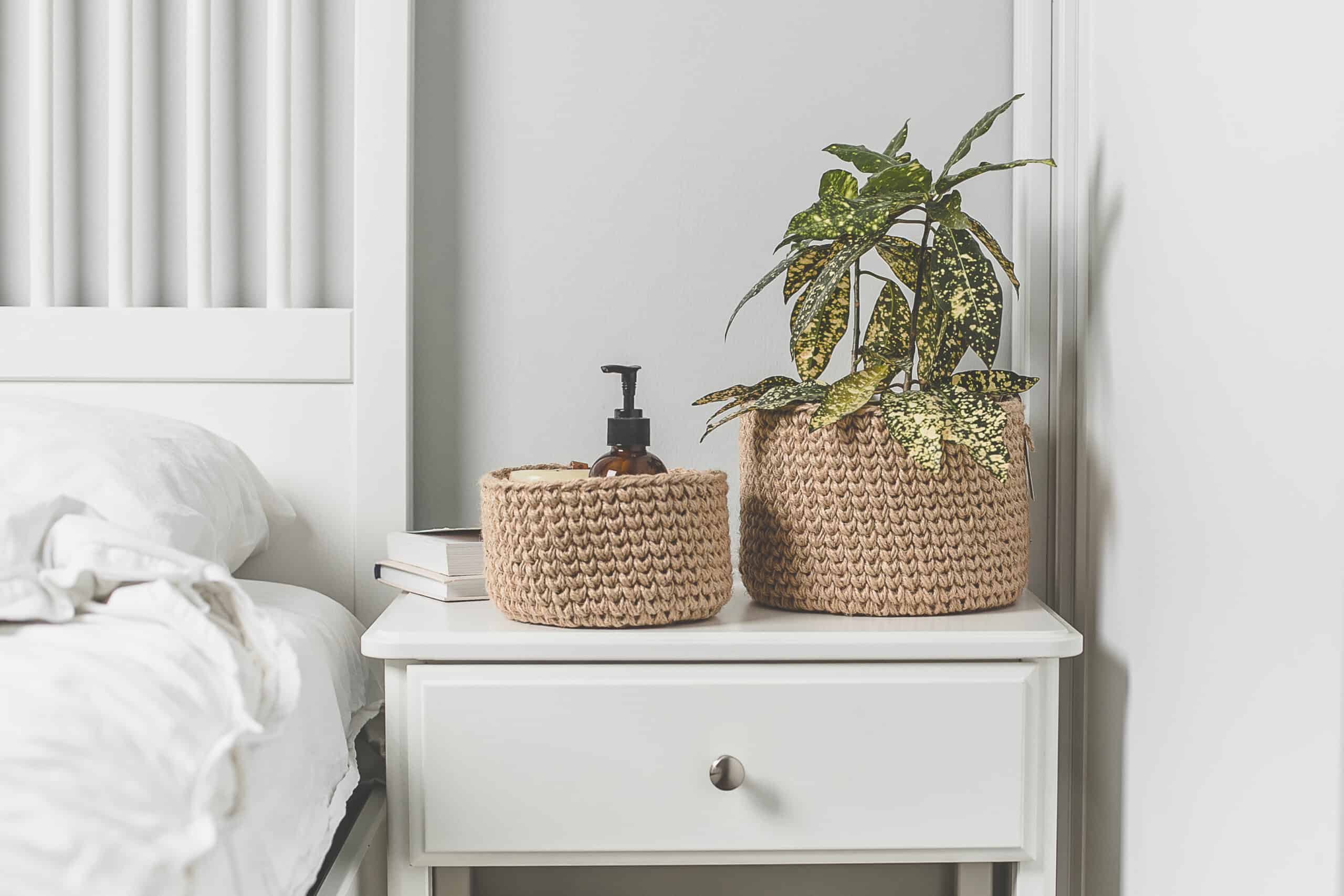 This smaller nightstand bursts with personality while keeping it serene. The wood of the bed blends with the gilt of the frame and the brass of the clock and the woven door of the nightstand. Continuity of color is visually calming, and the ivory candle with a metal base provides warmth while also continuing the color scheme.
The plant is in a neutral-colored pot that is simple, and the lush dense green becomes a stopping point for the eye and breathes life into the space.
Nightstand Ideas and Inspiration Guide: Final Thoughts
The nightstand is no doubt the most multi-purpose, versatile, necessary, and commanding part of the bedroom (besides the bed).
Decide how much space you want to allocate for it, if you want one or two (two balances the room better) whether it will serve as extra clothing storage or whether it will be simply for aesthetic purposes. The one rule that holds when buying any piece of furniture is that if you absolutely love it, it will always find a place in your home because it already found a place in your heart.
I don't know how many times I have shuffled a worn, used leather chair into different rooms for different purposes, or moved a small loveseat from kitchen to bay window to bedroom. Your home will always offer a place for your favorite things because your mind creates it!  Happy shopping!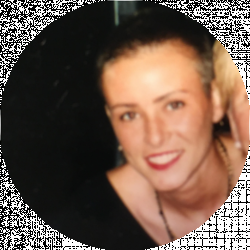 Latest posts by Richelle Tieman
(see all)