Getting an ideal and comfortable dining room table is a high priority for any home. After all, a lot goes on at the dining table: working, eating, doing homework, talking, catching up with guests, and more. Among all pieces of furniture, I doubt there's any other that knows you better. 
And hence, we can all agree that buying the right dining room table is a big deal – well, at least in a good way. The right style, shape, and size are what make up the ideal dining table. You want an option that makes you happy, comfortable, and lasts the longest time.
Luckily enough, you don't live in those days when you had to go out of the house in a quest of buying the dining room table of your dreams. Whichever design you're shopping for, be it a table to suit your modern taste or a traditional farmhouse, you can access limitless choices just by a click. However, be sure to measure your available space before you begin shopping.
Again, endless dining room tables are flooding the market, and therefore, finding the right one could be strenuous. That's where we come in. After much research from scouring the internet, we can now chisel our list to the ultimate options out there. And, we'll also include different ideas for styling your dining room table alongside any other relevant information. 
What Are the Different Types of Dining Room Tables
Farmhouse Dining Table Style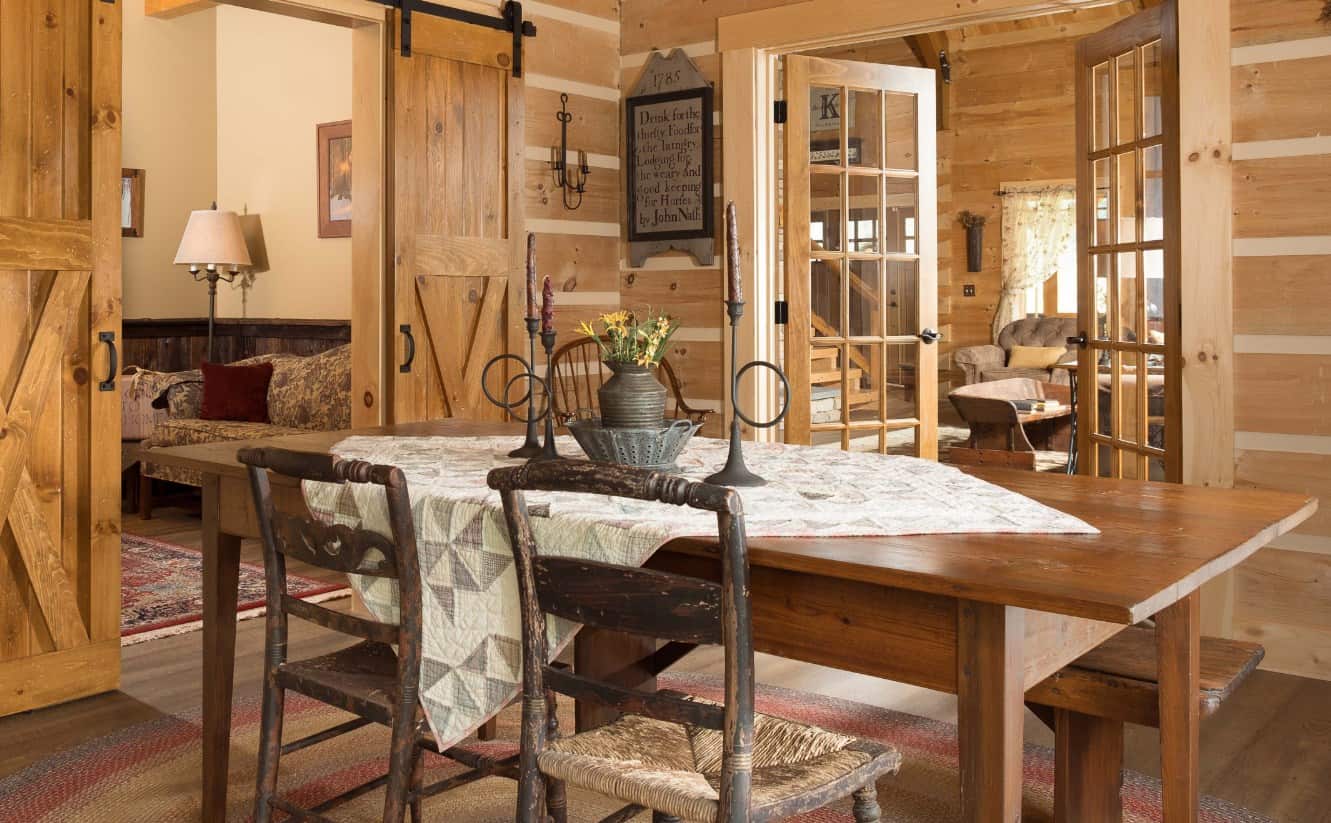 The farmhouse dining table design is simply a welcoming, warm and expansive style. Besides giving your home a cozier vibe, it's also ideal for complementing rustic panaches. It also delivers a rugged, vintage-inspired touch giving your dining room the same feel as that of walking into an old country farmhouse, despite living in a modern or high-rise apartment. 
Since farmhouse dining tables typically use solid, rough wood, they are nothing less sturdy. And their design also showcases versatility. You can pair them with dining benches to achieve a more family-friendly vibe or turn up the polish with furnished chairs.  
Pedestal Dining Table Style
Generally, pedestal dining tables feature a usually round and wide tabletop resting on a sturdy solo leg in the center. You may, however, find other contemporary alternatives sitting on more legs rather than using one supporting pedestal. This design is architectural, stylish, and plain practical in any dining space. They boast an assortment of styles and easily blend in with a vast array of dining room designs.
More importantly, pedestal tables offer ample surface space despite their impressive streamlined design. Using oval or round styles, they tend to be practical in seating more people than rectangle or square counterparts as it's possible to squeeze in a few extra chairs around them in a snap. 
Parsons Dining Table Style
For any contemporary or super streamlined style, a Parsons dining room table is the price. Its balanced, simple form is available in a myriad of incarnations. 
However, this table style stands out, thanks to its straight lines and clean angles with zero ornamentation or add-ons. With such a pared-down aesthetic, Parsons dining tables are timeless and versatile to boot.
Trestle Dining Table Style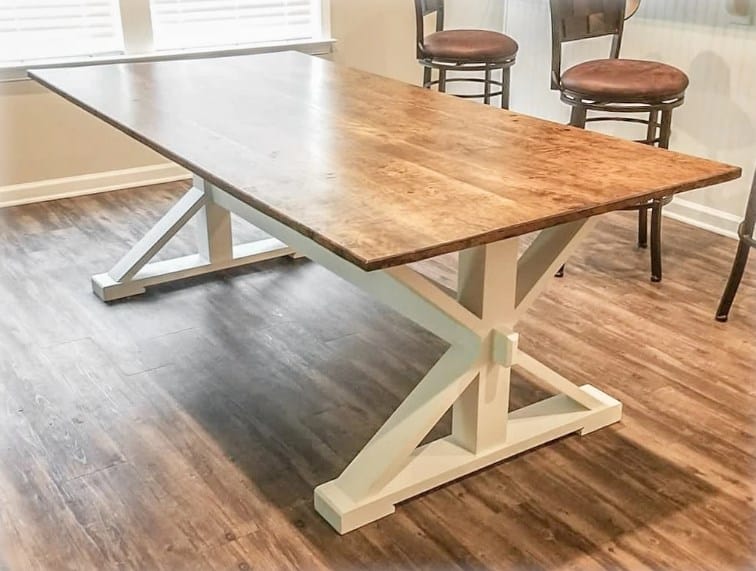 Dining tables with this style have double trestle supports to provide the brace on which their tabletops sit. The design is also timeless and popular, going back to the Middle Ages. Its simple look automatically displays its versatility, making it a natural ideal fit for most modern dining rooms.
It is the perfect option for homeowners who want a flexible and portable dining room table. People didn't quite have specialized dining rooms back in the Middle-Age, and hence, tables had to be effortless to reassemble, take apart, and transport. The popularity of trestle tables remains since they are attractive, sturdy, and excellent for hosting large numbers.
Mid-Century Modern Dining Table Style 
For over 60 years now, the Mid-Century Modern style has been the all-time favorite trend in dining tables. Its natural, warm, wood structure with tapered, slender legs is easy to spot. 
In this era, the medium to light woods and sleek outline appears fresh and polished, bridging the gap between aesthetic delight and comfy living. The Mid-Century modern furniture is undeniably excellent for smaller dining rooms.
Traditional Dining Table Style
Usually, a traditional dining room table uses tough wood and displays a darker finish. These tables often come with carved features and extra ornamentation, especially on the legs. 
They are versatile, and you could couple them with traditional room chairs to attain a whole classic dining room vibe. Alternatively, you can use upholstered chairs to go farmhouse or try an eclectic vibe by using mismatched dining chairs. 
The Best Dining Room Tables: Our Top Picks
Having listed the various dining table types/ designs, it's only fair that we tell you which one to pick. Our review, therefore, features the best dining room tables by the types we've mentioned above.
Best Mid-Century Modern Dining Table: ZINUS Jen Dining Table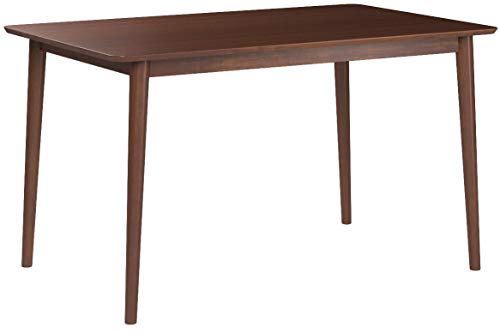 From first impressions, the Zinus Jen Mid-Century Dining Table is superb. Its construction is simple and only requires two screws for each leg to assemble – a very straightforward procedure. 
It's available in two elegant colors: natural and espresso. The latter is more of a deep brown color while the former looks like oakwood, and both include natural wood grain. In other words, this dining table uses pinewood, and judging by its price point, it is a steal for any home.
The table showcases a modern appearance as advertised. And with its simple lines, you can easily match it with other pieces of your home furniture and walls as well. It has slightly slanting legs to ensure better stability and balance, making it highly unlikely to tip over.
The table can comfortably accommodate four chairs but delivers enough space on both ends for two more if you like. Its size is reasonable to make it fit even in relatively small areas, and matching it with either wooden or upholstered chairs would be awesome.
Pros
Easy to assemble

Modern design

Sturdy and durable pinewood

Enough capacity for medium-sized families
Cons
It lacks an utterly smooth finish
Best Pedestal Dining Table: Nathan James Lucy Small Kitchen and Dining Table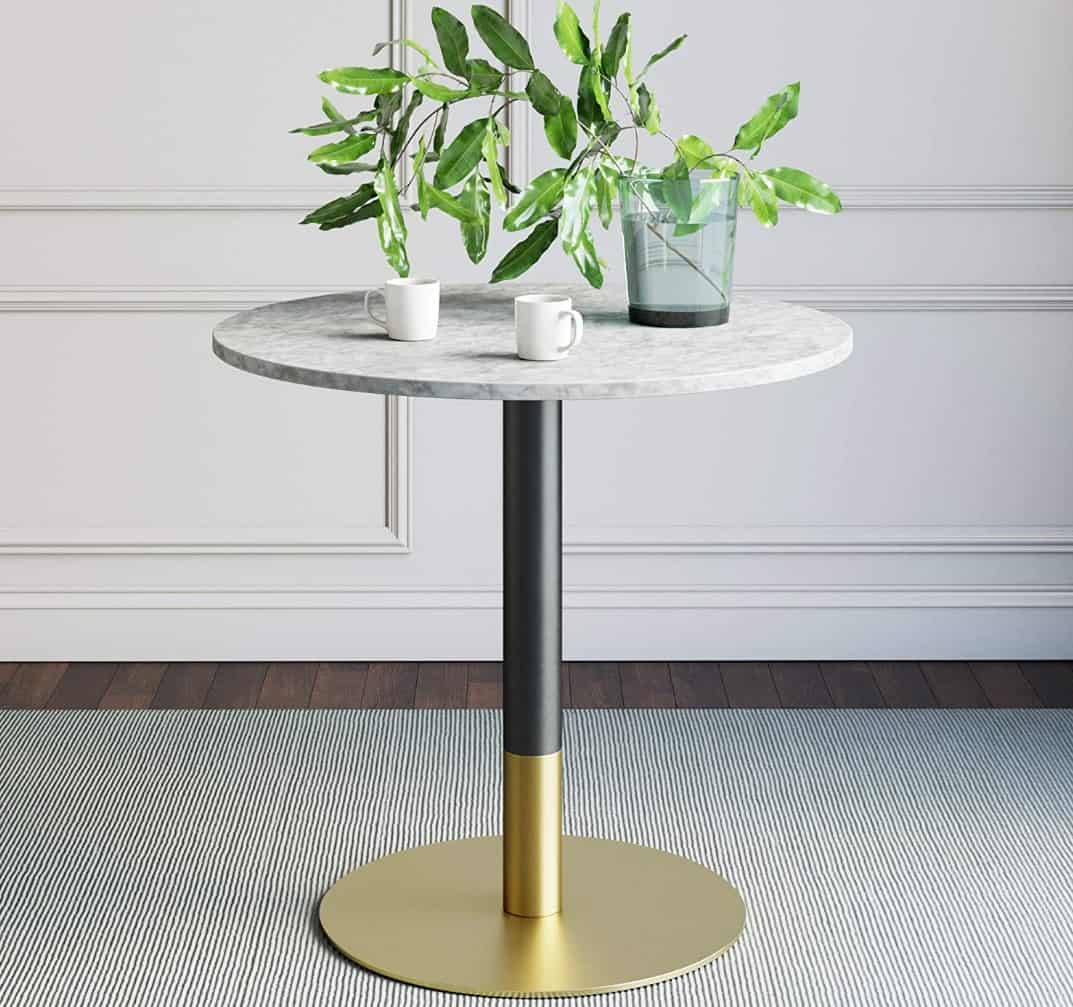 The Nathan James Marble Dining Table is another mid-century piece with a pedestal design. It features an anti-scratch faux marble top, which gives it an elegant, stand-out display. The top then connects to a gold and black pedestal, a feature primarily common in high-end restaurants. 
The table only measures 31 by 31 by 29 inches with a flat stand. As such, it uses minimal space, making it suitable for kitchen areas and small dining rooms with a capacity to seat two or three people. Its pub table metal base is quite weighty to make sure the table remains sturdy at all times.
Assembling the piece dining table is effortless and quick; only 20 minutes, and it's set up and standing. As a bonus, Nathan James, the manufacturer, promises a lifetime warranty for any quality concerns. 
Pros
Very compact pedestal design

Elegant and stylish look

Quick to assemble
Cons
Some users claim the table scratches easily  
Best Parsons Dining Table: Mistana Katarina Extendable Dining Table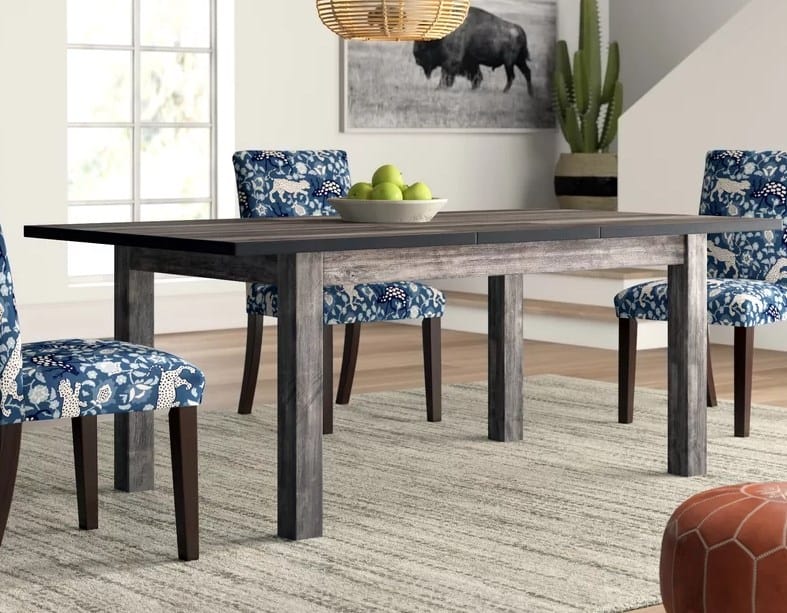 The Mistana Katarina Rubberwood Dining Table is a typical all-around option. It is a large dining room table measuring 60 by 42 by 30 inches. It can seat up to 8 people making it the prize for large families and excellent for hosting several guests. And for its size, the table's price tag is nothing less reasonable.
Best part? It is an extendable dining table able to reach a notable length of 78 inches and incorporates a removable leaf to facilitate that. Moreover, this table uses solid rubberwood with a modern rustic-oak finish.
Some people may not like how the table is only available in one color. However, it boasts a gray-washed tone of wood that bolsters its versatility to complement an assortment of décor schemes. The table's customizable configuration and clean silhouette make it a wise investment for holidays, nightly dinners, etc.
Pros 
Solid, sturdy rubberwood

Good value for money

Highly versatile

Expandable design

 
Cons
Available in only one color 
Best Traditional Dining Table: Signature Design by Ashley Kimonte Dining Table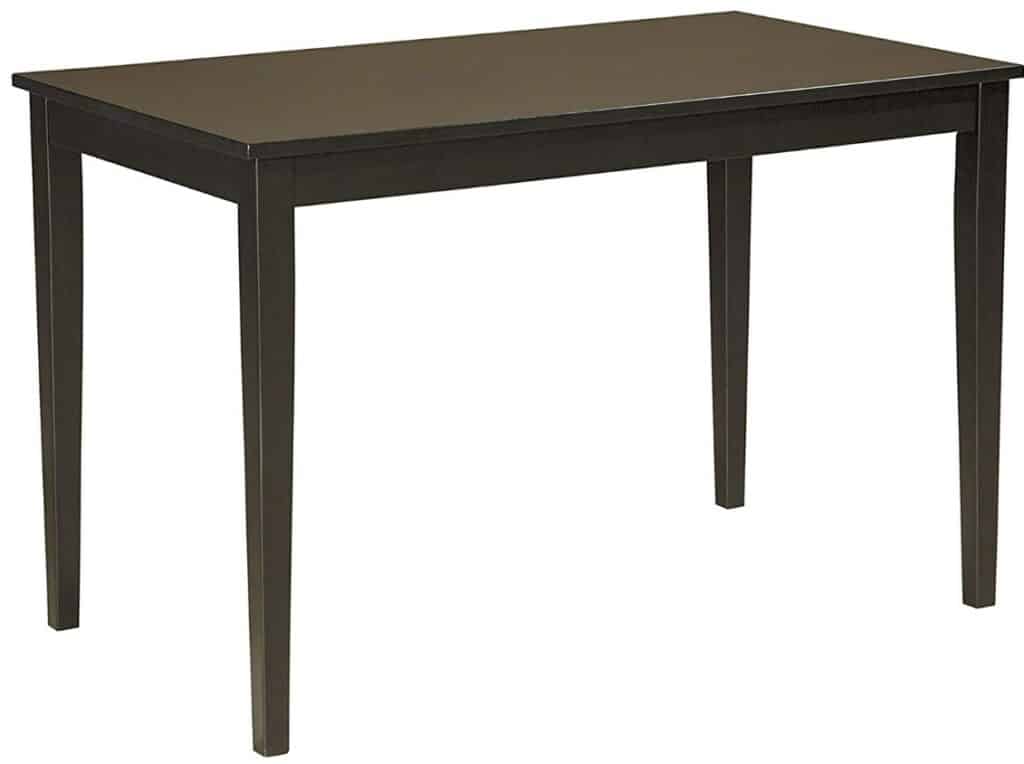 If you are on a strained budget, the Signature Design by Ashley Kimonte Dining Table is worth your consideration. Even though it lies among the small table options, it is excellent for homeowners with limited square footage.
This dining table can comfortably seat four people but can fit in two more when using suitable chairs. It displays a sleek design with zero frills and is versatile enough to suit all décor styles.
It's very effortless and quick to assemble and includes the proper hardware alongside a set of instructions to simplify the process. The table's construction uses engineered wood, veneers, and piercing tapered, sturdy legs.
Pros
Ideal for small spaces

Easy assembly

Reasonable price

Sleek modern design
Cons
Best Trestle Dining Table: Pottery Barn Toscana Dining Table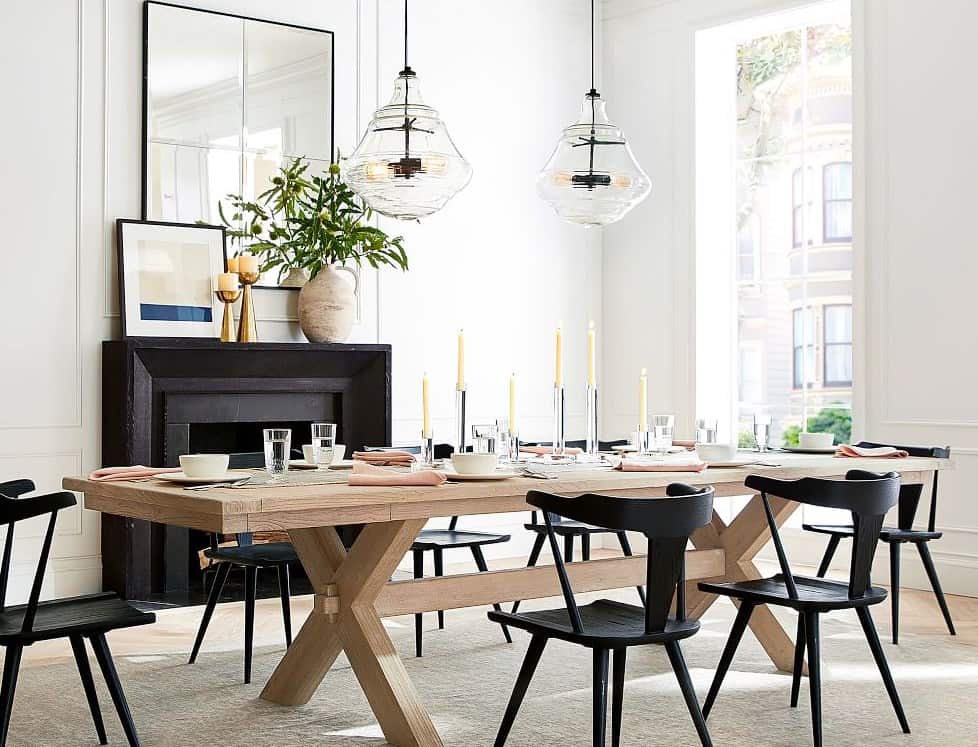 If you're a fan of dinner parties or hosting friends' get-togethers, the Pottery Barn Toscana Dining Table is what you need. The table comes in three sizes, each featuring an extendable leaf that adds 40 inches in length.
It draws its inspiration back from the 19th-century European workbenches. And it uses solid kiln-dried Sungkai wood for its construction. It's then polished by hand to look like salvaged lumber and then undergoes a multi-step finishing process for sealing.
Being a trestle dining table, it incorporates adjustable levelers. Through these, it can still attain stability even on uneven floors.
Pros
Expandable leaf

Adjustable levelers for stability

Robust kiln-dried wood

Available in multiple finishes and sizes
Cons
Best Farmhouse Dining Table: Zinus Becky Farmhouse Dining Table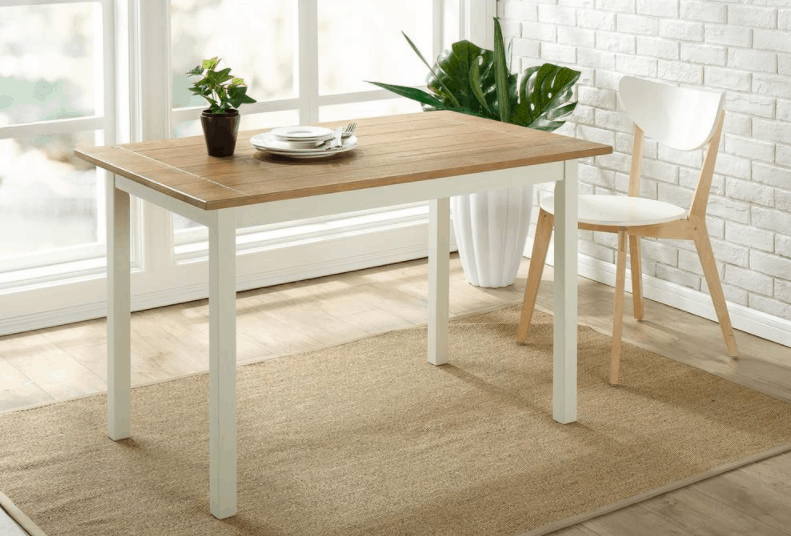 The Zinus Becky Farmhouse Dining Table is yet another space-saving option. It's rectangular and hence easy to fit in small spaces, unlike circular tables. Even so, this dining table can comfortably seat two or three people, but it could accommodate even four if you push it.
Its construction features robust wood that doesn't feel flimsy, and the surface is smooth. However, use placemats and coasters if you can to prevent scratches and maintain the tabletop surface for a longer time. 
The table's assembly is straightforward and stable, and its price is reasonable for its quality. You can use it alongside benches or chairs – either way, expect nothing but elegance from this dining table.
Pros
Straightforward assembly

Smooth surface and finish

Robust wood construction

Impressive price point
Cons
Slightly narrower than expected
How to Style Dining Room Tables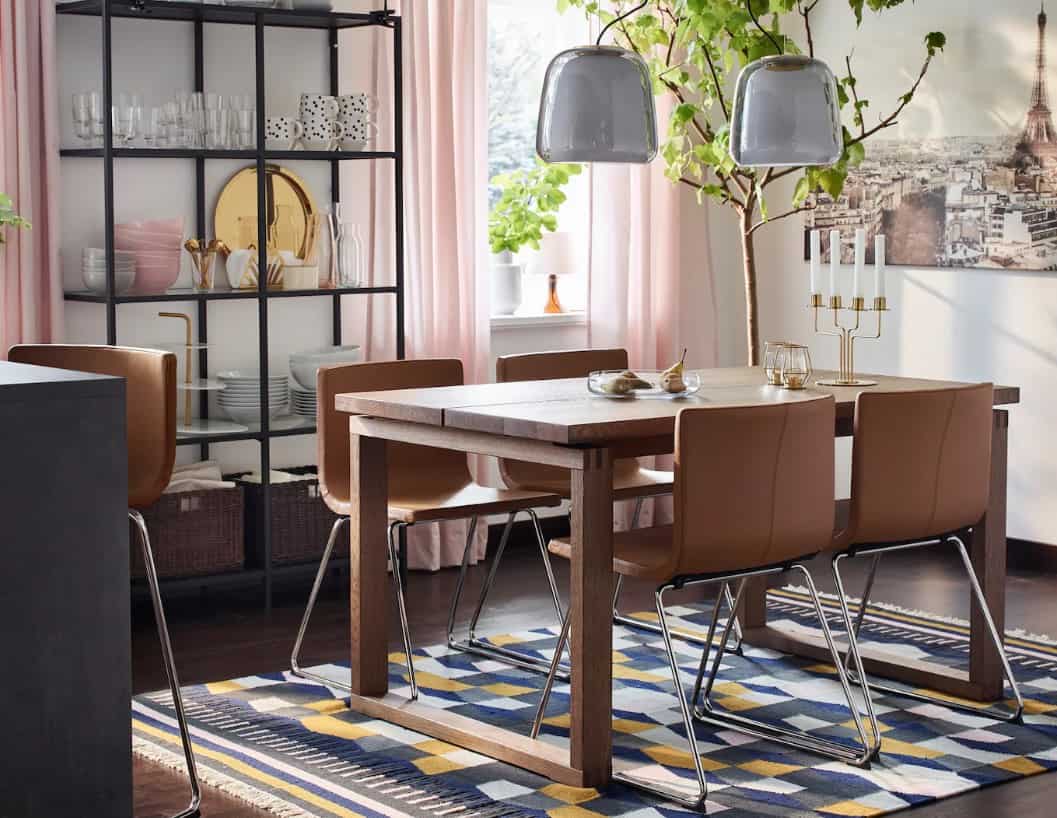 Without a doubt, the dining room table is an integral piece of home furniture. And it's a shame how often homeowners overlook its stylistic potential. Apart from dining hours, the dining table is a vast expanse of vacant space begging out for some styling attention and décor love. In our how-to guide section, we'll give you, the homeowner, ideas on how to utilize your dining table beyond meal times by styling it to the perfect focal point of your house.
Flowers, Plants, or Fruits
By being very colorful and natural, flowers, plants, and fruits will inject some love and life into your dining space. The beauty of employing these products is that you'll have to rotate them constantly. Also, remember, florals and fruits that you'll use at a given time will depend on their current seasons – an ideal way to reflect the lovely vibes and tones of the open-air world right on your tabletop. 
On the other hand, plants tend to be quite huge for the interior, and employing them for décor on your dining table is a thoughtful approach. You may opt for vibrant and lush greenery for better scenery, but don't disregard the scale of your table. And go for contrast when picking the right pot – for example, a concrete pot for a wooden dining table. 
As for the florals, go for forage matching what's outside and around you, and if high-maintenance flowers and plants aren't for you, fake options can still do. After all, artificial plants and flowers are extra realistic these days and can be a perfect alternative if you have plenty on your plate already.
All Kinds of Vessels
Vessels, be it resin, metal, ceramic, wood, or glass, qualify as perfect décor only by grouping them at the table's center. Even simpler, a trio of striking artisan ceramic vessels of varying sizes and shapes go a mile to styling your dining tabletop. 
Resin and glass vases are also very appealing in a grouping, and the trick here is always to arrange your vessels in odd numbers. You can also turn things up by adding some extra greenery in the vases for elite styling credit. Also, try to diversify the vessels in terms of shapes and heights but, if possible, not the material to avoid compromising the cohesive collective guise.       
Feature Pendant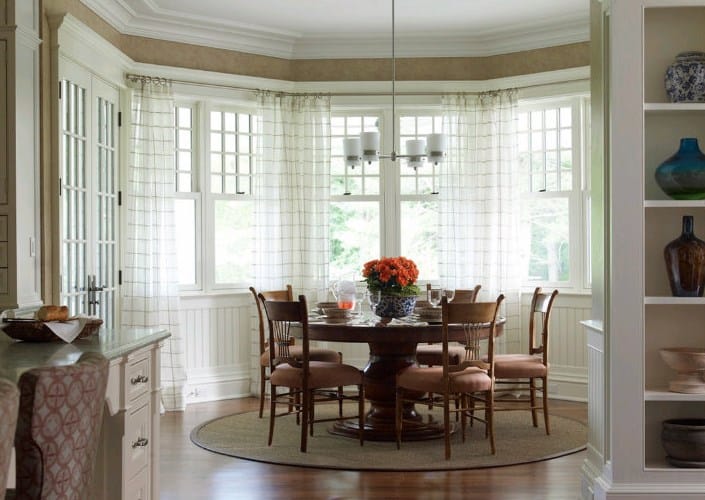 In terms of styling, it's not always about what stays on top of your dining room table. Sometimes it's good to consider what's above it as well. And feature pendant lighting can be the missing piece towards attaining a bold, stylish statement in the dining room.
Currently, feature lighting for home interiors is a strong trend, and you should make the most of it by getting some to rest over your table. However, there're a few vital points to consider when picking out a pendant, and they include one, work with your table's scale and shape. Two, select an option that's cohesive with the already present interior aesthetic. 
Dining Vignette
You may be using your dining table pretty much and dislike having to clear décor pieces and bits off it every time. If that's you, perhaps creating a dining vignette is the ideal option for you. 
Place a few essentials such as napkins, pepper, and salt into a pretty vignette at the table's middle. And if possible, layer them on a wood or marble board and add some textural placemats or coasters with at least one beautiful bloom. 
Doing so will give your dining space an exquisite feature display and save you time by having your everyday necessities at close access.
Essential Considerations for the Best Dining Room Table 
Size
As you shop around for the right dining room table for you, it's paramount that you consider the size. Measure and re-measure the dining room space you intend to utilize with a dining table and identify the maximum table size that will fit in. Also, ensure you leave a bit of room to pull a chair out and walk around the table.
Keep in mind that dining tables roughly 60 inches long typically seat up to six people. On the contrary, those below 50 inches long usually seat four people, while those about 100 inches long are practical for eight to ten people.
Type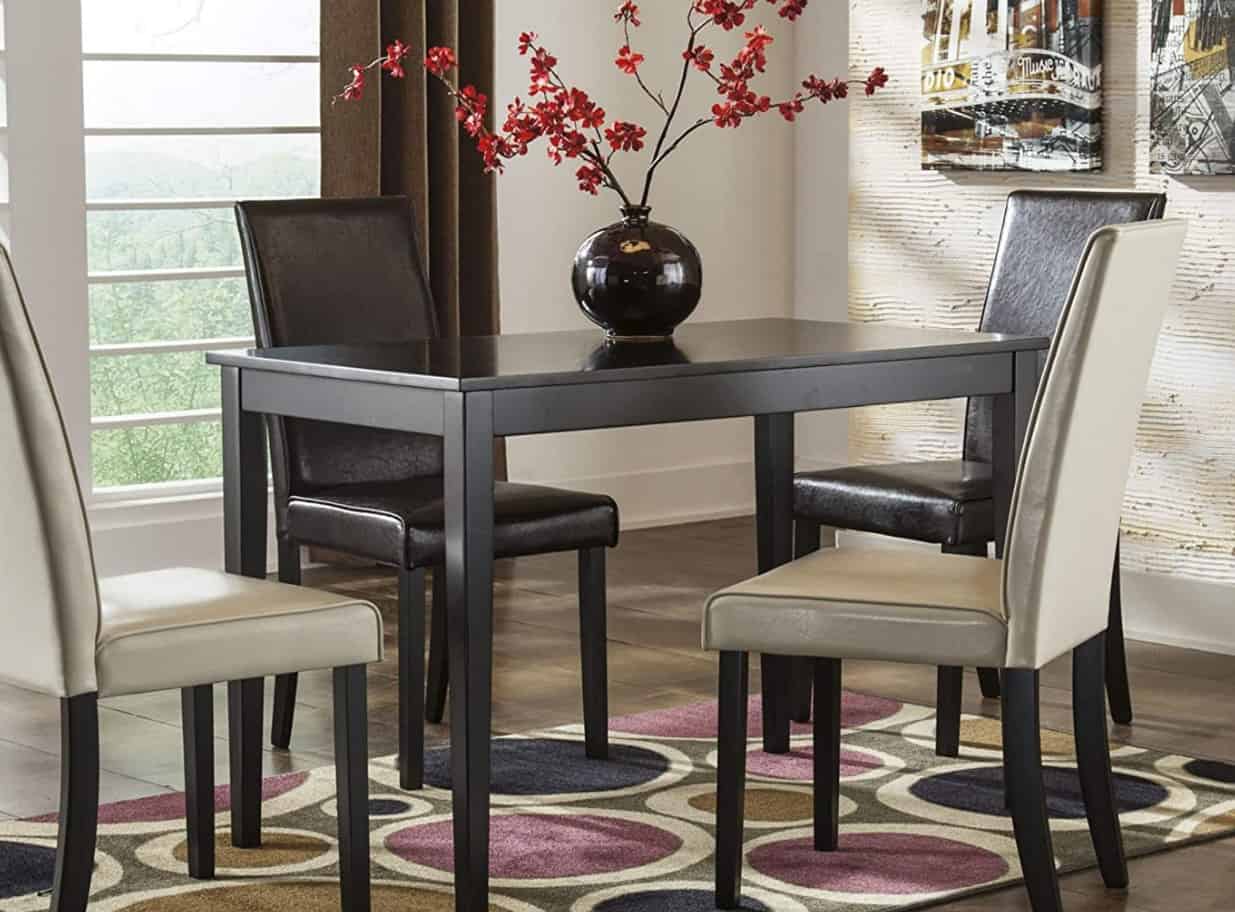 Different dining room tables come with different configurations and shapes. Besides the typical rectangular outline, you'll find square, oval, and round options as well.
There is an assortment of styles you ought to consider too. These include trestle designs with bent beams support, pedestal, and stem-like bases that feature solo supports rather than legs. Others are extendable, delivering extra length through a leaf, among other stylish designs.
Material
Another crucial consideration is the dining table's material. Different options use varying materials, all trying to reach particular target customers. However, if you need a dining room table to last you years of everyday use, the best odds favor wood. Or at least, options with a robust wood base.
If you want a dining table that's elegant enough to make a statement, buy an option with a marble or glass top. Glossy finishes and vibrant colors are also instrumental in delivering a striking look.
Requirements
Here, ask yourself, what is the exact purpose of the dining room table? Will you use it to host banquets, entertain guests, or is it only for family mealtimes? How many can it typically seat? After answering these questions, you will narrow down the options to how exactly you want your dining table. In other words, pick a dining room table that satisfies all your requirements within your budget.
Budget
When speaking of budget, all the above factors dictate the different price points of dining tables. A homeowner operating on a tight budget must categorize his criteria into nice-to-haves and essentials. By doing so, it will be easier to pick out the one dining table option that checks out most, if not all, of their boxes. 
FAQs
Question: How Can You Style the Dining Room table?
Answer: Accessorizing your dining table largely depends on how much extra room you have, how frequently you utilize the table, and the general appearance you go for. Nonetheless, a simple fruit bowl and a runner or table cloth could go a mile. 
But when styling your dining room table for a special event or you wish to add more glamour, consider adding glassware, cloth napkins, flowers, a table skirt, among other decorative and artistic items such as vases.
Question: What Rug Should You Use Under the Dining Room Table?
Answer: When selecting a dining room rug, consider the color, pattern, and most importantly, a material that will stand up to accidents and spills. And to determine the correct size, consider a more prolonged and broader rug than the dining table's size.
Question: What Is The Recommended Height Range of a Dining Table?
Answer: Dining room tables have standard heights ranging roughly between 28 and 30 inches. This is an excellent height for most table options. But in casual settings, mainly houses with minimal spaces like studio apartments, consider table heights between 34 and 36 inches.
Question: Can You Check the Dining Room Tables' Quality Before Purchase?
Answer: Yes, but not firsthand. We recommend researching the specific product and reading customer reviews from retailing websites such as Amazon. Here, different users who already have the product share their real experiences from a firsthand point of view. Take advantage of these reviews to gauge the product's authenticity.
Conclusion
Like every other product, dining room tables come in a broad array that proves problematic when you only want one table pick that perfectly suits you best. Nonetheless, we believe by now you have what it takes to make an informed decision. 
We've discussed the different dining table styles, reviewed a few options, how to style them, and the vital factors worth consideration. Hopefully, our guide has simplified the strenuous criteria for you. 
But we can still provide our verdict on what we consider as the best dining room table. And that's none other but the Mistana Katarina Extendable Dining Table. It's expandable, highly versatile, and reasonably priced for a table its size.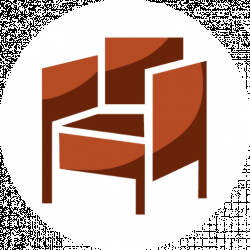 Latest posts by Finally Furnished Team
(see all)