After a hard day at work, is there a better way to kick off your shoes and relax than to plonk onto a cozy sofa? A larger, comfier sectional is where you and your loved ones can lounge and relax.
Sectionals are quite a popular option for living spaces since they're more adaptable than standard sofas and can seat more people. Moreover, they come in a wide range of sizes, shapes, and designs and you're certainly going to find something that perfectly suits your space, budget, and decor—the holy trinity!
If you're shopping for a new sectional sofa, you've come to the right place. In our guide, we'll give you insider information on why you should get a sectional, what to consider when shopping for a sectional, as well as our top selection of sectional sofas to buy today.
What's a Sectional Sofa?
A sectional sofa is composed of at least two components that make up one unit. Most sectionals range from a couple of pieces to up to six pieces and they may either be modular (put together in several different ways) or fixed (fitted together in just one configuration).
In general, the more pieces a sectional is composed of, the more expensive it will be. However, certain upholstery and reclining features can also drive up the price.
Why a Sectional?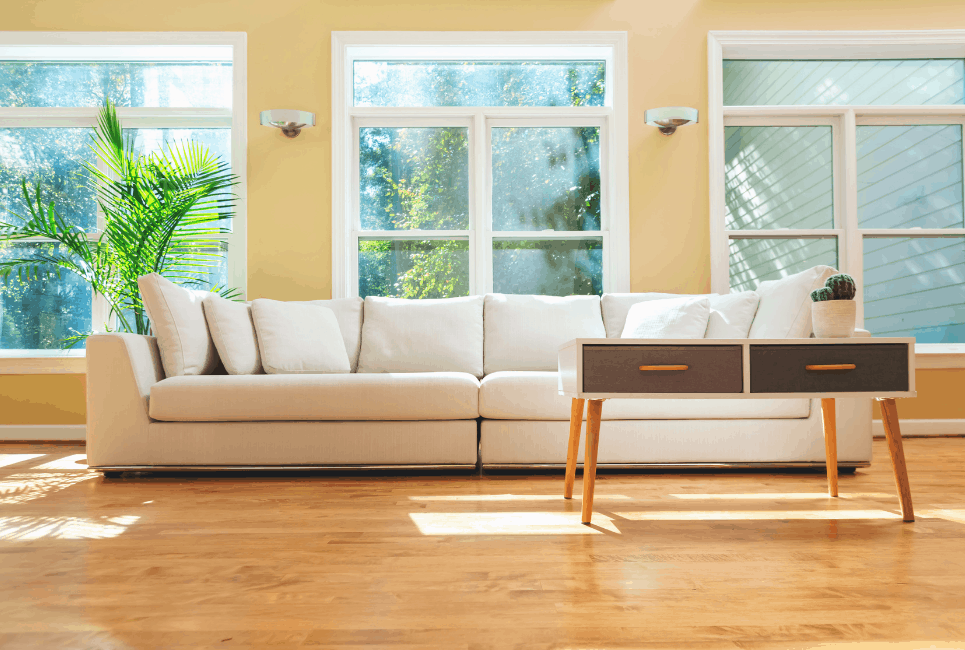 A sectional sofa obviously comes with plenty of benefits that make this furniture item a preferred option for many people.
It's ideal for a small living space. Many people believe that a sectional sofa takes too much space in a room. Well, on the contrary, a sectional sofa visually makes your living space lighter and frees up more space. A standard-sized sofa with two chairs may take up much more room than a standard sectional.
A range of different designs of sectionals lets you select the perfect fit for your interior decor.
Sectional sofas have more seats than the standard straight sofa. The ability to seat more people will delight those who love to host a large number of guests.
One standard sectional can have many different additional functions.
A sectional sofa enables smooth communication since you can have a conversation with your family members or guests while half-turned. Your conversation will be far more convenient and pleasant.
So, once you've decided to buy a sectional, you should now decide on the right size, select the necessary features that the couch should have, and choose the color and upholstery of your new sectional.
Choosing Your Sectional Sofa Layout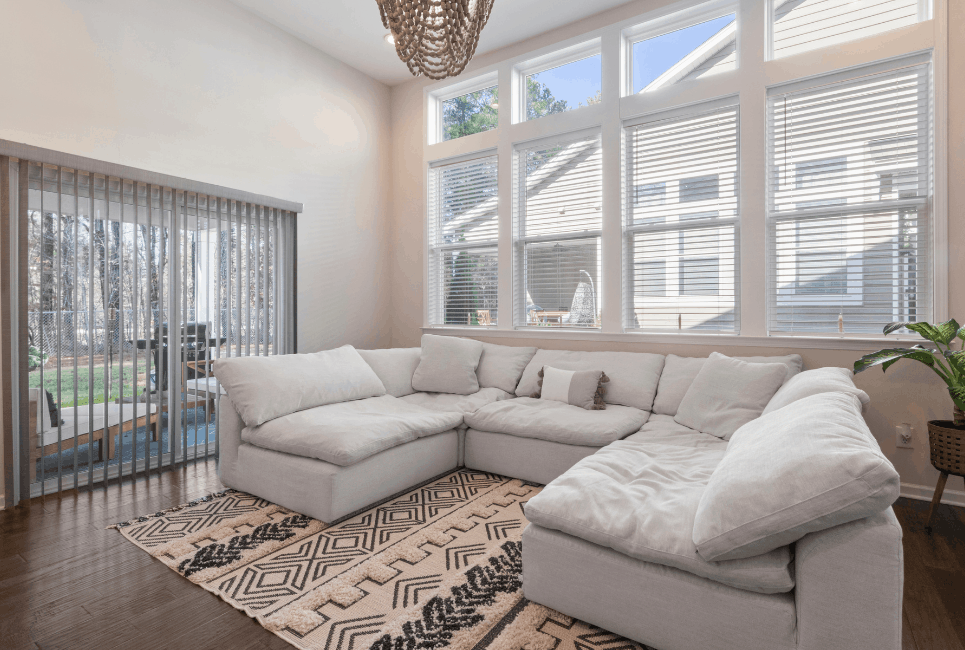 You'll have plenty of furniture ideas for your living room when you decide on which layout best suits you and your family or living room. There are five basic layouts to choose from: U-shaped, L-shaped, symmetrical, curved, and chaise.
Chaise: This sectional sofa style is the most basic of all. It's a sectional with a longer seat on either side. This elegant choice is perfect when one member of your family likes to lie back and unwind while other family members prefer sitting.
U-shaped: This virtually semi-circular layout is perfect for conversations. The layout fills up a huge room and accommodates many people. The U-shaped sectional can be your perfect choice if you regularly entertain people.
L-shaped: The traditional sectional normally features a 3-cushion sofa joined with a 2-cushion sofa at a right angle. For larger rooms, the L-shaped sectional comes in the 3-cushion/4-cushion configuration.
This sectional is flexible since it fits into a living room corner or may float in the center of a large dining/living room space to define the spaces. An L-shape sectional is your perfect option if you love watching TV.
Symmetrical: Symmetry is exactly what it means—two identical sofa parts joined at a right angle. Most have two cushions on both sides. These smaller variants of the traditional L-shaped sectional are perfect for placing in smaller rooms or corners.
Curved: Curved sectionals have a soft angle in which the two main components join. This layout is ideal in a larger living space where its stylish curve is front and center.
Choosing Your Sectional Sofa Design
Sectional sofas come in a number of different designs. The design of a sectional sofa plays a crucial role if you're about to move or your job requires a lot of moving.
Stationary: This design doesn't have moving parts. It's fixed—some sectionals can be broken down into separate components for moving while others are made as a single unit. However, the design can be reconfigured.
Convertible: Some sectional sofas can be converted to a level surface and offer an additional sleeping area for an extra visitor.
Left-facing/right-facing: The terms "left-facing" or "right-facing" are associated with the chaise-style sectional sofa. This is the arm placement when you're standing and facing the sofa. The arm placement isn't interchangeable, so you need to pick your preferred configuration.
Modular: You can rearrange modular sectionals into different arrangements if you move or as your family unit changes. If you want a unique arrangement, pick modular components to come up with a bespoke solution for your family.
Sleeper: If you have no guest bedroom, this sectional with a pull-out bed provides the best of both worlds. When not being used, the bed folds and stows away in the sectional.
Recliner: If you have a family member that quite loves a recliner, some sectional sofas feature a recliner option.
Consider the Shape and Size of Your Room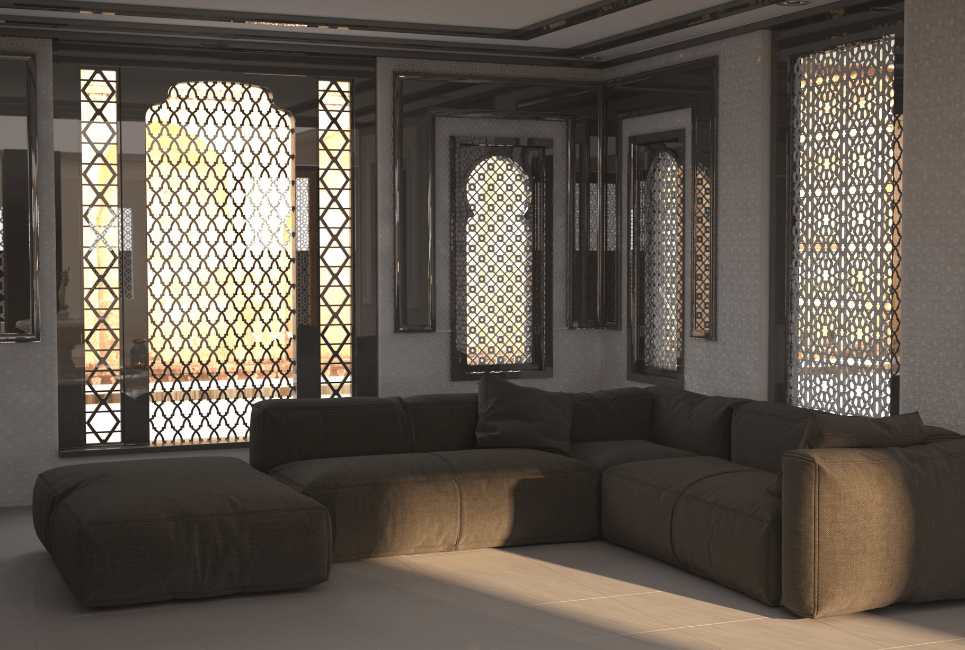 The best sectional sofa isn't just the most affordable piece that best suits your lifestyle. You also need to consider the shape and size of the room your sectional will sit in.
Before buying a sectional, be sure to measure your room and compare it with the sectional's dimensions. You can also use a room planner to see how different sectionals would appear based on your room's shape and size. Wondering what size of sectional would be ideal for your room? Here are some general rules to follow.
Consider Your Spacing
Your sectional shouldn't occupy the whole length of your wall and there should be 18 inches of room or more on both sides of the sofa. This will facilitate traffic flow and prevent your room from looking and feeling overstuffed.
Consider the Sectional's Dimensions
When selecting a sectional sofa, it's vital to consider its length, width, and height. As a rule of thumb, you'll want every furniture item in your room to be proportional to each other. For instance, if you've got a small modern coffee table and loveseat, you're better off avoiding a large and overstuffed sectional. You also should take into account the height of the sectional.
The shape and size of your room will determine your furniture's dimensions, as will your interior design style. For example, if you've got tall ceilings, a low-profile sectional can look minuscule in the room.
Consider the Purpose of the Sofa
Consider the room where your sectional will sit. What do you most often use the room for? For example, if you regularly entertain guests, you'll want to pick a sofa with additional seating. If you love to spread out while watching Netflix, it may be best to choose a couch that features a chaise lounge.
All in all, it's vital to consider how you'll indeed use the room instead of how you hope to use the room.
Choose Your Sectional Sofa Material
Love fabrics that are soft to the touch? Prefer an easy-to-clean sofa? Here are some tips on how to select the right fabric for your sectional.
Leather: Leather is pricier, but it's a worthwhile investment thanks to its durability. It ages gracefully, getting softer and building character over time. Moreover, it's very easy to clean.
Faux leather: While it isn't as durable as authentic leather, it's affordable, elegant looking, and easy to clean.
Velvet: It offers a typically more modern look and looks and feels luxurious.
Chenille: This family-friendly option is super comfy and can remain beautiful for years.
Microfiber: Microfiber is incredibly soft, very durable, and affordable. It offers allergen-resistant, fade-resistant, and stain-resistant properties.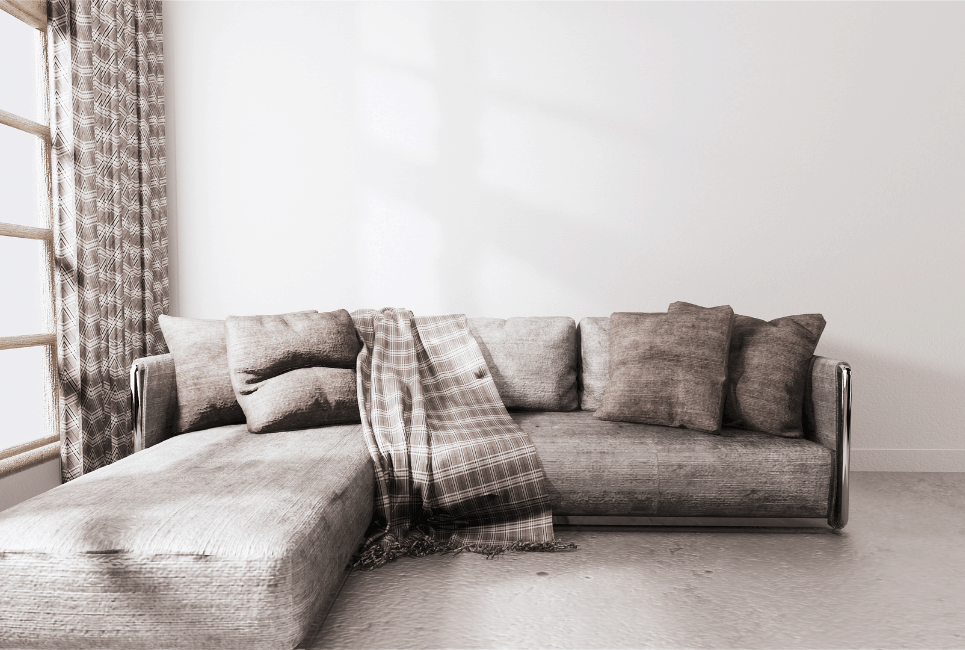 Consider Your Home's Interior Design Style
When selecting a sectional sofa, it's also important to consider your home's interior design style. While a modern style sectional sofa can be low profile and have a minimalist silhouette, a classic style sectional can be high profile with a more elaborate silhouette.
While many sectional sofas are in the more neutral, transitional style category, you'll want to take into account your interior design style while making your choice.
Consider Room Traffic
Consider how your room gets used. Placing a chaise in the wrong area of your room will make it difficult to walk around the room. Be sure to place a chaise where there's a minimal amount of walking. Also, ensure that the chaise doesn't extend out over halfway across your room.
Make sure to get the right chaise, too. A right-arm facing chaise means that the chaise is on your right when you're facing the sofa.
Consider the Position of Architectural Features
When considering different ways to position your sectional, make sure to not block architectural features like windows, built-in shelving, or fireplaces. Placing your sofa in front of these features will not only block them from sight, but it'll also make it impossible for you to easily pick things from your shelves or start a fire.
Consider the Cost of Sectionals
When shopping for a sectional sofa, it's vital to look for a good fit that's also within your budget. Remember, certain factors will almost certainly drive up the price. For example, power reclining sectionals will likely be more expensive than similar-sized stationary sectional sofas.
The size will make a difference, too, as will the material. As a general rule, the more pieces a sectional sofa has, the costlier it will be.
Having said that, if you're going to replace other seats in your house with a sectional, be sure to factor cost into your decision. For example, a larger sectional might eliminate the need to buy a loveseat, so be sure to consider this when working out your budget.
Visualize the Sectional in Your Living Room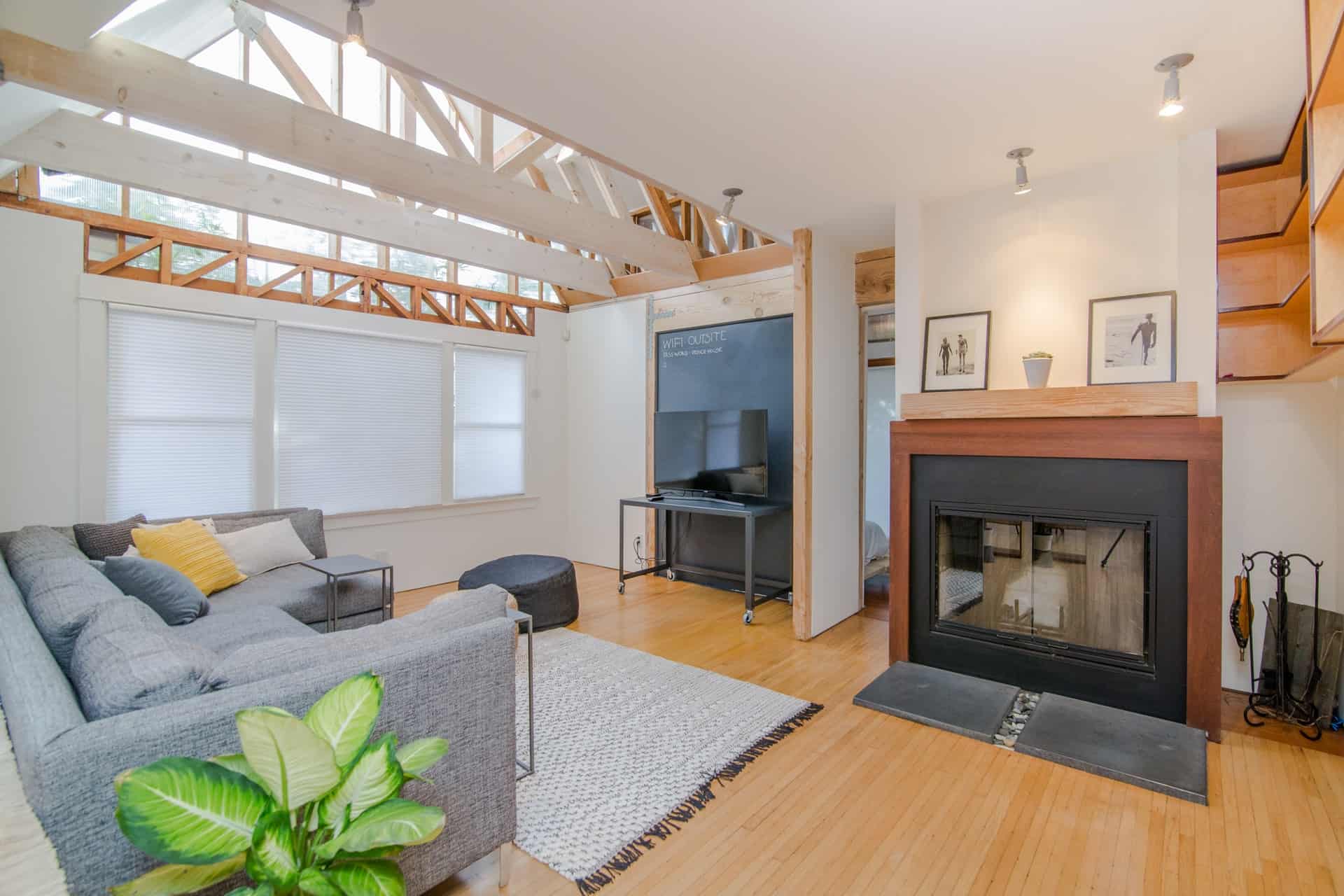 Once you choose a sectional sofa, don't buy it immediately. Instead, consider how it will look sitting in your living room and whether you'd be happy to have bought it. If you're happy enough with your choice, buy it. If you're not sure if you like it, continue shopping.
Our Top Sectional Picks
Here are our top five sectional sofa options that cater to various home decor aesthetics and budgets.
1. Best U-Shaped Sectional: Harris U-Shaped 5-Piece Sectional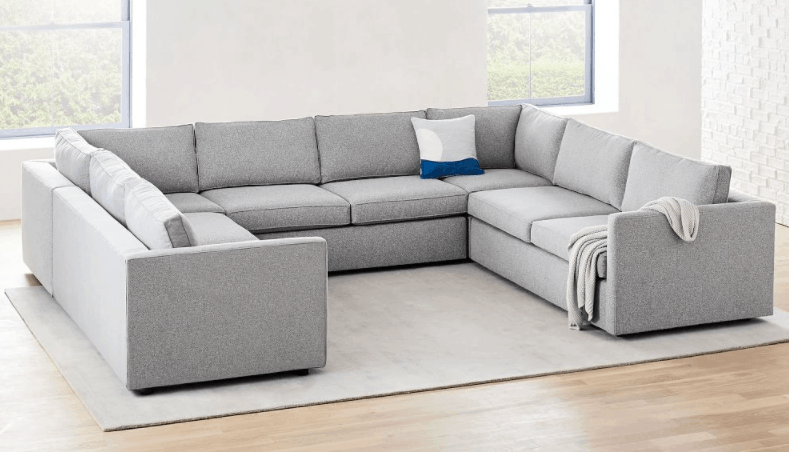 If you often host large groups of people in your home, the Harris U-shaped 5-Piece Sectional from West Elm is your perfect option to keep your guests comfortable.
The five pieces that make up the sectional create a huge semi-circle, which can easily seat at least eight of your beloved guests—just make sure to take your living room's measurements to ensure that there's adequate space for its oversized shape.
Just how large is the sofa? The Harris U-shaped Sectional is 110 inches long and 11 feet (132 inches) wide, and you can decide whether to have standard, extra deep or petite seats. You can choose from an amazing range of upholstery finishes, too, including velvet, woven fabrics, and even performance materials like Sunbrella—perfect for homes with children or pets.
The sectional's frame is made of kiln-dried wood for unrivaled longevity and, for medium firmness, the cushions are made of fiber-wrapped foam.
2. Best Budget Sectional: IKEA KIVIK Sofa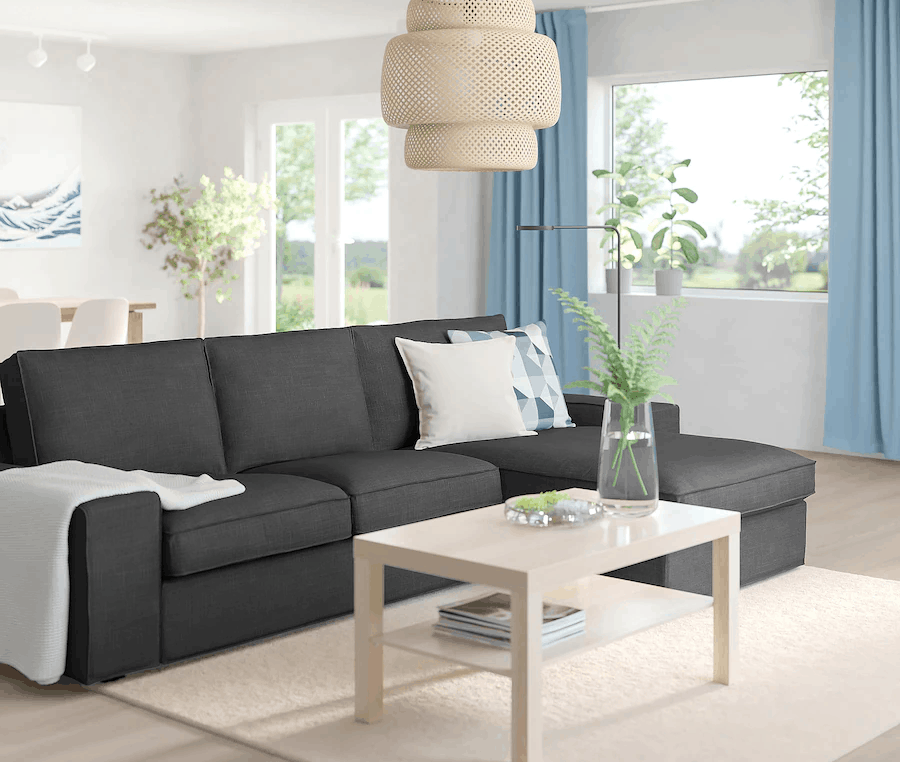 With the IKEA KIVIK Sectional, you can save money without compromising on style. One side of the sofa has a comfy chaise lounge. This affordable couch comes in eight traditional colors and boasts a considerable size that's perfect for relaxing with your family.
Slightly more than 110 inches long, this sectional boasts a 64-inch chaise that can be set up on its left or right side, allowing you to tailor it to your room. The sectional has three seat cushions and short, stocky arms, while the entire sofa is covered with memory foam to let you plonk onto it after a long day.
In addition, it even boasts a removable cover you can machine wash, so that stains become a thing of the past.
However, since this sofa is made by IKEA, be ready to assemble it on your own—a task that usually requires quite a bit of patience
3. Best Sectional for Apartments: Honbay L-Shape Convertible Sectional with Chaise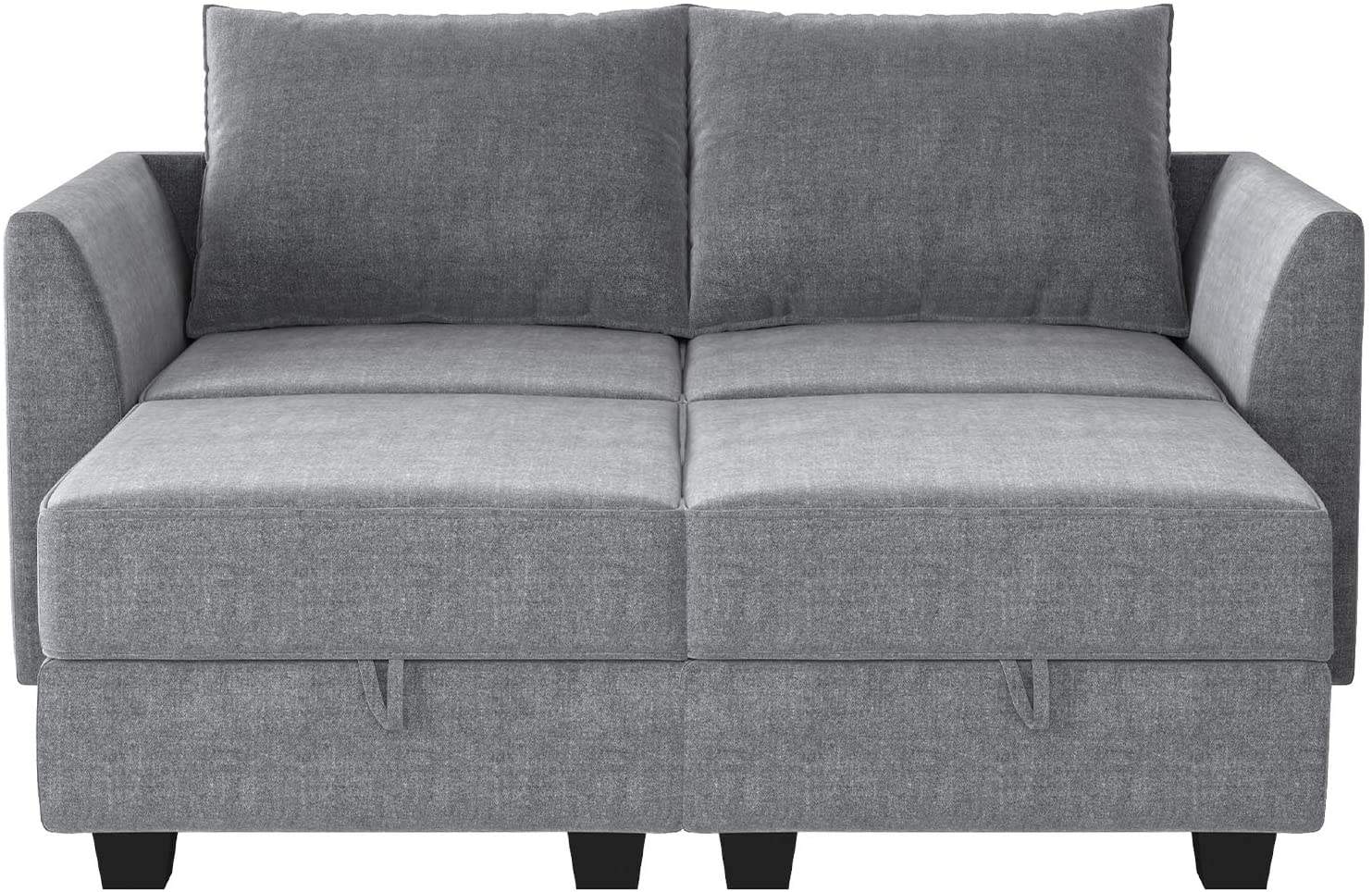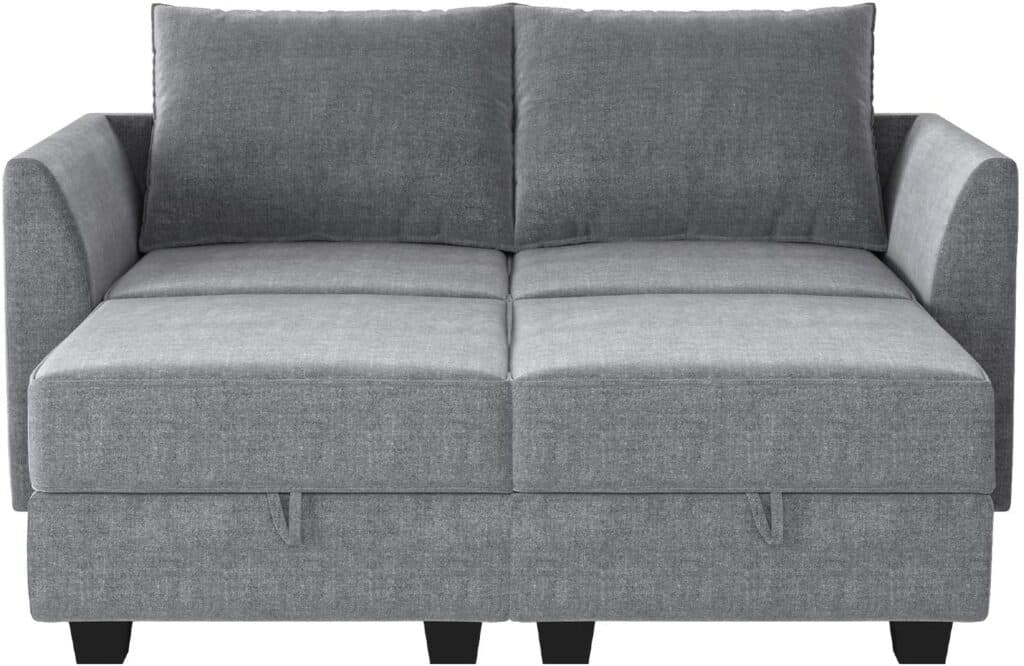 If you live in an apartment where space is at a premium, you'll need a versatile and space-saving sofa like the Honbay L-Shape Convertible Sectional with Chaise. With 56-inch, two-person width, this compact sofa fits your layout—regardless of how small it is.
Its dual-functioning chaises will be a godsend if you're awfully pressed for space. They add more seating opportunities and legroom and double up as handy storage bins.
The durable and easy-to-clean material of the sectional can withstand messes and spills, so you're certainly free to convert the chaises to coffee tables, too.
4. Best Sleeper Sectional: Eliot Sleeper Sectional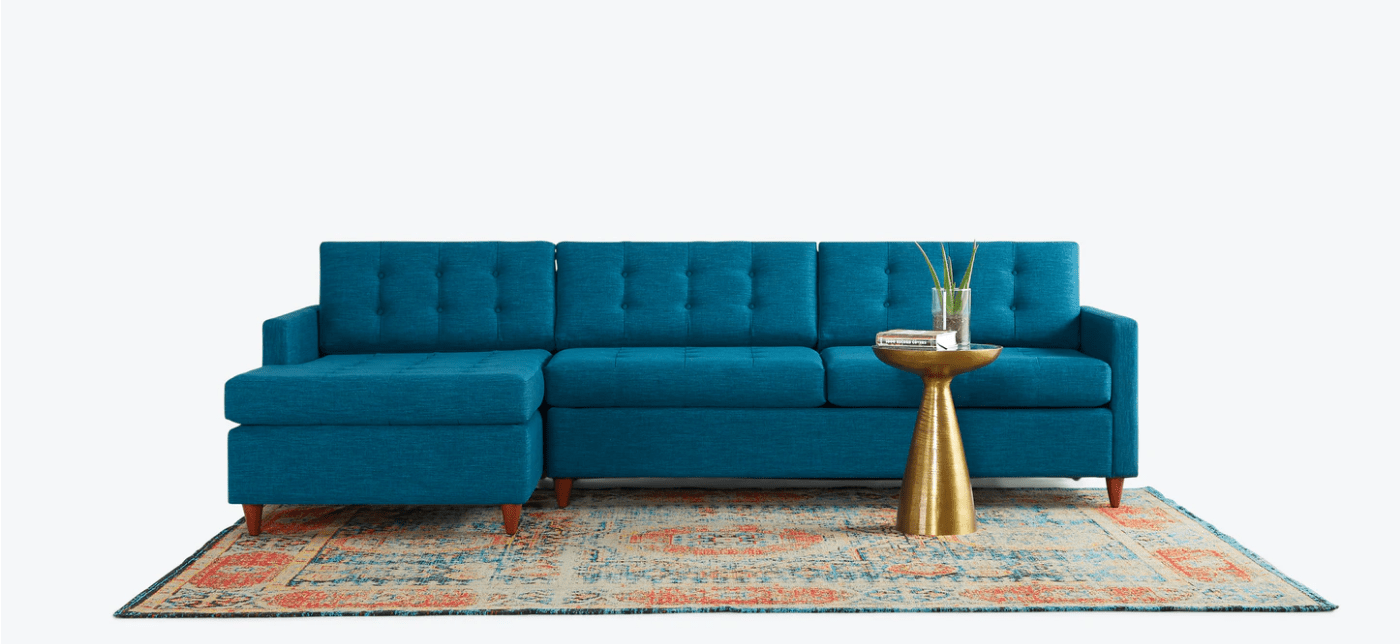 Chances are that you'll be taking naps on your new sofa as much as you'll be reading or watching TV on it. Nod off peacefully with this amazingly comfortable sofa from Joybird, which features a spacious single-arm chaise to enable you to catch some serious kip.
The Eliot Sleeper Sectional also features a pull-out bed for an extra guest. Moreover, it's available in 18 amazing colors and you can customize the detailing, wood, and fabric.
5. Best Leather Sectional: Block Nomad Leather Corner Sectional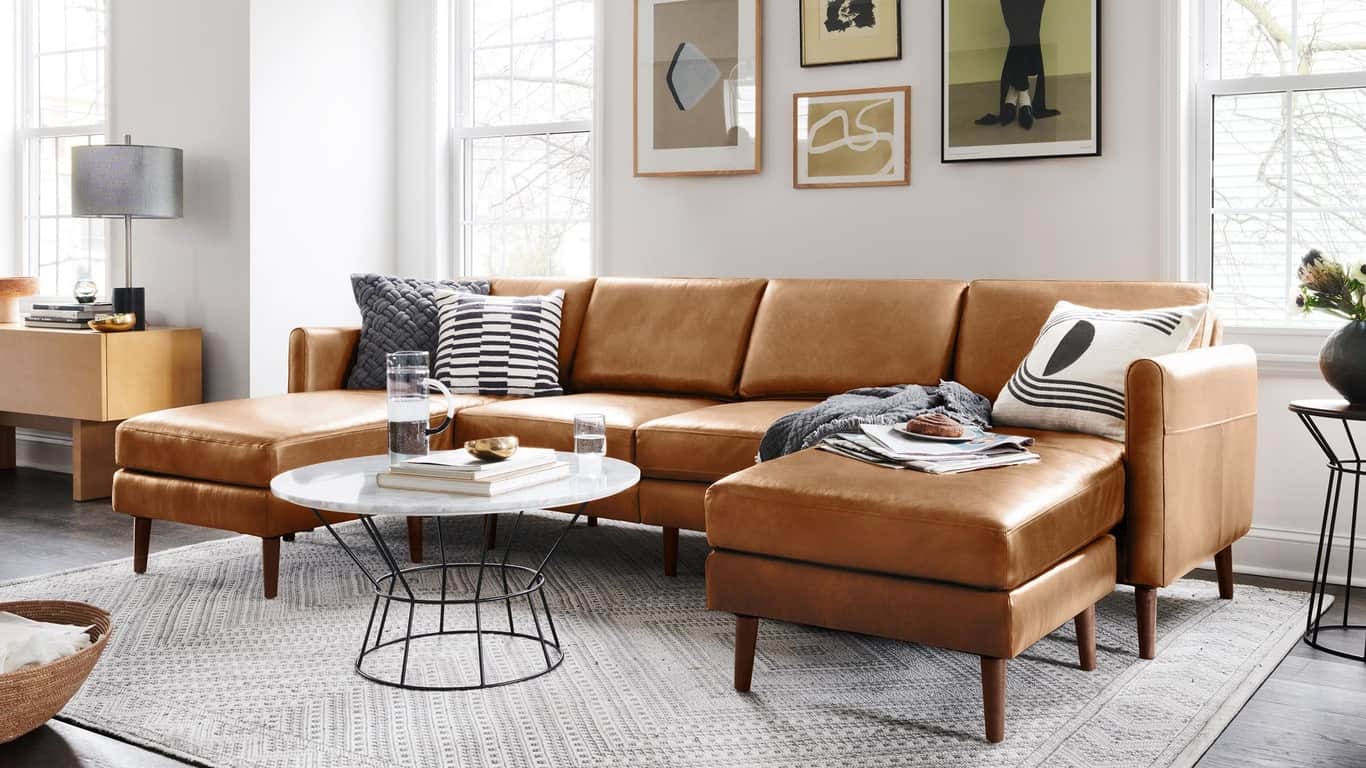 Burrow is renowned for its contemporary modular furniture and you can arrange the Block Nomad Leather Corner Sectional in three unique layouts, making it more adaptable than most. The 5-piece sectional is wrapped with Italian top-grain leather and you can pick from three colors, not to mention a variety of metal and wood leg finishes.
That's not all, though! You even have the option to pick your favorite arm style—slope, arch, or block—so the unit is truly customized to your tastes and preferences. The Block Nomad Corner Sectional's modular system uses levers and latches to hold the unit together, and while you'll need to assemble the unit, it's considerably easier to assemble than IKEA furniture, for example.
The sofa's cushions have a fiber design and three-layer foam for a plush but supportive surface, and Burrow also sells matching ottomans and chaises if you wish to enlarge your layout.
FAQs
Question: How Do You Tell if a Sectional Sofa is Good Quality?
Answer: A high-quality sectional sofa features long-lasting upholstery that remains beautiful even after many years of being used. Tightly-woven upholstery fabric material is a sign of good quality because it lasts much longer than loose or fine weaves, which wear out quickly and aren't stain-resistant.
Question: How Do I Select a Sectional?
Answer: Most sectional sofas have quite a considerable depth, so be sure to measure your current sofa's width and consider if you'd like a little more room to really sprawl out or not. Also, measure the chaise's length. If you're taller, choose something that won't leave your feet hanging.
Question: What Are the Best Sectional Makers?
Answer: The best section manufacturers include:
• Albany Park
• Burrow
• Maiden Home
• Floyd
• Inside Weather
• BenchMade Modern
• Apt2B
• Allform
• Cozey
• Sabai
Question: What Are the Top-Quality Sectionals Out There?
• IKEA Vimle
• IKEA Ektorp
• Rivet Revolve Reversible Sectional Chaise
• Crate & Barrel's Lounge 2 Sectional
• Honbay Sectional Sofa
• Article's Sven Sectional Sofa
Question: How Much Should a Sectional Cost?
The average prices for sectional sofas include:
• $1,000 or less: This is what's considered an inexpensive sofa.
• $1,000-$2,000: For this price range, you can find a mid-range priced sectional.
• $2,000 or more: Anything that goes for more than two thousand bucks is an expensive sofa.
Buy the Best Sectional Sofa Today!
Getting the right sectional sofa shouldn't be a decision made on impulse. Think through how your room will be used now and in the next few years. A high-quality sectional is a major financial investment.
Measure your space to ensure that your sectional is the right fit for your room's size. Stay away from trendy colors. Go for leather or durable fabrics. While your home decor is an important factor when choosing your sofa, your year-round comfort is of utmost importance.
A sectional sofa can be the center of attraction in your living room. Taking your time to choose one that's perfect for your household can make all the difference. Make a wise buying decision and you'll definitely be happy with your choice.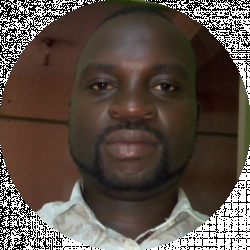 Latest posts by Haron Omaita
(see all)