Geometric bookcases are in vogue, and if you're searching for one, you're in good company. Known for their ability to provide excellent storage for books and beautiful displays for other precious items, these bookcases are a fantastic addition to any room, and that's why you'll find them installed in living rooms, bedrooms, and offices.
We know that getting the ideal bookcase could prove problematic, and that's why we've prepared these geometric bookcase ideas and inspiration guide to help you in your search.
Additionally, we've reviewed the top geometric bookcases available from Amazon based on material, sturdiness, durability, and price. And, once you acquire your precious possession, what do you need to do to style it up?
Our guide offers tips on styling techniques, the various designs, and styles of geometric bookcases, as well as the factors you need to take into account before buying.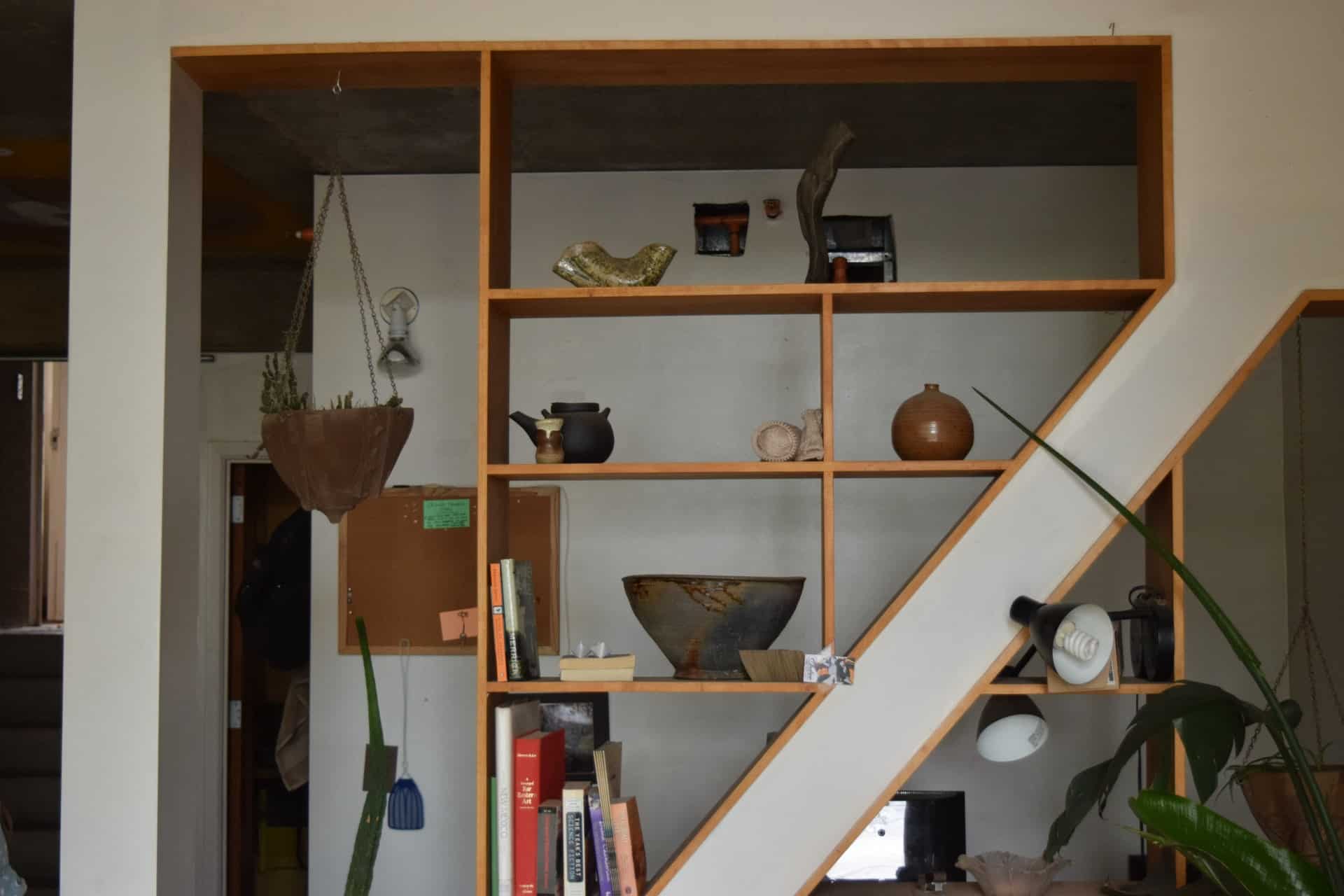 Types and Designs of Geometric Bookcases
Should you decide to invest in a geometric bookcase, there're very high chances that you might find it challenging to choose a particular piece because of the wide variety of designs available. Unlike the traditional bookshelf, which was primarily meant to display books, the modern geometric bookcase serves various purposes.
If you are using the bookcase in your living room, in addition to displaying your favorite books, you could use it to display collections from your travels, memorable trophies, and many other kinds of stuff. That's why the shapes and sizes of geometric bookcases vary widely.
The most common geometric bookcase designs are;
Asymmetrical Geometric Bookcase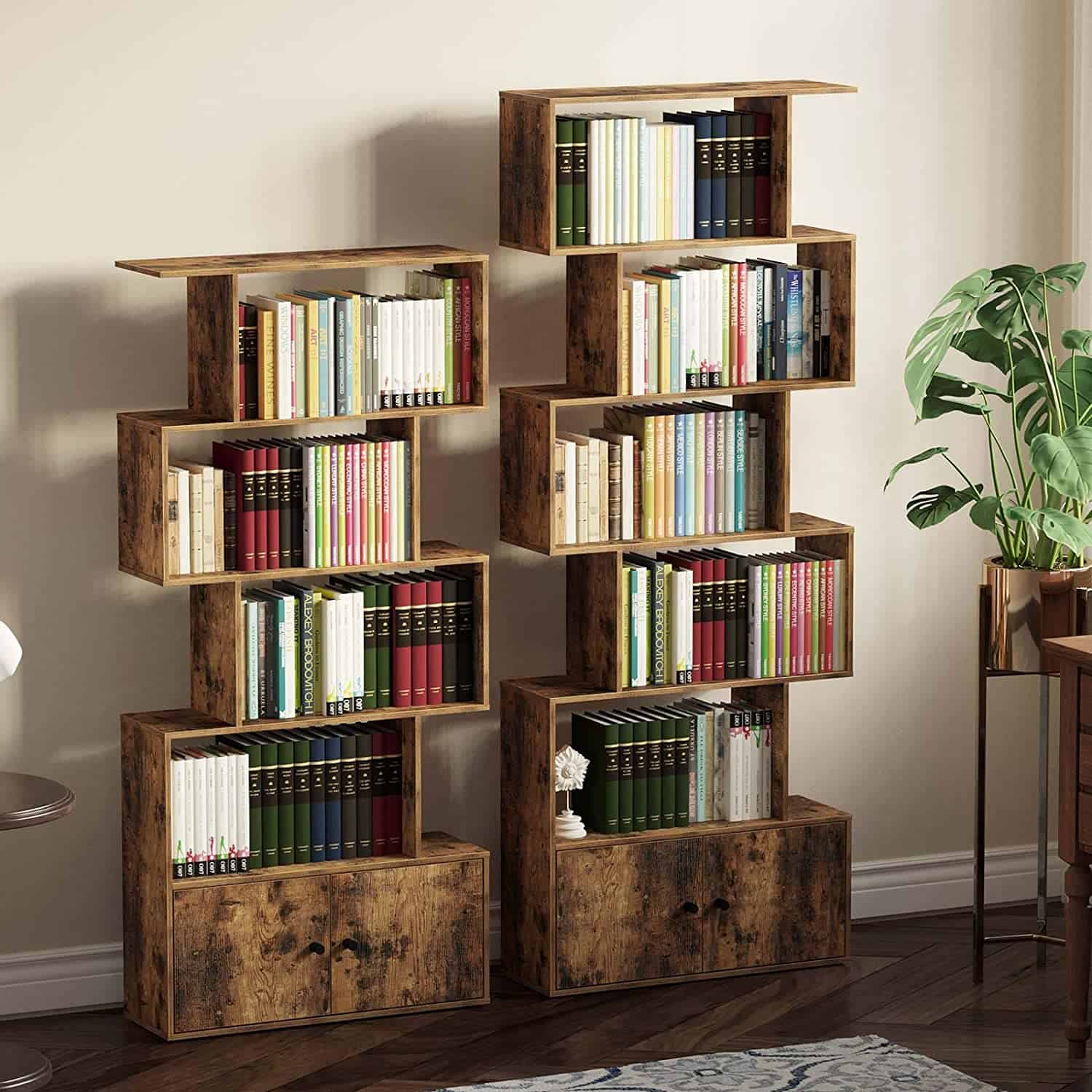 In the living room, a bookcase with an asymmetrical design is great for housing books and other items. This geometric-inspired piece makes it easy to display your favorite pieces without cluttering up any open shelves or making things too cluttered on either side of them. There's just enough space between each section.
Horizontal Geometric Bookcase
The latest trends in home design are all about creating a space that is both practical and stylish. The geometric bookcase functions as an elegant horizontal organizer, with shelves made of any material imaginable, perfect for showcasing your favorite books or displaying artwork.
Wall Mounted Geometric Bookcase
The wall-mounted geometric bookcase is a modern and minimalistic piece of furniture. It features shelves that are made up primarily of rectangles, squares, circles, and triangles – all interconnected with one another to create an organic-looking design element for your home's interior decor scheme.
Honeycomb Geometric Bookcase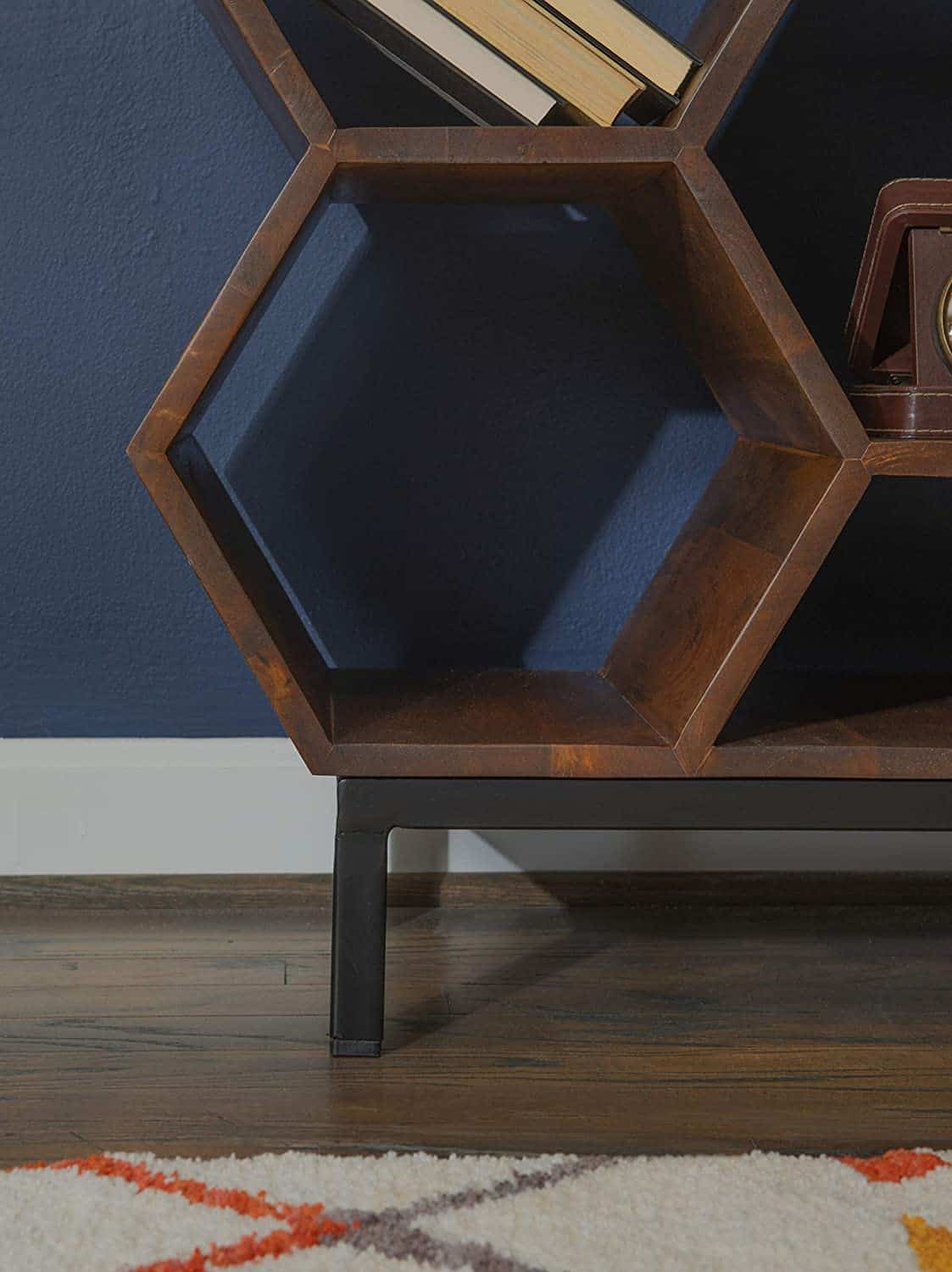 The honeycomb geometric bookcase is a perfect way to store your books in style. This sleek and modern design will help you keep organized with its playful shapes representing the insect's hive, helping inspire creativity on every shelf.
Modular Geometric Bookcase
The modular geometric bookcase is a modern way to store your books. It's designed with an open-plan geometry that maximizes storage and visibility, making it perfect for the person who likes order in their life. You can put this geometric bookcase anywhere around your home because its assembly takes just seconds, making everyday organization easier than ever before!
This six-shelf unit has plenty of space inside, so you'll never again be surrounded by overflowing shelves or stacks on top of one another.
Cubic Geometric Bookcases
The cubic geometric bookcase is the perfect way to organize your study. It features a sophisticated design that's both modern and traditional, with an open cubed shape for maximum storage capacity. The cubes on these shelves are equally balanced, making it look clean without any messy-looking segments or angles insight.
Best Geometric Bookcases: Out Top 5 Picks
1. S-Shaped Rustic Geometric Bookcase – Best Bookcase For Home And Office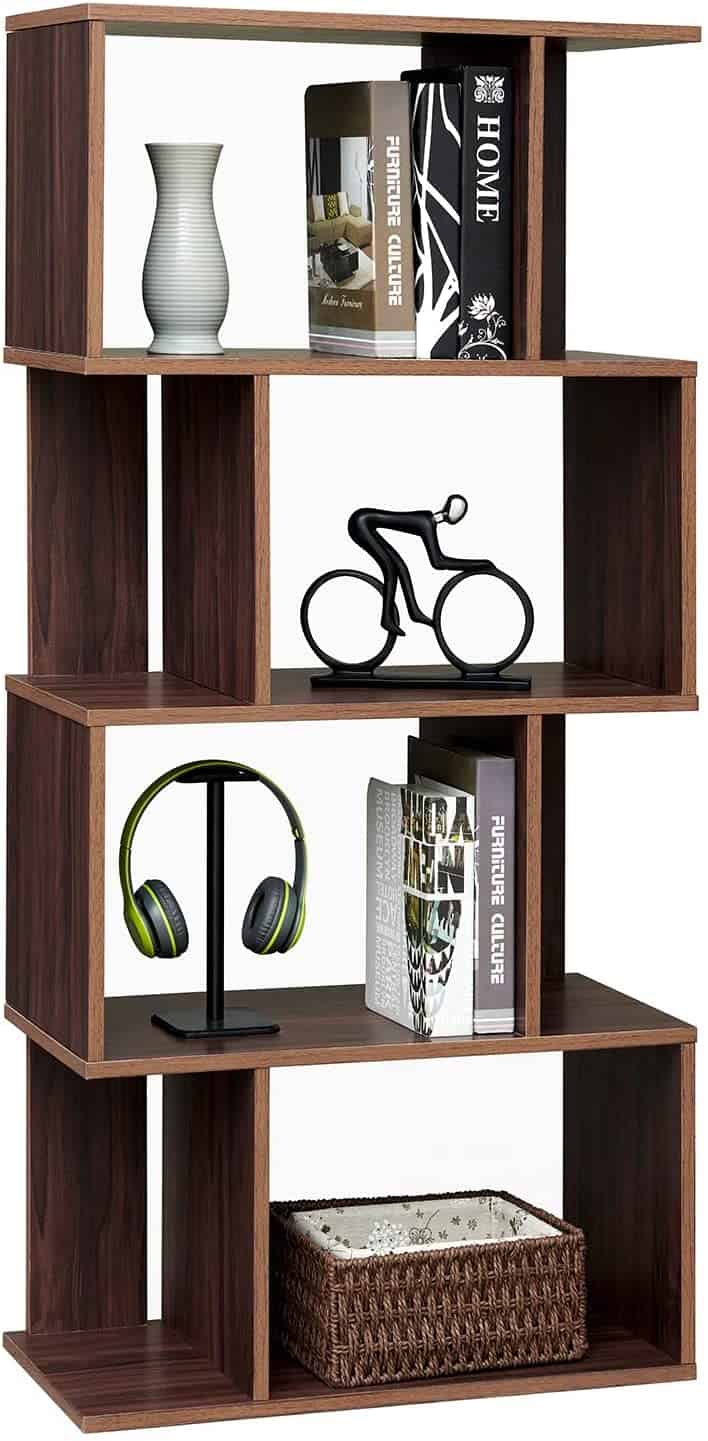 If you've got limited space in your home or office, the spectacular-looking Rustic bookcase geometric bookshelf is undoubtedly the one to consider. Weighing only 25.8 pounds and measuring 23.2 inches long, 11.4 inches wide, and 49 inches high, this tiny giant has a load capacity of 200 pounds.
Depending on the space you have, you can place it either vertically or horizontally. Made of engineered wood and laminated in walnut-colored faux, the S-shaped bookcase has four tiers of storage space which should prove adequate for your books, magazines, and trophies. To ensure that books and other items placed on the bookcase do not fall, it's fitted with supportive back baffles.
This is a low-maintenance product, and you only need to clean it with a damp cloth. Moreover, it is bound to withstand the effect of the elements as it is waterproof. Available at a very pocket-friendly price, this bookcase is easy to assemble.
Pros
Enough storage space for home or small office

Reasonably priced

Waterproof and low maintenance

Easy to assemble
Cons
Risk of tipping over when fully loaded or improperly placed
2. Casamudo Modern Geometric Bookcase – Best Bookcase For Living Room, Bedroom, And Office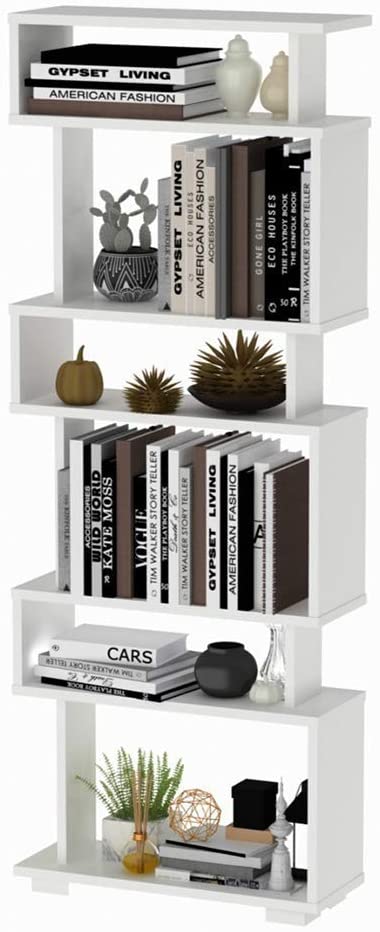 When you crave modern elegance in your living room, bedroom, or office and want to invest in a bookcase that will effortlessly blend in with most decors, the Casamudo modern geometric bookcase is a top contender. 
Made from manufactured wood and available in white and black, this modern bookcase is S-shaped. It comes with six shelves to provide ample storage for books and any other items that you'd like to display.
Measuring 63 inches high, 8 inches wide, and 23 inches long, this product is petite enough to fit in small spaces, making it ideal for people with little room to spare. The bookcase is easy to clean, being water and scratch-resistant, and its durability is not in doubt. It's also a sturdy product that is priced pretty competitively. The bookcase comes with easy-to-follow assembly instructions and tools, and assembling it is a breeze.
Pros
Durable and sturdy

Easy assembly

Easy maintenance

Reasonable price for a fabulous-looking product

You've got two colors to choose from
Cons
Complaints that the joining screws are visible on white bookcases despite the provision of covering stickers. This might make the product a bit unsightly in addition to causing injuries.
3. Decorotika 53″ Sabrina Geometric Bookcase – Best Bookcase For Home And Office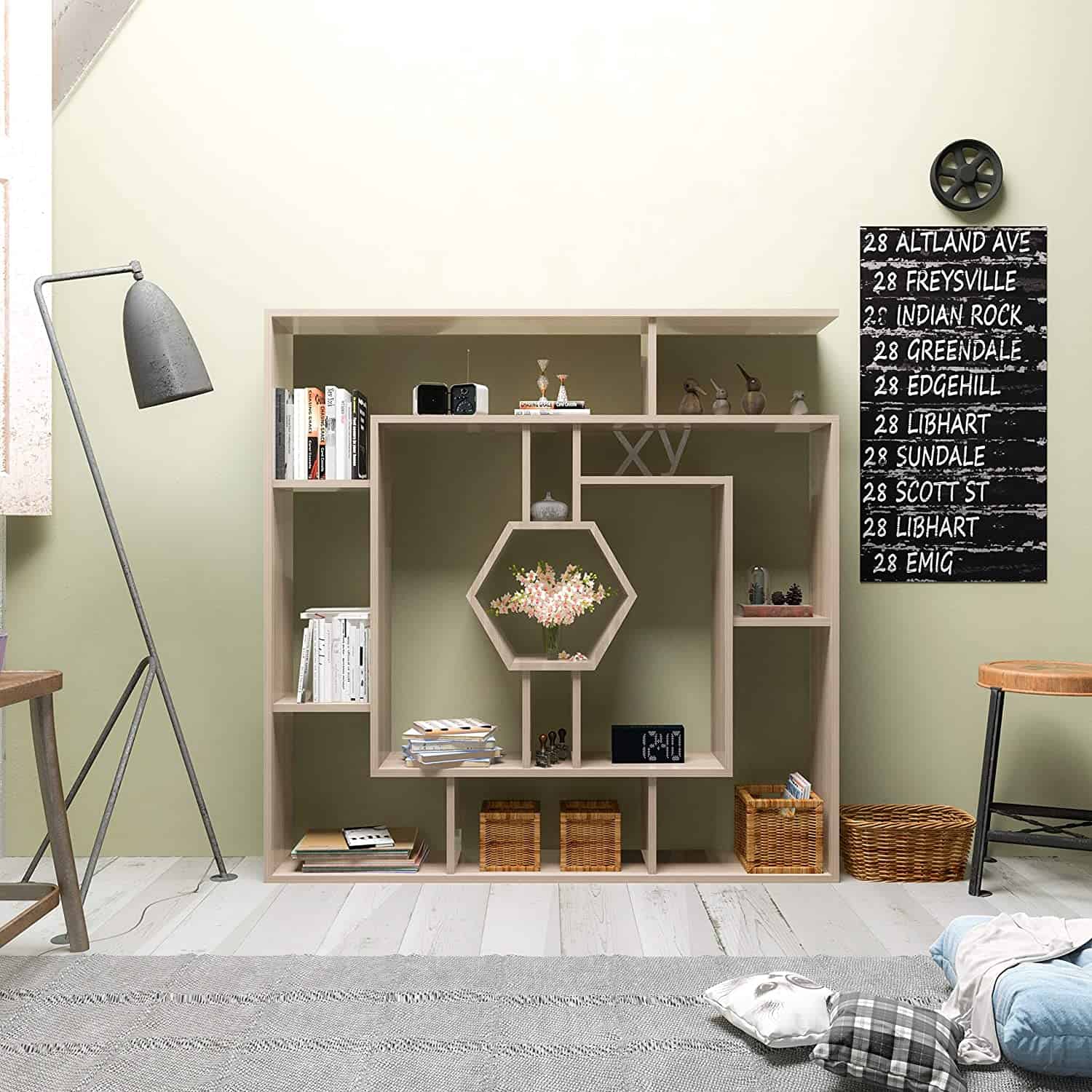 The Decorotika 53″ Sabrina geometric bookcase hardly has any bookcase industry competitors for magnificence and unique design. Perhaps what's most eye-catching with this product is the honeycomb design, but beauty aside, this bookcase has a lot more going for it.
Measuring 53 inches long, 53 inches wide, and 8.6 inches high, this product has enough storage space courtesy of its eight tiers of varying widths and heights. With this product installed in your home or office, you'll have the perfect display for your prized mementos and, should you require more space, there's some to spare at the top of the bookcase.
Made from engineered wood that's coated in melamine, the product is scratch-resistant, ensuring its durability. Cleaning it is also easy – you just need to wipe it with a wet cloth when you notice traces of dust. It's available in walnut and cordoba colors, and the price is quite reasonable.
Pros
Beautiful product with a magnificent design

Sturdy and durable

Two colors to choose from

Plenty of storage space

The price is competitive
Cons
It might prove hard to assemble for an inexperienced person
4. Good & Gracious Geometric Bookcase – Best Bookcase For Living Room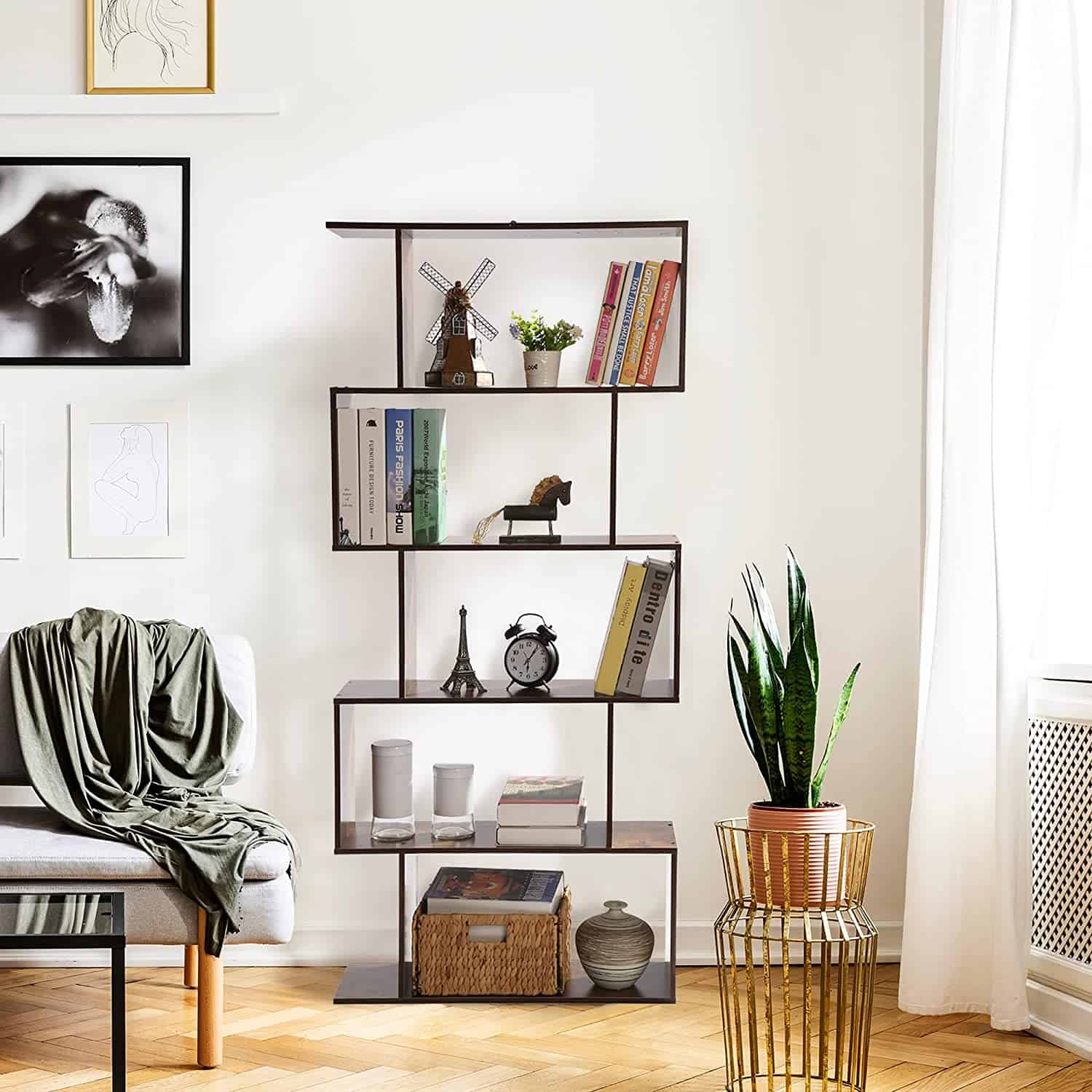 When you want to adorn your living room with a bookcase that's undeniably artistic, you need to look no further than the Good & Gracious Geometric Bookcase. This S-shaped bookcase is rustic brown and will bring an air of sophistication to your living room.
Measuring 27.7 inches long, 9.3 inches wide, and 62 inches high, it's small enough to serve people with cramped spaces, but it also comes with plenty of storage space. Weighing 33.7 pounds, the product has five tiers, each of which has a capacity of 15.4 pounds which means that you have adequate space for most of the items you'd need to display here.
Worried that the bookcase might not support enough weight? Worry no more! The bookcase is built on a metal frame covered in particleboard to ensure that it's sturdy enough to handle substantial weights.
This configuration also ensures the bookcase's durability and, the fact that it comes fitted with an anti-tip device means that you never need to worry about it tipping over. That is especially important if you've kids. The guaranteed stability also ensures the safety of the items on display. The product is also waterproof and scratch-resistant, further adding to its durability.
Pros
Gorgeous vintage appearance

Sturdy and durable

Substantial storage space

Easy to assemble
Cons
It might seem costly when compared to similar products
5. Yusong 5-Tier Wooden Geometric Bookcase – Best Bookcase For Living Room And Office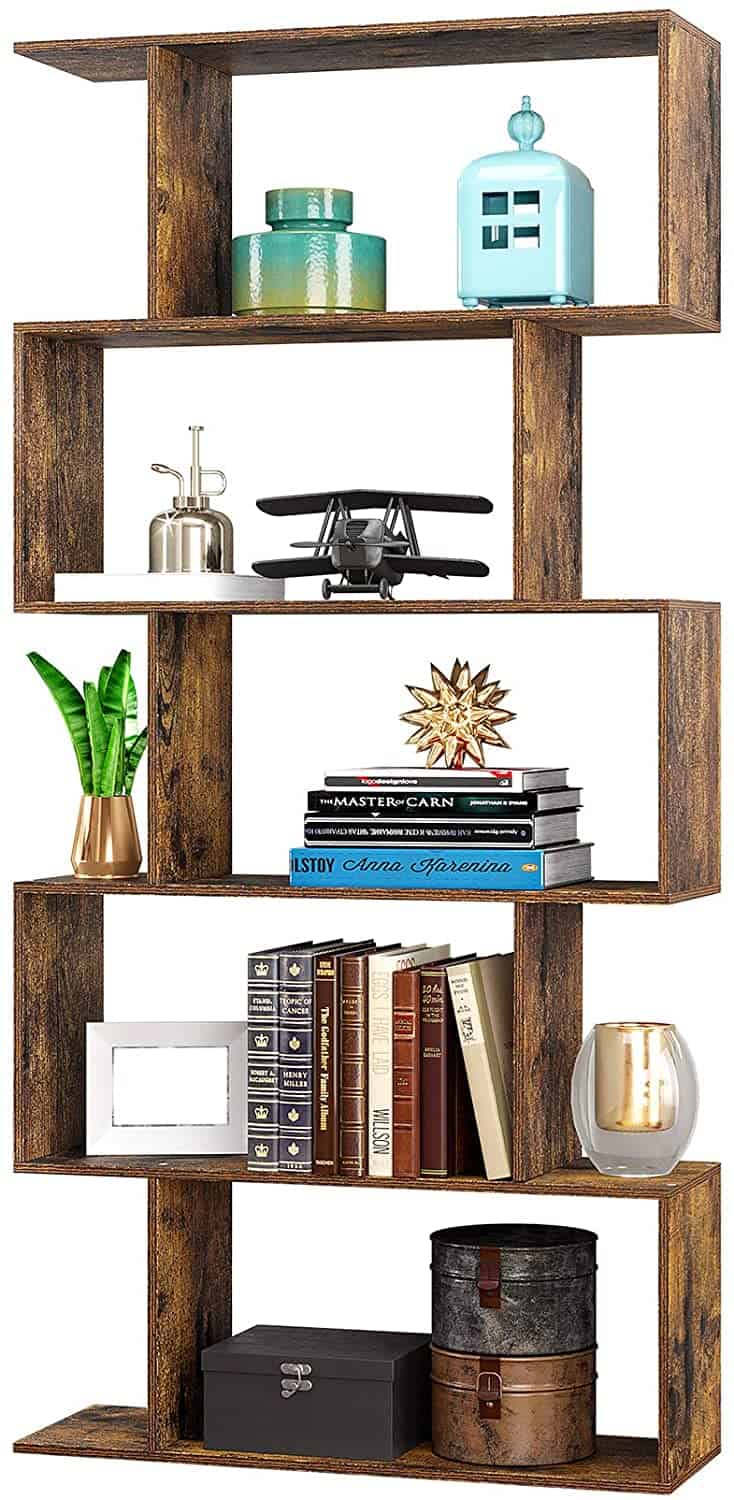 The Yusong 5-tier wooden geometric bookcase provides substantial storage for books and collectibles in an office or living room. This bookcase comes in an attractive rustic brown color, and the S-shape adds to its physical appeal. Its five tiers provide adequate storage for books and magazines. Since you can install the bookcase either vertically or horizontally, it can find other uses in a home or office.
Made of chipboard with a melamine finish, the bookcase presents few maintenance challenges. Not only is it easy to clean, but it's also scratch-resistant and waterproof, and its durability is therefore not to be doubted. For a bookcase its size, it's also moderately priced and effortless to assemble.
Pros
Low-maintenance product

Easy to assemble

Highly affordable

Substantial physical appeal
Cons
Not very sturdy – complaints that the bookcase is likely to wobble after a short time of usage
How to Style Up a Geometric Bookcase
Styling up a geometric bookcase is an art in itself, and it requires careful forethought. As noted above, the modern bookcase is usually home to a vast collection of items, and you might find that, in some cases, some bookcases will have fewer books than other decorative items.
Depending on the space you have, there are many things that you can use to decorate your bookcase. Some of the most common decorations include artwork, bowls, and vases. Potted plants are also favorite adornment items, as are photo frames.
Since you have so much to choose from when styling up your bookcase, there's always the risk that you'll get the decorations wrong unless you think them through. Before you start displaying items in your bookcase, perhaps the most important thing you need to do first is to decide on the exact items you'd like to display.
Will you, for instance, have more books than artwork or vice versa? If you choose to use decorative baskets, how many will you use, and what shall they contain?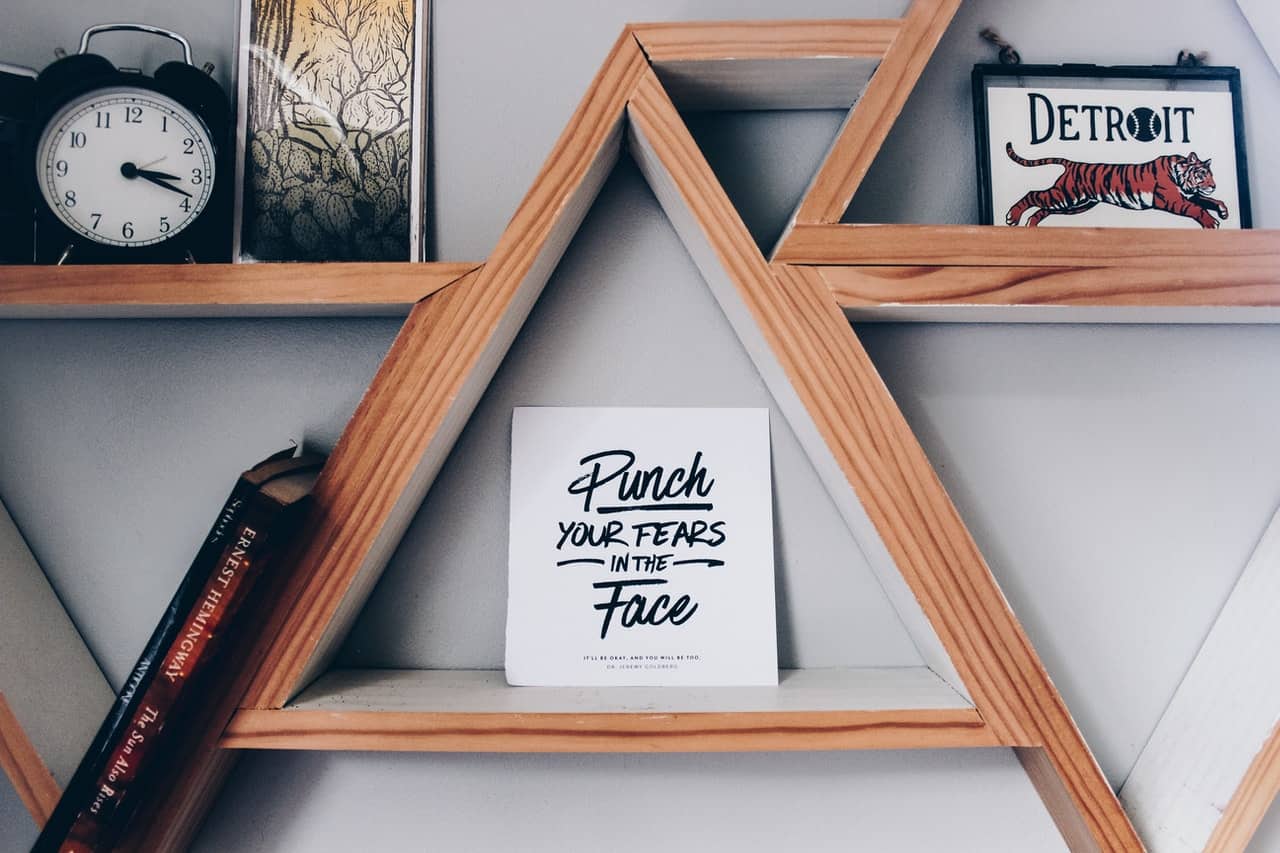 When styling up your geometric bookcase, always remember that functionality is vital, and the design of most bookcases helps you achieve this without compromising on aesthetics.
If, for instance, you have a bookcase divided into various squares, you can choose the adornments to put in a particular box based on their likeness or purpose. Sometimes you'll need to decide where to place the styling items depending on how easily you wish to access them.
While books could be used for décor, it'd be a great idea to fill adjacent spaces with other decorative items such as vases to create a sense of variety.
In addition to figuring out the kind of decorations you need, you also need to decide on the number of items to use. If you decorate your bookcase with too many things, it'll look cluttered, and this reduces its physical appeal. All is said and done; the decorations you put on your bookcase should reflect your personality.
Factors to Consider Before Buying a Bookcase
A bookcase is a vital addition to the space in your home or office, and it should be both beautiful and functional. Since this is an investment that's meant to last you a lifetime, you should go about its purchase carefully. Before heading to the stores or searching online for a geometric bookcase, there're essential factors to consider, including:
Space
You certainly realize how ludicrous it'd be to buy the most aesthetically appealing bookcase only to realize that it's too small for the space you intended to use it in. It's equally disastrous to obtain a piece that's so large that it overshadows the rest of the furniture in a room and therefore looks out of place.
To avoid frustrations, you need to identify the space where you wish to install your bookcase and then take accurate measurements to confirm that the bookcase that you eventually order fits snugly in your chosen area.
Current Décor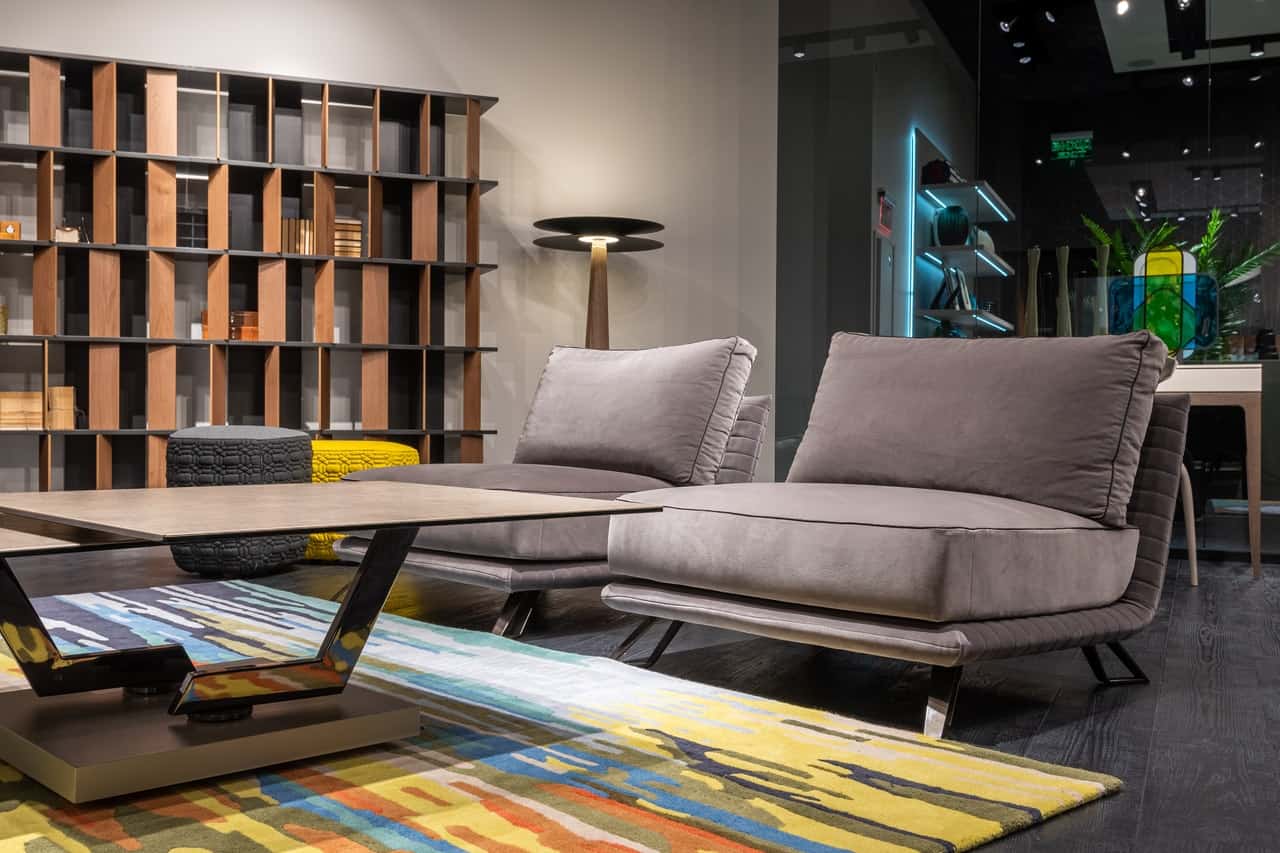 Before buying your geometric bookcase, you need to consider the rest of the furniture in the room where you're to install it. Since the bookcase is both a functional and decorative piece of furniture, you want to be sure that it matches your existing furniture.
Price
Geometric bookcase prices vary widely, and you need to determine how much you wish to spend before beginning your shopping. The colossal price differentials that you're likely to see are not always an accurate indication of differences in quality.
You need to do your research to find out if a product is worth the amount that the seller could be asking for. To help you make an informed decision, seeking customer reviews from sites such as Amazon might prove priceless.
Material
The material used to make your bookcase has a direct bearing on the price and the durability of the product. Since you wish to acquire a product that'll serve you for many years, do not be afraid to splash some cash on products made from expensive wood and metals.
Products from solid woods or a mixture of woods and metals are sturdy and long-lasting, but they also tend to be pricier than products made from other materials.
Despite the undisputed qualities of these materials, the fact that they are sourced from non-renewable sources makes them unpopular with environmentally-conscious consumers. That is one of the reasons why you'll find some people opting for products made from reclaimed wood.
FAQs
Question: What's The Purpose of a Bookcase?
Answer: Bookcases are meant to provide organized storage for books of varying sizes. In addition, they are used to display many other items, including decorations, picture frames, memorabilia, trophies, and medals. That's why bookcases are available in vastly diverse sizes and shapes.
Question: What's The Difference between a Bookcase and a Bookshelf?
Answer: Bookcases are close-sided units that encase books and other contents, and, in the past, most of them were floor-mounted. Bookshelves do not have encased ends and are usually hung on walls.
Question: Why Is Reclaimed Wood Such A Popular Material in the Manufacture of Modern Bookcases?
Answer: Reclaimed wood is a popular material because it's far much cheaper than solid wood. Where the cost of the material is not a big deal, most people prefer to have bookcases and other furniture of solid woods because of their durability and sturdiness. Cost aside, people who buy products made from reclaimed wood do so because they know that, by doing so, they are playing a part in environmental conservation.
Geometric Bookcase Ideas: Conclusion
Choosing a geometric bookcase that will be functional and add to the room's aesthetics in which you install it is not too hard when you do your homework well. As we have demonstrated, there are essential factors to take into account before making your purchase. It would help if you thought about the product's price, the material it's made from, the space you have available, and the furniture you currently have, among other considerations.
While we hope that our guide has made your work easier, we know that making that final decision is never easy, and we're willing to help. In our opinion, the best geometric bookcase in its price range is the Good & Gracious Geometric Bookcase.
Apart from its stunning S-shape and rustic brown color, this is a sturdy and durable product courtesy of the mixture of metal and particleboard materials used. It's also waterproof and scratch-resistant and is low-maintenance.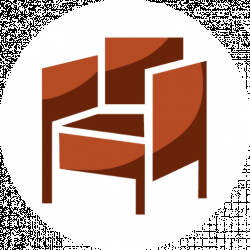 Latest posts by Finally Furnished Team
(see all)