For many generations, dining tables have been part of the home decor and a place where we all meet and eat with family and have that peace of mind as you bond. We would all love to own something with such importance since it comes in different shapes and sizes, each made from the finest materials.
One of the finest materials in mind today is marble, and the question arises, which are the best marble dining table ideas out there that will match your decor? The best marble dining tables will bring out your desired outlook and sense of style and fashion with many advantages, such as durability.
This article will see how different marble dining ideas will bring elegance and class to your home decor. We've reviewed the best according to style, having featured contemporary, mid-century and transitional dining tables.
Best Marble Dining Tables in Amazon
We chose these marble dining tables based on affordability, availability, and positive customer reviews.
Linon Set: Best Selling Marble Dining Table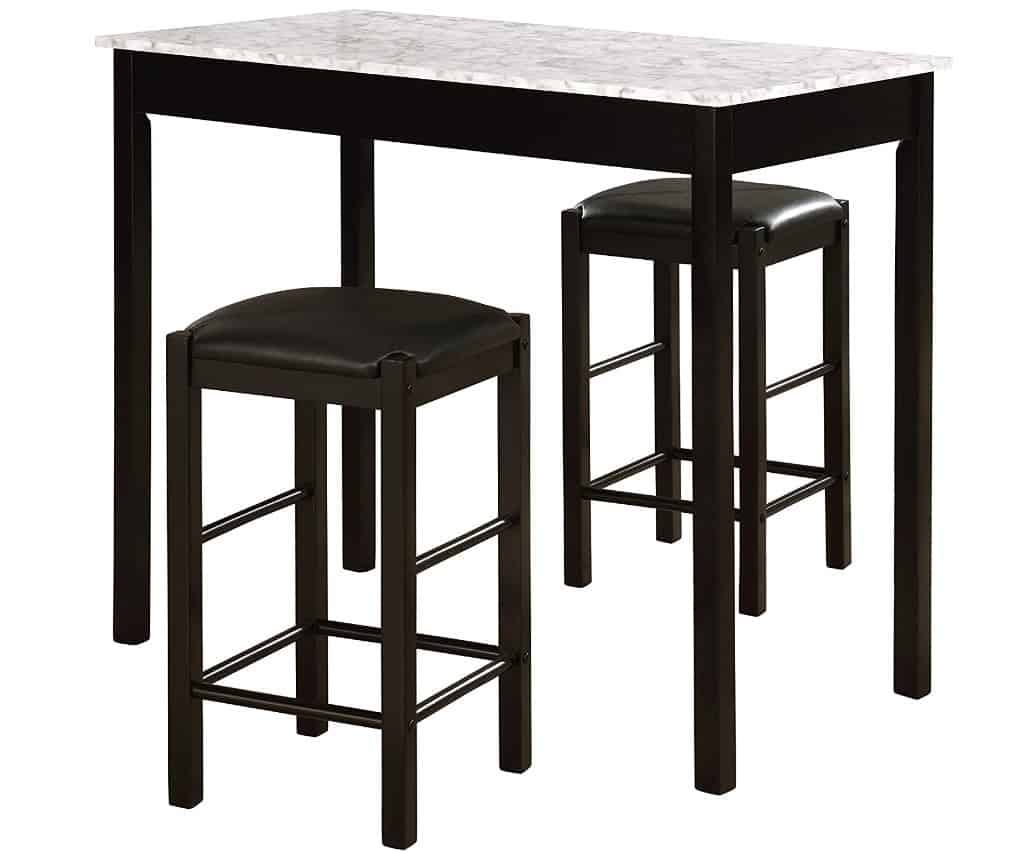 Linon has you covered with their 3-piece Black Marble Tavern Set for those looking for a space-saving dining set. With a 36″ counter height table and stone paper wrapped top, we know your dinner conversations will be great.
It doesn't matter where you live if you're looking for a table and two chairs that gobble up as little space as possible; this set will do the trick. If you don't always have people over to eat or, thanks to your busy schedules or lack of friends, the Linon Black is the perfect set for you. 
Don't spend another afternoon hunched over at the kitchen table or constricted to that small nook of yours. Let this elegant dining set do all the work for you in both style and space while resting comfortably. And for durability, Linon delivers yet again as they construct this piece of furniture with a weight capacity strong enough to hold up to 275lbs for the stools.
Pros
Easy to assemble

The table and stools are durable

Perfect for small spaces

Relatively affordable
Dorel Tanner: Best Transitional Marble Dining Table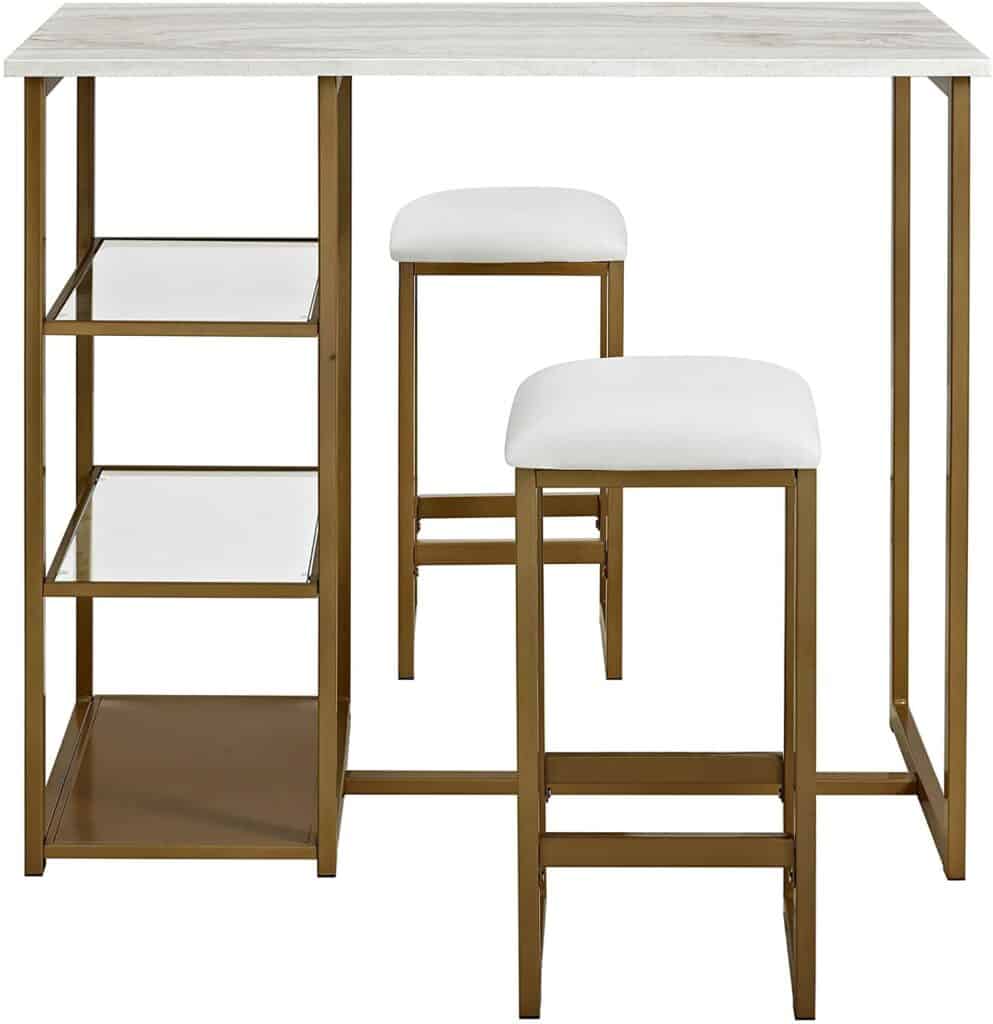 Dorel Tanner Set with a Marble Top brings an instant update to the décor of any home. This modern and sleek pub set includes one rectangular table and two matching square stools made of durable and strong wood construction, making it perfect for your dining room or kitchen space. With its glossy espresso finish, it provides a luxurious feel.
With tempered glass shelves, this white marble Dining set caters to all of your dining needs. This Dining table has a width of forty inches, a diameter of twenty-two inches, and a height of thirty-six inches. The compact size is just what you need if you are short on living space or dining room furniture with such measurements. 
Another good thing about the Dorel Tanner is that the contemporary design matches any home décor effortlessly while still providing three practical shelves to store all of your essentials in one open space.
Pros 
Easy to assemble

It fits nicely in the kitchen and dining area

 it's affordable

It comes with three shelves that serve as storage space
Cons
Takes a lot of time to assemble
Modway Lippa: Best Mid-Century Marble Dining Table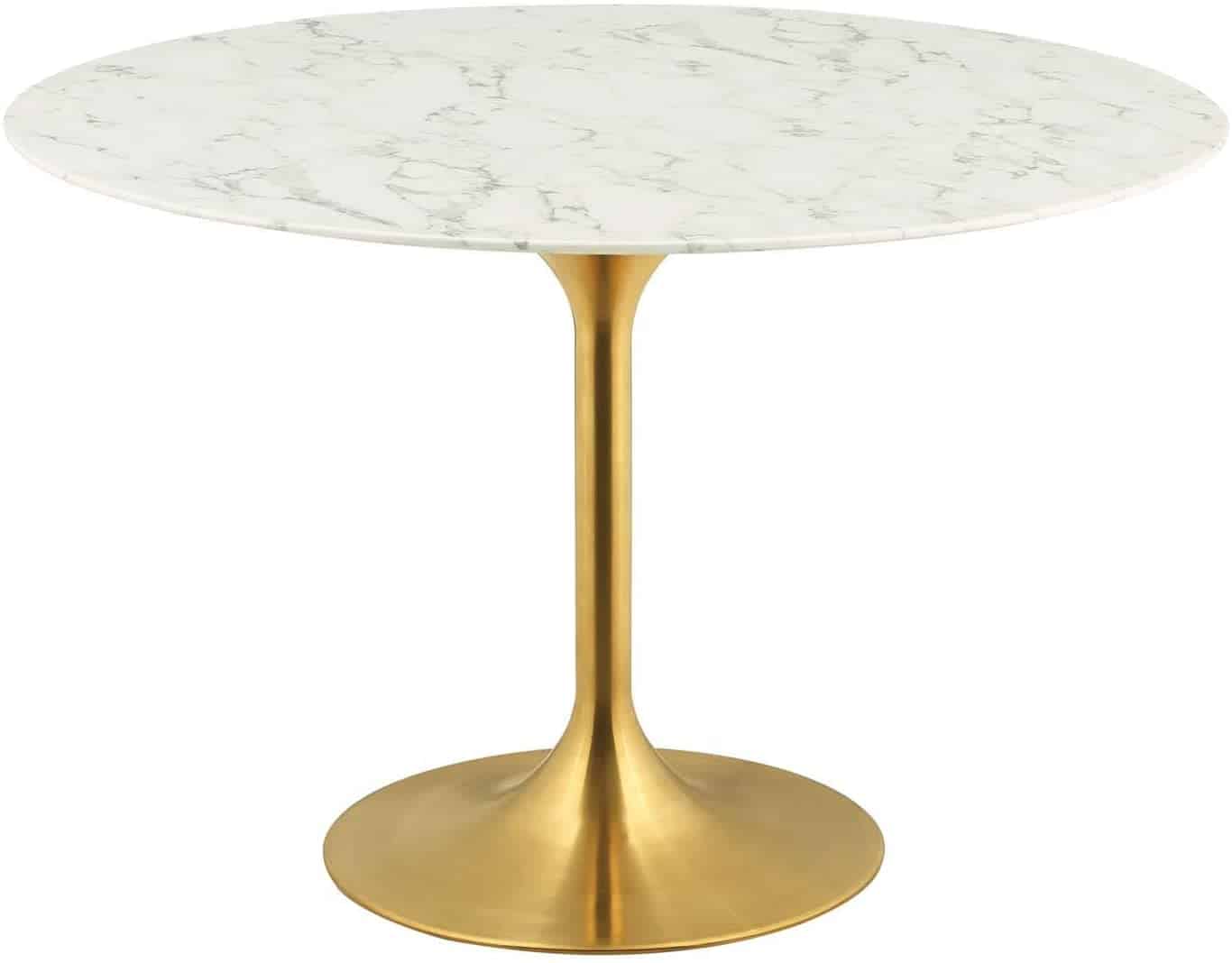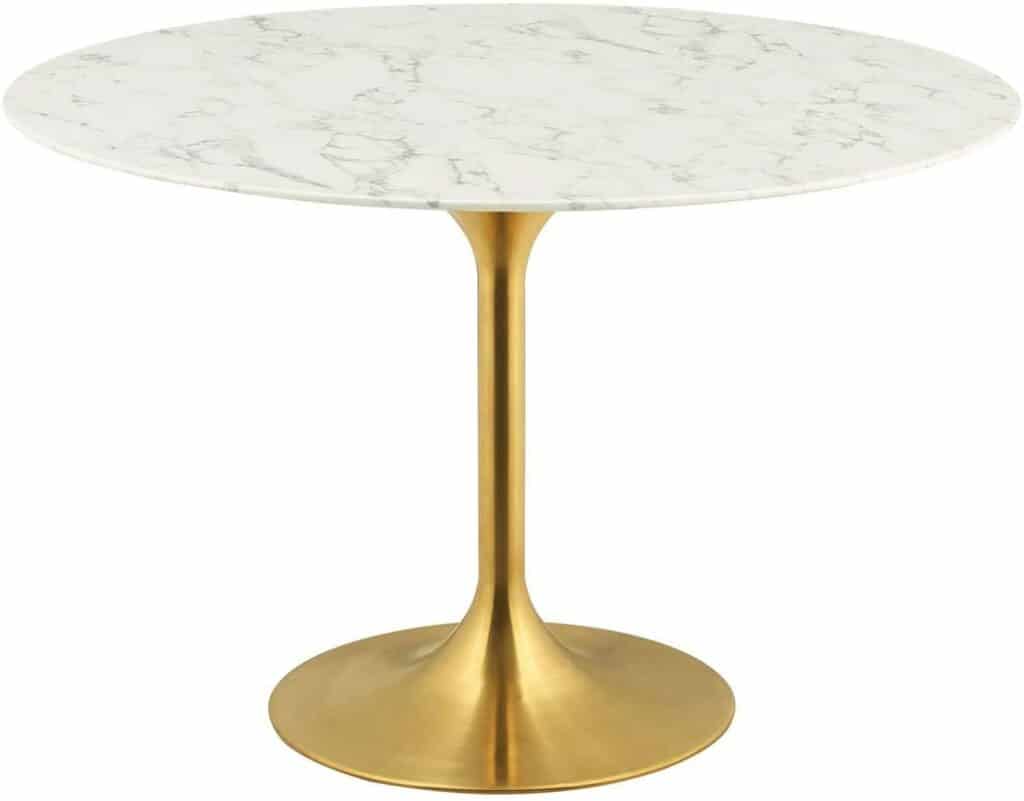 The Modway Lippa is a  mid-century modern dining table in a round shape perfect for everyday activities. At 47 inches wide, it can fit four chairs and is made of durable material. The lightweight marble top only weighs 10 pounds making it easy to move around, and the wood base comes with metal legs that are seamlessly connected to the tabletop.
Perfect for brunch with friends or family dinner on Friday night, this furniture piece won't break your monthly budget while still featuring innovative design features that match perfectly with your home decor.
Pick this versatile 47-inch round dining table up today because no breakfast nook or stylish lounging space is complete without it. Also, with its fun and functional design, this authentic statement piece is guaranteed to be a conversation starter in any setting.
Pros 
Easy to assemble

It is sturdy

Doesn't consume much space
Cons 
Dorel Living: Best Contemporary Marble Dining Table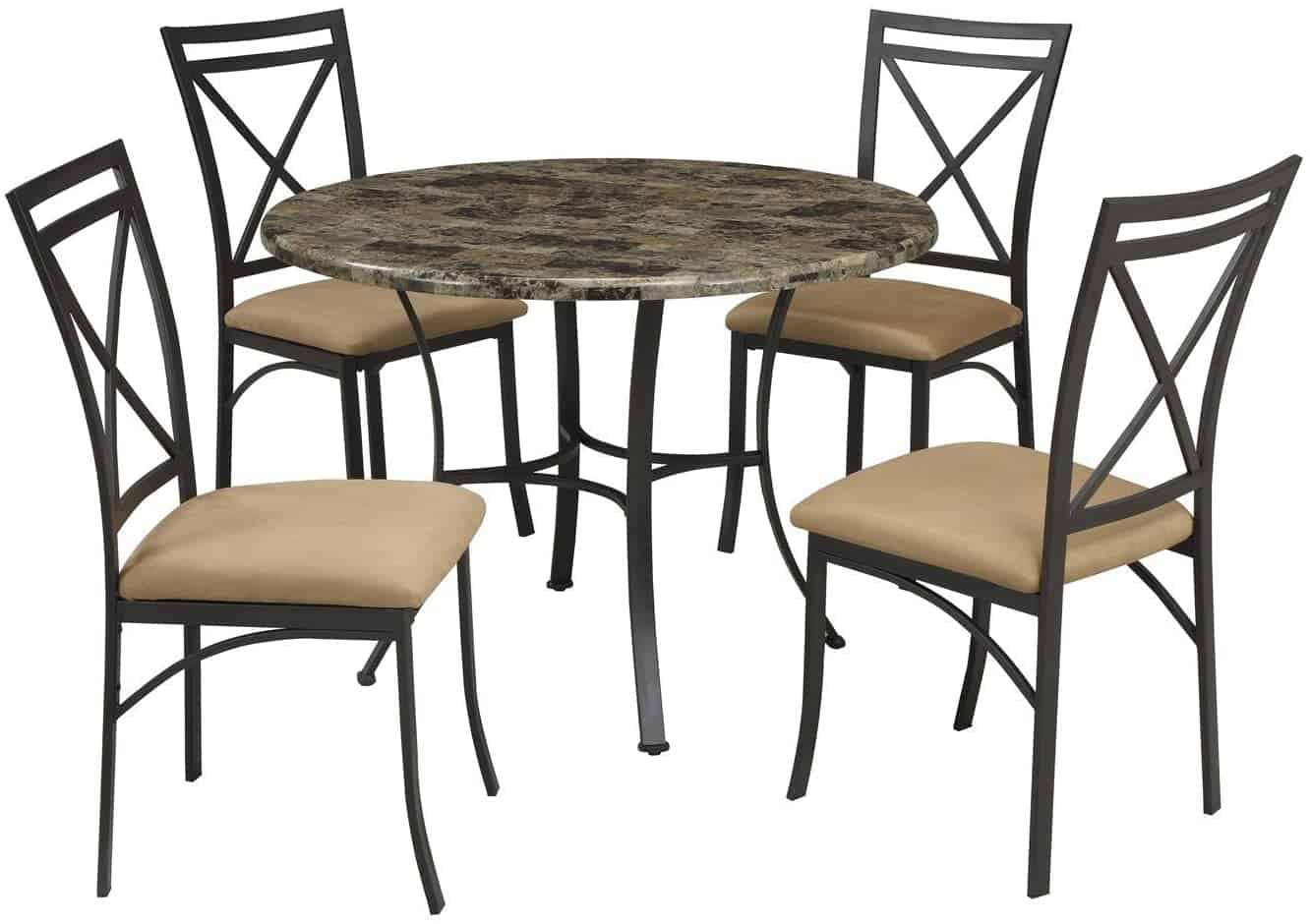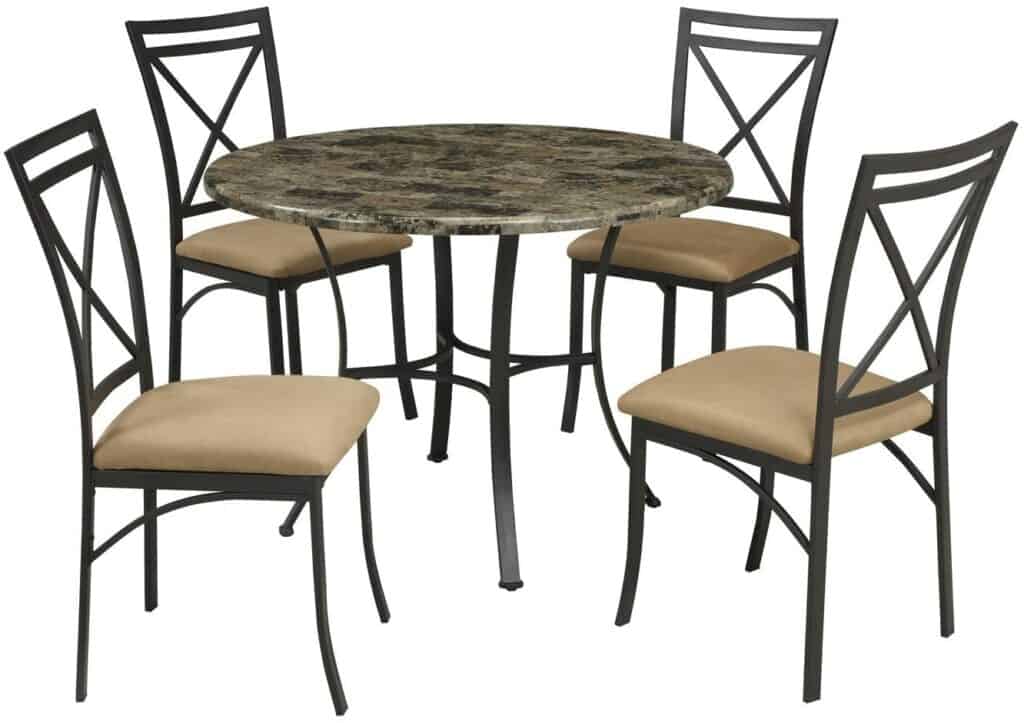 The Dorel contemporary dining table set offers the features of a marble top, sturdy metal base, and upholstery cushions. The compact size makes this dining set perfect for small spaces like apartments but is large enough to seat up to 4 people.
With this in your home, breakfast is all day with this lovely dining set. A modern style table that'll fit in well with established spaces and chairs that will make guests feel their best. This one has many advantages — a wonderfully sleek marble tabletop for leisurely breakfasts, lunchtime homework sessions, or dinner parties.
Assembly is required as it comes with all the tools included in one easy-to-follow instructional manual. Please be sure your surface is properly secured before assembly as it can't hold much weight after setup to avoid any disgraces in the future.
Pros
Easy to assemble

It sits up to four people

It is solid and durable
Cons
Easily scratched due to the sleek marble tops

It can have an unpleasant smell when new.
Mainstay New Top Dining Set Marble Look Dining Set Chairs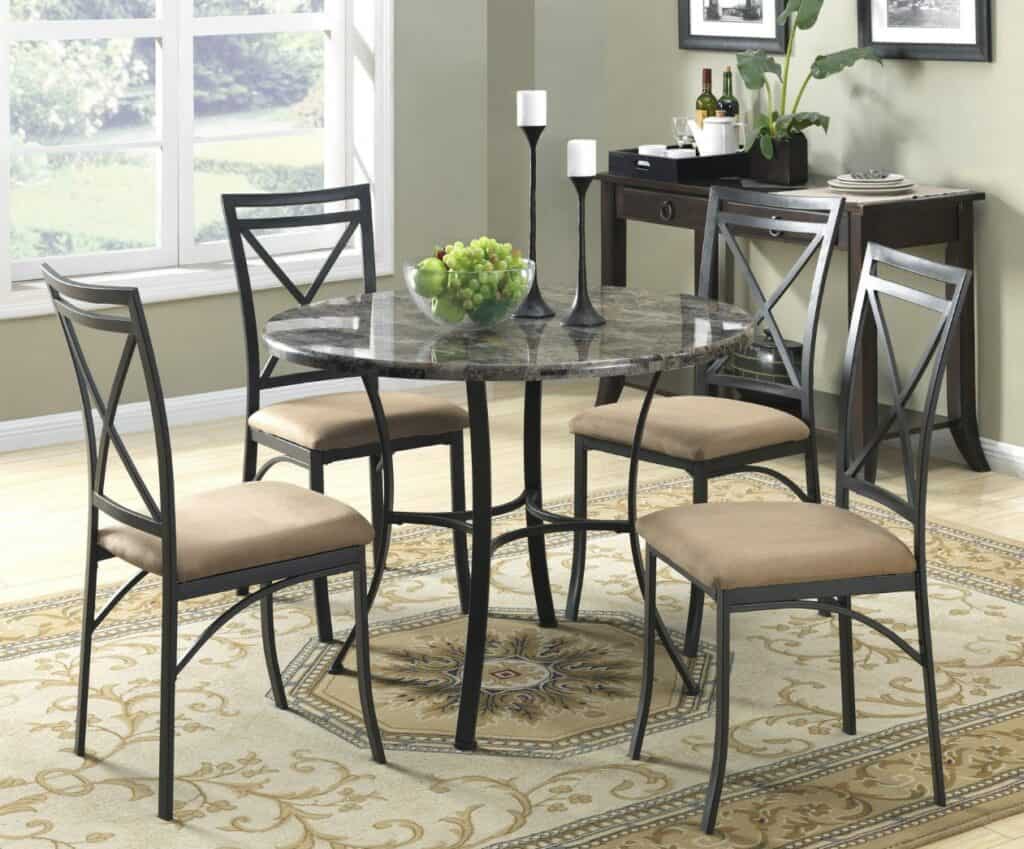 This Mainstay marble dining set will impress your guests with its contemporary styling, a centerpiece of any dining room. The round table features four chairs that have a unique curved design for style and function.
When you're looking to add a fresh new look to your home decor, this table set is sure to please. There's no match for the elegance of marble. With its unique color and textured appearance, it gives any dining room an instant upgrade. The spacious table makes way for plenty of guests at mealtime or when entertaining company.
You'll also appreciate how easy it is to care for these matching pieces. You only have to just wipe them down with warm soapy water after each use without worrying about any scuffs or unsightly spills.
Pros
It dries quickly and leaves no stains on the marble top

It is durable

It is easy to assemble
Cons
Doesn't have color variations
Factors to Consider When Purchasing Marble Dining Tables
Before purchasing an elegant Marble Dining table, there are a few factors you should have at the tips of your fingers to make sure you get it all well. Here are just a few:
Size 
Being an expensive piece, marble dining tables, like other brands, come in different sizes. Depending on your taste, you can be sure to get the best to match your home decor. 
Always put in mind the fact that the idea you get for your home fits well the dining space provided to allow the ease of movement and free flow of air and ideas while indulging in a nice meal or conversation.
If you happen to have a house with ample living space and a case where your ceilings are vaulted, you can always opt for the large-sized brands since they blend well with the massive space in the living room.
Style and Design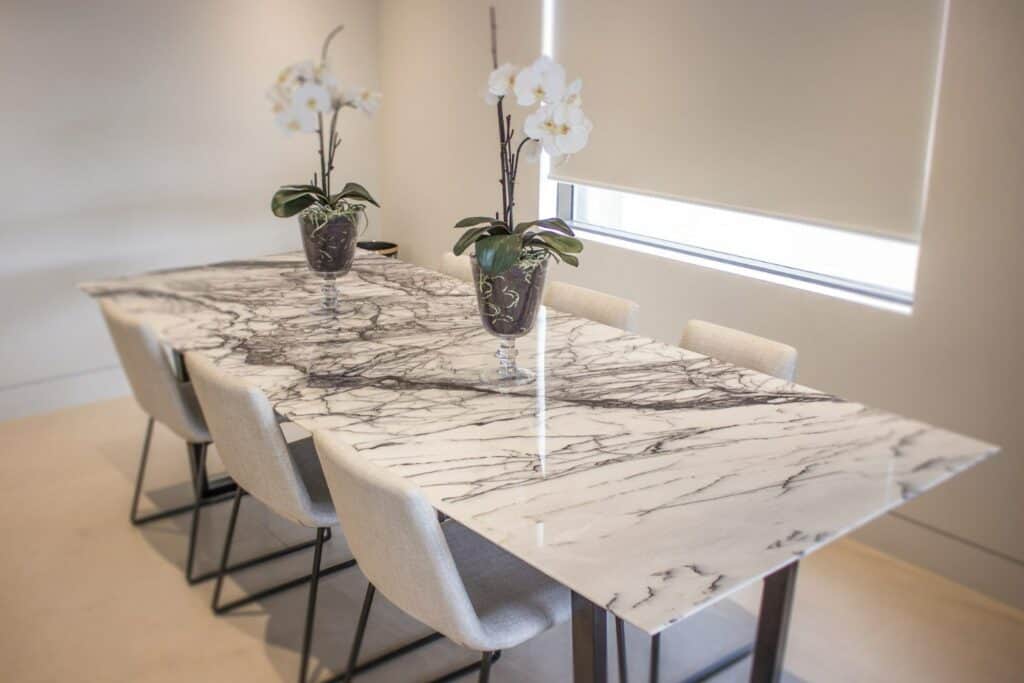 With different sizes come different styles and designs of marble dining tables. While in the store, sure to get an oval, circular, rectangular, or square one. When looking for something that might fit well for a number not more than four, you can always go for the square-shaped marble design table. 
If you are a family person, then a rectangular one can work best for you since, with many souls to feed, you will need a larger surface area to accommodate all on both sides. If you have a smaller space in your living room and feel like you want one for a meal, a circular one can do you good since it can sit evenly around people and allow room for movement.
Space
With the heavy nature of the marble dining tables, it means the space you ought to fit them on is big enough to enable everybody to have a spot with ease when at the table. Hence, before paying, always consider this factor to avoid future regrets.
Functionality
One of the prime factors to also consider is functionality. What purpose is the dining table going to serve? Is it meant for the whole family or, due to its expensive nature, host guests only? Also, the number of persons sitting during mealtimes matters since you will guess which design will suit your needs.
A square marble dining table, for instance, gives you space to enjoy your meals since four people can be accommodated. And you might be a visitor's personal, and someone pops in; you might be able to incorporate them due to the space.
Budget 
Because they are made from marble, the prices ought to be high compared to other brands. If you have a fixed budget, you can always pick wants and discard other products to squeeze on the budget to allow you to go home with a marble dining table that will elegantly sparkle your living room.
There are other stores where you can get second-hand dining tables with better prices though the quality might not be better than a new one. If you love cutting bargains, you can always get something that will match your budget, but a new one would always be the right choice.
FAQs
Question: How Do You Choose the Right Marble Dining Set?
Answer: A marble dining set is an exciting and sophisticated piece to add some character to your space. But how do you know if it's the right one for you? It all comes down to personal preference.
There are many different styles and colors available, so you will find the one that suits your style best.
Question: How Do You Maintain Your  Marble Dining Table to Top Shape?
Answer: People increasingly appreciate the beauty of natural marble, which is prized for its rich colors and varied patterns. But with this comes a high maintenance cost. So how will you keep it top-notch?
Porous material like marble will still absorb liquids such as spills or juice from freshly cut fruit like lemons. You may need some more expensive solutions when dealing with stains and scratches since, with marble,  thorough cleaning should be done as soon as possible to avoid a permanent shame that will ruin your gorgeous marble top.
Question: Are There Different Marble Types You Can Pick Your Dining Table From?
Answer: Marble comes in so many varieties. The most popular type is Carrara from the Italians due to its delicate veining. You can also get a combination like the Black from Greece.
Each one has its patterns and colors like vibrant greens or moody charcoal. For a more open design, you might choose the cross-cut, which has an intricate floral appearance,  while a vein-cut will give it that striped look instead, with its cuts giving way for lighter shades of color.
Conclusion
If you've ever been shopping for a marble dining table, then chances are you know that there is no shortage of options to choose from. From different shapes and sizes to styles like rustic or modern, the market offers something for everyone. 
Hence after reading this article, you should have a good idea of what to look for when buying marble dining tables. Hopefully, these factors will help make the decision-making process more manageable and less daunting. Stuck on a choice? We recommend the Linon black faux marble dining table as it's affordable, elegant, and durable. What's more, the stools will handle a weight of up to 275 lbs.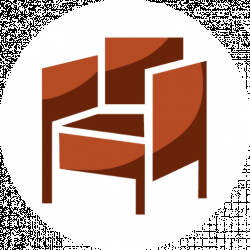 Latest posts by Finally Furnished Team
(see all)