Have you ever seen a live edge dining table and wondered how it's made? Have you wanted to buy one but couldn't understand why it's so expensive? Do you have a hard time finding a live edge dining table that's good and doesn't cost a small fortune?
Then you've come to the right place. Today, we're answering all these questions and giving you some cost-effective and durable live-edge dining table ideas.
What Does Live Edge Mean?
The term "live-edge" refers to the unfinished edge of the woodwork. It is the portion of the wood that has been left alone by hand tools and woodworking equipment. As a consequence, the undisturbed ends of slabs maintain the tree's natural form and bark.
The term "live-edge" has been used to refer to a style and subgenre of wood furniture, wood goods, and wood art. It is a method of woodworking in which the artist incorporates the wood's live edge into the final result. And if you enjoy the raw aesthetic of live-edge carpentry, you'll be pleased to learn that it has a wide range of uses.
How Much Is a Live Edge Dining Table?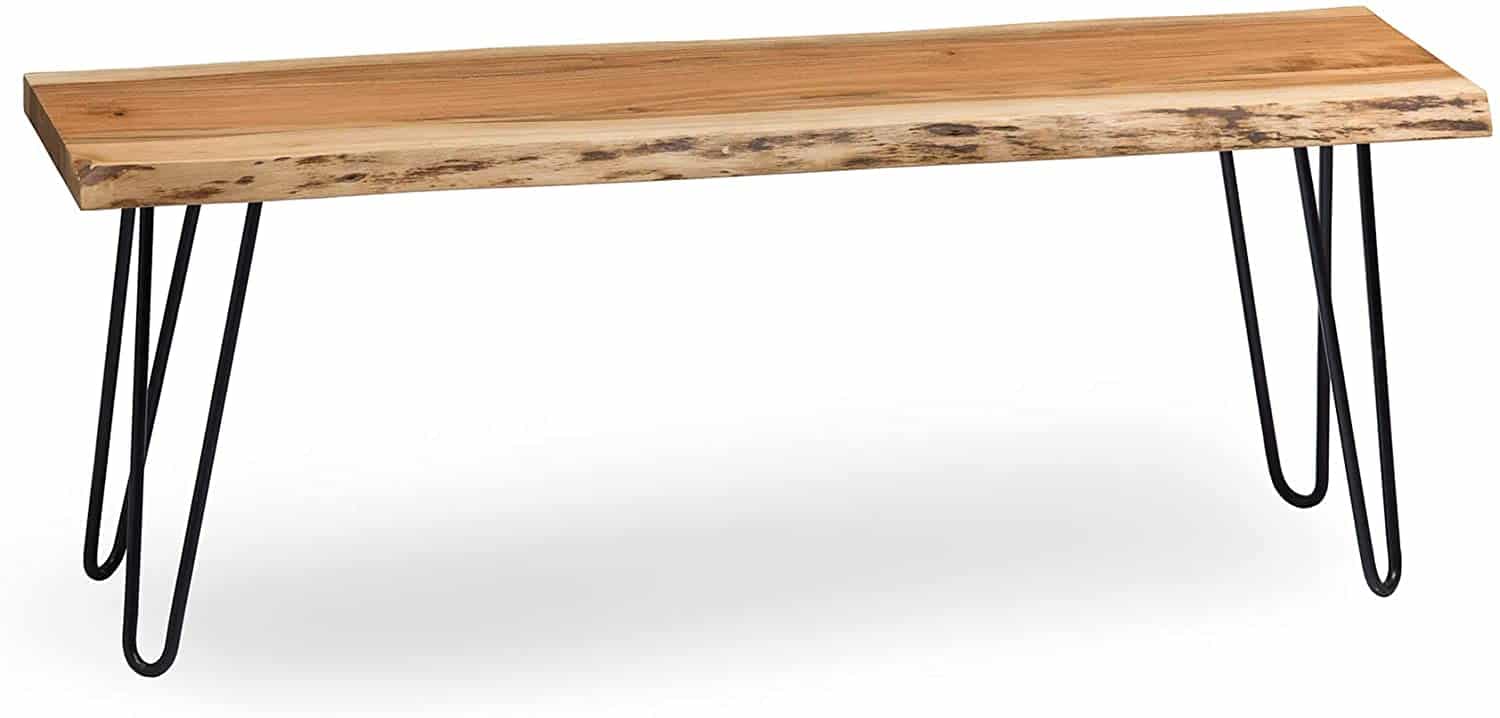 The primary element affecting the pricing of a live edge table is the way the top is constructed. The solid slab top must originate from a single, extremely huge tree.
Additionally, solid slab tops require a greater proportion of the building to be done by hand. Due to their size, they cannot be planed using a machine, which means that a solid slab top must be planed and sanded by hand. Both of these techniques need considerable time and energy.
Console tables, mantles, and wall shelves are prominent exceptions. Due to the fact that these products often have a depth of 10-16″ to 16 inches, they fit into ordinary planers, are typically cheaper, and are much simpler to locate.
Naturally, prices vary significantly by table size, but a conventional solid slab live edge dining table typically costs between $4,000 and $12,000. A more inexpensive alternative to a solid slab is a tabletop made of several connected pieces of wood that include pieces of live edges on the two sides.
The great majority of wooden dining tables are made in this manner in any case, with numerous pieces of wood connected together with hardware, biscuits, or other fasteners and then planed to produce one huge flat surface. Generally, a connected live edge dining table will cost between $2,500 and $6,000.
How to Style Your Dining with a Live Edge Table
Use Chairs
When you want to find chairs matching your live edge, wood and metal constructions are always best because they match the appearance of a live edge dining table. You can opt for different styles for your dining chairs, from mid-century modern to industrial.
Add Lights
Antique light fixtures are an excellent choice for accent pieces to complement your live edge table. Brass, bare iron, and Edison lights provide a vintage appearance that pairs nicely with a sophisticated wooden dining table.
Complimentary Paint Color
If you're planning to design around your new table, familiarize yourself with color temperatures, often known as undertones. If you're considering different woods, try to find ones that have an undertone that matches your table.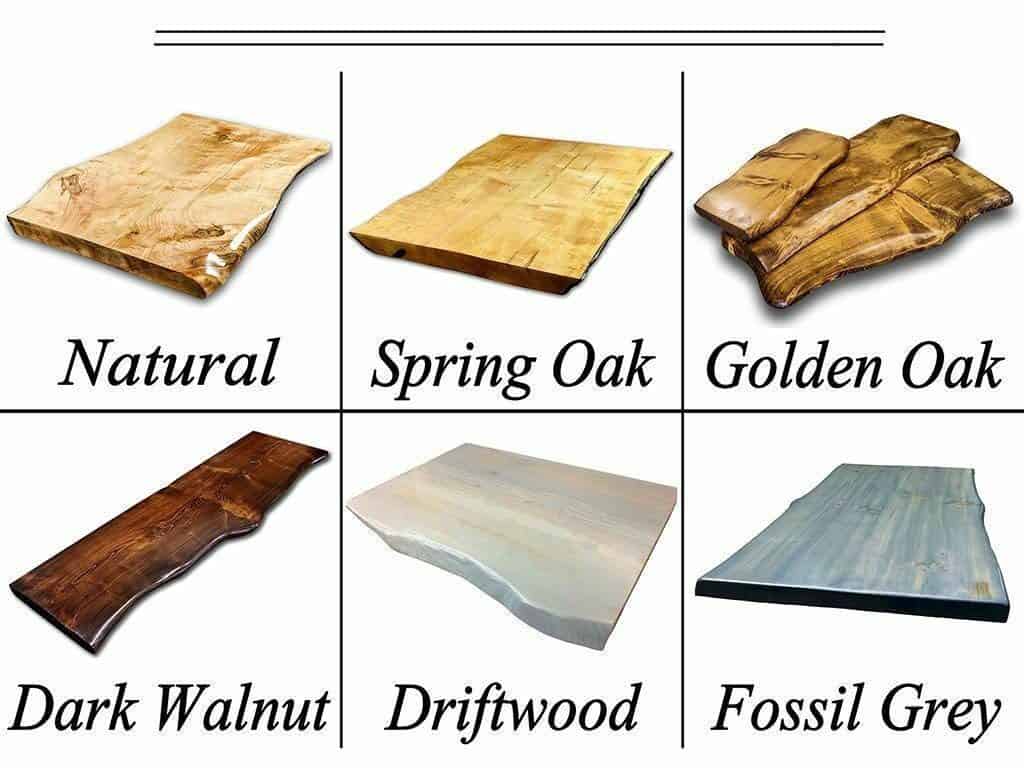 Even when selecting contrasts, look for items that have an aspect that complements your live edge table. By "common," we do not mean that they must all be identical: the elements might range in formality, style, and shape. For instance, select curved shapes over straight lines.
Stylish Wall Art
You may use your live edge table to compliment or contrast the décor. For instance, consider a live edge dining table constructed of light wood and stained with a brighter stain. This looks fantastic with either complementary colors such as white upholstery or colorful accent items.
Additionally, you may opt to accentuate the grains and brighten the table by surrounding it with colors that include black, blue, and dark green. You don't want the space around the dining table to be too cluttered, so a large piece of all art might actually help you create the perfect decor setup.
Add a Centerpiece
Because your live edge dining table is a masterpiece and a focal point in itself, you don't want any centerpieces that are too large or too colorful, as they might steal the spotlight. A transparent vase or a potted plant should be enough (and the green would beautifully contrast the brown colors of the wood). You could even make your own stylish table centerpiece for special occasions or everyday use.
What Styles Go with Live Edge Furniture?
Because it is essentially made from distressed-looking wood with several metal hardware parts and frames, live edge furniture has a rustic appeal to it. Contrary to popular belief, rustic furniture doesn't just work in a rustic setup and can actually work in various decor styles.
Industrial Style
Industrial interiors exude a sleek, contemporary atmosphere. The style incorporates both new and recycled things to create a unique fusion of modern and old. Industrial design is defined by open, uncluttered spaces.
Every area in the home features high, loft-style ceilings. Color palettes are kept cold and understated, which means you'll frequently find a combination of blacks and grays accented with flashes of green and blue. Metal is the material that is most frequently utilized in industrial design, so having a live edge table with a wooden top and an exposed metal frame is just the right thing.
Traditional Style
A typical home will be furnished in a variety of period styles. Traditionally designed homes have a considerably stronger visual cohesion in terms of color palette and material selection. Chairs, tables, and couches are generally built of dark woods with intricate carvings and curvatures. With this description in mind, it seems only natural to add live edge furniture into the decor.
Mid-Century Modern Style
Patios, picture windows, and sliding doors create a smooth transition from the interior to the outdoors of mid-century modern residences. Often, windows are kept unadorned to accentuate outside vistas.
The furniture is totally distinctive, with items such as marshmallow couches and egg chairs serving as statement pieces. Since many furniture pieces are asymmetrical, live edge furniture will find its place in such a decor setup quite easily.
Amish Style
As with the Amish way of life, this house design approach is modest and straightforward, focusing on utility above everything else.  Amish furniture is constructed using the woodworking skills of artisans.
Kitchen cabinetry and other practical house elements are constructed using Amish carpentry. Neutral tones are frequently used in interior design. That makes live edge furniture fit into the decor very well.
How to Make a Live Edge Dining Table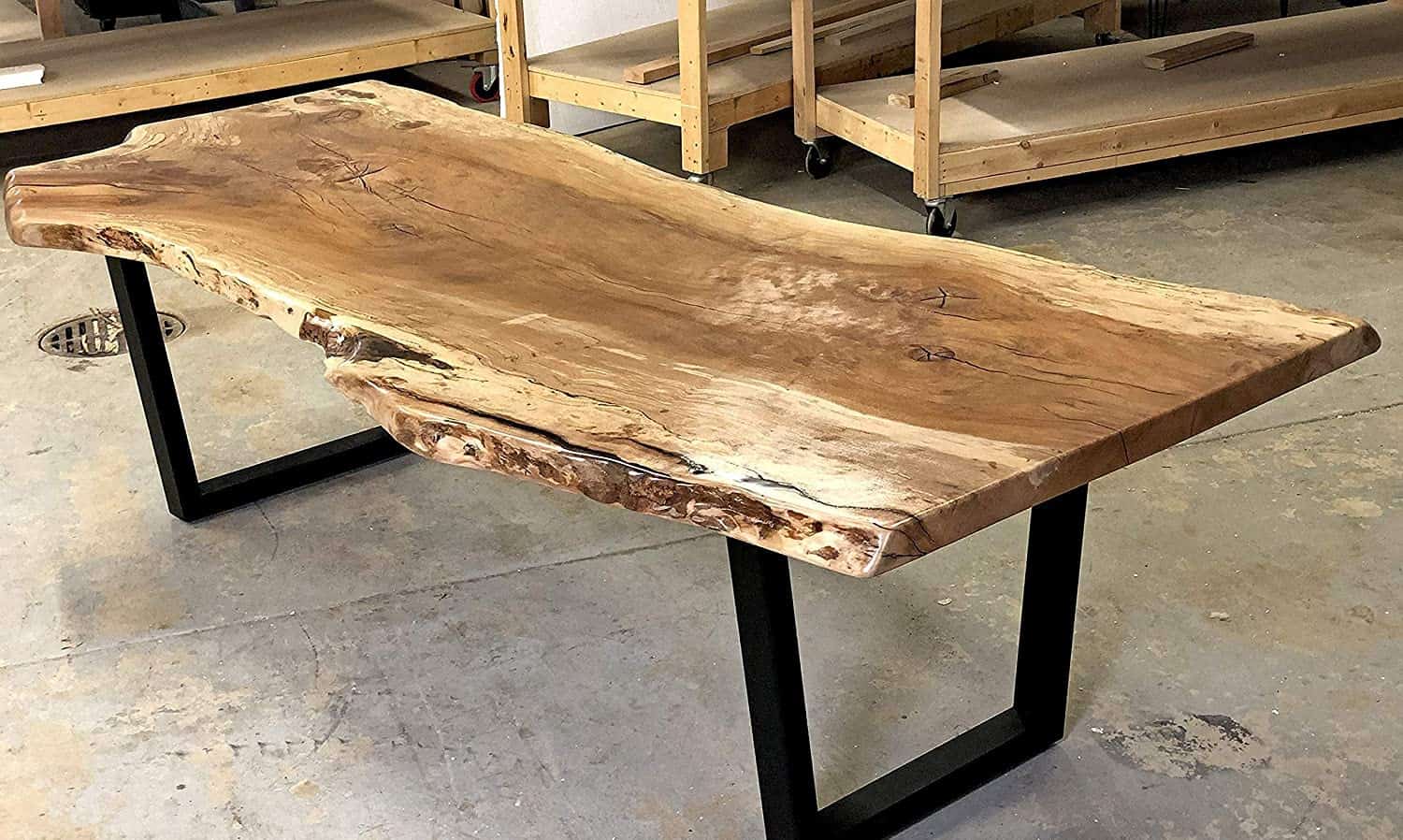 We have to warn you: making a live edge dining table that's actually nice and built to list comes with a huge list of required tools and materials. Even so, it will still be cheaper to build it in most situations, but some people are not willing to go through the effort to make it, and that's ok. To make a live edge table, you'll need:
2 x live edge slabs

6-inch steel flat bar

Threaded socket screw

Threaded inserts

Metal enamel

Metal primer

Rubio mono-coat wood finish

Carpenter's wood glue

Wood biscuits

1 ½-inch square tubing/12-gauge steel

Metal drilling bits

Metal clamps

Welding gloves

Welding helmet

Welder

Metal grinding disk

60-grit flap disc

Angle grinder

Parallel clamps

Drill/driver

 

Bits for drill/driver

Biscuit joiner

Circular/track saw
Step One
Rough cut the slabs for the tabletop a few inches longer than the final dimensions.
Step Two
Use a power hand planer to bring both wood slabs to the same thickness level.
Step Three
Cut the live edge off the two wood pieces using a track saw.
Step Four
Use a biscuit joiner to create the grooved need to join the wood slabs.
Step Five
Put wood carpenter's glue on the edges of the wooden slabs, insert the biscuits into the slots you made, and add some more glue at the end.
Step Six
Once the glue is in place, press the boards together to make sure the biscuits are lined up.
Step Seven
Clamp the slabs together and take the rest of the day off.
Step Eight
Detach the clamps. If you want to use resin, you have to prepare the slabs for application. To do this, you can vacuum the slabs and tape the holes and voids.
Step Nine
Fill the voids using epoxy resin mixed with brown pigment.
Step Ten
After the resin cures, remove the tape and grab your hand planer and sander to smoothen the resin coat and give your slabs a nice sanding.
Step Eleven
Use an angle grinder to prepare your metal for welding. You will also need a 60-grit flap disc. This helps you grind away the metal at the end of the steel tubing and allows you to make a bevel for the weld.
Step Twelve
When you've learned how to use your welder, clamp the tools to make rectangular bases and weld the pieces together.
Step Thirteen
Drill ½-inch opening into the flat bar to later be able to attach the threaded inserts later on. You have to welt the tubing to a steel flat bar when you want to connect the table and the welded base together.
Step Fourteen
When the table base is complete, use a metal primer to apply a nice coat. You can also use black spray enamel for a nice finish.
Step Fifteen
Allow the base to dry and proceed to making the C-channel inlay for your slabs to protect them from warping and twisting.
Step Sixteen
Use your favorite wooden finish for the bottom of the table. Allow it to dry.
Step Seventeen
Once the bottom is dry, insert plastic caps in the open tube's ends and use your threaded inserts to connect the base to the table.
Step Eighteen
Flip the table and coat the tabletop using your favorite wood finish.
Best Live Edge Dining Table Ideas
As you can see, making your own live edge dining table is doable. But it requires time, patience, expensive tools, and a bit of skill. Sometimes it's just easier to buy one pre-made.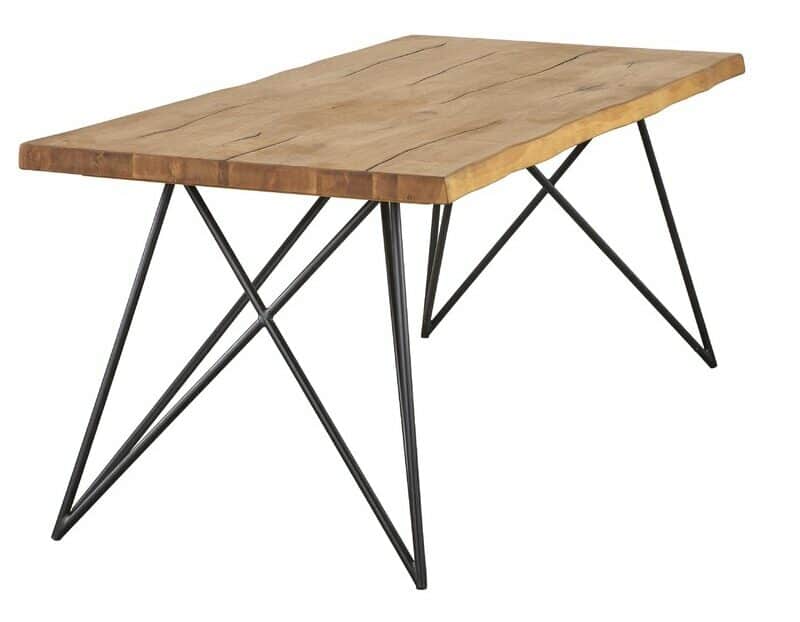 This industrial-inspired table will breathe new life into your dining space. The tabletop is constructed entirely of solid pine wood and features uneven edges, which give it a rustic, unpolished appearance. The industrial appearance is completed with black metal legs that readily match modern interiors.
Size: 79" L x 39" W x 30" H

Wood Type: pine

Finish: distressed

Price Range: $2,000 – $2,500
Measuring 79" L x 39" W x 30" H, this table can comfortably seat up to six people, and it does require some assembly before it's ready to use. The surface of the table is daily simple to clean, and all you have to do is use a mild cleaner and a cloth slightly dipped in water.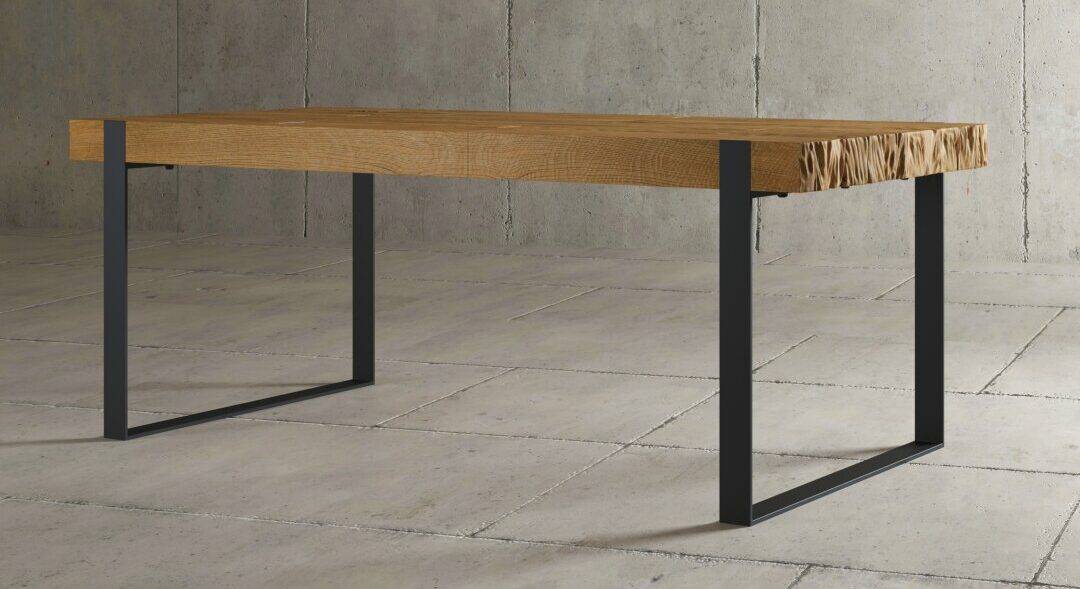 This Bartholomew Dining Table wonderfully embodies the essence of industrial modernism with its live edge body and solid steel base. Crafted with care by skilled artisans and polished to highlight the wood's vitality, this table's beauty radiates through its craftsmanship and breathes fresh life into any room.
Size: 78.5" L x 37.25" W x 31" H

Wood Type: teak

Finish: distressed

Price Range: $2,500 – $3.000
Because it's made with teak, one of the most durable and high-quality wood choices out there, it is pretty resistant in the face of different elements, so even if you place this table underneath the window in direct sunlight or in a home with too much humidity, it will last for a long time. The metal legs have a powder-coated finish for more durability.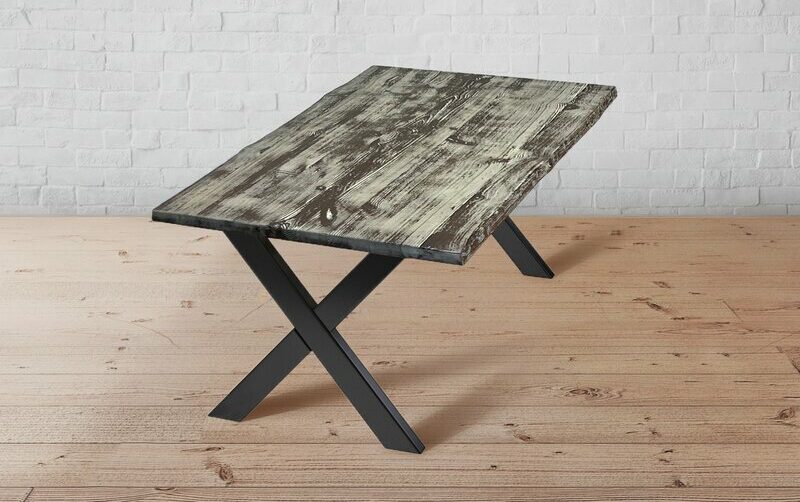 When you want to add a touch of class to your dining room without losing that rustic flair given by a live edge table, the Bruner delivers as expected. The Bruner is the type of table that will never go out of style since it is both respectable and costly in appearance. It will provide a touch of class to any dining room, offering a seating capacity of four.
Size: 72" L x 36" W x 30" H

Wood Type: fir

Finish: distressed

Price Range: $3,000 – $3,500
It is designed with fir wood all across, so the legs are also made with wood, painted with a black coat of paint so it will resemble the appearance of metal. It comes in two finish options: brown and brushed.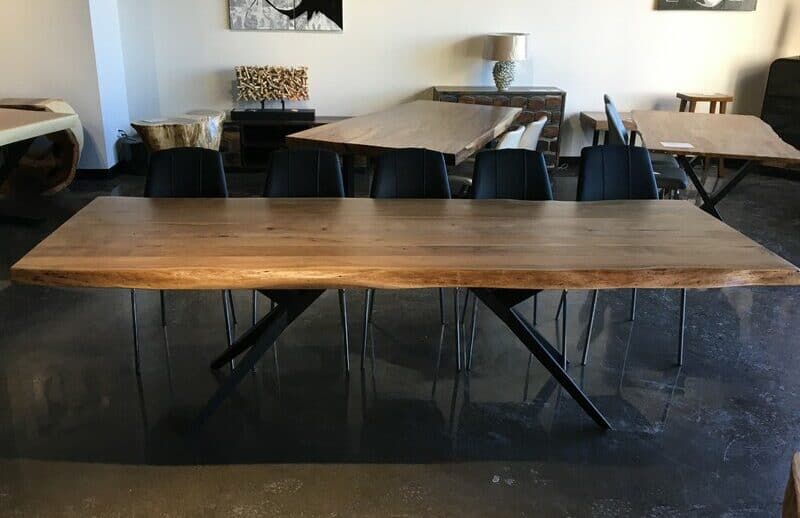 This acacia table was crafted in India with a natural design concept in mind. Its rich golden and chestnut-colored hardwood top retains the uneven edge of the tree used to make it. Its leg set is constructed entirely of black metal. The entire ensemble has an ultramodern air of sobriety and solidity.
Size: 30″ H x 108″ L x 40″ W

Wood Type: acacia

Finish: chestnut

Price Range: $2,500 – $3,000
You have three size options to choose from, and the 30″ H x 108″ L x 40″ W table can seat up to 12 people, which is impressively generous. The top of the table is covered in lacquers for a beautiful glossy finish. The top is 2.25 inches thick and shows off the natural wood grain for an even more gorgeous appearance.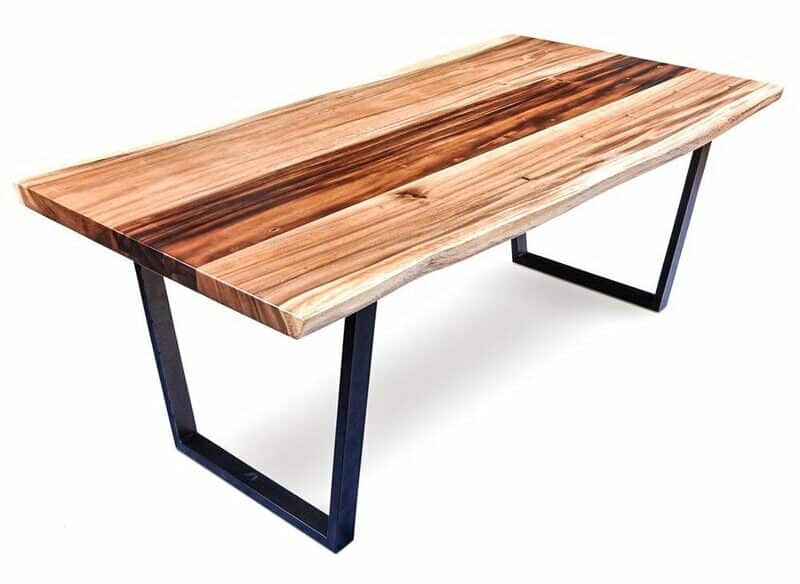 With a gorgeous impression and a rather rustic-style design, the Sloan dining table is constructed from suar wood and features metal legs to contrast the natural brown color of the tabletop. As with other live edge dining tables, this one also has a top made from a single block of wood, with imperfections that make each piece unique and just as beautiful.
Size: 35.4" L x 59.1" W x 32.5" H

Wood Type: suar

Finish: natural

Price Range: $1,500 – $2,000
While this particular model measures 35.4" L x 59.1" W x 32.5" H and can offer seating for a maximum of six people, there are other size options to choose from if you want something smaller or larger.
FAQs
Question: Are live-edge tables still in style?
Answer: While live edge tables are still in style, we're not really sure how. However, because of the nature of their design, they can easily be repainted or cut to a different shape to make it seem like you have a whole new table.
Question: What should I put on my live edge table?
Answer: You can use ornamental things to draw attention to the table's location in the room. Again, avoid clogging it: consider lining it with succulents, a big decorative tray, or a sculptural bowl loaded with fruit. Since the table is a piece of art in itself, don't clutter it.
Question: How do you make a live edge dining table?
Answer: While making a live edge dining table does take a little bit of effort, materials, and tools, it might not be worth it unless you already own part of the tools needed for the project. Make sure to check out our tutorial for a comprehensive list of materials and steps to make a live edge dining table.
The Nitty on Live-Edge Dining Tables
The Bartholomew stands out of the crowd because of its teak construction, making it a great table for indoor and outdoor use alike. The legs are powder coated for more rust resistance, and teak brings forth natural properties that make it durable.
For more ideas on how to decorate your dining room, make sure to check out some of our other articles. Like our guide to rustic barn door TV stands!
Latest posts by Candace Osmond
(see all)