Even though they're by no means essential pieces of living room furniture, ottomans can be a handy addition to sectional or classic sofa and two-chairs furniture arrangements. That's why some of the best Wayfair ottomans offer a way to make your living room more elegant and functional.
Besides using an ottoman as an extra chair, you can utilize it as a footrest for an armchair or even an alternative for a coffee table. Hence, the dimensions or the type of ottoman you select needs to be suitable for the context in which it will be used.
In this article, we'll go through some of the factors that can assist you during your search for an ottoman and take a look at some of the best models you can find at Wayfair. Read our guide to the best floor couch picks you can pair with the ottoman you choose.
At a Glance: The 5 Best Wayfair Ottomans
All of the ottomans we included in this list, we chose based on several factors. We chose these ottomans based on affordability, availability, and positive customer reviews.
Common Ottoman Purposes
Ottomans have evolved quite a bit during their long history. The modern interpretations of ottomans have moved away from their original purpose, as they're rarely used as chairs.
These complementary pieces of furniture are multi-functional since both classic and unconventional models can be used for multiple purposes.
Footrest – Sofas don't always provide enough room to sit in a reclining position. An ottoman offers a simple solution by adding space to place your legs while relaxing in your living room.
Extra storage – Some ottomans feature storage compartments that enable you to move the things that clutter a room out of sight and grant you easy access to those things whenever you need them.
Coffee table alternative – Besides helping you keep a room tidy, ottomans can also provide you with space where you're can serve refreshments or keep snacks while enjoying an evening with your family and friends.
If you don't want to serve drinks on an ottoman, go through our guide to the best-reclaimed wood coffee table ideas.
Ottoman types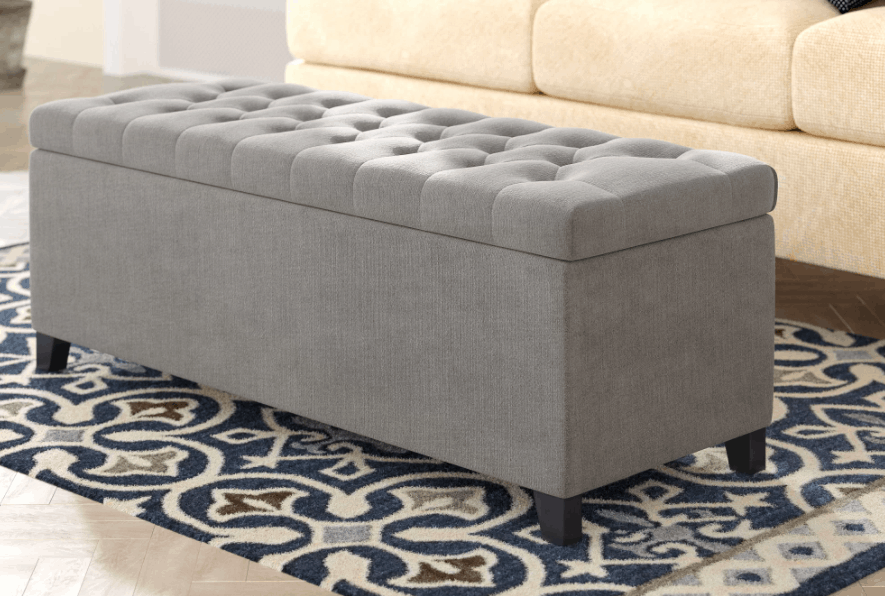 All ottomans share similar features regardless of their type, and ultimately each model can be utilized in different contexts. Even so, the purpose for which you're planning to use an ottoman usually determines which type you should choose.
Here are some of the most common types of ottomans you'll encounter at Wayfair.
Standard ottoman – Besides offering additional legroom for a sofa, a standard ottoman is large enough to provide an extra seat in the room. Some models also have a storage compartment that can hold relatively small household items.
Cocktail ottoman – The surface of a cocktail ottoman is larger than the surface of a standard ottoman. Hence, you can put a cocktail tray on these ottomans without having to worry about space or their stability.
Footstool – As their name indicates, the primary purpose of this ottoman type is to provide the space where you can place your feet while resting. Sometimes, footstools can serve as chairs, but only for a limited time because they're not very comfortable.
Our guide to the best cocktail ottomans can assist you in choosing a model that matches the rest of the furniture in your living room.
Shapes of Ottomans
The visual properties of an ottoman often depend on its shape, and you should choose a model whose shape matches the rest of the furniture in a particular room. So, if the sofa in your living room has a curved back, pairing it with a circular ottoman might be a good idea.
Ottomans are produced in various shapes, so let's take a look at some of the options available at Wayfair.
Rectangular – Most standard ottomans have a rectangular shape that makes them compatible with geometricized sofas, loveseats, and similar pieces of furniture.
Circular – A round ottoman matches a variety of home décor styles as it can create a contrast with furniture that has accentuated geometrical features or complement curved pieces.
Oval – An oval ottoman is often large enough to hold a book and similar items you're using while you're sitting on a sofa. It matches most home décor styles and works well with all types of furniture regardless of their design.
Unconventionally shaped ottomans – Hexagonal or octagonal ottomans can be a great addition to a living room, while models shaped like cows, unicorns, and sheep can make the kids' room a bit more cheerful.
Go through our nursery furniture guide if you need assistance furnishing a baby room.
Frame and Upholstery Materials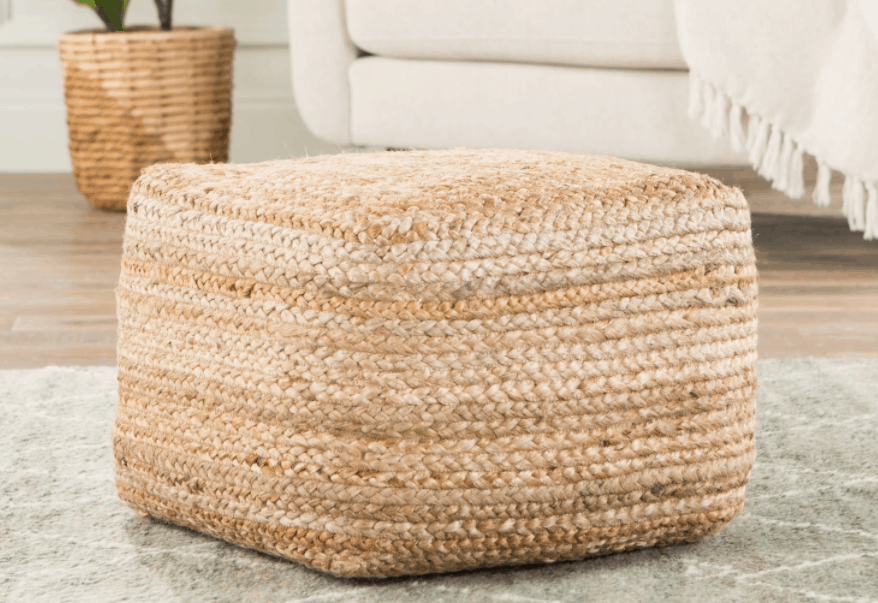 Most models can handle more than 200lbs weight because they have sturdy frames. Solid and manufactured wood and different types of metal are the most common materials used to build the frame.
Some ottomans also feature legs usually made of wood, but in some cases, legs can be produced from plastic or metal. The range of materials is much wider when it comes to upholstery, so let's take a look at some of the best ottoman upholstery materials.
Leather – Ottomans made of this material match perfectly with leather sofas. The only downside is that the leather doesn't resist grease stains well.
Faux leather – An affordable alternative to ottomans with real leather upholstery. In addition, the material isn't stained easily.
Velvet – The material is soft and elegant, but it also has high upkeep requirements. Ottomans with velvet upholstery are a great fit for both modern and traditional home décor styles.
Polyester – This durable and inexpensive material is perfectly suited for ottomans that will be used frequently, as it is capable of withstanding daily wear and tear for years.
Check our bedroom furniture guide to find out how you can combine an ottoman with essential bedroom furniture pieces.
Additional Features
In addition to the quality of the upholstery materials, you should also consider the features an ottoman offers. For instance, a model with a tufted top surface isn't an ideal option if you need an ottoman you can use as a coffee table.
Moreover, getting a model with wheels might be a good idea, especially if you plan to change the furniture arrangement in your living room often. Sleeper ottomans can provide you with an additional place to sit and serve as an emergency bed.
Wayfair offers ottomans in various styles, so finding an option that matches your sofa and the rest of the furniture shouldn't be too difficult. Check out our living room furniture guide for more tips on furnishing the most important room in your home.
The Most Important Factors To Consider While Choosing An Ottoman At Wayfair
There are thousands of ottoman models to choose from in Wayfair's online store. But, having so many options at your disposal can be overwhelming if you don't know exactly what you're looking for.
Wayfair's website offers powerful search tools that will help you find the right model, but to use these tools effectively, you must first decide how and where you're going to use your new ottoman. We've shortlisted several factors that can facilitate your search, so let's take a closer look at them.
Ottoman shape and type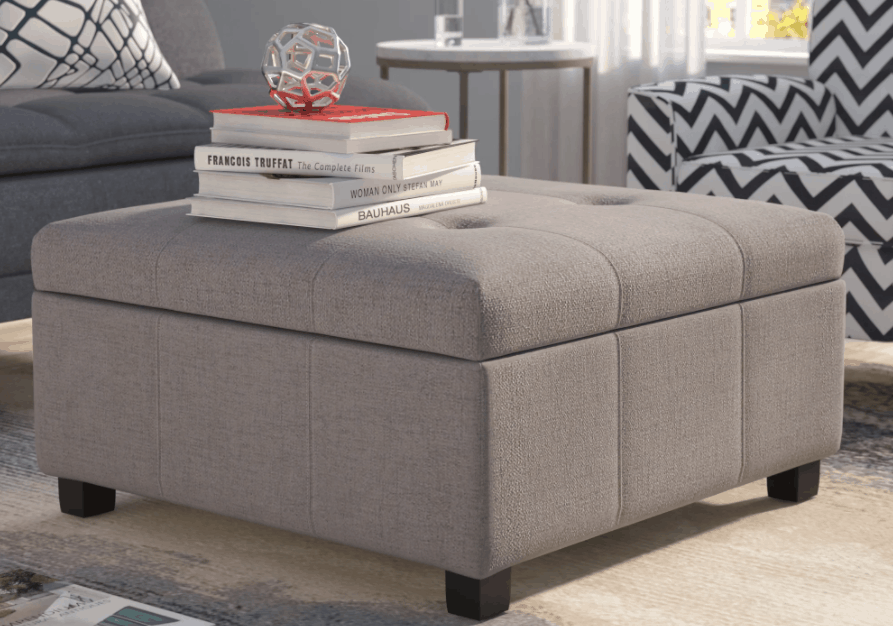 As a mostly decorative furniture piece, an ottoman needs to match the room's style. Hence, its shape needs to be compatible with the shape of a sofa or a chair it complements. Even though there are no strict guidelines you have to follow while choosing the shape of an ottoman, you should bear in mind that unconventional models don't match all home décor styles.
Determining the purpose for which you're going to use the ottoman will help you decide which type you should get.
The Model's Dimensions
Like all furniture, ottomans are available in a broad range of sizes. Wayfair's website lets you search for ottomans based on their height, width, and depth. Models up to 18-inches wide are considered mini, and they're usually used as footrests for armchairs.
A standard ottoman is between 26 and 40 inches wide, and you can use it to create additional legroom on a sofa or as a coffee table replacement. In case you're considering models that are wider than 40-inches, you should keep in mind that they're usually heavy.
The Quality of Upholstery Material
Besides the visual appearance of the upholstery material, you also have to consider its properties to know how durable it is. That's why you have to check if the ottoman's upholstery is water-resistant and how difficult it is to remove stains from it.
Fabrics like linen or polyester don't fade or wear out quickly, and they're an excellent option if an ottoman is going to be in a room where it can be scratched easily. You should also check the seat's construction and fill material to know how cozy the ottoman is.
Weight Capacity
Wayfair's ottomans are divided into four weight capacity categories, as you can choose between models that can hold up to 100lbs, between 100lbs and 200lbs, between 200lbs and 300lbs, and over 300lbs of weight.
Most frames are constructed from wood or metal, but they're not equally durable. That's why you need to check the model's weight capacity to know how much pressure it can handle.
Price and Warranty Period
The price of ottomans on Wayfair ranges from $40 to more than $4000, so the cost of an ottoman depends on the model you choose. The levels of quality and artisanship increase with the price, but most ottomans you can find at this e-commerce store can last for years.
Depending on the manufacturer and the model, you may get a lifetime warranty or no warranty at all, regardless of how expensive an ottoman is. That's why you need to check if the model you're interested in has a warranty and what the warranty covers.
The Advantages of Wayfair Ottomans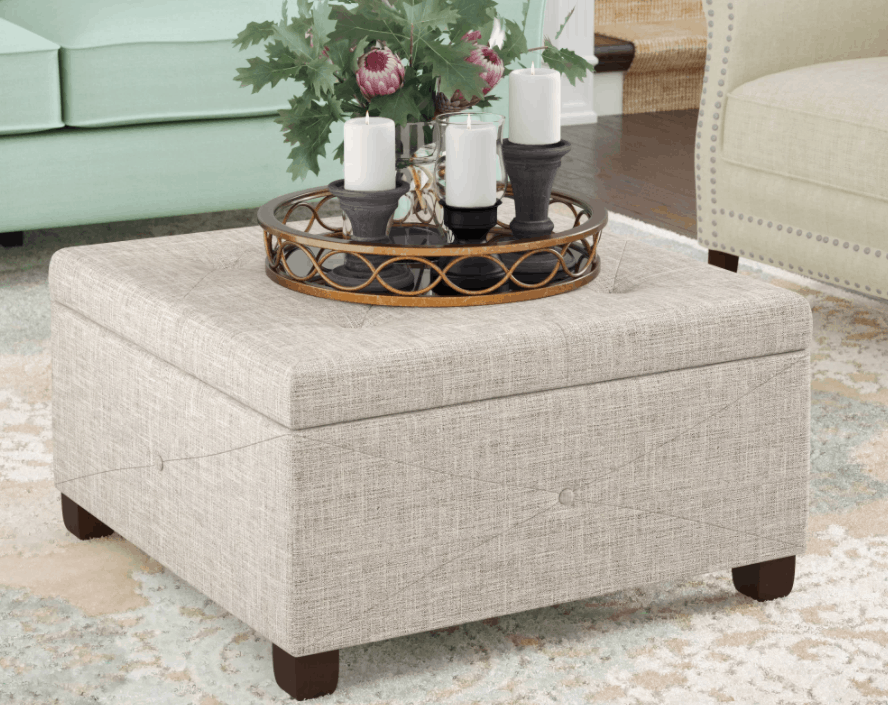 Increases the Comfort of Conventional Sofas
As a complementary piece for three-seat sofas, ottomans create more legroom and enable you to sit in a relaxing position. Besides sofas, you can pair ottomans with armchairs and make them more comfortable.
Alternative to Coffee Table
A cocktail ottoman with a tray top replaces a coffee table by enabling you to put drinks or snacks on it. The surface of a tray top is much softer than the surface of a coffee table, so you can also use it as a footrest.
Matches All Types of Home Décor Styles
It is difficult to imagine a living room furniture setup that wouldn't benefit from adding an ottoman. These complementary furniture pieces are produced in a wide range of styles, so you shouldn't have too much trouble finding the model that matches the style of furniture in your home.
The Disadvantages of Wayfair Ottomans
Ottomans Can Be Heavy
A spacious ottoman may weigh more than 30lbs, which makes moving it on your own somewhat difficult. Models that feature a storage space can be made heavy by the items you store in them, and you have to empty them every time you want to change their position.
Top 5 Ottomans at Wayfair
Sand & Stable Kieran Ottoman – The best cocktail Wayfair ottoman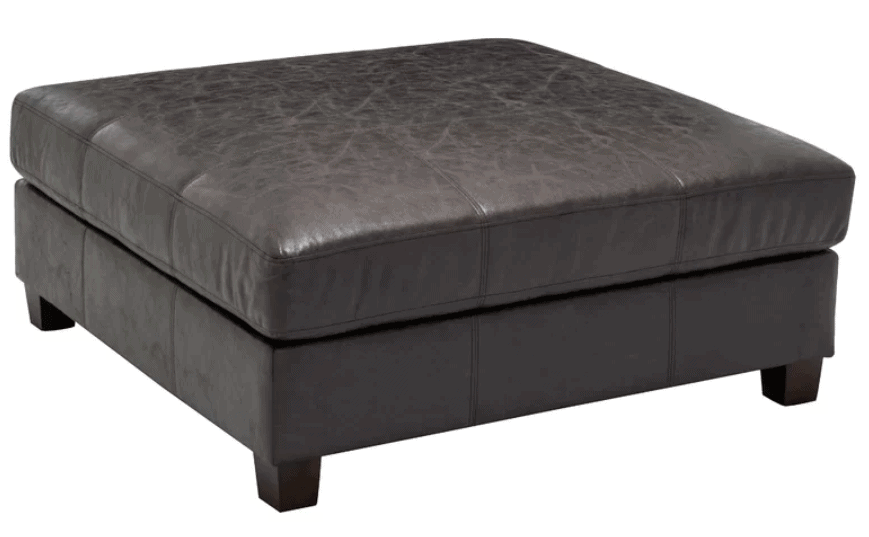 The worn-out look of the Sand & Stable Kieran Ottoman makes it easy to match with farmhouse-style furniture. This square 40-inch ottoman can double as a coffee table, serve as an additional seat or extend the sofa's legroom.
Its faux vegan leather upholstery is purposefully distressed, and it resists stains or scratches well. The frame is constructed from a combination of solid and manufactured wood, while the legs are made entirely from manufactured wood. The ottoman's weight limit is 200lbs.
Pros
MFD seat construction
Durable upholstery material
Spacious and functional
Low upkeep requirements
Cons
90-day limited warranty
Bulky and heavy
Hashtag Home Defranco Ottoman – The Best Footstool Wayfair Ottoman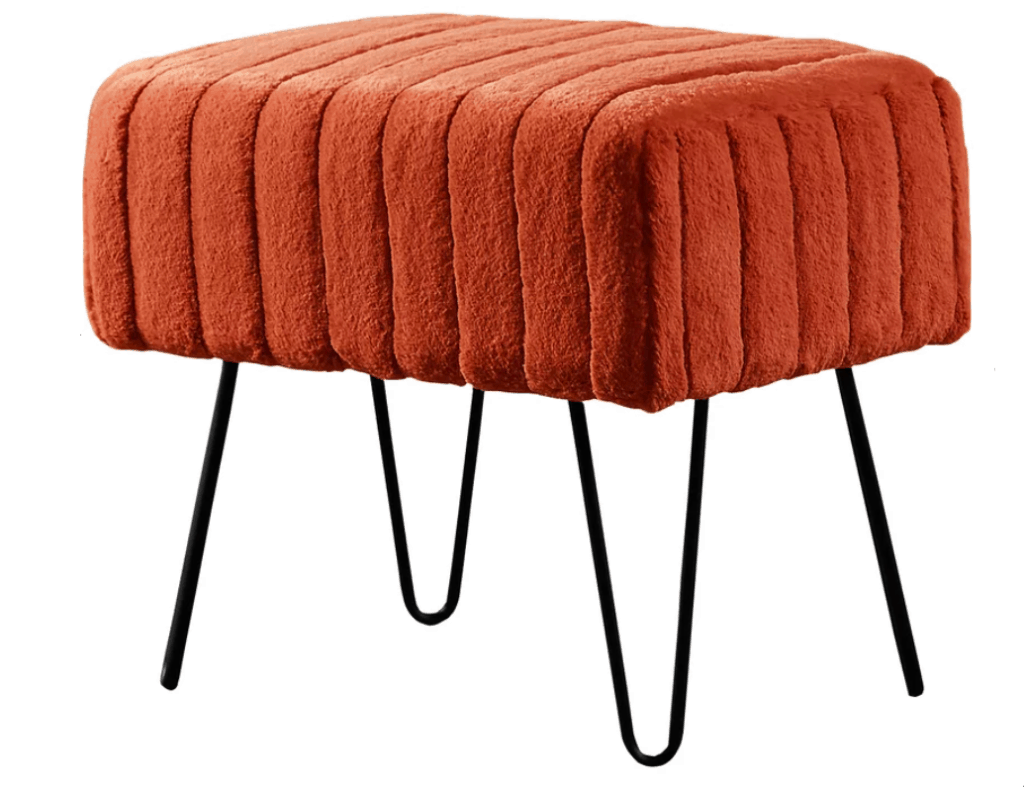 Despite weighing just 5lbs, the Hashtag Home Defranco Ottoman can hold up to 300lbs of weight. Its frame is made of manufactured and solid wood, while the details on the frame are constructed from MDF.
The fake fur upholstery is available in more than 30 colors, so you can choose the option that matches the chair you want to use it with. Hashtag Home's model is just 17-inches tall, and it may not be large enough to serve as a footrest for a sofa.
Pros
Upholstery material is UV and fades resistant
Easily portable
Sturdy metal legs
Reasonable price
Cons
No warranty
Not suitable for all living room furniture styles
George Oliver Mariaella Ottoman – The best Wayfair velvet ottoman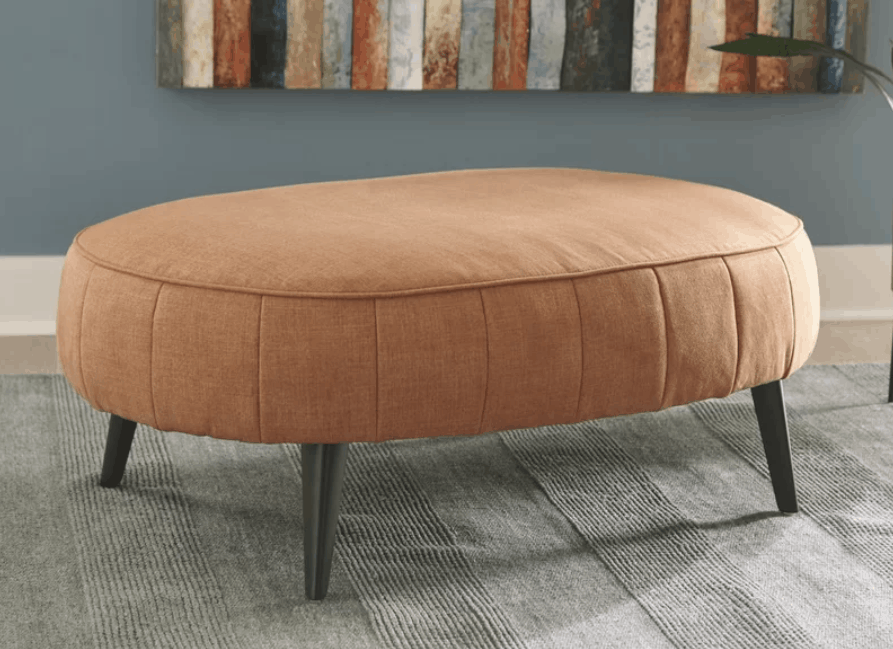 You can choose to use the George Oliver Mariaella Ottoman as a coffee table, emergency seating option, or footrest. This firmly cushioned ottoman has a high-resiliency foam fill as well as sinuous spring seat construction.
Its frame is made of manufactured and faux wood, while the legs are built from metal. The velvet upholstery can be cleaned with a damp cloth, but spilling a drink or dropping food on it will leave a stain. The ottoman is 41-inch wide, and it offers enough sitting space for two people.
Pros
1-year limited warranty
300lbs weight capacity
Elegant upholstery material
Firm but comfortable cushion
Cons
Slow delivery times
Only three color options are available
Bradington-Young Richardson Ottoman – The best oval Wayfair ottoman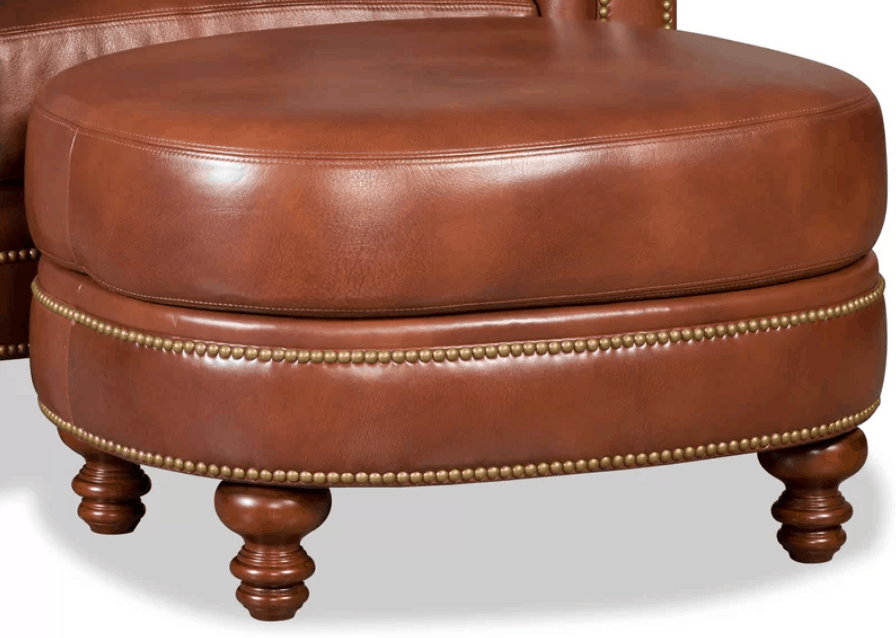 A model like the Bradington-Young Richardson Ottoman can be a perfect complementary piece for a leather three-seat sofa, a loveseat, or an armchair. The upholstery material can't be damaged easily, so it is unlikely that you'll stain it permanently if you spill a drink on it.
The legs are made of solid wood, while the frame contains both solid and manufactured wood components. The seat has a web suspension construction and a foam fill that makes it comfortable to sit on. The manufacturer offers a 1-year warranty for this model.
Pros
Matches classical leather furniture
Compact and lightweight design
The ottoman can be purchased with the Richardson armchair
Made from high-quality materials
Cons
No storage options
High price tag
Everly Quinn Babcock Ottoman – The best unconventionally shaped Wayfair ottoman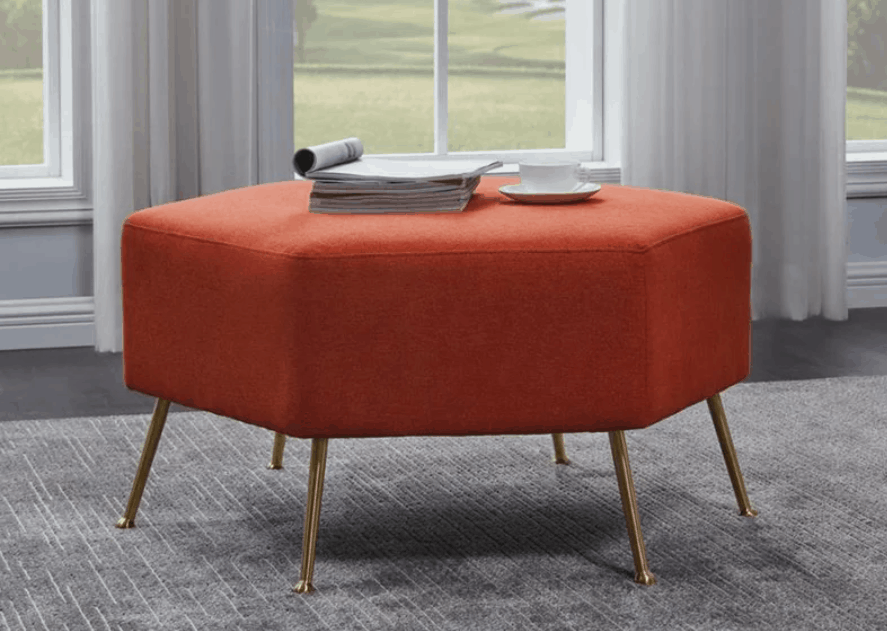 The minimal and modern design of the Everly Quinn Babcock Ottoman matches both contemporary and mid-century home décor styles. Its unconventional hexagonal shape provides you with a large surface where you can place a tray with drinks or any other item you're not currently using.
The frame is built from solid wood, and it can handle up to 350lbs of weight, while the upholstery is made of a polyester fabric that doesn't tear or stain easily. The legs are made of metal, and they can't be detached from the ottoman.
Pros
Stylish contemporary look
Durable solid wood frame
Unusual shape
Multifunctional design
Cons
No warranty
The upholstery material isn't water-resistant
FAQs
Question: Do I have to assemble an ottoman I ordered from Wayfair?
Answer: Most models require partial assembly, while a handful of models ship preassembled, and you can start using them as soon as you unpack them.
Question: How to know what ottoman height is appropriate for my living room?
Answer: Measure the seat height of your sofa or armchair and compare it to the height of the ottoman you want to get. The ottoman should be around an inch shorter than the furniture piece you want to use it with.
Question: How long does Wayfair need to deliver an ottoman?
Answer: The delivery times depend on where you live and the availability of the model you choose, so Wayfair might need anywhere between a few days and 10 weeks to deliver your ottoman.
Question: Can I return an ottoman I purchased at Wayfair and get a refund?
Answer: Yes, you can, but only if you haven't already assembled the ottoman you purchased.
Our Verdict: Which Ottoman Model Should You Get From Wayfair?
Adding an ottoman to a room can make that space more stylish and more comfortable. Even though they can be used independently, ottomans work best when paired with an armchair or a sofa to provide additional legroom or as a coffee table alternative.
Wayfair offers an impressive selection of ottomans that includes nearly all styles, shapes, or types you can think of. We recommend the George Oliver Mariaella Ottoman because it is spacious, multifunctional, and reasonably priced.
If you're looking for a more luxurious option, you should consider models like the Everly Quinn Babcock Ottoman or the Bradington-Young Richardson Ottoman. Which of the best Wayfair ottoman picks are you going to choose? Let us know in the comments, or continue reading our guide to the best console tables that might match well with your ottoman.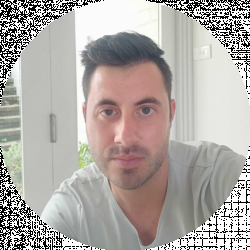 Latest posts by David Borgogni
(see all)