As a shared space the entire family is using, the furnishing of a living room has a special place in the home decoration process. Our guide to the best velvet sectional ideas and picks will help you find a comfortable and stylish sitting solution for the most important room in your home.
The style or the type of sectional you should choose depends on the purpose you intend to use this piece of furniture. So, if you're hosting dinner parties often, you should focus your attention on finding a sectional that offers plenty of legroom and privacy to your guests.
On the other hand, a cozy sectional with a large chaise is better suited for families that want to watch movies together in the living room.
In this article, we're going to take you through all of the most important aspects of sectional sofas and provide you with ideas on how to make them an integral part of your home. Go through our living room furniture guide to find pieces you can pair with your new velvet sectional.
At a Glance – The 5 Best Velvet Sectional Picks
What's The Difference Between a Sofa And a Sectional?
The difference between a couch, sofa, love seat, and sectional boils down to the number of seats they have. A conventional sofa or a couch offers three seats, and it doesn't have a chaise section that allows you to sit in the reclined position.
The frame of a sofa features only the back and the seat with armrests at both ends. A sectional sofa has a more complex frame that includes the seat and back sections and the chaise that can be located on the left or the right side.
Modular sectionals contain multiple components that easily adjust to the layout of the room. So, essentially a sectional is a sofa that has more seats than a conventional sofa. The L-shaped sectionals can fit into corners, unlike three-seat sofas that are usually centrally positioned.
Check our guide to wood coffee tables that match perfectly with sectionals.
The Most Common Types of Sectionals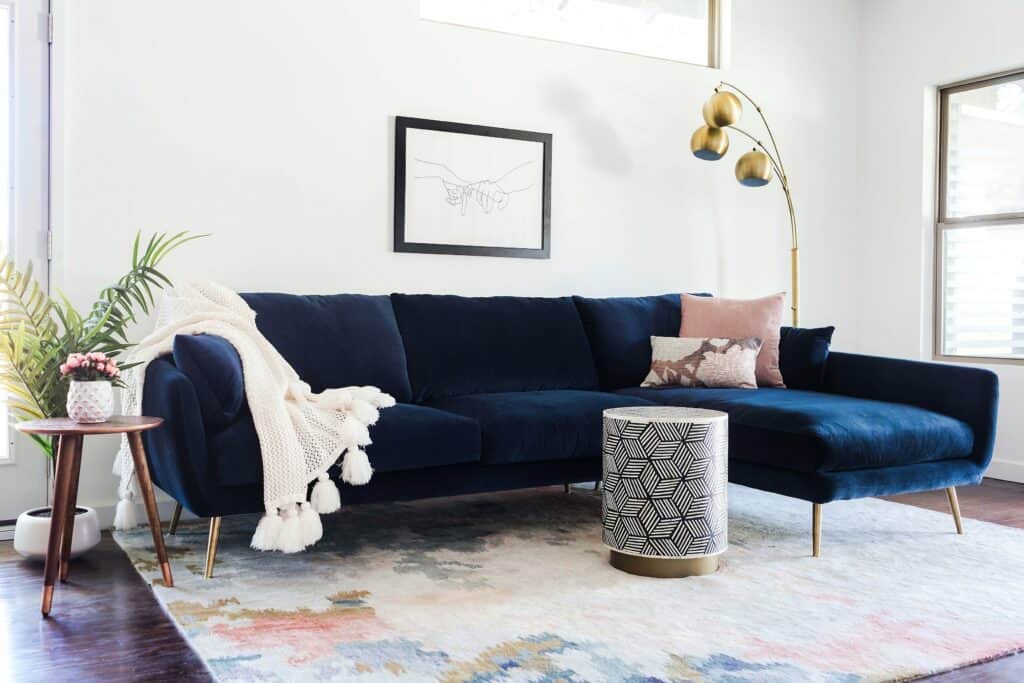 The shape, features, or upholstery materials are some of the parameters that can help you differentiate between types of sectionals.
In fact, you can choose from numerous design options and opt for a model that has individual recliner seats with armrests between them or a sleeper sectional that can be used as an extra bed. We've shortlisted some of the most common types of sectionals, so let's look at their characteristics.
L-shaped sectional – The space-saving properties of L-shaped sectionals make them a popular option for small living rooms or office waiting rooms. They look like two sofas attached at the right angle, and you can choose to either sit or recline and rest your legs.
U-shaped – Chaise segments are based on both sides of the sofa, creating the U-shape. These sectionals are a great addition to a home theater because they're large enough to keep all family members comfortable. The space between the chaises is large enough for a coffee table where you can keep drinks or snacks.
Chaise sectional – This is essentially an L-shaped sectional that features a chaise on the left or right side. The chaise is usually very wide, so two or more people can rest on it in a reclined position.
Go through our guide to finding the best recliner if you don't want to get a sectional with built-in recliner seats.
Components of Sectional Sofas
The exact features of a sectional sofa depend on the model, but there are still some general characteristics that can be found on most models. So, for instance, a chaise isn't included on all types of sectionals, but it is still one of the most recognizable components of these sofas.
Here are some of the most common components of sectional sofas.
The corner element – Serves as a connection between the chaise and sofa sections. This component makes placing the sectional in a corner easier.
Recliner – Some sectionals are composed of a set of recliner seats separated by armrests. This feature usually isn't available on models equipped with a chaise.
Sleeper section – Some models have a foldable sleeper section that allows you to turn the sofa into a bed.
Armrests – Unlike conventional sofas, most types of sectionals don't have armrests at both ends.
Read our guide to the best console table ideas if you're looking for a way to declutter your hallway.
Styles of Sectional Sofas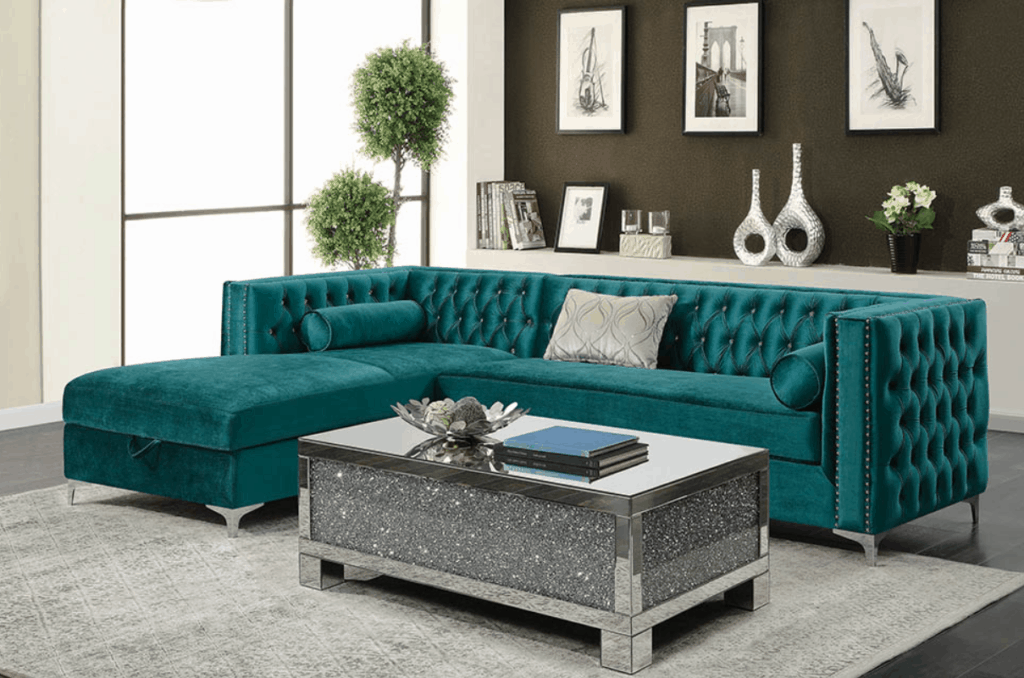 Making a sectional, the centerpiece of your living room décor will set a stylistic guideline you can follow while choosing other pieces of furniture. These sofas are produced in various styles, so you can choose the model that best matches the aesthetics you envisioned for your living room.
Let's take a closer look at the most popular style of sectionals
Traditional – Their classic look matches spaces that already have an elegant atmosphere. Traditional sectionals are usually very geometric, although some models can have curved backs.
Mid-century modern – Minimal design stripped of all decorative elements emphasizes functionality over aesthetics. Suitable for both casual and sophisticated home décor settings.
Modern – The use of unconventional materials and innovative design distinguish modern sectionals from models designed in other home furniture styles.
Our guide to white TV stands can help you discover a TV stand that matches the style of the sectional sofa you chose.
Upholstery Material
You'll have countless options at your disposal when it comes to upholstery materials. The upholstery of these sofas can be made of both natural and artificial materials that respond to daily wear and tear differently and have different upkeep requirements.
Leather – The refined look of leather upholstery can make any living room stylish, but you should keep in mind that spilling coffee or any other drink on a leather sectional might require professional cleaning.
Velvet – Very few fabrics look as good as velvet. The material is soft, and it makes sitting on a sectional a pure joy. However, velvet has high upkeep requirements.
Polyester – Arguably, one of the most durable types of upholstery materials on the market, polyester resists high usage well. Also, you won't have to worry about stains or spillages since the material is easy to clean.
In addition, the upholstery of a sectional can be made of faux leather, microfiber, cotton, chenille, or twill. Take a look at our guide to the bookcase ideas if you're looking for a creative solution for your library.
The Most Important Factors to Consider While Choosing a Velvet Sectional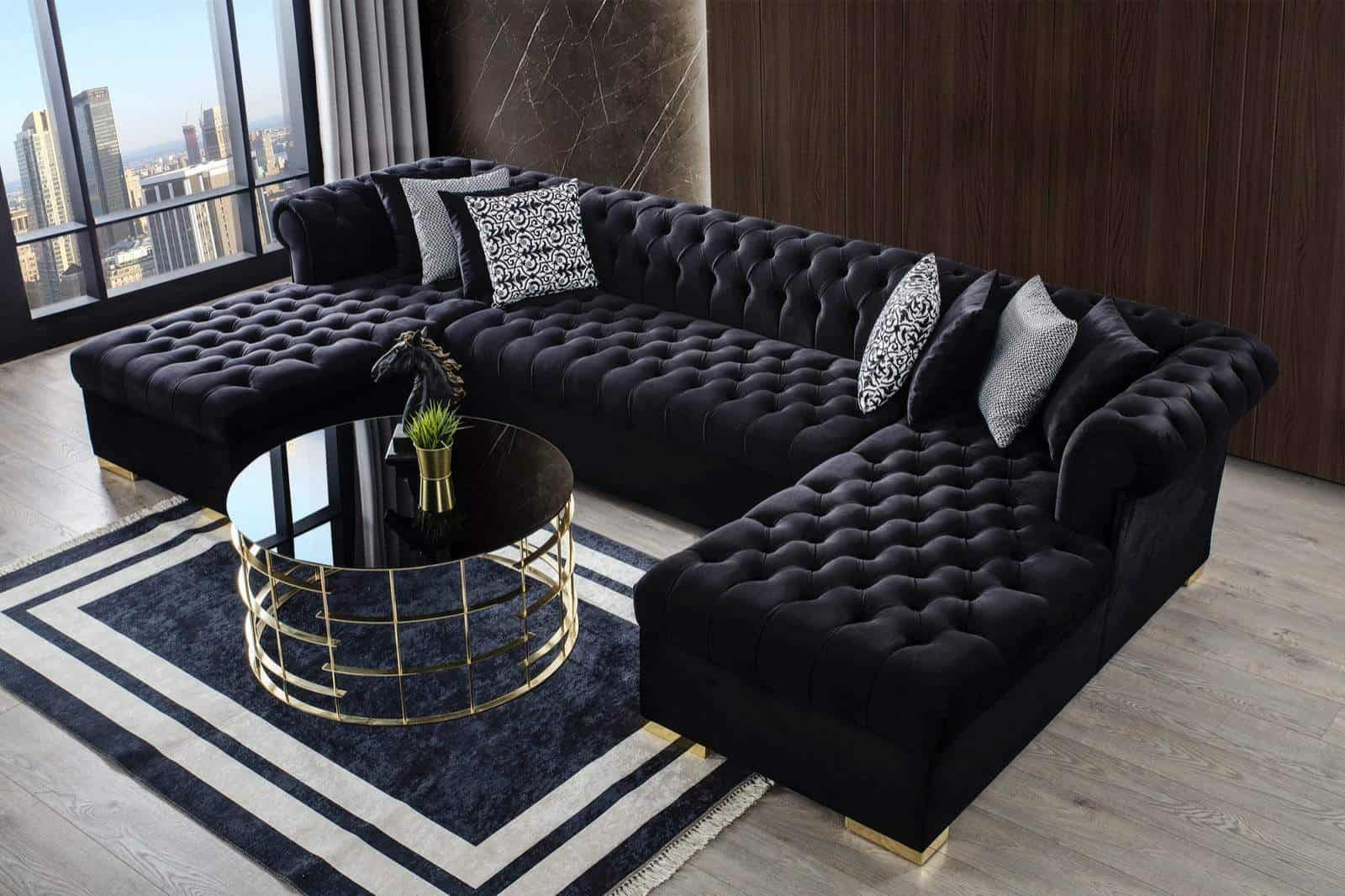 Personal taste is probably the most important factor that will ultimately determine which velvet sectional model you're going to choose. But, you have to consider several other factors to avoid getting a sectional that simply doesn't fit the space where you want to place it.
The level of comfort the model offers, its color, or the position of the chaise are among the parameters that can assist you during the search for a sectional that has all the features you need. Let's take a look at the factors that can make finding a velvet sectional for your living room easier.
Room Layout
Find the spot where you're going to place the sectional sofa before you start searching for a sectional. Even though sectionals can easily fit in the corner of the room, this isn't always an ideal position for them.
Depending on how the rest of the furniture is arranged, you may want to move the sectional further from the wall.
This type of sofa is often aimed at families that want to create a cozy place where they can watch movies or TV shows together. Hence, the TV's location can play a part in finding the perfect place for a sectional in your living room.
The Shape and Size of The Sectional
L-shape, U-shape, and curved sectionals can occupy a lot of space, which is the reason why you need to check the model's dimensions to know if it's too big for your home. Opting for a compact model can be a space-saving solution that will free up the room's central area.
If you're interested in an L-shaped sectional with a chaise, you need to check if the chaise is located on the left or the right side. Failing to do so might make finding the right place for a sectional more difficult.
The Sectional's Features
Each sectional has slightly different features since some models may not have armrests at all, while others might have armrests with cup holders between each seat. Knowing the purpose for which you're going to use the sectional can help you determine which features the model should have.
So, for instance, a sleeper velvet sectional might be the right choice for you if you need an extra bed in your home, while the reclining sectionals could be a good pick if you're setting up a home theater.
Maintenance Requirements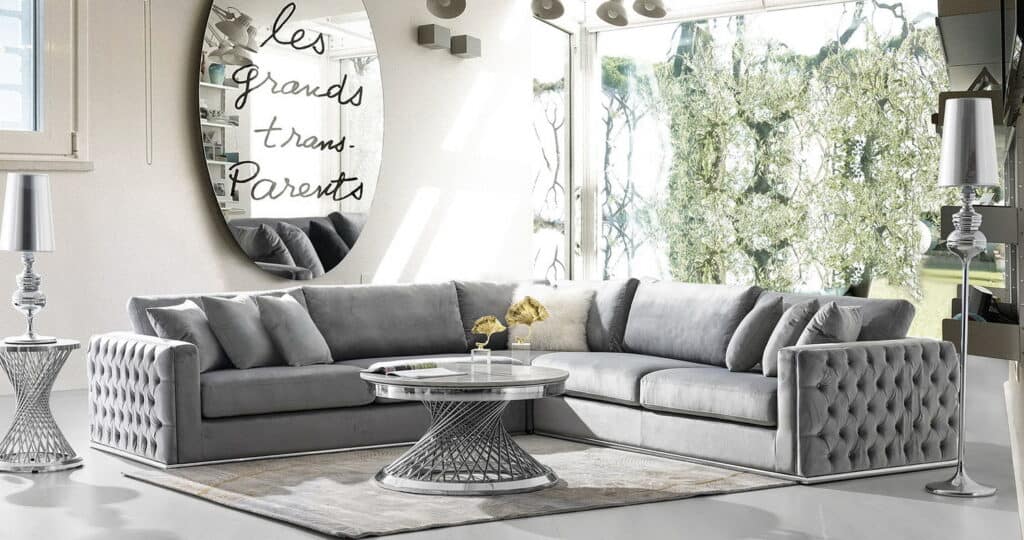 Velvet is one of the softest and classiest upholstery materials you can choose from, but it is also very demanding. Besides vacuuming a velvet sectional frequently, occasionally, you'll also have to use the steam cleaner to get rid of stains.
Moreover, water can damage some types of velvet, so you have to be careful not to spill your drink on the sectional. You should check if the velvet sectional you're interested in has a stain repellant coating that prevents permanent damage.
Cost and Durability
Velvet isn't a highly durable fabric as frequent exposure to sunlight, and numerous other factors can cause fading or tearing. Even so, these sectionals can remain in perfect condition for more than a decade, which makes them a great investment for all homeowners.
Their price varies from $200 to more than $2000, so how much a velvet sectional will cost you depends on the model you choose. Reupholstering a velvet sectional is very expensive, and in most cases, it is more affordable to get a new sectional sofa.
The Advantages of Velvet Sectionals
Stylish look
Velvet sectionals fit into a wide range of home décor settings, as you can pair them with traditional, rustic, or modern furniture equally effectively. The material's properties make the surface of the sectional soft and cozy.
Multifunctional characteristics
Each type of sectional can be used for different purposes, as some models can serve as an extra bed while others feature individual recliners that allow five or more people to enjoy a movie together. Consequently, you can use velvet sectionals in a broad range of contexts.
A variety of placement options
Unlike conventional sofas that work best when they're placed against a wall, sectionals can be floated away from the wall and retain their functionality. Hence, you can experiment with different furniture arrangements whenever you want to change things up in your living room.
The Disadvantages of Velvet Sectionals
Some models are bulky and heavy
Moving sectionals on your own might be difficult, as they can weigh over 200lbs. That's why this type of sofa isn't an ideal solution for people who like to change the furniture arrangement in their living room often.
Top 5 Velvet Sectional Picks
Acanva Mid-Century Sectional – The best L-shaped sectional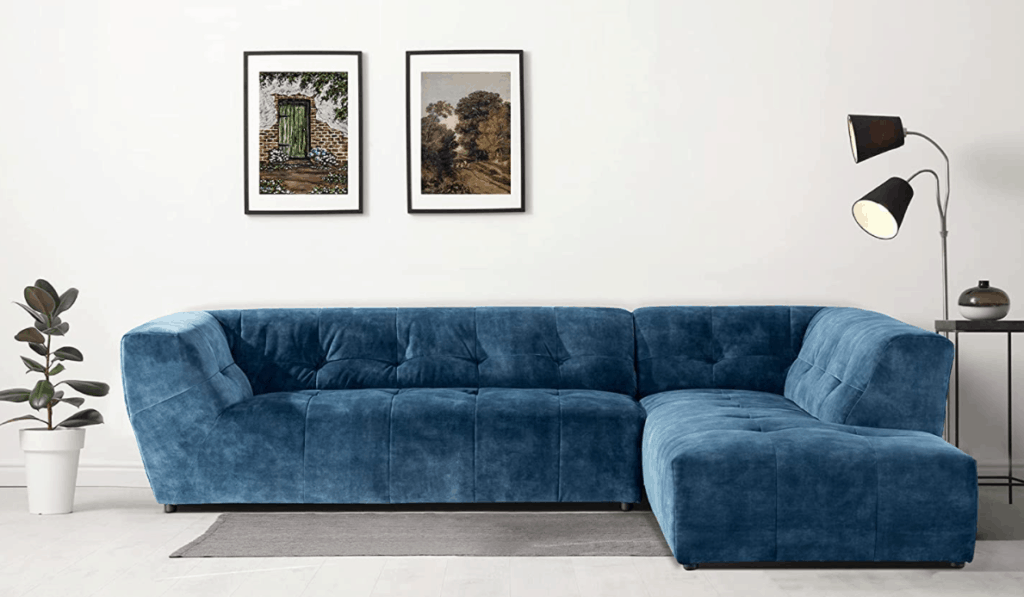 The perfect balance of style and functionality the Acanva Mid-Century Sectional offers makes it one of the best L-shaped sectionals with chaise on the market. You can choose if you want the chaise to be positioned on the left or the right side of the three-seat sofa section.
The medium firm cushions are filled with high-density foam, while the sectional's frame is built from pinewood. The low back and button-tufted seat make the soft velvet upholstery even more elegant. However, the material requires regular upkeep, and it doesn't resist stains well.
Pros
Minimal, functionalist design
Hardwood frame
Spacious and comfortable chaise
The simple and quick assembly process
Cons
The sectional weighs more than 200lbs
Very expensive
Casa Andrea Milano Sectional – The Best Wide Chaise Velvet Sectional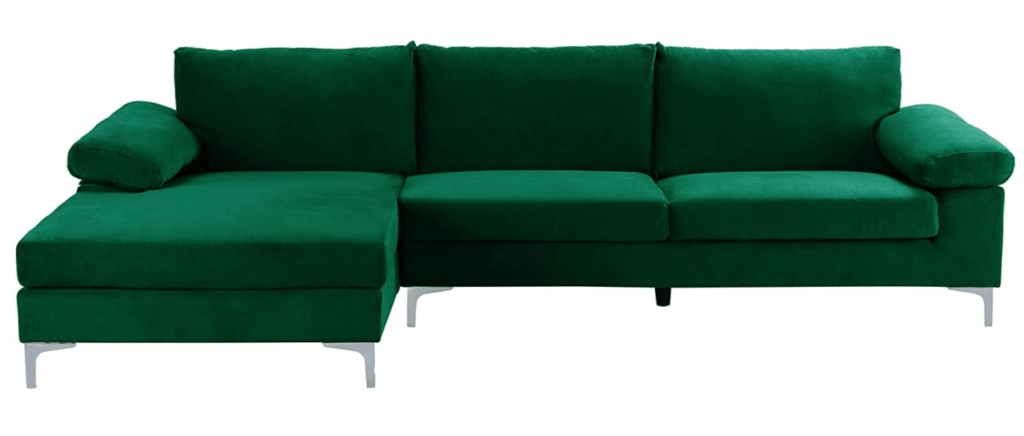 With the dimensions of 31 x 101 x 51 inches, the Casa Andrea Milano Sectional provides seats for up to five people. This model has an extra-wide chaise on the left side of the sofa section, and it features armrests on both sides.
The seats are filled with foam that adjusts to your sitting position and ensures that the sectional offers a high level of comfort. Three large and cozy pillows cover the back, and you can remove them easily whenever you want to create more sitting space.
Pros
Lightweight and sturdy frame
Durable velvet upholstery
The chaise provides extra legroom
Cozy seats
Cons
Occupies a lot of space
Decorative pillows must be purchased separately
Merax Sectional – The Best U-Shaped Velvet Sectional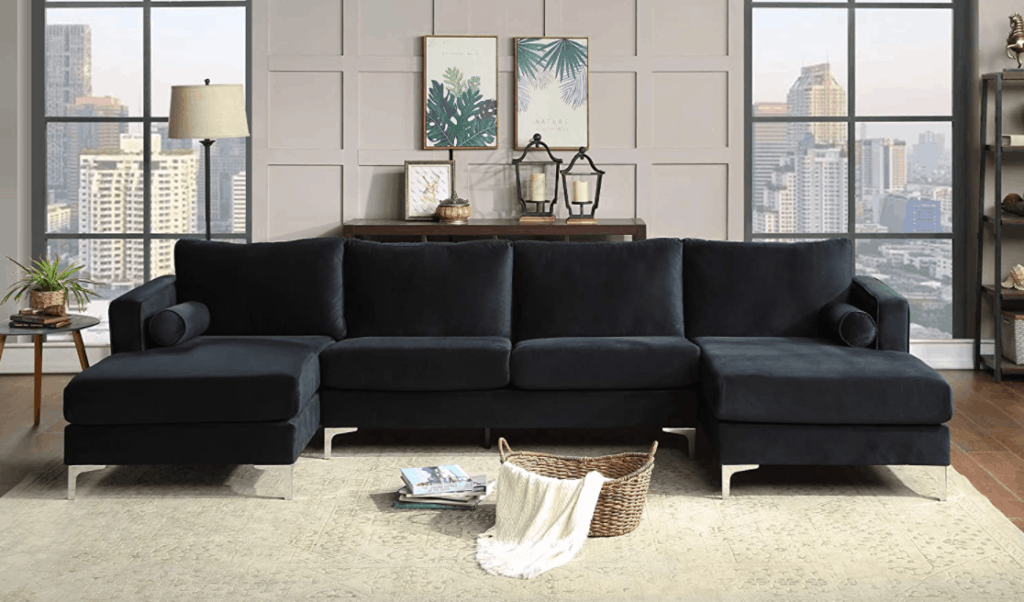 The 250lbs weight capacity per seat demonstrates how sturdy the Merax Sectional really is. The frame is constructed from solid wood, while the upholstery is made of a combination of velvet and microfiber fabrics that are both durable and stylish.
The modernly designed U-shaped sectional features chaises on both sides, and it is spacious enough to accommodate up to six people.
Thick seat cushions are equipped with a high-resistance sponge and prime sinuous springs that prevent sagging. Each chaise offers up to 60-inches of legroom, enabling you to sit comfortably in the reclined position.
Pros
Multiple color options are available.
Legs and frame can support high amounts of weight
Armrests offer additional comfort
Accommodates up to six people
Cons
Long delivery times
The upholstery material is hard to clean
Iconic Home Da Vinci Sectional – The Best Luxury Sectional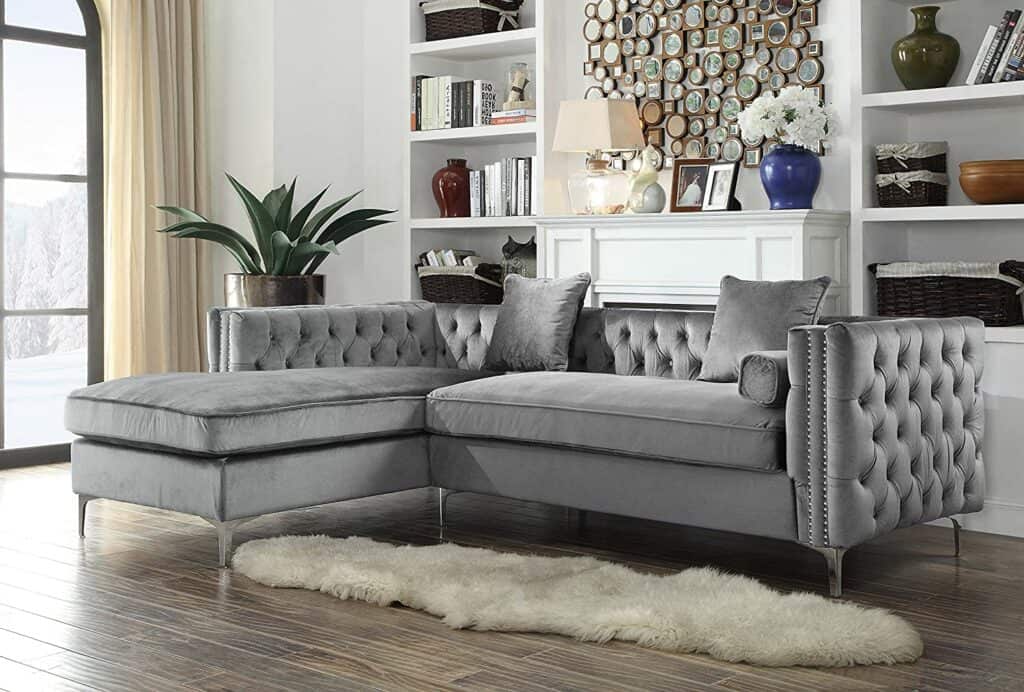 The transitional design of the Iconic Home Da Vinci Sectional enables you to combine it with traditional and modern home décor styles. The sectional is 102-inches long, and its chaise is positioned on the left side of the sofa section.
The low back covers both sections, and the armrests provide you with space where you can briefly leave a book or a TV remote. The plush multi-density foam seats prevent you from sinking into the sectional, while the accent pillow offers additional back support.
Pros
Made of sturdy materials
Matches different home décor styles
Metal legs can carry a lot of weight
Available as a part of the set or as an individual piece
Cons
More expensive than most L-shaped sectionals
Very heavy
Paddington Bear Sectional – The Most Affordable Sectional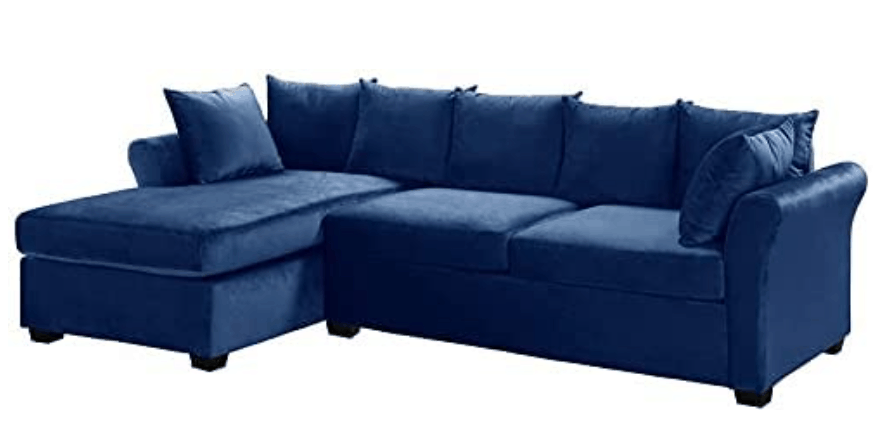 A model like the Paddington Bear Sectional can be a great solution if you don't want to spend a lot of money on a sectional sofa. The extra-wide chaise is located on the left side of the sectional, and you cannot move it to the right side.
This sectional can accommodate between 4 and 7 people, while its chaise provides you with plenty of legroom. The Paddington Bear's model is available in three colors so that you can choose the one that best matches with rest of your living room furniture.
Pros
Comfortable and loose back pillows
It doesn't occupy a lot of space
Foam-filled seat cushions
Inexpensive
Cons
Complicated assembly process
Fixed chaise
FAQs
Question: How many people can a velvet sectional accommodate?
Answer: The number of people that can sit comfortably on a sectional depends on the model's size, but most models can accommodate between 4 and 8 people.
Question: Can I separate the chaise from the sectional's sofa segment?
Answer: The chaise and sofa are held together by hardware that prevents them from splitting apart, and you shouldn't use them separately unless you get a modular velvet sectional.
Question: What is the weight limit of a velvet sectional?
Answer: The weight limit depends on the sturdiness of the sectional's frame, but conventional 4-seat models can support approximately 200lbs of weight per seat or 800lbs of weight overall.
Question: Is velvet a good upholstery material for a sectional?
Answer: Yes, it is, despite having high upkeep requirements, because it looks good and, in most cases, withstands the daily wear and tear well.
Our Verdict: What is the best velvet sectional for your living room?
The traditional sofa and two-chair living room setup is slowly going out of fashion because it consumes much space. Although they can be heavy and bulky, sectionals are a more comfortable and space-efficient alternative that provides plenty of sitting room.
Velvet sectionals are available in different shapes, sizes, or styles, so you should choose the model with all the features you need. We recommend the Acanva Mid-Century Sectional because it is made of durable materials, and its look will impress your guests.
A more affordable model like the Merax Sectional might be a better option if you want to make sure all members of your family are cozy while you're spending time together in the living room. Which of the best sectional picks did you like the most?
Let us know in the comments, or continue reading our guide to the best floor couch picks to discover models that might fit your home décor style.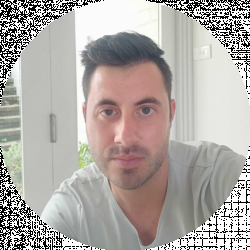 Latest posts by David Borgogni
(see all)