Readers, let me tell you that tufted style ottomans are no less essential to a home than are standard ottomans.  Tufting gives a room added characteristic and charm, especially in this age of neutral-palette design preferences.  Whites, creams, greys, and other accommodating shades are the go-to for most interior designs these days because it's easy to personalize your space. Think of these benefits from tufted pieces:
It gives a room depth
Adds instant contrast
Detailing creates interest in a room
Tufting is elegant, charming and people want to sit on it!
Elegant Pink Cake 35″ Shape Tufted Flannelette Pouffe Cushioned Ottoman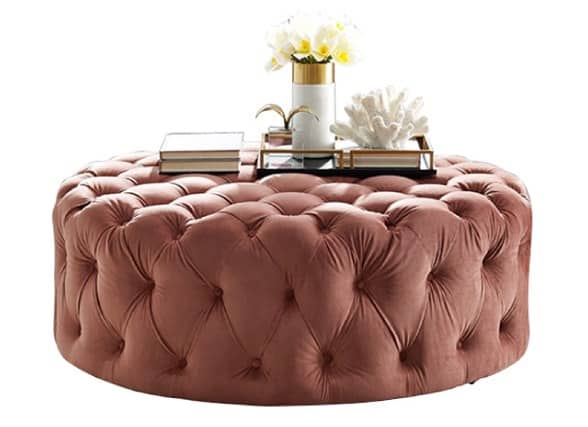 Sumptuous cloudlike elegance at its best! I love this 16 inches high by 35 inches across tufted ottoman! Solid wood structure and dense foam filling make this pouf easy to extend comfort to feet or seats! The fabric is flannelette, which looks and feels like a felted velvet, weighs in at about 88 pounds and it has a weight capacity of 440 pounds! Very sturdy.
The only drawback is it will take about three months for the free shipping!
I think it's worth the wait!
A must-see at Hernest!
Depth
Tufted ottomans immediately give a room depth that can sometimes be lacking in your space. It may be lacking because your space is smaller than you would like and you may be sure of how to maximize its potential. Another reason is that the room may be oddly shaped, and things just don't seem to fit and flow. Sometimes it may be that the room is primarily based on a neutrally blended color schema. Or it could be due to the lack of layering.
The bottom line is that this is quite an easy fix for you. Oftentimes we don't (I know I certainly don't) have the resources to remodel each space that needs attention (or any spaces, in my case!). That's why easy, DIY styling fixes can be so valuable. And, there are PLENTY out there, so don't despair. I will be touching on a good many of them in this article.
Ms. Chesterfield Tufted Made to Order Ottoman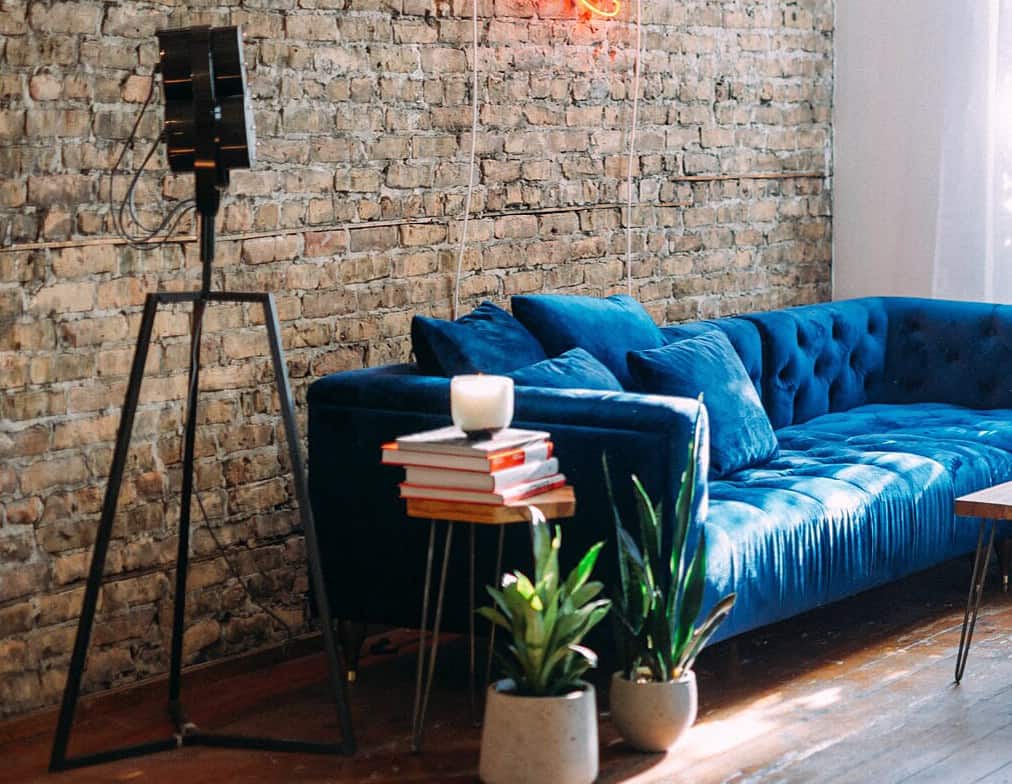 I absolutely love, love this tufted ottoman. It's crazy good! You can choose the legs – wood or metal –  in different shapes and styles of legs.
Let's talk about fabrics! Over 100 colors and fabrics to choose from – and these are solid colors!
Sizes, my goodness! Thirty inches wide, but the length comes in 16 sizes from 30 inches to 90 inches! I am getting at least one for my home! Pick on up today at Interior Define.
What does depth in a room exactly mean?
When depth is added to a room, it means the space perception of the room is altered. What does this mean?  (Peeling layers of an onion is akin to describing depth in a room!). It means dimensionality and complexity have been added.
Primarily resulting in the feeling of more space, more room to move, and having a room that tells you it's interesting. Depth makes a room more appealing to the eye, and therefore that mentally translates into a desire to spend time in that room! That's a whole lot of bonus points that are easily added yourself, without spending money to renovate or add footage.
Alyce 43" Wide Faux Leather Tufted Rectangle Storage Ottoman in Grey or Black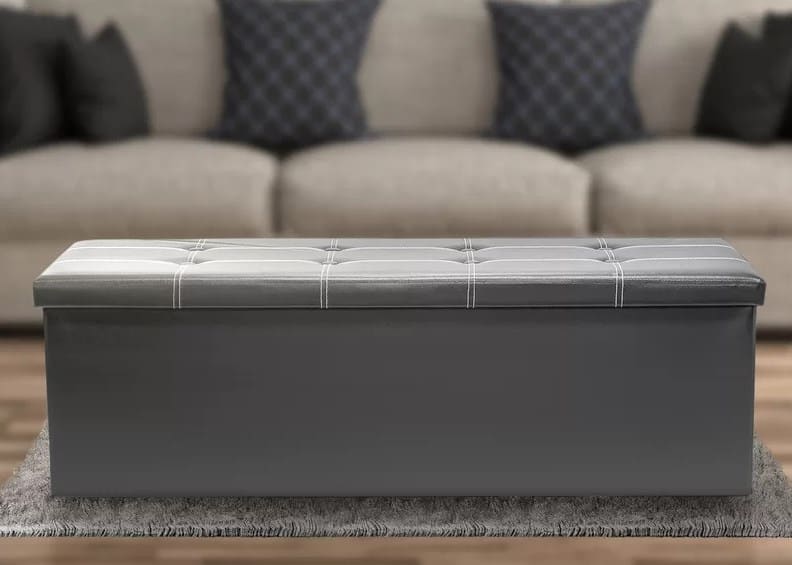 This ottoman weighs in at 17 pounds and is 43 inches long, 15 inches wide, and 14 inches high. It holds 250 pounds, and the top comes off for a great storage area!
Here's an exercise you can do to immediately understand the concept of depth.
Take one finger from each hand (or a thin slip of paper) and have the tips meet in the middle of the top area of the ottoman (covering the top but leaving the sofa and leaving the bottom 2/3 of the ottoman in sight).
This will show you the difference between a plain item in front of the couch and the difference with the tufting. Amazing, right? Without the top contrast and tufting dimension, the picture looks flat. It has angular corners and looks a bit uninviting.
And, I love this for giving you an instant opportunity to see "before" and "after" room depth examples!

It has a great design that is sleek but incredibly functional! I love

functionalism

!
I really like this ottoman for small spaces and oddly shaped rooms or narrow hallways that just need something.
This is foldable! The top is not, but the bottom folds in on the short sides to bring it together and it fits neatly under the top. Ultimate convenience and mobility for moving rooms or homes!
The tufting provides an uneven surface area that allows your eye to linger on the slight differences in height between the pushed-in buttons for tufting and the other areas.
The difference may be slight, but it is huge for creating a sense of dimension around the buttons and contrast on the surface. This adds depth to the room.

I love this ottoman for providing two types of design that both add depth!

The stylish black leather with contrast-designed white stitching gives this an extra punch for adding depth to your room. It comes in different colors – check

 this out at Wayfair

.
Types of Tufting
Yes, there are even different types of tufting! You may be familiar with tufting in your down or down-alternative comforter or blanket. The tufting keeps the feather and "stuffing" from shifting around. This is exactly the reason it was developed in Victorian England in the 1800s for couches and chairs.
Craftsmen and women put a stitch into layers of fabric and pulled it down to rest on the back piece of fabric, then tied it off and continued this technique in an even pattern all over the couch. The tightness of the stitch creates a dent and a curve downward of the cushioning, and then the fabric rises again on the other side of the stitch.  Think of a rolling hillside – up and down, up and down.  The "up" part, the cushy part, is called the "tuft".
This both held the horsehair and coils in place to provide even "sitting", and supported the frame of the item. It was purely functional and, years later, became recognized for its aesthetic appeal.
Today, we have advanced past most of the functional needs for tufting and we use it for detail and decoration.  Tufting was quickly popularized for its ability to "show off" beautiful fabrics. New methods of hiding the stitch were conjured up, and the use of buttons, ribbons and large knots (to name a few) became common. Some preferred nothing to hide the stitch, choosing to let the stitches remain exposed.  This type of tufting in which you can see the stitch is called "blind tufting".
Let's explore different tufting patterns!
Diamond Tufting
This is the traditional tufting pattern and the oldest.  It is by far the most widely used pattern of tufting that we see. For this, the stitch is hidden with a button, and is not straight up or down, but rather slanted so that four stitches (buttons) make a diamond shape that is repeated.  This diamond stitch usually is larger and holds more fill than other types of tufting, and is considered to be the most comfortable and consistent seating available.
Weston Home 42″ Round Tufted Cocktail Ottoman, Beige Linen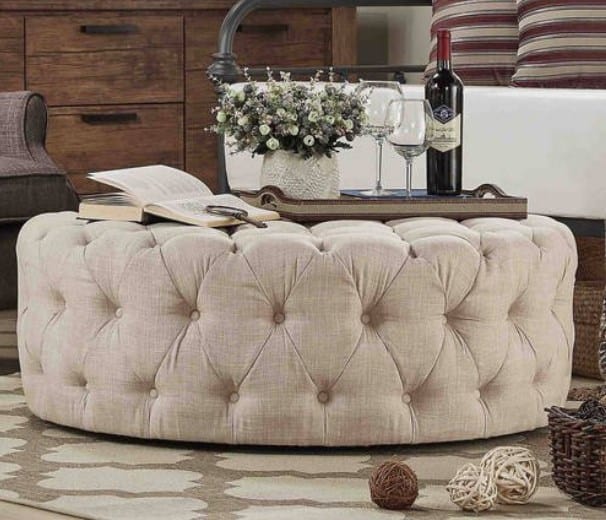 This round diamond tufted ottoman is the perfect size for ample table use or seating but yet not so big as to dominate small rooms! Notice the diamond design made by each four-button quartet.
I love that it is plush and covered with texture
So easy to style with, the neutral color allows it to blend with other colors and be a team, rather than take all the attention!
The great benefit is the five caster wheels on the bottom that make smooth transitioning to whatever space needs it!
Low price point
One drawback I see is that the wheels do not lock, which means on a non-carpeted surface, it may be unsteady (you can fix that by removing the wheels)
This cozy bit of glam is 42 inches across and 16 inches high and can be found at Walmart!
Biscuit Tufting (or Bun Tufting)
I don't know why they just don't call this the "square" tufting method because, basically, that's what it is. Instead of a zig-zag diagonal pattern achieved with the stitching, this has evenly spaced "squares" over its surface. It can have a visual boxiness to it as the lines are angular, and if you have a more modern-looking piece, this type of tufting is probably what you will see.
Santa Clarita 43.5" Wide Biscuit-Tufted Convertible Ottoman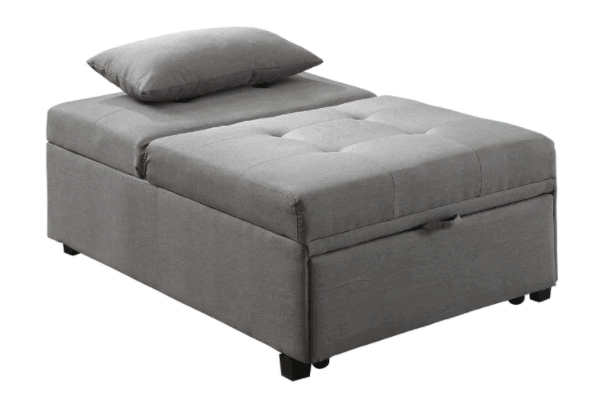 This is a true chameleon! I really like the fact that it comes in two very easy-to-style, neutral colors and that the design is ambiguous enough to take on any theme that you already have in your home. This fits with ease in a modern space or in a traditional or glamourous setting as well. By pulling out the large tab, it expands the ottoman into a futon bed!
Also, one side of the ottoman shifts up to be a chair with a back that reclines, or with the tab pulled out, a bed with a reclining back.
The tufting is subtle enough to easily place a tray that will be steady, yet it still gives texture and dimension to the piece.
The ottoman itself is 44×31 inches and is 17 inches high.  It is 80 pounds and has a capacity of 200 pounds.
Find this at Wayfair.
Blind Tufting
Blind tufting is also called "buttonless-tufting" because there is no button covering the stitch, and the stitch can be plainly seen by the eye. It is less common but incredibly useful for households with little kiddos and pets that chew…off the buttons! Believe me, my son put a very small button in his ear- needless to say, this was when I discovered the beauty of buttonless tufting!
Another benefit to this is it is less visually distracting, providing a more sleek image. Often times you will see this on minimalist or modern furniture that gets its glam from smooth, clean lines.
Camber Black Leather and Bronze Steel Tufted Square Ottoman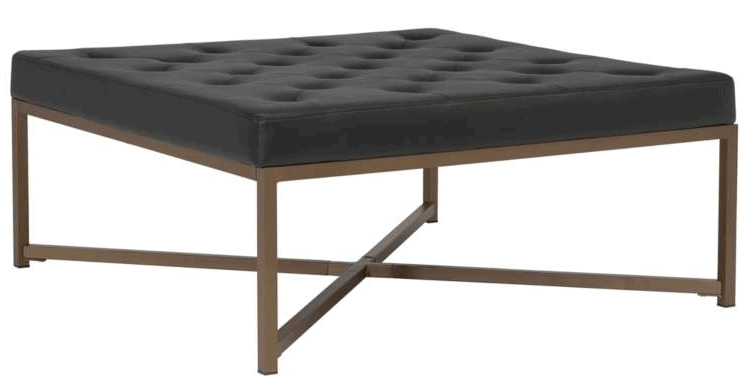 Here is a sleek example of blind-tufting. This modern leather and bronze ottoman is 40 inches square and 17 inches high with a weight capacity of 250 pounds.
A more minimalist type of tufting, I like the flatter tops of the "tufts" as they provide a more stable base for trays that hold food and drinks and vases and other "tippable" items.
The x shaped bronze-finished legs give it a very open and airy yet glamourous appeal.
The larger size square makes it fit in corners with pillows to form a cuddly chair or at the end of a sofa to hold several pairs of feet!

This can be found at

Lamps Plus

!
Channel Tufting
This is quickly recognized by its long, vertical, or horizontal seams that run the length of the ottoman.  In between the seams, which are spaced in various lengths – most commonly 3-5 inches apart – is the "tufting" or padding.
This type of tufting can take on the look of long, circular tubes placed side by side, or a more subtle rise in between the seams, barely being above flat.  This kind of detail is very common in modern furniture, especially when the seam is deeper into the fabric, creating a more rounded and higher tuft that is more dramatic and bold.
Pink Velvet Upholstered Channel Tufted Ottoman Bench/Table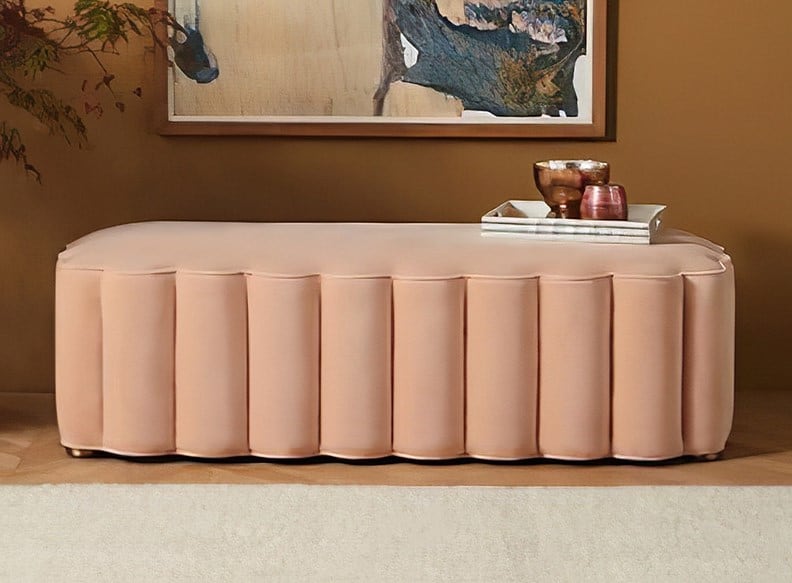 I love this gorgeous multi-functional ottoman.  At 47×16 and 17 inches high, though, I wish it was longer!
The deep plush channel tufting is rich and begs to be touched and sat on.  The piping on top of the channels adds extra detail, and the flat top is perfect to use as a table!
Velvet is another feature that adds texture and dimension to a room.
This retro look really pulls you back in time a hundred years ago when this stitch style gained traction.
The soft pale pink velvet is soft and creates charm with the bold wide channels, keeping it from being too cold of an oddly shaped design.
Check this out at Homary.
Lille Upholstered 36 inch Storage Ottoman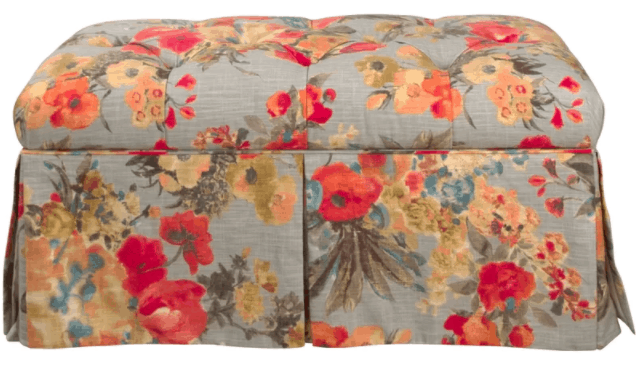 Perfect for small rooms or narrowly shaped spaces, this small dynamo packs a big punch! With tufting detail on the top for elegance and contrast and luxurious pleated skirting on the bottom, this glorious pattern brings bright and cheerful pizazz to any room!
What could be better for a small home than a beautiful piece that does triple duty? It provides enchanting storage space inside a cozy plush place to sit or put your feet up!
Storage space makes the most out of the measurements, being 11 inches high, 34 inches wide, and 16 inches deep.
It can fit in a back corner and serve as a chair with some toss pillows added.
Add a tray and it becomes a cocktail mixing space.
This is one of my favorite patterned pieces due to the feminine flora and use of the bright colors that are splashed on the neutral base. Find this at Wayfair

!
Kellan Leather Channel Tufted Ottoman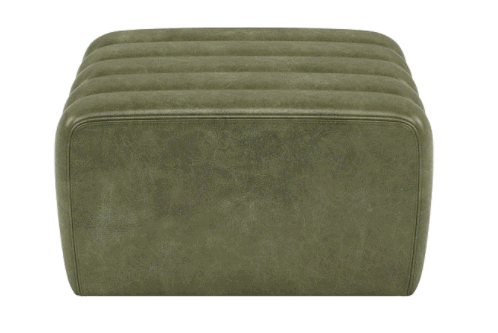 Rich leather in 8 different colors is just one of the heirloom quality features of this channel-tufted ottoman.
Sizes are 40×30 inches or 30×30 inches, with the height being 16 inches.
Each piece is custom-crafted to your specifications and promises to be worth the wait.
It does take about five months to obtain this hand-me-down-worthy item, but it has rave reviews!
Find this at Interior Define.
FAQs
Question: Are tufted cushions better?
Answer: Yes! Both economically, comfort-wise, and for styling!
Tufted cushions are reinforced with thicker fabric or layers of fabric so that it can hold the stitching every few inches! This is like having three levels of linen or velvet on your ottoman. It sags less. It doesn't get that "middle indent" from sitting. It lasts and lasts…like the energizer bunny!
You never have to fluff it!
Due to the ups and downs of the material and the bunching of "stuffing", it forgives in a way like no other seating! No matter how thin or curvy you are, wherever you sit is a comfortable seat.
The inside filling is less likely to move.
Think of adding depth to a bland, one-dimensional area. Tufting gives the visual eye contrast, creating instant depth and detail.
Depending on what kind of tufting you choose, it can show off minimalist furniture or be perfectly paired with a Victorian sofa.
Question: What is the Purpose of Tufting?
Answer: Today, it is all about comfort and adding texture and depth to a room. When tufting first came about hundreds of years ago, the sole purpose was to keep all the filling, which consisted of feathers, hay, horsehair, and other materials, in its rightful place and not have a sofa that had a five-inch cushion on one side and a flat linen-covered board on the other!
Question: How do you style a Tufted Ottoman?
Answer: Very easily!  Choose a tray (it could be as large as the top of your ottoman or smaller – but don't try to go any smaller than half the size, or it will look cluttered and out of proportion) that has clean, angular lines or a small curve to the sides. This style of the tray is best to define the space of the ottoman and the space of the tray with its contents. 
Believe it or not, the smaller the tray, the less the ottoman looks neat. Because of the texture given by the tufting, a tray can look like a small gull on a large swath of sea- like a trinket. Half the length of the ottoman is the general rule.
Using throws- another quick detour to depth and texture. Layering is a wonderful way to make an elegant statement while adding, you guessed it, depth!
Pick up a color in the ottoman's pattern and get a vase in that color, or put some decorative objects like shells or beads in a glass bowl.  Art that has the ottoman's shade in it will do nicely as well.
In Conclusion
Tufting is an enhancement to an existing design, and the choice to incorporate it is solely yours and dependent upon what you like. I am a big fan of tufted furniture simply because of the characteristics of its detail. Tufting gives you texture when you look at all the dimples on the item, contrast between smooth and "poufy", light plays with the deeper holes creating shadow and depth, and it is an eye stopper as we process the piece spatially.
It can prevent a room from looking cold or stark, or one-dimensional. Especially good for spaces that can only hold a table or a chair or bench, the tufted ottoman presents an inviting place to sit and look at and is complex enough to anchor that small space by itself.
Another more fundamental reason is comfort; tufting pushes up the cushioning into smaller, billowy cushions- it's extraordinarily puffy. One thing I have to have is cozy, comfortable furniture pieces. No matter how much I like it, if I sit down and it's not bliss, the other traits start to fade, and I immediately move on.
Offering definition and elegance is hard to achieve together, but tufting does the job. If you want to show off your minimalist theme, or you have a great modern chair that needs highlighting, then the tufted ottoman gets first place.
Perhaps you welcome more scrolls and curves and detail, like me, and you want a more Victorian grace – a tufted ottoman fits right in with that period of sophistication.
A tufted ottoman is so delightfully comfy and versatile and one of the most important contributing members to any room because of the sheer amount that it has to give that I would feel under-decorated, the room naked, without one.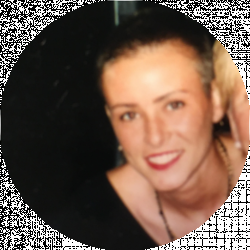 Latest posts by Richelle Tieman
(see all)