Bed frames were born and married to mattresses close to 5,000 years ago! Even before that, our very first ancestors dug rounded holes in the ground and filled them with grass to sleep.
About 77,000 years ago, our ancestors replaced the hole in the ground with an actual separate piece – some cloth sewn together that had a pile of grass, soft barks, and straw inside. And that was placed directly on the ground. It was considered a mattress!
So, it actually took about 72,000 years for a type of staging to be placed higher than the ground so that a "mattress" could be put on. Hence, the "bed frame".
Over the centuries, beds have served many, many purposes, and the concept of beds, and the bedroom, in general, has been a topic of interest and much discourse. One thing has never changed, and that is the concept of a white bed being elegant, coveted and esteemed with powers of purity, light, and cleanliness! That's what makes white bed frames the most popular!
Decorating Tip!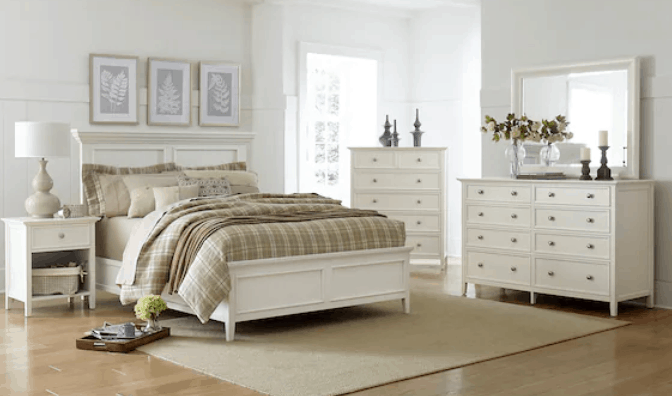 This gracious room shows off the simple lines of the paneled white bed frame, maintaining a spacious and airy vibe while retaining coziness.Using warm tones of brown and beige in solids and patterns, and in different textures for the bed provides ample color play to absorb any starkness the all-white walls and furniture might have conveyed.
The weave of the rug and the artwork are able to shine with the minimal conflict of more colors.
The white panel bedframe is shown below.
White Bed Frame Pick!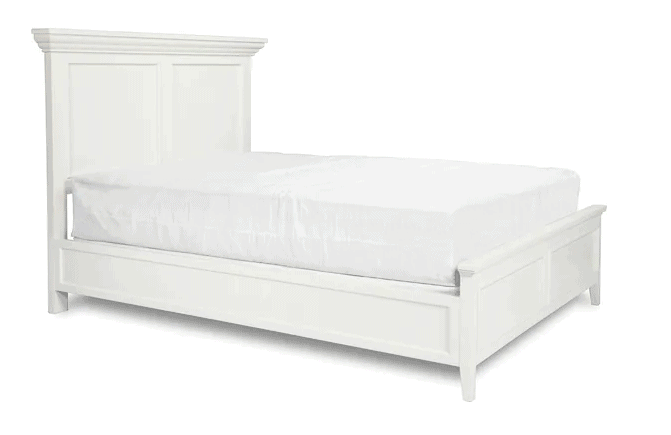 This Ellsworth Panel bed frame comes from an exclusive Maine Craftsmen Line (yes, Ellsworth, Maine! Next to Acadia National Park). This frame has elegantly detailed moldings on the headboard, sideboards, and footboard, with thin, tapered legs. The finish is a crisp white that will reflect light in the room.
A King-size bed has dimensions of 87 inches long and 85 inches wide, with the height being 55 inches. A true craftsmen's work of art, it can be handed down generation after generation.  Look for this at Levin Furniture.
Museum Worthy Bed Frame
An elevated stage on which to sleep only developed, as stated above, around 5,000 years ago. The remains of wooden planks creating a rectangle with four legs to raise the frame, and cloth or leather to cover it, were discovered in Malta and Egypt.
The head end of the platform was angled slightly upwards for comfort, and a rough mattress, nothing more than a sack filled with hay, straw, and grasses, was laid atop it.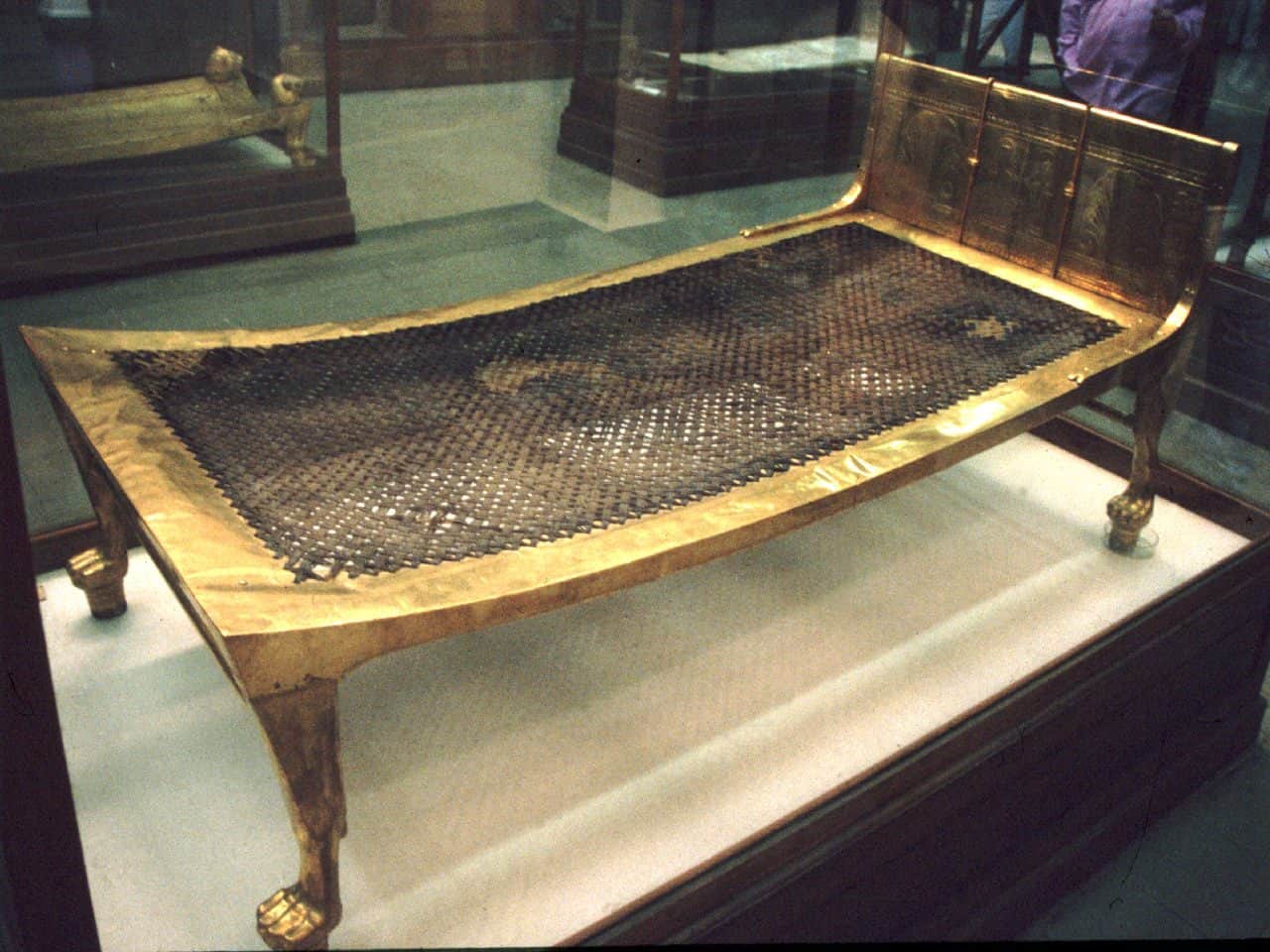 Bed Frame Pick!
This early African bed frame was made from arched native wood, with strong grasses woven in the middle for flexibility and comfort.  The grasses also had anti-insect qualities and acted as a repellant for bugs.
The irony here is that despite thousands of years of evolution, our predecessors created something eerily futuristic for our time! The bed frame has not changed much at all – take a look below!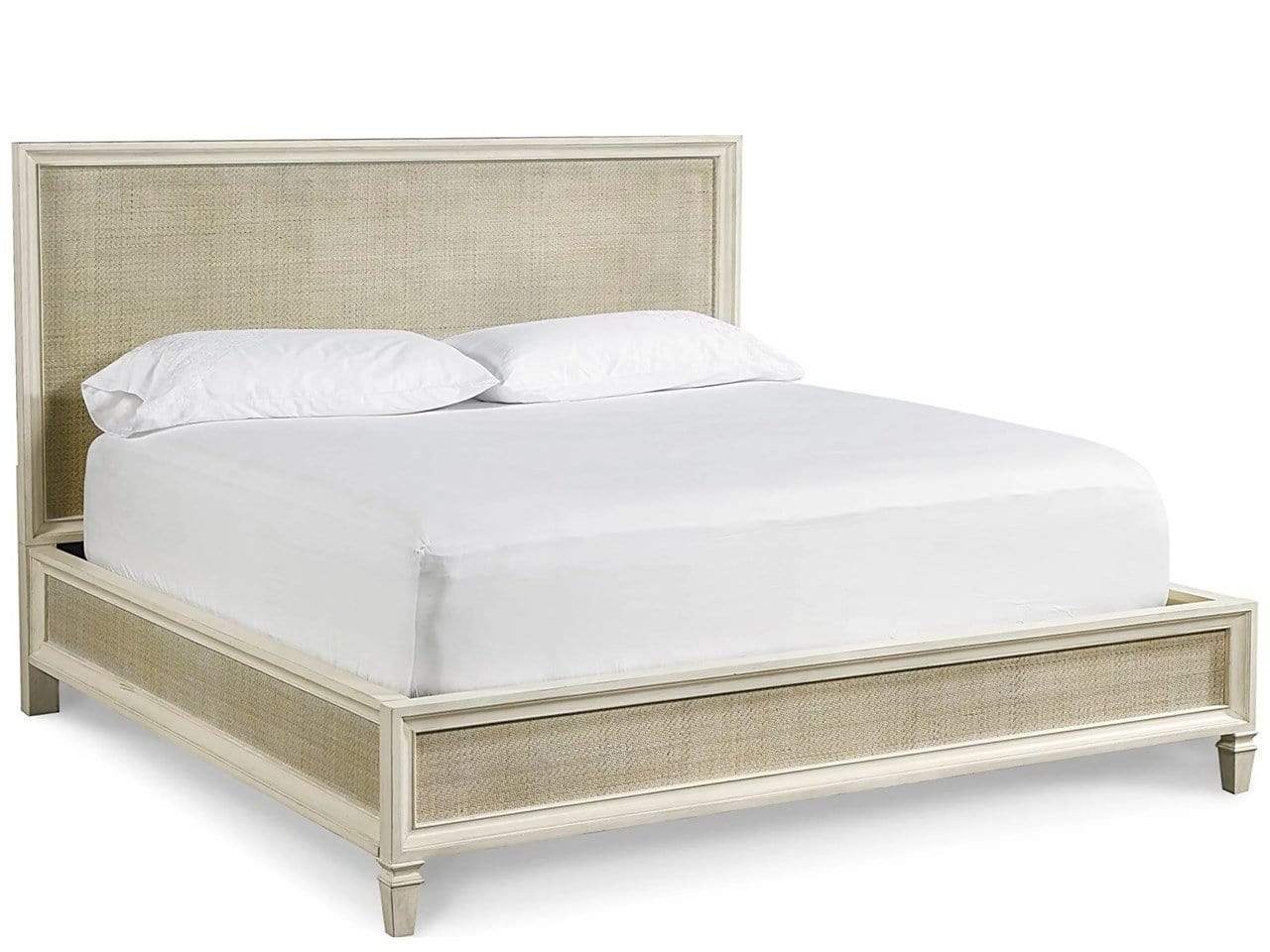 This elegant white and woven rattan bed frame is made from hardwood solids and maple veneers and features lovely textured weaving on the headboard, foot, and side panels.
The rattan lends an air of casual warmth to the stately angular lines, as do the different legs at the foot and head of the frame. The dimensions are 87 inches long, 67 inches wide, and 58 inches high. Clean and airy, thanks to the woven grass, this bed creates light and spaciousness. Find this at ALCHEMY Fine Home!
Bed Frame Pick!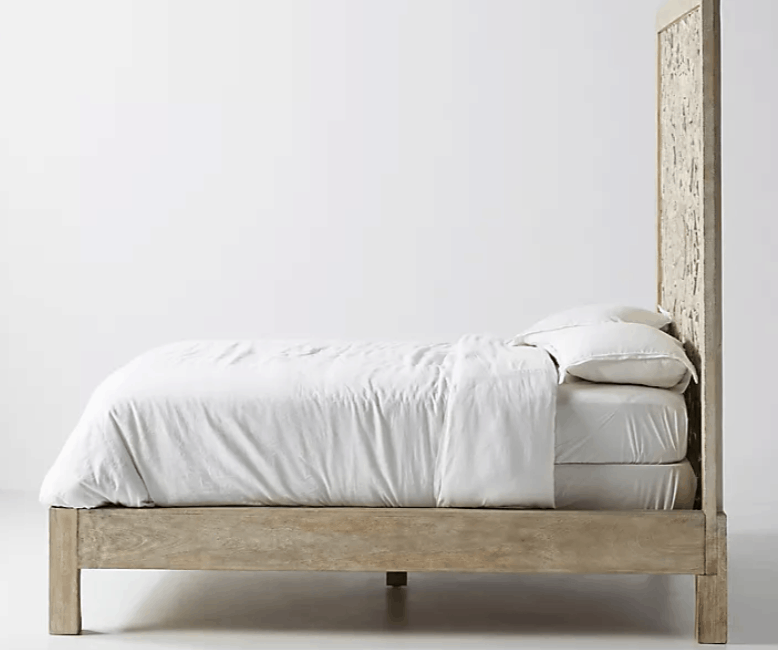 This exquisitely elegant Lombok white bed frame is hand-carved from tropical hardwood and features delicate and uniquely intricate designs in its headboard. Lombok is in Indonesia, near Bali, with centuries-old traditions for creating quality pieces such as this.
It has curved legs and a wooden slat support system that makes the use of a box spring optional. This bed frame is one of a kind, and slight variations are expected. Find it at Anthropologie!
Bed Frame Pick!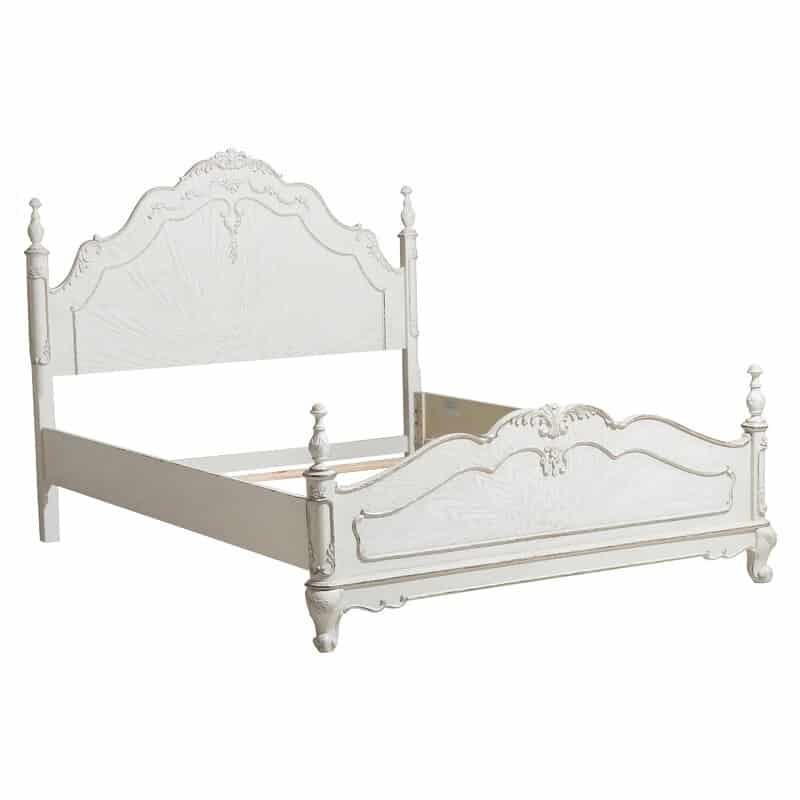 This fairy tale white bed frame offers elegant Victorian styling on its headboard, footboard, and gracefully carved legs. The floral motif, scallops, and scrolls, plus the low under-bed clearance (it's just a 5-inch window) is reminiscent of earlier grandeur.
The frame is solid wood, and the paint coating has been distressed to give it an antique feel.  Its dimensions are 88x65x56 inches high for a Queen size mattress. Find this at Wayfair!
Why Choose White?
White is arguably the favorite color for bed frames and bedding due to the bright and uncluttered ambiance it generates. White is equal to space. It increases the illusion of more space in a room. The more white, the more space.  With space comes air. Full breaths, floating, breezy, openness, clean – these are the words that the color white evokes.
No wonder so many people want to capture it in their homes, and the bedroom in particular! An easy night's sleep, drifting along with the wind, relaxed and spacious. White also accentuates and amplifies light. It could be sunshine from your windows or moonlight from your skylights. It could also be light from a lamp or the ceiling chandelier.
White equates with light, which often equates with daylight.  The light of day, as opposed to the dark of night.  People associate the daytime light with clarity and truth – "all things will come to light". A sense of knowing.  When we know things, we are more relaxed and our heart rate slows, our blood pressure is down.
Whereas "in the darkness of night" brings to mind things of a less wholesome nature. Deceit, crime, hiding, and not being able to "see" things. Not knowing things. When we don't know something, we tend to seek answers, become anxious, and anticipate whatever "thing" it is that we don't know.  It makes us uncomfortable.  Heart rate and blood pressure – up.
Designing a white bedroom, starting with the bed frame, is akin to having a neater, cleaner, airier mood. White and pale neutrals let the eye and brain relax and take in the quiet, slow, restful appearance.
When a room appears cluttered with just too much – too many colors all vying for your attention at once, different types and styles and textures calling out to be examined – your senses are overwhelmed with distractions and we feel anxious. It can be overwhelming. By bringing white into your room, perhaps with an elegant all-white bedroom set, it automatically lightens and brightens, both the room and our state of mind!
Bed Frame Pick!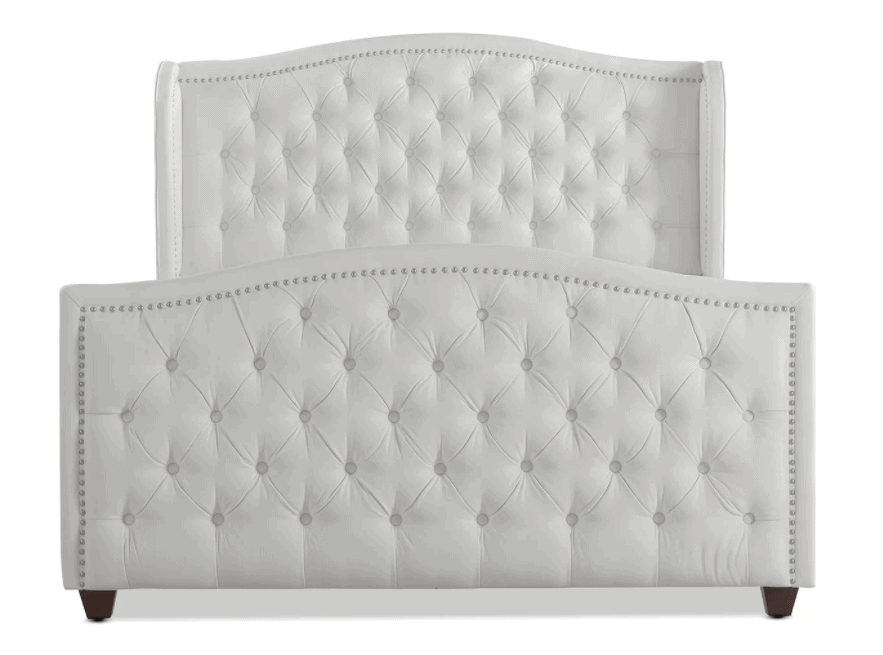 This solid bed frame has a dainty elegance of days gone by with its nailhead trim and button tufted headboard and footboard that belies its weight capacity of 900 pounds! For quality and heirloom value, look no further! Its feet are a dark, tapered enticing contrast to the white detail that lies above. It has a wingback style with a classic camelback silhouette and slightly rounded sides at the head to provide an extra-snug feeling.
There are 10 colors to choose from, in velvet and linen, and the dimensions for a Queen-size bed are 88 inches long, 67 inches wide, and 56 inches high. Notice that the metallic on the lamps coordinate with the nailhead trim, making an extra elegant statement. You must take a peek at this glorious mix of Victorian and traditional styles at Birch Lane.
Decorating with White
White will exhibit your favorite darker color, or two. Having a dramatic darker jewel tone such as a teal or green, (rather it be in wall art, sculptures, favorite rugs, tapestries, vases, side tables, etc.) will allow that color to stand out and really be seen, as opposed to mixing it with darker bed frames of wood or metal.
So, we need not seek any further for answers to why white is so popular!
Bed Frame Pick!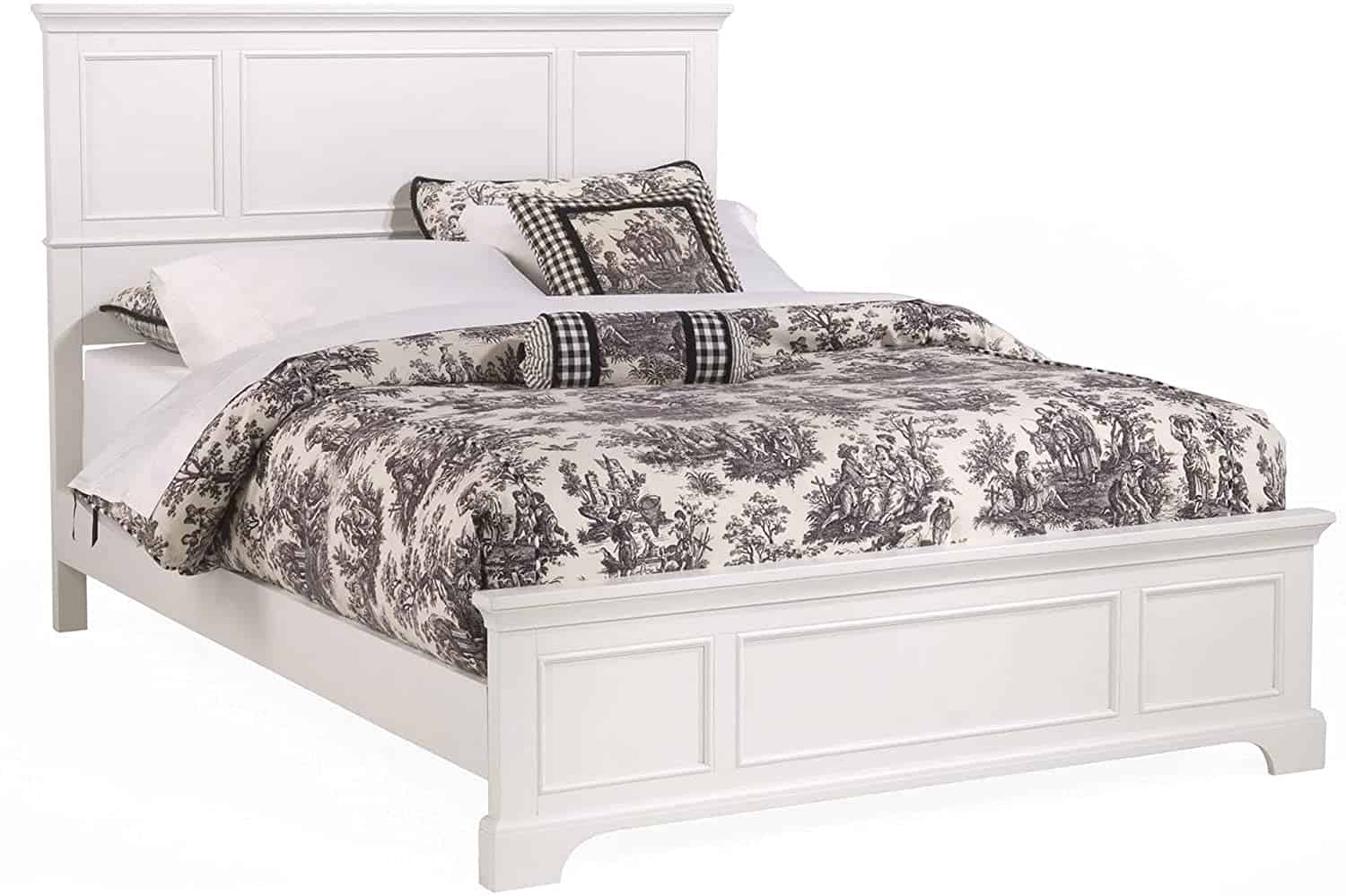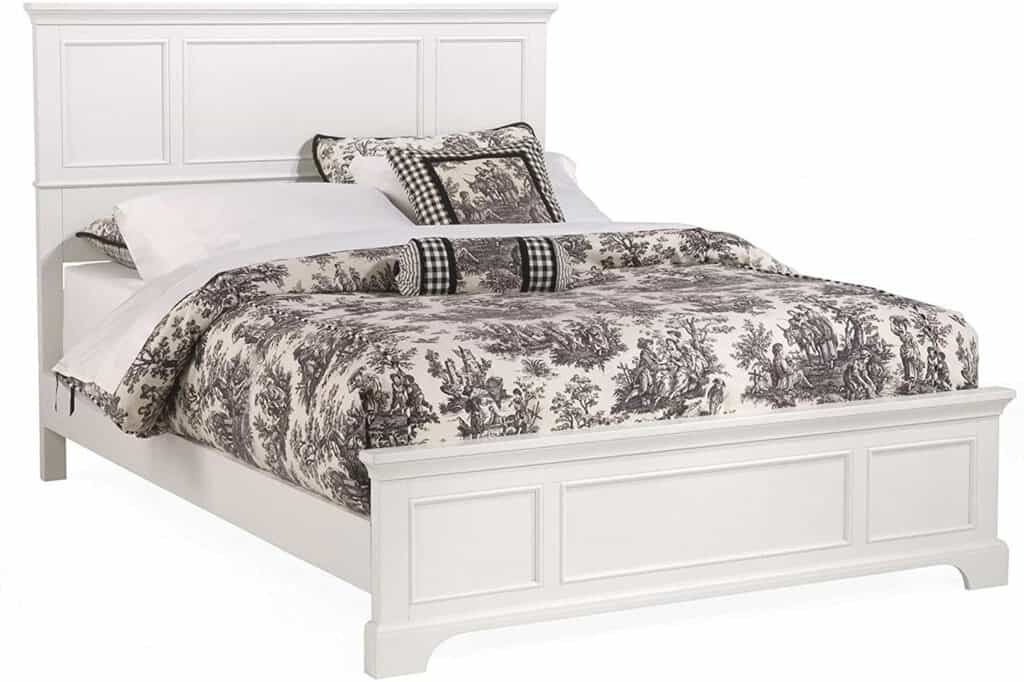 Here we have a great example of how pairing a unique darker color with a white bed can be dramatic, and make you want to jump in bed, both at once!
If this yellowish-green color was by itself, or in a can of paint, many people would not see the potential. But, paired with this gleaming, pristine white bed frame from Amazon, and with the glorious black toile pattern of the bedding, the tints and tones can be seen to mix and compliment the entire room.
That's the power and flexibility of white. In this picture, we have a poplar hardwood frame with a multi-step finish that includes a clear lacquer for protection and durability. A Queen-size frame is 87x64vx52 inches high. Find it at Amazon.
Decorating Tip!
This fetching room in white, with a white Bamboo four-poster bed frame, invites you in to feel the cool breeze that will escort you to a jungle plantation house. The charming deep rose accents and pillows gracefully stand out against the white bed frame and bedding. The use of metallics, in this case, a gold sunburst mirror stretching out its rays, adds a bit of gleam and sophistication.
Note the use of varying textures and shapes in the room, as well. The glimmer of the polished hardwood floor, with the textured rug in natural materials lifts the floor up to blend seamlessly with the white bed. The neutral tans and beiges, paired with the white walls allow the coolness of the white to be absorbed and emitted in a softer vibrance.
Having detail is important for a white bed and room. The detailed stenciling of the night dresser and the antique look of the box at the foot of the bed are all very noticeable due to the neutrality of white – it doesn't demand all your attention as a more vibrant or darker piece would.
The layers of pleats on the comforter are on display as well as an eye-catching left corner with its diminutive desk and delicate oval glass vase (to see through for an airy feel). Even the texture of the lamp is noticeable. The bits of color, green and rose are easily discernible.
We are also free to appreciate the incredible bed frame with all its ridges and scrolls and turned feet and stacked lattice on the headboard. It suggests pineapple and papaya waiting just outside the door! The bed frame is shown below.
Favorite Bed Frame Pick!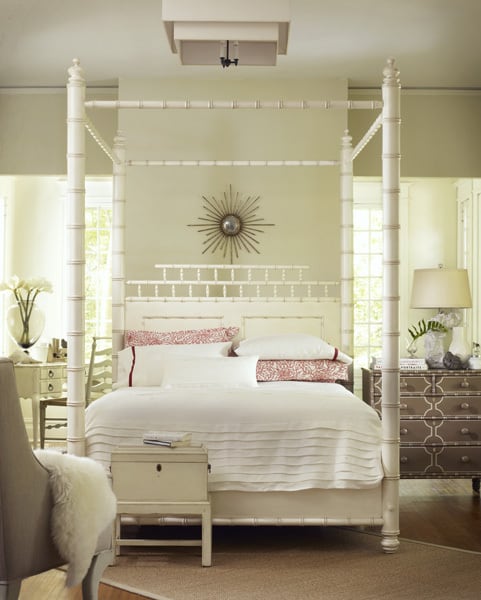 Despite searching all over the internet for any other picture at all of this magnificent, elegant white bed frame for you, I came up with nothing but this one! Unbelievable in this day and age, eh? Though it's available at multiple online sites, each only had this one picture! Okay, I'm moving on….slowly…
This item is hand-carved from the best plantation-grown mahogany available.  Each craftsman making every single one uniquely yours. This bed frame mixes generations of crafting knowledge with state-of-the-art processes for producing the timeless patina, with hand-applied distressing, and antiquing.
This white elegant bed frame is custom made to order, and comes in over 20 finishes! At a whopping 94 inches high (that's almost 8 feet!), you have got to have a ceiling that is preferable 10 feet or more. For a Queen-size bed, it would be 88 inches long and 68 inches wide, with a weight of 250 pounds! This also comes in California King size. A must-see at Interior HomeScapes!
Is The Bed Really that Important?
Yes, it really is.  For better or worse, and hope for better, your bed and especially your bed frame structure is the centerpiece of the room.
If you are standing in your bedroom and looking at your bed and thinking it could use a bit of help, don't let money be a deterrent. There are many elegant white bed frames that have very affordable price points for everyone which I go into detail about later on in this article.
Think of room names. They usually describe either the focal point of the room, or what the room will be used for, or some pervasive theme that the room has."The green room", "The red room", "The gold room". We know what to expect when we enter one of those rooms!
Bed Frame Pick and Decorating Tip!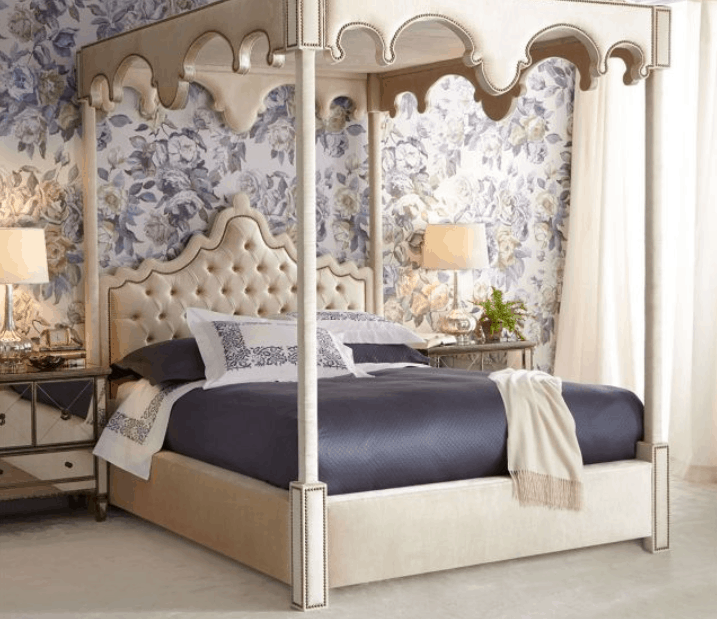 This room could be called the "Lavender Room" for its bunched lavender roses with leaves and vines swirling that adorn the walls, and for the luxurious sateen lavender bedspread and pillows that bring the color from the wall out to the bed.
Note how there is detailed patterning on the sheets that fit perfectly with the theme, and the use of mirrored doors for the nightstand to create reflection, space, and glam. This is a prime example of how white – (or off-white in this case) can be versatile and accommodating for any color scheme. The use of light, gauze-like curtains in a neutral tone keep the light in the room.
"This gorgeous Henry Canopy Bed Frame is constructed in the Regency style with scrolls and scalloping ornately adorning the "roof".A button-tufted four-poster that reimagines medieval times, it is made from solid Alder wood. A Queen-size is 90x71x91 inches high. This means you will need to have a ceiling height of over 100 inches, or about 9 feet high! Furniture Unlimited is the place to find this beauty!  
While we could call our bedroom by the color scheme we have chosen, we don't. We keep the word "bed", which has origins in Old English, German, Dutch, Greek, and Latin languages, and means "resting place", "to dig", "couch", "sleeping place dug in the ground", and "gardening spot".  (We can link the "digging" aspect to the early days when holes were dug out of the ground to sleep in!).
The gardening spot idea relates to a traditionally female role of tending to flowers, and it was also a place of respite for women and continues to be associated with relaxation.
So, based on that, you can imagine that the whole focus of our bedroom remains, to this day, on our BED!  Show off your bed and nod to the origin of the word, where centuries ago it was a place affiliated with relaxation and rest.  No wonder white is so popular!
Bed Frame Pick and Decorating Tip!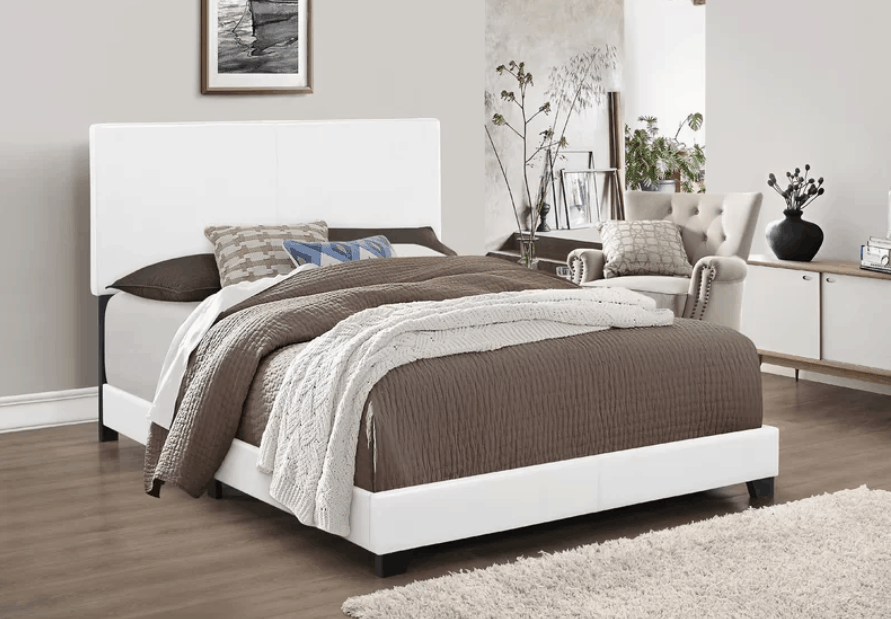 An example of a cost-conscious bed frame comes in this sleek, chic, and relaxing white bed that is accessorized with textures and a neutral palette of colors. The bed frame is about $160 for a Queen-size at Wayfair.  Click here to go to the Wayfair page. A wood and false leather covering make this white bed frame strong, long-lasting yet light.
The darker legs contrast dramatically against the white, producing a polished and neat beauty. The under-bed clearance is only 3 inches, and it is a low sitting frame, so thicker mattresses (12-18 inches) are recommended. This room view of the bed gives you a greater appreciation of the decor that compliments the elegant white bed frame.
Take note of the different textures that are used in the bedding.  A wool, sweater-stitch throw blanket in a very rich off-white color is on top of a cotton waffled bedspread in a medium cocoa brown which lays atop pristine white sateen sheets.
The pillows pick up the brown color, which is very anchoring for the room – it serves as a magnet that draws all the other shades into harmony.
Rugs that have some thickness to them such as multi-level loop or cut-pile (Saxony, Textured and Cable) and Cut and Loop style will give you the best opportunity to help avoid a cold, stark look. The rug in the picture looks so soft and comfy that it could be used to curl up in!
The hardwood floors underneath add to the brightness and open feeling, as will having the spaces underneath chairs, dressers, and nightstands.  If the bottom of these items is up off the floor, less floor space is hidden and the room looks bigger and "cleaner".
Bed Frame Pick!
This sumptuous, elegant white bed frame is upholstered in Velvet, with gold nailhead finishing.  It is the ultimate in luxury, with its channel-tufted back wrapping around to the sides for a snug cocoon-like atmosphere.
The curving and rolled "arms" of the back almost make it look like a couch! A solid wood frame, velvet upholstery, and gold metal finishing make this one of the most glamourous bed frames made. Note how the use of muted dark grey and pastel pinks absorbs the over-the-top look that could happen if it were a mostly white room.
The chair also carries the pink pastel theme over into the room, and the toss pillows have metallic embroidery on them to pick up the gold metal foot of the bed.
The dimensions for a King-size bed are 88 inches long, 97 inches wide and 63 inches high, so this is a large piece. Find this at Wayfair!
Opting For the Right Accents for your White Bed Frame
Choosing items with detail is another method for ensuring 1) the detail will be noticed and admired, and 2) detail adds character and another dimension for the room that will avoid total minimalism.
The nailhead trim on the chair, the curved and carved candlestick on the window, the stitching on the throw, the pillow patterns, and the rippling darker neutral-colored waters of the wall art ALL WORK together! It's amazing when we have a blank canvas, such as a white bed, what other things in the room we can actually see for what they are.
Again, the use of textures when designing with white is of utmost importance to build a multi-dimensional space that has depth, warmth and is light and fresh. White almost dictates to you that it needs layers of different neutral colors, layers of texture, and pops of your favorite colors in rugs and artwork.
It provides a somewhat blank canvas for each of us to paint our dream.  It's fun to shape a bedroom around an elegant bed frame and achieve just the right balance of crisp space and our version of homeyness.
Bed Frame Pick!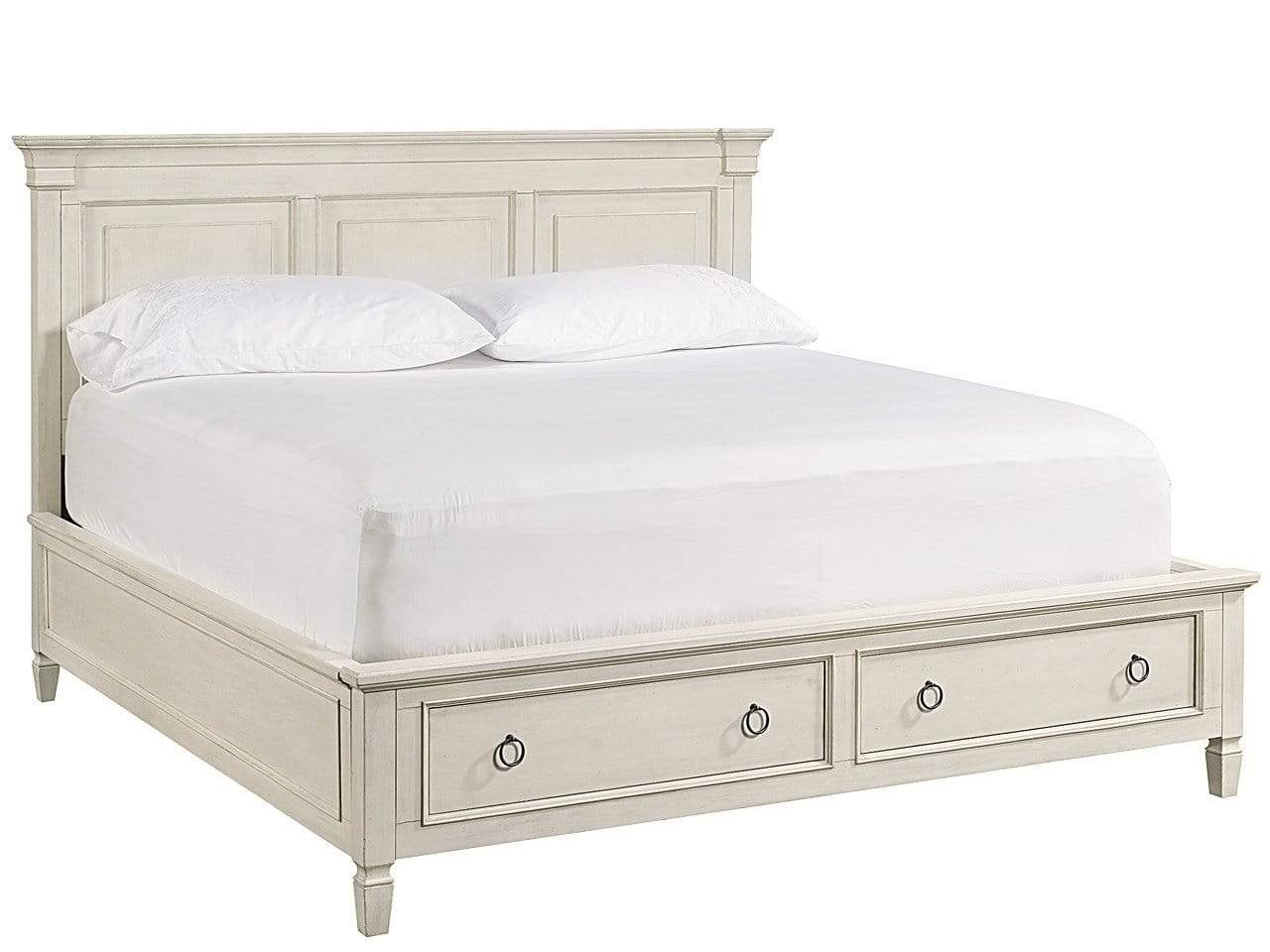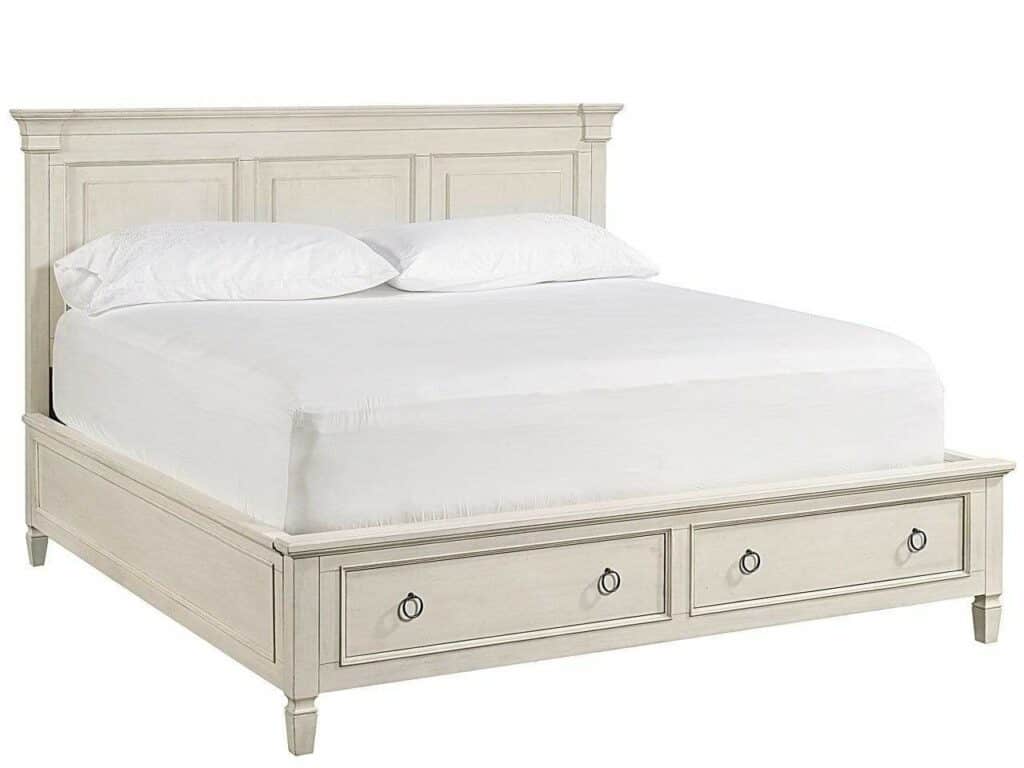 This gorgeously elegant bed frame combines practicality with rich details.  The regal headboard displays a three-paneled back with majestic crown molding atop it. Four simply carved legs and a rich creamy white color complete the picture.
The sides and two storage drawers at the foot of the bed are beautifully detailed to align with the style.  It is 88x84x56 inches high and fits a king-size bed. Find this at ALCHEMY Fine Home.
Pros and Cons of a White Bed
Pros
White can be cold, sterile, stark, if not accessorized with textures and layers. White alone is not a warm color.  It can be reminiscent of hospitals, and other sterile settings.
Dirt and stains are on display. If you scratch your bed or spill coffee, it will be more noticeable.  (Tip – keep a dark-colored throw nearby to spread over the bed when drinking or eating, or having the family pet trounce around with you!).
A whole lot of white can be boring and uninteresting. Again, textures and layers.  See the design tips in this article or the FAQs for suggestions.
Cons
White has the most versatility when blending patterns, other colors, and textures.  White can go along for the ride, or be in the driver's seat when decorating your bedroom.
White beds come in the most number of styles. From medieval to modern, there's a white bed that is waiting for you!
White equates with light.  The more white pieces of furniture you have in your bedroom, the more light will be reflected off of them, and voila – a brighter space!  Think – more white, more light.
White creates space.  Because of this shade's color properties, it appears to take less space, leaving the area around it larger.  Opt for more white in dimly lit spaces.
White evokes a floating, airy feel, a neatness about it, and is associated with pure elements – elements that are untainted.  To many people, white equals clean.
I think the Pro's list is much more substantial and important when personalizing your decorating style.  Especially in the most important room of the house, where you spend 33% of your life!
FAQs
Question: How do you style a white bed frame?
Answer: Very easily! The great thing about a white bed frame is the latitude it gives you to pinpoint exactly what you want from your bedroom. It will be important to determine if you are looking for a rich, dramatic style or a crisp, clean, spacious airy stye, or a soothing, neutral, paler shade of hues to embody your space.
For rich and dramatic: 
• The use of one or two deep tones, such as a jewel green or burgundy, splashed here and there in the room makes it stand out and has a greater contrast against a white background, thus making it more dramatic.  In this picture, they have chosen a deep, rich brown that almost looks black, along with multiple textures such as fur – to compliment that striking theme.
• Another option for creating a dramatic and elegant space is the use of mirrors and metallics. They make a room sparkle. Utilizing tall mirrors will reflect light and open the room up while replicating the sophistication of the room. It's like having a room x two.
• Golds and silvers, whether it be on mirrors, frames, wall art, lighting, knickknacks, etc. lends a regal and elegant air to any room, especially when paired with crystal or glass. You can also find spray paint in metallic colors to paint branch wreaths or vases or a sprig of cotton or willow.
• Speaking of glass…cabinets with glass doors shine a light on interior contents and create depth and transparency in a room – creating space.
• Textures are crucial to achieving a cozy look with white furniture. Fur, velvet, sweater stitch, jersey, satin, brocade, embroidery, matelasse, lace, and leather are fabulous accents for white.
For a crisp and clean aura, try these things:
• Neutral shades of beiges, creams, greys, and earth tones will subdue visual distractions and make layering different shades effortless. You can introduce one or two pale pastels of pink or blue, as long as they are very pale and the white in the room is far greater than the colors. These shades are warm and restful.
• Under furniture space – to create more floor! The more floor you can see underneath objects, the bigger the room seems and the more depth and dimension it has.
• Minimal knick-knacks and furniture. A tan leather chair and a white bed frame and bureau blend seamlessly while showing off the chair.
• Hardwood (or like it) flooring. Gleaming and painted, hardwood flooring gives a simple, uncluttered air to any space.
Question: How do I add color to my white bedroom?
Answer: First, determine if the color you want to add is dark or light.  If you love deep teals and midnight blues, choose art that reflects those colors, bed throws in simple fabrics like linen, plain cotton, or fleece (too much texture and darker colors will seem distracting and cluttered), or a chair with a teal or blue pattern.
Keep the rug color off-white (unless you have a favorite rug with those darker colors – and then opt for more furniture in neutral tones). White beds are a great canvas for a wall-papered nook or having the bed against a wall that is painted a dark color or has a darker patterned wallpaper.
If lighter shades are more appealing to you, choose earth tones and pastels.  Pick one or two (any more will get crowded looking as the different colors vie for your attention) shades and add wall art, lamps, chandeliers, rugs, blankets, throws, pillows, vases, flower arrangements, drapery, a side chair, or baskets.  Make sure that you don't have all of these in a different color or it will outbalance the neutrality and white crisp look you are creating.
Question: How do you make a white bed look cozy?
Answer: Textures and more textures! Layers and more layers! Choose pillows of different sizes and shapes, in pale pastels or creamy whites, use false sheepskin throws or a small sheepskin rug at the bedsides, and having at least four different layers on your bed, sheet, blankets, comforter, duvet and throws, quilts, and bedspreads, will keep the coziness in your white bedroom. Velvets, brocades, embroidery, fur, linens, waffle stitching, and lace all add warmth and depth to white.
Question: Can I afford a white bedroom?
Answer: Yes, yes, and yes. One of my favorite things to do is frequently used furniture stores, pick up a headboard or bed frame, etc., for a smile (I have paid anywhere from $10 to $40), then repaint it – and voila! A masterpiece! (And believe me when I say I am no artist).
Of course, it all depends on what day you go to the second-hand stores – some days there are bargains everywhere you look, and other days, there is absolutely nothing! Your best bet for prices is going to local second-hand shops in your area, and local websites that are specifically for used furniture being sold by their owners or "going out of business" retailers in your area.
From the website Moving.com, we can get a list of great places to shop locally:
"Craigslist – The online marketplace provides local classifieds information for every area of the country.
Facebook Marketplace – This community-driven marketplace allows buyers to find furniture and other household items in their area.
Letgo – LetGo is a free mobile classifieds app that allows users to buy and sell used furniture and other items locally.
OfferUp – The mobile app allows users to buy and sell furniture and other belongings right from their smartphones.
eBay – You'll find everything from custom-made furniture to obscure, vintage pieces for sale on eBay.
Etsy – The global online marketplace is a great source for used and vintage furniture.
AptDeco – The online furniture marketplace provides an easy way to buy and sell furnishings in the New York City area.
These are some stores worth combing through!
Habitat for Humanity ReStores – Looking for a bargain? You never know what you'll find at a Habitat for Humanity ReStore. The non-profit organization sells a wide range of used household furniture and decor items. Proceeds from the ReStores also go towards building homes and shelters in local communities and around the world.
Goodwill – Goodwill Industries International is one of the most well-known charities in the country. The non-profit has 3,200 stores nationwide, many of which are packed with used furniture."
Elegant White Bed Frame Ideas: In Conclusion
White is a favorite bed color because it welcomes all other styles and colors, and pairs with varying patterns so beautifully. It's also the color associated with cleanliness, spaciousness, and relaxation, and has a crisp, fresh chic.  You literally can't go wrong with white.
Use neutral colors in layers of different fabrics, use bold colors as accents in wall art or a piece of furniture, or use creamy antique pieces to create an elegant fairy tale escape. White is never the wrong color!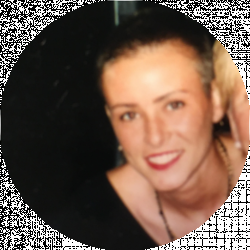 Latest posts by Richelle Tieman
(see all)