Horizontal bookcases are functional as well as decorative. They add an accent of style to any living room, den, or home library.
With this guide, you will find the best options, styles, and locations to purchase the best horizontal bookcase to fit your individual needs. The pros and cons of each piece are also included, so you're aware of all aspects of the bookcase.
But first, here's a glance at each selection we picked for the guide. You will find color selections, materials, and dimensions to help you understand which product is the perfect fit.
At a Glance: 6 Best Horizontal Bookcase Ideas
| | | | | |
| --- | --- | --- | --- | --- |
| Horizontal Bookcase | Best for | Foundations | Dimensions | More info |
| Fatorri 8-cube Storage Organizer Bookcase | Decorative item and book storage capacity for any room | Metal and wood | 62.01 x 13.58 x 30.12 | Find out more |
| Abington Land 3-tier Double-Wide Bookcase | Storing larger books, as it has an open shelf design | Metal and wood | 55 x 13 x 30 | Find out more |
| Morrell Standard Bookcase | Basic book storage. Stackable or side by side option | Manufactured wood | 36 x 12 x 30 | Find out more |
| Sauder Adept Storage credenza | Durable and sturdy storage and bookcase with labeling capabilities | Recycled wood materials | 58.19 x 17.17 x 36.26 | Find out more |
| Better Homes and Gardens Cube Organizer | Storing large quantities of books | Manufactured wood and laminate | 58.39 x 15.35 x 44.57 | Find out more |
| Contender Mobile Folding Supersized Unit | Home and school organization of books | Solid wood | 93.5 x 12 x 35.5 | Find out more |
The Basics of the Horizontal Bookcase
Bookcases come in two basic forms, vertical and horizontal. Yes, many artistic representations hold your favorite best-sellers. There are bookcases made into the wall, the stairs, and the cabinets. The thing with these stationary bookcases is that they cannot be easily moved.
Unlike the vertical bookcase, the horizontal counterpart allows for more wall space for pictures. It also provides a tabletop for vases, rare keepsakes, and other stand-alone decorations. When the living room lacks that final piece of furniture to bring everything together, the horizontal bookcase is just the thing.
Horizontal bookcases are easy to move from room to room
These units hold ample amounts of various sized books depending on size and shape
The horizontal bookcase, unlike some vertical counterparts, offers top space for pictures
The product provides more wall space than its vertical type for hanging pictures
Types Of Horizontal Bookcase
Not all horizontal bookcases are the same. Here are the basics:
Material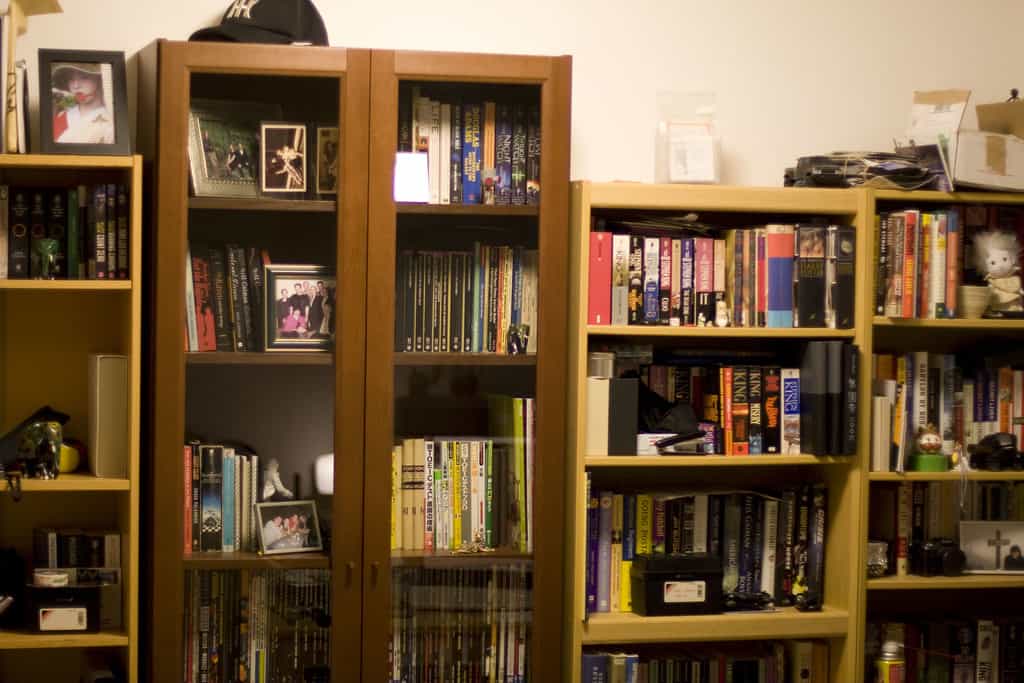 Bookcases are constructed most commonly from wood, metal (see our guide on the best metal bookcases), or a mixture of both. Each has its strong points to consider in durability and assembly when purchased. Sometimes bookcases are constructed from other materials but aren't as long-lasting as wood or metal.
Some of the best bookcases are made from recycled materials, which not only look attractive, last a long time but are constructed in a way that helps the planet.
Colors
Bookcases can come in many colors. With wood bookcases, dark or light stains are common. Metal bookcases are either natural in color or painted black. Some steel units have solid wood shelving to further fortify the bookcase. But there are no hard rules as to what color a bookcase 'should be in this case. Some products give the individual a choice of color when purchasing.
Size
Bookcases can be small, close to the floor, with few shelves. They can be taller but not surpassing dimensions in length. The number of shelves determines how tall your horizontal bookcase will be most of the time. While unique styles show horizontal bookcases having different shelves or cubbies, it depends on how the piece is constructed. So, it varies greatly from style to style.
Designs
The Cubby Bookcase
This Bookcase is unique as it can accommodate individual cubby spaces for books, along with other important objects. The bookcase can be used at home, schools, or nurseries, depending on the need.
Industrial Bookshelves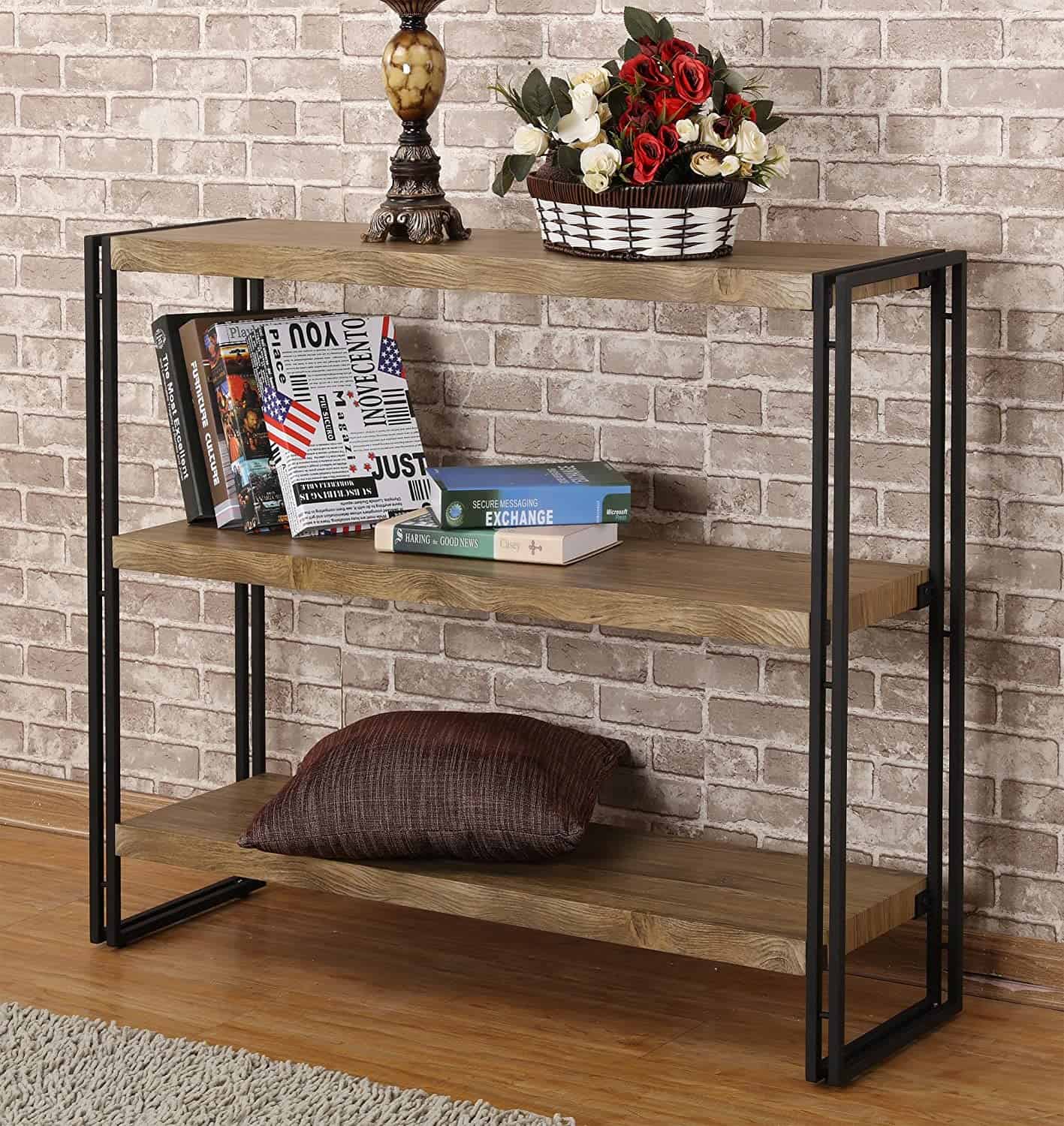 These pieces are generally made from a mixture of steel and wood components to ensure stability. Usually, the basic foundation is metal with solid wood shelves. Many of these products come with open-back construction to allow for larger books.
2-Shelf Bookcase
The basic 2-tiered bookcase in all forms sits lower to the floor. It serves as a bookcase and a tabletop for pictures of smaller objects.
3-Shelf Bookcase
The basic 3-tiered bookcase in all forms sits a bit taller than the 2-tier and obviously offers a bit more space for books. It can also serve as a tabletop as well.
2-3-Shelf Wood and Steel
The 2-3 tiered industrial bookcase is made from materials such as steel and is usually only used for book storage. It is especially good for heavy books or manuals.
Cube Organizer Bookcase
Bookshelf with spaces large enough to accommodate cube organizers made from various materials. While some shelves void of cube organizers are used for books, the cube organizers accommodate other important possessions.
Multiple Sectioned Bookcases
Bookshelves with 8-12 shelves are used for the book lover. They can be used to store a great number of various types of books, large and small. They may also be longer than usual to accommodate even more room. Sometimes, these bookcases can cover an entire wall.
Console/Bookcase
Bookshelf units that are strong enough to hold entertainment devices on top, including medium-sized televisions (This depends on the weight of electronics). Underneath, they usually only have 2 or 3-tiered shelves.
Storage Organizers
Basic storage containers that can be used for storage or bookshelves. These are made from both wood or metal and come in various colors to fit your decor.
Best Horizontal Bookcase Ideas
1. Fatorri 8 Cube Storage Organizer Bookcase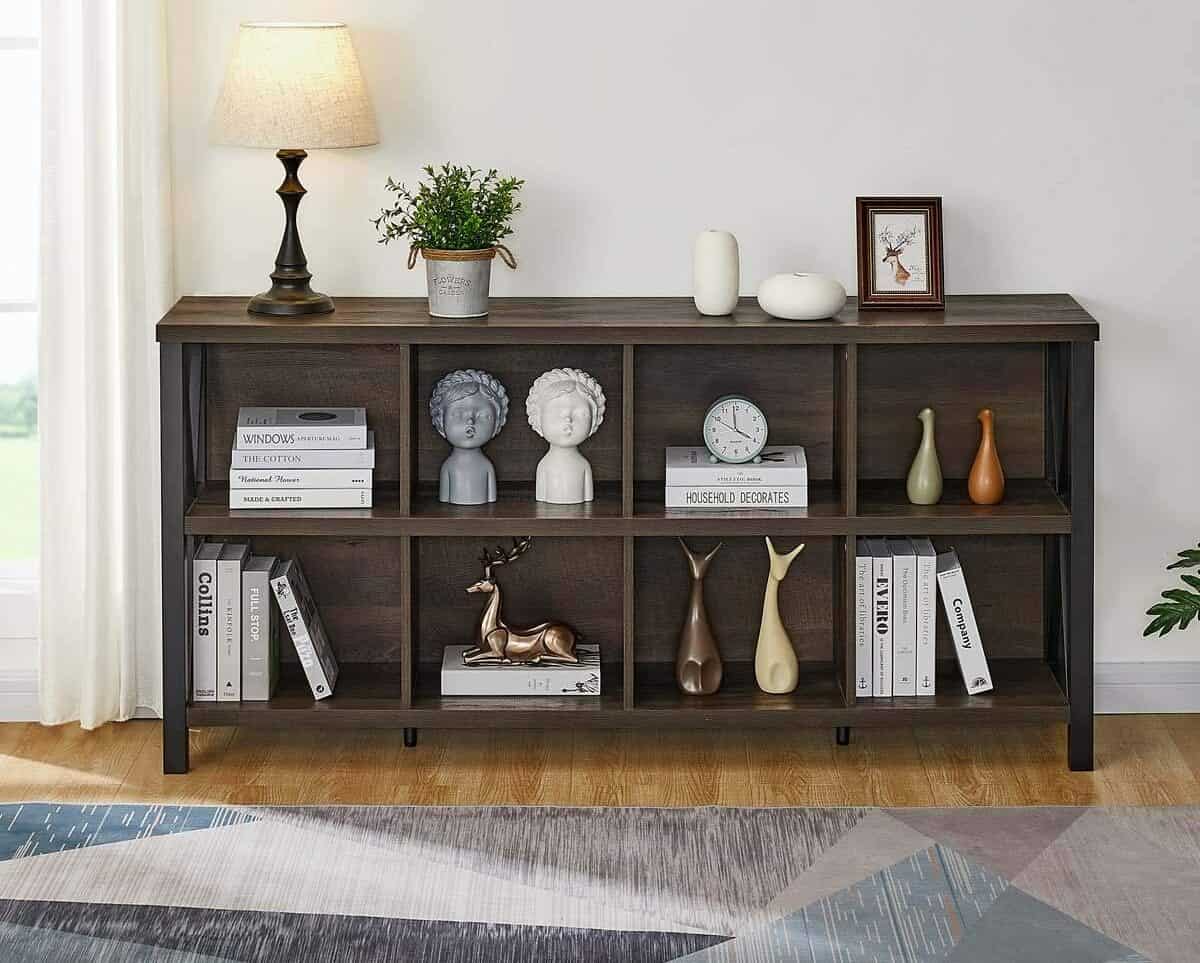 This industrial rustic bookshelf from Fatorri, found on Amazon, provides ample space for both books and organizing décor. The stylistic construction is attractive to the eye and useful for storing your favorite books. The top has ample space for pictures and other items. It's perfect for keeping things out of the way and in order and fits easily against the wall.
The Fatorri Bookshelf is made from metal which is painted to resemble wood. This helps it blend into any décor in your home. It's sturdy and can withstand heavy decorative items on top and large books on the shelves. It's an overall winner.
Overall Dimensions: 62.01 L x 13.58 W x 30.12 H
Weight: 57.2 lbs
Pros:
Solid frame holds heavier objects
Easy to assemble
Versatile accent for any room
Beautiful color fools the eye
Cons:
Although it resembles wood, it's constructed with a metal frame
It doesn't accommodate all cube boxes, isn't adjustable
2. Abington Lane 3-tier Double wide Bookcase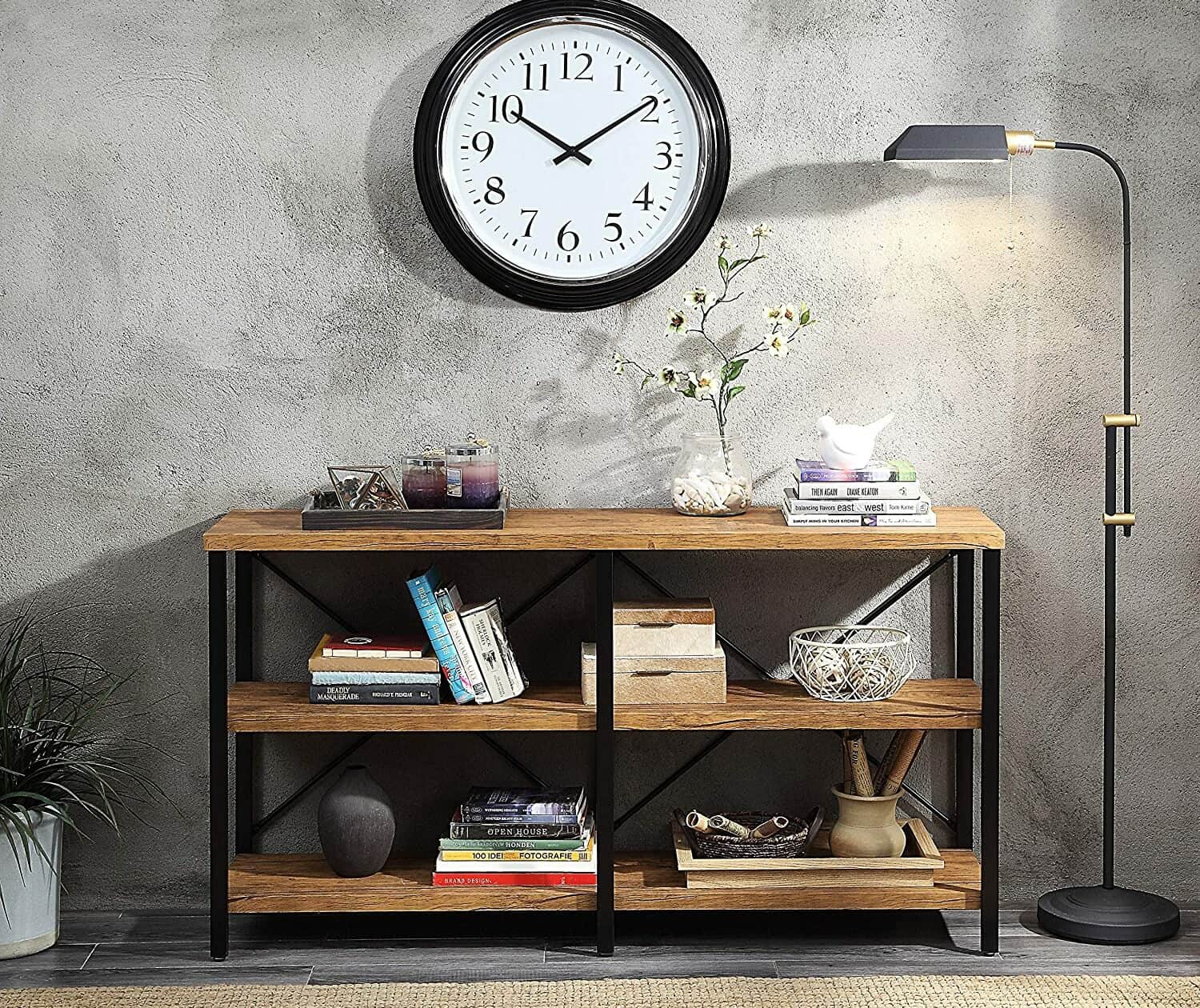 This open-framed design provides ample storage for books and other collectibles. It's stylish and adds space within the home or office. This piece is definitely a conversation starter, as it's chic and modern, with hints of classic style.
The bookshelf is constructed with steel and walnut wood shelving to provide a sturdy, unshakable shelving unit, providing the best home for your most valuable reading material and other important objects.
Its open back frame also provides a lighter-weight furniture piece when deciding to move the bookshelf. It's rectangular in shape, and the wood shelving is in a walnut finish. The open-back design also makes this piece much easier to clean.
Overall Dimensions: 55 L x 13 W x 30 H
Weight: 43.1 lbs
Pros:
Versatile and durable
Open-framed storage shelf
Easier to move
Cons:
Must have two individuals to assemble the product
Simple design with no embellishments
3. Morrell Standard Bookcase (set of two)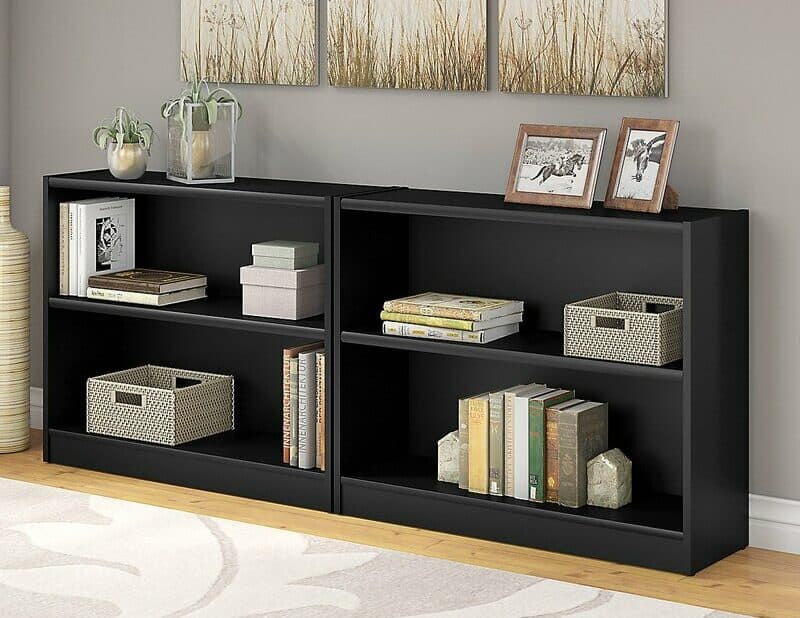 This low-profile 2-tiered bookcase from Mayfair has adjustable shelves to accommodate larger or smaller books. Its clean look fits into any environment and can be paired with two or more identical stand-alone bookshelves.
It fits in small places, with either a single unit placed in one area or both units placed together or stacked. The bookshelf is made of good quality manufactured wood and stained to a dark gray. The unit is easy to put together and lightweight.
Overall Dimensions: 36 L x 12 W x 30 H
Shelf Weight Capacity: 20 lbs.
Overall weight Capacity from top: 45 lbs.
Pros:
It can be stackable, but only with lightweight books or paperbacks
Purchase includes two units
The color compliments almost any decor
Cons:
It doesn't hold heavy books
Not constructed of solid wood
Residential use only
4. Sauder Adept Storage Credenza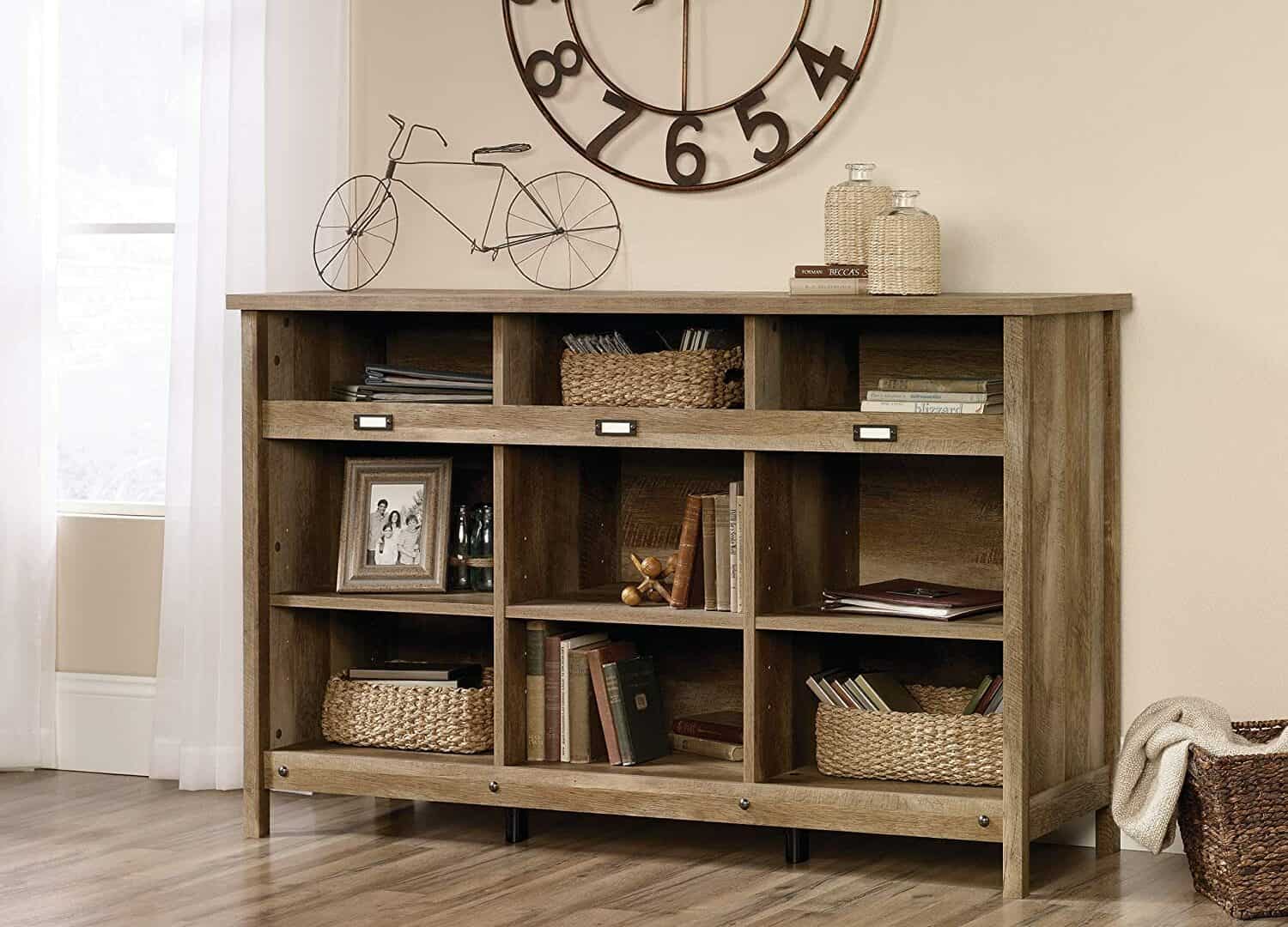 While offering ample space for your favorite books, the Sauder, found on Amazon, has adjustable shelving and label tag capabilities. This 3-tier bookcase can store heavy books, large books, binders, and paperbacks. It's versatile and also fits quite nicely in a focal area of your preferred room.
Made from recycled materials, it makes it even better knowing your purchase helps the environment. But although it's made from these materials, it has a beautiful walnut finish that creates a classy piece of furniture.
Overall Dimensions: 58.19 L x 17.17 W x 36.26 H
Weight: 125 lbs
Pros:
American-made sustainable recycled product
One of the most sturdy products of its kind
Cons:
Heavy and maybe a bit harder to move after assembly
Assembly is a bit more involved and potentially complicated
5. Better Homes and Gardens Cube Organizer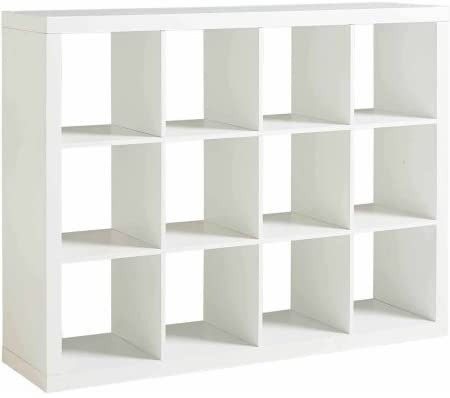 This 12-cube organizer bookcase provides ample room for many of our prized best-sellers and other favorites. The Cube Organizer comes in various colors and is constructed from wood materials covered with baked-on laminate coating for protection from elements or accidental scrapes and scratches.
The Cube Organizer, located on Amazon, can be used as a stand-alone shelving system or attached to the wall for added stability, although it is sturdy enough to hold many books and keepsakes. The product can also be used in closets to store shoes and other items if you prefer not to use it as a bookshelf.
If you use this as our priority bookcase, you can buy more than one and line the walls of your library or den with massive shelf space for your collection or future collections of books.
Overall dimensions: 58.39 L x 15.35 W x 44.57 H
Weight: 68 lbs.
Pros:
Holds a large number of books and keepsakes
It comes in a variety of colors
Cons:
Rocks slightly without back support
Made of manufactured wood under laminate, not solid wood
6. Contender Mobile Folding Supersized Unit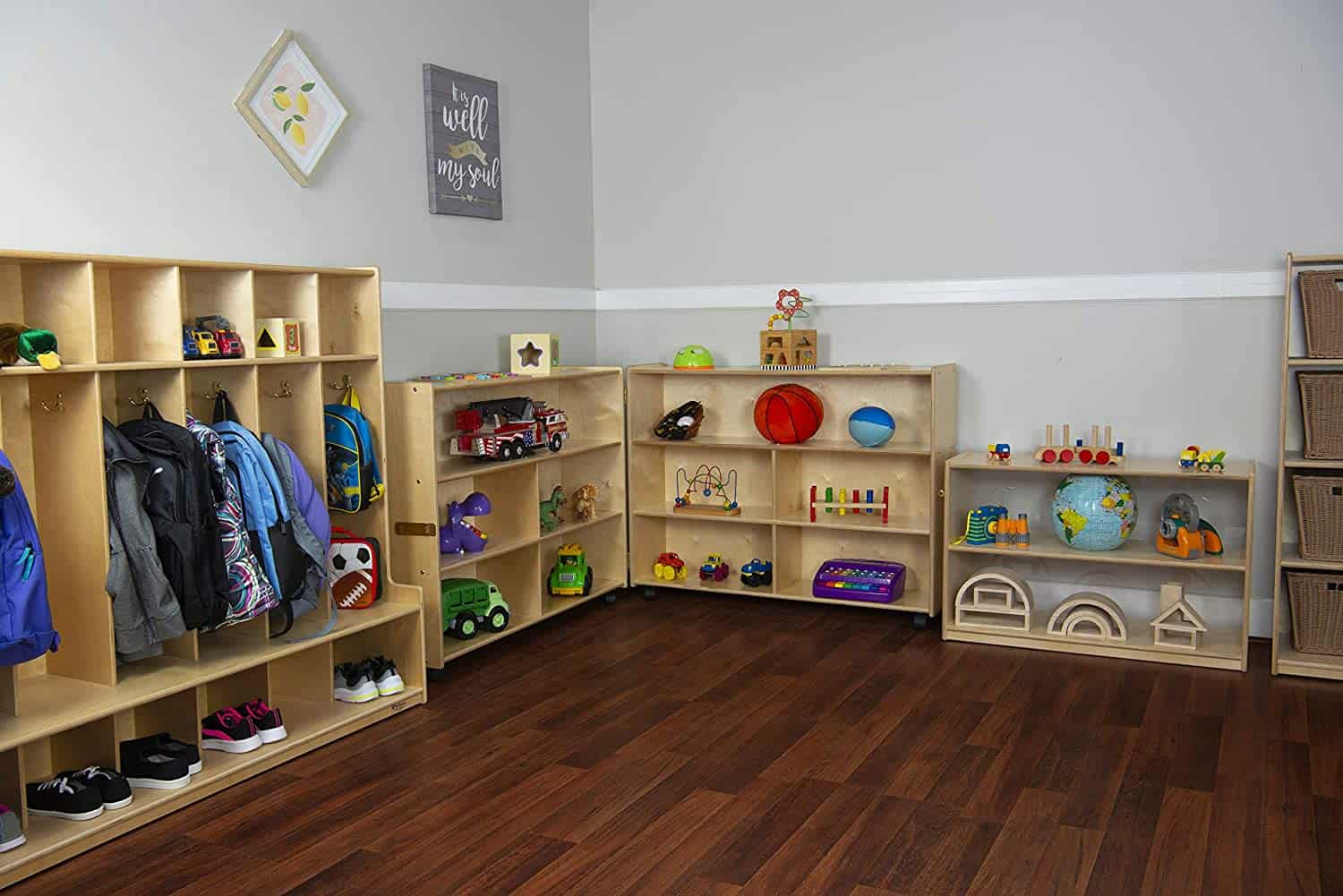 This unique design allows for ample storage, including both multiple cubes and full-length sections for various home options. This unit also has wheels, so it's easy to transport from one room to the other if you need to redecorate. The unit is coated with Tuff-Gloss so it's easy to wipe clean. It's perfect for home, schools, or daycares.
Since the unit folds, you can enclose your book collection when it's not in use. This further protects your belongings from damage. This product made from high-quality Birchwood can be found on Amazon. The bookcases are great ideas for children's rooms as they can be stored away when the child is finished reading.
Overall Dimensions: 93.5 L x 12 W x 35.5 H
Weight: 114 lbs.
Pros:
Smooth edges
Foldable, moveable, and has a latch to close
Made from solid wood
Cons:
May not accommodate larger books due to narrow shelves
Heavier build, assembly may be more difficult
FAQs
Question: What does 'horizontal bookcase' mean?
Answer: The horizontal bookcase is a short design, allowing for more wall space. Sometimes, these bookcases can be quite long, while other times, they can be short. To classify as a horizontal bookcase, however, the length must be greater than the height.
Question: Are horizontal bookcases hard to assemble?
Answer: As most products come with assembly instructions, each part is usually numbered according to the steps in the assembly procedure. Although you may need a second individual to help get the bookcase together quickly, it can be done with one person paying close attention to detail.
Question: Are all wood bookcases made from solid wood?
Answer: No, while some bookcases are indeed constructed from solid pine or oak, many bookcases are constructed of lighter-weight manufactured wood material. This material is usually coated to make it sturdier and easier to clean.
Question: Is Customer Service available for most bookcase products?
Answer: While there may be rare exceptions, most products come with guaranteed customer service help in case assembly assistance is needed. Also, you can use the customer service line to report any missing pieces, which can then be mailed to your location.
Question: Are metal bookcases flimsy?
Answer: While come may sway a bit, most metal bookcases are made from a mixture of wood and metal. Many are constructed from steel which creates one of the sturdiest types of bookcases you can purchase.
Question: Are manufactured wood bookcases dependable?
Answer: Usually, manufactured wood bookcases are dependable for most any books. However, some extremely heavy books may cause the bookcase to sway a bit. Many people opt to secure their manufactured wood bookcase to the wall to ensure stability.
Final Thoughts on Horizontal Bookcases
Any horizontal bookcase purchase you make should be a well-informed and smart purchase for your home or office. After all, being satisfied with how your bookcase compliments the rest of the decor is important.
If there was a favorite bookcase, in our opinion, we would pick the Sauder Adept Storage Credenza for its ample space and solid construction, created by recycled and sustainable materials.
For other decor and functional styles that stand out above the rest, you can visit the bookcase ideas and inspiration guide to learn more. As far as your living room decor, check out our guide for coffee tables for ideas both stylish and modern.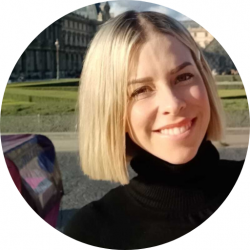 Latest posts by Jodie Chiffey
(see all)