An interesting twist to the coffee table is the drum design. A drum coffee table adds flair to an otherwise dull interior. Looking like a musical instrument, this table is exciting and sure to be a topic with friends.
If you're interested in purchasing a drum coffee table, our guide can help you understand everything you need to know about this product. Is it heavy? Can it have a storage compartment? These questions and more will be answered as you check out several varieties. You can also check out our sofas and home office options.
When purchasing a drum coffee table, don't forget to pair this product with the right lighting and an interesting chair or two. Although the drum coffee table can be used in the living room, two of them can also be used as end tables, or they can be used in other rooms for other purposes. You decide.
To give you a few options for purchasing the drum coffee table, here are some of the best products on the market.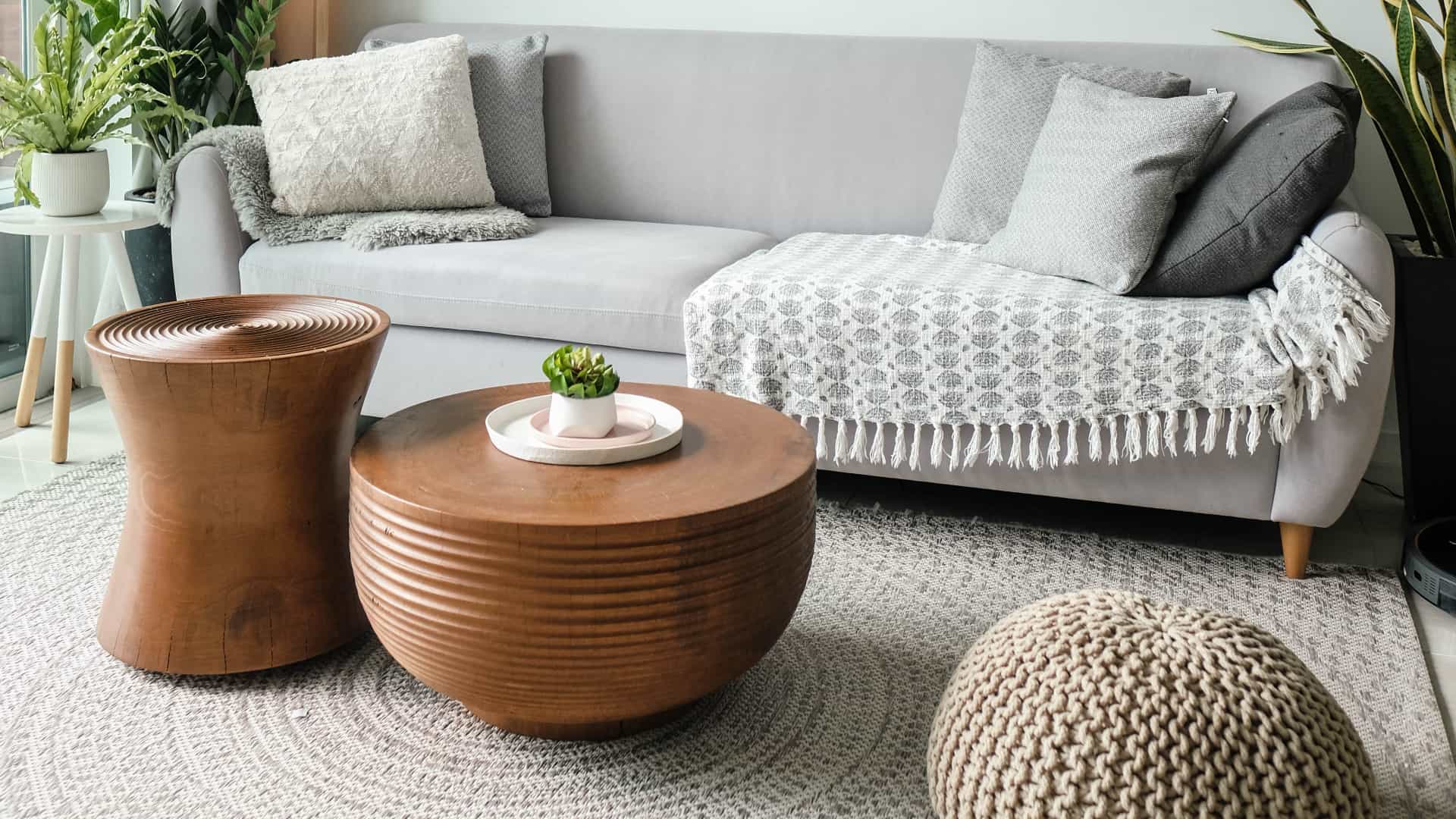 At a Glance: Best Drum Coffee Table Ideas
| | | | | |
| --- | --- | --- | --- | --- |
| Drum Coffee Tables | Best used for | Foundation | Dimensions | More info |
| Powell Hammered Gold Drum | Storage and centerpiece | Mango wood and metal | 22.5 x 16 H | Find out more |
| Urban Port Drum | Any occasion with many friends | Acacia wood | 36 x 12 H | Find out more |
| Homery Modern Round Drum | Cocktails for two | Wood and Fiberglass | 19.7 x 18.7 H | Find out more |
| East at Main's Cummings Blue Coconut shell table | Centerpiece and a great place to enjoy time with friends | Wood and coconut shell | 31 x 16 H | Find out more |
| Christopher Knight Home Sidney Indoor | Simple table to match most decor | Concrete | 19 x 16.25 H | Find out more |
| Poly and Bark Sana | Showcased in the living room | Distressed Nickel | 30 x 17 H | Find out more |
| Unfade Memory Round drum | Storage and centerpiece | Distressed and reclaimed wood | 23.6 x 10.6 H | Find out more |
Selection Criteria
Surprisingly, the drum coffee table has many varieties. To help, our guide breaks down the specifications of a good quality table to judge for yourself. These are the criteria we used during our assessment.
Style – You can find drum coffee tables in modern, traditional, rustic, and transitional, just to name a few. There are drum coffee tables that fit any living room table desire. Drum tables can also be styled for other rooms.
Type of Materials – Materials used in the construction of the drum coffee table can be vast. Most tables are made from wood, metal, glass, or hybrids of many manufactured materials. This includes fiberglass or faux materials.
Function vs. Aesthetics – The design of the drum coffee table doesn't trump its aesthetics. The table is quite functional with some pieces, including a storage space inside. In addition, you will find resilient scratch-proof tables and waterproof pieces.
Why Choose a Drum Coffee Table?
With all the straight lines created by sofas and end tables, the drum coffee table shakes things up a bit. With a round table in the midst of so many angles, it's a striking look that's nothing short of spectacular.
A drum coffee table can also fit right into a theme for musicians and artists. For the musician, particularly a drummer, the drum table can emphasize the beauty of sound. For the artist, the drum table may seem abstract and surreal, complimenting the artistic décor of the room.
There are many reasons why you may choose the drum coffee table, but there is more than just one kind. There are many shapes, sizes, and materials that make quality drum coffee tables.
Basic Types of Drum Coffee Tables
They're not all the same. The drum coffee table is constructed from various materials. Here are a few overall types of drum tables to add that special something to your home.
Wood
Metal
Glass
Stone
Concrete
fiberglass
Styles

Modern
The modern style includes any recent designs like storage-based drum tables or simplistic options.
Traditional
Since drum coffee tables aren't as traditional as your original designed tables, a traditional form would include a solid wood form with a flat bottom and a wide spacious tabletop.
Transitional
A transitional table is a hybrid between a modern and traditional form. This type of drum table can be made from metal or wood. It can also be constructed from a mixture of both materials with modern and traditional elements.
Rustic
A rustic drum coffee table can be constructed from reclaimed or distressed wood. It can also be a combination of a metal bottom with a wood top. There are several variations of this style, but the color is usually the main element that makes a table appear rustic.
Industrial
These tables tend to be made from fiberglass or metal. The design is solid, and the color is simple. Sometimes industrial designs have unusual color formats, but the table's structure remains the same, solid with a solid base – sometimes this style has feet attached to the table base.
7 Best Drum Coffee Table Options
1. Powell Hammered Gold Drum with Natural Wood Lift Top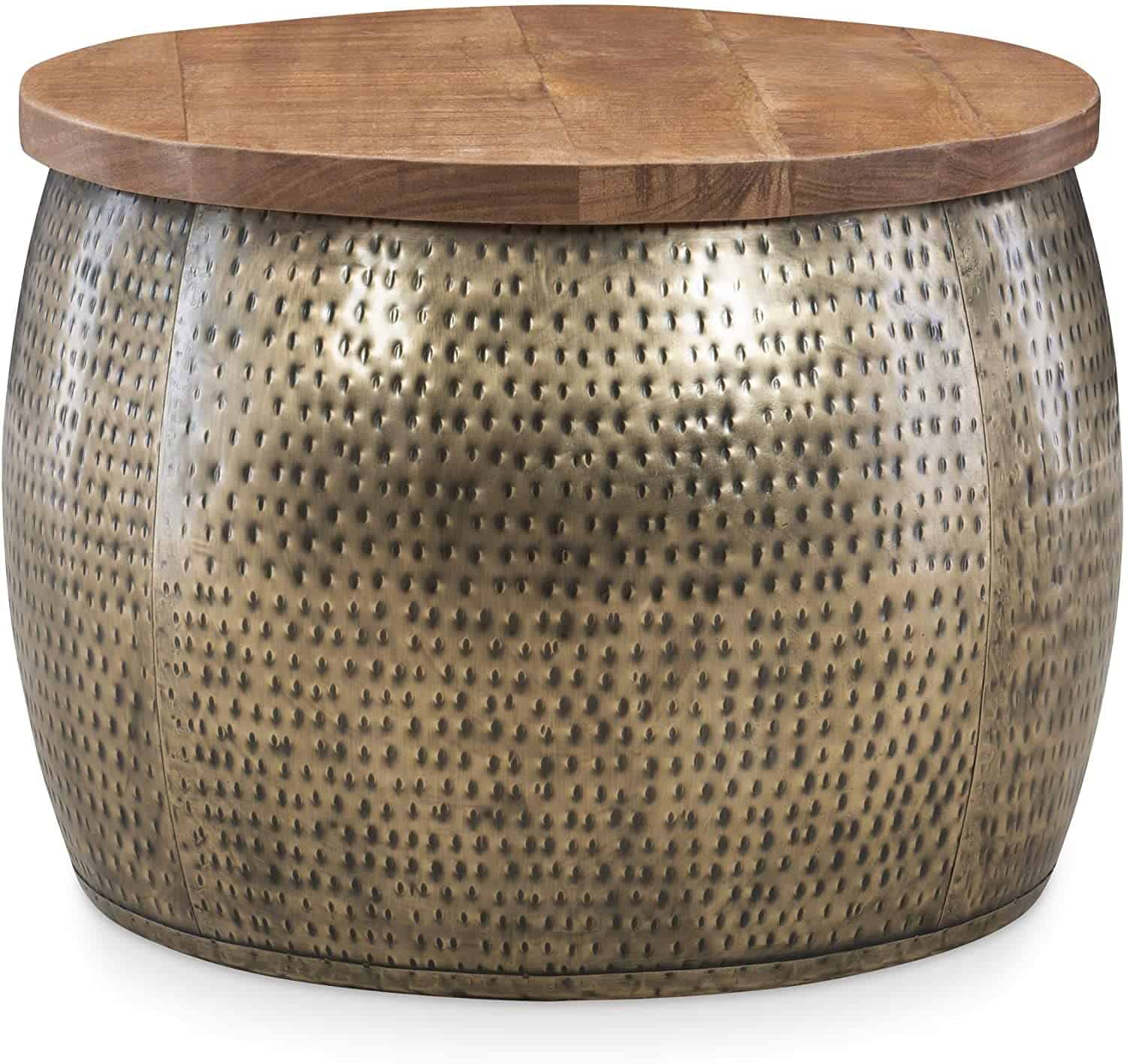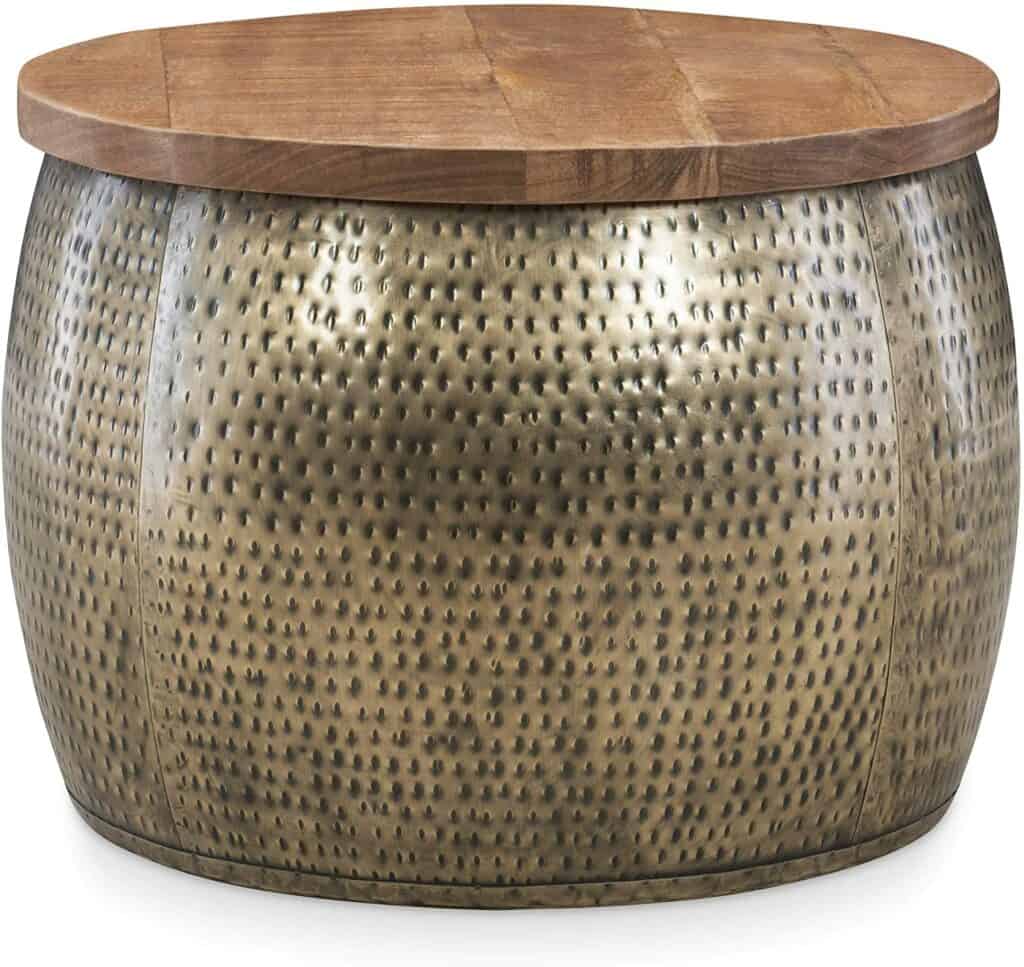 This drum coffee table, found on Amazon, is a top pick for many reasons. Not only does it serve as a small living room table to place beverages, but it's a centerpiece for conversations with friends. Unlike its square counterparts, the drum table brings a feeling of excitement and social unity to the room.
Made from Mango wood and hammered metal, this table is sturdy yet not too heavy to relocate when needed. Remove the Mango wood top, and you have plenty of storage space for fleece throws or small pillows. The drum is soft gold, and the Mango wood top is a natural wood color with a pink hue. It's quite a nice addition to any room.
Overall Dimensions: 22.5 x 16 H
Weight: 20.2 lbs.
Pros:
Truly an original table design
Nice color
Stable weight/easy to move
Cons:
It probably doesn't match all décor
It may be too small
2. The Urban Port Drum Shape Wooden Coffee Table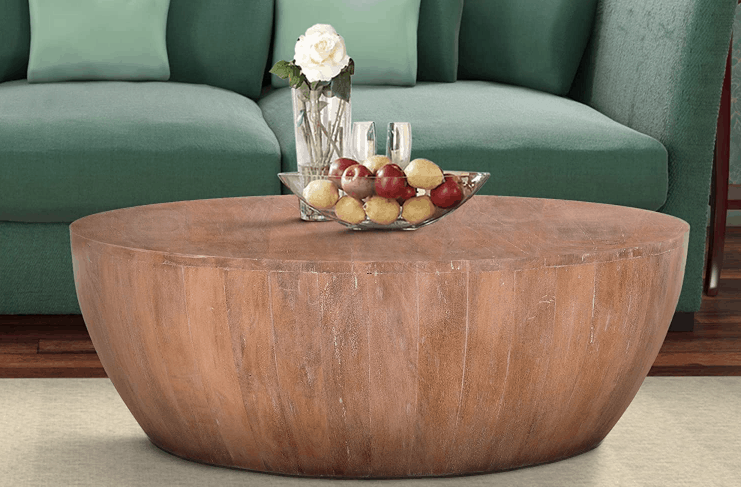 This selection, located on Amazon, is a combination of contemporary and modern design. The table was handcrafted from Acacia wood to create a solid table and flat base and is fully functional for drinks with friends. With its dark rustic stain, this coffee table can withstand more harsh treatment than ordinary tables.
The top is wide and can be used for serving drinks or food items. The base is sturdy, eliminating the instability of a rounded furniture piece. You can enjoy the natural lines and knots within the wood and use the table in any room you choose.
Overall Dimensions: 36 x 12 H
Weight: 34.2 lbs.
Pros:
One solid piece
Sturdy and durable
Cons:
Heavy to move
Doesn't have storage space
3. Homary Modern Round Drum Coffee Table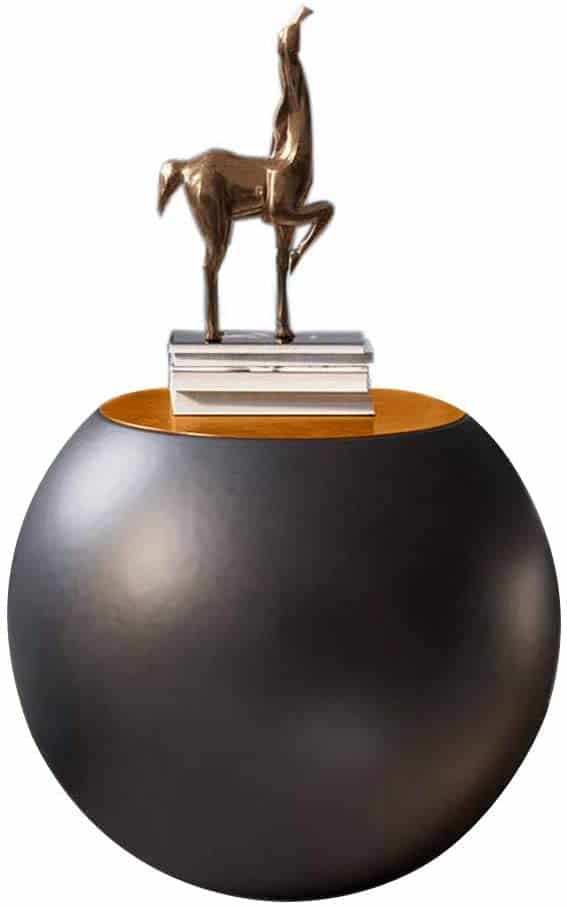 If you're really into modern interiors, this Art deco table will fit right into your décor. Its simplistic sound shape has a flat top and flat bottom, making it just as stationary as any table. If you have a modern style sofa in a severe rectangular shape, this round table will contrast nicely.
The table is made from tempered fiberglass in black coating with the gold tabletop. The tabletop can be lifted to reveal a small storage space all in white. Although it might not be the winner of storage space, you can hide things away, and no one would be the wiser. You can find this bold piece on Amazon, and there are similar wider drum tables you can pair with this one.
Overall Dimensions: 19.7 x 18.7 H
Weight: 59.5 lbs.
Tabletop diameter: 13.8
Pros:
Temperature resistant
Easy to clean
Scratch proof
Cons:
Hard to blend with non-modern decor
It may be too small
4. East at Main's Cummings Blue Coconut Shell Inlay Round Coffee Table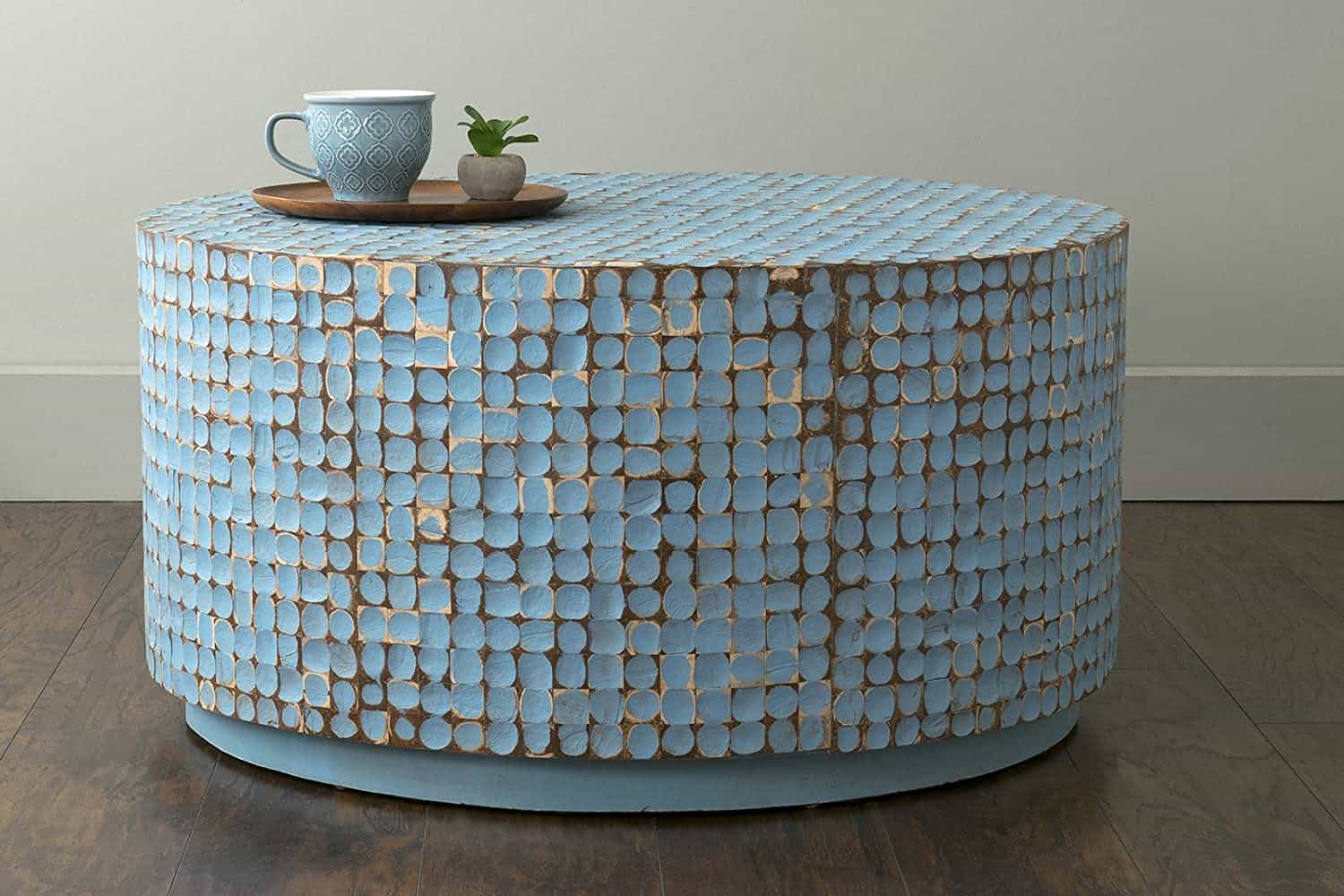 If you're going for the beachy island look, this could be the perfect table for your decor. Found on Houzz, this uniquely crafted table appears to be covered in small square blue-painted coconut shells. It's true, this mosaic effect is created by teakwood with an overlay of coconut shells precisely placed to form an eye-catching drum table.
The Coconut shell table is large and lifted with a teakwood base, making it a perfect place to sit for drinks or snacks in front of the sofa. It can serve as a casual or formal centerpiece in any home as its nature inspired design is versatile. For those who love the tropical style and design, this table will fit all your interior pieces.
Overall Dimensions: 31 x 16 H
Weight: 45 lbs.
Pros:
Truly unique design
Large tabletop
Cons: 
5. Christopher Knight Home Sidney Indoor Contemporary Lightweight Accent Table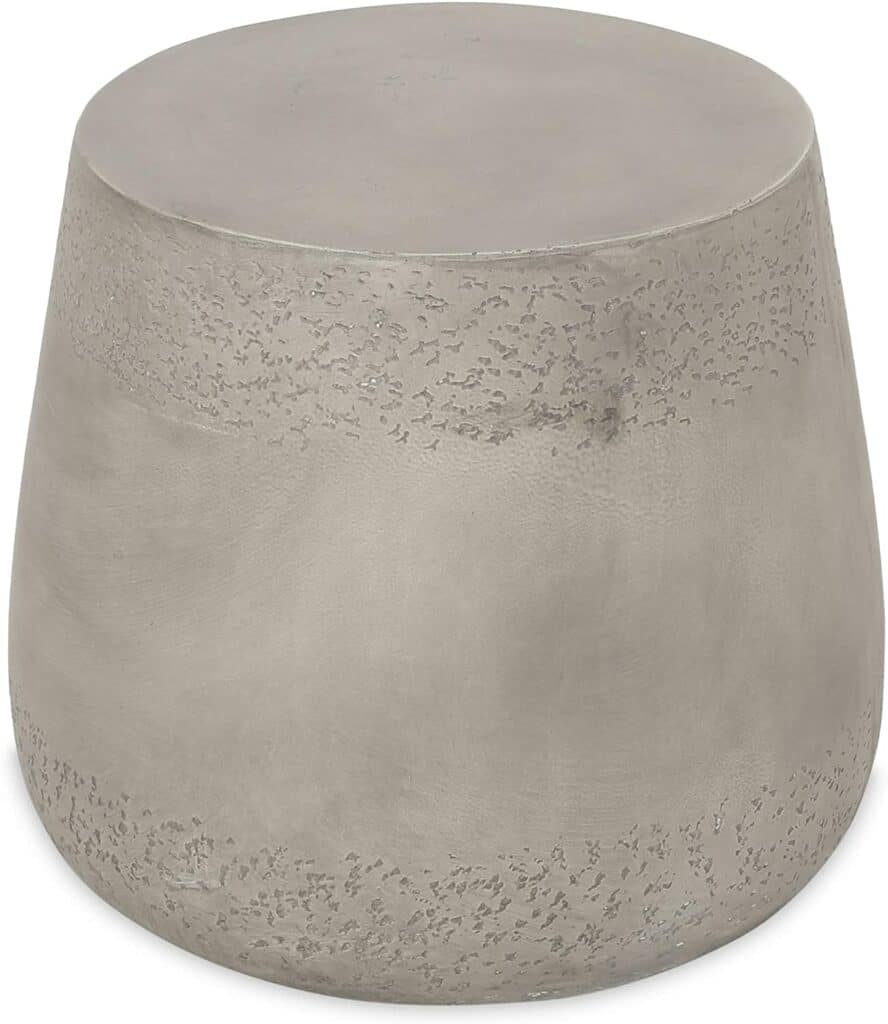 If you're shopping for a piece that can be used in various locations in your home, the Christopher Knight Home Sidney table on Amazon is the one. Constructed from lightweight concrete, this drum table fits with some of the brightest colored sofas, most eclectic lighting, and other unique pieces.
The table is large enough on top but widens as it moves toward the bottom. The table sits on a thin bulb bottom for stability. And the structure isn't heavy either. It's surprisingly lightweight and easy to transfer when needed. It's simplistic, practical, and just what you need to finish your living room design.
Overall Dimensions: 19 x 16.25 H
Weight: 24.8 lbs.
Pros:
Striking concrete design
Accentuates any decor
Cons:
It may be too simplistic for some
6. Poly and Bark Sana Coffee Table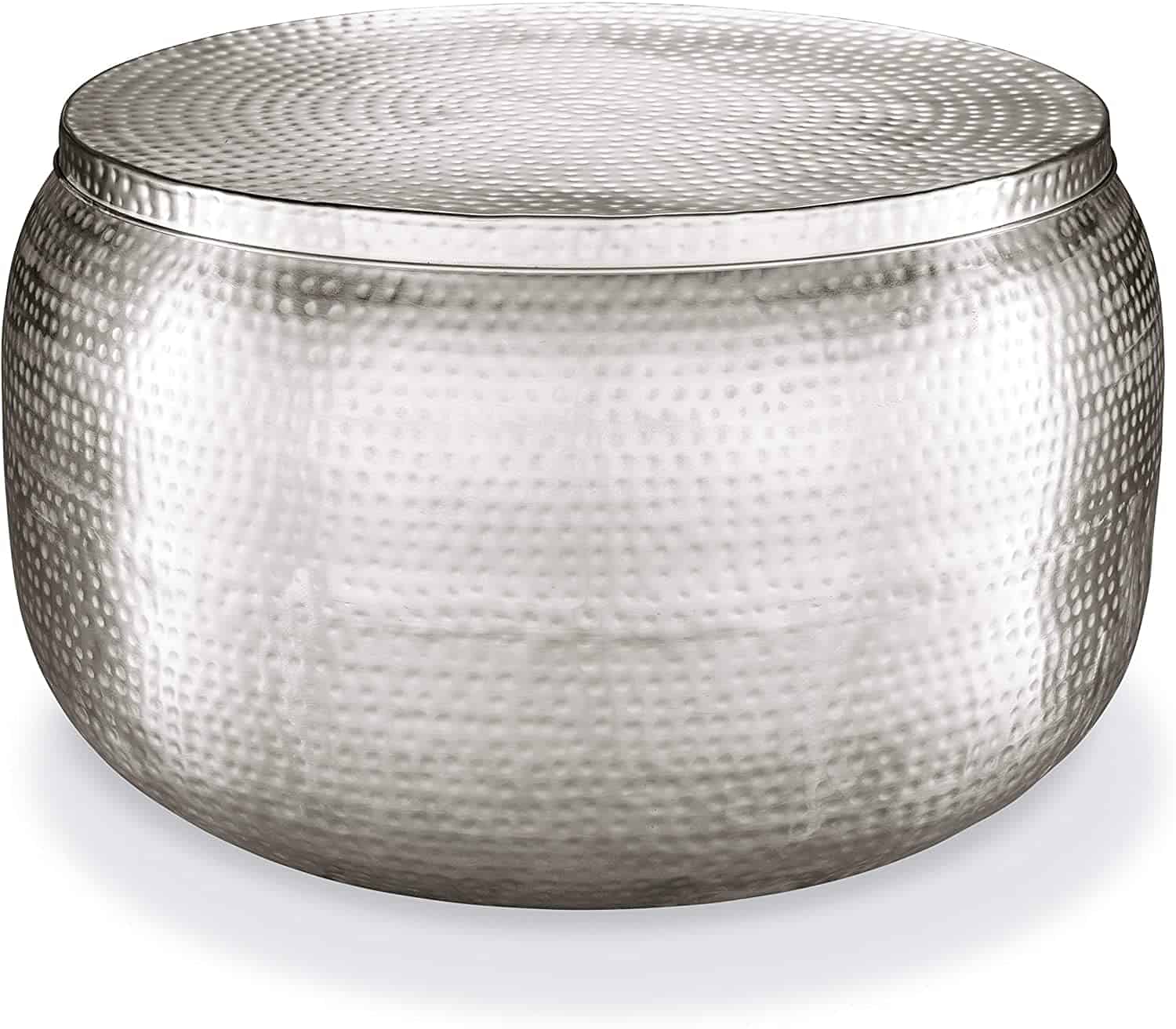 Some living rooms need a little dazzle and shine to add that special quality to the home. This Poly and Bark Sana drum table is created to bring out the beauty in the rest of your bling decor. The silver sheen on this distressed nickel-plated table is gorgeous and fun, especially when the company arrives.
The table is handcrafted, meaning there will be slight variations in every piece. It's a one-of-a-kind purchase, in other words. The bottom of the table has scuff-resistant rubber feet, which can be adjusted to balance the table. Along with the dazzle and beauty of this table, you can also use it for storage. Just lift off the tabletop and put your important belongings away for a while. You can find this interesting drum table on Amazon.
Overall Dimensions: 30 x 17 H
Weight: 31 lbs.
Pros:
Striking and noticeable piece
Easy to clean
Lightweight
Cons:
May clash with the lighting
It may not match all decor
7. Unfade Memory Round Drum Coffee Table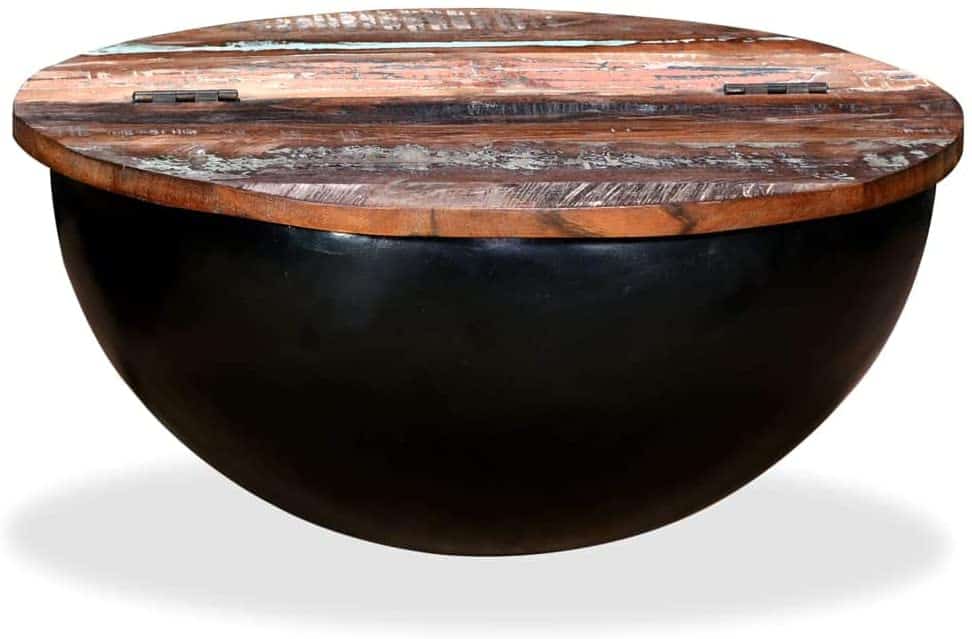 This practical drum table is made in the industrial style and fits well with other similar home furnishings. It also goes well with softer pieces like loveseats or full-length couches. This table has a round black or white bottom with a distressed wood top that reveals a storage area.
The reclaimed wood on the distressed top is colorful and adds to its warm feel. Although it's designed in an industrial form, it works as a truly unique table. As the wood top is made from reclaimed pieces, every table is different in tabletop color. Stash away that clutter and enjoy this table found on Amazon.
Overall Dimensions: 23.6 x 10.6 H
Weight: 28 lbs.
Pros:
Made from recycled products
Simple and attractive
Cons:
May clash with some decor
FAQs
Question: What is a drum coffee table?
Answer: The drum coffee table is a rounded table shaped like a large drum. It can be crafted with many different materials and in various colors. Many drum coffee tables have storage spaces, and some can hold quite a lot of small objects. Each drum table has a flat base or non-skid feet to support the furniture piece. Drum coffee tables also come in numerous themes to match your liking.
Question: Can you use the drum table on the patio?
Answer: Whether or not you can use your drum coffee table on the patio, which is more humid than inside, depends on the material of the drum. Most materials will rush or warp if left in damp areas for a long time. You might be able to leave your drum coffee table on the patio during a dry season, but winter would not be a good time to leave the table to the elements.
Question: What can you put on top of a drum coffee table?
Answer: You can actually put the same basic thing on the top of the drum table like any other table. It's just that the space may be quite a bit smaller due to the shape. While a long rectangular table can hold quite a lot, the drum table can only hold a portion of that.
So, as far as weight goes, it's about the same, but the amount is not. Placing a few beverages, a remote to the television, and a few magazines may fit one drum table, while another with a smaller tabletop may only hold the beverages and the remote control. It depends on the diameter of the top.
Question: Do drum coffee tables often tip over?
Answer: While it is a bit easier to tip over some drum tables, they are designed for stability. While most of the solid wood selections are extremely difficult to tip over, around modern tables may lean over easily if bumped. This depends highly on the weight of the materials that comprise the drum coffee table.
Final Thoughts on Drum Coffee Tables
With our guide, we hope to provide all the information you need when searching for a drum coffee table. As these types of tables become more popular each year, many new varieties will surface. If you like the look of the drum coffee table, you'll love to take a look at a few of our comfy chair selections.
As far as our pick of all the drum coffee tables, it would be the Urban Port Drum Coffee Table as it's one of the most sturdy tables that fit most designs. The base of this table is strong, and the table is made from one solid piece of Acacia wood. For other solid designs, check out our wood-constructed bookshelves.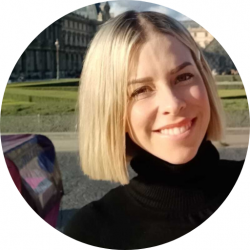 Latest posts by Jodie Chiffey
(see all)