An alternative to the traditional coffee table is the Trunk Coffee Table. The Trunk coffee table not only provides a tabletop area requiring little space but also offers inside storage for objects such as magazines, remotes, or throw pillows.
This home option is great for any size living room, especially small living rooms or den areas. If it's something you're interested in, our guide can provide a few of the best trunk coffee tables to help you make an educated choice.
Home décor fits individual needs, and so should a trunk coffee table. Contrary to what you may have heard, they aren't all the same. Colors, sizes, and small details will determine what fits your home. But before getting in-depth with this product, browse these quick options. Understanding the basics helps you have an idea of what to expect from our guide.
At a Glance: 6 Best Trunk Coffee Table Ideas
| | | | | |
| --- | --- | --- | --- | --- |
| Trunk Coffee Tables | Best for | Foundation | Dimensions | More info |
| vidaXL Solid Mango Table | Decorative accent for living room space | Solid Mango Wood | 43 x 14 x 16 | Find out more |
| SEI Blackwashed Wicker Table | Storage, table for small room, or entry-way storage | MDF, veneer, wicker, metal | 37.75 x 21.5 x 17.5 | Find out more |
| Ashley Alwin Signature Table | Used in a larger room for heavier storage and more guests | Pine wood, manufactured wood, metal | 36 x 36 x 18 | Find out more |
| SEI Furniture Nailhead Table | Perfect as a cocktail table with small storage | MDF, veneer, hardwood, and metal | 38.75 x 21.25 x 18.75 | Find out more |
| Kowalsky Solid Wood Table | Centerpiece of a rooms decor | Mango wood and metal | 33 x 17.5 x 18 | Find out more |
| Safavieh Zoe Creme Faux Leather Table | For entertaining and small storage | Faux leather, solid wood, and metal | 47.2 x 23.6 x 15.4 | Find out more |
What is a Trunk Coffee Table?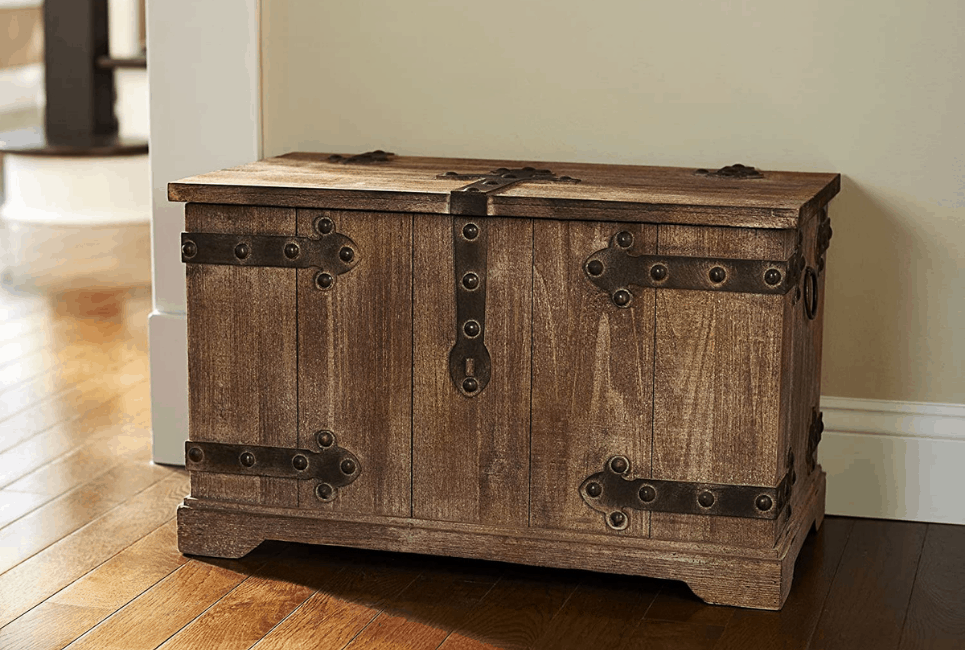 The coffee table is a low sitting table used to hold many different types of things, from beverages to decorative items. Some people even place magazines on these tables as an accent. The trunk coffee table is used much the same way with the addition of inside storage space.
Sitting around the coffee table with friends can be nice, especially while sitting on pillows or a nice comfy sofa. But with the trunk coffee table, it might be a bit more difficult.
You see, the trunk coffee table sits a bit higher than the traditional coffee table. There are two reasons for this: The lid of the storage compartment can sometimes be larger, and the storage area itself can take up more space. This changes the feel, the arrangement, and the lighting atmosphere of the room.
The construction of the trunk coffee table makes it more versatile as well, as it can be used in the entryway and the living room. In essence, and by definition, the trunk coffee table is a coffee table that resembles a storage trunk, useful in many ways.
Trunk Coffee Table Designs
Travel Storage Trunk Cocktail Coffee Table
This type of table looks like a travel storage trunk but functions as a nice cocktail table for any home. This excludes rounded top trunk storage units. Some of these trunk coffee tables are made from repurposed wood which adds to their travel theme.
Pyramid Trunk Coffee Table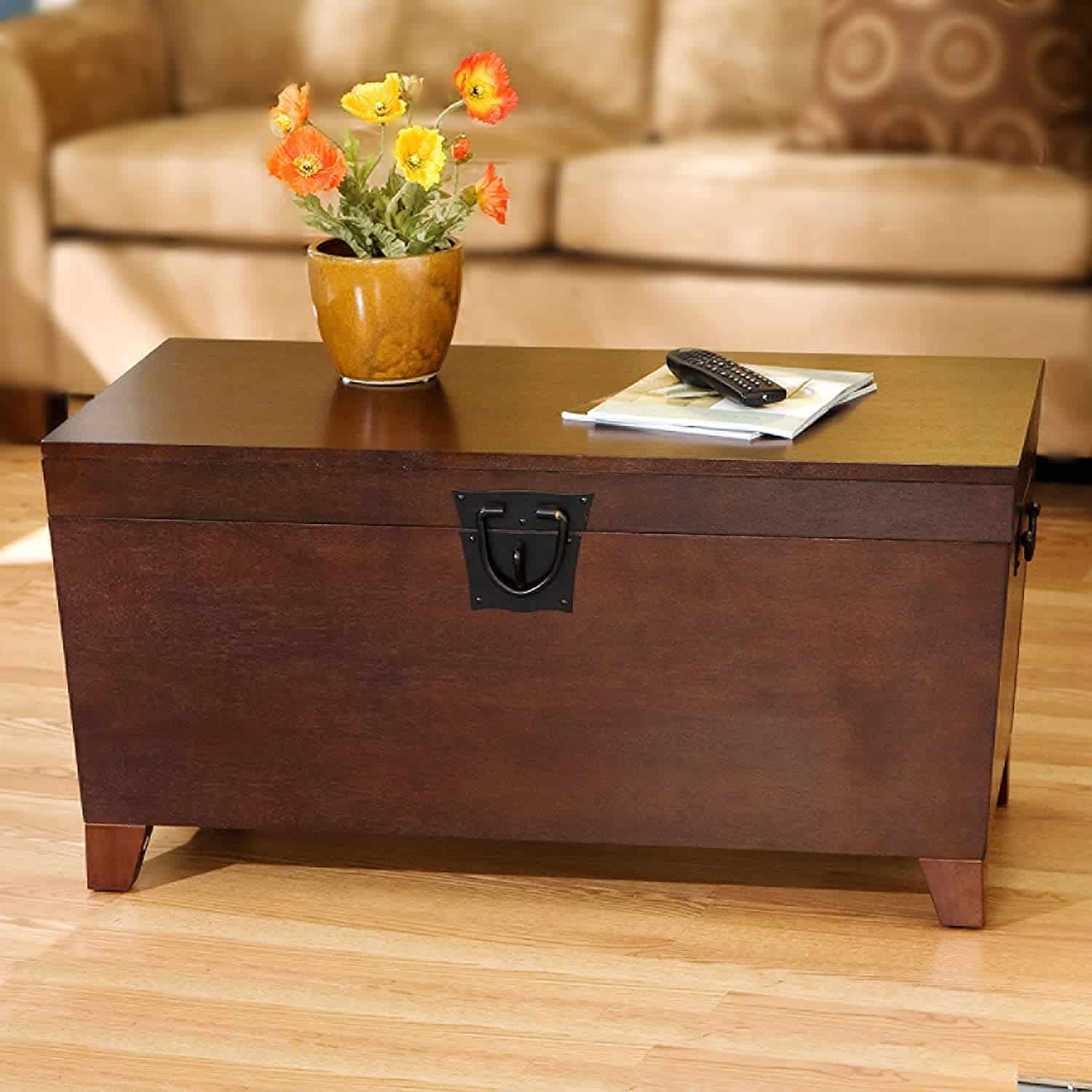 This type of trunk table is built in a slight inverted triangle slant. The solid design is also classic and simple. You can find these in various stains with different embellishments. They are usually smaller than other tables.
Boxed Chest Trunk Coffee Table
This trunk can serve as a coffee table in the living room or a temporary sitting area in the entry room. You can use this chest trunk table to store shoes before entering the rest of the home. Of course, the storage space can be used in many other ways.
Faux Leather Storage Trunk Coffee Table
These designs come in many shapes and sizes with one thing in common. They are usually made from a mixture of solid wood, metal, and of course, faux leather. Some of these trunk tables come with wheels and other innovative features.
Antique Style Trunk Coffee Table
These trunk tables are a centerpiece that draws attention as soon as you enter the room. They are beautifully crafted and stained in various hues. The structure is simple aside from the rounded antique-style legs and smooth edges.
Double-Wide/Double Lid Trunk Coffee Table
These trunk coffee tables are usually the same length and width, having double open tops with flat metal plates in the center. The design of most double-wide/double lid trunk tables is usually antique or classic. The double trunk table is larger and usually rustic in design.
Wicker Trunk Coffee Table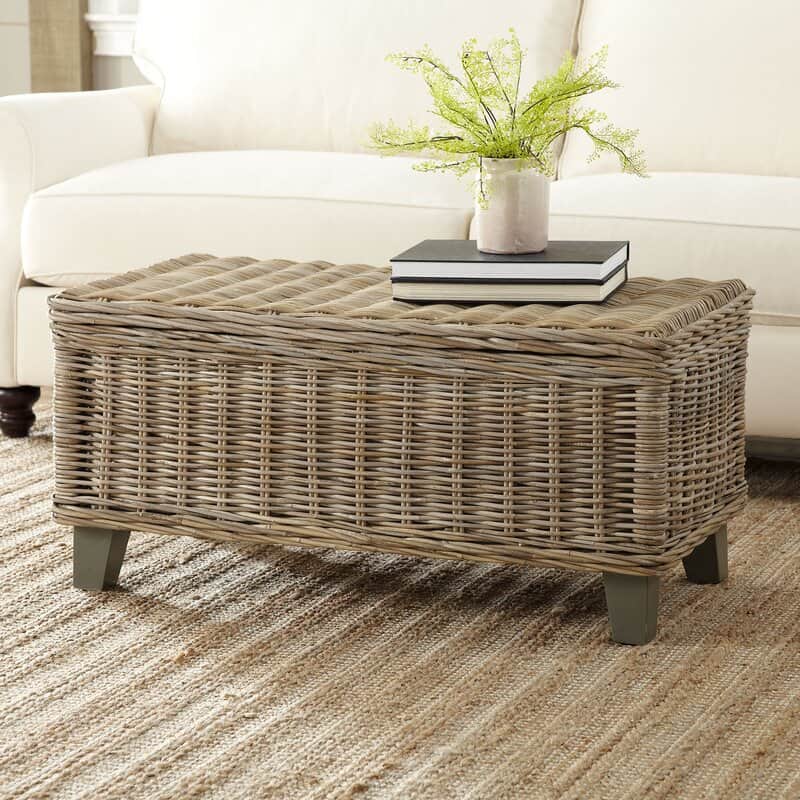 One of the more rare types of trunk coffee tables is the wood top wicker storage unit. These tables are reinforced with either manufactured wood or solid pine with a simple wicker outer design. While the tops are sturdy, the overall body of the table is lighter.
Rectangular Trunk Coffee Table
Rectangular trunk coffee tables are simply longer than the traditional table. Usually, these types of trunk tables hold less storage than their square counterparts. They can be designed in many ways and built with a variety of materials.
6 Best Trunk Coffee Table Ideas
1. VidaXL Solid Mango Wood Rustic Storage Table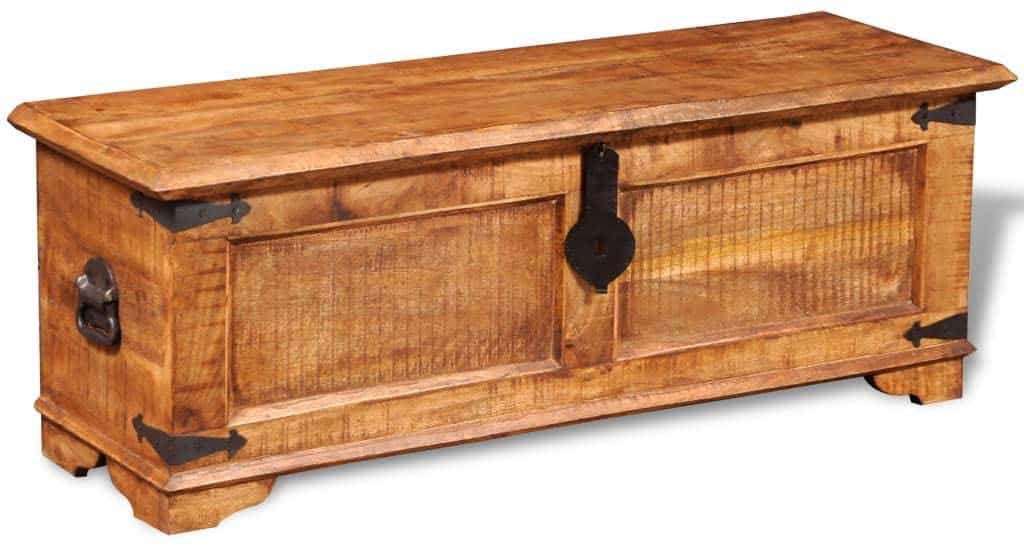 This storage coffee table is handmade from solid wood, making it durable and quite a beauty to behold. It has ample space for folded small blankets, books, or anything else you'd want to be kept put away when not in use. Use this storage trunk as a cocktail table to entertain guests or just for an accent to your living room.
As it's made of real wood, you can see the natural grains and knots in the walls and tabletop of this product, which can be found on Amazon. The Mango Wood Rustic Storage Table has been sanded down perfectly and finished to a nice gleam. There are also corner metal accents on the top and bottom of each side and handles on each end of the table. The storage compartment is accessible by a metal clasp as well.
Overall Dimensions
43 L x 14 W x 16 H
Weight
47.2 lbs.
Pros
Made of solid wood
Beautiful stain and varnish
Large storage compartment
Cons
Lightweight, so heavy objects cannot sit on top
It might not match all décor
2. SEI Black-washed Espresso Wicker Trunk Coffee Table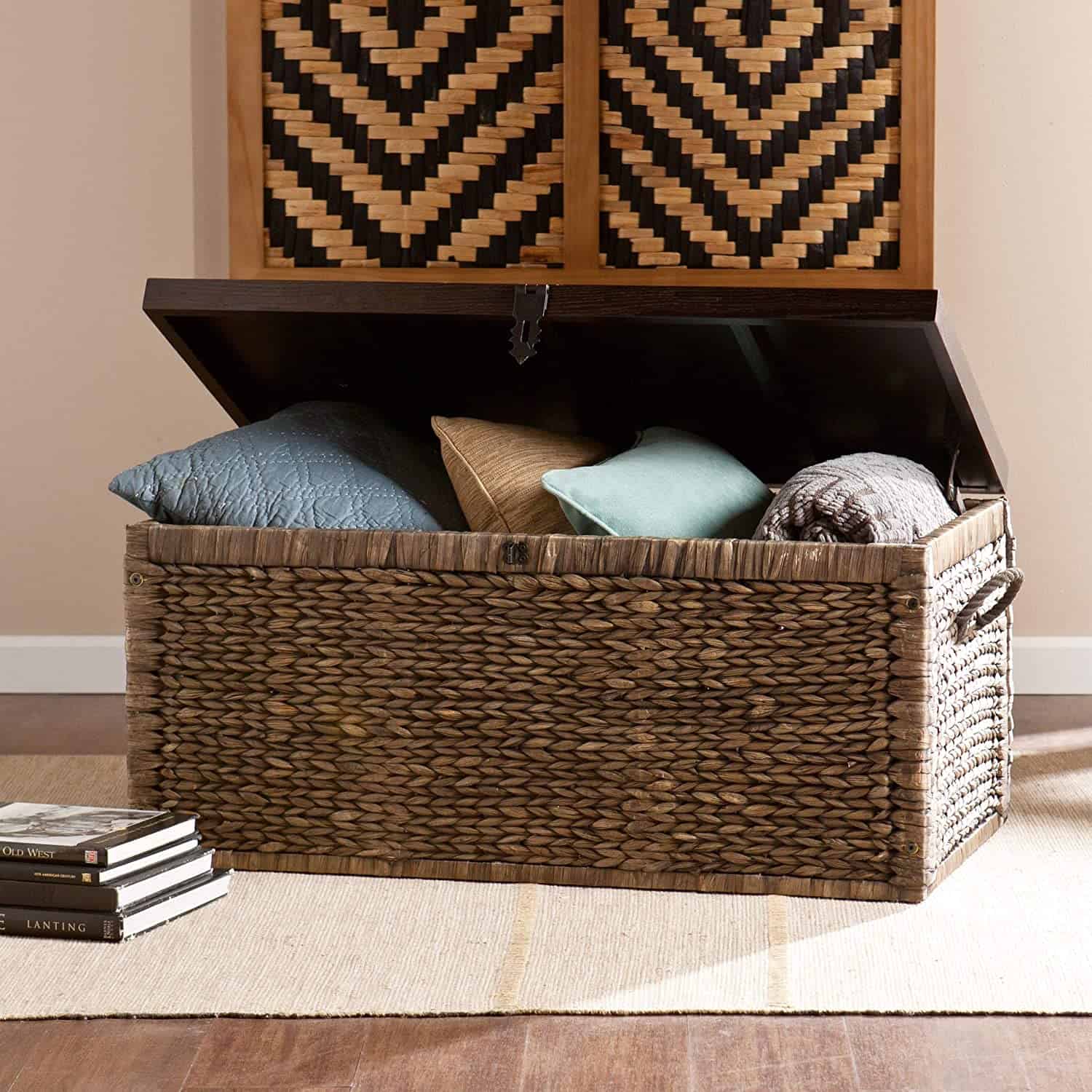 This metal-framed Arrow-weaved black-washed espresso trunk table is truly unique. Veneer and Espresso finished MDF tabletop make this even more intriguing. This product has so many quality characteristics and even plenty of storage space as well.
There are thick rope handles, details of wood grain, and a bronze latch. The shape of the trunk table is rectangular, and the tabletop is 20 inches deep, providing a resilient place to sit glasses or vases. The entire style is rustic but curiously modern to fit both types of home décor. So, this one is a winner at an affordable price. You can check it out here on Amazon.
Overall Dimensions:
37.75 L x 21.5 W x 17.5 H
Weight
29 lbs.
Table-top Weight Capacity
30 lbs.
Interior Weight Capacity
40 lbs.
Pros
More table-top space with rectangular shape
Nice wicker texture
Lightweight if needed to be moved
Cons
It doesn't hold heavy objects
May not complement all décor
3. Signature Design by Ashley Farmhouse Square Coffee Table Lift Top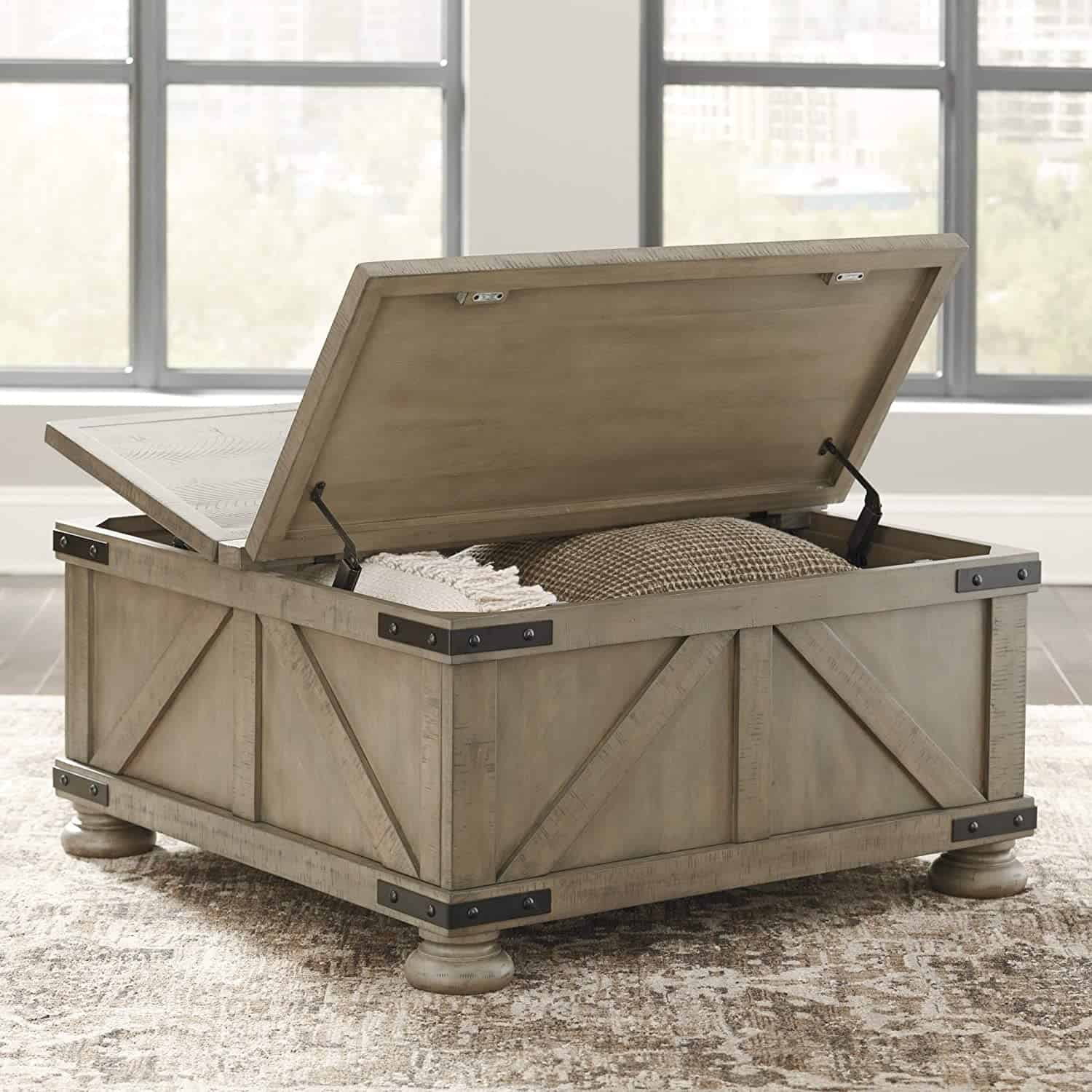 This stylish classic is made from a combination of solid pine wood, metal, and manufactured wood. Its natural wood grain look comes from its stained solid wood surface, accented by metal corner braces and top metal accents on the double-sided top. Its extra-large build is great for several guests, who will marvel at the farmhouse design with crossbuck details.
The lift top hides a huge compartment storage area underneath. You can keep blankets, throw pillows, or opt for smaller items, kept safely put away in your living room when guests arrive. Use the top for playing cards or enjoying snacks. The Signature Design Ashley Aldwin Coffee Table can be found on Amazon. It's the perfect decorative addition to your home.
Overall Dimensions
36 L x 36 W x 18 H
Weight
67 lbs.
Pros
Lightweight for its size
Unique color and design
Double top opening and large storage
Cons
Too large for small living spaces
Color may not match every décor
4. SEI Furniture Nailhead Storage Trunk Coffee Table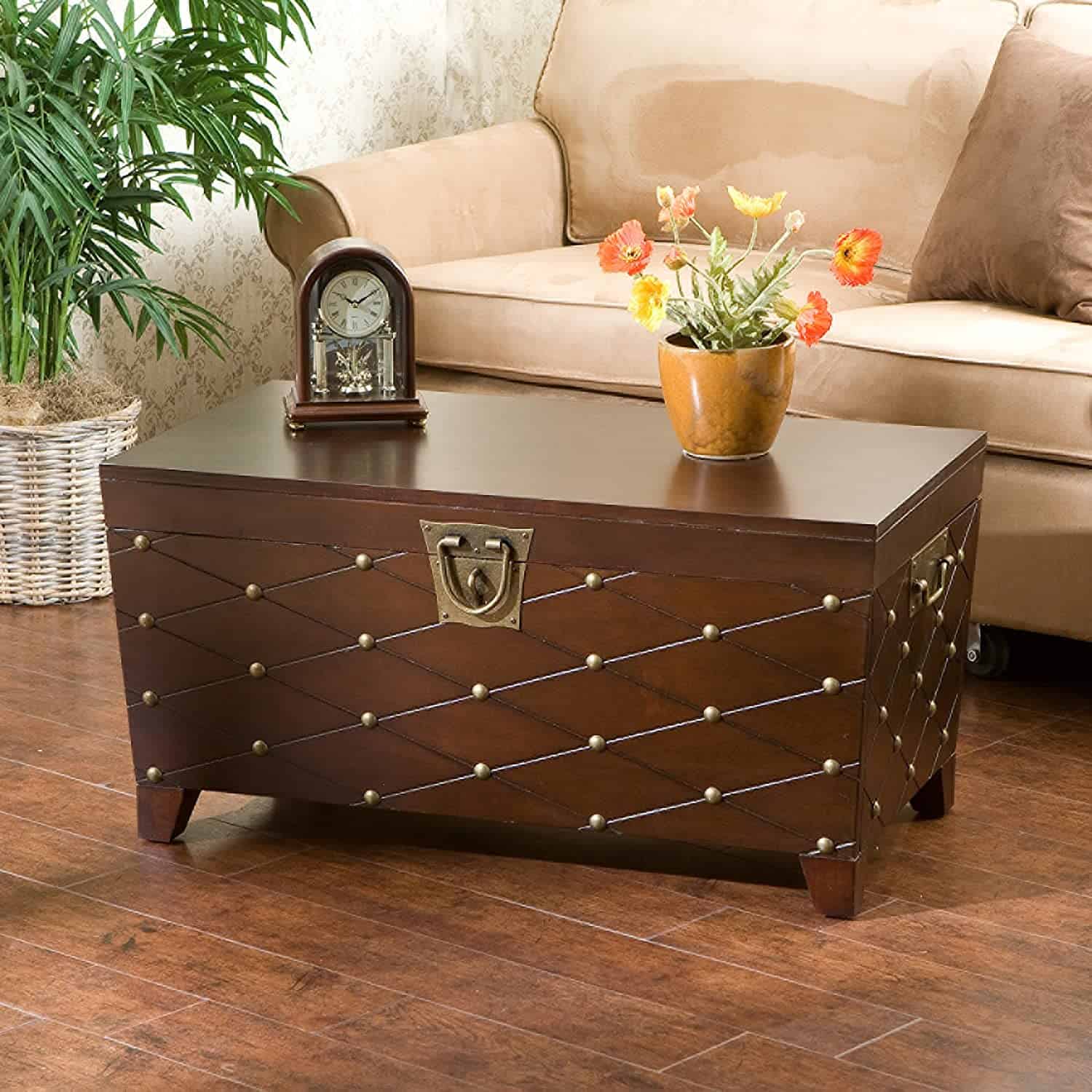 This trunk coffee table, found on Amazon, has an otherworldly design. The look is created by nail heads placed at every intersection of each diamond-patterned cord line. These lines wrap around the body of the trunk, secured tightly. With embellishments, the trunk table adds an edgy look to most any décor. It also displays warmth due to the quilted look of the unique design.
Made with a mixture of MDF, veneer, hardwood, and metal, this product is constructed to be sturdy while delicate in feature. It has handles at each end and a thick wide clasp in the front. The trunk table can be used as both a cocktail table and coffee table while storing heavier than usual belongings.
Overall dimensions
38.75 L x 21.25 W x 18.75 H
Weight
60 lbs.
Weight Capacity
180 lbs.
Pros
Unique design
Sturdy tabletop
Top weight capacity for storage
Cons
5. Kowalsky Solid Wood Coffee Table with Storage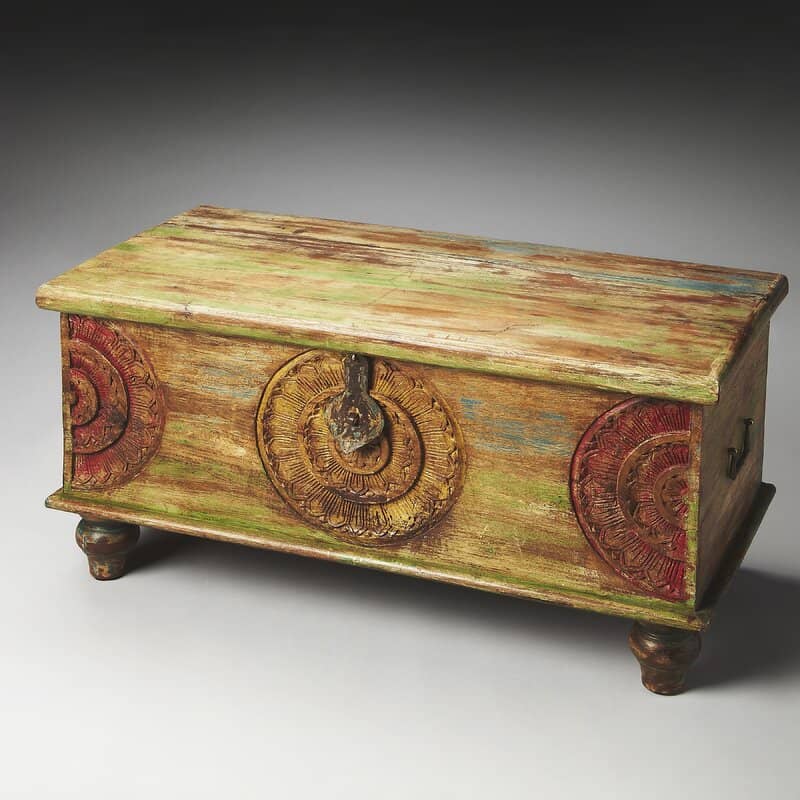 This bold antique-style trunk coffee table will immediately draw attention. Its surface has a warm and weathered look, along with medallion details that stand out in bolder colors. The trunk coffee table is constructed completely of solid wood, mango wood to be exact, with metal hinges and a lid clasp.
Natural wood and knot patterns and grains embellish this trunk table in random spaces making it even more unique. If you're looking for something striking and a bit on the intriguing side, you can find your furniture accent table on Wayfair.
Overall Dimensions
33 L x 17.5 W x 18 H
Weight
55 lbs.
Pros
One of the most unique trunk coffee tables
Lightweight
Beautiful grains and colors
Cons
Matching décor may be difficult
6. Safavieh Home Zoe Crème Faux Leather Storage Trunk Coffee Table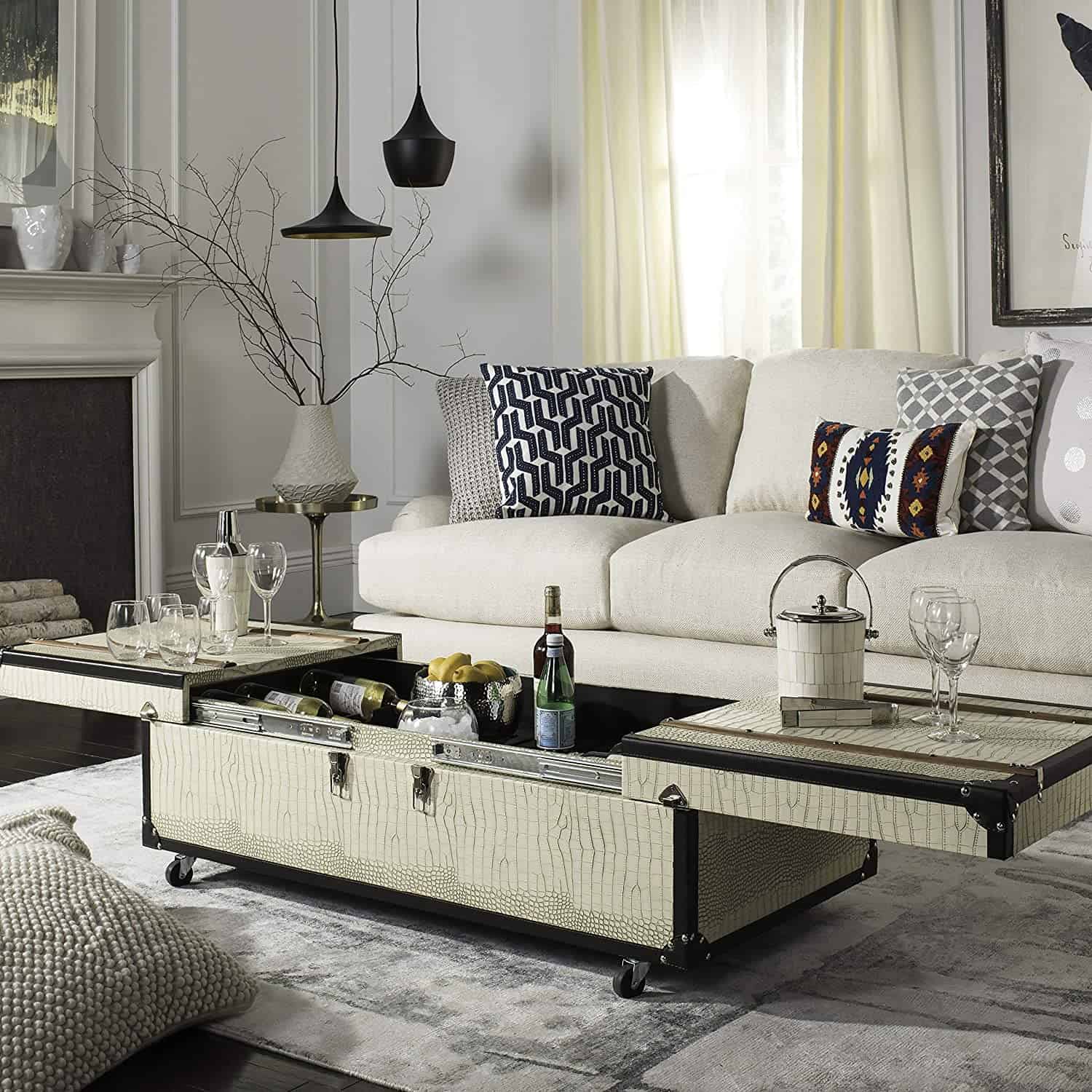 This special trunk coffee table in Crème has a faux leather snakeskin look. It's modern. It's sized to fit most living rooms and has a few innovative hidden features as well. The double tops slide to opposite sides to open to ample storage space. Keep a few bottles of wine and glasses inside to be ready when company arrives.
The entire table, located on Amazon, is crafted from solid wood, faux leather print, and trimmed all the way around with metal. Corner brackets brace the tops and bottoms of each side. Double latches in front secure the sliding top doors. This trunk coffee table truly goes above and beyond class.
Overall Dimensions
47.2 L x 23.6 W x 15.4 H
Weight
67.5 lbs.
Pros
This one has wheels too!
Unique modern style
Sliding double top
Cons
May not match décor
Smaller storage space
FAQs
Question: Are the Trunk Coffee Tables Hard to Assemble?
Answer: Most of the tables are fairly easy to put together, as they come with instructions and parts. If a question arises or pieces fail to fit properly, customer service can guide you through the process of finding a solution.
Question: Can you Sit on the Trunk Coffee Table?
Answer: While most of the sturdier tables can hold the weight of a child or lightweight adult, it's not recommended to use most of the trunk coffee table versions as seating areas. Yes, sitting for a moment should be okay, but using this piece of furniture like a chair is not a good idea.
Question: Can These Trunk Coffee Tables be Used Outdoors?
Answer: Most of the trunk coffee tables can be damaged if placed outside or left out for any time. The manufactured wood tables can warp easily with moisture. They are designed for the interior of the home.
Question: How Many Blankets or Pillows Can be Stored in the Trunk Coffee Tables?
Answer: Of course, this all depends on which table you choose and its dimensions, which are listed above. Most tables can store at least one small blanket. Some of the larger storage tables can hold more than one blanket and a couple of pillows. So, basically, it all depends on dimensions and weight capacity.
Question: How Do You Attach Legs or Wheels to the Trunk Table?
Answer: Some of the trunk tables arrive with legs made into the trunk body design, which are non-removable. Others come with instructions on how to attach wheels or legs. They are usually assembled as easily as couch legs.
Question: Can You Store Books in the Trunk of a Coffee Table?
Answer: Some of the trunk coffee tables have the weight capacity to store many books. However, overloading the trunk table can cause damage over time with lighter-weight tables. A suggestion would be to fully understand your dimensions and weights before purchasing or adding too many objects.
Final Thoughts on Trunk Coffee Tables
This guide should help you decide which trunk coffee table is best for you and your home. The large variety of tables allows for many decorative options and weight considerations.
Also, if you're looking for a trunk coffee table for a little room in the home, there are varieties of smaller trunk coffee tables to choose from as well. While looking for the right trunk coffee table, make sure you browse décor for the bedroom too. Looking for other coffee table designs? Check out the Coffee Table Guide for a few inspiring ideas for your home.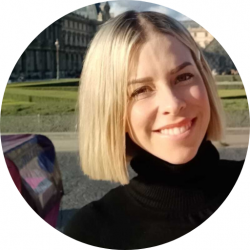 Latest posts by Jodie Chiffey
(see all)