A living room is not complete without a stylish and functional coffee table. Be it round, square, or anything in-between, you must remember, the living space of your home not only needs a comfortable sofa or decorative lamp – your space needs a table that will keep you happy for years to come.
Finding a durable coffee table that lasts for years is possible and adds value to your home. In fact, the coffee table is the focal point of the entire living room. Everything revolves around this furniture item. As you design the look of your living space, consider how other pieces and accents will blend with your coffee table. You can even browse a few unique chairs to include in your décor.
After all, the living room, aside from the entryway, is the first room your visiting friends and family will see. So, choosing the right piece should be important. This best Target coffee tables guide shares the best tables for your individual décor and needs.
Here's a quick look at some of our favorite Target coffee tables.
At a Glance: 7 Best Target Coffee Tables
| | | | | |
| --- | --- | --- | --- | --- |
| Target Coffee Tables | Best Used for | Foundation | Dimensions | More Info |
| Ethan Mission Coffee Table | Tabletop and storage | MDF board and Laminate | 40.125 x 22 x 18.125 | Find out more |
| Faux Marble Modern Round | Larger cocktail table | Faux marble and metal | 35.6 x 35.6 x 19 | Find out more |
| Breighton Home Classic Glass 3 tier | Entertaining mature adults | Glass and steel | 40 x 18 x 16.5 | Find out more |
| Lanshire Rustic Industrial | Traditional coffee table usage | Metal and wood | 47.25 x 23.75 x 18 | Find out more |
| Pyronia Rattan Cage | Great for casual decor or teen's room | Rattan | 32 x 32 x 18 | Find out more |
| River's Edge Acacia and Acrylic | Centerpiece and design functionality | Acacia Wood and Acrylic | 36 x 24 x 18 | Find out more |
| Wystfield cocktail | Fun with friends and family | Metal and wood | 36 x 36 x 18 | Find out more |
Selection Criteria
With such a large collection of Target coffee tables, It may be difficult to make a choice. We offer strict criteria to help you make a smart and informed decision that includes both aesthetics and functionality.
Here are a few specifications we used to choose the best target coffee table options for the guide:
Style – These tables are constructed in modern, traditional, contemporary, and industrial designs, among many others. Here you will find examples of these styles, along with how they're manufactured.
Type of materials – The Target Coffee Table is made from wood, metal, glass, acrylic, and other hybrid materials. Some options are constructed from two or more differing materials. Our guide selects the most sturdy pieces according to material construction.
Function/Extras – Our guide provides extras or stand-out features like large storage spaces, multiple shelves, and drawers. Each selected piece is chosen for its ability to fit into most rooms naturally.
Types of Coffee tables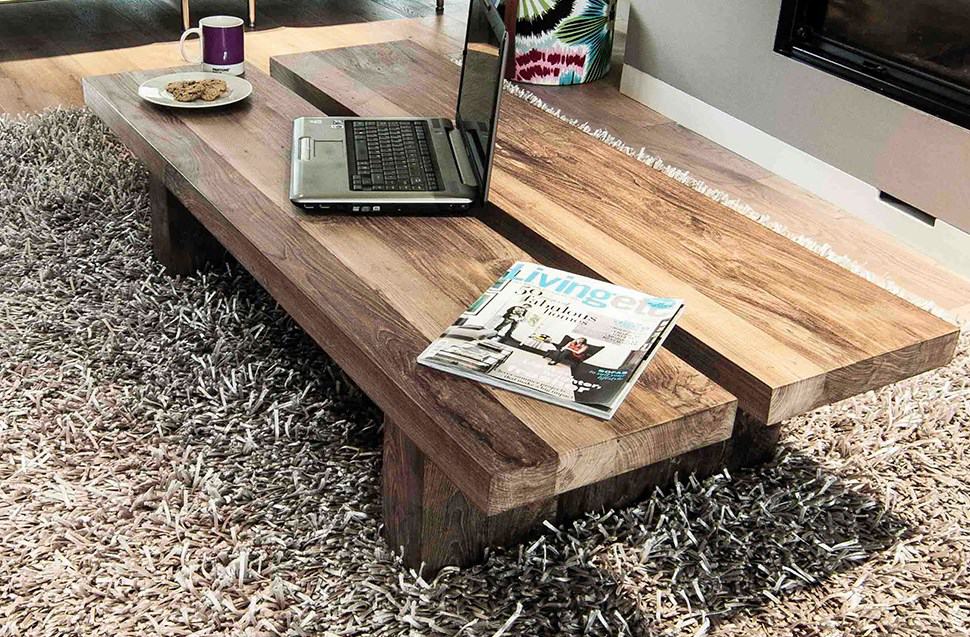 Coffee tables are constructed in different ways and designed to fit individual needs.
Materials
Wood
Manufactured wood
Metal
Glass
Acrylic
Rattan
Styles
Traditional
This style of coffee table is simple and usually built with function over aesthetics in mind. It can be large or small, stained wood or a simple metal frame with a wooden or faux marble top.
Modern
Modern-style coffee tables usually have interesting angles and shapes and can be constructed from any material. They have the ability to look simple and intriguing at the same time. Modern styles may or may not have extra storage compartments.
Mid-Century Modern
Mid-century modern, unlike its modern counterpart, usually has a rectangular box shape with open compartments and cabinets. Many of these tables were used in the 50s and 60s.
Transitional
A transitional coffee table has both components of modern and traditional styles. For example, the color could be a traditional stain, while the shape could be angular or round. On the other hand, the shape could be traditional with a bright modern color.
Industrial
Industrial tables usually have two shelves and are constructed from metal and wood, metal and glass, or a mixture of two other materials. They are functional and interesting, blending well with most any décor.
Rustic
A rustic coffee table can be built in a farmhouse design, finished in a distressed style, or created with simplistic accents such as crossed boards on each flat side of the table. Many rustic designs have top storage space.
7 Best Target Coffee Tables
1. Ethan Mission Coffee Table with Woven Baskets – Sacarina Home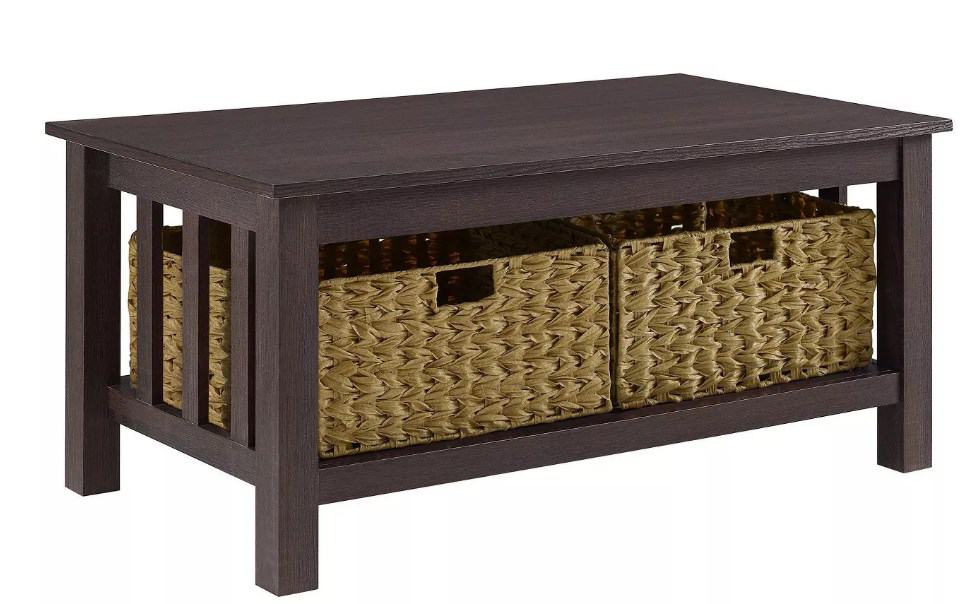 This classic traditional piece is not only a coffee table but a centerpiece of the home. The open-framed table has three vertical slats at each end for an extra accent. And this product holds two square Rattan baskets, great for housing remotes, magazines, or other important belongings.
The table is constructed from an MDF board with a laminate finish. This simple yet smart coffee table comes in different colors ranging from solid black to White Oak, making it easier to match the table with your other living room décor. You can find this quaint rectangular coffee table on the Target website.
Overall Dimensions: 40.125 L x 22 W x 18.125 H
Weight: 49 lbs.
Tabletop thickness: 2 inches
Pros:
Double basket storage
It comes in different colors
Cons:
Limited weight capacity on top
2. Faux Marble Modern Round Living Room Accent Coffee Table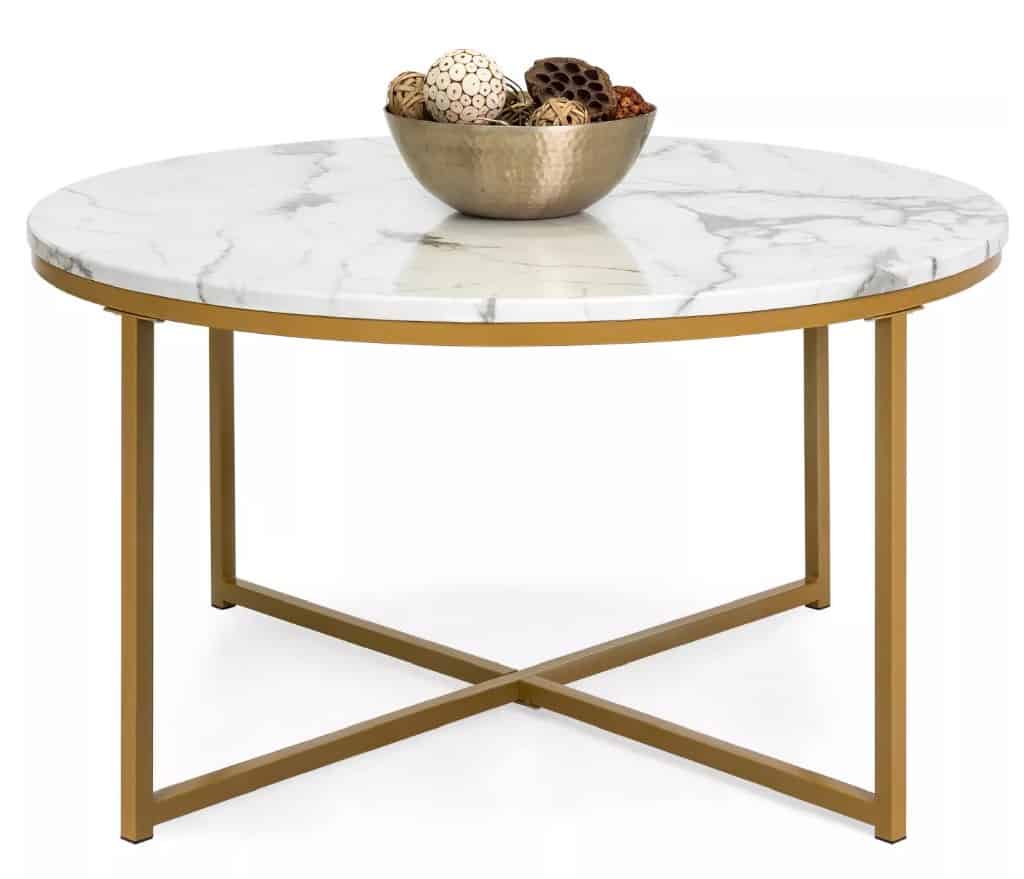 Modesty and elegance blend in this lovely round coffee table from Target. With its faux marble top and metal frame, it's sure to get plenty of attention. And when there's a spill, no worries, this faux marble top is easy to clean. All it takes is a damp cloth to bring it back to perfection.
The round table is sturdy, built underneath with a metal cross design that holds at least 100lbs of weight. The floors will also be safe underneath this table, as it has non-marking foot glides for protection. This classy table is durable in its modern contemporary design and easily matches other pieces in your living room space. The top is 36 inches in diameter.
Overall Dimensions: 35.6 L x 35.6 W x 19 H
Weight: 23 lbs.
Weight Capacity: 110 lbs.
Pros:
Beautiful faux marble top
Holds heavier objects
Cons:
Smaller table than most
No storage space
3. Breighton Home Classic Glass 3 Tier Coffee Table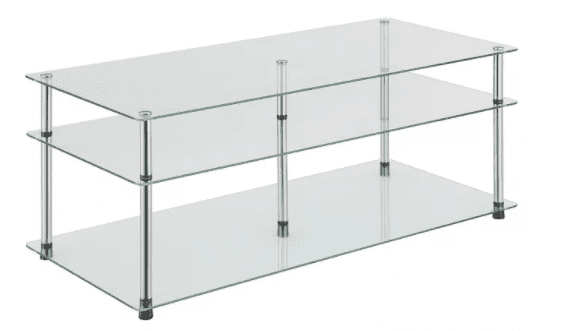 The modern open-concept design of this table is great for almost any home. The Breighton Home Classic glass table has three shelves to use however you like. Put magazines on the bottom, a newspaper, and the remote on the middle shelf, and use the top for a centerpiece to showcase this striking piece.
Family and friends will love artistic coffee tables made from tempered glass and stainless-steel poles. The table is not just for looks, as its sturdy construction can last for years. For cleaning, wipe down the glass, and no worries, the poles are rust-resistant.
Overall Dimensions: 40L x 18W x 16.5 H
Weight: 18 lbs.
Tabletop thickness: .25 inches
Pros:
Beautiful glass shelves
Steel frame poles
Cons:
Not the best for families with children
Smudges easily
Lightweight capacity
4. Lanshire Rustic Industrial Metal and Wood Cocktail Table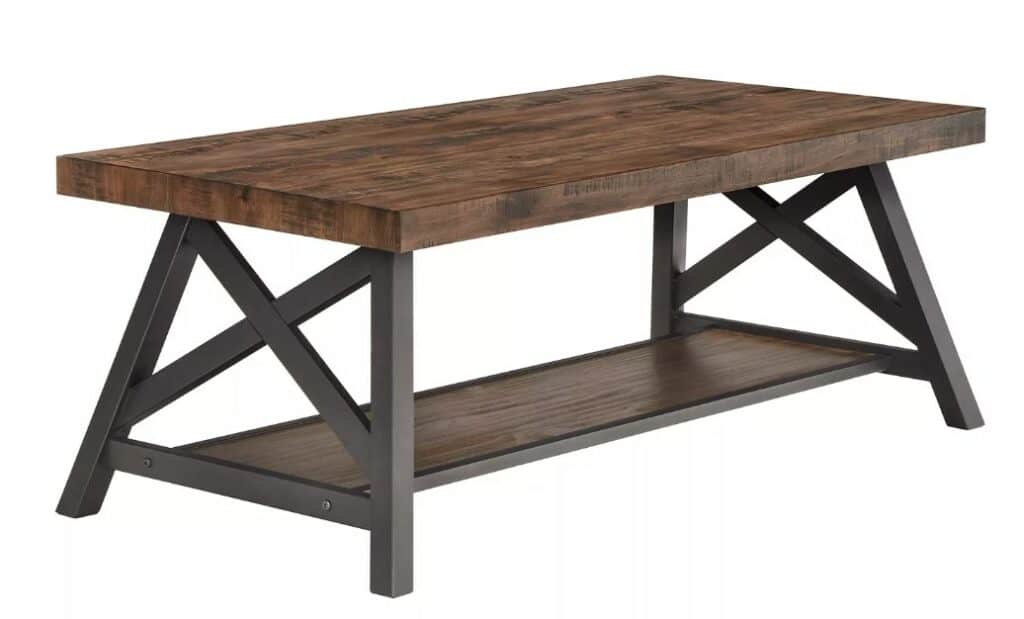 This Rustic Industrial hybrid look is stunning. It's a unique piece, whether using the tabletop for your favorite small stack of books or just leaving it open. Although it's called a cocktail table, it serves well in the living room in front of your favorite sofa.
Made from metal and wood, this product has a thick tabletop and narrow shelf underneath. The legs splay outward on both sides to mimic a rustic 'picnic table' design adding to the theme. Although the rustic industrial table is a focal point in the living room as a classic coffee or cocktail table, it is a great place to play cards.
Overall Dimensions: 47.25 L x 23. 75 W x 18 H
Weight: 59 lbs.
Tabletop thickness: 1.97 inches
Pros:
Unique and inviting
Lightweight and easy to move
Cons:
The distressed surface may not be compatible
Wide-spread legs may be a nuisance
5. Pyronia Rattan Cage Coffee Table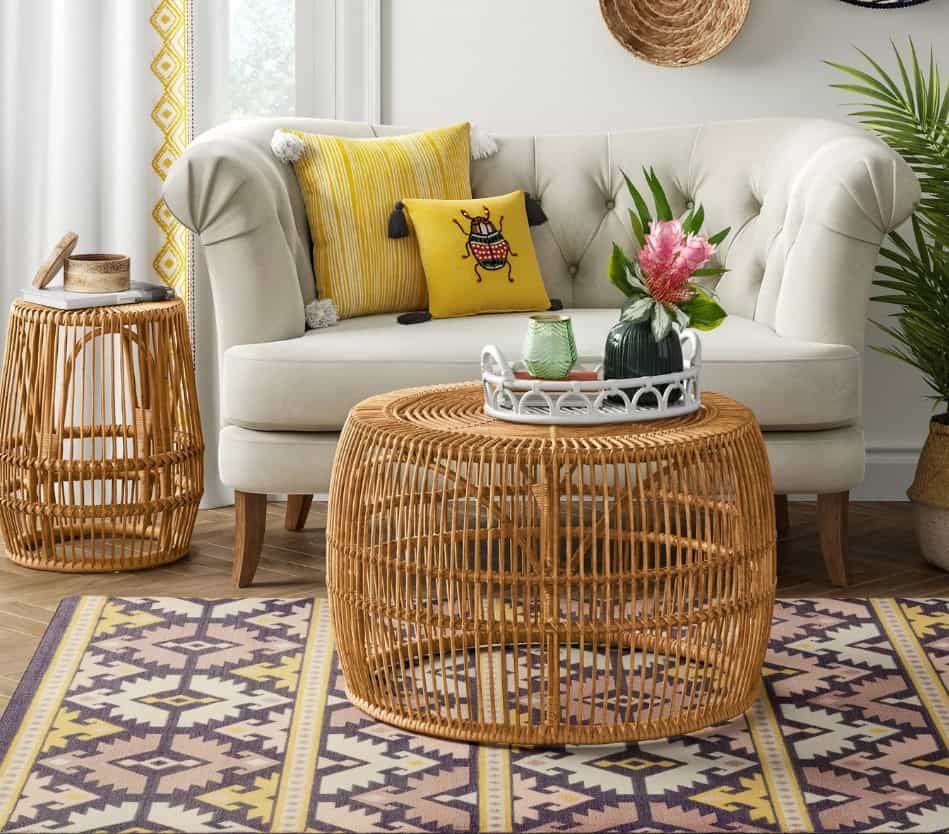 This lightweight yet sturdy Rattan coffee table is sure to stand out. Its rounded weaved exterior provides a farmhouse appeal for those who love the natural designs. Finish up your entertainment décor with a free-spirited design that can still hold its own. This piece is perfect for some teens as an extra table in their room.
In fact, sit drinks, books, or most anything you normally place on other coffee tables. The sturdy material can hold up to pressure. The top is tightly woven and flat, while the sides create sturdy rattan strands secured at the bottom loop. Simple designs weave around the body of the table and up to the tabletop.
Overall Dimensions: 32 L x 32 W x 18 H
Weight: 9 lbs.
Tabletop thickness: 3 inches
Pros:
Lightweight yet sturdy
Tightly woven and durable
Cons:
May warp under extremely heavy objects
May turn over easy
6. Rivers Edge Acacia Wood and Acrylic Coffee Table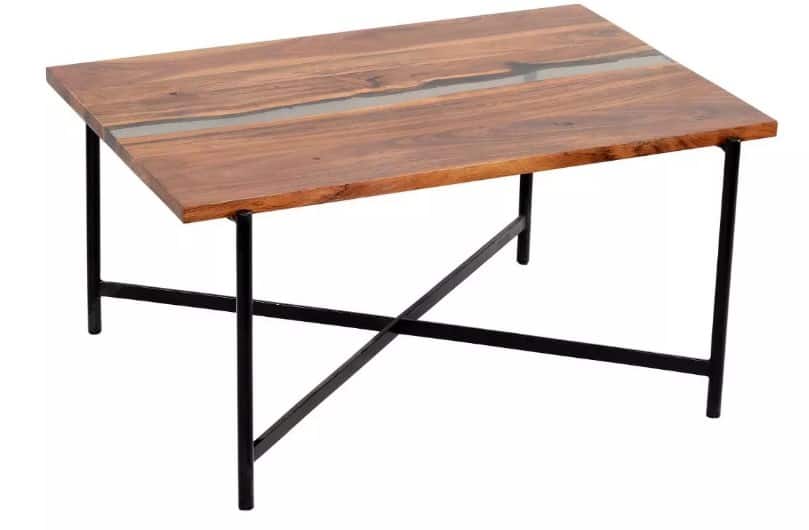 If you really want a coffee table to make your friends and family envious, this is the one. Poured between two thick pieces of Acacia wood, acrylic forms a shiny surface between distressed grains, and this forms an interesting tabletop surface.
No two tabletops are alike, as each piece of Acacia wood has its own unique knots and curves to cradle the acrylic surface. This means your table will be truly a one-of-a-kind piece. The frame is made of strong metal poles that cross near the floor level. Metal frames brace the underbelly of the tabletop.
Overall Dimensions: 36 L x 24 W x 18 H
Weight: 46.72 lbs.
Tabletop thickness: .5 inches
Pros:
Gorgeous tabletop design
Each table is original
Cons:
7. Wystfield Cocktail Table with Storage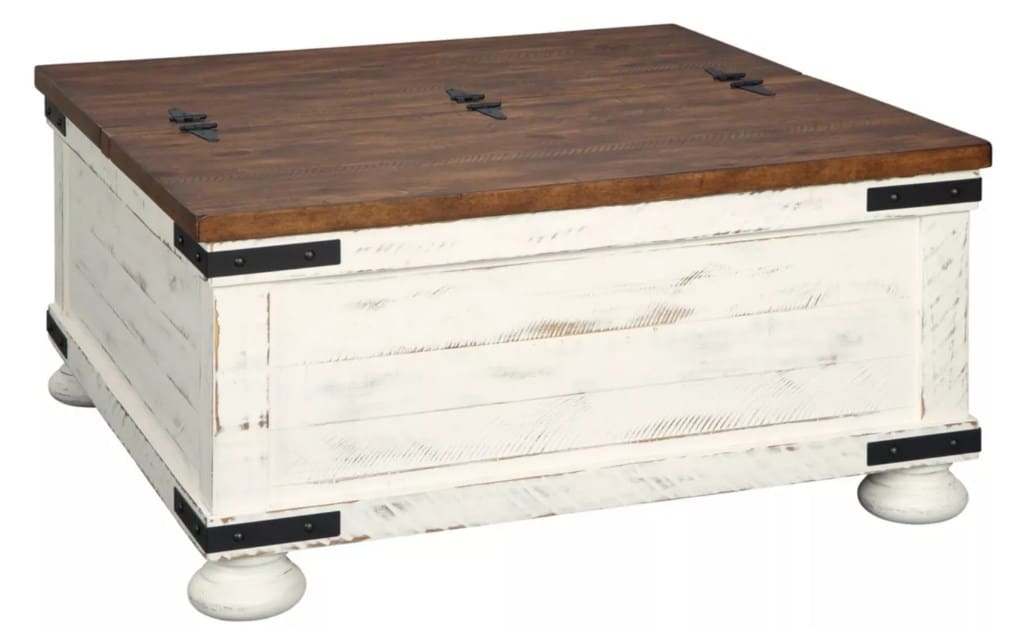 The Wystfield cocktail table is also a large square rustic coffee table as well. You can use this quality table to entertain or for ordinary additions to your living space. This adorable table looks rough and classy at the same time, making it useful in so many ways.
The tabletop lifts to reveal a large storage area, and the legs are rounded and squat. There are metal braces on each edge of the trim along the top and body of the table. The tabletop is painted black, and the body is painted in a rough white resembling a true farmhouse table.
Overall Dimensions: 36 L x 36 W x 18 H
Weight: 66 lbs.
Tabletop thickness: .75 inches
Pros:
Wide sturdy Table
Quaint farmhouse design
Cons:
It may not match all decor
FAQs
Question: How easy is it to break a glass coffee table?
Answer: Although most glass coffee tables are made from tempered glass, they can still be broken when mishandled. Always use caution when moving glass tables from one room to the other. It's best if two people move the table, so it's lifted evenly. While tables like this are beautiful, they will always be more fragile than wood or metal tables.
Question: How much weight can coffee tables support?
Answer: The weight capacity of each table varies. While some can support heavyweight, others can only support small things like remote controls or magazines. If the weight capacity of a table is listed, it can usually be found in the same area as the dimensions of the product information sheet online. Please check this before adding weight to your table.
Question: How do you clean coffee tables?
Answer: You cannot clean all coffee tables in the same manner. While some should be simply wiped with a dry cloth (glass tops or metal accents), others can be washed with a damp cloth (most solid wood tables). For each table, there is a different way and frequency of cleaning. When you make a purchase, ensure you understand this information beforehand.
Question: Are coffee tables lower than the couch?
Answer: Most people purchase coffee tables that are 2 inches shorter than the seat cushion on the couch. Even though it really doesn't matter, if you're sticking with aesthetics, having the right height and placement is important according to the rest of your décor.
The coffee table plays an important role in the overall interior of your living space. With this guide, all you need to know about coffee tables are right at your fingertips. Take a look at a few loveseats that might pair well with your couch and new coffee table.
If we had to pick a favorite, it would be the River's Edge Acacia Wood and Acrylic coffee table for its originality and shape. This table is sturdy and runs along 3/4ths of the sofa length, the correct proportion of table to sofa seat. Friends and family will marvel at the beautiful acrylic river running between the acacia wood encasements. For other essential home furnishings, check out our selection of console tables.
Without the coffee table, the living room would not be complete. Browse the guide and find a table that's right for you.