Your home décor is important to the quality of your living space; there is no doubt. But while design elements are important, function and accommodation are also needed aspects in the home. A beautiful accent for the living room or bedroom isn't high-quality if there is no comfort. And with no space, there could be all sorts of issues. It's hard to welcome friends and family if there aren't enough guest rooms.
So, what can you do?
You may not have known it, but you need a trundle bed frame. While you may have a guest room or multiple rooms, if you have many people staying overnight, there may be a shortage of beds. If there are many children sleeping over, even the bunk bed may not have enough room.
As the trundle bed sits low and can be stored underneath a traditional bed frame, this product comes in handy for all sorts of situations.
At a Glance: The 7 Best Trundle Bed Frames
| | | | | |
| --- | --- | --- | --- | --- |
| Best Trundle Bed Frames | Best used for | Materials | Dimensions | More Info |
| Home Accent Metal Roll-Out Frame | Accommodation for visiting family members | Metal | 73.43 x 38.58 x 3.94 | Find out more |
| KD Frames Twin Trundle | Family or friends | Wood and metal | 74 x 37 x 4 | Find out more |
| Twin Pop-Up Trundle | Adjusting height | Metal | 70.25 x 38.5 x 6.25 (adjustable) | Find out more |
| 2K Furniture Designs | Heavier weight capabilities | Metal | 73 x 39.5 x 4 | Find out more |
| Home Accents Twin Trundle | Family and friends | Metal | 72 x 40 x 4 | Find out more |
| DHP Universal Trundle Bed | Slumber parties or sleepovers | Metal | 71 x 43.5 x 4.5 | Find out more |
| Payton Brown-Finished Trundle | Family and friends | Wood and metal | 74 x 40 x 4.65 | Find out more |
Selection Criteria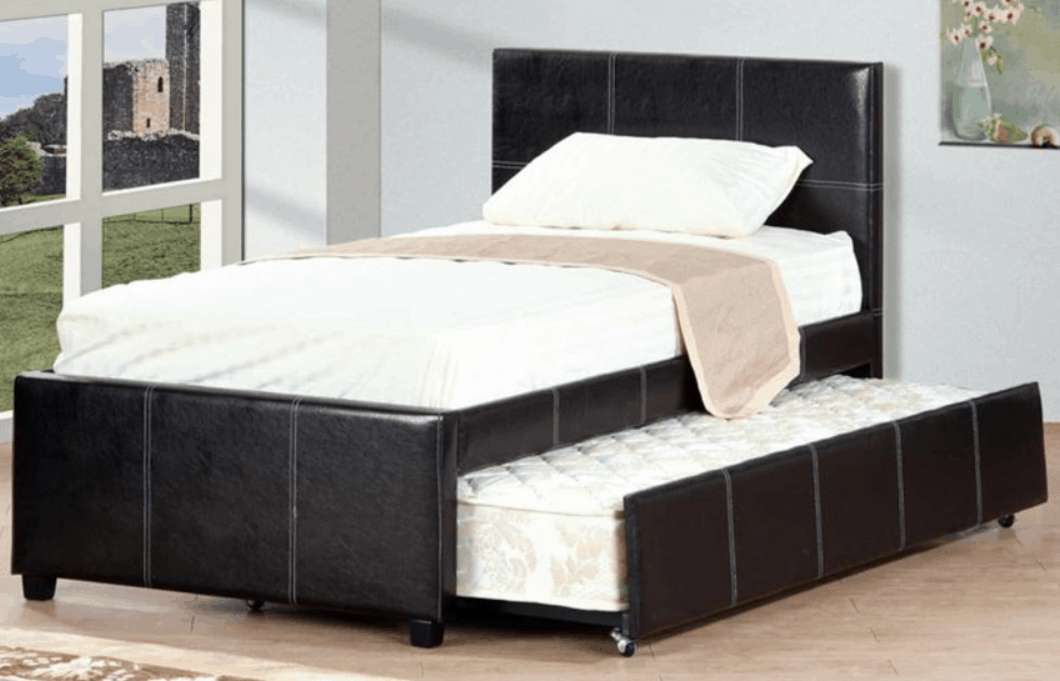 Quite a lot of consideration goes into choosing the best trundle bed frame. This guide analyzes all the factors so you can concentrate on shopping with ease. When choosing the bed frame that's right for you, there are three basic things that matter the most that we used in our own selection criteria.
Style
While style may not matter as much as function, it still plays a part in selecting the best trundle bed frame. A traditional style tends to go better with universal bed types.
Type of Materials
Real and engineered woodwork well for trundle frames, but metal tends to hold a heavier weight capacity and prove to be easier to clean. Careful consideration of the materials will also ensure you receive a long-lasting product.
Function/Extras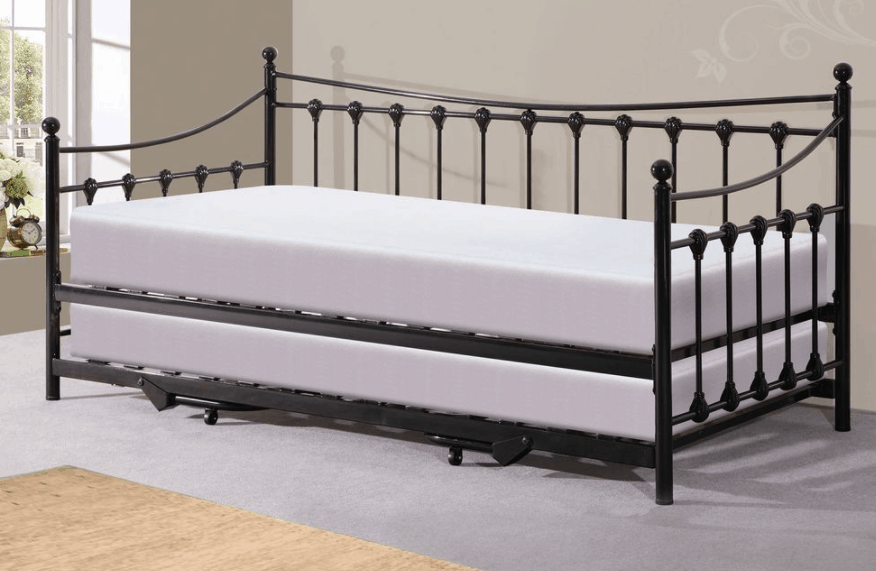 The best trundle bed frame has good weight capacity and has extras like more wheels or handles for moving the bed in and out from under the standard bed or storage area.
Types of Trundle Bed Frames
While the trundle bed frame is simplistic in form, there are a few differences from one bed to the other. The trundle bed frame is made in various materials and colors, while some have a few extra-functional aspects. Examine the details to understand more.
Materials
Metal
This is the most common material used for making trundle bed frames. Different types of metal construction provide varied weight capacities, including hollow tube metal construction. While some beds have metal slats, others have wide crossed bars that run diagonally across the bed's surface. Wheels are constructed mostly from metal with occasional plastic parts. Sometimes plastic braces are used down the center of metal slats.
Wood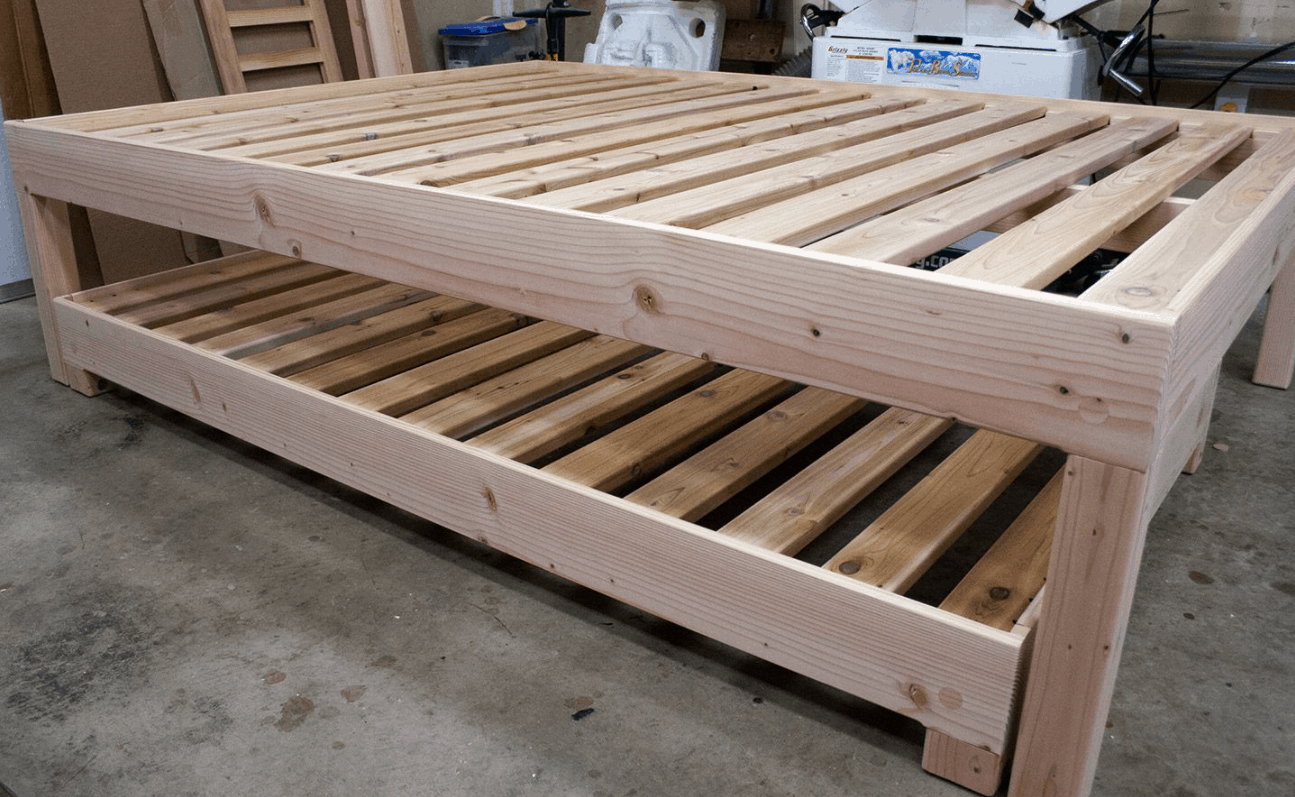 Many trundle bed frames are constructed out of real wood or engineered wood products. However, even wood trundle bed frames are usually built upon a metal foundation with some version of mobility. The wood bed frames are beautiful as they are finished in various colors and have a smooth surface.
Styles/Types
While styles of trundle beds are limited, there are a few mentionable products that help you make your purchasing decision. Style does make a difference when it comes to how you use your trundle bed.
Traditional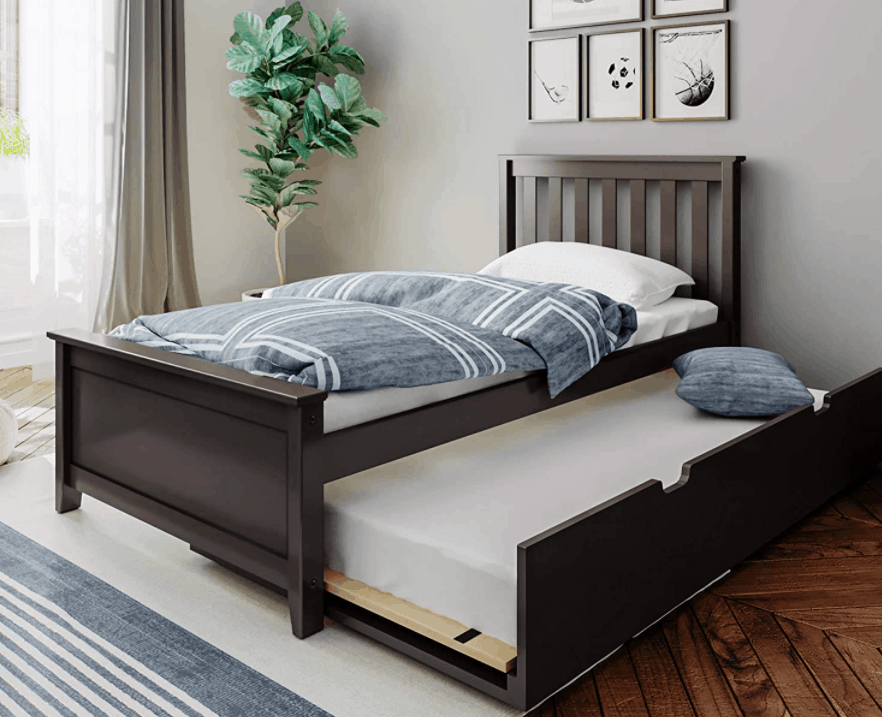 The traditional style trundle bed frame is usually just a low-sitting metal or wood frame with 4-6 wheels for mobility. Most traditional styles are hollow metal frames with slats.
Modern
Modern style trundle bed frames are often found constructed of engineered wood in various colors. There are also adjustable bed frames as well.
7 Best Trundle Bed Frames
1. Home Accent Metal Roll-Out Trundle Bed Frame with Slats Support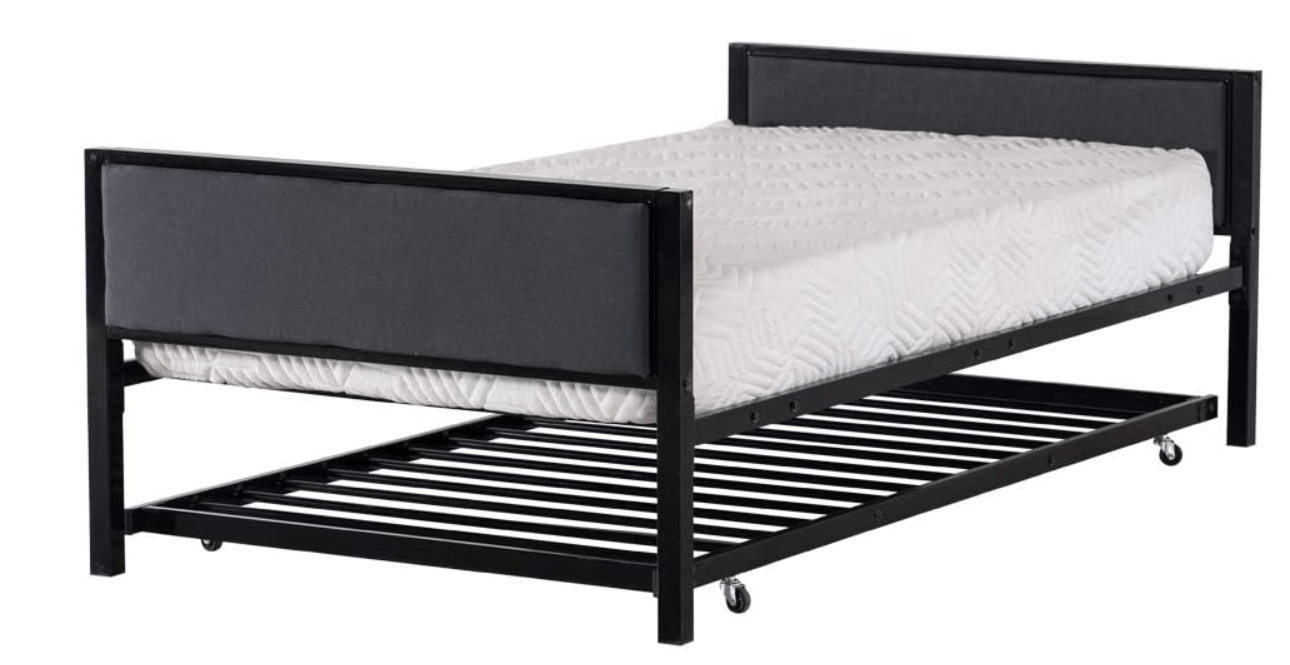 The basics may be all you need, and if that's so, this product is for you. The Metal Roll-Out Trundle Bed Frame provides the simplest way to accommodate guests and later store away the extra bed frame. This product is a twin-size metal frame with slats to add extra support. The frame is painted in a black finish to match most interior accents within your home.
The bed is lightweight and can support mattress types such as spring, memory foam, or latex mattresses. The mattresses fit on this bed frame without the use of a box spring assembly. This frame is super low to the floor and has wheels for easy movement. Since the frame is lower than most other trundle frames, it can hold a taller mattress and still fit underneath a bed or day bed. Find this trundle bed on Amazon.
Overall Dimensions: 73.43 L x 38.58 W x 3.94 H
Weight: 17.2 lbs.
Weight Capacity: 330 lbs.
Pros:
No box springs needed
Lightweight
Low to the ground for easy storage
Cons:
It may not work for those with bending difficulties
It may not be large enough in width
2. KD Frames Twin Trundle, Natural Wood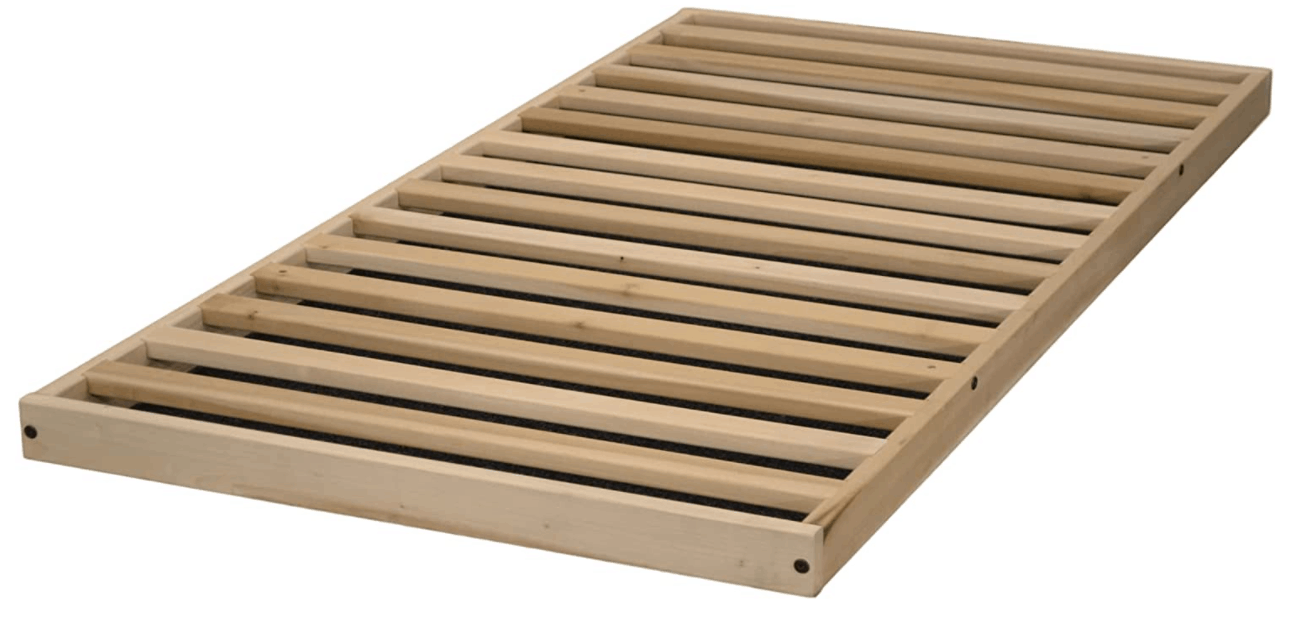 This unique real wood trundle is a perfect solution for sleepovers. The natural wood finish is a beautiful touch, and the hidden wheels make the bed appear as if it glides on air. And it's not just an aesthetic piece either. This trundle bed functions well with its support slats, uniform twin size, and great weight capacity.
Most twin-sized mattresses fit the natural wood trundle bed frame, making it easier to accommodate guests. When the guests leave, the trundle fits neatly underneath most traditional beds until next usage. The KD trundle bed is chemical-free and has beautiful smooth lines and natural wood patterns. Although subtle in style, this one blends in well with rustic or farmhouse décor, adding to the quality of your living space.
Overall Dimensions: 74 L x 37 W x 4 H
Weight: 27 lbs.
Weight Capacity: 250 lbs.
Pros:
Beautiful natural wood structure
It fits under most traditional beds
Includes support slats
Cons:
Heavier than some metal frames
Weaker weight capacity than most metal frames
3. Twin Pop-Up Trundle Bed on Rollers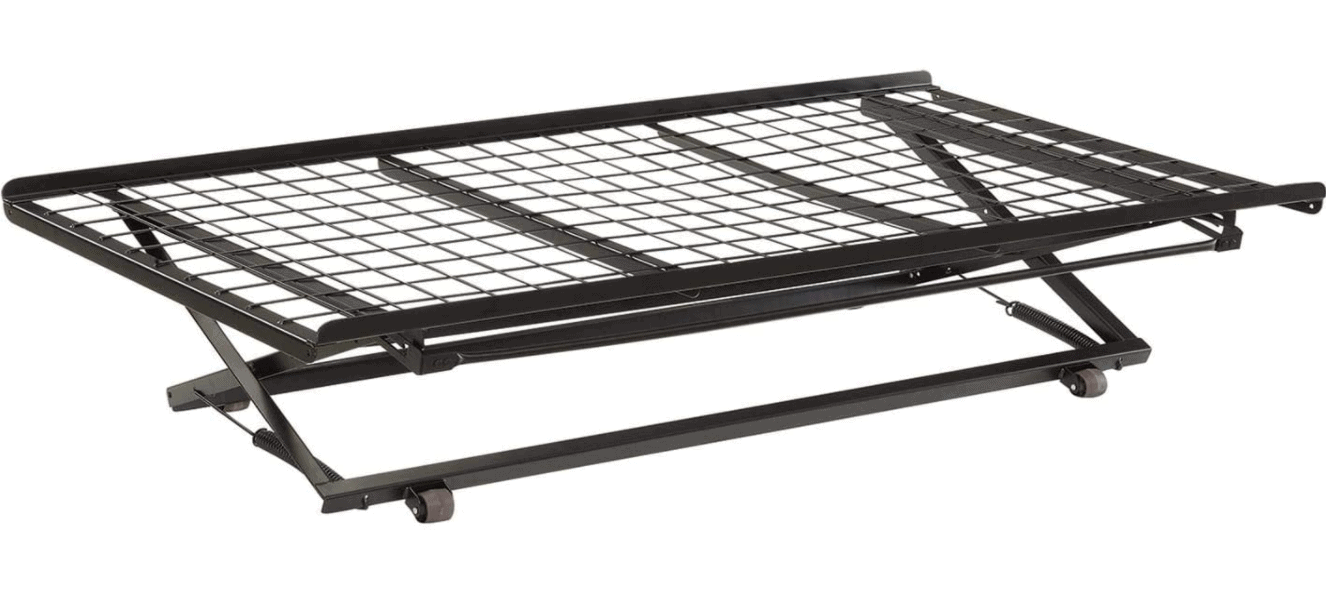 Although most trundle beds remain close to the ground, this product has a pop-up lift option. Enjoy sleeping at the same level as your friends or family with this fluid design. As a twin pop-up frame, children can enjoy sleepovers without the trouble of leaning over the bed and looking down to talk with friends. It's just a quality addition to your home at an affordable price.
The twin pop-up trundle bed is crafted from metal, painted black, and is adjustable to reach the height of most standard mattresses. It has a metal-wide woven pattern for mattress support. You can sleep low as with a traditional trundle bed or adjust the frame for extra height. Either way, when you're done with it, you can slide it back into its usual storage space. It works like a charm.
Overall Dimensions: 70.25 L x 38.5 W x 6.25 H (This is adjustable)
Weight: 55 lbs.
Weight Capacity: 200 lbs.
Pros:
Adjustable bed
Made from strong materials
Cons:
Less weight capacity
It sits a bit higher when lowered
4. 2K Furniture Designs – Twin Size Black Metal Trundle Frame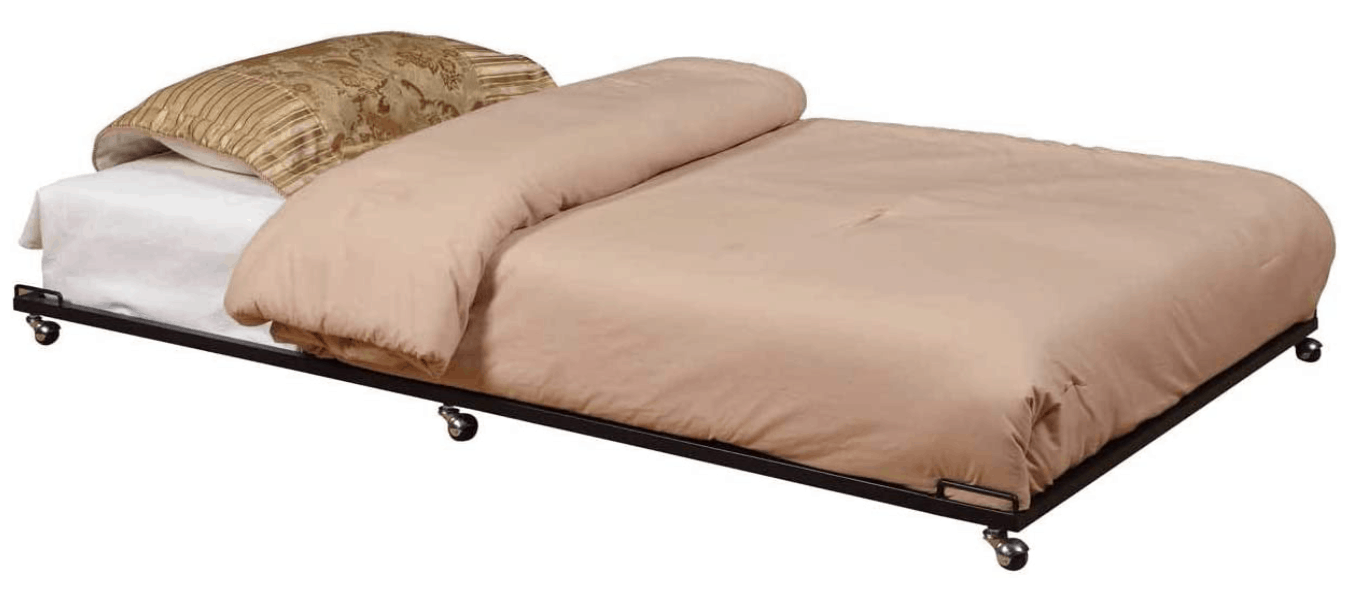 With three rollers on each side, this trundle bed frame is extremely sturdy. The extra rollers also help move the bed into tight corners when needed. This particular twin-size trundle frame is used with the daybed, creating a nice place for a best friend to stay the night.
The bed is made of tubular metal, which gives it added strength and stability. To support mattresses such as memory foam and spring mattresses, the trundle frame is constructed with 7 slats for safety. There's no need to box springs with this fully loaded frame. Handles on each side of the frame also help you maneuver the bed into place. To find this quality trundle, visit Amazon.
Overall Dimensions: 73 L x 39.5 W x 4 H
Weight: 18.26 lbs.
Weight Capacity: 500 lbs.
Pros:
Extra wheels
Handles to move the bed
Support slats
Extra strong tubular metal construction
Cons:
5. Home Accents Furnishings Twin Roll-Out Trundle Bed Frame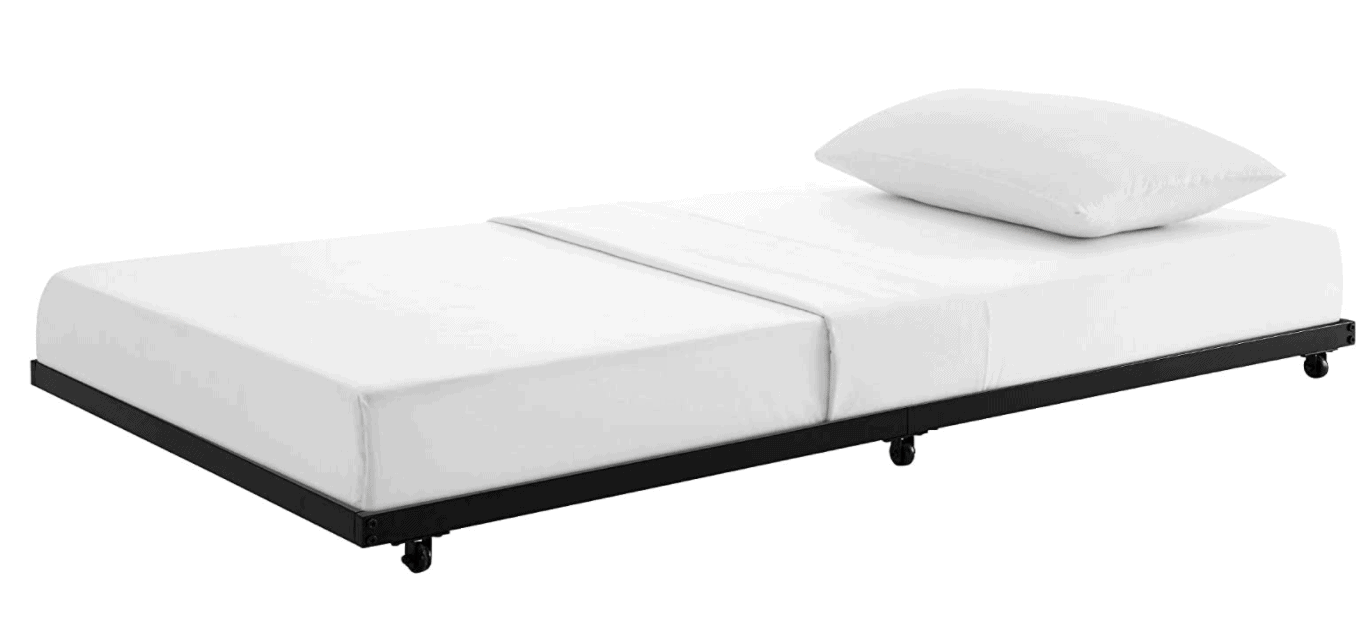 When the family's growing, you may be running out of space. A Home Accents Furnishings Trundle bed is perfect for providing a second bed for a new home occupant. This bed is made from black powder-coated metal with secured slats for support.
With the numerous slats, it's perfect with most twin mattresses and needs no box spring underneath. The trundle frame fits underneath most standard beds easily. It can be moved from room to room with the ease of 6 rollers, three on each side. The product is lightweight and easy to put together. It's a simple solution for growing families, friends, and children.
Overall Dimensions: 72 L x 40 W x 4 H
Weight: 27 lbs.
Weight Capacity: 200 lbs.
Pros:
Lightweight
Powder-coated finish
6 smooth-gliding wheels
Cons:
6. DHP Universal Metal Trundle Bed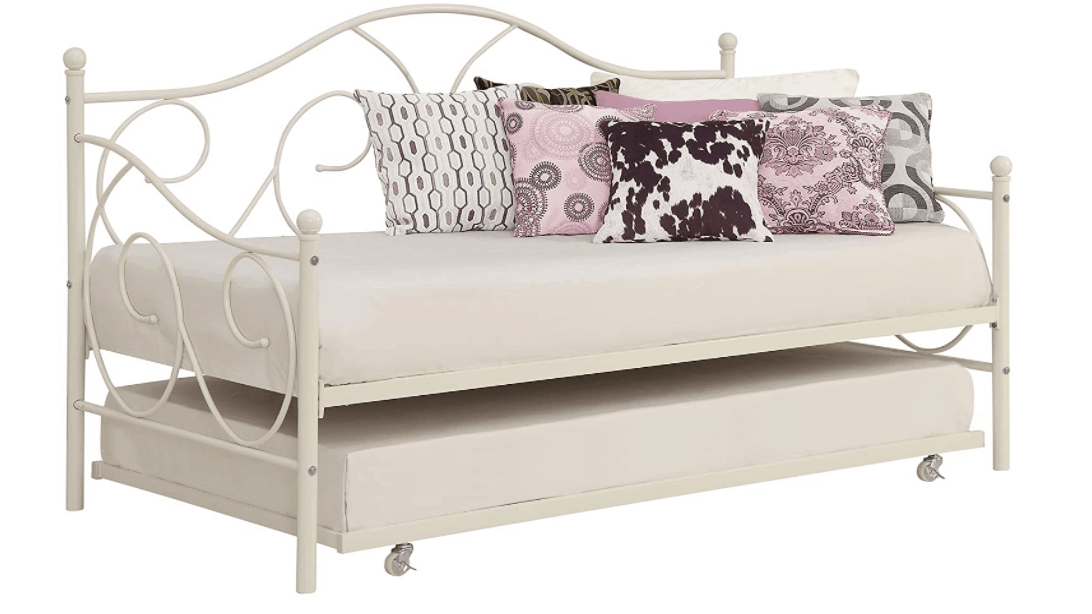 If your child has a slumber party, this trundle frame provides a quality structure for the perfect twin-sized bed. The good news is that the twin-sized trundle bed isn't just for daybeds. It can be used with any traditional bed, fitting neatly underneath until needed.
The bed has four caster wheels, two locking,s and two non-locking, making the bed easy to move yet stable when sleeping. The timeless white finish has a clean and neutral style that fits almost all décor. Use it for any room and with any style mattress, as the multiple slats add safety and support without needing a box springs unit. Find this product on Amazon.
Overall dimensions: 71 L x 43.5 W x 4.5 H
Weight: 21 lbs.
Weight Capacity: 250 lbs.
Pros:
Strong weight capacity
Two locking caster wheels, two non-locking
Universal trundle for any bed
Cons:
7. Payton Brown-Finished Twin Trundle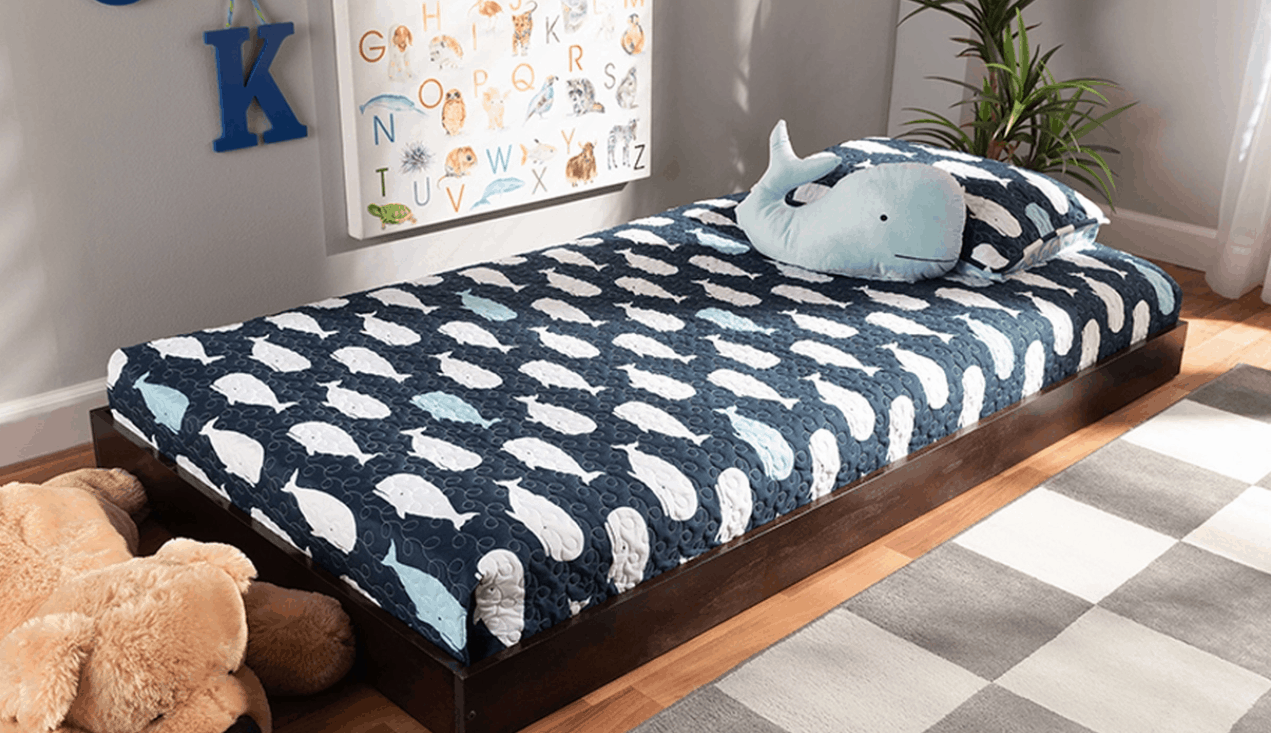 When saving space, do it stylishly. With the Payton Brown-Finished trundle frame from houzz, you can do just that – the walnut-brown finished engineered wood frame is simplistic yet classy. But it doesn't have to be brown, as the trundle bed comes in other colors, like gray, dark brown, and white.
The foundation frame is made from metal and has four wheels underneath for maneuvering the trundle in and out from under the bed. The trundle frame uses only one twin-sized mattress – no need for box springs for support. Engineered wood slats provide support as guests enjoy the comfort of staying away from home. This trundle was designed in the traditional style.
Overall Dimensions: 74.02 L x 40. 39 W x 4.65 H
Weight: 29.41 lbs.
Pros:
Beautiful walnut finish
Traditional design
Cons:
Unknown weight capacity/wooden slats
FAQs
Question: What is a trundle bed?
Answer: A trundle bed is a low-sitting bed that is usually stored beneath a traditional or day bed. They are constructed of sturdy materials and usually found in twin-sized versions. The product has wheels of various kinds and numbers to help you move the trundle bed in and out from under the larger bed.
Question: What is the trundle bed used for?
Answer: The trundle bed is used to accommodate visiting family or friends who wish to stay overnight. In cases where a trundle bed is needed, there are usually not enough guest rooms or sleeping surfaces for each person. A trundle bed is stored underneath a standard bed and pulled out when it's needed. Most times, trundle beds are used for children's slumber parties or sleepovers.
Question: How sturdy are trundle beds, really?
Answer: Some trundle bed frames have a weight capacity of up to 500 lbs. and yet others only accommodate a weight of 200 lbs. The sturdiness depends on materials, extra support, and quality.
Question: How long do trundle bed frames last?
Answer: This all depends on how old the bed frame is and how you treat this piece of furniture. As with other types of furniture, there are many factors in the lifespan of the product. If you treat the trundle bed with respect and only use it for special occasions, it can last for a very long time – getting usage from the product for years.
Question: Do trundle beds only come in twin-sized versions?
Answer: While most of the trundle bed frames are twin-sized, they do come in full-sized versions, but it's usually when they're purchased with the standard matching bed.
Final Thoughts on Best Trundle Bed Frames
We hope this guide has provided you with enough information to make an informed decision about your upcoming trundle bed frame purchase. But before making the final decision, take time to research your desired choice thoroughly. You may also be interested in other bedroom furniture items as well.
Among the various styles of trundle bed frames in our selection, we wish to share our personal favorite pick of the bunch. The 2K Furniture Designs Black Metal Framed Twin Trundle Bed Frame is a product that stands out for its amazing weight capacity and structure. Its multiple wheels also make it a high-quality product.
And finally, when turning your home into a comfortable living space, don't forget to shop for the best lighting for the bedroom. As for other rooms, like the living room, check out a few bright colored sofas that are perfect for the adventurous. Use this guide and other guides to complete your home décor with class.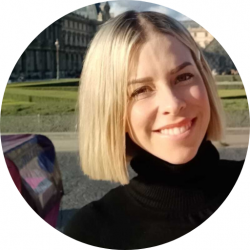 Latest posts by Jodie Chiffey
(see all)