Have you heard about the amazing and stylish Target ottoman choices? With products for every pocket and design versatility that has a little something for everyone, we just had to take a look at what we found and share our discoveries. We've focused on the best Target ottomans that offer great value for the price, with good construction and versatile designs, and here is what we discovered.
About Target
Target Corporation is a well-known retailer in the United States, founded in 1902 by George Dayton. In the 1980s, it began growing the business countrywide, and in the 1990s, it debuted new shop formats under the Target brand.
The company has achieved success in the sector as a low-cost-chic player. In 2000, the parent business was renamed Target Corporation, and in 2004, it divested itself of its remaining department store operations.
It suffered a huge and well-publicized security breach of consumer credit card data in the early 2010s but resurrected its fortunes with its growth into urban markets throughout the United States. Target operates 1,844 shops in the United States as of 2019.
Top 3 Best Target Ottomans 
What Is An Ottoman Used For?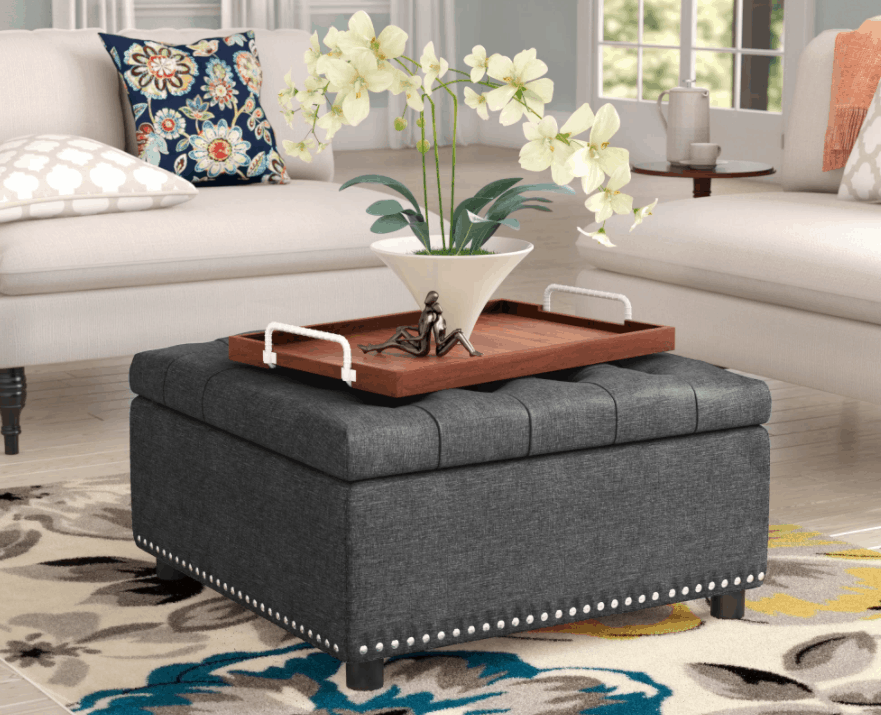 Ottomans are currently experiencing a renaissance and are gaining favor as a versatile piece of the house furniture. An ottoman is a versatile piece of furniture that can be used as additional seating. a storage solution, or even act as a coffee table. Ottomans are also available as an add-on to sectionals.
Accent Pieces
You already own huge pieces of furniture, such as recliners and sofas, so if you're searching for an inexpensive way to add a burst of color to a space without having to replace your large items, a colorful ottoman is an excellent choice. Fabric cocktail ottomans are available in an array of colors, making it simple to opt for one that complements your desired appearance.
Coffee Tables
Almost every ottoman style, shape, and size can make it versatile enough to be used as a coffee table. Granted, it's best to opt for ottomans with a top that's as flat as possible, but you can always add a tray on top to make the surface flat and stable enough for your drinks and coffee cups.
Storage Solutions
There are hollo storage ottomans with tops that double as lids. When you lift the lid, the inside of the ottoman is basically an extra storage compartment that people use to store stuff from around the room they don't want to leave in plain sight.
For example, a bedroom ottoman can be used to store bedding items, a hallway one can be used for hiding shoes, while an ottoman in the kid's room is a great way to conceal toys.
Footrests
One of the main reasons why people purchase an ottoman is to help elevate their feet while sitting on the sofa or chair and relax. Leg elevation can help increase blood circulation and alleviates the sensation of sore feet.
Benches
Whether you place it at the foot of the bed or find a location for it right next to the entrance, an ottoman can be a great piece of furniture to offer a seating space for putting on your socks or shoes.
Different Ottoman Types to Consider
Ottomans are divided into multiple categories, based on how they are meant to be used, and this is something that dictates the materials used in the construction, their size, and the shape.
Storage Ottomans
Consider a storage ottoman in the family room if you're looking for a clever way to store some of your belongings, and especially stuff like blankets and magazines. This is often rectangular or square in shape, with a hinged lid that swings open or can be taken fully off.
Certain storage ottomans also include drawers for smaller goods such as television remotes. These are suitable for most living rooms, with ample space for periodicals, rugs, and other items.
Ottoman Coffee Tables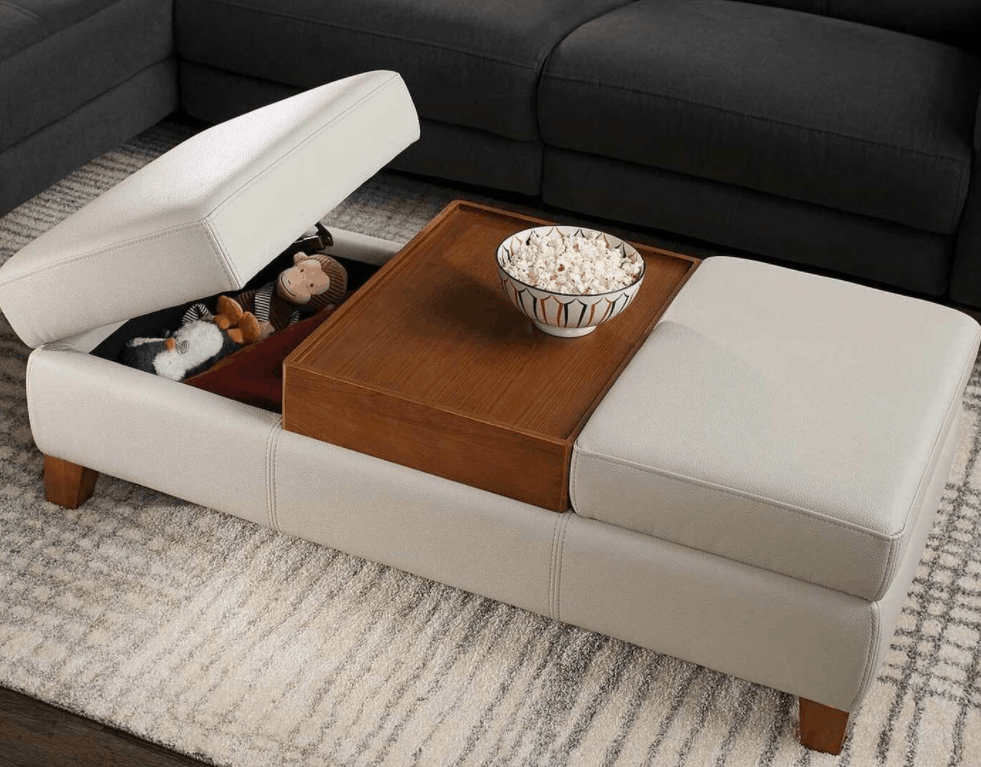 This sort of ottoman is sturdy, with a flat surface devoid of tufting or buttons, ensuring that whatever you place on it does not spill. It can take on any shape and is most commonly made of chenille, leather, or microfiber. These ottomans are large and flat enough to serve as a coffee table in almost any room.
Tufted Ottomans
If you're looking for an ottoman that appears sophisticated enough to be integrated into an elegant decor, opt for a tufted ottoman. This design is not only gorgeous but also extremely comfortable, providing ample foot cushioning as they rest.
Glider Ottomans
If you own a rocking or glider chair, you'll want to pair it with a glider ottoman for a comfy and matching footrest. This footrest is suitable for use in a nursery, family room, or any other place in the house where you require a footrest capable of moving with you.
The majority of glider ottomans are available in a square shape and are upholstered in a material that complements practically any glider seat.
What to Look for in a New Ottoman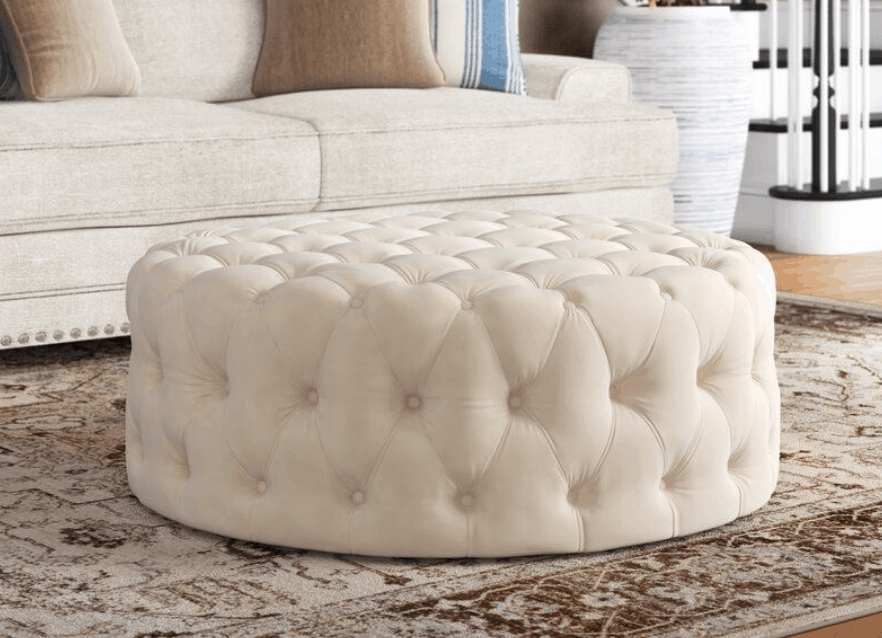 Shape
Naturally, ottomans are available in a variety of shapes, so choosing the one that suits you best is an important part of the shopping process.
Round ottomans excel at cramming a lot of versatility and comfort into a tiny frame, while also looking nice. A spherical ottoman breathes new life into a space that is on the verge of falling to a grid layout.
Rectangular ottomans are the epitome of storage combined with versatility. They can be used as coffee tables, footrests, or simply act as a space filler.
Square ottomans offer another great seating solution, offering a space-saving solution for those of you that still require an ottoman embedded into the decor.
Size
The size of the ottoman is important because not everyone has all the room in the world to spare. If you're short on space, a round ottoman might be nice because you have more room to move around it. Rectangular ottomans are better for larger spaces and they're also better for those who want a product that doubles as a coffee table.
Materials & Construction
The materials that are used to make an ottoman will influence the properties and durability of the item in question. The most common options include:
Fabric – Ottomans covered in fabrics are usually more affordable compared to other options. Plus, they are available in a variety of different colors to choose from.
Leather – Leather ottomans are more expensive, but they are also more luxurious, more durable, and easier to clean compared to other options. If you feel they are too expensive, you can always opt for a faux leather one.
Rattan – You can find rattan ottomans when shopping for an outdoor furniture piece. They are usually lighter in weight and pretty durable. The surface is also easy to paint.
Memory foam – Memory foam is often used to create cushioning for your ottoman, making it more comfortable to sit on and providing even more comfort when you use the ottoman as a footrest.
Extra Uses for Ottomans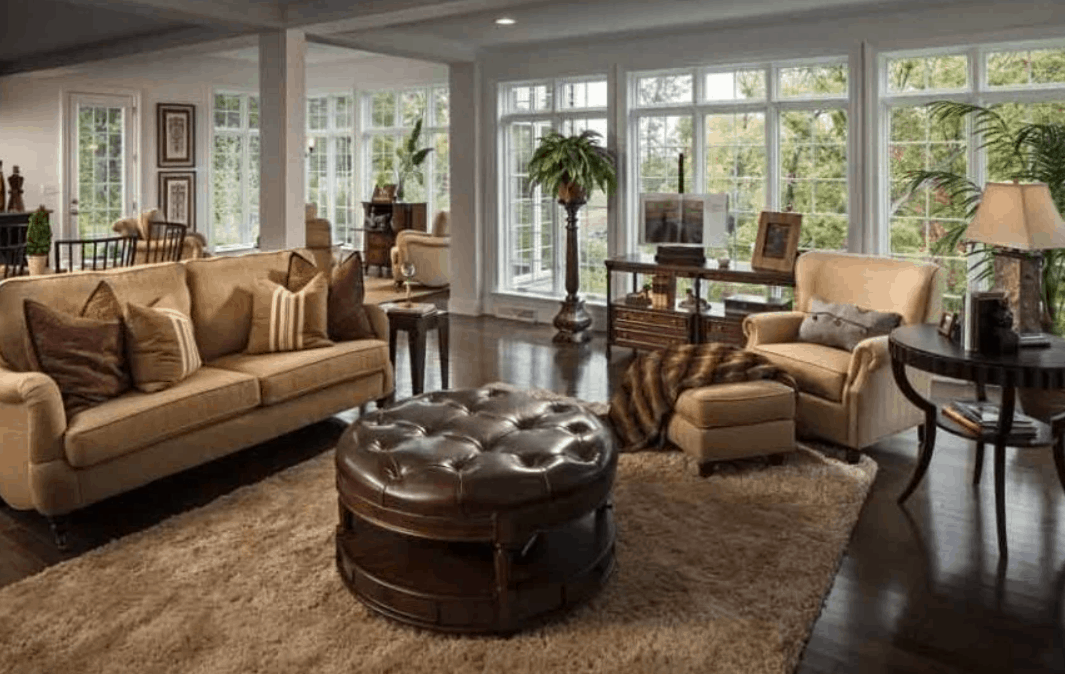 Consider what you'll be using the ottoman for, as this will help you determine which product is best for your needs. For example, if you mainly use the ottoman for seating/footrest purposes, you want a product with a good level of cushioning.
If you want to use it as a coffee table, avoid products with uneven surfaces, like those with button tufting. Those of you that have a small living room might want to opt for an ottoman with storage.
Storage
As mentioned earlier, storage is an important feature for an ottoman meant to be used in a small space. It never hurts to have an extra storage box that can double as another piece of furniture, helping you save space and leading to a practical purchase.
Style
When it comes to style, you have to take a look at the design of the ottoman. As mentioned in our section on "Different Ottoman Types to Consider", you have gliders, storage ottomans, pillow-top products, and table-and-tray ottomans, which can double as coffee tables.
Price
The price of an ottoman is influenced by almost every other feature, with size and construction having the greatest impact. Ottomans can be as cheap as $50 but can cost more than $500 (especially if they are made from high-quality leather).
Can You Reupholster an Ottoman?
Yes, you can. In fact, there are several ways to reupholster an ottoman, with one of the most popular options being the no-sew method. To do so, you're basically going to need a set of pliers, a flat-headed screwdriver, and the material you want to use for the reupholstery.
Best Target Ottoman Options
Double Storage Ottoman Dark Gray – Room Essentials™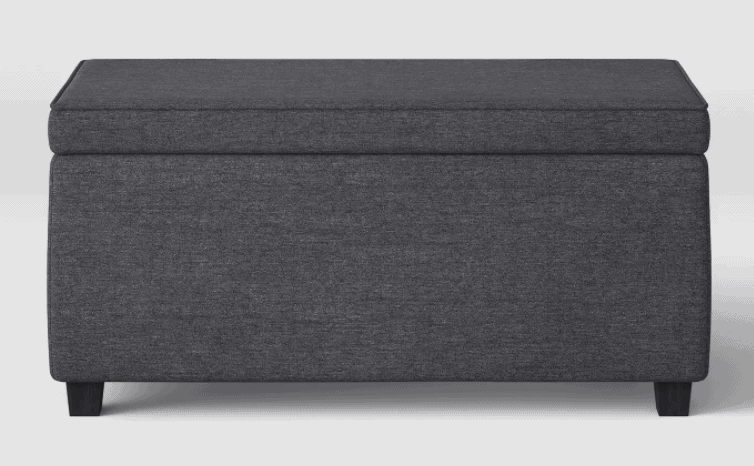 Good for storage, offering a great seating area, and capable of acting as a coffee table, this is one of the best products in its category, no doubt about it. The dark gray piece will complement your existing décor and serve as an excellent ornamental addition to your room. Use it as a footrest and storage for blankets and pillows in the living room or leave it in the foyer as a comfy spot to sit while you put on your shoes.
Weight capacity: 250 pounds
Materials: wood composite frame, foam fill, polyester cover
Shapes: rectangular
Size: 17 (H) x 35.5 (W) x 16.5 (D) inches
This ottoman can hold up to 250 pounds, thanks to the frame made from wood composite. It's also fairly comfortable to sit on since it's filled entirely with foam. The downside is that it uses plastic legs, but they feel pretty sturdy and should be fine as long as you stick to the recommended weight limit.
Pros:
Includes storage compartment.
Padded foam seating.
Generous weight capacity.
Cons:
Complaints about color inaccuracy.
Catalina Mudcloth Round Ottoman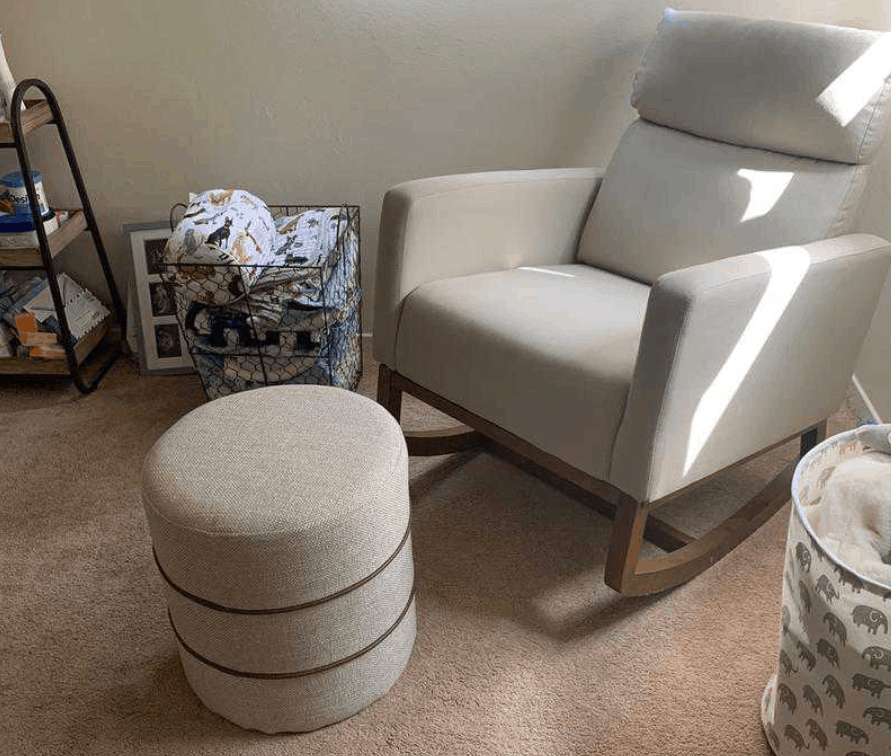 When it comes to the best round ottomans at Target, this little fellow checks off the right boxes, offering a gorgeous design, durability, and a pretty decent price. This spherical ottoman is upholstered in a mud cloth-style fabric and is supported by a wooden frame. This upholstered ottoman is finished in cream and boasts textured seams for a stylish effect in your decor.
Weight capacity: 250 pounds
Materials: MDF frame, polyester cover
Shapes: round
Size: 18 (H) x 17 (W) x 17 (D) inches
This ottoman is covered in polyester upholstery and is built upon a frame that combines plywood and MDF. If you're thinking these aren't the best material, know that this can still hold up to 250 pounds in weight, which is more than enough considering its size.
Pros:
Great space-saving solution.
Suitable with multiple decor styles.
Holds a generous 250 pounds.
Cons:
Lacks storage compartment.
Storage Ottoman – Room Essentials™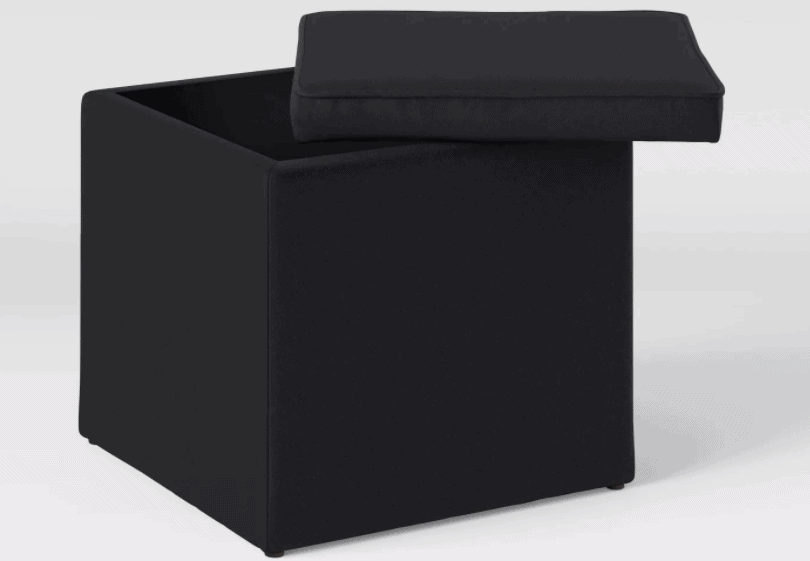 Good ottomans will usually cost at least $50, but if you have your heart set on an ottoman and don't have that much money for space, this little ottoman is a less pretentious piece of furniture that you might want to look into. This square-shaped ottoman is ideal for accenting any area, as it fits smoothly with a variety of decor styles and can match a variety of different colors.
Weight capacity: 200 pounds
Materials: hardwood and plywood frame, polyester cover
Shapes: square
Size: 15 (H) x 15 (W) x 15 (D) inches
The fabric upholstery with its plush fabric provides comfort whether you're sitting or looking to use this as a footrest. Additionally, the removable top allows you to effortlessly organize and conceal your books, blankets, and other belongings.
Pros:
Space-saving solution.
Integrates storage compartment.
4 upholstery color options.
Cons:
Questionable long-term durability.
Trubeck Tufted Metal Base Ottoman Faux Leather – Project 62™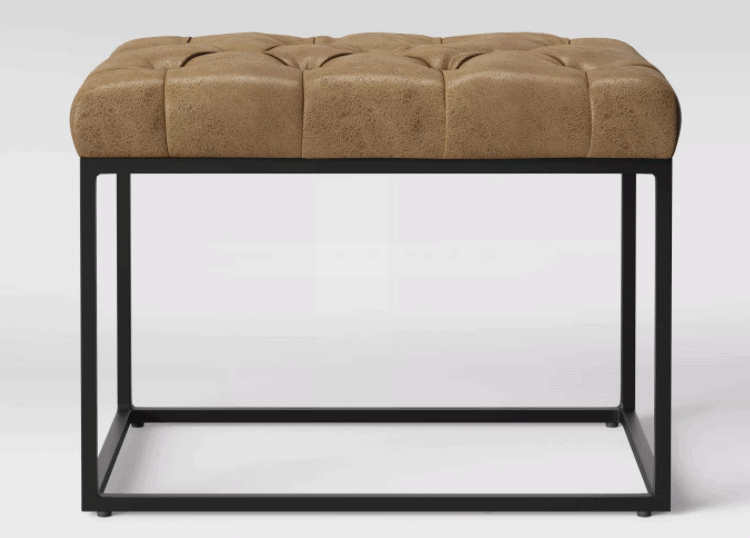 The best alternative to an expensive real leather ottoman is a faux leather one, and this one by Project 62 is a great option. It is designed with foam filling to add comfort to the seating area, and it's built with solid metal legs. Add the wood frame on top of this construction and you have a bench ottoman that can support up to 250 pounds in weight.
Weight capacity: 250 pounds
Materials: metal legs, MDF frame, faux leather upholstery
Shapes: rectangle
Size: 17 (H) x 22 (W) x 16 (D) inches
From serving as an additional seat for guests to serving as a convenient footrest, this quality will add style to your decor. You have two color options for the upholstery, so matching this ottoman with a variety of interior decor styles should be fairly easy.
Pros:
Comfortable padded seating.
Durable powder-coated metal legs.
Generous 250 pounds weight capacity.
Cons:
Essex Double Storage Ottoman – Threshold™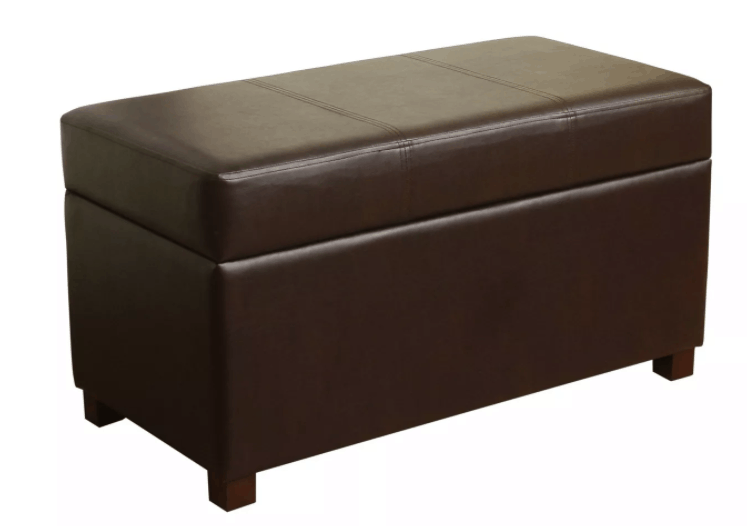 The ottoman is ideal for resting your feet when you're relaxing in your living room, watching TV, or reading a book. Its traditional style is enhanced by a modern flair, using an imitation leather cover to add a timeless touch to any decor. You have five different color options to choose from when it comes to upholstery, so it's easy to match this ottoman with different room chromas.
Weight capacity: 250 pounds
Materials: rubberwood legs, MDF frame, polyurethane upholstery
Shapes: rectangular
Size: 18 (H) x 32.5 (W) x 16 (D) inches
This rectangular ottoman is designed with a hinged seat cushion, making it easy to lift the lid so you have access to a pretty large storage compartment. The faux leather construction makes this ottoman more affordable compared to the genuine leather one, but we love how easy it is to clean.
Pros:
Includes storage compartment.
5 color options.
Easy to clean.
Cons:
Complaints about color inaccuracy.
FAQs
Question: Are ottomans good for storage?
Answer: If you purchase a storage ottoman, then yes. Since you can lift the lid, the hollow interior of an ottoman can offer quite a lot of storage room.
Question: Are leather ottomans good?
Answer: They are just as good as any other piece of furniture made from leather. This is one very sturdy fabric, it looks luxurious, and is very easy to clean even in case of spills.
Question: Are ottomans good coffee tables?
Answer: Not all ottomans are good as coffee tables because some provide uneven surfaces that might sink in deep and not be able to support a cup of coffee. However, a tray placed on top of the ottoman usually solves this problem.
Best Target Ottoman Options Guide: Final Thoughts
The Room Essentials™ is our recommendation for the day because it offers plenty of seating space, doubles as an ottoman, can triple as a coffee table, and can also be used as a bench. If you need more tips on how to pick the best ottomans for your decor, we've got you covered! Just check out our guide to the best round ottomans right here!
Latest posts by Candace Osmond
(see all)