As technology continues to grow and evolve, more and more folks prefer to work from home, increasing the need for your own home office desk. Whether you work from your home or at the office, a decent office desk can help you work productively without much straining.
For your home office, you'll want to give special attention to the design and ergonomics of your desk. Sitting at your desk for long hours poses potential problems, such as back strain, so you can also look into such options as a standing desk to alternate between sitting and standing.
Minimizing distractions is also critical, and it'll begin with choosing the best desk and the right location in your room.
Types of Desks
There are different styles and designs of desks available in a variety of materials, including metal, wood, glass, and even marble. Here's a quick rundown of the different types of desks on the market.
Executive Desk
Executive desks are often large with plenty of desktop surfaces, lots of drawers, and ample shelf space for your books. If you run a business from home, these desks have all you need and want at your fingertips.
Corner Desk
Thanks to its design, a corner desk uses less space than a normal desk, which leaves more room for other uses. There's a wide variety of corner desks to choose from, including executive-style desks that come complete with shelving and storage for your other items.
Other types include variations of the corner desk, such as the computer desk, roll-top desk, standing desk, and the L-shaped computer desk.
Writing Desk
This is a standard desk surface that comes with no bells or whistles. The surface area is smaller than the typical office desk and is not suitable for heavy office work.
Floating Desk
This is the perfect desk to keep your floor space clutter-free. As it's simply built into the wall, it doesn't consume much space and is a great choice if you have a small home office.
Other Types of Desks
Other desk types are variants of the above desks, including a computer desk, standing desk, L-shaped computer desk, and the roll-top desk.
Because you'll be spending a lot of time at your desk, be sure to choose a configuration style that fits your ergonomics. One handy tip is to stand beside the desk and place your hand at a 90-degree angle to it. If your hand rests comfortably on the surface, then you have found the ideal height for your desk.
Remember to also consider the height and size of your chair. Find a chair with a comfortable height and supportive backrest to accompany your desk, and you've made for yourself a productive working space.
Identify the Purpose of Your Desk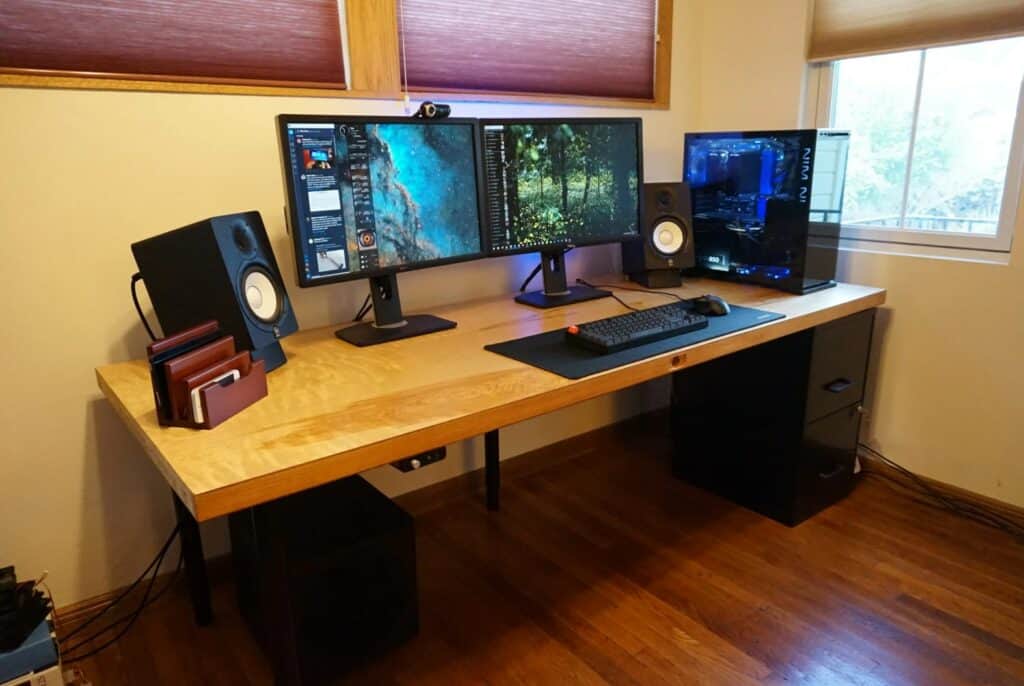 Consider how you plan to use your desk. Some office desk uses include:
Computer work: A good desk for your computer should come ready with electrical outlets, wiring holes, and if possible, room for the CPU underneath.
Paper-work: You'll want a desk that offers plenty of surface area if you're doing a lot of paperwork, as well as storage space like drawers, cabinets, and overhead shelves.
For tight spaces: Computer armories have become a popular choice because they allow you to hide unsightly hardware by closing the doors. Corner desks, L-shaped desks, and compact computer desks are all ideal for small spaces.
Office area: Where will you put your desk? Ideally, you'll want a dedicated room for your desk, but you can also use your bedroom or living room provided it's orderly and there aren't any distractions while working.
While you could get away with working at the kitchen table or just your coffee table, there are a great number of benefits to having a separate space for your home office, particularly if you're running a home-based business.
It need not be huge or costly, but a good home office desk comes with a handful of improvements that make your work easier and ultimately maximize your productivity.
Consider Your Work Style
What's your style of work?
Neat freak: If you can keep your desk clutter-free and highly organized, then you could manage with a smaller desk if need be.
Organized chaos: If your desk is messy but you know where everything is, then you'll probably want to find a desk with a greater surface area.
Choose Desk Dimensions
Your desk should provide room for your legs; the standard desk is about 30 inches in height which is sufficient for most people. Standing desks range in height, but the standard dimensions are 48, 60, or 72 inches high. It's important that you test out your height against the desk's dimensions to ensure it's the right fit for you.
Once you've found a suitable space for your desk, measure out the space available. Consider how much physical space you're working in, including space for the chair, light installations, and storage cabinets.
Consider Desk Ergonomics
Your chair and office desk are the two most significant pieces of furniture in your workspace. Make sure your chair is comfortable, supportive, and has adjustable height.
Standing desks can be a good option if you want to stand some of the time so you can avoid the risks that come with sitting too long on your chair.
Legroom: Most desks are about 30 inches in height, which should be enough for most people. If you're taller, however, consider going for an adjustable desk.
Spacing: Make sure you have measured out your workspace to ensure plenty of space for your sitting area and other additional furniture. Consider having a simple management system for your cable, so you can create as much legroom as possible, especially if you have a computer and other electronics.
Keyboard space: If you use a keyboard, you'd want to position it a level below the desk, or just find a desk with adjustable legs. Also, confirm that the keyboard platform is large enough to hold a mouse if need be.
Desk storage: How much storage will you need for your paperwork and other items? Think about extra shelving room for books and other office supplies to keep your desk organized.
Desk Quality and Durability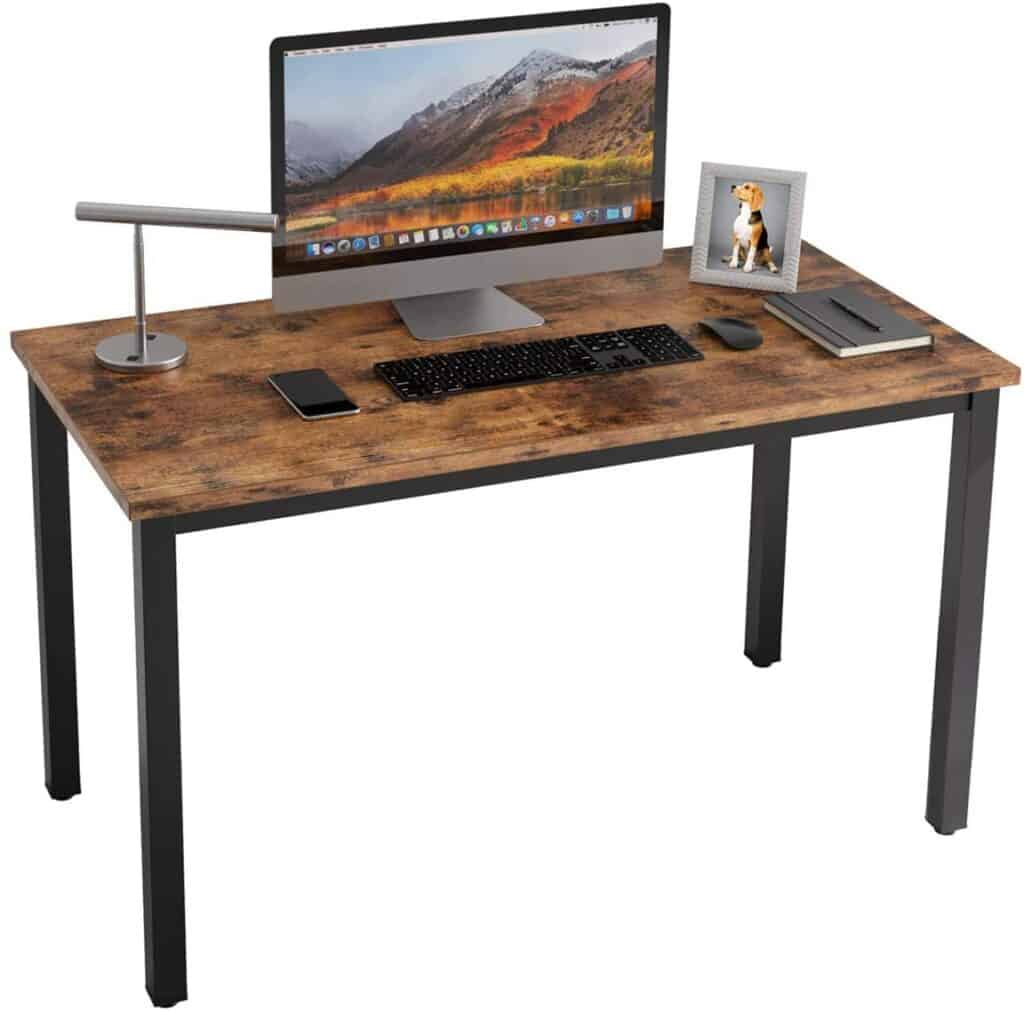 One good indicator of desk quality is in the construction of its drawers. Metal suspension drawers are great for a sturdy suspension. The drawers should be able to open and close smoothly while bearing all of the weight. The drawers should slide out to their full length to allow for full utilization of space.
A desk's warranty can hint at its quality and durability. Warranties will often range between a one-year limit and a lifetime. Examine the desk's edges and corners for any signs of fraying. Some of the most common materials for desk construction include metal, glass, wood, and fiberboard. Metal and hardwood are the more durable choices, but the desks come at a higher price.
If you're after a solution that lasts only a few years, fiberboard desks are affordable but still subject to warping, wear, and stains. Metal or steel desks are the most durable option, though not the most professional looking. These desks are great for high-traffic areas and good for long-term, heavy use.
Desk Storage
If you're an entrepreneur, you may require storage for your documents and need access to a printer. Try to create a workspace that has room for your desk storage and other things you may need at your desk. If you have a small space, you can make use of vertical space for extra wall-mounted shelves.
A desk with too few drawers may look appealing, but it may not be practical for your needs. However, having more drawers than you actually need will make your desk seem too cluttered.
There are many items you'll want to keep close as you work, from pens, books, and a charging cable. If you can't find other storage spaces, you may want to find a desk with tower drawers on the side so long as they don't eat into your leg space.
Cost of Desk
You can find a minimalist desk for as little as $49, but most standard low-price options will not exceed $149. Within this price range, you'll find options such as a folding desk and a standing desk. Higher-priced options can go for upwards of $500, so it all depends on your budget and needs.
Our Best Picks
Whether you're looking for something stylish or artistic or a useful option to set up in your corner area or smaller space, we've collated the best office desks on the market today. We chose these desks based on affordability, availability, and positive customer reviews.
Best Desk Overall: Topsky Computer Desk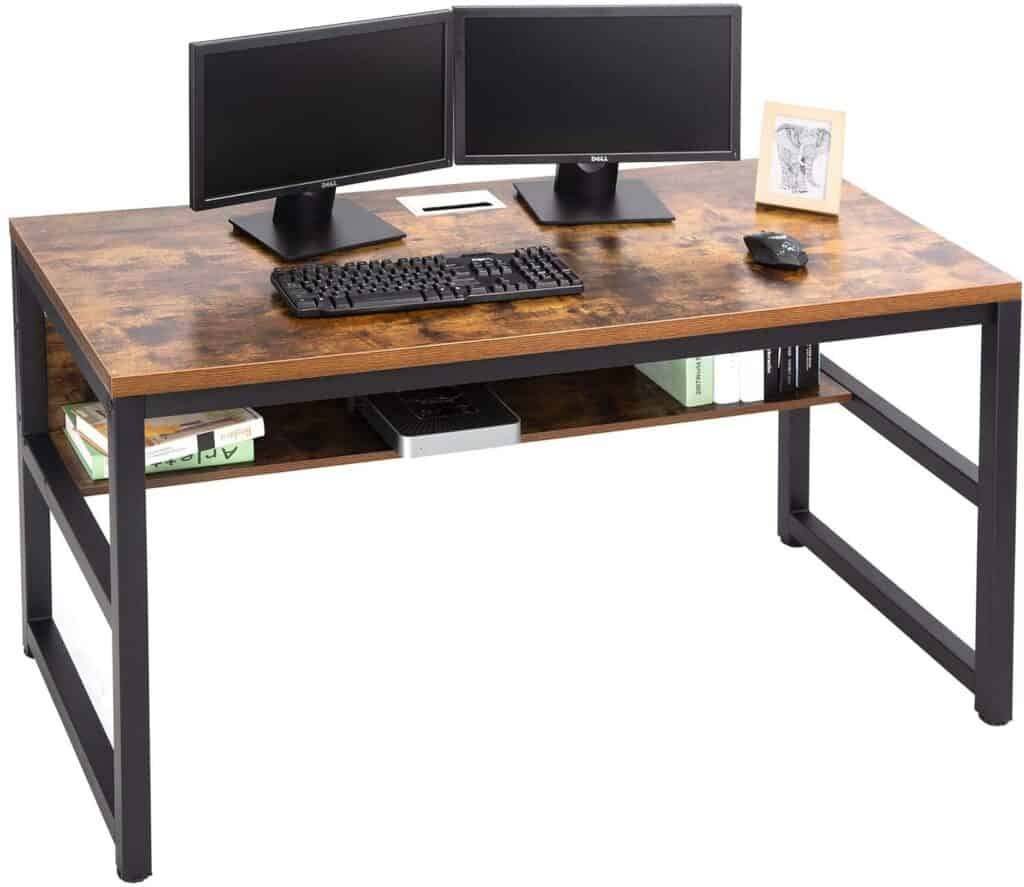 This is one of the best desks overall thanks to its combination of affordability, design, and durability. The desktop board is thick and sturdy and is reinforced with a steel frame. It also has a handy shelf to hold your books and office supplies, while the wires stay organized in a metal cable grommet hole cover.
Topsky Computer Desk comes with two multi-function open shelves where you can keep your books and binders within easy reach. The center shelf is removable to keep your CPU or alternatively use another side shelf.
Pros
Sturdy design
Large surface space
Cons
Weak particle board surface
Best Compact Desk: GreenForest Folding Desk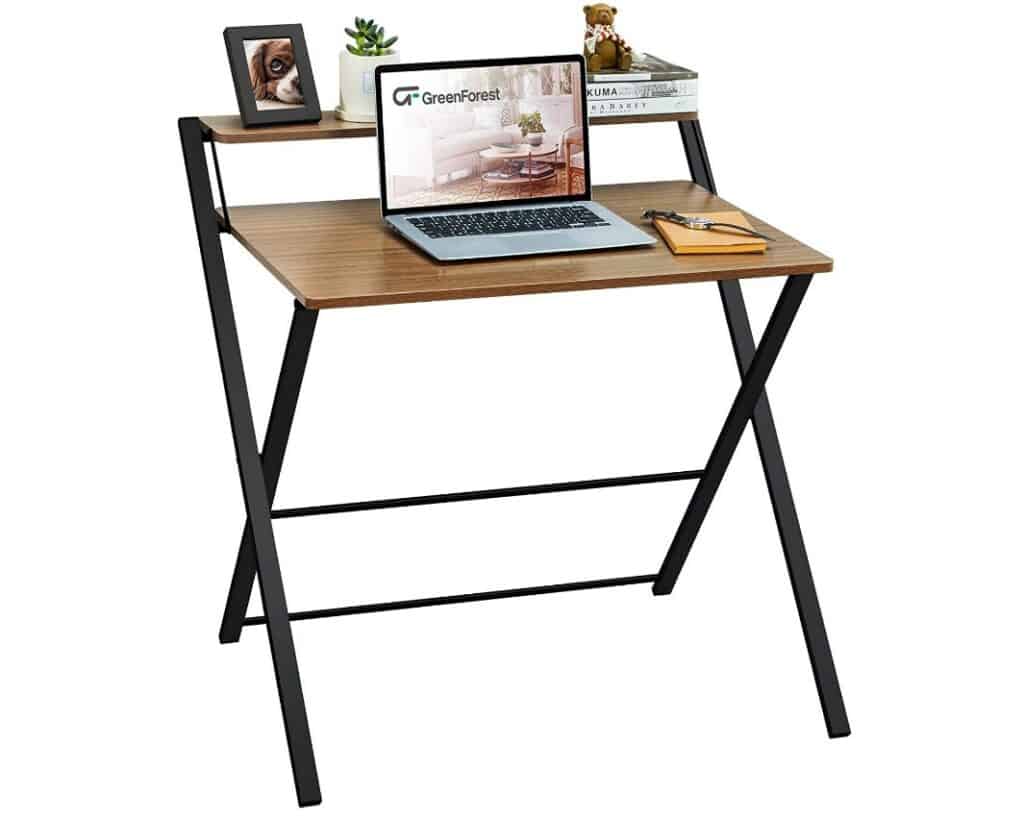 If you're looking for a compact desk that still provides enough space to work with, consider the GreenForest Folding Desk. You'll find it convenient because it folds flat, so it's easy to store.
This desk can fit easily into a small room or makeshift office, at just 32 inches deep and 32 inches wide. It also comes with a lower desktop that holds your laptop easily, plus a 6-inch upper shelf for your desktop monitor and other essentials.
The desk comes with an X-shaped metal frame for support, and medium-density fiberboard for the desktop. No assembly is required, and when you are not using it, you can fold it flat and tuck it under your bed or in some corner.
Pros
Fits into tiny spaces
Easy to store
No assembly required
Cons
Not suitable for large spaces
Best Office Desk: Coavas Folding Computer Desk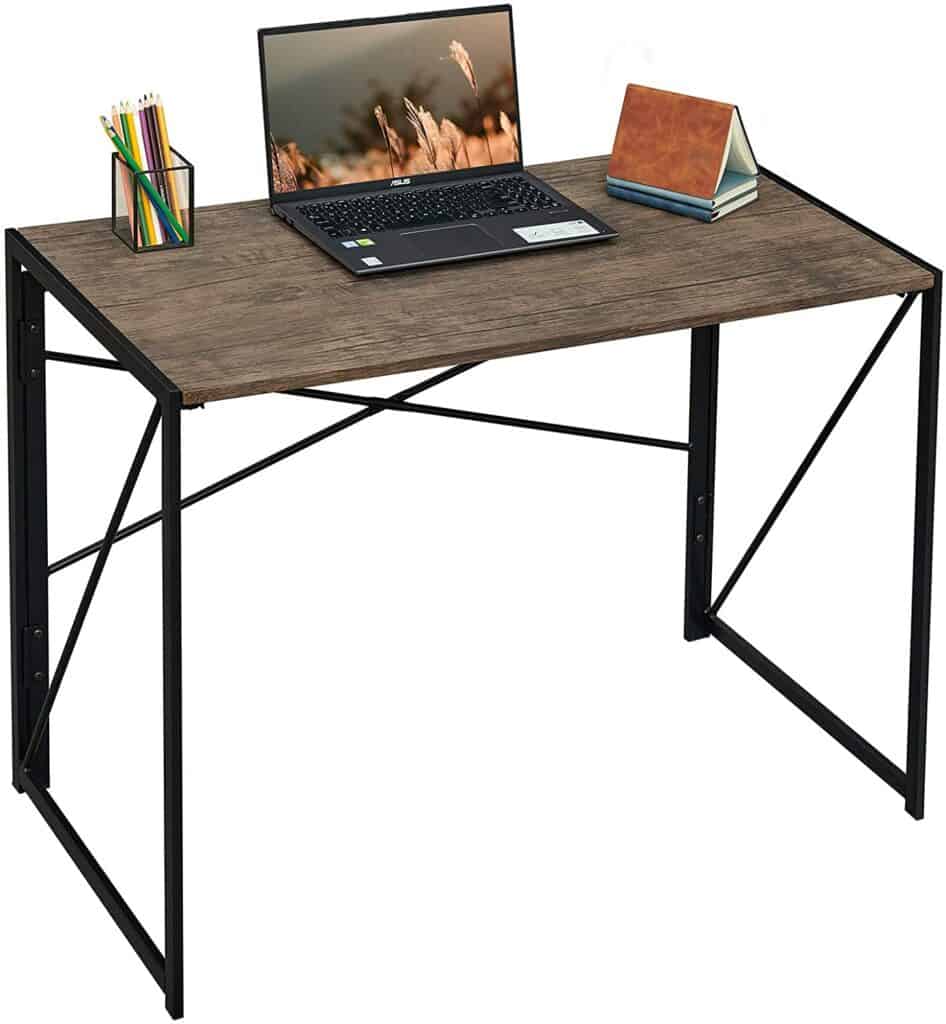 If customer reviews are anything to go by, this is one of the best decks out there. If all you want is a simple and functional workspace with minimal assembly, then the Coavas Folding Computer Desk could be a perfect choice. The desk is easy to put together and is also portable. It also folds down flat when not in use, which makes it easier to put away or move.
In spite of the relatively low cost, the Coavas Industrial Folding Desk fits the bill for a comfortable and ergonomic working space. The desk is moderately sized and comes with an industrial-inspired metal frame and faux desktop.
If you're working with a computer, you may find that it's not the most comfortable fit because of its shallow depth, but it's great for reading and writing. You can put the desk together in just a few minutes, and it's still easy to disassemble for storage or moving.
The desk comes with a 200-pound weight capacity thanks to its metal frame. The top uses medium-density fiberboard, so you'll need to be cautious about placing hot things on the surface. While the Coavas Industrial Folding Desk may not be the most durable desk, it's still a decent budget-friendly option and ultimately a worthwhile purchase for your home office.
Pros
Lightweight
Easy to assemble
Cons
Weak particle board surface
Best Budget Desk: IKEA Pahl Desk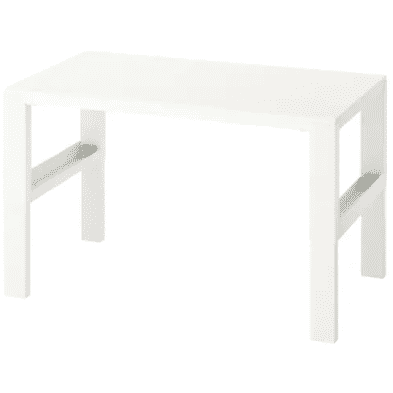 The IKEA Pahl Desk is a decent option and is suitable for your growing kids, but adults can still adjust its height to about 28 inches. The design is simple, clean, and a great fit for anyone looking for a large and flat working space.
With the two cable holders, you can keep your cords hidden. And as is the case with other IKEA products, you can pair off your Pahl desk with other units such as a cabinet add-on.
Pros
Easy to assemble
Inexpensive
Cons
Best Standing Desk: AIMEZO Standing desk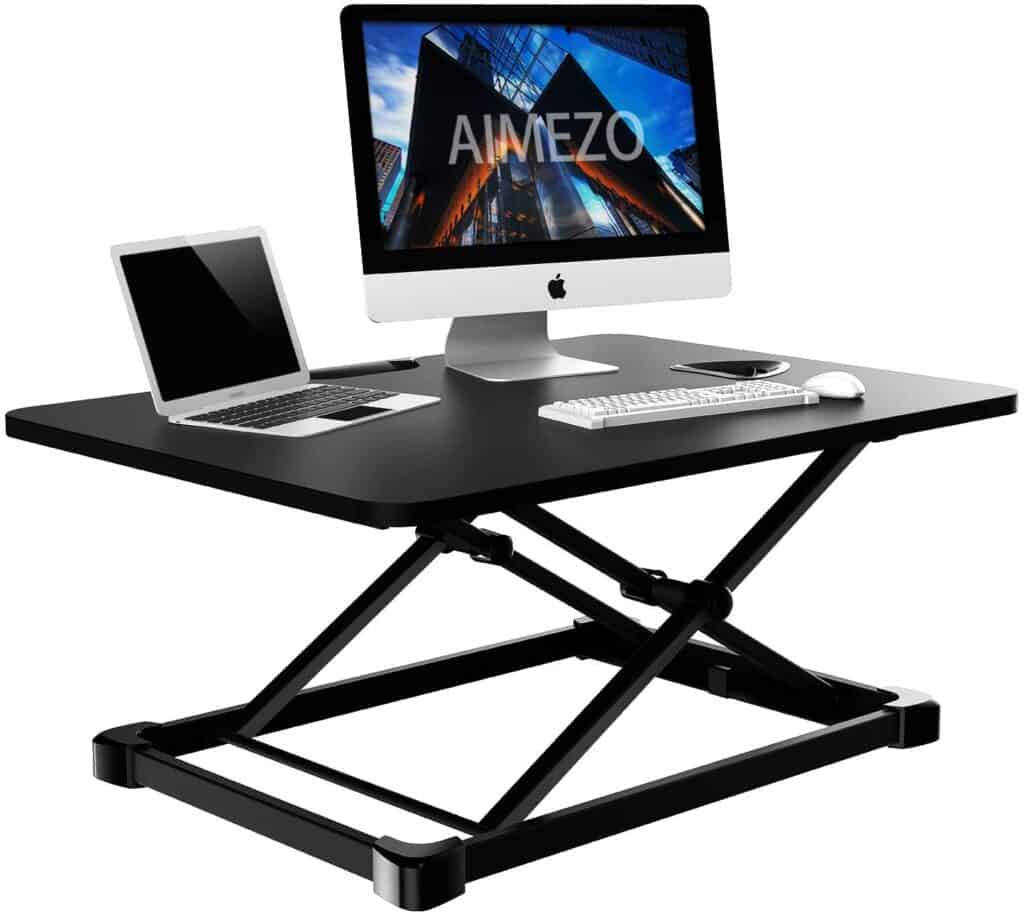 The AIMEZO is a great option if you want to switch between sitting and standing. It's particularly great if you work long hours and are mindful of your health. With a simple switch of the button, this desk will smoothly go from a height of 28 inches to 47 inches, at a speed of 1 inch per second.
The desk's large and sturdy surface can hold several computer monitors or laptops. It's also fairly easy to assemble.
Pros
Cons
Final Word on How to Find the Best Desk
When shopping for an office desk, it's important to consider what you'll be using the desk for. Is it for a simple study area, or do you want a fully-fledged business desk for your home business? If you'll be working every day at your desk, map out what other items your desk surface can hold. This includes things like monitors, laptops, and other electronics.
If you need the desk for just a laptop or for writing purposes, a simpler design may suffice. Also, the amount of space you have will be a major factor. If you live in a tiny studio apartment, a floating desk or fold-up desk could be ideal.
If you have storage needs, find a desk with ample storage space. If you live in a tiny apartment, space will be a key consideration. Consider an L-shaped desk to maximize space or even a floating desk. Ideally, the desk should fold up to stow away when not in use.
Last but not least, think about the visual appeal of the desk. As a significant piece of furniture that you'll be seeing around for a while, it is important that it looks easy on the eye.
If you're ready to buy an office desk, we think you should go for Topsky Computer Desk. Its large desktop board is strong and thick and it's shored up by a steel frame. It also features a convenient shelf to store your office supplies and books.
FAQs
Question: How Do I Get the Best Desk?
Answer: If possible, give your potential desk a try by sitting on it. Make sure the desk is the perfect height and you have adequate leg room. To check if the desk's the right height, see if you can rest your hands comfortably on it, whether it's a standing or sitting desk.
Question: What Company Designs the Best Desk?
Answer: The best desk brands on the market include:
• Topsky Computer Desk
• Coavas Folding Computer Desk
• IKEA Pahl Desk
• Flexispot Standing desk
• Walker Edison Ellis L-Shaped Computer Desk
• Andover Mills Daniel Desk
• Phoenix Rustic Worktable
• Elle Décor Dani Writing Desk
• Latitude Run Sauve Desk
• Andover Mills Daniel Desk
Question: What Should I Consider When Looking for a Home Desk?
Answer: When choosing home office furniture, one of the most important things to consider is how much space you'll need and what your ideal aesthetic looks like. It's recommended that you go for a sit-to-stand desk that'll give you extra flexibility to stretch your legs and maximize productivity.
Question: How Do I Determine the Size of a Desk to Buy?
Answer: You should get a desk with measurements that best suit your usage. A regular large desk that'll fit most uses measures 60 long, 30 inches wide, and 30 inches tall. These dimensions will accommodate most cases of general use comfortably and you should use them as a baseline.
Question: What's a Regular Desk Size?
Answer: The regular desk is 29-30 inches tall. While desk sizes vary, common measurements are 72, 60, and 48 inches wide, as well as 36, 30, and 24 inches deep.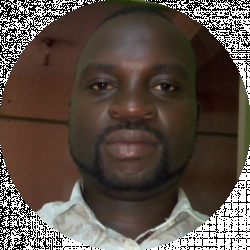 Latest posts by Haron Omaita
(see all)