Have you been inspired by the latest trends with studio couches? Not quite sure what a studio couch is or why people like them so much? We're here to guide you through what to look for when buying a studio couch as well as the benefits of owning one. We'll also tell you our top 6 picks for the best studio couch you can buy today based on style, quality, price range. Ready to jump right in? Let's get started!
Top 3 Picks
We'd like to begin by showing you our top 3 picks for the best studio couches right off the bat. These couches outshine others when it comes to style, price, and the overall combination of features. If we were buying a new studio couch today, it would definitely be 1 of these 3.  
What is a Studio Couch?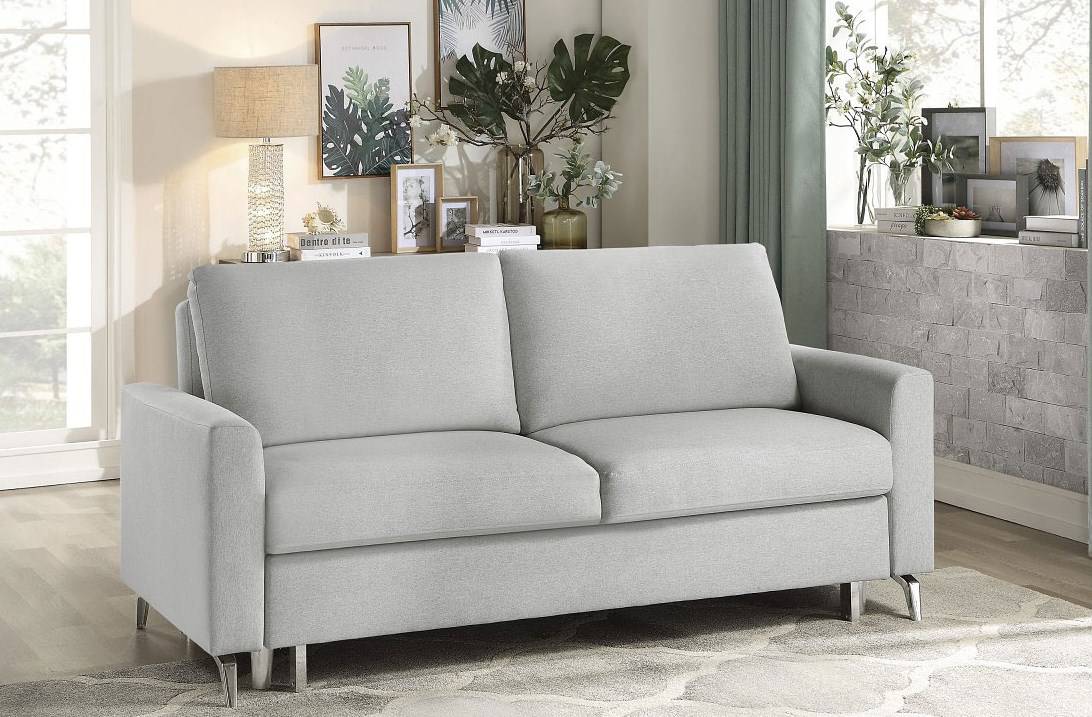 Let's rewind back to the question at hand: what is a studio couch? Studio couches go by a few different names, including:
Sofa bed

Day bed

Convertible
A studio couch is a couch that can be folded out into a bed. They get their name because they are perfect for studio apartments where your living room is doubling as your bedroom. With a studio couch, your couch can double as a bed, which saves space.
How Big is a Studio Couch?
Studio couches are generally the same size as regular couches. Most couches are around 84" wide and 35" deep. Some couches are smaller because they were made with apartments in mind, while some are much larger.
Studio couches also come in a variety of different sizes. The studio couch you're interested in buying should have its dimensions labeled on the packaging or online.
What Materials are Best for a Studio Couch?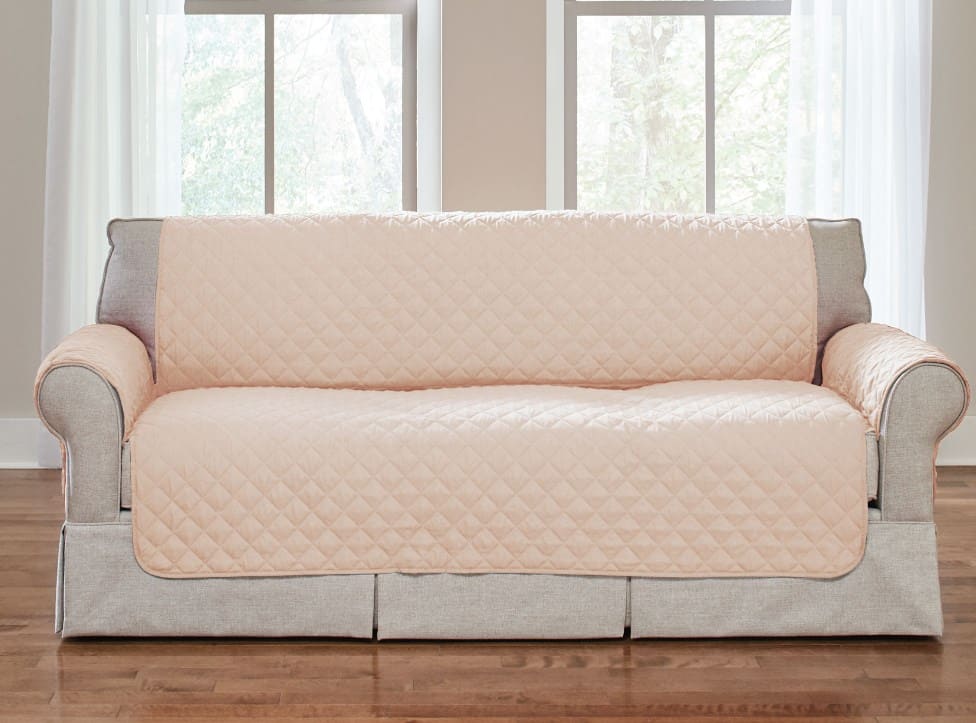 Microfiber and leather and 2 very popular material types for studio couches.
Microfiber:
Very plushy and comfortable

Is less expensive than leather

Available in many colors

Easy to maintain

Is stain-and-water-resistant
Leather:
Is aesthetically pleasing

More expensive than microfiber

Is easy to maintain, but must be treated with leather conditioner

Is a long-lasting material

Should not be put in direct sunlight
What to Look for in a Studio Couch
Now that you feel confident in what a studio couch is, it's time to determine what makes a great studio couch. Choosing stand-out furniture pieces like a new couch that doubles as a bed are going to make a statement in your living space. With our helpful tips, you'll be able to make an informed decision.
Size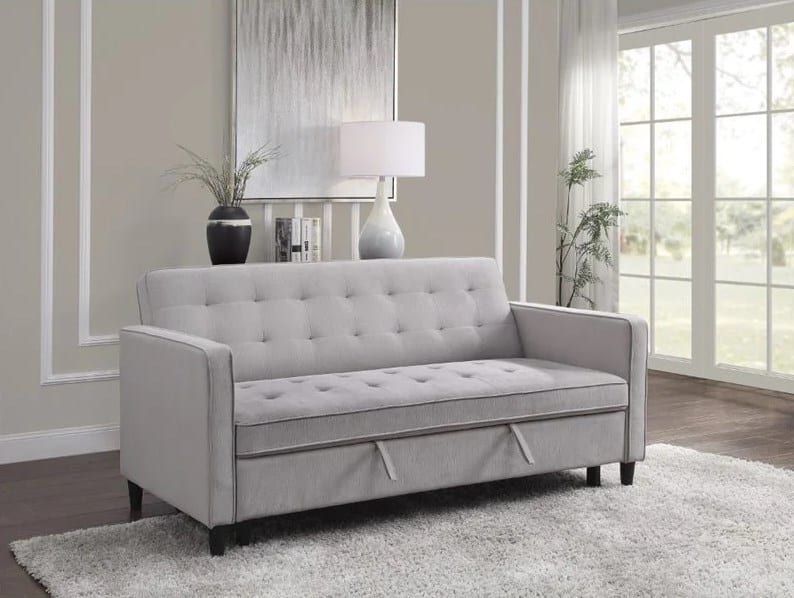 The size of the studio couch you'll want to buy depends on the room you're going to put it in. Ask yourself these questions when you're purchasing:
Do I have a lot of space in the room I want to put my studio couch in, or should I choose a smaller model?

If I have a lot of space, would choosing a small studio couch create an odd amount of negative space on the floor?

Do I know the dimensions of the studio couch I want to buy?

Have I used measuring tape to map out where in the room I want to put my couch to make sure it fits?
Function
The dual functionality of a studio couch is one of its greatest appeals. This furniture piece isn't simply a couch, or simply a bed. It's both! Here are some key benefits you'll get out of owning one:
Couch

Great for accommodating guests

Comfortable to sit on when you need back support during the day

Doesn't take up as much space as a sectional

A pretty furniture piece that can complement the rest of the room

Bed

Great for accommodating guests who are spending the night

Comfortable to sleep on when you need to lay down

Doesn't take up as much room as many other types of beds

Accompanying pillows and blankets can make this a homey, well-accessorized furniture piece
Weight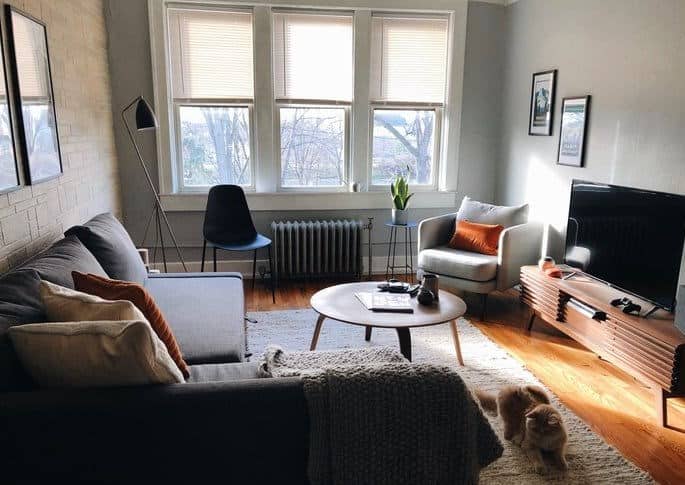 Usually, a studio couch will weigh around or a little over 200 lbs. Loveseats usually weigh less than studio couches and sectionals can weigh much more. If you're concerned about having furniture in your apartment that is too heavy, a studio couch resolves your need for a bed and a couch while not weighing much.
Keep in mind, some studio couches are heavier than a normal couch. Having a mattress inside them adds to their overall weight.
Shape
Studio couches are usually always rectangular, but there are still exceptions. It's possible to purchase a circular studio couch if this is a style you are interested in for a more modern feel. Some of these couches are L-shaped and some appear to be a regular 2-or-3-cushion couch. Designers are creative, so it's possible to get couches in many shapes.   
Style
There are studio couches to match every style! Black leather would look beautiful in an artisan home, while a futon-like design would fit a modern studio apartment. When considering if the studio couch you like most would fit with the other furniture pieces in a room and contribute to its style, ask yourself:
Does the color match with other colors in the room?

Should I choose a couch with sharp edges or rounded edges to match other furniture pieces in the room?

Will a studio couch make the room feel cramped?

Does the material of the studio couch mesh well with other material types used in the room?
Interior Mechanisms
Remember, you want it to be easy to change your studio couch between a couch and a bed. When you pull out the trifold mattress to have a bed, the internal mechanisms shouldn't squeak. It shouldn't be difficult to pull out the mattress and have it sit without caving in on itself, either. If there isn't a mattress, the top half of the couch should fold down easily.  
Ease of Use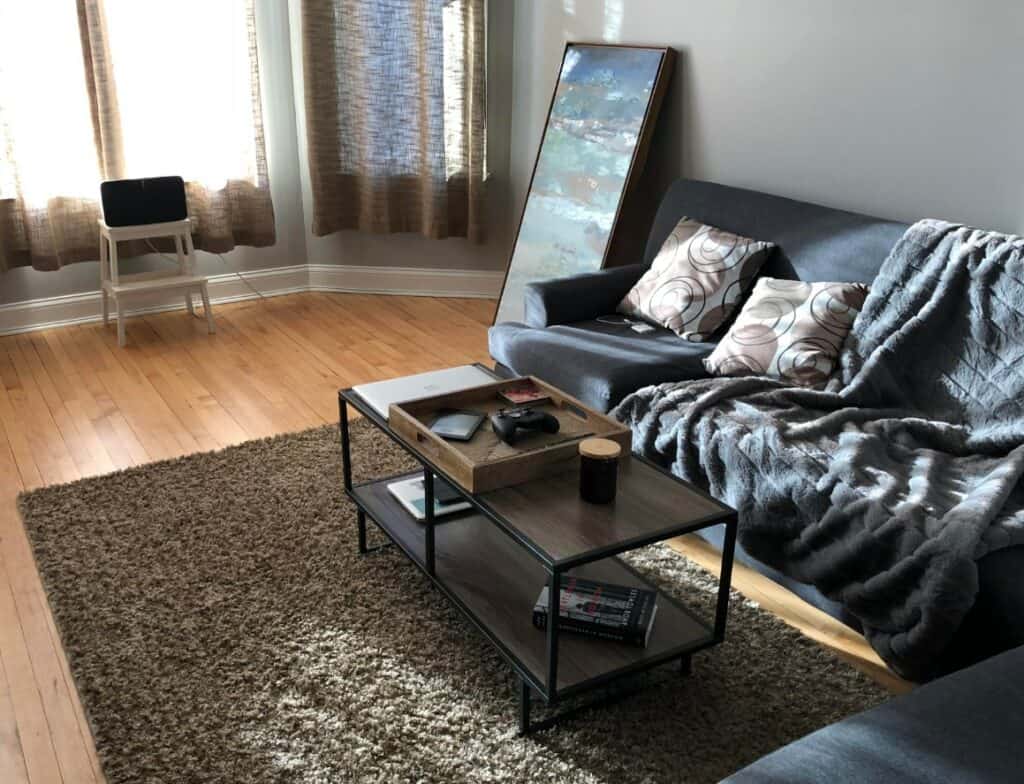 A great way to tell if a studio couch is easy to use or not is to check its reviews online. If the product is in any way difficult to use, previous customers will tell you (sometimes with pictures to justify their stance.)
If you're buying a studio couch at a store, ask about the couch's features. Ask if the employee helping you will show you the trifold mattress and how to switch the furniture piece between a bed and a couch.
Does it Come with a Mattress?
A decent number of studio couches do come with a mattress. The mattress you'll receive with it will be a trifold mattress so that it can easily be stored within the couch when you're done using it.  
With this in mind, accidents happen. Maybe you spilled wine on your trifold mattress, or your dog ripped it to shreds one day. If anything happens to the mattress that came with your studio couch, you can buy another trifold mattress online that matches the dimensions you need.
Also, not every studio couch comes with a mattress. Sometimes you can fold down the top cushions to form a bed, like a futon.
Best Studio Couch Ideas
After a long search for the best studio couches available right now, we found 6 that grabbed our attention right away. These studio couches are above their competition in terms of quality, design, and best overall features. We made sure to provide a nice selection of different styles for different home aesthetics, too.
Baxton Studio Day Beds, Twin, Gray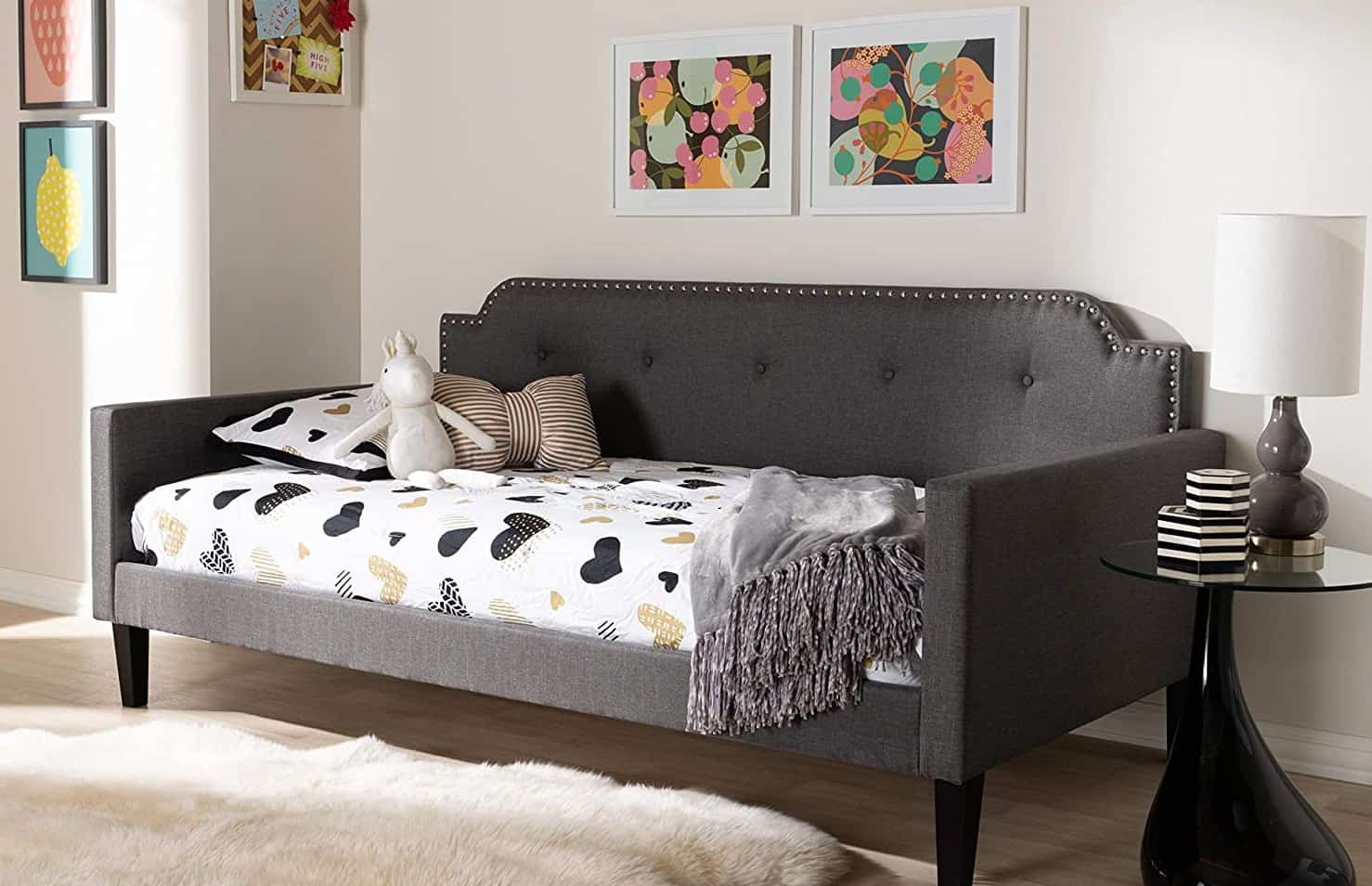 Best for Hominess
About
This is a gray, rectangular studio couch that fits with most room styles. Being a neutral gray and its simplistic design, it can be dressed up to accommodate many different rooms, though it has a homy feel. The back panel features decorative chrome nail head trim. The mattress does not fold out, but rather serves as the cushion for the couch.  
Material: Foam, rubberwood, fabric

Price Range: $270-$330

Warranty: Please contact seller directly

Best feature: Homey and cozy design
Care
It's best to spot-clean this studio couch when something is spilled on it. Use warm water, gentle detergent, and a sponge or washrag to clean away any liquids. A small vacuum cleaner will work wonders picking up animal fur.
Pros
Comfortable mattress

Neutral color

Decorative nail head trim design
Cons
Mattress does not fold out, making it small
DHP Paxson Convertible Futon Couch Bed with Linen Upholstery and Wooden Legs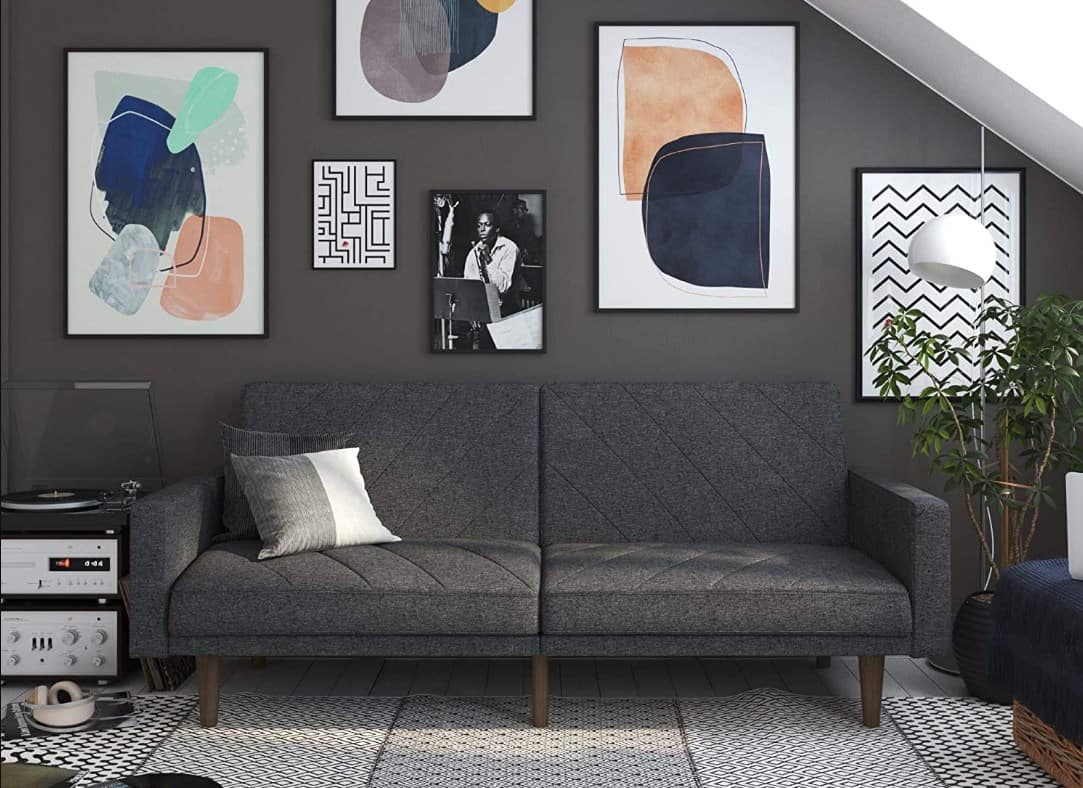 Best for: Style
About
This studio couch is available in gray, light gray, black, mustard, and navy blue. You'll feel very modern and sophisticated with this studio couch given its design and ingenuity. When you want to transform this couch into a bed, simply push back the top part until it lays flat.
Material: Linen and wood

Price Range: $320-$360

Warranty: Please contact seller directly

Best feature: Modern design
Care
Spot-clean this couch with warm water, gentle detergent, and a sponge or washrag. Never put any part of the studio couch in the washing machine or dryer, or else you risk damaging the fabric.
Pros
Many color choices

Modern design

Easy to use
Cons
Some people may prefer a studio couch with a mattress
Best Choice Products Faux Leather Upholstered Modern Convertible Folding Futon Sofa Bed for Compact Living Space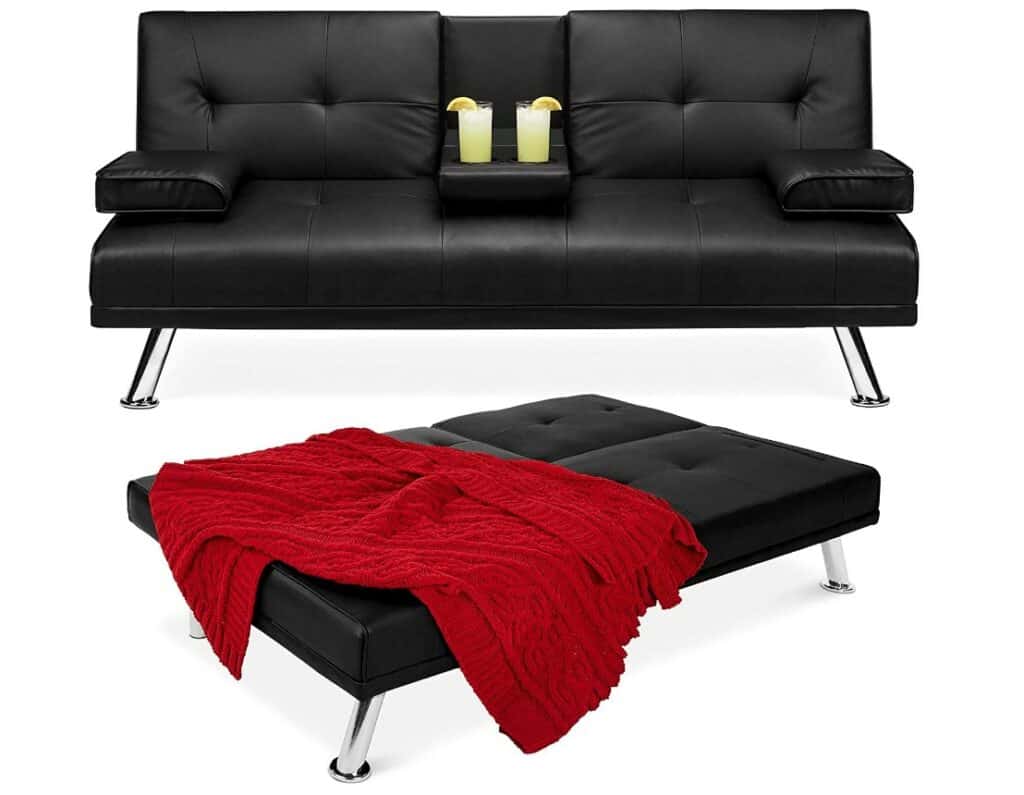 Best for: Low price
About
This faux leather studio couch is incredibly chic. With beautiful white, brown, and black faux leather to choose from, it certainly doesn't look like the cheapest item on the list. The top 2 cushions fold down to form a bed, and the 2 cup holders fold back.
Material: Faux leather and metal

Price Range: $230-$270

Warranty: Please contact seller directly

Best feature: Great quality product for a low price
Care
To keep faux leather from peeling, don't put this studio couch in direct sunlight. When something spills, make sure to spot-clean it with gentle detergent and warm water.
Pros
Low price

Easy to use

Cup holders

Faux leather looks stylish
Cons
Lilola Home Lucca Reversible Sectional Sofa Couch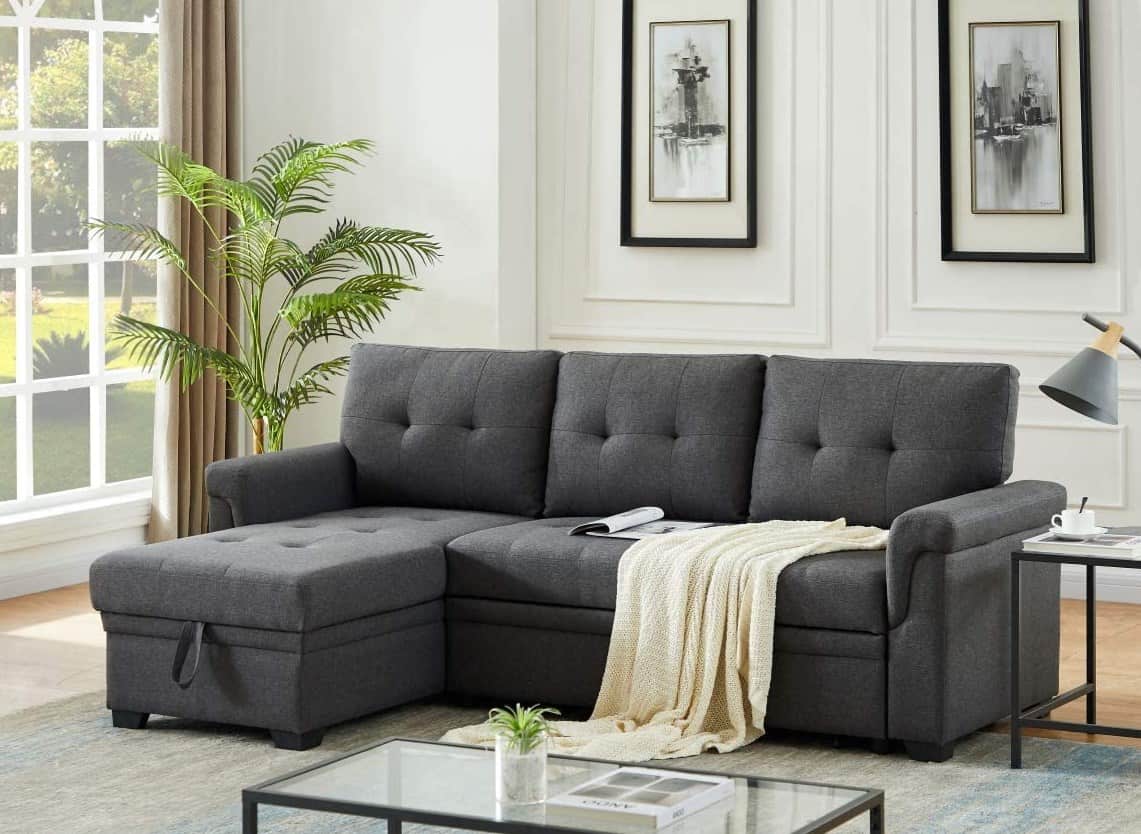 Best for: Overall
About
This is an L-shaped studio couch that comes in gray or light gray. With its simple tufted pattern and neutral coloring, it can be accessorized to match most room styles. The bottom 2 cushions fold upwards so that it will make a complete rectangle. The back 2 cushions stay up.
Material: Fabric

Price Range: $700-$750

Warranty: Please contact seller directly

Best feature: Combination of features
Care
You risk damaging the texture of the fabric if you put it in the washing machine and dryer, so we recommend handwashing. When you spill something on this studio couch, all you need is warm water, gentle detergent, and a sponge or washcloth.
Pros
Accommodates multiple people

L-shape design

Comfortable
Cons
May be too large for some spaces
DHP Adley Small Space Modern Convertible Sofa Bed Linen Futon, Navy Blue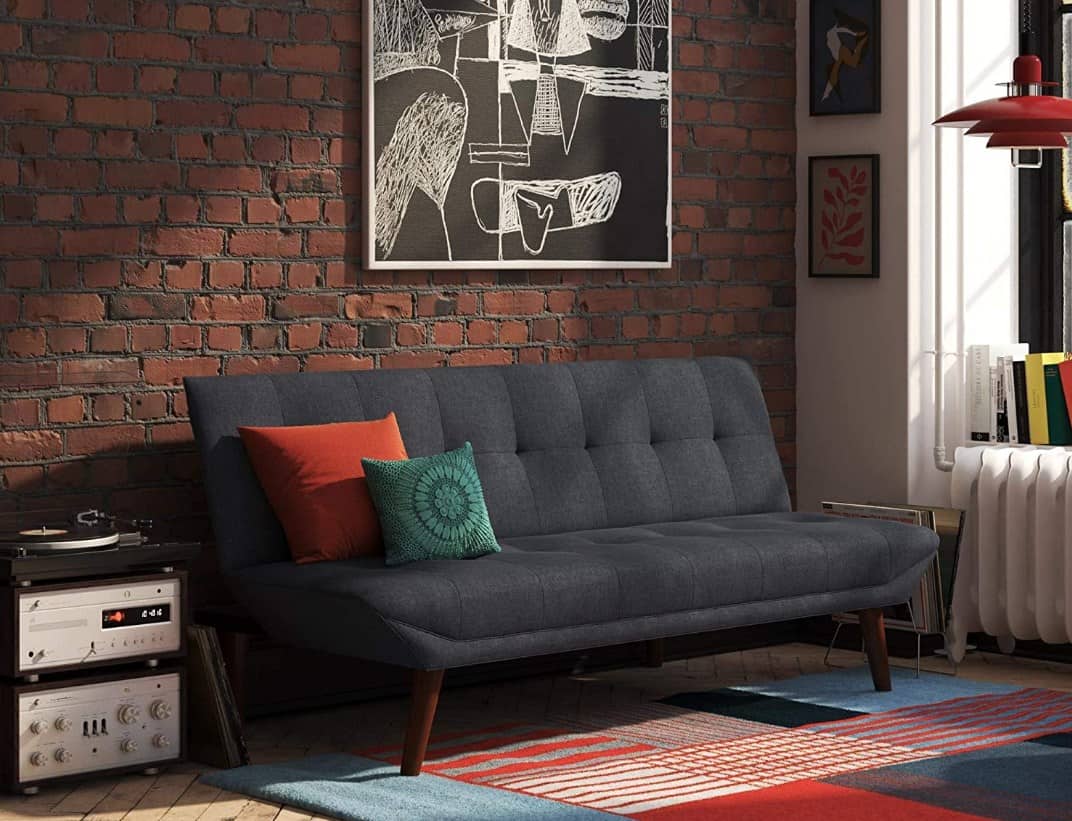 Best for: Apartments
About
You can have this studio couch in navy blue, green, yellow, dark gray, or light gray. The top cushion folds down to form a bed. Since this is a smaller couch, it is ideal for compact spaces such as studio apartments. The cushions have button-tufted detailing.
Material: Fabric

Price Range: $300-$350

Warranty: 1-year limited warranty

Best feature: Compact size
Care
Use a small vacuum to pick up any animal fur that gets stuck to this couch. When you need to spot-clean after a spill, use warm water, gentle detergent, and a washcloth.
Pros
Compact size

Color choices

Easy to use
Cons
Style may be too modernized for some homes
Vonanda Ottoman Sleeper Chair Bed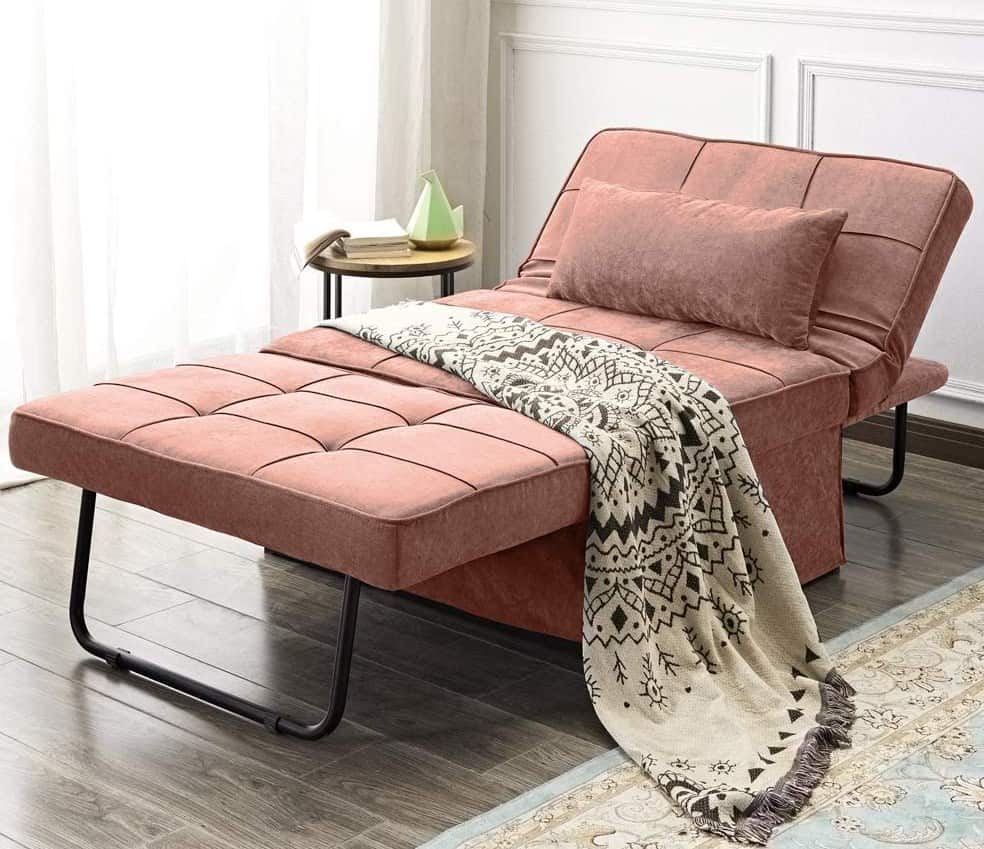 Best for: Uniqueness
About
You'll have color choices galore with this studio couch! You can pick from salmon pink, purple, black, denim, and more. Instead of a couch, this furniture piece is more of a reclining chair that can be folded backwards to make a bed.
Material: Velvet, sponge, and metal  

Price Range: $400-$450

Warranty: Please contact seller directly

Best feature: Unique design and colors
Care
Never put velvet in the washing machine or dryer, because this affects the texture of the material. Instead, spot-clean spills as soon as they happen to prevent stains. Use warm water and a gentle dish soap.
Pros
Color options

Unique style

Compact size
Cons
Not actually a couch, more of a chair
FAQs
Question: Is a Studio Couch a Sofa Bed?
Answer: A studio couch is also known as a sofa bed. Studio couch and sofa bed are interchangeable terms, like studio couch and day bed. Some people also call studio couches "convertibles," because they can be converted from a couch to a bed and vice versa. All of these phrases mean the same thing, so feel free to mix and match the lingo as you see fit.
Question: What Mattress do You Use for a Studio Couch?
Answer: A regular mattress just won't do for a studio couch. You'll need to buy a trifold mattress (which is usually less expensive than your typical mattress.) A trifold mattress is able to be folded up into the couch when you no longer want to use your studio couch as a bed.
Keep in mind that many studio couches won't need a mattress at all. A lot of studio couches simply fold down to form the shape of a bed.
Question: What is the Best Size for a Studio Couch?
Answer: The answer to this question greatly depends on how much space you have and where you're going to put your studio couch.
For a studio apartment, you'll want a small-to-medium-sized studio couch that won't take up too much floor space. For a large living room, sunroom, or conservatory, a medium-to-large-sized studio couch may be preferred for accommodating guests.
The Bottom Line
Do you know way more about studio couches now than you did before? We're happy we got to tell you all about what studio couches are and what to look for when you buy one. We got to show you our top picks for the 6 best studio couches and answer your questions about them.
And, if you ask me, the best choice is the Lilola Home Lucca Reversible Sectional Sofa Couch because it's in a decent price range and seems to be great quality.
Do you have any more questions or comments? Let us know below! For even more great ideas about trendy furniture pieces that would elevate your home, check out our guide to the best round storage ottomans!  
Latest posts by Candace Osmond
(see all)