Love the idea of a black couch but are you overwhelmed with the selection of couches you've come across as you are shopping for your space? Whether you are buying a black couch for your office, home or business we are here to help. This best black couch ideas guide will help you narrow down your search for black couches in just a few minutes.
Things To Consider When Buying a Black Couch:
Budget
Functionality
Materiality and aesthetic
Have you ever sat on a couch that looked beautiful but didn't give you that comfort you were hoping for? Comfort doesn't have to come at the expense of aesthetics. I'm going to show you that you can have both function and aesthetics, and stay within a budget right here in this article with a few great recommendations
While we may all want to consider these three things when buying a couch, we may not have the same priority in mind. We chose the couches in this guide based on affordability, availability, and positive customer reviews. This article will give you great ideas for a black couch that is best for you based on your needs.
1. Budget
I think one thing we can likely all agree on is that the budget is not endless. When shopping for a couch we want to consider budget and try to stay within a selected price range. A great place to start when couch shopping is by setting your budget first. We all at some point experience the emotions of falling in love with something that is out of the budget when shopping. I'm here to make sure that doesn't happen.
Meanwhile, If you're reading this and thinking, 'can you put a price on beautiful furniture?' The answer is yes… and they sure do, but don't worry we have the perfect recommendations for you too!
Best Black Couch For a Small Budget: Lifestyle Solutions Serta Chico 3-Seat Multi-function Upholstery Fabric Sofa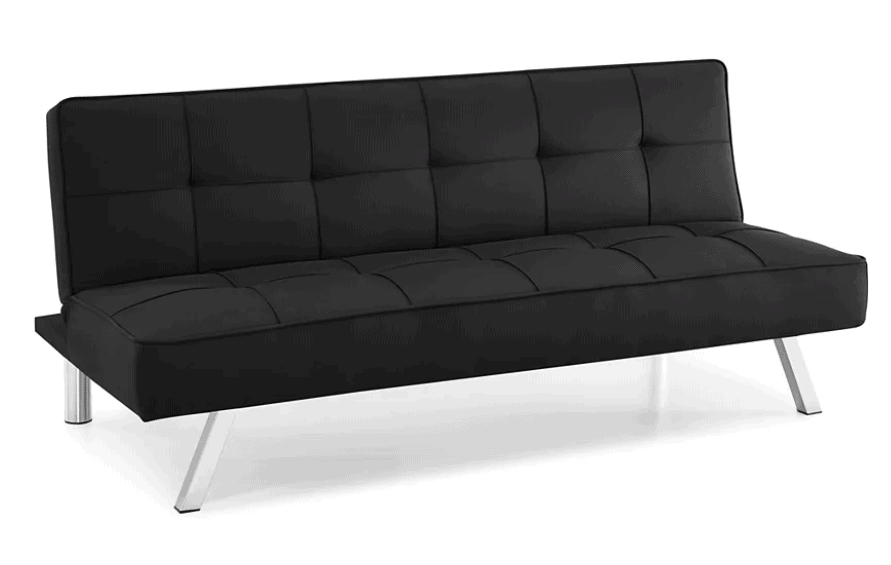 You can't go wrong with a black couch option that is both multifunctional and inexpensive.
For $394.00 CA this Serta Chico 3 seat multifunction Upholstery Fabric Sofa from Home Depot can convert into a bed and be used in a bedroom, living room or another space of your choosing. The chrome legs give it a modern polished look while contrasting the black upholstery.
This couch has been chosen as the best couch for a small budget because while 400 dollars may still be above the price range you were wanting to pay. It doubles as a bed meaning you are getting a bed and a sofa in one purchase. Perfect for those who entertain and often have guests staying the night. Don't worry about having a spare guest room when you can make your living room into one.
Best Black Couch For a Medium Budget: FINNALA Sofabed 

If you have a medium budget your price probably ranges anywhere from about $1,000 to $3,000. At this price, you can get a great piece for your space that gives you exactly what you are looking for.
This Finnala Sofa bed with Chaise in the Colour Bomstad Black from Ikea is a great choice when looking for a mid-range piece that considers functionality, and aesthetics. For $1999.99 CA you can get a sofa bed that can be configured in different ways to fit within your space.
This sofa bed has storage below the Chaise to fit all your living room accessories such as blankets, pillows, etc. This product has a 10-year warranty which means you won't have to worry about it falling apart after using it a few times.
Best Black Couch For a Large Budget: Modular Sofas – Carmo corner sofa

Dimensions: 128 ¾ x 91 ¾ x 27 ¾
Modular sofas are the way to go when choosing a couch without a strict budget. A modular sofa is a sofa that comes in modular pieces with crocodile connectors that can be reconfigured. For example, a left-hand sectional can be separated into two different furniture pieces. This allows you to create newness within your space without having to re-furnish it.
The Carmo Corner sofa from Bo Concept by designer Anders Nørgaard is a great option for those without a strict budget looking for something elegant but comfortable and premium leather with less maintenance than aniline leather. Made from semi-aniline Estoril Leather for USD 10,290.00, this sectional provides a natural look with its visible hallmarks and developed patina with use.
Like the look of the couch but don't love the idea of genuine leather? No problem, Bo Concept offers a range of material options to best suit your lifestyle and you can order free samples today.
Functionality
Best Black Couch For a Small Space: Gold Flamingo Guthrie 43" Velvet Recessed Arm Sofa
Small space? Don't worry, we have a black couch idea that will work perfectly for you.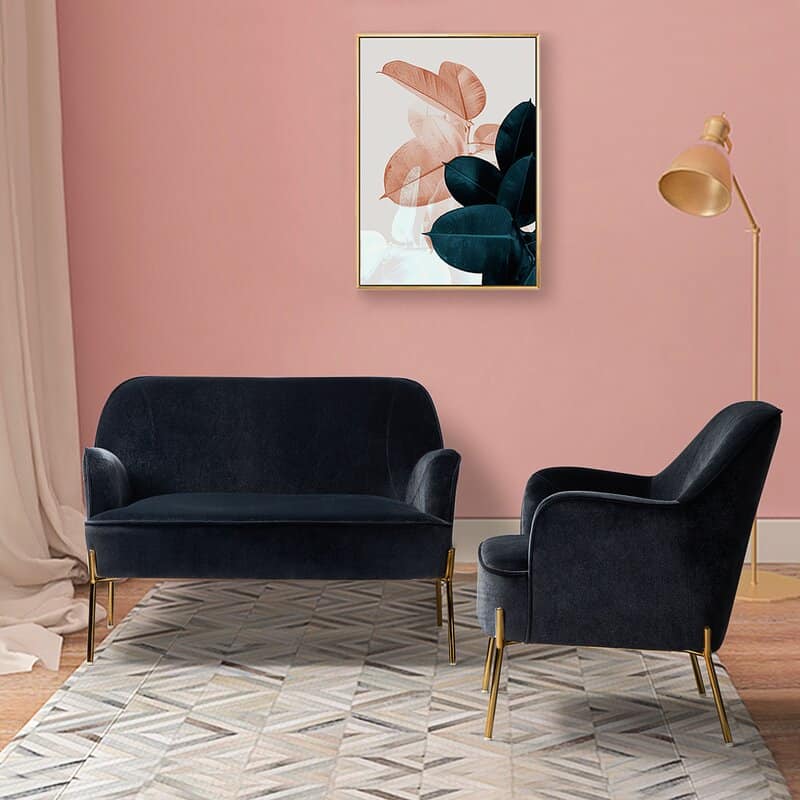 The Gold Flamingo Guthrie 43″ sofa from Wayfair is the perfect piece for your small space. Providing a weightless look with thin golden legs and velvet upholstery, this $569.99 CA piece offers elegance without a demand for attention. This sofa can comfortably seat two people and would look great in any kind of small space. Wayfair offers a 5-year warranty
Best black couch for a business space: Vasari Gallery (teknion.com)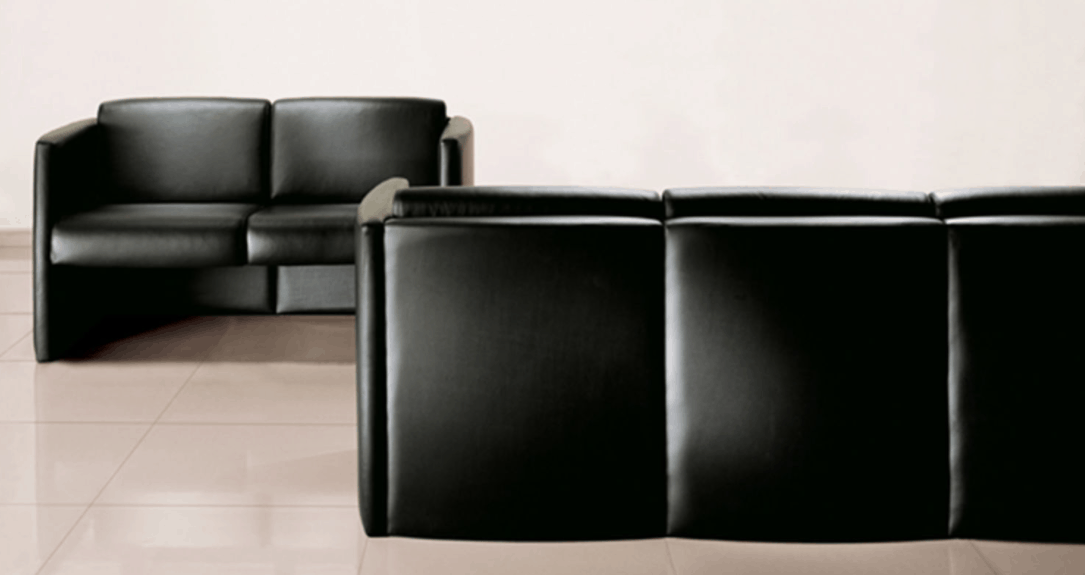 There's nothing worse than preparing for a business meeting by dressing in your best business gear, working on your best posture, and sitting on a couch in the lobby of the office that you just sink right into. While yes, it's a comfortable couch… it might make you feel more ready to curl up with a Netflix show rather than maintain that posture and confidence.
With Teknion's Vasari seating you can be sure to look your best while seated in your best business wear. Teknion is a very sustainable option for your business furniture because of their Divert program which diverts decommissioned furniture from the landfill by offering the option to sell, recycle or donate.
Best black couches for the family room
Reese Reclining Sofa | La-Z-Boy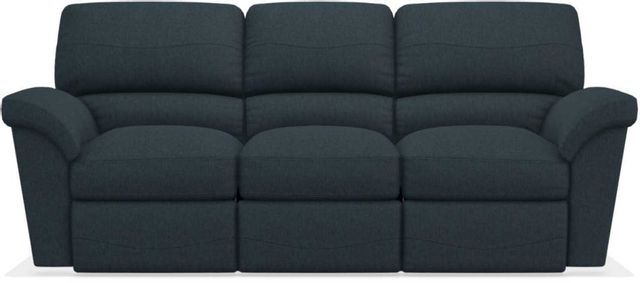 Trying to settle the kids down for bed with a movie or a tv show? This couch is the perfect choice to capture anyone who dares to sit down. Selling for $2499.00 CA the Reese Reclining sofa from La-Z-Boy is a great option for those nights you need a little extra help winding the kids down for bed.
Pillowtop arms and a high pub-style back give added comfort to make you feel like you're at the movie theater. Both sides of the sofa can recline with or without activation of the leg rests.
Lazy Boy also offers free design services for you to complete the rest of your space. They offer a lifetime warranty on all their frames, springs, and reclining mechanisms.
Material and Aesthetic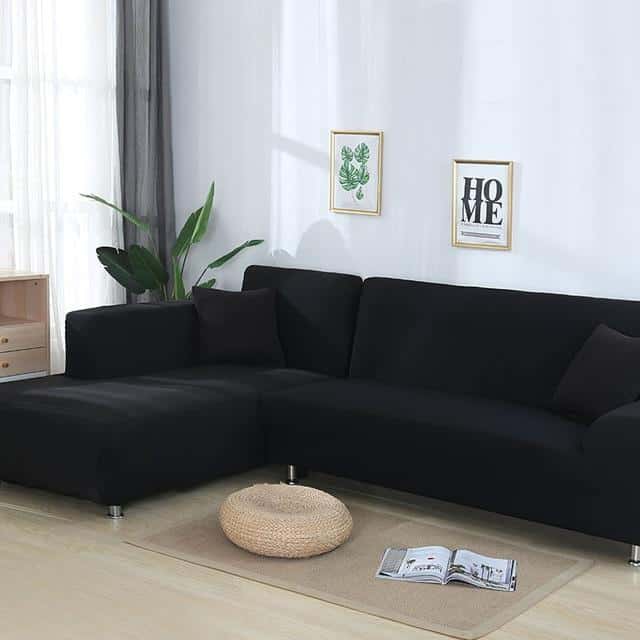 Did you know that the best black couch for a household with pets is any couch! Possibly even the most affordable option if it means you don't have to buy a new couch at all. You can give your current couch a facelift but simply adding a black slipcover!
You can cover old stains; fabric pulls or leather peels. With Miracle sofa, you can have any couch, any color, and cover it with an elegant black slipcover for 40-70 dollars CA. Miracle slipcovers are great for protecting against spills, animals, and children.
With Miracle Sofa Slipcover you can remove it from your couch and put it right into the washing machine when it gets dirty. Never worry about spills again and even cover your pillows to match.
Best Vegan Leather Black Couches: Party Time Dual Power Reclining Sofa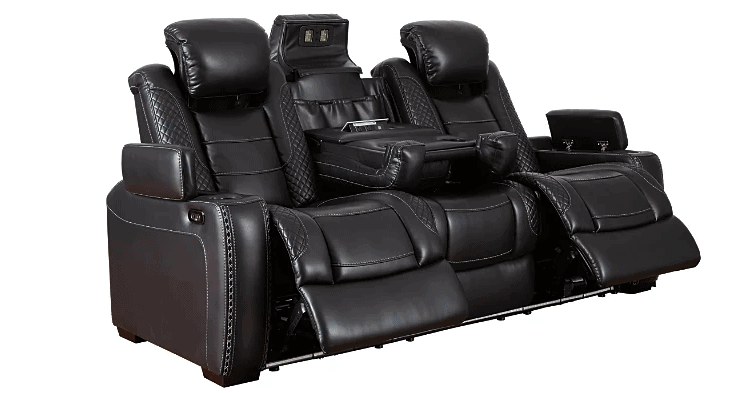 There is almost no explanation needed for why this is the best black vegan leather couch option… This image says it all. The party Time Dual power reclining sofa is the best option for those who want the look of leather without leather.
For USD 1499.99 this sofa is made of durable foam cushions wrapped in polyester/polyurethane upholstery giving you a stylish, polished look. The middle seat converts to a drop-down table with cup holders and a charging port. Led strip lighting underneath the reclining seats and power-adjustable headrest give that home theater feeling.
Best Black Couch For a Statement Piece  – 
OTTAWA | 3 Seater Sofa Modern Contemporary Furniture by BRABBU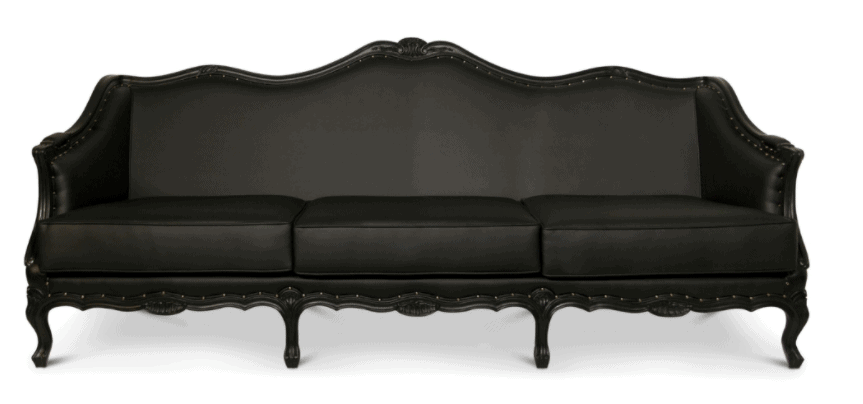 The Ottawa Sofa by Brabbu is a great option for those wanting a statement piece. Brabbu Design Forces believe that every design product has a story to tell. Their designers travel the world to discover some of the hidden treasures and forgotten memories.
The Ottawa sofa was inspired by the Native American Ottawa tribe from Manitoulin Island. The synthetic leather piece with polished nail beading tells the story of how the tribe lived. All products are designed, and handcrafted in Europe with a wide range of material selections to choose from; you can't go wrong with such a statement.
We see the resemblance of nature in the curved features of this design and the simplicity of the material and color. This contemporary sofa is a great option to add to any contemporary design. Best paired with gold accent pieces.
The Best-Best Black Couch: Albany Park, Kova Cozy Pit Sectional Sofa – Cloud-Soft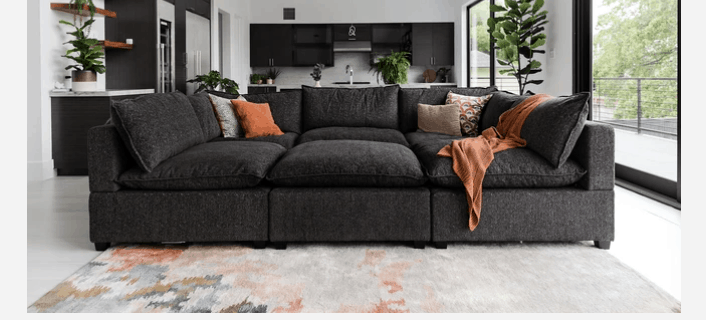 If you loved what you read but don't feel satisfied that you've found the BEST black couch, then hang on, we always save the best for last. This couch is by far the best option because of its functionality, material, and aesthetic.
We want you to have your cake and eat it too! Tired of trying to configure your furniture pieces within a spacious open concept room? This sofa is the perfect choice for those wanting to fill the space with luxurious seating for the whole family.
This couch is called The Love Pit for a good reason… you will love it. Curling up to a binge-worthy Netflix show with a bowl of popcorn and a warm tea will be exactly what you need after a long workday. The soft upholstered fabric creates a warm and inviting opportunity for you to wind down.
With a depth of 79″ and a width of 121″ this sofa can fit the entire family and extended family.
Reversible black cushions are cloud-soft and filled with a soft feather blend. No Harsh chemicals are used in the manufacturing of this sofa that comes with a lifetime warranty. Albany Park sofas ship for free in apartment-friendly boxes for easy maneuvering. The Kiln Dried hardwood frame ensures a sturdy structure for those spring suspension systems. Solid black legs provide a monochromatic elegant feel to the luxurious sofa.
FAQs
Question: What is the best way to clean a leather sofa?
Question: What is the difference between genuine leather and synthetic leather?
Answer: Genuine leather is more expensive because it undergoes processing before it is ready to use.
Genuine leather is warm to the touch whereas synthetic leather is cold to the touch.
Synthetic leather has a plastic artificial smell while genuine leather has a more natural smell.
Genuine leather will have suede or fuzzy texture to one side of it. Genuine Leather vs Synthetic Leather – How To Detect? – Leatherious
Question: How to choose the most functional piece of furniture for your space?
Answer: Identify where the focus area is in your space:
• Are you arranging to seat around a fireplace, TV, or coffee table?
• Determine where the main path of travel is to allow it to remain clear of furniture.
• Decide how you want to use the space i.e., relaxing and watching TV or entertaining company or creating a spare room for guests to sleep.
Based on your answers to questions 1 through 3: choose a sofa that allows you to use the space in more than one way. i.e., If you want to entertain and create a space for guests to sleep, go with a couple of futons or sofa beds for your space. If you want to conversate with good company, go with seating that allows you to face each other while you talk. Armchairs and U-shaped couches are great options for this type of use and can double as furniture to relax in while you watch tv or enjoy a warm drink.
Conclusion
Whether you are shopping for a couch for your tight space or tight budget you can be sure we have the one you are looking for right here, with all the information you need so you can avoid feeling overwhelmed by the endless options out there.
If you keep in mind the main priorities of sofa shopping you can be sure to make a decision that will leave you feeling satisfied and never regretful. By prioritizing budget, functionality, and materiality you can find a black couch that gives you everything you need and looks great too!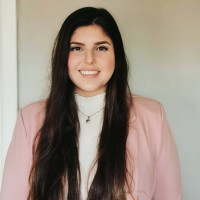 Latest posts by Kayla Jahans
(see all)