Are you looking for the best Walmart coffee table for your living room? If so, this guide can help. After all, the coffee table is the centerpiece of the room, and it's what makes the other décor stand out as well.
A coffee table isn't just meant for sitting around drinking coffee, not at all. This piece of furniture is the inviting focal point where friends and family spend quality time together. It's one of the first things people see when visiting your home, along with your quality sofa, loveseat, and any other furniture accents.
There are so many shapes and sizes, colors and designs, and themes that help you understand your likes and dislikes about each piece of furniture you see. Using the guide with its specifications and our personal picks, it shouldn't be hard to make a final decision. Here's where to start.
At a Glance: Best Walmart Coffee Tables
| | | | | |
| --- | --- | --- | --- | --- |
| Walmart Coffee Tables | Best used for | Materials | Dimensions | More Info |
| Better Homes and Gardens Steele | Showcase pieces and table books | Real wood and steel | 40 x 20 x 14 | Find out more |
| SmileMart Modern Round | For cocktails with friends | Iron | 35.5 x 18.5 | Find out more |
| Walker Edison Mid-Century | Centerpiece with minimal accents | Glass and metal | 38 x 20 x 17 | Find out more |
| Topeakmart Modern Lift-top | Storage, various family usage | MDF, real wood, and metal | 41.1 x 19.3 x 19.2-24.6 | Find out more |
| Bush Furniture Key West | Versatile look and storage space | Composite wood | 47 x 24 x 18 | Find out more |
| vidaXL Teak Resin | Artistic Centerpiece | Wood, resin, glass | 23.6 x 15.7 | Find out more |
| Western Home Dunbar Pedestal | Antique and rustic decor | Pine | Customized at purchase | Find out more |
Selection Criteria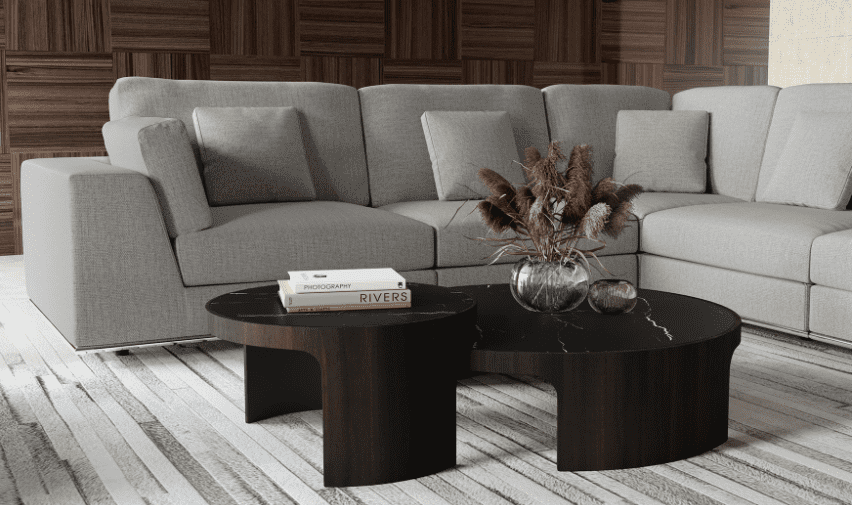 There are certain specifications a quality coffee table must meet. It's a mixture of aesthetics, functionality, and affordability to truly appreciate the best choice in a coffee table. This criteria reveals what a quality piece should resemble and how we decided which coffee tables made our top list.
Style
While the coffee table doesn't have to perfectly match the décor of the living space, it does help if the piece complements other furniture items in some way. Style includes color, shape, and theme – these aspects help narrow your decision. A rustic distressed piece fits all these aspects and adds to the overall interior of most homes.
Type of materials
Solid wood and composite wood make some of the best coffee tables for your home. A mixture of these materials creates a sturdy piece and yet keeps the furniture lightweight.
Function/Extras
The best selection of coffee tables functions well when family and friends visit. A large space to sit drinks or a few magazines is a focused size choice. Extra space and storage also make the quality table. A drawer, cubby, or storage unit emphasizes the true function of the quality coffee table.
Types of Coffee Tables
A coffee table comes in all different shapes and sizes, constructed with various materials. Our selection showcases some of the best tables according to shape, size, and also design. Choosing the right coffee table for your living room will revolve around all these factors.
Materials
Coffee tables come in a wide range of materials. While some tables are simple, using only a couple of materials, others use a wide variety of materials to add functionality or aesthetics. Here are some of the more common materials used in Walmart coffee tables.
Wood
Metal
Glass
Reclaimed wood
Wood Composite
Marble
Shapes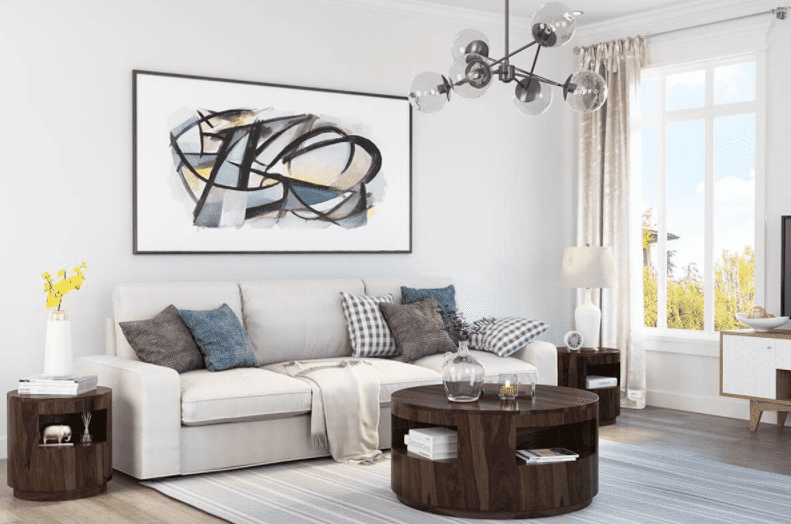 The shape of your coffee table affects the way your whole room looks. The most common shapes of coffee tables are square, rectangular, circular, and oval. However, some solid wood tables may have free-form shapes that blend well with the décor as well.
Styles
There are so many styles of coffee tables that you could spend the entire day searching for the right choice. Fortunately, this guide offers several of the most popular designs available for purchase.
Modern
This type of coffee table is simplistic yet constructed with innovative options such as uniform legs, sleek tabletops, and usually one narrow shelf at the bottom. Modern tables are constructed in wood, metal, and other similar materials.
Contemporary
The contemporary table can be constructed with many unusual materials and designs. Glass tables with multiple tier shelves, square tables with functional lighting underneath the bottom, and raw wood designs in non-uniform shape. The contemporary design is artistic and aesthetically based.
Traditional
These coffee tables are constructed in a simple yet decorative form and constructed of real wood like pine, oak, or other hardwoods. They can be square or round in shape but almost always have one other shelf and antique accents of some kind.
Farmhouse/rustic
These coffee tables showcase wood grain designs even if constructed of other materials. If made from real wood, they are finished with a distressed surface and built-in a farmhouse wood crate base design. Structural aspects usually include metal and often have storage space and metal handles.
7 Best Walmart Coffee Tables
1. Better Homes and Gardens Steele Coffee Table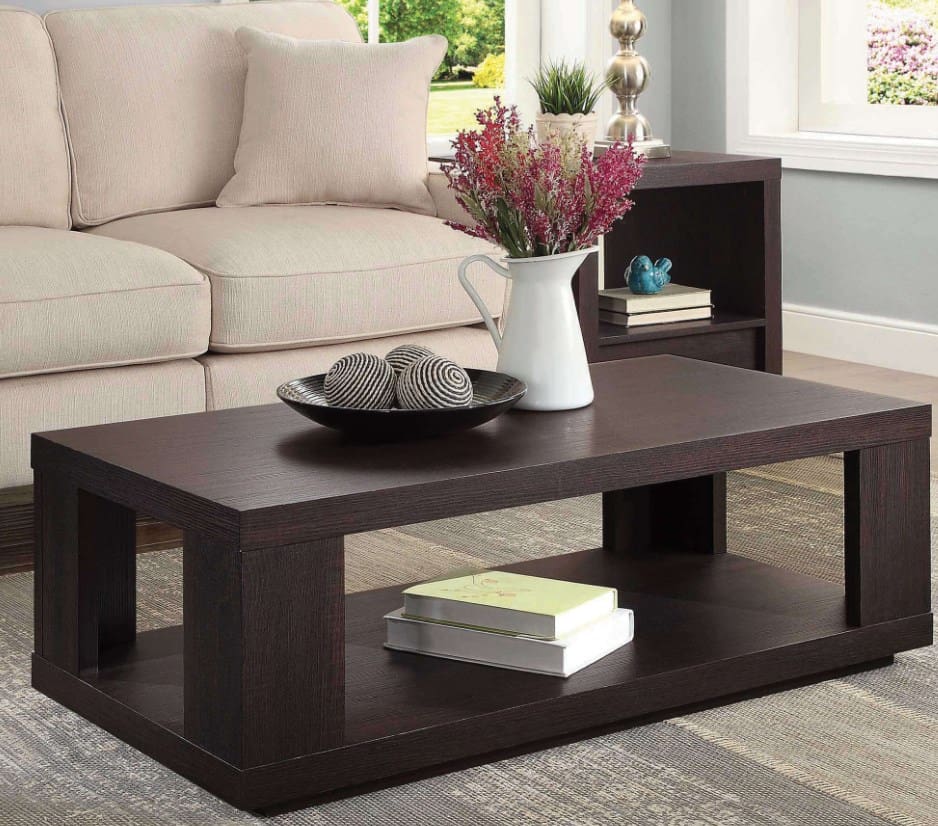 This contemporary rectangular table is stream-lined to enhance its shining espresso surface. Made with real wood, metal, and steel, it's sturdy and simplistic. The lines of this table flow smoothly, creating a thick tabletop, huge spacious center, and bottom shelf.
This furniture piece sits flat on the floor with no supporting legs, supporting the tabletop with 4 thick rectangular beams on each corner. This coffee table found at Walmart is classy and goes with any other décor pieces such as plush couches or standing lamps. The wide and long tabletop can display many items such as pictures or 'coffee table books' showcasing its spacious beauty. The coffee table compliments some large multi-color area rugs as well.
Overall Dimensions: 40 L x 20 W x 14 H
Weight: 49.5 lbs.
Pros:
It goes with almost any décor
Simplistic
Sturdy
Tabletop and bottom shelf
Cons:
The table may be too long for the living area
It may not fit every style of area rug
2. SmileMart Modern Round Metal Coffee Table with Storage Shelf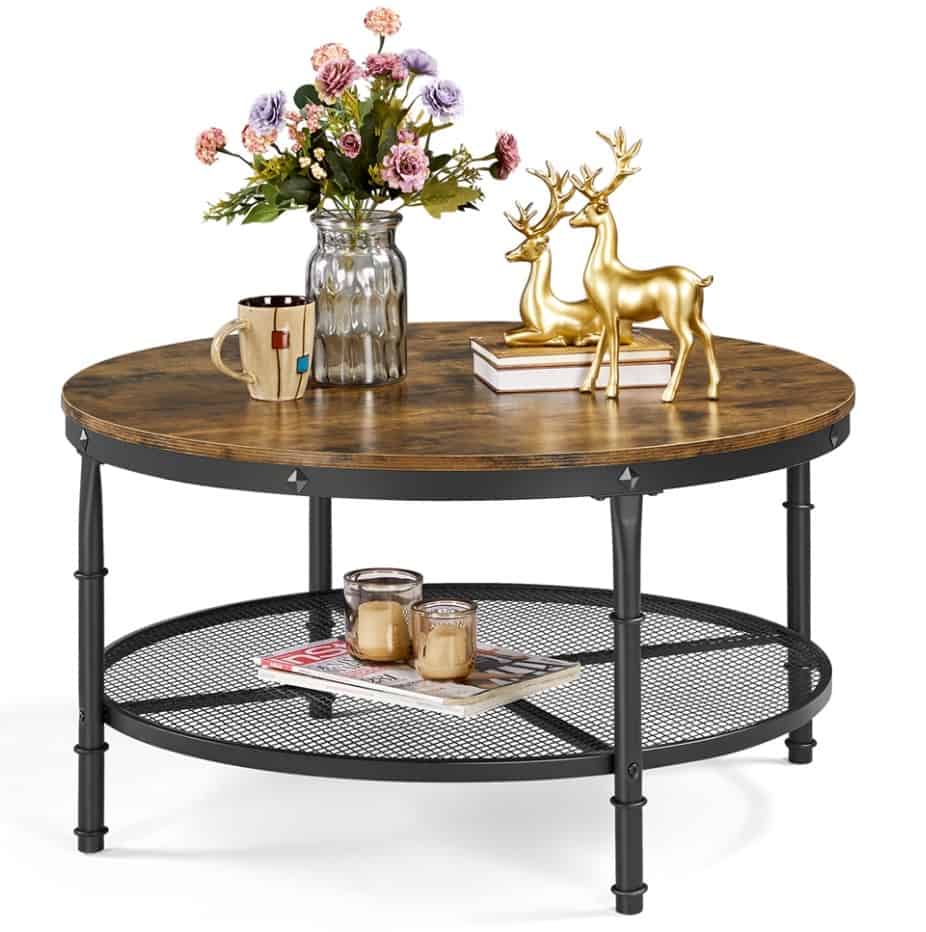 This table is a round rustic and modern hybrid beauty. The SmileMart coffee table serves many purposes in the home, including the living room, kitchen, and sunroom. In the living room, it serves as a small coffee table. In the kitchen, it can provide a place for coffee breaks, and in the sunroom, friends and family can relax while drinking cocktails.
This simple design is charming as well. It has a round wood grain tabletop surface with a waterproof finish. The entire table is iron, with four metal legs supporting both a tabletop and lower round shelf. The lower shelf is perfect for a small stack of magazines or books, leaving the top for various uses. As far as versatility goes, thisSmilemart Modern Round table is a good choice.
Overall Dimensions: 35.5 x 18.5 H
Weight: 34 lbs.
Weight Capacity: 265 lbs.
Lower Shelf: 88 lbs.
Pros:
Unique in design
Sturdy tabletop and lower shelf
Cons:
Smaller table
May not match all décor
3. Walker Edison Mid-Century Modern 2-Tier Glass Coffee Table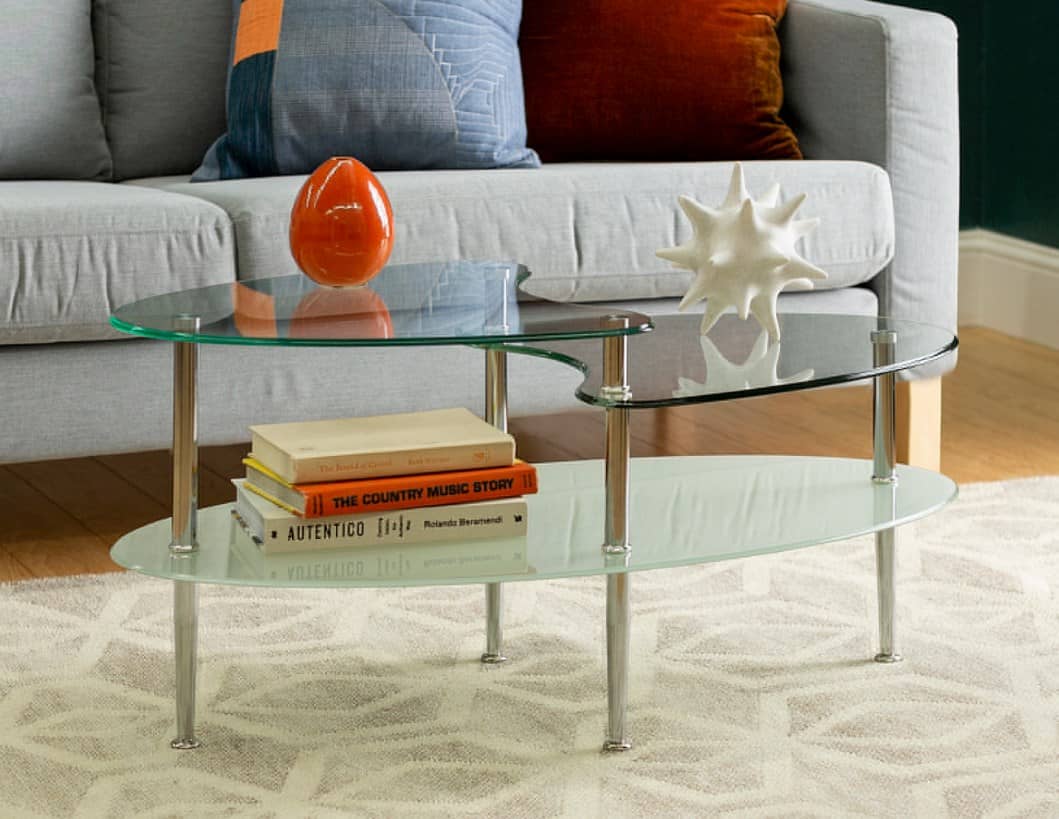 If an elegant coffee table is what you want, this one has a perfect appeal. The Walker Edison table is the best choice for a formal setting with two-tiered shelves of tempered glass with bottom-aligned shelves. It has 4 tapered shining metal legs with scuff protection and a solid, safe structure for any home.
This mid-century modern design is unique with its one large oval shelf at the bottom and two top shelves which curve around the middle metal support poles. The subtle layered look almost creates an optical illusion that adds to its otherworldly beauty. So have coffee in the morning, read a magazine or two, and enjoy the elegance of this special piece of furniture.
Overall Dimensions: 38 L x 20 W x 17 H
Weight: 30 lbs.
Pros:
It matches any elegant décor
Unique conversational piece
Cons:
Although tempered, still easier to break
It doesn't match all décor
4. Topeakmart Modern Lift Top Coffee Table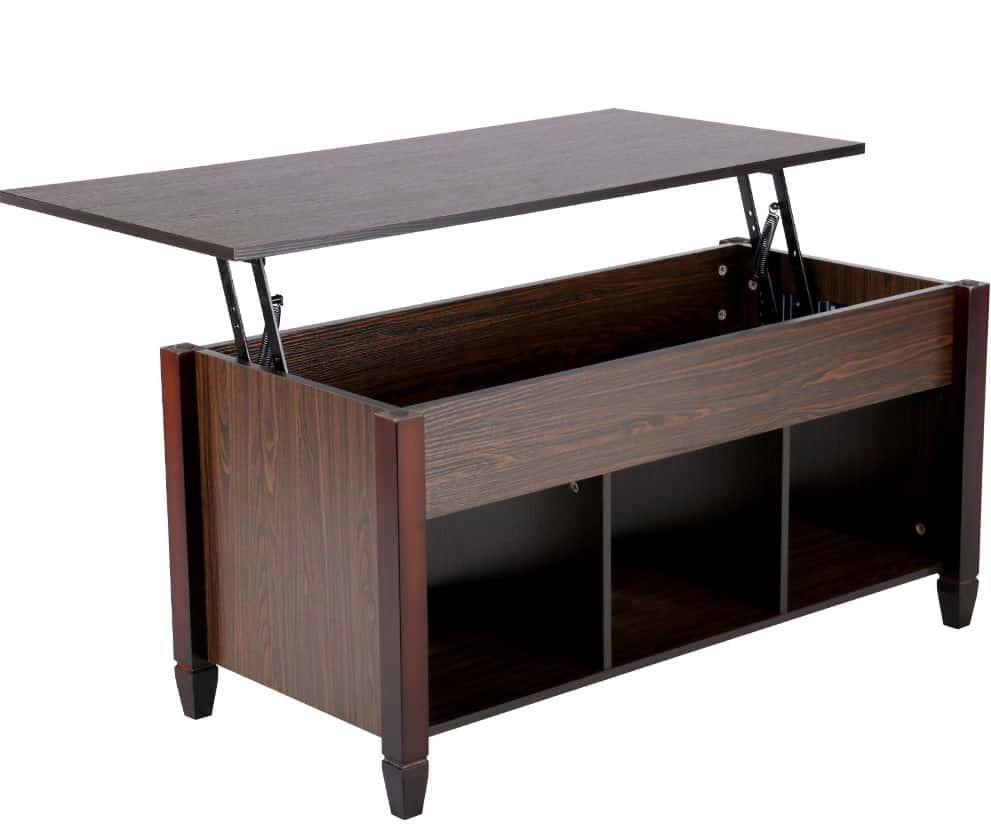 This coffee table is a modern design with a truly innovative secret. It's rectangular in shape, has sturdy legs, and a lift-top tabletop. And that's not all.
Underneath the lift-top is a hidden compartment where you can store belongings that might clutter the top of the table. 8 protective pads can be placed between the top of the table legs and the tabletop to prevent wear or damage from lifting the tabletop.
Made from MDF, real wood, and metal, this table is well suited for just about anyone. It blends well with many designs and themes, cleans easily with a soft cloth, and it's definitely a piece that gets attention. In addition, the mechanism that lifts and lowers the tabletop is silent and smooth, adding just that touch of class. Find this interesting addition to your living room at Walmart.
Overall Dimensions: 41.1 L x 19.3 W x 19.2-24.6 H
Weight: 53.1 lbs.
Total Weight Capacity: 121 lbs.
Lifted Tabletop Weight: 22 lbs.
Top Compartment Weight: 44 lbs.
Bottom Shelf Weight: 35 lbs.
Pros:
Lift-top design
Secret compartment
Additional bottom shelf
Cons:
Risk of breaking lifting mechanism
Narrow table
5. Bush Furniture Key West Coffee Table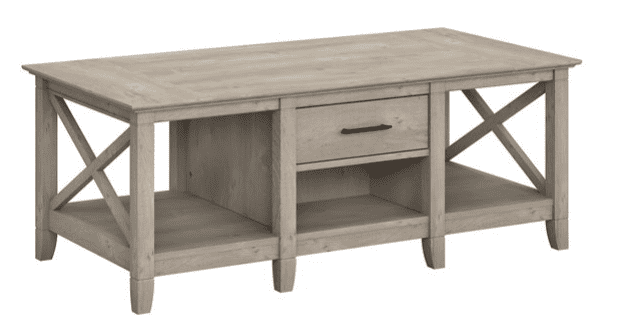 This coffee table turns your home into a cottage and a coastal retreat at the same time. The washed gray color fits both themes perfectly and even compliments farmhouse and rustic décor as well. It has accents in X patterns at each end of its rectangular form and a front drawer for storage. This piece also has cubby space on each side of the table beneath the drawer.
Made from composite wood, the table is lightweight but supports all you need in a living room setting. It also offers a large open area on each side of the drawer underneath the tabletop for yet more space. Each area is set deep to the back of the table for the most storage area possible.
These areas are great options to stack a few books. You can enjoy this unique selection and add something special to your living space.
Overall Dimensions: 47 L x 24 W x 18 H
Weight: 79.80 lbs.
Weight Capacity: 50 lbs.
Pros:
Versatile design
Loads of storage space
Sized perfectly for sofa table
Cons:
Could pick up stains easier
It doesn't match elegant décor
6. VidaXL Teak Resin Coffee Table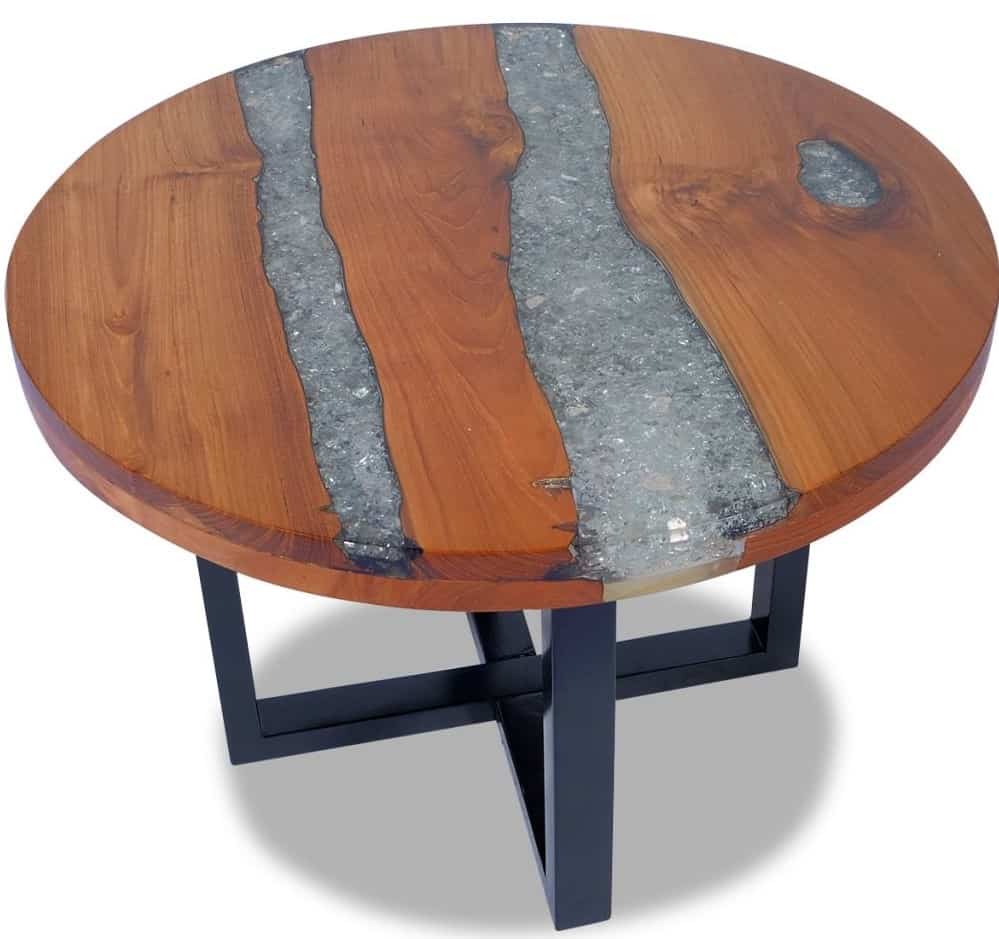 This Teak Resin piece, found at Walmart, is around sturdy table that will steal the show. The tabletop is a thick combination of Teak wood and resin engulfed crushed glass. Each piece of Teak wood used to create this striking tabletop is unique, meaning each resin design will be one of a kind.
Aside from the resin-glass mixture flowing between the Teak Wood boards, the entire table is made from solid wood. The base of the table, constructed from Mango wood which creates an interesting cross-leg design.
The 4 table legs ascend from the bottom of the tabletop and sit flat across the floor to meet in the center. This lovely round table can be used in the living room, den, or sunroom to accent your décor.
Overall Dimensions: 23.6 x 15.7 H
Pros:
Each table is unique to the buyer
Great showcase piece
Cons:
No storage space
Mostly aesthetic piece
7. Western Home Dunbar Pedestal Coffee Table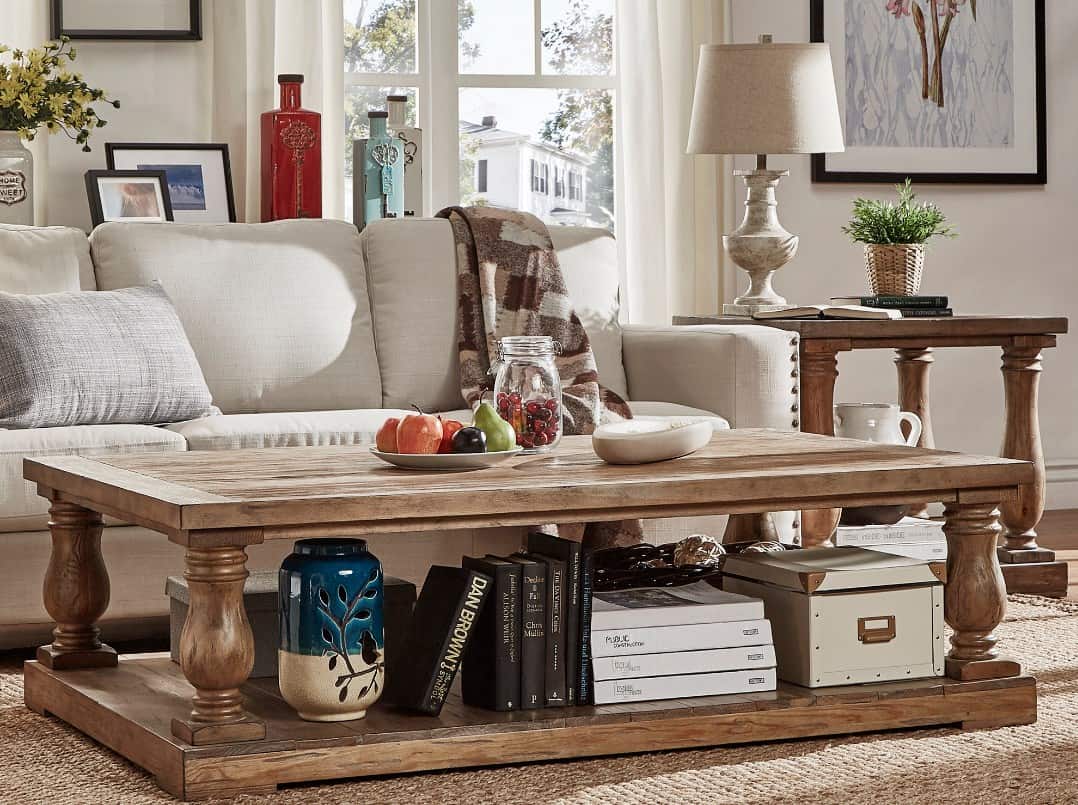 For the antique style lover, this one could be the table for your home theme. The Western Home Dunbar table has a rustic yet classy appearance that is truly a good match for rustic and vintage style décor. Its long rectangular table surface sits atop 4 robust baluster supports with a low sitting bottom shelf. The open bottom is great for displaying valuables or books.
Made with a strong pine, this table is durable and sturdy. It's easy to clean and provides the perfect place to entertain friends. Pair this table with a variety of accents. The table has a rustic distressed finish and comes in customized sizes. Set your size specifications on purchase.
Overall Dimensions: Contact for customized sizes
Weight: 138 lbs. (average)
Pros:
Sizes are customizable
A unique rustic/antique design
Cons:
It doesn't fit all décor
Must place an order for sizes
FAQs
Question: Why does your home need a coffee table?
Answer: Almost every home has a coffee table, and there are a few reasons. Without a coffee table, the space in the living room is odd and doesn't have a true focal point. Like in a painting composition, the coffee table serves as the focus that brings the other pieces together.
A coffee table is also needed for placing drinks when the company arrives. It can serve, basically, as a cocktail table.
Although it's never recommended, the coffee table is often used to support a part of your body when sitting on a sofa. There are so many reasons a home should have a coffee table, and these are just a few.
Question: What size should the coffee table be?
Answer: That depends. If the table is too small, it will be dwarfed by the rest of the furniture. If it's too big, it will seem overwhelming and awkward. Before buying a coffee table, always measure the sofas and other pieces in your living space. As a rule of thumb, the coffee table should be no larger than 2/3rds of the sofa.
Question: What is the most common material used to construct a coffee table?
Answer: Wood is the most common product used to make quality coffee tables. This is because wood is sturdy and durable with a nice stain and finish. Often, wood is paired with metal accents or used in conjunction with wood composite to improve the capabilities of drawers or storage liners. Metal and glass are the second most common materials used to construct coffee tables.
Question: Is a coffee table supposed to be lower than the couch seat?
Answer: While many coffee tables are indeed lower than the sofa seat, some people prefer the table at the same level or higher than the cushion level. It all depends on function and preference.
Final Thoughts on the Best Walmart Coffee Tables
When it comes to a quality coffee table, the criteria vary from person to person. Our guide is here to help you understand the basics that most tables offer, along with a few special accents. So whether you're looking to complement a plush sofa or trying to coordinate your décor to perfection, there is a table that's right for you.
Among the selection provided in this guide, our pick would be the Bush Furniture Key West Coffee Table, as this choice has all the right criteria to match most anyone's tastes. With storage space, versatility and function, this table might just be what you're looking for. But, as with all important home furnishing decisions, check out all pieces and choose for yourself.
Looking for a quality bookcase, or maybe an accent for the home office? You can find all you need for your living space. So go ahead, turn your home into your paradise sanctuary.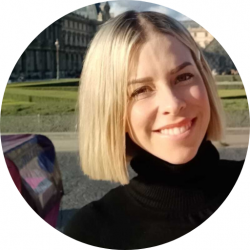 Latest posts by Jodie Chiffey
(see all)