Each piece of indoor and outdoor furniture in your home should be carefully selected to match the home decor style you'd like to create. Our guide to the best double chaise lounge chairs will provide you with the assistance you need to find functional and stylish poolside seating.
These chairs are made from a wide range of materials and they offer different levels of comfort, which can make choosing one model over the other difficult. Also, double chaise chairs occupy a lot of space, so you must make sure that you have enough space for them in your backyard.
In this guide, we're going to take you through the most important features of double chaise lounge chairs and suggest some of the best models that fit various home décor styles. Go through our dining room furniture guide if you're still in the process of redecorating your home.
At a glance: 5 of The Best Double Chaise Lounge Chairs
Types of Double Chaise Lounge Chairs
Although they're commonly associated with pools and sun umbrellas, the double chaise lounge chairs aren't exclusively outdoor pieces of furniture. In fact, the indoor versions of these chairs are a popular option for living rooms, reading corners, and various other leisure spaces.
Perhaps the double version of these chairs isn't as popular as single chaise lounge chairs, because they're heavy and difficult to store. Nonetheless, in terms of features, they offer single and double lounge chairs that are very similar.
Let's take a look at the most common types of outdoor double chaise lounge chairs:
Double chaise lounge chairs with reclining backrest – Rather than forcing you to remain in the same position, these models allow you to choose the backrest position that makes you feel comfortable. 
Double chaise lounge chairs with armrests – You can opt for a model with or without the armrests. Some manufacturers even let you decide if you want to include the armrest in the double chaise lounge setup.
Double chaise lounge chairs with canopies – Models with foldable canopies enable you to choose how much sun exposure you want to get. A double chaise lounge chair that features a sun umbrella is more portable than the models that feature canopies, but they offer less sun protection.
Double Chaise Lounge Chair Materials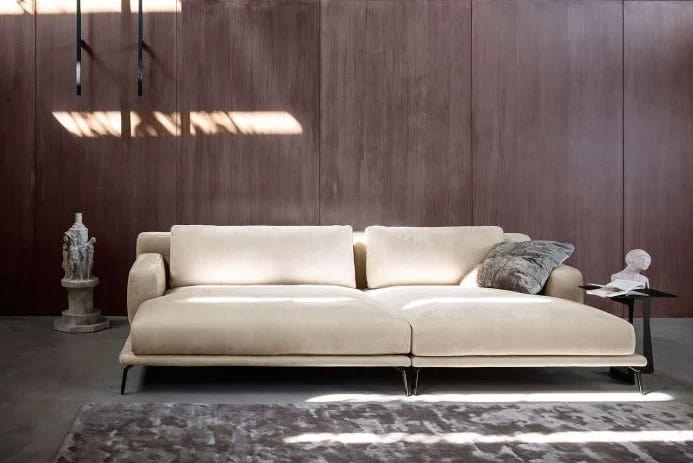 These poolside chairs are made of a combination of materials, so the frame, outer frame, and cushions can be made of different materials. In most cases, the double chaise lounges feature a metal frame and wooden outer frame construction. Here are some of the most common double chaise lounger materials:
Softwood – Affordable materials like pine and similar softwoods are often featured on double chaise lounge chairs. However, these materials are easily damaged, and they deteriorate quickly if they're exposed to harsh weather conditions.
Hardwood – Teak, oak, and countless other types of hardwood resist the elements well, but only if they're properly varnished. Models with hardwood outer frames are difficult to scratch or dent, but they still require regular upkeep.
Wicker – Despite its visual appeal, wicker double chaise lounge chairs aren't an ideal outdoor option. Sun, rain or the wind can all damage this material, so you can't leave these chairs unprotected while you're not using them.
High-density polyethylene lumber (HDPE) – The visual appeal and durability of this synthetic raising make it one of the most reliable materials for outdoor furniture. However, it is also one of the most expensive options you'll have at your disposal.
Style and The Level of Comfort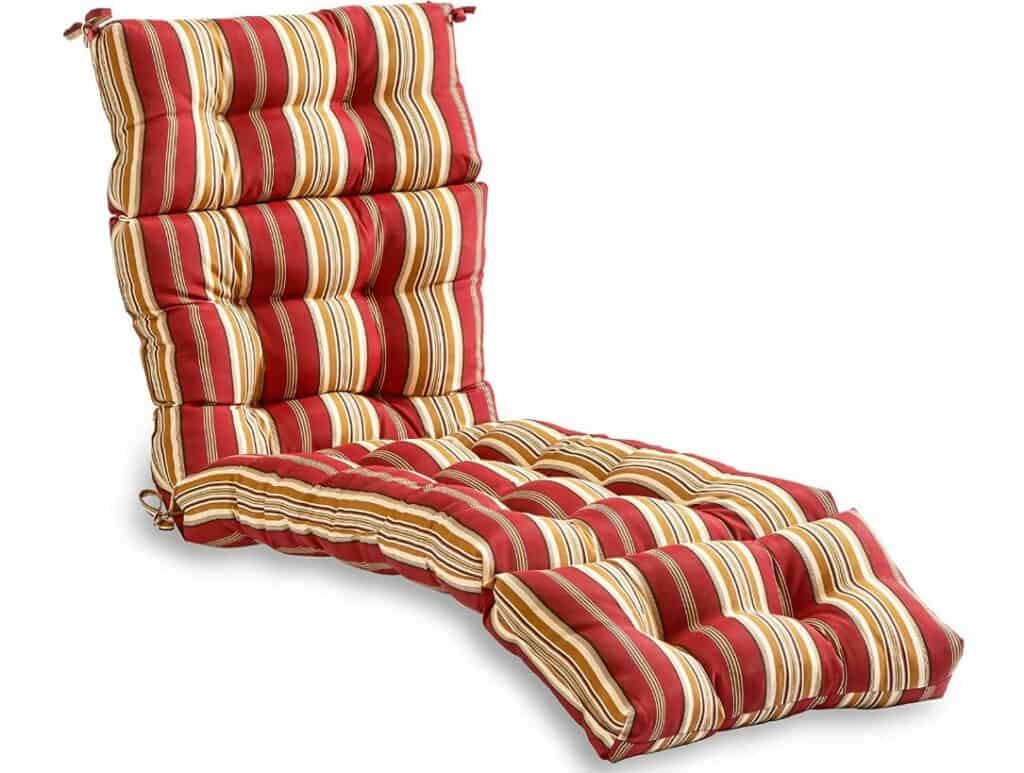 Unlike the indoor versions of these leisure chairs, the outdoor double chaise lounges aren't designed in a specific home décor style. Their frames can either be entirely wooden or they may contain a metal frame that allows for the backrest adjustments.
The amount of comfort a double chaise lounge chair can offer largely depends on how thick its cushions are. However, cushions aren't always included in the setup, so you can choose the cushions that match your expectations.
Opting for a waterproof cushion will enable you to sit on these chairs as soon as you get out of the pool, and it will add a layer of protection against rain. Also, you should get the cover for your double chaise lounge chairs to ensure that they're protected from the elements when they're not in use.
Go through our guide to lamps and lighting to find out how you can create a cozy ambiance in your backyard.
Wear and Weather Resistance
Like all outdoor furniture, double chaise lounge chairs can get damaged if they're exposed to strong wind, heavy rainfall, or extremely low temperatures. What's more, chipping or scratching the models made of softwood or wicker is remarkably easy, so you have to pay special attention to the upkeep of chairs made of these materials.
The double chaise lounge chairs will get soaked if left unprotected in the rain, which can cause rotting and speed up their deterioration.
Models made of hardwood or a synthetic raisin aren't as susceptible to damage as chairs made of wicker and softwood, and you should opt for double chaise lounge chairs made of these materials if you need a long-term solution for your outdoor furniture.
Besides, cleaning a hardwood or HDPE chaise lounge chair is much easier than getting rid of the dirt that accumulates in chairs made of wicker.
Portability and Storage
Checking the chair's weight is one of the most important steps you'll have to take while choosing the double chaise lounge model because it will enable you to know how difficult it is to move it. Some models are equipped with a pair of wheels, and you won't have too much trouble moving them around your backyard. It will also make storing the chair easier as it allows you to simply push it to its storage space.
Unless you live in a warm climate region, leaving double chaise lounge chairs outside throughout the year isn't an option since the elements can damage even the weather-resistant models.
Folding these chairs is often not possible, so you must make sure that you have enough space to put them aside without cluttering your living area. Check out our kitchen furniture guide if you're in the process of refurbishing your kitchen.
The Most Important Factors to Consider While Choosing Double Chaise Lounge Chairs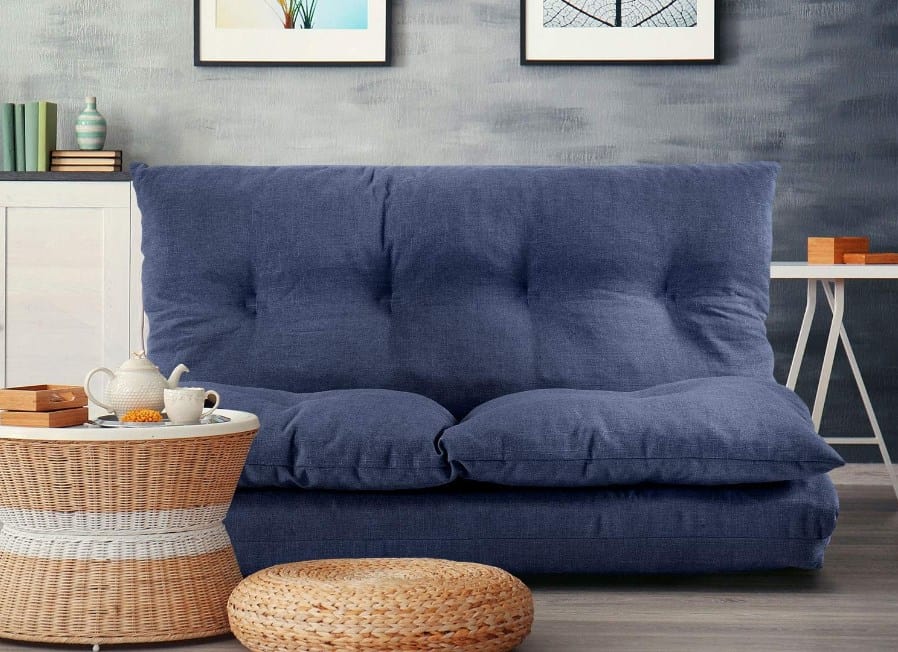 Spending summer afternoons on a double chaise lounge chair will enable you to find refuge from heat when you get back home from work. If you're working from home, these chairs enable you to turn your backyard into a cozy home office.
But, besides feeling comfortable, there are numerous other factors you need to consider in order to narrow down your options and select a model that meets all your requirements. So, let's take a look at some of the most important aspects of choosing a double chaise lounge chair.
Size
The length of these chairs varies between 70 and 85 inches, while their width is usually between 40 and 50 inches. Consequently, the model you choose is going to occupy a lot of space, and you should check if it can fit at the location where you want to place it.
Knowing the model's dimension will help you assess how much storage space you're going to need and enable you to find a suitable storage solution for the double chaise lounge chair you want to get.
Style
You'll have an abundance of options at your disposal when it comes to the style of these chairs, as you can get a model that lets you switch between conversational and sunbathing positions in just a few moments.
Furthermore, these chairs can have two separate sets or a single cushion that covers the entire sitting area. A more luxurious model can feature armrests and small tables that are spacious enough to hold all the necessities you might need while sunbathing.
Sun Blocking Options
Getting a double chaise lounge chair with a canopy or sun umbrella will protect you from UV rays and allow you to stay outside even during the hottest hours of the day.
You can choose between models that have foldable canopies and those with tent-like structures above the chairs. You should keep in mind that canopies can add to the weight of these chairs and consider other options if you're planning on moving the double chaise lounger frequently.
Frame Material
Metal, wood, or synthetic raisin have different visual properties, and the visual appeal of the model you choose often depends on the material its frame is made of. The least expensive options have either softwood or wicker frames, while high-end models are usually made of hardwood or HDPE.
Models with metal frame constructions can also be an intriguing option, especially if you're searching for a lightweight and portable model. Also, you should consider getting a double chaise lounge chair equipped with two or four wheels if you want to use it at different locations in your garden.
Durability and Cost
These chairs can be very durable, even if they're made of materials that are damaged easily. With regular maintenance, you can keep them in perfect condition for years.
Leaving a double lounge chair in the rain frequently can lower its expected lifespan, as cold or strong wind can damage it. The price of these chairs depends on the manufacturer, materials, and the number of accessories that come with them, and their cost varies from several hundred to several thousand dollars.
You should also check the warranty details the manufacturer offers before deciding to purchase a particular model.
The Advantages of Double Chaise Lounge Chairs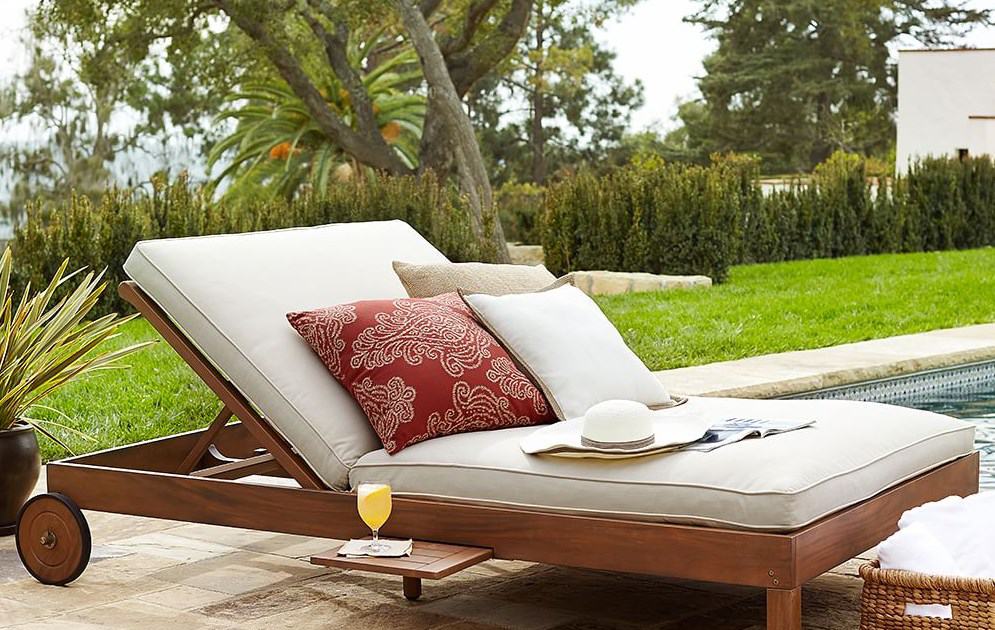 Comfortable Outdoor Furniture
Whether you want to rest after swimming in your pool, sunbathe or relax in the shade while reading your favorite book, the double chaise lounge chairs are among the most comfortable options you have. Most models feature thick and cozy cushions and let you switch between sitting and lying positions.
Some Models are Weather-resistant
Choosing a chair with a hardwood or metal frame will spare you the trouble of storing it before every thunderstorm. Getting a cover for these chairs enables you to leave them in your garden for months without any risk of damaging them.
Excellent UV Protection
Getting a double chaise lounge chair with a canopy will protect your skin from harmful UV rays, and it will allow you to spend time in your garden at all hours of the day. It will also enable you to create a shade whenever you need it and decide how much sun exposure you want to get in a day.
The Disadvantages of Double Chaise Lounge Chairs
Bulky and Difficult to Store
The easiest way to store these chairs during the winter is to dismantle them and then put them back together during the summer season. Even so, you're still going to need sizeable storage space where you can keep these chairs during the cold months.
The Top 5 Double Chaise Lounge Chairs
Frontgate St.Kittis Double Chaise – The Most Luxurious Double Chaise Lounge Chair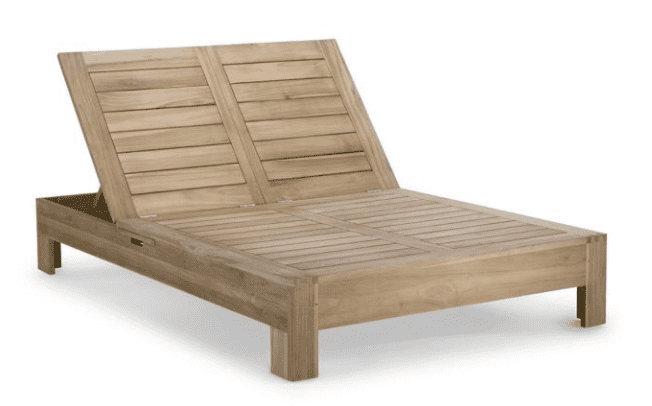 The wooden construction of the Frontgate St. Kittis Double Chaise lets you adjust the position of the reclining backrest with ease. The handmade frame is constructed from teak naturally resistant to humidity, so mildew or moderate exposure to rain can't damage the chair.
The Frontgate's model ships with cushions that have a core that is protected by soft polyester fabric, but you can also choose the brand's waterproof Sunberella® fabric. Both the frame and the cushions are backed by a 10-year warranty.
Pros
Made of natural and durable material
Elegant and geometric design
Water-resistant frame and cushion
Low maintenance requirements
Cons
Limited color options
Very expensive
Leisure Season Double Reclining Lounge Chair with Canopy – The Best Hardwood Double Chaise Lounge Chair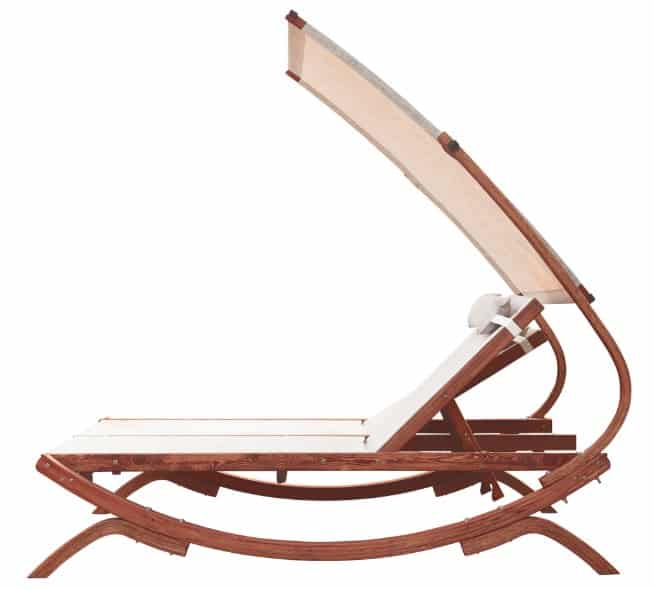 A simple but elegant design makes it easy to pair the Leisure Season Double Reclining Chair with Canopy with the rest of your outdoor furniture. The chair comes with a pair of pillows that keep your head comfortable, while its canopy can be adjusted in accordance with your current needs.
The frame is made of Larch hardwood that is water-resistant and difficult to damage. The acrylic coating adds another layer of protection against the elements and unintentional scratches. The manufacturer offers a one-year limited warranty for this model.
Pros
Easily adjustable reclining backrest
The canopy fabric reflect UV rays
Sturdy frame
Natural wood color
Cons
Short warranty period
No armrest
Festnight Double Chaise Lounger – The Most Adjustable Double Chaise Lounge Chair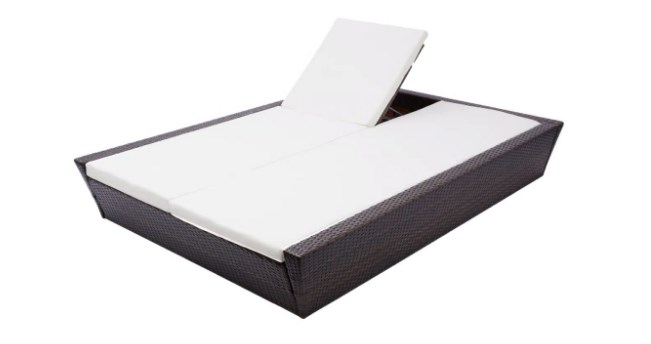 With 4 different backrest positions, the Festnight Double Chaise Lounger is one of the most versatile poolside seating options on the market. The frame is built from PE rattan that resists moisture well, while its steel frame pushes its weight capacity to 500lbs.
The polyester cushions are 2.5-inches thick can be removed from the frame effortlessly so that you can wash them. Cleaning this double chaise lounger is easy, as the dirt can't reach its interior structure.
Pros
Changing the position of the backrest is easy
The frame can't be damaged by humidity
Lightweight and portable
The model ships with two pillows
Cons
No sunlight protection
Assembly required
Modway Sojourn Double Chaise – The Double Chaise Lounge Chair With The Most Durable Cushions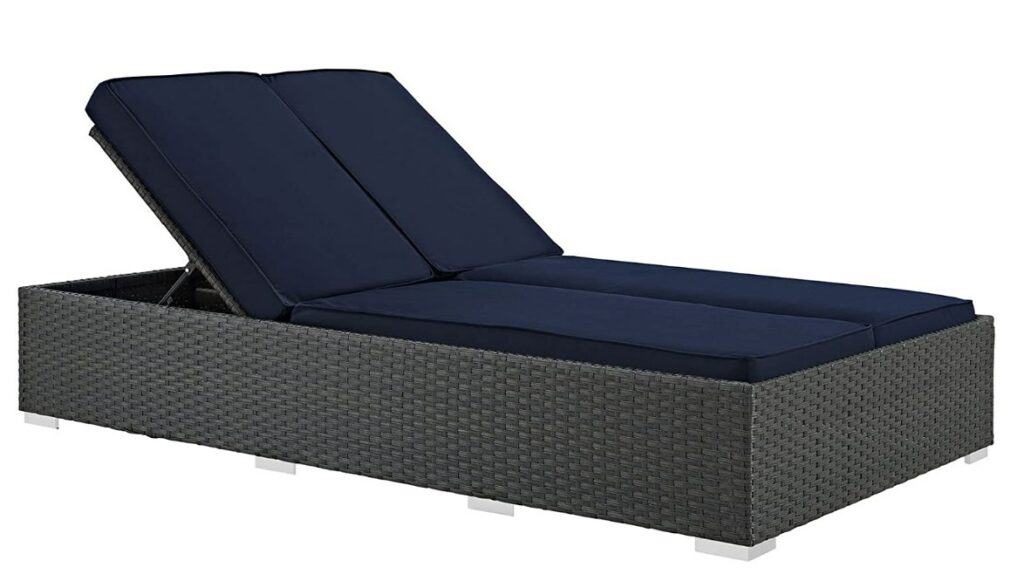 Chocolate Tuscan, Chocolate Red, or the Chocolate Navy are some of the color options you'll have at your disposal if you opt for the Modway Sojourn Double Chaise. This model has a synthetic rattan weave outer frame and a powder-coated aluminum internal frame.
You can leave the backrest in the upright position or place it in the horizontal position if you want to sunbathe. The cushion is made of waterproof Sunbrella® fabric that is both soft and resistant to daily wear and tears.
Pros
Comfortable and spacious seats
4-inch thick waterproof cushions
Sturdy aluminum inner frame
Quick and easy assembly
Cons
Bulky and heavy
The cover must be purchased separately
Abba Patio Double Chaise – The Most Affordable Double Chaise Lounge Chair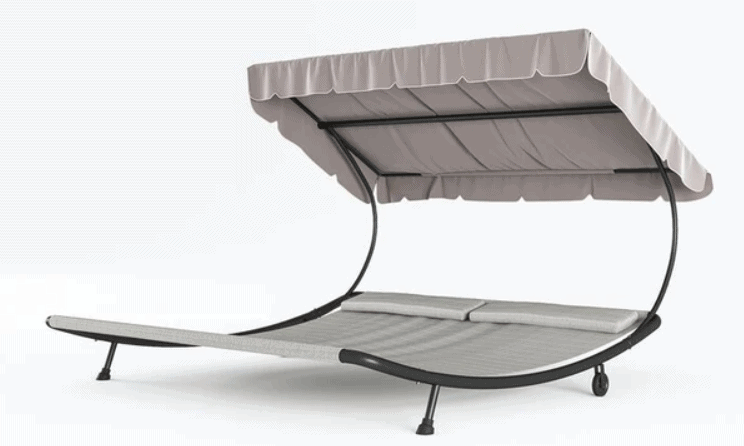 The Abba Patio Double Chaise has a lightweight metal frame equipped with two wheels that allow you to move the chair around your backyard effortlessly. This model doesn't have an adjustable backrest, so you can only use it in the lying position.
Its polyester canopy reflects UV rays and creates a pleasant shade during hot days. This Abba Patio's model features a polyester cushion that can carry up to 500lbs weight and offers enough space for several people.
Pros
UV resistant canopy
Excellent portability
Equipped with a sling seat
Affordable price
Cons
It takes more than 30 minutes to assemble this double chaise lounge chair
Short warranty period
FAQs
Question: Do I have to purchase the cushion for a double chaise lounge chair separately?
Answer: It depends on the model. Most double chaise lounge chairs ship with a cushion, but you must check if the model you chose includes pillows and cushions.
Question: How much do double chaise lounge chairs weigh?
Answer: Depending on the material and the complexity of the frame, a double chaise lounge chair can weigh between 20lbs and 100lbs.
Question: Are cushions on double chaise lounge chairs washable?
Answer: Yes, they are, but you should read the manufacturer's cleaning instructions before deciding to wash the cushions.
Question: How long do double chaise lounge chairs last?
Answer: With proper care, double chaise lounge chairs can last for more than ten years, even if they're not made of high-quality materials.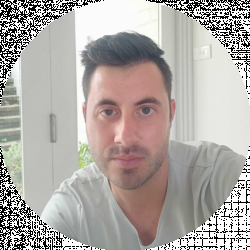 Latest posts by David Borgogni
(see all)