A reclining chair can not only offer fantastic comfort, but it can become a focal point in your living room. In our best IKEA recliners guide, we are going to explore the top reclining armchairs from this popular Swedish furniture manufacturer.
We'll review each recliner in-depth and outline the pros and cons before finding out which one is the best to buy. First, have a look at our overview of the top six reclining chairs that you can buy from IKEA.
At a Glance: 6 of the Best IKEA Recliners in 2021
Recliner
Best for…
Material
Dimensions
More Info
MUREN
Best overall IKEA recliner
100% polyester
33 1/2″ x 37″ x 38 1/4″
Find out more
PELLO
Best budget recliner
100% cotton
26 3/8″ x 33 1/2″ x 37 3/4″
Find out more
EKOLSUND
Best rounded design recliner
100% polyester
35″ x 38 1/4″ x 40 1/2″
Find out more
GISTAD
Best faux leather recliner
Polyester and BOMSTAD coated fabric
26″ x 33 ⅛" x

37 3/4″

Find out more
POANG
Best budget option with different color options
100% polyester
26 3/4″ x 32 ¼" x 39 3/8″
Find out more
NÄTTRABY
Best swivel recliner
78% cotton, 22% polyester
30 3/8″ x 31 ½" x 44 1/8″
Find out more
Things to consider before buying an IKEA recliner
A reclining armchair can be an excellent addition to your home; however, you need to think about a few things before you take the plunge and make a purchase.
Material
The material of your recliner is one thing that will determine how comfortable it is to sit on. Given that you will likely spend hours sitting back in your recliner watching TV or reading a book, you want to ensure the material offers maximum relaxation.
Most IKEA recliners are made from polyester or cotton fabric, although some are made from faux leather.
The material doesn't just have an impact on the comfort of the recliner. The material used can also determine how much maintenance is involved in keeping the recliner in top condition. For example, if you need to clean your armchair due to spills, some materials will develop stains easier than others. Faux leather, for example, is relatively easy to clean, while other fabrics will be more challenging.
Design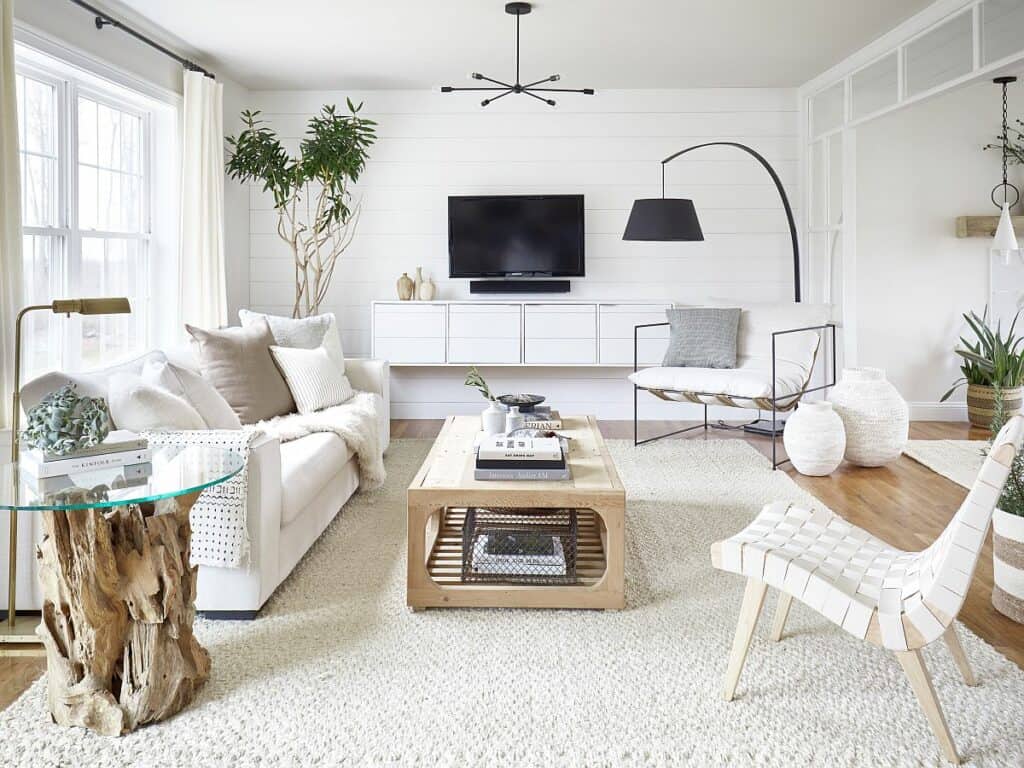 IKEA is popular because of the unique design of its furniture, particularly in the living room.
You should think of the room's overall aesthetic where the recliner will go and make sure that it fits in with the style you want. For example, many of IKEAs armchairs have a modern feel to them but would that work in a room with a traditional design? Similarly, if you have a very modern design, some of the more retro recliner styles might look out of place.
However, if you want the recliner to be instantly noticeable and a feature point of your room, choosing one that is somewhat out of place with the rest of the design isn't necessarily bad. You will also find that many IKEA recliners come in different color schemes, from understated greys to bright and colorful pinks.
Cost
When buying any furniture, whether for your living room, dining room, or kitchen, the cost plays a significant role.
IKEA is one of the more cost-effective retailers. While we all know that many of their smaller products are incredibly cheap – we all love the glasses and cups at just a couple of dollars – their bigger products are relatively inexpensive too. So if you don't have a lot of money to spend on a reclining armchair, IKEA is ideal for shopping as long as you don't mind the assembly (see below).
Compared to some other retailers, IKEA recliners are quite cheap, but that doesn't mean they are of inferior quality or look poor either (quite the opposite, in fact!).
Set yourself a budget of what you can afford and try and stick to it as much as possible when looking for a reclining armchair.
Assembly
Finally, how good are you at assembling flat-pack furniture?
This is a problem many people have when shopping at IKEA. Most of their furniture comes flat-packed. Flat-packed furniture does have some advantages, such as taking it home yourself without needing a van or paying for delivery (in most cases), and it keeps the cost of their products low.
However, it can pose problems for people who aren't particularly great at assembly. Even though you get instructions and everything you need to set the armchair up, the process can seem a bit daunting. There are additional services available such as help to build your IKEA furniture, that you can pay extra for, but it is something to keep in mind before buying.
6 Best IKEA Recliners
1.MUREN – Best overall IKEA recliner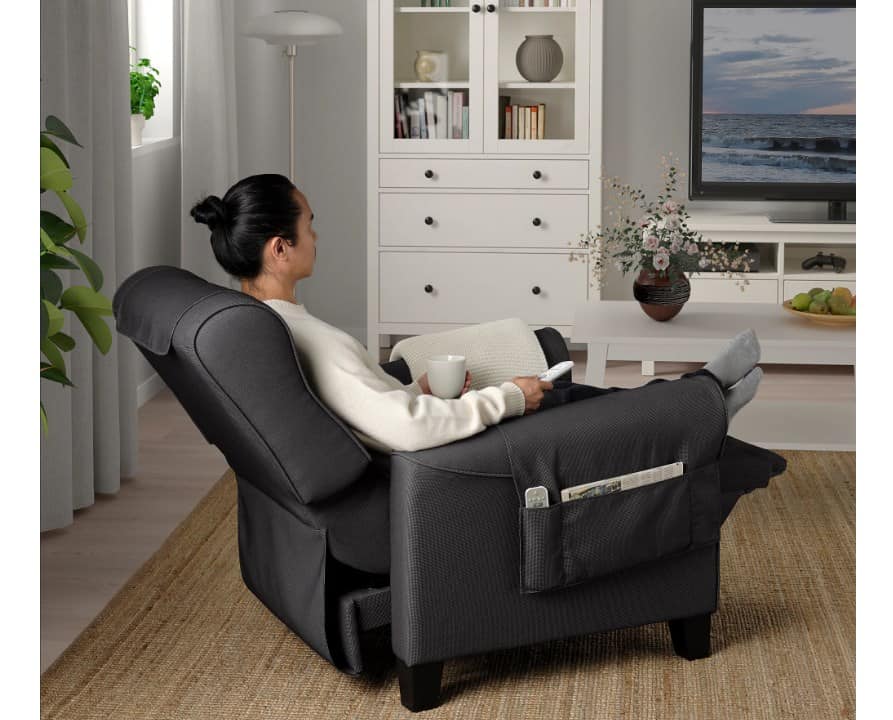 The MUREN recliner is our top pick from IKEA for several reasons.
This recliner is very comfortable to sit on for a start, and the fabric is made from 100% polyester. You can even remove the cover and wash it if you need to, while it is abrasion-resistant as well. This should give the MUREN recliner good longevity so that it will continue looking good for years.
If you are worried about assembly, the instructions with the MUREN recliner should put you at ease. It isn't that difficult to assemble and comes in just two flat packs. One thing we haven't mentioned yet is that this recliner has three adjustable positions as well as an inbuilt footstool. This is ideal for kicking back and relaxing in the comfort of your home.
The design might not be to everyone's tastes as it is a bit basic, and the recliner is only available in dark or light grey. However, if you are looking for an ultra-modern or particularly retro style, there are other options on our list that might suit you better.
However, this is a very affordable IKEA recliner that is comfortable, durable, easy to assemble and maintain, and it will sit nicely in your home.
Pros
Great combination of being cost-effective comfortable
The recliner is easy to assemble and maintain
Durable and cover can be taken off and machine washed
Cons
The design is a bit basic, with only two color options.
2. PELLO – Best budget recliner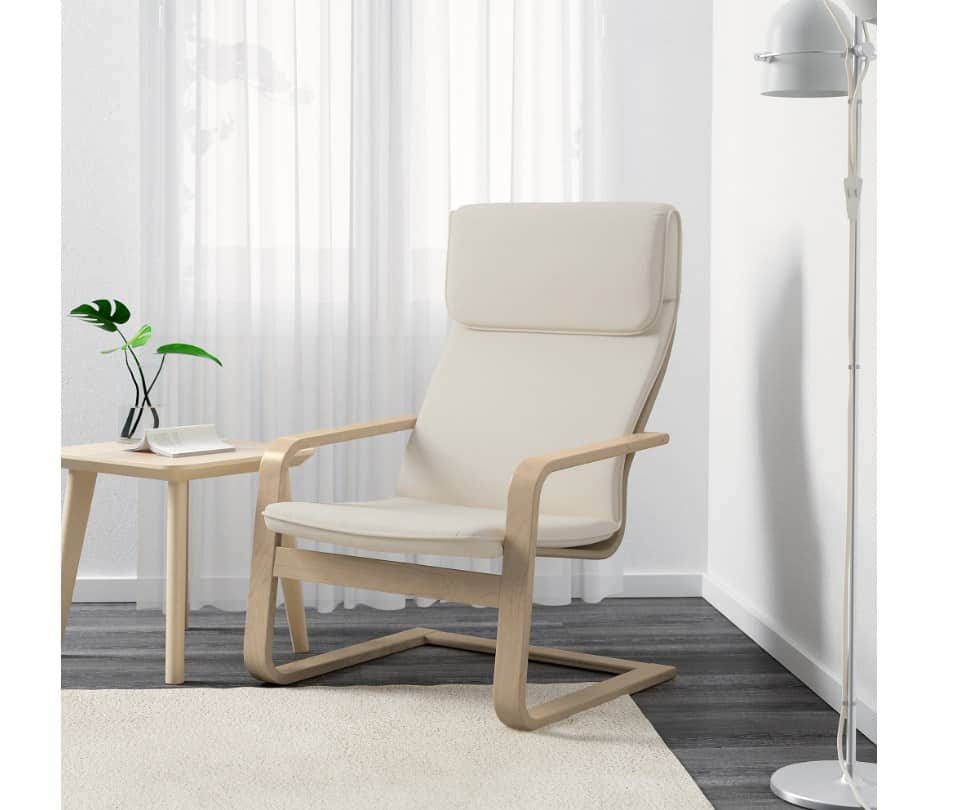 The IKEA PELLO armchair isn't a true recliner but does have some movement to recline back. If you are after a budget option, this is a decent choice. The PELLO armchair has good back and neck support, and the material is 100% cotton. This makes it relatively easy to wash and maintain, although tough stains might not come out.
Assembly isn't difficult with this armchair as it isn't a proper recliner, so there are fewer moving parts to contend with. One positive is that the PELLO is pretty compact so that it won't take up a ton of space in your home.
The color options are limited to just one – natural. It does have a very modern look, and it will fit in with a contemporary styled home, but if you want different design choices, you won't find it with this armchair. Many people have commented that the PELLO isn't a particularly sturdy chair either.
Overall this is a budget option if you can't afford a proper recliner. It does offer some reclining ability, and it is a good armchair for the cost.
Pros
A budget armchair that you can recline slightly with
It has a modern look and feel
Cotton fabric so can be machine washed
Cons
Isn't a proper recliner
Limited color and design options
3. EKOLSUND – Best rounded design recliner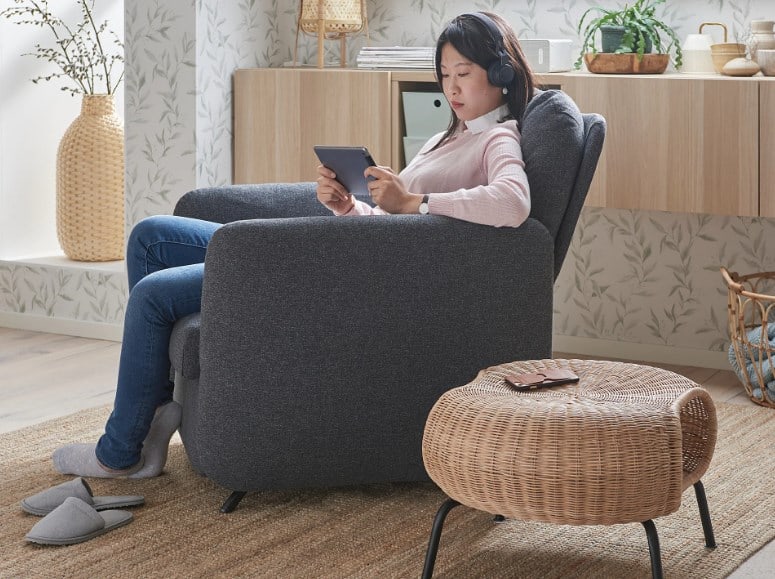 The EKOLSUND recliner is an excellent option if you want a rounded contemporary design. The recliner has three different positions, and the rounded style means it can fit into a small space in your home while still providing a lovely focal point to the room.
The cover can be removed, and machine washed, which is always a bonus. Assembly isn't too tricky with this recliner either. It comes in three packages, and the instructions and relatively straightforward, although the cover can be difficult. We also like the fact that it is available in two very contrasting colors – grey and pink. So if you want a recliner to fit in with your existing design or really stand out, the color options provide this.
One downside to the EKOLSUND is the tight fit of the cover, so it can be challenging to get it right over the chair when assembling it. Granted, you don't need to do this very often, but it can be a bit annoying during the assembly phase.
You get a very modern, comfortable recliner that offers two contrasting color options for your home for the price.
Pros
Modern recliner with three positions
It comes in two contrasting color scheme
Comfortable and durable
Cons
The cover can be tricky to get on due to its tightness.
4.GISTAD – Best faux leather recliner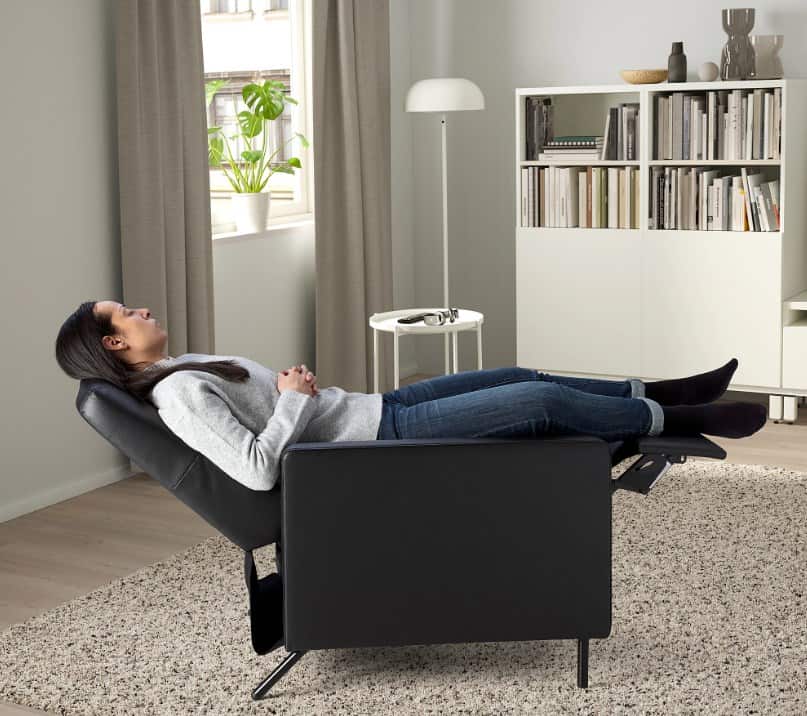 The GISTAD recliner is a great choice for anyone who wants a faux leather armchair.
The material is covered with durable BOMSTAD coated fabric which looks like leather and feels the same too. This recliner would sit well in a very modern design, and it doesn't come with a huge price tag either. If you were to buy a genuine leather armchair, you would pay a lot more money than the GISTAD retails for.
Comfort is assured due to the material, and there are three positions with this recliner. You can also choose between the entirely black color scheme or the dark red, making it stand out more in your living room. There isn't much to dislike about the GISTAD. The recliner is up there with the best for comfort and price, although some people might not like the faux leather feel.
Pros
Lovely faux leather recliner with three positions
Available in black or a neat dark red color
Very reasonably priced
Cons
You might not like the faux leather feel if you prefer the real thing.
5. POANG – Best budget option for different colors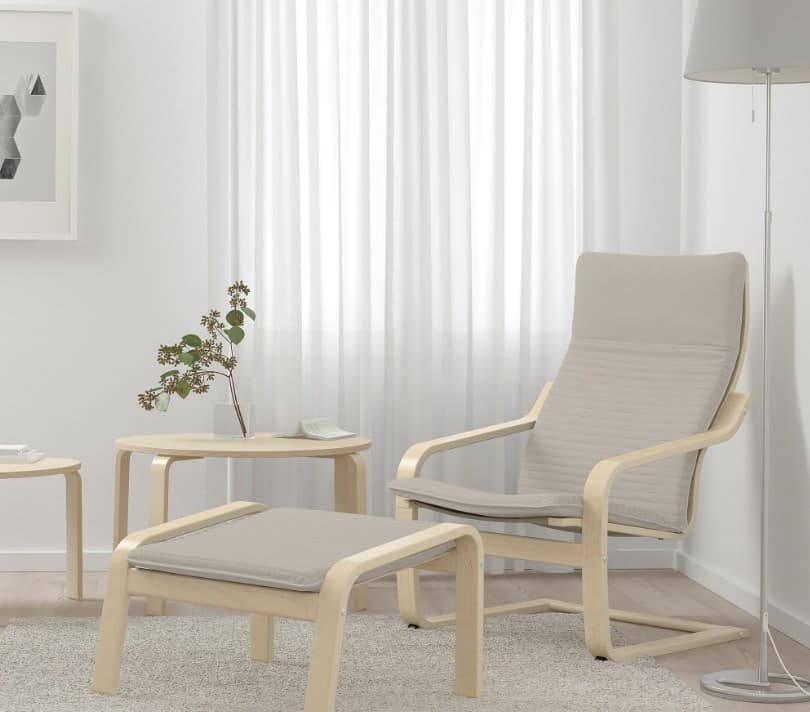 Like the PELLO the POANG isn't a proper recliner; however, this armchair has some reclining abilities for you to sit back and relax.
The design between the two isn't massive, although the POANG is but sturdier and costs more. The big difference is in style. While the PELLO was limited to one color choice, you have several with the POANG armchair. This includes:
Beige
Dark Blue
Anthracite
Black
Light Beige
Multicolored
Dark Grey
Yellow
So no matter the style of your living room, you'll find a cover for the POANG to match it. Another thing we like about this armchair is its sustainability, as 90% of the materials have been recycled. So if you want to buy environmentally friendly products, the POANG is a stellar option.
This is a good armchair that offers some reclining features alongside a multitude of color choices.
Pros
Lots of colors available
Environmentally friendly product
Comfortable and sturdy
Cons
Like the PELLO, it isn't a proper recliner
6. NÄTTRABY – Best swivel recliner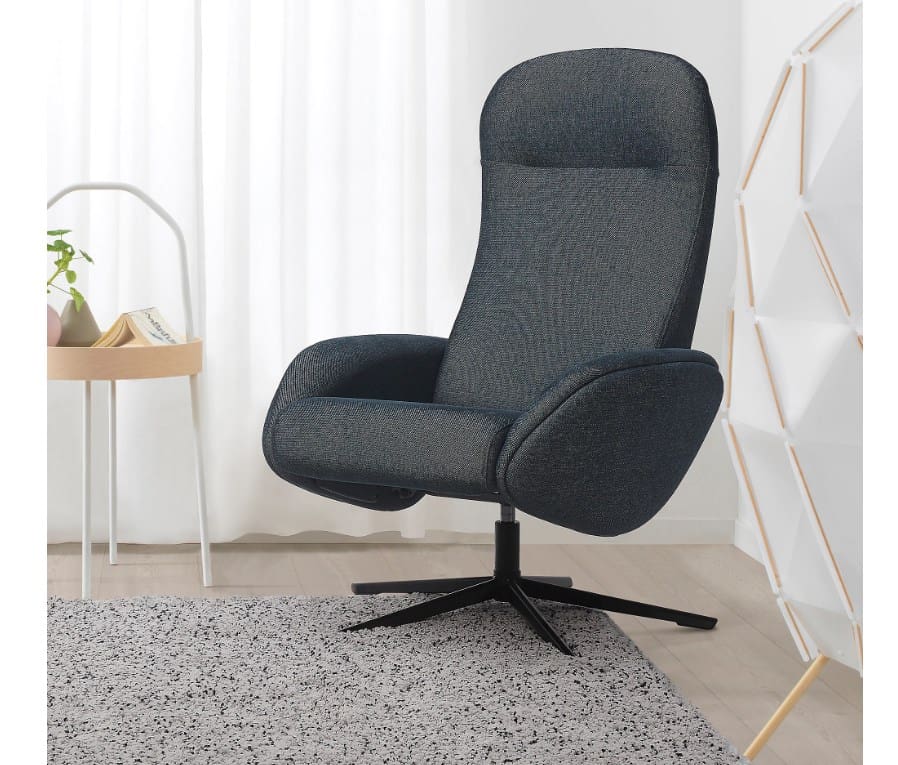 The NÄTTRABY swivel recliner is perfect for a home office, although it can be used in any room in the home.
This recliner is made from 78% cotton and 22% polyester (the back fabric is 100% recycled, too), and the seat and back angle are fully adjustable. If you spend long hours at a desk, whether or working or chilling out, this recliner provides excellent comfort and support.
The recliner is controlled by an easy-to-use handle at the side, while the design and the dark-grey fabric make it ideal in a modern setup. This IKEA recliner is a bit more expensive than the others on our list. So, you will need to part with some more cash to get one, but it is well worth it.
If you want something a bit different in your home and to complement your home office, the NÄTTRABY swivel recliner is the ideal piece of furniture.
Pros
A great option for a modern swivel recliner
Stylish design and comfortable
The seat and back angle are fully adjustable
Cons
A bit more expensive than other IKEA recliners
Color options are a bit limited, but if you want a darker recliner that provides excellent comfort and is available at a reasonable price, the MUREN is the best choice.
FAQs
Question: Do I need to assemble an IKEA recliner myself?
Answer: IKEA recliners are flat-packed, and this allows the retailer to keep the cost of their products down. The recliners aren't too difficult to assemble, but you can pay an extra charge to have the chair assembled for you.
Question: Are IKEA recliners environmentally friendly?
Answer: Yes. IKEA is one of the most environmentally conscious retailers. Most of their recliners are built from sustainable materials, and some have 100% recycled parts.
Question: Are recliners more expensive than armchairs?
Answer: Usually, yes. Recliners are more expensive than standard armchairs because they can recline and have more components and moving parts involved. You can find IKA armchairs such as the PELLO and POANG that do have some reclining ability.
Question: How many IKEA stores are in the USA?
Answer: There are currently 53 IKEA stores spread throughout the USA, with the most (eight) located in California.
Question: Can I machine wash the IKEA recliner fabric?
Answer: Some IKEA recliners allow you to remove the fabric cover and put them into the washing machine. Make sure you read the product instructions carefully so that you don't damage the fabric of the recliner.
Question: Do I need special tools to assemble an IKEA recliner?
Answer: In most cases, no. The majority of IKEA recliners can be assembled with an Allen key (which is often provided) and some standard screwdrivers.
Question: Does IKEA sell leather recliners?
Answer: IKEA has some recliners that are made from faux leather. The GISTAD is covered in a durable BOMSTAD coated fabric which gives it a distinctive leather look.
Which is the Best IKEA Recliner?
There is a lot to love about the recliners from IKEA. Not only are they mostly environmentally friendly, but they all provide good comfort and are available at a reasonable cost.
But which one is the best?
Our top pick is the MUREN.
Some people might think that this design is a bit basic and doesn't stand out, but we like many things about this recliner. It is very comfortable to sit in, and it will fit into the style of most living rooms and homes with ease. The three adjustable positions and in-built footstool offer great comfort, and it isn't that difficult to assemble the MUREN recliner either.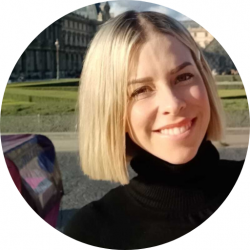 Latest posts by Jodie Chiffey
(see all)