Do you want to revamp your indoor or outdoor seating area without undertaking a major decor and design overhaul? What about adding a chair, and not just any old chair, but an egg chair? 
These really add to the ambiance as you can choose from a huge variety of colors, shapes, and sizes. An egg chair can fit in perfectly with your current decor scheme while adding that pizzazz you are looking for, or stand out and make a statement. Adding an egg chair (or two) will showcase the comfort, luxury, and style that comes with it. 
Choosing the best egg chair for your indoor or outdoor area isn't easy. We've already mentioned there are many, many options available, and we were not kidding. 
With this best egg chair ideas guide, you can sit back and relax. While you read, you can daydream about nesting in your new egg chair as you click to buy when you see the option that speaks to your heart.  Before we dive into a buyer's guide in which we share everything you need to know and consider before clicking "buy," here are the best egg chairs: 
At a Glance: 7 of the Best Egg Chairs 
Egg Chair 
Best for…
Key Features
Available at… 

Valletta Porch Swing With Stand

Best Overall 

Self-contained stand

Available in 18 colors

Durable rattan base material

Find more info

Better Homes & Gardens Ventura Weather Resistant Wicker Outdoor Lounge Chair

Best Budget 

Great retail price

Deep seat

100% polyester covers

Find more info

Jacobsen Style Egg Chair Leather

Best Original Egg Chair 

Cast aluminum base

Available in 8 colors

Italian leather

Find more info

Latigo Swivel Patio Egg Chair Brown – Opalhouse

Best Standing Egg Chair 

Deep seating 

Great ventilation 

Open weave construction

Find more info

Whetzel Porch Swing 

Best Hanging (Indoors)

Steel frame

Wicker weave 

3 colors

Find more info

Christopher Knight Home 312592 Isaiah Indoor/Outdoor Wicker Teardrop Hanging Chair

Best Hanging (Outdoors)

Water-resistant, tufted cushions

Faux ratan finish

Teardrop shape

Find more info

Furkan Furkan Double Porch Swing With Stand

Best for Couples 

2-seater capacity 

Weight capacity of 400 pounds

5 colors

Find more info
What Is an Egg Chair?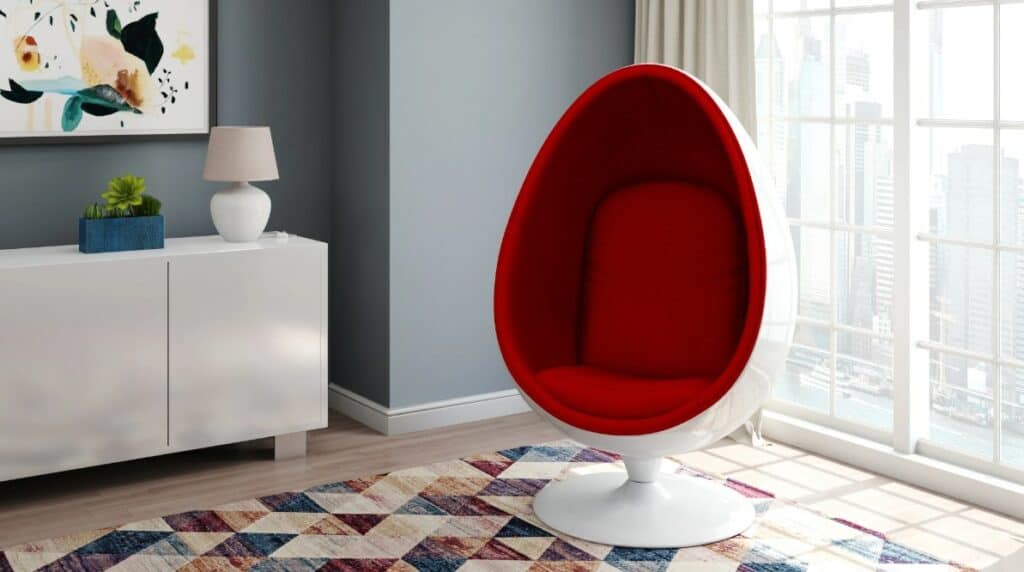 An egg chair is based on the design from the original Egg. In 1958, Danish designer Arne Jacobsen created the egg chair for the lobby of the SAS Royal Hotel in Copenhagen. 
At that time, the design of the chair was quite unusual. It cradled or cocooned you, making you want to nest into it while you felt comfortable and safe. This was actually the idea behind the egg chair design: personal space (the cocoon of the Egg) in a very public space (a hotel lobby). How unique!
By the 1960s, the egg chair craze was really taking off. Since then, there have been numerous designs based on the original Egg, going so far as to offer you various indoor and outdoor options. Some designs even hang, bringing back the nostalgia of feeling like a child on a swing in the comfort of your own backyard. 
Why Do You Need to Get an Egg Chair? 
Getting an egg chair is an eggcellent idea. Here are the top reasons to not wait any longer: 
Unparalleled comfort
This is the main selling point and top benefit of getting an egg chair. These chairs generally have high sides and cushioned seating that encapsulates you as you sit in comfortable bliss. You can sit and snuggle for a long period. 
Visually appealing
No matter what kind of design you choose, an egg chair is a visual statement, whether you want to add pizzazz, comfort, or quirkiness to your space. 
Style 
There are so many styles on offer, and no matter what you choose, it is bound to be a classy addition to your home or patio. Even choosing between a free-standing egg chair or a hanging one, you can't go wrong. 
Buyers Guide: What Do You Need to Know Before Buying an Egg Chair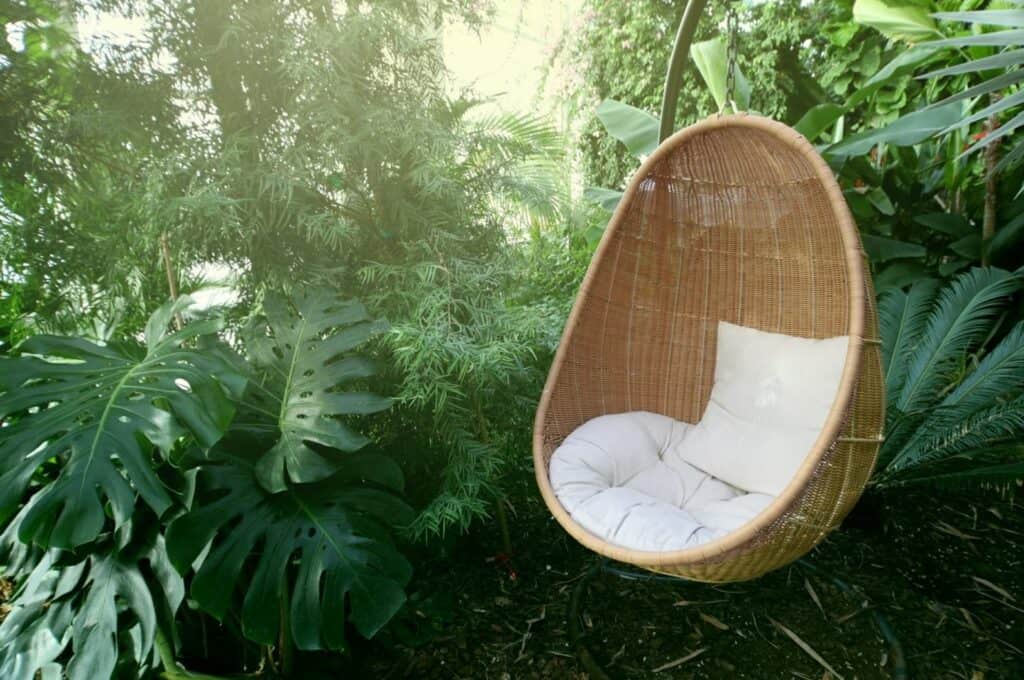 Here are the considerations you should have a look into before you buy an egg chair for your lounge or patio: 
The Designs 
There are loads of design options to choose from. Here's the main four: 
Firstly, there's the classic Egg design that you can go for. These chairs have high wing-back sides and a seat that cradles you. It offers you a timeless design and is great for introverts or when you just need to get away from the world for a while. 
Secondly, there are the ball egg chairs that have a shell and do look like an egg. This chair encapsulates the person sitting "in" it even more as it hides you with its room within a room offering. 
Thirdly, there are the bubble egg chairs. These are often made of a translucent material and can either be hanging or floor-bound. It offers comfort but not any privacy, so you feel like you are in a bubble while viewing the outside world. 
Fourth is the hanging egg chairs. You might think these are perfect for outside or patio use; however, hang one of these in your bedroom or study, and you'll see how perfectly diverse these hanging or swing chairs are. These offer the ideal boho hideaway while you daydream or watch the sunset. 
Comfort 
Since the ultimate benefit of an egg chair is that feeling of comfort, you should choose a design that offers this. Ideally, you want a high-density cushioned seat that will ensure you can sit or curl up for hours on end with no pain or achy joints insight. 
Look for an egg chair that is ergonomically designed to support proper posture and to alleviate any strain on your neck, shoulders, and back. In fact, the cocooning embrace of the chair should soothe your body and put your mind at ease. 
Quality and Sturdiness 
All egg chairs are strong and lightweight. You'll find options where the outer frame is made with fiberglass, plastic, aluminum, and steel. There are also more bohemian options that are made from wicker and natural rattan. Bubble chairs are usually made of skylight acrylic. 
For the upholstery, choose a premium, heavy-duty fabric. For indoor egg chairs, the coverings are either made from leather or polyester. 
If you have an outside egg chair, then you should consider the weather impact. Waterproof fabric is the only option, and the frame of your chair should be rust-resistant. Opting for a rattan exterior is great as it has a high moisture tolerance. Plus, it is easy to clean and doesn't easily get moldy. 
Some egg chairs also come with a stand, which should also be durable. Ensure the base of the chair is wide enough to add to its stability. 
Features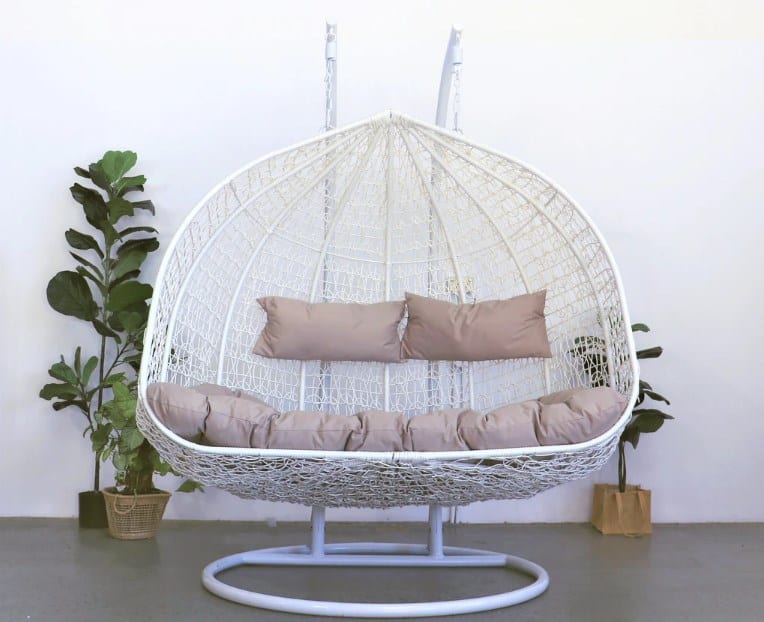 Some egg chairs feature a tilt-lock mechanism, which allows you to find your optimal seating position for extra comfort. There are also others that can rotate and swivel. 
While not included with the egg chairs (generally), you can also get yourself an egg gel seat cushion to help disperse pressure from your buttocks and thighs. These are breathable and a life-saver on a hot, hot summer's day while you lounge in your egg chair by the pool. It also helps you sit longer and with more comfort as it combats sedentary fatigue. 
Size 
This is an important consideration no matter the chair you are looking at buying. Whether you are choosing an indoor egg chair on a stand or a hanging one that is suspended from the ceiling or self-hangs, you should ensure that you have ample space. 
For the hanging chairs, there should be enough space between the ceiling and the top of the chair, whether you place these indoors or outdoors. Don't place other furniture items too close to the hanging egg chair either as when you swing, you can knock these over or bump into them. 
The same for indoor egg chairs that can tilt and do fancy things. Make sure that where you place your chair there is enough room around it. 
Weight Limit 
The weight limit of an egg chair mostly factors in with the hanging options. In general, hanging egg chairs have a weight capacity of 200-400 pounds. If you overload the egg chair, it could result in injury. 
There are also double-hanging egg chairs available, and some of these can carry up to about 590 pounds. 
The 7 Best Egg Chair Ideas
Now that you know exactly what features to look for when you choose the egg chair of your dreams, here are the top options: 
1. Valletta Porch Swing With Stand – Best Overall Egg Chair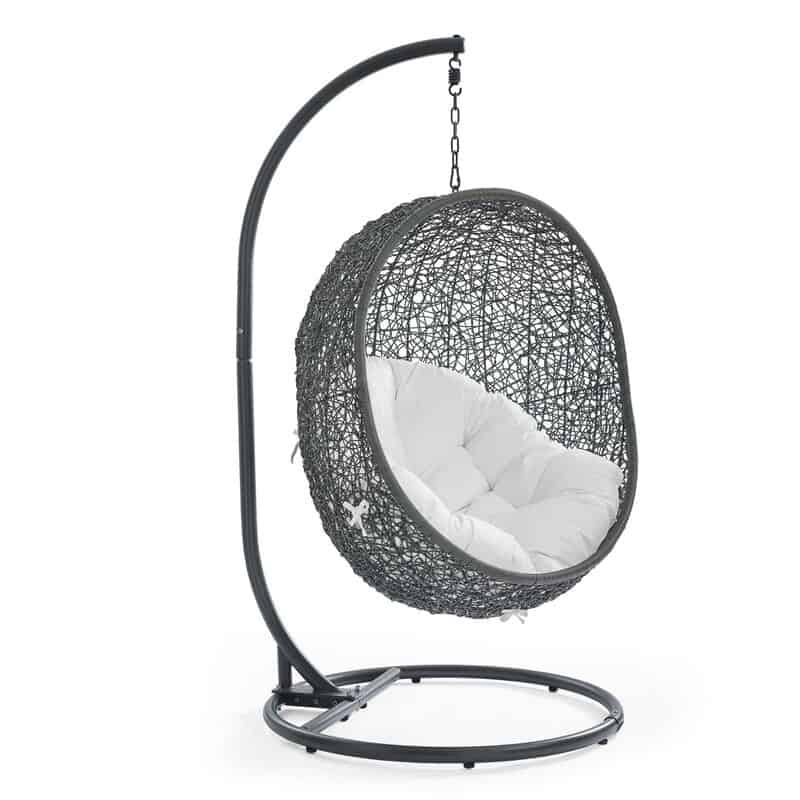 The Valletta Porch Swing With Stand by Mercury Row is not only pretty, but it hangs from its own stand too so you don't need to worry about installing it and hanging chains from your ceiling. While this egg chair is ideal for your porch or any outdoor area, it will also make a cute addition to your bedroom, the lounge, or your study. 
Available in 18 colors, from grey/turquoise, gray/white, gray/red, and gray/peridot to white/turquoise, white/mocha, and white/orange, all these designs will easily fit in with your decor and style scheme. The base is made from water-resistant rattan, and the cushions that are included are made from polyester. These cushions are also filled with polyester, and they are fade-resistant. 
Pros: 
Powder-coated steel frame ensures sturdiness 

The design of the hanging egg chair and color options are stylish 

Cushions are fade-resistant and washable 

Easy to assemble 
Cons: 
When you sit and swing, it hits the pole at the back 
With a weight capacity of 265 pounds, you can curl up with your favorite book with ease and comfort in this swing-style egg chair, whether it is indoors or outdoors. 
2. Better Homes & Gardens Ventura Weather Resistant Wicker Outdoor Lounge Chair – Best Budget Egg Chair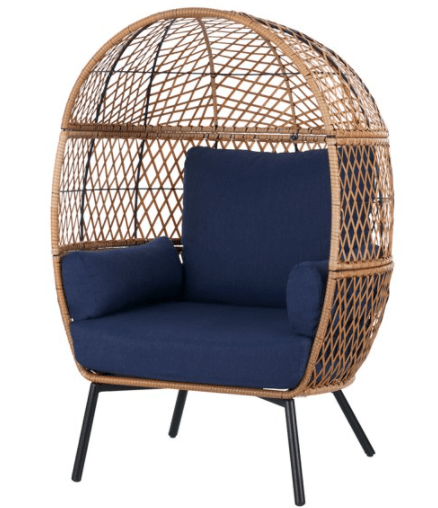 The Better Homes and Gardens Venture Lounge Chair available at Walmart comes in 3 color options: blue, off-white, and cream. The egg chair offers attractive wicker accents, making it ideal for outdoor use. However, that isn't to say this isn't suitable as an indoor comfy chair. The wicker makes a nice addition to any beach home, modern, or traditional decor. 
The chair offers you deep seating and the cushions are made from 100% polyester, and it is filled with a polyester fiber batting. Its weight capacity is 250 pounds. 
Pros: 
The steel frame makes this chair durable and sturdy 

Easy assembly 

One-year warranty for the frame and fabric 
Cons: 
No zipper on the cushions to wash the covers

Some reviewers complained that the fabric of the cushions was a bit scratchy 
To clean this egg chair, simply wipe the frame with a damp cloth and let it air dry. At under $300, this is the best budget egg chair on our list that adds a vibe to your space. 
3. Jacobsen Style Egg Chair Leather – Best Original Egg Chair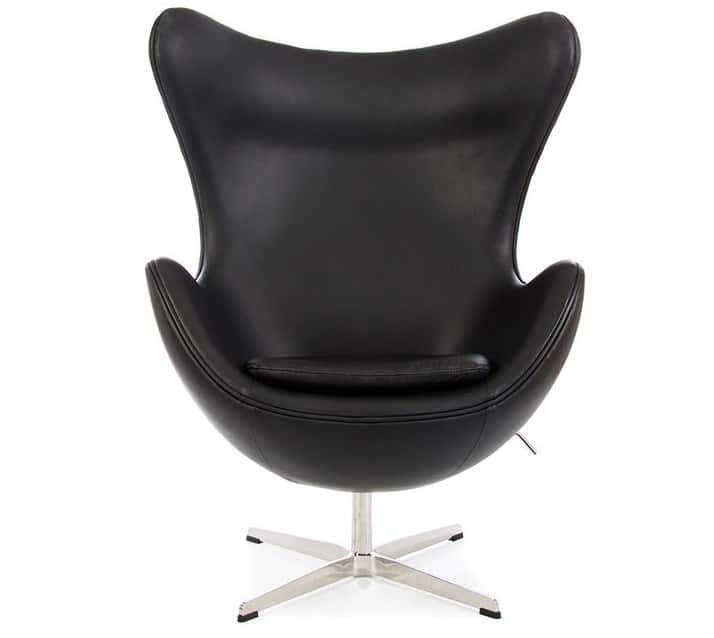 The Jacobsen Style Egg Chair in Leather is available from ModernSelections. It is an egg chair that is closest in look to the original Egg. While you can add this egg chair in your lounge or buy two for your mudroom, it makes an eggscelent addition to any study or office space. 
This office-like egg chair is available in 8 color options: black, red, gray, tan, brown, beige, orange, and baby blue. 
Pros: 
Made from premium Italian leather 

The base is made from cast aluminum, so it is very durable and offers reliable stability

360-degree swivel functionality 

Curved structure embraces your body, giving you that nurturing and safe feeling that is characteristic of the egg chair 

One-year warranty 
Cons: 
It has a high price point
This is an almost exact replica of the original Arne Jacobsen egg chair, and it offers that same sense of style, luxury, and comfort that you would expect. 
4. Latigo Swivel Patio Egg Chair Brown – Opalhouse – Best Standing Egg Chair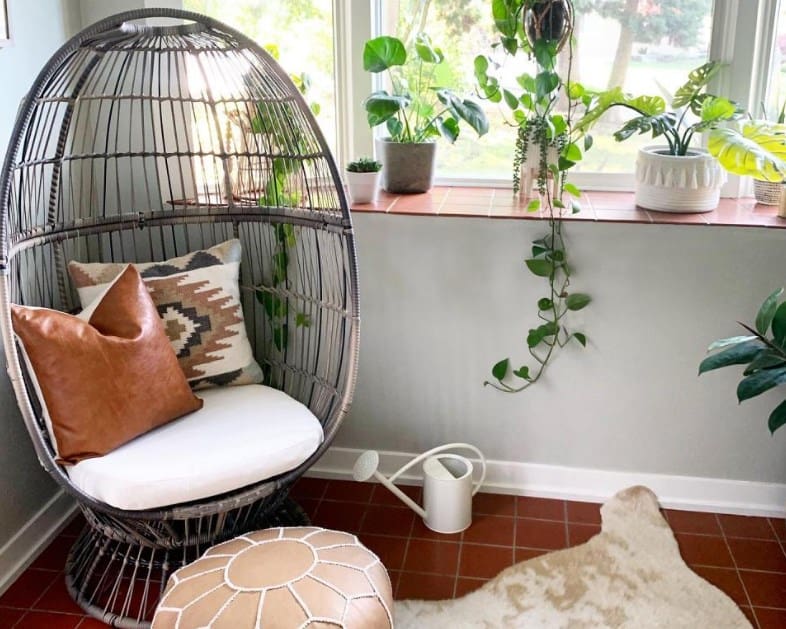 The Latigo Swivel Patio Egg Chair by Opalhouse and available at Target offer deep seating to fit your egg chair needs. It works both indoors and outdoors. In outside spaces, the open-weave construction allows for a breeze when it is hot in summer while you can also get your tan on (apply sunscreen first!) 
This egg chair holds up to 250 pounds. The frame is dark brown and the cushions are white so this egg chair can fit in with any style and decor. 
Pros: 
Relaxing thick seat and back cushions 

Powder-coated stainless steel hardware with a wicker finish boasts style and durability 

One-year warranty 

Rust-resistant 

Easy assembly 
Cons: 
Reviewers wish the supplier offered replacement cushions as these are not easy to clean 
For ultimate style and comfort, this standing egg chair is great for indoor and outdoor use. 
5. Whetzel Porch Swing – Best Hanging Egg Chair (Indoors)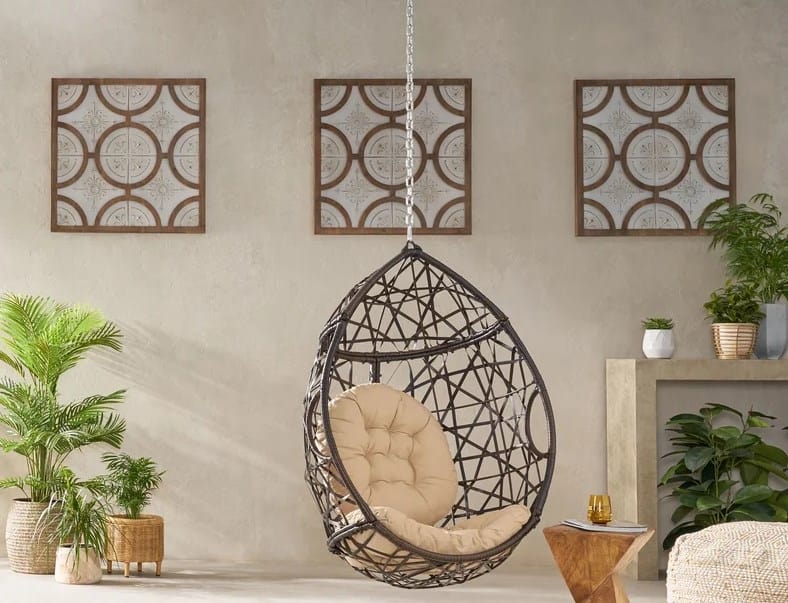 The Whetzel Porch Swing by Bay Isle Home is available in three colors: a brown frame with a tan cushion, a white frame with a blue cushion, and a gray frame with a gray cushion. This swing egg chair comes in a teardrop shape that refreshes the decor in any home. 
It comes with a sturdy metal frame so you can sit in comfort without a worry about durability or stability. The outer frame is wicker-weaved, and you can use this egg chair indoors as well as outdoors. 
Pros: 
Frame, cushions, and chains are included so you can hang this egg chair from your ceiling with an ultra-classy indoor look 

Indoor and outdoor use with water-resistant cushions 
Cons: 
No instructions are included for mounting the egg chair to the ceiling but otherwise easy to assemble 
The weight capacity of the chair is 300 pounds so you can comfortably let the cocoon shape of the swing egg chair make you feel weightless. 
6. Christopher Knight Home 312592 Isaiah Indoor/Outdoor Wicker Teardrop Hanging Chair – Best Hanging Egg Chair (Outdoors)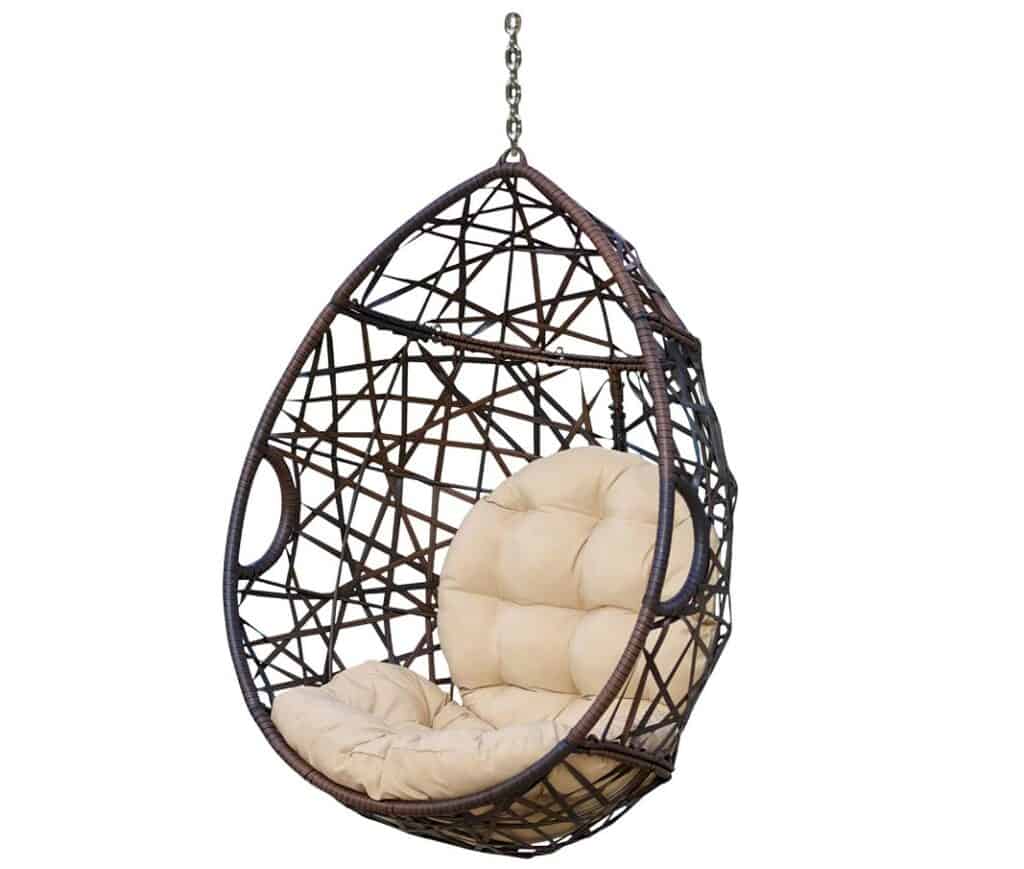 The Christopher Knight Home 312592 Isaiah Wicker Teardrop egg chair is perfect for outdoor use with its water-resistant faux rattan finish that is long-lasting, durable, and visually stunning. There are also water-resistant cushions that are plush and tufted, and these are made from a non-porous material, making cleaning a breeze. 
Only available in multi-brown and tan, you can add a scatter cushion or throw so this egg chair fits in with your outdoor decor. The teardrop shape of the swing chair gives it cozy air so you can lounge and relax in peace. 
Pros: 
Water-resistant cushions and rattan finish

Durable and sturdy egg chair 

Charming style 
Cons: 
Needs professional installation 
Even though this swing egg chair needs professional installation, once set up, it will provide you with maximum comfort and durability as you watch your kids play in the pool while you chill in an Egg. 
7. Furkan Furkan Double Porch Swing With Stand – Best for Couples Egg Chair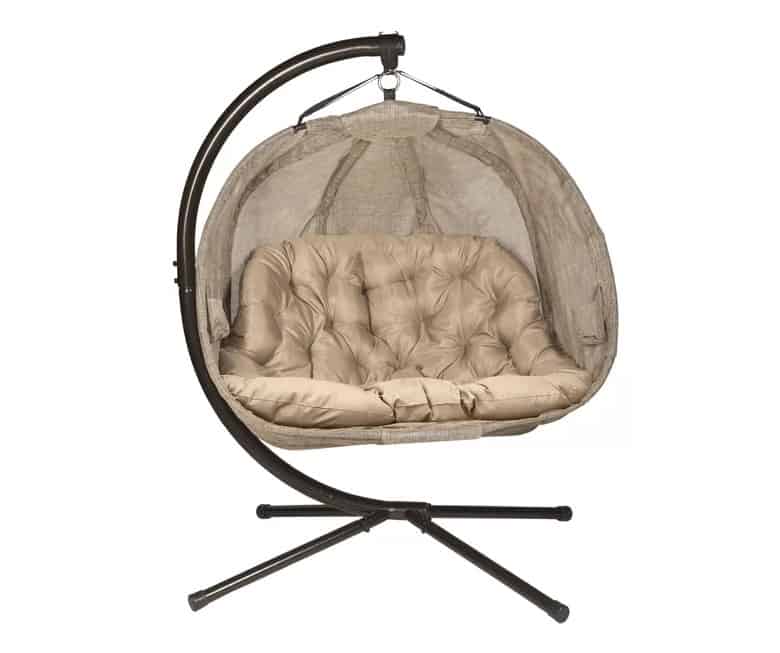 Why only get an egg chair for one person when you can get a swing egg chair on which you and your loved one can cozy up together? The Furkan Furkan Double Porch Swing With Stand is your answer.
It comes in 5 colors: dark brown, cross weave/sand, dreamcatcher/sand, red, and branch/sand. This swing chair is eye-catching and almost looks more pumpkin-y than egg-y, but it offers the same cocoon-like effect and comfort you'd expect from an egg chair. 
When you place your order, you get the chair, frame, stand, cushions, and hardware to assemble it in your outdoor area. However, you can also install it indoors. 
Pros: 
Cushions are made from polyester 

The swing is more comfortable and can move back and forth about 2 feet 

2-seater capacity 

The metal outer frame ensures sturdiness 
Cons: 
Some reviewers shared that assembly wasn't too easy but YouTubing helped 
With a weight capacity of 400 pounds, you and your beloved can snuggle up in egg-comfort style! 
FAQs
Question: Why are egg chairs so popular? 
Answer: Egg chairs are and will continue to remain popular because they are timeless and they suit any space, whether it is your bedroom, a living room corner, a patio, or even a study. They add an aura of effortlessly chic. These chairs have something very inviting about them as they envelop you in a cocoon of comfort and style. 
Question: Are egg swings comfortable? 
Answer: Yes, egg swings are comfortable; however, it depends on the style you buy and what you find comfortable. You can easily lounge in your egg swing while you unwind after a busy week or read your favorite book. 
Question: What does an egg chair look like? 
Answer: The iconic and original egg chair, known as the Egg, has its side curving upward like you'd see on a traditional wingback chair. The seat may be low and further back, making you feel as if the chair cradles you. The back of the chair curves outward and then slightly inward to further the cocoon feeling. The top-most side of the back also curves inward toward the person sitting in the chair to add more privacy. 
The Best Egg Chair Verdict
The best egg chair for you will depend on a few factors like your style, the style of egg chair you want, whether you want to use it indoors or outdoors, and how durable, sturdy, and comfortable it is. One thing is for certain: an egg chair should provide deeper seating and be framed with the sides and back cradling and cocooning you so you feel like you are sitting in your own world within a world. 
Our top pick for the best egg chair is the Valletta Porch Swing With Stand. It is sturdy and easy to assemble. The egg chair comes in 18 (!) color options, and with fade-resistant fabric, you can comfortably use this chair indoors and outdoors.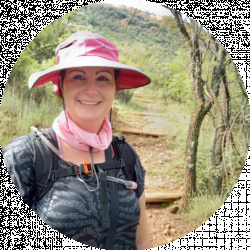 Latest posts by Denine Walters
(see all)