When it comes to a quality piece of furniture, you simply can't go wrong with a leather couch, and the epitome of this is the brown leather couch. It speaks of classic style and quality. A good quality brown leather couch is like a friend you will have for the rest of your life. It certainly has the potential to last and last. 
Just what do you look for when you buy a leather couch, and does it have to be brown? 
A brown leather couch is ideal for any home, any décor scheme, and any budget. That's right, a leather couch doesn't have to break the bank. And choosing a brown leather couch is smart because brown leather doesn't have to be excessively dyed, so the cost will be less, and it will retain and develop its natural patina better.  
There are, however, many different brown leather couches on the market, and knowing which is quality may be harder than you might think. Luckily, this guide will help you find that perfect brown leather couch for your home and budget with no buyer's remorse. Let's go shopping … once you know a thing or two about leather. 
Must-Know Facts About Leather Couches
Leather is a natural material sourced from treated hides. Each hide is unique, and there are variations in thickness, feel, and texture. You may notice different markings on the surface of leather that relate to growth, hair fibers, and different thicknesses. These don't change the quality of the hide or leather at all. 
Most animal hides used for leather are cowhides, which are thick and luxurious. Each industry has its own tanning process, where the hides are softened and stretched per each manufacturer's requirements. This is also where hides are colored or stained to achieve a different finish. 
You may also find some hides are imprinted or embossed with designs and textures to achieve a specific look. When choosing a good-quality leather couch, it's best to opt for full-grain leather, which is the thickest and most luxurious. This leather has had minimal buffing done, and it is naturally imperfection-free. It is also the most expensive. 
There are different finished leathers that are used for upholstery:
Pigmented Leather
With pigmented leather, the product is finished by a top coating that is polymer-based. This increases the quality, finish, and durability of the leather. The polymer coating is valued since it can increase the lifespan of the natural leather, improve the wear of the surface, and it allows designers to tint, embellish, and emboss leather for a unique appearance. 
Aniline Leather 
If you are looking for natural leather, then aniline leather is ideal. It is the most naturally treated leather, and you will find that there are fewer chemicals used to treat aniline leather. It is usually processed with natural dyes only. If a top coating is applied, it is a thin clear coating that only improves the leather's stain resistance. 
With aniline leather, there are surface markings that are natural to the leather's own structure. You may see markings of veins or hair follicles (or the pores where these were), and there will be greater surface depth variations. 
One downside to aniline leather is that it is more susceptible to spillage absorption, which causes stains. Additionally, the leather dyes may produce an uneven tone, which can result in different shades of that deep toffee brown you had wanted. 
Semi-Aniline Leather
If you want the best of both worlds, then semi-aniline leather is for you. It is a combination approach where the surface coating is slightly thicker than aniline leather but not as thick as pigmented leather. This is also not just a clear coating, and you will find a small amount of pigmentation that ensures a more color-fast finished product. 
Semi-aniline leather is also more stain-resistant than aniline leather. This makes it a safer choice for upholstery and uses on sofas. 
Top Considerations When It Comes to Couches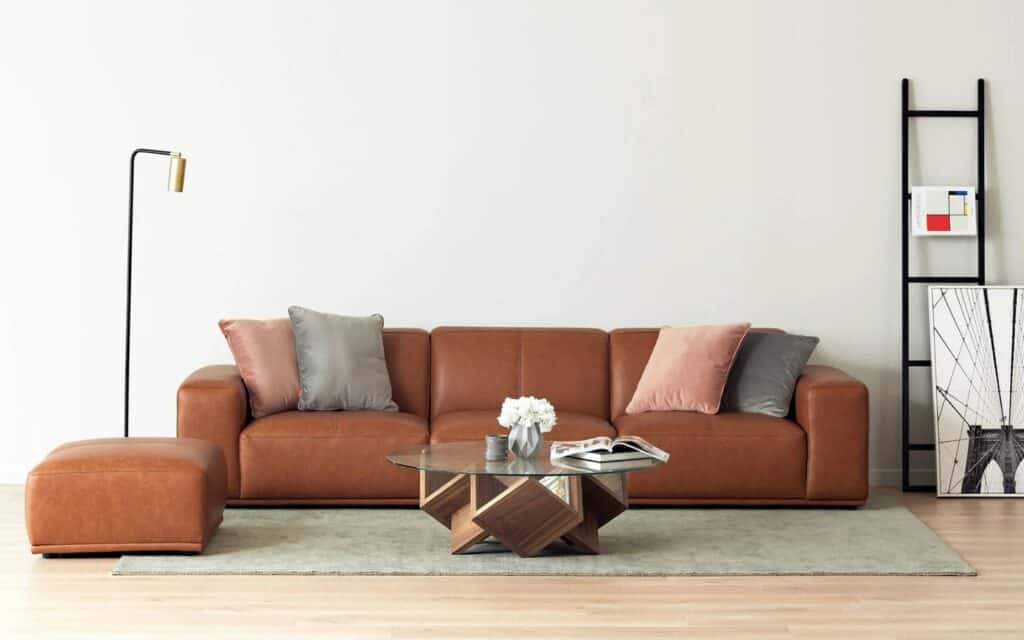 When deciding on a leather couch, whether it is brown or any of the dozens of other colors available, there will be some considerations you would want to address. Your main queries will be whether leather couches are:
Comfortable 
Due to the thickness and soft feel of leather, a leather couch can be incredibly comfortable. Unlike faux leather, it doesn't cause you to sweat when you sit on it while still being warm and soothing to the touch. With sturdy construction, plush padding, and good support from a firm spring system, a leather couch will be the best piece of furniture you will ever own. 
Durable 
Leather is especially durable. It doesn't scratch and stain if it has been properly treated. Leather is usually torn resistant too, and it retains its finish if it is made by quality and reputable tannery. You can expect to get many years of high-quality service from a leather sofa. If you've chosen a brown leather couch, you can be assured the fading due to oxidation and sun damage will be less than other tints or colors. 
Worth the Cost
A high-quality leather couch will set you back a reasonable fee when compared to sofas with other forms of upholstery. So you would be justified in wondering if a leather sofa is worth the hype and the price. The answer: YES. A leather sofa can potentially last you for your whole life and even become a high-value inheritance for your children.
Leather furniture, and especially a leather sofa (in a great color like brown), is a timeless investment that will fit with any décor scheme and style you may change to. 
Stain Resistant
With the polymer coating that is applied to whole-grain leather and other forms of leather too, leather upholstery is stain resistant. In most cases, simply wipe a spill or mess before a stain can form. Due to the synthetic coating, leather is more stain-resistant and liquid repellent. 
Easy to Maintain
Leather upholstery is easy to maintain. Your leather sofa cleaning routine shouldn't get creative with the home remedies, and things like vinegar can remove the protective coating of leather, so avoid using this to remove stains. Instead, simply follow the manufacturer's instructions. More on caring for your leather couch follows in the next section. 
Overall, maintenance is easier with a leather sofa than some upholstered sofas that require deep cleaning and dry cleaning, and slipcover removal. 
Caring for Your Brown Leather Couch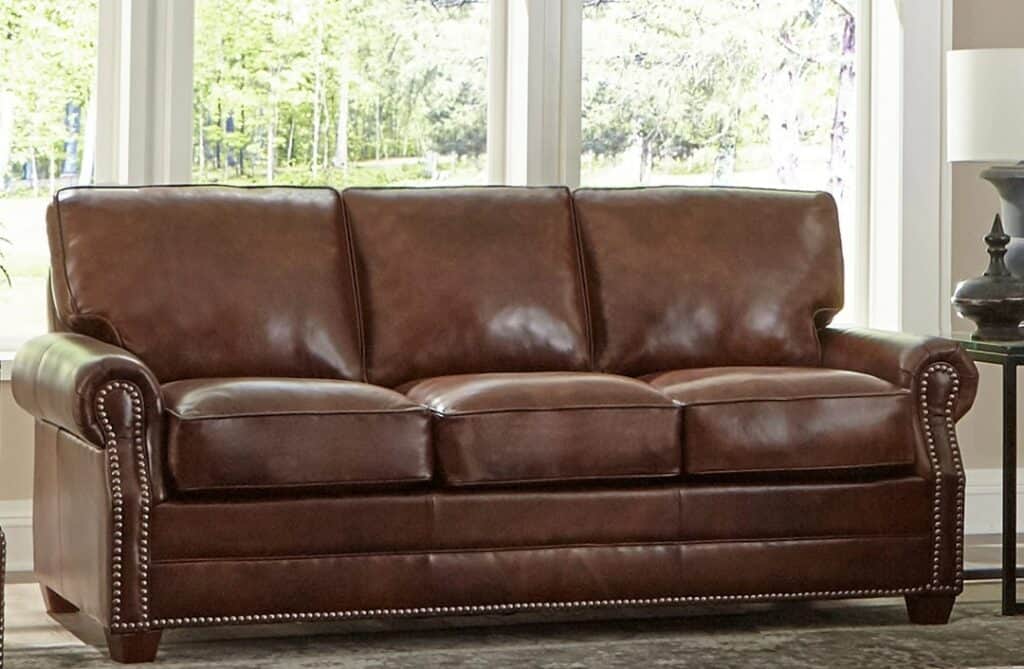 For the most part, your leather sofa will be perfectly fine with a quick vacuum to remove dust and particles. With a dry cloth, you can remove most surface messes before they stain. The important thing is to do so immediately. Don't wait for that party to finish before you wipe up the pizza that your friend's three-year-old messed. 
Your list of cleaning equipment you should have to clean and maintain your sofa include:
A good quality vacuum cleaner with the roller brush attachment and crevice tool

Water for instant cleaning (a distilled or pure mineral water is best as tap water has chemicals that may harm your leather sofa's finish)

A pure non-soap cleanser such as Neutrogena or Dove, which has no additional chemicals added, or your manufacturer may recommend a leather soap

Microfiber cloths (white only as colored cloths may leave a stain on light-colored leather)

A manufacturer's recommended leather conditioning spray or rub-in product

A toothbrush to work into the edges of piping and around tufted features as needed
Cleaning Unfinished Leather
If you have a sofa that is upholstered in raw or unfinished leather, you would have to be most careful. Hard rubbing or excessive use of chemicals can lead to staining and pigmentation changes that will leave you in tears. Instead, your safest option is to lightly vacuum with the softest brush attachment and wipe with a white cloth and mineral water. 
Cleaning Semi-Aniline Leather
This leather is more durable and easier to clean than unfinished leather as it has a protective coating that prevents liquids from penetrating the leather. You can use a mild non-soapy cleaner to remove surface stains, and you can also use a leather treatment if it is recommended by your couch's manufacturer.
There are a few leather cleaning products that come highly recommended such as Mohawk leather cleaner and Lexol cleaning kits. For the most part, you can tend to the odd mishap or basic cleaning by lightly vacuuming your leather sofa and wiping it down with a moist but not wet microfiber cloth every day.
The Best 10 Brown Leather Couches to Choose From
Walking into a quality furniture store or browsing an online catalog can be overwhelming. There are so many different brown leather couches for sale. Luckily, we've got the best 10 couches for each room type and requirement right here. 
The Most Comfortable Brown Leather Couch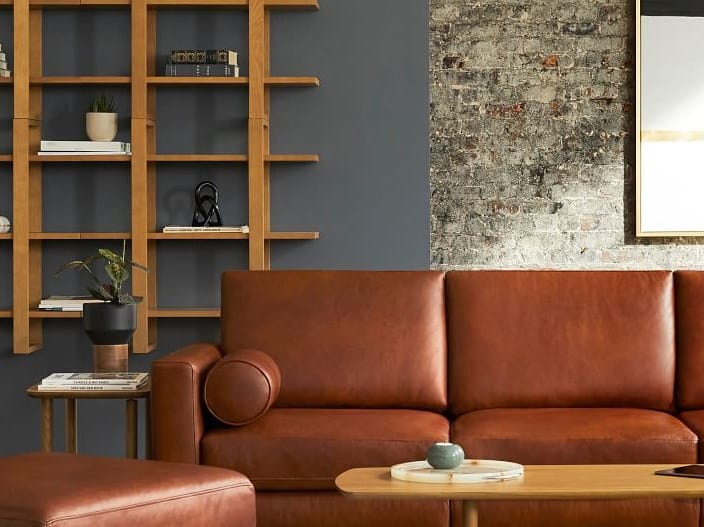 The Burrow Nomad Leather Sofa with Ottoman by West Elm is a real sink-in sofa that will be the heart of your home in no time at all. Not only is this a really comfortable brown leather couch, it is also very customizable with options of which legs you would like, where you can choose between ebony, walnut, and oak, and three choices of arm style. We recommend the slope arm style for extra luxury and comfort. 
The chestnut-toned leather will tone in well with any décor scheme, and you will love the soft-touch top-grain Italian leather that is high quality and visually appealing. With the addition of the ottoman, you can easily turn your seat on the sofa into a reclining position or the ottoman can double as a coffee table too. 
With hand upholstered quality, this sofa offers designer quality at a reasonable price. Comfort is guaranteed with the softest seat available. Seats are supported by high-gauge sinuous springs. Cushions are foam and fiber-filled, creating a sink-into-heaven feeling that will have you lounging about for hours. 
Apart from the overall appeal of this sofa, the small elements that increase comfort are really appreciated. The legs have levelers to manually adjust the seat height for extra comfort, and the seats are upholstered with reversible cushions. 
Finally, an element of comfort that comes with sofas and couches is that moving a three-seater couch is heavy, so having a sectional unity that looks like a real three-seater couch is a blessing. 
The Burrow Nomad leather sofa is actually made of three distinct sections that clip together with modular attachments underneath. This means that when it's cleaning time, you can easily and effortlessly unclip the units, moving your couch into three much-smaller and easier-to-move sections. No more strained backs, bumped knees, or broken doorways from maneuvering a long and heavy couch. 
The Best Budget Brown Leather Couch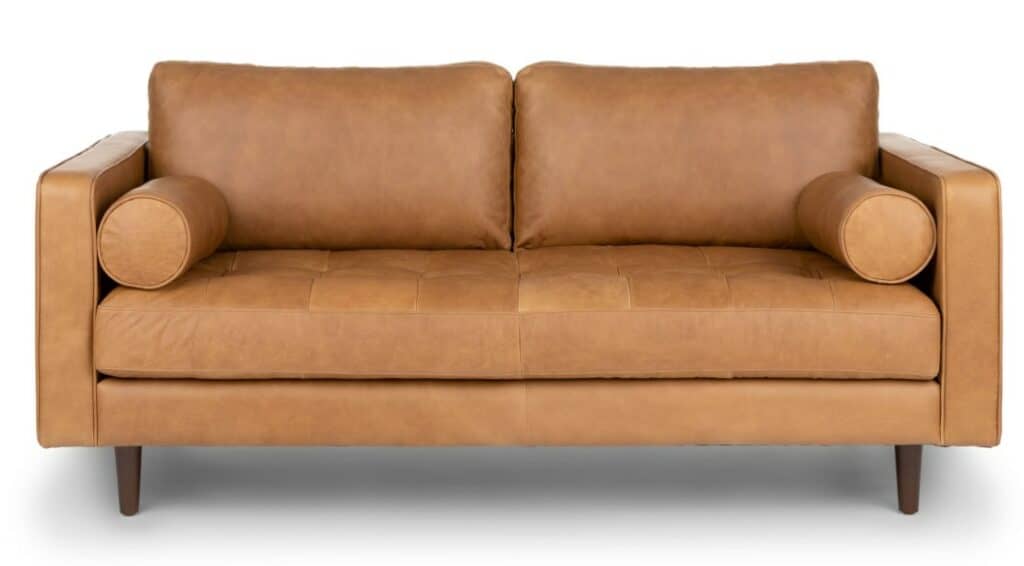 The best budget couch doesn't mean it has to be the cheapest leather couch you can find. Instead, it is about meeting a lower price point while still providing quality, style, and comfort, and the Sven Charme Tan 72″ Sofa from Article.com meets the grade. 
This is a cozy love-seat style sofa that seats 2.5 people, or two adults and a pet or child. The seating is plush and comfortable and upholstered in full aniline Italian leather; you know its quality.  With polyester fiber and duck feather filling in the cushions and webbing support, you're sure to have a comfortable seat on this neat little couch.
All seats and back cushions are loose, which means you can reverse them or deal with cleaning much more easily. The single bench seat cushion has a tufted finish to add to the comfort and ensure the seat retains its shape for longer. And the inclusion of two bolsters finalizes the look and adds comfort in one smart move.  
Using a quality wood-block frame structure, this sofa will offer longevity, making it a great investment at a price that will keep the bank manager happy. And there is no compromise on style either as this mid-century modern sofa has walnut stained feet to complement the final appearance and set off the leather stain.
The Best Loveseat Brown Leather Couch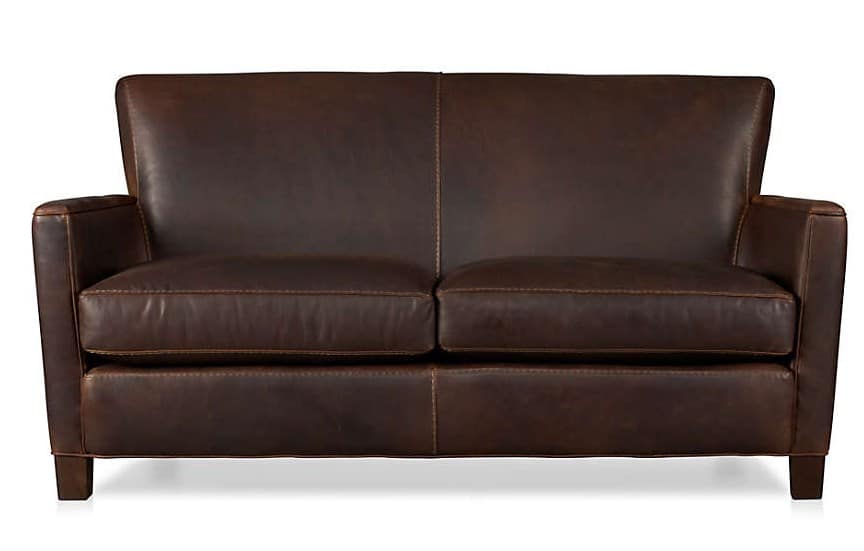 A loveseat sofa or couch is an ideal addition to a small space or for an out of the way corner in a room. The Briarwood Leather Loveseat from Crate and Barrel is an ideal find for your home. Upholstered in any one of four glorious shades of brown, ranging from Potomac Oak to Potomac Tan, you can select the look that works for you. 
Luxurious comfort from hand-tied suspension and two amply padded seat cushions is easily achieved. The armrests are slimming and fit into a tapered shape that will create a pleasing and minimalist appeal. The tilted single panel back is designed with comfort in mind, and when combined with full-grain hide-stained for the best color depth, it achieves a great final product. 
Quality is central to this design with a hardwood frame that has been kiln-dried to prevent any warping or distortions. The seat's stuffing is natural fibers and soy-polyfoam, which perfectly stretches the leather upholstery into shape. The final look is complemented by tonal stitching to accentuate the shape of the seats. 
The Best Brown Leather Kickback or Reclining Couch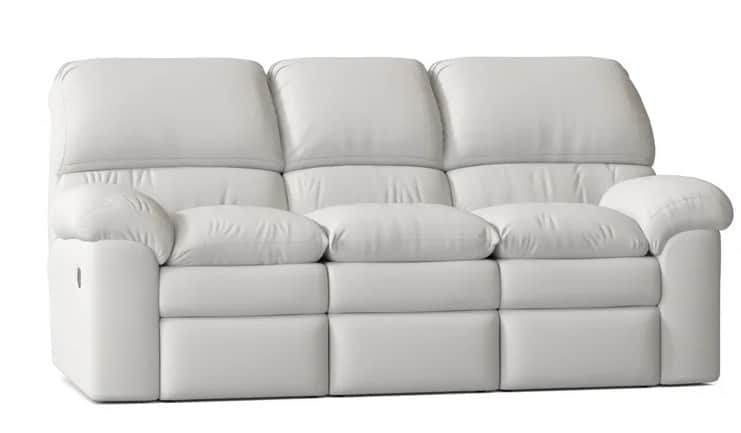 This category has to go to the Catera 88" Genuine Leather Pillow Top Arm Reclining Sofa from Omnia Leather through Wayfair. This well-padded kickback leather sofa is available in an impressive 88 shades of genuine Omnia leather. The brown variations range from exotic colors like Denver Bordeaux, Eugene Cognac, and Urban Driftwood. 
You will definitely find the shade of brown that suits you best. And if you should struggle with matching the color perfectly, you can always request samples from Wayfair to help you decide whether you want a more red-brown or a gray-brown tone. 
This kickback brown leather couch is conveniently appointed with the top and seat cushions being fully removable to help make cleaning and maintenance a breeze. The seats and top cushions are also fitted with a zipper to help make your life easier down the line when you decide to replace stuffing or padding. 
The frame and springs have a lifetime warranty, and you will have no problems with the full-grain leather quality or finish. The seatbacks and arms are fully padded for the ultimate comfort, and you will simply want to kick back and enjoy this reclining couch as you have a snooze or watch some TV. The sinuous springs and synthetic and foam padding will ensure you are carried in comfort as you lay back in this glorious recliner. 
With a weight capacity of 1,080 pounds, you and two of your best friends or family members can easily enjoy putting up your feet as you sink into luxury with the Catera pillow top reclining couch. 
The Best Brown Leather Sleeper Couch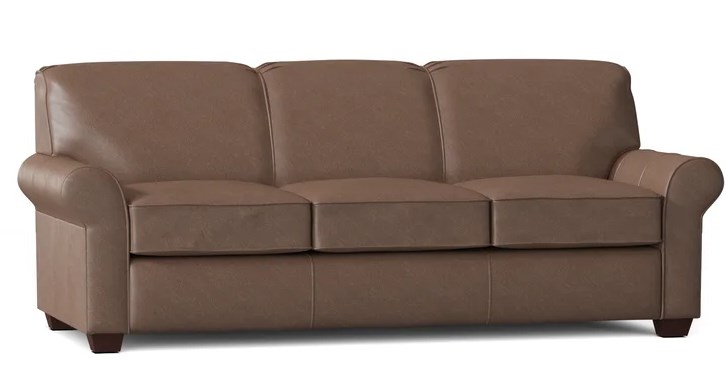 Wayfair comes to the party again with a winner for the best leather sleeper couch category. The Jennifer 81" Genuine Leather Rolled Arm Sofa Bed comes highly recommended, and visitors won't even guess that this is a sleeper couch until they spend the night. 
Available in 14 shades of brown, this leather couch is comfortable, functional, and well-stuffed with down feathers. This sets Jennifer apart from other couches that have only fiber and foam cushions. With the Jennifer couch, the seats are removable to pull out the queen-size sleeper section. 
The frame is made from kiln-dried and laminated wood, and the legs are solid wood for extra strength. The rolled arms are not only stylish and comfortable but will also ensure your brown leather sofa is unique and fits with any décor scheme. 
With a comprehensive warranty that covers the frame, cushions, and springs and upholstery leather, this is a real keeper that seats three people with a combined weight of 750 pounds. 
The Most Stylish Brown Leather Sectional Couch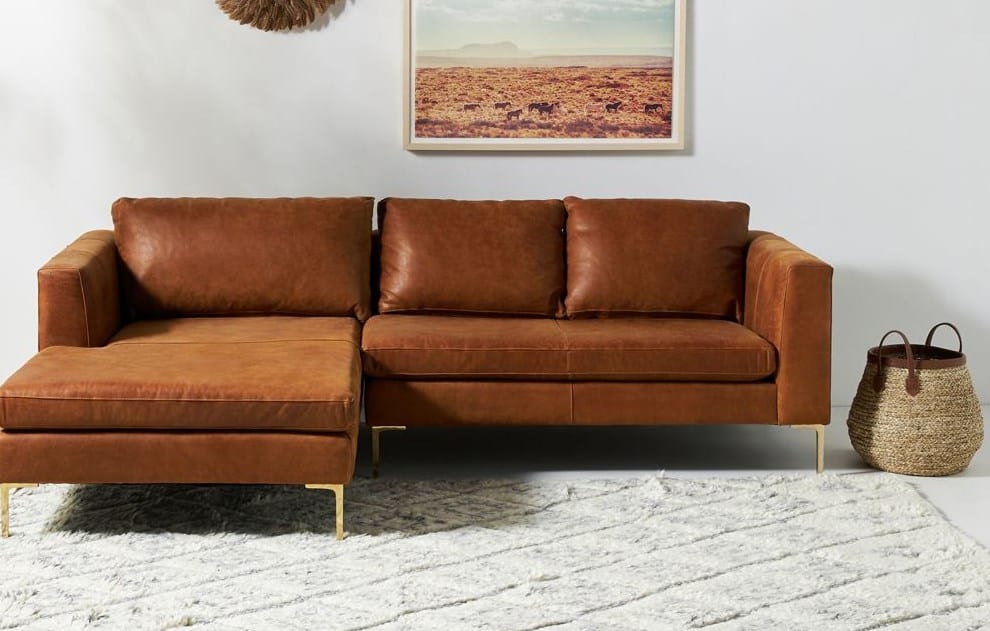 The Edlyn Petite Leather Sectional by Anthropologie is an ideal mini-seating arrangement for an out of the way corner in a large room or a feature couch in a small room. Upholstered in an option of Winchester or Madrid Leather and available in five shades of brown that include coffee and sycamore tones, this is a quality unit that will last you for many years. 
Comfortable with plush cushions and stylish with brass or cast iron finish legs, this leather sectional couch is a real plus to any décor scheme. And as a bonus, you can choose whether you want a left or right-hand sectional, which means no more "making it work" because of your home's dimensions. 
The reclining back is at an angle to ensure comfortable seating, while the seat cushions feature a high resilience core of foam, with the seats and back being supported by a flexulator and sinuous spring combination to ensure you can sit with confidence. The final strength of the design is the hardwood frame that has been kiln-dried to avoid warping. 
As a bonus, sectionals are easily moved as the connector clips can be removed to let you move each section individually. This adds to the comfort and helps your back when it comes to cleaning or moving home. 
The Best Chesterfield Brown Leather Couch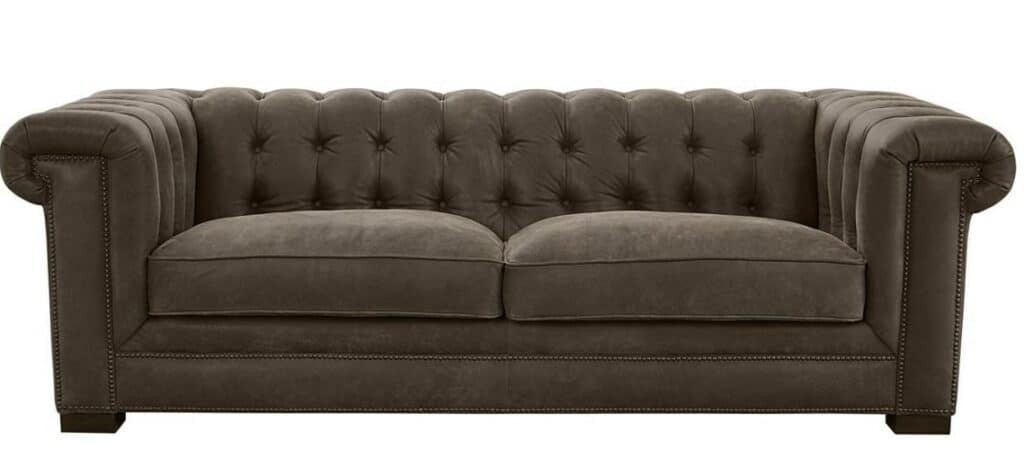 A chesterfield is a sofa that has the arms rolled at the same height as the back, giving it a distinct boxy appearance. Yet, despite the strange appearance, it is comfortable and stylish. The Theordore Leather Sofa is a unique take on this classic sofa with a modern yet earthy twist. The leather upholstery is sourced from Indian buffalo leather, and this top-grain leather is known as Sundance Cocoa. 
If the butter-soft touch doesn't catch you, the attention to detail will. This sofa has loose seats, each with pocketed coils to ensure greater bounce and support. The back and sides feature hand-sewn tufted buttons to create a more stylish and structured appearance. Finally, the welted nail head trim completes this image of opulence. 
To ensure durability and quality, the frame is made using the corner block style, and the cushions are refillable in the event you require more stuffing or if the stuffing compresses over time. To support the seats, a sinuous coil system is used, making sure you will be well supported. 
As an additional feature, the outsides of the sofa have also been padded to complete the plush rounded appearance and ensure the leather never connects with hard edges that may fray or rub it. 
FAQs
Question: What is the best leather to buy for a sofa?
Answer: Top or whole grain leather is the very best quality, but for a sofa or couch, you should choose pigmented leather as this is leather that has been finished with a clear polyurethane coating to make it stain resistant and liquid retardant. Choosing a whole grain leather means you are selecting the thicker part of the leather, which is softer and more durable, making it ideal for upholstering your sofa or couch. 
Question: How to stop a leather sofa from peeling?
Answer: Leather is essentially skin, and if you were to sit in the sun all day, not put on moisturizer, and never clean up, your skin would also start to peel. Therefore, to stop a leather sofa from peeling, take the same approach. 
Avoid positioning your leather sofa or couch in direct sunlight as this will also burn the leather skin. Clean daily with a quick vacuuming to remove loose particles, and wipe down with a soft cloth and some clear mineral water if necessary. 
The final way to stop peeling is to condition or feed the leather. Using a top-quality leather treatment will add years to your leather sofa's life and prevent peeling. 
Question: What's good for cleaning leather sofas?
Answer: Stay away from home remedies. Your leather sofa will not appreciate being cleaned with vinegar and you may end up needing a professional leather restorer's services. Instead, follow this approach:
• Vacuum daily with a soft brush attachment 
• Wipe with a dry cloth once a week or make the cloth damp to remove any grainy residues
• For spots or spills, act immediately and dab up the spill, followed by gently wiping the area with a non-soapy cleaner like dove and a damp cloth
• If necessary, and if your manufacturer allows, work in a quality leather conditioning treatment once a month
Question: Are leather sofas out of fashion?
Answer: Leather sofas will never be out of fashion. They are timeless classics that appeal to all ages and generations. This also makes a leather couch a great investment.
The Final Seat
If you are looking to add a real quality piece of furniture to your home, then a leather couch is the ideal addition. It is absolutely timeless and classic, yet it fits with the latest designs and trends. Choosing a good base quality like brown is another smart way to ensure your leather couch will be relevant and appreciated for years to come. 
Latest posts by Talitha vanNiekerk
(see all)