If you're looking for that vintage aesthetic in your bedroom, these best mid century modern bed ideas are what you need. These stylish and functional beds come in a range of colors, so there's one to suit everyone's taste. 
Be it sleek or playful, they offer the perfect way to add some character into any space – from children's rooms all the way through to adults alike. Simply find out which size suits your needs best (we've ranked them according to budget and size) before heading off on buying an absolute gem today.
Best Mid Century Modern Bed Ideas
Walker Edison: Best Overall Mid Century Modern Bed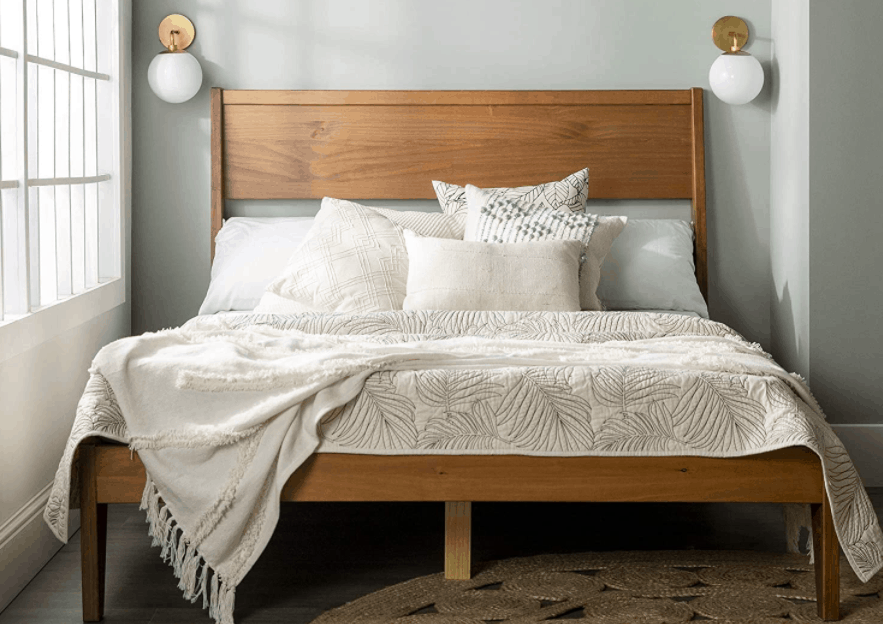 The Walker Edison, Mid Century Modern Bed, is the perfect bed for anyone looking to add a pop of modern elegance and style to their bedroom. With its sleek and chic appearance, no one will know you didn't spend thousands on your new furniture. Unlike some cheaper beds that are pressed wood with a plastic veneer, this solid pine bed can hold up against an active lifestyle of 500 lbs without fear of breaking or squeaking in the middle of the night.
Pros
It's sturdy

It can easily fit even the smallest of the spaces

It requires no box spring

It has an elegant look, and it matches easily with other decors.
Cons
It requires a lot of screws and nuts for assembly.
Baxton Studio Denise: Best King- Sized Mid-Century Modern Bed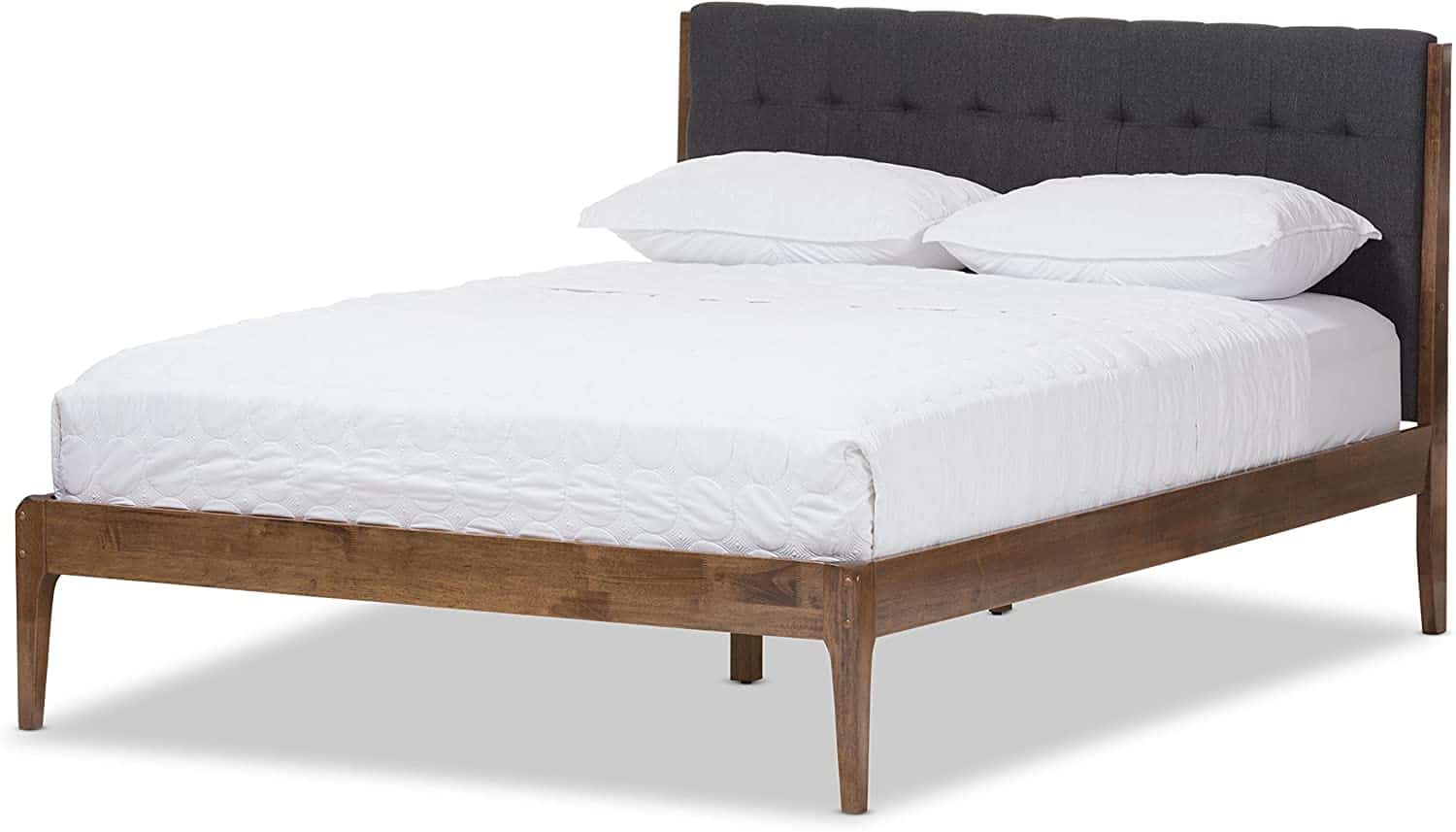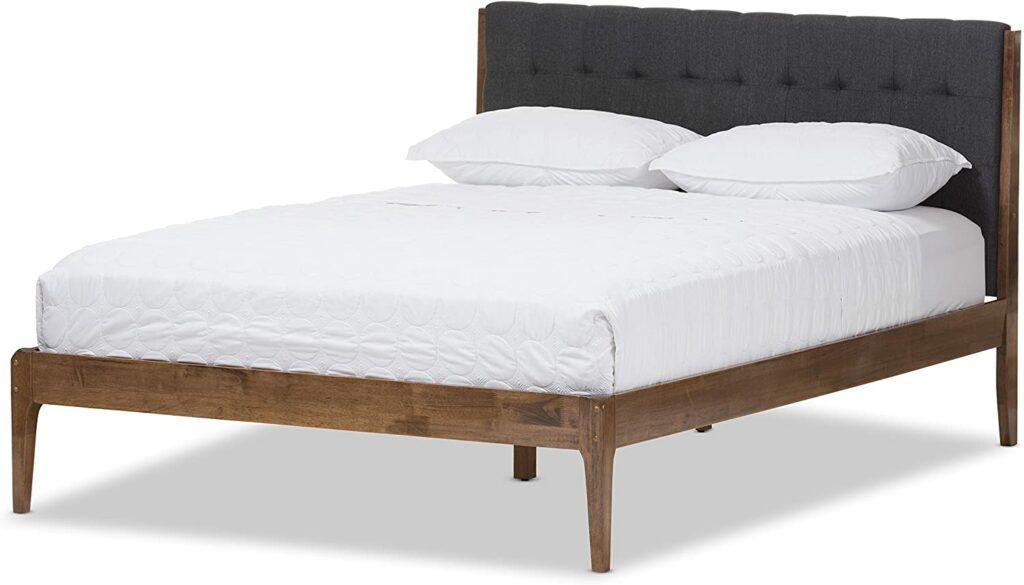 For a room that maintains its charm over the years, invests in an elegant and durable bed. The  King-sized Baxton Studio Bed is an attractive choice for your modern bedroom suite. The dark walnut finish and soft cushioning upholstery dress this platform bed in style.
The tapered leg design with grid-tufting of the headboard offers a comfortable touch to match your bedroom. You'll enjoy this reliable and beautiful piece, made from rustic rubberwood with polyester coverings that can withstand many wearings through the years.
With other pieces of furniture set aside, this attractive king-sized bed frame will add both character and opulence to any floor plan effortlessly.
Choose from these two color options: walnut brown and dark grey; every option is charming and tastefully designed to cater to your needs. 
Pros 
It has cozy comfort and a classic design.

It can hold up to 4 people

It features a supportive headboard
Cons
Assembling is time-consuming
Linon Kinsley: Best Queen- Sized Mid Century Modern Bed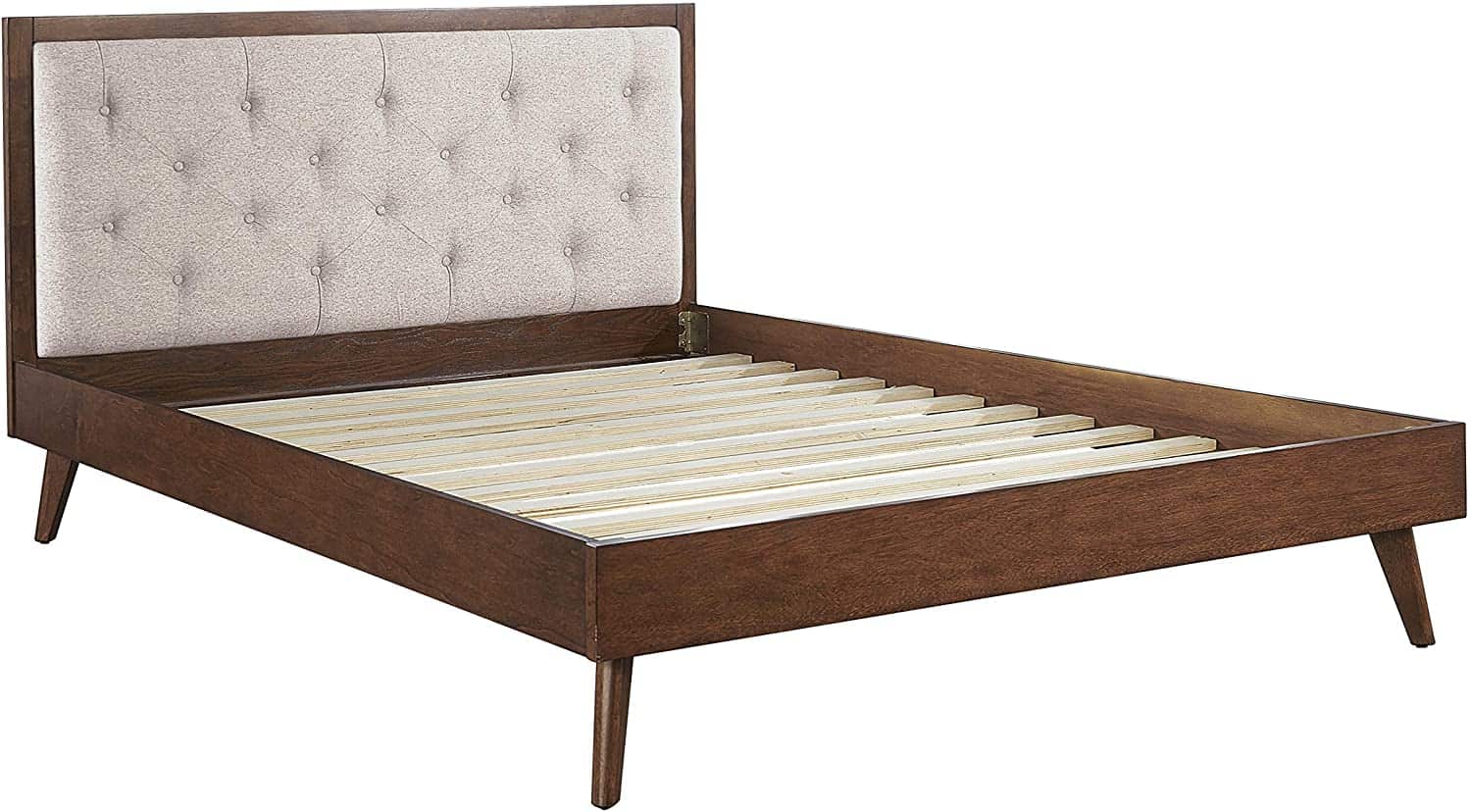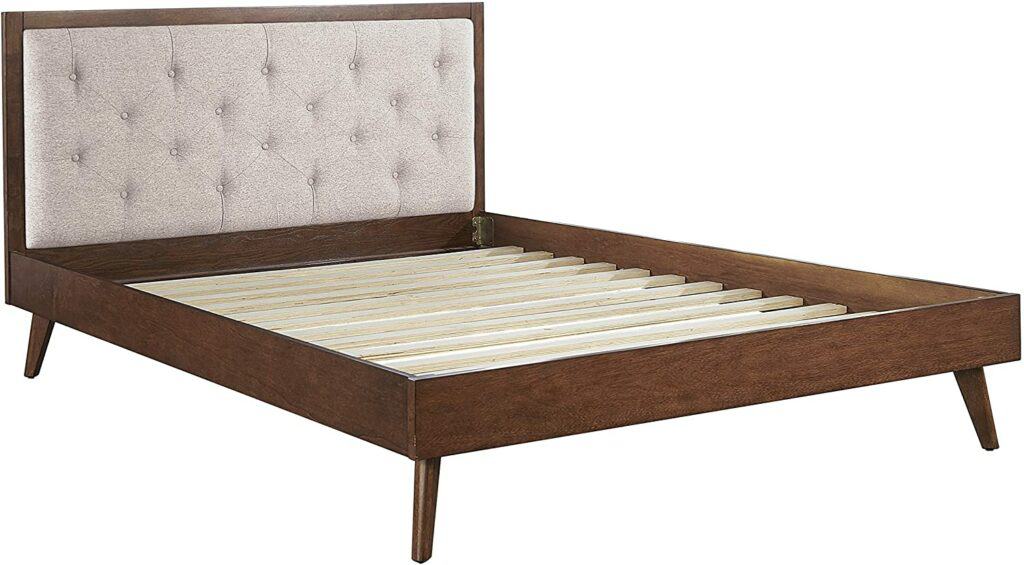 A perfect centerpiece of your bedroom, this queen bed is a must-have for those who want to create an elegant décor. The sleek design and tufted upholstery will bring sophistication and a hint of drama to any room in your home.
Created by Linon Home Decor Products, this quintessential piece is crafted from a genuine ash wood veneer that is finished in a walnut medium brown color. The Linon Kinsley Mid Century Bed features a button tufting on the headboard with 13 wood slats that require no box spring; you can choose between memory foam or spring mattresses—without sacrificing style.
Pros
It's sturdy and solid

It has a beautiful appearance

It features side rails, slates, footboards, and headboards for comfort.
Cons
It takes a long time to assemble; you may require help.
Baxton Studio Alinia: Best Full-Sized Mid-Century Modern Bed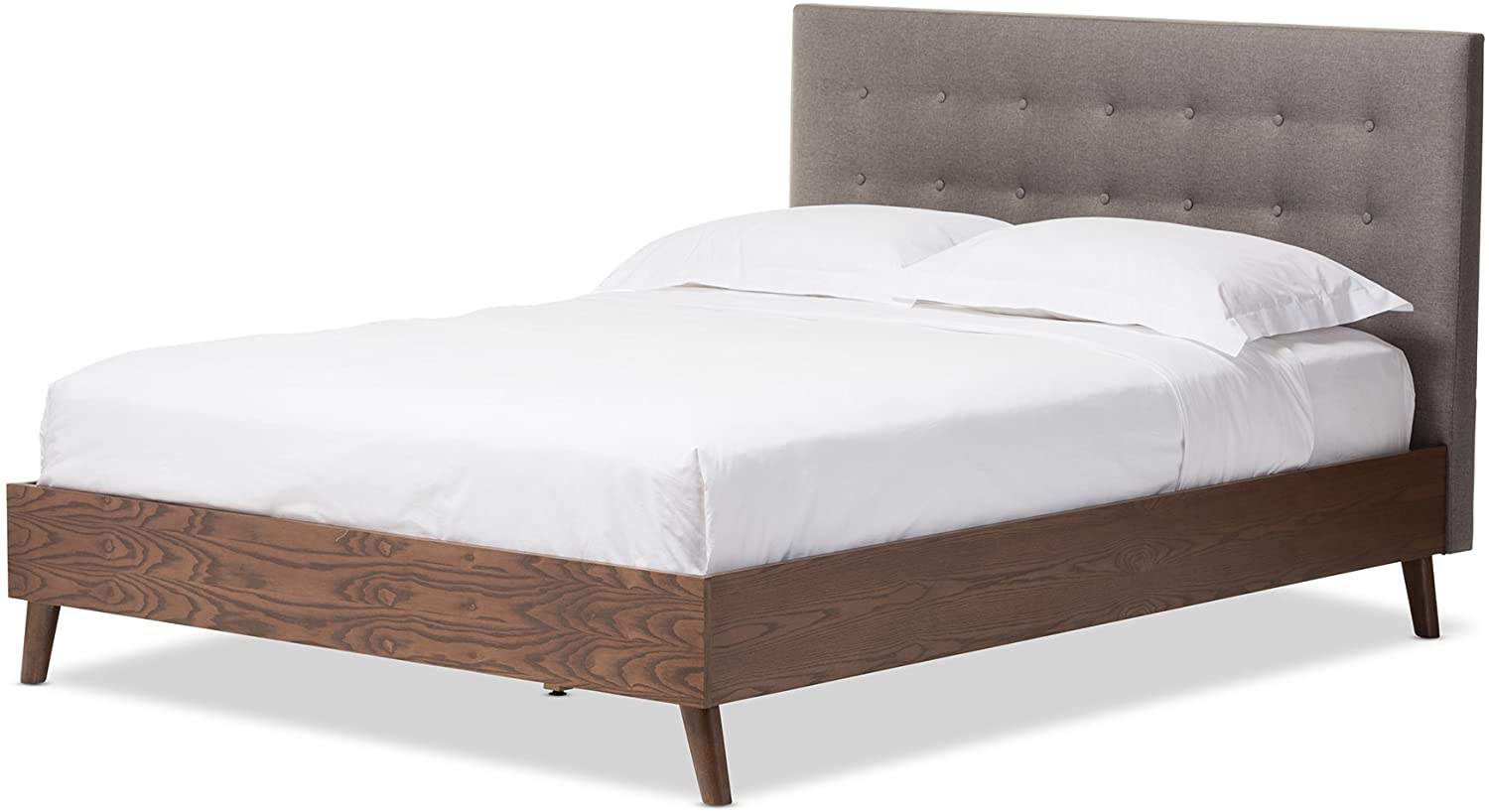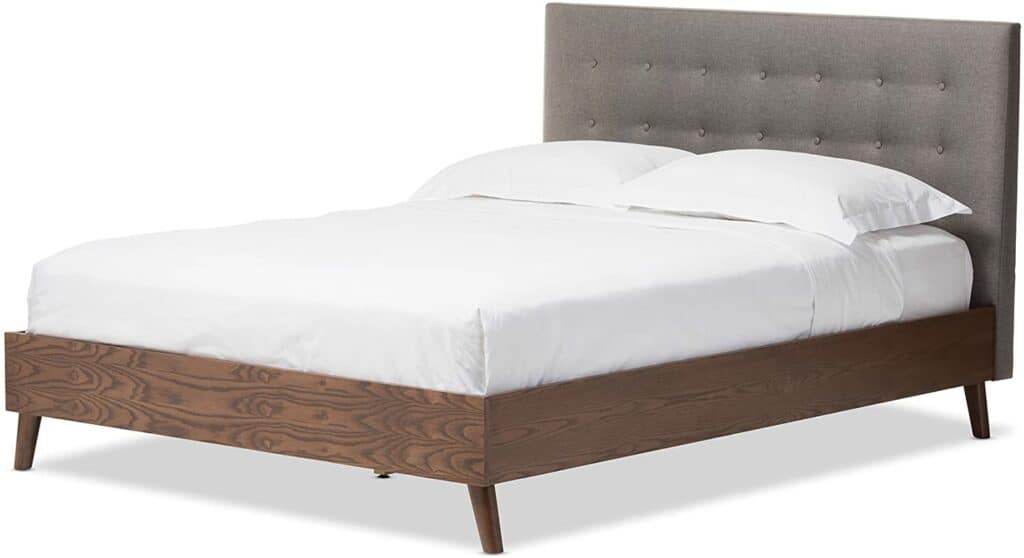 The Baxton Studio Alinia low-profile platform bed is the perfect mix of edgy design with a nostalgic feel. Modern and retro collide in this intergalactic nightclub-inspired bedroom that leaves you feeling like Maximus Thane himself. 
The Alinia's robust wood construction of the frame offers incredible durability and comfort with a solid slatted base. Inspired by Scandinavian mid-century modern design, this Upholstered Wood Platform Bed features splayed legs in the same walnut tone as well as side rails and low footboards.
Pros
It is firm and solid.

It is comfortable as it features footboards and headboards

It has an elegant and sleek look
Cons
It's difficult to assemble as it comes with no instructions.
Container Furniture Direct Ronona: Best Budget Mid Century Modern Bed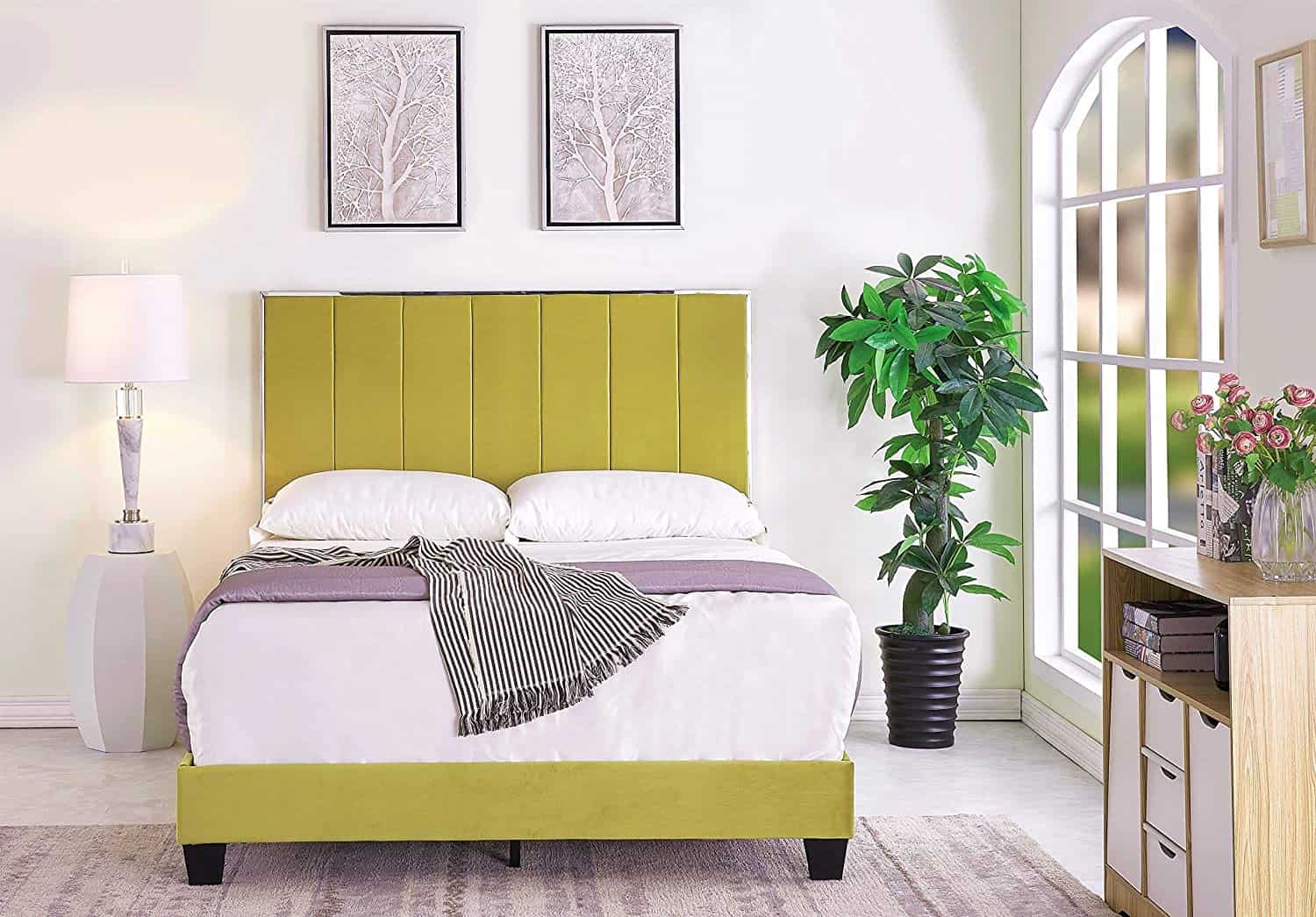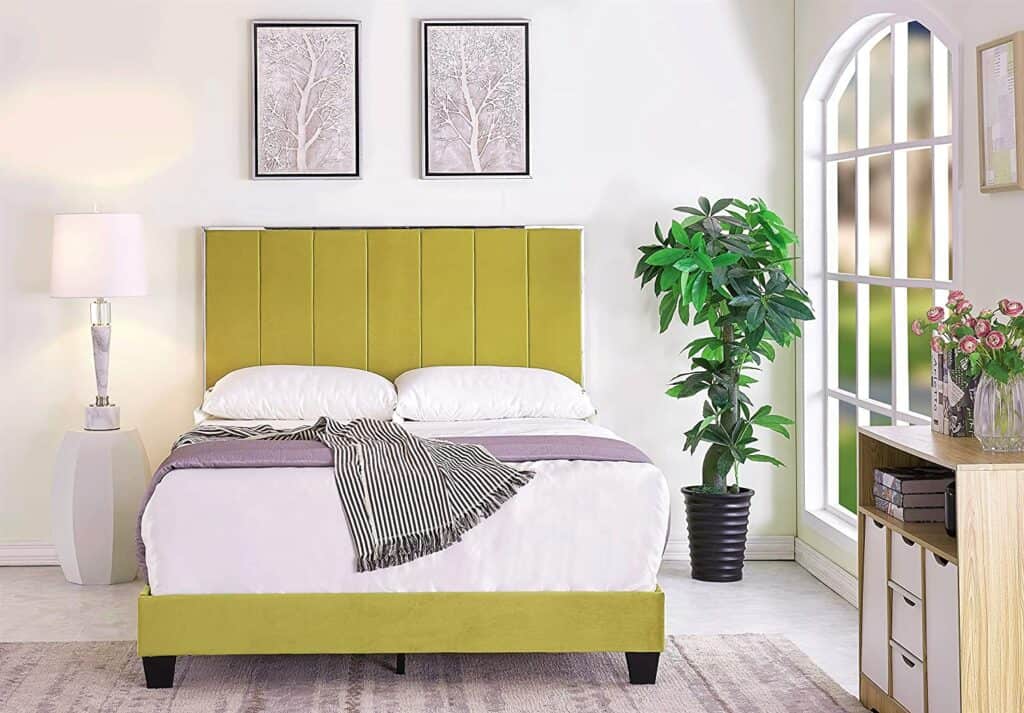 A flair for the midcentury and modern, this full first platform bed features classic lines with a touch of whimsy. They are crafted from a solid wood frame with quality cotton upholstery in your choice of color. 
This Container Platform Bed comes in a wide range of colors to fit your decor. The most popular colors include beige, moderate cyan, golden yellow, Russian blue,  grey, and space blue. With a footboard, headboard, and rails included in one purchase, this is the only piece you need for getting rid of that coil spring mattress and box spring combo. 
The pleated panel headboard provides immediate impact without looking busy while complementing your style preferences nicely. You need not worry as this bed will fit perfectly with your other decor.
Pros
It is built using very sturdy wood

It is comfortable and with an elegant look

Matches easily with any type of decor
Cons:
It's difficult to assemble as it comes with no instructions.
How to Style a Mid Century Modern Bed and Bedroom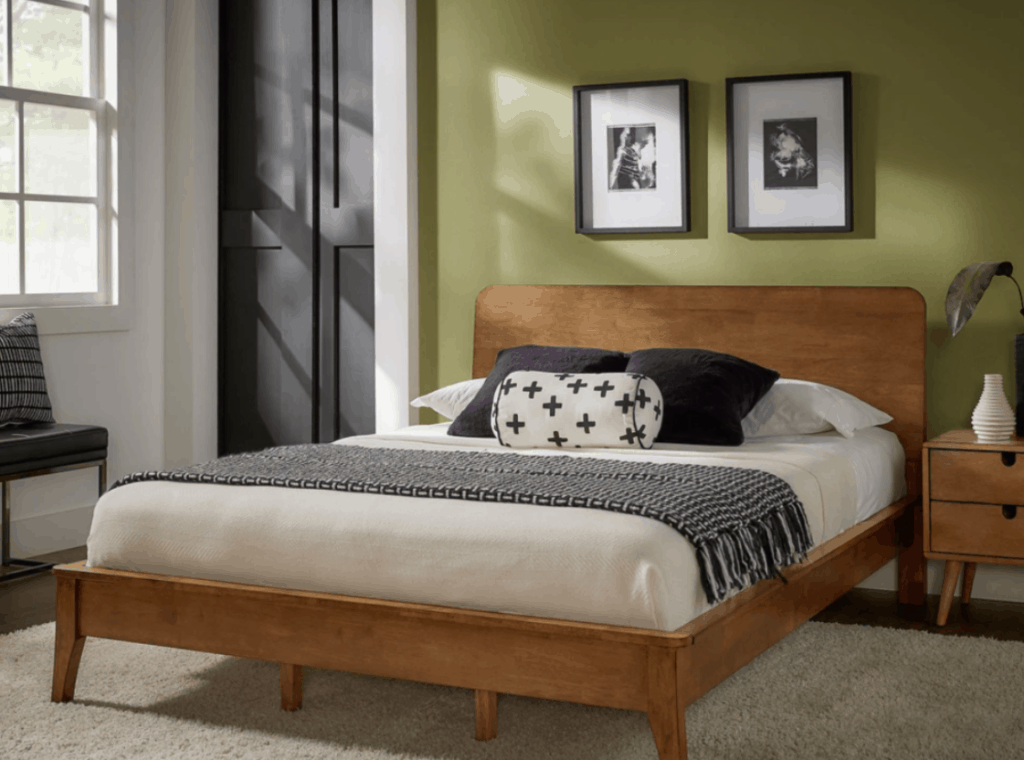 Mid-century modern is an iconic design style that's not going anywhere anytime soon. The best way to update your bedroom with this type of vibe? Start by styling the bed! Here are some ideas worth trying right now:
Get Pieces of Furniture With Tapered Legs
Contemporary furniture with tapered legs can be a great way to complement your bed. They will appear as if they are floating in the room and offer you more space due to their narrow frame. 
If you're looking for something sleek but not too showy, this could be the perfect option for your bedroom décor needs.
Always Mix Up Materials
Mid-century modern style is all about mixing up materials. Those who love the look of this design should consider using different patterns and textures to achieve a complete, eye-catching result. 
A great way to start your project off would be by purchasing some wool sheets or small woven jute pillows for accents around the bed frame. It not only gives it that classic mid-century feel but also ties things together nicely when you add other items into the mix later on down the line. 
When selecting colors keep them simple; earth tones such as deep browns, tans, yellows, and greens are perfect fits. They will provide an understated elegance while still letting any pop of color stand out beautifully without being too distracting from one another.
Consider Graphics Patterns
Mid-century modern styles are all about making a statement. And one of the main components in these rooms is bright and bold graphics. They can be used to embellish or even completely change up any design scheme from traditional patterns to geometric prints. 
So how do you incorporate this trend into your bedroom? Choose graphic art that compliments colors already present in the room (whether they're on walls, pillows, curtains). This will help make sure everything flows together beautifully without looking too cluttered.
Consider Using Natural Wood Tones
Mid-century furniture is all the rage right now, and what better way to show off your favorite pieces than with a bedroom that fully embraces this design style? Of course, we are talking about wood finishes. 
There are many different shades of natural wood available for you to consider, such as walnut or teak. You will want to use one shade at any given time for it not to be overwhelming – but also make sure that each piece shows its respective grain.
Choose Organic Geometric and Organic Forms
The way you style your bedroom can be just as important to the feeling of a space as to how it feels when you walk in. 
Choose organic geometric forms to create an inviting and dynamic environment around your modern Mid-Century bed because they blend well with sleek lines that give off a retro vibe without being too ostentatious or busy for this minimalist look. 
Curvature is also vital on furniture like lamps and chairs, which creates balance within the room by contrasting against straight edges used elsewhere, such as artwork frames free of any ornamentation, so everything blends seamlessly together. 
Choose rounded shapes over sharp corners to create a welcoming vibe for your space. For instance, use an armchair with curved lines rather than angles; sit upholstered furniture on circular or square bases instead of rectangular ones.
Factors to Consider Before Buying Mid Century Modern Beds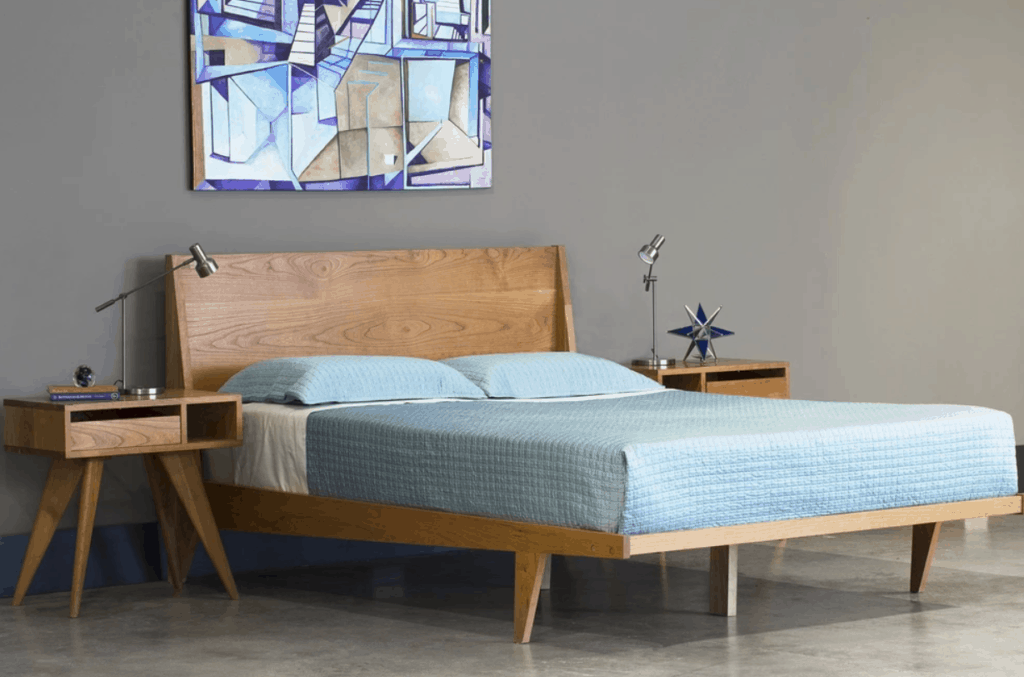 Mid-century modern beds are the perfect addition to any bedroom. Contrary to popular belief, they're not just for those with a modern or classic aesthetic: mid-century beds look good in almost every type of room. But before you start adding these pieces into your space, you must consider the following;
The Material
Mid-century modern beds are at the forefront of contemporary design and an essential purchase for any home. They're like a work of art but can be dangerous if not properly cared for or constructed with quality materials that won't break down over time. Before you buy one, it's important to do your research on what material is best suited to meet these high standards and how much upkeep they'll require to maintain their functionality throughout years past.
Consider the Mattress
 The mattress is an important consideration for modern mid-century design, as the low profile provides comfort without adding too much bulk. While you might be tempted with box springs, these older style mattresses can disrupt that sleek look of your new bed because they're simply not built for this type of furniture.
Your Style and Design Preferences
Mid-century modern beds vary a lot in style and design. Your style and design preferences play a crucial role in determining which mid-century bed you will eventually buy. 
It's not just how good the furniture looks on its own but also if there are any other seats within close proximity for aesthetics' sake, so they complement one another well enough as part of an ensemble (such as two matching chairs). 
Be careful not to confuse those who prefer the American black walnut bed frame with European or English walnuts, which typically have darker hues than American walnuts.
FAQs
Question: How Do You Tell if Your Bed is Mid Century Modern?
Answer: You should feel the clean, classic lines of elm and beech wood. Avoid beds that are ornate or cluttered with extraneous details because those might not last for too long!
Question: Why are Modern Mid Century Beds Popular?
Answer: Modern mid-century beds have become popular over the years because they are versatile and can also match with other decors. This allows them to provide comfort, style, and a great design that looks amazing in any room.
 They are also popular because they can be acquired quickly at affordable prices, making it easy for people who don't want to break down their current bed frame but instead buy something new altogether.
Question: What are Some of the Most Common Characteristics of Modern Mid Century Beds?
Answer: Mid-century beds are one of the most sought-after pieces in a home. The organic and geometric shapes make them look modern, while simplicity makes it easy to create an elegant bedroom. 
Modern mid-century bed frames require less ornamentation because they're already stunning on their own – elegance is all about balance.
These timeless classics also work well with different colors, which means you can customize your space however you see fit. Finally, these types of beds prioritize function over form for lasting durability that will never go out style.
Consider the Proportions
After considering what size best fits your space, think about proportions. Mid-century modern beds are aesthetically pleasing and offer a vintage vibe, but the biggest problem is that they don't accommodate different room proportions. The headboard height must be proportional to the ceiling to not overwhelm or overpower a room in an awkward way.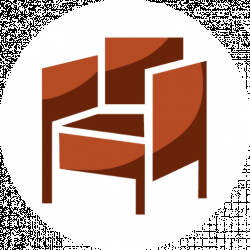 Latest posts by Finally Furnished Team
(see all)