With different trends and ideas of beds being invented, there is no better way to spice your bedroom up than a round bed. The rectangular style has been more of a cliche in many homes, and no flashy way to stand out among the rest than having a Round Bed to complement your home decor.
With the upper advantage of spicing your interior decor, these bed ideas also come with the advantage of comfort. You will no longer have to worry about sleeping in different positions since every part is equal due to the varied designs.
Hence in this article, you will see the Best Ideas available on Amazon when it comes to round beds. Not only are you assured of the best round bed ideas, but also you get to know the outlying factors to consider when it comes to their purchase. We've reviewed the best round beds according to budget, features, and functionality.
Best Round Beds in Amazon
1. LAGRIMA LED Round Bed: Best Overall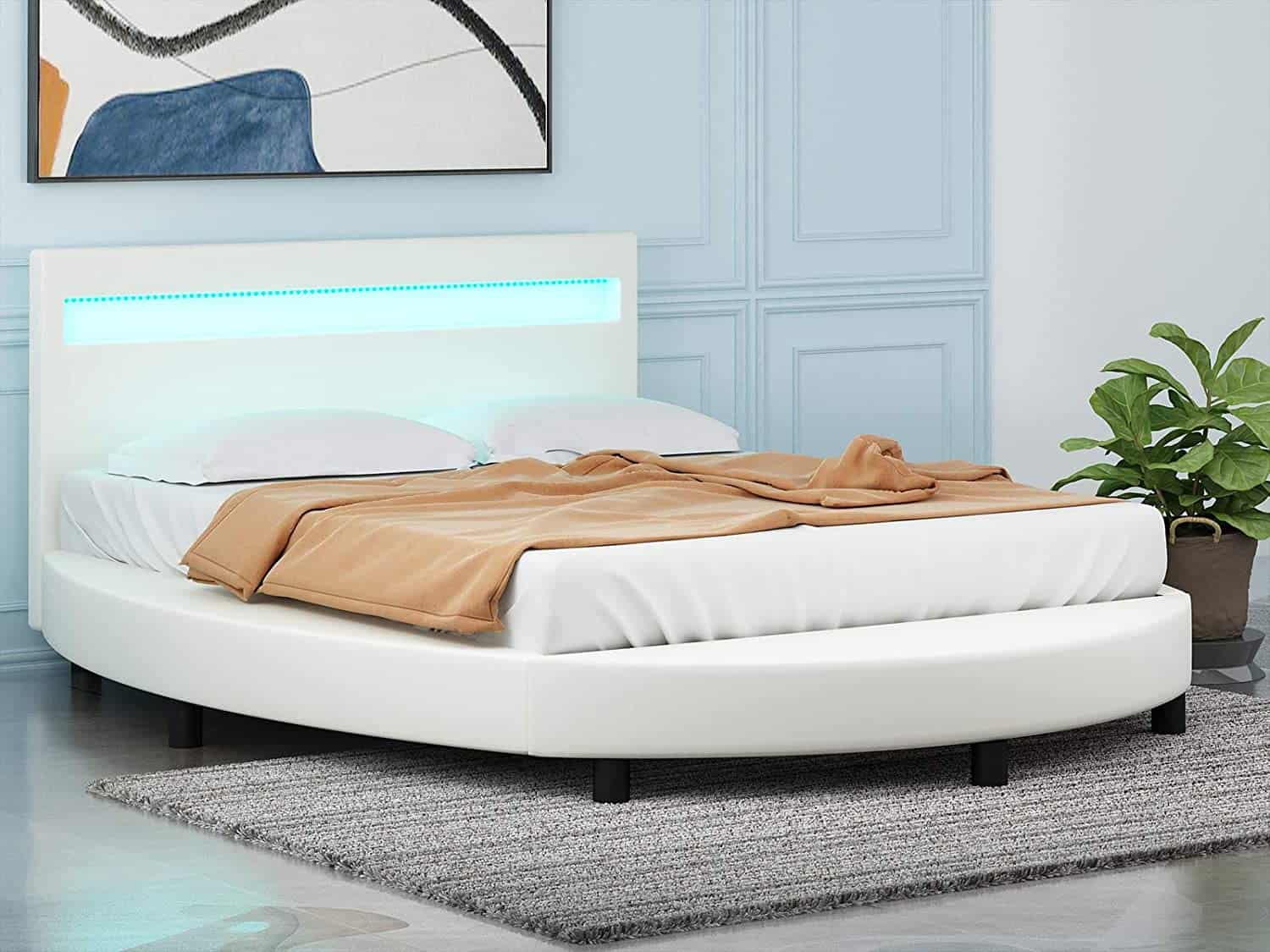 The LAGRIMA Round LED Bed with 8 Color Changing LED light headboard brings a glamorous style to any bedroom while boasting materials and designs that are modern and built for productivity.
You can choose from eight different color options with the remote control or set your favorite ever-changing option, making rest time all the more enjoyable. You can assemble it by yourself in under one hour as the sleek platform elegant beechwood frames give durability while not sacrificing elegance.
More features of this bed include sleek synthetic leather upholstery that is both soft and durable, allowing easy cleaning. When you go out to shop for this bed, don't forget to buy a mattress since it doesn't come with one.
Pros 
There are many colors to choose from

Come with LED lights and a remote control

Easy to clean material
Cons
Not suitable for someone with eye problems
2. Devoko RoundBed Wicker Rattan: Best Round Bed for Outdoors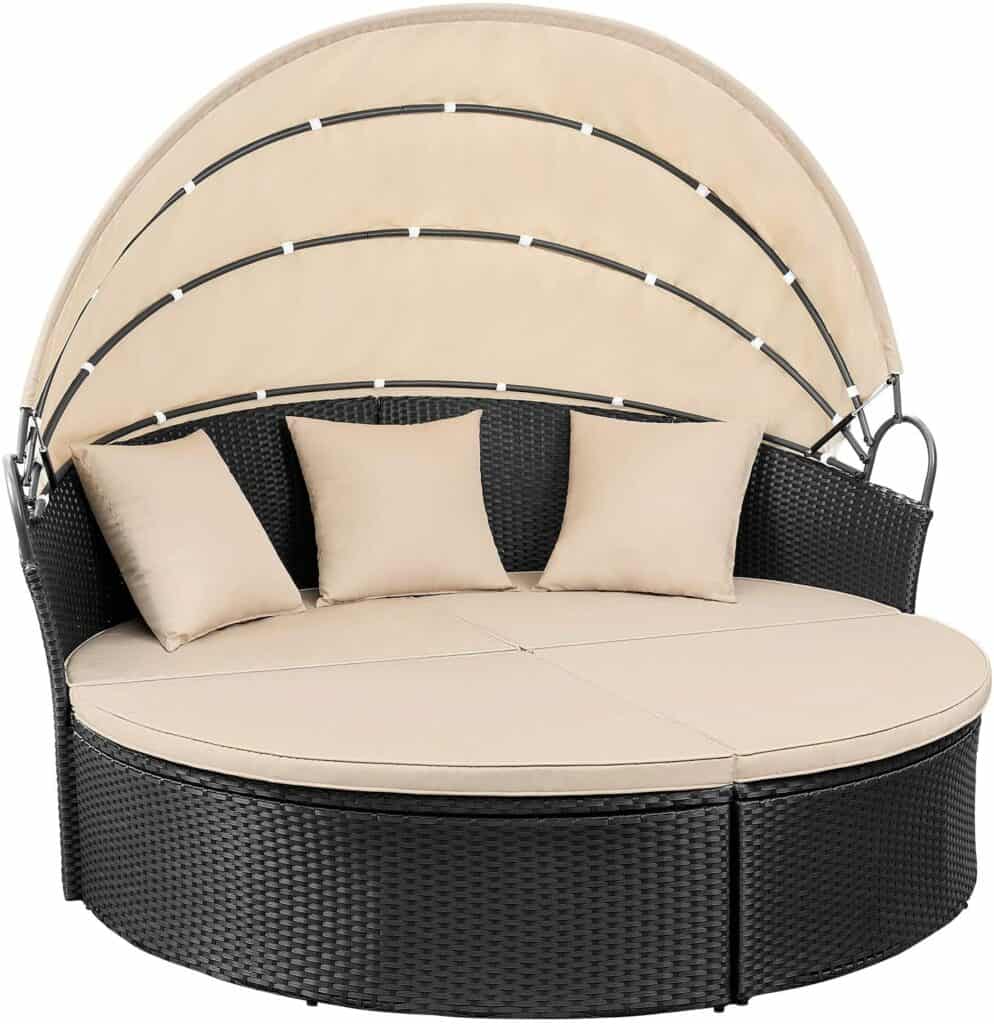 The Devoko Outdoor Round Wicker Daybed with Retractable Canopy is the perfect piece for your outdoor retreat space. Made of durable rattan material and featuring a tone-on-tone design, this sun-shade daybed has an adjustable canopy that blocks sunlight to keep you cool and comfortable during summer. 
The high-grade PE wicker means it's not easy to crack, rot or deteriorate, while the solid construction makes it stable enough to withstand rain & windy days. Cleaning also is something that doesn't need much work.
Fancy a bit of relaxation outdoors? This round daybed will be your go-to solution with its stylish design and comfortable materials. It comes in all-natural colors, so picking the perfect fit for you wouldn't be a problem.
Pros
Enough space for everyone to relax

Durable and weather-resistant

It comes with an adjustable canopy shade
Cons
Assembly is time-consuming
3. GREATIME Round Bed: Most Versatile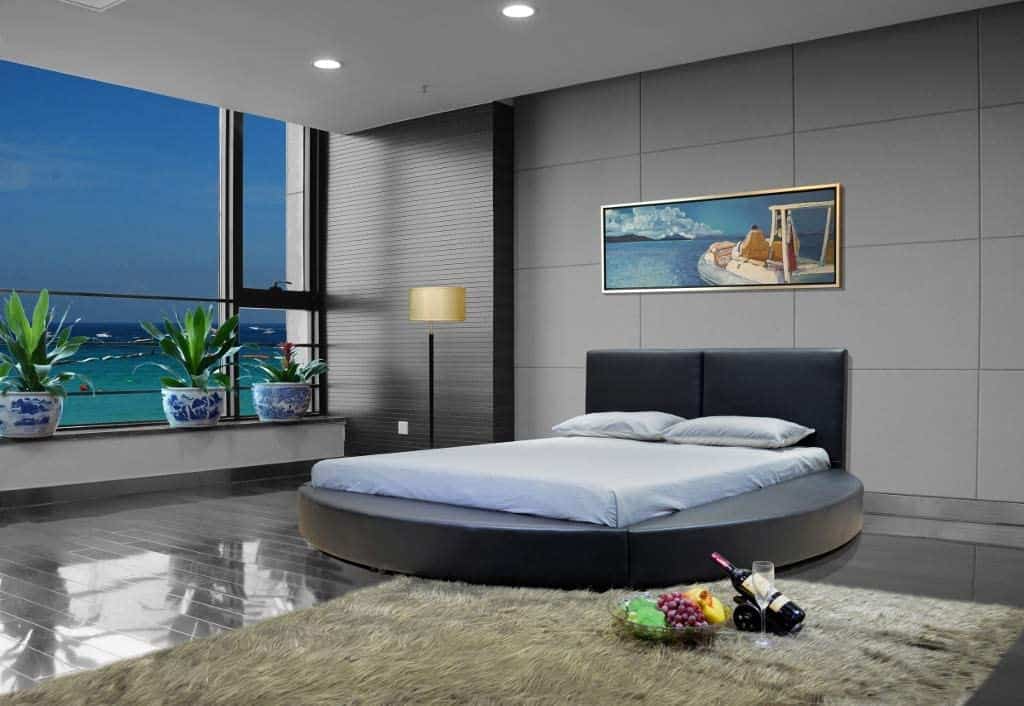 The GREATIME modern round bed is an elegant and sleek addition to any bedroom. The contemporary platform design will provide ample space for storage underneath the bed, which is convenient for a small room or apartment. It's both aesthetically pleasing and structurally sound.
You'll get cozy mornings with this attractive new sleeping surface that complements any decorating style but is sure to please your eye every morning when you wake up on it. The Greatime Modern Round Bed is perfect for you if you want comfort without sacrificing aesthetics, the more reason why this investment is worth a try.
Pros
Good leather quality that is easy to clean

The bed is large and comfortable

Easy to assemble
Cons
It takes a long time to assemble; you'll need help.
4. Meridian Upholstered Round Bed: Best Premium Round Bed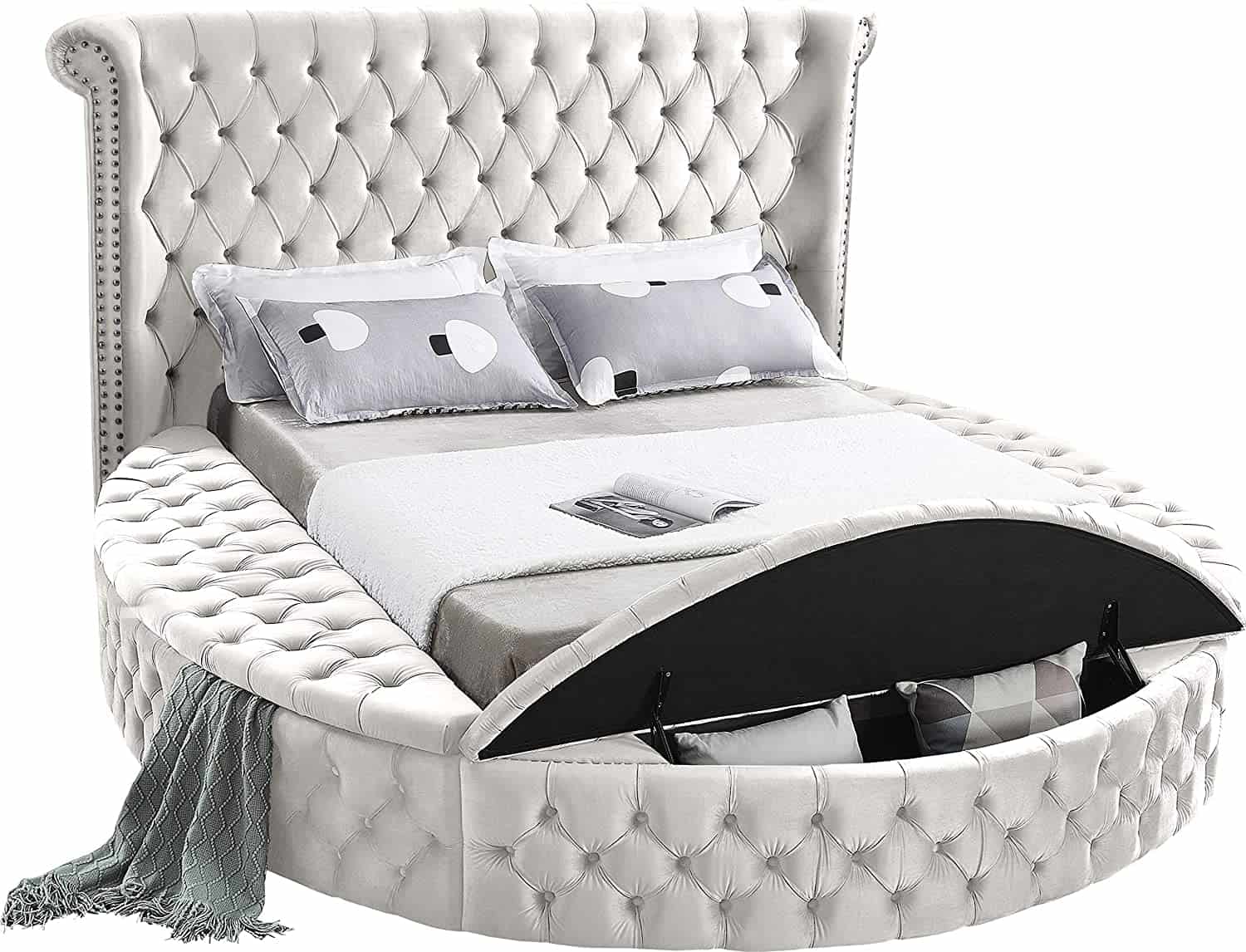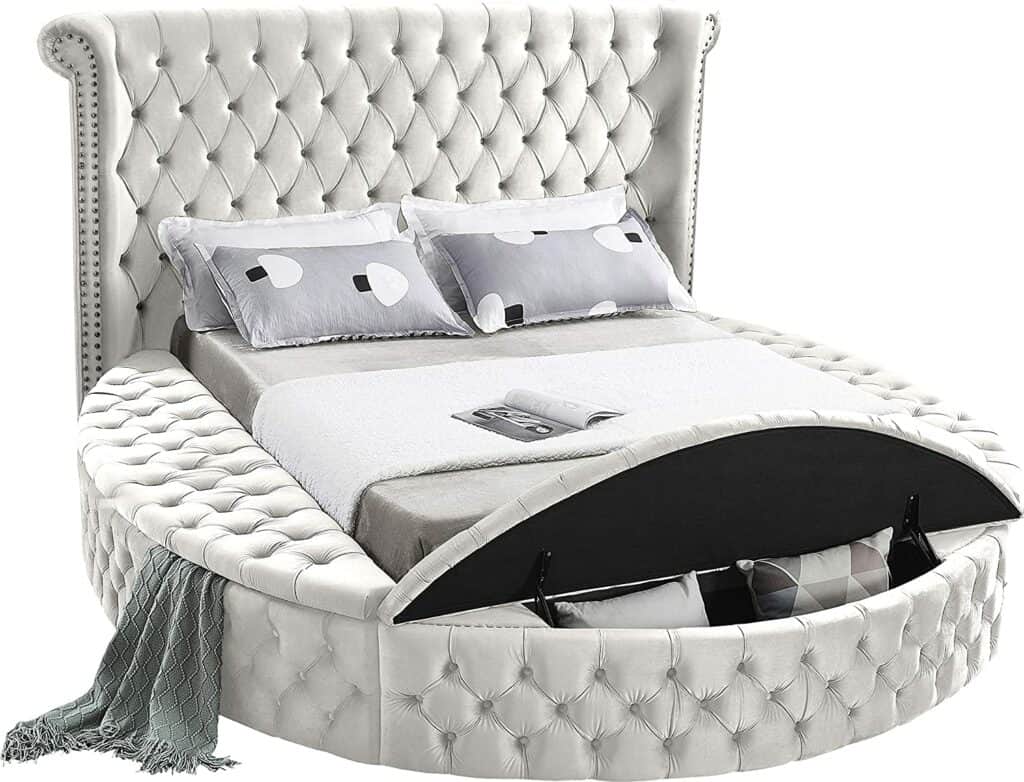 If you're looking for a way to make your old bedroom feel more luxurious and elegant, consider investing in this Meridian Upholstered Round Bed. 
With its soft velvet fabric that will look great anywhere from an older master room to the playroom of kids who want their sleep space luxe too, it offers gentle curves and round edges, so no one gets hurt when they roll around or sit up suddenly during the night. 
The interior nylon keeps things fluffy fresh year-round because we know how much modern design needs traditional comfort every now again!
Upgrading your bedroom to the Meridian Upholstered RoundBed is a surefire way to make it feel like you're living in luxury. This bed has deep button tufting, making for an even more comfortable sleeping area and slats at no extra cost.
The round design of this bed creates room around each side, so there's plenty of space for resting on any part without feeling squished or cramped. When it comes to beauty, the patent-pending design features will not disappoint either with its soft cream-colored velvet interlacing around the frame. This makes anyone who lays down here want to never leave again.
Pros
The bed is solid and durable

It has an elegant design and appearance

The bed is easy to clean and maintain
Cons
Requires more than two people to assemble
5. Oslo Round Bed: Most Durable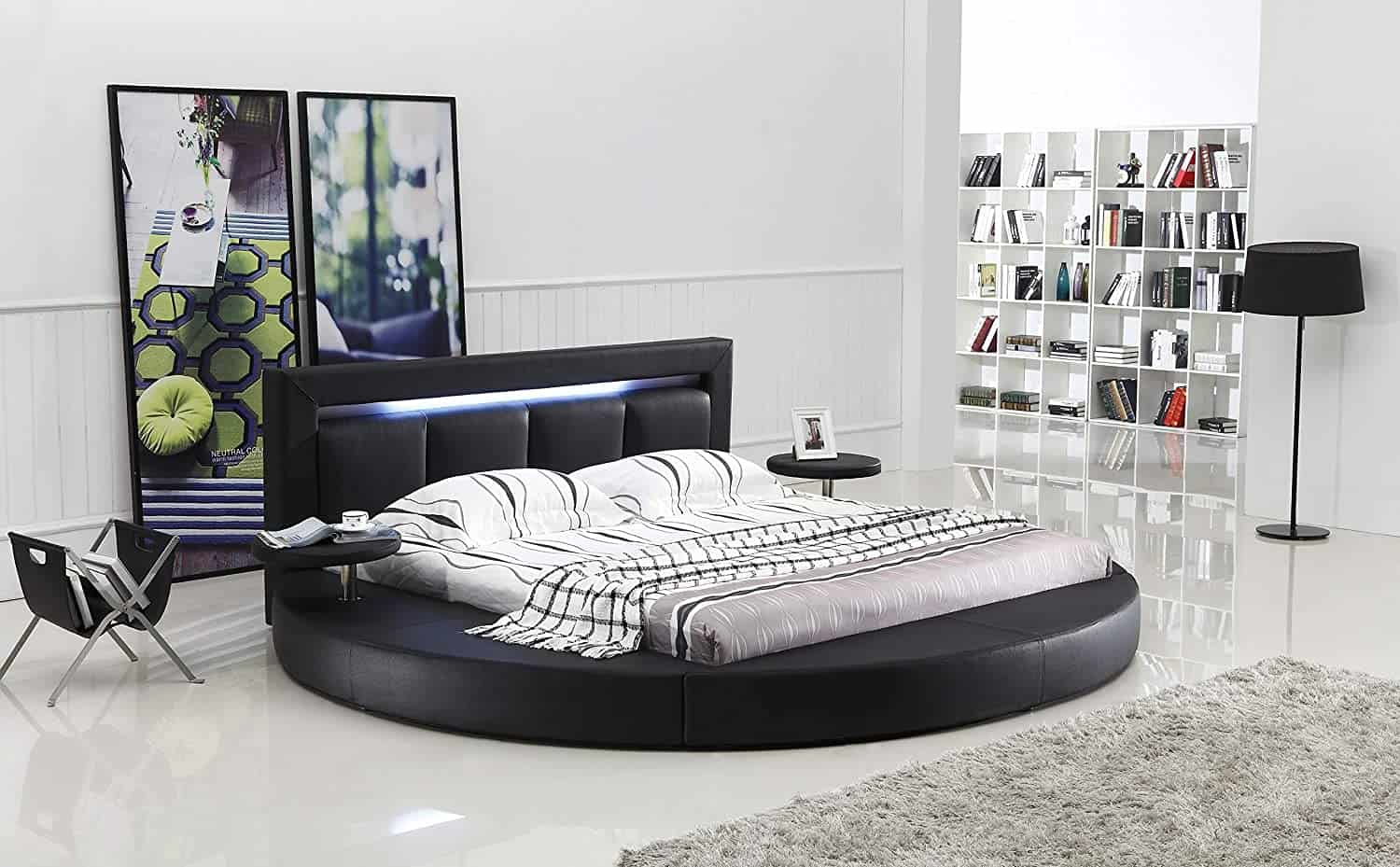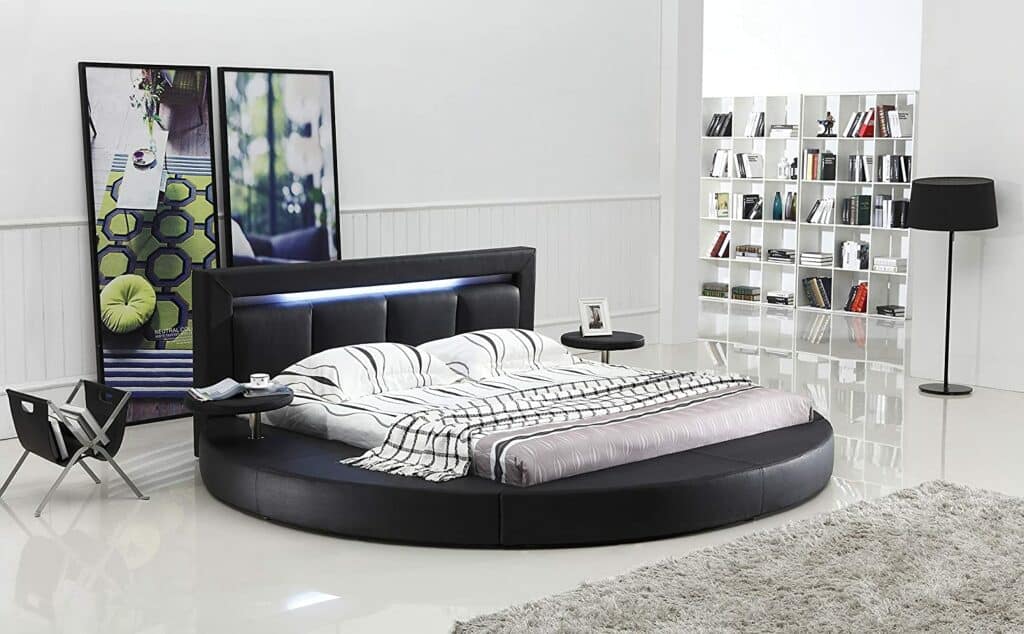 Oslo Round Bed is the perfect bed if you're looking for a chic and luxurious piece of furniture. It's black, but that doesn't mean it can only be used in dark rooms. The headboard comes with an integrated LED light to provide plenty of illumination during those late-night reading sessions or midnight snacks. 
Not enough? Oslo also features leather upholstery which won't fade no matter how much use it gets, and weathered wood construction is so durable this fashionista couldn't live without her own set at home too.
Pros
It comes with a light built-in

The bed is durable and elegant 

It has in-built nightstands for convenience
Cons
Assembly is time-consuming
Factors To Consider When Purchasing a Round Bed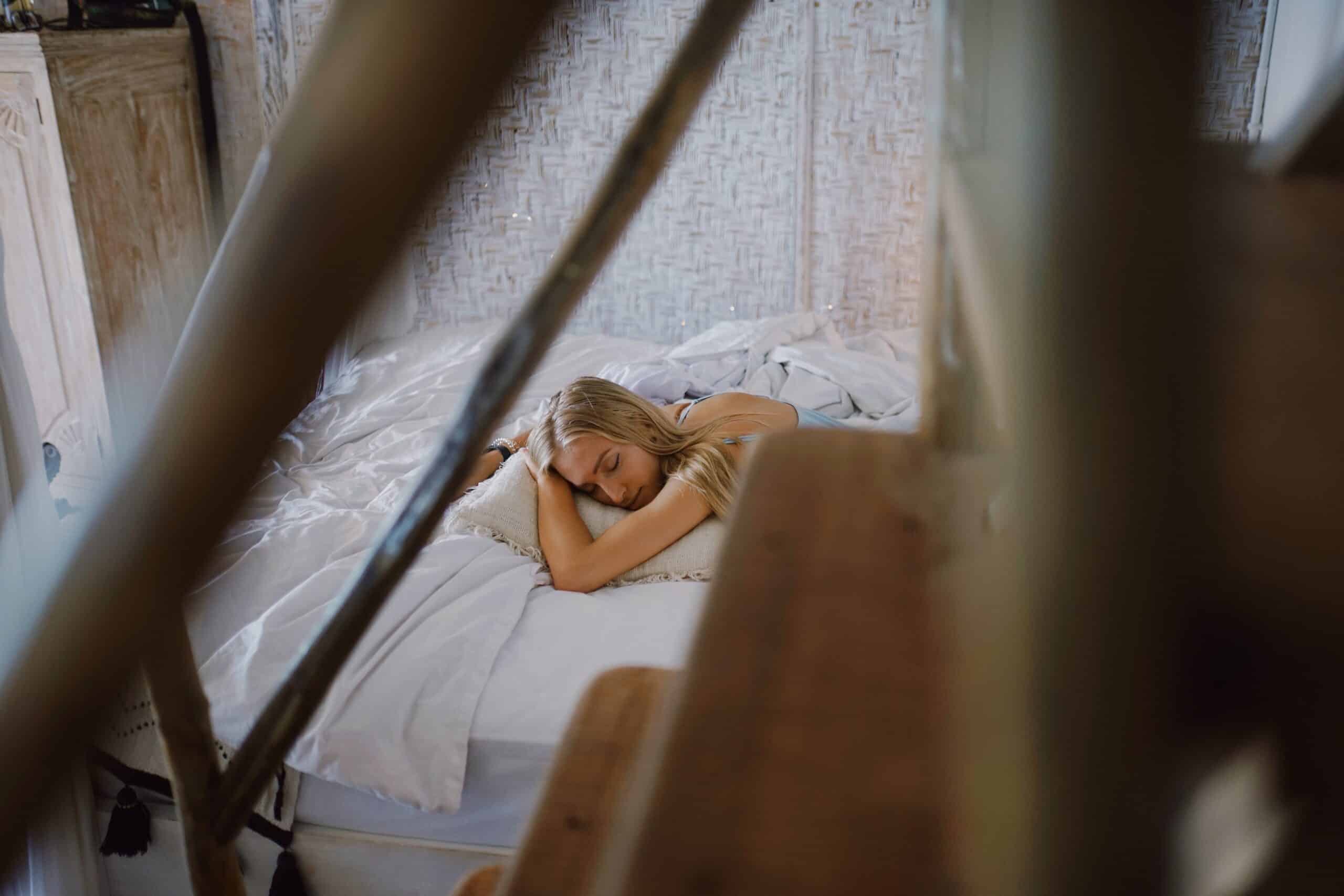 Round beds are not for everyone. They can be a great addition to your bedroom if it is the style you prefer, but before purchasing one, here are some things that should be considered first. 
The Size of the Bed and the Room
It's no lie that beds come in different shapes and sizes depending on how many people they can carry. Some rectangular beds of six by six inches can accommodate up to even six people. If you are out there looking for a round bed, make sure the size is ideal for the number of people you intend for it to carry.
When looking for a round bed, consider the size of your bedroom. The most obvious factor to take into account is room space and shape, or lack thereof! If you have any constraints with the area in your home, then this may not be an optimal type of bed because they do take up more floor area than rectangular beds would.
Functionality
Before buying a round bed, it is important to consider whether or not the product will serve its purpose. Functionality matters most when decorating your home because nothing makes people more comfortable than well-made furniture that serves them in multiple ways beyond just bringing comfort and style into their lives.
Price
When choosing a round bed, there are several things to consider. For example: Do you want your bedroom to look like royalty? Then opt for expensive but durable materials and traditional standards if you don't mind the more low-key appearance of the bed. 
Otherwise, the budget should be one of your key considerations when purchasing a round bed, as prices vary depending on what company it comes from and which type/style you buy.
To get a better price on your bed, you should know the lifespan and quality of these beds. You also need to have an idea about how much money you are willing to spend since there are usually going to be higher-price options available with more features by default. In addition, this purchase must suit your taste and preferences while still being affordable for your budget before deciding which one best fits all those factors in mind.
Design
No matter the material, around the bed is always difficult to purchase and make. Before buying one made of metal or wood, consider durability because it can be easily worn down. 
The design/make of a round bed depends on which material suits your house best – steel or hardwood-made beds are sturdier than other types, but even these may not last long if not taken care of properly.
FAQs
Question: Why Would You Want a Round Bed?
Answer: Whether you have a larger bedroom or space constraints, round beds offer more room to sleep on and decorate around. They're also safer for walking in your room with sharp edges from square-shaped furniture.
In the end, it's up to each individual if they want their bed as big as possible even though there is no need for that much of an area. Everyone has different needs depending upon how large their rooms are. But one thing most people agree about can be seen through all the benefits being given by having such shapes like these, instead of those old-fashioned rectangular pieces which we have used so far since our childhood.
Question: Are Round Beds Comfortable?
Answer: Circle beds have no corners, so there is less risk for accidental injury to little children. With the right size and firmness, it can comfortably fit any person's body type while also allowing them enough freedom to move around as they please. Additionally, psychologists believe that round shapes make people feel more secure, which might explain why circle beds often come with headboards or cushioned armrests.
Question: Are Round Beds Expensive?
Answer: They are more difficult to find accessories and mattresses for since only a few retailers design custom bedding and mattresses, which cost more than the average mattress.
Question: Are Round Beds Practical?
Answer: It is difficult to find fitted sheets for round beds. They are not space-saving, making it harder to decorate the room around them. Round bedding also leaves more wrinkles than traditional rectangular sets of linens do, and they can be expensive compared with other options available on store shelves today.
A round bed is not a very practical option in general due to difficulties finding fitted sheets that will fit its rounded shape, as well as issues that come along when trying to decorate the bedroom surrounding this furniture piece. However, some people might think these attributes make such an item unique or interesting-looking overall.
Question: What Size Is a Round Mattress?
Answer: Around mattress is a mattress whose measurements are read by diameter rather than length and width. The standard sizes are twin, full, queen, or king mattresses, where the size denotes how many inches in a radius around its circumference measures.
The standard round mattress sizes are Twin-76 inches in diameter, Full 80 inches in diameter, Queen 84 inches in diameter, and King 87" or CalKing 96".
Question: How Big Is a Round King Bed?
Answer: Around king bed is huge! It has an overall diameter of 96" and a total area of 50.3 ft2. The standard thickness for these types of beds is 10-12 inches thick, but there are many options available to you when it comes to mattress sizes, as well as styles like memory foam or pillow-top mattresses that can drastically affect the firmness level in your new piece of furniture.
Question: Why Are Most Beds Rectangular?
Answer: A majority are designed to mirror the curvature of your body for maximum comfort and productivity during sleep. Beds are generally rectangular because each part of your body can fit perfectly inside its measurements; if not, feet would hang off the edge while lying down, causing discomfort.
A rectangle bed ensures that your body is well supported and all of its parts are covered. If a bed was the same height as it was wide, then you might even fall out of the bed.
Bottomline
At the end of the day, what we all need is a goodnight's rest, and no better way to achieve this than being in bed that gives you the comfort you desire. With modernity, people are looking at innovations, and nothing can make your home decor spicier than a round bed.
Wouldn't you like to have a bed that not only looks beautiful but also adds some glitz and glamour to your bedroom? Your bedroom is about to get a major upgrade. The LAGRIMA Round LED Bed with 8 Color Changing LEDs will make your bed stand out in the most sophisticated way possible while being comfortable and practical for all-nighters of studying or movie marathons.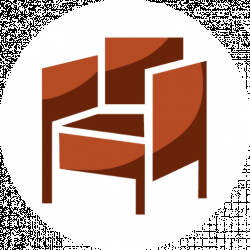 Latest posts by Finally Furnished Team
(see all)