Furnishing your home means discovering new options. While many people buy couches and loveseats, some individuals really want a comfy sectional with all the bells and whistles. And if you're having a hard time choosing a sectional, then you're in luck. Our guide provides a selection of the best Lazy Boy Sectional options to choose from.
Now, more than ever, people are considering the décor of their homes. From lighting to the home office, elements of the home are important for coordination and function. When choosing a sectional piece, there will be added considerations, including space. Carefully reading through each type of sectional, you can learn the various pros and cons of this fun and cozy piece of furniture.
Let's start by examining the various Lazy Boy sectionals that we've selected.
At a Glance: 5 Best Lazy Boy Sectional Options
| | | | | |
| --- | --- | --- | --- | --- |
| Best Lazy Boy Sectionals | Best used for | Materials | Approximate Dimensions | More info |
| James Sectional | Movies with friends | Wood and upholstery | 70 x 38 x 41 | Find out more |
| Meyer Sectional | Socializing with friends | Wood and upholstery | 60 x 35 x 37 | Find out more |
| Devon Sectional | For sleepovers | Wood and upholstery | 63 x 38 x 40 | Find out more |
| Edie Sectional | The entire families needs | Wood and upholstery | 76.5 x 42 x 39 | Find out more |
| Dawson Sectional | Daily family use | Wood and upholstery | 66.5 x 43 x 40.5 | Find out more |
Selection Criteria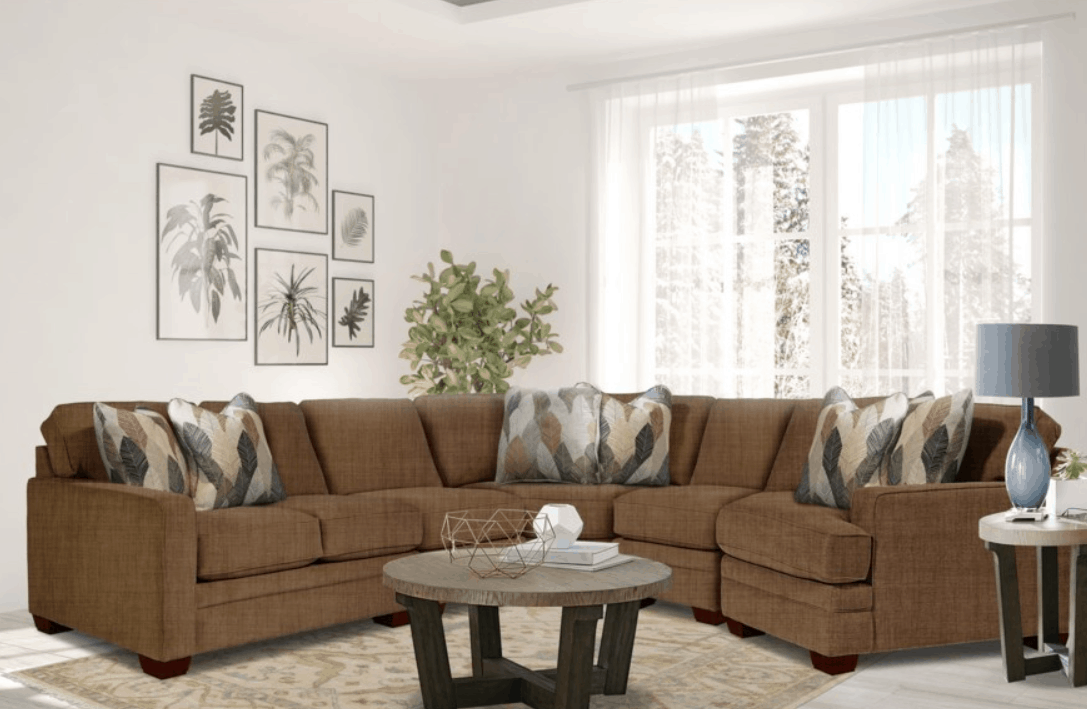 A strict selection process is used to list only the best Lazy Boy sectionals for your home, helping you consider quality and usefulness in your decision. There are affordable pieces that have qualities you cannot ignore.
Style
Our guide's pick has style to match any décor, as it is an award-winning design. Like other sectionals, this piece can be constructed of many different colors and materials. The styles with decorative accents are plentiful. The shape of both the wide wooden legs and the swayback couch design is gorgeous.
Types of Materials
The best sectional is made from solid wood, constructed to last for many years. Good quality upholstery is also important in making a durable and eye-catching surface. Various wooden or metal accents also help create a strong piece of furniture.
Function and Extras
Aside from the wooden legs and wide seats, the best sectional will have less competition when designed with control panels, buttons for raising and lowering the recliner, and a charge port for your phone. What more could you ask for? Although, Lazy Boy has a few accessories you can purchase at an additional cost.
Types of Lazy Boy Sectionals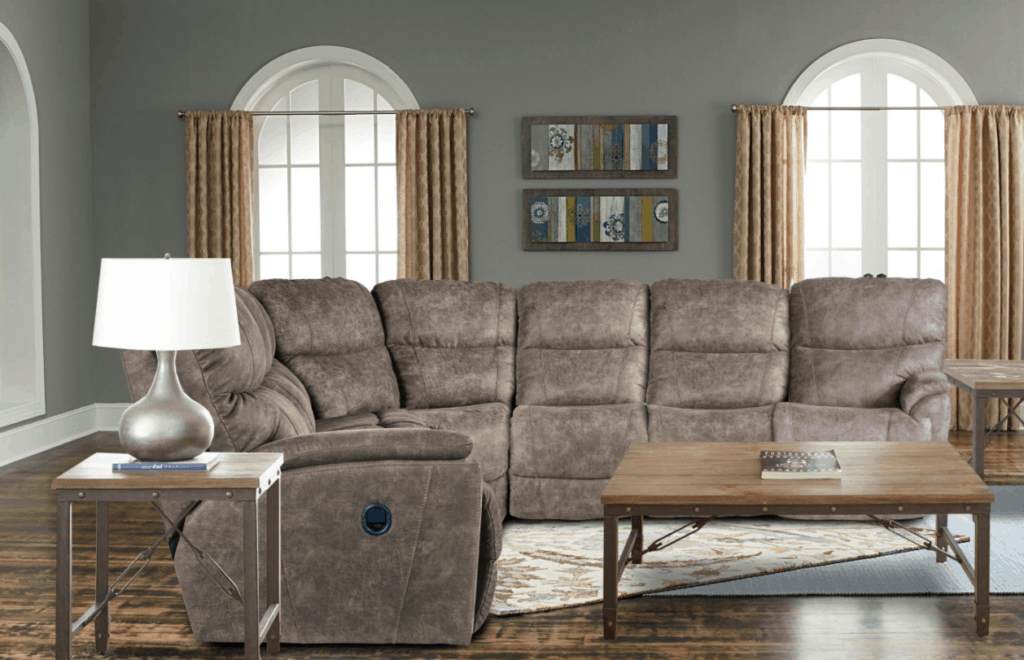 While they may all seem the same to the eye, various types of sectionals are available on the market. There are full pieces and stand-alone parts you can purchase. To make it simpler, we've focused on the full sectional design.
Materials
Wood
All of Lazy Boy's sectionals are framed in solid wood. This promotes support and keeps the overall product in good condition for a long time. Hardwood can withstand heavy weights and force.
Fabric
A fabric upholstered cover is a good choice, but stains much easier than leather. Cleaning the fabric correctly takes a professional to get the optimal job done. Trying to clean the fabric can spread a stain or ultimately ruin the surface. Fabric is soft and has more give than leather. If you have pets, a cover is suggested to avoid scratches and tears in the fabric.
Leather
This cover material is best when you don't have pets. It can also be a good choice for singles or couples with no children. Leather upholstery, although quite strong, can still be torn. Animal scratches can ruin a leather surface just as with fabric.
Styles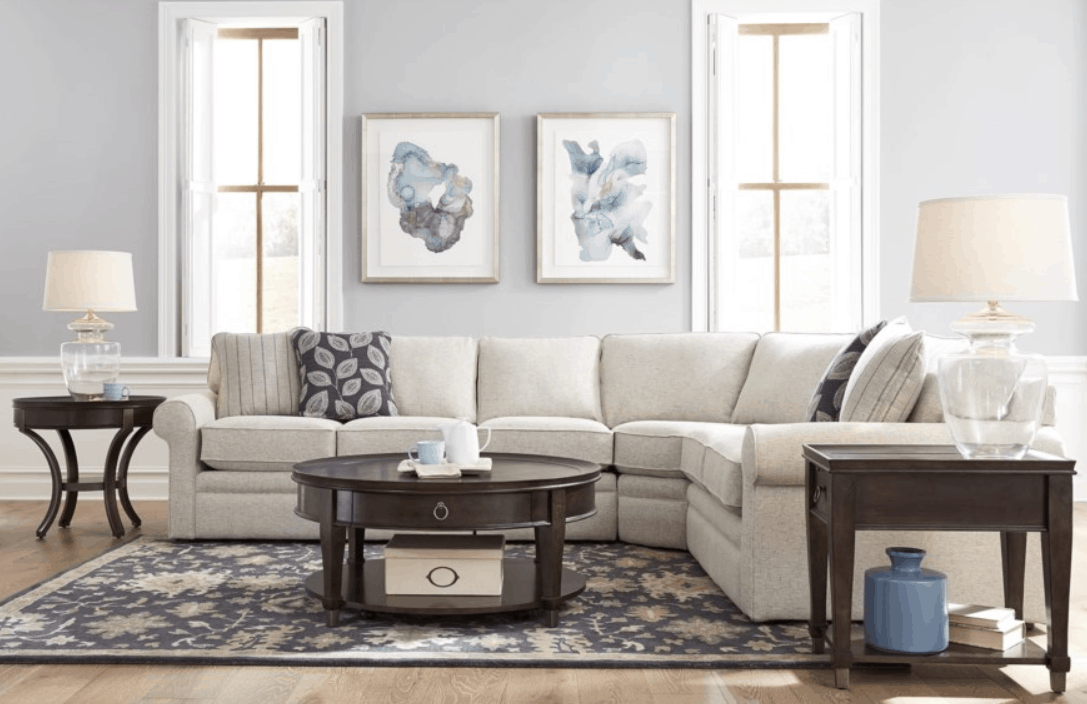 Traditional casual
A traditional sectional usually has no extra accents of gadgets. It can sit high or low to the ground, depending on the size of the legs. Some versions of the traditional sectional have plain back cushions, while others have embellishments like buttons.
Casual
This sectional type is much like the traditional version but often comes with one or two extras for a more comfortable experience. A casual sectional is a great place for taking naps or watching the game.
Family Favorites
These sectionals often have extras and control panels. They also have recliners and modules to create comfort. These additional aspects provide something needful for each member of the family.
5 Best Lazy Boy Sectional Options
1. James Sectional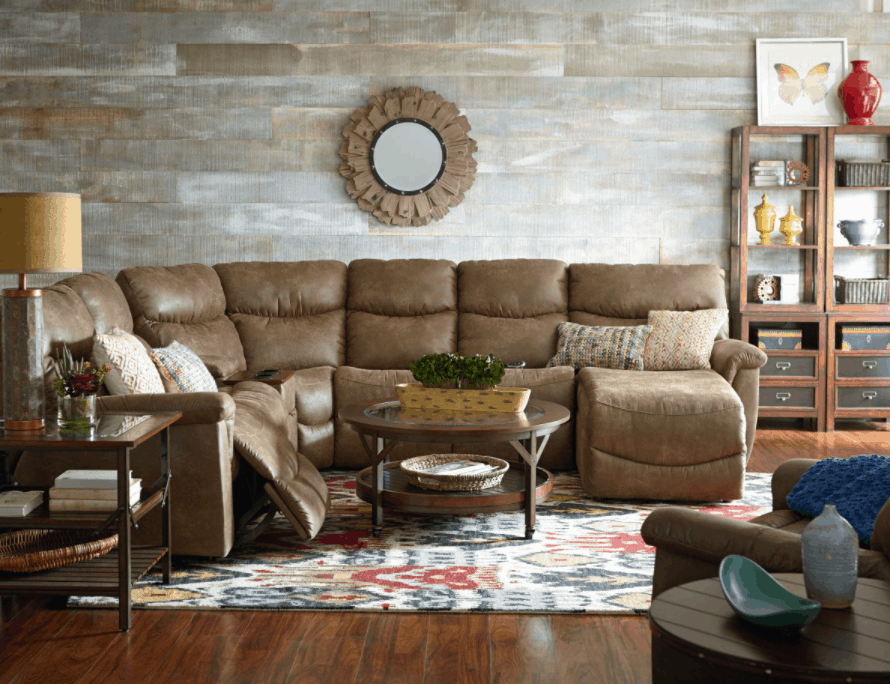 This innovative furniture piece is quite an amazing addition to your home. The sectional has more than just a variety of colors and fabrics to choose from. It also has the ability to transform, providing a full-length sectional, a sofa with a matching recliner, or many other unique formats. In addition, you can use the sectional as you wish, considering some pieces are removable.
Craft your sectional to fit any room, any corner, or an open-area living room. The James Sectional looks great with almost any coffee table type and matches décor according to your color selection. The comfortable bucket seats create a relaxing place to rest or take in a movie. Lay back in the recliner and read a book. This sectional provides something special for everyone. Choose from several materials, patterns, and colors.
Approximate Dimensions: 70 L x 38 W x 41 H
Note: Optional additions are available at purchase.
Pros:
Spacious sitting arrangement
Beautiful appearance
Includes recliner and/or extended footrest
Cons:
It takes up a large space in the living area
Depending on the material, it can be stained or scratched by pets
2. Meyer Sectional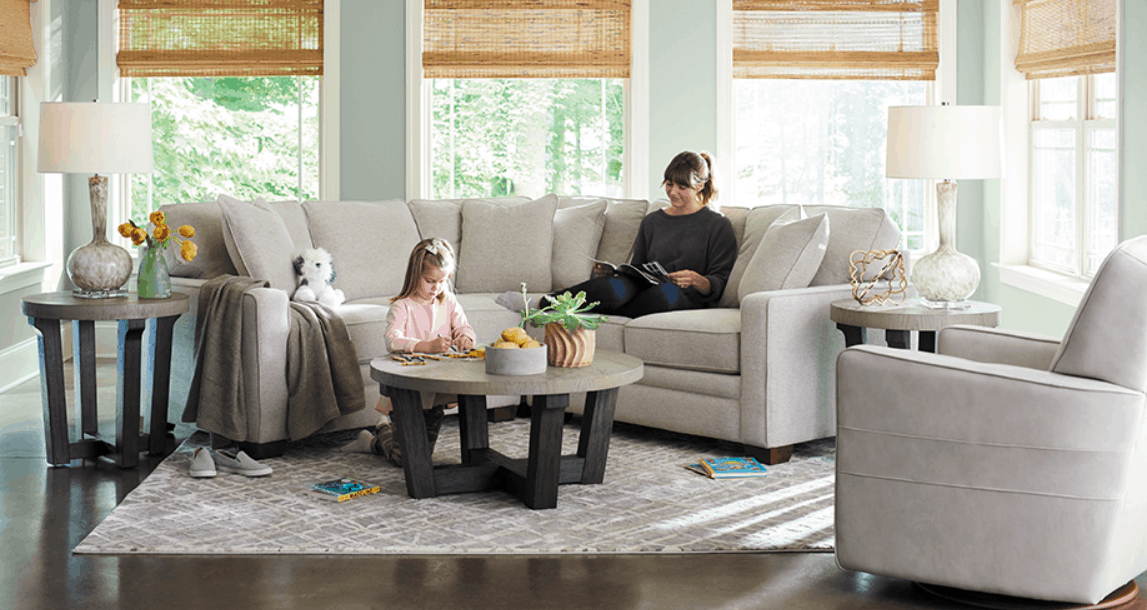 The Meyer Sectional, while it may look like an ordinary piece, is anything but ordinary. These furniture items have Patented Comfort Core cushions that provide extra support whether you're sitting with others or taking an afternoon nap. It has decorative wood legs, a welt trim, and track arms.
Upgrade your sectional as you wish with a favorite color, style, or any of the Lazy Boy materials. Then, move the sectional around the room to find the perfect configuration for family or friends. The seats are deep and wide to provide ultimate comfort. There are optional ottoman choices and 20-inch arm pillows. The special piece can upgrade any living space.
Approximate Dimensions: 60 L x 35 W x 37 H
Note: Optional additions are available at purchase.
Pros:
Patented Comfort Core cushions
Deep and wide seats
It can be placed in different areas of the room, including corners
Cons:
It needs lots of living space
It may be too bulky for some tastes
3. Devon Sectional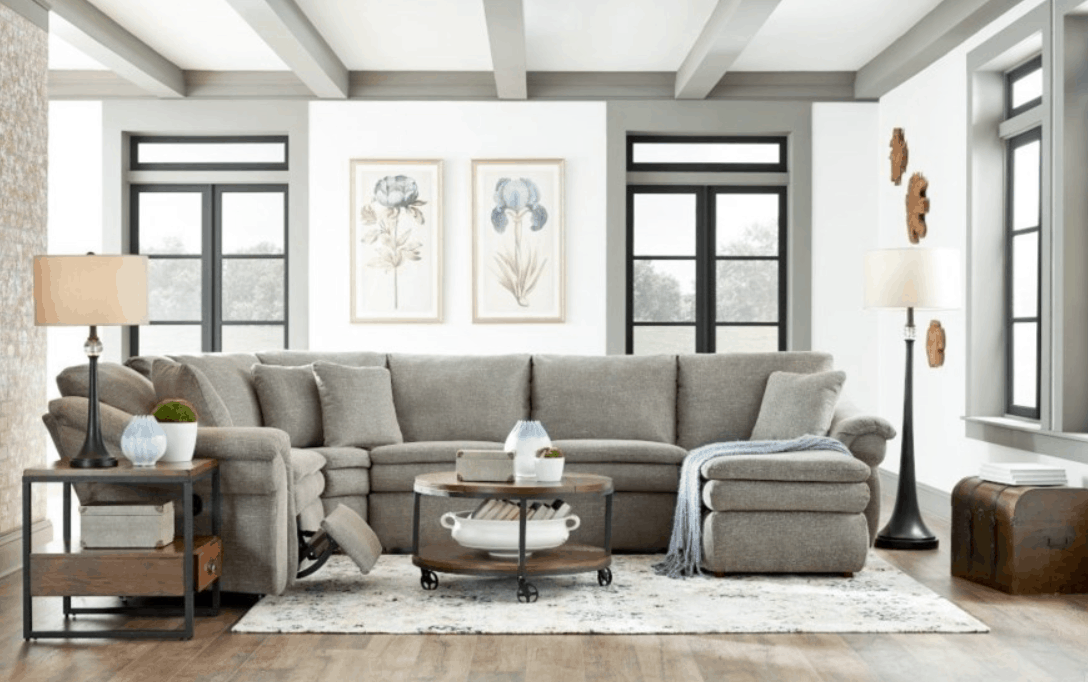 With this unique piece, you have one of the most versatile couches around. The Devon sectional can be arranged with two models with 20-inch pillows or with a recliner on one end and a module for footrest on the others. The product has curved padded arms, casual comfy seats, and pillow softbacks, offering ultimate comfort.
If you want even more versatility, you can purchase the sleeper sectional. Not only do you have options to arrange the piece with modules and recliners, but you can also quickly convert this sectional into a bed as well. This is a larger than usual sofa, so larger rooms will benefit more from its quality features. You can customize this beauty to your heart's content.
Approximate Dimensions: 63 L x 38 W x 40 H
Innerspring Mattress Dimensions: 71 L x 52 W x 5.5 H
Note: Optional additions are available at purchase.
Pros:
Includes pull-out bed
Versatile design
Cons:
It takes up lots of space with a pull-out bed
4. Edie Sectional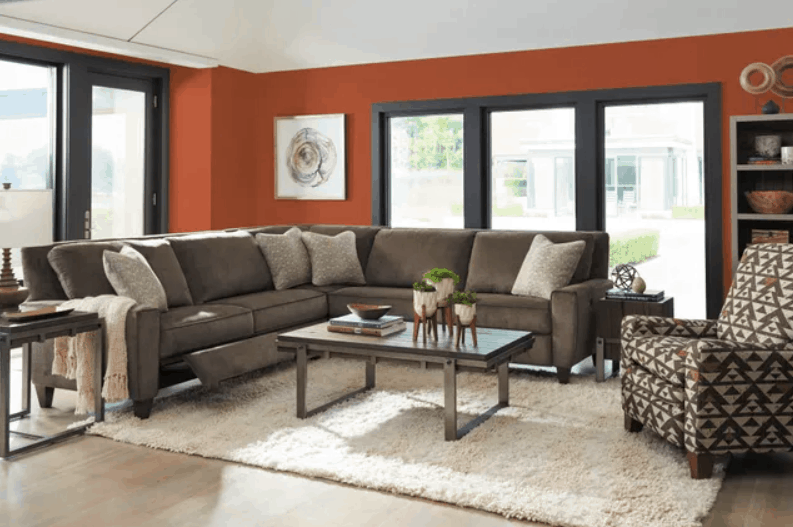 The Edie Sectional is part of Lazy Boy's award-winning duo collection. The aspects that set this one apart are the built-in charge ports, two-button control panels, and a button for moving the recliner. Along with being customizable with materials and colors, this furniture item has decorative legs and other accents.
Like some of the other sectional choices, the Edie piece has Patented Comfort Core cushions as well. The product has modules with 20-inch pillow cushions that make the sectional inviting to family or guests. To accent the piece's beauty, the curved armrests are thickly padded, and the seats are wide. This sectional accommodates many people and still creates a classy environment.
Approximate Dimensions: 76.5 L x 42 W x 39 H
Note: Optional additions are available at purchase.
Pros:
Award-winning sectional
Patented Comfort Core cushions
Charge ports, power controls
Cons:
Longer than usual sectional
5. Dawson Sectional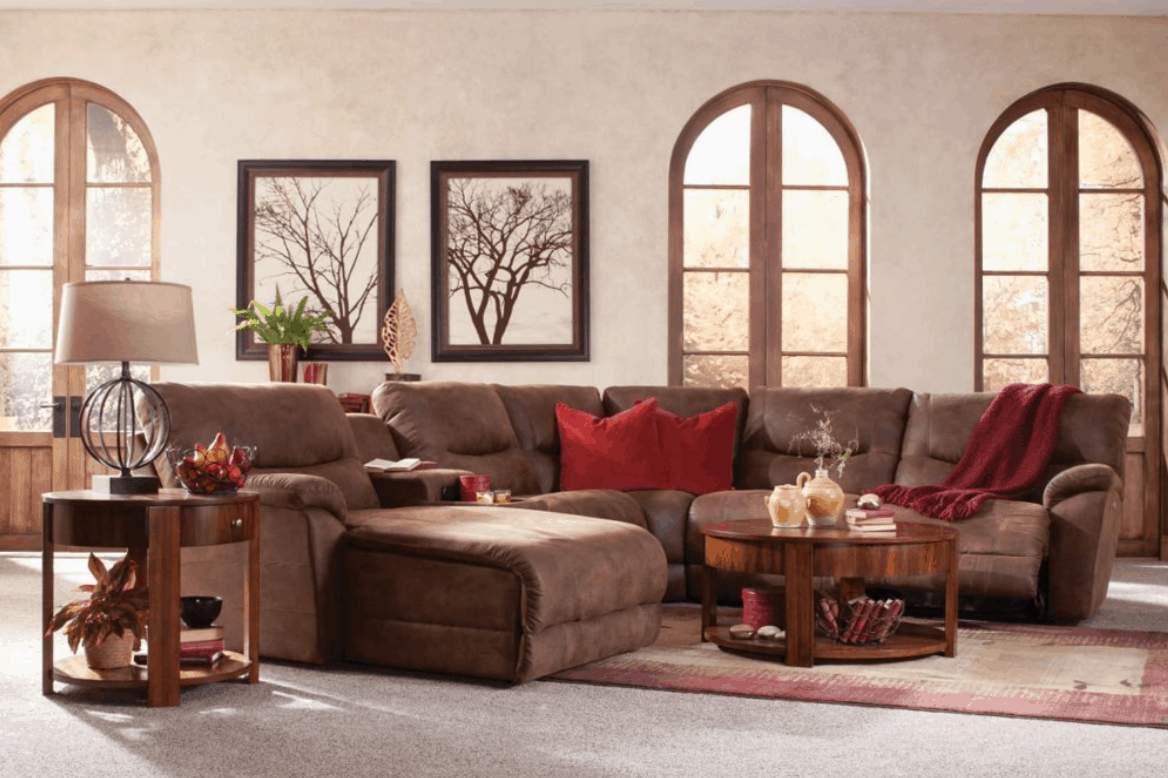 This casual simplistic sectional is great for a large family. Add a recliner with manual or power controls, or maybe a module – whatever you need to complete your ensemble, Lazy Boy has you covered. The Dawson sectional is comfortable, supportive, and matches most any décor. It also pairs well with many coffee table designs.
This sectional is anything but plain with its beautiful topstitching and tufted full-back style. It has flared arms with pillow-top cushions and extra-wide seats to accommodate everyone. Turn this sectional into the furniture piece of your dreams by choosing a color, style, and material. There are many varieties to choose from, so have fun with it.
Approximate Dimensions: 66.5 L x 43 W x 40.5 H
Note: Optional additions are available at purchase.
Pros:
Simplistic casual style
Double-needle topstitching
Cons:
It doesn't include certain mechanical features
Frequently Asked Questions
How do you clean a fabric sectional?
FAQs
Question: How do you clean a fabric sectional?
Answer: This depends on the type of fabric that covers your sectional. To understand how to properly clean the Lazy Boy sectional, search for the cleaning code located on the identification tag. It is recommended that a professional upholstery service clean your product.
Question: Where can I see the entire product line?
Answer: While there are several links in this guide to several popular product line samples, you can also visit one of the 300 Lazy Boy Furniture Galleries. There are also 500 Comfort Studios where Lazy Boy furniture products can be found. However, the online products are favorites and can be viewed in 3-dimensional format. All colors, fabrics, and styles are shown for your convenience.
Question: Is the Lazy Boy made from wood?
Answer: The frame of the sectional is made from a few different types of real wood. This includes Maple and Oak. Hardwood is used to add longevity and durability to your furniture. The Lazy Boy sectionals are strong and durable, with a lifetime value if taken care of properly. Unlike engineered wood products, these sectionals do not fall apart after a few years of ownership.
Question: Does Lazy Boy have a lifetime warranty?
Answer: There is a lifetime warranty on Lazy Boy furniture. This warranty covers manufacturing defects on frames only, the springs, and other mechanisms. However, this warranty is only good for the original person who purchased the product. Warranties are void if the original owner sells the sectional to someone else.
Question: How long does the sectional last?
Answer: This is a complicated question, as there are many types of homes and family dynamics. On average, the full product lasts about 10 years. This can vary by a couple of years if you have one or many children. If you are a single person, you may be able to keep the chair in good condition for a way past 10 years. Many factors determine the lifespan of your Lazy Boy sectional.
Question: When is the best time to buy furniture?
Answer: Furniture companies usually restock with new products at the end of fall and beginning of winter. They also restock in the spring and early summer. So, the best time to shop would be August and September, or January and February.
Final Thoughts on the Best Lazy Boy Sectional Options
Now that you've seen what Lazy Boy Furniture can provide, we hope our guide helps you make an informed decision. But don't stop with the living room space; check out many of our selected options for the kitchen area and the dining room. After all, all aspects of the home are important.
Among the various samples selected, a favorite would be the Lazy Boy Edie sectional. This piece of furniture has all the accessories for unbelievable comfort. While offering extras, this product has the class and beauty to add that needed element to your living room.
And, of course, you don't have to rush in and buy your Lazy Boy Furniture item immediately. Instead, take time to consider all options that are right for you and your family. There are so many factors to consider, so make sure you examine them all. Meanwhile, please browse our other sofa options as well.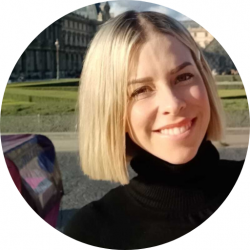 Latest posts by Jodie Chiffey
(see all)