There is nothing more frustrating than the feeling of not having enough dresser space. It's no wonder that you're searching for a new option to solve this problem because it can be really difficult to make your bedroom feel like home when all of your stuff is strewn about and cluttering up the place.
However, bringing in another dresser will eat into the already limited space or be too bulky to move around; what to do? Relax because there are tons of unique dresser alternatives for you to consider.
This unique dresser alternatives guide features a detailed analysis of the dresser alternatives available on Amazon. We've reviewed each piece's design, size, functionality, and suitability for your space and needs. We've also provided three options per piece proposed as a dresser alternative. 
Dresser Alternatives for Bedroom Storage: Our 20 Hot Picks
Hooks are versatile devices for hanging items on any vertical space in a tidy manner. They come in various designs, sizes, and materials applicable in any type of space. Hooks are handy because you can use them to save space anywhere; behind a door, any wall, or railing. 
1. S Shape Stainless Steel Hook: Best for Space Saving Anywhere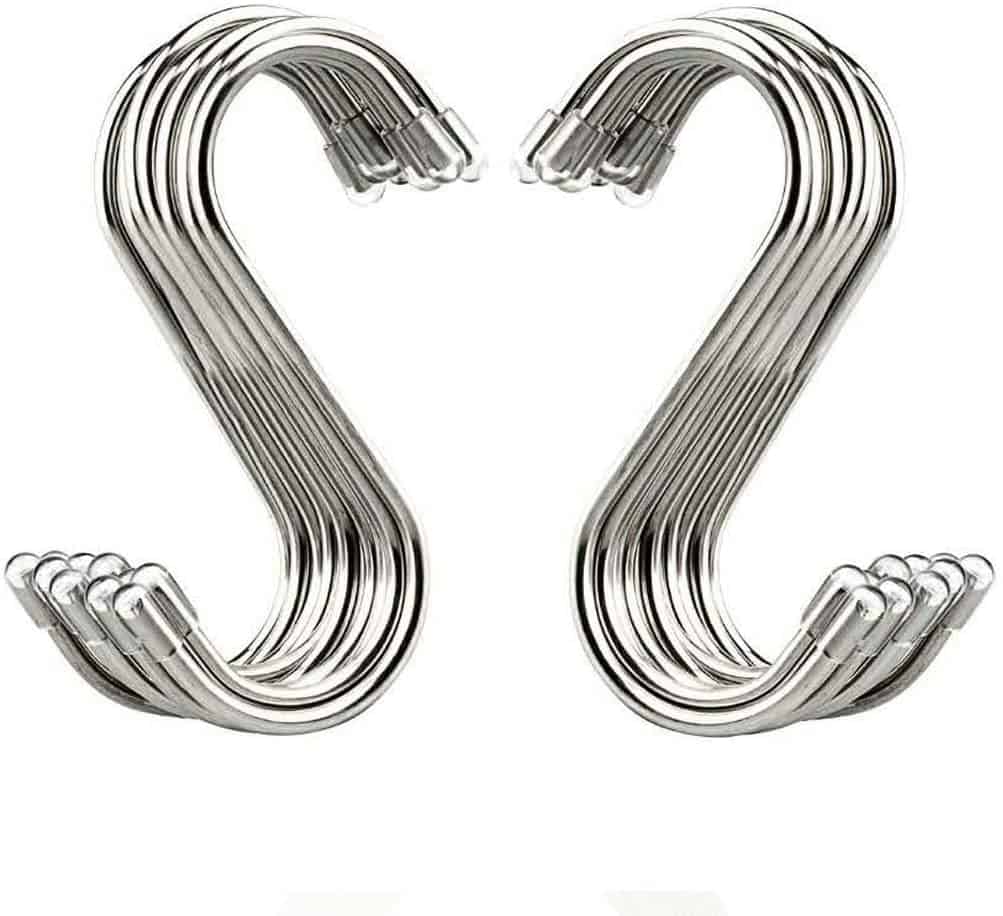 These gorgeous hooks are silver in color with a premium finish. We recommend them because they're built to carry the weight of bulky items like jeans, bags, and coats. To use them, you'll need a rack, shelf with holes, or anything suitable to hook them to. You don't also need to worry about your safety and that of your clothes because they come with a protective rubber cover at the tips. 
Pros
Value for money as they save immense space

Sturdy and durable

Easy to use
Cons 
The tips are too small for some items and tend to come off easily.
2. 5-Tri Wall Hooks: Best for Storage on Doors and Walls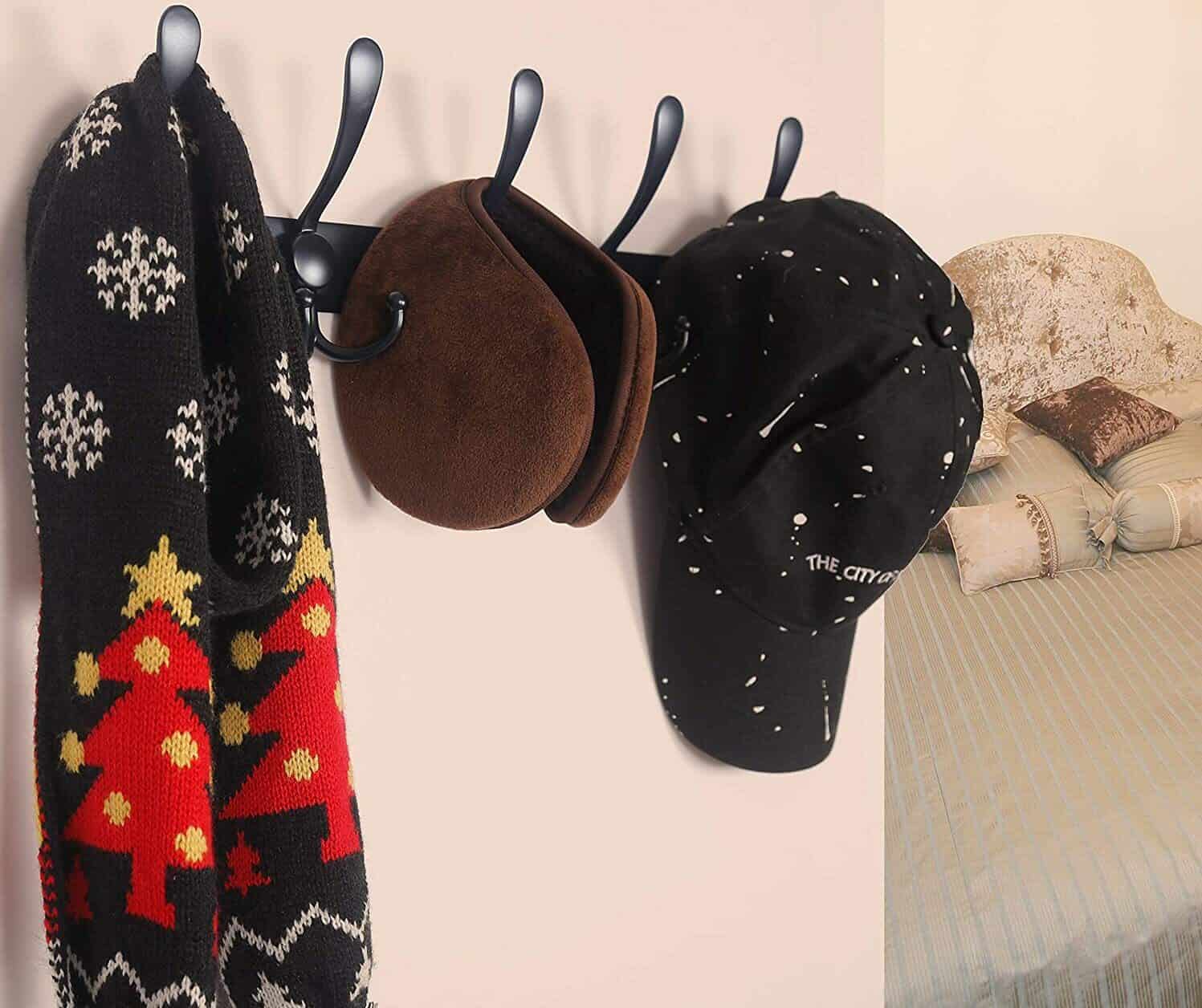 What draws you to these wall hooks is the stylish and elegant design. It features a built-in stainless steel rail and aluminum alloy 5-tri hooks, all in a matte black color. You'll love these hooks because they can hold multiple items like bags, belts, hats, and coats. Installation is pretty easy, either with your power drill or a professional handyman.
Pros
Aesthetic appeal, with gorgeous design

Value for money

Sturdy and presentable

Easy to use 
Cons
It doesn't come with installation instructions
3. Non-Slip Velvet Hangers: Best for Organization in Closets and Walls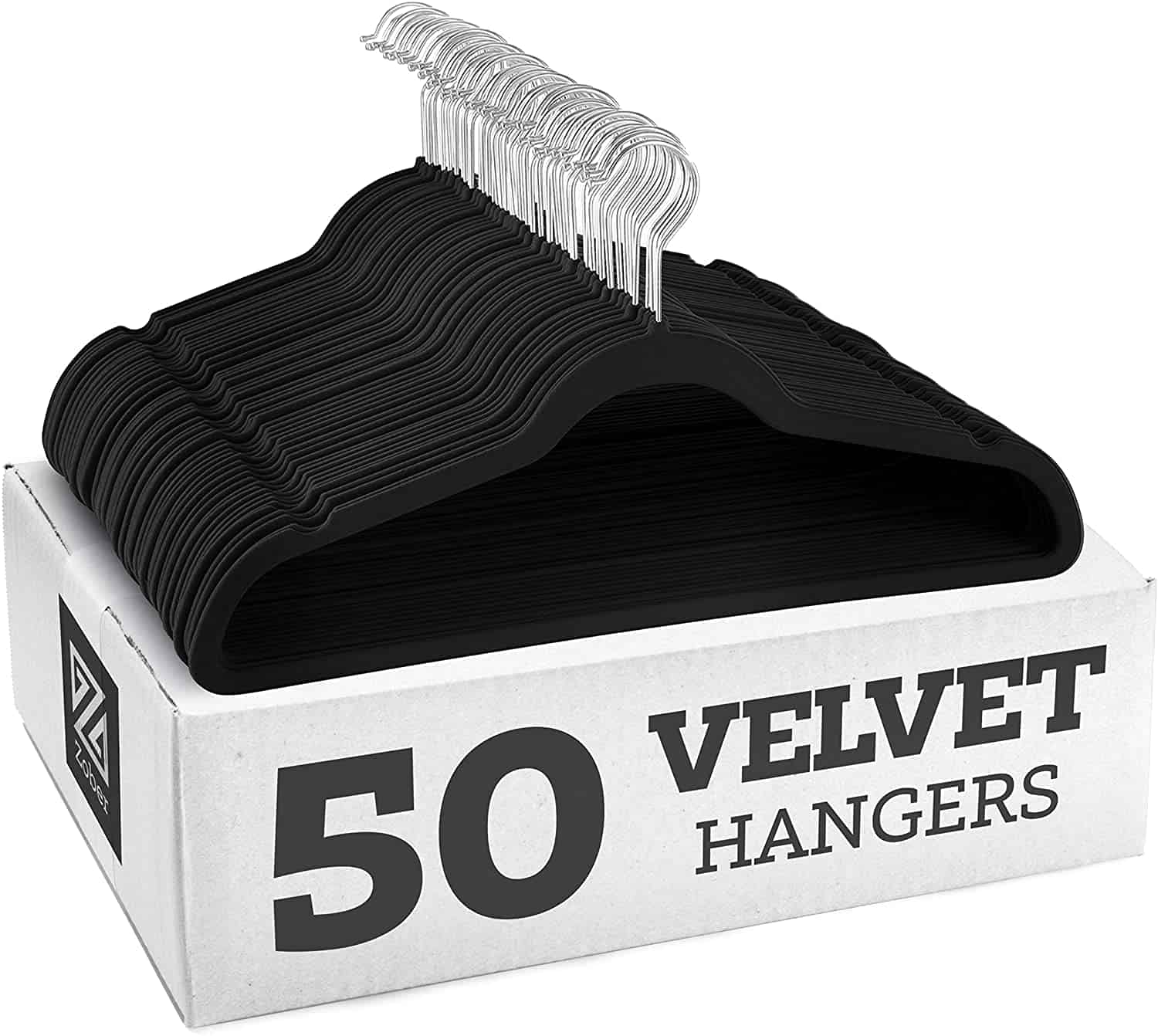 If hooks don't suit your needs, how about these luxurious but affordable velvet hangers? We recommend them because they have: a revolving ultra-thin neck, chrome hooks, and contoured shoulders to hang your clothes without any fuss. The velvet texture is nonabrasive and offers the perfect grip for your delicate fabrics. The plastic is lightweight yet flexible; without a doubt, these hangers are built to last and withstand a maximum weight of 10lbs.
Pros
Functional design

Plus-size friendly

Value for money
Cons
Not sturdy, they snap easily
If your bed stands on raised legs, there are excellent storage solutions for the space underneath it. You can use it to store valuable items that you use once in a while, like blankets, pillows, books, shoes, and more.
4. Smart Cube Plus Woven Fabric Bags: Best On Budget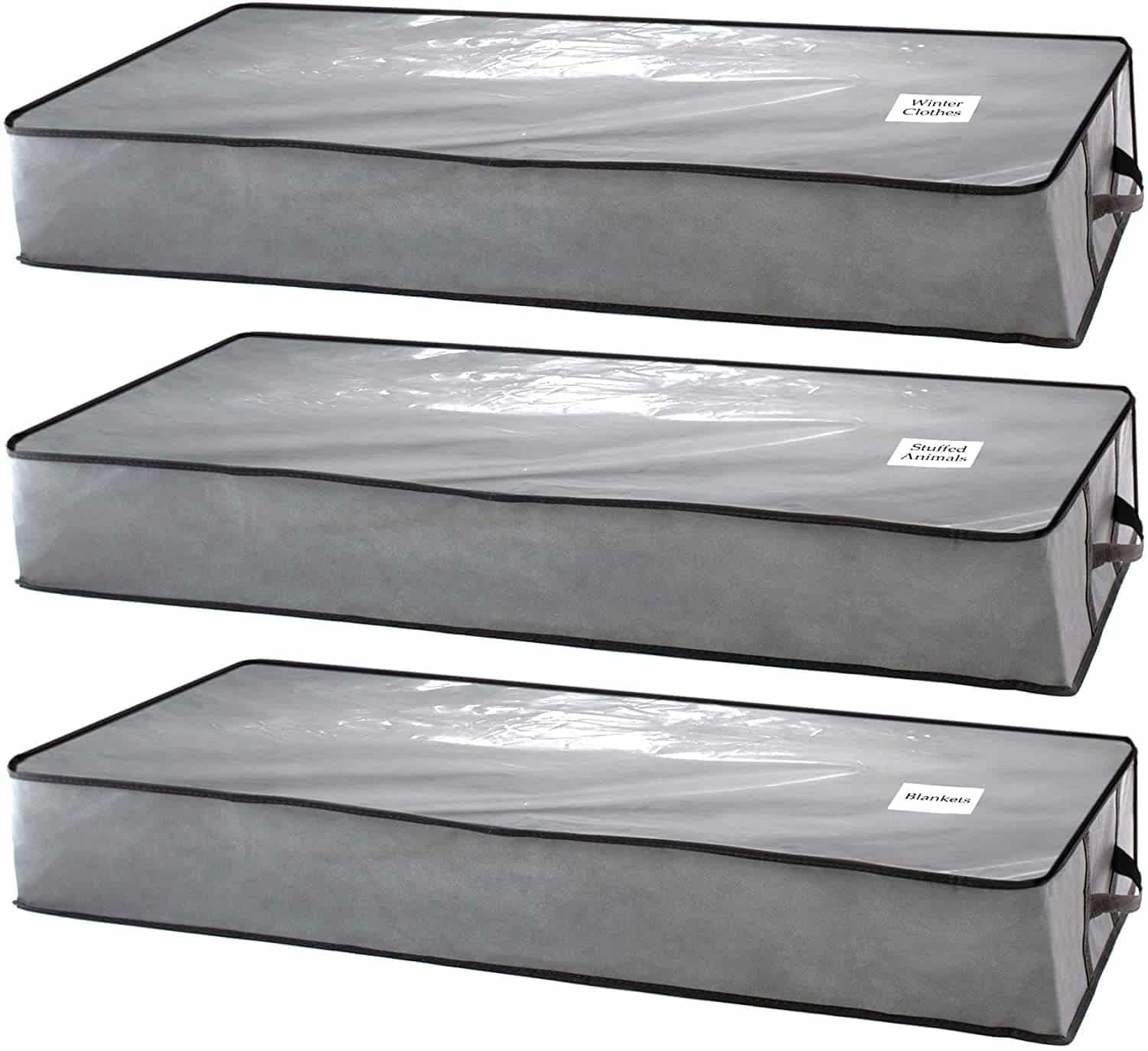 These three fabric bags are a fantastic dresser alternative, and you'll be delighted at their usefulness as under-bed storage.  They come as two long rectangular bags and a smaller rectangular bag. Each bag is lightweight with quality stitching, a clear top, and side windows for easy access, plus two-way zippers. We like the fact that it's collapsible, meaning there's plenty of storage space. 
Pros
Easy to assemble

Spacious storage

Sturdy

Value for money 
Cons
The zippers aren't sturdy, and the fabric is flimsy, so you need to check on your items every two weeks.
5. Plastic Storage Bin: Best for Protective Storage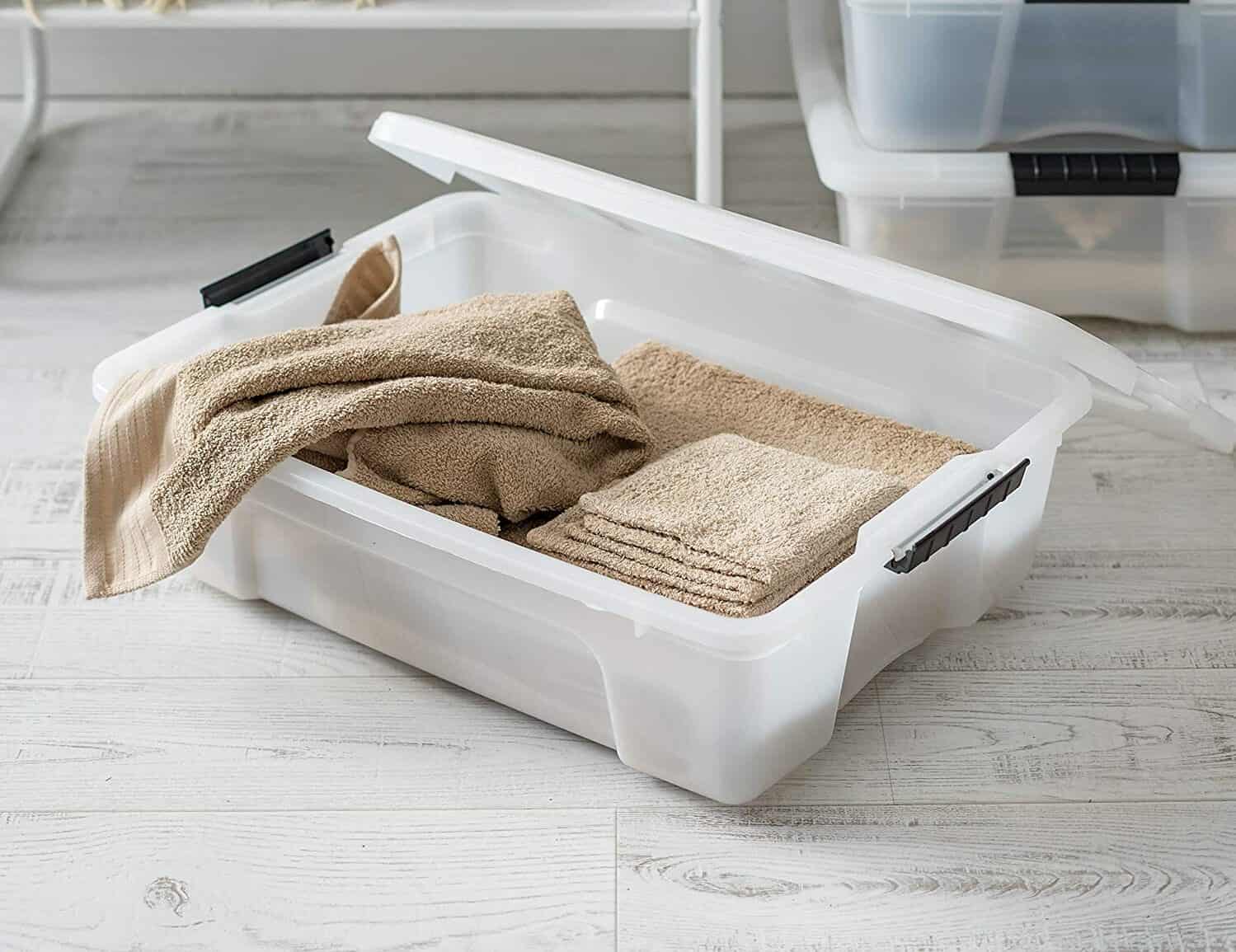 If a fabric bag isn't working for you as a dresser alternative, consider this storage bin tote that can fit anything. It consists of durable polypropylene material that doesn't break easily and protects your stuff from moisture, dust, and pets. There are grooves on the lid and body for hassle-free stacking, and a built-in pull handle at the bottom makes it easy to retrieve it from any height. 
Pros
Lock feature '

Durable

Dustproof
Cons
6. Shoe Organizer: Best for Bulk Shoe Storage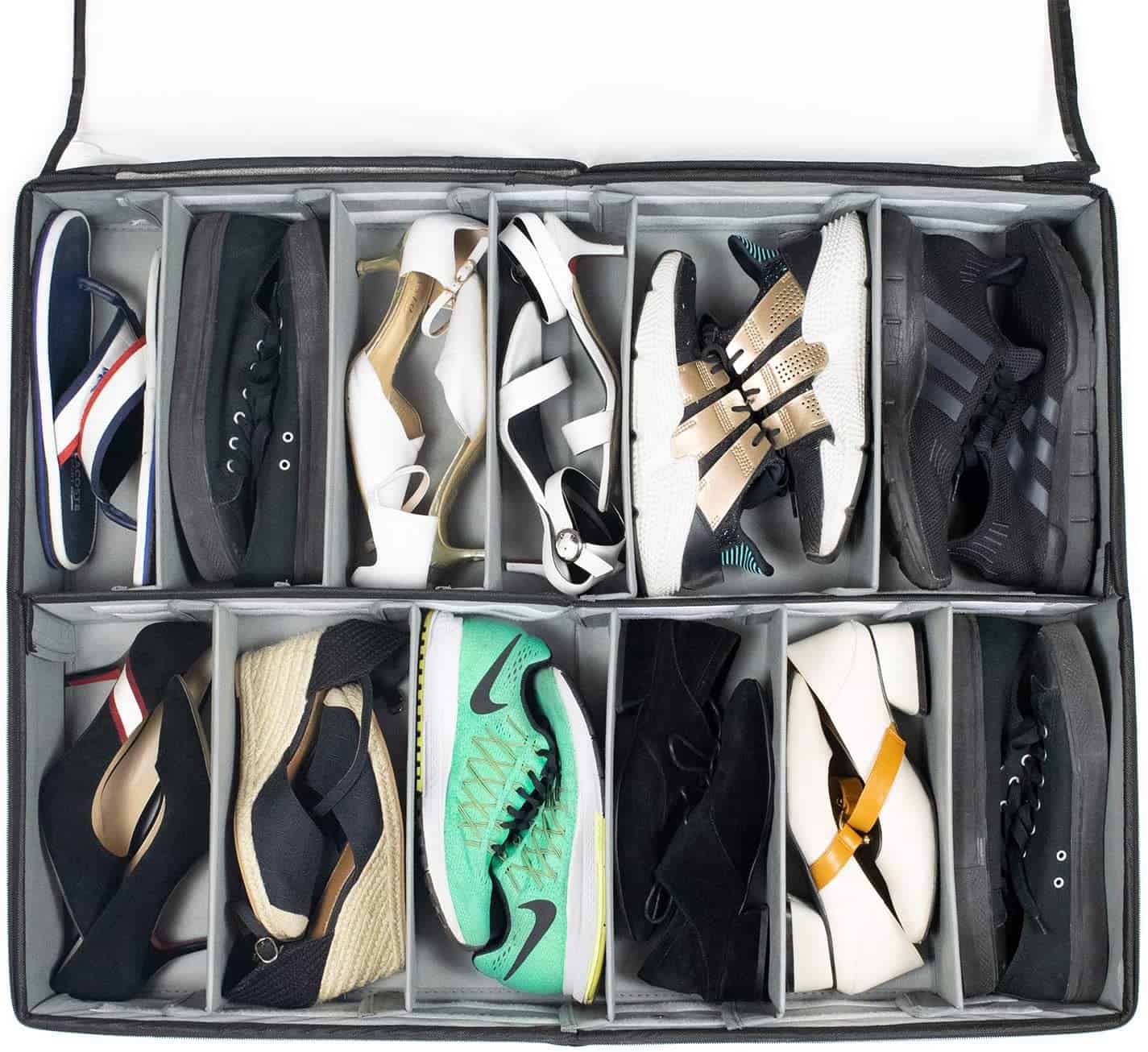 An under-bed adjustable shoe organizer doesn't sound like a bad idea at all. This unique dresser alternative has a clean, classic look, spacious storage for up to a dozen pairs, and is adjustable to accommodate a wide variety. The firm sides and durable handles are proof of a sturdy product because you can easily pull them out from under the bee. In addition, it's durable, easy to move around, and is sure to be the perfect fit for your space.
Pros
Value for money

Spacious storage 

Sturdy
Cons
The velcro and zipper aren't durable; they're likely to give in after some time.
Now, if compact space savers don't offer you a suitable dresser alternative, try an armoire. It's a storage wardrobe for clothes although it has some differences from the traditional, regular wardrobe. It's bigger and fancier than a wardrobe. Also, unlike wardrobes which stand out for hanging spaces, it has a mix of shelves, racks, rails, and drawers.
7. Vintage Oak Armoire: Best for A Spacious Bedroom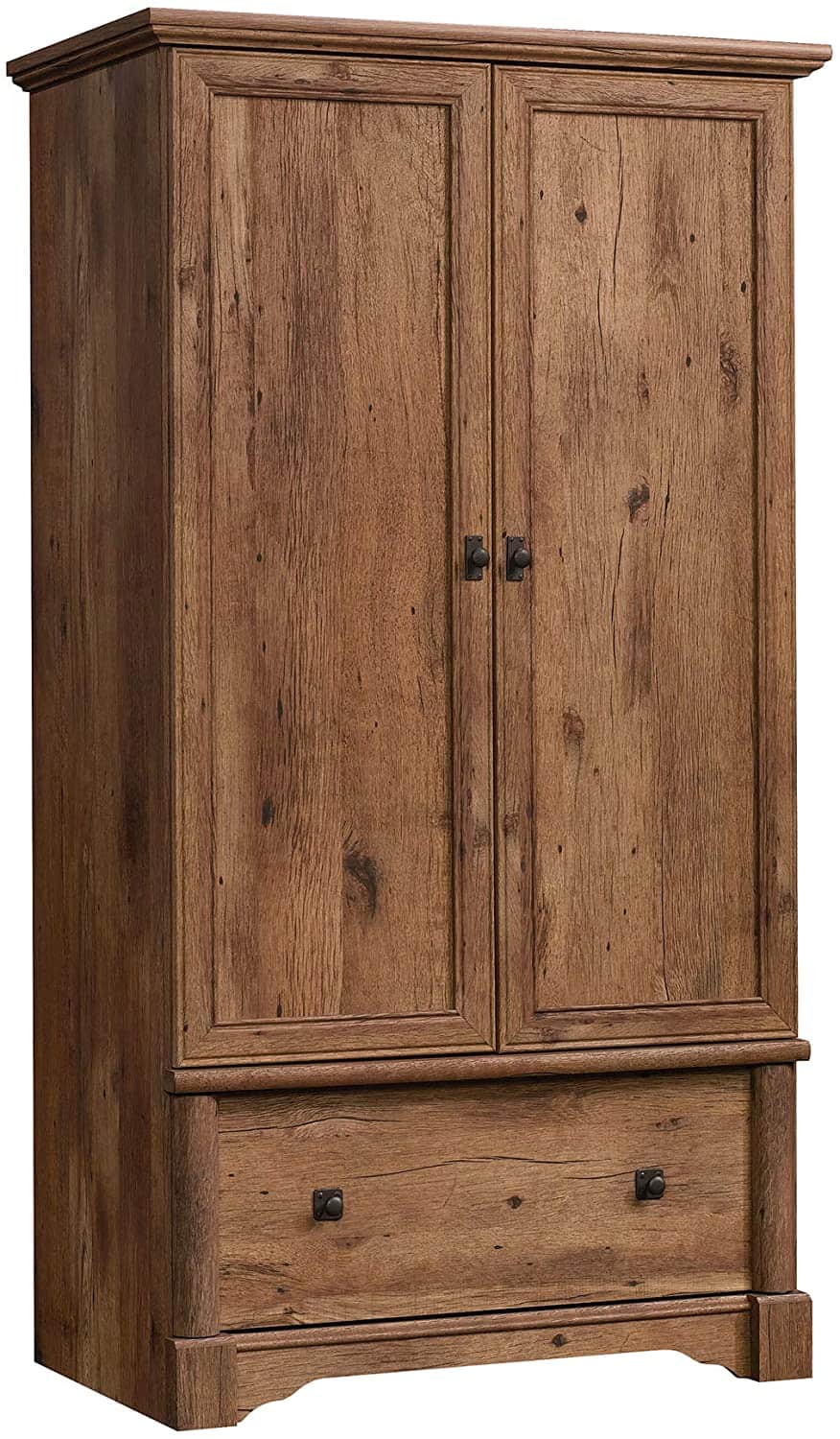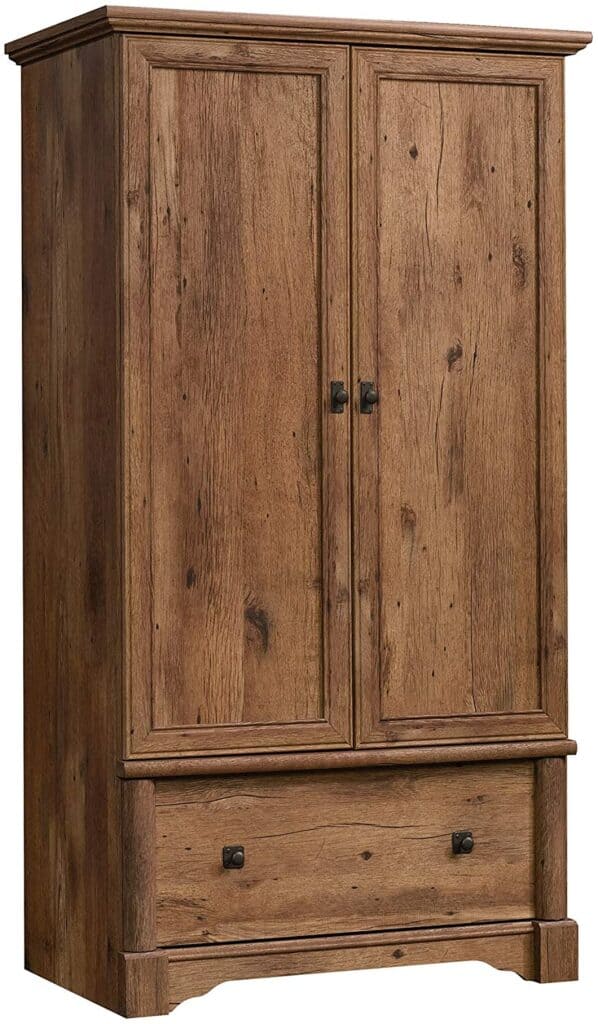 What an armoire! It has a classy vintage oak finish and a stylish, elegant look. Behind the two-panel doors, it has a garment hanging rod to give you ample storage. You'll also find more storage in the lower drawer that opens and closes on smooth metal runners. This armoire is big on safety as it's been tested for stability and is quick and easy to assemble with a patented T-slot drawer system.
Pros 
Value for money

Sturdy

Spacious storage

Precise instructions on assembly 
Cons
It's  tedious to assemble
8. Lockable Jewellery Organizer: Best for Jewellery and Makeup Storage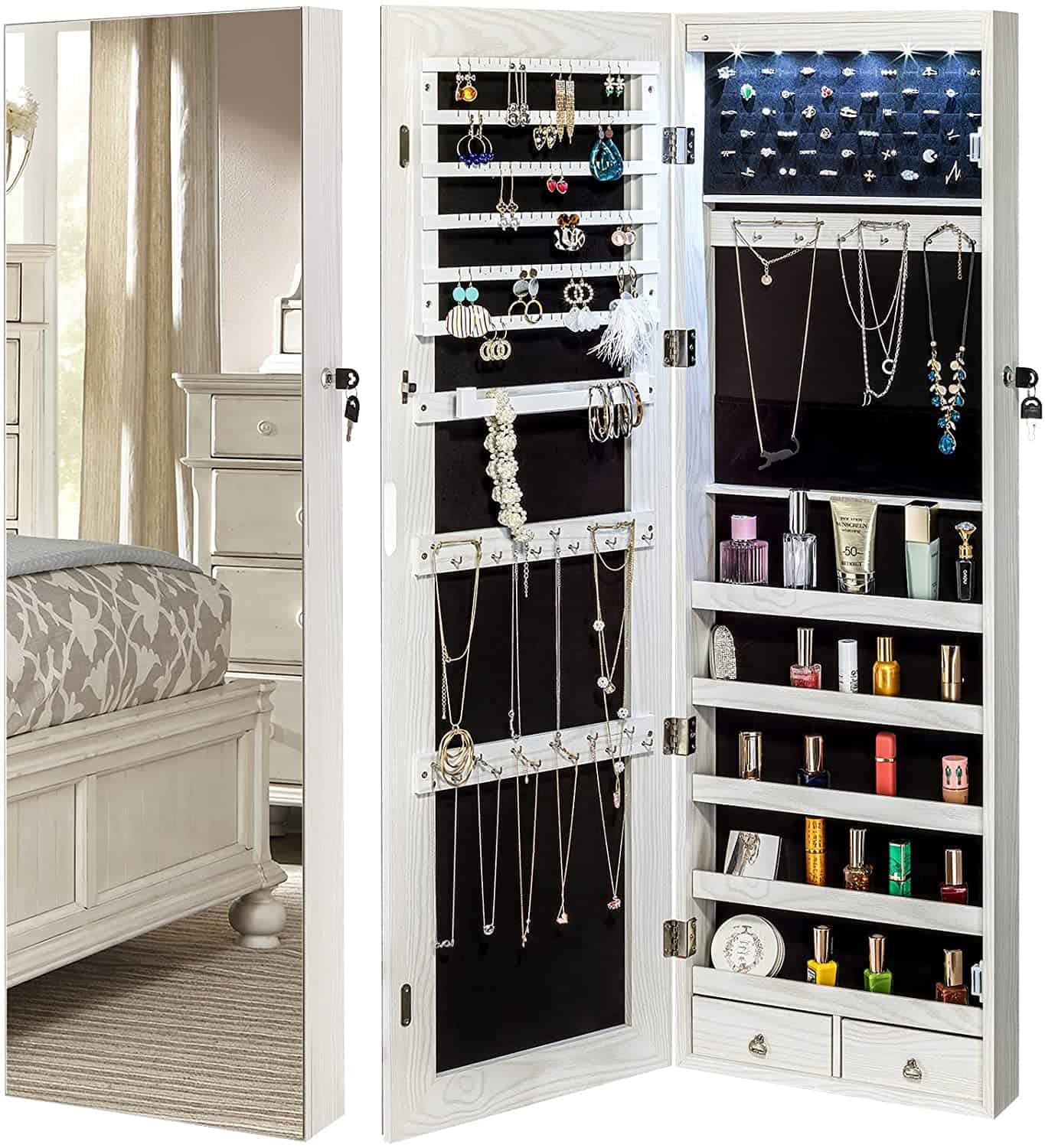 Jewelry can be a drag on storage and organization, but with this specially customized jewelry organizer, that's all in the past now. It has an extra spacious capacity for all sorts of jewelry. Besides, you can also store makeup and other beauty products.
It has; one makeup brush bag, a special ring holder and bracelet bar, two storage drawers, five-layer cosmetic shelves, 36 piece necklace hooks, and 174 piece earrings slots to give you an idea of the capacity.
What's more, six LED lights give it a funky glow in the dark illumination, and a full-size glass mirror display delivers a wide image reflection. Rather than take up more space, sling it over your door or mount it on a wall.  
Pros
Spacious storage 

Quality product 

It hangs well on any frame

Easy to assemble
Cons
Needs extra screwing at the bottom for sturdiness
9. Kids Armoire: Best for a Child's Bedroom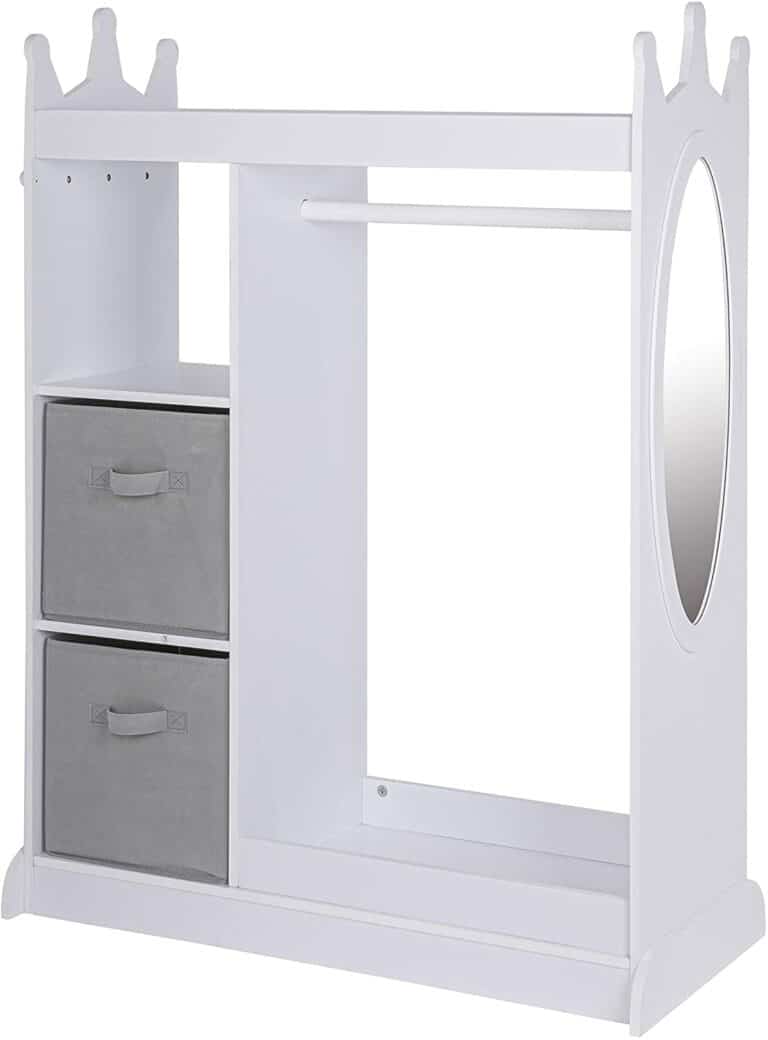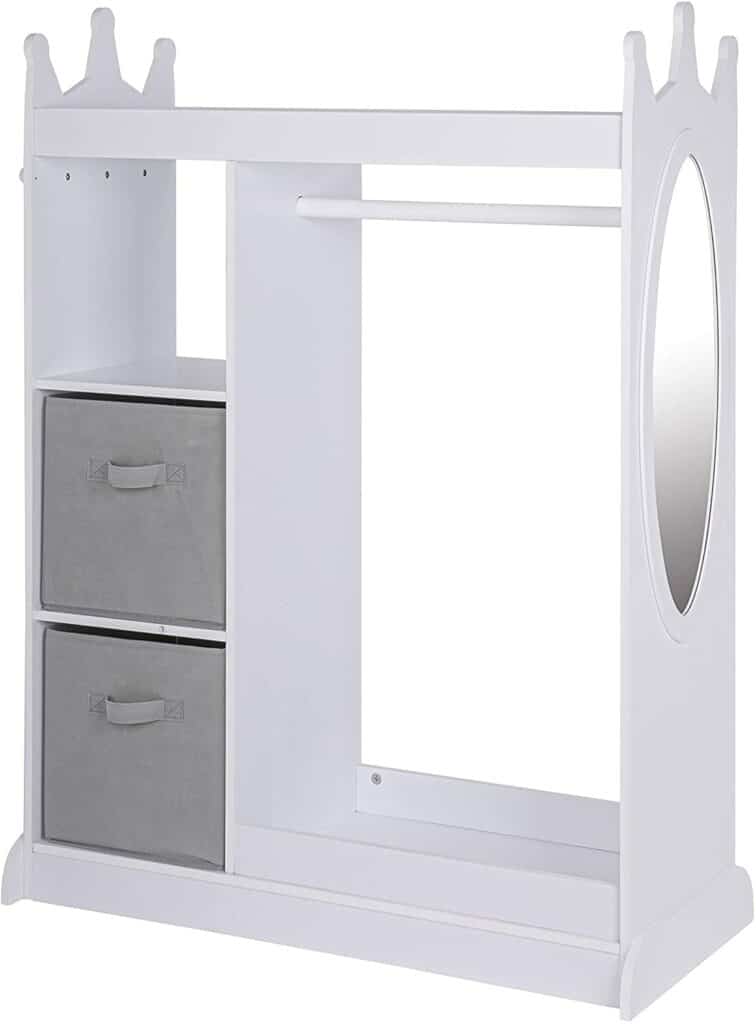 This kid's armoire has a sturdy and quality construction of manufactured wood in a stylish design. This dresser alternative has spacious storage with three attached shelves that come with two fabric storage bins. You'll also be happy to learn it has a deep bottom with sides for shoes, a wood dowel for garments, and more space at the top for more of your stuff.   
Pros
High-quality construction

Value for money

Easy to assemble 
Cons
Trunks
These are timeless storage pieces in the shape of rectangular boxes designed to store clothes and other household items. They're convenient because they're spacious and are built to withstand constant handling and movement.
10. Faux Leather Trunk: Best for Spacious Bedrooms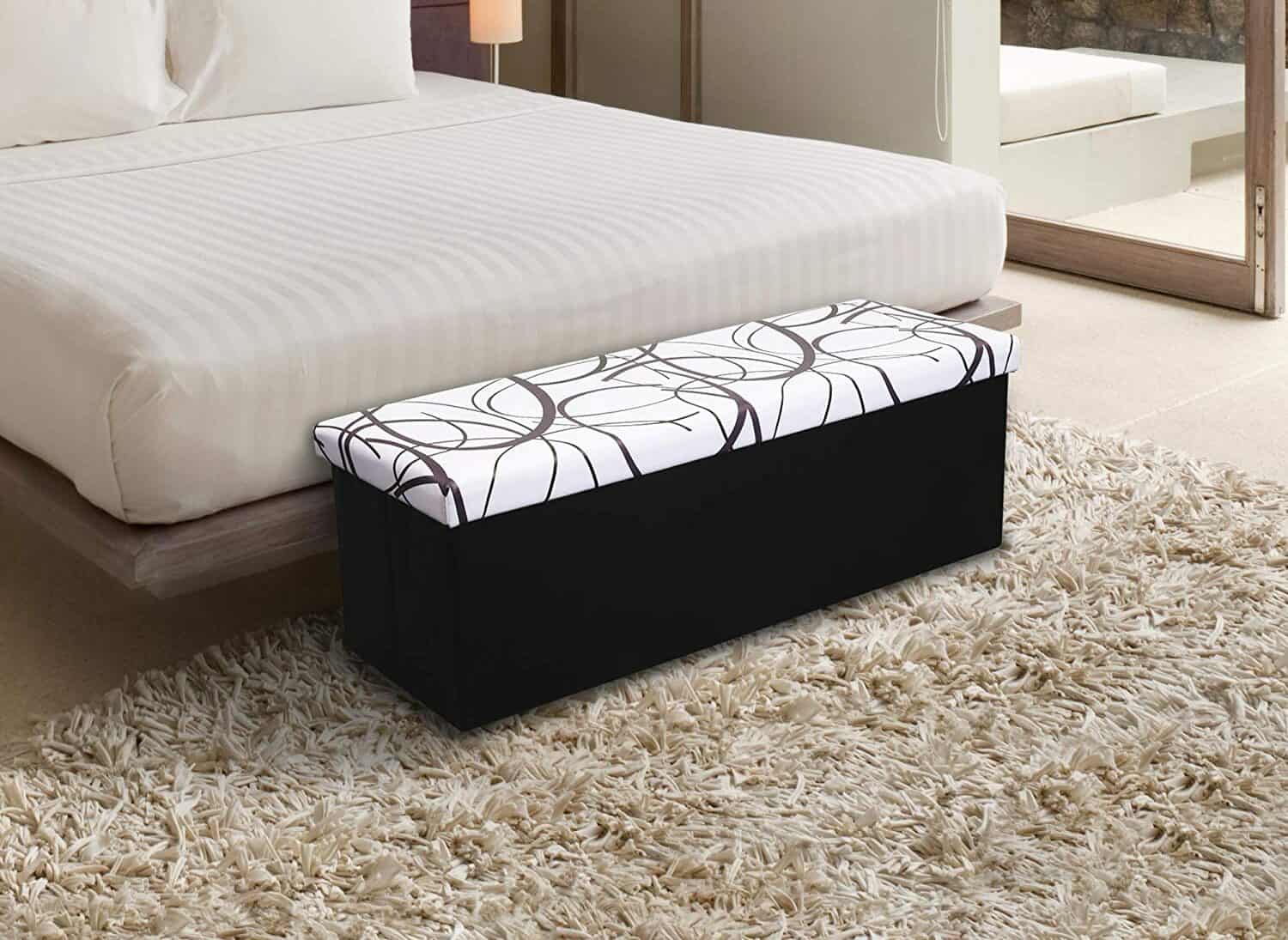 This fantastic faux leather trunk has a stylish design featuring premium memory foam padding for extra comfortable seating and premium faux leather.
Its sturdy setup structure with medium density fiberboard gives stability to the base, and it's designed to fold into a flat board. To set it up, simply unfold, position base piece and cover and when not in use, fold and store away. Lastly, you can use it for multiple purposes like storage, footrest, and seating (bench). 
Pros 
Sturdy 

Easy to assemble

Spacious storage

Multiple uses 
Cons 
It has a pungent chemical like odor,
11. Rectangular Storage Ottoman Bench: Best for A Teen's Room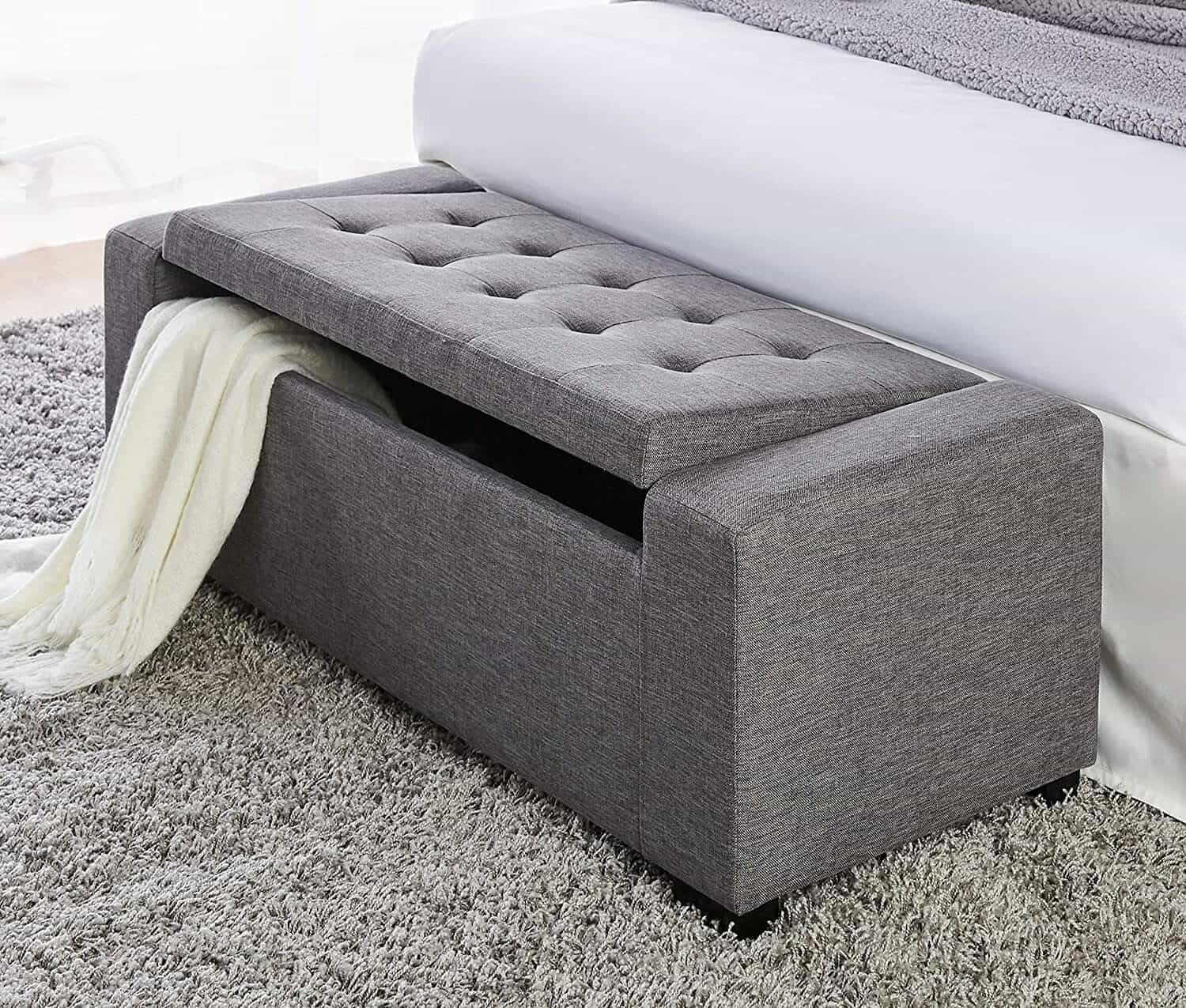 In case leather's not your thing, there is this rectangular ottoman bench dresser alternative. It consists of durable wood with rubberwood feet for strength and stability. The facade has a linen-look fabric upholstery with a timeless tufted finish. This ottoman bench also has spacious storage revealed by a lift open lid. On safety, a child-safety hinge prevents the lid from slamming shut. 
Pros 
Value for money

Spacious storage

Clean linear design

Precise assembly instructions 

Sturdy
Cons 
The tedious assembly process may need two or a professional handyman
12. Storage Ottoman with Seat Back: Best for A Kid's Room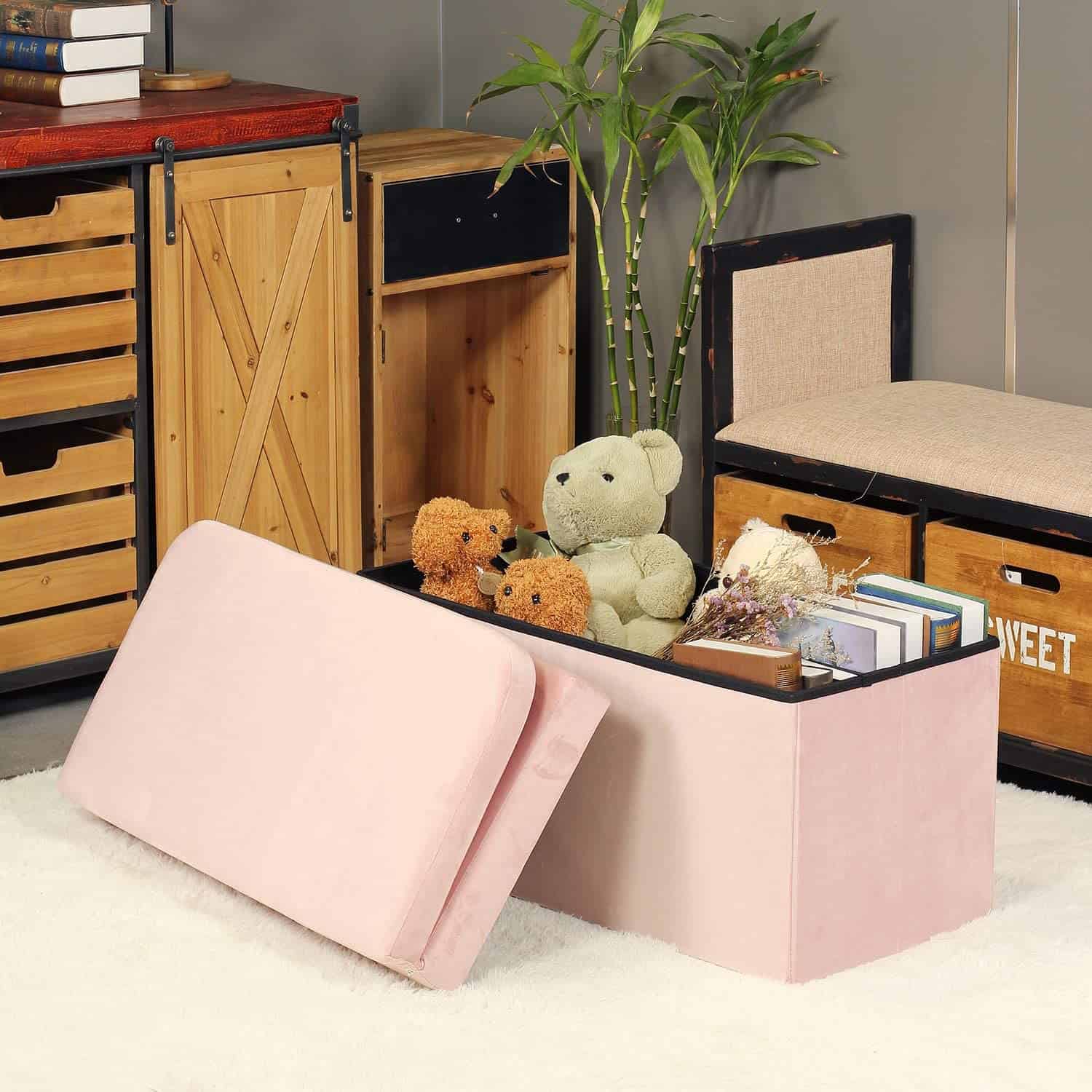 This storage ottoman with seatback is sturdy due to a high-grade MDF frame, with quality elastic sponge padding encased in luxurious velvet upholstery. As a dressier alternative, it's ideal due to its loading capacity of up to 550 lbs, and this extra-large volume is sufficient to meet your storage needs.
Apart from this, it has the perfect height for sitting & resting your feet or legs. It's easy to assemble; set up only takes seconds. The lightweight folding design allows you to store this ottoman away when not in use. 
Pros
Easy to assemble 

Sturdy

Spacious storage
Cons
Racks are a great dresser alternative since they come in different sizes, designs, and materials. They're a better alternative to shelving because they have depth, span a wider space, and stack to higher levels.
13. Z Base Garment Rack: Best for Space Saving in Any Size Bedroom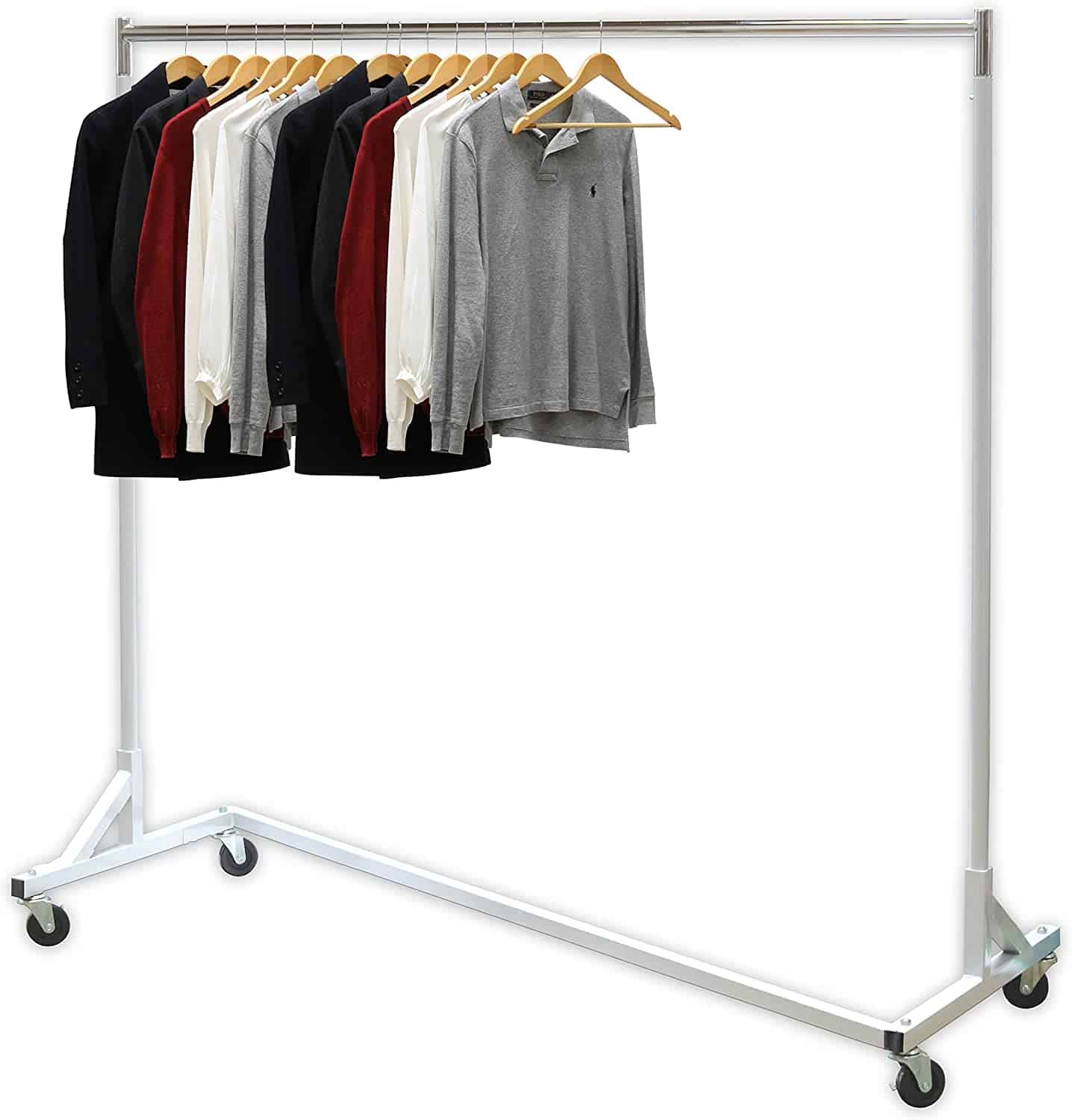 This commercial-grade garment rack has a sturdy metal construction with elegant silver paint. It can hold up to 400 lbs and comes with heavy-duty 3-inch caster wheels with brakes that slide easily on any surface. 
Pros
Sturdy and good quality

Easy to assemble

Value for money
Cons 
Z-shape can be obstructive to movement 
14. Metal Rack with Shelves: Best for Small Spaces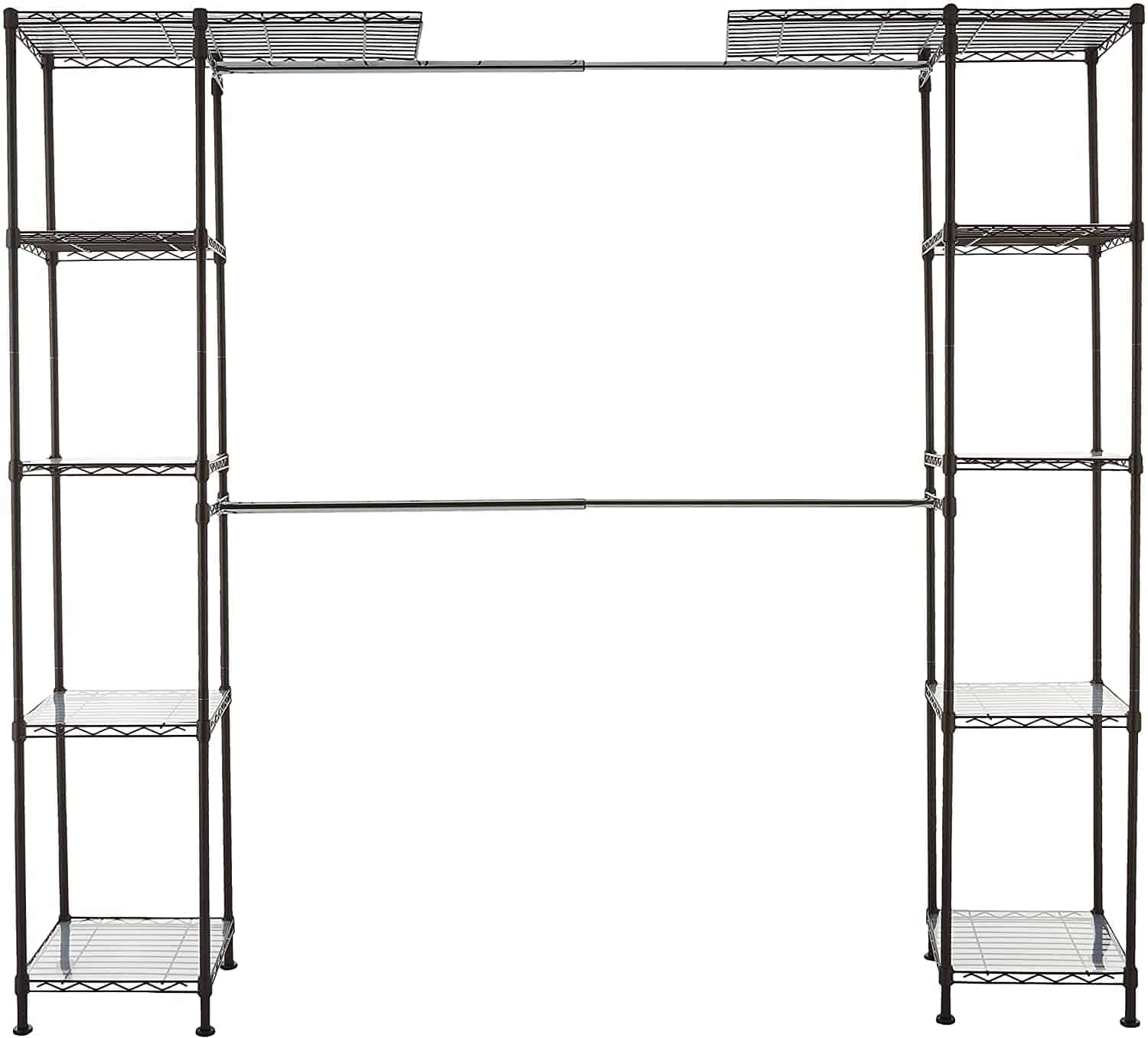 Do you need a rack specifically for small spaces? This metal rack with shelves has a durable steel wire and plastic slip sleeves, a sleek bronze finish, and four extra-wide leveling feet for added stability. It has an expandable closet organizer with two adjustable width hanging rods that you can move up and down in 1-inch increments. Simple screw-together assembly; includes plastic shelf liners and wall-mounting hardware for safety.
Pros
Value for money

Easy to assemble 

Good quality
Cons
It's unstable and not suitable for heavy garments
15. Door Rack: Best for Door and Wall Storage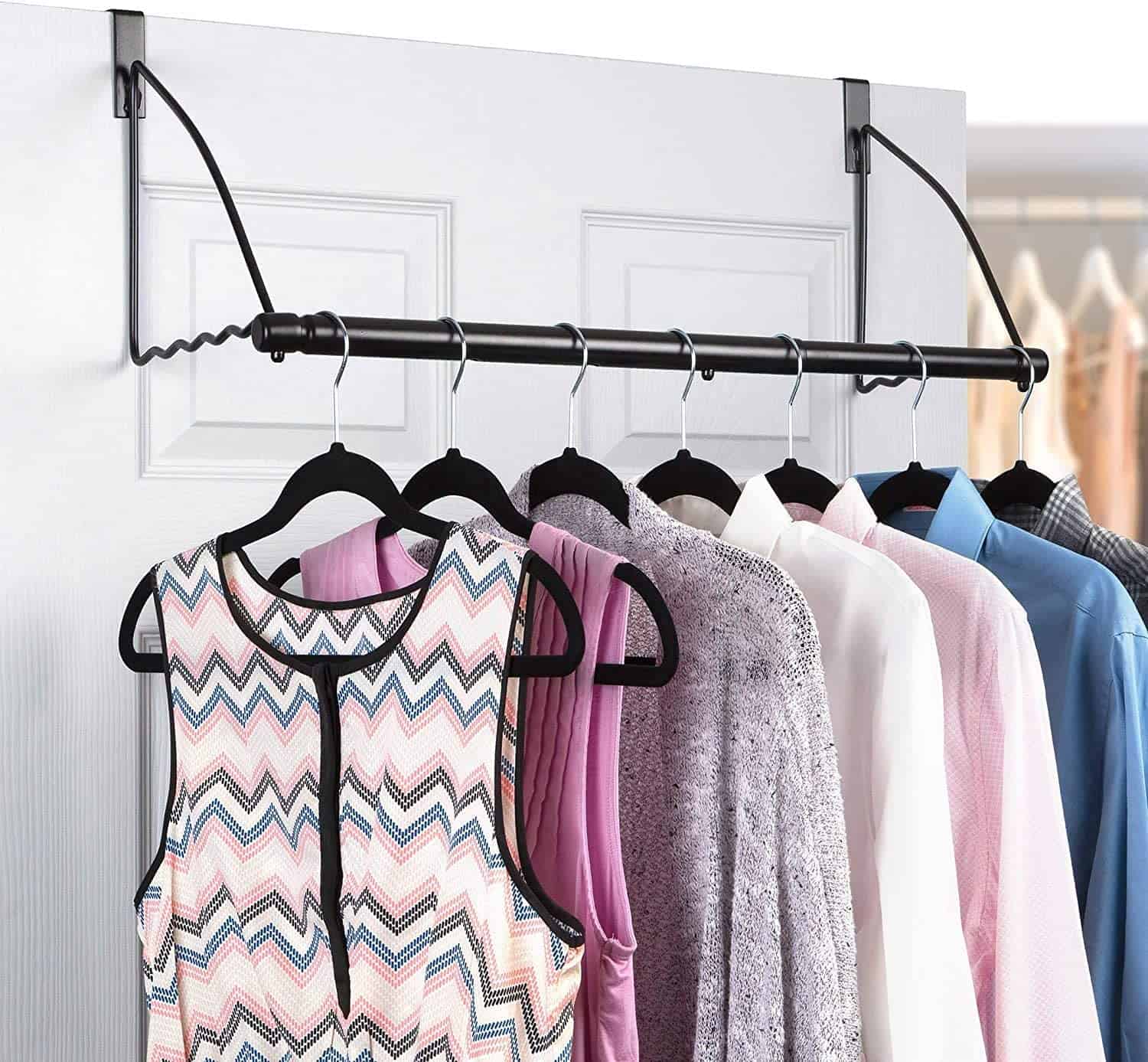 We recommend this unique door rack as a perfect dresser alternative for its compact, space-saving design. It has a sturdy construction that makes it durable with the ability to hold up to 35 lbs.
You can even add more capacity since it has ridged sidebars that adjust to up to 38 inches of hanging space from the front and sides. With the push-button release, you can easily hang it over the door and expand it to three different widths. It's also pretty easy to assemble, and you don't need special hardware; you can mount it in seconds.
Pros
Easy to assemble and install

Stable 

Stylish design

Large capacity for storage
Cons
Over the door, support can balk due to excess weight on the bar rod. This makes it difficult to shut the door. 
Another viable dresser alternative is the crate. It's a box-shaped container often made of wood, used for storage. These days they come in various sizes and designs made of steel, aluminum, and plastic. Initially, crates were specially made for specific products like the famous milk crates.
16. Collapsible Storage Bins with Lids: Best for Shelves and Walk-In Closets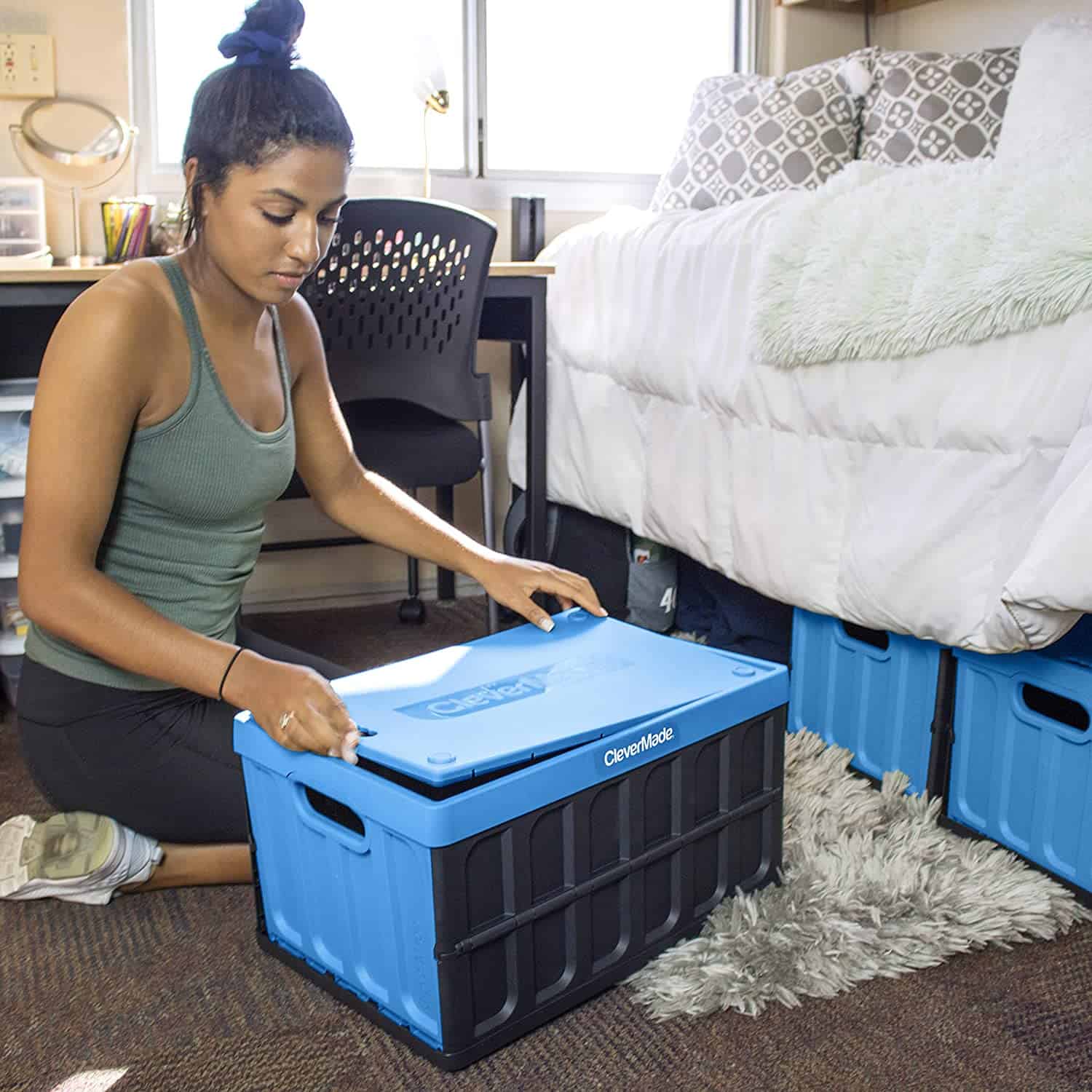 These aren't your regular storage bins; instead, these storage bins with lids are built from recyclable materials with functionality in mind.
The design features a rugged look with a sturdy bottom base with solid walls, ergonomic handles, and a lid that can be locked on the base or secured to the top of the crate when not in use. You can use them to store items with a weight of up to 88 lbs. You can also stack them when open or collapsed through an interlocking nesting system that secures the lid on the top or bottom of the crate. 
Pros 
Effective space savers 

Sturdy

Easy to stow away and compact to fit anywhere

Value for money
Cons
When full, the bottom tends to sag, and the handles can be painful to the hand.
17. Rectangular Milk Crates: Best for Bulky Items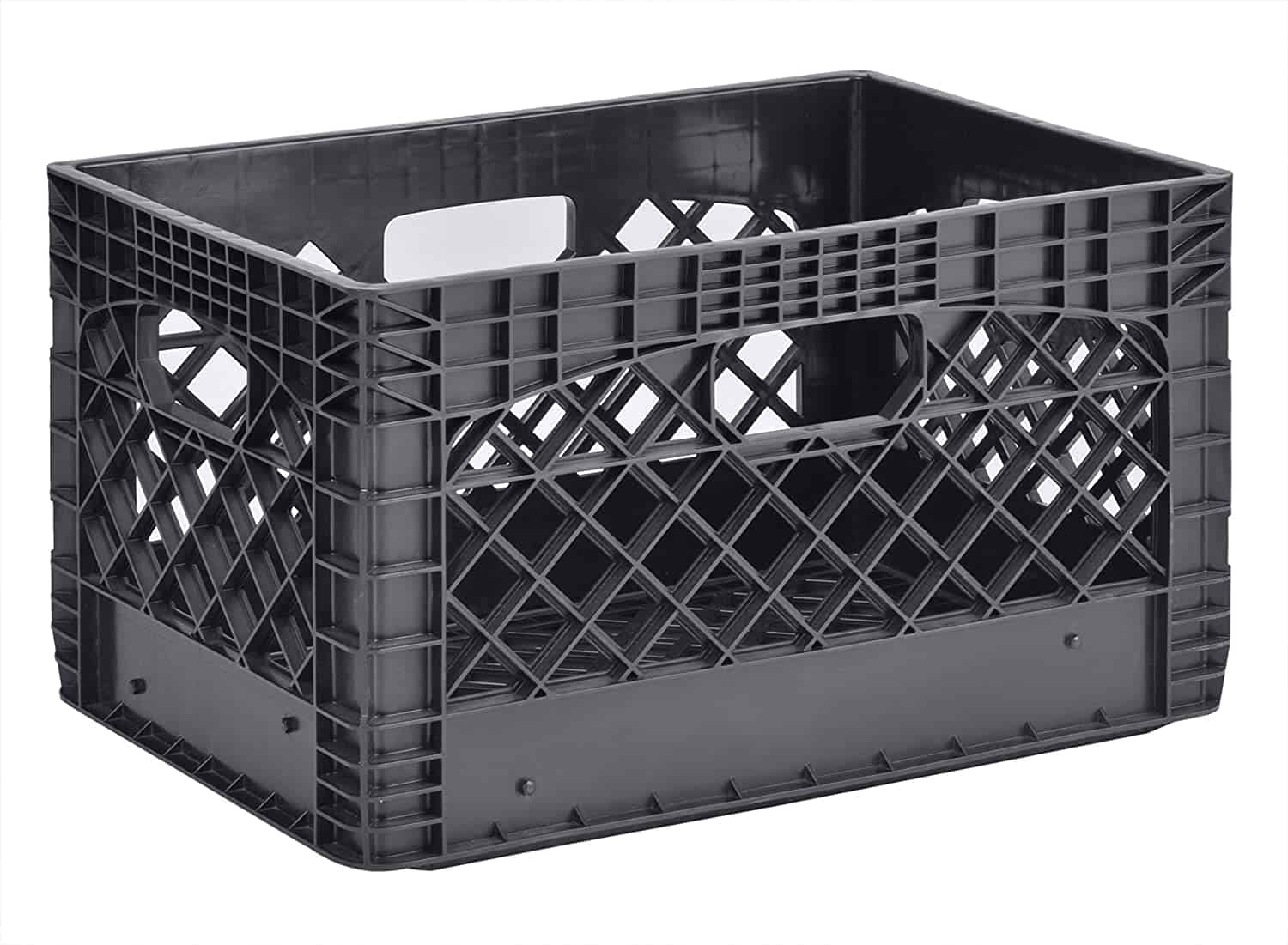 You've got to get these three stackable rectangular milk crates as a dresser alternative. They're an appropriate spacious stackable storage solution for your bedroom. The design features high-density polyethylene plastic, and in terms of size, they're 1.5 times larger than a standard milk crate. They also have reinforced handles to boost extra weight handling.
Pros 
Affordable, reasonable pricing

Solid but lightweight

Easy to move around
Cons
Not heavy duty and as sturdy as described.
18. Farmhouse Wood Crates: Best for Undergarments Storage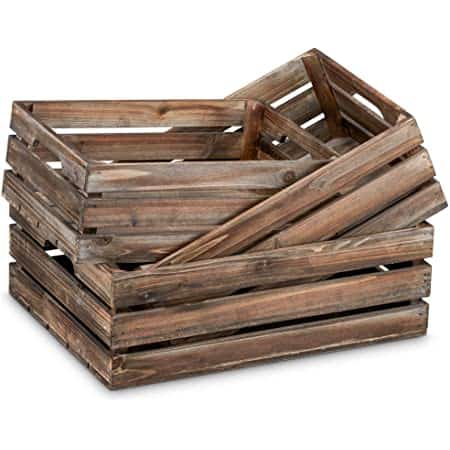 If design and style are a major factor for you, these three fabulous stackable rectangular wooden crates will come in handy. They're ideal for simple storage needs like toiletries, towels, pillows, and bedsheets. They have a farmhouse style that's bound to add a rustic touch to your space, and the cutout handles make them easy to carry around. Plus, their varied sizes give you multiple choices for storing your stuff. 
Pros
Aesthetically appealing with great workmanship

Value for money

Sturdy

Stackable 
Cons
Not large, are somewhat small than standard crates
More Dresser Alternatives   
For these particular dresser alternatives, we could only find one suitable option per the proposed storage solution. They're a perfect solution too, and you just might find the solution in them that you need.
Hutches are large, often wooden cabinets that come in several varieties. Unlike traditional cabinets, which are a preserve of the kitchen, dining area, or living room, a hutch is useful anywhere, including the bedroom.  It comes as a  freestanding unit with a display case and cabinets,or both that sit above the bottom half, while the lower half has a countertop, cabinets, or drawers.
19. Computer Desk with Hutch: Best for Spacious Bedroom Workspaces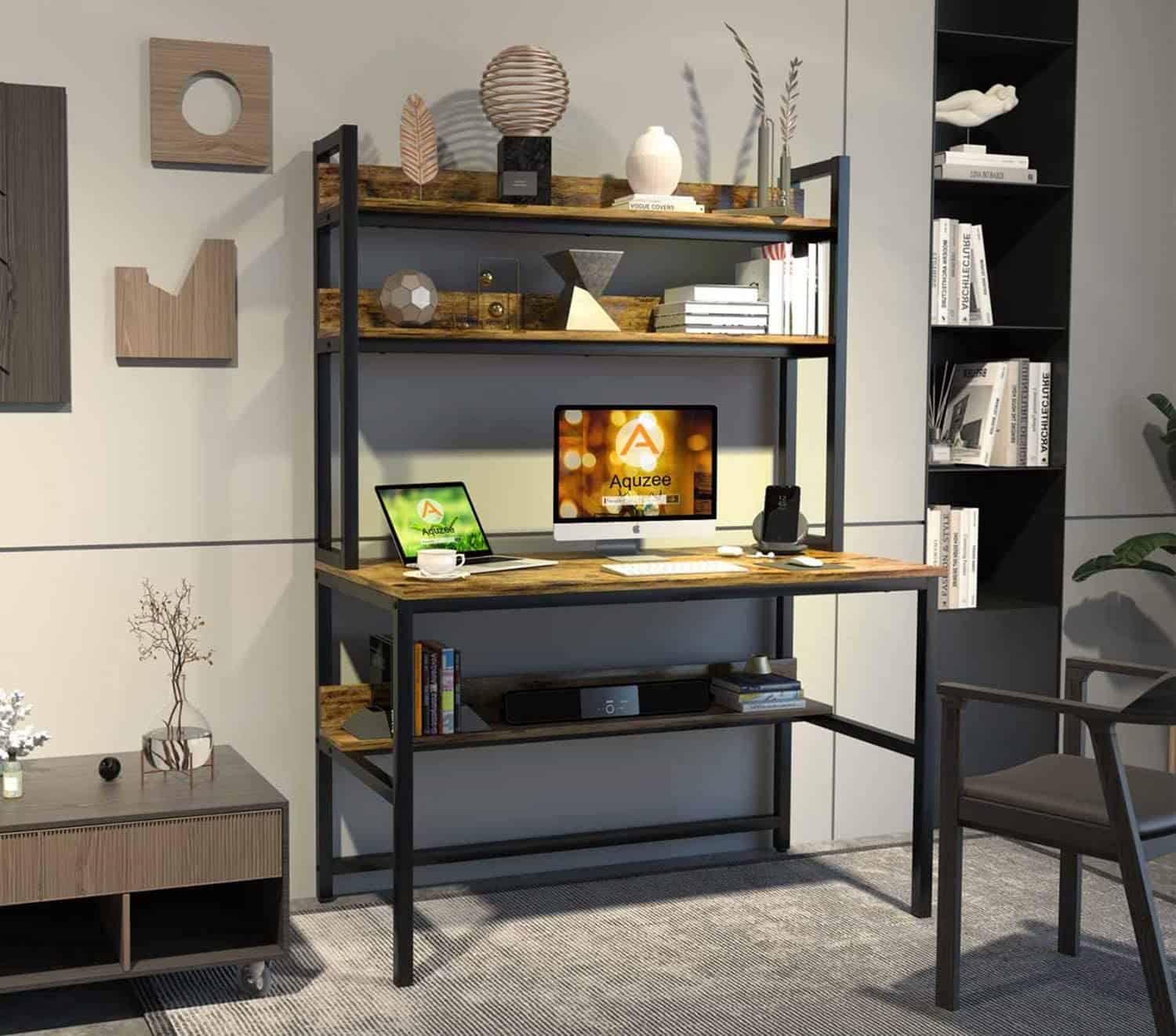 If you're looking for bedroom workspace ideas, this computer desk with a hutch has an eye-catching design and spacious storage. It has a rust-free powder-coated frame made from heavy-duty metal to ensure it's durable and stable.
The desktop and panel material consists of environmental particle wood, which is scratch-resistant, waterproof, effortless to clean, and sturdy to support heavy weights up to 500lbs. It offers you a large space for your PC or laptop, the desktop bookcase and two-tier upper storage rack are all suitable storage alternatives. It comes with clear instructions for easy installation and a 120-day money-back guarantee. 
Pros 
Precise instructions for assembly 

High-quality construction

Beautiful design and finish

Value for money
Cons
A wall ledge is a fantastic wall organizer ideal for storing toys, books, and more. If you have vast wall spaces, this is the best dresser alternative for you. It's a horizontal plan, anchored on a wall with safety brackets, sturdy enough to hold an array of items.
20. Floating Wall Shelves: Best for Accent and Small Items Storage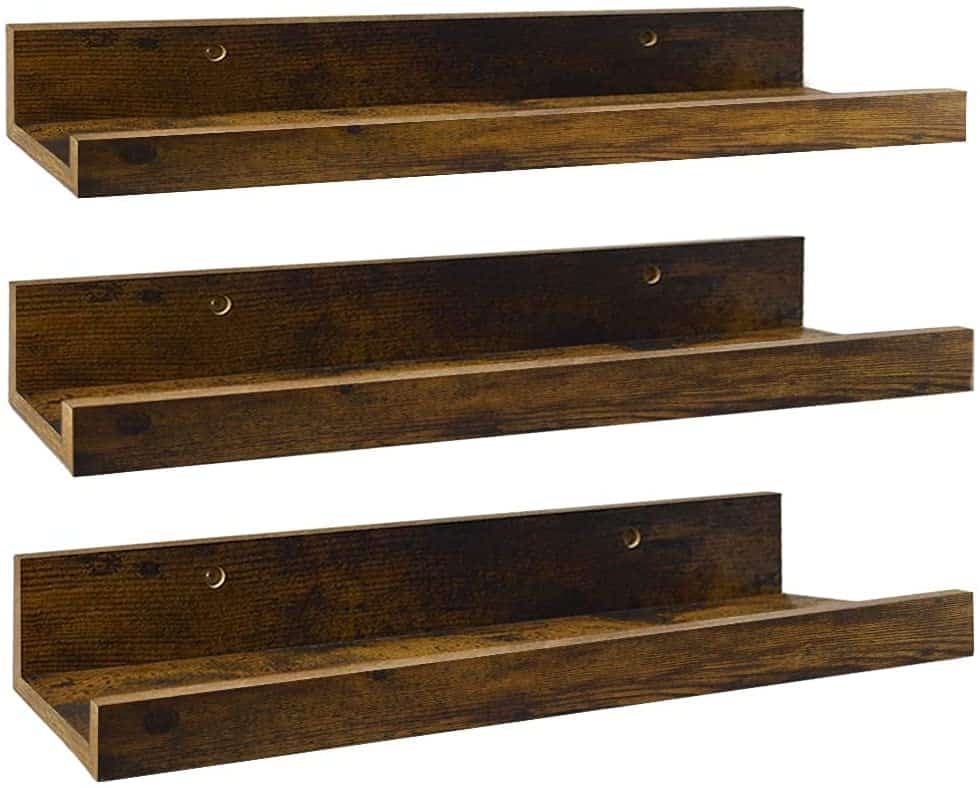 These wall shelves will give your walls an orderly, clean look. In addition, the classic U-shape ledge design and rustic wood give your entire space a simple, stylish feel.
The design consists of a sturdy, high-quality MDF board to ensure your stuff doesn't topple. They come as a package of three wooden shelves, six screws, one leveler, and one instruction sheet. Installation is made easy by the pre-drilled holes, wall mounting hardware, and precise, detailed instructions.  
Pros 
Stylish, appealing design

Lightweight but sturdy

Easy to install

Affordable and are value for money
Cons
Have backup anchor hardware in case the one provided balks
How Do I Keep My Drawers and Closets Smelling Fresh?
You can keep your stored garments smelling fresh all through;
Essential Oils
To ensure the fragrance lingers in your clothes, add essential oils to the wash. During the final rinse, add ten to twenty drops of the oil of your choice for that exhilarating fresh scent.
Air Freshener with Reed Diffuser 
Select an air freshener with a sweet, floral scent like rose or lavender. Then tack it behind your clothing in the self-storage unit or a vantage point close to it. 
Vinegar
To get your clothes to smell fresh, fill the washer with hot water, add two cups of distilled white vinegar, and run a complete wash cycle. Run a second full cycle with detergent added. This works well to prevent small amounts of mold and sour smells.
Dryer Sheets
Dryer sheets deposit scents and help to soften fabrics. One of the key benefits of dryer sheets is that their ingredients help combat, neutralize, and fight the effects of built-up static in most fabrics. Put them in with your garments and wait to see how effective they are.
Coffee Dye
Nothing is as effective as ground coffee to absorb bad odors off your clothing. Not to mention an absorbing scent that's hard to resist. To use this method, fill a container with coffee grounds, create a few holes on the lid, and store it/hang it in a small bag in your storage.
Alcohol
Put some undiluted vodka in the spray bottle, and lightly mist the clothes that need some freshening up. Vodka has a high alcohol content which breaks down smells and leaves clothes clean-smelling all the time.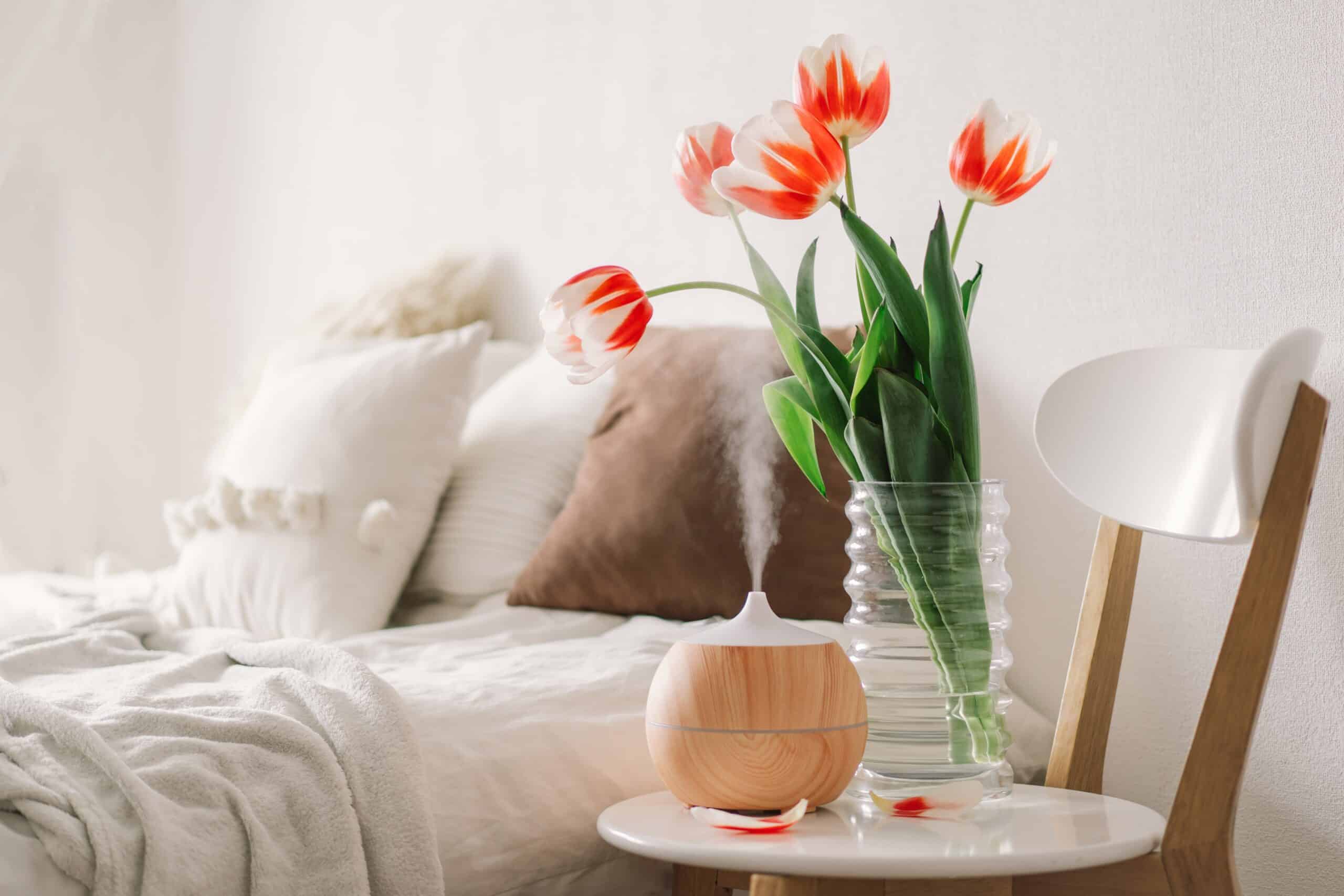 FAQs
Question: What Can I Replace My Dresser With?
Answer: You can use plenty of dresser alternatives, such as hooks, hangers, storage racks, trunks, hutches, wall ledges, and much more. They're all versatile and perfect space savers for all types of spaces. 
Question: How Can I Organize My Room without a Dresser?
Answer: There are plenty of devices you can use within your bedroom or closet as a dresser alternative. For instance, you can use an adjustable shoe organizer to organize your shoes and store them under your bed or closet. Or, you could use an over-the-door storage rack to hang your everyday stuff like scarves, coats, and belts. 
Question: How Do You Store Undergarments in a Closet?
Answer: Crates and baskets are ideal for the storage of delicate undergarments. Look for baskets or storage bags with adjustable compartments as you would in a drawer to keep the contents from shifting when you open and close them. 
Question: Can You Put a Dresser in a Closet? 
Answer: Yes, it's possible if you have a spacious walk-in closet. If you don't, there are dresser alternatives you can use for your storage needs, like an armoire, storage baskets, crates, and even trunks. 
Conclusion
This comprehensive article on unique dresser alternatives should be an apt guide in your search to find storage and organization solutions. Any space in your bedroom, be it a wall, door, under a bed or table, has the potential to be a storage unit.
From the 20 dresser alternatives reviewed in this guide, we recommend the S hooks as the most affordable and accessible means to saving on space and organizing your space. They're versatile in any space; walls, doors, ceilings, and inside closets, plus they're sturdy enough to manage weighty stuff.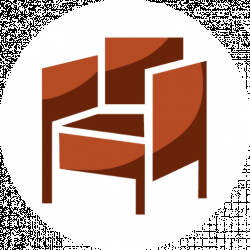 Latest posts by Finally Furnished Team
(see all)