Some dressers, dare I say, most of them have mirrors; what better way to get dressed than selecting clothing and accessories and seeing how they look in the mirror right in front of you. The best dressers with mirror options provide this solution.
Dressers are created for storage and designed to fit a variety of home interior styles. Each bedroom needs a beautiful and high-quality dresser to accent a chest of drawers and beds most of the time. If you desire, you can even have a small bookcase in the bedroom. Dressers can accommodate all your small important items and clothing, leaving more room for additional clothing in the closet.
This guide offers options for some of the best dressers with mirrors. Some dressers come with detachable mirrors, while others have the mirrored surface made into the design. Some mirrors can be adjusted as well. Before diving into detail on each product we've picked, take a look at a simple breakdown of each product.
At a Glance: 7 Best Dresser With Mirror Options
| | | | | |
| --- | --- | --- | --- | --- |
| Dressers and Mirrors | Best for | Foundation | Dimensions | More info |
| Liberty Furniture Industries Carriage Court | Small storage needs | Solid wood and Cherry Veneers | 40 x 18 x 73 | Find out more |
| Gloria Black-Finish Wood | Large storage capacity and classy bedroom set | Solid wood | 55 x 16 x 38 | Find out more |
| Bohaus Dressing Table | Used for storage and vanity | Manufactured wood | 56.13 x 15.44 x 46.44 | Find out more |
| Liberty Furniture Industries Sun Valley | Light decor and bedroom with medium storage needs | Melamine and Rubberwood | 58 x 16 x 72 | Find out more |
| Alixa 7 Drawer House of Hampton | Children/ teens for bedroom storage | Manufactured wood | 53 x 17 x 34 | Find out more |
| Progressive Furniture – Willow | Rustic decor and ample storage | Solid Pine | 64 x 18 x 79 | Find out more |
| Worsop 8 Drawer | Extra-large storage needs | Mesquite Pine | 60 x 19 x 48 | Find out more |
Benefits Of The Mirrored Dresser
A dresser fitted with a mirror is called a Bureau. It instantly brightens a room by reflecting any light, either natural or from lamps and bulbs. The Bureau also creates the illusion of more space in a small room. For example, if a bedroom is rather tiny, a large mirrored dresser provides the clothing storage needed and makes the room more open and inviting.
Taking care of the mirrored dresser isn't difficult. As far as cleaning the mirror, dusting should be enough. If fingerprints appear, simply wipe the surface with a soft cloth. You can gently wipe the dresser down as well.
Types of Dressers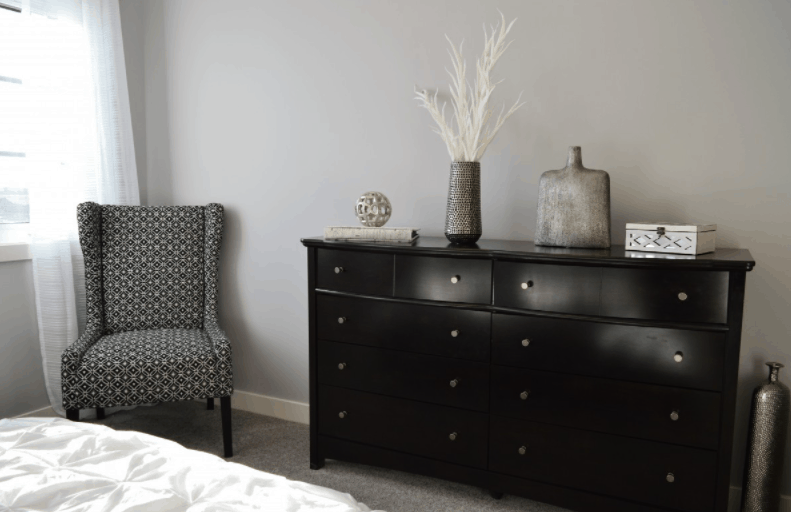 Dressers come in many sizes, shapes, and colors. You can choose a dresser to accommodate only a few extra items, or, on the other hand, you might decide you need a large dresser with three rows of drawers to hold almost all your casual wardrobe. Taking a look at the different kinds of dressers will help you understand which ones suit your needs the most.
Solid Wood
These are dressers made from solid wood. A few examples are Pine, Cherry, or Oak. Depending on the materials used to make the drawers inside, these dressers could be much sturdier than their manufactured counterparts.
Solid Wood large
A solid wood dresser that holds a massive amount of clothing and important belongings. Usually, large dressers have between 7 and 9 drawers. Some have special compartments as well, like cabinets and shelves.
Solid Wood Small
A solid wood dresser that holds only a few things. These are good options for children's or teen's rooms.
Solid Wood Detailed
This is a solid wood piece crafted in great detail or created to look antique. Signature designs are crafted into certain name-brand pieces. It's the company brand design or a common construction.
Manufactured Wood
Most lightweight dressers are constructed of manufactured wood and other materials. These furniture items must be used with care and never overloaded, as they are not quite as solid as the solid wood dressers.
Veneer, Manufactured Wood
A mixture of manufactured wood and veneer is used to construct this type of dresser. The veneer is usually the surface coating.
Vanity Dressers
Vanity dressers are unique as they offer both storage space and open space for sitting in front of the mirror.
Antique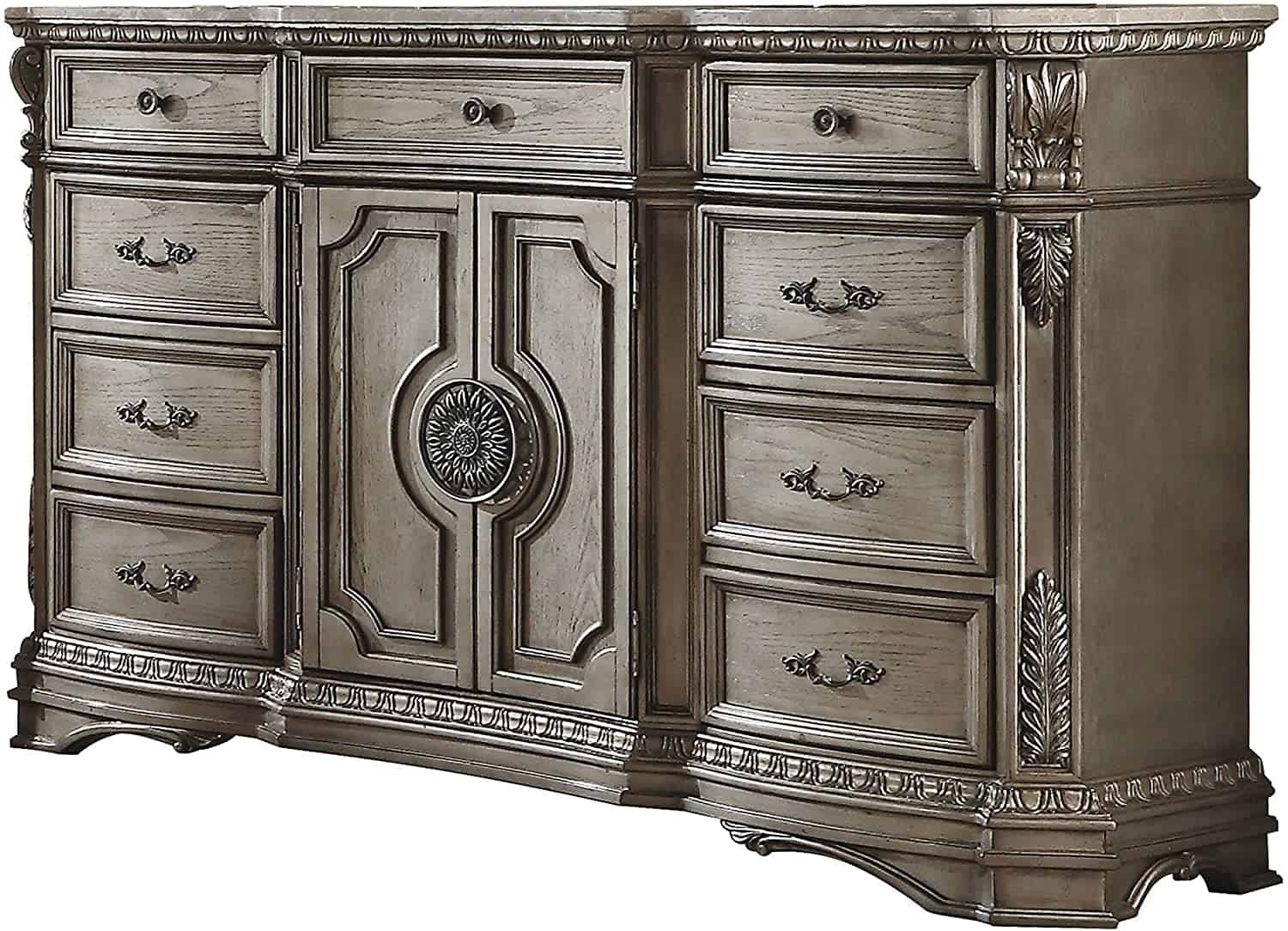 This type of dresser is constructed to resemble an antique furniture piece. It may be rustic, Victorian, or many other designs.
Antique Style With A Modern Finish
This style is constructed as an antique but coated in a shiny finish. As a result, it has both a modern and antique appearance.
Modern
These dressers are usually simple with a pleasant color or finish. They have angular shapes and other modern details, such as simple drawer handles.
Modern Style With Antique Finish
This dresser is constructed in a modern shape, but yet it's finished like an antique piece, as in the farmhouse style.
7 Best Dresser and Mirror Options
1. Liberty Furniture Industries Carriage Court Dresser and Mirror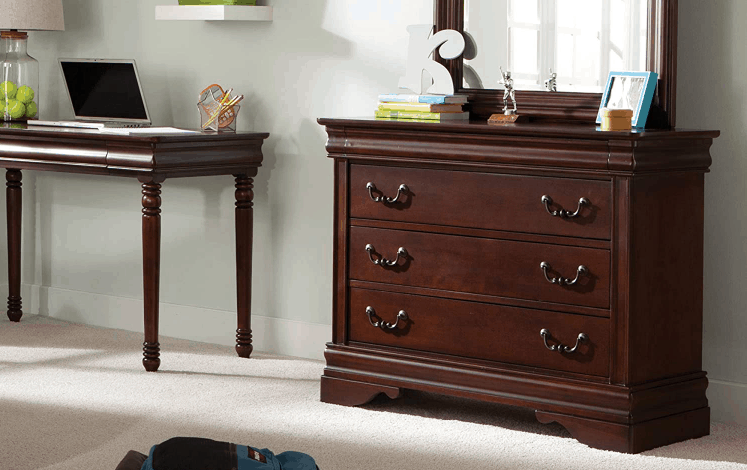 This Mahogany beauty is an antique style, with French and English Dovetail construction. The Mahogany color is also an antique finish which adds to its high quality. Three long drawers line the front of the dresser with double brass bail pulls. Each drawer pulls smoothly on full metal slides.
The mirror is held in place by a border made from the same solid wood and cherry veneers that cover the drawers beneath the tabletop. The mirror's trim creates rounded corners at the top of the glass, emphasizing the dresser's antique style. Although there are only three drawers, they have ample space for storage. All drawers are fully stained and lined in felt.
Overall Dimensions: 40 W x 18 L x 73 H
Weight: 134 lbs.
Pros
Classy style
Deep rich color
Good storage space and vanity
Cons
Heavy to move
Only 3 drawers for storage
Shows scratches easily
2. Gloria Black Finish Wood Dresser and Mirror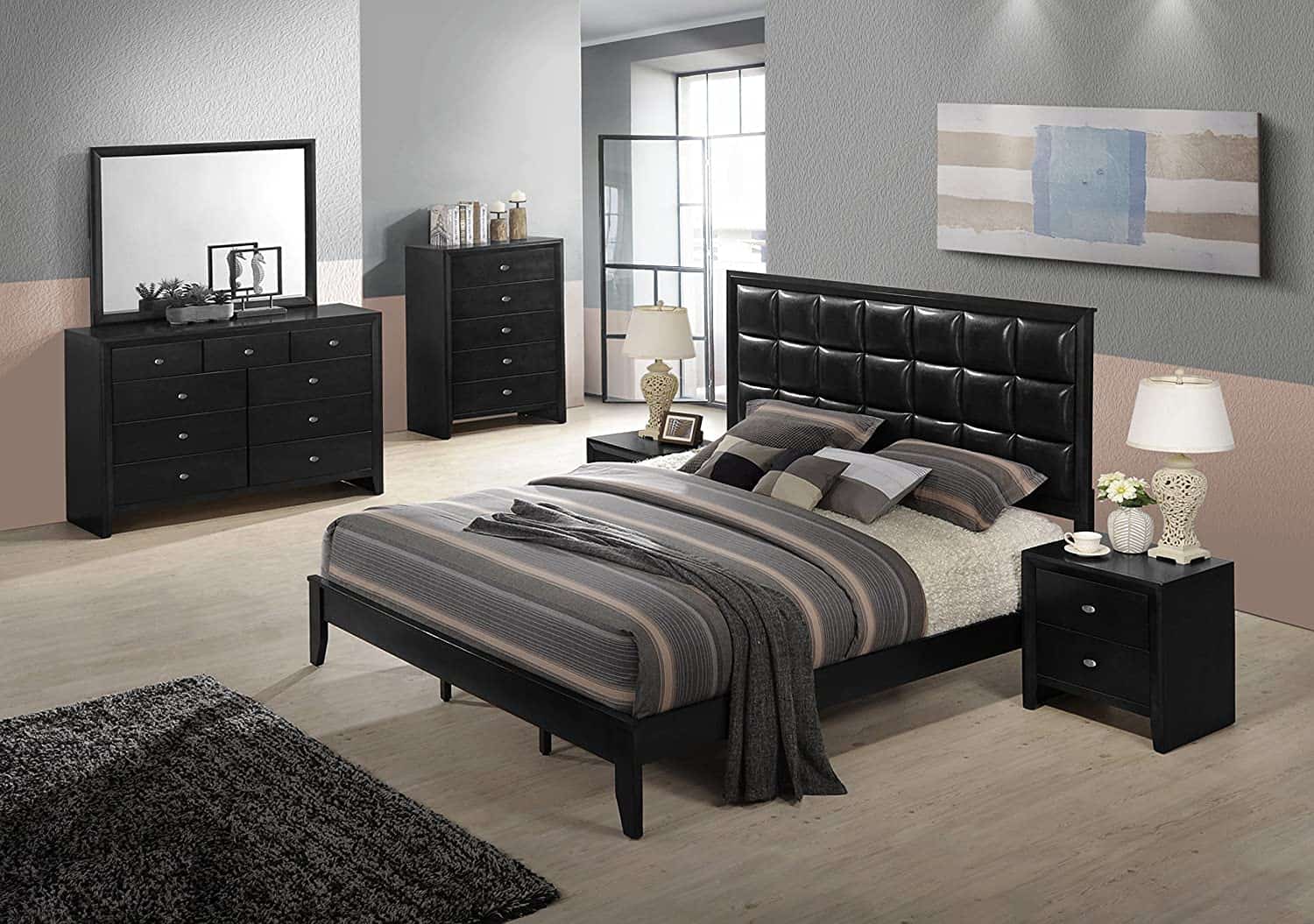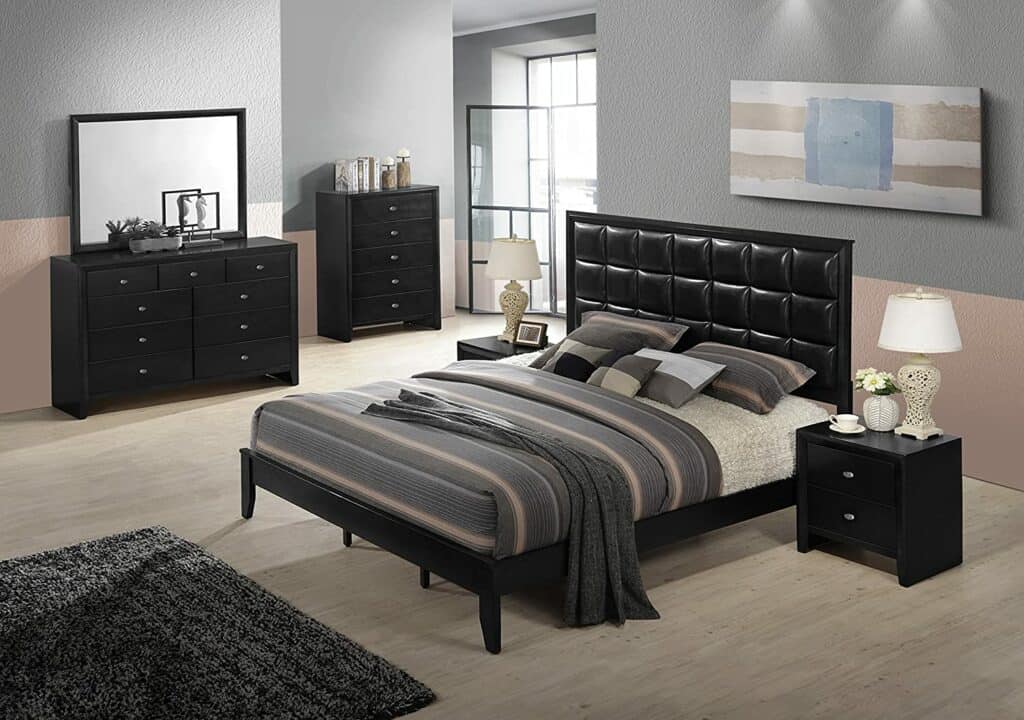 For a more modern and simpler look, this selection fits the ideal. This large 9 drawer dresser can accommodate and complement any spacious room. Each drawer has a single metal handle and smooth slides inside. Although the style is modern, the hewn edges give it a slightly rustic feel. You can find this Gloria Black Finish Wood Dresser and Mirror on Amazon. It's a high-quality product in many ways.
Besides the basics, the black finish, which matches the mirror trim, helps the dresser fit in with any décor. It also carries a bit of class as well. Even though the mirror is included with this product, it is detachable. This means you can purchase the dresser with or without the mirror. However, most customers prefer the extra value of the Bureau in their bedrooms.
Overall Dimensions: 55L x 16 W x 38H
Weight: 170 lbs.
Pros
Detachable mirror
Neutral dark color
9 drawers of space
Cons
Heavy to move
Too large for a small room
3. Boahaus Dressing Table, 7 Drawer Dresser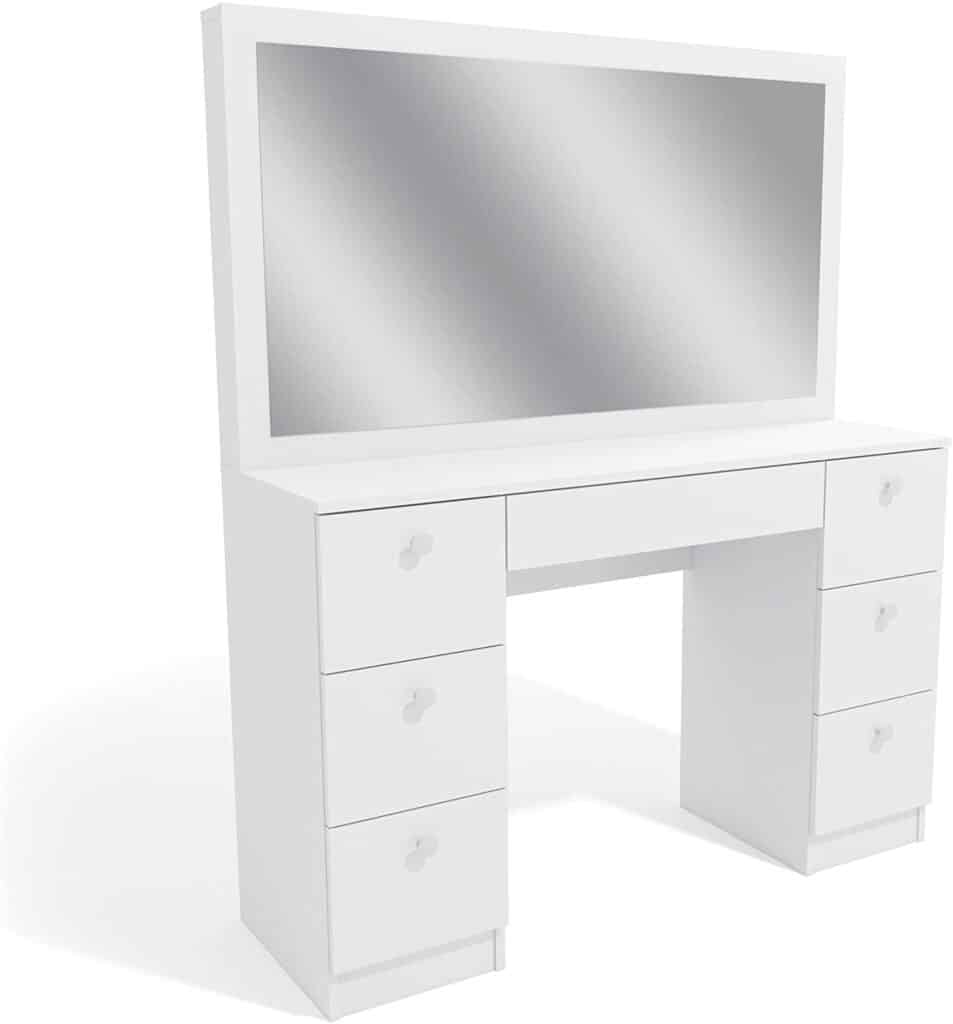 This vanity table, found on Amazon, serves as a mirrored dresser simply because of its 7 drawer space – there are 3 drawers on each side and one directly beneath the dressing table. Plenty of room sits between each line of drawers so you can sit and apply makeup or comb your hair.
The Boahaus Dressing table is made from manufactured wood and white in color. The mirror, which is made into the design, is the full length of the dresser itself. This provides plenty of viewing space for dressing as well. This furniture accent fits almost any décor and provides ample space for other storage pieces in the home.
Overall Dimensions: 56.13 L x 15.44 W x 46.44 H
Weight: 112 lbs.
Pros
Lighter weight for moving
Solid neutral color
Vanity style
Cons
Less drawer space/vanity style
Shows stains easier
Not solid wood
4. Liberty Furniture Industries Sun Valley Dresser and Mirror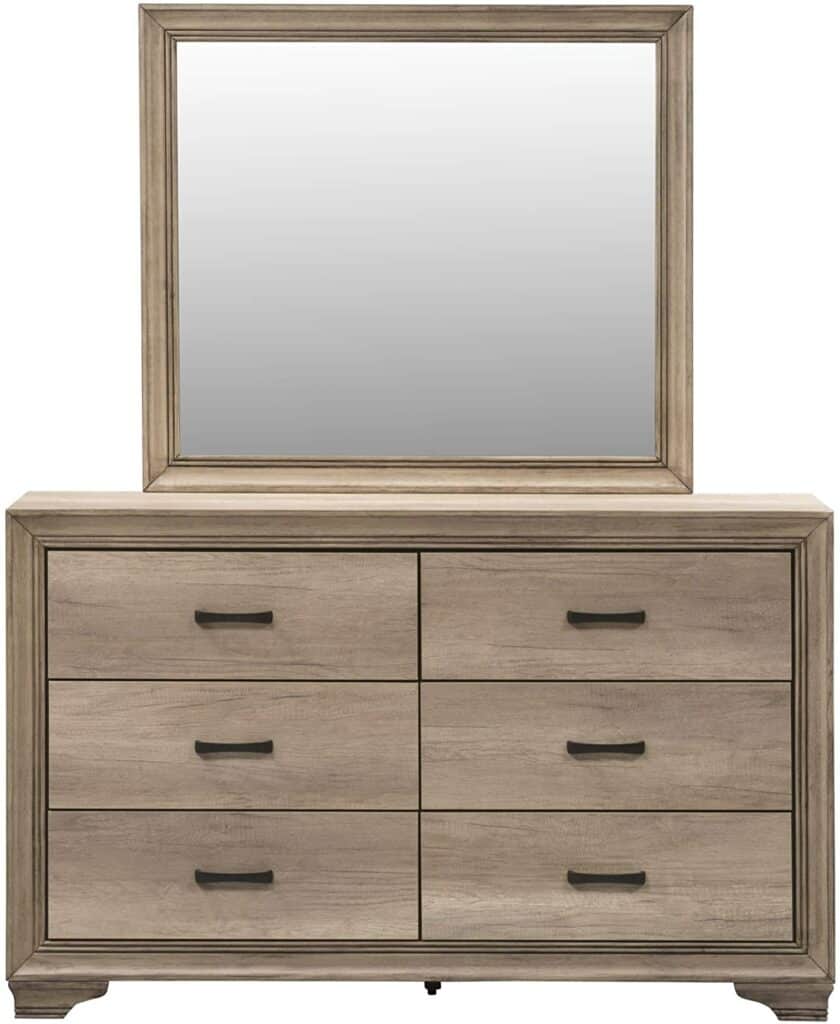 Constructed from melamine and a Rubberwood solid frame, this modern dresser has a sandstone finish that's warm and soothing to the eye. There are 6 wide and deep drawers for ample storage and a large square mirror. Each drawer has a laminate interior to avoid stains.
Although simple, the design is English Dovetail which adds that extra class to an otherwise rustic or beach appearance, as it has an overall beige tone. Each drawer has a single black antique brass bar handle to open the drawer. The molding is doubled bead and striking in appearance. Find this lovely addition to your home at Amazon.
Overall Dimensions: 58L x 16 W x 72 H
Weight: 173 lbs.
Pros
Unique warm sandstone color
Made from heavy wood
Ample drawer space
Cons
Heavy to move
May not match all décor
5. Alixa 7 Drawer House of Hampton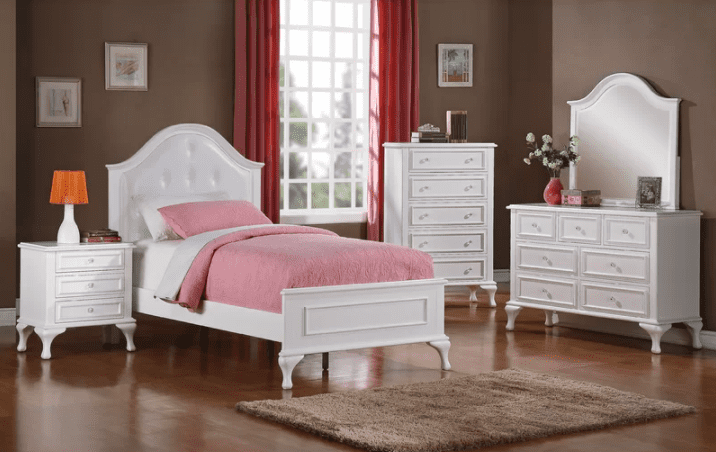 This charming piece found at Wayfair has 4 medium drawers on the bottom and 3 smaller drawers under the dressing table. It's perfect for a child or teen. Although it is made from manufactured wood, it's stable and durable.
The antique design may not fit all décor but blends quite well with other white furniture items, especially other dressers with cabriole feet and crystal-like drawer knobs. In fact, the dresser drawer piece can be purchased separately.
Overall Dimensions: 53 L x 17 W x 34 H
Weight: 60 lbs.
Weight Capacity: 50 lbs.
Pros
Unique design
Good choice for youth's room
Open floor space
Cons
It doesn't have as much weight capacity
More prevalent to showing stains
6. Progressive Furniture Willow Dresser and Mirror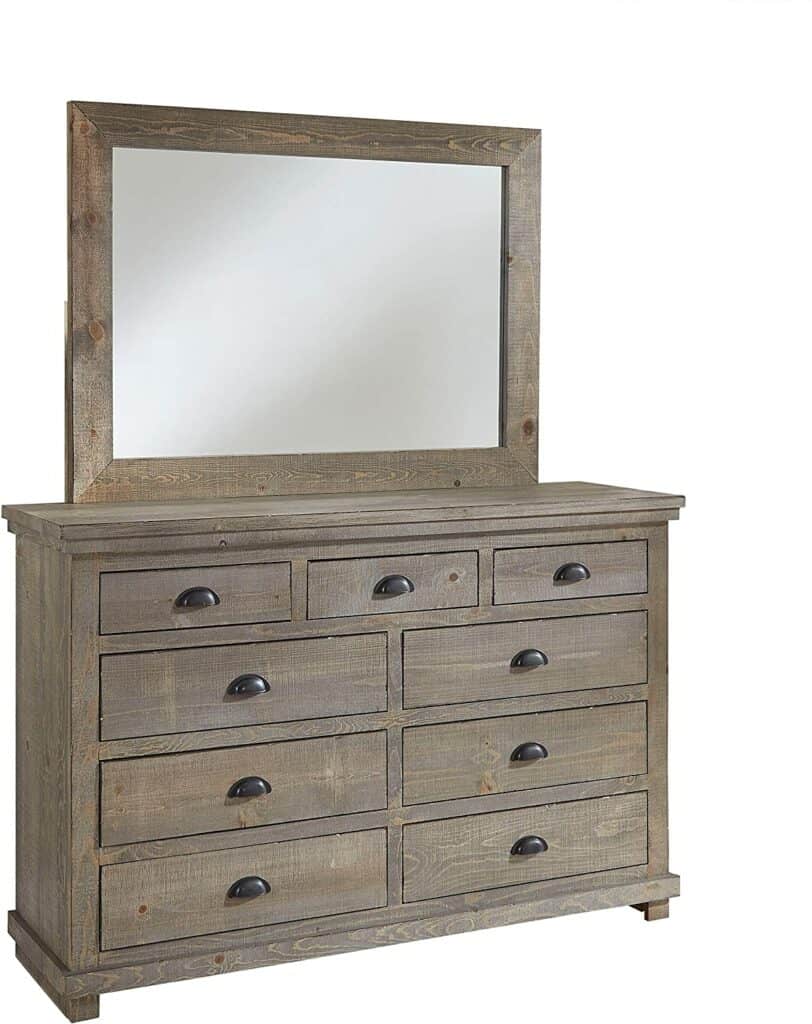 This solid pine dresser was designed to match the farmhouse décor of other pieces of furniture with distressed surfaces. With tongue and groove construction, this piece is as solid as they come. The Progressive piece, found on Amazon, is a large dresser with 9 drawers for storage. There are 6 drawers on the bottom and 3 at the top.
Each drawer has a black metal handle in the center for easy and quick use. The mirror portion of the dresser is also large and trimmed in the same distressed-styled pine wood. There is no satin shine or polish, as the furniture piece mimics a rough-hewn design.
Overall Dimensions: 64 L x 18 W x 79 H
Weight: 147.6 lbs.
Pros
Great rustic design
Large storage capacity
Beautiful gray color
Cons
Heavy to move
Rustic design doesn't fit all décor
It takes up large space
7. Worksop 8 Drawer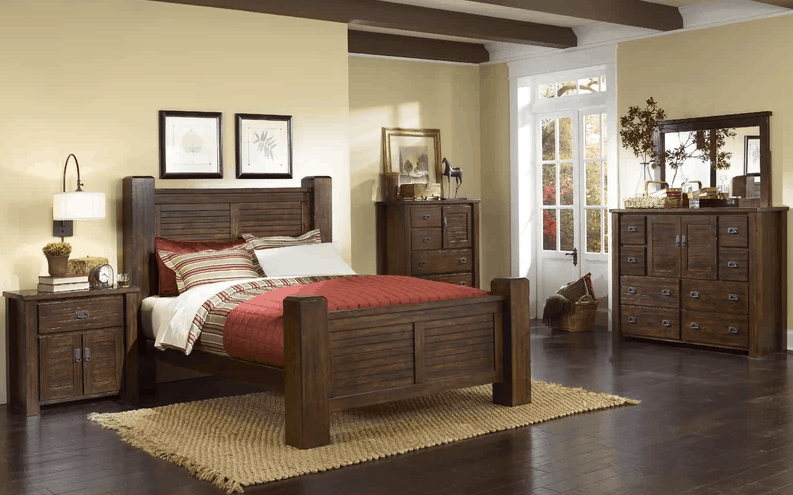 The structure of this dresser is massive and solid. With 8 drawers and a center double-door cabinet, this furniture piece is truly one-of-a-kind. The dresser/ mirror combo is constructed from Mesquite Pine and has a dull rustic surface matching other pieces of distressed style items in your bedroom.
Within the center cabinet, there are 4 shelves for additional items like towels or face towels. This makes the Workshop 8 drawer dresser from Mayfair a storage monster. This piece of furniture is astonishing and works with most any décor. You can easily find matching sets as well.
Overall Dimensions: 60 L x 19 W x 48 H
Weight: 180 lbs.
Weight Capacity: Drawers – 10 lbs. and Shelves – 10 lbs.
Pros
Unique with center cabinet
Attractive deep color
Sturdy
Cons
Heavy to move
Drawers are lightweight.
FAQs
Question: Are storage capacities the same in all dressers?
Answer: No, storage capacities vary from piece to piece. While some can hold many belongings or heavy clothing, others can only hold lightweight material or a few pieces in each drawer. Many factors are involved in this, as some dressers are made from solid wood, but inner drawers use manufactured wood.
So, understanding how both the dresser and the drawers are made is important to know their capacity. This is especially true if there's a problem finding information on their weight capacity. This can sometimes happen.
Question: Can mirrors be removed?
Answer: No, as some dresser mirror sets are made in this fashion, others are constructed with the mirror inside the dresser's frame. When searching for dressers with removable or stationary mirrors, read the specifics carefully in the description.
Question: Are manufactured pieces as good as solid wood furniture?
Answer: Unless you plan to pack the dresser with large amounts of heavy sweaters or constantly move the dresser, the manufactured wood pieces should hold up to natural storage capacity. Over time, however, solid wood tends to be more resilient and doesn't easily warp from moisture. This does not mean the furniture should be left outside for any length of time.
Question: Is it safe for one person to move a solid wood dresser?
Answer: Although you may be strong enough to move the solid wood dresser, it's not recommended that you do. At least two people should move the dresser if they are prone to lifting heavyweights in the wrong fashion. Lifting heavyweights in the wrong way can cause irreversible spine damage.
Question: Do all dresser/mirror combos come in bedroom sets?
Answer: Most dressers with mirrors come with matching bed frames, chest of drawers, and other accessories. Before purchasing your dresser, read all information found on the product page. It's better to know this information, especially if you cannot match your furniture piece to your existing décor.
Final Thoughts about Dressers with Mirrors
This guide is here to help you put together your dream bedroom set, starting with the dresser mirror combination. Whether you choose a set from a particular company or mix and match pieces, that is up to you. And when you finish with the bedroom, you can move on to the living room as well.
Overall, the best pick in quality and affordability would be the Liberty Furniture Industries Sun Valley Dresser and Mirror. This choice has all the right features and storage capabilities. In addition, the color of this dresser/mirror combination is warm and inviting as well. But the choice is ultimately yours.
After choosing your perfect dresser and mirror, check out our guide on quality beds and bedroom furniture. The purpose of the guide is to help you put together the comfortable bedroom of your dreams. With these options, you have several quality pieces to choose from and maybe an idea or two of your own.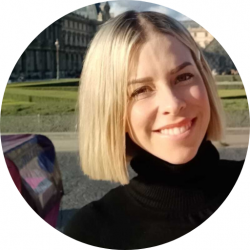 Latest posts by Jodie Chiffey
(see all)