Are you thinking about getting a U-shaped couch for your home but are wondering which one would work best in your space? Today's focus falls upon this particular type of sofa as we look at what to consider in a U-shaped sectional.
So, stay with us as we digest the best U-shaped couch ideas and try to find the ones that are the most cost-effective, durable, stylish, and suitable for all kinds of needs.
What Is a U-Shaped Couch?
A U-shaped couch is literally a regular couch with extensions that form a U shape when seen as a whole from above. Since they are available in a multitude of sizes, U-Shaped couches provide ample seating area. And many, if not all, are sectional, allowing you to configure it in a way that matches your taste or the form and size of your room.
Where Do I Put a U-Shaped Couch?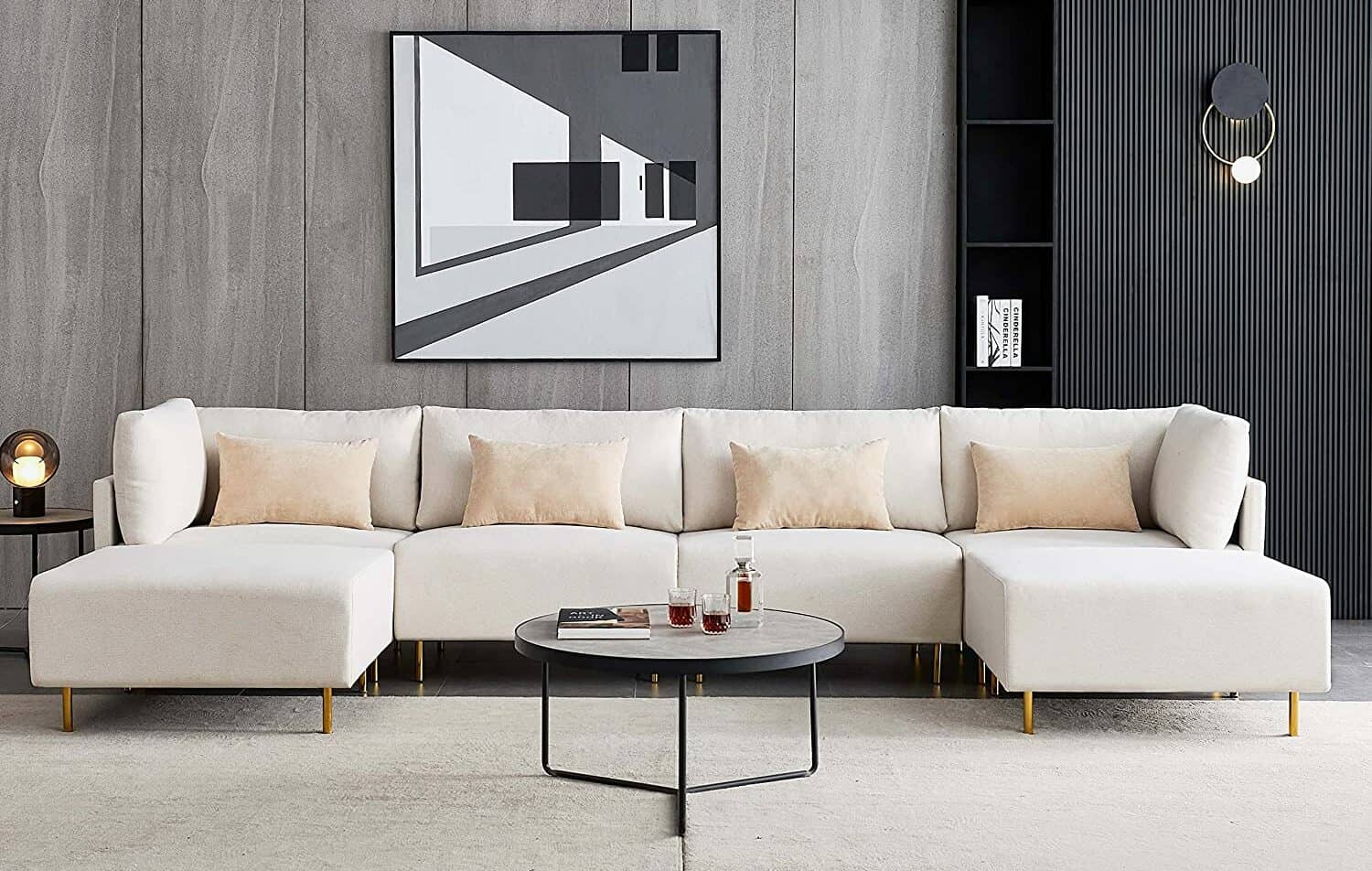 Coming in a variety of styles and brands, U-shaped couches have grown in popularity as they give adequate seating in homes, offices, and even as outdoor furniture. They come in a variety of forms, materials, and styles, with some being better suited for indoor use and others having constructions suitable for outdoor placement.
A U-shaped couch is ideal for big family rooms, lounge areas, or if you have a home theater room. Nowadays, it appears as though families are adding vast additional areas to their homes, mostly for entertainment purposes or to hold small social or family events.
Pros and Cons to a U-Shaped Couch
Pros

Cons

●

 

Can accommodate large gatherings.

●  It can easily be rearranged.

●  Sides can serve as ottomans/coffee tables.

●  Can offer integrated storage.

●  Can double as beds.

●

Occupies a lot of space.

● It can be difficult to clean.
What to Consider Before Buying a U-Shaped Couch
When you strip it down to its core, the U-shaped couch is really nothing more than a sectional sofa with parts that are arranged to eventually form the shape that gives the product its name.
U-Shaped Couch Sizes
U-shaped sectionals include big, three-to-five-seat couches with side arms that face outwards. Typically, one arm features a one or two-seat loveseat, while the other features an ottoman for one or two people.
Due to the protrusion of the second arm, which stands out in the design, U-shaped sectionals feel slightly bulkier than other sectional models, making them ideal for bigger rooms or open designs. U-shaped arrangements promote discussion and work well with a coffee table since the seating is arranged around a focal location.
When you're choosing a U-shaped sofa, you shouldn't have problems with fitting it through the door because the several pieces that make up the sofa should be fairly small and easy to move around. But what you really want to do is measure the available space and see if you can arrange the pieces to form a U-shaped couch.
The Color of the Couch
U-shaped sectionals are available in pretty much any color you desire. They are usually purchased in black, white, or neutral tones, but don't assume you can't find one in sage green or teal if those are the colors you'd prefer. As long as it matches the rest of the decor, nobody can really tell you what color you should choose.
Your Budget
Staying within budget is really important if you can't afford to spend too much because these things can be ridiculously expensive depending on what they're made of and by which brand. You can find a U-shaped couch for as low as $500, but some models cost ten times more.
Materials of the Couch
Once you've determined the size and design of your sofa, it's time to examine the upholstery. U-shaped sofas are available in an array of materials and colors. That means that you can find them in anything from faux leather to microfiber upholstery, and the choice is entirely up to you.
Keep in mind that different fabrics have different properties, and while a cotton-covered U-shaped sofa might be cheaper compared to a leather one, it's also more difficult to get stains out of the material.
Couch Warranty
Warranty is crucial when it comes to choosing just about any piece of furniture. While most products have a 30-day refund policy, you want to go with a brand that stands behind its products and offers an extended warranty for coverage against manufacturing defects.
Ease of Care
Ease of care becomes increasingly more important when you have a household with children and pets that have no regard for keeping upholstery clean. If that's the case, you want to opt for couches that can easily be cleaned. For instance, the glossy and slippery surface of leather or faux leather means that you can clean any spills with a dry cloth.
Upholstery that requires spot cleaning is also fairly easy to maintain, but this also depends on the type of stain in question and how fast you can act to clean it. If the stain is absorbed by the fibers, you're going to have a hard time getting rid of it.
Also, some U-shaped sectionals have large seating and backrest pillows with some sort of foam or some other padding covered by a removable cover. Make sure this cover is machine-washable, as this will save you a lot of trouble with cleaning it manually.
Your Current Home Décor and Style
Sectionals are fairly big and may be configured in a variety of unique ways. A sectional is certain to make a statement in your house with this! A sectional sofa has the potential to significantly alter the design, flow, and aesthetic of a space.
When you're shopping for a new U-shaped couch, consider how it's going to fit in with the rest of the decor. Consider if the room is decorated in a mid-century modern style or if you're looking for a more rustic approach.
While there are interior design rules to mixing and matching furniture pieces, it ultimately depends on what you want to see every day when you get home.
Best U-Shaped Couch Ideas
Best U-shaped Couch With Ottoman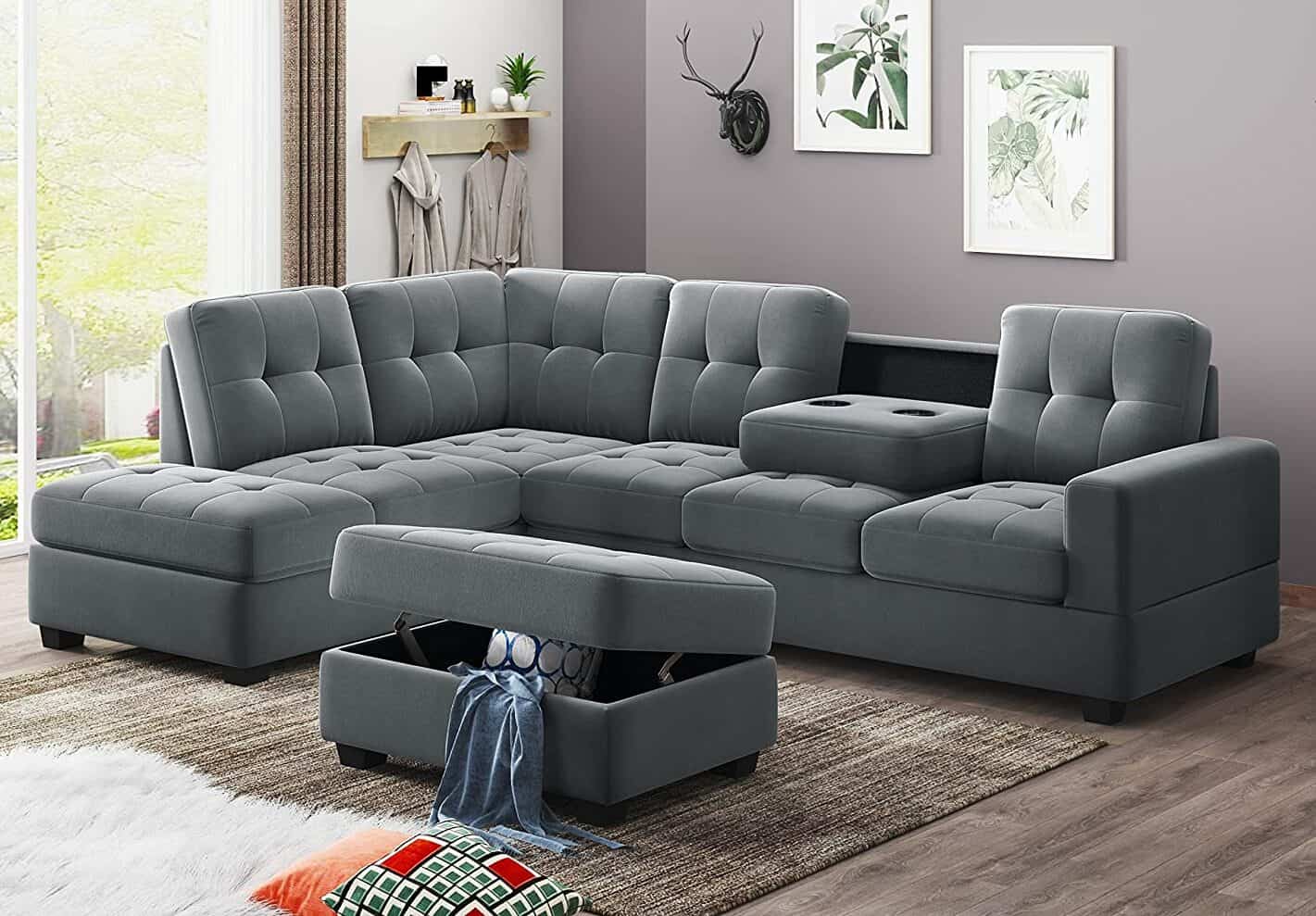 There are plenty of things to love about the MGH three-piece U-shaped sectional sofa, starting with the storage underneath the ottoman and the fact that you can rearrange the pieces to better suit your space. You also get two cup holders, so your favorite drinks are always nearby while you're enjoying popcorn and a movie.
Dimensions: 32.5 x 104 x 34.5 inches

Warranty: 30 day return

Color Options: 3

Material: fabric upholstery
This set comprises a corner seat on the left, a corner seat on the right, and a detachable ottoman. The chaise may be placed on either the left or the right side of the sofa.  The cushions have long-lasting foam integrated into the fabric and a sturdy oak frame. This U-shaped couch comes with strong black legs and a long-lasting hardwood frame.
Best U-shaped Couch With Bookshelf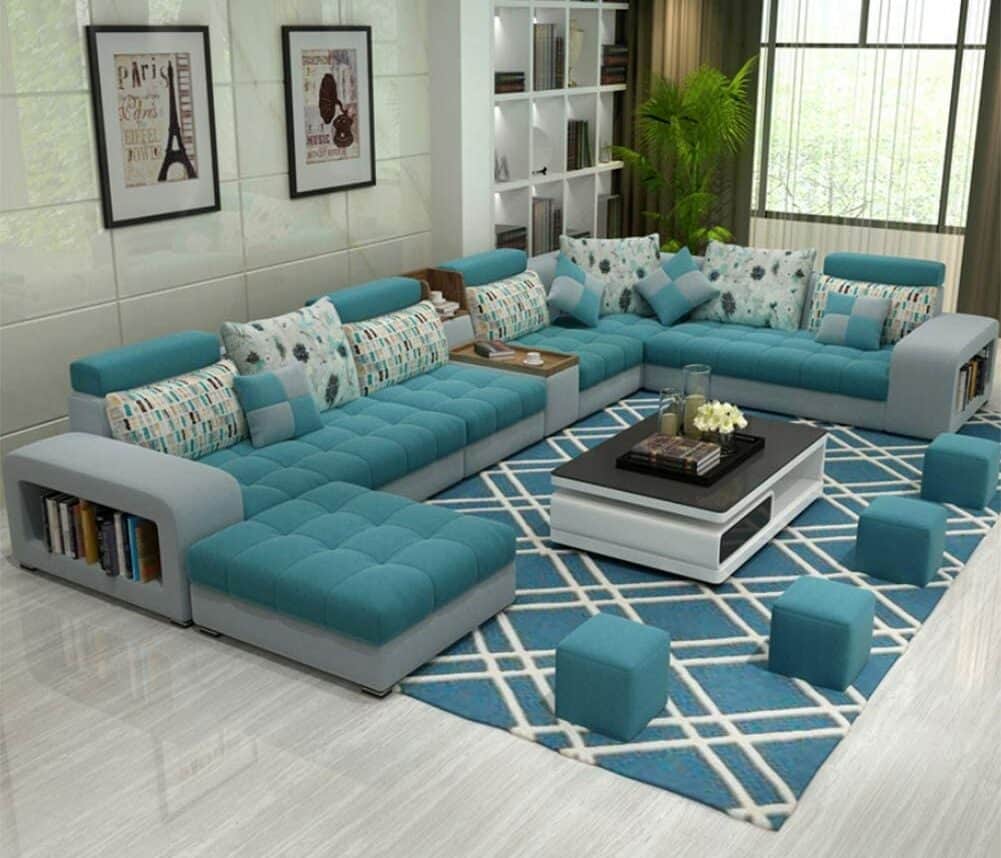 Whenever you feel the need to maximize space and include as many multifunctional pieces of furniture as you can, products like this U-shaped couch with an integrated bookshelf are bound to be of service. Made with cotton upholstery, this sofa feels very comfortable and soft to the touch.
Dimensions: 156.6 x 94.4 x 33.4 inches

Warranty: 30 day return

Color Options: 4

Material: cotton
There are two bookcases located on the armrests, but you are not limited to storing just books. It could be framed family photos or trinkets from your vacations. You have four gorgeous color options to choose from, including a beautiful shade of burgundy red.

For large mid-century modern spaces, this is one of the best options out there in terms of U-shaped couches. It comes with 10 different pieces that you can actually rearrange in any way you want. It includes two corner chairs, one left-side armchair, one for the right side, and six armless chairs designed for middle spots.
Dimensions: Vary by section (see below)

Warranty: 30-day return

Color Options: 1

Material: polyester
The dimensions for each piece are different: 32.50 x 33.00 x 35.75 inches for the corner seating, 32.50 x 23.75 x 35.75 inches for the armless chairs, and 32.50 x 28.00 x 35.75 inches for the left and right armchairs.
Best leather U Shaped Couch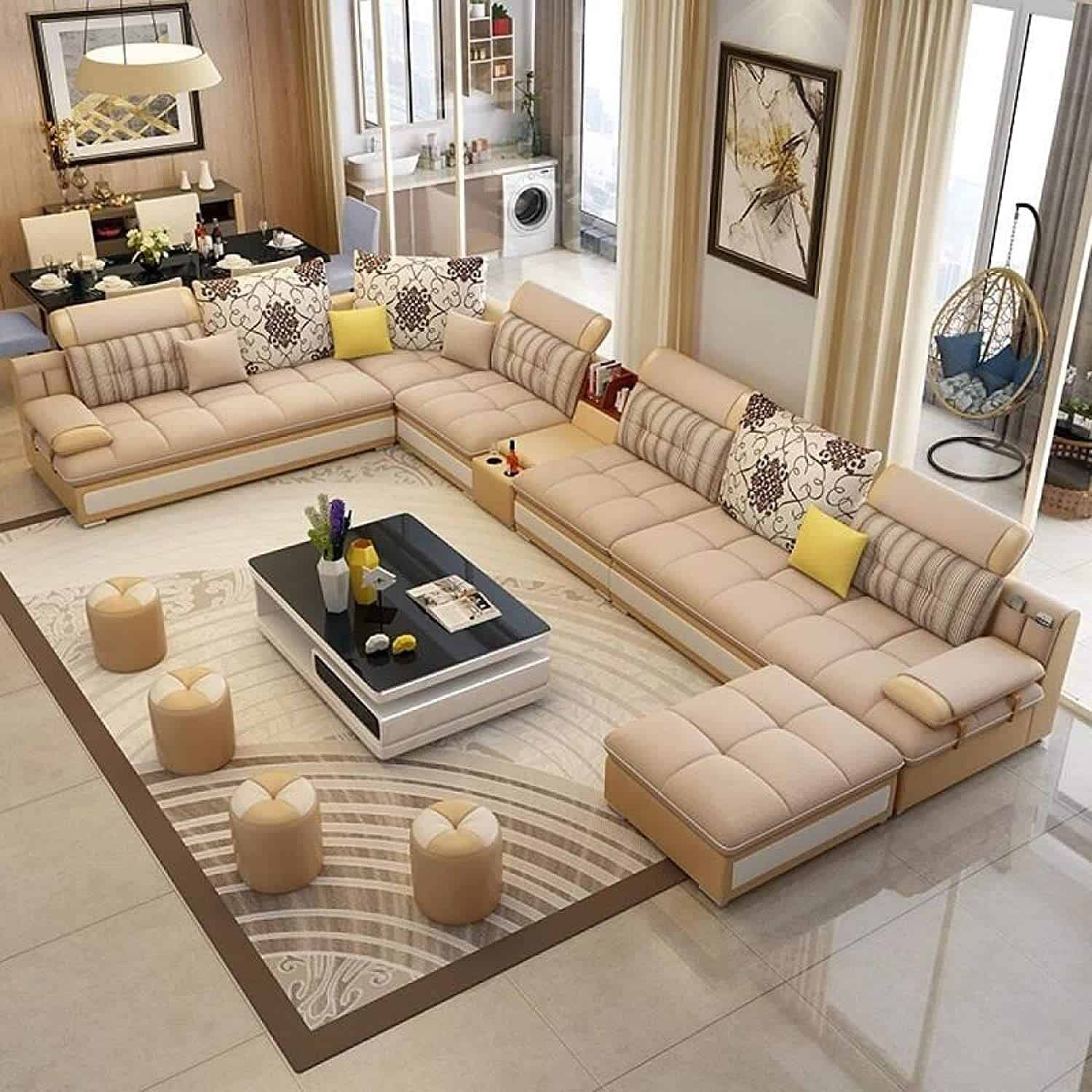 This My Aashi U-shaped couch is giving us a lot to talk about. Just by looking at the picture, you can see that we're dealing with something that occupies a lot of space, so if you have a smaller living room or entertainment area, then this is not the right choice for you.
Built upon a wooden frame, this couch offers leather upholstery that looks and feels luxurious at the same time.
Dimensions: 155.5 x 35.4 x 38.58 inches

Warranty: 3 years

Color Options: 1

Material: leather
The item is crafted from stitched leather and features a premium cushion for added comfort. It is completely customizable to complement the elegance of your house. The lavish footrest beckons you to recline and kick your feet up after a busy day.
This sofa's classic elegance and global appeal make it a versatile and appropriate choice for a wide variety of settings.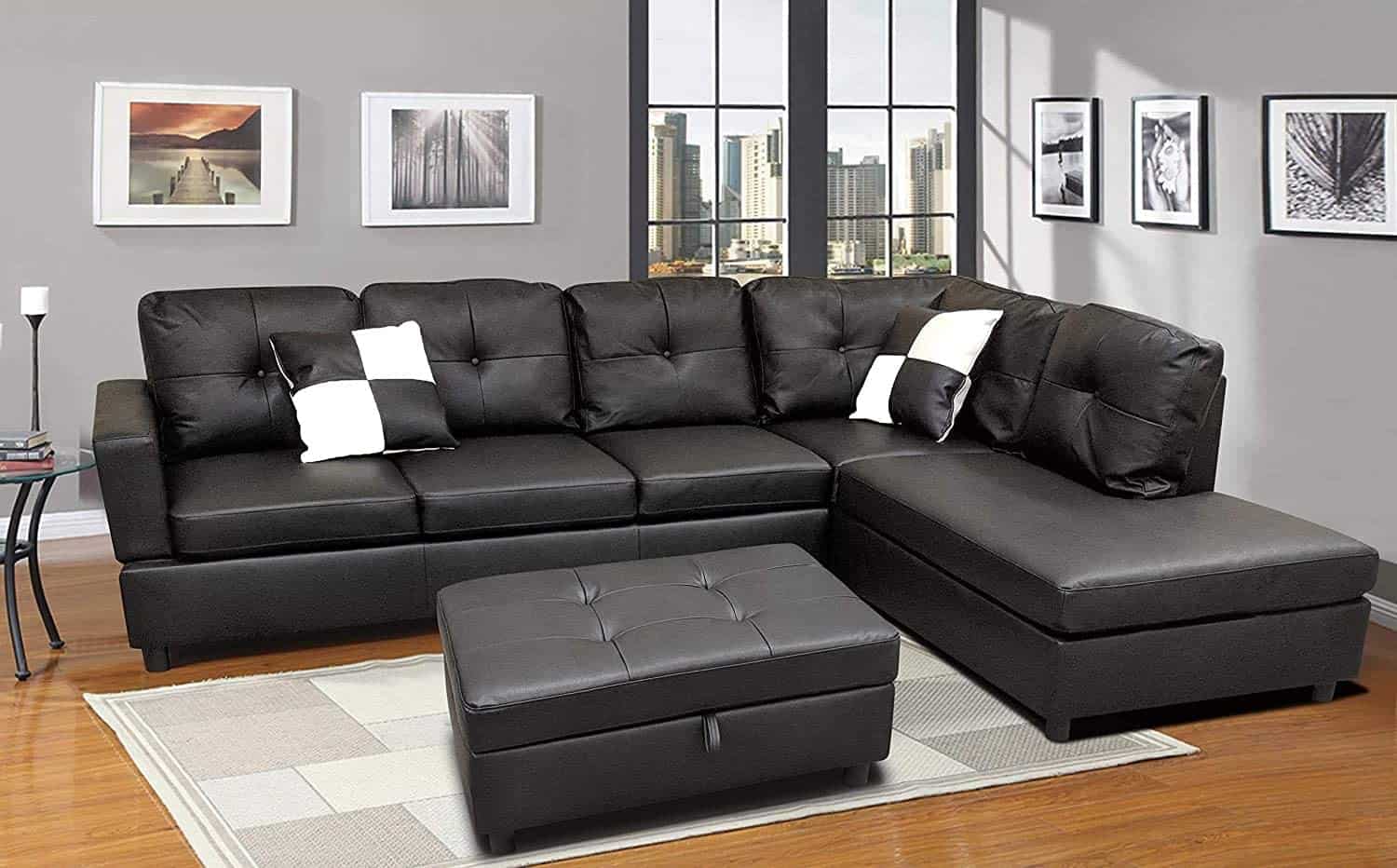 Don't let the "L" in the product description fool you. With the pieces included in the set, you can easily make this a U-shaped couch if you want to. It comes with a sofa that includes seating for three people, a chaise that goes on one side of the sofa, an ottoman that can be placed on the other side to create the U shape couch in question, and two pillows.
Dimensions: 105″ x 76″ x 34″

Warranty: 30 day return

Color Options: 1

Material: faux leather
Made from faux leather, the upholstery on this couch is super easy to clean. And, most of the time, all you're going to need is a dry cloth to wipe off stains and maybe some mild detergent to remove stickiness off the surface.
Best Cheap U-shaped Couch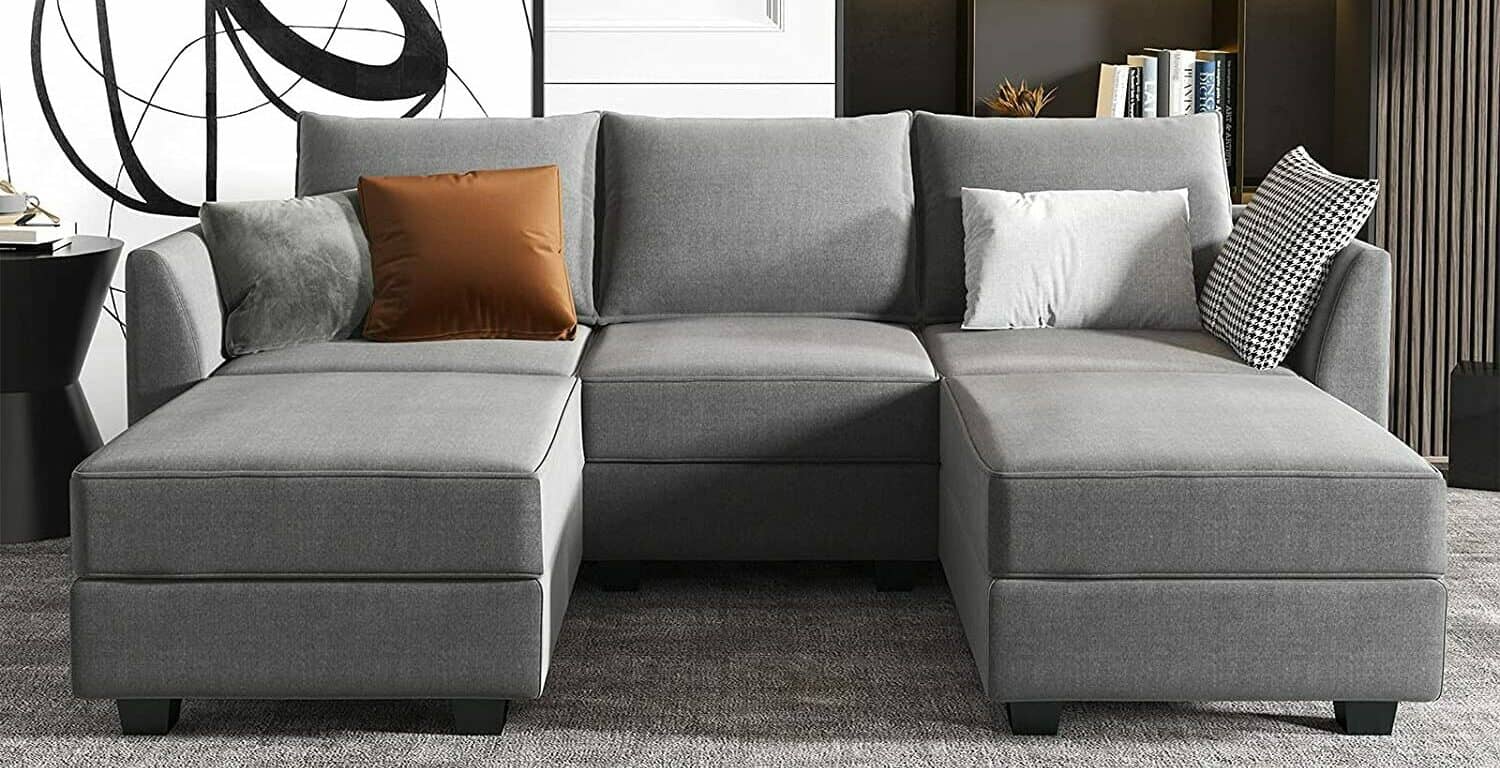 This sectional sofa's sturdy solid hardwood frame, 100 percent polyester fabric, and high-density sponge filling, make it both attractive and comfortable. It is not simply a U-shaped sofa because each seat can be rearranged and re-matched, so you have a lot of possibilities when it comes to room decor and positioning.
Dimensions: 112.21 x 55.90 x 33.86 inches

Warranty: 1 year, 30-day return

Color Options: 3

Material: polyester
Additional storage is found behind each seat of the six-piece sofa. This U-shaped couch is built on a strong wooden frame and provides comfort thanks to the built-in memory foam cushions. The included solid black legs properly hold the entire sofa and provide a product with a pretty long lifespan.
FAQs
Question: Can you get a U-shaped couch with a recliner?
Answer: Yes, there are several options out there when it comes to U-shaped sofas with recliners, but they are not as common as other types of U-shaped couches.
Question: What is the best U-shaped couch?
Answer: The best U-shaped couch is the one that meets your particular needs and requirements. We would recommend the FlashBuy faux leather sectional sofa because it's easy to clean, available at a good price, and is pretty durable.
Question: What is the cheapest U-shaped couch?
Answer: If you're looking to save money when purchasing a U-shaped couch, we recommend taking a look at the HONBAY Modular Sectional Sofa.
Best U Shaped Couch Ideas: Final Thoughts
One product that we would totally recommend is the FlashBuy faux leather sectional sofa. It is available at a really good price, it's made with faux leather, so it looks luxurious, it's easy to clean, and the ottoman lid can be lifted for extra storage. Plus, it can easily be transformed into an L-shape for smaller spaces.
If you want more living room furniture ideas and suggestions, make sure to check some of our other articles. Like this guide to the best Wayfair ottomans to go with your new sofa!
Latest posts by Candace Osmond
(see all)