When styling your living area or entertainment room, a TV stand is a significant piece of furniture to consider. Besides acting as a base for your TV, it's also helpful as a decor stand and storage facility. 
Regarding design, shiny glass, marble, or metal TV stands don't appeal to everyone. Some people prefer them au naturel or rustic. But if an all rustic look doesn't appeal to you, you can opt for the edgier farmhouse style. Much like rustic, farmhouse decor only differs in that it allows for a modern, chic feel. With it, you can incorporate some color as opposed to leaving an item in its natural state. 
Most barn door TV stands come in a rustic or farmhouse style. So whatever your style preference, this article shares our in-depth review of barn door TV stands. Our focus is on type, design style, functionality, and more. We hope it guides you to make the best purchase decision.
Rustic vs Farmhouse
Being so alike due to the encompassing wood element means these two styles can be pretty confusing. Thus to save you from the hassle, here are some of the fundamental style differentiators to remember.
| | | |
| --- | --- | --- |
| Features | Rustic Décor | Farmhouse Décor |
| Design Style: | Rough, rugged, and rural; Simple, nothing elaborate | Warm, cozy yet sleek and refined; Complicated, detailed |
| Material: | All-natural, distressed, or reclaimed wood. | Delicate and softer wood |
| Detailing: | Grainy wood textures, pitting and marks are pretty pronounced.  | Prominent 'Rose flowerish' grain accentuated by staining. |
| Hue: | Solid and earthy tones like chocolate and orange | Light, attractive tones like white, beige, mint, cherry red, and more |
How to Choose a TV Stand
Besides the design style, your barn door TV stand has to be functional. Thus, see the tips below on the basics of how to choose your barn door TV stand. 
Consider TV Dimensions
Before selecting your preferred TV stand, choose one that's proportional to your TV and sturdy enough to support its weight. These details you'll obtain from the manual or by measuring your TV's length and width. 
Check the Setting
For comfortable viewing, your TV screen should be at eye level. No one should strain their neck upwards or downwards to catch the latest on Amazon Prime. To find the ideal position, measure your eye level to screen space when seated. 
Functionality
Apart from being your TV's base, ensure your TV stand comes with added benefits like storage, which should be a mix of drawers and closed or open shelves. It should also have a broad top surface for your décor or entertainment accessories. 
Room Layout
At times your designated space isn't proportional or is pretty compact for the TV stand of your dreams. You can opt for a swivel or corner TV stand to optimize your view in such a situation. 
With that, here are some awesome barn door TV stand ideas we've compiled for your consideration. 
Our 6 Top Barn Door TV Stand Ideas (Expert Review)
1. Richmond Modern Farmhouse Barn Door TV Stand: Best for a Living Room or Office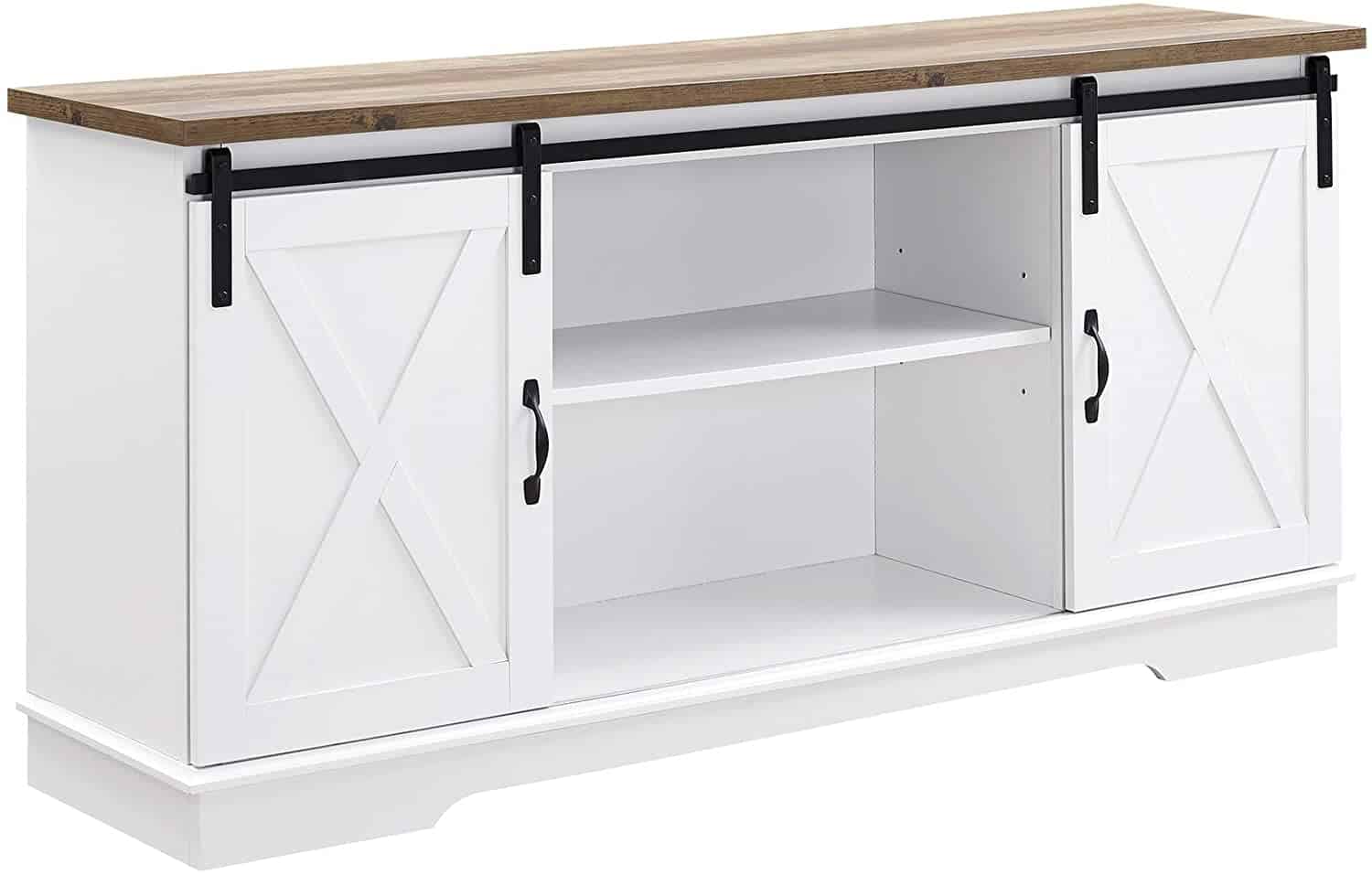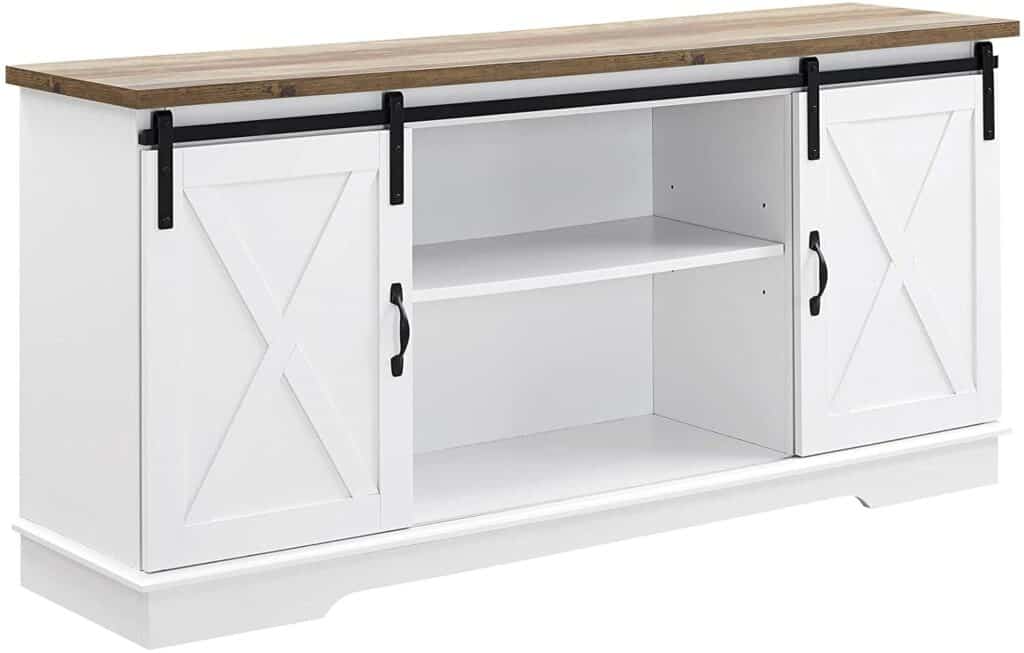 Farmhouse décor lovers, you've got yourselves a catch with this barn door TV stand by Walker Edison. If you're looking for a farmhouse-style TV stand with aesthetics and functionality, we vouch for this. The design consists of the finest grade MDF for sturdiness and comes in five attractive color finishes to suit various interiors.
We're sure the sliding barn door fronts that give you easy access to the middle or side shelves will delight you. What's more, they're adjustable, meaning you can limit yourself to what you need. To avoid a tangled, untidy cable display, it has six cable ports in the back, above each of the top shelves. The weight capacity is limited to 150lbs for the top surface and is ideal for TVs with a width of 65".
Styling Tips
Whatever color of this barn door TV stand you pick, always remember farmhouse décor marries the old with the new. Therefore use antique or vintage décor accessories like picture frames complemented by a modern vase or miniature carving.  
Pros
Sturdy with a cozy and elegant design

Suitable matched dimensions to fit most spaces

Ample storage and cable management 

Reasonably priced
Cons
Bulky and difficult to assemble, if you don't have proper tools 
2. Rustic Ameriwood Farmington TV Stand with Fireplace: Best for a Spacious Bedroom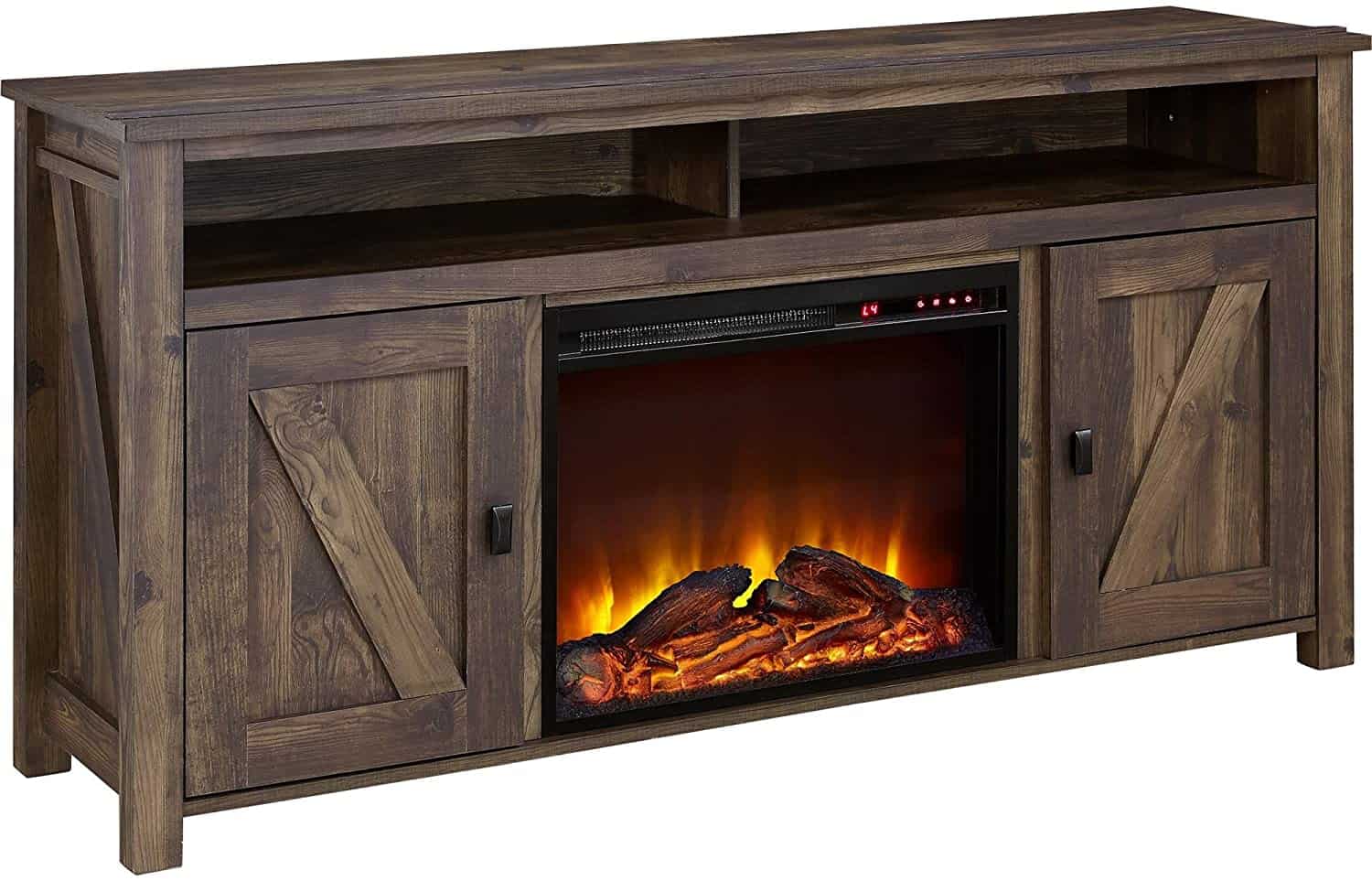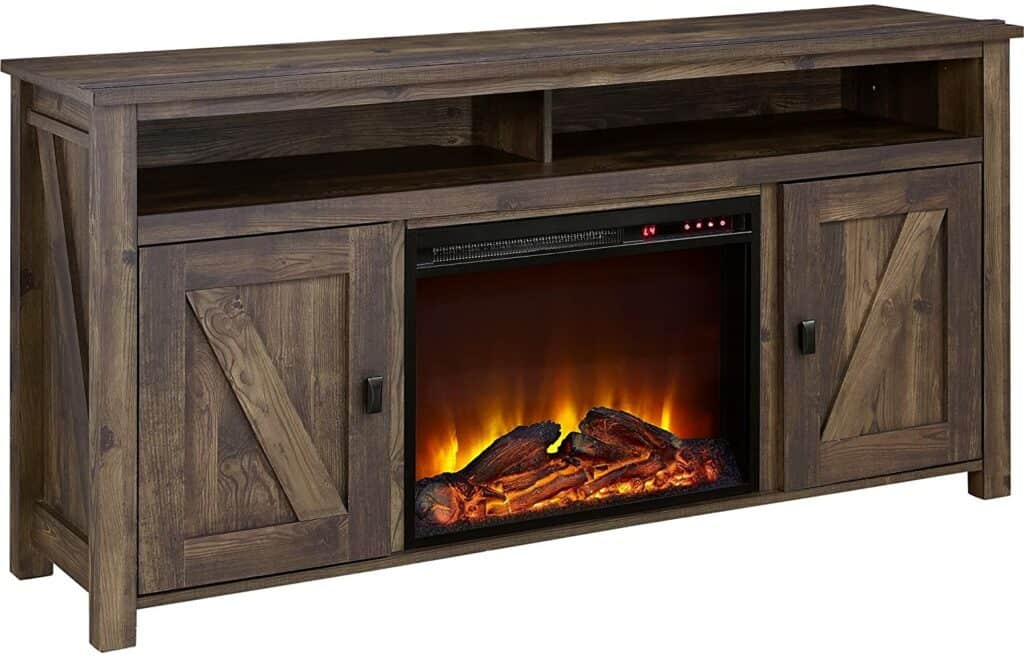 Say you want to have an excellent rural experience; this grandy barn door TV console with a fireplace will have you hooked. Sounds unbelievable? Maybe, but there are tons of reasons we recommend this fantastic TV stand. For starters, you'll get warm and cozy just by turning up the temperature of its inbuilt remote-controlled electric heater. If you want to enhance your room's ambiance without the heating function, there are built-in reflectors with LED lights. 
The design style consists of laminated MDF and particleboard with a metal frame insert. You'll appreciate the distressed medium brown finish that delivers that desirable rustic look. For storage, it has two side cabinets that open to four storage shelves and a large open divide shelf across the top front, ideal for your entertainment accessories. This barn door TV console's top surface can hold up to 95 lbs and TV screens with a maximum width of 60".  
Styling Tips
With this rustic TV stand and its tiny fireplace, you won't be short of styling ideas. Rustic decor revels in the old and traditional; hence we figure vintage lanterns or candelabras will add a nice touch.    
Pros
Rustic aesthetic appeal

Multiple benefits – remote controlled heating, ambiance, and storage

Sturdy and easy to maintain

Easy to maintain
 

Cons
Lengthy setup requires tons of patience  
3. Rustic Vasagle Barn Door TV Stand: Best for a Living Room with Rustic Accents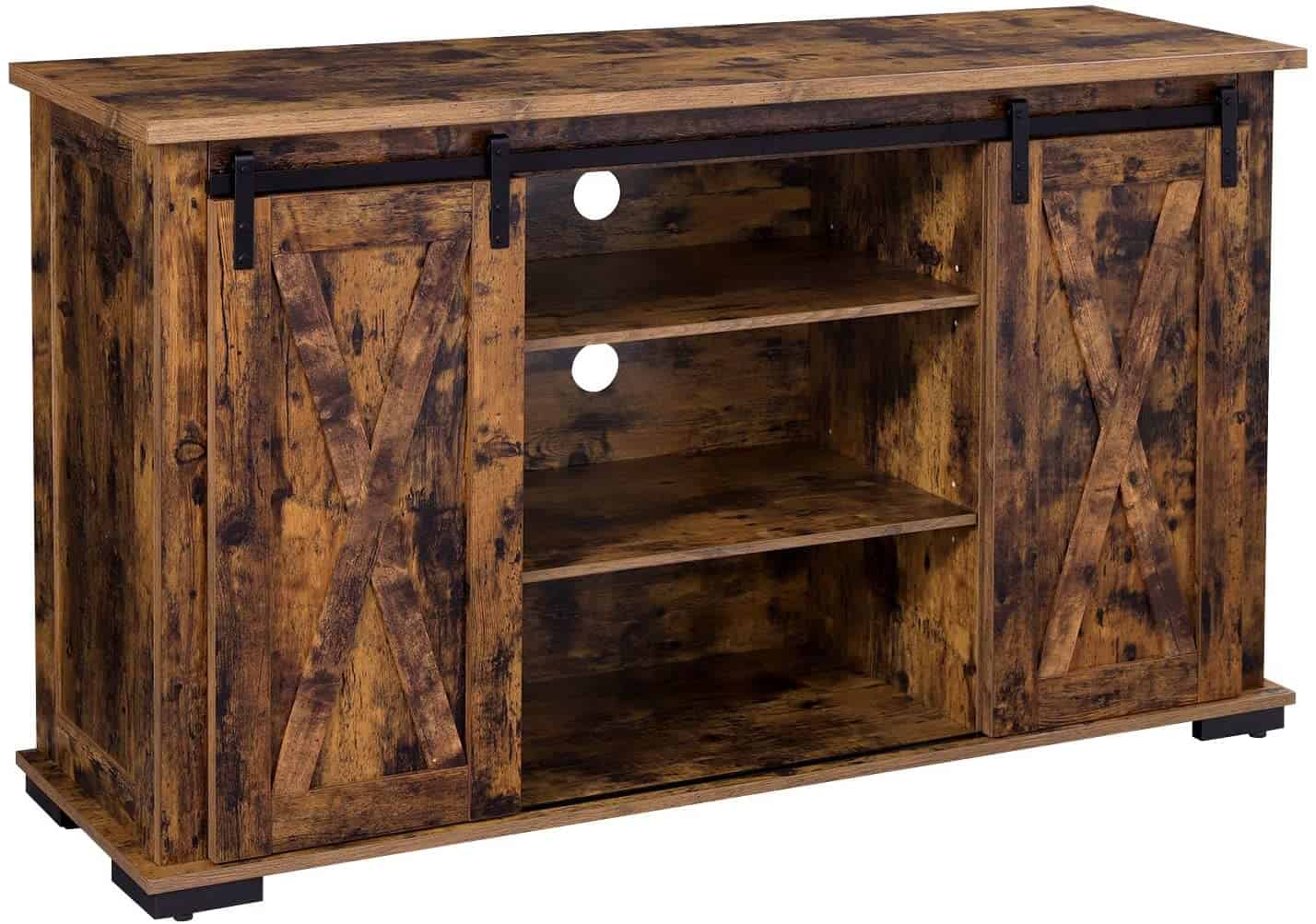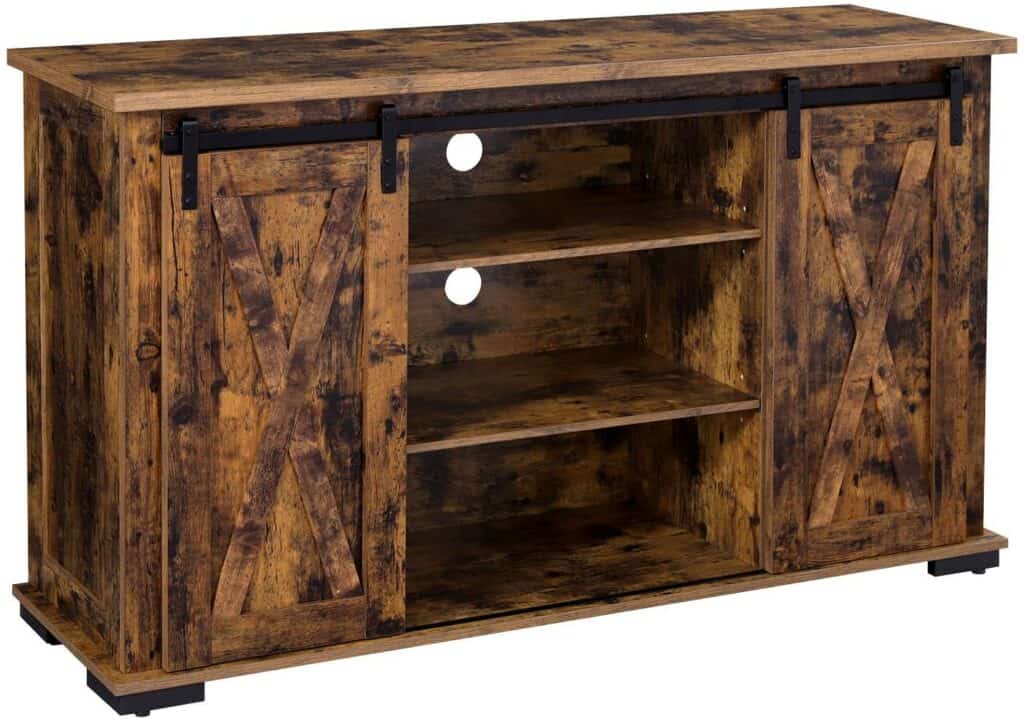 What are the odds of coping a perfect rustic barn door TV stand with sliding doors? We'd say pretty high if you're looking at the Vasagle Barn Door TV stand. We're feeling this barn door TV stand due to its top-notch artistry and materials quality. The design style consists of highly durable dark engineered wood, metal hardware, and thick adjustable angled legs that give it an incredible rustic appeal.
We're happy to reveal that for storage, this TV stand has two adjustable middle shelves and spacious shelving hidden by two barn doors. For convenience, the stoppers keep the sliding barn doors on the rail. Its top surface can hold up to 66 lb of weight and is suitable for 60" TVs. Besides the rustic aesthetic appeal, we love its compact size, ideal for small or limited spaces. 
Styling Tips
Since rustic décor is versatile, don't limit your styling options. Besides adorning it with something aged or traditional, this barn door TV stand offers the perfect display for your wine or drinks collection. You can also place a decanter with miniature crystal glasses on one end of the top surface or open shelves. 
Pros
Perfect rustic aesthetics

Easy to assemble

Built to last 

Fair price for quality and durability

Compact size for small spaces
Cons
Compact size leaves limited storage space.
4. Simplihome Burlington TV Stand: Best in an Urban Setting (Living Room)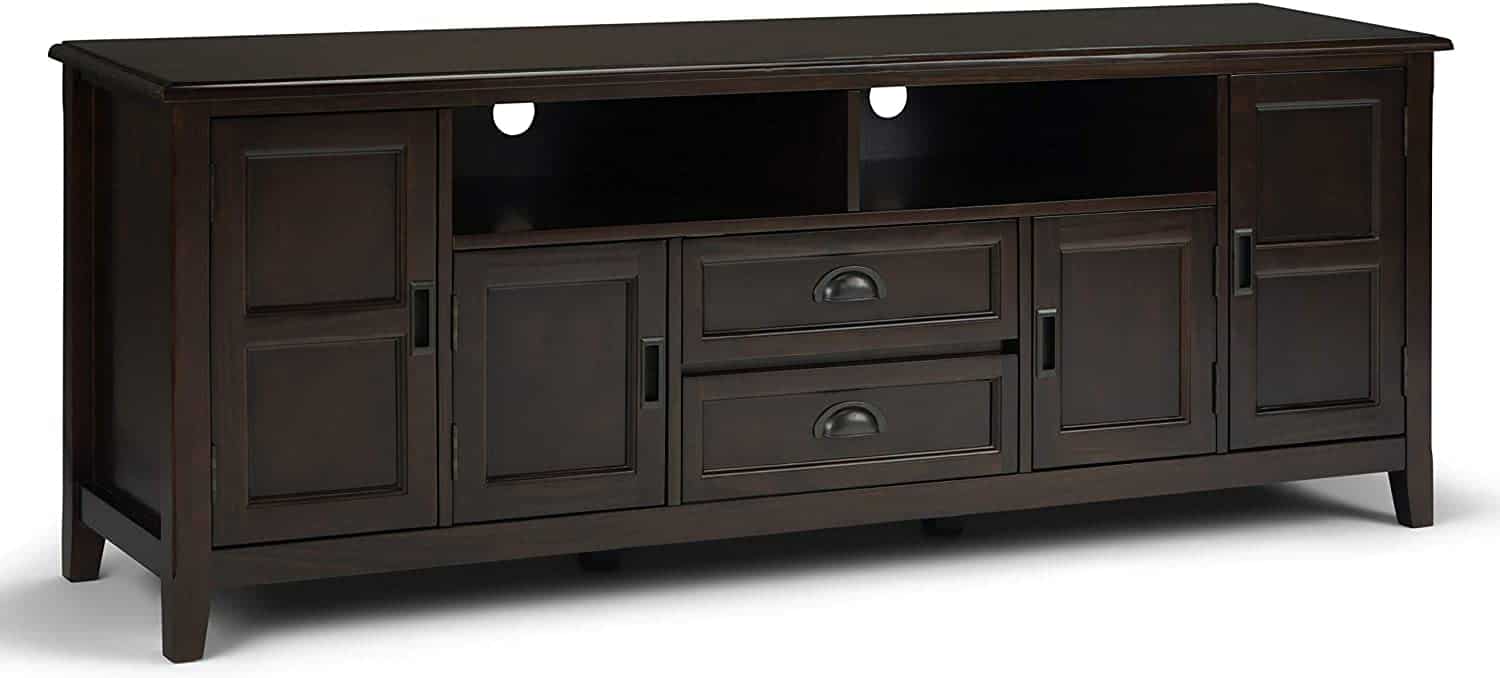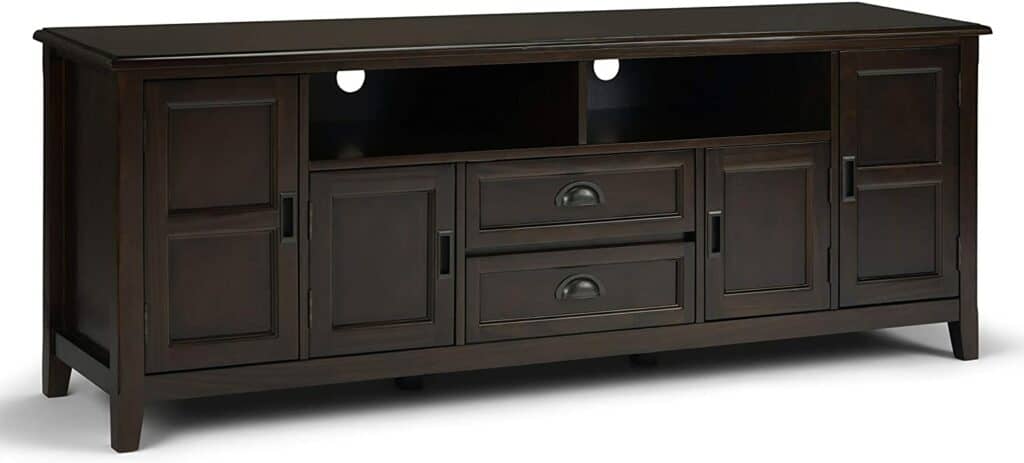 We chose this barn door TV stand for its outstanding farmhouse décor features. It's handcrafted from solid pine wood and given an exquisite mahogany brown stained and glazed finish. This protects, accentuates, and highlights its prominent flowery grain.
The design style features a rounded moulded top surface, ladder framed doors and drawers, slightly tapered legs, and antique bronze classic drawer pulls.
While it's big on the farmhouse aesthetics, its functionality is superb too. For storage, it has two centrally located open areas with two drawers and two framed doors that open to two large side storage cabinets with one adjustable shelf each. You'll also take delight in the knowledge that it can accommodate massive 80" wide TV screens and a maximum of 112.4 lbs.
Styling Tips
Being a farmhouse-themed TV stand with a unique hue, consider using an antique candelabra with complementary colors (to the TV stand or your interior). Other decor accessories would be a modern abstract art piece, vase, or carving.  
Pros
Built to last with high quality and sturdy materials

Aesthetic appeal in design and color

Reasonable price for the quality, detail, and size

Easy to assemble with clear barn door tv instructions
Cons
 Assembling is time-consuming, requires patience 
5. Maison Metal Mesh Door TV Stand: Best for a Masculine Gaming Room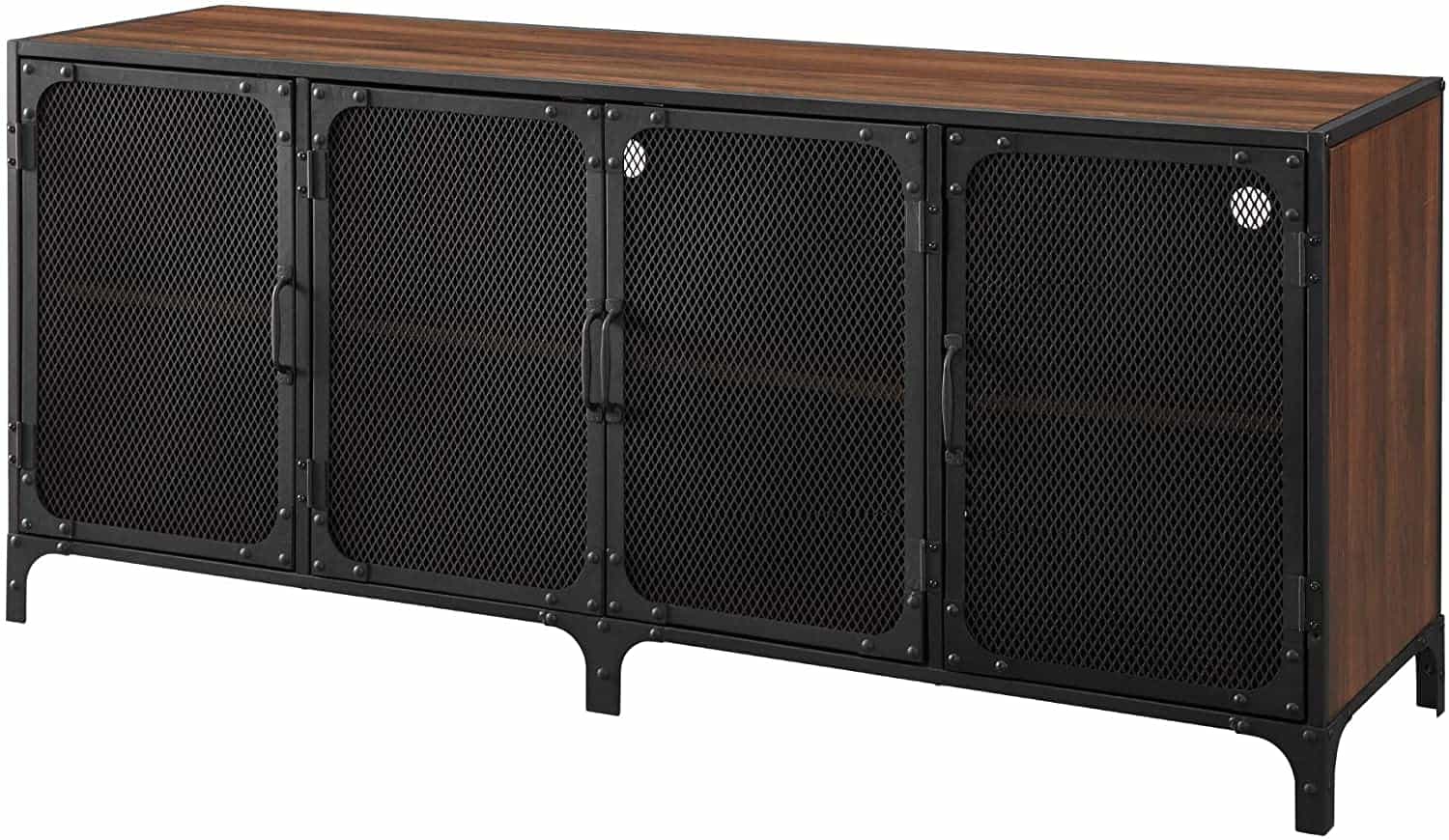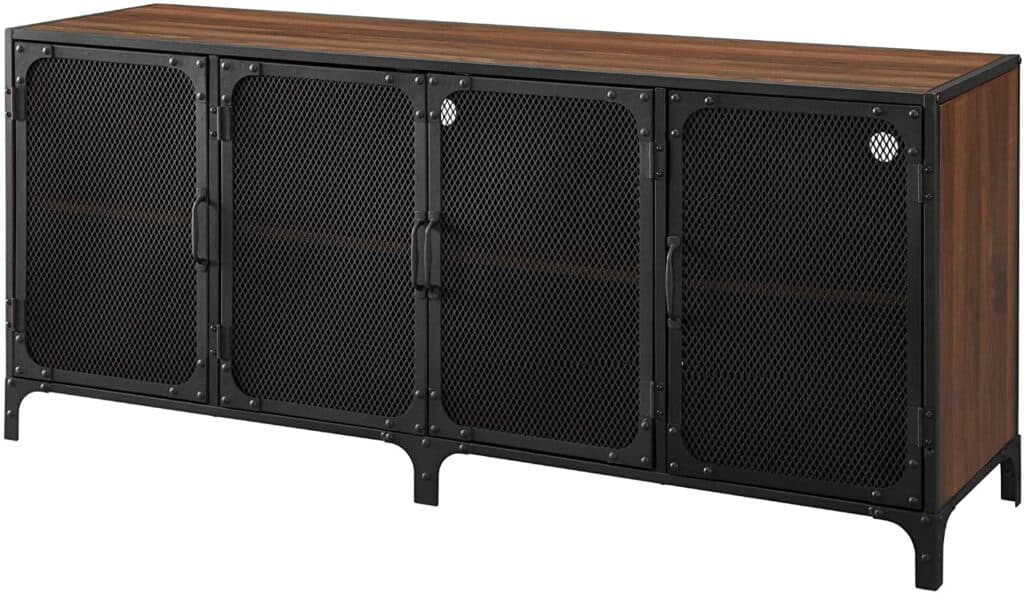 This barn door TV stand is exciting because it comes with a stunning, incredible design. It features rustic and farmhouse accents plus an edgy rustic metal detailing. The design features one half of semi-closed storage with mesh doors framed by riveted corners and the other half with exposed shelving.  
You would imagine that being made of MDF instead of solid wood makes it fragile. But no, you can load it with your favorite wine bottles, and it won't give. Both halves have cable ports and adjustable shelves so you can customize them to your needs. The TV stand's top surface has a weight limit of 125 lbs and is ideal for TV screens of up to 58" wide. We recommend this barn door TV stand with mesh detailing for aesthetics and sturdiness. 
Styling Tips
Decorating this barn door TV console should be quite a bit of fun since there's so much you can do. The mesh detail makes it a suitable display for your wine collection, antique cutlery, or modern vase adorned with accent beads.   
Pros
Beautiful rustic design and color

Sturdy build

Substantial adjustable storage 

Affordable pricing for value
Cons
Scanty barn door TV instructions consume assembly time
6. Sauder North Avenue Display Cabinet: Best for Small Spaces and Small/Lightweight Tvs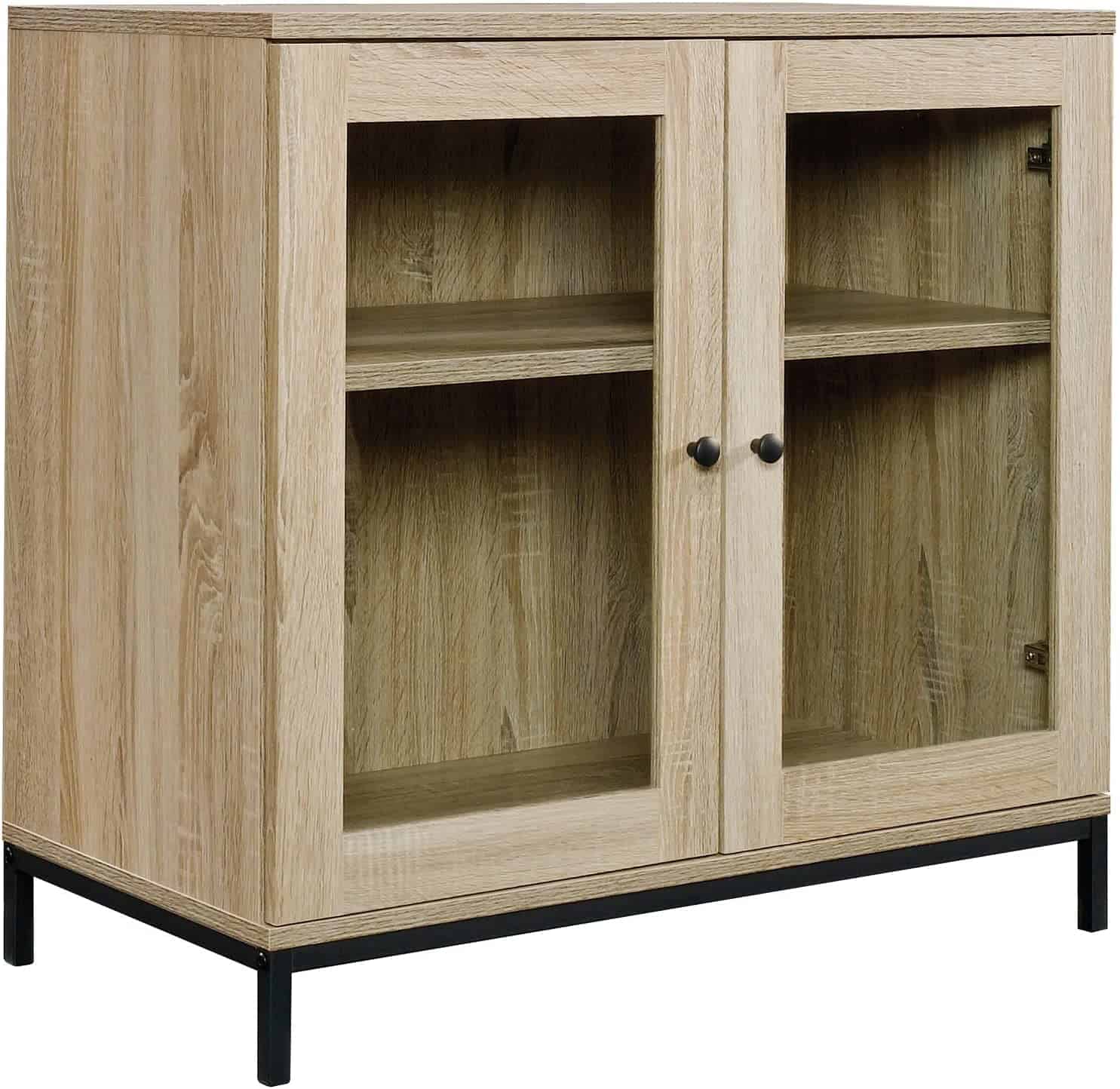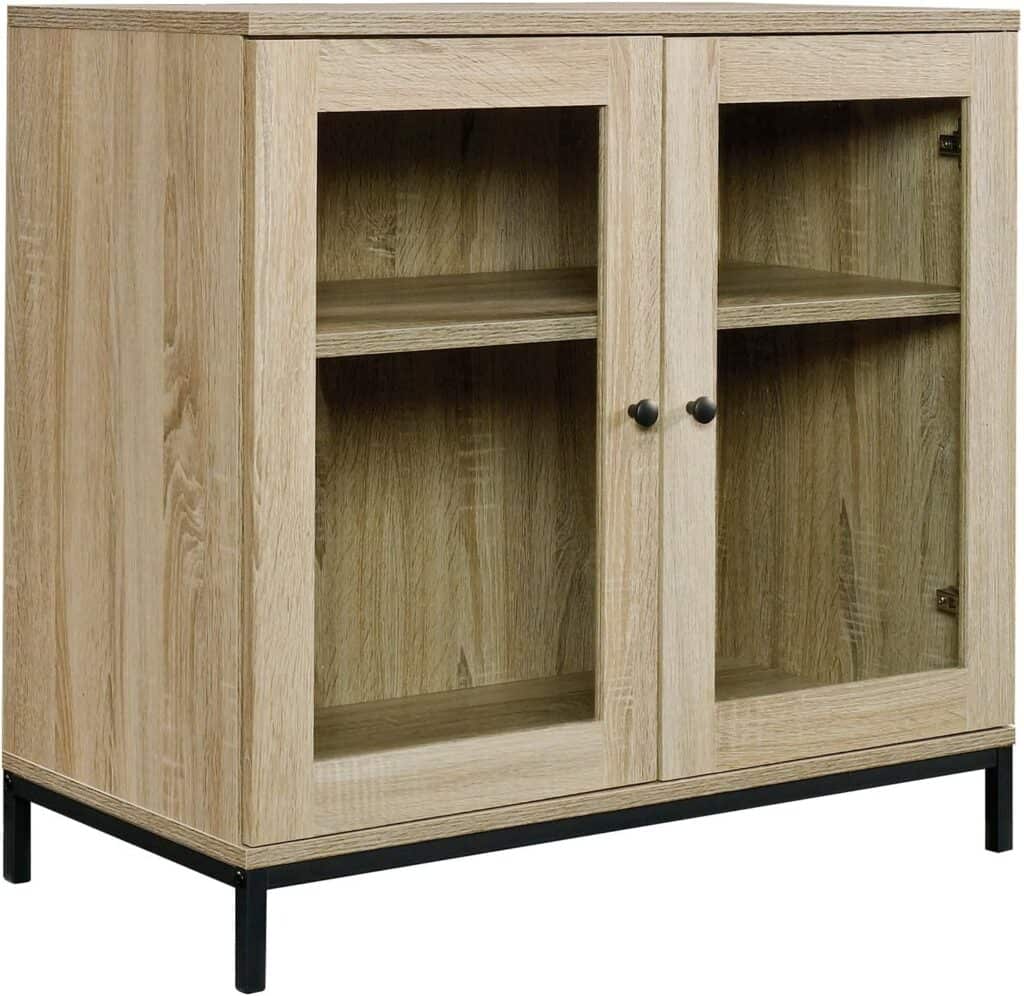 What do you reckon makes this barn door TV stand an ideal consideration? For one, its miniature size makes it suitable for small, compact spaces. This insight also means that it can accommodate smaller size TVs. It can support weights of up to 35 lbs and 32" wide TV screens.  
Its design features engineered wood with an attractive chartered oak finish. Furthermore, it has framed, safety-tempered glass doors that pull open to adjustable shelves. It has a durable black metal base and cable ports at the top and back panels for leg support.
Styling Tips
How can you use its revealing tempered glass doors and low weight capacity to your advantage? As the perfect display for your unique décor pieces or cutlery.
Pros
Reasonable pricing for value given

Easy to assemble

Durable
 

Cons
It has a thin, poorly attached back section.   
FAQs
Question: How Do You Make a Farmhouse Style TV Stand?
Answer: Just in case nothing in the stores will do, you have the option of a DIY barn door TV stand. There are several detailed but straightforward plans you can purchase online to guide you. But in summary, here are some steps to guide you on what it entails;
• Settle on a design; you can also customize an existing one 
• Research and assemble proper tools and materials
• Build the base and top framing
• Attach sidewalls
• Connect the top frame and back wall
• Add shelving and doors
• Apply the desired finishes 
Question: What Kind of Wood Is Used for TV Stands?
Answer: There's a wide variety of wood for making TV stands; solid wood (hardwoods and softwoods) or engineered wood (plywood and particle board). The choice depends on preference, price, and availability.
Question: What Material is Best for a TV Unit?
Answer: Wood is versatile in color, style, and functionality, making it the most popular choice. Although glass and metal, use is on the increase. Still, wood is associated with luxury due to its detailing and rich surface tones.
Question: What Is the Standard Height of a TV Stand?
Answer: The focal point of your TV screen while on a TV stand should be 42 inches from the floor. That height marks the most comfortable viewing height while seated.
Question: How Can I Make My Rustic TV Stand Look Good?
Answer: Besides ensuring the cables are neat, use décor accessories to complement your TV stand's design and color. Some of the décor pieces you can use are lanterns, bowls, carvings, vases, or candelabras.
Conclusion
Our review of barn door TV stands focuses on some of Amazon's most popular brands and designs. Though don't limit yourself to our selection. Instead, use it as a guide to finding your ideal barn door TV stand. 
When selecting a barn door TV stand, always focus on; aesthetics, weight capacity, size, functionality, and pricing (which should reflect value). The perfect TV stand should also blend with your interiors and be hassle-free to style.
Not sure which to pick? Fret not!  If you're looking for a TV stand that will accentuate your rustic-style living room, the Walker Edison Barn Door Television Stand is what you need. This functional and decorative piece of furniture provides ample space to offer entertainment in style with its design elements alone.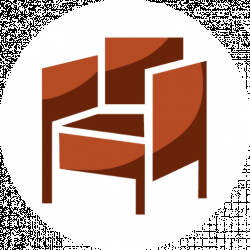 Latest posts by Finally Furnished Team
(see all)