It's game time, and everything's in check: the well-decked gaming unit, snacks, drinks, and your best gaming couch. But wait, is your gaming couch comfortable enough for you to endure the gaming session? If it tends to sink in the middle, forcing you to slouch or sit in a fixed position, it's time to let it go.
A proper gaming couch enhances your gaming experience. It doesn't matter whether you're in a fierce intergalactic battle or having a casual encounter with a hapless alien; it should guarantee your comfort through a good seating posture. The good thing is, your ideal gaming couch exists and is only a wise decision away.
So to ensure you make the right decision, we've done a thorough review of the best gaming couch ideas for your consideration. The details in this factual piece include key features, aesthetics, prices, and more. But first,
What Do You Need to Look for in the Best Gaming Couch?
The first step to getting the best gaming couch is understanding your needs, knowing what's best for you, and the options available. Besides comfort and aesthetic appeal, you'll need to get a gaming couch that's functional, efficient, durable, and easy on the pocket. So, here's a quick guide on how to select the best gaming couch.
1. Gaming Ergonomics
Repetitive actions like strained wrist actions, seating posture, and the playing style impact your physical health. Thus, to avoid straining your frame, your gaming couch should have gaming ergonomic features. These are; arm and shoulder rest, sturdy head and back support that allow you to sit straight. Your knees should be bent with your feet touching the floor. If you need leg support, it should come with recliner abilities.  
Tip: To be sure your gaming couch is ergonomic, it should support the natural flow and movement of the human body and be adjustable to accommodate diverse body shapes. 
2. Functionality
Depending on how high or low the setting is, your gaming unit set up will determine the type of gaming couch to get. For instance, gaming couches are synonymous with console gaming. Though of late, PC designs are small and compact, meaning they'd sit well in a living room-like setup.
Tip: If you're on a PC gaming unit, consider building a living room PC. However, this makeover depends on your gaming needs, physical health, and budget.
3. Check the Fit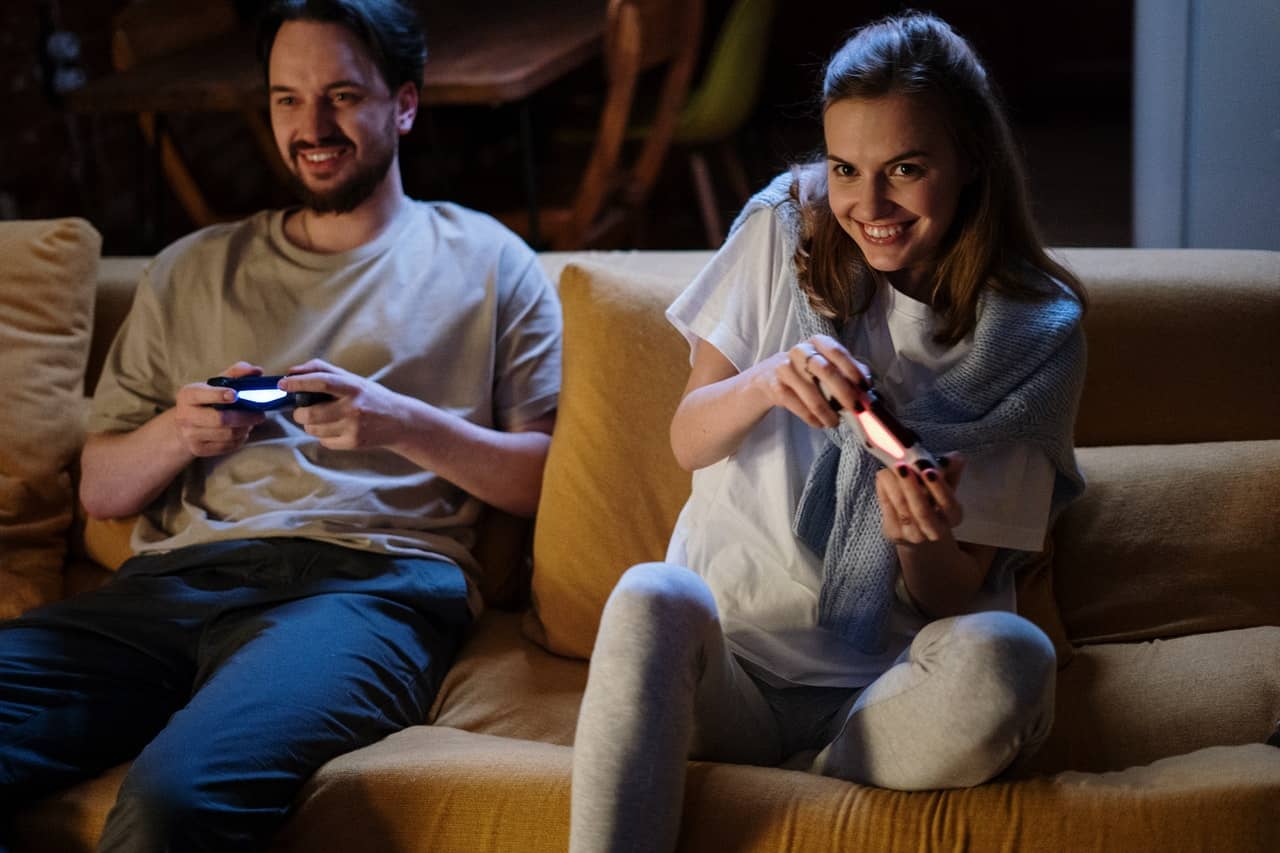 Know your space dimensions because there's no point getting your best gaming couch only to have it not go through the door or fit into the required space. If you're lucky, some gaming couches have legs that can unscrew, and others come in detachable versions for easy mobility.
Tip: To save time and money, take the width, height, and depth of your preferred gaming couch. Apply the same for the pathways, staircases, lift, and doors, plus any shelving and other fixtures. 
4. Efficiency and Value
What features are helpful to you? Some gaming couches come with inbuilt subwoofers and speakers and other exciting tech accessories. If you already have stand-alone accessories with these capabilities, you don't need such a gaming couch.
Tip: Before you buy, research and have a detailed list of in-built tech that you'd like your gaming couch to have.
5. Durability
Regardless of budget, your gaming couch should serve you for a while. If it can't withstand your gaming lifestyle or environment, don't buy it. While you can replace padding and upholstery over time, you can't replace the frame. Ensure the frame is sturdy, stable, and made of hardwood.
Tip: To test the frame strength, lift one leg of the gaming couch to a height of about 7 inches. If the other leg hasn't left the floor, you can be sure the frame will give. You can also test by leaning in hard on the frame or lying on it as you would at home. 
Since it's impossible to have dedicated customized gaming couches, savvy manufacturers combine general functionality with critical gaming features. With this in mind and the handy tips above, here's our selection of the best gaming couch ideas.
Best Gaming Couch Ideas Guide: Our Top 5 Picks
1. Respawn 900 Gaming Recliner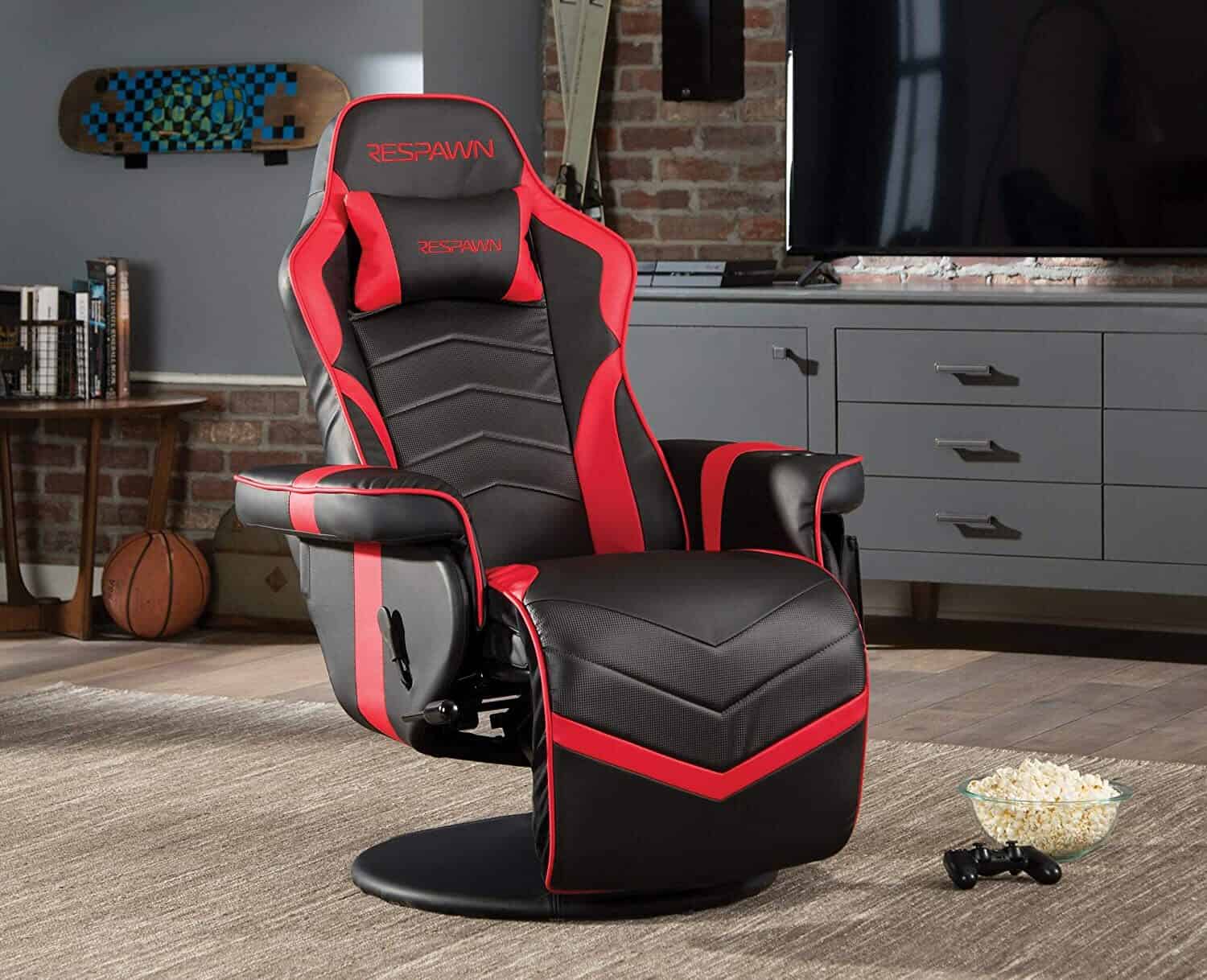 If all you need is a single-seater gaming couch, here's some insight on Respawn's amazing treasure. This gaming recliner caught our eye due to its incredible aesthetic appeal. It has a distinct racing style design that comes in five workable colors. Delving deeper, it's clear that the racing theme also extends to its ergonomic features. These features have;
A removable headrest pillow

Stationary padded armrests

Built-in lumbar support 
Because this gaming couch is a gamer's valuable prop, the recline and footrest operate independently. As you get into the heat of your game, expect maximum control and comfort with a comfortable 135-degree recline and 360-degree swivel. The built-in cup holder and spacious side pouch for your gaming accessories are other features to sell you on this super gaming recliner. 
The production quality is also outstanding, as is evident from the upholstery quality and padding detail. Perhaps, the only downside to this gaming couch is the high price, even though it's a good buy.
Pros
Top-notch gaming ergonomics, cup holder, and storage pouch

Luxurious leather exterior and stylish color

Sturdy frame and plush padding to withstand the intensity

It suits any gaming unit setting
Cons
No in-built tech accessories like speakers and USB charging ports

Quite expensive for a single-seater
2. Orpheus Dual Power Reclining Sofa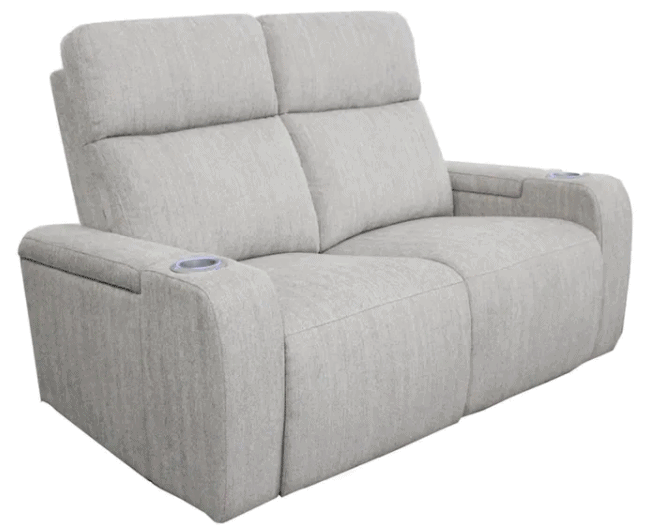 Is your objective for sourcing the best gaming couch ideas to fulfill a communal experience or get the best gaming room furniture? If your answer is 'yes to both questions, there's a superb loveseat with your name on it. 
The Orpheus Modern Dual Power Reclining Sofa is one of the most stylish and comfortable gaming couches available. It has a captivating modern design with a clean, sharp light gray or beige coloring that would fit in any style and color setting. Something else we found endearing about it is the fact that it's made with gamers in mind. Its ergonomic features have;
Ultra-thick cushions and headrests

Power recline to give you maximum control 

Premium lush foam padding for extra comfort
Other tech and functionality features you'll be excited about are:
The power cup holders on either armrest.

There is a drop-down console table in the middle with extra storage, a power center, and more cup holders. 

Built-in lighting accents and USB charging ports
Pros
Superior ergonomic features, charging ports, cup holders, and storage

Modern, cool design 

Sturdy frame with premium foam padding

 Allows for communal gaming

Built-in lighting accents and USB ports
Cons
Limited variety of colors 
3. The X Rocker Pro H3 Gaming Chair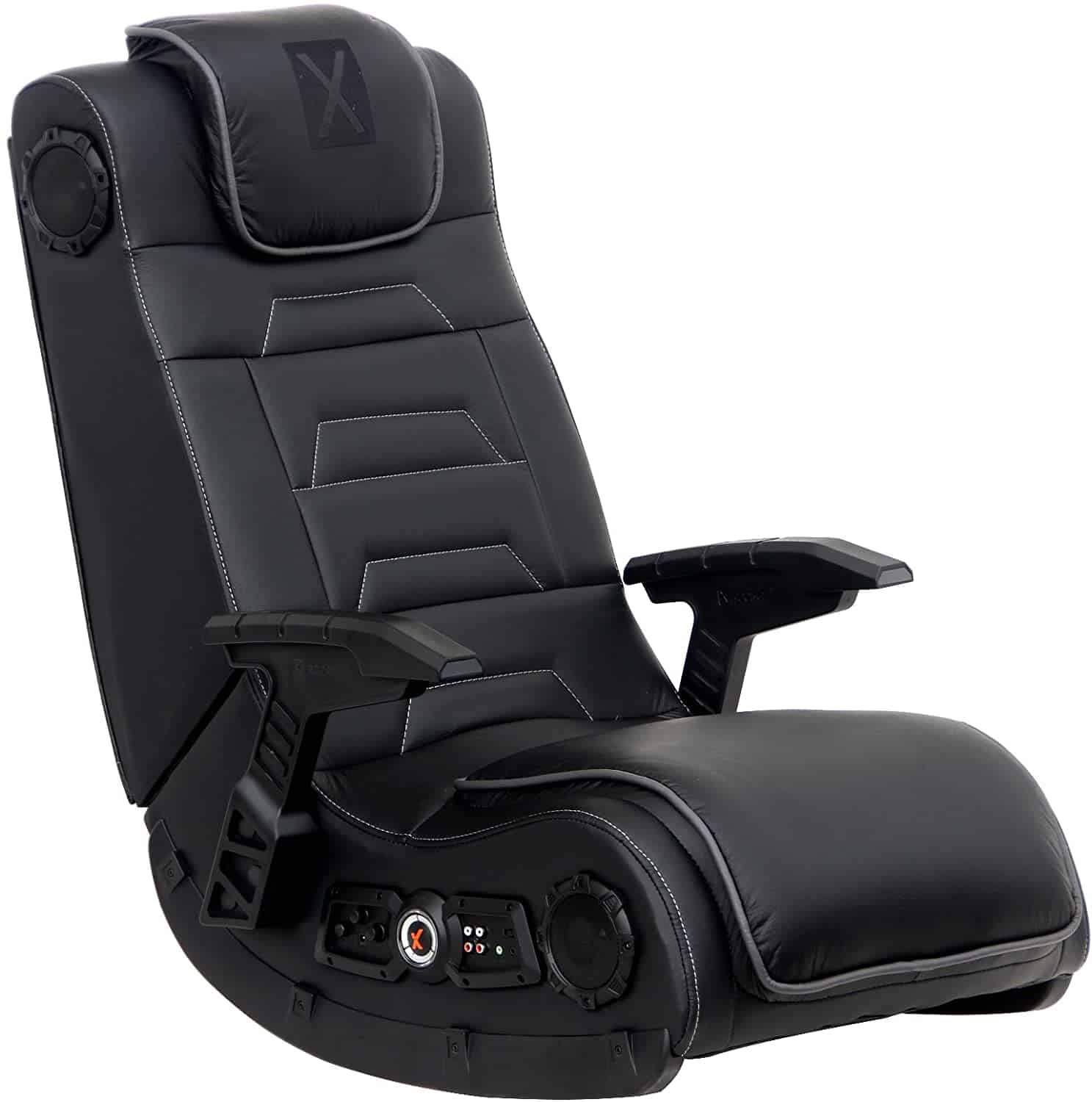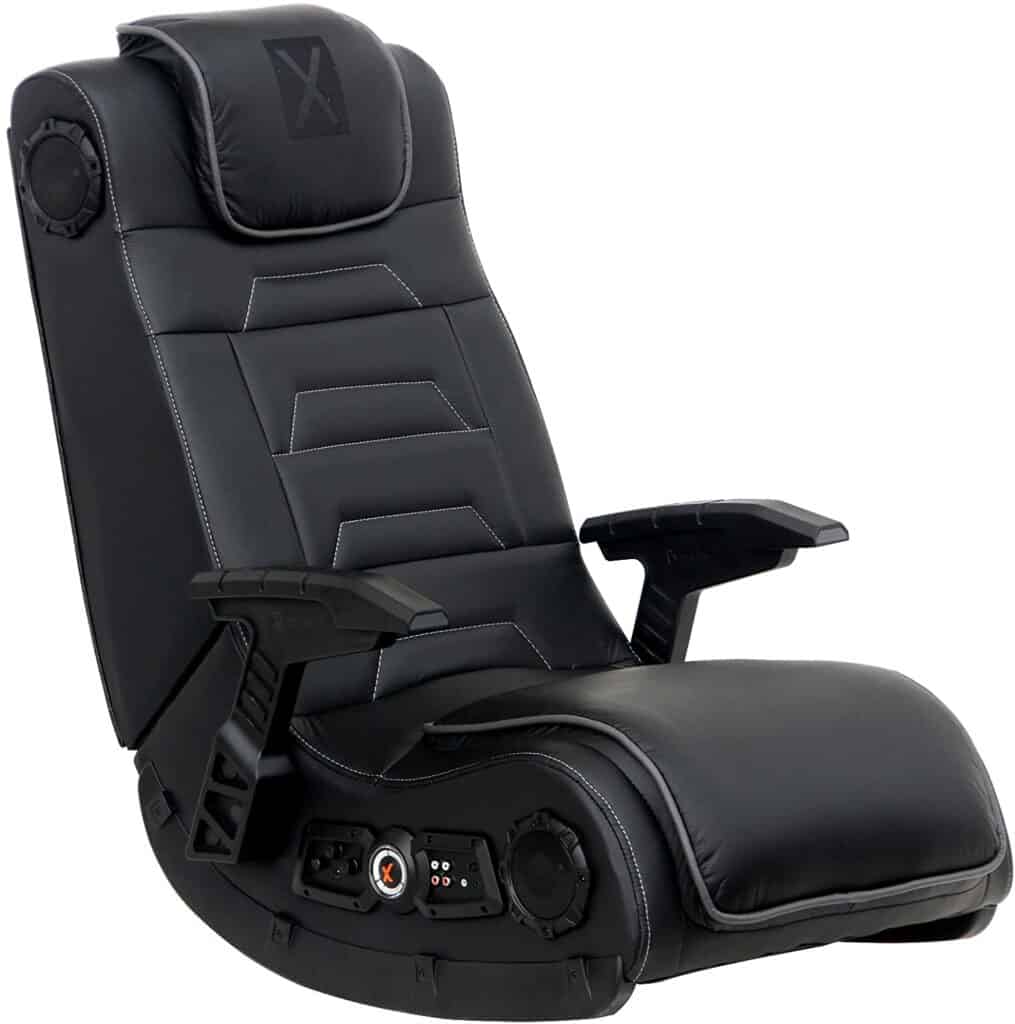 Away from recliners, how about a rocker as your gaming room furniture? The first thing that's bound to blow you away about this gaming couch is the all-black plush leather exterior with a highly appealing contemporary design.
Being an all-purpose gaming couch means that you can do a lot more with it than gaming. You can watch movies and TV, listen to music, read or relax. This all-purpose advantage already tells you that the ergonomic features are top-notch. You can, therefore, play for as long as you'd like since there's the assurance of ultimate comfort through;
Full back support

Gunstock armrests with total flexibility 

A comfortable headrest.
The X Rocker Pro H3 Gaming Chair's frame is extra sturdy with easy-to-maintain vinyl upholstery. If you're still not sold, how about checking out its incredible interactive features? It has a subwoofer using the  Audio Force Modulation Technology and four speakers.
This technology gives it excellent sound quality and vibrations. The features are numerous, and although the price is pretty high, we'd say you're getting value for money.
Pros
Allows for multiple uses, not limited to gaming

Robust  ergonomic features

High-quality upholstery for durability

Amazing interactive features powered by AFM technology.
Cons
Quite expensive

Limited variety of colors 
4. Adjustable Gaming Floor Sofa Chair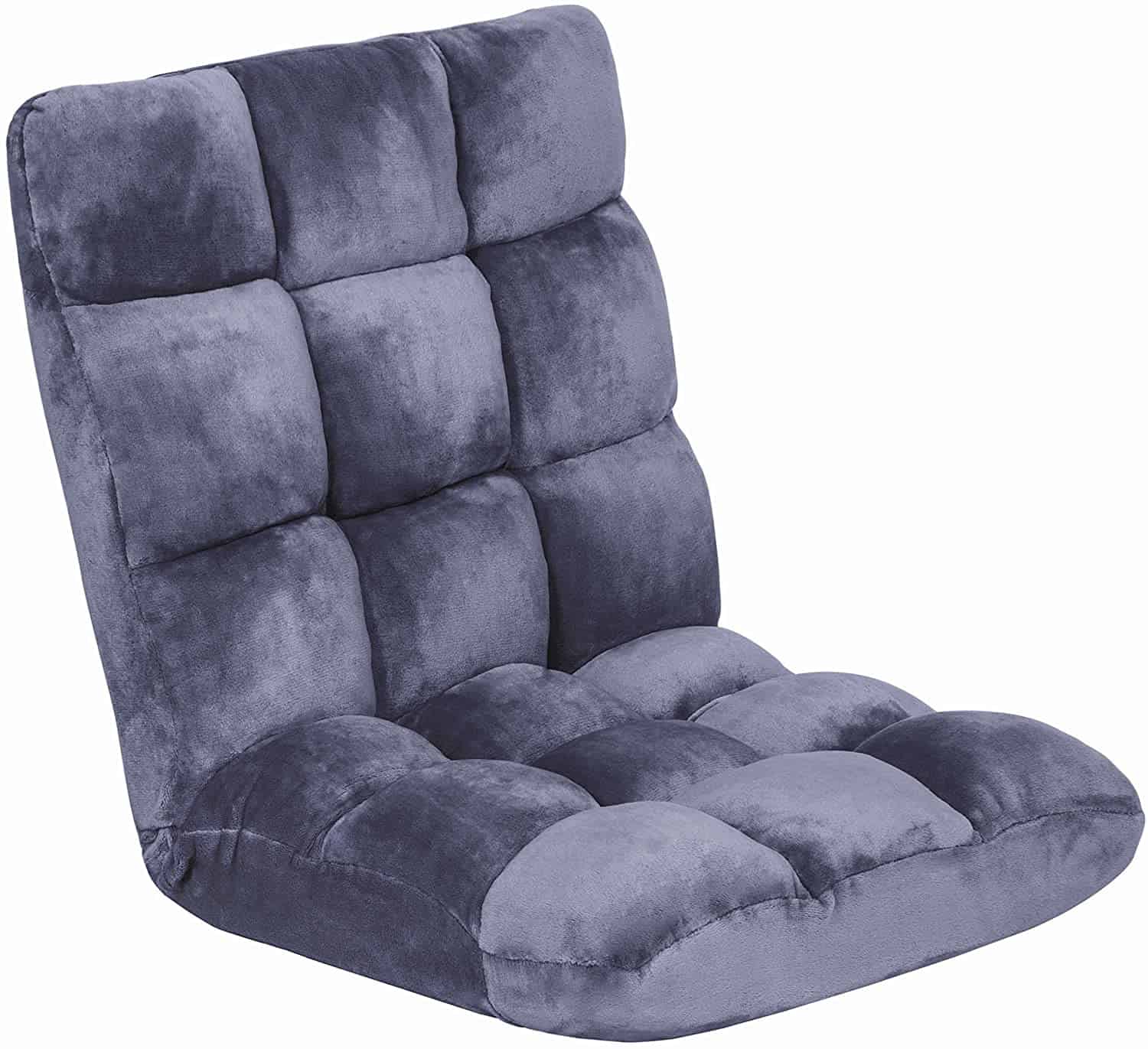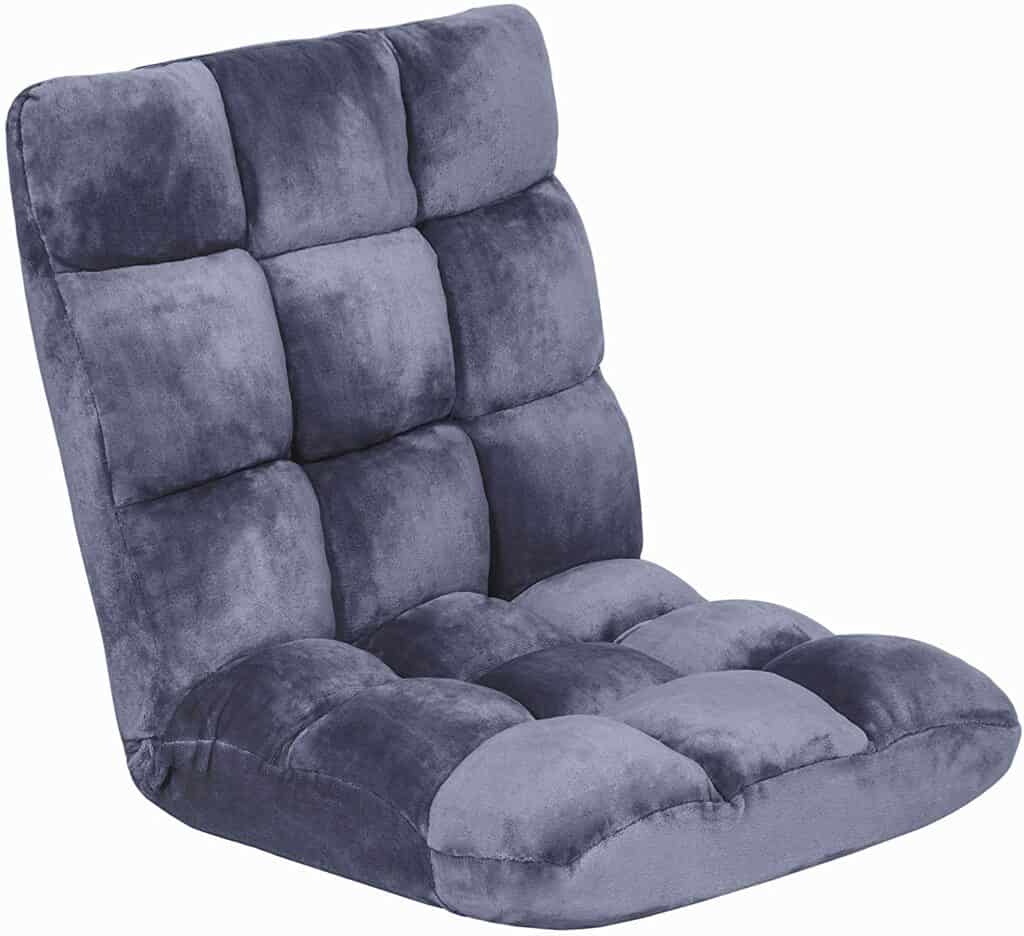 Just in case you're on a budget and need the best gaming couch to tide you over, check out this simple but effective Adjustable Gaming Floor Sofa Chair from Best Choice Products. In terms of build, you're going to love it because it has a thick, firm, and very comfortable cushion. Concerning the frame, it has a sturdy metal core interior and plenty of stuffing to guarantee maximum comfort. 
One outstanding feature about this gaming couch is that it adjusts to 14 different positions, allowing you to relax in an upright position or even flatten it out for a quick snooze. And in case you're wondering whether you'll have to lean it against a wall or something, fret not. We can confirm it's sturdy enough to stand alone. What's more, it allows for multiple activities like gaming, watching movies or tv, listening to music, reading, or napping. 
It's also pretty portable, so you can use it anywhere within your living spaces and outdoors too. While it's not big on ergonomics, it ticks all the right boxes for gaming setup ideas for small rooms. However, the only downside is that you might have to buy a loose cover for easy maintenance and prolonged use.
Pros
Affordable

Portable and easy to store

Sufficient (not superior) ergonomic features

Sturdy metal core interior for durability

Multiple uses not limited to gaming
Cons
Limited efficiency and value

Basic design, not outstanding
5. Ergonomic Floor Tatami Chair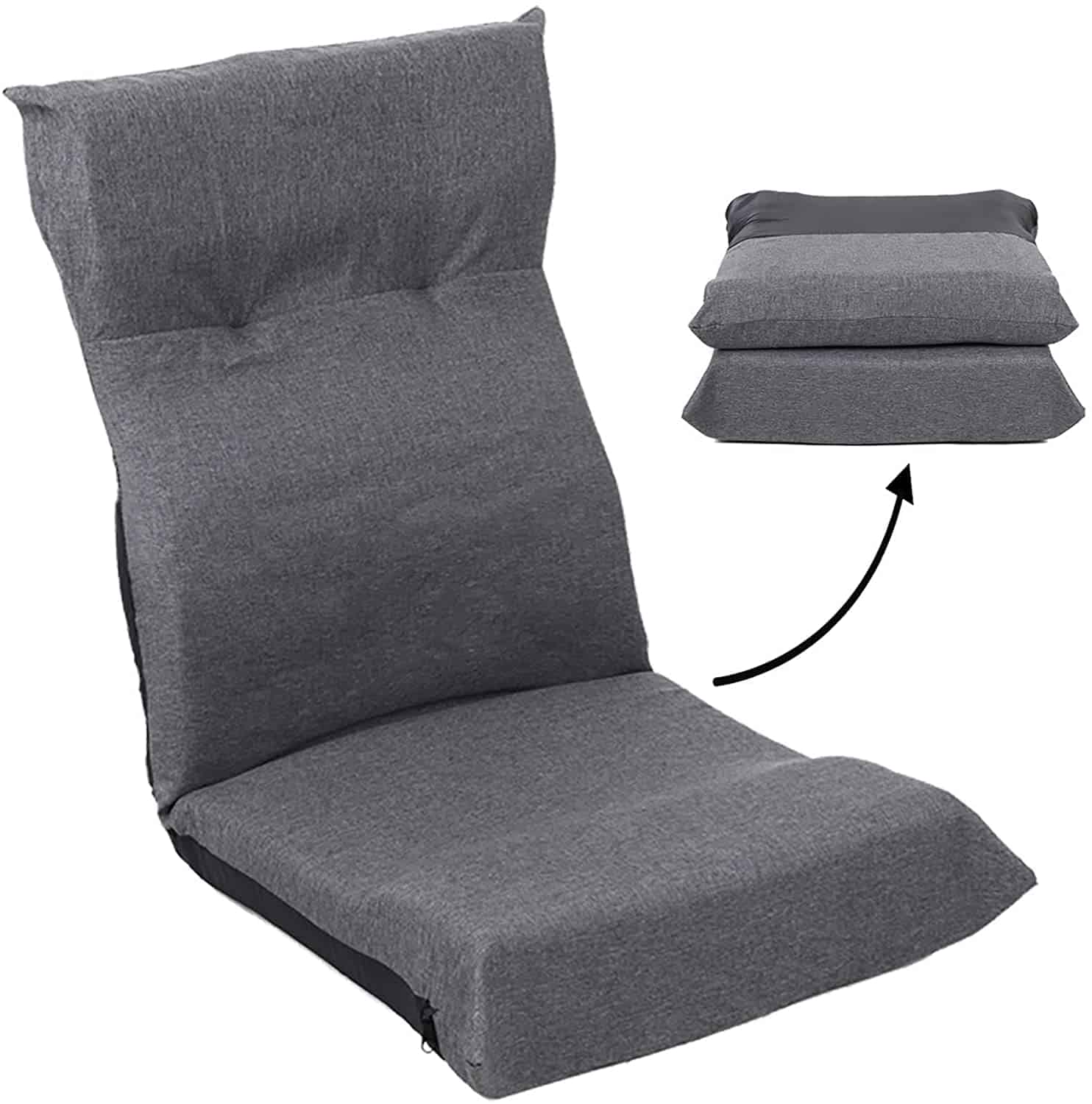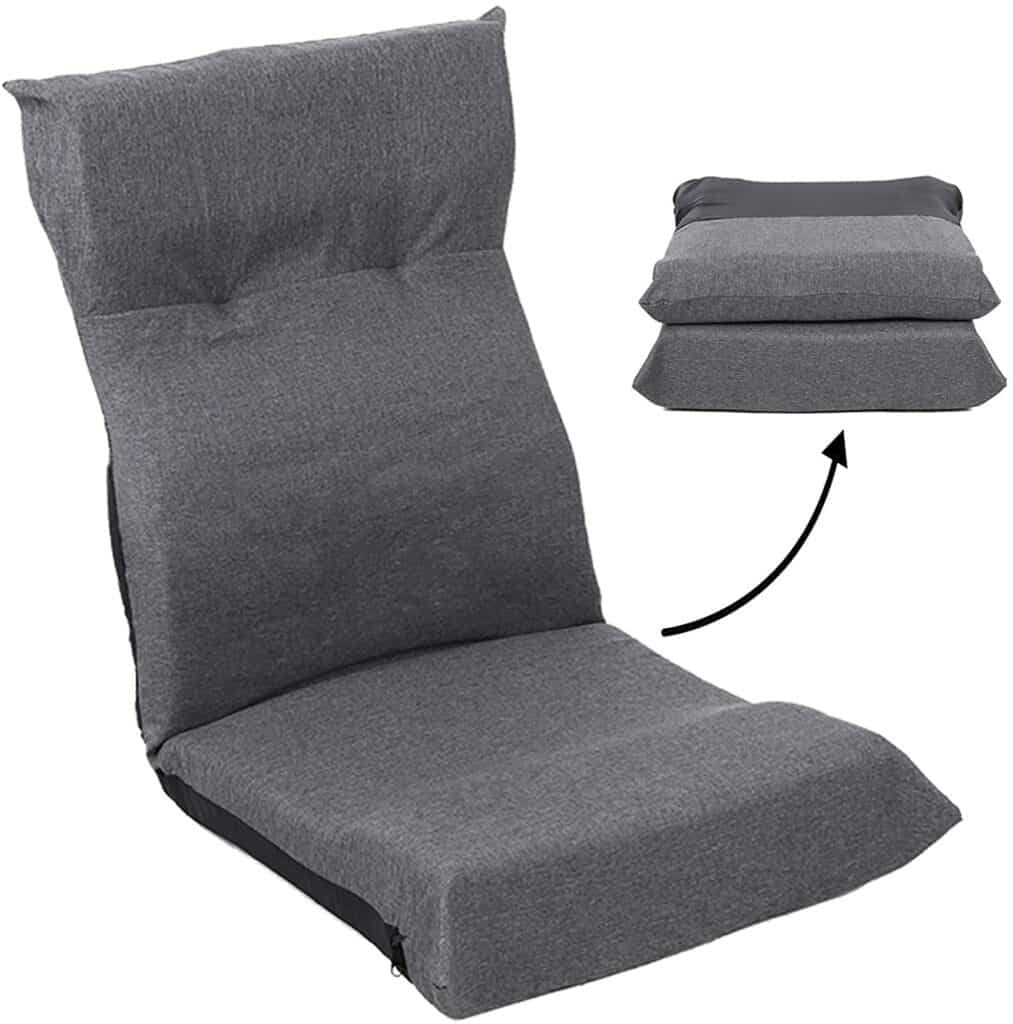 Here's a thought, floor furniture as gaming room furniture isn't a bad idea. So if you like the concept, there's one more idea to consider. Flougour's Ergonomic Floor Chair is simple but built with your utmost comfort in mind. It comes in a grey shade and has a strong build that consists of superior Japanese parts.  Its ergonomic feature conforms to the flow of the human body by providing robust shoulder and back support. 
Further to this, you can lock the backrest in six different positions. The backrest along the waist contributes to the natural "S line" of the spine, and you can maintain a posture that reduces the burden on the waist. The headrest is raised to support your head, and the front of the seat cushion is raised to prevent slipping. 
Besides gaming or watching movies and TV, it's an ideal furniture prop to aid in eating, writing, and working at home. In terms of space and storage, it has an overall folding design that makes it possible for you to stash away.  For its selling price, we consider it a good value for money.
Pros
Sufficient ergonomic features 

High-quality Japanese parts and design

Multiple uses not limited to gaming

Portable and easy to store

Affordable
Cons
Limited variety of colors 

Difficult to maintain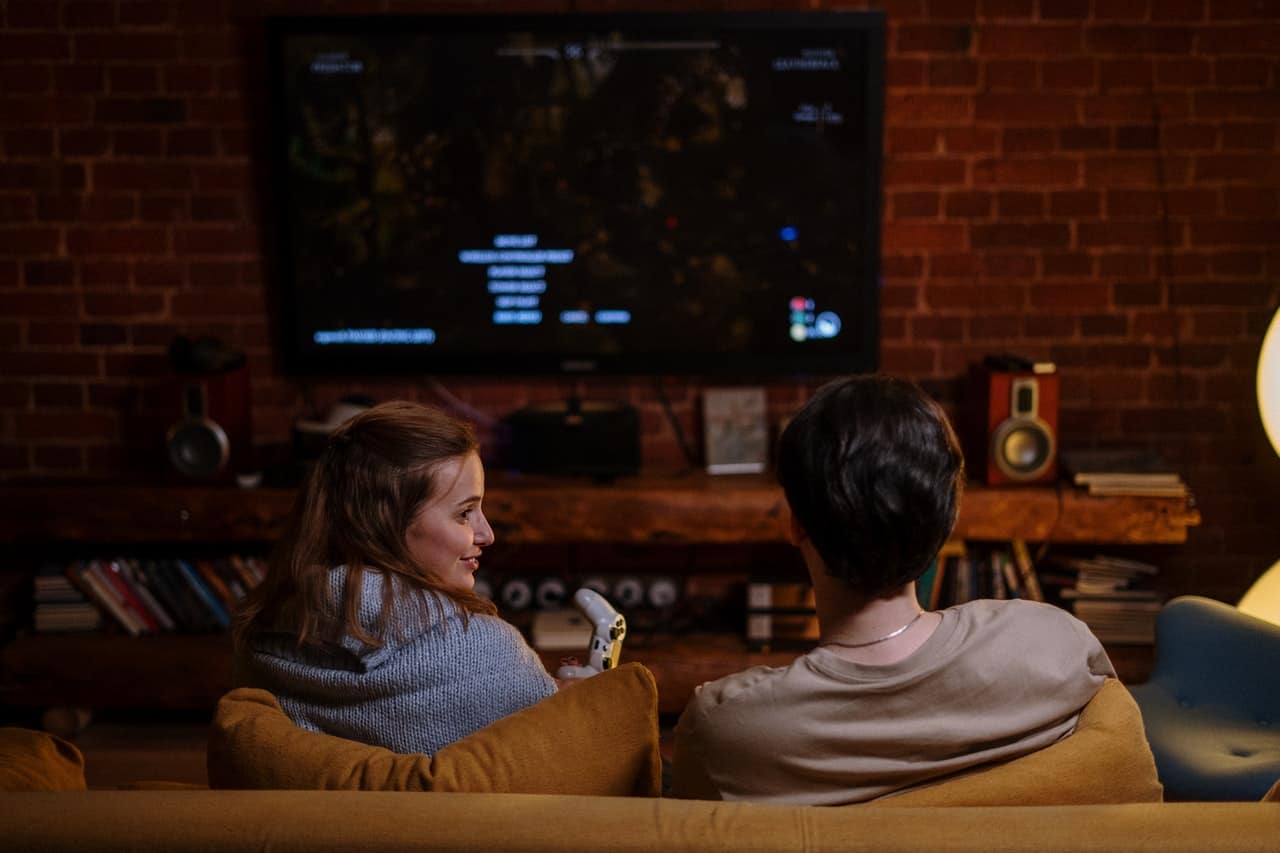 FAQs
Question: Is a Couch Good for Gaming?
Answer: That's a question that will vary depending on who you ask. Some gamers love the convenience of being able to kick back and play for hours without cramping up or feeling like they're going to fall off. Still, others say it can be difficult to find an optimal position when playing seated in this manner.
Most people know that couches are great to game on, but some may not realize the impact they can have. Gaming too long in this position could cause soreness and reduce alertness, so you might want to only use your couch if casual gaming is what you're looking for.
Question: Do Gaming Chairs Affect Gameplay?
Answer: Whether you are a novice or expert, having the right gaming chair can make all of the difference. When you're comfortably situated, it is easier to concentrate on your game without being distracted by discomfort from sitting in one place too long.  
Some might argue that this isn't something worth investing money into because they do not believe comfortable chairs will change how well they play, but experts know better than anyone just what an impact comfort can have when trying to reach higher levels of skillful mastery.
Question: Why Are Gaming Chairs So Expensive?
Answer: As one would expect, the main factor that influences a chair's price is its appearance. However, when it comes to gaming chairs, there may be an additional component: special features. Gaming chairs come with different designs and adjustability options, affecting their cost significantly from conventional office chairs. 
In all points- design, comfort level, and quality – they outperform other types of seating arrangements in terms of performance for gamers on top of looking pretty cool.
Question: Is a Gaming Chair Less Comfortable?
Answer: Gaming chairs typically prioritize design over comfort. Therefore, compared to office chairs, there's less padding and adjustments, but it should still do its job well enough for those short sessions of playtime.
Conclusion
There you have it; the best gaming couch ideas guide to support your gaming setup ideas. At the very least, the best gaming couch should have good ergonomic features, functionality, fit into your space, be efficient, durable and give you value for money.  
If you are still looking for the best gaming couch, the Respawn 900 Gaming Recliner is a perfect pick. It's designed with the perfect amount of firmness, features, and comfort so that you can spend hours on end gaming in complete relaxation without feeling stiff or sore when it comes time to get up from your chair.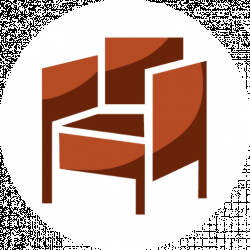 Latest posts by Finally Furnished Team
(see all)