Have you dreamed about having a fancy modern desk that doesn't cost a fortune? Then a top glass desk might be just what you need. Affordable, classy, and with plenty of features of interest, today's focal point is how to find the best top glass desk ideas and what products are well worth the money.
Benefits of a Glass Desk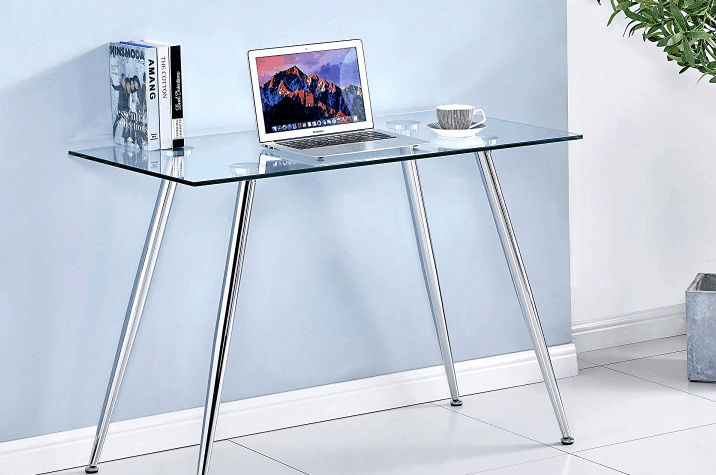 While there are a few cons to choose a glass desk, such as the fact that stains and fingerprints are easily visible, there are more advantages to opting for this particular piece of furniture.
It's Highly Resistant
People often think that glass surfaces will easily break, but that's not the case. Although the notion that the glass is not resistant persists, the truth is that it is quite resistant in the face of scratches. Opt for desks made with tempered glass because the stability they provide will make breaking them a challenging task.
It's Timeless
If you're looking to decorate a modern office, a glass desk may appear to be a classic solution. It will, however, not go out of style and there are plenty of combinations that will make it look highly modern, such as metallic legs.
It's UV Resistant
A lot of interior designers and furniture manufacturers recommend placing furniture away from direct sunlight, but glass desks have no such requirement as their UV resistance. You can leave it under the window and have the sunlight fall straight on the glass with no repercussions.
It Doesn't Warp
Desks made from other materials are not often heat-resistant, but a glass surface doesn't mind placing a hot cup of coffee on it and it will not bend, warp, shrink, or whatever it is other materials do when exposed to high temperatures.
It Creates the Illusion of Space
Because of its transparent nature, glass actually does two things: it creates the illusion of space because it's not such a slab of opaque material that makes a room appear smaller and it also attracts light because of the material's natural shimmer.
What to Look for in a Glass Office Desk
When choosing the right home office furniture, especially a desk, it's important to consider these key things.
Durability
Traditional glass is not used on workstations, as opposed to over-the-counter (OTC) glass. Instead, it is fortified chemically to boost its resistance to wear and tear. Desk glass is treated in a method to make it scratch and crack-resistant, similar to how automobile windows and eyeglasses are handled.
In general, the primary benefit of a glass desk is style and longevity. People who have home offices choose glass desks because of their visual appeal.
In addition, glass is an unaging material. You'll notice that your glass items show little to no wear and tear because they are easily cleaned, polished, and compliment a range of other materials, including steel or wood.
Glass Thickness
Does your glass lie on top of the desk to protect the surface, or will it be structurally supported? The size and composition of your glass are dependent on this selection, thus it's critical to have a clear visualization of your aim while constructing the right glass desk.
The improper thickness could break under the weight of an excessive amount of strength. For protective desktop covers, you should consider using a quarter-inch thick glass, and for structurally supported desktops, a half-inch-thickness glass.
Tempered Glass
Tempered glass is substantially more resistant to breaking and stronger than standard glass. What causes the tempered glass to be called "safety glass" is due to stress, which is caused by compression and tension.
Glass that has been broken into pebble-like bits has fewer sharp edges than ordinary glass. Choosing the kind of glass you need for your desk is easy once you know what the finished product will be.
Warranty
Choosing any piece of furniture means you have to consider the warranty coverage. Make sure that you pick a desk with enough warranty coverage and always read the fine print before buying something.
Budget
An inexpensive office desk will cost between $200 and $2,000. The pricing varies depending on the type, size, and configuration of the merchandise. When it comes to glass desks, prices can be anywhere between $100 to $2,000, depending on the construction, design, and extra features.
Do not make the mistake of thinking that a glass computer desk is affordable. You should also realize that when you buy a glass top computer desk, you should have extra money on hand.
Size
For better efficiency, your workstation should have dimensions that best fit your needs. The desk dimensions of 60″ x 30″ and a height of 30″ are suitable for most users. These measurements should be used as a basic line for most basic usage situations.
Storage
Glass desks can have their fair share of storage options as well. Some of them include slots for placing your PC unit and have sliding keyboard trays. Others have drawers, as well as top or bottom shelves. It's important to determine what you need from a desk in terms of storage and find items that match your expectations.
How to Clean a Glass Desk
There are multiple ways for you to clean your glass desk, and the methods are very similar to those for cleaning just about any glass surface, be it a tabletop or a window. To have a streak-free and clean glass desktop, here is what you have to do:
 

Before spraying on the cleaner, wipe out any visible debris using a soft microfiber cloth.

 

Spray the surface with the glass cleaner. Use the amount of product specified on the bottle. Make sure you use enough products that it covers the entire desktop.

 

If you don't want to use a glass cleaner, use white vinegar instead. Vinegar can be used to clean dirt and grime off of a table. To make the application easier, grab a small spray bottle and fill it with white vinegar.

 

To wipe the glass entirely, use lengthy, circular strokes. Rub the cleaning solution into the desktop's surface with a microfiber cloth. Use a lint-free towel for wiping the desktop, as lint can make your desk appear dusty.
If you don't want to use a glass-cleaning solution, you can always turn to baking soda for cleaning your glass desk:
 

Fill a small jar with equal parts water and vinegar to use later. The quantity you make is determined by the size of your glass tabletop's surface area.

 

Make a paste with half a cup of baking soda and at least 3 teaspoons of water. In a small bowl, combine water and baking soda until a thicker consistency is achieved.

 

Grab a sponge to apply the baking soda solution on the glass desk.  After dipping the sponge into the basin, rub the paste mixture on the glass surface using circular, sweeping motions.

 

Rinse the desk with your sponge dipped in the vinegar mixture. When you wipe the glass surface, use long and broad strokes and repeat these movements until all baking soda is removed.

 

Use a plastic squeegee to make long, straight lines down the table. Remove any excess fluid off the table by working in a grid pattern. After you've finished cleaning the table, let it air dry.
Top Glass Desk Ideas
Walker Edison Ellis Modern Glass Desk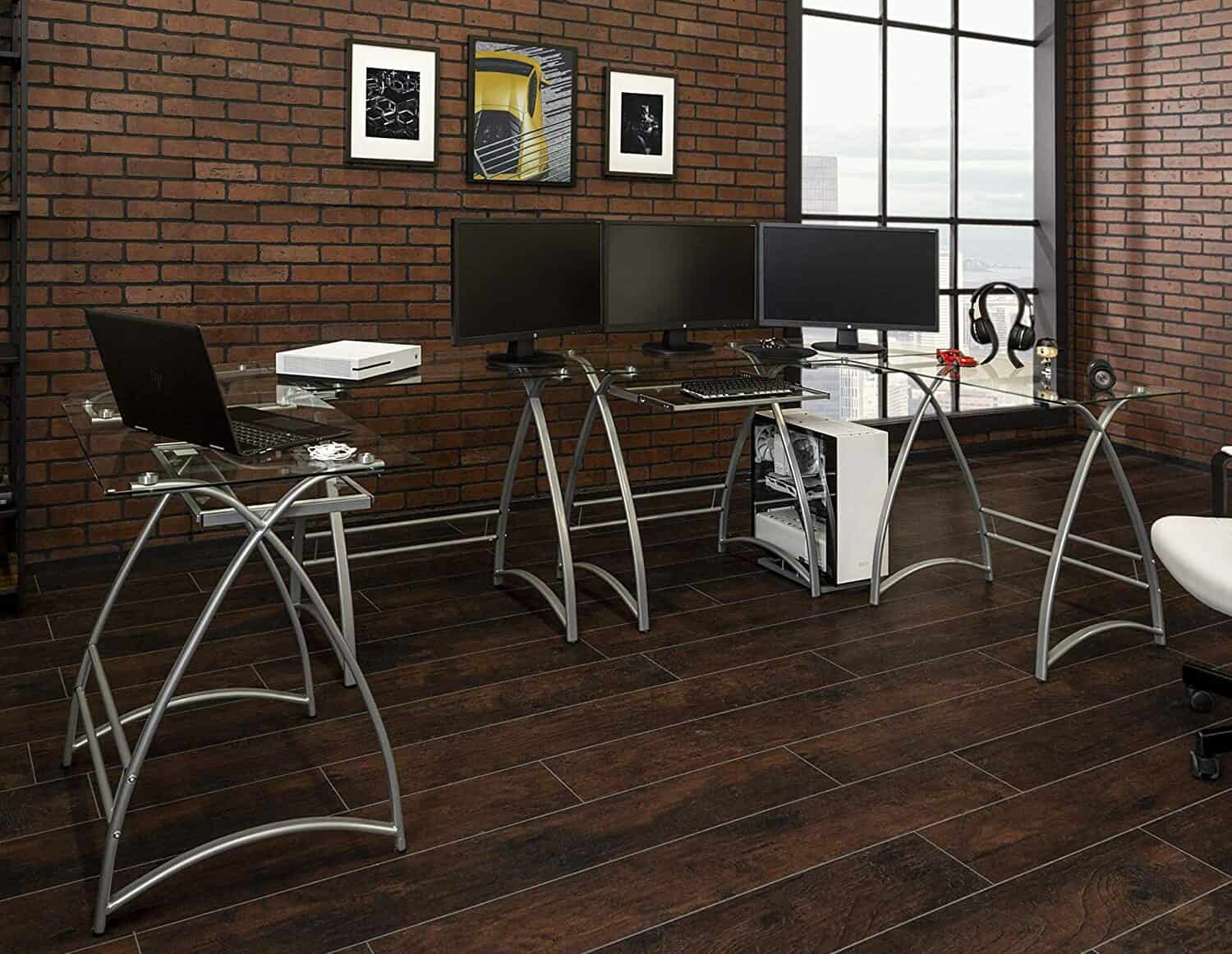 This trendy computer desk will update your home office with contemporary looks. Crafted from steel and powder-coated to resist scratches and corrosion, this fixture has a large, shatter-resistant glass plate.
The L-shape works great as a corner wedge since it is both space-saving and versatile. This workstation comes with a sliding keyboard tray and a CPU stand. Separating it into two different desks lets you work on your computer while using an extra desk for food, studying, or doing other kinds of projects.
Who Would Love This Glass Desk?
If you have a lot of computer work to do and would love a stylish glass desk with the much-needed features of this activity, the Walker Edison Ellis desk might be just "what the doctor ordered".
Pros:
 

Made with tempered glass

 

Includes keyboard tray

 

Space-saving design
Cons:
 

Keyboard tray doesn't extend too much
Flash Furniture Glass Computer Desk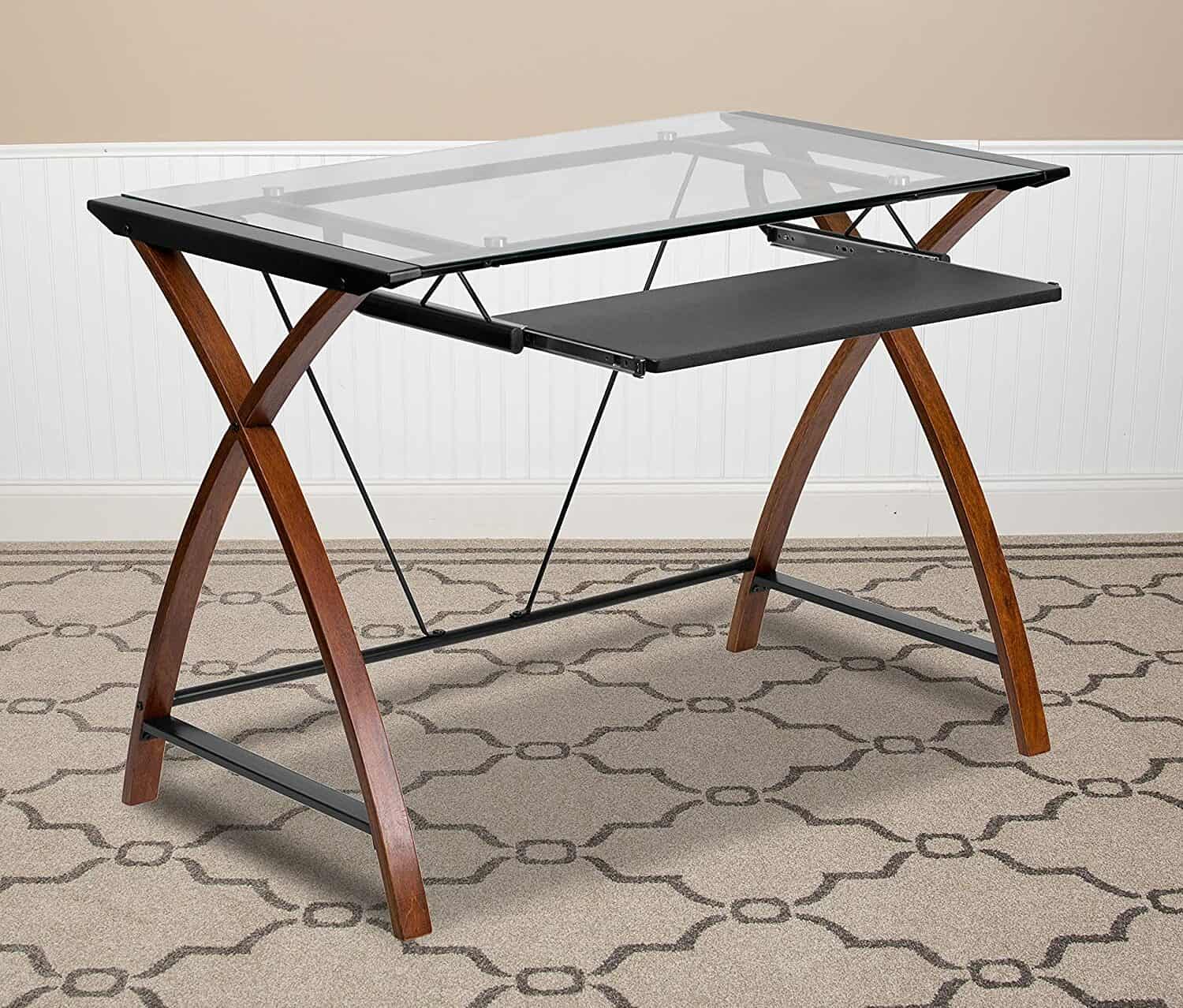 The Flash Furniture glass computer desk comes with stunning detailing and clever design, so it will be perfect for small living spaces, bedrooms, and short-term home offices.
The combination of tempered glass and a mix of wood and steel materials produce a desk with a robust, heavy-duty design that can support up to 110 lbs. of static weight capacity. Powder coating the frame guards against scratches and floor slides keeping your floor smooth as you move the desk.
Who Would Love This Glass Desk?
If you have a small space to work with and would like a desk that's suitable for the job, you have to check out this model by Flash Furniture.
Pros:
 

Includes keyboard tray

 

Powder-coated frame

 

3 finish options
Cons:
 

Very poor assembly instructions
ACME FURNITURE Buck Desk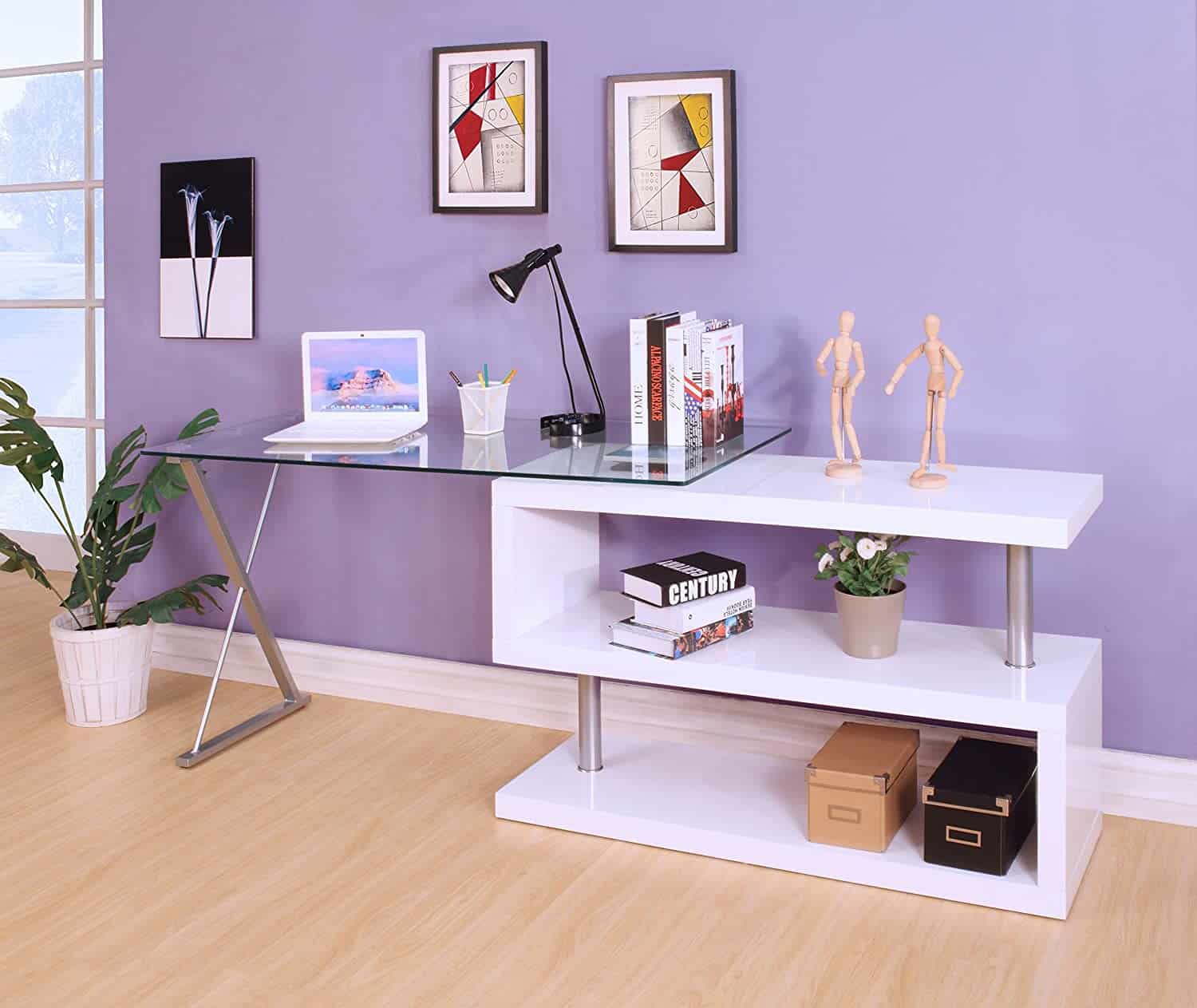 The Buck desk is full of features that aid with everyday tasks and use. Furthermore, not only is it equipped to work with the left or right orientation, but also features an offset-designed corner end with three display surfaces, allowing you to see it from any angle.
The desk also features a 360-degree function and comes with storage shelves located on the side. It's the perfect multifunctional desk because you can make use of both sides for different desk-related activities.
Who Would Love This Glass Desk?
If you generally use your desk for more than one thing (like doing paperwork and using a laptop), the generous L-shape top surface of the Buck desk is going to come really in handy.
Pros:
 

Storage shelves

 

Plenty of working space

 

Swivel function
Cons:
Millie White X-Frame Glass Desk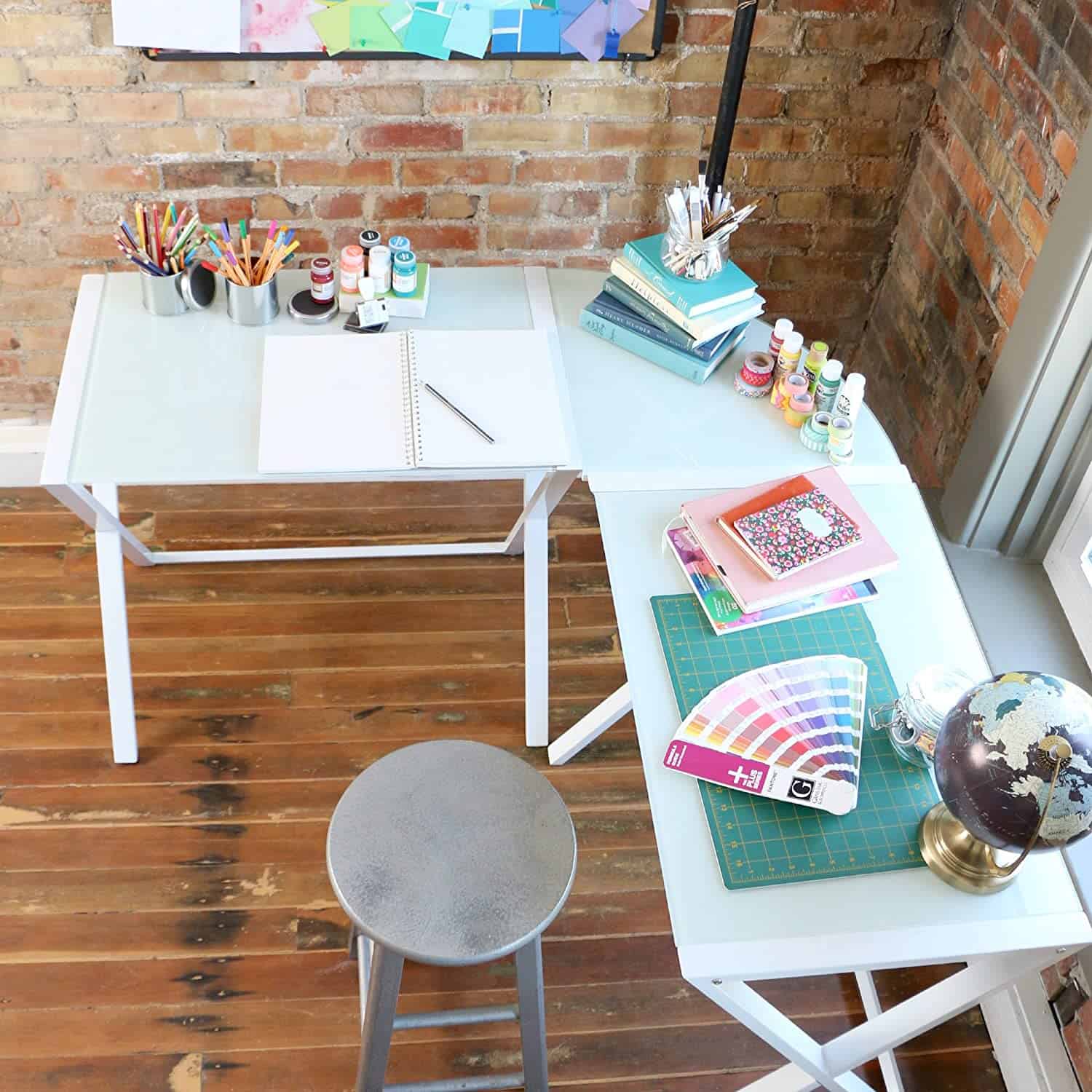 Another desk that helps you make the best of your space and offers plenty of top surfaces to place all kinds of items is the Millie. This L-shaped desk forms a nook to help you conserve space and help your home office perform optimally.
It is designed with tempered glass, which is safer compared to regular glass, so that's definitely a plus. The steel frame has received a powder-coating protective layer, to ensure more durability in the long run.
Who Would Love This Glass Desk?
Those of you that have an empty corner just waiting to be filled by an L-shaped desk definitely have to give the Millie desk a try.
Pros:
 

Thick 6 mm glass

 

Durable powder-coated steel frame

 

Easy to assemble
Cons:
Convenience Concepts Town Square Chrome Desk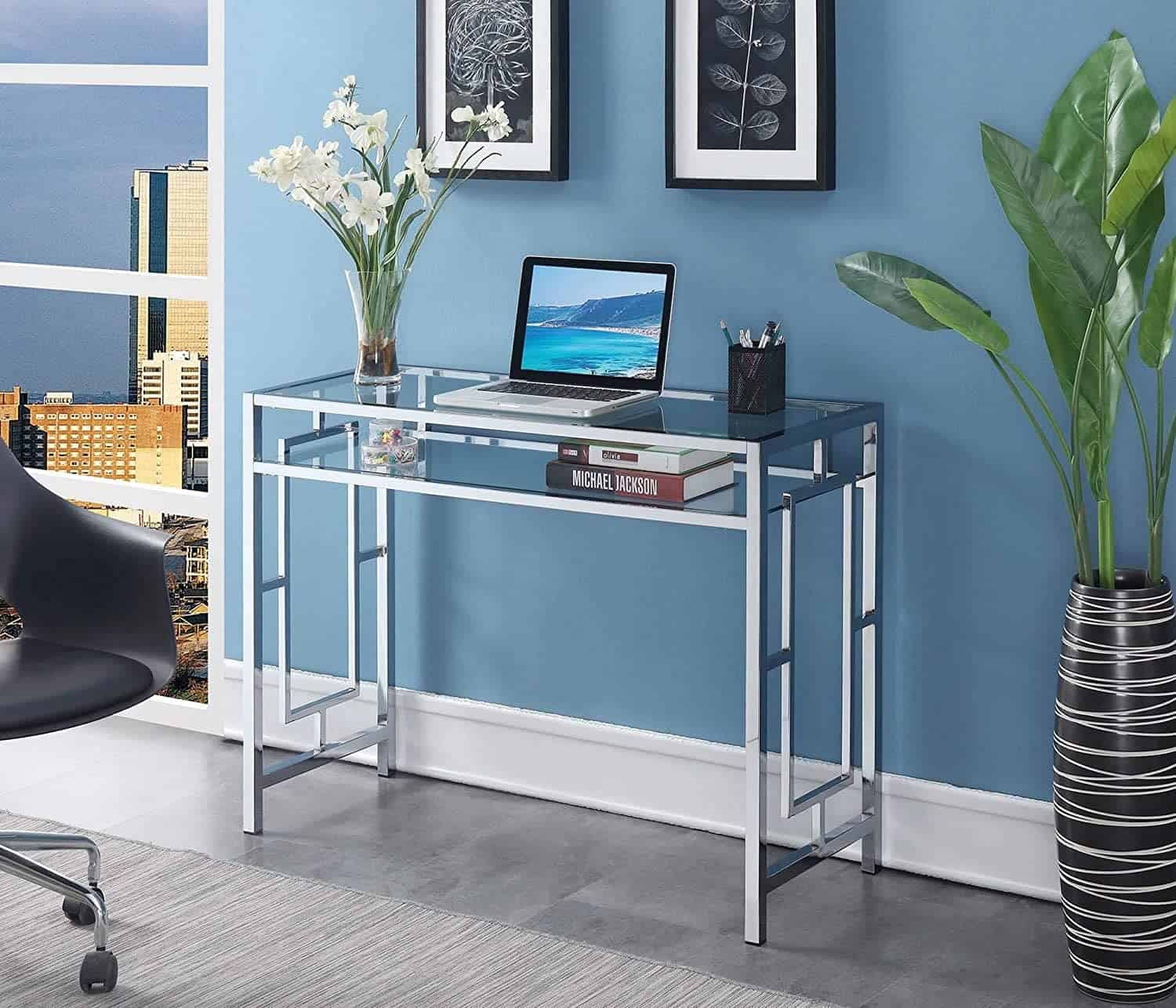 This desk is truly giving us something to talk about! It features a cutting-edge design, and it's perfect for providing you with a contemporary style that you can use in your home office.
All of your work supplies can be placed on the shelf because who doesn't love some extra storage space? This item is built to last with its chromed metal frame with distinctive geometric side designs. It is suitable for holding laptops and papers.
Who Would Love This Glass Desk?
For those of you with rather small spaces but still in need of a glam-looking desk, this unit by Convenience Concepts might just do the trick.
Pros:
 

Includes bottom storage shelf

 

Easy to assemble

 

Great for small spaces
Cons:
 

Chrome frame is not rust-resistant
Flash Furniture Meriden Wood Table with Clear Glass Top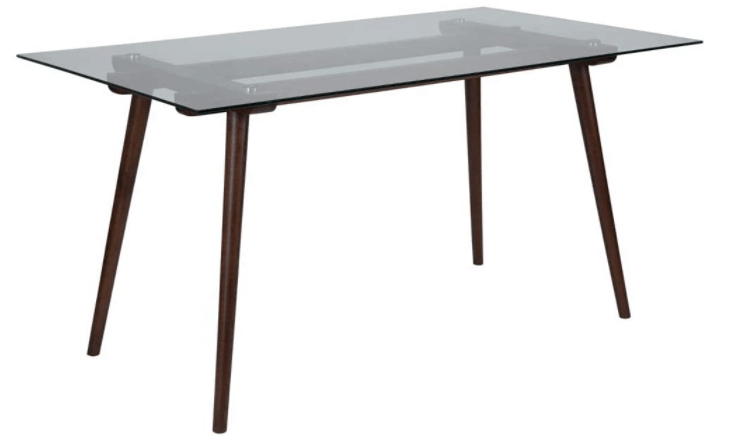 The Flash Furniture Meriden desk comes with a glass top that beautifully contrasts with the walnut-finished desk to give an open, light feeling to the room.
To support up to 330 lbs. of static weight, the heavy-duty beechwood frame is paired with a very sturdy 8mm thick tempered glass top to ensure long-term durability. If you use glides on the feet, you can avoid damaging your flooring if you end up moving the desk around.
There is no need to fret about spills, as this table wipes down simply with an eco-friendly solution that is made of a water-based foaming cleanser to leave it looking spotless whenever it's cleaning time. Assembling can be completed in just over 30 minutes with the accompanying tools, making setup and use exceptionally quick.
Who Would Love This Glass Desk?
For those of you that value durability above all other aspects, the Flash Furniture desk can support up to 330 pounds in weight and features a thick 8mm glass top.
Pros:
 

Thick 8mm glass top

 

Holds up to 330 pounds in weight

 

Versatile design
Cons:
 

Complaints about faulty delivery handling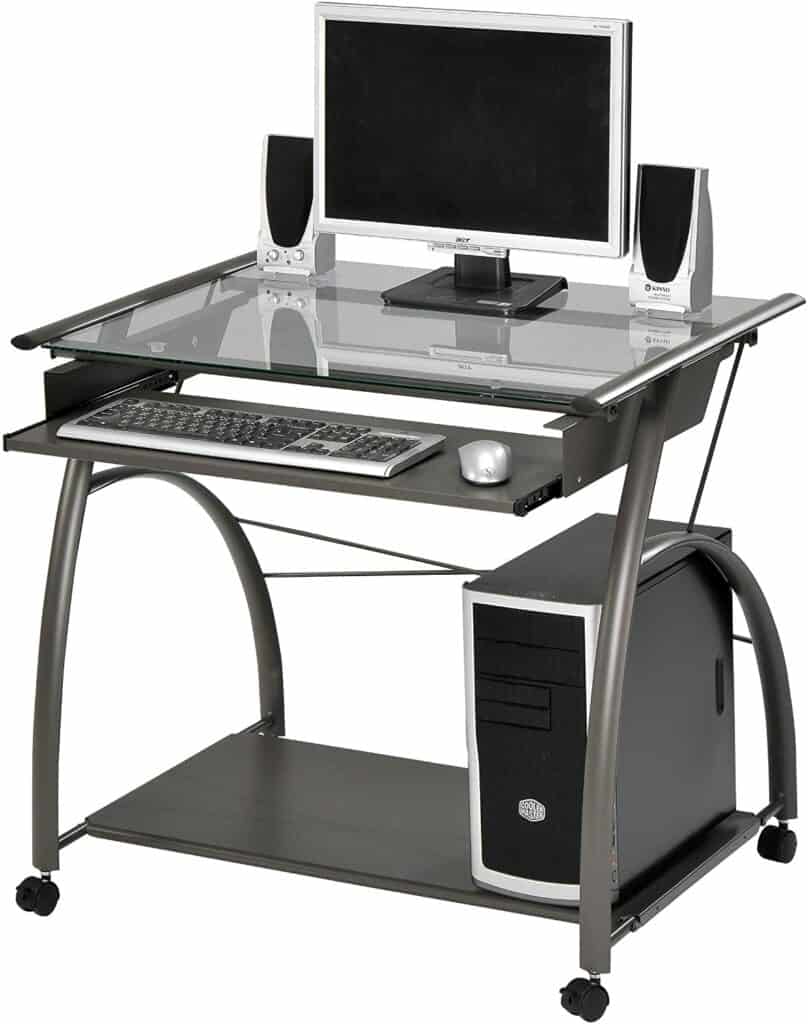 Another great solution for small spaces is the ACME Vincent glass desk. This can be used to accommodate a laptop or even a regular-sized computer. The simple design provides ample storage, as it features a lower sturdy shelf for the unit and a keyboard tray to maximize usability while occupying little room.
The silver finish is quite beautiful and can fit into a modern home office pretty well. It comes with caster wheels that allow you to move the desk around with ease, which is always a plus if you keep changing work spots.
Who Would Love This Glass Desk?
Those of you looking for a lightweight computer desk that's easy to move around occupies little space but offers ample storage need to give the Vincent desk a chance.
Pros:
 

Comes with a keyboard tray

 

Caster wheels/easy to move around

 

Excellent for small rooms
Cons:
 

Too small for large desktop setups
The Verdict on Glass Office Desks
All of the desks we looked at today are gorgeous and practical, but the ACME FURNITURE Buck desk has it all: swivel function, storage, plenty of working space, and a gorgeous design. If you want more tips on how to make your home look amazing, be sure to check out some of our other articles like this guide to the best home office chair to go with your new glass desk!
References
Latest posts by Candace Osmond
(see all)